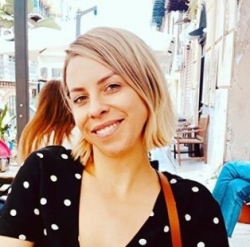 Latest posts by Jodie Chiffey
(see all)
The 1960s was certainly a golden era for music, fashion, movements, and of course, toys! The toy industry was absolutely booming during these ten years, and this guide to the best vintage 1960s toys looks at some of the top toys of that era.
During this decade, television sets began appearing in most family homes. Those sets featured kids' TV shows, audience-targeting commercials, and idols of the time – all of these things were quickly reflected into toys.
Many 1960s toys have stuck around for many years, and these are mainly the ones I have focused on – or very, very similar ones!
To give credit where it is due, I have enlisted the help of older family members (thanks Mom and Dad) because who better to advise me on toys of the 1960s than people who actually played with them? Collectively, we bring to you some of the best vintage 1960s toys that you can buy.
Bottom Line up Front
The 1966 Fashion Luncheon Barbie is unbelievably quaint and retro, but would I dare remove it from its box? I absolutely would not.
For toys I would play with (ahem, I mean my children…), the Dollys and Friends Originals 1960s Paper Dolls is a good choice that provides traditional and nostalgic fun. However, Dad's favorite is, hands down, the DIAMOND SELECT TOYS Lost in Space: Electronic Lights & Sounds B9 Robot Figure.
Product Criteria
Here are the things I looked at when finding 1960s-inspired toys to research for this guide:
Safety
To ensure absolute safety, all but one product I have recommended are replica 1960s toys, and this is because most toys made during this decade would never meet the health and safety standards of today!
Activity
I tried to find vintage 1960s toys that would suit various activities, from imaginative role play to arts and crafts, games to collectibles, and so on.
Quality
Some replica 1960s are priced very high and I had to be certain this was to reflect a high quality. To determine this I looked at the manufacturing, materials, and brand.
Consumer Feedback
Consumer feedback is so important when trying to put together a fair and unbiased article. I wanted to ensure that most people who had brought one of the 1960s toys I have included here were satisfied with their purchase.
14 Best Vintage 1960s Toys
#1 Dollys and Friends Originals 1960 Paper Dolls – #1 Top Choice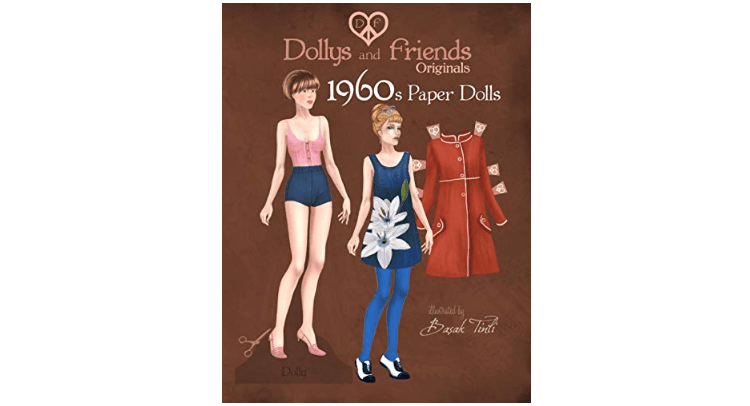 It's hard to explain to this generation just how popular Dollys and Friends Originals 1960s Paper Dolls were – they were very much the Pokemon of the midcentury!
From the 1960s and the following two decades, you could find these cardboard, cut-out dolls in every toy store worldwide. I remember them being brought back in the 90s and having tons of fun with them!
This set features three paper dolls (on the front and back cover) for you to cut out and over 50 different 60s-style outfits to cut out and dress the dolls with.
This is a genuinely classic activity with a wealth of benefits – in addition to reducing screen time, they also help with fine motor skills and hand-to-eye coordination and are ideal for imaginative play.
I wish the dolls and clothing were more durable, as it only takes a little effort for there to be tears, rips, and incorrect cutting, which all render an outfit (or doll) unusable. The price is fair, considering the number of hours of fun to be had. Feedback is mixed for this buy.
Pros
True Classic Activity Toy
Over 50 Outfits
Educational Benefits
Affordable
Cons
Quite Delicate
Mixed Consumer Feedback
#2 G.I Joe Figure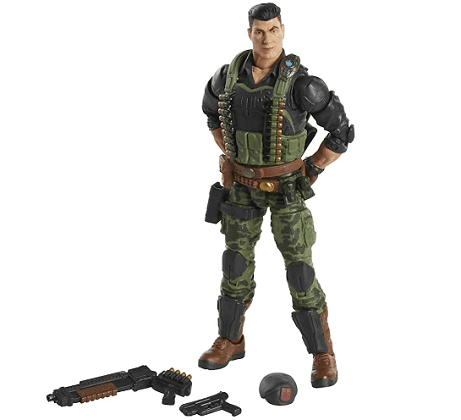 Called 'America's Movable Fighting Man,' the G.I Joe Figure was first introduced in 1964 and went on to become one of the most popular toys of all time. This figure is internationally recognised and loved by generations.
This highly articulated figure stands alone at 6 inches and features premium detailing. It comes with three accessories and is the perfect toy for imaginative play. I believe this figure to be extremely well made and durable, as do most other consumers who have rated it very highly in their feedback.
I'm less impressed with the price, which is quite high. But this is an officially licensed G.I Joe figure, so I guess you get what you pay for!
Pros
Extremely Durable
Posable
Stands Alone
Included Accessories
Officially Licensed
Excellent Consumer Feedback
Cons
#3 Rocket Box Jacks Game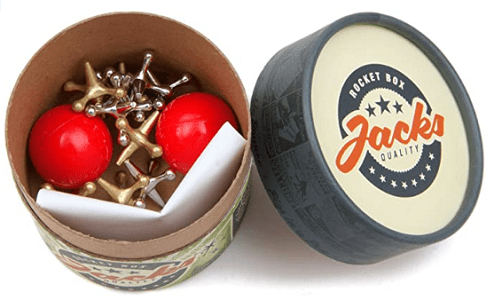 While the Rocket Box Jacks Game dates much further back than the 1960s (the concept, possibly to ancient civilisations), this was certainly a game played on bedroom floors, playgrounds, and neighborhoods by 1960s children.
The main appeal of this game was its inexpensiveness, meaning it was accessible to most children of the time. I believe it to be educational, too, and as well as helping to develop manual dexterity, it is also a good foundation for social skills.
You may have known this as Knucklebones, Jackrocks or Jackstones, but today you will mostly see it labeled as simply Jacks Game. This particular set is extremely well made, sturdy, and a good weight; it also has lots of positive consumer feedback.
Pros
Nice Presentation Box
Sturdy Balls
Perfect Retro Game
Positive Consumer Feedback
Cons
#4 1966 Fashion Luncheon Barbie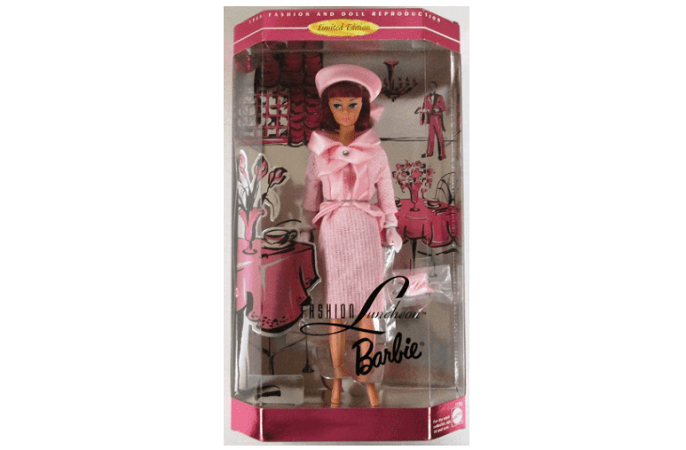 While the 1966 Fashion Luncheon Barbie wasn't one of the most popular Barbies, she is one that you can buy today without breaking the bank! This is a reproduction and not an original 1960s doll. However, you'd have to be an absolute toy expert to detect this.
The barbie arrives in pristine condition, looking every bit as though she'd come straight from a 1960s toy shelf.
I doubt this would be a purchase made to play with, but for a collector's display, this is a beautiful 1960s Barbie that is within the affordable range for its type.
Pros
Perfect Reproduction
Pristine Condition
Fast Dispatch
Iconic 1960s Toy
Cons
#5 1966 Classic Car with Diecast Batman Figures

As discussed earlier, Batman-themed toys were insanely popular during the 60s. I'm reasonably confident that this 1966 Classic Car with Diecast Batman Figures will be an absolute blast from the past for some readers.
This is an officially licensed product, and the car and figures arrive in the manufacturer's original packaging, which is unopened.
It makes a great collector's item but is also great fun to play with, and there are lots of features which were innovative at the time, such as the cars opening doors and real rubber tires.
The figures are super well made and stand at just under 3 inches tall.
Pros
Iconic Batman Set from the Original 1966 Series
3 Figures Included
Officially Licensed Product
Manufacturer's Original Packaging
Cons
#6 The Original Slinky Walking Spring Toy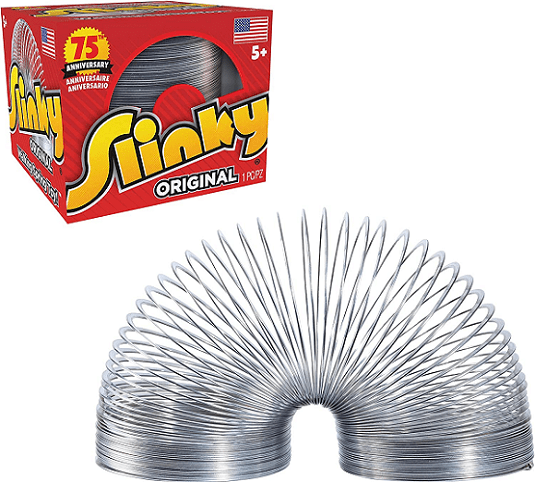 Although not designed in the 1960s, The Original Slinky Walking Spring Toy was certainly a hugely popular toy during this decade. Other versions came into stores throughout the 60s, but none were as popular as the original design.
This toy has been on sale for more than 75 years, and its inventors (Richard and Betty James) always insisted on it retailing at an affordable price.
Betty is quoted as saying to The New York Times, on this matter, that 'so many children can't have expensive toys, and I feel a real obligation to them,' she stuck to this throughout her presidency of the company.
This Slinky is under $4 and is an online best-seller with a wealth of positive feedback. If you're looking for a pocket-money 60s-themed toy, this is the one!
Pros
Hugely Affordable
Online Best Seller
Original Design
Cons
The plain metal design may not wow the children of today!
#7 Lionel The Polar Express Train Set

From one extreme to the other, the Lionel The Polar Express Train Set is certainly not a pocket money today, and it never was. However, it was one of the most sought-after toys of the 1960s, and if you ever got to play with it, your position of being a cool kid was cemented, apparently!
The 1960s marked a distinct change in Lionel train sets as they became more modern and innovative.
This version has Bluetooth technology but has remained close to its roots in regards to other design features such as the headlights and RailSounds sound system with engine background and chuffing sounds, whistle and bell.
This is a toy perfect for train enthusiasts and collectors and interchangeable with other Lionel trains and sets. The price is high but easily justified if train sets are your thing!
Pros
Bluetooth Technology
Interchangeable Tracks and Trains
1960s Favorite Brand
RailSounds Sound System
RC Controlled
Cons
Expensive
Doesn't Come with the Required Batteries (for this price? Come on!)
#8 Kenner's Spirograph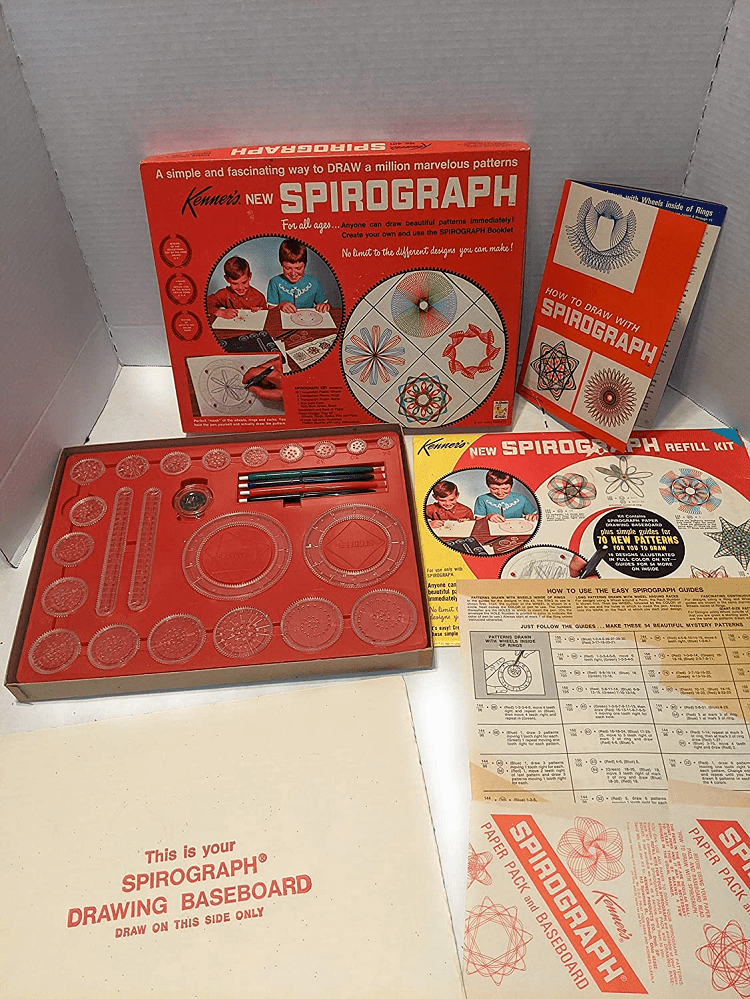 Kenner's Spirograph was introduced in the mid-1960s, but the basic concept dates to before this time. Kenner's Spirograph was hugely popular during this decade due to it being affordable, accessible, and great fun, too.
With just a pencil and paper, you could create unique, beautiful patterns to color in every shade under the sun and end up with some stunning artwork.
The price of this Spirograph seems steep when today there are much more advanced counterparts for much less money. However, it is an original 1966 version, and if played a number of times, the money can be justified – it will also make a great addition to any vintage toy collection!
Pros
Original 1960s Toy
Good for Play or Display
Durable
Educational
Fun
Cons
Expensive
Most Versions are in Used Condition.
#9 BMC Marx Plastic Army Men US Soldiers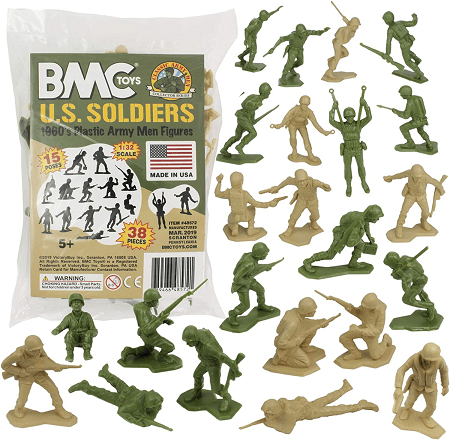 From the classic army men collector series, the BMC Marx Plastic Army Men US Soldiers are beautiful replicas of the 1960s sets. Featuring 38 US soldiers in various positions, the figures arrive in a plastic bag with an insert card that has instructions for easy-to-make parachutes.
The figures are made in the US, super durable, and great fun to play with.
Pros
Perfect Replicas
Good Price
Super Durable
American Made
Great Fun
Cons
#10 DIAMOND SELECT TOYS Lost in Space: Electronic Lights & Sounds B9 Robot Figure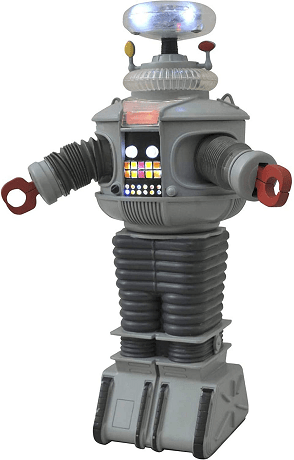 Dad's favorite is the DIAMOND SELECT TOYS Lost in Space: Electronic Lights & Sounds B9 Robot Figure; although expensive today, they were much more affordable way back then, and Dad would receive a new figure each Birthday and Christmas throughout the 60s.
This figure was cutting-edge technology back in the day, and the lights and sounds being taken from the show were a novelty. This toy was the first electronic robot from Diamond Select Toys, and although not particularly breath-taking today, it was certainly a stand-alone toy in the 1960s.
This replica has been made in China but looks identical to the original. I find the price to be fair, and I like that it can remain inside the box, and you can still press the robot to hear some of the iconic phrases of back in the day.
Pros
Perfect Replica
Good Price
Great to Display
Excellent Addition to a Toy Collection
Cons
May not have the wow factor for today's child!
#11 Little People Farm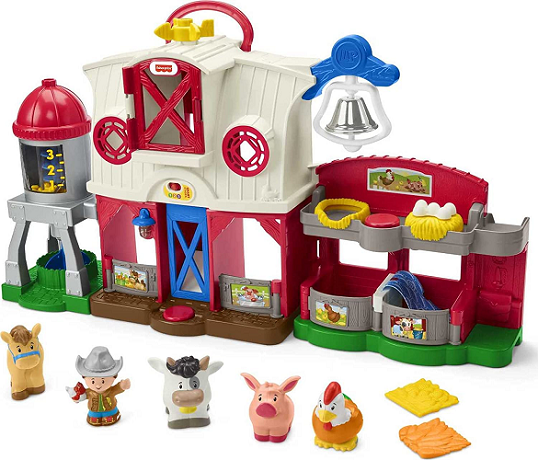 Little People were released by Fisher-Price in the mid-60s. Initially known as the 'play family,' this franchise included different play sets that featured figures and accessories made of hardwood or (potentially toxic) plastic. These were sets very similar to today's Little People Farm and were hugely popular in the 1960s.
Today the sets mostly still work without batteries or electric hookups and have retained the traditional play value. I like the simplicity of this farm set and how the educational aspect that stemmed from Fisher-Price's very first product (the Lacing Shoe toe) hasn't been lost.
The Little People Farm has modern elements such as interactive sounds, songs, and phrases, but these don't have to be accessed for the toy to be a 'learning toy.'
Pros
Excellent Learning Toy
Traditional Play
1960s Brand and Design
Modern Day Elements
Interactive
Cons
Not an exact replica of a 1960s toy.
#12 Captain Action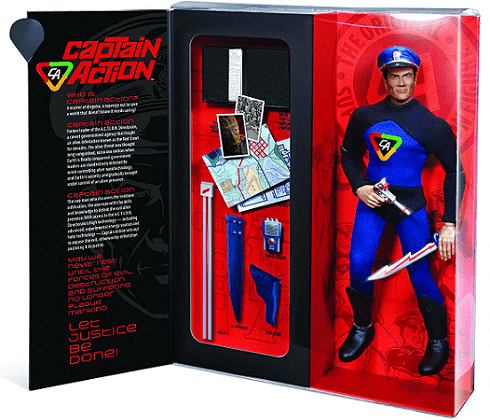 Captain Action made a brief but significant impact on the toy industry during the 1960s and was a very well-sought-after toy during its 2.5-year production.
Today, this is one of the most expensive collectors figures on the market, possibly due to the limited numbers. There have been a couple of relaunches – once during the 90s and again in the 00s – but both were short-lived.
If you're looking to buy an original 1960s Captain Action, it will take a long time to find and a lot of money once located! Or, you could satisfy the wish with this very good replica. With lots of positive consumer feedback and a 30-day refund policy, there's some reassurance when parting with almost $100 for a figure.
This is an updated version of the 1960s character. It seems to be far more detailed with a higher overall quality; it feels durable, stands alone, and comes with some fun accessories such as secret documents, blueprints, crime-fighting equipment, and photographs.
Pros
Excellent Quality
Super Poseable Figure
Lots of Bonus Accessories
Good Consumer Feedback
30-Day Refund Policy
Cons
Expensive
Some Mentions of a Damaged Box
#13 Hot Wheels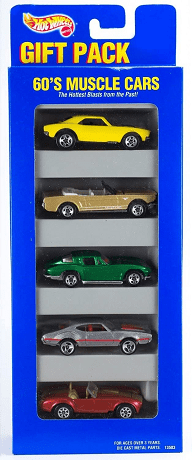 Hot Wheels were launched towards the end of the 60s to be a direct competitor to the better-established Match Box Cars.
There were 16 Hot Wheels cars released between 1968 and 1970, and to find one of these in pristine condition today is no easy challenge! However, I have found this 1960s gift pack of Hot Wheels cars that I believe is a brilliant buy for any fan of the franchise.
While this gift pack is expensive, for the right person, this would make an excellent present; and as you'd expect with this brand, the diecast vehicles are all exceptionally well made. Inside the box, there is a Camaro ('67), Classic Cobra, Split Window Corvette ('63), Olds 42 W-30, and of course, the classic Mustang Convertible ('65).
Pros
Lovely Gift
Nice Selection of 1960s Cars
Durable and Well Made
Officially Licensed Product
Cons
#14 Mr Potato Head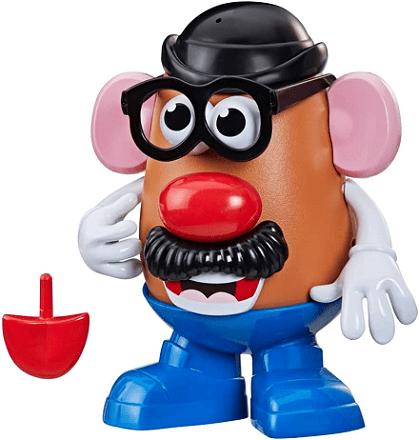 Mr Potato Head was introduced to the toy market in plastic form in the late 1960s and has been in toy stores ever since. There was a huge increase in sales for Mr (and Mrs) Potato Head after the first Toy Story movie, and today there's unlikely to be a human in the western world who doesn't recognize this toy vegetable!
This Potato Head (the 'Mr' was dropped in 2021) comes with 13 different pieces to create various faces. This is a fantastic toy to help to develop fine motor skills and one to have lots of fun with, too. The price is unbeatable, and the consumer feedback is very positive.
Pros
Unbeatable Price
Great for Skill Development
1960s Inspired
Durable
Excellent Feedback
Cons
Confusing Labeling: Advertised for children aged 2-years and over, but a warning label for children under 3.
Frequently Asked Questions
Question: Which 1960s Toy Was Called a Medical Menace?
Answer: The California Medical Association used the term 'medical menace' when referring to skateboards! The popularity of skateboards during the 60s led to many injuries for children, and some towns started to regulate their usage.
Question: What were the Most Dangerous Vintage 1960s Toys?
Answer: From hot plates to toxic plastics, the 1960s were responsible for some extremely dangerous toys! While there isn't a stand-alone number one, toys like The Little Lady Stove with its 600 degrees Fahrenheit hot plate and the Creepy Crawlers with noxious fumes and exposed hot plate were particularly dangerous!
Question: Is There a Market to Sell Vintage 1960s Toys?
Answer: You could be sitting on a goldmine if you have an original 1960s toy in your possession – and it is in perfect condition!
It's always worthwhile looking around online marketplaces and auction sites to gain an idea of the value of your toy, but you will also likely find a vintage toy store in your state where you can go to get an accurate estimate and be able to sell your toy with no fees.
In Conclusion: What Are The Best Vintage 1960s Toys?
Hopefully, you have been reminded of some truly great 1960s toys in this article – or, at least, the safe ones that you can purchase today, either in original or replica form.
I fell in love with the simplicity of the Dollys and Friends Originals 1960s Paper Dolls and loved the 1966 Fashion Luncheon Barbie.
I also really liked The Original Slinky Walking Spring Toy and Kenner's Spirograph, although the Spirograph is pretty expensive to purchase today and is only available in used condition.
The G.I Joe Figure is highly durable, stands alone in various positions and is an officially licensed product with lots of positive feedback – however, it is pricey. I feel that you do get what you pay for here.