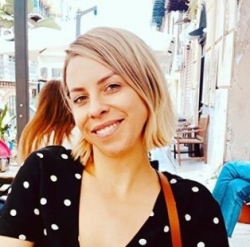 Latest posts by Jodie Chiffey
(see all)
If you're a Pokemon Universe fan or the parent of one, you'll know this pastime is about more than just TV viewing! There is a whole world of Pokemon Universe toys and merchandise out there to explore, and the series' enormous global success has ensured there's a toy suitable for everyone.
But, finding that perfect Pokemon Universe toy is a quest on its own.
As a 90s child, the Pokemon toys I grew up with are certainly not as technical, complex, or cool as the ones out there today.
While I did feel a hint of nostalgia at the start of this mission, it became clear to me I was looking with aged eyes! So, as previously done with my Naruto Toys guide, I enlisted the help of my young sons.
In this post, you will learn about our collective 7 best Pokemon Universe Toys, with our individual perspectives and my veteran toy-buying expertise regarding each product.
At a Glance: 7 Best Pokemon Universe Toys
Bottom Line up Front
As a group, we all had more pros for the Pokemon Carry' N' Go Volcano Playset than cons.
For me, the convenience of it being portable and the reassurance of it being an officially licensed product were the main things. My sons loved the included figures, 7 play areas, and cool features, such as the erupting volcano.
I found the price reasonable, and the consumer feedback is mostly positive. We all consider this playset a top buy that would suit most fans of most ages!
How I Chose the Best Pokemon Universe Toys
Here's a breakdown of what we were looking for and why.
Educational
I believe any toy can be a tool for education, depending on how it is used. Most Pokemon toys don't have education at the forefront of their marketing. However, Pokemon can be educational in many ways.
Additionally, all toys can help a child to learn, whether this is about academic concepts, the world, or themselves. I looked for ways that each Pokemon Universe toy could do the above before adding it to our list.
Safe
Not all Pokemon toys are officially licensed products, which can significantly impact their safety. And, even official merchandise may only be safe to a certain age group or cognitive ability level. For example, some may have small parts that could be choking hazards for preschool children, babies, or children who have a lower ability learning level.
Fun
I have seen so many toys and products advertised as great fun, but when you look further into this, an accessory may be as basic as a one-use sticker. Or, an interactive feature could be as plain as a simple light.
We used a child's imagination with a parent's critical mind to ensure the Pokemon Universe toy met all of our standards!
My Product Criteria
I made some further considerations before settling on the Pokemon Universe Toys to recommend.
Toy Type: As already said, kids have widely different interests. Because of this, I have included various Pokemon Universe toys in the hope of catering to every preference.
Age: My selection of Pokemon Universe toys should include appropriate choices for all children, from babyhood to their teenage years, and all cognitive abilities.
Durability: I believe all of the Pokemon Universe toys in this guide are of good quality and have great durability.
Price: I am comfortable with all the prices in this guide; while there are some I personally wouldn't pay, I don't find them to be extortionate for those with bigger budgets!
My 7 Best Pokemon Universe Toys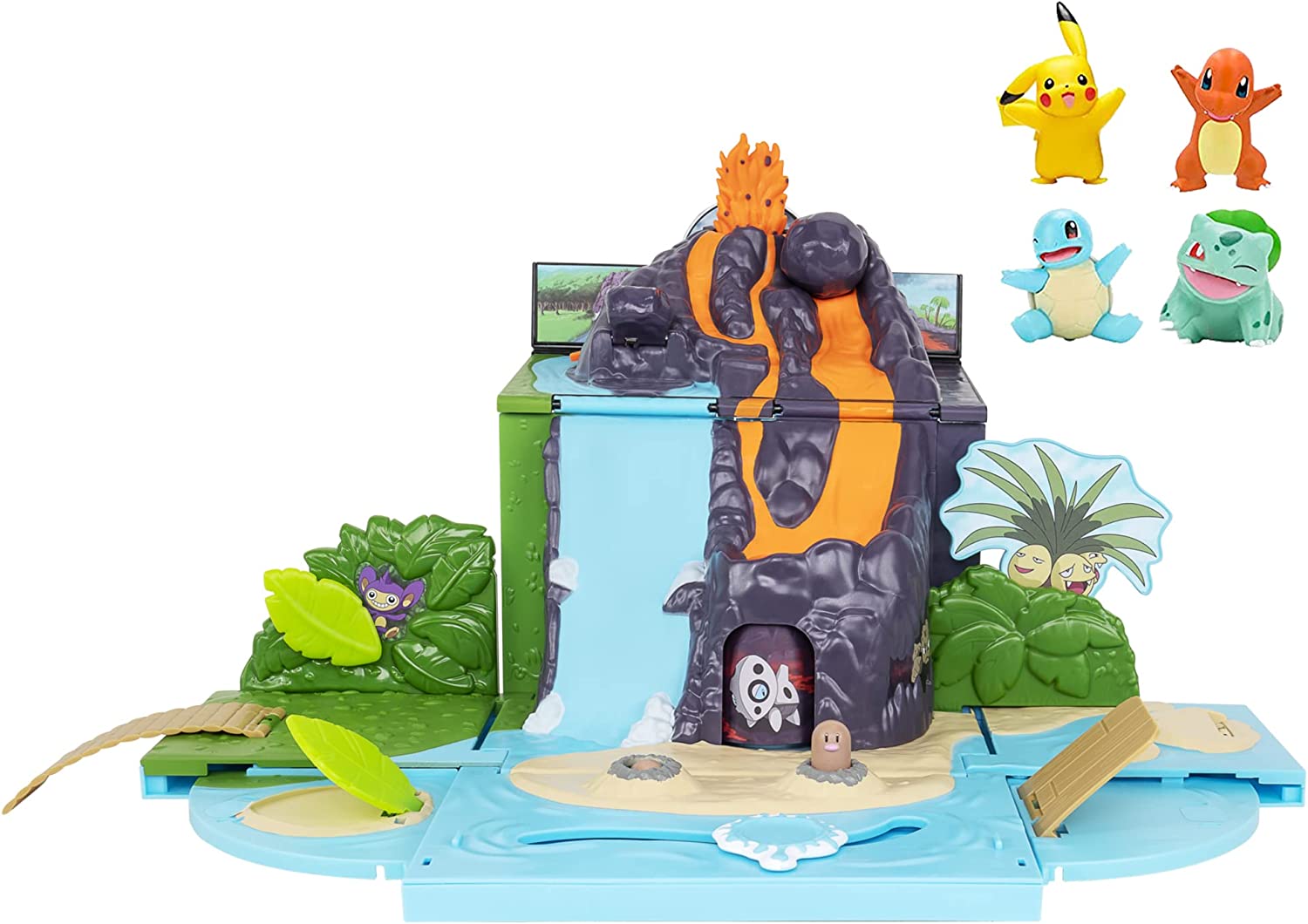 We universally loved the Pokemon Carry' N' Go Volcano Playset for quite different reasons!
Everything fits neatly inside for great storage and portability. And as a busy mom who has used daycare, experienced slumber parties, vacations, and more, the convenience of packing up your child's favorite toy simply for travel cannot be underrated!
The playset is officially licensed, and although it is entirely made of plastic, this is of extremely high quality. It feels strong, wipes clean, and I believe it will have great longevity to be passed down or sold on when your child outgrows it.
The set comes complete with four main characters; Pikachu, Charmander, Bulbasaur, and Squirtle, and is compatible with additional (2-in) Pokemon figures. Many fun features promote imaginative play, such as a winding whirlpool, erupting volcano, and battle launchers. There are also lots of places for the figures to hide when being searched for!
I am pleased with the price of this playset. I have learned that a cheaper version is being sold at large retailers, but that version does not come with as many figures, nor does it come with the convenience of free delivery – thank you, Amazon!
My slight gripe is that instructions do not come in the box, and while they can be found online, not everyone has this convenience at home.
Pros
Great Price
Complete Pokemon Playset; 4 Figures Included
Good Quality
Portable
Durable
Educational Aspects
Tons of Fun Features
Cons
Cheaper Alternative Available Offline
No Instructions Included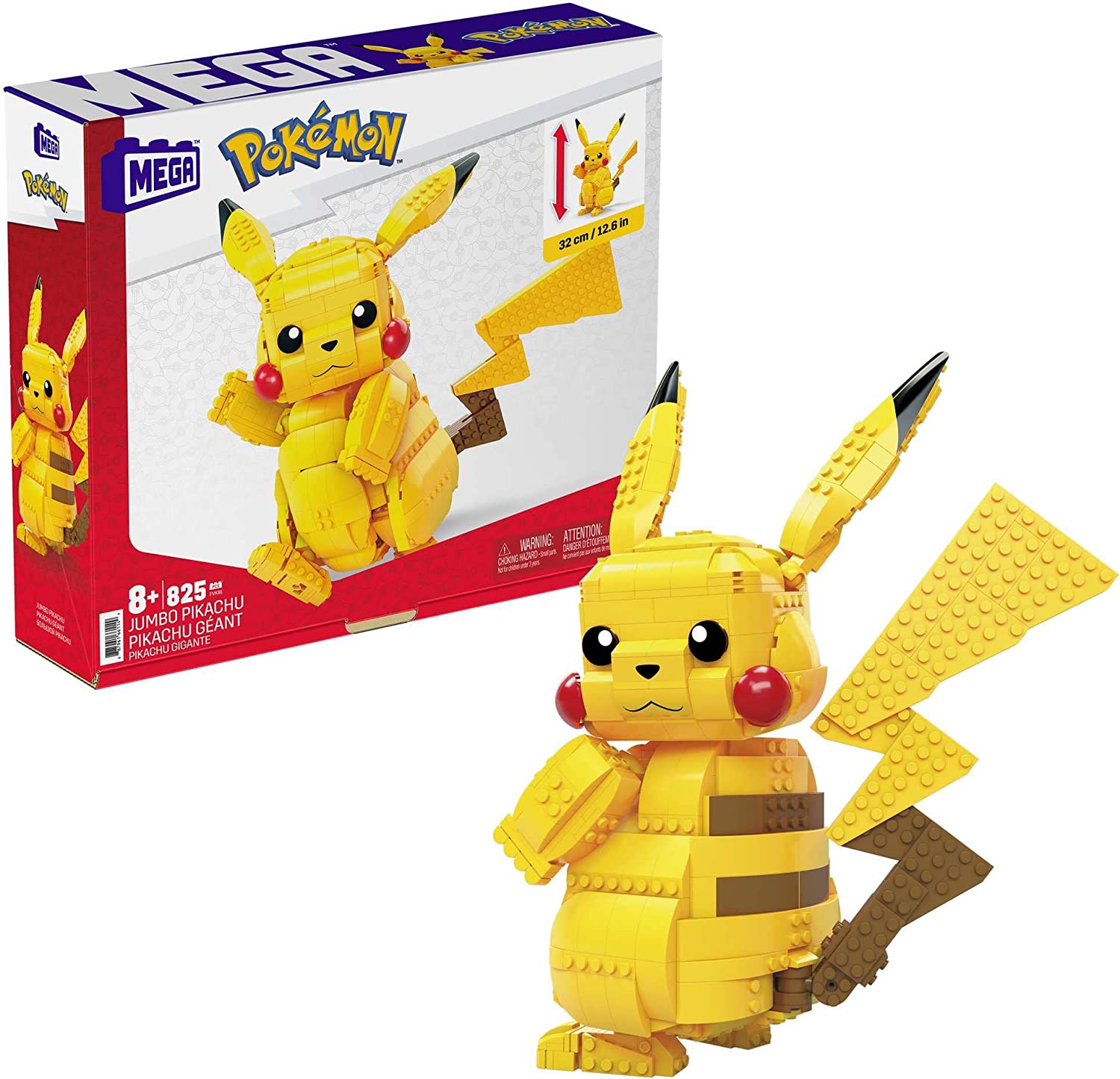 Before working in a specialist education provision, my feelings toward LEGO-type sets were that they were overpriced and that better alternatives were out there with more affordable price points. While I still kind of think this, I now regularly conduct lego-based therapy sessions and witness the huge advantage of this on students with social and communication difficulties.
LEGO-type sets are also a great home-based opportunity for families to interact or a fantastic solo mission to build confidence and self-esteem. So, for me, the educational aspect is 100% here with the MEGA Pokemon Jumbo Pikachu Toy Building Set!
The set includes 825 pieces which, when built, will result in a 12-inch Pikachu figure. Unlike many similar sets, once made, you can position this Pikachu in different poses due to it being articulated.
My sons were less interested in this; it requires effort, an attention span, and time put into it with no immediate glory – so, for them, it's a no. But, for other children and parents, it's a definite yes!
Those who don't want to stick to a specific pattern may prefer this MEGA Pokémon Building Box building set!
Pros
Fantastic for Education!
Build Your Own 12-in Pikachu
Articulated Figure
Excellent Quality
Good Price
Cons
It Requires a Lot of Time and Effort
Not a Huge Fun Factor for Some Children (mine!)
The Pokemon Battle Figure 8-Pack is a great gift set for any Pokemon fan; I love the price, and my boys love the number of figures included. I like the durability; they like the attention to detail. This set has impressed all of us!
Inside, you will find Pikachu, Charmander, Squirtle, Bulbasaur, Loudred, Meowth, and Psyduck: Loudred and Psyduck are slightly larger at 3-in while the rest stand at 2-in. Loudred and Psyduck also have moveable limbs for enhanced imaginative play.
The figures are great for play or decor. They feel very durable and are easy to wipe or wash clean. Some consumers have mentioned damaged packaging or a feeling that the packaging has previously been opened due to dislodged figures. However, this could be down to many reasons.
Overall, we rate this as a great buy.
Pros
Good Price
Great Collection
Imaginative Play or Decor
Mostly Positive Feedback
Cons
Some Mentions of Damaged Packaging.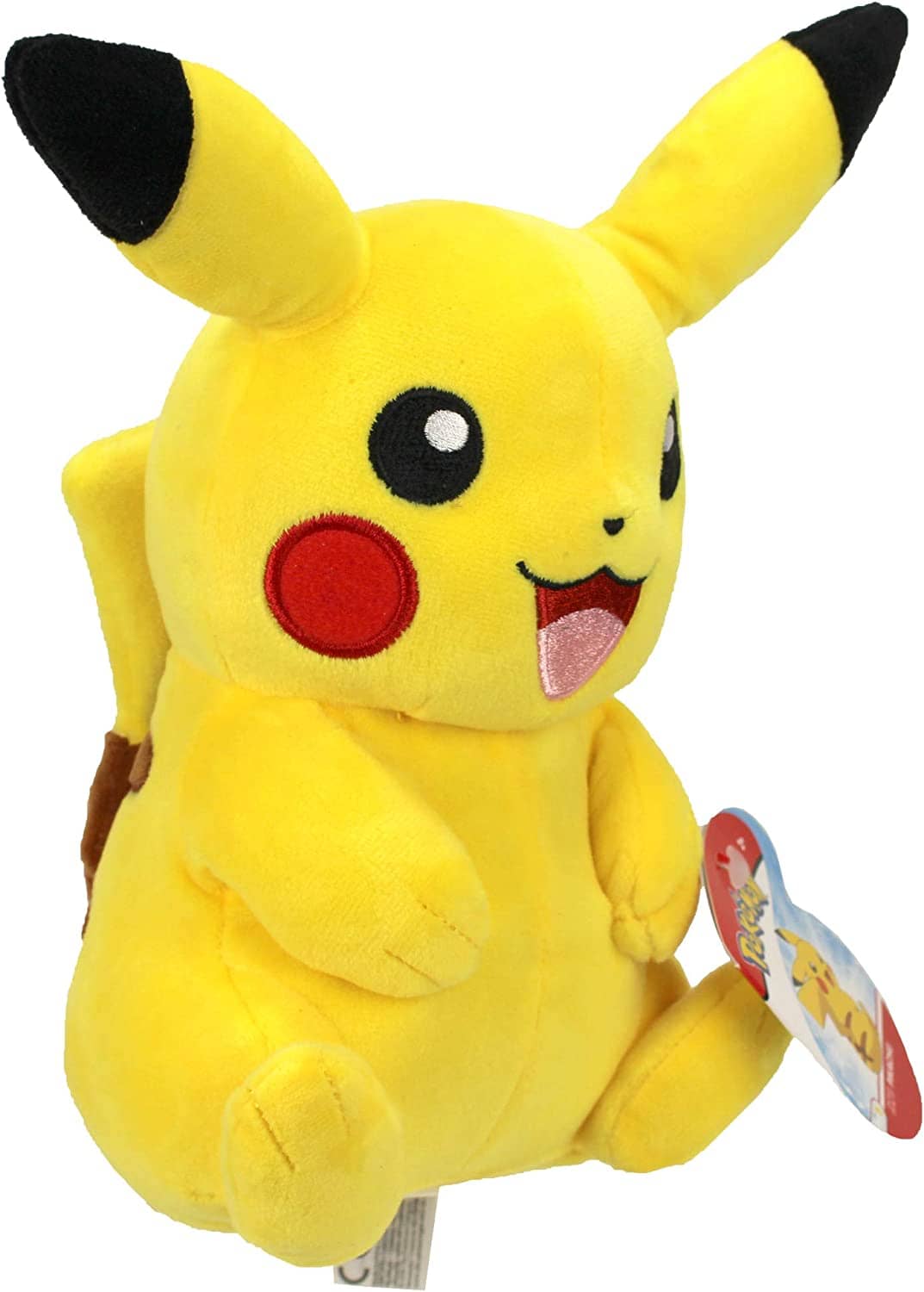 The Pokemon Official 8-Inch Pikachu Plush is a super soft plush that is officially licensed Pokemon merchandise by the Pokemon Company, which should ensure excellent quality and longevity. The price is reasonable, and shipping is fast.
The manufacturer's age recommendation is two years plus, but I think this plush would be suitable for younger babies under supervision. I have found that the Pokemon plush washes well, and most consumers are delighted with their purchase.
Pros
Officially licensed Pokemon merchandise
Good Price
Super Soft
Great Consumer Feedback
Cons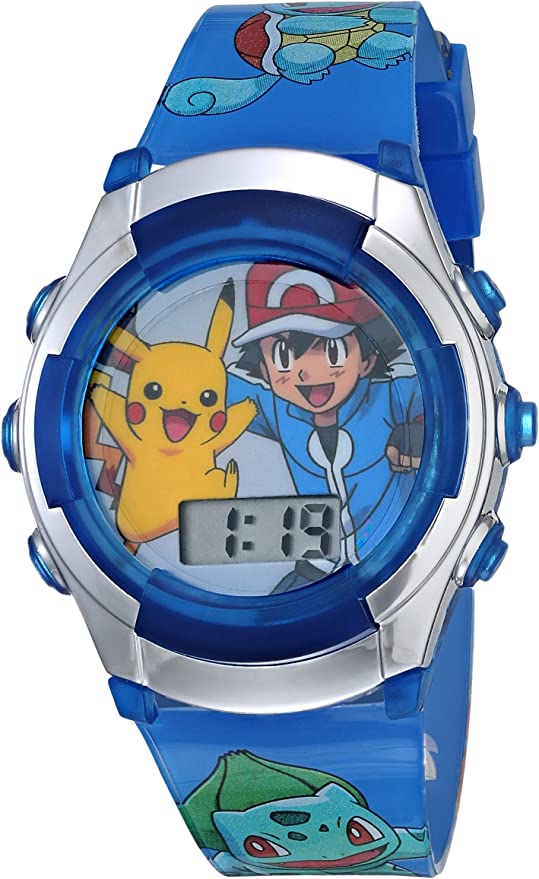 Take it back to a simpler era and have your kid tell the time without a cell phone! While the Pokemon Digital LCD Quartz Watch isn't a traditional clock face, it is still stripped back from highly sophisticated technology; and the affordable price reflects this.
There are twelve Pokemon designs to choose from, and all have a fun light-up feature. In addition to showing the time, the watch will also display the date. For symmetry, there are matching 3-buttons on the opposing side, which do not work and are merely for display. The strap is generous and fits children's and adults' wrists.
One issue I found was that by accidentally bumping the working buttons (which is very easily done), the time is quickly changed.
Pros
Easy Way to Tell The Time
Generous Strap Size
12 Designs to Choose From
Lights Up
Good Price
Cons
Annoyingly Easy to Accidentally Change the Time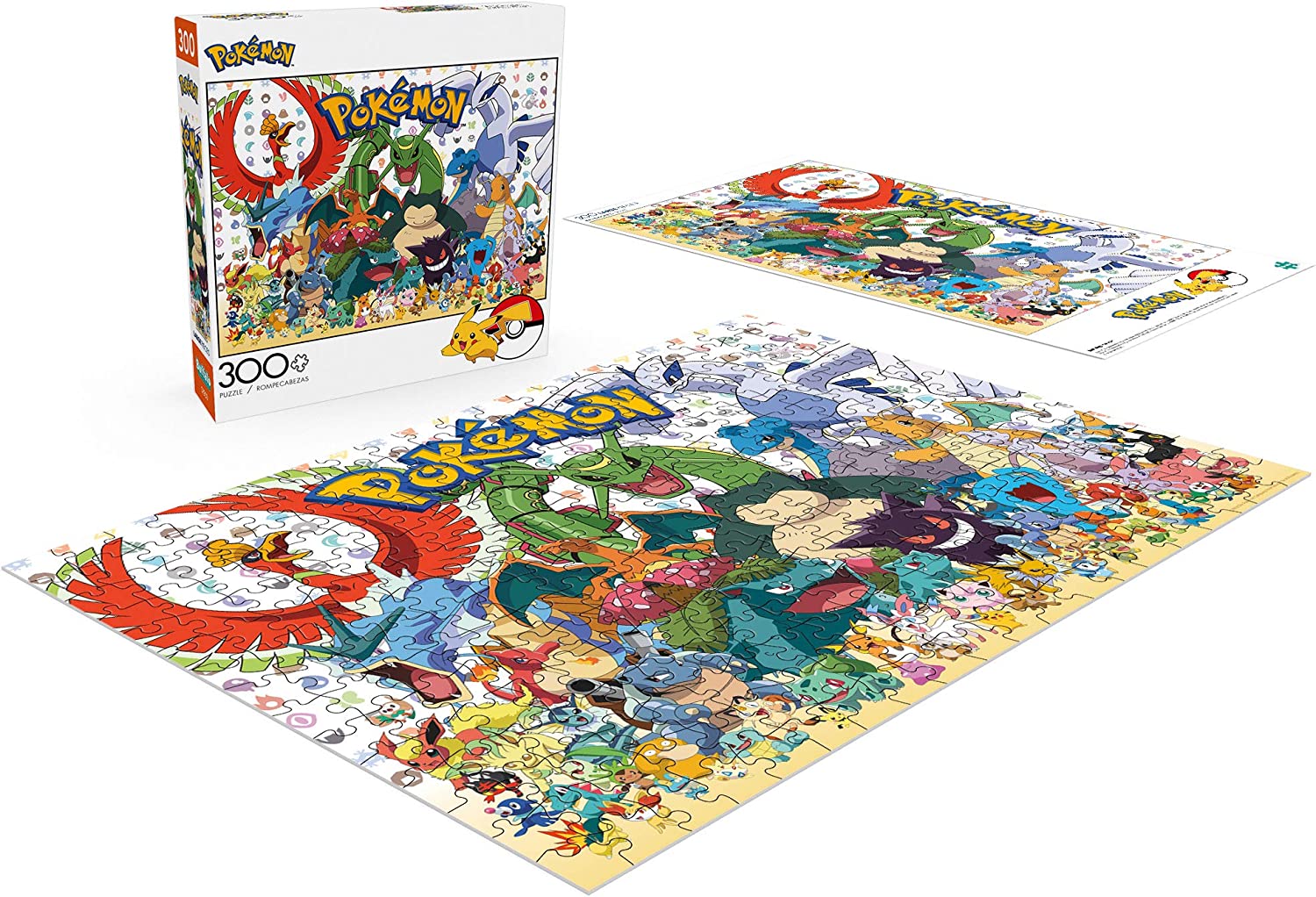 We all like the Buffalo Games Pokemon 300-Piece Puzzle. The design is great! Bright and colorful. I found the pieces to be much larger than standard puzzles, which is excellent for my son with Autism, who has issues with fine motor skills.
The 300 pieces are not an overwhelming amount, and a family (or determined individual) could complete the puzzle within a couple of hours.
This puzzle is by Buffalo Games which is an American company that manufactures their puzzles using premium quality 100% recycled paperboard, which is reassuring for those who seek out environmentally-friendly products.
Pros
Great for Screen-Free Time!
Perfect Difficulty Level for Most Children
Large Pieces
100% Recycled Product
American Made
Cons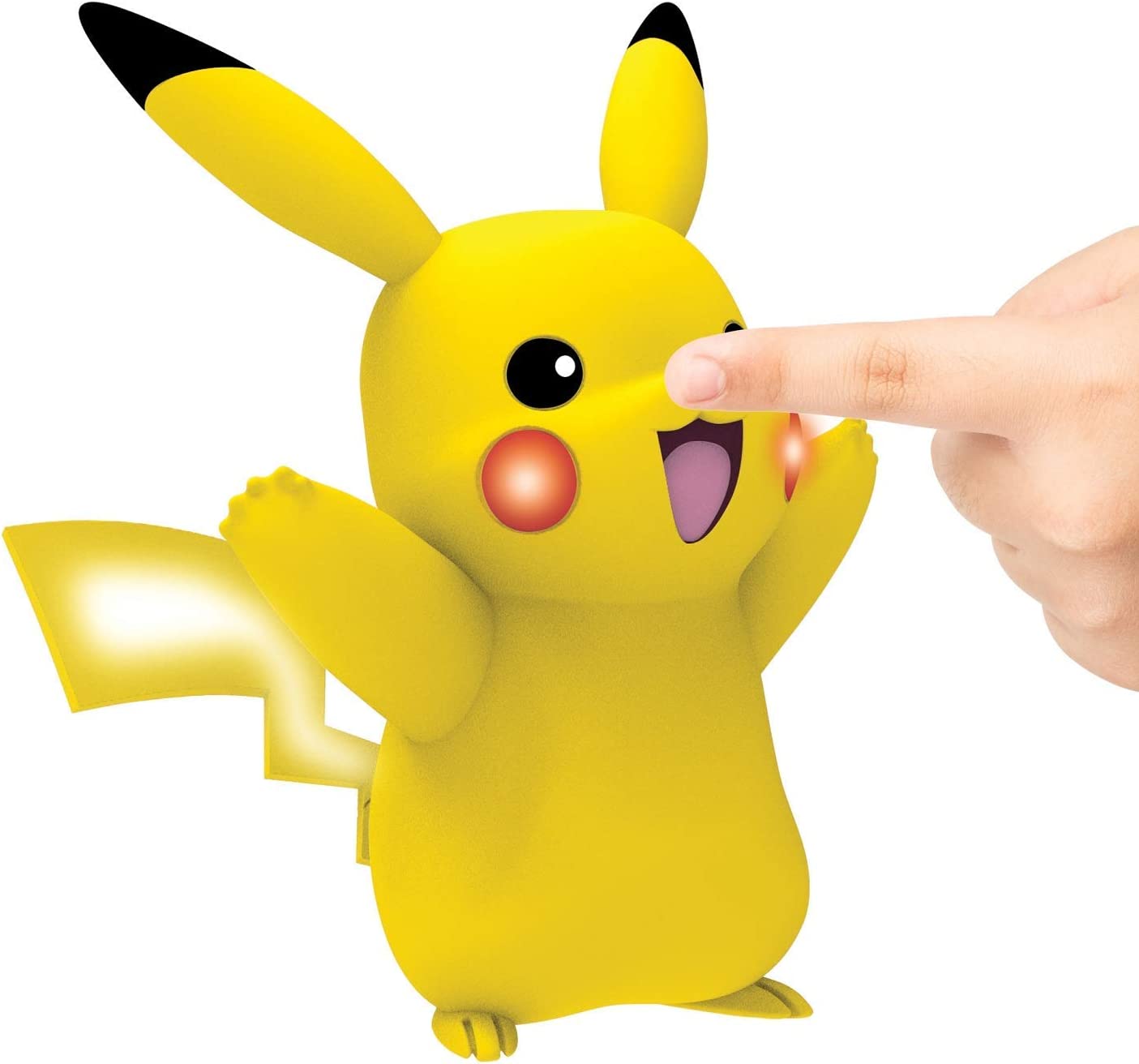 The Pokémon Electronic & Interactive My Partner Pikachu was a firm favorite of my 10-year-old sons but maybe a little young for my older children. The features are super cool, and there are more than 100 different interactions, with two modes; discovery or train. There are also lots of light and sound effects and three touch sensors.
The price is affordable, and I think this does reflect in the quality. While fine for children who play less vigorously, I am unsure how long this toy would last in the hands of a more robust player. For example, the tail feels quite fragile. I was also a little disappointed with the actual size, but again, it isn't an expensive toy.
Batteries are included, although some consumers recommend purchasing additional rechargeable batteries.
Pros
Low Price
Interactive Toy
Lights and Sounds
Moveable Arms and Ears
Touch Sensors
2 Modes
Cons
Quite Fragile
Smaller than Expected
Frequently Asked Questions
Question: How Many Pokemon Plushies are There?
Answer: There are currently more than 150 Pokemon plushies available of all characters. This may be one Pokemon toy where you don't gotta catch them all!
Question: Who Makes Pokemon Universe Toys?
Answer: The Pokémon Company is responsible for brand management and everything to do with the Pokémon franchise. They have branches in most countries, but not all. You will find many unofficial Pokemon toys, so look for things such as perfect imagery and spelling to ensure authenticity.
Question: Can You Still Buy Original Pokemon Universe Toys?
Answer: Online marketplaces are your best place to look for original Pokemon toys. However, due to their vintage appeal, the prices can be extreme. If you are looking for original Pokemon toys and can wait a few months, Bandai is bringing back a line-up of First Generation Pokémon, which will go on sale in Japan (initially) by the end of 2022.
The Best Pokemon Universe Toys Conclusion
My family liked all of the Pokemon Universe toys in this guide, but some more than others. My personal favorite is the Pokemon Carry' N' Go Volcano Playset; there are so many advantages to this and so few drawbacks. I like the portability and that everything can be stored neatly inside the box.
My son was most impressed with the Pokémon Electronic & Interactive My Partner Pikachu. While it does have some fun features, I am not overly confident in its longevity. The Pokemon Battle Figure 8-Pack is less in-your-face fun but much more durable and a great way to promote imaginative play.