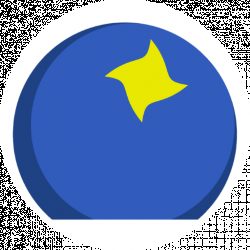 Latest posts by Avid Toy Insider Team
(see all)
Regardless of what some of my more 'serious' board gaming buddies may say, I love a good party board game. They give me a chance to share board games with some of my less game-inclined friends and switch things up at parties and avoid the inevitable game of 'Never Have I Ever'.
If you're lucky enough to be hosting parties with willing gamers, a party board game can start the evening off with some fun or end the evening with some competitive chaos. 
Bottom Line Up Front
Decrypto, Medium, and Blood on the Clocktower are my personal favorite party games, but I've categorized this 'best of' list so you can find just what you're looking for.
Best social deduction party game:

One Ultimate Night Werewolf

Best word party game:

Decrypto

Best trivia party game:

Wits & Wagers Party

Best family party board game:

Just One

Best party card game:

Sushi Go Party!
Criteria
What is a party board game? Defining a party board game is like defining a party. There's so many different variants and styles and it comes down to how you like to party (and game).
The games on this list range from fun word-based card games you could play at your next dinner party to big social deduction games that can take you late into the night.
That said, there are some basic criteria that all of these games meet:
Lots of players:

I'm not one to bash a 3-person party (and there are 3 person games on here), but a party game should be playable by lots of people and some games on this list can include as many players as you have at your party. 

Easy to learn:

The last thing you want at a party is an hour spent trying to explain the rules. These games are easy to learn and easy to play, though I've included a family-friendly section for kids parties.

Lots of interaction:

Party board games should be social and have plenty of player-to-player interaction. 
Best Social Deduction Party Board Game: One Night Ultimate Werewolf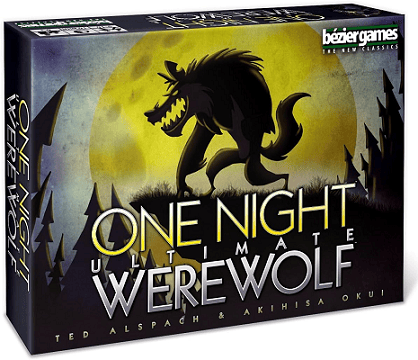 Players:

3-10

Playing time (per game):

10 minutes

Age:

8+

Designer:

Ted Alspach and Akihisa Okui

Publisher:

Bézier Games
The 2014 update of One Night Werewolf, is a beloved social deduction game that combines wink-murder-style offing of players and plenty of bluffing. 
You may have already played 'Werewolf' at parties and are familiar with the concept: At least one player is a werewolf murdering villages at night. During the day, players make accusations and execute villagers who they believe are the werewolf. 
One Night Ultimate Werewolf adds roles to the game, so villagers could be a Seer or a Robber, adding a bit more fun and complexity to the game. The 2014 update also has a mobile app so that you don't need one player to be the 'narrator', instead players can make decisions during both the day and night phase using their phones. 
While not the richest social deduction game on the market, I give One Night Werewolf my top pick for social deduction party games partly because it's easy to learn, relatively short, and is a great intro to these styles of games. 
More Social Deduction Party Games
Resistance: House of Avalon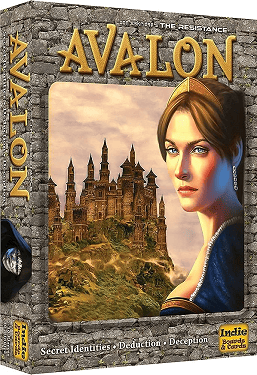 This is a close contender for best social deduction party game, but I try not to let my Arthurian fantasy nerdiness cloud my judgment. With quests to fulfill and multiple roles, this is a more difficult game, but it has just as much traitorous behavior and bluffing. 
Blood on the Clocktower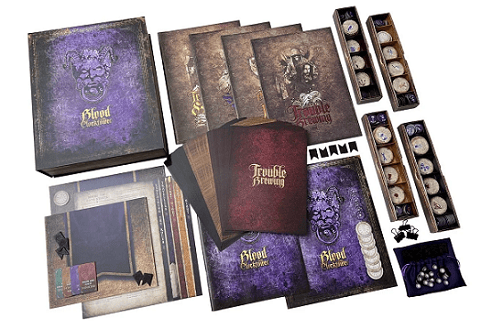 At a houseparty in LA, I was recently introduced to the fantastic party game, Blood on the Clocktower. Like ONUW, a player is a 'demon' killing other players at night and all other players have specific roles with powers. It's more complex (and, in my opinion, fun) than ONUW and it allows for more players (up to 20). 
Best Word Party Board Game:
Decrypto
Players:

3-8

Playing time (per game):

15-45 minutes

Age:

12+

Designer:

Thomas Dagenais-Lespérance

Publisher:

Scorpion Masqué
I first played this excellent, word-based party game at a board games cafe in Newcastle (support your local board games cafe!). Decrypto is all about secretly communicating specific keywords to your teammates and trying to intercept the clues given by the other team. 
Think, Codenames, but a bit more complex and even more fun. 
Each team has four keywords, each assigned a number between 1 and 4. Team members will then get a series of numbered codes, such as 341 and communicate related words to their teammates to help them guess the code. 
For example…
Let's say your keywords are: 1 – blue, 2 – party, 3 – cow, 4 – candle. 
Your code is 341, so cow, candle, blue. 
You might then say to your teammates: milk, fire, ocean … and hope that they correctly guess 341 as the related words. 
But be careful, the other team is listening in and can win the game by intercepting and correctly guessing your codes as they build up the keywords you've provided. 
I love Decrypto, and always suggest it if it's on the table as a fun party game. Maybe because I love word games, but also because it's slick, easy to pick up, and has a lot of replayability since the words and codes are switched up every game.
More Word-Based Party Games
Codenames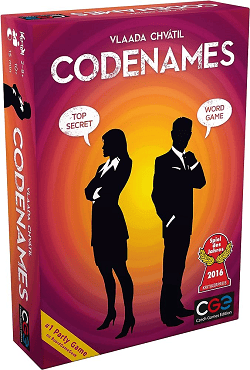 I mentioned Codenames as it's one of the most recognizable and popular party games out there. This 2-8 player game has you giving clues for set codewords as concisely and efficiently as possible and, if you're new to board gaming, is a great starter game too. 
Medium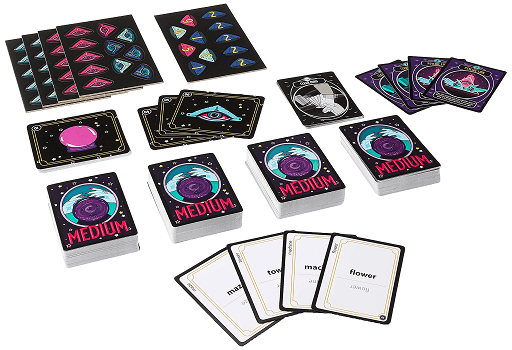 I love Medium. It doesn't have quite as much replayability as Decrypto, but if you're looking for a silly 'mind-reading' game that has players trying to simultaneously guess a word that connects to other words, you're in for a treat. 
Taboo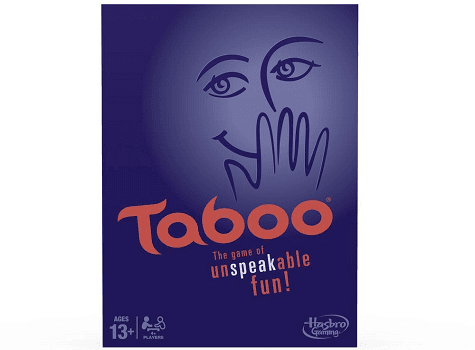 We're getting old school now. My parents had a copy of this 1980s retro board game. Players have to get their teammates to guess a word on their card without using any of the connected words on that card. The rules are simple and it's been a popular dinner party game for decades and still holds up. 
Best Trivia Party Game:
Wits & Wagers Party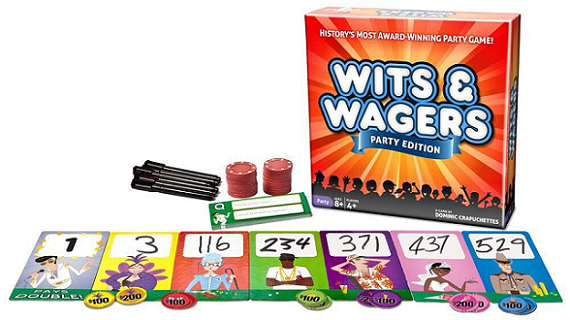 Players:

4-18

Playing time (per game):

25 minutes

Age:

8+

Designer:

Dominic Crapuchettes

Publisher:

NorthStar Game Studio
I have a lot of love for Wits & Wagers partly because it doesn't necessarily take an encyclopedic trivia knowledge to win this game. 
It's a trivia board game, but with betting and bluffing! You can place bets on the answer given by players you think is most likely, so this party board game is even more social and fun than your standard Trivial Pursuit. 
Lots of the questions are more guesswork than trivia, but you can make educated guesses and try to get the closest (most of the answers are numbers or dates). Then you'll bet on the likely answer and score points both for successful guessing and correct betting. 
Wits & Wagers Party simplifies both the rules and questions of the original Wits & Wagers, so it's more party friendly and kid friendly too. 
More Trivia Party Board Games
Time's Up! Title Recall!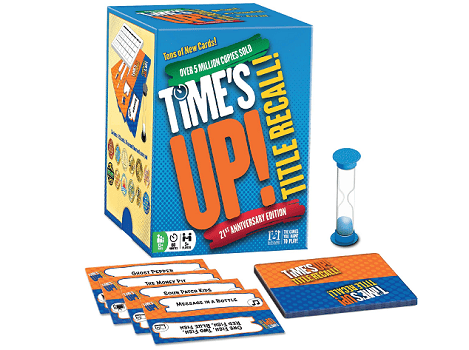 If the name isn't already a giveaway, this game is all about testing your movie trivia knowledge — one of many great games for movie fans. 
Linkee!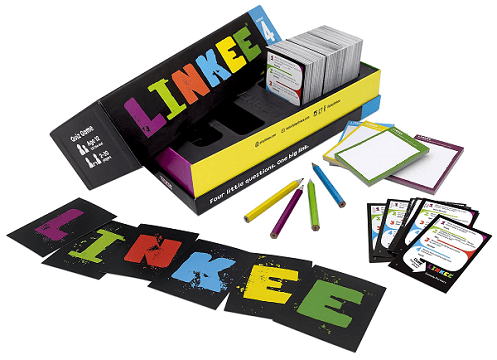 If your favorite round at a pub quiz is the connections round, you'll love Linkee!, a trivia party game all about guessing the connection between quiz answers. 
Best Family-Friendly Party Board Game:
Just One
Players:

3-7

Playing time (per game):

20-60 minutes

Age:

8+

Designer:

Ludovic Roudy and Bruno Sautter

Publisher:

Repos Production
I may have suggested Just One as a family or kids' game, but as a full-grown adult I love it as much as any 8 year old. This is a co-op board game and a word game. One player has a word in front of them and other players write down one-word clues to help them guess that word on their whiteboard. 
The mechanics of Just One are incredibly simple, but it has quirks to its rules that add to the fun. You can't use the same word as someone else, so you have to try to be unique in your word choice, yet also specific enough that the guessing player stands a chance. 
More Family Party Board Games
Dixit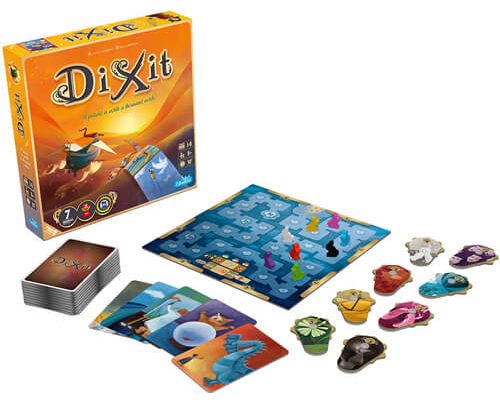 This is such a sweet and wholesome game that I've always loved. Players tell stories using beautiful art on cards they're given and other players guess which cards match the story. 
Say Anything Family Edition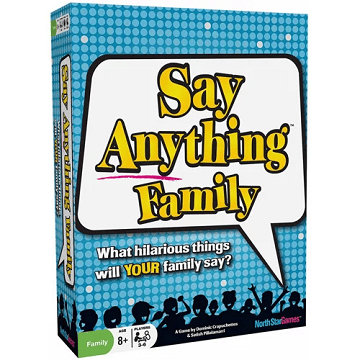 Say Anything is good fun and tests how well you know your fellow partiers. The family edition has updated cards so that kids can handle and enjoy the questions as much as adults. 
Perudo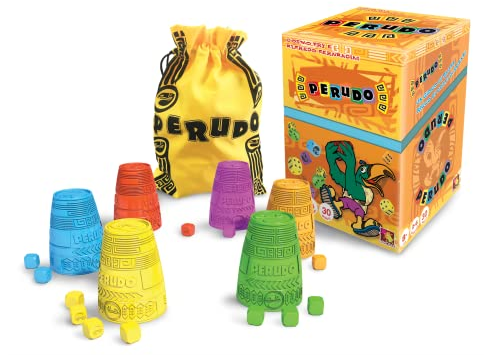 Okay, while I haven't played Perudo myself, I have been told by fellow gamers with kids that this silly dice game is a favorite for when their children have friends over, and I trust their judgment on this. 
Best Party Card Game:
Sushi Go Party!
Players:

3-7

Playing time (per game):

20-60 minutes

Age:

8+

Designer:

Ludovic Roudy and Bruno Sautter

Publisher:

Repos Production
Sushi Go Party! is, first and foremost, adorable. Making up a tray of cute sushi pieces to score points, I was sold the second I saw Nan Rangsima's super cute art. 
Sushi Go Party! is especially great for parties as it's so simple. It's a pick and pass game, so the mechanics simply come down to choosing one card from your hand then passing your hand to the player on your right. 
You build up a collection of sushi cards, which give points for different reasons (like needing the most maki cards out of all the players) and play over three rounds to score the most points. 
I have a lot of fond memories of Sushi Go Party! and have played it with everyone from my regular gaming friends to my grandparents, so can assure you it's an all-round crowd pleaser. 
More Party Card Games
Monikers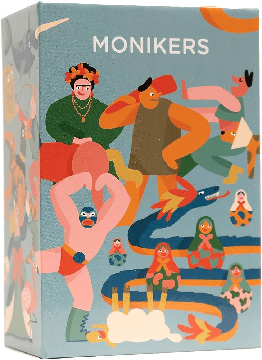 Monikers is a card game version of the popular party game, Celebrities…you know, when you're guessing celebrities based on clues given? Monikers adds some new quirks to the rules so it doesn't get old quickly. 
Lots of Other Games
Lots of the other games on this list are, in fact, card games, such as Medium, Dixit, One Night Ultimate Werewolf, Linkee!, Taboo, and Say Anything. 
Conclusion: Finding the Best Party Board Game
To conclude, I thought I'd share some advice on how to decide on which party board game to buy. Whether it's your first party game or you're simply fed up of the ones you have, you should consider the following:
What level of difficulty can my fellow partiers handle? 

Will pieces go missing or should I get a simple, card-only game?

Do I want a social deduction game or am I too bad at lying to ever win? 

What board games or party games do my friends already like? Trivia? Bluffing? Wordy games?
Ask yourself these questions to help you decide which games from this guide will be the biggest hits at your next party. 
Continue reading:
27 Types of Toys Explained for Children and Adults