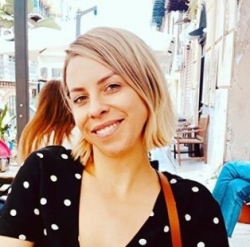 Latest posts by Jodie Chiffey
(see all)
Being an 80s baby and 90s kid, I have some wonderful memories of playing with some of the best retro 1980s toys, and I can't wait to rediscover these fantastic toys with you!
Toys today, especially electronic ones, are so advanced it's hard to see 1980s toys as anything special. Still, there was something truly mind-blowing and definitely iconic about those early toys and games.
The 80s was a time for exciting TV series, cool commercials, classic movies, and the birth of electronic gaming, and a hugely busy time for toy manufacturers to keep up with new high demand.
While parents rocked their bouffant hair and listened to George Michael, children were practicing their karate moves, searching the skies for aliens, or sitting down on the floor and playing with some of the greatest toys to have ever been invented – and it is those toys this article will focus on!
So, let's get to it!
My Bottom Line Up Front
The Pound Puppies were so adorable back in the day; every child had to have one – or six!
I remember feeling so relieved when I was finally able to 'rescue' one of these pups in the early 90s and save it from a life I had imagined for it… they're available now to encourage nurture, responsibility, and to care for another. It comes complete with an adoption certificate and sticker sheet!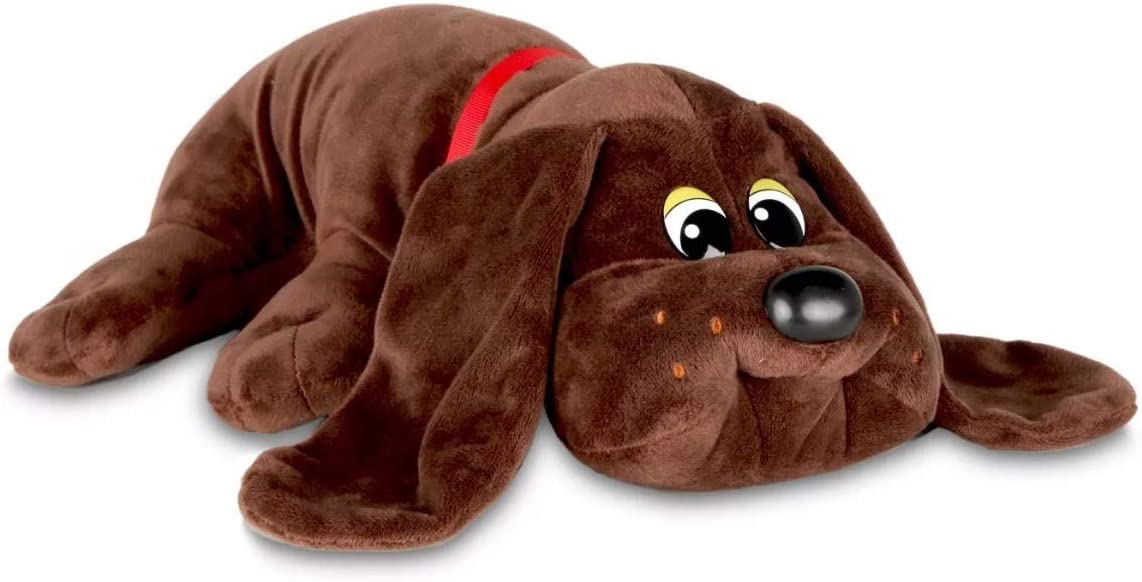 Best Retro 1980s Toys That Haven't Made the List
Sadly, not all 1980s toys that I consider to be completely awesome have made my guide, and there are a couple of reasons for this. The first is that I simply can't locate them or anything similar-enough to do them justice, so to preserve them in my mind (and yours), I felt it better to skip them altogether.
Other toys from the 1980s that do have similar products available today, but I have chosen not to include in this feature are:
Mini Hammocks: These were recalled in the mid-90s due to causing fatal accidents in the US.
Jarts: Another dangerous 80s toy that was recalled due to thousands of child injuries and at least 4 deaths in the US. You can find them retailing in Canada today but with plastic tips!
Monster Science Colossal Water Balls: Expanded to 400 times their size – even when ingested by a child – yikes!
Aqua Dots: In the 80s, these were made with slightly toxic paint and plastic; today, they're not, but I find them to still be a dangerous toy, regardless!
Bucky Balls: Available today but as dangerous as they were in the 1980s, and surgery is often required when these are ingested by children.
CSI Fingerprint Examination Kit: Contained dust with the worst form of asbestos; kids would just slather this all over the home!
My Product Criteria
Let me share with you the things I was looking for in 1980s toys before deciding to research them further:
Age
I wanted to try and cater to as many ages as I could, so I looked for toys that would suit all, from toddlers to pre-teens.
Activity
While the 80s was a hugely exciting time for electronic gaming, there were so many more popular activities than this, such as dolls, plushies, figures, and play sets. I hope to have included your favorite toy activity in this guide!
Theme
Star Wars, Barbie, and My Little Pony; in this post, you will definitely find some of the most popular themed toys from the 1980s!
Quality
I believe all of the toys I have included are of good-to-excellent quality (and definitely safe!).
Availability
Sadly, I came across a lot of my old favorites online that were just unavailable to buy today. Whether they'll be relaunched or suddenly become available again, I don't know, but I felt it pointless to recommend anything you couldn't get hold of right now – so I didn't!
Consumer Feedback
It's so important to take into consideration the experiences of other consumers when it comes to buying anything online. I checked my own findings with others to ensure I was providing readers with recommendations that not only I thought were great, but others thought so too.
My Chosen 15 Best Retro 1980s Toys
#1 Pound Puppies – #1 Top Pick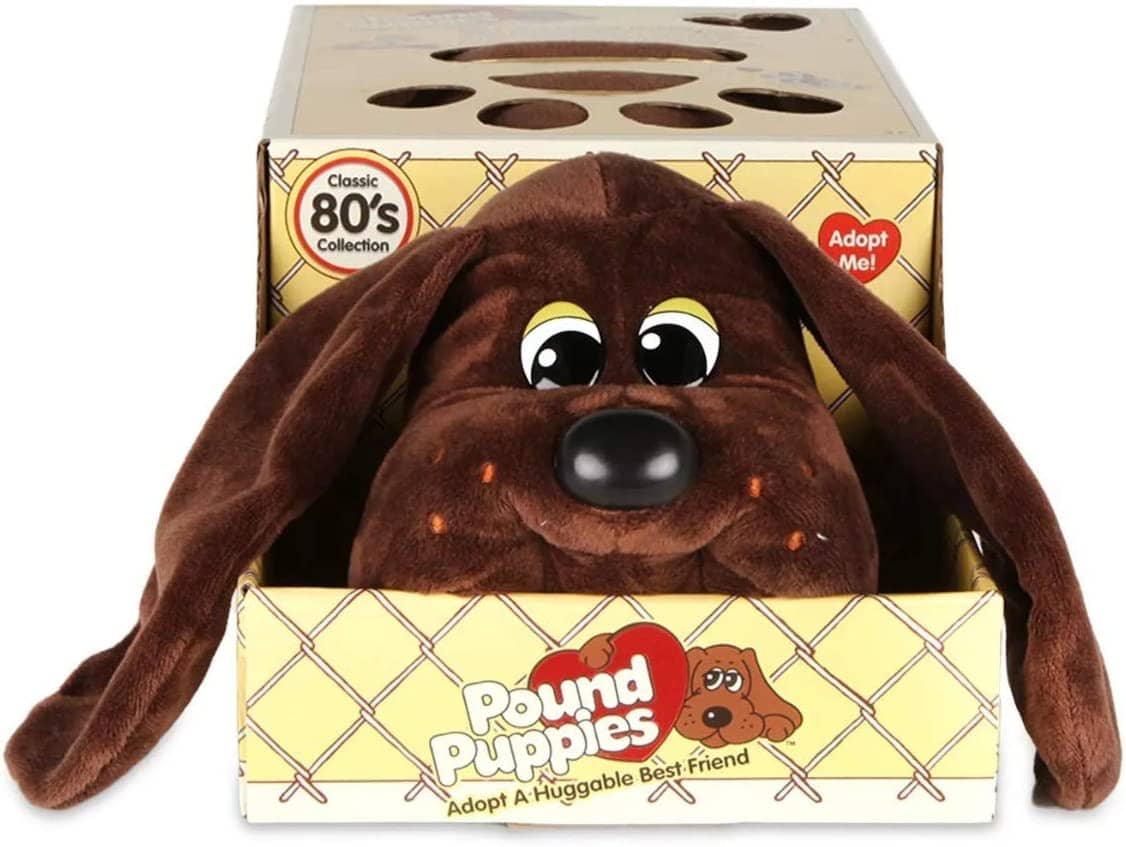 Please tell me, do you remember Pound Puppies?
Pound Puppies were the toy of my childhood; how I couldn't wait to 'rescue' one in the early 90s! Every child seemed to have one, and there were so many to collect! The puppies had big sad, droopy eyes and floppy ears and were super soft to cuddle. I remember there being many different colors, such as white, brown, and gray, and some even had spots!
Today, you can purchase authentic reproductions, and they're so similar to my Pound Pup that I struggle to see any differences at all. The plushies are 17 inches and come with an adoption certificate, sticker sheet, and box (which travels well.)
Two drawbacks: they're so expensive now, and they're not machine washable – but they do come with care instructions on how to bathe them!
Pros
Super Soft and Cuddly
Authentic Reproduction
Helps to Encourage Nurturing Skills and Responsibility
Lots of Choices
Cons
Expensive
Not Machine Washable
#2 3D View Master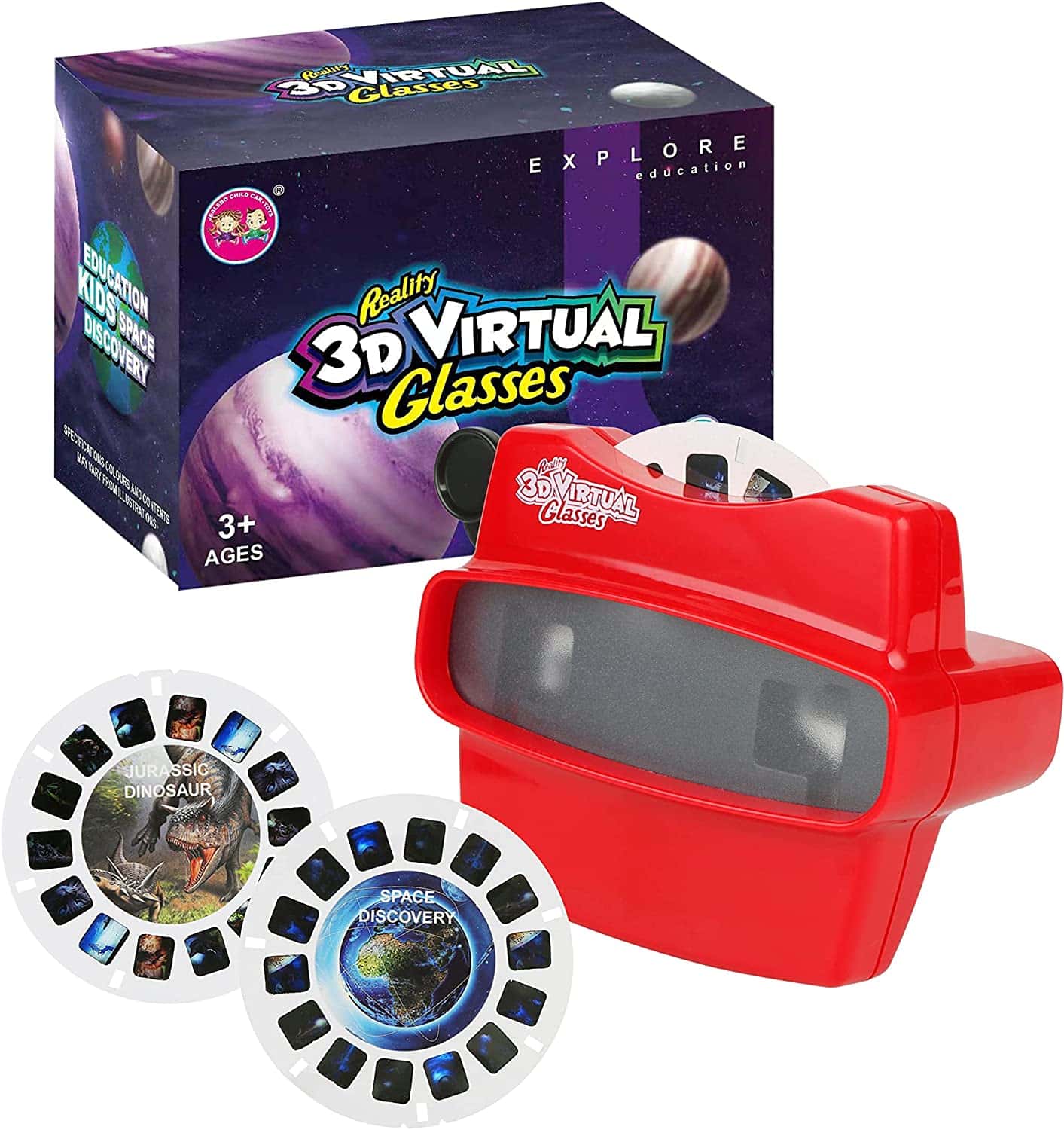 So, it's not quite a VR headset, but the 3D View Master very possibly contributed to this technology!
While this toy has been around since the 50s, the 3D View Master was one of the most popular toys of all during the 80s. It felt revolutionary! You could have your favorite movie scene, animal, or landmark brought to life before your very eyes at the simple push of a button – this was cutting-edge technology back in the day!
This classic version comes with two scrolls; vast universe and starry sky and African safari adventure, and both have 14 different images. The View Master is also interchangeable with other reels.
Pros
Greatly Affordable
Interchangeable Reels
Easy to Use
Great for Younger Children
Cons
Possibly short-lived fun: once the image has been seen, there's little fun in seeing it several more times.
#3 Atari 2600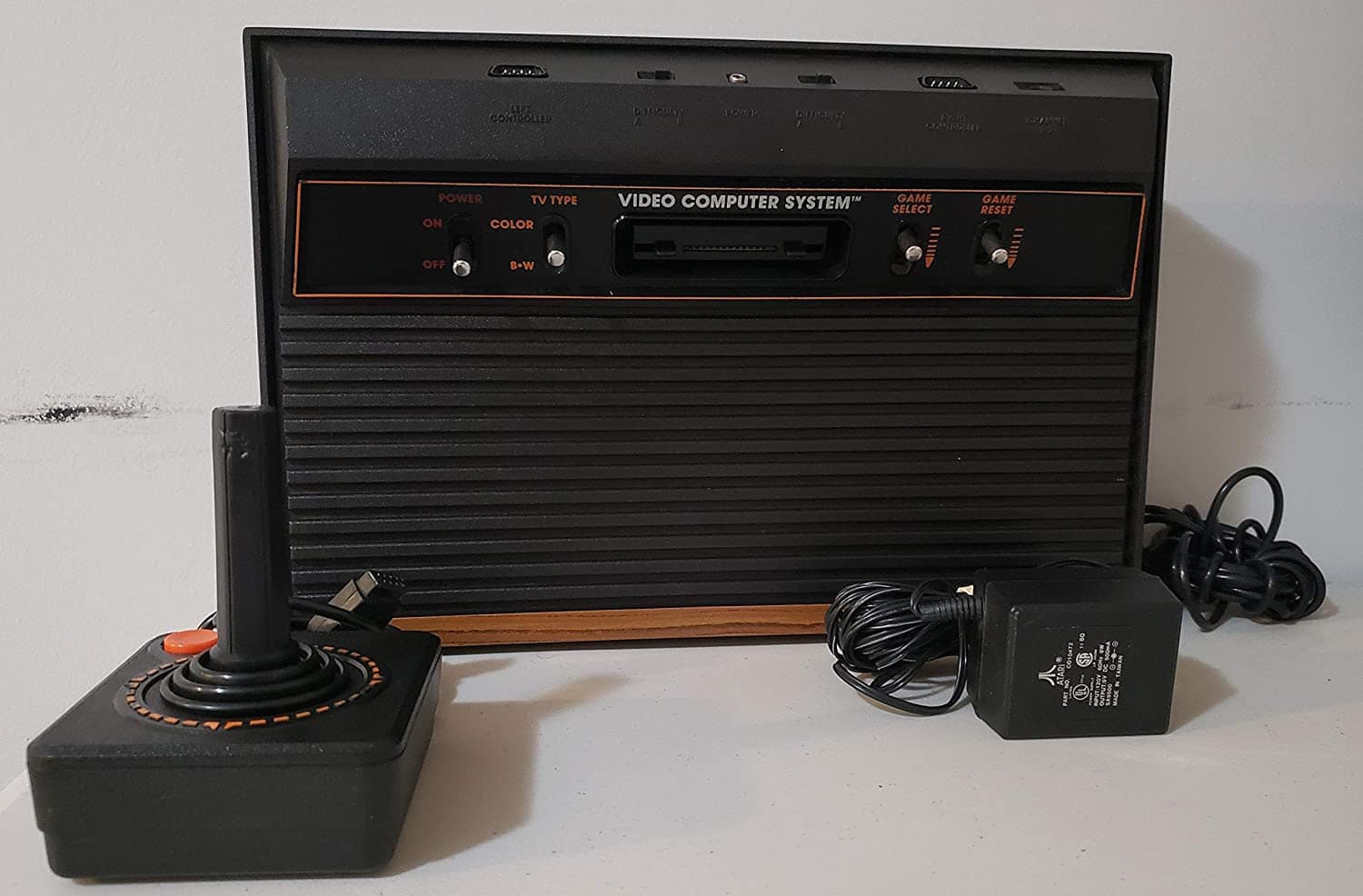 When first released, the Atari 2600 was priced at $199, which in today's money is $839.60 – this was one expensive console and considered to be the one to start it all! The Atari 2600 is as popular with retro gamers today as it was with everyone else back in the 1980s.
Bringing the arcade to the family room was a brand new concept, and hours would pass as gamers played Space Invaders, Pac-Man, or E.T.
You'll find the Atari 2600 in its original form but refurbished today for a reasonable price. A range of games are included. However, please bear in mind this was created to be compatible with TV sets of the 80s and not our modern TVs of today, so an additional adapter is needed.
Pros
Great Price
Original 1980s Console
Games Included
Responsive Seller
Cons
Additional Adapter Needed
Used Condition – May Vary.
#4 Transformers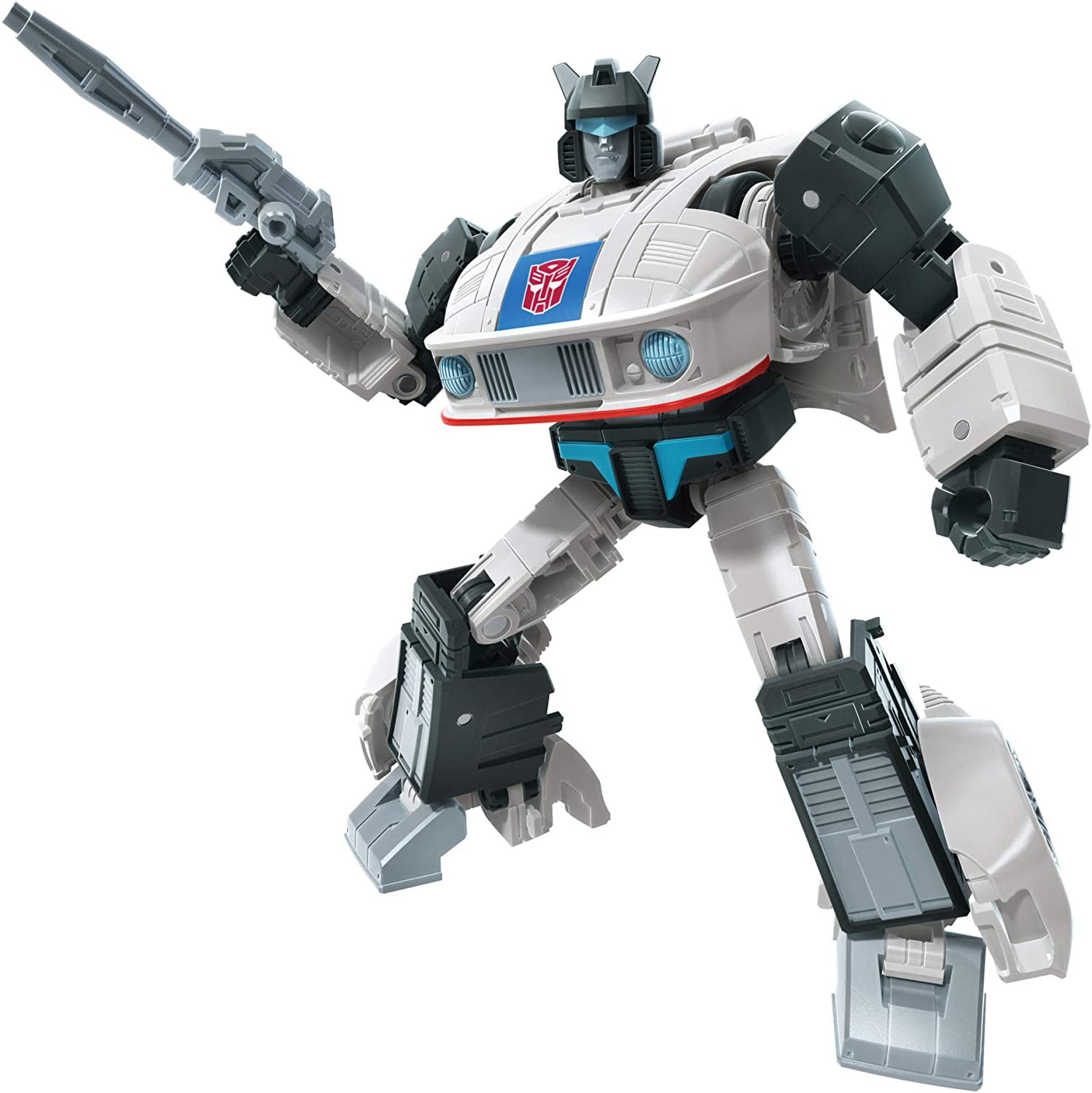 The original 80s Transformers were hugely popular around the world, and they still are today! My partner played with the original toys, and our boys adore the modern Transformers, which don't seem to have changed all that much.
I really like this 1986 model, which transformed from a figure to a racecar in 20 steps. I agree with the manufacturer's recommendation of age 8 years and over due to some of the steps being a little fiddly.
Pros
Highly Articulated Figure
Blaster Accessory Included
Sturdy and Well Made
Feels Durable
Good Price
Cons
No Fast Shipping Option (even with Amazon Prime)
#5 Star Wars Figures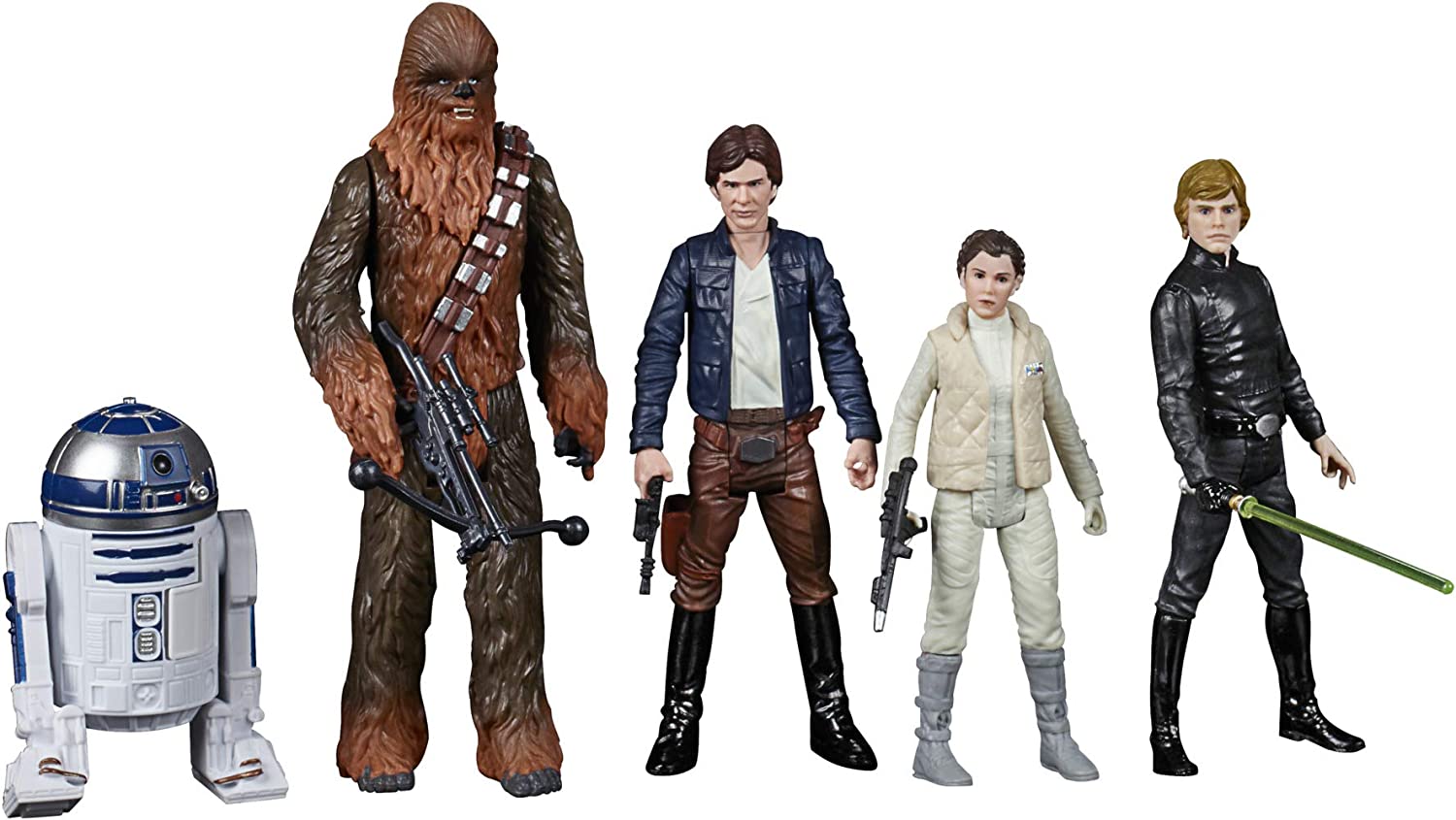 Nothing says 80s toys quite like a set of Star Wars Figures! This franchise began more than 40 years ago and is still going strong today. These figures are great fun to play with and feel exceptionally well made; they also make fantastic additions to a collector's shelf.
This purchase includes five stand-alone figures and accessories, the price is comparable, and the feedback is good.
Pros
Very Well Made
Perfect for Play or Display
Accessories Included
Positive Feedback
Cons
While the price is comparable, I find it a little steep.
#6 Rock 'Em Sock Em Robots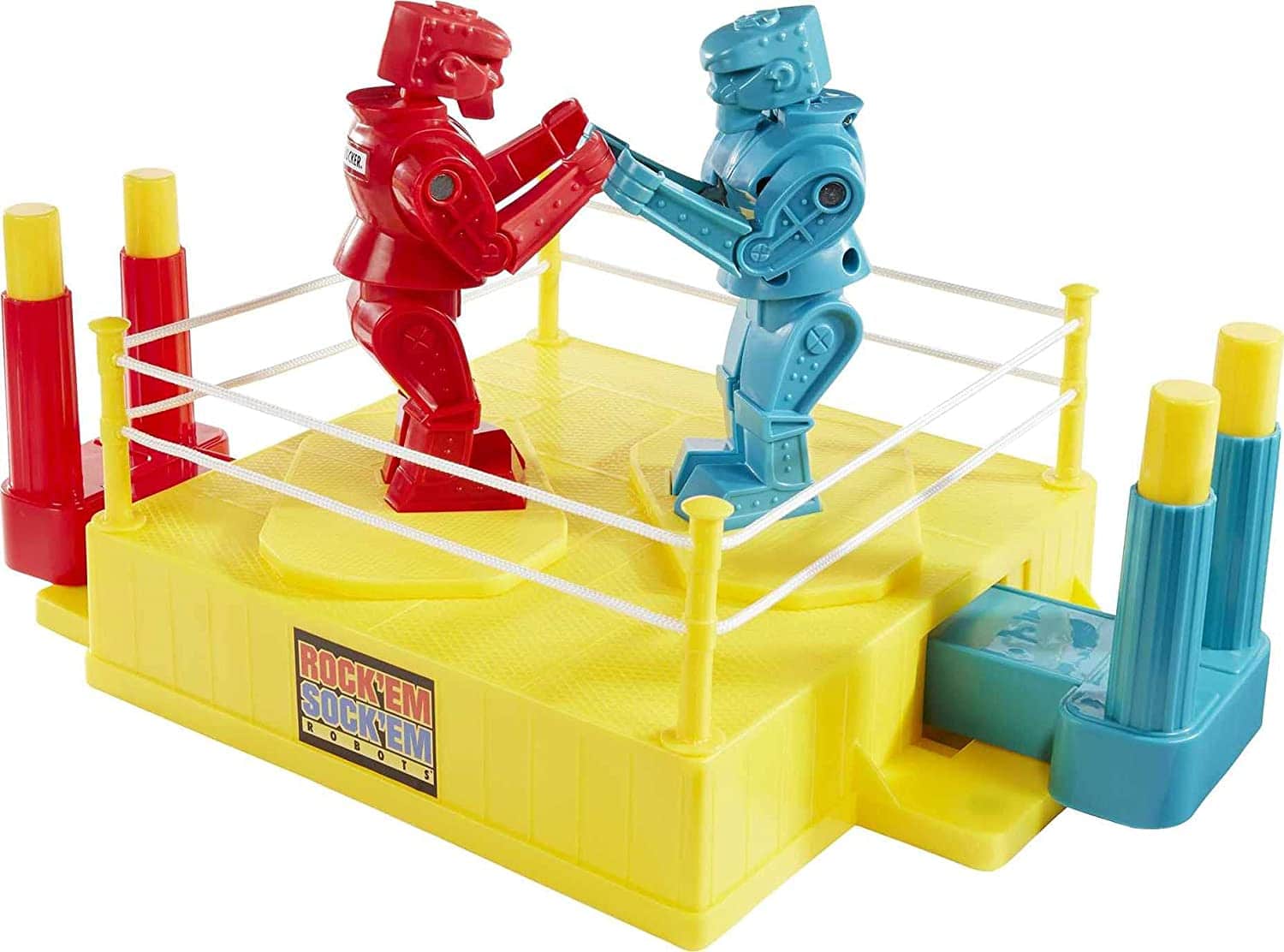 Why have a simple thumb war when you can play Rock' Em Sock Em Robots? This iconic 80s toy has been featured in so many TV shows and movies from this decade that it's a toy I couldn't ignore. While I find the concept a little tedious, I'm seemingly an exception here!
This set offers good old-fashioned fun and is so straightforward to play that it's suitable for young and old, although the manufacturer recommends it for ages 6 years to 10.
Pros
Good Old-Fashioned Fun
Easy to Play
Iconic 80s Toy
Alternate Versions Available
Cons
Expensive for What it is.
#7 Gameboy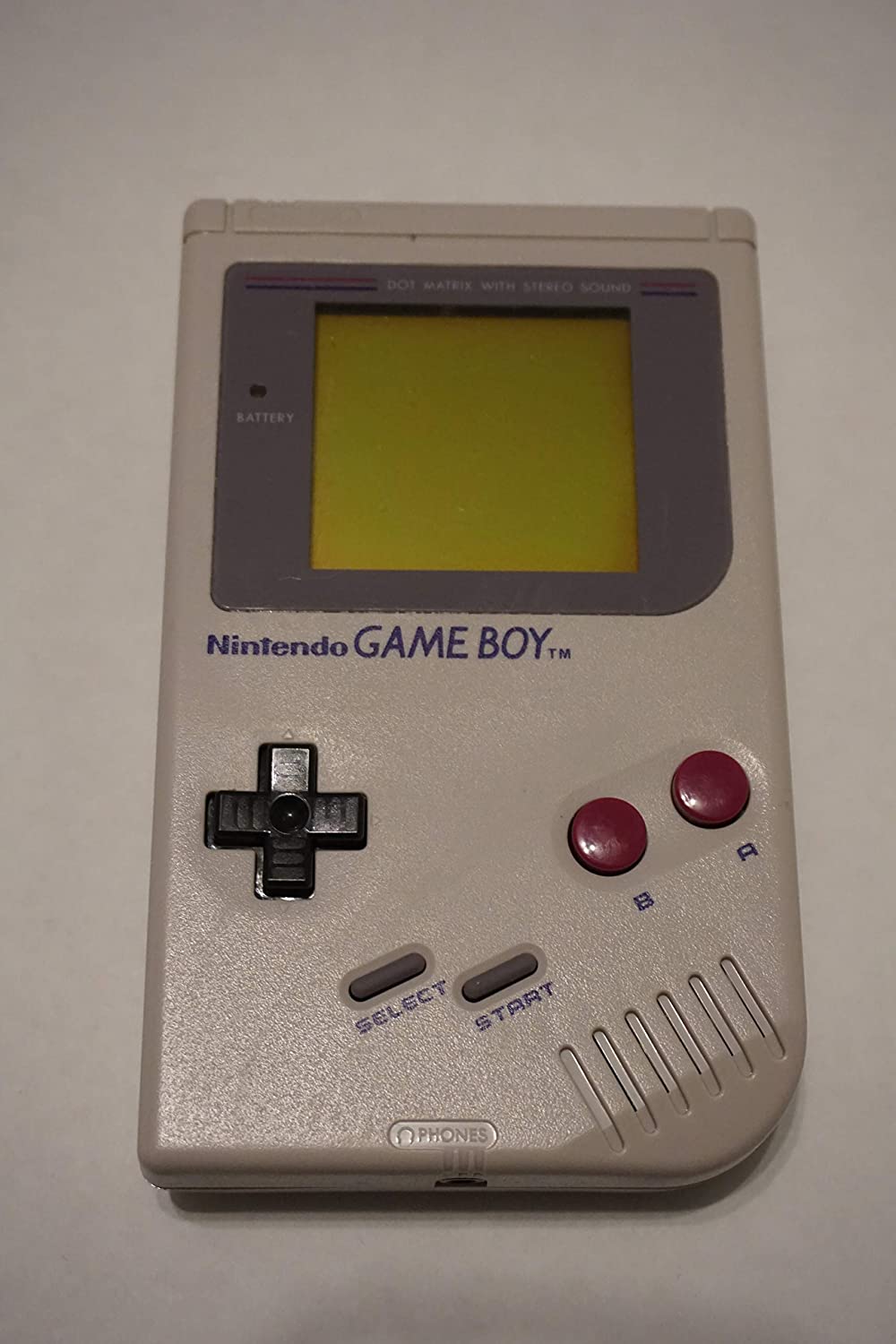 While the Gameboy needs no introduction, it is worth saying that this is the device that probably started the world's love for handheld gaming devices! The Gameboy was introduced in 1989, so it was very nearly a 1990s toy!
This version is an original Gameboy that has been refurbished – it has been professionally inspected, tested, and cleaned by Amazon qualified vendors. For peace of mind, there is also a 90-day refund or replacement policy.
Additionally, there are many cheaper alternatives available (like this handheld console by Chilartalent), but whether they compare to the official Nintendo console is a different matter.
Pros
Original Device
90-Day Refund/Replacement
Excellent Feedback
Cons
No Cartridges Included
Expensive
#8 Fashion Plates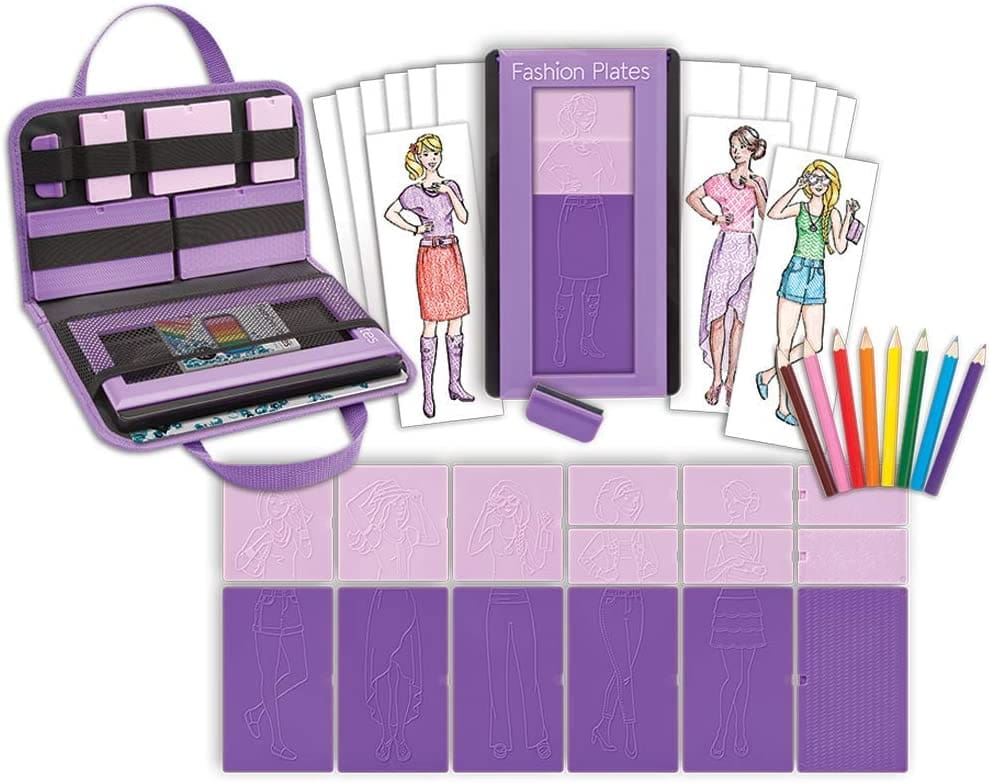 Every 80s girl who wanted to be a fashion designer will have had a set of Fashion Plates! This toy offered a fun and effortless way to make beautiful, fashionable designs and included it all, from prairie skirts to mini dresses.
While this set isn't from the 80s, it does work with original 70s and 80s plates, and the entire concept is exactly the same, too. This set includes 15 plates, paper, pencils, crayons, a drawing tablet, and a convenient little carry case to keep everything together neatly.
Pros
Perfect Present
Loads of Design Choices
Convenient Carry Case
Excellent Reminder of the Simplicity of the 1980s!
Cons
Some mentions of the crayon being difficult to erase.
#9 Rubik's Cube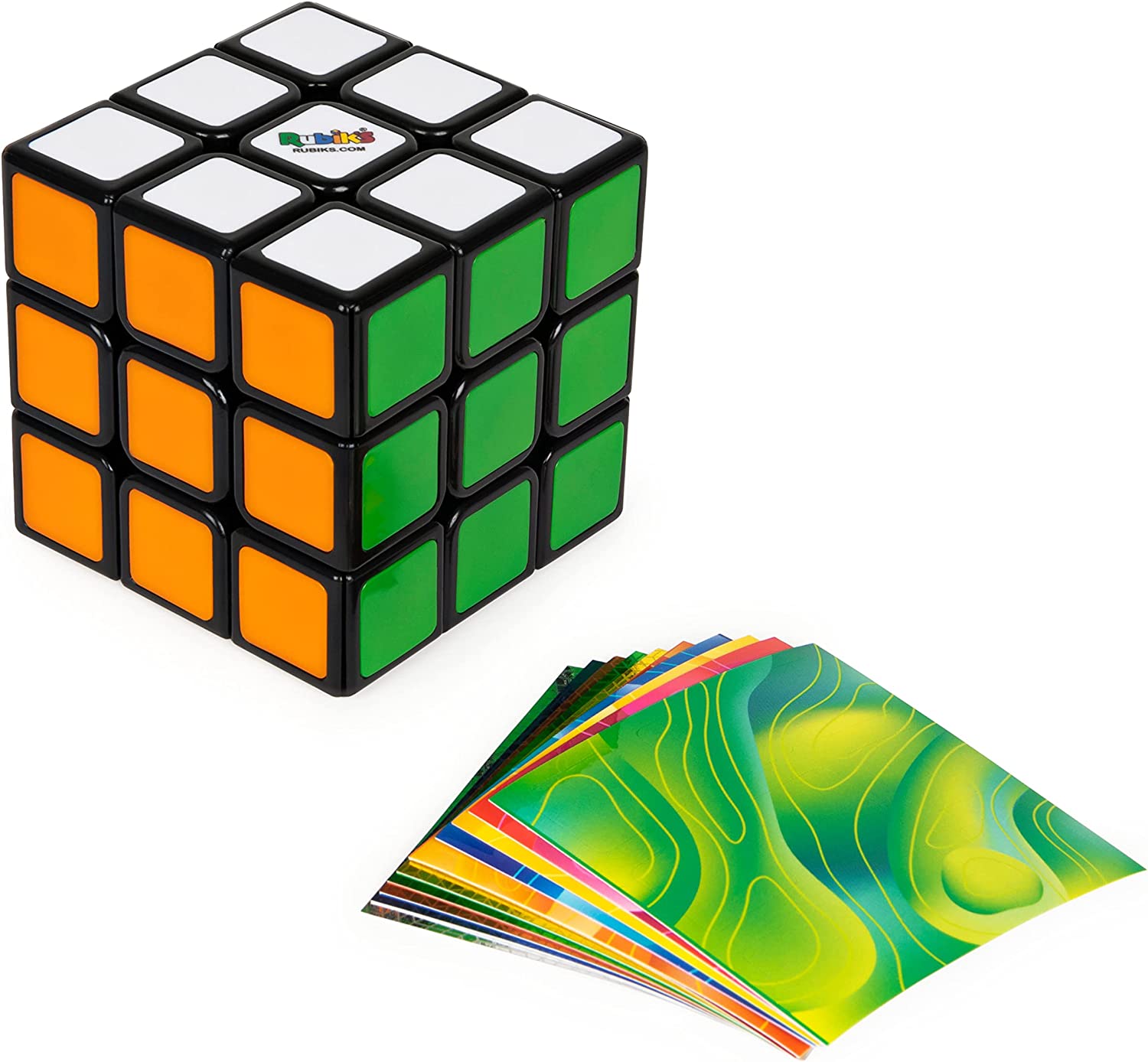 The Rubik's Cube was the best-selling toy at the start of the 1980s, and it's still widely popular today. There are many versions available now, but this original design Rubik's cube is still one of the most purchased of all.
Pros
Original 80s Design
Includes Removable Stickers to Change the Look
Online Best Seller
Cons
Shipping Takes a Few Days
#10 Cabbage Patch Kids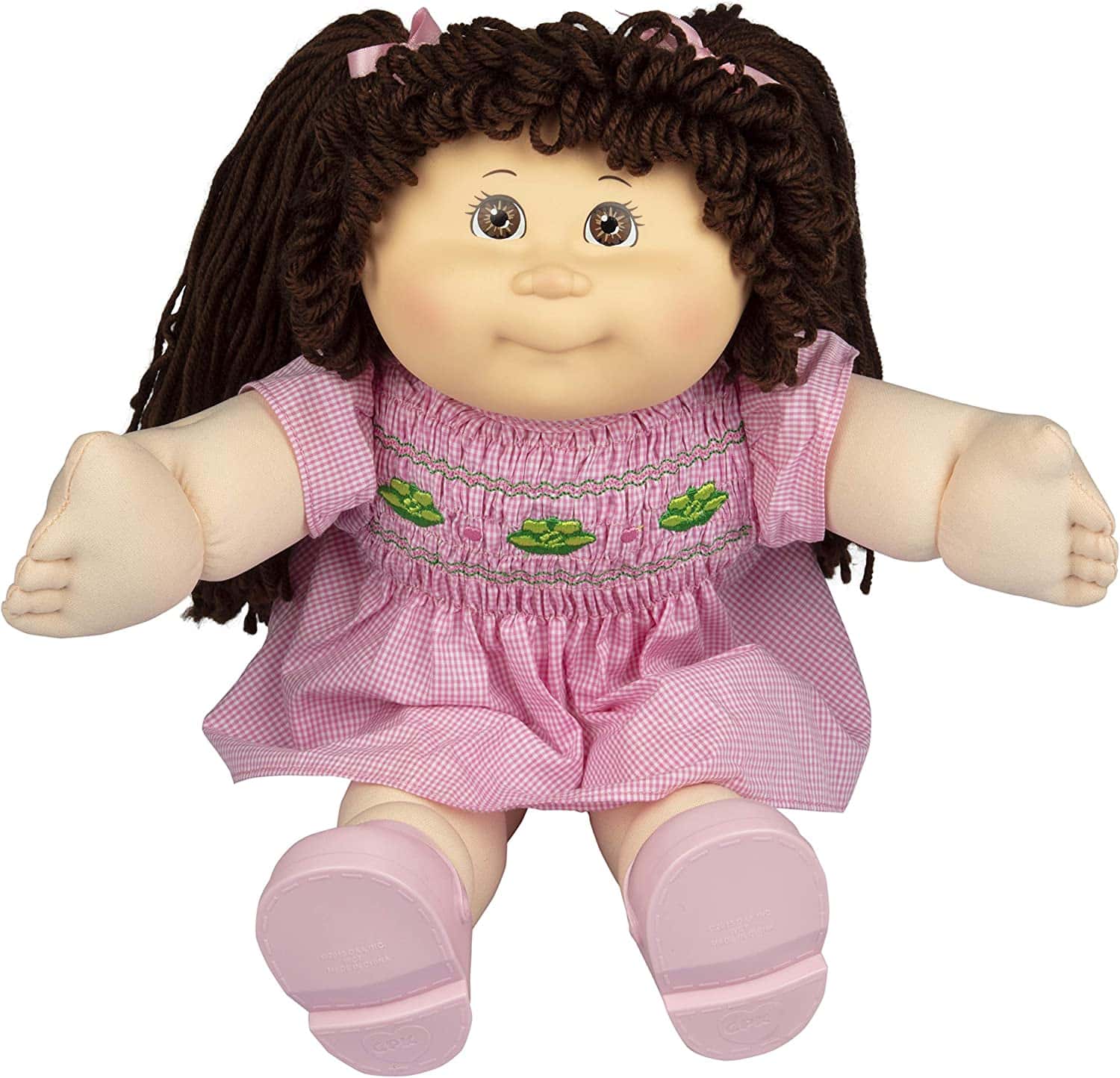 Introduced in 1982, Cabbage Patch Kids are now amongst the longest-running doll franchises in the US.
This super cute vintage-style Cabbage Patch kid is ready for adoption today (for a little under $50) and comes with adoption papers, a birth certificate, and a unique name!
While there are different dolls to choose from, I love the original feel, look, and smell (yes, smell) of this one. She is super cuddly, very sweet, and every inch the same as the ones you'd get in the 1980s.
Pros
Perfect Replica of the 1980s Cabbage Patch Kids Doll!
Comes in a Strong Box – with a see-through window
Excellent Consumer Feedback
Great Longevity
Cons
Doesn't have a diaper like the original
#11 Koosh Ball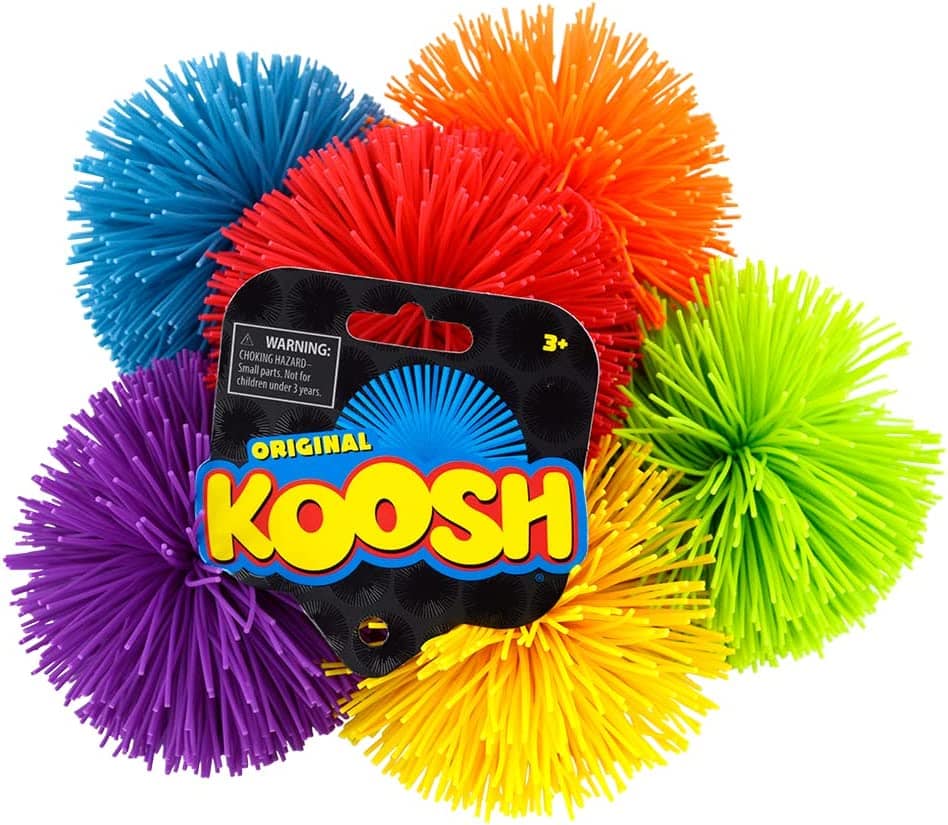 If you thought fidget toys, tangle toys, and stress balls were a new concept, then you may have completely forgotten about the Koosh Ball! This indoor ball was designed to be thrown in safety by kids who needed to burn off a little energy, and they were also great stress relievers, too.
The Koosh Ball helps to improve focus, develop hand-to-eye coordination, encourage fine motor skills, and give energetic kids a safe indoor release. I love them! While this purchase is a little pricey, it does include 3 Koosh Balls, and they're said to be indestructible, so the cost can be easily justified.
Pros
Fun and Educational
Indestructible (apparently!)
Perfect Fidget Toy
Ideal Stress Reliever
Long Established Toy
Cons
Fairly High Initial Outlay
#12 My Little Pony
My Little Pony was huge in the 80s and 90s, and this set is a perfect copy of the original ponies. There are six ponies included; each is a different color with different colored hair – which is rooted for excellent longevity. It's really hard to find vintage sets like this, so I'm happy to pay the price online, and for the durability of these little guys, too, I feel this is a steal.
Most consumers are very satisfied with this purchase, although some would have liked accessories such as brushes to be included. You can't please them all!
Pros
Rare Find
Good Price
6 Ponies Included
Great 80s Replicas
Cons
#13 Chatter Phone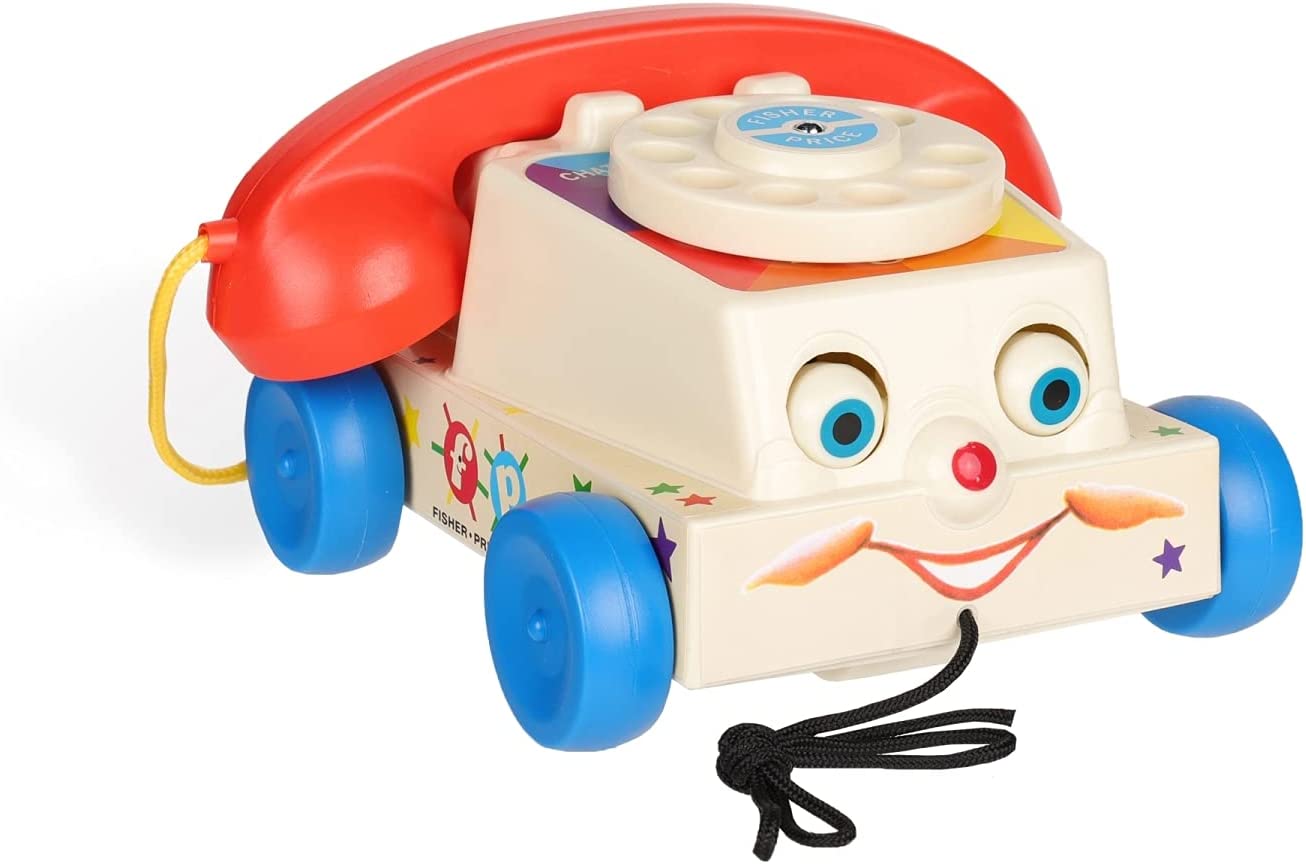 The Chatter Phone was one of my favorite toys as a tot; I remember one being at my Grandma's house and my siblings and cousins playing with it for years – even my own children would make a beeline for it when they came along! This very simple, pull-along toy was all the entertainment my family needed in their early years!
Created by Fisher Price, the design today is exactly the same. The eye movements, and noises, too. I cannot find a single drawback to this toddler toy!
Pros
Fantastic Toddler Toy
Fun and Educational
Super Durable
Amazing Price
Same Iconic 80s Design
Cons
Frequently Asked Questions
Question: How Much Are 1980s Toys Worth Today?
Answer: For retro toys to be worth money today, they must be in mint condition and preferably within their original packaging, but some 80s toys are worth big bucks! Check your attic to see if you have any original 80s toys that could make you a small fortune!
Question: Where is the Best Place to Buy Authentic Retro 1980s Toys?
Answer: Your best bet would likely be yard sales, jumble sales, or online auction sites. However, toys made previous to 2008 may contain high levels of lead paint and toxic phthalates and subsequently not meet the federal safety standards of today. So, buy with caution!
Question: What was the Most Popular Toy of the 1980s?
Answer: This is objective. State by state, country by country, age group by age group will each have a different toy as the answer to this. But, I believe I have included 13 of the most universally popular toys of the decade.
Summary of The Best Retro 1980s Toys
How cool was it to look back on all of those fantastic retro 1980s toys? It's incredibly hard to pick a favorite or to make a single recommendation to you guys! But I do love the Pound Puppies, it's a little sad how expensive they are today, but I guess that's inflation for you!
I have so many happy memories of the Chatter Phone, and this is a toy with absolutely no drawbacks – and I won't be told differently! I also really enjoyed playing with Cabbage Patch Kids, My Little Pony, and Fashion Plates.
If you're into retro gaming, the Gameboy and Atari 2600 are great choices. Or, to go way back to basics, you could consider the 3D View Master!