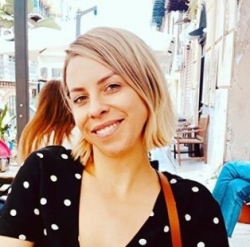 Latest posts by Jodie Chiffey
(see all)
For many little ones today, Daniel Tiger is quite simply life. And, if you have a Daniel Tiger fan in your household, you'll likely have had the catchy theme song in your head for days at a time. Your home may already be filled with some of the best Daniel Tiger toys, but I'm hoping you'll discover some new ones in my guide.
Although one of the more educational programs around for tots today, the danger of shows like Daniel Tiger's Neighborhood is that they're like nectar to toddlers, which means screen time can become a little obsessive.
If you're concerned about screen time for your little one, then you can rest assured that all the Daniel Tiger toys I have chosen to recommend are offline toys for them to physically play with. If you just want to know my favorite Daniel Tiger toy, you can find this just below.
My Bottom Line Up Front: I love the Daniel Tiger Big Book of Firsts. Great value for money and the bonding opportunities for caregiver and child are plentiful. This book is the perfect gateway to independent reading and lots of fun, too.
At a Glance: 10 Best Daniel Tiger Toys
The Best Daniel Tiger Toys: A Complete Guide
Today there are entire networks dedicated to kids' content, and we certainly don't have a shortage of what to stick on the box when we just need 5-minutes. But, if, like me, you grew up watching Mr. Roger's Neighborhood and Sesame Street, you likely have a pretty high bar for what makes a kid show one you want to encourage.
Studies show that Daniel Tiger can indeed help little ones to understand and process a range of emotions as they view their favorite characters going through relatable things and dealing with them in an age-appropriate way.
Additionally, the show makes it clear that we live in a diverse world and that people are different, and this is okay!
Plus, there are catchy songs for tots to get in their physical activity!
So, all in all, if you're looking for a kids' TV show, there are few better than Daniel Tiger's Neighborhood today.
Choosing a Daniel Tiger Toy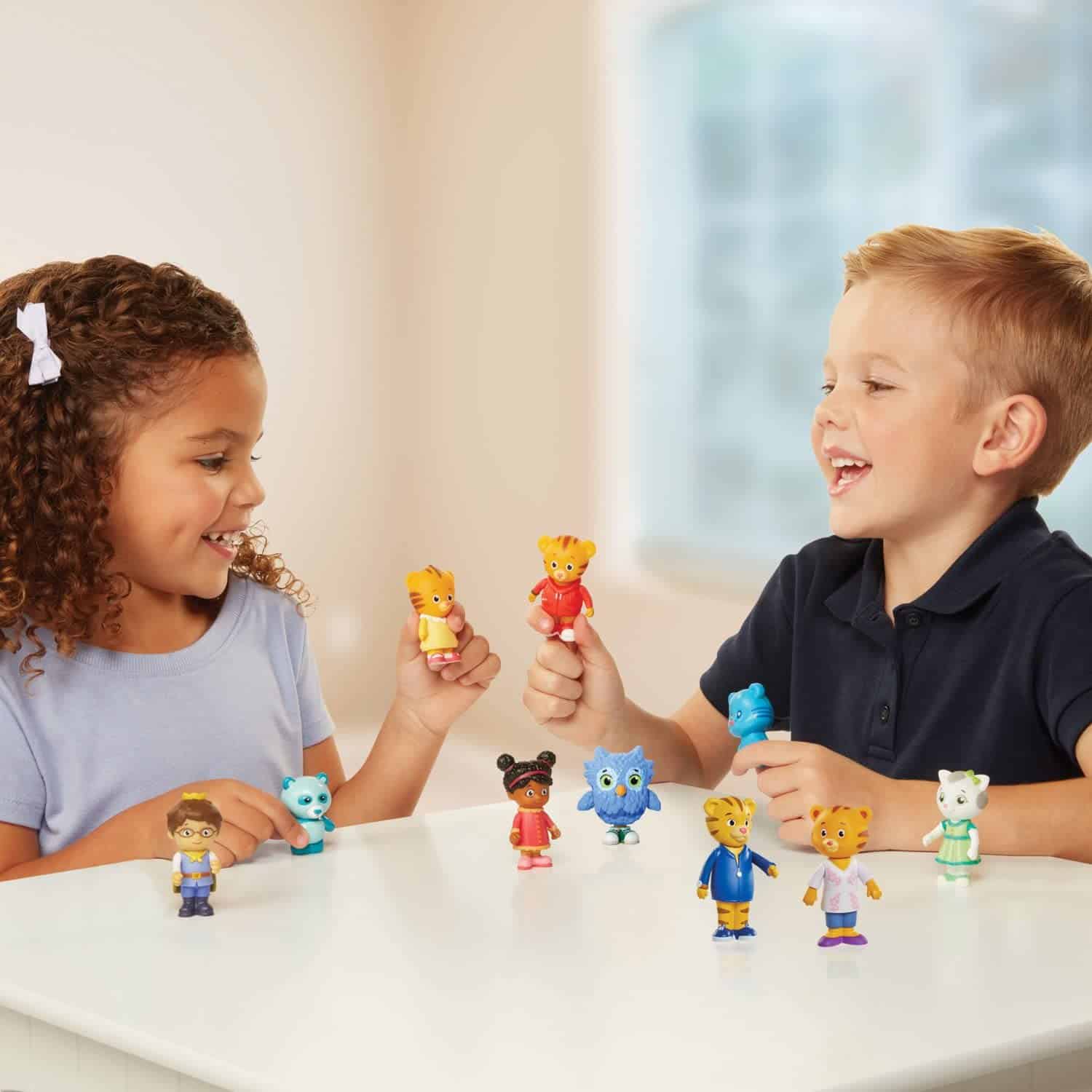 As with any toy theme, there will be the good and the bad products out there. When looking for Daniel Tiger toys, we're very likely looking for children under 4-years, which means that toys with small parts or complex mechanisms are off the table.
Here are some other things to consider when choosing the best Daniel Tiger toys:
Look for educational toys: Educational toys have enormous benefits, and most toys aimed at preschoolers will have an educational aspect, even if they're not the main selling point. For example, a playset can be the foundation for teaching your little one social skills, how to keep safe, or appropriate behavior in different places.
Consider the activity: Selecting toys by activity is a great way to filter your search and ensure you're not duplicating buying.
The fun factor: When the recipient is of preschool age, they want fun, and for this age bracket, this mostly means bright, loud, and interactive – but this isn't always the case. Toys are often what you make them, and if you're prepared to get down on the floor and play too, I'm confident all Daniel Tiger toys will have the fun factor.
My Product Criteria
I am a Mom of three and a veteran toy buyer who, over the years, has learned the things to look for when buying toys online to ensure you're not stung. Let me share these with you here:
Durability
Toddler toys need to be durable – they're going to go through a lot! I look for what toys are made out of, and if I don't think they'll survive my children's antics, I save my money and move on! Ideally, you want bulky and robust, with rubber or hard plastic material.
Price
A toddler will likely play with their favorite toy of today for such a short time that it pains me to part with a large sum of money for it. I have factored this in with my Daniel Tiger search and only included products with prices that I would feel comfortable paying.
Of course, this is different with older children, where toys can be more of an investment and not as short-lived.
Consumer Reviews
Consumer feedback is the most valuable asset online and should always be considered before buying any product you aren't physically seeing or touching. Take advice from those with experience with the product, but ensure they're verified consumers.
My Chosen 10 Daniel Tiger Toys
#1 Best Daniel Tiger Book: Daniel Tiger Big Book of Firsts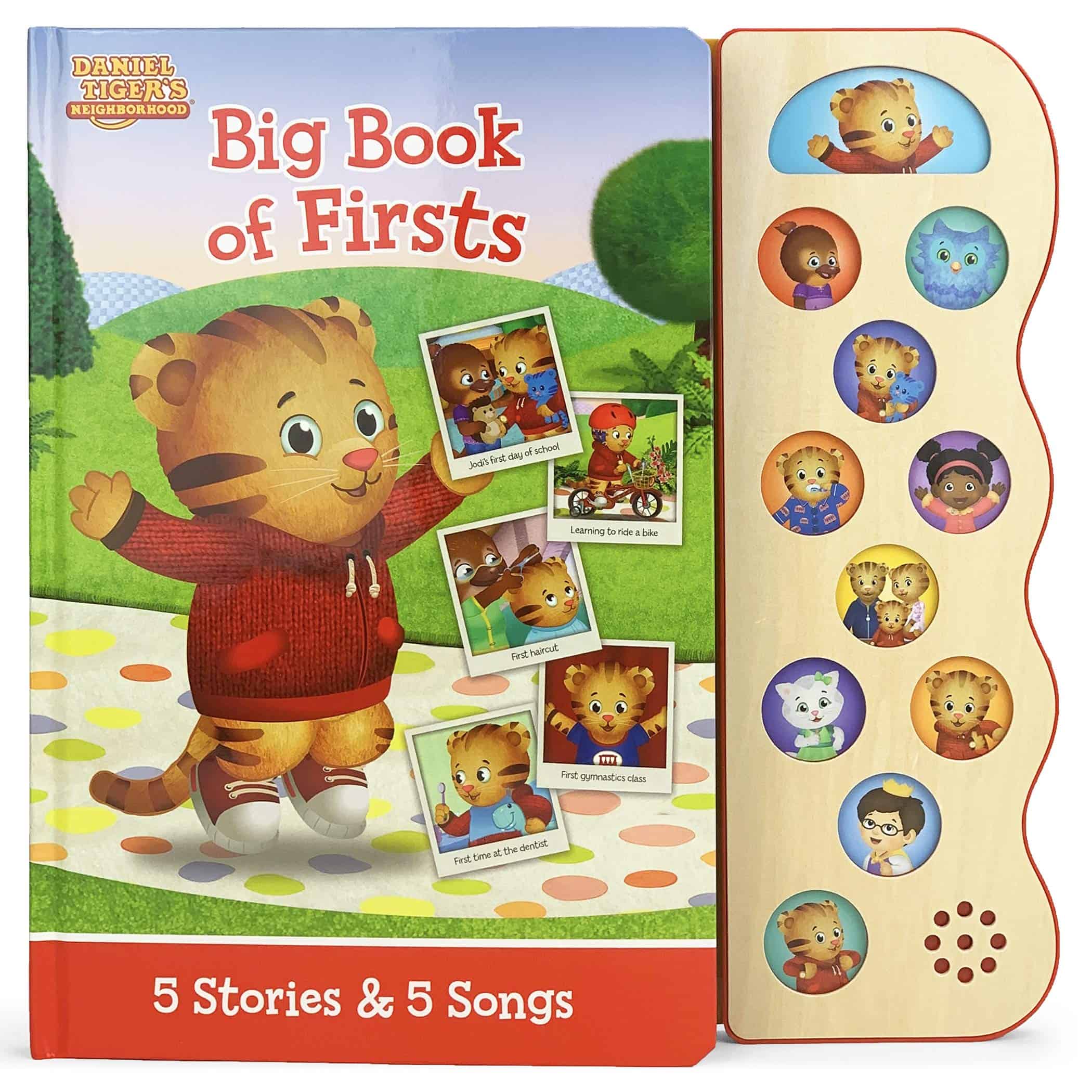 I am absolutely in love with the Daniel Tiger Big Book of Firsts and wish it would have been around when my boys were much younger. How fantastic is it to have stories and visuals from their favorite characters about some of those very daunting firsts – such as a trip to the dentist's surgery or that first day at school. Basically, the unknown.
The stories are short, fully interactive, and explain day-to-day situations that could be overwhelming for a little one. Or an older child with Autism who relies on visuals to process things in their itinerary.
There are five-themed stories and songs as the neighborhood friends tackle new situations and gather confidence along the way.
Children can strengthen their fine motor skills by being in charge of pushing the matching button to the icon on the page. They can also learn musical expressions as they sing along with the songs.
Reading to a child is one of the greatest and longest-running ways to strengthen that bond and build memories that'll last forever. While they won't always remember what you read, they'll remember how they felt when you did.
I just love this book!
Pros
Fantastic Anxiety-Reducing Resource
Autism Friendly
Interactive and Fun
Improve Fine Motor Skills
Gateway to Independent Reading
Officially Licensed Daniel Tiger's Neighborhood Product
Cons
Batteries Seem to Have a Short Lifespan
#2 Best Daniel Tiger Coloring Set: Daniel Tiger Crayola Coloring Pages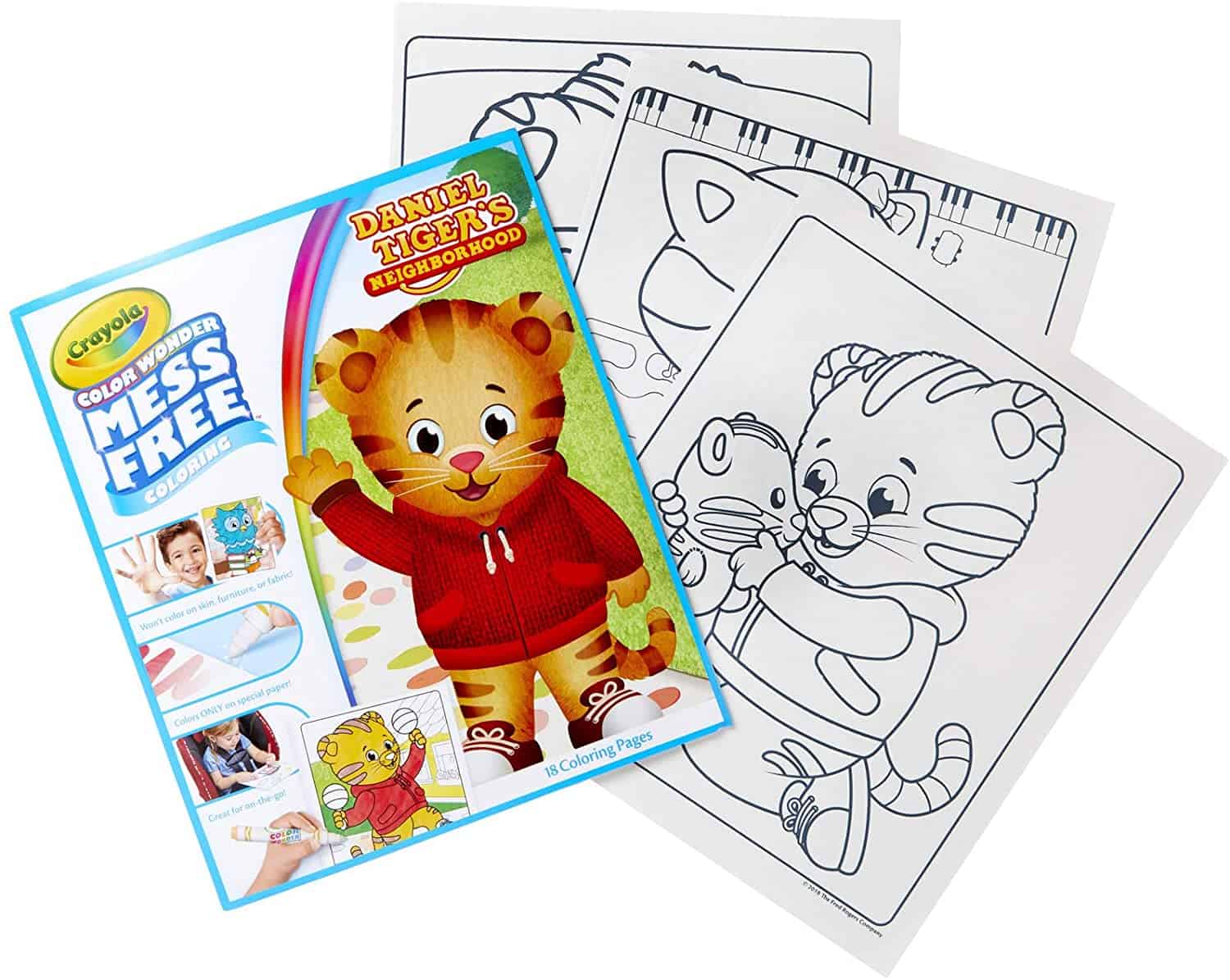 With the Daniel Tiger Crayola Coloring Pages, children get 18 different scenes that include all of the characters from the show. My favorite part is the perforated edges, which enable easy detaching and no rips or tears. I found the paper to be of decent quality, too.
The black lines are generous, which helps with crayons or markers staying within the lines. It would be an improvement if markers came with the pages.
The coloring pages are made from non-toxic materials and make for an excellent non-messy arts and crafts session at home.
Pros
18 Different Scenes
Thick Black Lines
Good Quality Paper
Perforated Edges
Crayola Branded
Cons
Would be Better if Markers Were Included
You Could Likely Print Similar for Free at Home
#3 Best Daniel Tiger Plush: Daniel Tiger Talking Plush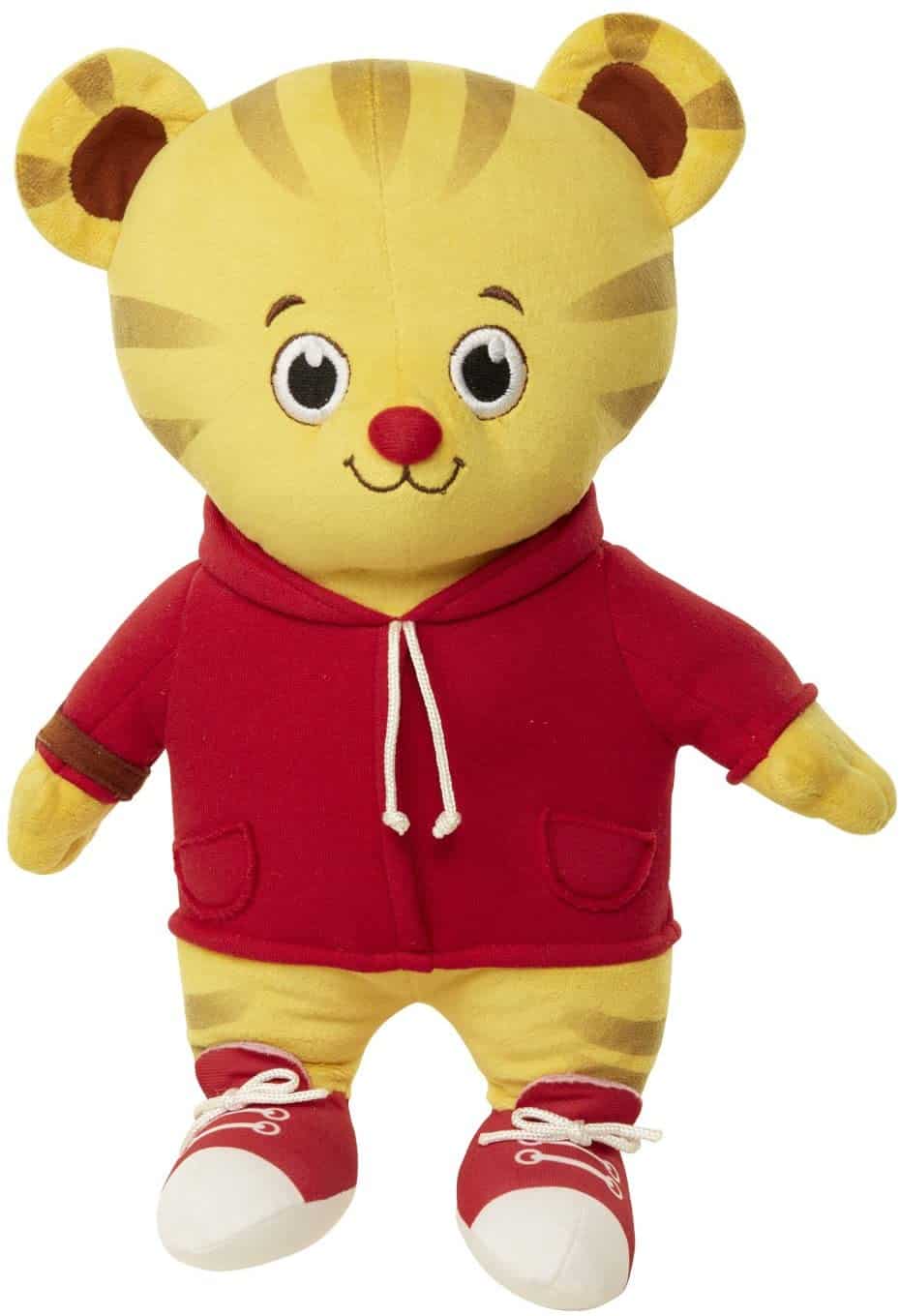 The Daniel Tiger Talking Plush has ten songs and sayings to delight and entertain little ones when you press his paw. He's super soft and cuddly and the perfect size at 12-in for a younger child's plush.
Batteries are included and replaceable, and the plush is recommended for children over the age of 2. There is some negative feedback for this one, with some consumers dubious of the authenticity of the toy. However, thousands of parents were delighted with their purchase.
For me, the price is perfect for an interactive plush. And, if the batteries don't last forever, you can simply change them.
Pros
Great Price
Interactive Toy
10 Songs and Phrases
Soft and Cuddly
Batteries Included
Cons
Not an Officially Licenced Product
Some Negative Reviews
#4 Best Daniel Tiger Lunch Bag: Daniel Tiger Lunch Bag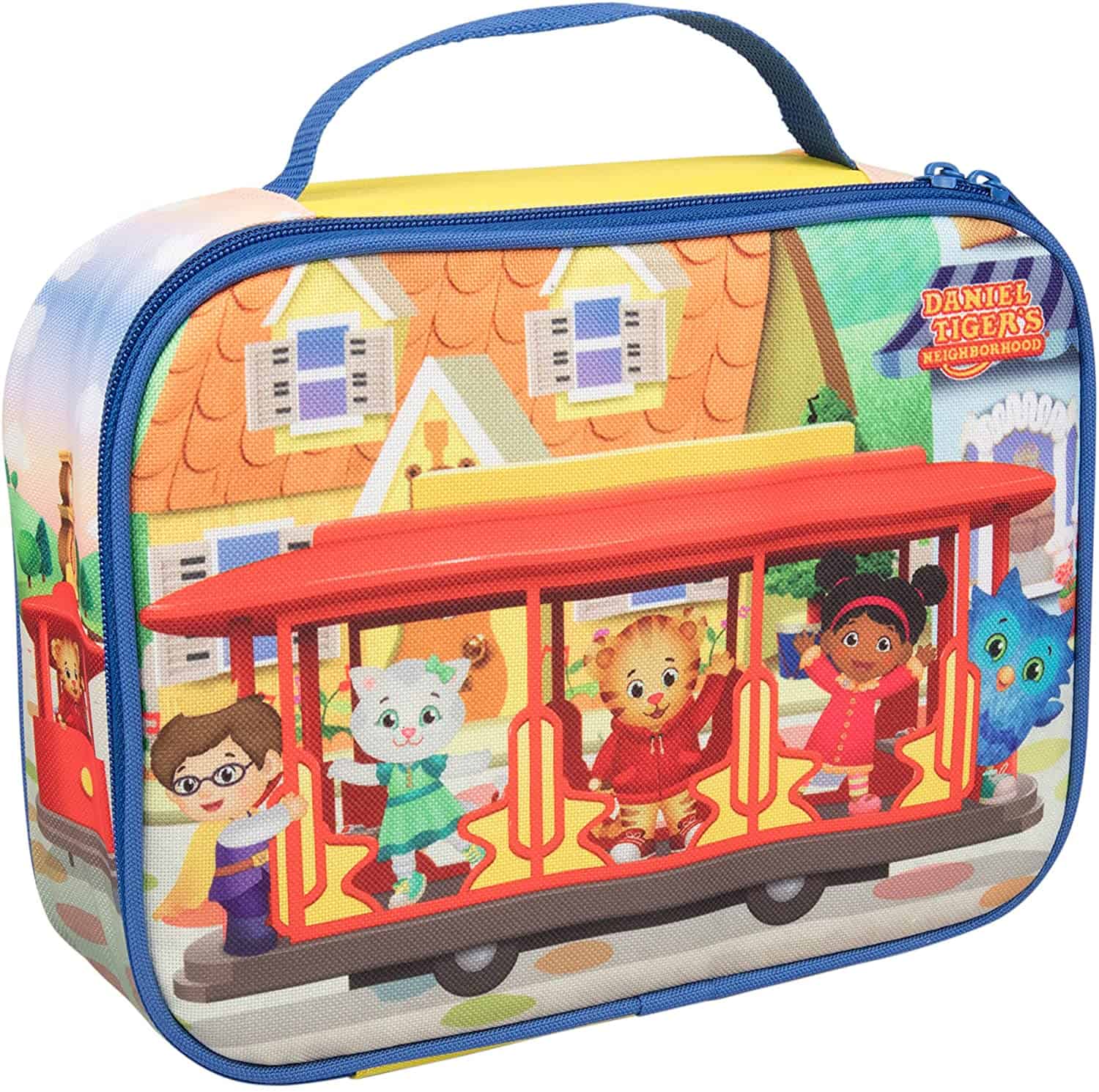 So, it's not a toy, but the Daniel Tiger Lunch Bag is a perfect gift for any preschooler about to take their first steps into kindergarten. Or, if you have a little one who attends daycare – or just enjoys picnics outside!
The price is reasonable, and the four different colorful designs to choose from all retail at the same value. The durability is excellent; a wipe-clean interior and tougher plastic outside. I love the slim profile and carry handle, making the lunch bag perfect for little hands.
Another great feature is the mesh pocket on the back, offering extra storage.
The lunch bag is insulated and keeps food cool all day (if you include an ice pack). There's no lead, BPA, or phthalates, so this is super-safe, and there are hundreds of reviews attesting that kids love it!
Pros
Fully Insulated
Durable
Extra Storage
Easy-Carry Handle
4 Designs to Choose From
Cons
#5 Best Daniel Tiger Figures: Daniel Tiger's Neighborhood Figure Set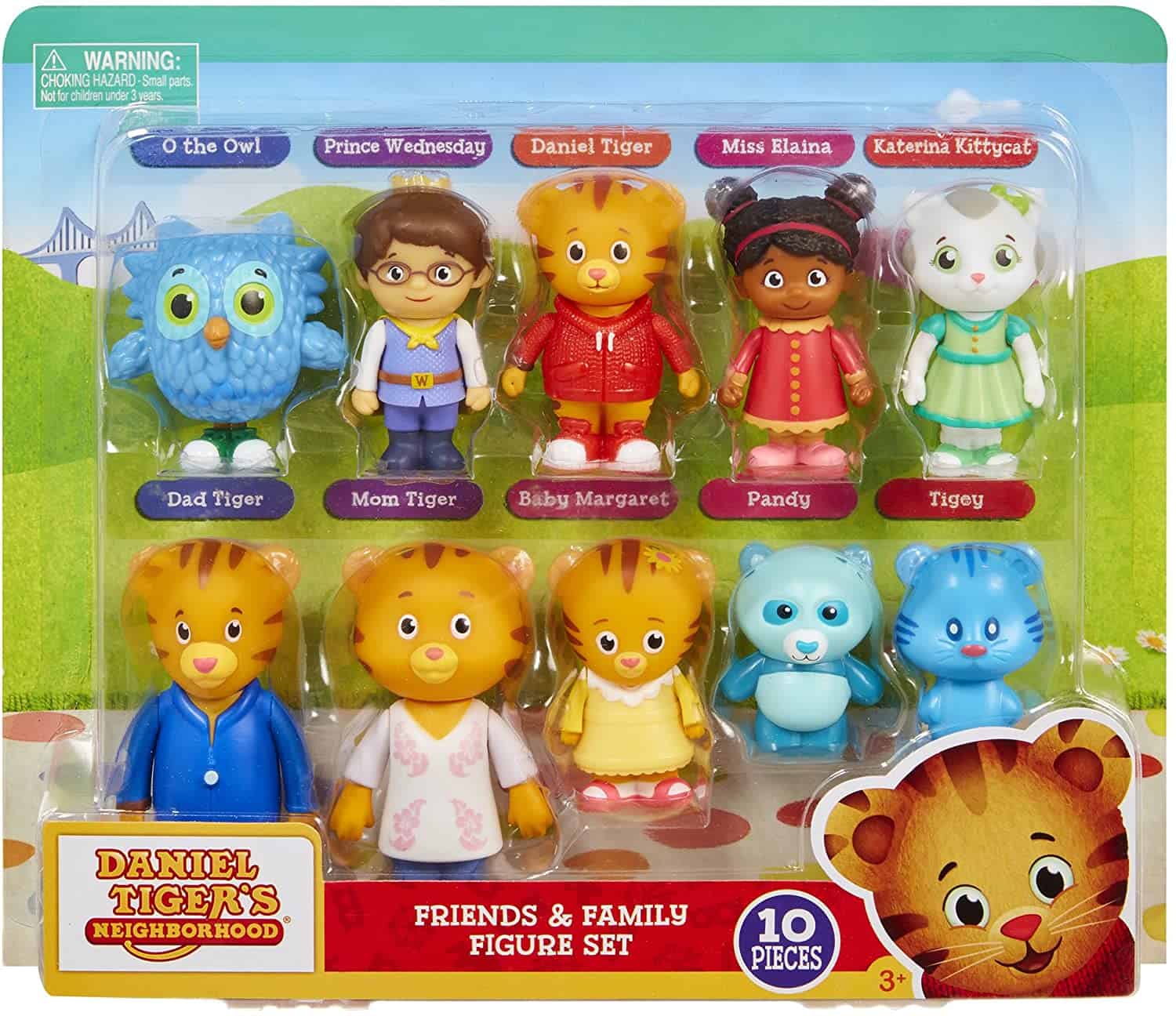 If you're looking for figures that offer good value for money, then the Daniel Tiger's Neighborhood Figure Set provides double the amount of figures for half of the cost found in offline stores. Seriously. Plus, with free delivery, it's a win-win.
I have one issue: the packaging; it's so hard to get into! But, once in, the figures are of fantastic quality and feel super durable. I like the posable arms and moving heads, and I wasn't expecting this, but it dramatically improves imaginative play and is a great feature.
The figures do stand alone, although they are prone to toppling over if the surface isn't perfectly flat. They stand at around 2.5-in and are chunky enough not to be choking hazards, yet small enough so that little hands can grasp them easily.
The Daniel Tiger figures aren't made in the US, but they meet all of the CPSC regulations.
Pros
Great Value for Money
Posable Arms and Movable Heads
10 Figures for the Price of 5 Offline
Meet American Toy Safety Standards
Cons
Not Made in the US
Difficult Packaging to Get into
#6 Best Daniel Tiger Playset: Daniel Tiger's Neighborhood Deluxe Electronic Trolley Vehicle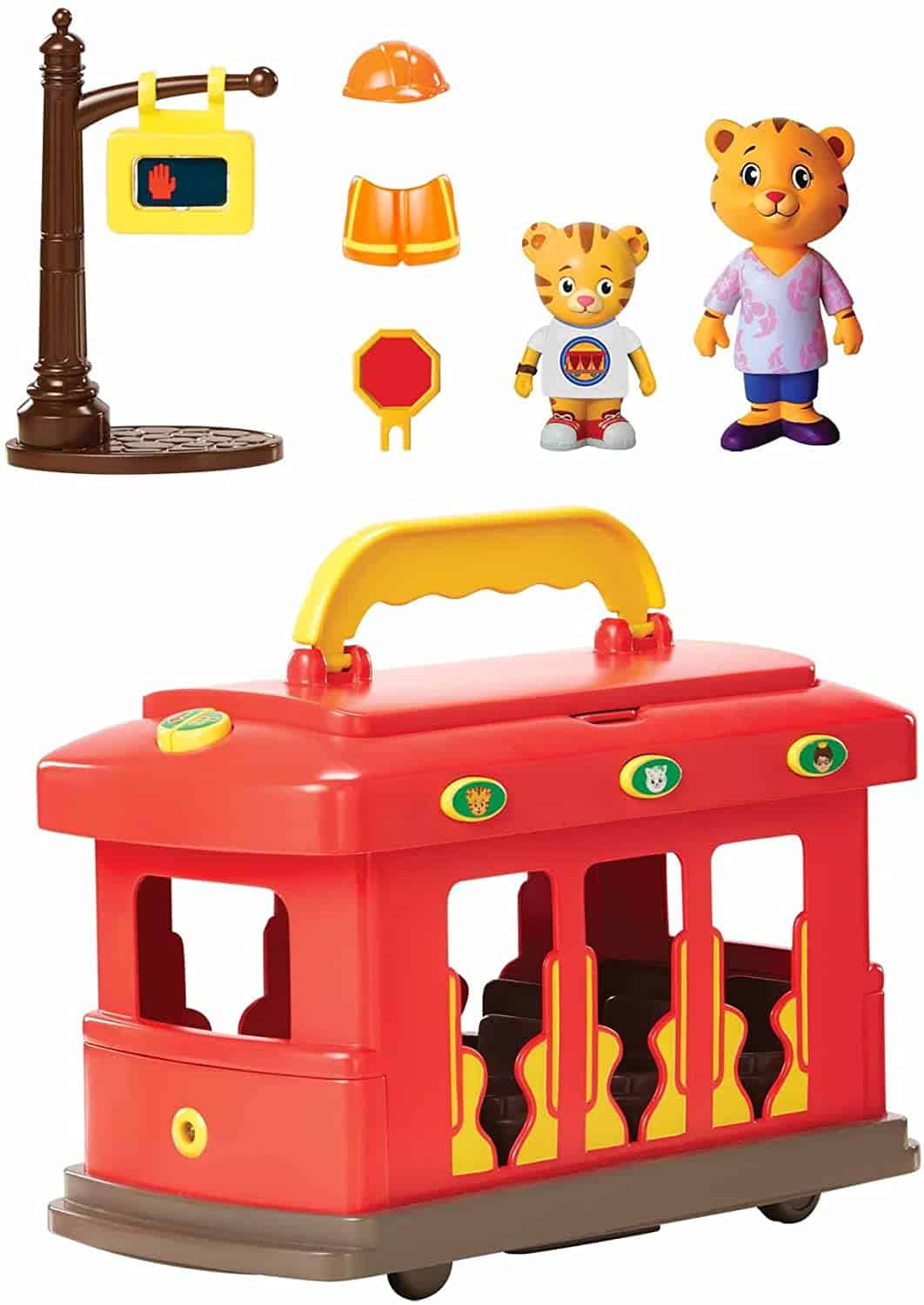 The Daniel Tiger's Neighborhood Deluxe Electronic Trolley Vehicle is a superb present for any Daniel Tiger fan – and an excellent price for the buyer, too! The set comes with Daniel and Mom tiger, five additional play pieces, and a light-up, singing and phrase-saying trolly. The trolly is motorized and exceptionally well made – I'm confident it will last a long time.
I was pleased to hear the two different songs (the Neighborhood Song and Stop and Listen song) and many phrases from the show from the trolley, and the lights are a great feature that adds something special.
Although the set only comes with two figures, the trolley has seating for six, and there's ample room inside to store the additional play pieces.
My only drawback is that the Daniel Tiger figure isn't wearing his trademark red sweater, but this could be me nitpicking!
The button controls are simple to navigate, and the trolley comes with batteries. Some consumers have had to change these straight away, but this isn't across the board.
Pros
Musical and Light up
Fun Songs and Phrases
Motorized Trolley with Simple Controls
Figures Included
Batteries Included
Great Price
Excellent Online Feedback
Cons
Daniel is Not in His Trademark Red Sweater
Theme Song Not Played in Full
#7 Best Daniel Tiger Bath Toy: Daniels Bathtub Voyage Adventure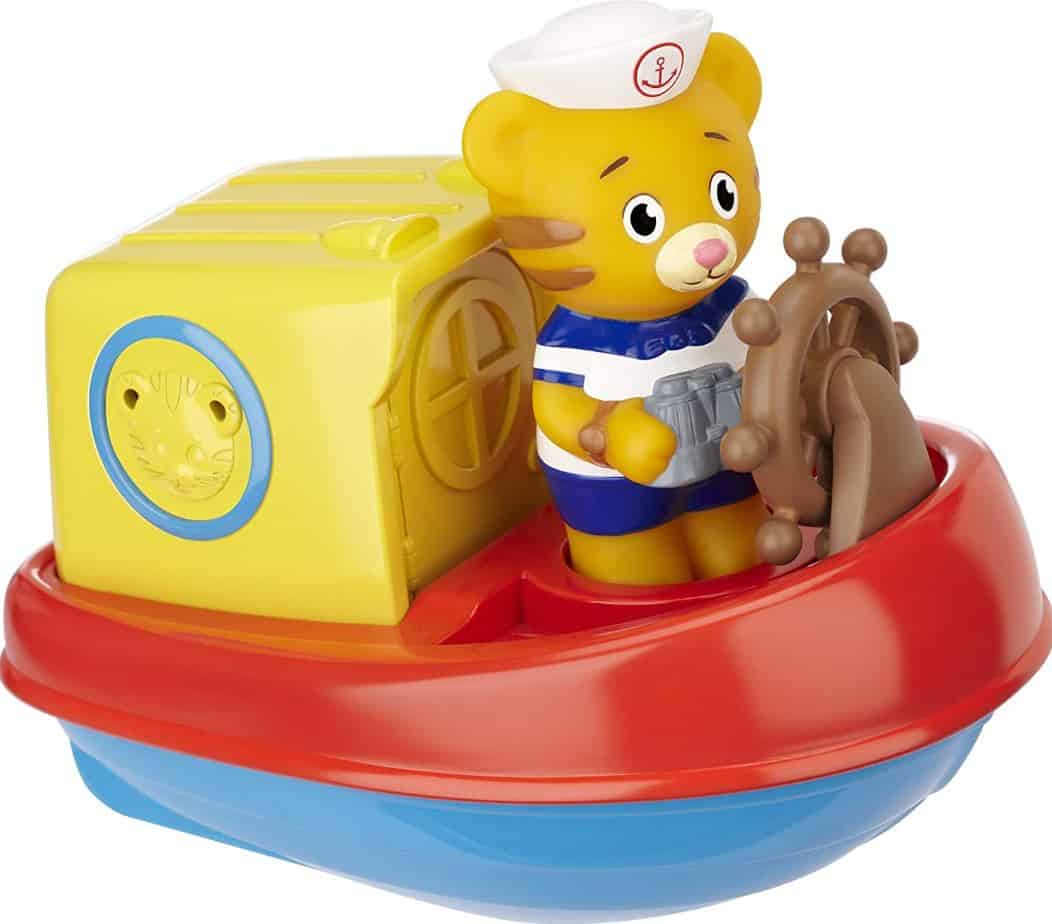 As a Mom of children with additional needs, I have relied heavily on water toys and boats to make bathtime a little easier. The benefits of adding toys to the tub are simply incredible for all children, but for those with sensory or cognitive challenges, they can be the difference between a safe bath time and one that's a stressful dunk-and-go!
If you're looking for a Daniel Tiger-themed bath toy, look no further than the Daniels Bathtub Voyage Adventure. This super fun six-piece set includes a floating octopus, chunky boat, squirting fish, and a durable Daniel Tiger figure to hop aboard. The Daniel Tiger figure is dressed as a sailor with a striped shirt and captain's hat.
The boat comes into three separate pieces, which helps with the sanitation; however, water can get into the other pieces with no real way of draining this 100% effectively.
Pros
Six Piece Set
Fun Accessories
Detachable Boat
Excellent for Encouraging Bathing
Good Price
Cons
No Way of Completely Draining Water From Pieces
#8 Best Daniel Tiger Colorform: Daniel Tiger Colorforms Playset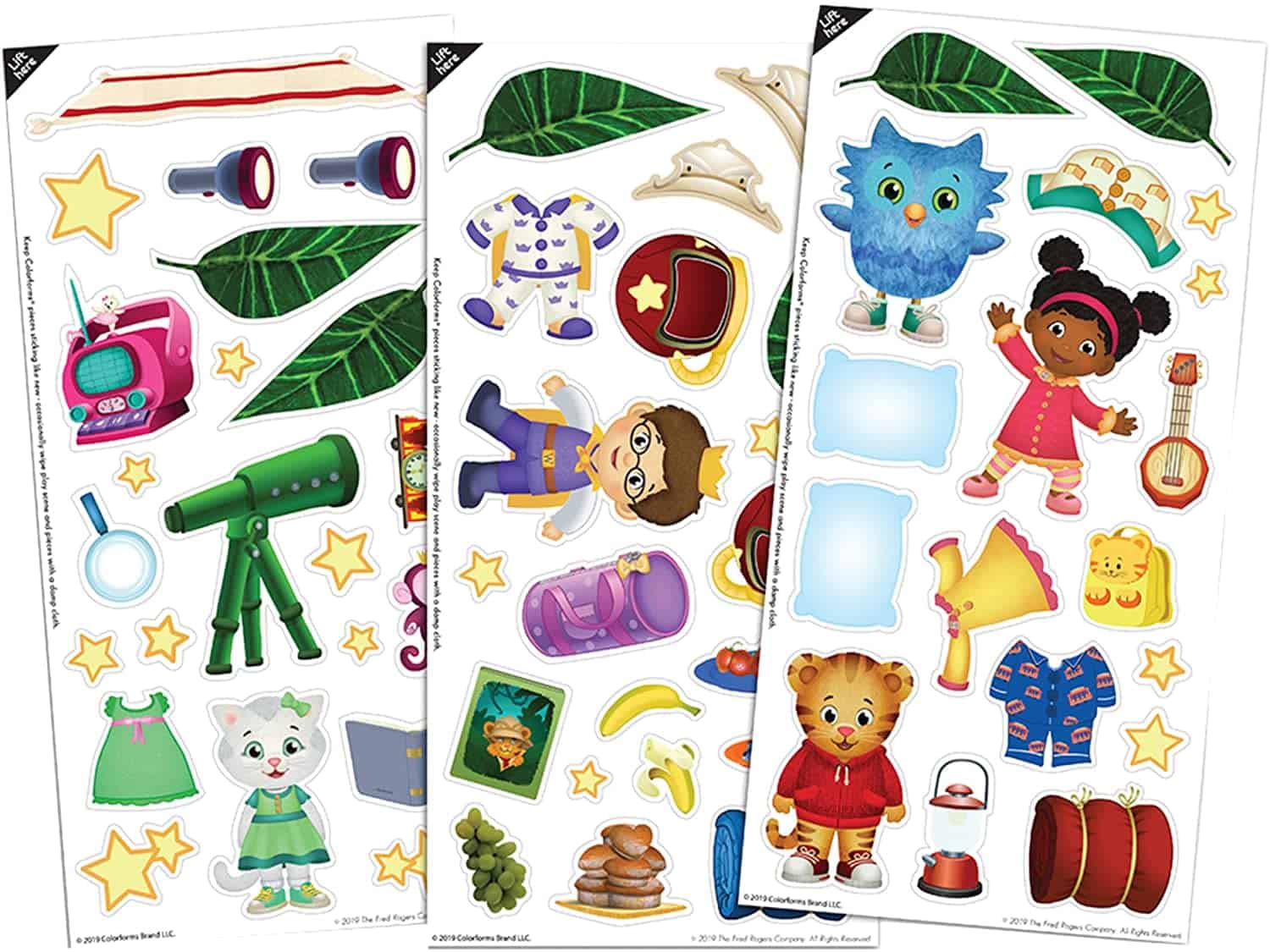 Colorforms have been around since the 1950s and played a part in many of our childhoods. As retro toys go, colorforms are pretty basic, but they're so much fun, too; with lots of variations to be constructed, kids can have endless fun away from screens! The Daniel Tiger Colorforms Playset comes with all the characters from the show and additional pieces to enhance a scene.
I don't love how small some of the pieces are and would urge anyone looking for a travel toy not to have this in their vehicle – I can picture Daniel Tiger and friends being found between seats and under mats for years to come!
Reviews are pretty mixed for this one but generally positive.
Pros
Nostalgic Retro Toy
Hours of Fun to be Had
Good Price
Cons
Small Pieces
Could be Pretty Messy
#9 Best Daniel Tiger Music Maker: Daniel Tiger Musical Instrument Set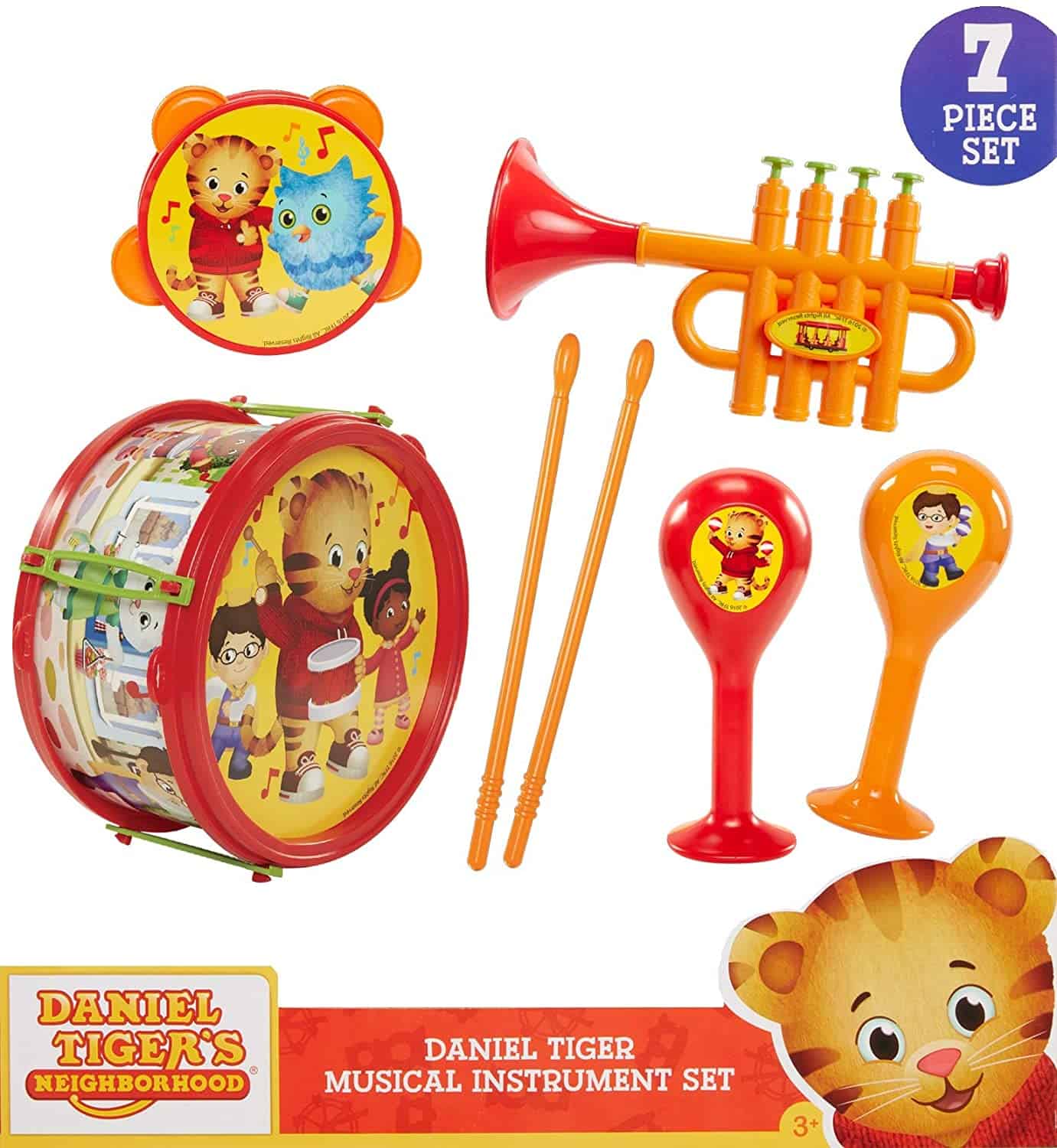 The Daniel Tiger Musical Instrument Set will never fill an opera house, and in fact, the sound for most of the pieces is relatively quiet – a good or bad thing, depending on your viewpoint! The set looks great, and the presentation is fantastic. I was pleased with the quality level of the materials but less blown away with the end results.
The trumpet is hard to use, and when successful, it is certainly not tuneful! The drum is fun and tambourine, as you'd expect. Children who like to bang around regardless of their sound will likely be very satisfied to do so armed with Daniel Tiger-themed instruments.
I think the price is a little high, but the blow is slightly softened with free delivery.
Pros
7 Piece Set
Lovely Presentation
Good Quality Items
Cons
Quiet, Untuneful Sound
Trumpet Difficult to Blow
#10 Best Daniel Tiger Boardgame: Daniel Tiger Welcome to Mainstreet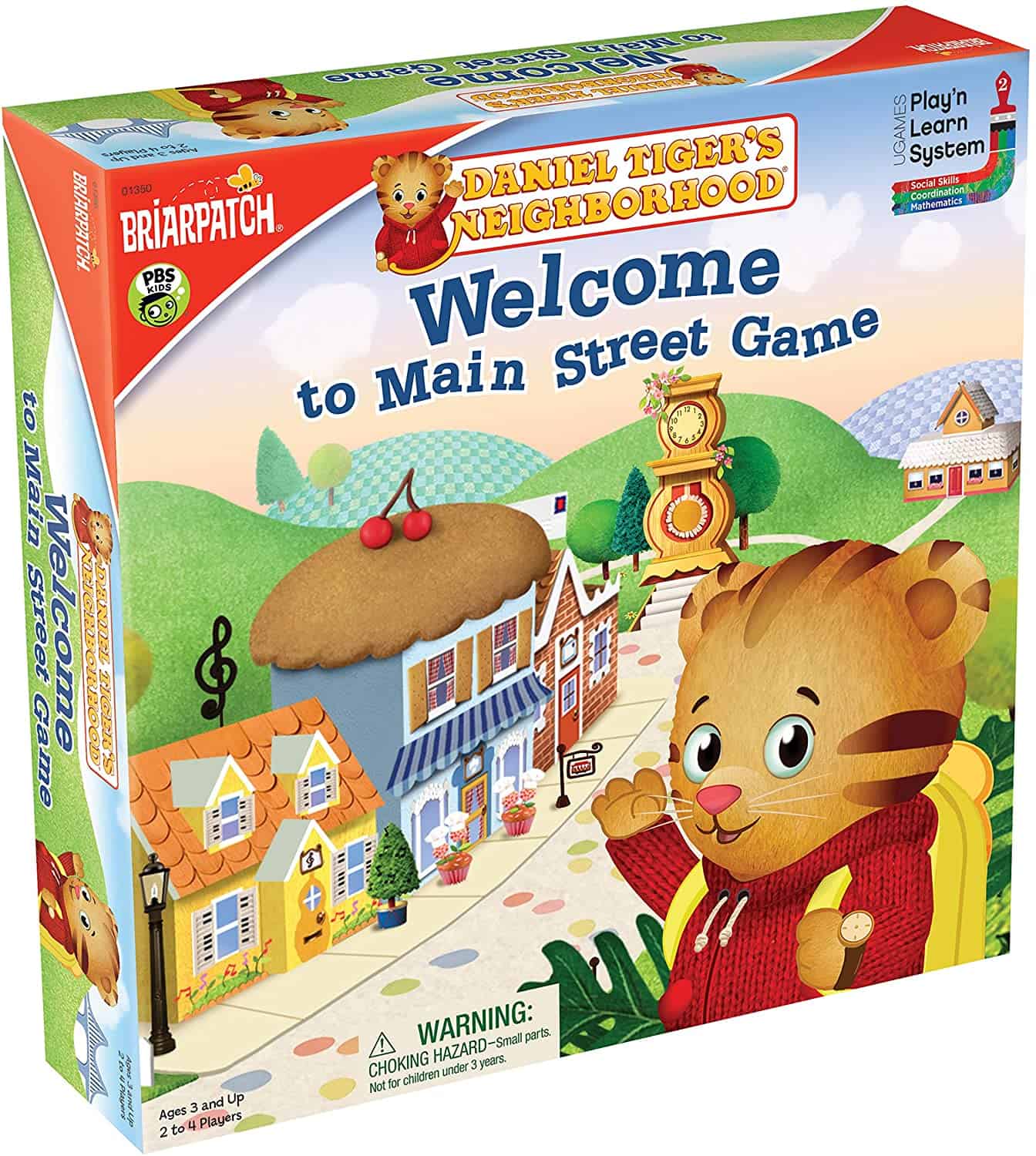 The Daniel Tiger Welcome to Mainstreet is a super fun, quick-play game suitable for two to four players from age three and over. There's a good balance between strategic play and luck, and many lessons to be learned with a heavy focus on social skills and interaction.
While this game may be pretty basic for older children, I consider it a perfect gateway board game for preschool children. The quality of the board is great, and there are lots of nice visuals around the board to keep a child-focused between turn-taking.
I highly recommend it to any family wanting to enjoy tabletop gaming with young Daniel Tiger fans!
Pros
Excellent Gateway Board Game
Lovely Visuals
Helps with Social Skills and Interaction
Next Day Delivery Available
Cons
It can be Quite Competitive.
FAQ
Question: Should We Encourage Kids TV Shows Like Daniel Tiger?
Answer: I have to be honest and say I am not a huge fan of kids' TV, but I do see its benefits. When it comes to this show specifically, it is one of the most educational around, which can ease that Mom guilt somewhat! Toddlers can view scenes they can relate to at their age, with great lessons about diversity and how to regulate and express their emotions.
Question: What Show is Daniel Tiger's Neighborhood Similar to?
Answer: Daniel Tiger's Neighborhood is the modern-day Mr. Rogers Neighborhood. In fact, it's made by the same company!
Question: What Age is Daniel Tiger's Neighborhood Aimed at?
Answer: The show is aimed at 2 to 4-year olds predominantly, but this isn't exclusive. Young babies can focus on the colors and enjoy the sounds, and older kids can get something out of the show's messages.
My Conclusion on the Best Daniel Tiger Toys
I genuinely like all of the toys I reviewed for this guide. However, my favorite has to be the Daniel Tiger Big Book of Firsts. I have so many memories of reading similar books to my children and found them such a lovely way to bond and open many conversational doors.
I found the Daniel Tiger Lunch Bag to be one of the best lunch bags around aimed at younger kids. It's insulated, easy-care, and comes with a convenient carry handle and additional storage. This lunch bag isn't washing machine safe, which can be a drawback.
The Daniel Tiger Welcome to Mainstreet board game is great fun and a wonderful way to start tabletop gaming with little ones. But, there is a competitive edge to it which can result in tears around the table!
The Daniel Tiger's Neighborhood Figure Set is a great buy and would be the perfect accompaniment to the Daniel Tiger's Neighborhood Deluxe Electronic Trolley Vehicle. These playsets are highly rated online, well made, and should survive vigorous play. There was a little criticism around the battery life for the Trolley set, but these are replaceable.
Another stand-out product for me was the Daniels Bathtub Voyage Adventure. I know there's an issue with water build-up in the accessories, but overall this is a great way to make bath time more fun with little ones.
Continue reading:
Best Little People Toys Guide for Tiny Fans