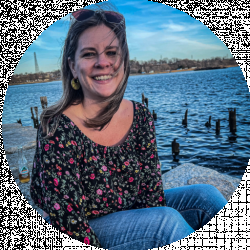 Latest posts by Thea Engst
(see all)
When it comes to Harry Potter, there's no shortage of toys inspired by the franchise. And while so many of them are creative interpretations of items from the books and movies or well-crafted models of items, characters, and scenes brought to life, there is also a lot that lackluster.
The wizarding world of Harry Potter alone becomes overwhelming, as there are seven books and eight movies of the original storyline alone. So the problem in searching for the perfect toy isn't exactly for lack of options, in fact, it's quite the opposite.
The Harry Potter toy selection is more overly saturated than anything else and for those of you who haven't read the books, watched the movies, or played with any toys, I'm here to help. I'm here to break down a guide to the best Harry Potter toys available.
Not only that, I'm going to tell you why they're successful, who will enjoy them, and where you can buy them.
Bottom Line Up Front: There are a ton of Harry Potter toys to choose from, this is only a small selection. The best Harry Potter toys however are high-quality and authentic recreations from the wizarding world.
My favorite from this research is the upcoming Hermione action figure from Macfarlane Toys. She is displayable or playable and the attention to detail on her clothing is impeccable. Furthermore, she comes with her Otter Patronus!
Wands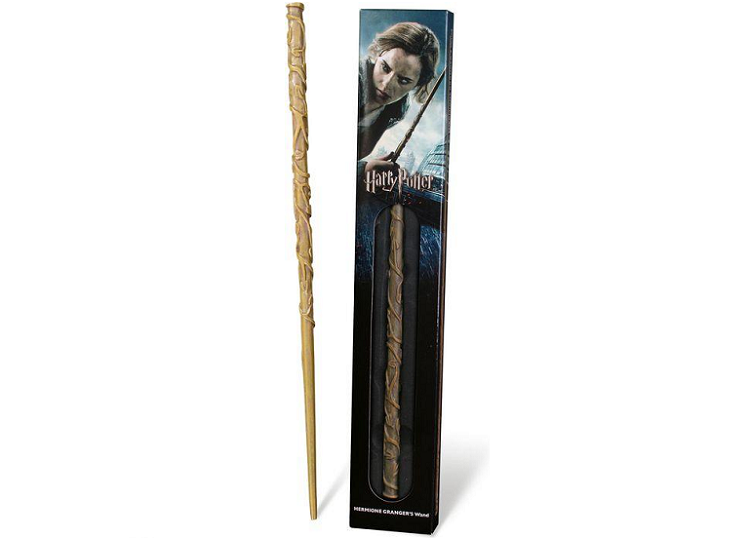 You can't talk about Harry Potter toys without talking about the wands. Wands are one of the most important elements of being a wizard, as they say at Olivander's, 'the wand chooses you'!
Wands are so important that the infamous Elder Wand plays an epic role in the final chapter of the Harry Potter saga. So let's talk about the best wands available and which brand does wands best.
Barnes and Noble makes a great series of wands for all of the famous characters in Harry Potter, which is from what they call the 'Noble Collection'. They are all $29.95, so definitely affordable toys. Here are some of my favorites:
Hermione Granger's wand is mystical looking while still being realistic. It is durable and looks just like Hermione's wand as described in the books and depicted in the movies.
Voldemort's wand is also very true to the films and books. It has that creepy, iconic bone look. As a result of its authenticity to the movie, it is more delicate than the other wands, however. This may lead to it being broken easier. Some reviewers report it is as being harder to grip for smaller hands. This could be a result of the unique, albeit super cool, shape of the handle.
Luna Lovegood's wand is another unique, authentic recreation of an iconic character's wand, that's just as unique as she is.
Pros and Cons of Barnes and Noble Wands
Pros
These are authentic recreations of the wands described in the books and portrayed in the movies.
There is a huge selection, from the main characters to the 'lesser' character and even villains.
The price is right as each of these wands falls shy of being $30.
Cons
While these are authentic replicas with great attention to detail, there are other brands that feature illuminated tips of the wands, to appear as though a light (or burst of magic) is coming from them. This might be preferable to some users, especially younger kids.
Voldemort's wand is delicate and breaks easily.
Another great brand for wands that are a little more for play than perhaps the Noble collection is from Wow! Stuff.
Their wands are super wonderful in that, like the Noble Collection, they are accurate recreations of the wands from the books and movies. And unlike the Noble Collection wands, these wands light up. But wait, there's more!
These wands come with a free app, which you open and use to record your movements with the wands lit up. After you're done with the battle or spell-casting, you can look at your app and see all the movements you've made. They call this a Harry Potter Light Painting Wand.
Like the Noble Collection, you can get a wand from a variety of characters from the Harry Potter series. The price is 24.99 but watch out — this is in euros.
You can find this product on American Amazon or you can purchase directly from Wow! Stuff, but just keep in mind the price is actually about $29. Still, that's not bad at all.
Pros and Cons of the Wow! Stuff Harry Potter Wands
Pros
A really creative and unique way to play and recreate scenes from the Harry Potter saga.
You could play with these in a group or alone.
Comes with the free app.
Even when converted from euros to dollars, it's a reasonable price.
Cons
If a child gets this, they'd have to use an adult's phone or tablet to utilize the recording function of the app.
Ships from Europe unless you find it on an American website, which can be expensive.
LEGOs
It's impossible to discuss Harry Potter toys without discussing Harry Potter LEGOs. In fact, this year marks the 20th-anniversary of the partnership of Harry Potter and Harry Potter LEGOs. For that reason, there are a ton of new and exciting LEGOs focusing on Harry Potter right now.
The Hogwarts Castle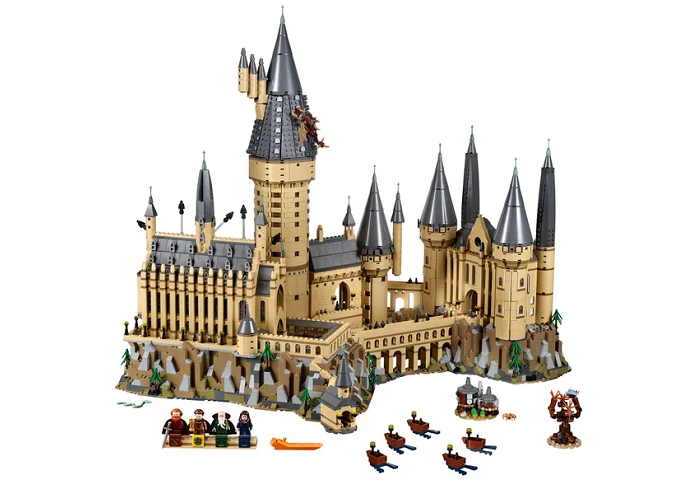 The Hogwarts Castle is a coveted, expensive, iconic set. It is not a special 20th-anniversary set, but it's always worth mentioning.
This set is $400 and 6,020 pieces. The set includes only four Minifigs but twenty-seven Microfigs, which are built to scale with the enormous castle.
If you have the space to build this set with amazing details like stained glass windows and the Whomping Willow (complete with the Ford still in the moveable branches) outside, I would absolutely recommend this masterpiece of a build. 
Hogwarts Wizard's Chess
From the 20th-anniversary collection comes the Hogwarts Wizard's Chess LEGO set. This comes complete with a collectible, special edition golden Severus Snape. (Each of the 20th-anniversary sets comes with golden Minifigs of characters for collectors.)
The set itself is a build of a chessboard with thirty-two buildable chess pieces and three Minifigs aside from the golden Snape: Harry Potter, Hermione Granger, and Ron Weasley.
This means that yes, you can play an actual game of chess with this LEGO set. Or you can go off-script and create your own game with the pieces! This set is only $60 but unfortunately is out of stock at this time.
4 Pivet Drive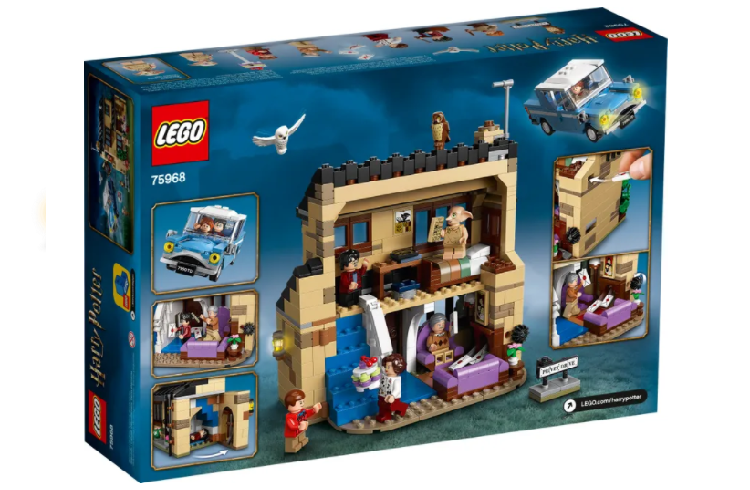 4 Pivet Drive is my final LEGO choice because it's a great price and a unique set in the Harry Potter LEGO universe. It's unique because so many of the LEGO options are builds of Hogwarts as a whole or certain rooms of Hogwarts.
4 Pivet Drive is a location in the human world, it's where Harry lived with his aunt, uncle, and cousin before attending Hogwarts and during school vacations.
This set includes details like the cupboard under the stairs that Harry spent most of his life sleeping in, even a slot in the chimney to bombard the Minifigs with Hogwarts acceptance letters.
There are six Minifigs included in this set: Harry, Ron, Dudley and Petunia Dursley, Vernon Dursley, and even fan-favorite Dobby! My favorite part of this set is the buildable Ford, which Ron uses to rescue Harry. It even had a movable trunk and doors!
Pros and Cons of Harry Potter LEGOs
Pros
LEGO excels at making detailed replicas in all genres, and Harry Potter is no different.
There is a range of prices for you to choose from when it comes to LEGO Harry Potter sets.
There is a huge range of age-appropriate LEGO Harry Potter sets from young children to eighteen and up.
Cons
Many of the popular sets are often sold out or difficult to find.
The larger sets get quite expensive.
Non-Endorsed Add-ons
Just because Harry Potter is such a force to be reckoned with, there are a lot of 'unofficial' or unaffiliated Harry Potter goodies. These are two of my personal favorite books that are referring to Harry Potter but not written by JK Rowling.
What would the Harry Potter universe be without the unique food inventions? This genre of Harry Potter-themed treats is so huge, there is a cookbook dedicated to recreating the recipes!
The Unofficial Harry Potter Cookbook is a New York Times Best-Seller for only about $20, and a must-have for any kitchen wizard in your life!
There is even a non-endorsed book of wands from Simon and Schuster, written by Monique Peterson. This is available in both hard and softcover. The price, therefore, has a range of about $9 to $20. The Wand Collection is a beautiful artistic homage to the various wands and their journeys with their respective wizards.
Pros and Cons of Non-Endorsed Add-ons
Pros
A great expansion of some of the important details of the Harry Potter saga, which otherwise wouldn't be focused on.
The cookbook offers fans a chance to be able to create many of the treats from their favorite books, scenes, and films.
The wand book gives a short, in-depth glimpse at the famous wands and wizards of the wizarding world.
Great prices, these books range from about $9 to $20.
Cons
JK Rowling was not involved in the creation of either of these books.
Immersion Playtime
The Wizarding World shop, based in the United Kingdom, has a plethora of high-quality Harry Potter swag. This store is more focused on dress-up fun and immersing yourself in the Harry Potter universe personally. Here is a list of some of their stand-out items.
The Marauder's Map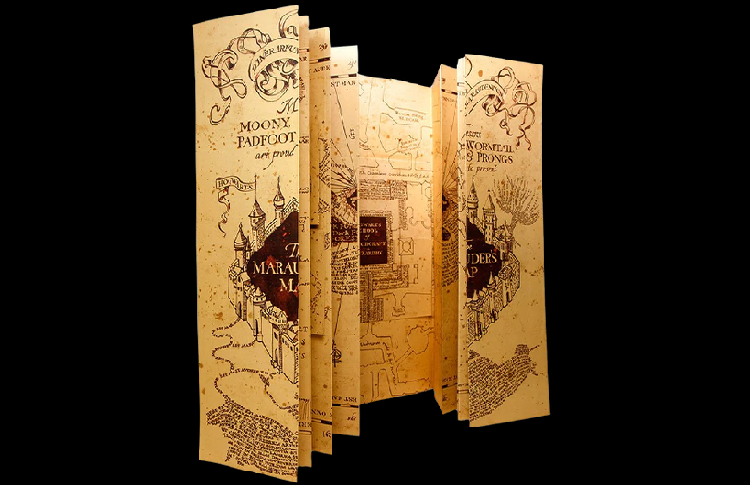 The Marauder's Map is an iconic piece of Harry Potter history and you can purchase your own lifesize replica at the Wizarding World shop. This item will make recreating scenes from the books and movies extra fun! Ringing in at about $34, this isn't a costly item to add to your Harry Potter repertoire.
The Deluminator with Hand-Held Lantern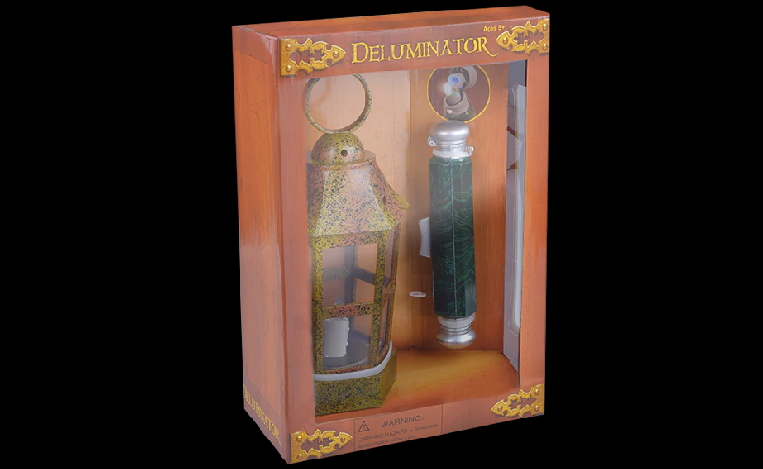 The Deluminator with hand-held lantern is one of my favorite things and it's also from the Wizardig World shop. This is because it is interactive and accurate.
This toy is a replica of the Deluminator, which was left to Ron Weasley by Dumbledore. But what is the Deluminator without a lantern to dim and then light up? The lantern include dims with a button, making this a perfect item for anyone looking to play Harry Potter. And for only about $33, this toy is a steal.
Sorting Hat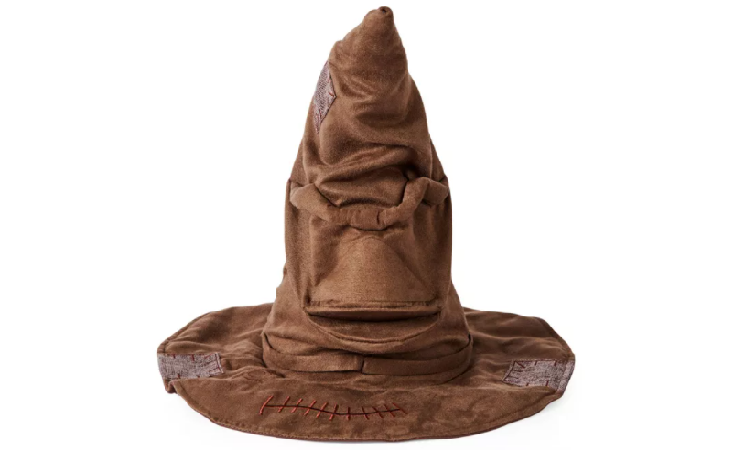 The Sorting Hat is not only wearable, it talks. This makes it a toy that's great for full-immersion playtime. It has fifteen phrases and its facial expression even changes. Ringing in at only $39.99, this is the perfect toy for any Harry Potter fan.
Time-Turner Necklace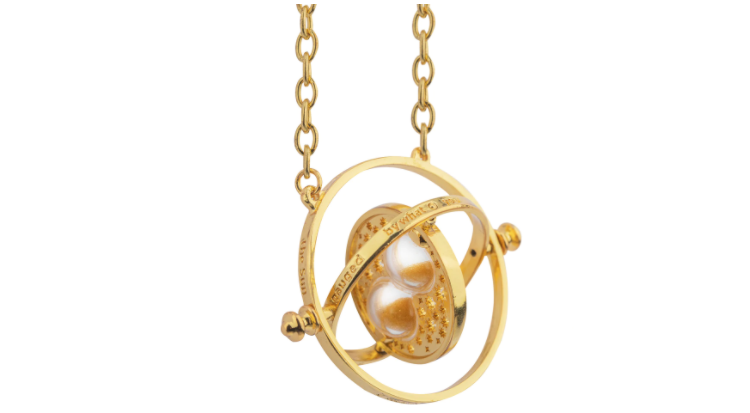 The Time-Turner Necklace from Cine Replicas is a really amazing recreation of the Time-Turner as seen in Harry Potter and the Prisoner of Azkaban. It is gold and wearable, with a chain included. It has a miniature hourglass that is full of golden sand which actually moves with the hourglass.
Just like in the book and movie by rotating the rings you will see the inscription, "I mark the hours, every one, Nor have I yet outrun the Sun. My use and value, unto you, Are gauged by what you have to do." Did anyone else just get chills?
Pros and Cons of the Immersion Play Items
Pros
There is a huge selection of Harry Potter accesories, candies, and clothes.
The pieces listed above are authentic replicas and high-quality.
Cons
Many shops are based in the United Kingdom, meaning everything is priced in euros so make sure you check the exchange rate to be sure you know what you're paying. (This goes for the Wizarding World shop for example.)
Since items might be shipping from the UK, the shipping and handling will be more expensive from this shop.
Broomsticks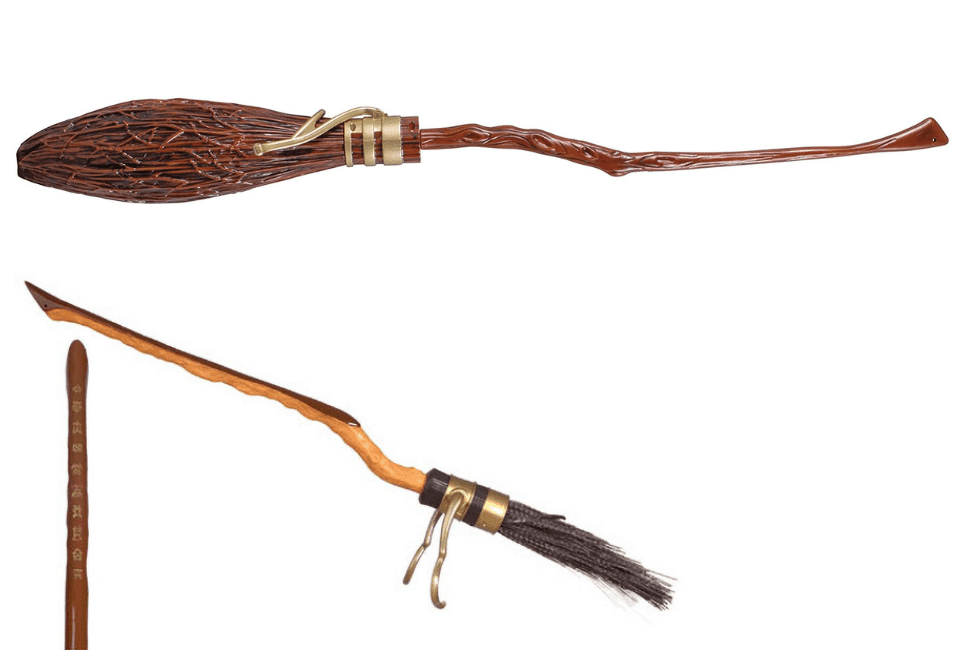 It's time to talk brooms. Yes, that's right, you can buy broomstick replicas from Harry Potter too! Consider yourself warned, these can get pretty expensive.
Let's start with the Nimbus 2001 from 1001 Hobbies. This $540.71 broomstick is a lifesize replica and is available for preorder now. It should be available to ship by March of 2022.
It measures 145 centimeters or just under five feet (4.75 feet). It's made of porcelain and die-cast metal and it's able to be wall-mounted, with wall-mount included.
The Nimbus 2000 from Toynk is a great option for kids who want to play dress-up. This broom is made for kids, unlike the Nimbus 2001 above.
This is made of BPA-free plastic and stands 36 inches high. This is a great toy for kids and it's only $44.99. I will say that something I'd love to see as an option is for it to make sounds. It's surprisingly hard to find a broomstick replica that makes any kind of noise.
Finally, we have my personal favorite option for the broomsticks. The Fiber Optic Toy Broom by Universal Studies is number one for me because it's kid-friendly and it lights up!
The bristles of the broom light up in with blue light and while you could argue that this is not authentic to the movies, it is still really cool.
It's made of plastic so it's durable and light, easy to play with for kids. It also has gold symbols on the handle and adjustable foot pedals. And for only $34,95, there's really no reason to not get this for the young Harry Potter fan in your life.
Pros and Cons of Broomsticks
Pros
Broomsticks offer a great interactive toy for kids.
Broomsticks can also be great display pieces for adults and young adults. They even have a selection of broomstick pens for adult Harry Potter fans!
There are a few well-priced options for broomsticks for kids that won't break the bank.
Cons
Broomsticks can get pricey, make sure you know what you're getting before you make your purchase.
Make sure that if you're buying for a child, the product is meant for play and not display.
There is surprisingly not a huge amount of broomsticks available for purchase.
The Best Harry Potter Action Figures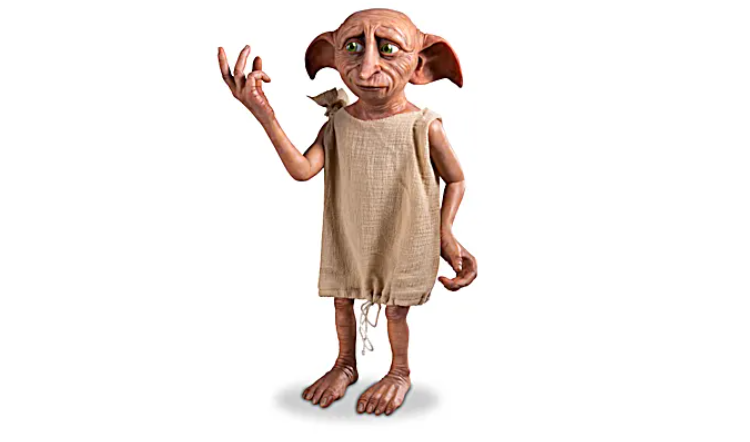 Ashton Drake makes an officially licensed Collector's Edition posable Dobby and we have to talk about it. This is sixteen inches high and can stand or sit. You can move the arms up and down and even places something like perhaps a sock in his hand.
Dobby is handcrafted in hand-painted, made of vinyl. But this figure isn't for just anyone, ringing in at $149.95, this toy is for the look of a very serious Harry Potter fan. I wouldn't say that this posable figure is meant for play, but you could certainly involve him as a stand-in if you want.
Macfarlane Toys makes an amazing selection of Harry Potter figures. Harry Potter himself is one of my favorites. They've outfitted in from the end of his saga against Voldemort. His outfit is amazingly detailed too, I'm a big fan of the way they made his clothes look so realistic with the folds, zippers, and pockets.
Harry stands seven inches tall and comes with a wand and his Stag Patronus. The box also has a background of artwork, which can be removed and kept behind Harry.
What I love about this figurine is that you can keep him on his base or remove him for play. He has twenty-two moveable parts! And something so versatile and detailed could easily be expensive, however, this rings in at only $21.99!
Coming soon from the Macfarlane Toy company is Hermione's own action figure. Also standing seven inches tall and wearing her outfit from the Deathly Hallows Part 2, this Hermione is a perfect companion piece to the Harry Potter figure.
Like Harry, she comes with her Patronus, which is an otter. She also has a wand and twenty-two moveable parts with a removable scene in her box to place behind her. I'm very excited for this figure to be available, especially because she's the same reasonable price as her buddy Harry!
Jada Toys makes a really cool Harry Potter series of Nano Metalfigs. They are small collectibles that could technically be used for play but are more of a display item. They are 100% die-cast metal and stand only just over an inch and a half.
My personal favorite of the Jada Toys Harry Potter collectibles is the Dementor.  This small figure falls nothing short of haunting, with its dramatic cloak flowing behind it and stark, white hands in front.
True to the book describing these creatures as being like rotting flesh, the hands exposed are a wonderful detail that Jada chose to include. You can even see its mouth open in a shadowy screech. Don't look at this toy before going to bed, it will keep you up at night!
The price for this haunting little collectible is only about $13. In fact, you can get bigger sets from Jada for around $30. If you like this Dementor, I'd highly recommend checking out more of the Jada Toys Harry Potter figures.
Pros and Cons of the Harry Potter Action Figures
Pros
There is a huge selection of Harry Potter figures that are both made to be played with and made for display.
A lot of high-quality toy companies have made their own versions of the Harry Potter characters which makes the selection easier.
There are a lot of characters to choose from.
There are a lot of reasonably priced items to choose from.
Cons
Sometimes you can only find a toy you like which is a collectible when you need it for play.
Some of these figures can get quite price, which isn't always necessary.
FAQs About the Best Harry Potter Toys
Question: When it Comes to Choosing Harry Potter Toys, What do You Look for?
Answer: I think that a good Harry Potter toy isn't super different from buying a standard toy. You want something that's good quality, that's fun, and in this case, that is also successful in its reference.
Question: Is There Anything to Avoid while Shopping for Harry Potter Toys?
Answer: An overly expensive price tag. While there are a lot of really cool things for a lot of money, you don't need to break the bank to do so. Since the wizarding world is so vast, you can find a variety of options for less than $100. Unfortunately, the bigger the LEGO set, the bigger the LEGO price tag, that's just how it goes though!
Question: If I Have a Young Relative Who Loves Harry Potter, What Genre of Toy Should I Get Them?
Answer: Look at the toys they already have and what they already gravitate towards. It is dolls or action figures? Do they like to do puzzles? If they like dolls, get them an action figure. If they like puzzles, find them an age-appropriate LEGO set.
Final Thoughts on the Best Harry Potter Toys
While the wizarding world is a huge one, it is also a fun one. I guarantee that if you feel lost while shopping for a gift for a Harry Potter lover, you will soon find yourself having a good time.
The fact is that JK Rowling created a really amazing, imaginative world with interesting and empathetic characters and it's all very compelling.
Once you start to see what people have done with their own imagination and creativity, all inspired by this universe, you will start to enjoy yourself.
You could say that JK Rowling has put a spell on us when she wrote the Harry Potter saga. So instead of getting frustrated, embrace the possibilities, like Harry did, and answer the Hogwarts call.
Continue reading:
Best Wall-E Toys Guide for Every Age
18 of the Best How to Train Your Dragon Toys