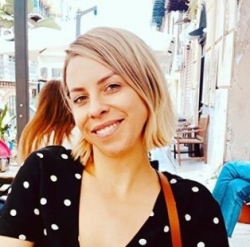 Latest posts by Jodie Chiffey
(see all)
Is there a child around who doesn't love Spiderman? If you have a fan in your life, you may be well clued up on the Marvel creation, movies, figures, and toys, but this doesn't make it any easier to know what the right toy is to buy!
There are so many Spiderman toys out there that finding the perfect one is an adventure in itself.
In this feature, I will reveal what I believe to be the very best Spiderman toys on the market today.
My Bottom Line Up Front: As a Mother of boys, I genuinely endorse all Spiderman toys featured in this guide. Some I like more than others, but my overall favorite is absolutely the Spiderman Touch-Screen Watch – well priced, with lots of activities to keep a child entertained; this is a great buy that is sure to please any young Spiderman fan.
How to Choose Spiderman Toys
To ensure that every reader could find a suitable Spiderman toy in my guide, I put a lot of thought into the various criteria – and hope I have you covered! To help you with your shopping venture to buy Spiderman toys, here are some of the things I looked for:
Age Range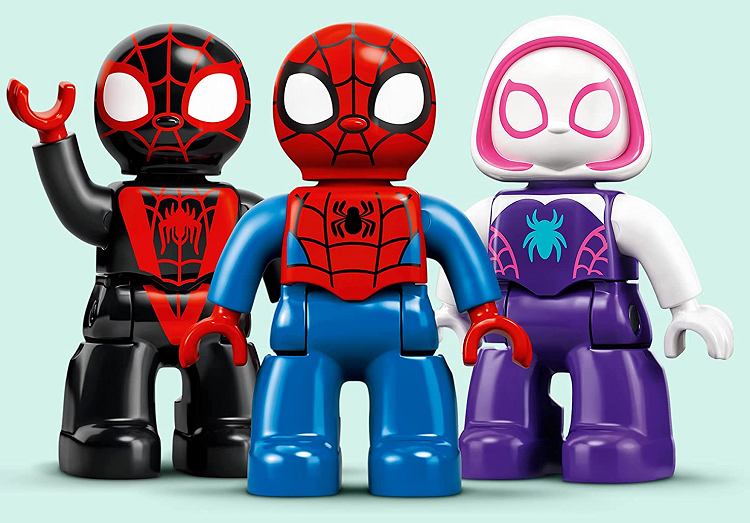 When it comes to 2000s toys, the recommended age range is more exact than in previous decades. I wanted to ensure I found Spiderman toys and products suitable for everyone, so I have looked at the various recommended age groups to ensure I have produced a serviceable guide.
It is equally important to realize that not all children have a developmental age that is on a par with their biological age. So, don't rule a toy out if it is designed for children younger or older than the recipient – unless for safety reasons.
Quality
Not all toys within a specific theme will be official merchandise, and while this is sometimes great to save money, it can mean that the toy isn't as durable, robust, or safe as that manufactured by a leading brand.
When looking for the quality level of Spiderman toys, it is wise to consider:
What the toy is made of
How safe the materials are
How easy it is to keep sanitary
How durable it is
Educational Aspect
Toys are crucial for child development and can be the foundations for so many vital skills such as speech and language, social skills, motor skills, coordination, turn-taking, and the art of patience!
Most toys will have an educational aspect to them, which can always be increased with a parent getting down on the floor and interacting with that toy.
Using well-loved toys to play with your children is a great way to strengthen a bond and to teach lessons without the child comprehending they're receiving any form of education.
Must-Have Spiderman Toys – My Top 19 Picks
I have selected the following Spiderman toys based on their durability, popularity, availability, and complexity. Themed toys tend to have so much merchandise surrounding them, but here you will find the best-of-the-best. The toys are listed in no particular order.
Hot Wheels Marvel Spiderman Character Cars 5-Pack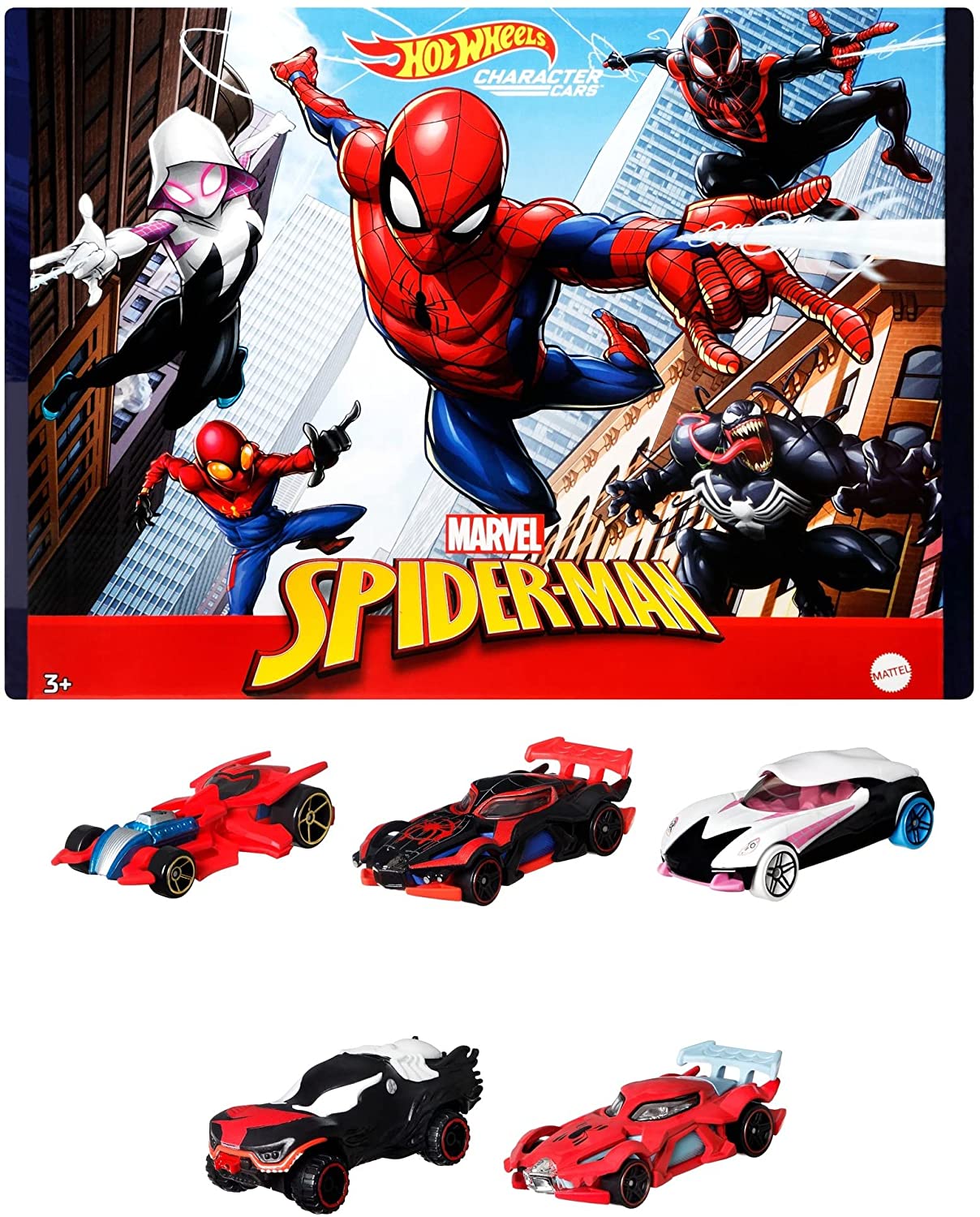 The Hot Wheels Marvel Spider-Man Character Cars 5-Pack are a perfect gift for any car-loving Spiderman fan. These are official Hot Wheels die-cast cards featuring realistic styling and iconic decoration that will be immediately recognizable. The cars are compatible with any Hot Wheels tracks or sets.
The cars feel super durable, and I'm confident they'll last a long time.
Pros
Lovely presentation box
Well made cars, built to last
Excellent true-to-life designs
Cons
More expensive than typical Hot Wheels cars
Colors and designs may vary, so you can't be certain what cars will arrive.
Spiderman Web Slinger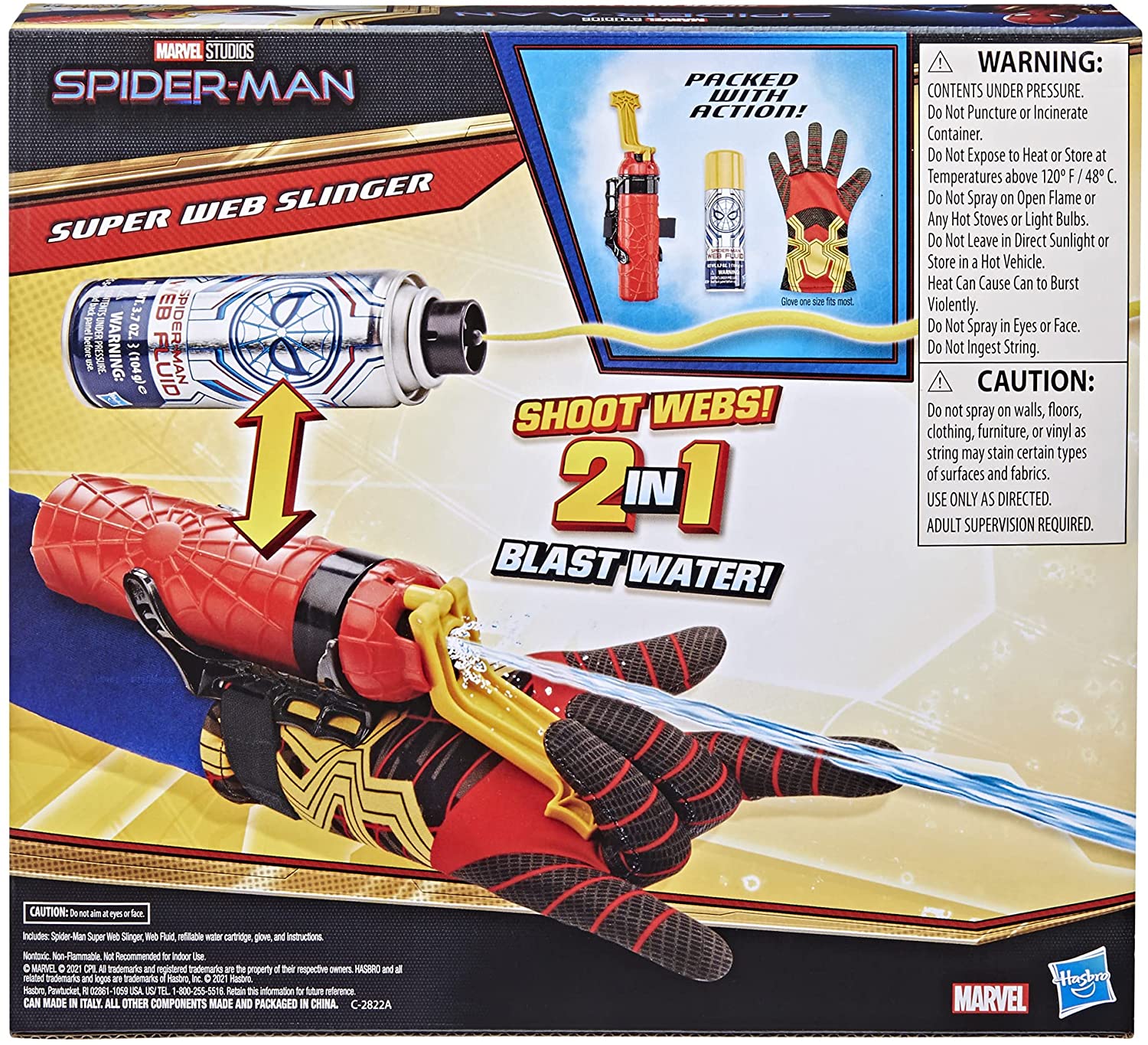 The Spiderman Web Slinger is inspired by the movies, cartoons, and comics and comes in at a hugely affordable price – perfect for a treat toy or stocking-filler present. There is a lot of positive feedback for this toy from verified consumers who praise its fun aspect and longevity.
The fluid is simply water, so it doesn't stain or cause any harm if it makes contact with the eyes or gets into the mouth. However, there is a special container included that attaches to the glove, and this shoots a more realistic web.
Pros
Excellent fun factor toy
Hours of entertainment
Good price
Cons
I don't love water and spray foam around my home, which cannot be avoided with this.
Potential to cause upset (not only to Mom!).
3D Spiderman Costume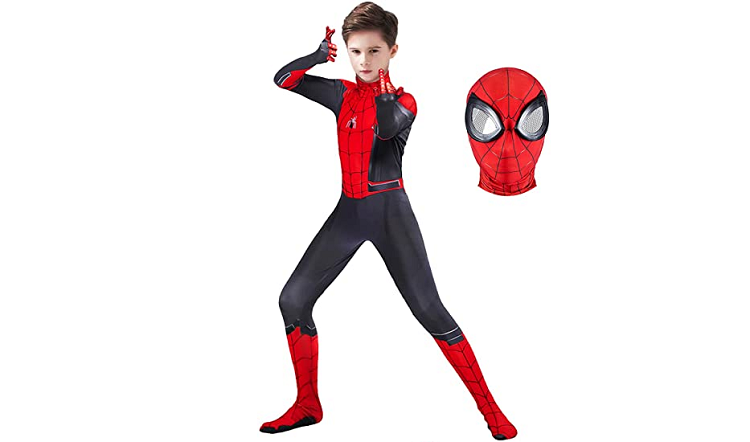 What little boys dressing up box is complete without a Spiderman costume? This one by Axwcon seems far superior to many. Although not an officially licensed product, it is made of high-quality breathable fabric and has a fantastically convenient front zip for those necessary bathroom trips.
The costume comes with a 3D-style mask that feels very sturdy and has a lovely bright color. There are multiple size options ranging from 36-in to 59-in, so you should find the perfect size for your Spiderman fan.
Pros
Lots of size options to suit all children
3D style mask
Good quality
Front zip
Cons
Not an officially licensed product
Marvel Spider-Man Talking Action Figure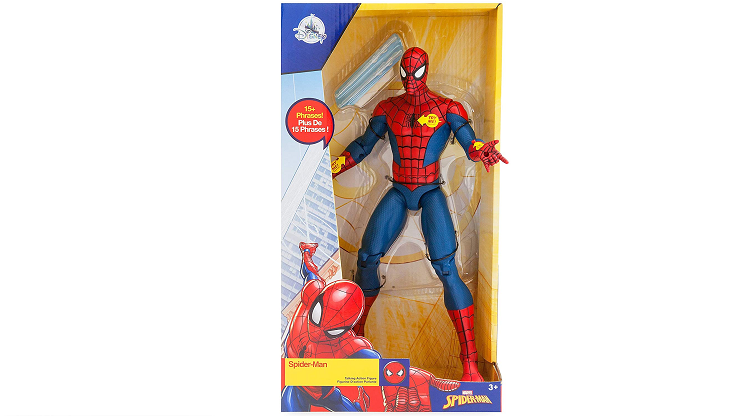 The Marvel Spider-Man Talking Action Figure is an officially licensed product that is very detailed, and no batteries are needed! The arms, legs, feet, and head move. Spiderman can stand and sit unaided, shoot webs, and speak several iconic phrases.
This makes a great toy but would also be a wonderful addition to a collector's set due to the high level of detail and a top-quality finish.
Pros
Perfect for collectors
Fun for kids
Taller than most figures
No batteries required
Officially licensed product
Cons
The fussy child may not like the height difference compared to their other figures
Phrases are limited and can become boring
Delta Childrens Spiderman Chair and Desk With Storage Bin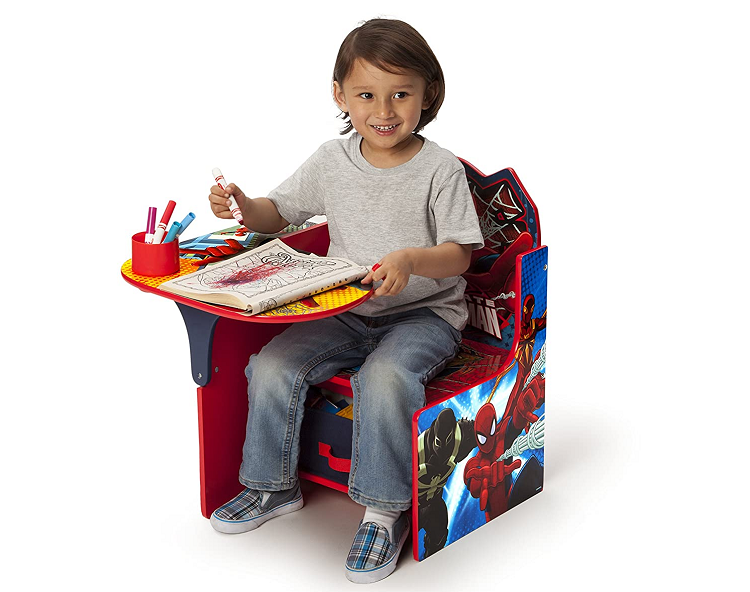 While not technically a toy, there are so many brilliant features with the Delta Children's Spiderman Chair and Desk With Storage Bin that I just had to it. This child-sized chair and desk is the perfect piece of furniture for homework, eating, chilling, and playing, and it comes with a handy storage bin to store all those Spiderman toys!
Pros
3-in-1; chair, desk, toy box
Good price
Beautiful visual
Cons
Moms may like it more than kids!
LEGO DUPLO Marvel Spider-Man Headquarter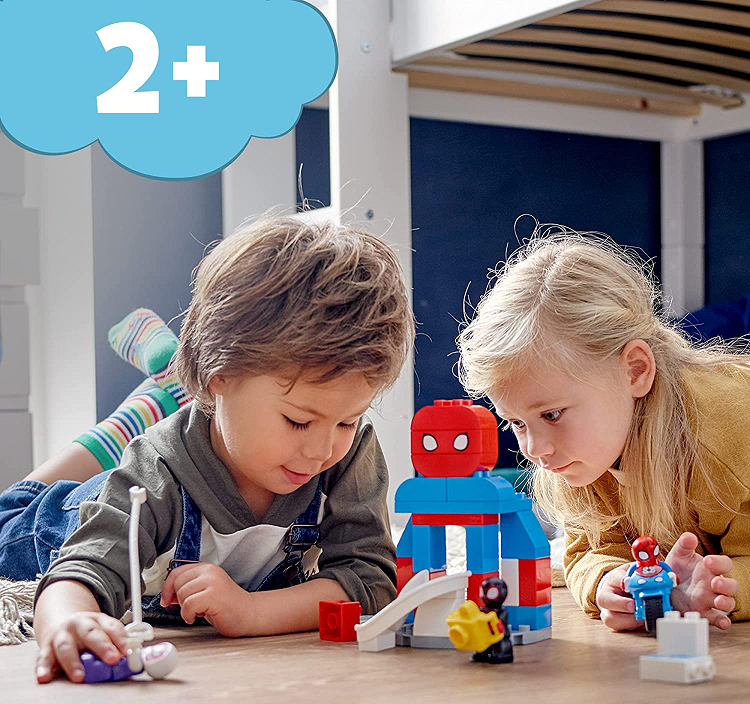 Add Spiderman and his friends to your child's Lego set with the LEGO DUPLO Marvel Spider-Man Headquarters. This is an excellent Spiderman gift sure to delight any young fan – who also happens to have plenty of Lego at home!
The set includes many activities and three superhero figures (Spiderman, Ghost-Spider, and Miles Morales). As with all Duplo lego sets, the quality is outstanding, and I believe it will undoubtedly stand the test of time.
Pros
Durable LEGO pieces
Nice presentation box
Perfect for any LEGO fan
Cons
I'd like for there to be more pieces considering the price.
5-Minute Spider-Man Stories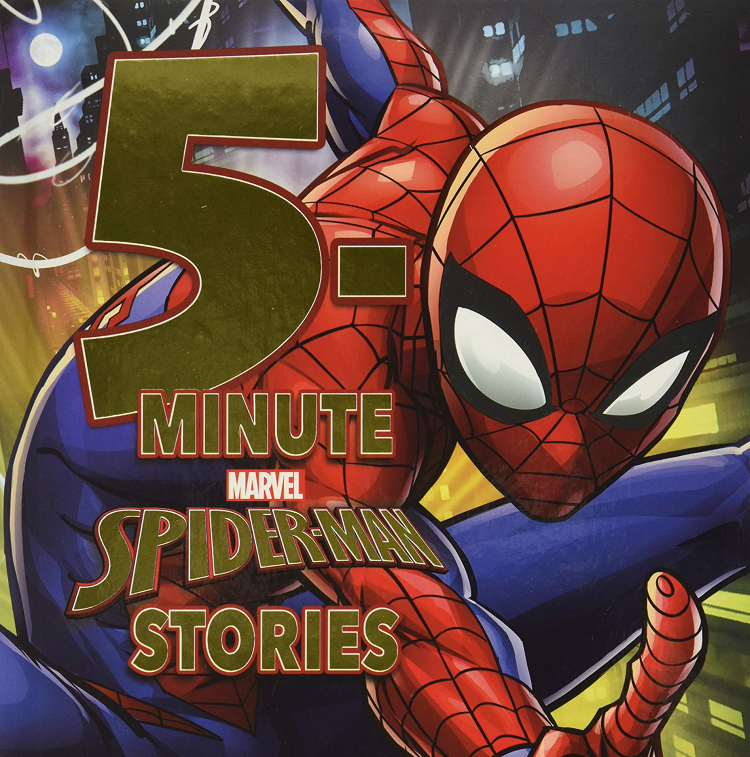 I am a Mom who gifts books at any given opportunity, and the 5-Minute Spiderman Stories Book would genuinely make a wonderful present for any young Spiderman fan (recommended reading age 6-8). The stories are short and sweet and perfect to incorporate into your nighttime bedtime routine.
The 196 pages have beautiful full-color illustrations, and the book cover is well padded and thick.
Pros
Beautiful illustrations throughout
Good looking book to display
Comfortable to hold
Perfect bedtime storybook
Cons
Not entirely Spiderman-centered for every story.
Jay Franco Ultimate Spiderman Pillowtime Pal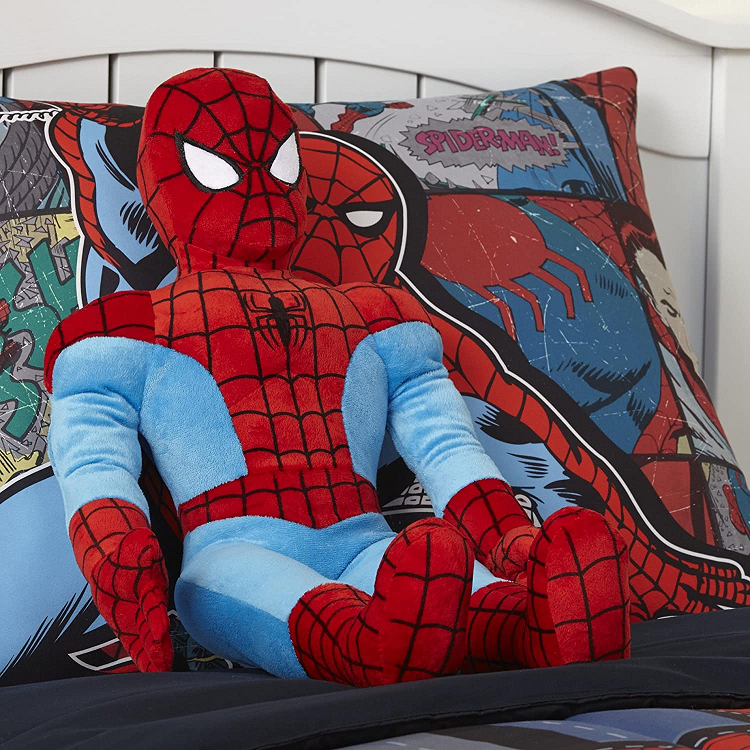 I believe the Jay Franco Ultimate 26″ Spiderman Pillowtime Pal to be a great little toy for very young fans. The trouble with many Spiderman toys and them being age-appropriate toys for preschoolers is they often come with small plastic parts or are just too complex for them to work out. This gap is bridged with the Pillowtime Pal.
This super-soft plush is suitable for children under 3-years and comfortable to cuddle.
Pros
Bigger than you may expect, great cuddle toy
Super soft with a good level of support
Multiple pillows to purchase and build a collection
Cons
Not intended to replace a pillow
Although mostly possible reviews, some consumers cite issues with quickly-worn fabric
Huffy Electro-Light Inline Scooter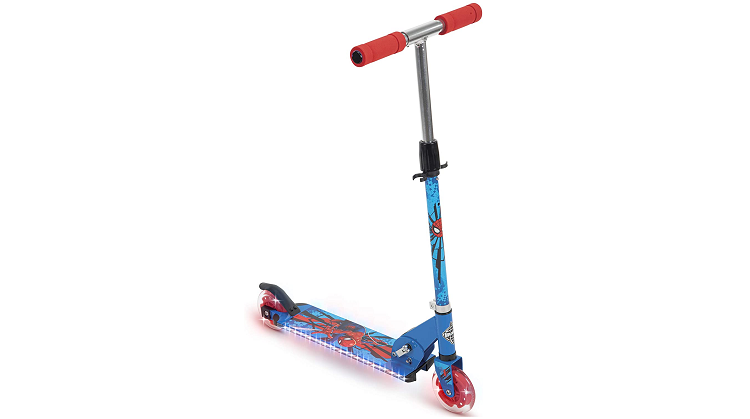 Get your kids to love the great outdoors with the Huffy Electro-Light Inline Scooter. There are LED light-up wheels, a non-slip base, comfortable handle grips, and a stunning, eye-catching Spiderman design. The break is conveniently placed at the back of the scooter.
One of the most excellent parts of this for me is the ability to fold the scooter down within a couple of seconds, making it superbly portable. The scooter is suitable for children aged 5 and over and has a handy, convenient stem that will rise as they do! Younger children will be better suited to the preschool Spiderman scooter by the same brand.
Don't forget your Spiderman helmet!
Pros
Excellent first big-child scooter
Fun light-up wheels
Comfortable handles
Non-slip base
Cons
Does rust fairly quickly if left outside or wet
Kid Trax Marvel Spiderman ATV Ride On Toy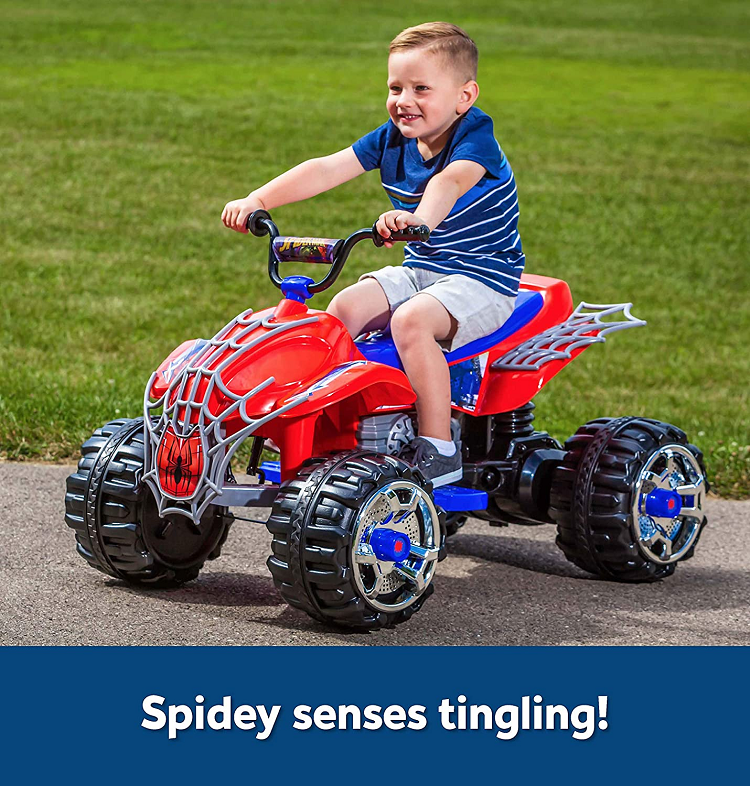 Designed for Avengers aged between 3-7, the Kid Trax Marvel Spiderman ATV Ride-On Toy is truly special. For the ultra-safety-conscious, anything motorized can cause great alarm, but rest assured that the top speed is just 5mph!
The ride moves forwards and backward and is operated via the pedals by the child. You simply refuel by plugging the toy in. It looks great and provides a cool way for your little one to get to their next adventure in style!
Pros
Super-fun Spiderman toy
Certainly has that 'wow' factor
Highly effective at getting kids off screens and outdoors
Cons
Not a fun assembly
Some consumers complain of poor after-sales service from the brand
Expensive
WOW! PODS Avengers Collection – Spiderman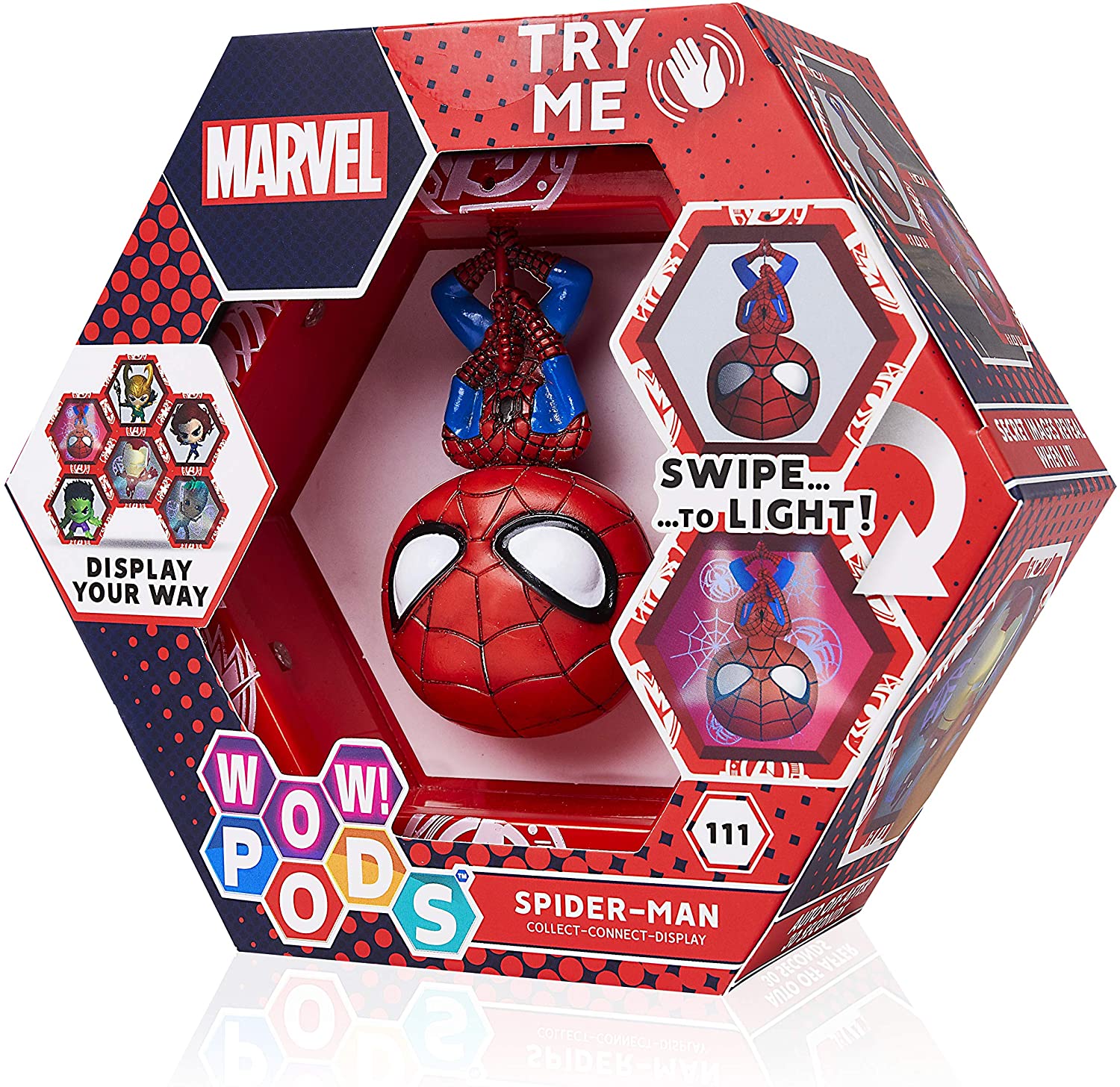 You could begin a nice Marvel Avengers display with the WOW! PODS Avengers Collection – Spider-Man. Reasonably priced at just over $16, this Spiderman collectible toy figure is an officially licensed product and one of 6 in the Avengers collection to get.
One complete, your child will have a beautiful, light-up wall display for their bedroom – and until all are purchased, you'll never be short of toy ideas. There is Hulk, Ironman, Loki, and Black Widow to finish the set.
Pros
Looks great when complete
Good value for money
Lights up well
Officially licensed product
Cons
May look a little bleak on its own
Could take time to complete the set
Spiderman Titan Hero Figure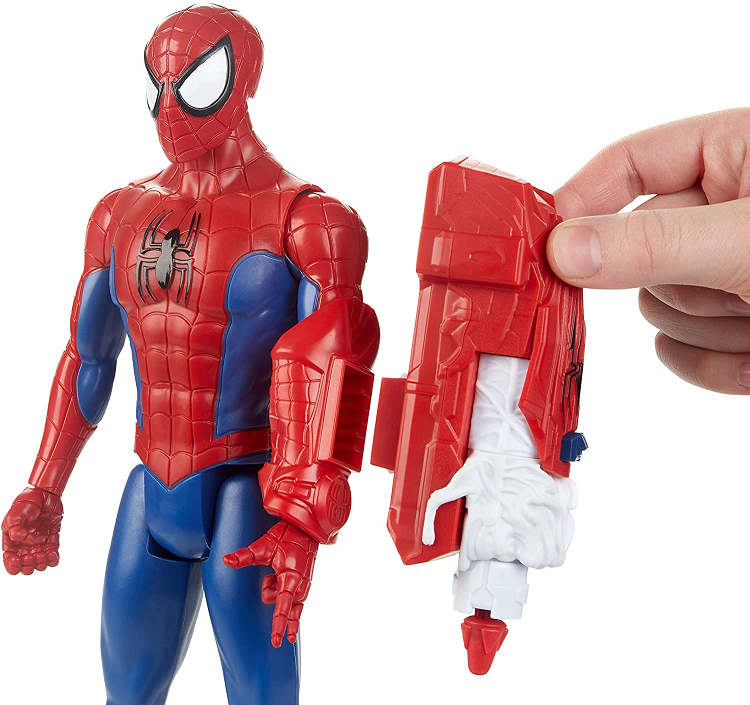 The Spiderman Titan Hero Figure is a must-have. A budget-friendly action figure of the well-loved superhero is an essential addition to any kids' toy collection. The figure stands at 12-in tall and is highly detailed.
Children can connect their Spiderman Titan Hero figure to the Titan Hero Power FX pack to 'bring Spidy to life' and listen to some iconic phrases and sounds.
Pros
Budget-friendly
Highly detailed
Can connect to Titan Hero power FX for special features
Cons
Limbs go forwards and backward only.
Spiderman Touch-Screen Watch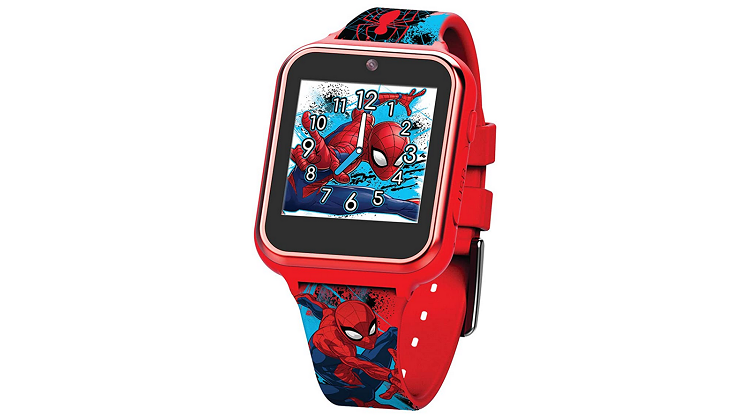 I love the Spiderman Touch-Screen Watch and am positive any child will, too. So, it isn't an Apple Smartwatch, but for a young child, it is probably even better than that! There are eight different Spiderman graphic options for the clock face, and the watch does much more than tell the time.
Children can experiment with taking photographs and selfies, check their step-count with the built-in pedometer, do some Math homework with the calculator function, and set various alarms and reminders throughout the day. There are also three super-fun games to play.
Pros
Multiple applications to use
Good game selection
Nice looking watch
Excellent value for money
Cons
Not water resistant
Not every parent wants to endorse Smart products
NERF Spiderman Micro Shots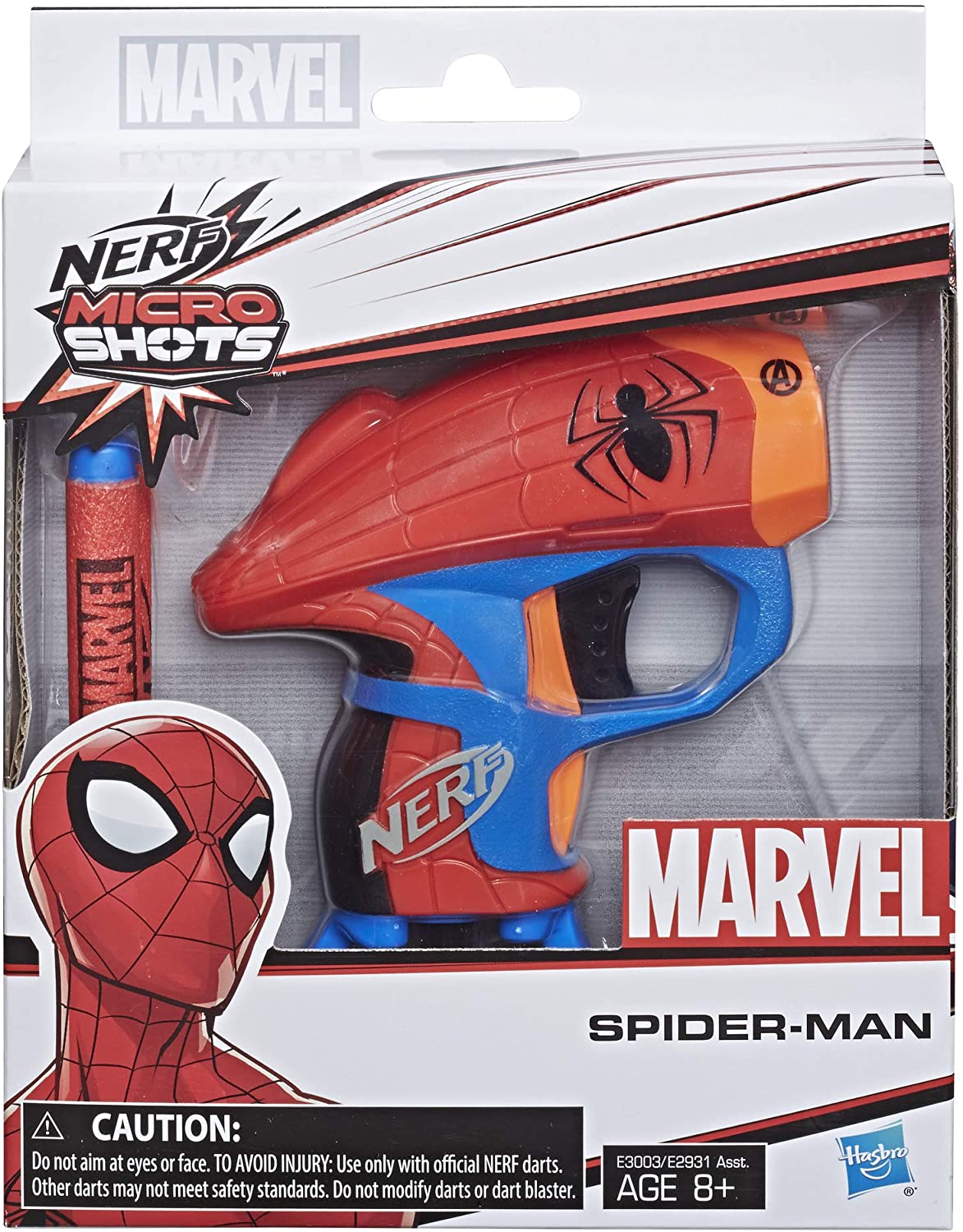 Part of the Micro shots series, the NERF Spiderman Micro shot is a miniature NERF gun perfect for small hands. The gun comes with two Marvel dec bullets (soft foam) and shoots one at a time.
You would need to purchase extra for a proper NERF battle, but the good news is that the catalog has a great range, so if you have one Spiderman fan in your home and another child who prefers Ironman, then everyone is happy.
Pros
Excellent for imaginative play and fine-tuning social skills
Brilliant fun
Soft foam bullets (included)
Cons
Buying one is pretty pointless, which increases the expense.
Marvel Spider-Man Look and Find Activity Book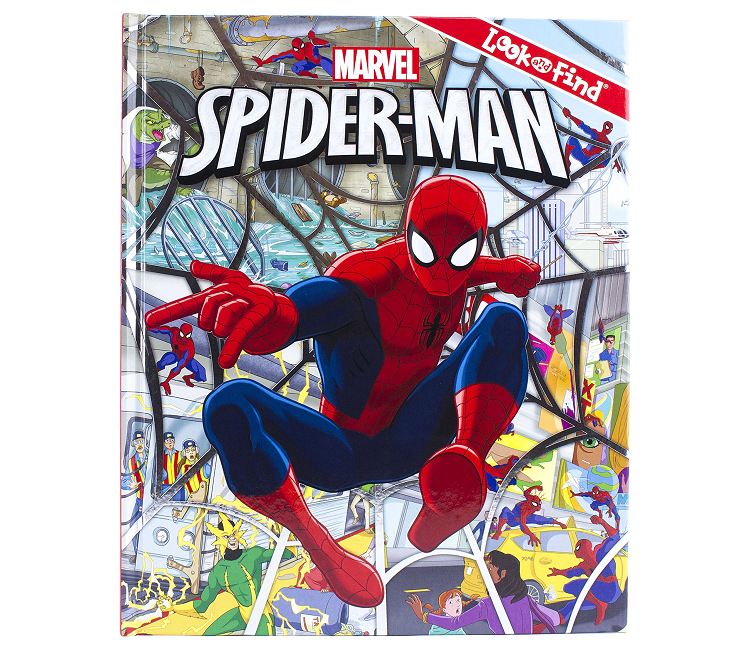 The Marvel Spider-Man Look and Find Activity Book is a top-rated product in various categories, including Children's Cartoon Humor Books and Children's Look and Find. It is also an online bestseller, with lots of positive feedback from parents.
The illustrations are bright and colorful. Although this isn't the most challenging look and find activity book out there, it is worth considering, if only for the wonderful images inside.
Pros
Excellent feedback online
Lovely illustrations
Nice looking book
Good quality
Cons
Somewhat lacking in fun for older children.
Rechargeable Spiderman Walkie Talkies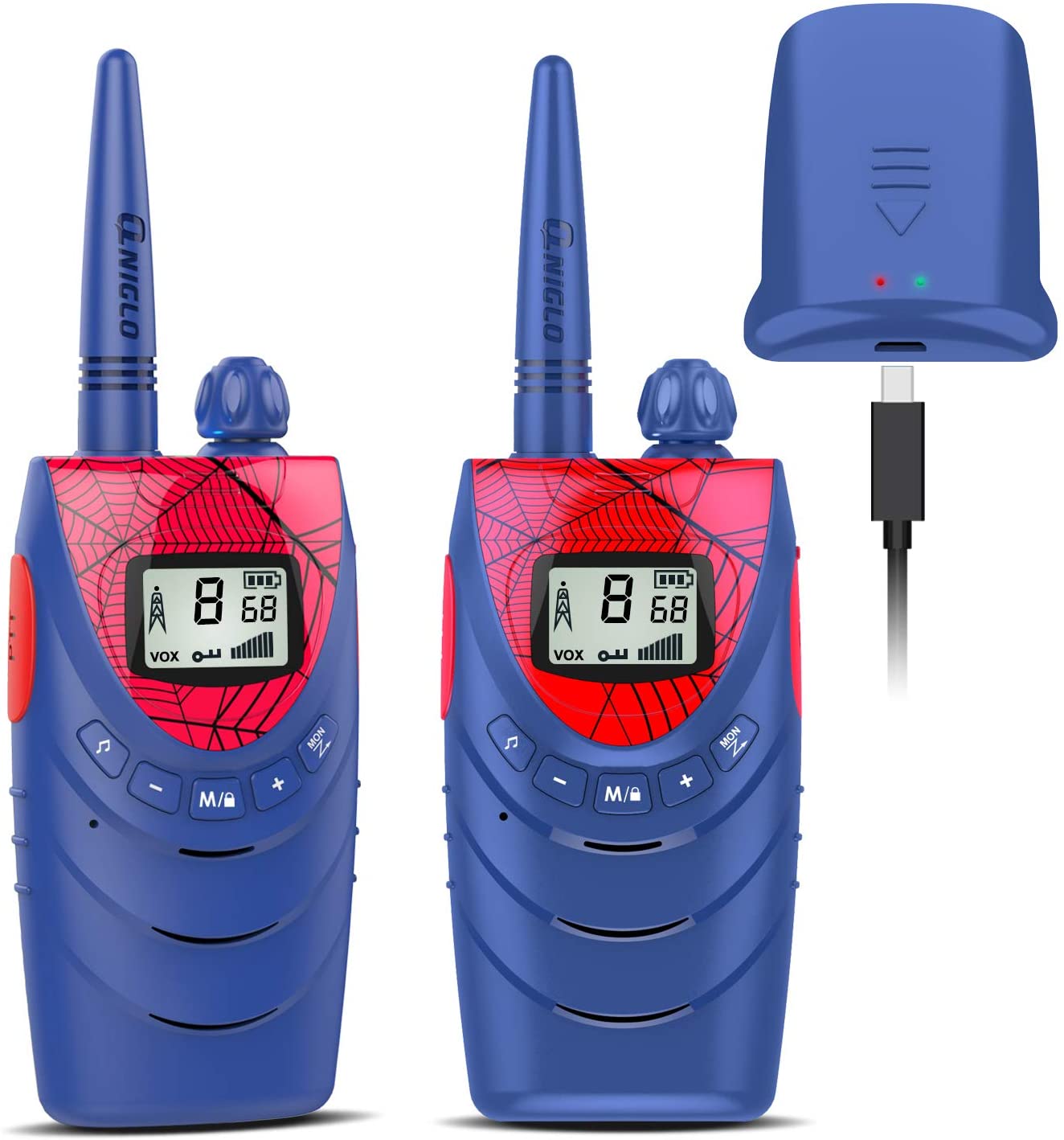 With an incredible range of 10-miles, the Rechargeable Spiderman Walkie Talkies would make a perfect present for a young Spiderman fan who perhaps shared this interest with a friend in the neighborhood. They'd also be terrific for hiking, camping, beach days, or a good addition to any outdoor play activities.
I was surprised with the long battery life of these walkie toys, at 18-hours, and they're easy to recharge. I found them to be super-easy to use, and they come with a belt attachment clip to help prevent losses!
Pros
Long-range (shorter for more built-up areas)
Handy belt clip
Easy to charge up
Ergonomic design
Cons
Children in built-up areas will have less of an experience than those with wide, open spaces.
Marvel Shop Spider-Man Jigsaw Puzzle Mega Bundle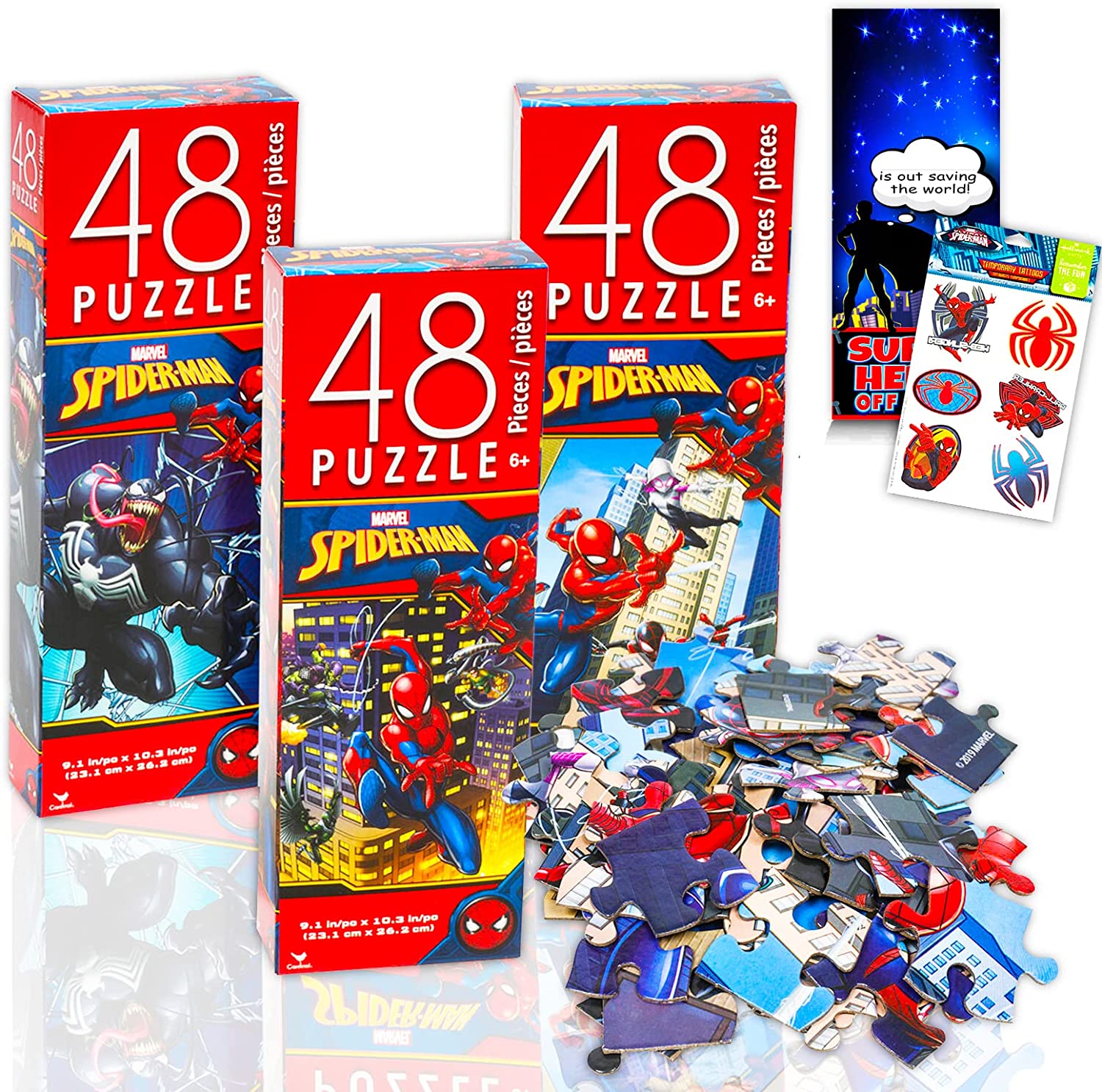 If you're looking for a Spiderman toy that offers good value for money, then you'd be hard pushed to find better than the Marvel Shop Spider-Man Jigsaw Puzzle Mega Bundle. With this bundle, you receive three different Spiderman puzzles, containing just 48-pieces each. The finished puzzles look great and don't take much time to do either.
For stocking fillers or when you need multiple gifts (such as Christmas, Easter, family meet-ups), the Spiderman Jigsaw Mega Bundle is well worth considering.
Pros
Fantastic value for money
Old-school fun
Helps with hand-to-eye coordination
Easy to complete
Cons
May be too easy for some children to complete
Jada Toys Hollywood Rides Spider-Man 2017 Ford GT RC Car

The Jada Toys Hollywood Rides Spider-Man 2017 Ford GT RC Car is a stunning remote control car fit for any budding superhero. I like the high-gloss finish and appreciate the level of detail of the Spiderman web design. Children may be more impressed with the Turbo Boost, however!
The RC car goes pretty fast and is very responsive to turning. Although quite expensive, money is saved along the way due to the rechargeable batteries (included).
Pros
Highly detailed car
High gloss finish
Turbo boost
Surprisingly fast
Rechargeable batteries (included)
Cons
Jada Toys Marvel Ultimate Spider-man Metals Diecast Collectible Toy Figure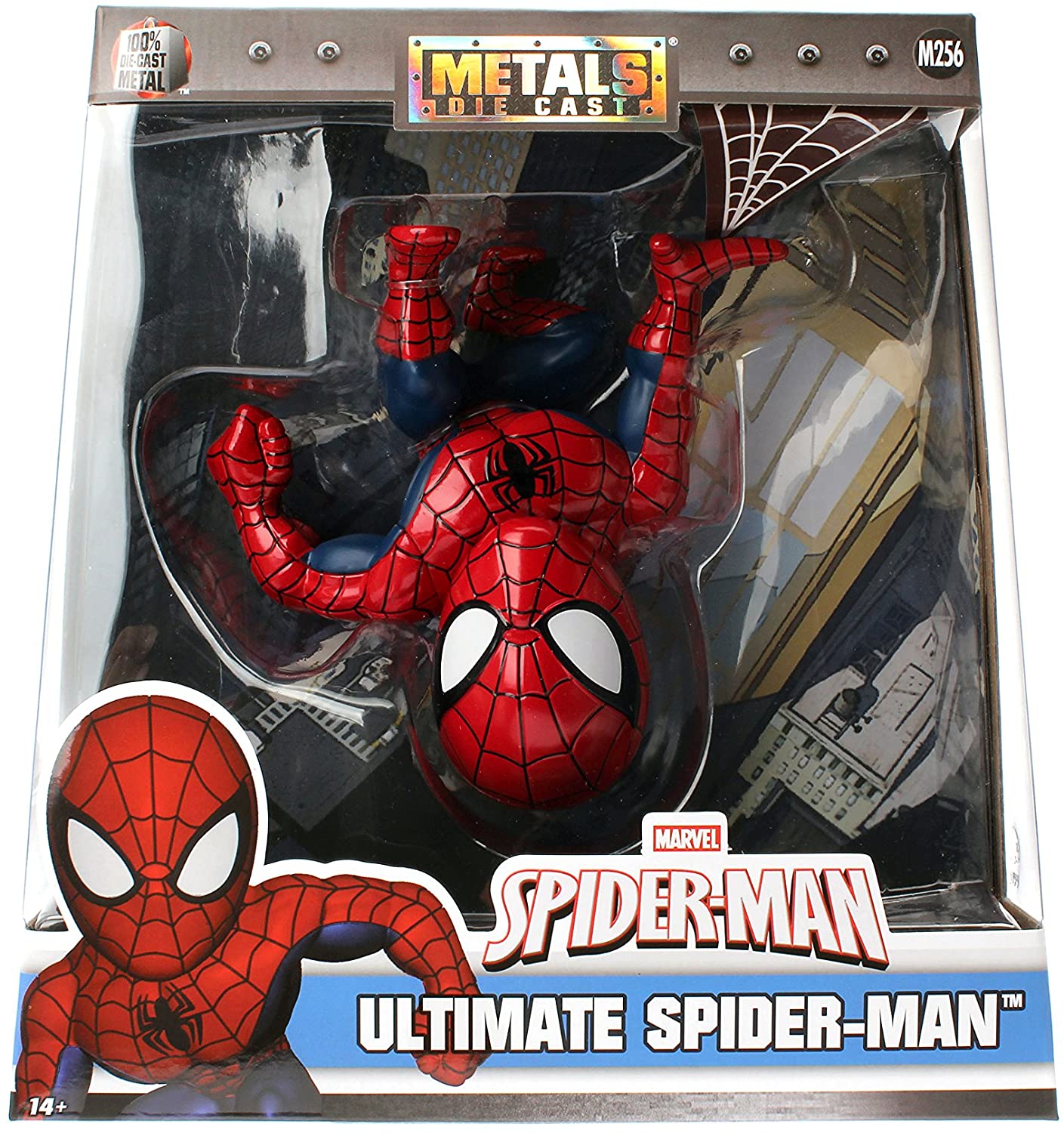 Adults, teens, and older children may have outgrown toys but not Spiderman, which would make the Jada Toys Marvel Ultimate Spider-man Metals Diecast collectible toy figure a perfect present.
This beautiful figure is designed as a collector's item and comes in a sturdy box with a transparent front; to view the figure without decreasing its potential future value.
Pros
Transparent box front
Beautiful detail
Potentially a good investment
Perfect for older children, teens, adults
Cons
There are probably thousands of these in circulation today, which could mean your monetary return may not be all that.
Frequently Asked Questions – Spiderman Toys
Question: What is the Age Range for Spiderman Toys?
Answer: My short answer to this is that Spiderman is for everyone. There is a massive selection of Spiderman toys out there today; however, not everyone is perfect for everyone!
In general, I would categorize my recommended Spiderman toys like this:
Preschoolers: Pillowtime Pal, Marvel Spider-Man look and find activity book, Delta children's Spiderman hair and desk.
4 – 7-years: Touch-screen watch, talking Spiderman figure, Spiderman scooter, JadaToys RC Car, 5-minute Spiderman stories, Spiderman ride on, Spiderman costume, Spiderman walkie talkies, LEGO set.
8 – 12-years: Spiderman jigsaw puzzles, NERF guns, walkie-talkies, action figures, web-slinger, WOW! PODS Avengers collection, Hot Wheels cars.
Teens – adult: Collectibles.
Question: Where is the Best Place to Buy Spiderman Toys?
Answer: Due to the colossal popularity of Spiderman, you can find toys pretty much everywhere. Of course, online shopping has the biggest selection and most effortless browsing, but the amount of toys is immense. For example, type the words into Amazon, and over 10,000 results will be returned.
For offline shopping, most stores will have a small selection of superhero toys, such as Target and Walmart. However, you may find some real special buys at garage sales, jumble sales, and online preloved ads.
Question: What Was The Very First Spider-Man Toy?
Answer: The first Spiderman toy was an action figure introduced by Mego in the 1970s. This classic was pretty similar to the original G.I. Joe figures and not a far cry from the Spiderman figures you see today. I suppose if something isn't broken, why fix it?!
Rounding Up – The Best Spiderman Toys
One of the main purposes of a toy is to provide fun for a child, which is so important. If the toy isn't fun, they're not going to be inclined to play with it.
Conversely, what one child finds fun may be another child's idea of a sanction! Consider the child's interests, what they like, dislike, and how they spend their free time, and look for a Spiderman toy that seems appropriate. I can pretty much guarantee that there will be one out there!
Further readings:
The Best Harry Potter Toys: A Guide
Iconic Mickey Mouse Toys Guide for Epic Adventures
Best Hulk Toys Guide for Supernova Fans