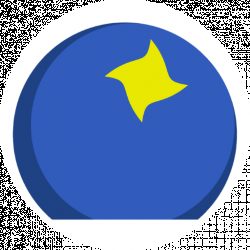 Latest posts by Avid Toy Insider Team
(see all)
It's shark season right now in the south, and we couldn't be happier about that! Personally, I'm gearing up for Shark Week, even though it's a long ways away.
What? A girl can't be excited?
If your little babe (or you, if we're being honest here) love sharks, then you'll want to show your appreciation through shark toys. Unfortunately, there are so many options to choose from that it can be challenging to narrow them down.
So as I wait for Shark Week to come on TV, I've been searching around for shark toys to buy my son. After all, I can't teach him all about sharks within the next couple of weeks without giving him a few toys to play with!
Bottom Line Up Front
There are so many fantastic shark toys out there! It was hard for me to narrow it down, but I did.
My favorite is the Robo Alive Junior Baby Shark Battery-Powered Sing and Swim Bath Toy by ZURU. I love how it sings and moves around in the tub to make bath time fun for your little one! 
Selection Criteria
As I'm going through this list, I'm thinking about all of the cool shark toys out there. There's so many cool shark toys, that it's hard to narrow down all of the different options. So, I've decided to choose sharks based on affordability, availability, and their overall coolness. 
How to Pick Out a Shark Toy
First, it's important for you to think about how old your child is. I wouldn't recommend you buy a shark toy that has some sharp edges on it, or a collector's shark toy, if you've got a youngin' on your hands. At the same point, I wouldn't recommend a super adoreable shark toy to someone who's looking for a shark toy that's interactive.
It's super important for you to keep your child's age in the back of your mind. You don't want to overwhelm or bore your child! Also, would you like a toy for bath time, the pool, or just hanging out?
It's a good idea to check out the reviews, both good and bad, to decide whether or not it's the right gift for you all. I would also recommend you take a look at the paint and materials used to make the shark. If there's any types of paint or harsh chemicals you'd want to stay away from, make sure to look into how the toy was manufactured before you commit to a purchase! 
Where to Find Shark Toys?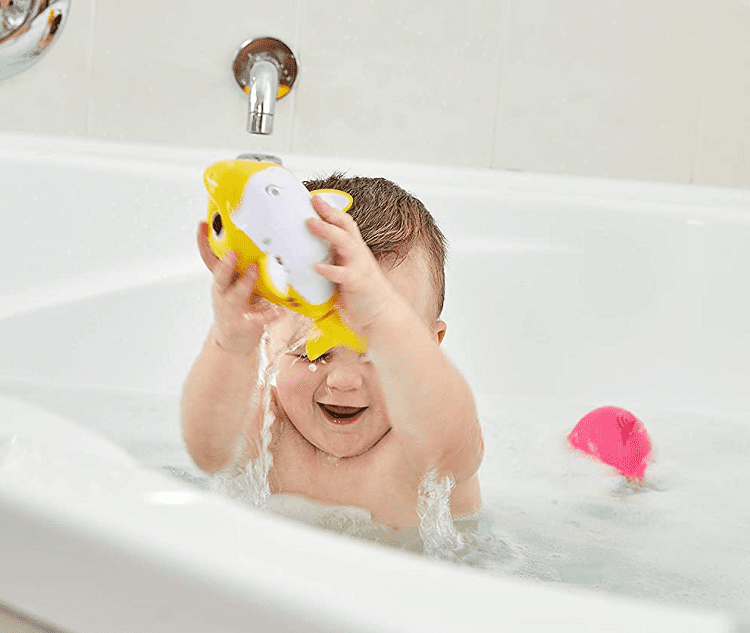 Amazon, Target, and Walmart have plenty of options online! As far as in the store, you might find fewer options. Niche toy stores might wind up charging you more for them to see a profit.
My Top Picks at a Glance
Pinkfong Baby Shark Bath Finger Puppets – Make bath time a blast with these fun finger puppets!
B. toys Splishin Splash Shark Water Squirt – Children will love to have water fights in the pool as they're filling it up and spraying it.
Kid Connection Shark Exploration Play Set, 31 Pieces – Comes with 31 pieces for fun pretend sea adventures.
Submarine Toy Shark Car Vehicle Toy W/ 6 Sea Animals and Storage – Have your children learn about submarines and the different animals in the ocean!
Hot Wheels City Shark Beach Battle Challenge Playset – Hot wheels and a shark are combined for this fun game!
As Seen on TV, Starbelly Blue Shark – Cuddly and adorable, your child will love snuggling with him! He lights up the entire room into a night sky.
Pressman Shark Bite Game – Watch out for the chomping shark in this fun multiplayer game as you try to keep the fish away!
Animal Planet Extreme Shark Adventure Playset – From Animal Planet, have your child act out the experience of a diver being in a cage with sharks swimming up!
Robo Alive Junior Baby Shark Battery-Powered Sing and Swim Bath Toy by ZURU – Daddy Shark (Blue) (Custom Packaging)- Watch your child giggle with delight as they see Baby Shark swimming around and singing a song.
Melissa & Doug Spark Shark Fish Hunt Pool Toy – Use the shark net to scoop up fish.
LEGO Creator 3in1 Deep Sea Creatures 31088 Make a Shark, Squid, Angler Fish, and Crab with This Sea Animal Toy Building Kit (230 Pieces) – Have your child build three different creatures and play with them once finished!
Water Fun
Whether you're looking for fun toys for the great outdoors or making bath time more exciting, this section is for you!
Pinkfong Baby Shark Bath Finger Puppets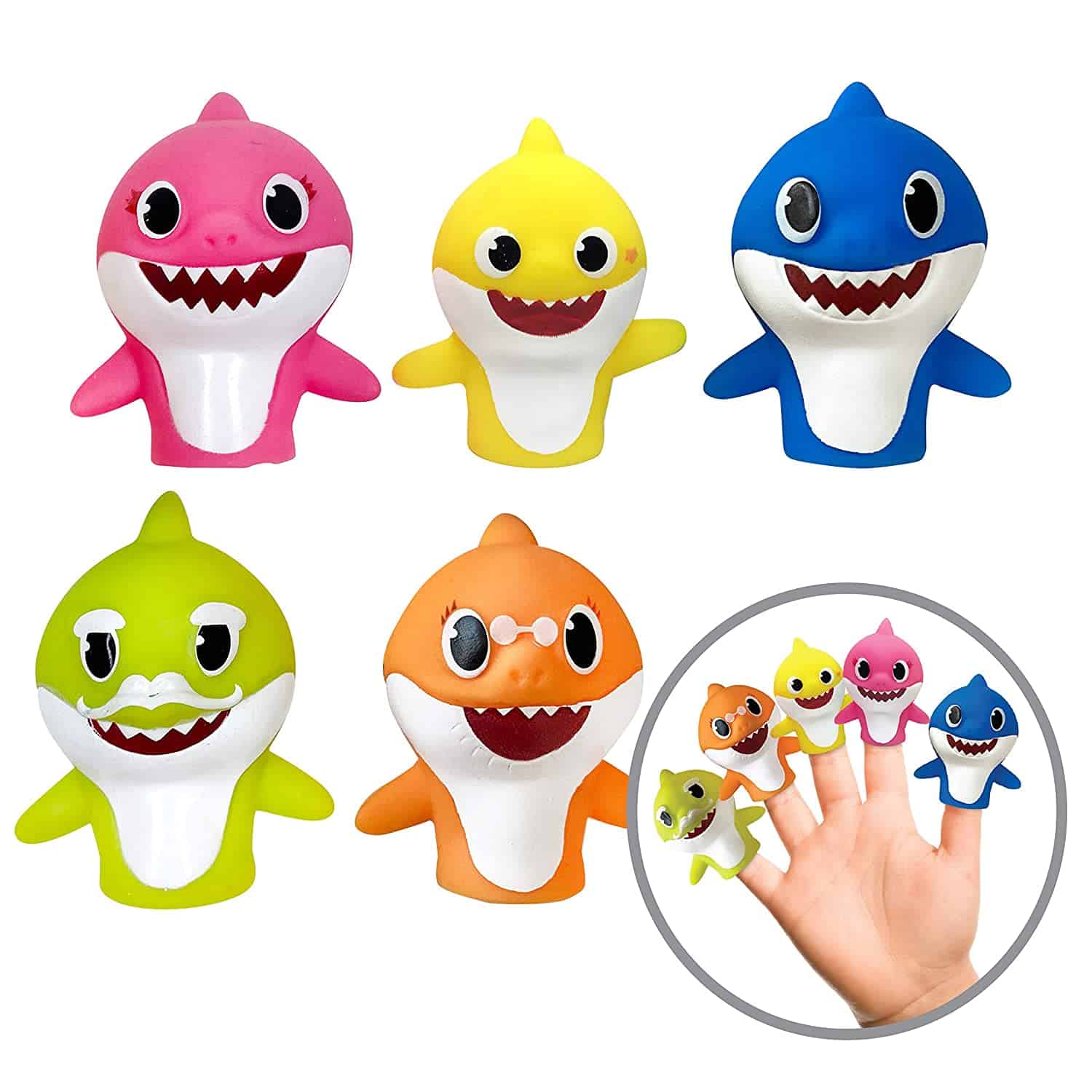 One day, the Baby Shark song took the world by storm. And if you haven't already had enough of the Baby Shark song in your life, you can add these fingerpuppets to your bathtub! What I think is super cool about these sharks is that they come with baby shark, mommy shark, daddy shark, grandma shark, and grandpa shark! You don't just have to keep them in the bathroom either; I love that you can take these shark sout and use them as fingerpuppets.
Personally, I love how each shark is a different color. I love that they're made with latex-free plastic since many are allergic to it!
Robo Alive Junior Baby Shark Battery – Powered Sing and Swim Bath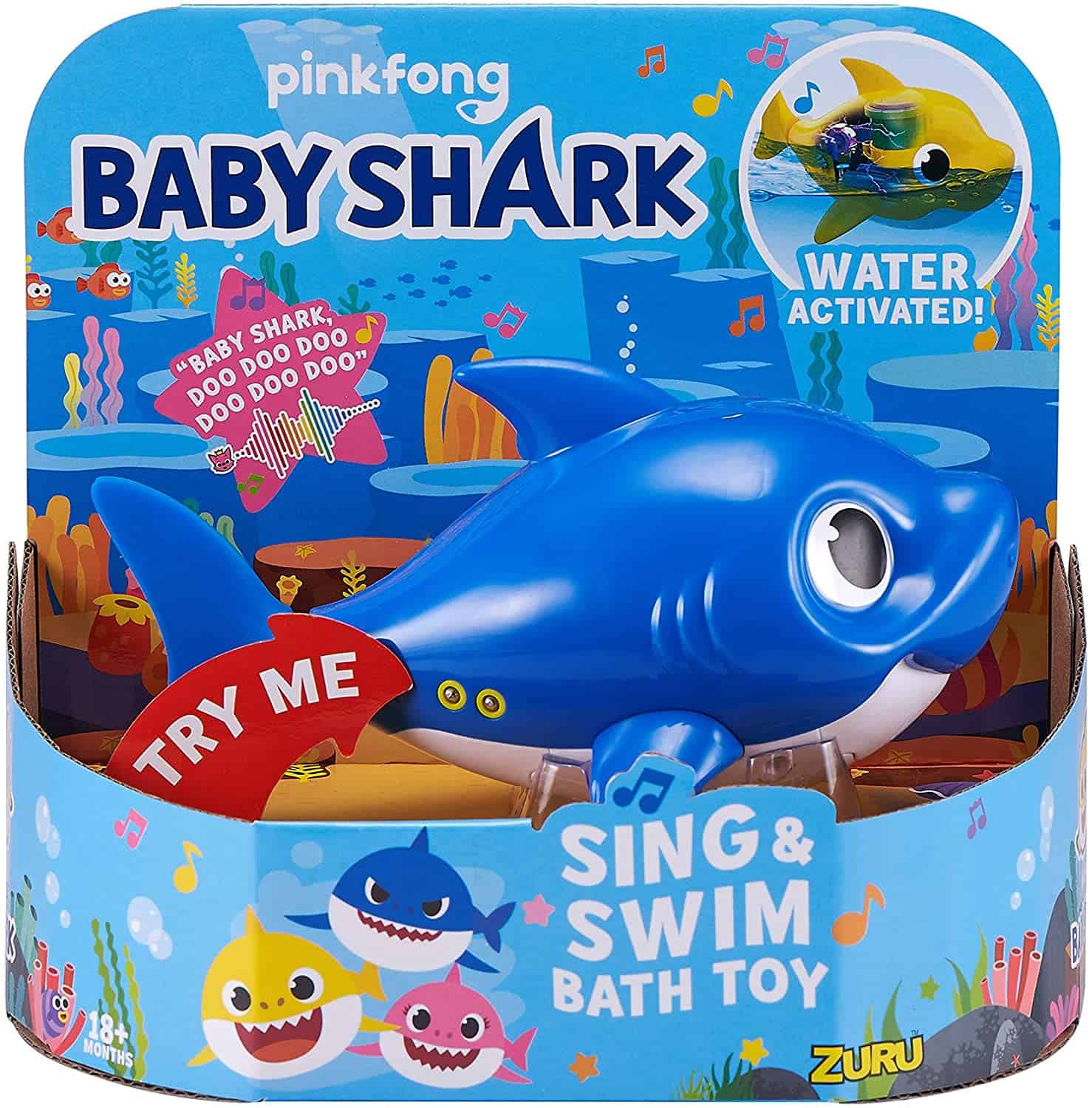 If you want a Baby Shark toy for your little bub but didn't like the finger puppets, this is another great option! They also have a mommy shark version too. 
He even sings the Baby Shark song! I love watching my son react to this shark as it danced around in the water. He had a blast! And while I'm not a hug fan of the song, it was so much fun to see how much more my son enjoyed bath time. 
Kid Connection Shark Exploration Play Set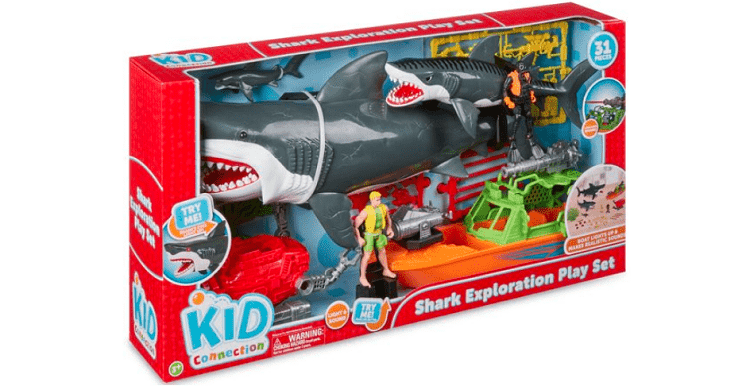 This is a huge toy set! It's literally got everything my son could ever want in a shark toy set (except, for more sharks, of course). Plus, I love how cheap the price is, especially considering everything that comes inside of this kit! Personally, I wouldn't give this kit to my son unilt he's much older. There's a lot of sharp and small plastic pieces in this kit. But, I think it's a great option for older kids or teens! My only concern about be losing all of the small pieces that come with the kit – Im' sure they'd be pretty painful to step on.
Animal Planet Extreme Shark Adventure Playset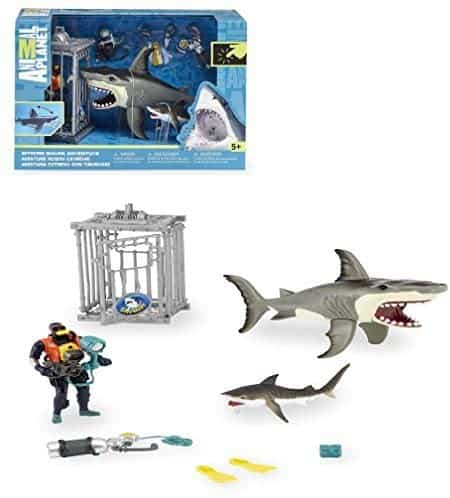 This is another great set if you've got a little one interested in deep sea diving! There are only two sharks with this set. I do think it would be super cool to include more sharks, with a large variety of breeds. But, for this being a smaller set, it isn't bad. This isn't an expensive set whatsoever, so if a few of the pieces get lost, it isn't too costly to replace.
Melissa & Doug Spark Shark Fish Hunt Pool Toy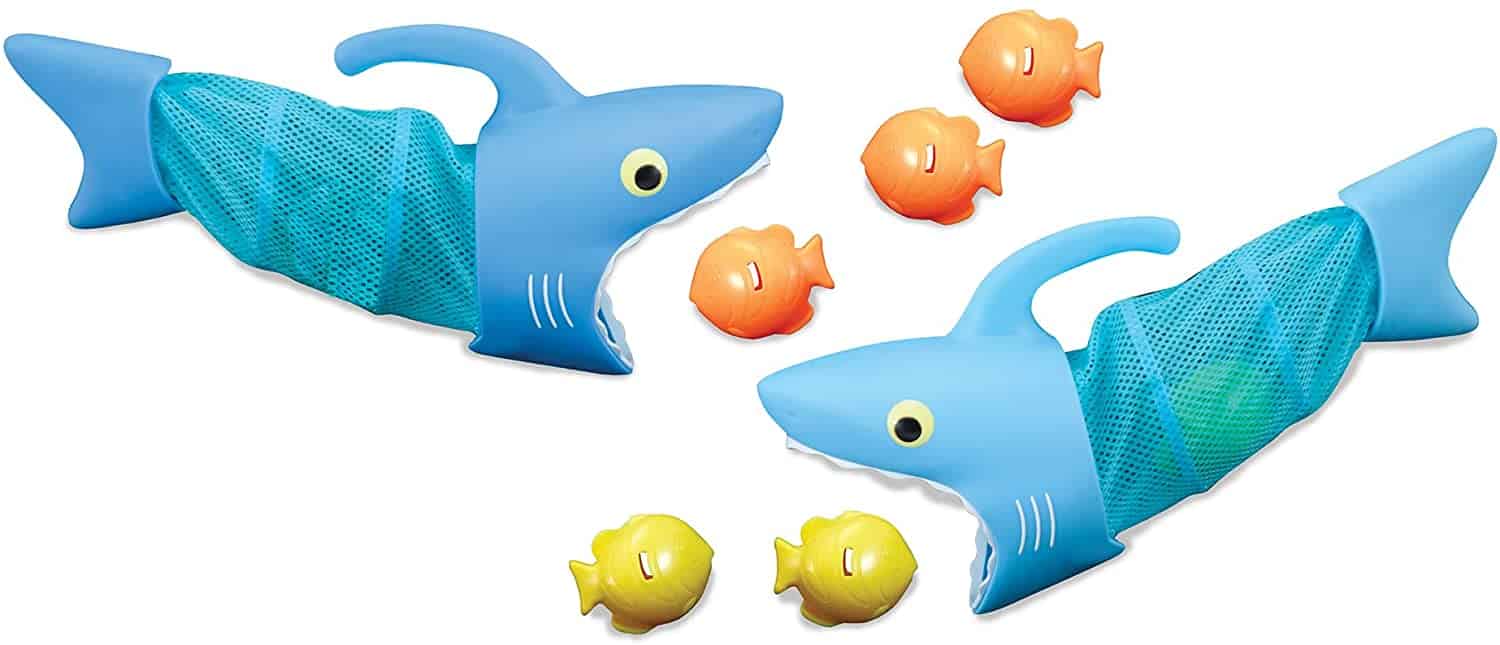 Melissa & Doug is one of the most well-respected companies for children out there! I remember that my nieces would have many Melissa & Doug toys growing up.
I love this toy because it gives my son something to do while he's out playing in the water. Plus, the shark bag makes for easy cleanup. I can just scoop up all of the little fish using the handle on the shark. My only concern would be the mesh netting rotting away after a year in the sunlight. So, if you want to make sure this toy lasts for a few years, I would be careful not to leave it in the sunlight!
Honeslt,y I think it can be added to racing games too! Buy a set for siblings to play together and see who the winner is!
Hot Wheels City Shark Beach Battle Challenge Playset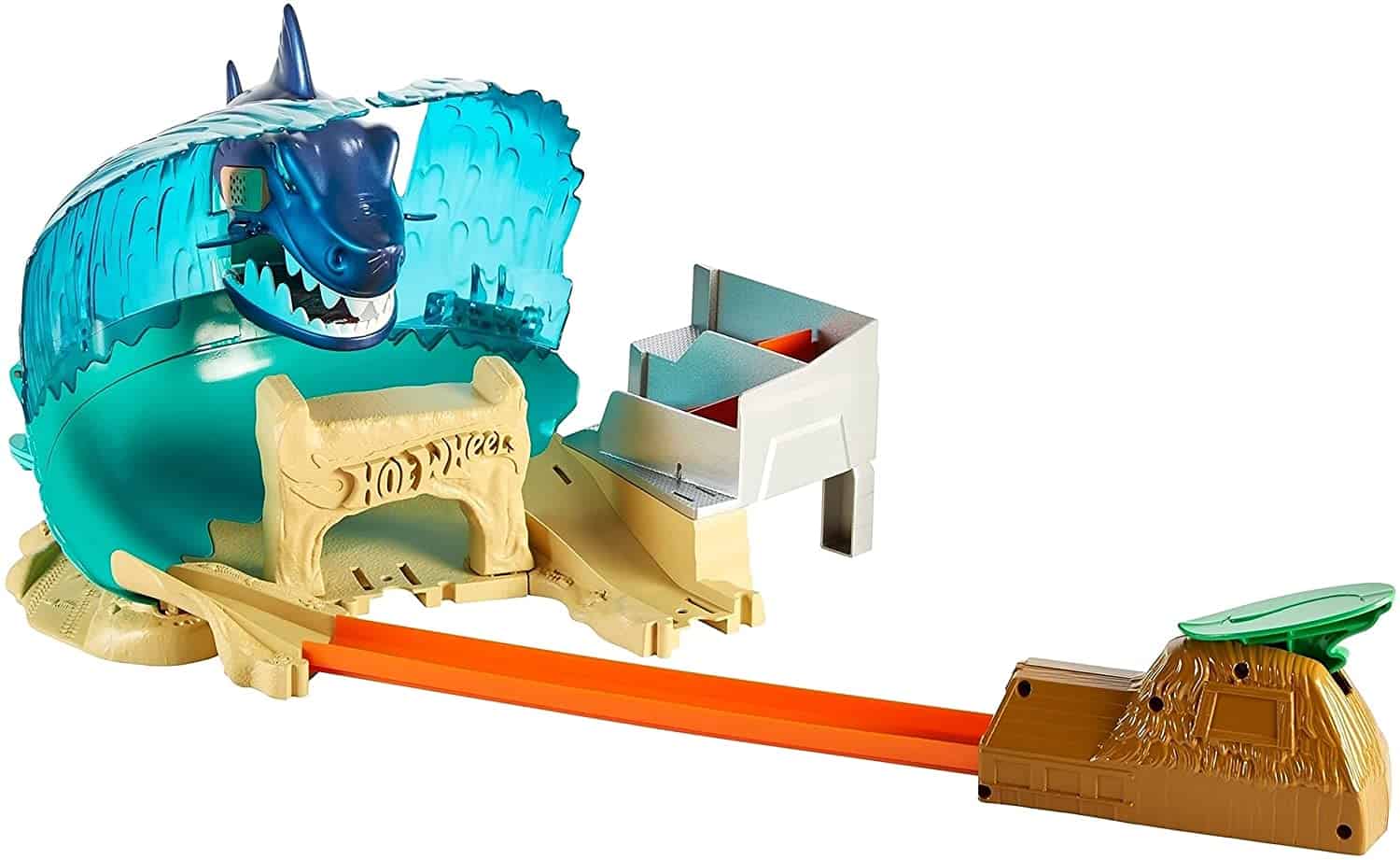 Want to combine your child love for cars and sharks together? I have spent hours playing with this! I love the shark peaking through the wave; I think he looks so cool! My son is a little too young to be playing with Hot Wheels, so I'll totally admit that I bought this one for myself. I do wish the track was a little longer or that Hot Wheels made another shark release with a longer track. It's so fun trying to get my Hot Wheels to go fast enough to try to stop the shark from grabbing my car!
Pressman Shark Bite Game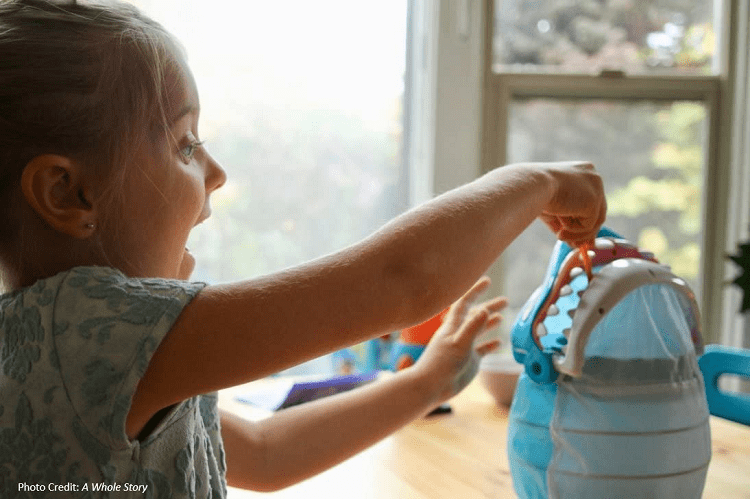 Looking for a shark game that everyone in the family can enjoy? If you've got a shark-obsessed family like I do, this is a super fun game! While I wouldn't recommend this game to families who have older children, I like getting my son and his friends involved. And when they all go to play something else, we won't admit it, but my friends and I like playing this game. Basically, you have to collect all of the sea creatures before the shark bites you.
LEGO Creator 3in1 Deep Sea Creatures 31088 Make a Shark, Squid, Angler Fish, and Crab with This Sea Animal Toy Building Kit (230 Pieces)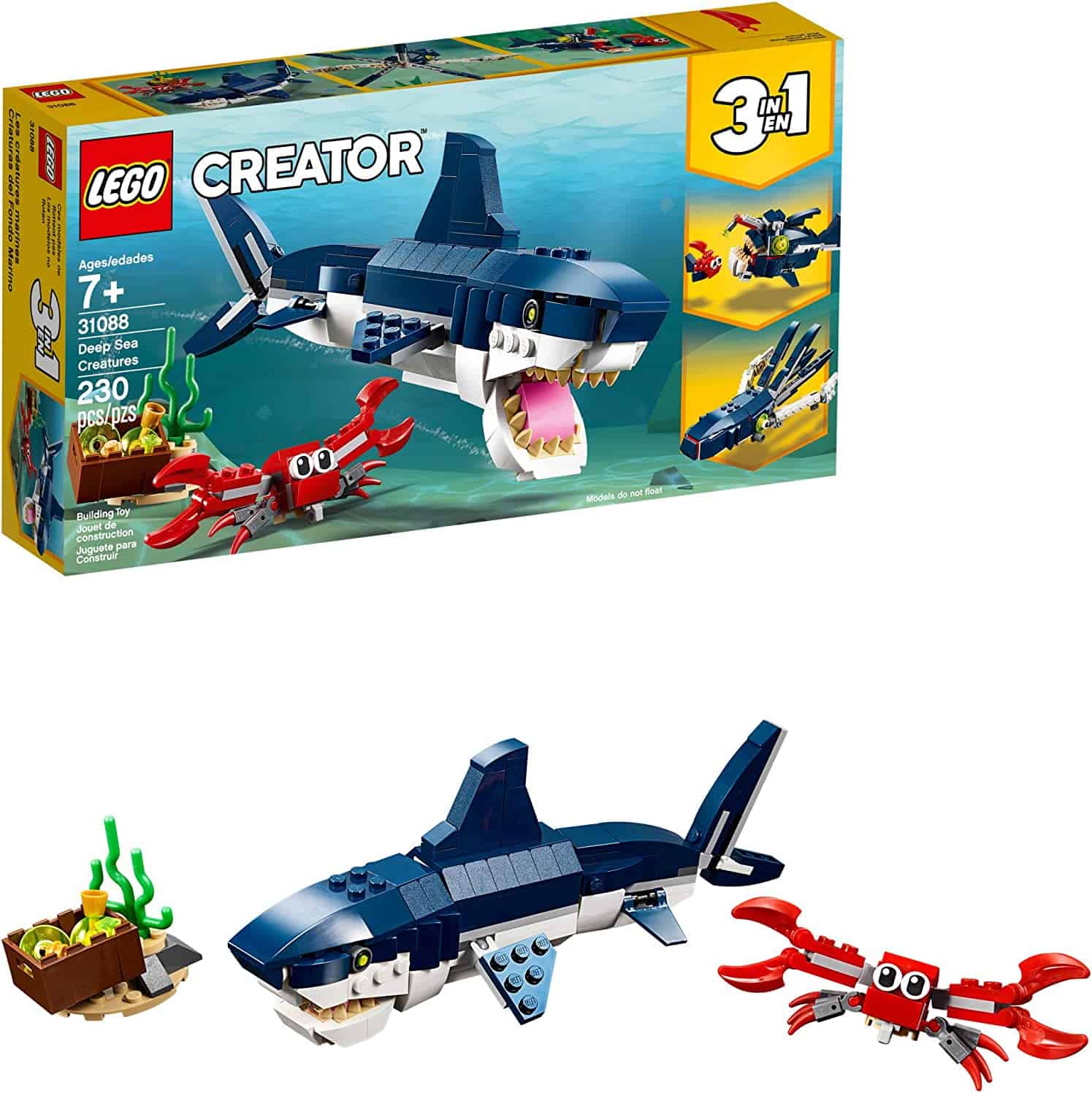 Who doesn't love Legos? I bought this kit, but not for my son. It's a fun side-project my husband and I have been working on together on our date nights. It's been so much fun to put together; we're almost done with the shark. My son's bedroom is ocean themed, so we plan on putting this finished kit into his bedroom when we're done. I love how coo the shark looks and the little bit of treasure that comes with the kit! Plus, I love the claws on the crab; they can grab at stuff, which is way more than I was expecting out of this lego kit.
You can also make an angler fish and a squid, instead of the shark! There's extra pieces left over after you're done using the kit, so you could always build extra sea creatures when you're done building everything.
As Seen on TV, Starbelly Blue Shark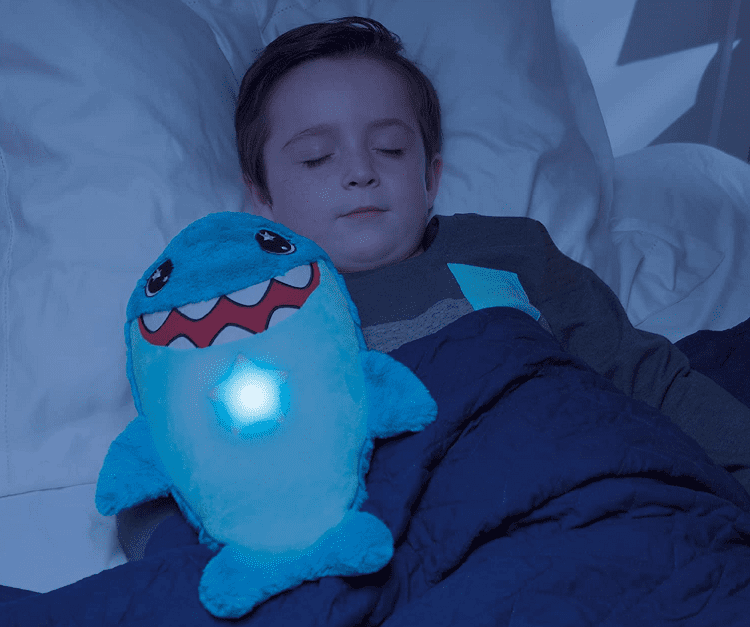 I love how this shark lights up my son's entire bedroom. It's so beautiful to see the projected stars twinkled across his entire bedroom! Plus, this toy shark is super soft. I love how the stars move, because it helps my son to fall asleep a lot faster. And he's big enough or my son to use as a pillow too, though the inside stuffing of the shark's stomach isn't too comfortable.
FAQs
Question: What are Some of the Cutest Shark Toys for Kids?
Answer: Definitely the As Seen on TV Shark! He even turns your room into the nighttime sky
Question: What are the Best-selling Shark Toys for Kids?
Answer: Melissa & Doug Shark Net Pool toy, Baby Shark song toys.
Question: What are the Simplest Toys for Kids?
Answer: The bathtime shark puppets!
Exploring the Best Shark Toys
After exploring this guide, I hope you have a better idea of the best shark toys out there! Think about your child's age and current interests as you decide what the best option is.
Remember that each child will be unique as far as what they enjoy, and that's okay! Decide what you'd like them to learn more about, whether sea animals, STEM, or another avenue.
My favorite is the Baby Shark Battery-Powered Sing and Swim Bath Toy by ZURU. If your child doesn't like bath time, this will help to make it more exciting. But, even if they like bath time, they'll love watching the shark swim around and sing. 
If you enjoyed this article, be sure to check out our other articles today!
Find  more awesome themed toys by readings these guides below: