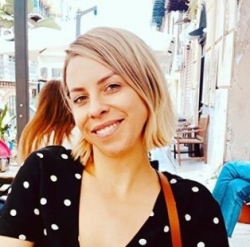 Latest posts by Jodie Chiffey
(see all)
If you're a parent in the world of Bakugan, then you might be wondering what the best toys you buy are to ensure that your little one is the ultimate Bakugan master.
If your kids are already collectors of Bakugan toys, you will have noticed that it mainly consists of action figures and trading cards, similar to pokemon, making it quite one-dimensional regarding variety.
During this guide, I will tell you about the franchise, the brawls, the trading, and also what toys are the best on the market that will help your Bakugan boys (or girls) level up their battling experience.
As well as having plenty of experience in buying toys, I am also curious about the kinds of toys that can be collected, traded, and accumulated.
After reading this post, you will be armed with all the information you'll need to get shopping for the seven best Bakugan toys on the market.
7 Best Bakugan Toys – A Quick Look
Bottom Line Up Front
After putting our collective opinions together, we narrowed it down to the Bakugan Geogan Deka, Stardox, Jumbo Collectible Transforming Figure was our number one top pick.
We only found one small downside to this toy, which was that occasionally it didn't open when thrown, as it's meant to, but this didn't happen frequently.
The boys both thought this was the coolest toy, and they seemed to play with this for the longest. I like the fact that there were lots to collect.
How do Bakugan Toys Work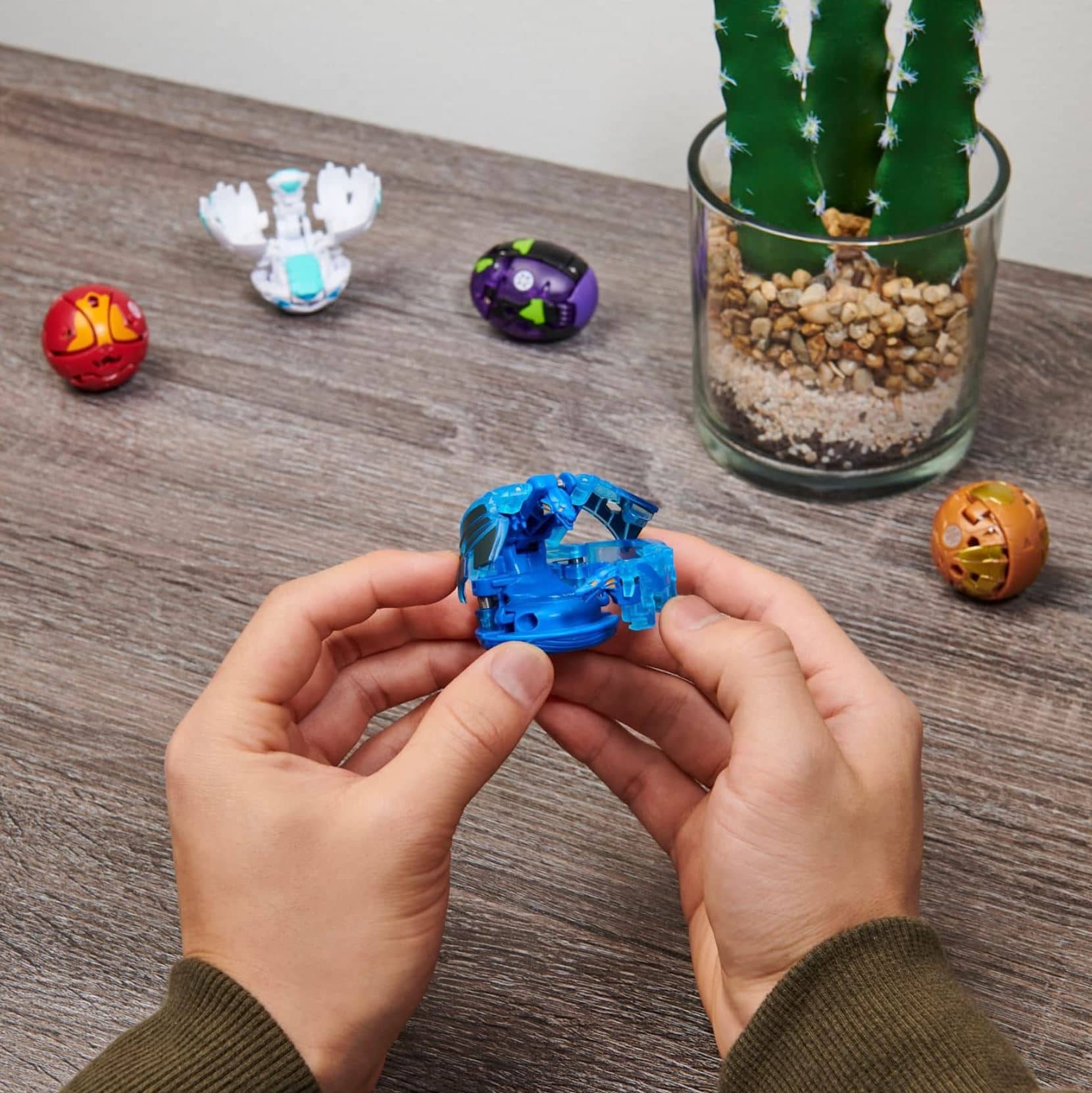 Bakugan is a great toy collection that involves trading cards, brawling, and battling. A lot of the toy figures you can buy consist of different monster-looking creatures, which are contained inside a plastic shell in the form of a ball, a puck, or an egg of some description.
Each pack you buy comes with a small magnetic card, and each of the balls/shells has a small magnetized spot. When the balls are thrown over the card, and the magnets make contact, the ball pops open and transforms. These are incredibly cool. I referred to them to my kids as the modern-day pokeballs but was hastily told, "Mom, it's not the same thing!"
How I Break it Down
When shopping and researching toys, I always look for three things in particular. Are they educational? Are they safe? And how long are they going to keep my kids entertained? So let's take a look at those aspects broken down.
Educational
Brawling, battling, and trading isn't precisely what I would consider the most educational form of gameplay. However, some aspects of this can improve the following:
Distracts from technology
It helps to learn about negotiating
Encourages swapping and sharing
Teaches them to take care of something valuable
Stimulates imagination
Each of the toys I have looked at for this guide has had similar qualities, meaning they are equally relevant to each other regarding education.
Safety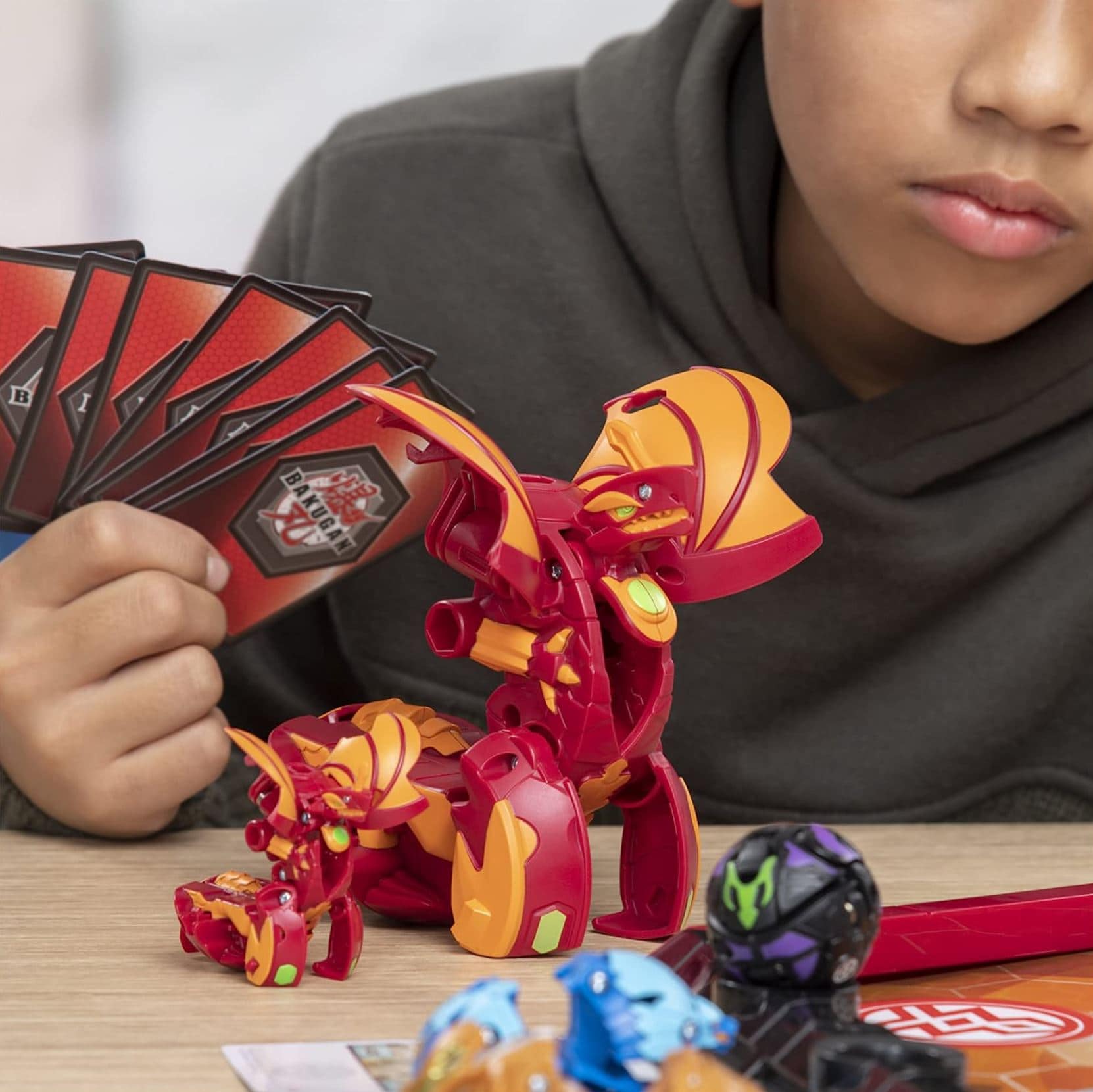 Of course, safety is vital when looking at toys for our kids, especially when we have young ones and toddlers.
All of the products in the guide are manufactured by Spin Master, a reputable and well-known brand in children's toys. After testing many of their products over the years, I am confident they're all safe for children.
Of course, age does come into play where safety is concerned, especially regarding toys with small parts, so it's always best to check when buying new toys for your children that they are age-appropriate for them.
Fun
As a child who used to trade Pokemon cards, I remember all too well the excitement of getting a new shiny card or trading them with my friends.
Other than the given thrill of card trading that comes with Bakugan, I've also judged the fun factor and features of the figures themselves. After all, you don't want to be spending money on a set if your kids will discard it after a couple of days.
My Product Criteria
Toy Type – Most of the toys from the Bakugan brand have a lot of similarities. They usually come with figures and cards, or just the figures alone. I have tried to keep my selections as varied as possible so that you have a great choice.
Age – When it comes to age ratings on toys, it can be challenging because not all children are where they should be on the timeline for development, and some kids prefer different things. The range of Bakugan toys is extensive, so when choosing your toy, consider the age rating as a guide and use your instincts regarding safety.
Durability – The thing I liked when looking for Bakugan toys was that most of them are licensed by Bakugan and the toys themselves are made by Spin Master. This means that regarding durability, the results are pretty consistent across the board. As with all transforming toys though, the longality of the mechanisms depends on how much they are used.
Consumer Feedback – I think I have plenty of expertise in the toy buying/collecting sector. However, to give you peace of mind, I have also looked at what other people have had to say about the toys I tested to confirm that others shared my experience.
Price – As someone who likes to keep my pursestrings quite tight regarding my toy budget, I was pretty happy with the cost of these products and think they're all excellent value for money, especially considering their collection appeal.
My 7 Top Picks for Bakugan Toys and Sets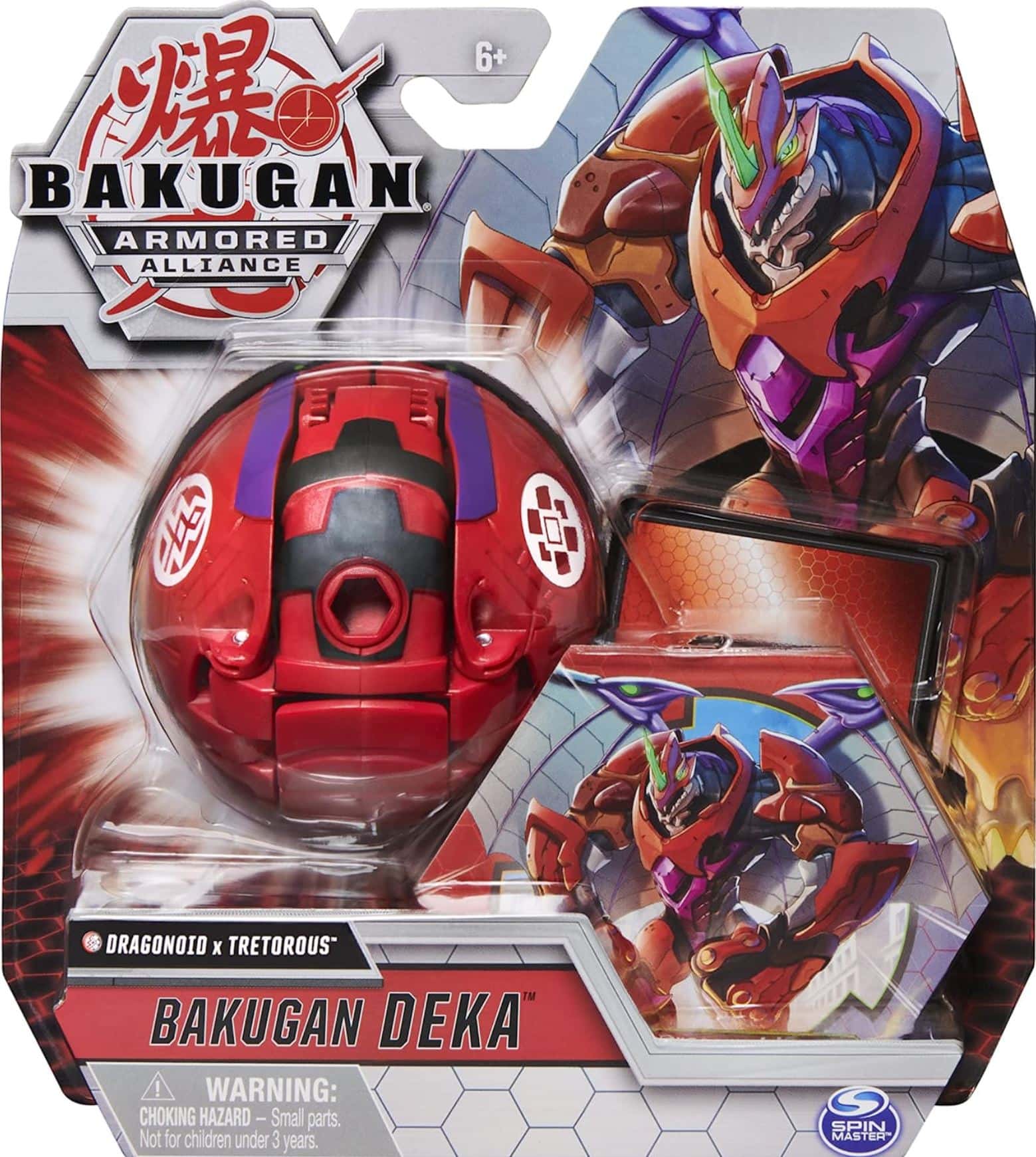 The Jumbo Geogan Deka, Stardox Transforming Toy, came at the top of my list for several reasons.
The first thing that drew me to it was the great feedback and low price. It seemed to be a lot of toys for little cash.
The pop-open toy transforms from the standard Geogan Deka shape to a battle-ready figure that looks really cool (my boys' favorite part about the toy.) Probably my least favorite part, in all honesty, though, as to get the toy to pop open, it needs to be thrown with some force at the floor, which is not advisable if you have wooden flooring. Yes, I found this out the hard way!
In the pack, as well as the transforming battle figure, comes a single ability card, which can be used in trades to defeat opponents and compete to become the ultimate champion.
The size of the product is suitable for a compact toy, at 8 inches in height, which also means it can be packed away and stored nicely.
As a group, we all decided that the mechanisms of the transformation were easy, and seemed to be straightforward to make the transition into battle mode.
Pros
Good fun
Compact
Low price
Well structured
Interchangeable
Cons
Occasionally doesn't open when thrown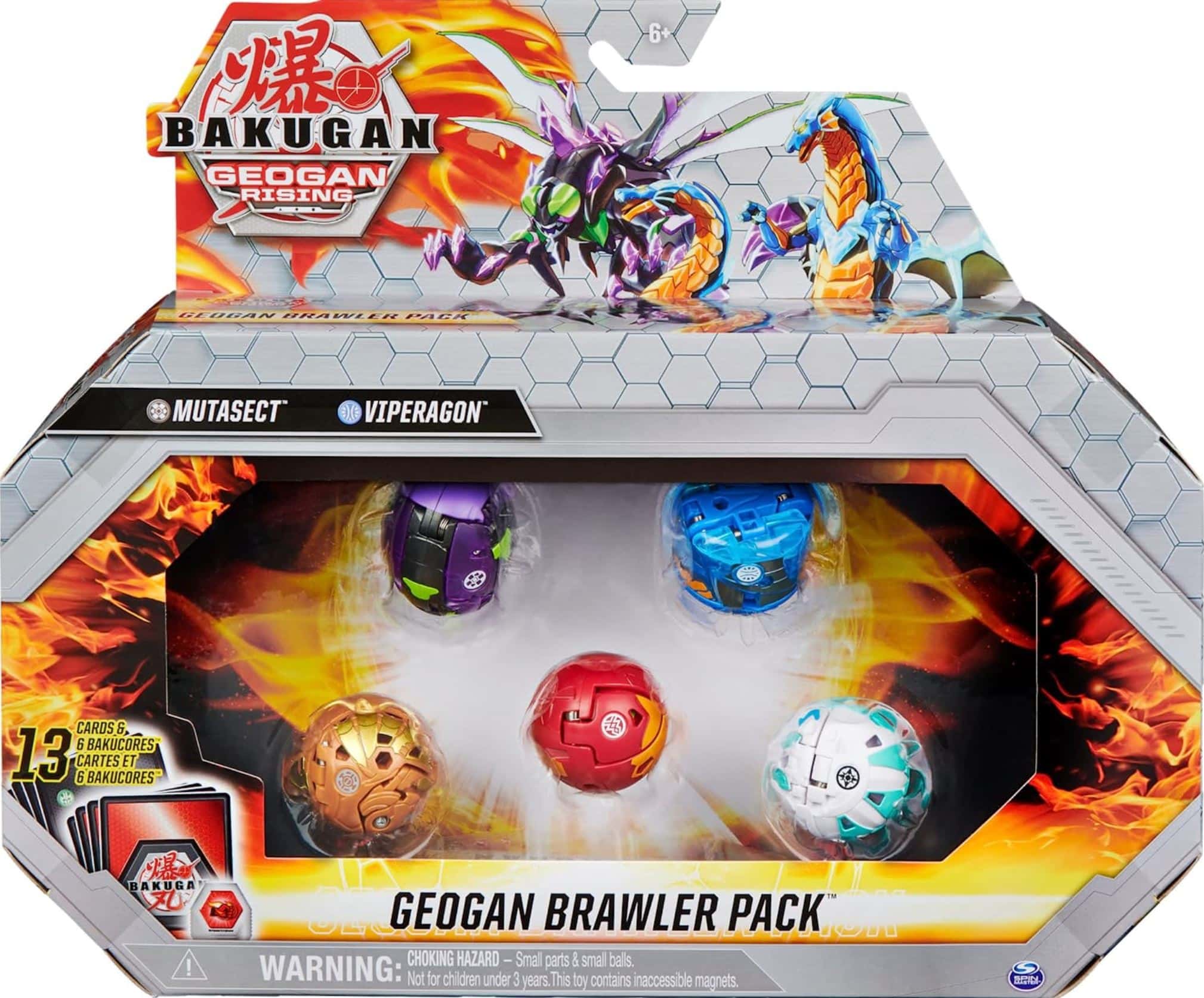 This Bakugan Brawler 5-Pack is an excellent collection of five action figures that are totally exclusive and hard to find on the store's shelves.
The pack contains two Geogan and three Bakugan, and there are a few different ones to choose from, meaning you can grow your collection with each pack you buy. It also includes six Bakucores, three character cards, seven ability cards, three gate cards, and one rules sheet.
This set contains everything you need, so if your child is starting their Bakugan journey, this is a practical buy.
So far, the figures seem to have lasted quite well, but I am uncertain of their longevity as they don't feel overly robust to me.
These figures are aimed at children aged six and up but can also be enjoyed by teen collectors.
Pros
Great starting kit
Value for money
Lots of products in one pack
Suitable for older kids
Cons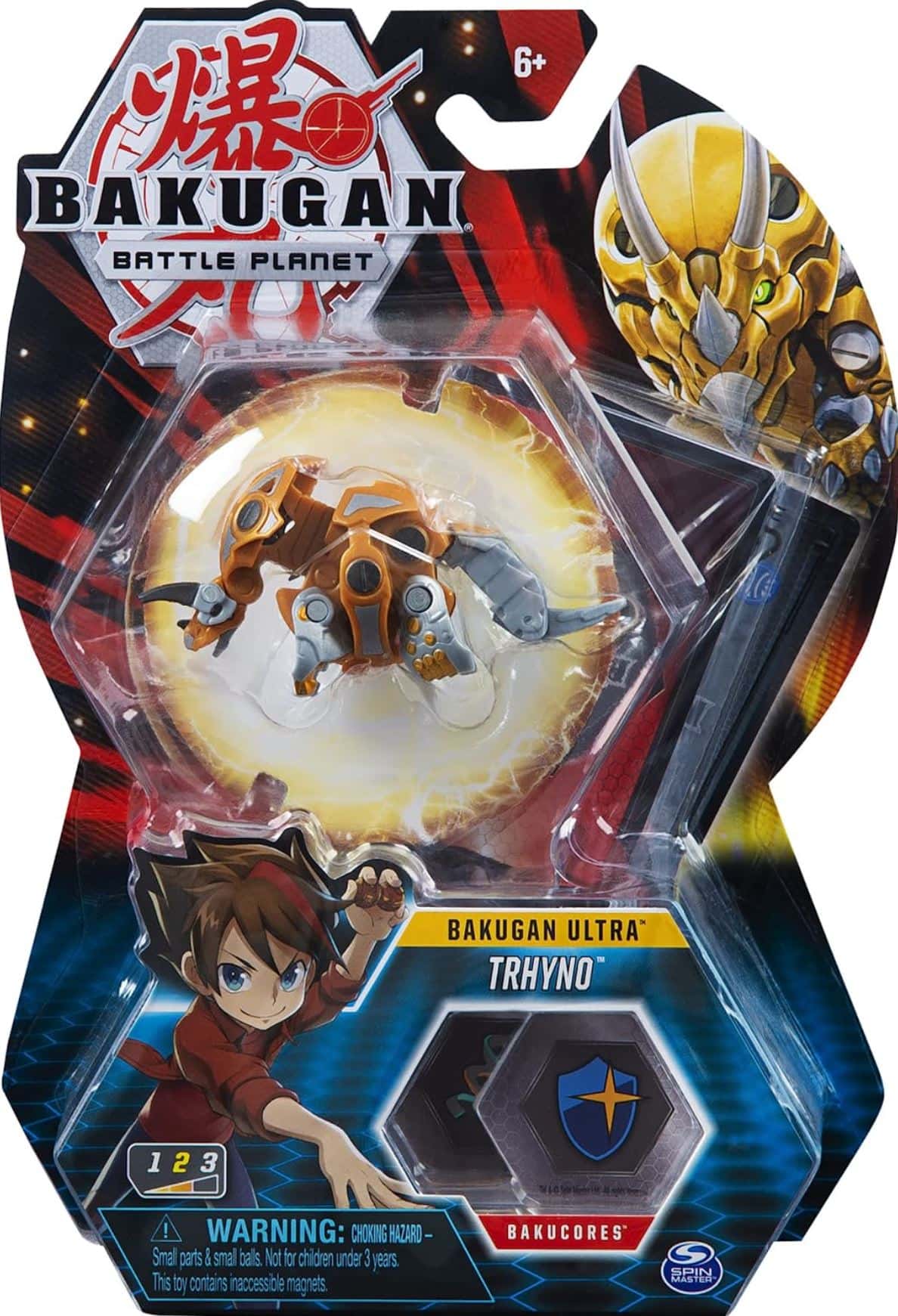 With this Bakugan Action Figure and Trading Card, your little brawler will be ready to leap into action for any battle.
My boys' favorite part about this was the leap open transformation, which is done by rolling them across the floor. This results in the toy converting from a ball into a Bakugan 3 inches tall.
I thought the detailing on the toy was excellent, but I am not sure I would say it's great value for money. Personally, I thought it cost quite a lot for what it was.
One thing I did think was great, as did my kids, is that there are over a hundred different characters to collect, so if your child is a hardcore "BakuFan," this is an excellent addition to their collection.
Pros
Great detail
Includes an ability card
Works well
Leap open mechanism
Lots to collect
Cons
Quite expensive for what it is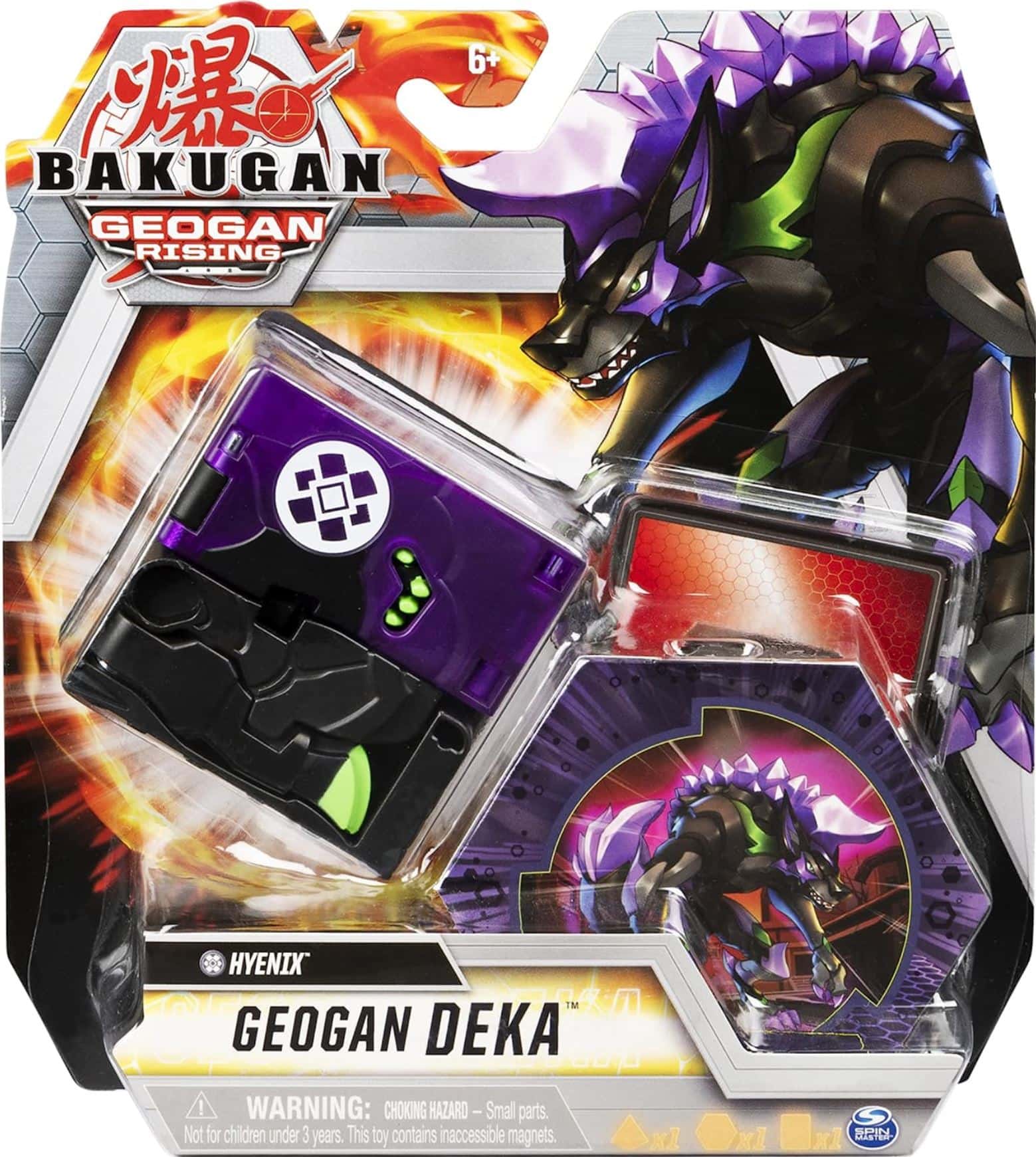 Coming to another toy that is perfect for collectors, the Bakugan Jumbo Transforming Figure is a jumbo-sized version of the ultra figures. They still have the same pop open transformation features, which seemed to work just as well to transform into a GeoCore.
The pack includes one ability card and the toy itself, and plenty to collect.
I found the pricing of these slightly confusing, as they're at the same price as the ultra figure I mentioned previously. Yet, they seem considerably larger, making them better value for money in my eyes.
The delivery was speedy, as with most of the Bakugan products on Amazon, and it was packaged well to avoid being damaged in transit.
Pros
Well packaged
Great pop open feature
Good price
Considerable large in comparison to other figures
No assembly required
Cons
No cons came to mind with this product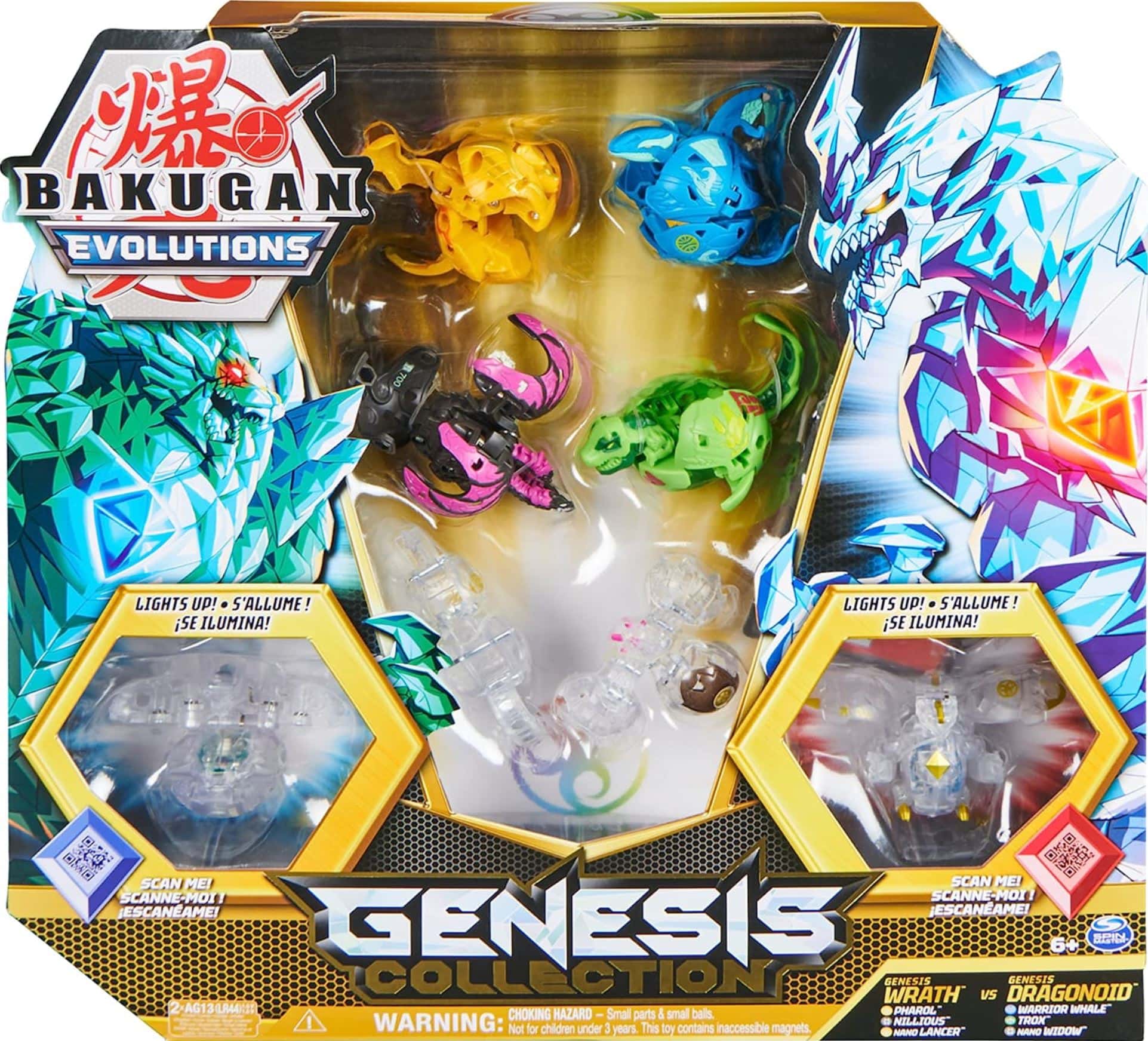 As a group, we all loved this pack; out of everything we tried, this was probably the largest pack regarding contents.
As someone who likes to keep their purse strings quite tight, I thought this was worth every penny in terms of what we got. Inside the pack were 2 Bakugan figures which light up and come with stands. They make great collectors/display pieces if you don't want to use them for gameplay. My lads loved the fact that they could change into seven different colors.
There are also four rare and exclusive Bakugan that can be rolled across the floor to transform into a ferocious-looking creature. You will also receive two exclusive, translucent, Nonagon figures, a rules book, six character cards, two ability cards, two gate cards, one collector's sheet, and an instruction manual.
This was one of the first packs we purchased as new collectors, and it got the ball rolling towards a more extensive collection.
Overall, the quality was excellent, as expected from this brand, and we were impressed with the entire pack.
Pros
Lots of contents
Great value for money
Excellent beginners kit
All rules and instructions included
Light up elements
Cons
Advertising pictures are confusing regarding contents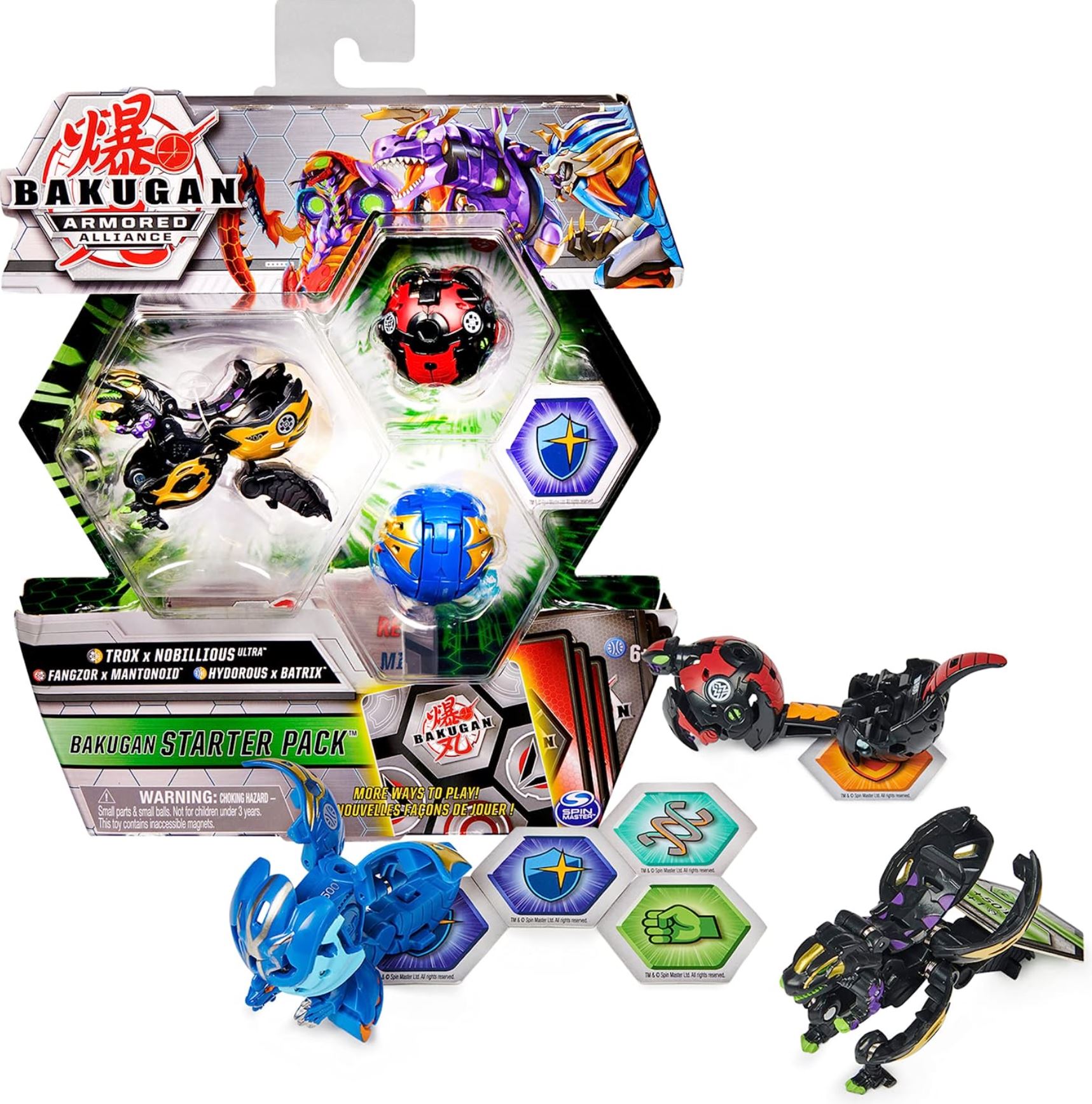 The Bakugan Three Pack Action Figures is a great starter kit with three characters from the series, each of which has the standard feature of transforming into battle-ready beasts.
I thought this was a great little starter pack, for a very reasonable price considering you got three different toys in each package.
There are over 200 different Bakugans from this variety that can be added to your collection, making it a great ongoing hobby to be added to every Birthday and Christmas.
Some people seemed slightly confused about the product description vs. the photographs over what you got in the packet, which I can understand, as some pictures are deceptive. What you'll find inside is one Bakugan Ultra, six BakuCores, three ability cards, one gate card, and the rules and instructions.
This was a scaled-down version of the starter pack I mentioned earlier, so if you didn't want to splash out on the higher-priced one, this is a great alternative.
Pros
Full starter kit
Well made
Low price
A lot for your money
Cons
Questionable durability for heavy-handed play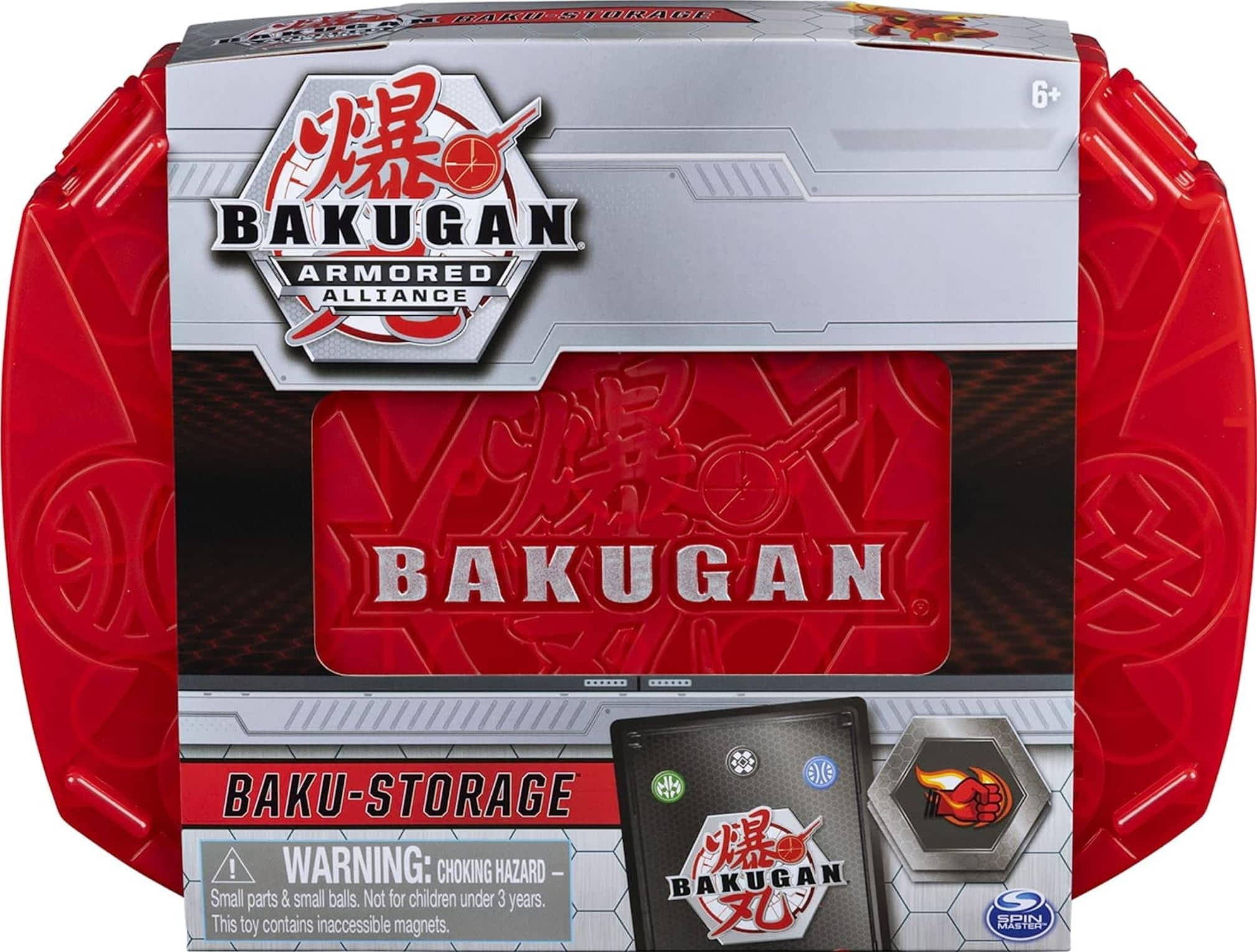 After talking about all these figures and how there are hundreds to collect, you might wonder how your kids are supposed to carry them around without getting damaged. This is why I thought it was a genius idea when I came across the Baku-Storage Case.
I don't know about your kids, but mine like to take a toy with them everywhere they go, and because there are tons of these, it can be a pain trying not to lose them when we're away or out and about. Also, they like to take them to battle with their friends, so this case was a must-buy/
You can pick up this storage case for a pretty low cost, including an action figure and a trading card. The case fits twenty standard-sized Bakugan action figures inside. Also, if you want to buy a second case, they can be stacked together so you can easily transport even more of the figures.
It's a great size too, considering how much it can hold, it's the perfect size and weight for a small child to carry by themselves.
I would question whether the quality of the box is worth the money, but the convenience of it certainly is, and as long as it's looked after and not dropped too many times, I would imagine it would last quite a long time, and if not, it's not extortionate to replace.
Pros
Convenient
Not too expensive
Holds up to twenty figures
Good size
Cons
Frequently Asked Questions
Question: Who Makes Bakugan Toys?
Answer: All of the products surrounding the Bakugan products appear to be made by the manufacturer Spin Master. However, this does not go to say that there aren't companies out there making replicas, so always check the logo.
Question: Where Else Can I Buy Bakugan Products?
Answer: As well as being able to buy most of the products on Amazon with fast delivery, you can also buy Bakugan from their official website, and other places such as Walmart.
Question: Are Bakugan Toys Expensive?
Answer: Overall, the prices of Bakugan toys are not expensive. The products' quality is good, making them excellent value for money.
Bakugan Toys – Top Picks – My Final Thoughts
We put our heads together to try and conclude, and break down a bit about our experience with the Bakugan toys. There was quite a lot of too-ing and fro-ing, because while the boys thought something was "super-cool," I was thinking practically.
So, overall, we came to the finalization that the Bakugan Geogan Deka, Stardox, Jumbo Collectible Transforming Figure was the all-around favorite. It seemed to get the most attention from the lads, probably because of its appearance when unwrapping from the box.
As far as practicality, and from a parent's point of view, I had to say that I thought the Baku-Storage Case was just the best idea ever regarding these toys. There are so many of them to collect that any kids are guaranteed to want to take multiple out with them every time they leave the house, and the case makes that much easier to organize and prevents them from getting lost.
Regarding value for money, I would choose the Bakugan Evolutions, Bakugan Genesis Collection Pack.
Continue reading:
Best Power Rangers Toys: Popular Years