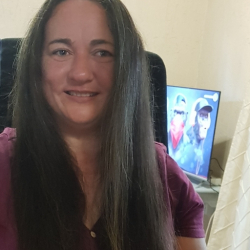 Latest posts by Caroline Lambert
(see all)
Before your daughter plays house for real, she'll enjoy playing with toy houses. So, wouldn't you love to find amazing toy houses that bring her fantasies to life? We never want our daughters to grow up as mothers, but they will, meaning they need the basic skills life will demand from them. I'm not stereotyping genders, either.
However, I want my daughter to gain all the skills she needs to thrive before she matures, and I often turn to the most fantastic toy types and themes to help her reach that goal. Therefore, my interest in toys goes beyond finding age-appropriate options. Instead, I consider how different toy themes encourage learning activities.
The best toy houses are full of life skills your little girl needs one day. So, are you ready to see which playhouses inspire while kids enjoy playtime?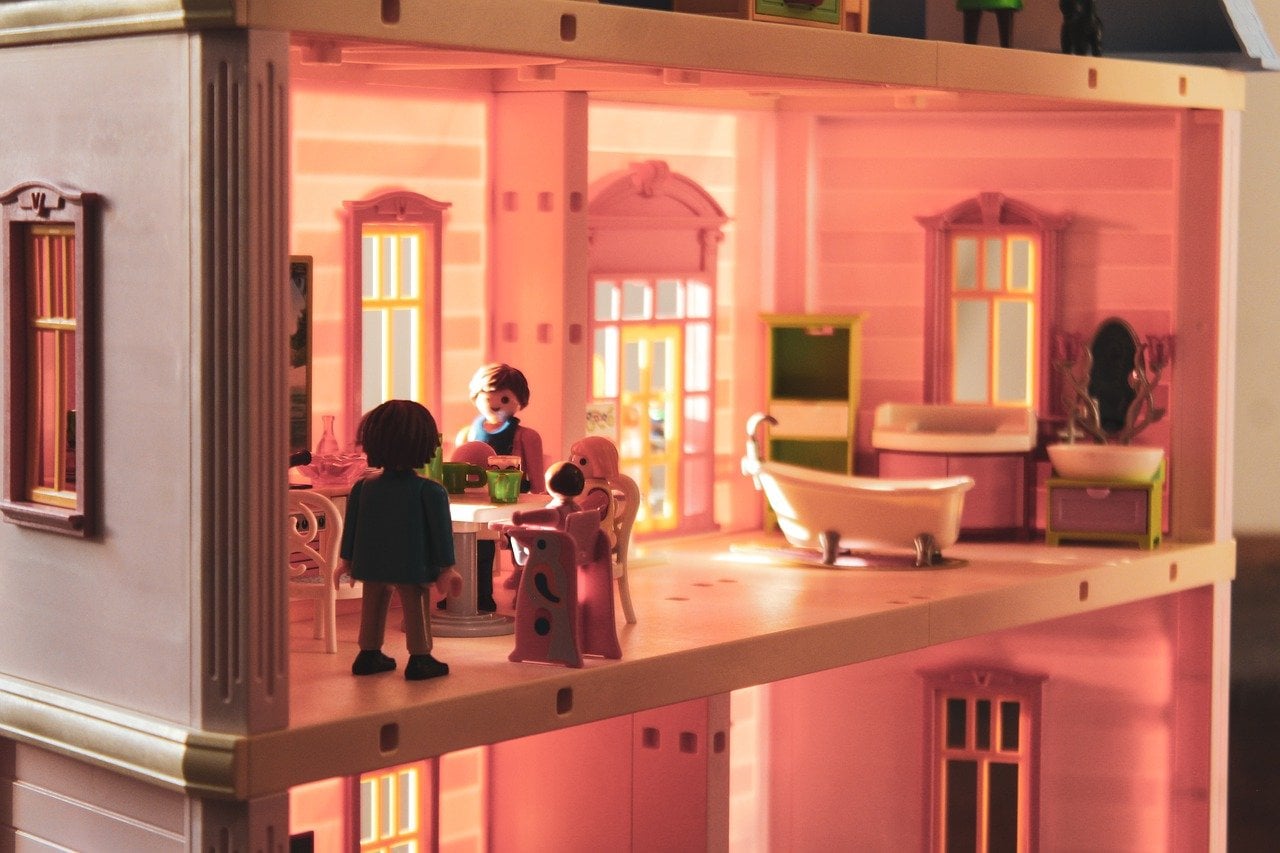 Amazing Toy Houses: Bottom Line Upfront
A young child's dream matters a lot. My daughter's dreams are what inspire and motivate her, and I'm always encouraging her to follow them. Some amazing toy houses can encourage your daughter to role-play her dreams. It doesn't matter if she wants to be a chef, socialite influencer, or wealthy woman who lives on a beach.
I'll share the best toy houses for girls with dreams. That way, they'll role-play their ambitious lives while learning essential life skills without feeling like it's a classroom event. But first, let me share my ultimate choice before showing you a few more of my top picks. Of course, the Classic Dollhouse With Dolls is my favorite.
You can't beat a traditional-styled dollhouse with other toy houses regarding little girls. My daughter loved her dolls and still plays with my old dollhouse. In addition, it's interactive with movable pieces and includes dolls. Nothing beats that! However, before diving deeper into unique toy houses, let me share a glance.
A Quick Glance at Some of My Favorite Toy Houses
Check out some of my top toy houses before diving into how I picked them. Each one appeals to a unique girl with different dreams:
Stay tuned because I'll bring more playhouses soon. But, first, let's see how I picked them and what advice I can share as a mom of a nine-year-old daughter.
What Makes a Toy House Amazing for Me?
Many factors determine whether a toy house is impressive or not. However, my first requirement is that the house offers some form of interactive play. It must allow children to move things around or press buttons for sounds and lights. At least the house's doors or windows must open and close.
Children quickly bore with toys that don't change, especially houses. Instead, you'll need playhouses that engage them longer. Furthermore, every little girl dreams of owning a different life one day, meaning I'll include the most fantastic toy house of different themes. The toy house themes I'll share include:
Beach house
Castle playhouse
Chef's dream house
Classic dollhouse with dolls
Customizable playhouse
Family-style dollhouse
Farmhouse
Interactive playhouse with lights and sounds
Outdoor playhouse
Pet-Friendly playhouse
Bonus: I'll add a favorite toy house theme for 2022, Lol! Surprise Dolls.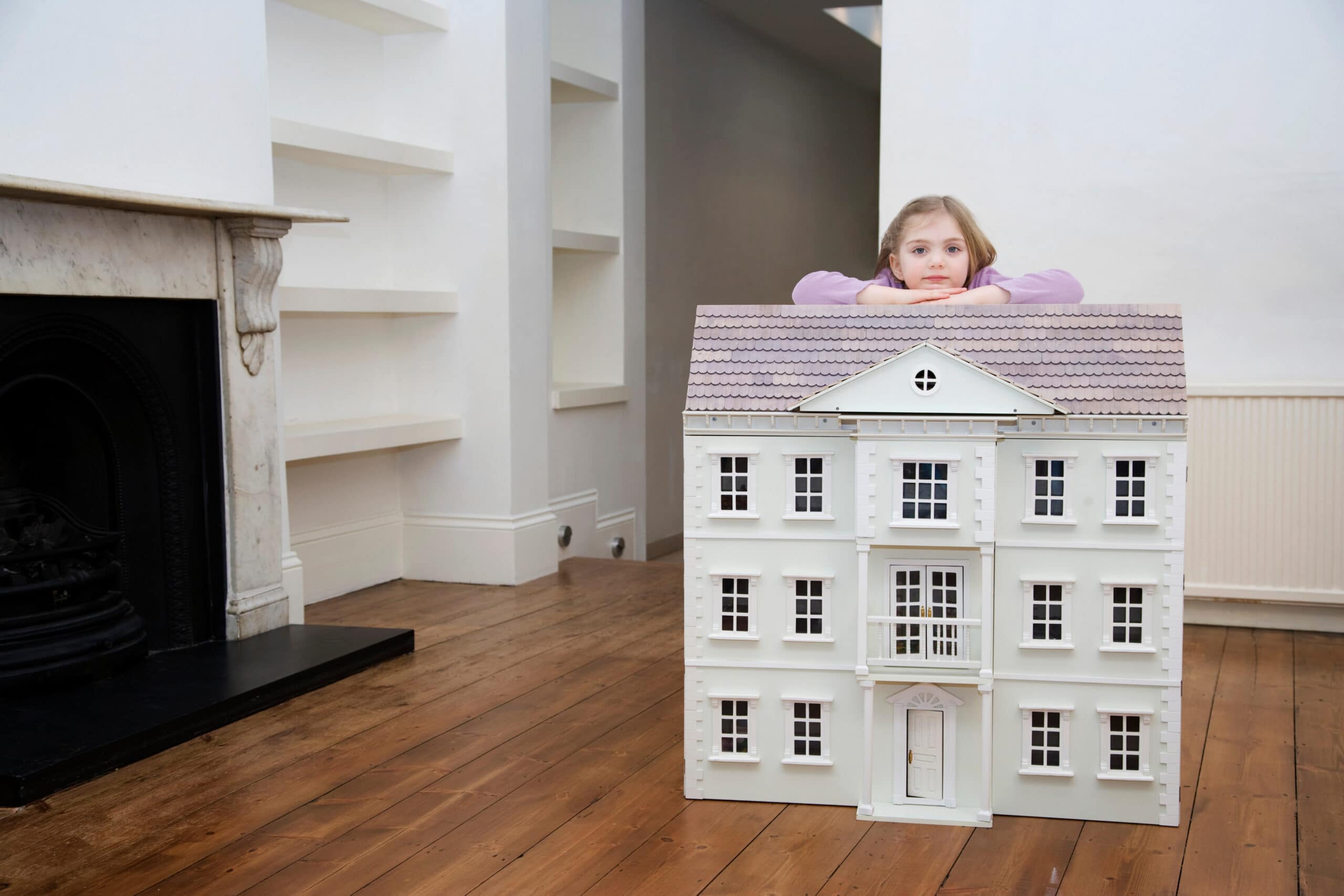 A Mother's Advice for Playing House
Playing house is something all young girls do years before they have to manage their own homes. It's an essential part of growing up. Some girls play school; others play doctor, and many play house. My daughter is currently at the age where she wants to learn every life skill around the house, and I'm so proud.
My first advice is that young girls play house more between three and ten than in other years. It's the foundation of age groups that learn how to help mommy cook and clean. So, I also consider age-appropriate toys regarding toy houses. My daughter is nine and avidly enjoying her toy houses, inside and outside.
My second tip is that you consider how toy houses impact your daughter's essential skills she needs when she grows up. You must look at her preferred activities and toy types to see which skills she enjoys. For example, my daughter loves playing with kitchen toys, and I bought her a toy house with many kitchen accessories.
I suspect she'll be an excellent cook one day because she's already showing some skills when helping me. However, a child who loves playing with fashion toys and dressing up as activity might prefer a toy house with dolls, fashion accessories, and other movable beauty toys.
Role-playing is a cornerstone for young girls. In addition, the benefits go beyond becoming a fashionista, chef, or professional homemaker. Meanwhile, I'm sharing assorted toy houses to inspire young girls with different passions to role-play their preferred home scenarios.
Amazing Toy Houses to Encourage Role-Play
Little girls have various dreams. Some dream of becoming the best mothers, while others enjoy role-playing in a beach house, which they earn through hard work and determination. Either way, I picked some of your daughter's incredible toy houses, no matter what she dreams of becoming. So, let's see the choices.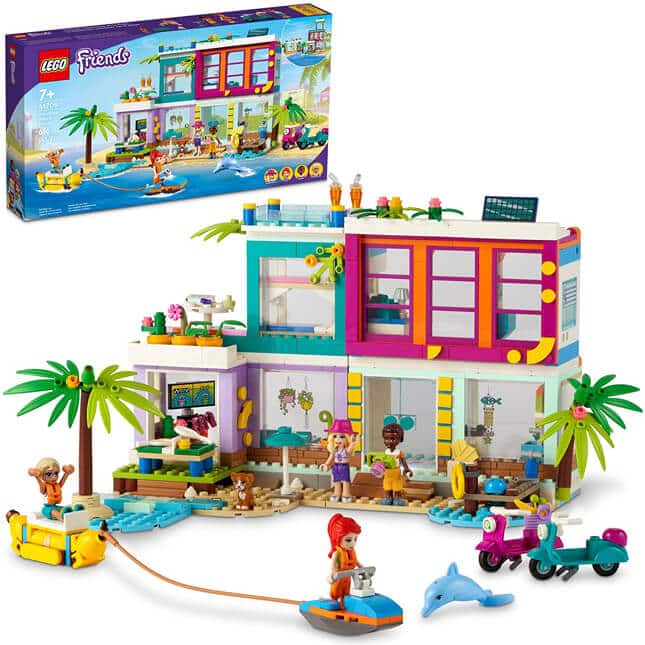 Admittedly, most young girls love the sea and would dream of owning a beach house. This fantastic toy house is the ultimate beach playhouse I found. The pieces can change and move around because it's also a LEGO beach house young girls must build before enjoying the dream. Lessons are always welcome for my daughter.
Toy House Features
Playhouse Type: LEGO Friends Vacation Beach House
Recommended Ages: 7+
Customizable: Very
Unique Feature: It includes LEGO vehicles and watercraft
House Size: 7″ x 10″
Toy House Pros
It's a beautiful Lego beach house building kit that welcomes children to imagine their dream destinations, including a dolphin, movable pieces, and mini-figures
It appeals to older girls who enjoy playhouses, challenging them with a 686-piece build, and it has interactive features, a pet, and flowers to brighten the house up more
Toy House Cons
The beach house playset undoubtedly doesn't work for the younger dollhouse fans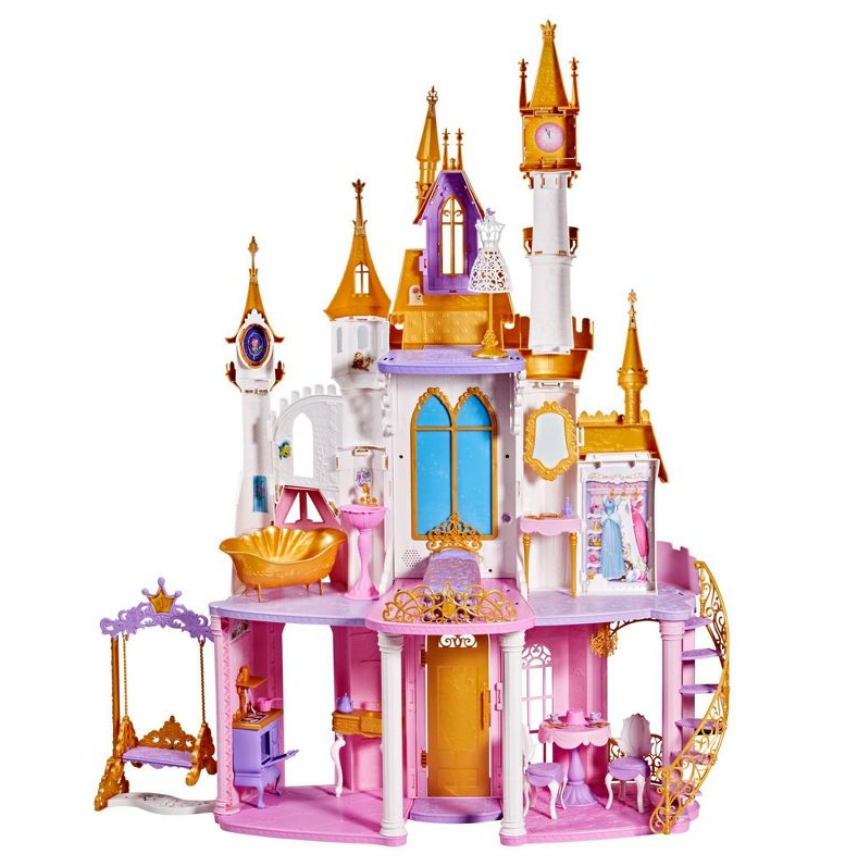 How many girls dream of becoming princesses? Castle playhouses are another excellent theme choice for little girls. Disney creates the best fairy tales, and most girls will recognize this castle as a Disney princess playset. In addition, they get four Disney princesses to enjoy, including Ariel, Belle, Cinderella, and Princess Tiana.
Toy House Features
Playhouse Type: Disney Princess Castle Dollhouse
Recommended Ages: 3+
Customizable: Very
Unique Feature: It's interactive with sounds and lights
House Size: 28″ x 22″ x 8″
Toy House Pros
The Disney princess playhouse has 29 accessories to keep young girls entertained in their fantasy dreams, including small things like spoons and plates
The princess dream isn't irrelevant to a young girl's passions because it can motivate her to follow fashion and beauty careers or become a female powerhouse
Toy House Cons
Unfortunately, the castle playhouse doesn't pack away neatly because it's open in the front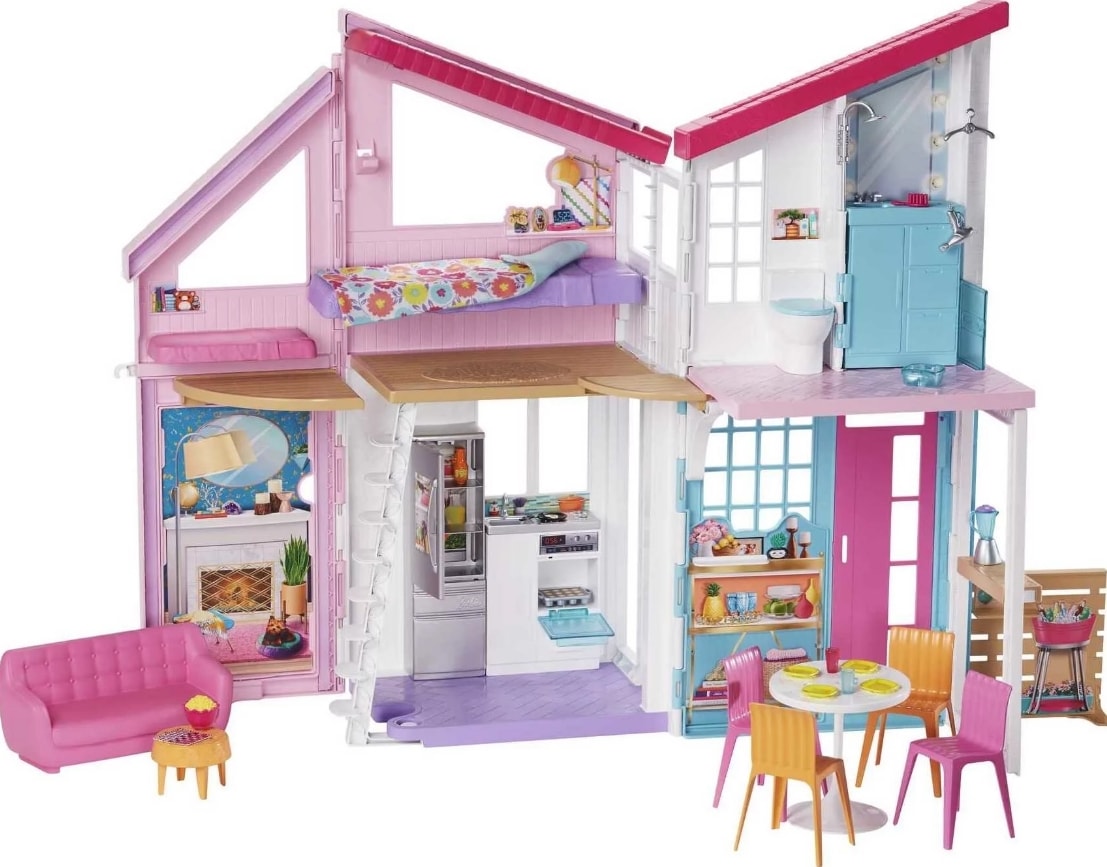 My daughter is an avid baker and chef, always helping me in the kitchen. So, I taught her to make simple meals while I supervised or without her using the stove or oven. However, my daughter's passion seems more like hosting and entertaining than cooking. She loves seating people, decorating, and serving the best meals.
Toy House Features
Playhouse Type: Barbie Malibu House Playset
Recommended Ages: 3+
Customizable: Medium
Unique Feature: It has an excellent dining set and kitchen setup
House Size: 2ft wide
Toy House Pros
The Barbie Malibu playhouse includes 25 movable accessories for young girls to explore the kitchen or redecorate the house if they dream of home-decorating
The playhouse has fantastic interactive opportunities by opening doors and windows, and it folds away for easy storage
Toy House Cons
The living and dining room furniture pieces lie outside because there's no space for them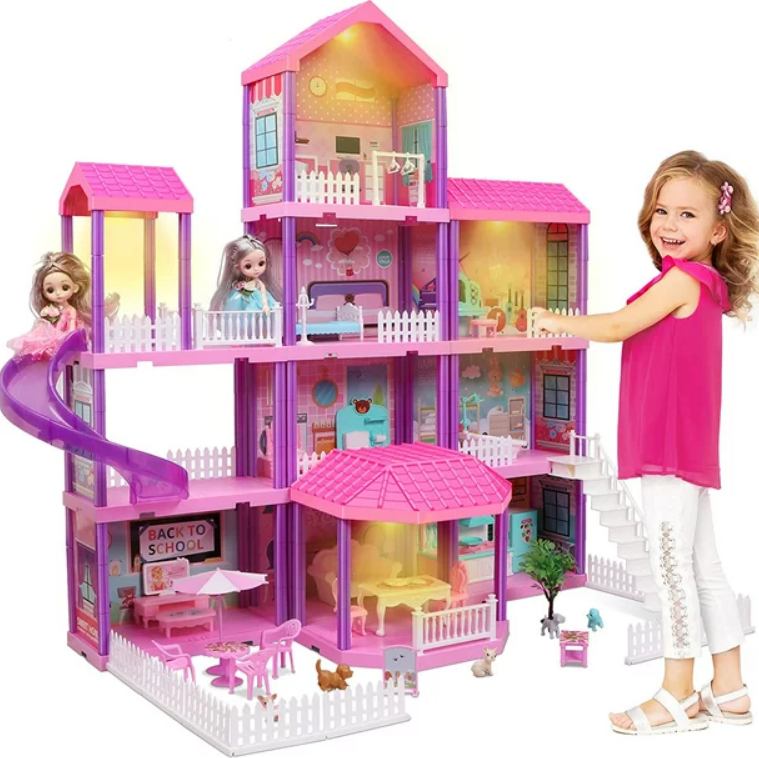 Dollhouses are classic playsets for little girls. My daughter owns one I used as a child. However, it was also a quality wooden dollhouse that lasted many years. Meanwhile, this dollhouse is a giant playset that welcomes your little girl to decorate it as she desires. The furniture pieces are also massive, and the set includes dolls.
Toy House Features
Playhouse Type: BeeFunni Dollhouse With Dolls
Recommended Ages: 3+
Customizable: Very
Unique Feature: Girls can play with dolls inside the interactive house with lights
House Size: 36″ high
Toy House Pros
I looked at many dollhouses, and this one made me think of a young girl playing house the old-fashioned way, which is what I want from the dollhouse theme
The dollhouse has numerous fun features like a giant slide where the dolls can venture down, and the furniture pieces are more significant than most for easy redecorating
Toy House Cons
This house isn't a toy you can easily pack up every day and needs space in the playroom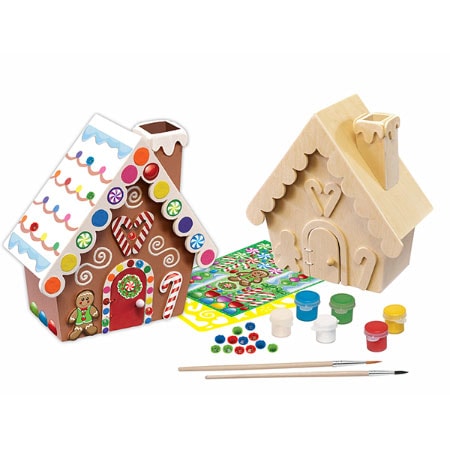 Most toy houses offer some custom options and movable accessories. However, this customizable toy house is entirely different. It's a building kit that requires children to put it together. In addition, girls get colors, brushes, stickers, and more to decorate the gingerbread toy house as they imagine. It's a crafty idea for arty kids.
Toy House Features
Playhouse Type: Works of Ahhh Gingerbread Playhouse
Recommended Ages: 4+
Customizable: Very
Unique Feature: Children design the house from scratch
House Size: Unknown
Toy House Pros
I'd love this customizable toy house for my artistic daughter, and she would go wild with the decorations, painting, and other crafty ideas to make it beautiful
Younger girls can learn more about colors and stickers when enjoying this playhouse, and it's a wooden model that lasts long as a decor piece
Toy House Cons
It's not the most interactive playhouse because only the door opens and closes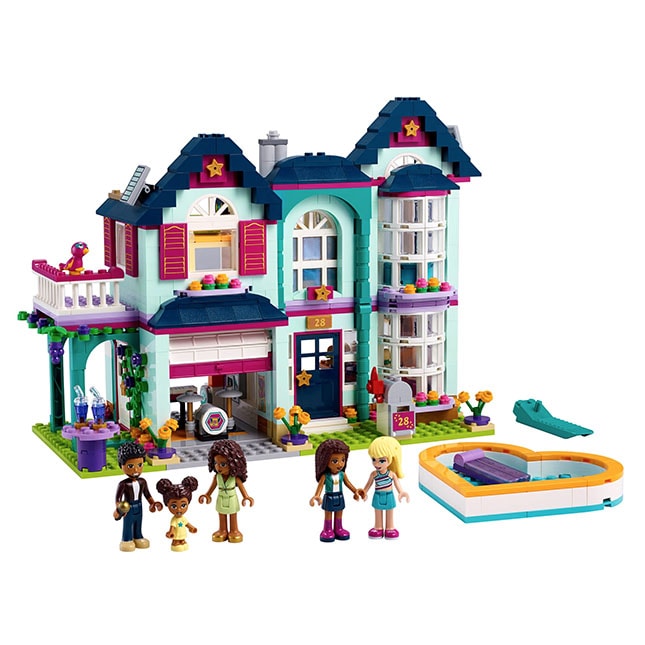 My daughter dreams of being a good mother one day. Indeed, I can't imagine it now, but I know she'll grow up soon enough. Unfortunately, it's something moms have to accept. However, she can play house with a family-style toy house for now. In addition, there are no scary thoughts involved for moms.
Toy House Features
Playhouse Type: LEGO Friends Andrea's Family House
Recommended Ages: 6+
Customizable: Very
Unique Feature: It comes with mini-Lego figures for the entire family
House Size: 7″ x 4″ x 10″
Toy House Pros
Young girls can happily play house with a safe playset that allows them to play mommy, daddy, and siblings while changing the decorations and moving pieces around
The LEGO toy house playset invites young girls to first build the 802-piece kit before enjoying the social life in a happy home
Toy House Cons
The building kit seems challenging for six-year-olds, but I trust LEGO's recommended ages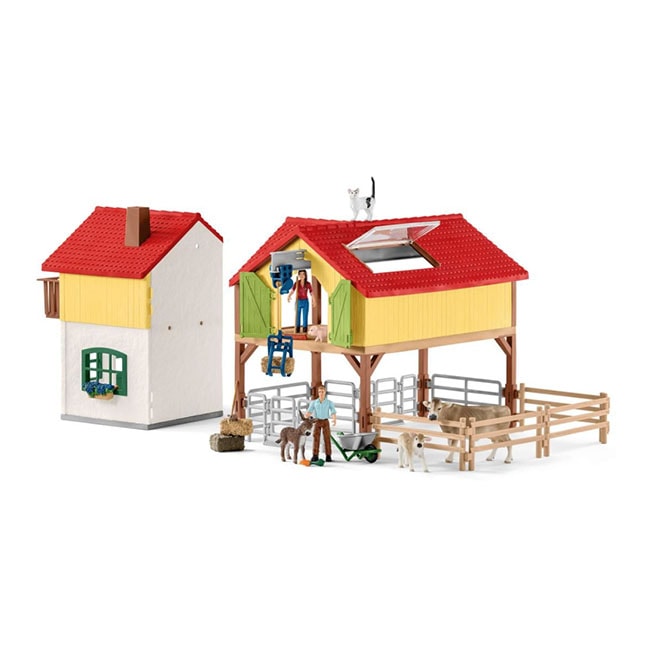 Toy houses and farmhouses are alike, and some young girls love the smell of a fresh farm early in the morning. Who knows? They dream about owning ponies or wish to run a farm one day. So, living in the countryside will be their dream, and nothing allows them to role-play it better than a farmhouse playset.
Toy House Features
Playhouse Type: Farm World Large Farmhouse Playset
Recommended Ages: 4+
Customizable: Medium
Unique Feature: It includes a few farm animals
House Size: 28″ x 18″ x 13″
Toy House Pros
My son loves the farm life and would've enjoyed this playset in his younger days, meaning it appeals to boys and girls as a bonus
The farmhouse playset includes cows, a donkey, and two farmer figures, and the open-house structure has some movable pieces (I would add more accessories, animals, and furniture)
Toy House Cons
Unfortunately, this toy house playset misses the primary mark for little girls, ponies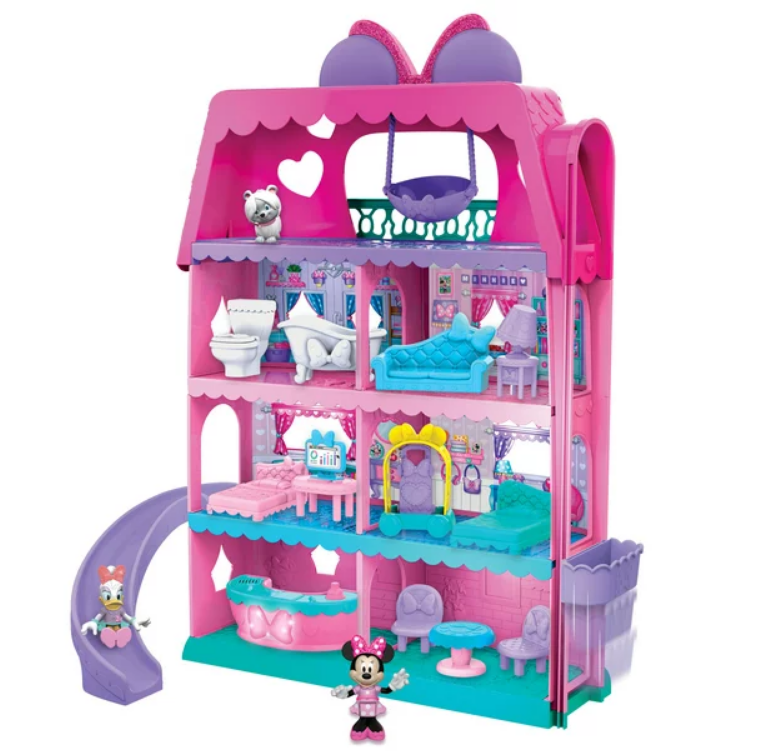 Some toy houses appeal to younger girls who love Minnie Mouse and her friends. However, this Minnie Mouse playhouse is unique because it's a hotel. So, it also invites children who love vacations and dream of becoming hostesses one day. In addition, the accessories are unusual and an exciting change from the regular playsets.
Toy House Features
Playhouse Type: Just Play Minnie Mouse Toy House
Recommended Ages: 3+
Customizable: Very
Unique Feature: It's entirely interactive with lights, sounds, and a moving elevator
House Size: 2ft tall
Toy House Pros
The Minnie Mouse playhouse has gorgeously interactive qualities that help younger girls enjoy sensory experiences with lights and sounds, and the elevator can move up and down
The accessories add more fun with things children won't typically find in ordinary toy houses, and it has Minnie and Daisy figures that fit anywhere inside
Toy House Cons
Unfortunately, it's not a traditional toy house, but the features and interactive elements make it a winner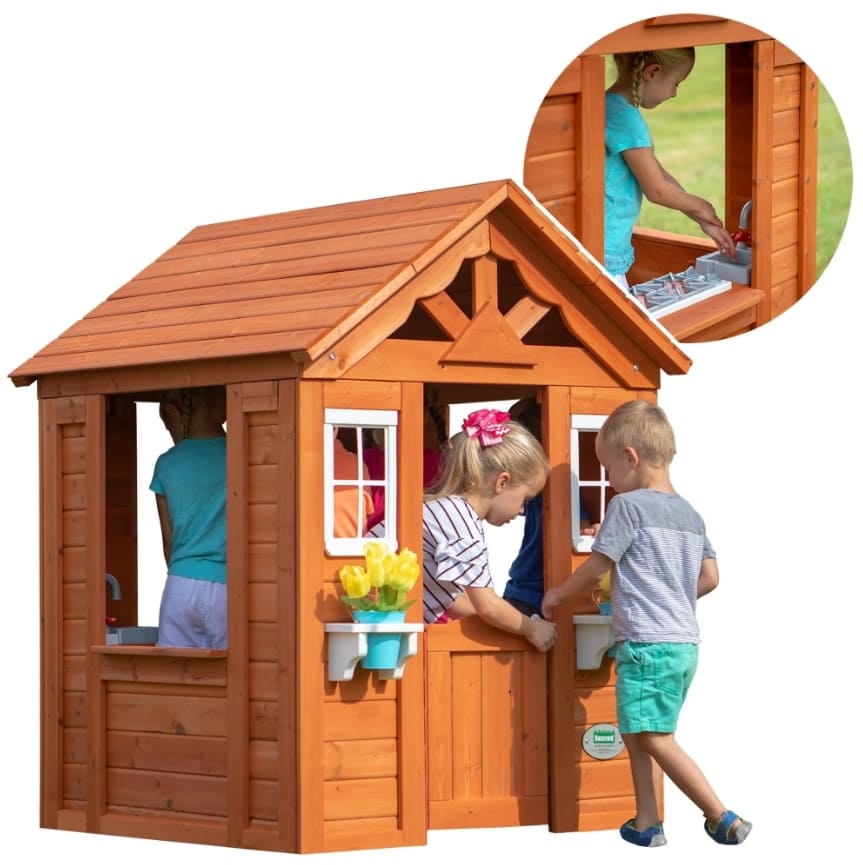 Toy houses also include outdoor playhouses. However, many exist, and it was hard to pick one. Fortunately, I fell in love with this outdoor toy playhouse because it looks like a traditional wooden cabin and doesn't have specific side features to limit children's creativity. Instead, they can decorate the outside and garden.
Toy House Features
Playhouse Type: Timberlake Wooden Playhouse
Recommended Ages: 3+
Customizable: Very
Unique Feature: It's an outdoor toy house with customizable decorations
House Size: 3'6″ x 56″ x 3'10"
Toy House Pros
Young children can enjoy the outdoors with a stunning wooden-style outdoor playhouse, even decorating and maintaining a small garden around it
Some girls enjoy being outside and would thrive socially and developmentally in an outdoor playhouse, and they can invite up to five friends over to enjoy it with them
Toy House Cons
Not all girls love the outdoors, much like mine, who feels like a vampire in the sun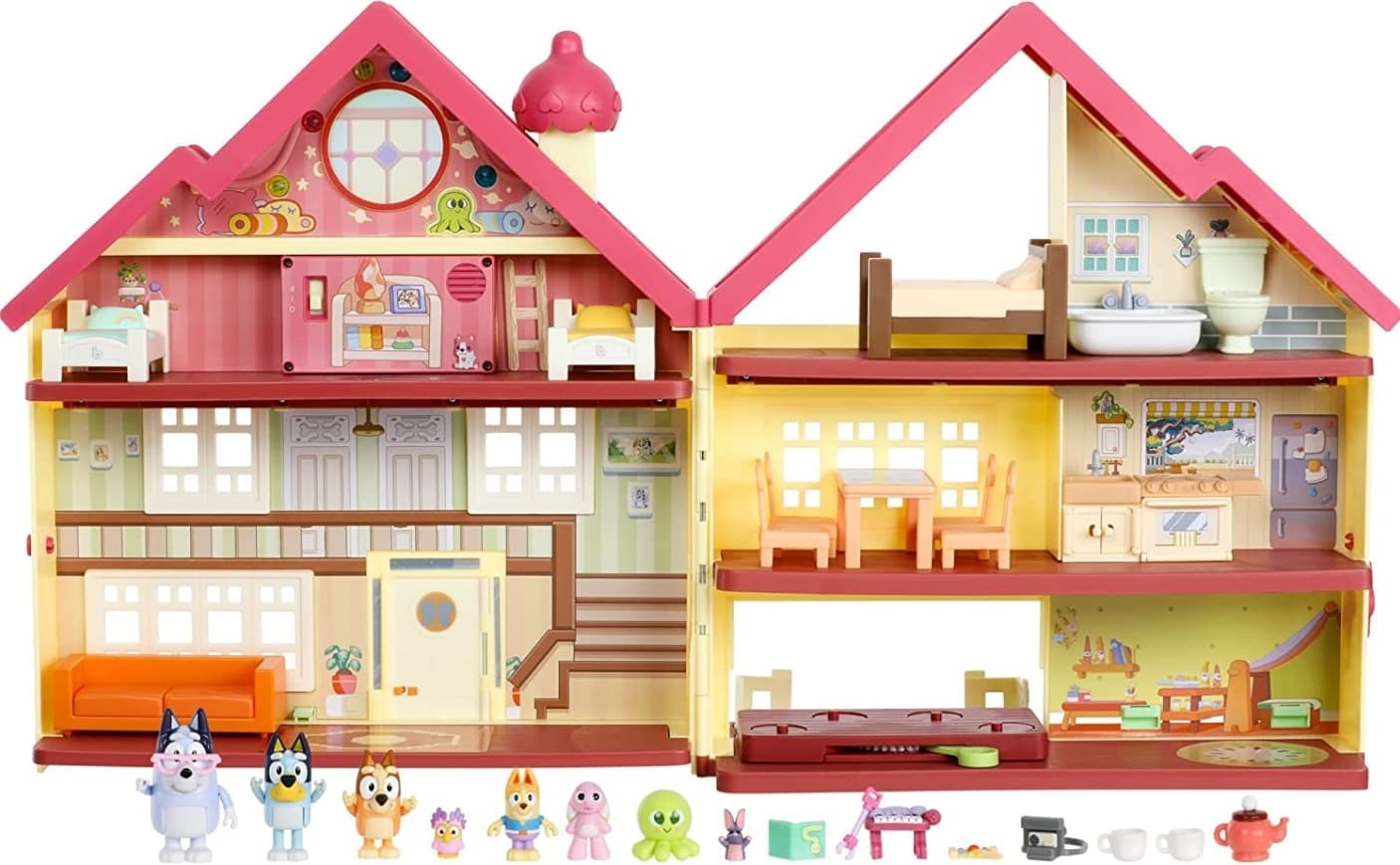 How many pets do your children dream of owning? My kids wanted every type of pet they could fit into their bedrooms or the backyard. So, I'd own a zoo if I didn't limit their passion for animals. Therefore, I chose a pet-friendly toy house for young girls (and boys) who want every animal or dream of becoming a vet.
Toy House Features
Playhouse Type: Bluey Ultimate Playhouse
Recommended Ages: 3+
Customizable: Very
Unique Feature: The figures are animals instead of humans (Bluey and his friends)
House Size: 17″ x 30″
Toy House Pros
The massive interactive Bluey and friends playhouse appeals to boys and girls who love the program, and it allows them to dream of owning multiple pets
The playhouse is entirely interactive with lights and sound effects, and it comes with numerous mini-figures, including Bluey and other friends
Toy House Cons
This playhouse won't appeal to kids over seven because Bluey is a younger crowd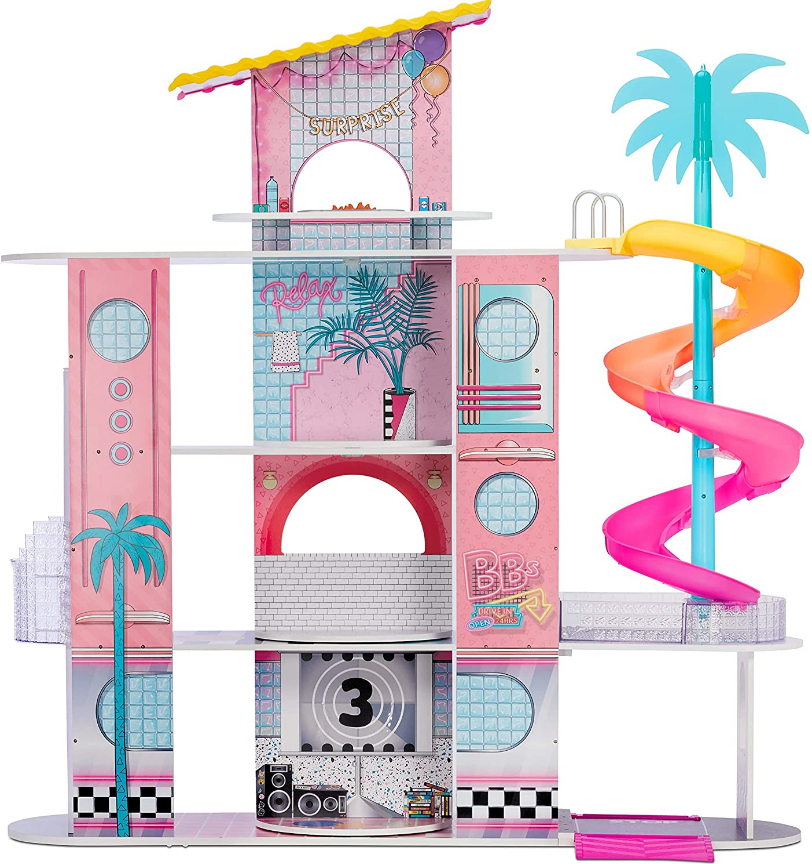 This fantastic dollhouse will be every girl's dream because, Lol! Surprise Dolls are everyone's talk. My daughter knows and loves the theme, and she'd go wild for this playhouse. In addition, it's a transforming dollhouse that changes as children spin the wheel. It also has interactive abilities and includes various accessories.
Toy House Features
Playhouse Type: Lol! Surprise House of Surprise Dollhouse
Recommended Ages: 4+
Customizable: Very
Unique Feature: It's a famous theme in 2022
House Size: 4ft x 4ft
Toy House Pros
It's a favorite theme for many girls, and it appeals to those who dream of being movie stars, singers, glamor queens, and beauty specialists
The multi-story toy house with ten rooms will keep any child busy for hours, and it has a slide, toy car, rooftop pool, and much more
Toy House Cons
It's not an easy dollhouse to pack away neatly when play finishes
FAQs
Question: Can a Two-Year-Old Play With Dollhouses?
Answer: The answer isn't linear because two-year-olds shouldn't play alone with dollhouses containing small parts and hazardous pieces. Hence, most toy manufacturers recommend dollhouses for kids over three. However, nothing says you can't supervise your daughter's playtime closely while she enjoys one.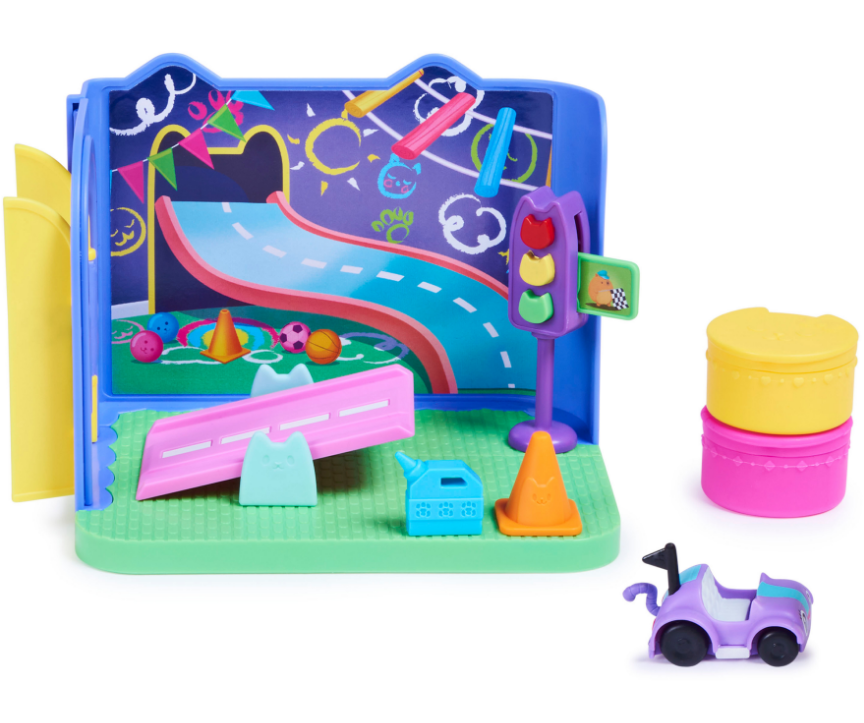 Question: At What Age Do Girls Play With Dollhouses?
Answer: My daughter began showing an interest in my childhood dollhouse at three, and I wouldn't allow her to play with it before then because of the hazards. She's nine and still enjoys her playhouse. However, many girls stop playing with dollhouses between ten and 12. So, it's unlikely that teenagers will enjoy dollhouses.
Question: Are Playhouses Montessori-Friendly for Kids?
Answer: Yes, dollhouses and playhouses are Montessori-friendly toys. Playhouses provide young girls the opportunity to explore their independent play activities. In addition, children must experiment with placing furniture in different positions and open-ended ways of enjoying a dollhouse, making it a Montessori toy.
Question: Do Dollhouses Teach My Child Anything?
Answer: Yes, dollhouses are a fun way to play imaginative games, role-play different life skills, and socialize with friends. Girls learn to set tables, dress dolls, and make their beds with dollhouses. In addition, they gain intellectual and social skills while enjoying their favorite toy. Imaginative play is a powerful learning tool.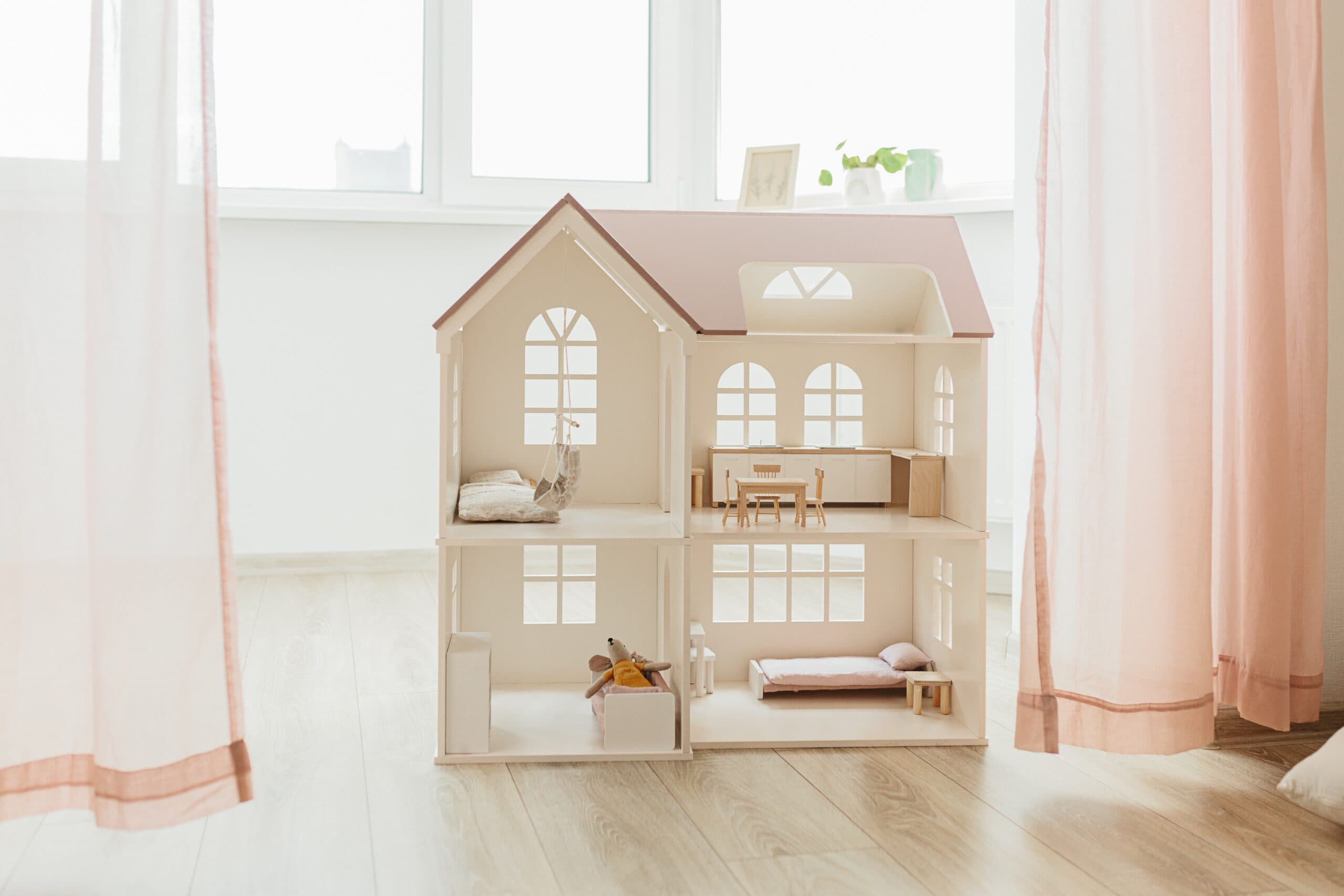 Amazing Toy Houses: Conclusion
Many unique dollhouses offer countless learning opportunities for young girls who enjoy playing house. The playsets can inspire your daughter's various dreams or encourage her to adopt simple life lessons. In addition, dollhouses often come as interactive playsets to keep children engaged for hours.
I recommend buying the Classic Dollhouse With Dolls today if your little girl doesn't own one. It's a fantastic starter that includes dolls and has many features. The light features brighten your child's rooms while they move furniture around to redecorate. So, get your daughter's first dollhouse today before she misses out.
For more imaginative toys
Best Imaginext Toys Guide for Imaginative Play – Avid Toy Insider
Best Ben 10 Toys Guide Ft. Custom Playsets – Avid Toy Insider