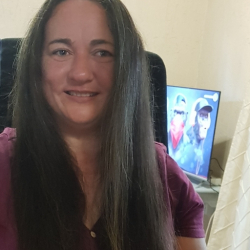 Latest posts by Caroline Lambert
(see all)
Cowabunga and Booyakasha are two familiar catchphrases you likely hear at home if your kids love the Ninja Turtles. However, have you ever felt a lack of variety when looking for these toys? Fortunately, my kids enjoy a variety, and I'm here to share the ultimate Ninja Turtles toys that go beyond action figures.
Indeed, action figures are a favorite toy type from the theme. Still, you don't always want your little ones yelling Cowabunga with an army of Ninja Turtles figures you can step on like thorns. So instead, you might also enjoy other options that encourage more activities and appeal to multiple age groups.
If the sound of Booyakasha varieties excites you as a parent, let me put my Donatello costume on to present the most epic toys.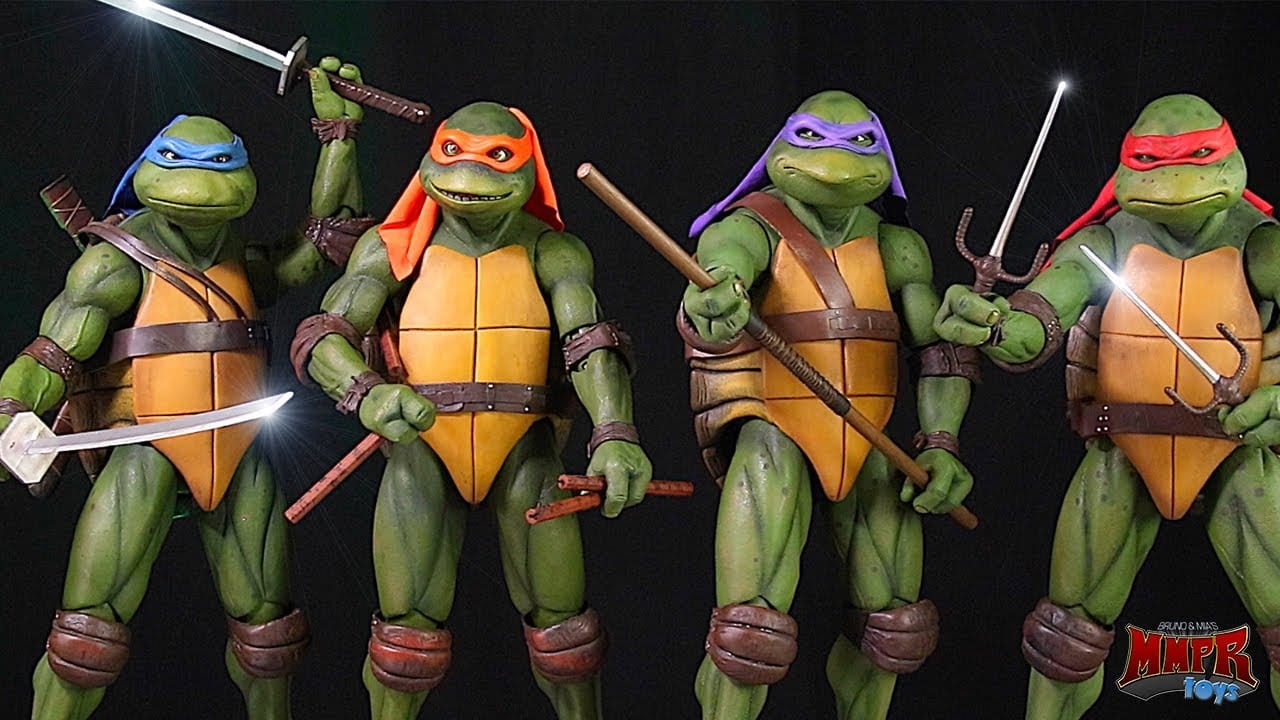 Ninja Turtles Toys: Bottom Line Up Front
The Teenage Mutant Ninja Turtles have been around since the late 1980s, and it's a toy theme I can share an interest in with my children. Unfortunately, most of the toys are action figures. However, I prefer my kids to play with various toy types because they enjoy different activities resulting in valuable skill development.
Therefore, I've picked the best TMNT toys from various types. I looked hard to find the non-figure toys and included a few fantastic action figures for avid fans. So, you'll find something for any child of any age. In addition, your kids will enjoy various activities because no two children love the same playtime adventures.
But first, let me share my ultimate TMNT toy upfront. The LEGO Ninja Turtles Takedown Van Building Kit is my favorite pick, and it's the last LEGO kit you'll find for the TMNT brand. LEGO might make more sets, but this building kit is the only available option for now. Building kits have a lot of potentials.
Children can learn educational values from LEGO kits. In addition, they can play socially, enjoy the build, and use the set as a playset once completed. LEGO Ninja Turtles kits have more potential than most, making them an ultimate pick for my son. He loves building models before enjoying the playsets.
Furthermore, I selected a few fabulous Ninja Turtles toys from different types. So, check them out before learning more about the TMNT toy range.
A Glance at the Best Ninja Turtles Toys
The Ninja Turtles have a surprising range of toy types. Still, I'll share a glance at four more brilliant options to give children variety. Then, you can learn how I picked them before checking the details on what makes each one unique for young TMNT fans.
Ninja Turtles Toys: Beyond Action Figures
The Ninja Turtles are icons of the 1980s and 1990s, meaning I grew up with and shared the nostalgia with my kids. Many Ninja Turtles have appeared since, and the franchise had more movies and series than most. However, the toy range can feel limited. It seems all you can find are action figures. But more toys exist.
You have to look harder to find the wide variety of toys available for the Ninja Turtles. I found this article's toys range from electronic to card games, role-play toys, and plushies. So, my advice is to find toys beyond action figures because you can't buy a young Ninja Turtles fan action figures alone.
Other toys also have benefits, which I'll share under each toy. For example, the Ninja Turtles Role-Play Costume encourages children to be social, play outdoors, and learn communication and emotional skills in group playtime activities. In contrast, the LEGO Ninja Turtles Building Kit has educational and cognitive values.
Unfortunately, finding Ninja Turtles LEGO kits is nearly impossible, but the educational benefits outweigh action figures and other toys. Ultimately, Ninja Turtles is a multi-generational toy theme you can enjoy with your kids. So, it helps to look for various toy types that encourage multiple activities and benefits.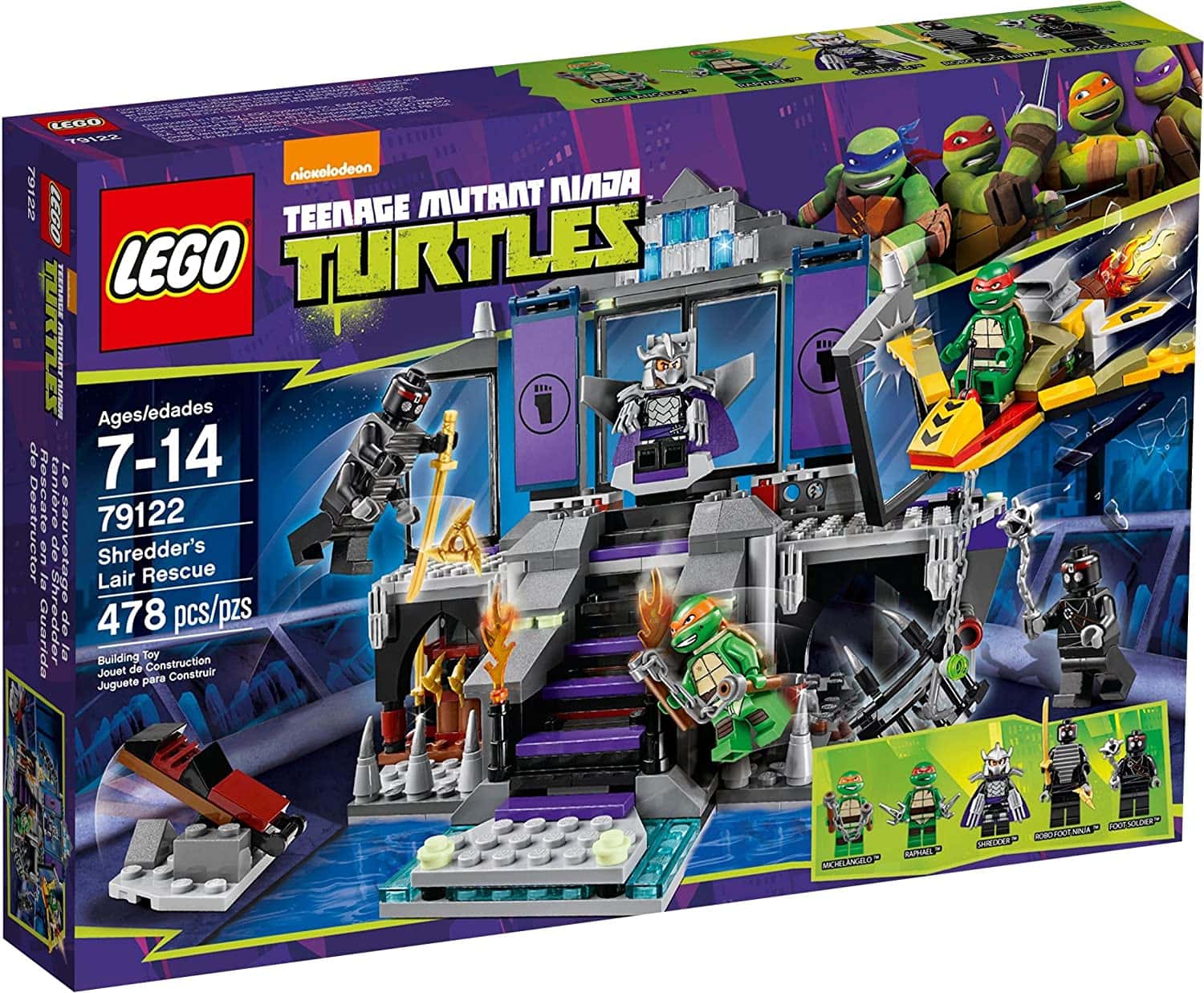 How I Picked the Ultimate Ninja Turtles Toys
All my talk about finding Ninja Turtles toys beyond action figures is nearly as scary as the Ninjas on the show. However, I'll be the one looking for the diamonds in the rough. So, allow me to source the best Ninja Turtles toy types that fit into two or more activities, encouraging exceptional benefits for children.
The top toys will include action figures and figure playsets because they're part of the leading toy types you'll find. However, I'll also look for the best plush and electronic toys. Next, you'll have an incredible variety of Ninja Turtles toys. Finally, I'll find Ninja Turtles toys that should cover most fans' ages.
Ultimate Ninja Turtles Toys: Top Picks
The Ninja Turtles toy range has phenomenal choices, including action figures and figure playsets. However, I promised a variety of toy types. So, that's what I bring to the table. Furthermore, I'll share the recommended ages for each TMNT toy, which activities children can enjoy, and what might take value away from the toys.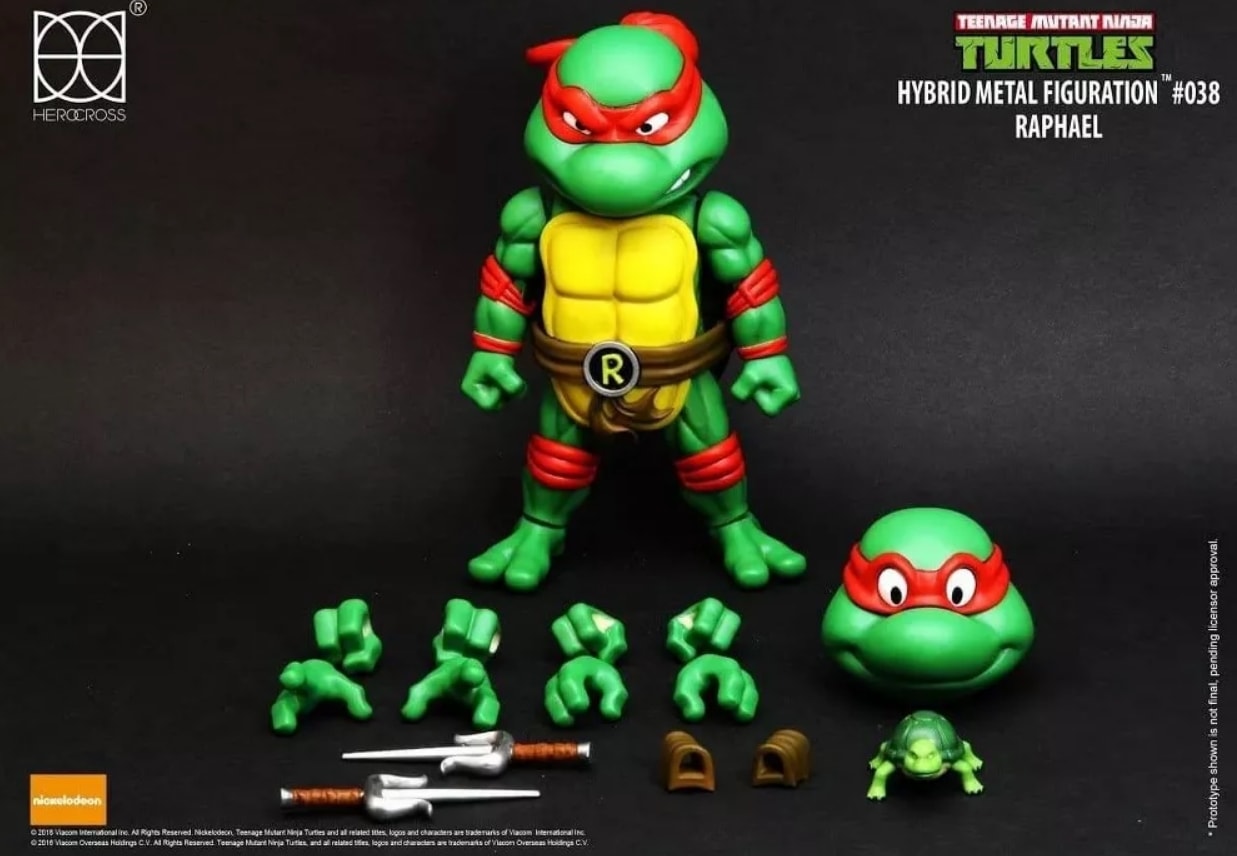 Raphael is my favorite and the strongest Ninja Turtle among the four. So, I looked for a fantastic action figure children could enjoy. The interactive qualities of this action figure make it exceptional. In addition, the figure has extra hands and accessories to change things. Furthermore, kids even get two headpieces to enjoy.
Toy Facts
Characters: Raphael
Toy Type: TMNT action figure
Activities: Imaginative and interactive play
Ages: 3+
Pros
The TMNT Raphael action figure includes accessories, headpieces, and interchangeable hands
The action figure has impressive details and movable joints
Children can change Raphael's expressions with his headpieces
Kids learn social, communication, and creative skills
Cons
Raphael's one headpiece looks super angry
The Ninja Turtle's one pair of hands look furious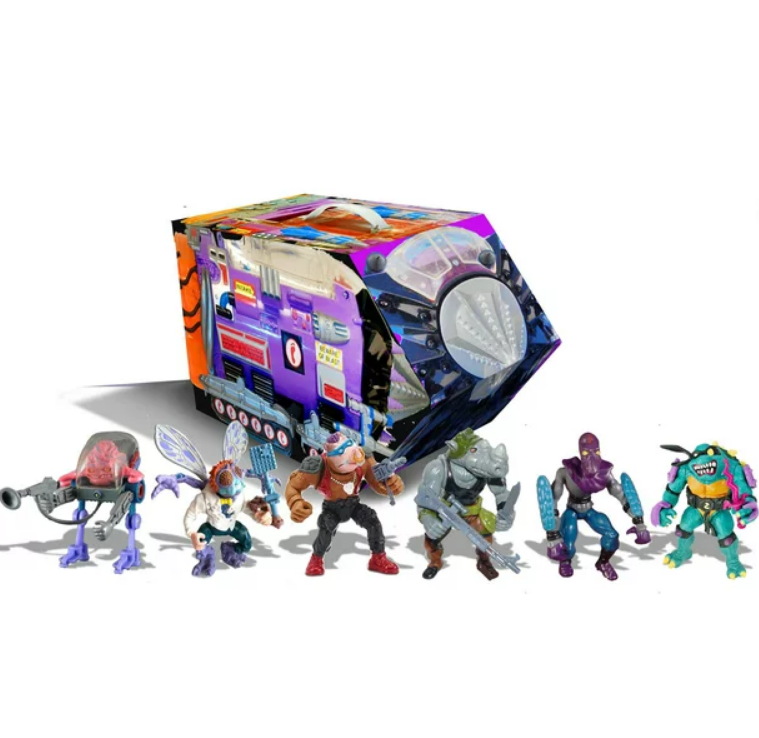 The Ninja Turtles had some unfriendly foes when the shows began. I remember some of these villains. So, the TMNT classic cohorts villains would inspire children to play outside the lines with their current TMNT action figures. Of course, it doesn't help to give children three of the exact figures. So instead, give them some villains.
Toy Facts
Characters: Bebop, Krang, Rocksteady, Slash, Footsoldier, and Baxter Stockman
Toy Type: TMNT action figure pack
Activities: Social and imaginative play
Ages: 8+
Pros
The TMNT action figure pack includes six retro villains
Each action figure has some movable parts
The mini-figures come in a neat tin for easy storage
Children learn social, emotional, and language skills in social play
Cons
Not all children will know the retro cohort villains
The figures aren't premium quality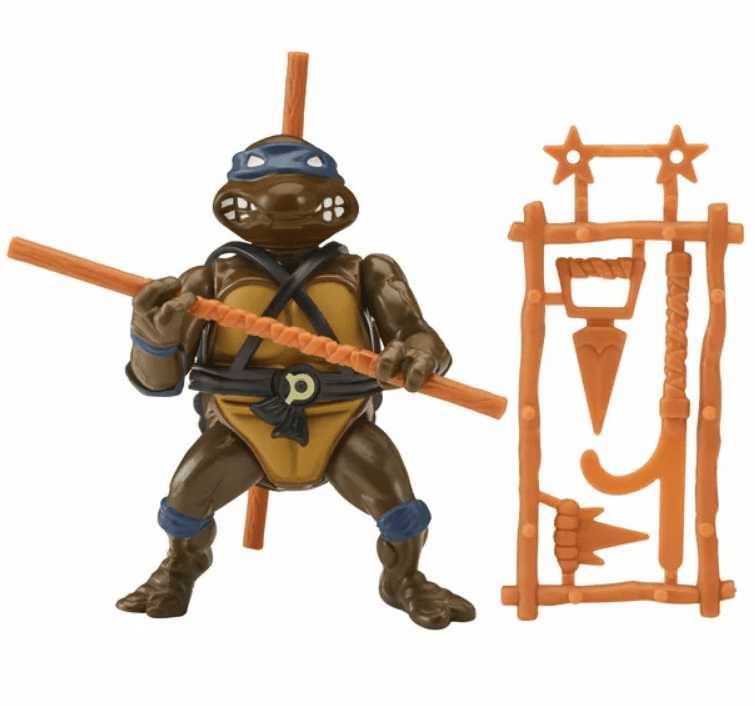 How can you improve on an action figure? The answer is to give a child a playset with accessories to use with the action figure. Donatello comes with a playset with actionable accessories to use with his figure. The rack of toy weapons can fit into Donatello's hands to make children reimagine the epic TMNT battles.
Toy Facts
Characters: Donatello
Toy Type: TMNT action figure playset
Activities: Social, creative, and imaginative play
Ages: 3+
Pros
The TMNT Donatello action figure includes a rack of accessories
The frame consists of Donatello's iconic toy staff
The action figure has movable parts to help imaginative games
Children develop emotional, critical thinking, and social skills
Cons
It's not a premium action figure with excessive articulation
Kids can't change Donatello's battle-ready facial expression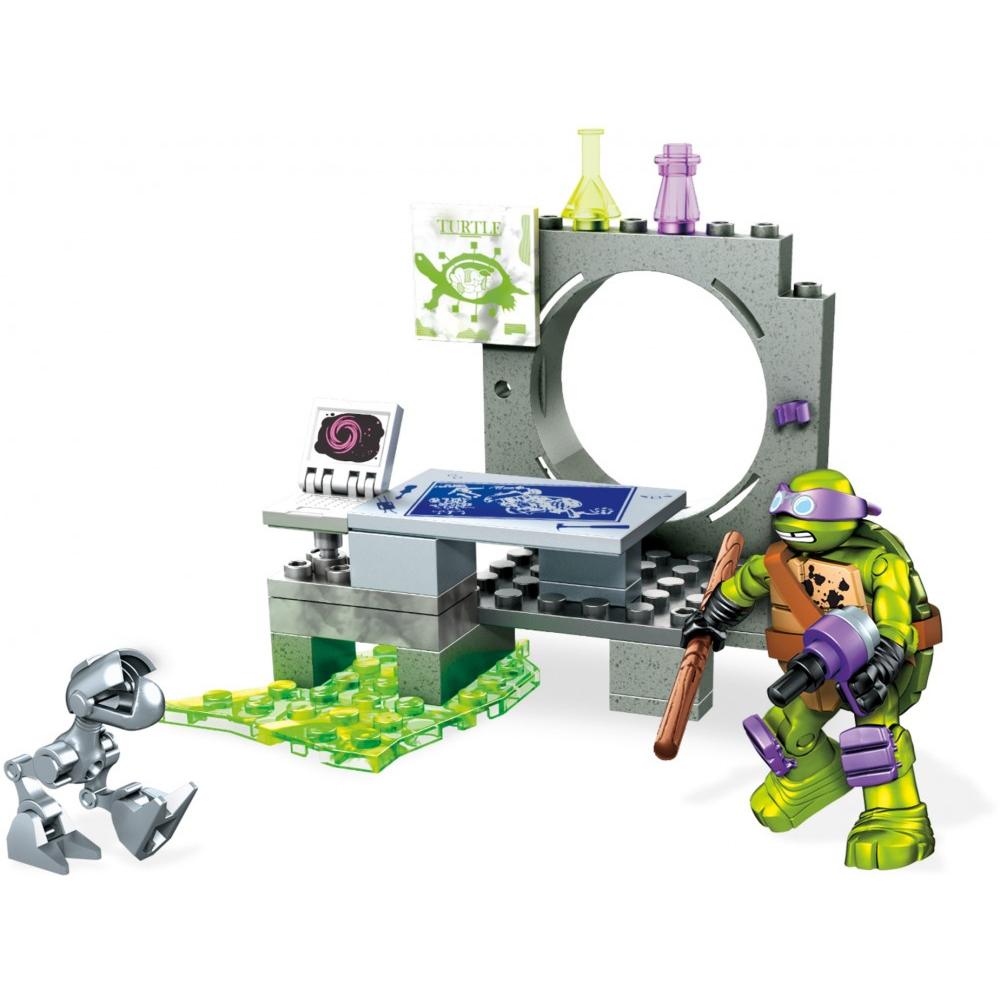 The LEGO building kit is a phenomenal piece of educational playtime values. Still, there's another construction kit for the Ninja Turtles. Mega Contrux has a playable playset that includes a model-building experience first. Children can enjoy another version of Donatello with this building kit, which works for younger kids.
Toy Facts
Characters: Donatello
Toy Type: TMNT building kit
Activities: Interactive, creative, and educational play
Ages: 5+
Pros
The Mega Contrux TMNT building kit appeals to younger kids
It's a simple construction kit that welcomes imaginative games
The playset is constantly changing for different games
Children learn critical thinking, problem-solving, and spatial reasoning
Cons
I would recommend this playset for kids over four
Unfortunately, the set only includes Donatello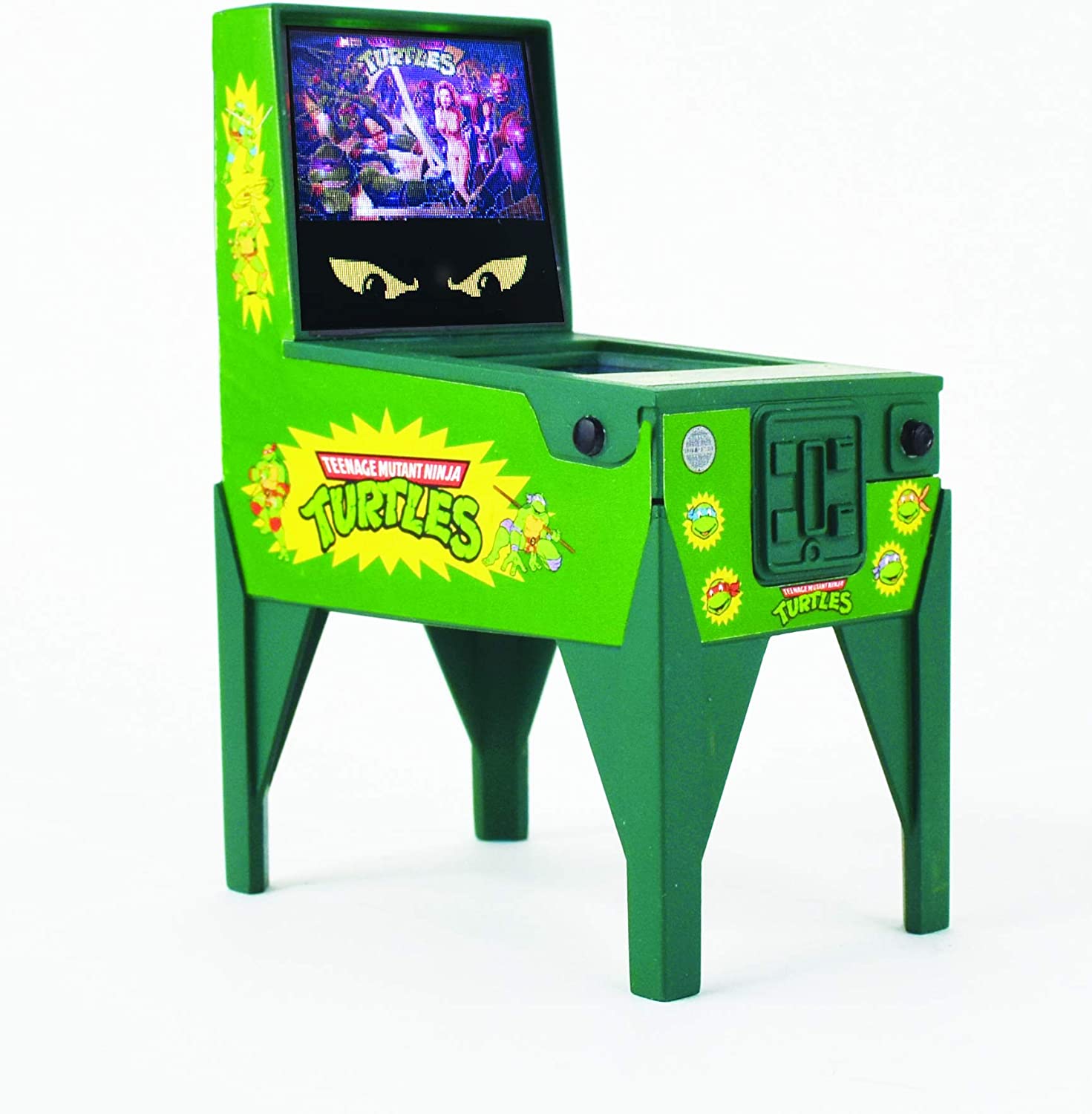 You're probably wondering why I would share a pinball machine because they're pricy. However, this electronic TMNT pinball machine is a children's toy with a matching price tag. In addition, it's a beautiful machine with fantastic features. It makes children feel like they're visiting an old-school arcade on their way home.
Toy Facts
Characters: All Turtles
Toy Type: TMNT electronic toy
Activities: Interactive, social, and creative play
Ages: 3+
Pros
The TMNT pinball machine is a classic with all the characters
It's an electronic toy with a screen for the pinball game
It's a super-easy model the size of your hand
Kids get creative skills and sensory stimulation from electronic games
Cons
The TMNT pinball machine is tiny compared to arcade games
Not every button works on this TMNT electronic toy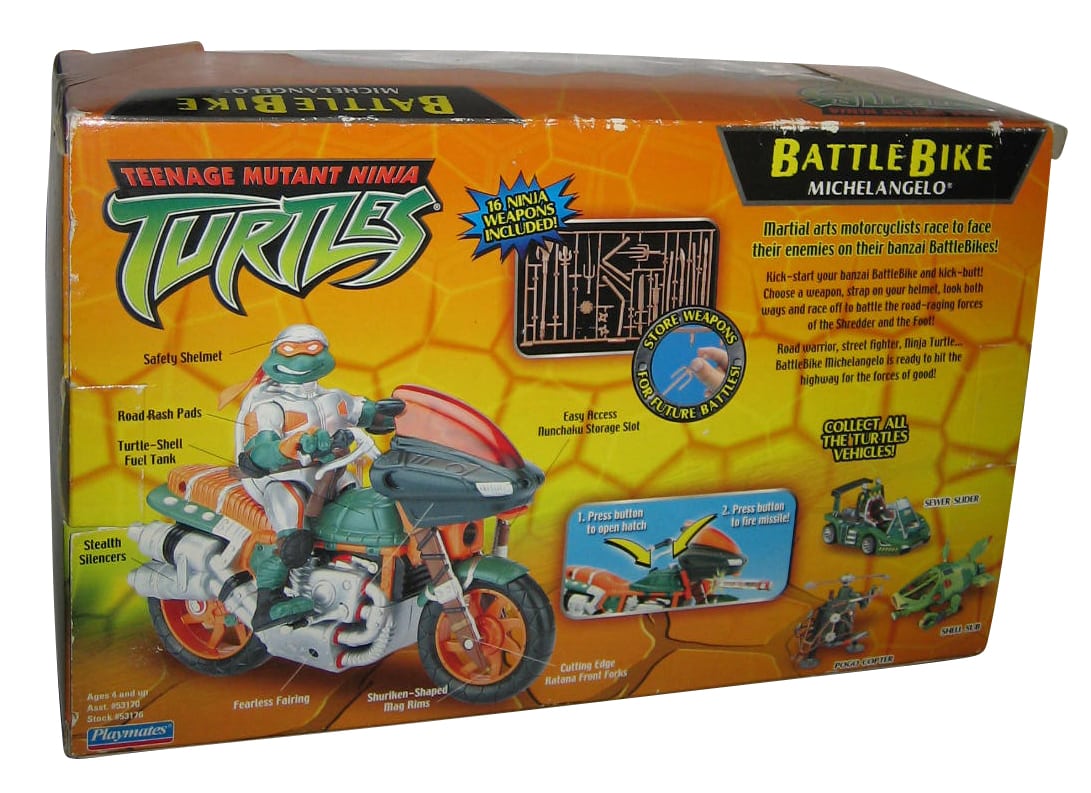 Michelangelo's battle bike playset is stunning because it includes another legend. However, it comes second to the interactive abilities of the RC model I'll share soon. Nonetheless, it's my top pick because it includes a legend's figure with the interactive vehicle. It even has a safety helmet to teach younger kids about bikes.
Toy Facts
Characters: Michelangelo
Toy Type: TMNT toy vehicle
Activities: Interactive, social, and imaginative play
Ages: 3+
Pros
The Michelangelo battle bike playset includes accessories
The playset has interactive abilities to shoot missiles while riding
Children can also open various hatches and parts of the bike
Interactive toys stimulate the senses and teach cognitive skills
Cons
Unfortunately, Michelangelo's figure isn't premium-quality
The figure doesn't balance well on top of the bike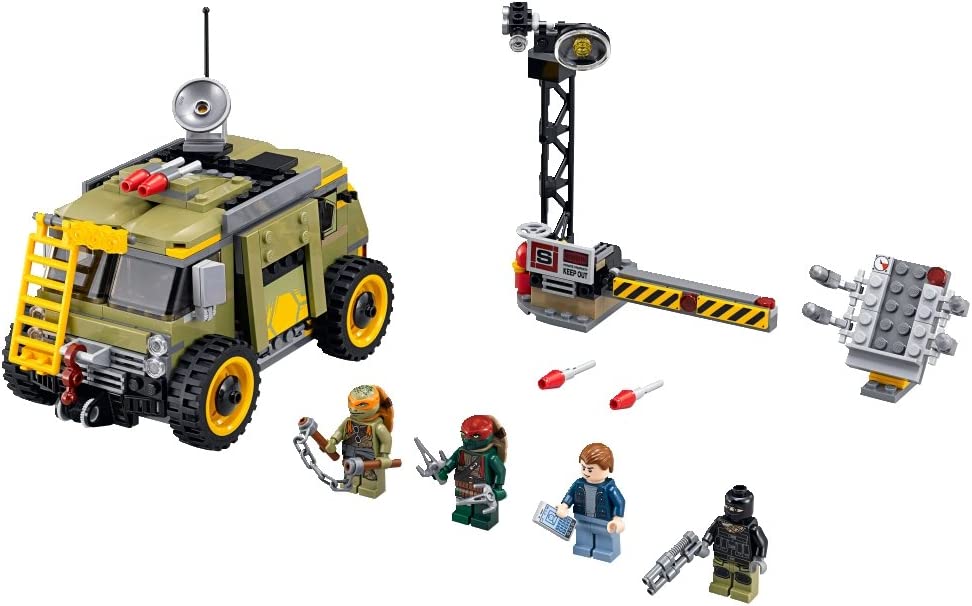 My son began building LEGO kits as young as four. I always encourage him to pursue his passion for construction toys because of the many educational benefits. In addition, he enjoys a phenomenal playset once he finishes the model. This LEGO kit is the only widely-available option for the Teenage Mutant Ninja Turtles.
Toy Facts
Characters: Raphael, Michelangelo, Vern, and Foot Soldier
Toy Type: TMNT LEGO building kit
Activities: Constructive, sensory, creative, and educational play
Ages: 6 to 12
Pros
The TMNT LEGO kit has 368 pieces to ignite creativity
It includes four impressive LEGO mini-figures
Children enjoy the interactive vehicle once they finish building it
LEGO kits help children develop cognitive skills
Cons
Unfortunately, it doesn't include all four Ninja Turtles
LEGO limits the age recommendations, but I would also encourage older kids to enjoy it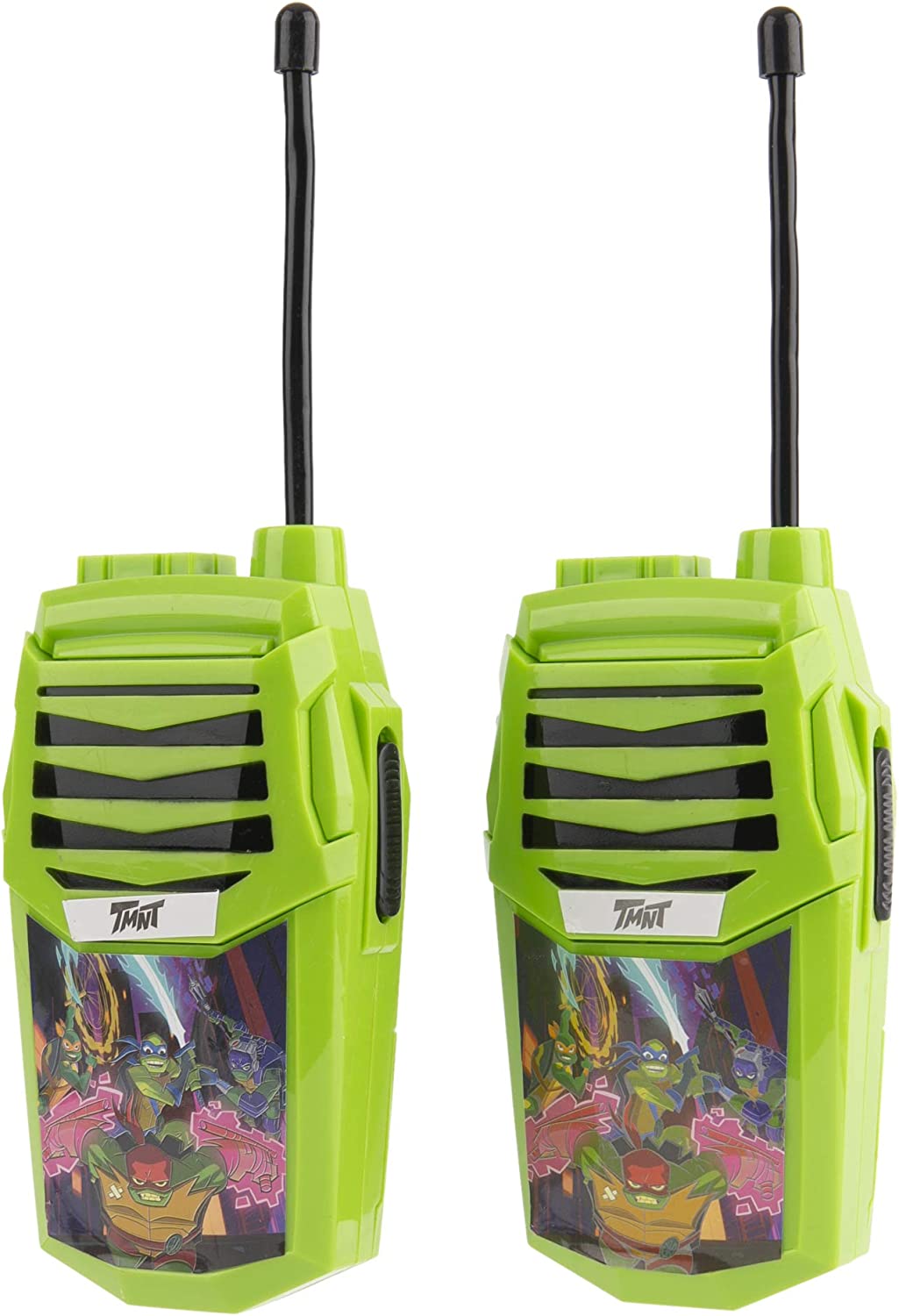 My least favorite part of TMNT is the sewers, but it's the famous headquarters of the Ninja Turtles. However, I would encourage children to spend time outdoors, not in sewers. So, the walkie-talkies would make an exceptional outdoor toy to motivate children to soak up the sun and ditch the sewer vibes.
Toy Facts
Characters: None
Toy Type: TMNT walkie talkies
Activities: Social, outdoor, and interactive play
Ages: 8 to 12
Pros
The TMNT walkie-talkies will walk children out the door
Kids need to invite friends over to enjoy both models
It's another interactive TMNT toy with the potential for imaginative play
Walkie-talkies can help kids with language and social issues
Cons
It doesn't have the most extended range
Kids need a friend to play with them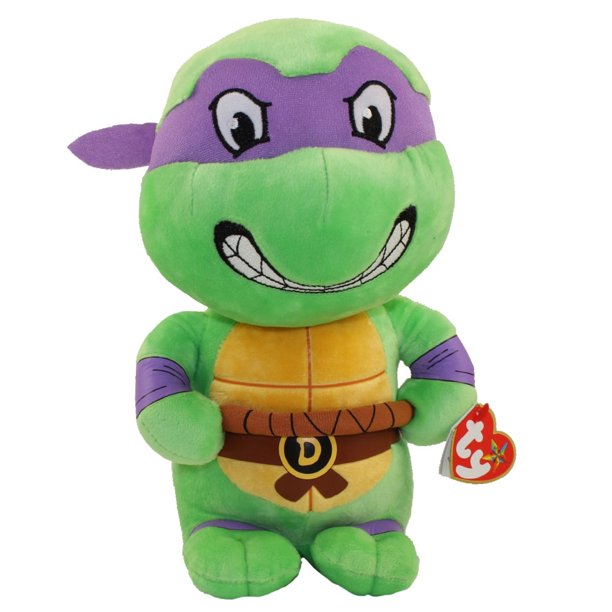 I always look for plushies with a collectible opportunity because my mother taught me to collect valuable soft toys. In addition, I passed the collectible hobby down to my kids. So, Donatello's Beanie Babies plush stands out more than others. Of course, you'll also find Beanie Babies plush for the other Ninja Turtles.
Toy Facts
Characters: Donatello
Toy Type: TMNT plush
Activities: Social and imaginative play
Ages: 3+
Pros
Donatello comes as a collectible plush
The TMNT plush's face looks adorably angry
The details are exquisite, and the plush is of excellent quality
Plushies teach children emotional skills
Cons
It's only one of the Ninja Turtles
The feet look awkward on this Beanie Baby plush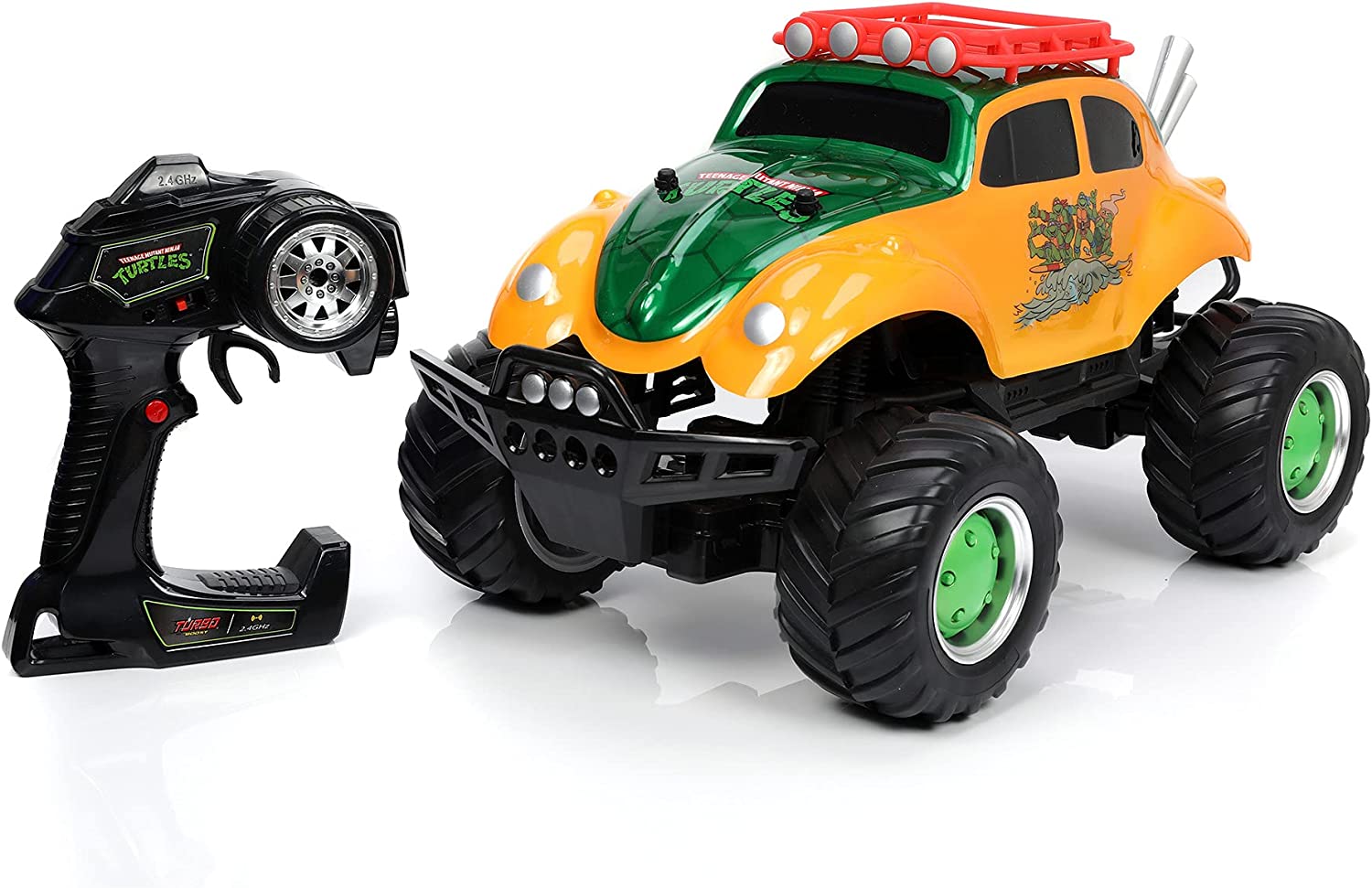 I mentioned I would share another TMNT toy vehicle. Remote-controlled toys are fantastic interactive opportunities for kids. Still, I prefer the other car because this one doesn't focus on a specific character. In addition, this RC model is better suited for kids over eight. However, it's a magnificent TMNT toy.
Toy Facts
Characters: None
Toy Type: TMNT RC vehicle
Activities: Interactive, social, and educational play
Ages: 8+
Pros
The TMNT vehicle has remote-controlled abilities
It has a massive range for kids to enjoy
It looks like a classic buggy from the 1980s
RC models teach kids about spatial reasoning and critical thinking
Cons
The model doesn't focus on a particular character
It works better for outdoor play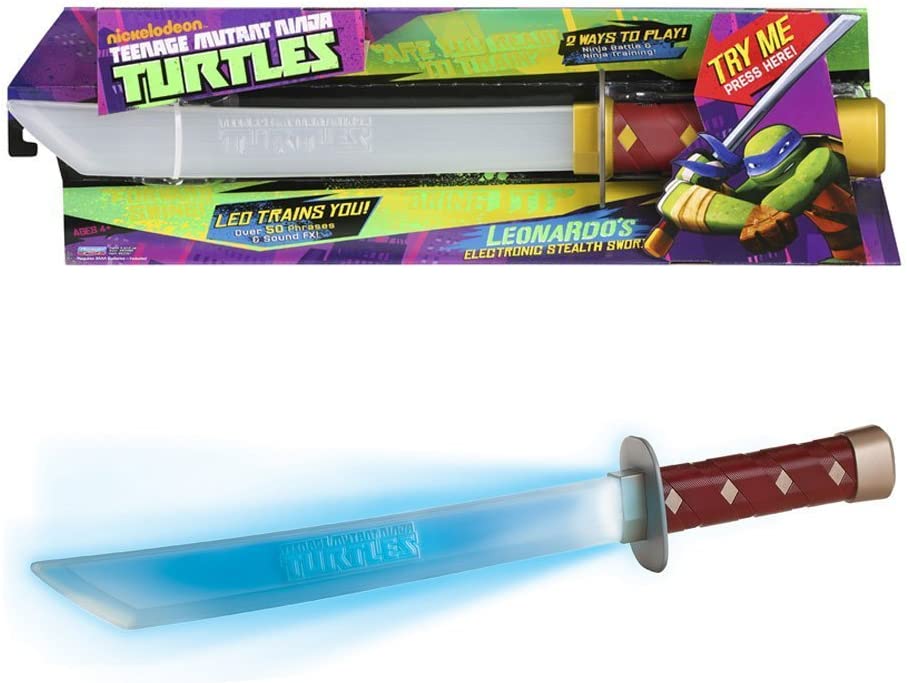 Role-playing games are brilliant ways for kids to adopt many skills they need in real life. However, I chose a role-playing weapon because it helps children play strategy games. In addition, the electronic stealth sword has interactive abilities to make playtime activities an exciting adventure for TMNT fans.
Toy Facts
Characters: Leonardo
Toy Type: TMNT toy weapon
Activities: Creative, interactive, and role-play
Ages: 4+
Pros
The toy sword has interactive abilities
It stimulates children's creative minds with sounds and lights
This toy weapon belongs to another TMNT legend
Interactive and role-play toys teach kids about strategy
Cons
The stealth sword needs batteries to operate
Kids can poke each other, but they won't hurt each other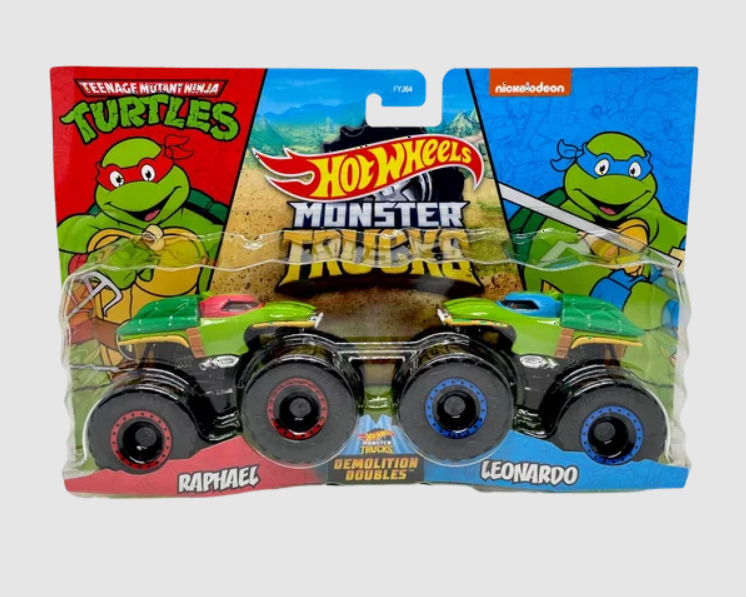 I'll always look for TMNT toys with collectible potential because the franchise is nostalgic. Therefore, the Hot Wheels Ninja Turtles car series work for both of my reasons. In addition, I chose the Monster Truck variants with two models to entice children to benefit from the advantages of these TMNT toys.
Toy Facts
Characters: Leonardo and Raphael
Toy Type: TMNT Hot Wheels toys
Activities: Interactive and social play
Ages: 3+
Pros
Hot Wheels is also a collectible brand
Monster Trucks are popular choices
TMNT Monster Trucks bring two fandoms to life
Kids learn spatial and cognitive skills with toy cars
Cons
Kids might want to keep them packaged
The sets work better for two children
FAQs
Question: Which Ninja Turtles Villain Action Figures Are Popular?
Question: Which Ninja Turtles Action Figure Is the Best?
Answer: The Ninja Turtles have more action figures than most franchises because the shows started in the late 1980s. However, I can pin the best Ninja Turtle action figure down to the strongest of the four. Raphael is the strongest and most-skilled Ninja Turtle. So, the TMNT Ultimates 7-Inch Raphael Action Figure is a winner.
Question: Which Ninja Turtles Action Figures Are Collectible?
Answer: Some brands make better-quality action figures than others. For example, the Nickelodeon TMNT Raphael Action Figure is impressive and unusual. The figure has premium articulation, allowing children to maneuver it in unimaginable ways. In addition, it has quality materials with long-lasting durability.

Ultimate Ninja Turtles Toys: Conclusion
Finally, you know the ultimate Ninja Turtles toys go beyond action figures to inspire new skills and activities. So, it's time to pick your child's favorite Turtle or toy type and buy it. I recommend the LEGO Ninja Turtles Takedown Van Building Kit because it has more benefits than most toy types.
In addition, LEGO TMNT toys are rare this year. However, buy your child the TMNT toy of their dreams because you have a variety from which to choose. Then, watch them enjoy the iconic heroes.
For more whopping toys
Best Power Rangers Dino Charge Toys – Avid Toy Insider
7 Best Bakugan Toys Guide – Avid Toy Insider