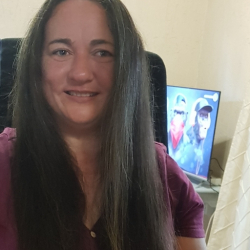 Latest posts by Caroline Lambert
(see all)
I'm known for considering every educational benefit of a toy before recommending it. However, I'm shaking things up for the best Bluey toys guide. It's about woofing fun for little ones because the themed toy can lead to various exciting activities, depending on what your kid loves.
Every child enjoys different types of toys. Sometimes, it's ideal to pick the best type that's also age-appropriate for your little one. Bluey toys appeal to younger people, from toddlers to young preschoolers. In addition, Bluey and her friends bring woofing fun to children who love the Disney Plus show worldwide.
Why don't you see which Bluey toys can instigate the same woofing excitement?
Getting Straight to the Woofing Point
Did you know that children have a woofing fun meter? I invented it to measure how much my daughter and son would enjoy a particular toy type, activity, or theme. Bluey woofing fun meters merely make a fun wordplay. I'm a mom who typically focuses on learning opportunities, but excitement is the foundation.
Children get bored with toy themes they don't enjoy. They won't continue playing with toys that don't allow their favorite activities. Finally, it would help if you had age-appropriate toys, meaning Bluey toys aren't suitable for tweens or teenagers. I've selected the best Bluey toys that make a woofing fun meter go through the roof.
The best Bluey toys from various popular types include:
Guidelines for the Best Bluey Toys
Bluey is an adorable pup that welcomes children to a world of curiosity, fun, and endless adventures. Toys invite the same activities and imaginative play as the show. Let's see what makes Bluey and her friends stand out, how you can use the uniqueness to find your child's new toy, and how I selected the best options.
Bluey and Her Fabulous Friends
Bluey invites a world of woofing fun with her friends. She's always looking for adventures because she's a curious pup with too much energy. Doesn't she make you think of a toddler? My daughter also had an abundance of energy as a toddler. She would never stop, and her curious mind often led to great adventures.
The accents are hilarious if you watch the show because it's an Australian hit. I think Australia is a place of wonder and adventure, and that's why Bluey and her friends have bottomless curiosity about the world. Toddlers and preschoolers enjoy the series, making Bluey an age-appropriate toy for their age groups.
The underlying benefits of how each toy might educate a child while playing are merely a bonus. Various toy types offer hidden lessons, which I'll share when I show you the best options. I promised not to focus on educational qualities, so I'll focus on something that matters nearly as much: activities.
Advice for Bluey Parents
My top advice is that you allow your little ones to enjoy their favorite characters. Then, you don't always have to focus on the educational benefits. Most toys have them because playtime activities lead to learning. So, let's forget about the lessons. I'll still briefly share a tip with each toy, but the activities are where I want to focus.
There are 14 main activity types with a few sub-types. Giving children a toy that allows them to enjoy their favorite cartoon theme and playtime activity is a hole-in-one for parents. Children are more likely to favor toys from their much-loved characters that would enable them to play the way they want.
Whatever lessons may hide in the toys will automatically rise to your child's potential when their woofing fun meter hits the ceiling. You're probably reading this because you have a Bluey fan. First, consider which activities your child enjoys the most, and you'll find the best Bluey toy from the coming choices.
Selecting the Best Bluey Toys
I'm sourcing the best woofing excitement for fans by focusing on Bluey toys with the blue pup as the main character. First, the toys can include other characters as long as they have Bluey in the spotlight. Secondly, the toys must appeal to toddlers or preschoolers.
Finally, I'll pick a variety by adding the best toys for each category or the sub-categories.
Best Bluey Toys Guide: A Playtime Variety
Are you ready to push your child's woofing fun through the ceiling? If so, then you're in the right place. First, let me share the woofers and bloopers of each type of Bluey favorite. I'll also share some fun facts covering the recommended ages, potential activities, and the variety because the toy might fall into a sub-category.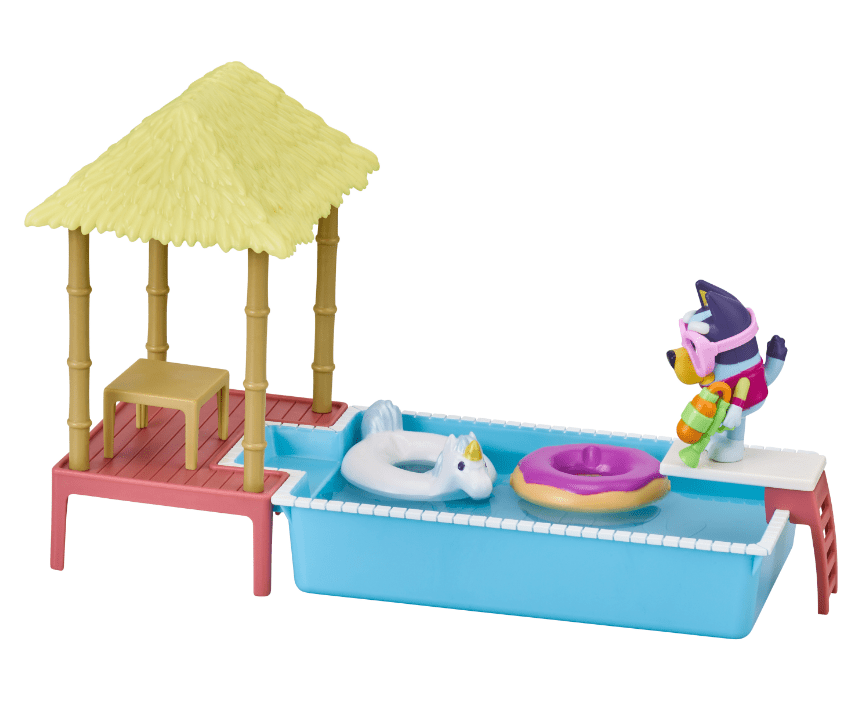 Bluey has a wide selection of articulated figures that work like action figures. Some of the choices have many of her best friends for kids to enjoy a package deal. Instead, I chose the single Bluey articulated figure because it comes with a scene where children can enjoy imaginative playtime activities more than a bunch of figures.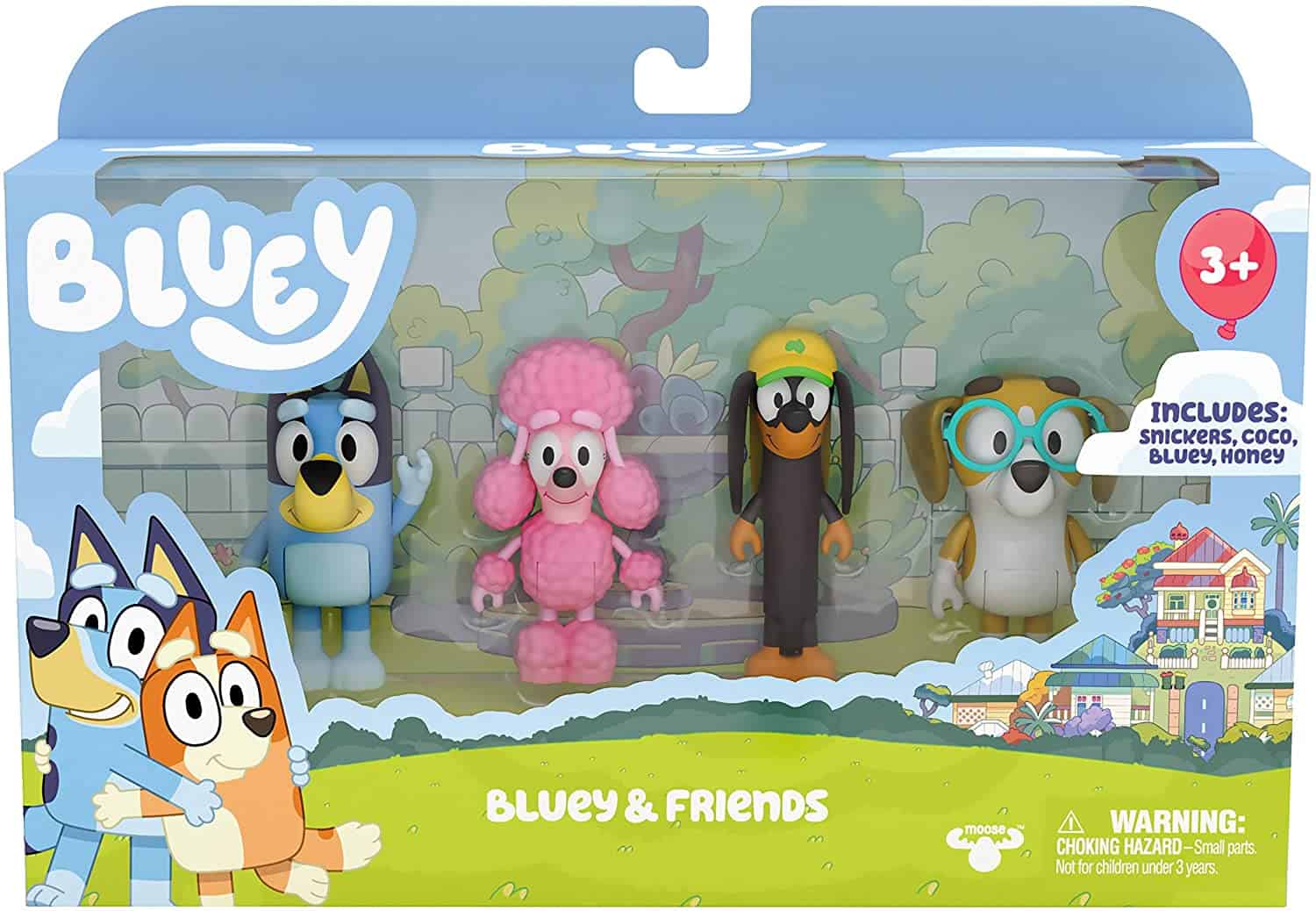 Woofing Facts
Type: Bluey Figure Play Set
Ages: 3 to 8
Activity: Imaginative play
Hidden Skills: Creative and sensory
Woofers
The Bluey figure with a pool has better articulation than the sets, and the swimming pool scene makes for exciting summer playtimes
Children learn to boost creativity by imagining Bluey playing by the pool, and they get a sensory boost if you add a drop of water (please don't add water unless you supervise a child)
Bloopers
The Bluey articulated figure is smaller than the multi-pack figures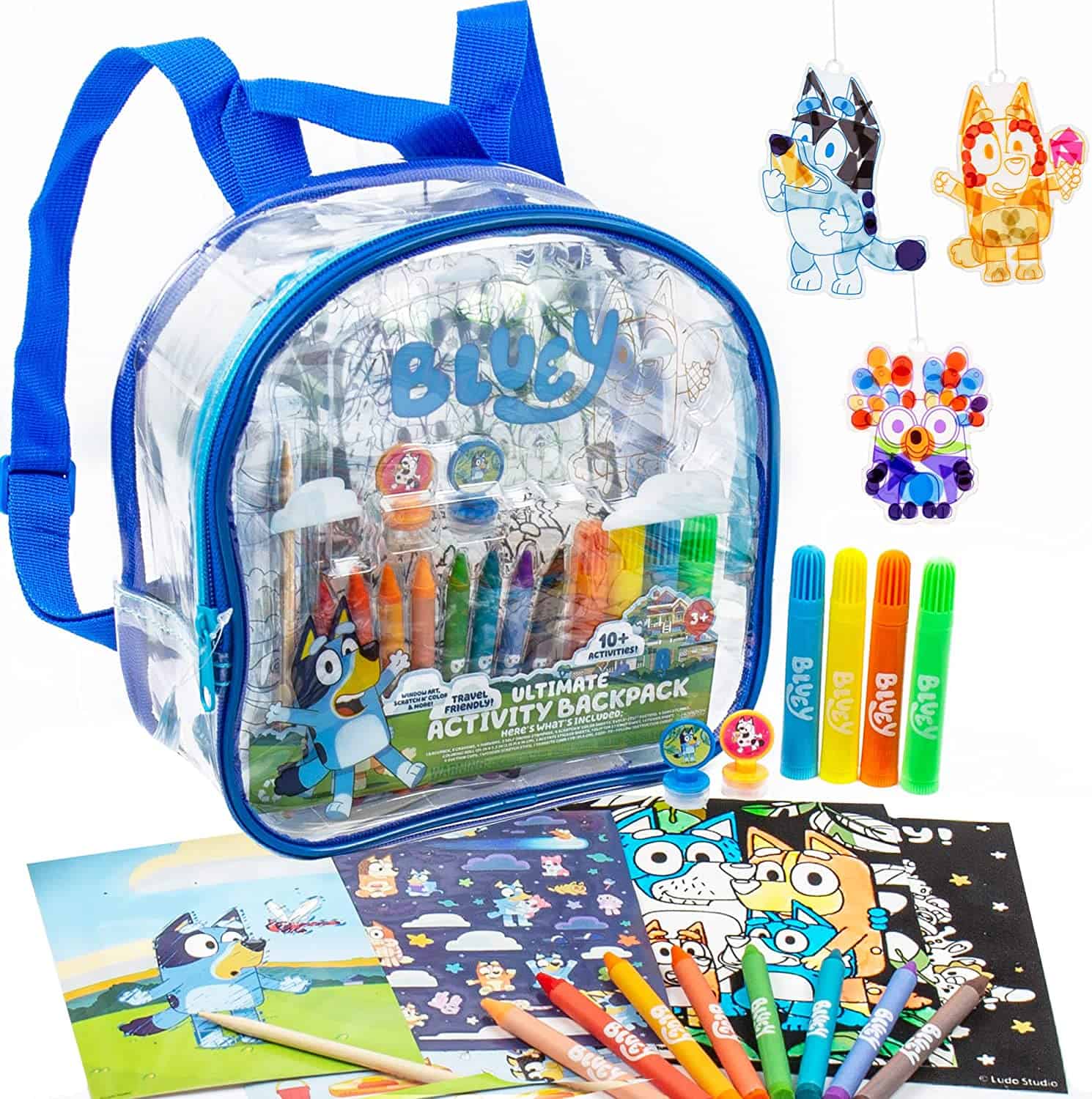 Activity sets have the proof in the name, encouraging children to explore their favorite activities. Not every child loves drawing, coloring, and making suncatchers for their bedroom windows. However, tiny creatives start as young as three-years-old. Ask me because I was a creative child from the earliest age.
Woofing Facts
Type: Bluey Creative Activity Backpack
Ages: 3 to 6
Activity: Creative play
Hidden Skills: Imagination and critical thinking
Woofers
The Bluey Creative Activity Backpack comes with various exciting opportunities for kids to create suncatchers, color pictures, and place stickers wherever they wish
Activity sets encourage children to practice their imaginative skills while enhancing critical thinking by learning how to complete various activities
Bloopers
The coloring pens might become an issue if your little one draws on the walls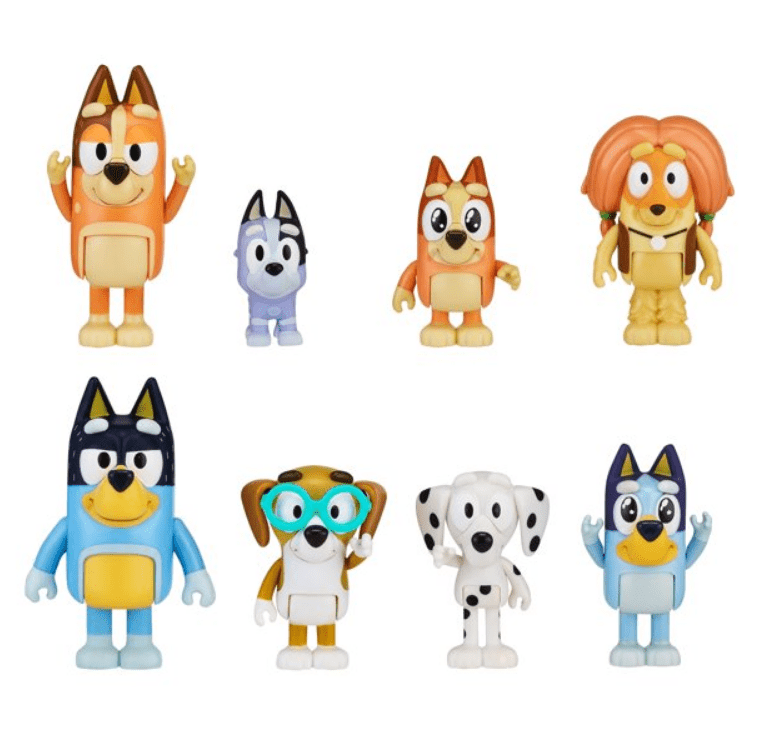 Okay, so I picked the best multi-pack of Bluey and Friends Figures because they're animals. Bluey becomes a friend to your child, but the puppy is part of the animal kingdom. Her friends are also puppies, making the multi-pack ideal for children who love animal toys. Kids get eight Bluey figures with this pack.
Woofing Facts
Type: Bluey Multi-Pack Figures
Ages: 3 to 6
Activity: Pretend play
Hidden Skills: Fine motor and imagination
Woofers
The Bluey and Friends Articulated Figures pack is ideal as an animal toy that also encourages children to explore their imaginations with their favorite puppies
The collection boosts fine motor skills by letting kids exercise their finger muscles, and it includes Bluey, Bingo, Bandit, Chilli, Socks, Honey, Indy, and Chloe figures
Bloopers
Children have to create imaginary scenes to make the animal toys work as an activity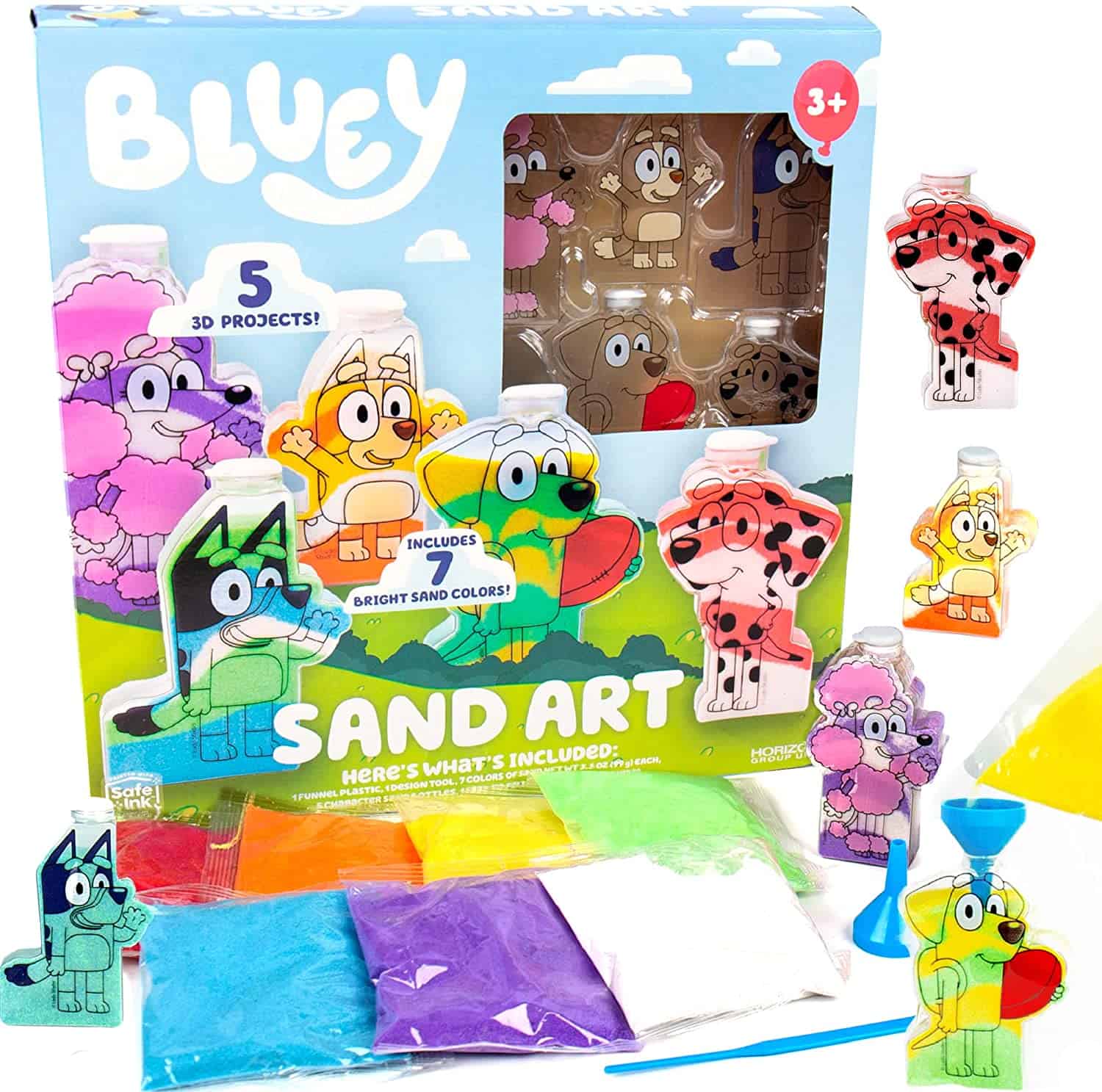 My daughter loves arts and crafts activities. She also loved playing in the dirt as a toddler, even though it would later upset her because she wasn't the nicest little one at bath time. But, she would've loved this set if she was younger because her creative mind was boundless. She loved creative activities where she could design things.
Woofing Facts
Type: Bluey Sand Art Kit
Ages: 3 to 8
Activity: Arts & crafts
Hidden Skills: Sensory and creative
Woofers
The Bluey Sand Art Kit comes with Bluey, Bingo, Lucky, Coco, and Chloe for children to fill with sand art, making unique color designs
Arts and crafts activities appeal to children with creative minds, boosting it while the senses get an exciting experience
Bloopers
Children can become frustrated if they're not crazy about arty playtime activities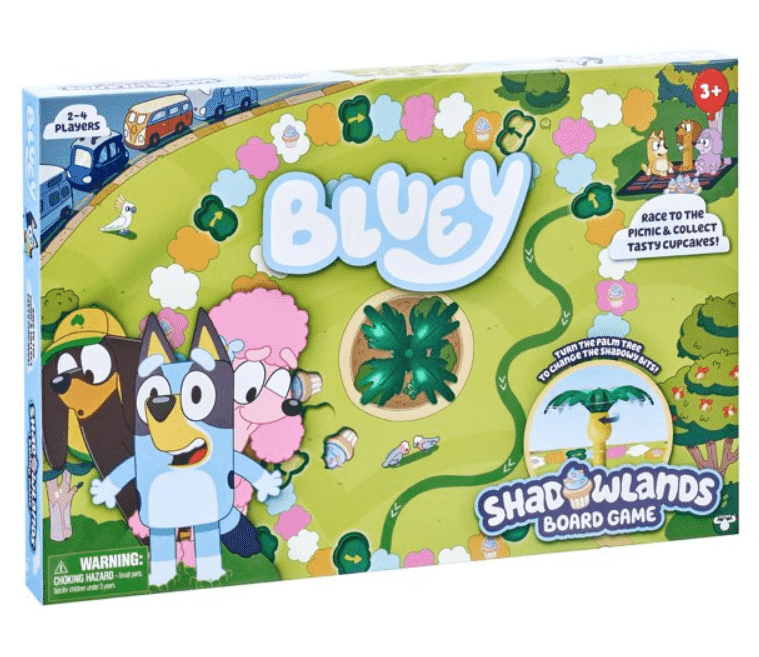 Board games are tons of woofing fun, especially when the game is entirely unpredictable. Bluey Shadowlands is one of the most unpredictable board games ever because the palm tree changes the playing field with each turn. I see preschoolers enjoying the game more, but it can be a real woofer if you help toddlers.
Woofing Facts
Type: Bluey Shadowlands Board Game
Ages: 3 to 8
Activity: Social play
Hidden Skills: Strategy and critical thinking
Woofers
The Bluey Shadowlands Board Game invites children to enjoy the types of adventures the characters partake in during the show
The ever-changing board game exercises a young child's strategy and critical thinking skills while helping them communicate better and play socially
Bloopers
This board game might be too challenging for kids under four or five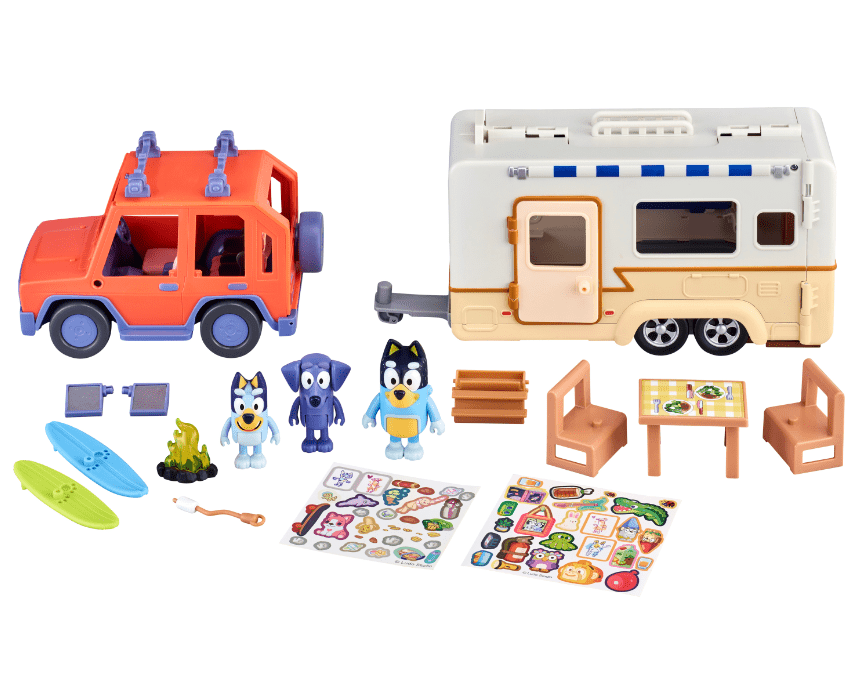 Some little kids love the idea of camping in the backyard. This adventure play set won't allow them to experience an entire camping adventure, still, they can act out the adventure in their minds while playing with a campervan, picnic toys, and a fake fire. Imagine the woofing fun of pretending to listen to campfire stories.
Woofing Facts
Type: Bluey's Ultimate Caravan Adventure Play Set
Ages: 3 to 6
Activity: Imaginative play
Hidden Skills: Problem-solving and object recognition
Woofers
I love the Bluey Adventure Camp Play Set because it represents a fun activity that children can reimagine with their favorite toys
Children can learn problem-solving skills by attaching the campervan to the toy Jeep, and the picnic mats have animal pictures to increase their curiosity
Bloopers
The fake fire can teach children about fire safety, but it can also make them too curious about hot flames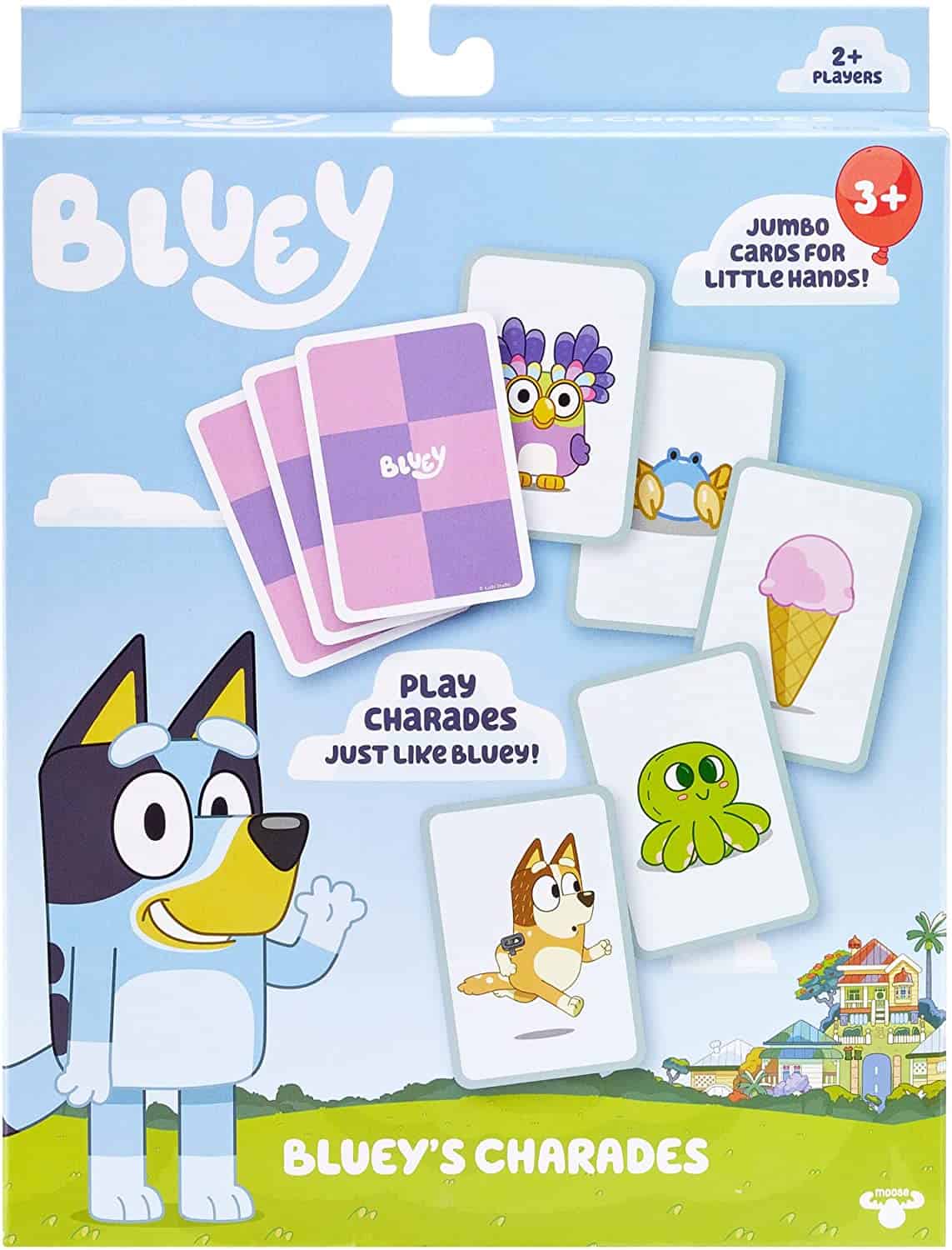 Bluey has various card games, including Bingo's game and a 5-in-1 treat. However, I love the charades game because I'm looking for the most woofing fun. Charades have always been an instigator for knee-bending laughter among friends, and little ones will have tons of fun playing this game with their friends.
Woofing Facts
Type: Bluey Charades Card Game
Ages: 3 to 6
Activity: Social play
Hidden Skills: Social and language
Woofers
The Bluey Charades Card Game welcomes a level of goofiness that will blow woofing fun meters out of the water
The game has simple pictures for children to enjoy in social playtimes that will also increase their language skills with the fun guessing game
Bloopers
This card game is suitable for kids over three, but I'd recommend it for children over four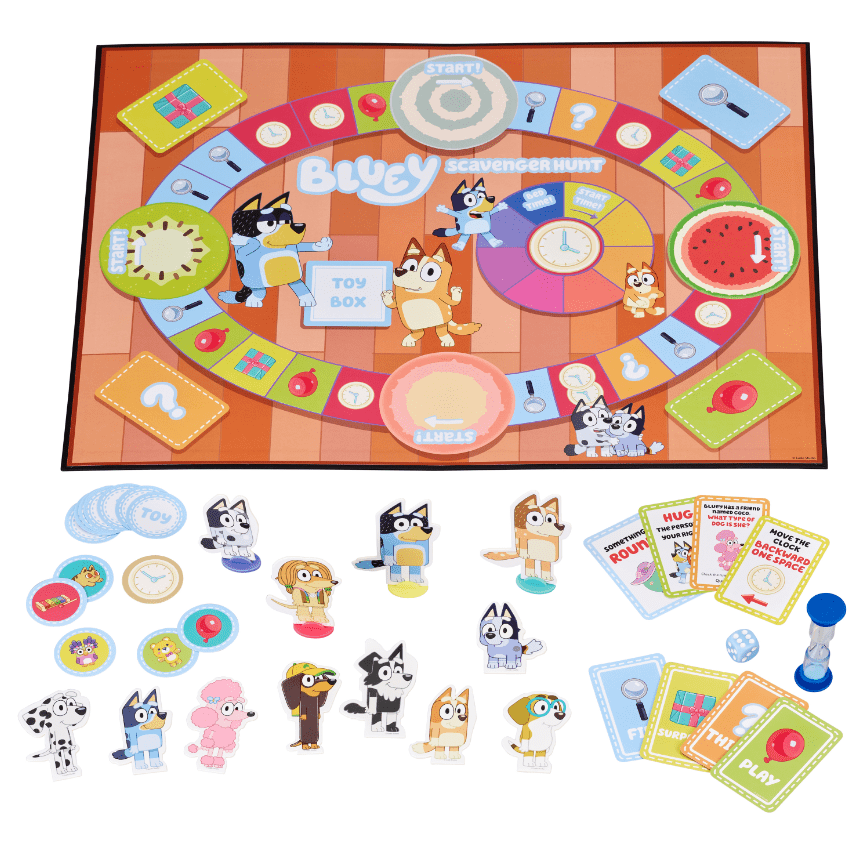 My son loved playing scavenger hunts when he was younger. His face lit up enough to make me believe the woofing fun speedometer burst into tiny fragments. Scavenger hunts are also excellent educational playtimes, whether using a board game or a real one. Bluey and her friends are sure to become smash hits with the game.
Woofing Facts
Type: Bluey Scavenger Hunt Board Game
Ages: 3 to 8
Activity: Creative play
Hidden Skills: Critical thinking and social
Woofers
The Bluey Scavenger Hunt Board Game is a classic playtime activity most children love poured into a board game
Board games invite children to play in social groups, and they learn to exercise their critical thinking by planning the best moves forward
Bloopers
Board games can also be a drag that drops the woofing meter if there are no friends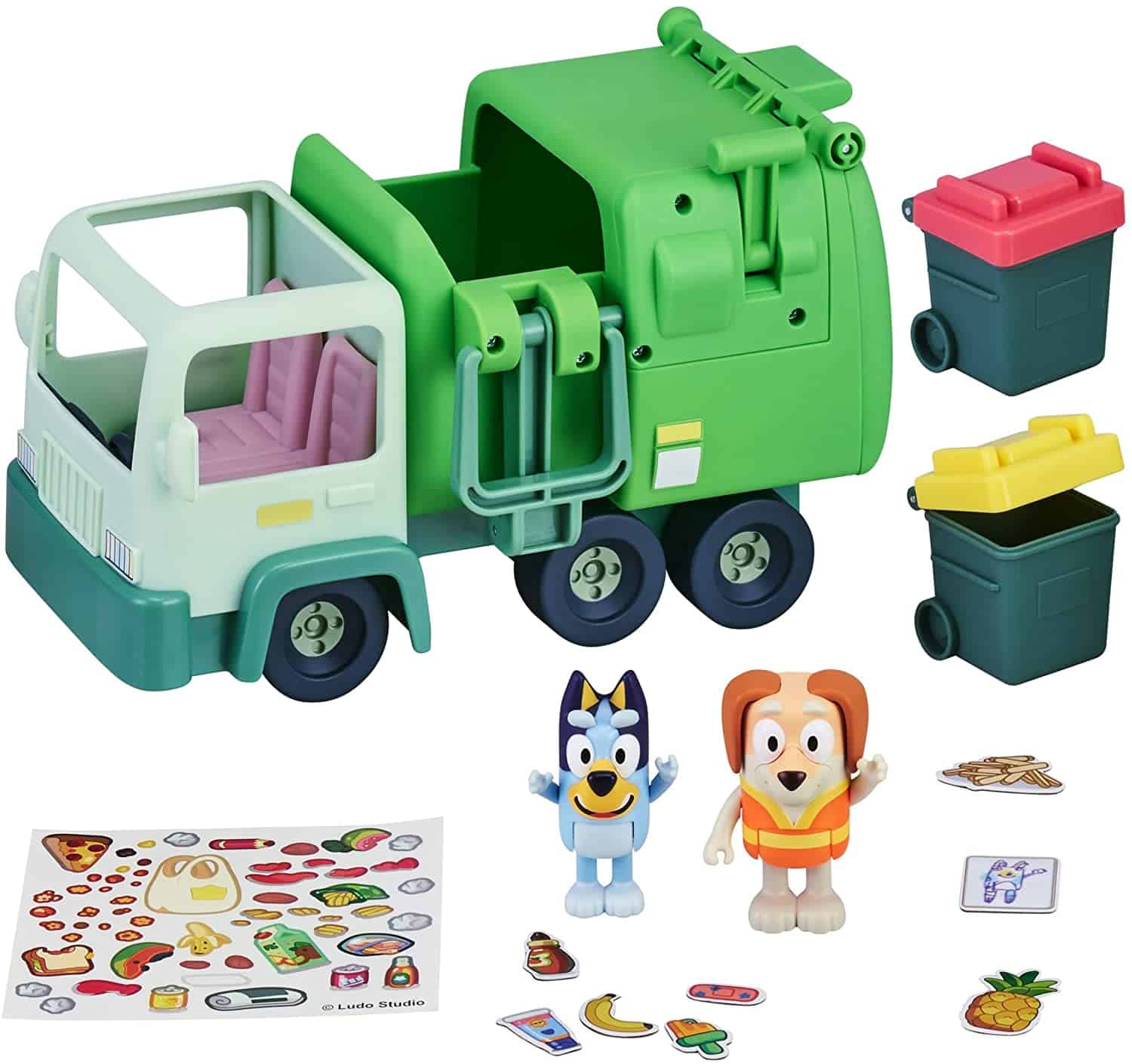 Educational toys can mean anything, and many of them can drop a child's woofing meter to the ground. However, educational toys that hide in plain sight are a different story. I picked the garbage truck set with Bingo and Bluey figures because it appeals to the right age group and doesn't feel like an educational toy.
Woofing Facts
Type: Bluey Garbage Truck Play Set
Ages: 3 to 6
Activity: Educational play
Hidden Skills: Cause-and-effect and sensory
Woofers
The Bluey Garbage Truck Set and Figures invite children to exercise their tiny finger muscles and learn about cause-and-effect with the opening and closing pieces
You might think kids won't want to play with a garbage truck, but you'll be surprised to see them enjoy the interactive Bluey toy set
Bloopers
You should hope your little one doesn't dump rubbish in the garbage truck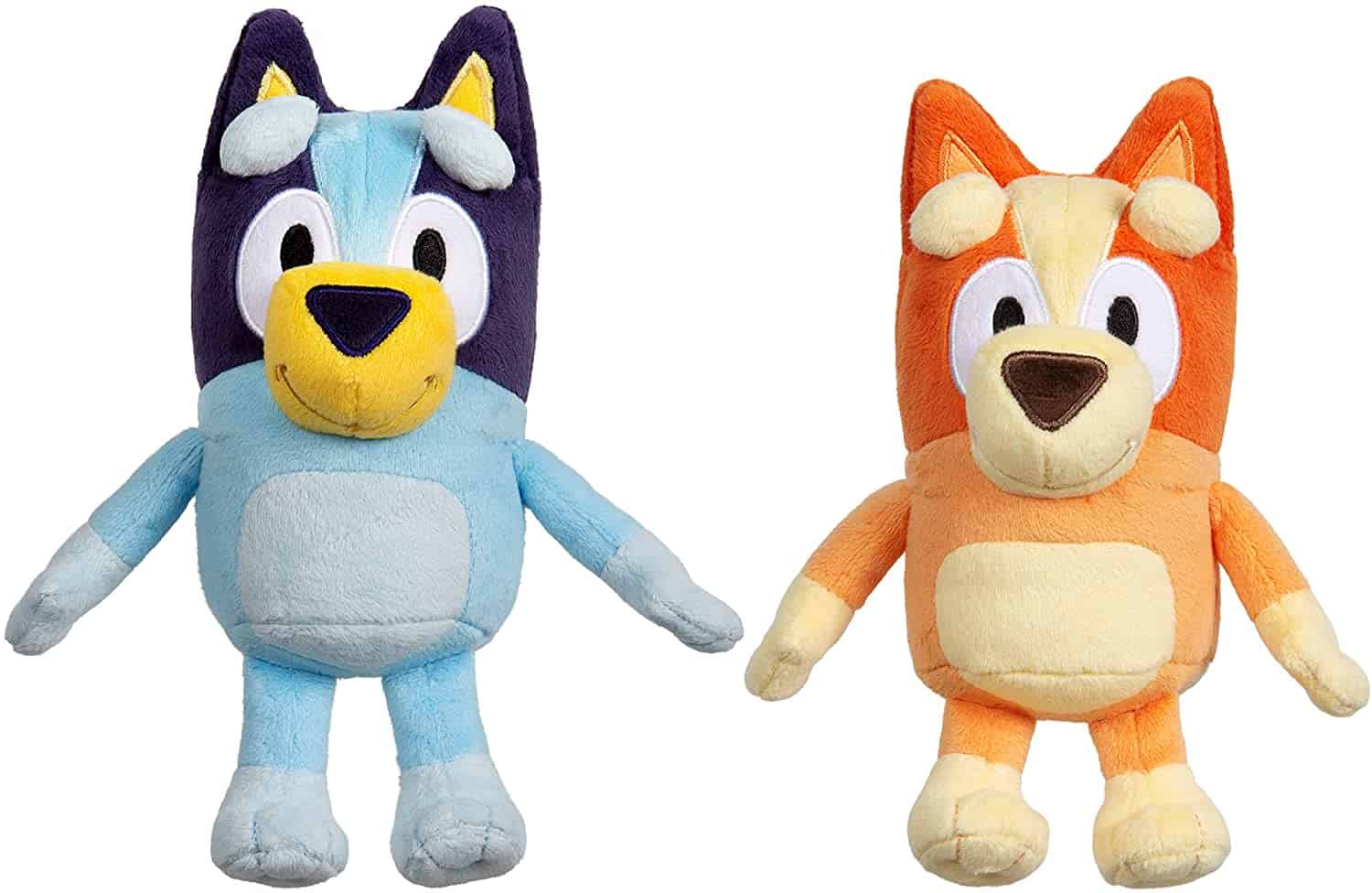 Plush toys are a traditional favorite that gradually increases a child's woofing fun as they get attached to the character. If you're reading this article, Bluey is a child's favorite character, meaning they'll get attached soon enough. Plush toys offer little ones comfort, a first friend, and communication skill-building.
Woofing Facts
Type: Bluey & Bingo Plush
Ages: 3 to 8
Activity: Pretend play
Hidden Skills: Emotional and communication
Woofers
The Bluey plush is as sweet as sugar, and children get two new stuffed friends with Bingo as a bonus
Both Bluey plushes have gorgeous details to bring a shining light to any child's face and make them feel like they can have fun with their best friends
Bloopers
I know Bluey looks like this in the shows, but I wish the plush were on all fours like real puppies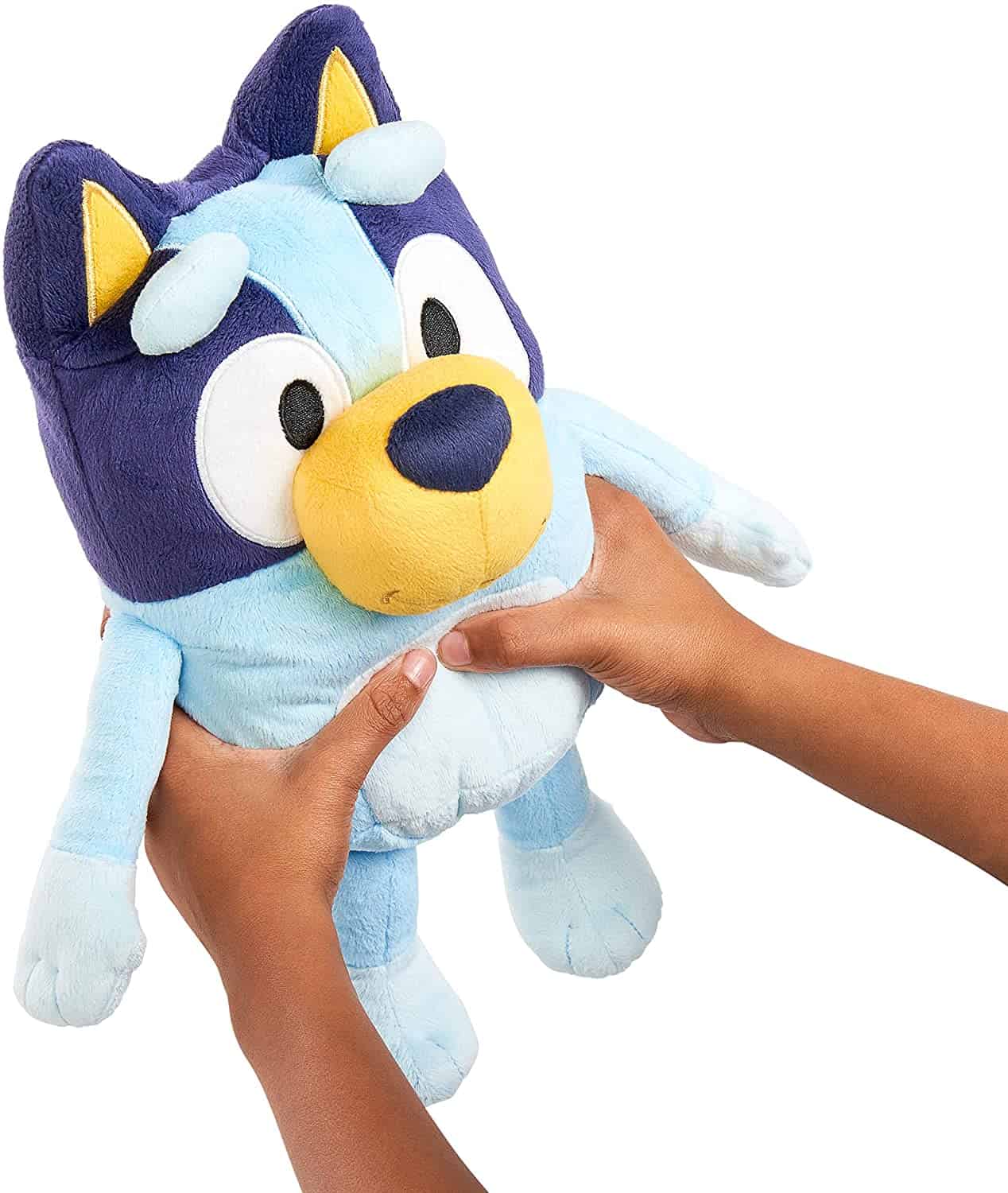 One of my all-time favorite plush toys is a talking, interactive friend for little kids. Toddlers are experimenting with social cues, language, and communication. A talking plush provides a foundation for simpler words and terms. A talking Bluey plush rips the bandaid off children's hesitation to partake in fun.
Woofing Facts
Type: Bluey Interactive Talking Plush
Ages: 3 to 6
Activity: Interactive play
Hidden Skills: Communication and language
Woofers
The talking Bluey plush is a treat for little ones learning to socialize and use their words, and it helps them have more woofing fun in social settings
The Bluey plush speaks when kids press its tummy, saying nine phrases, and it's sure to get some giggles from little ones
Bloopers
I would've loved to see the Bluey plush on all fours again because she's a puppy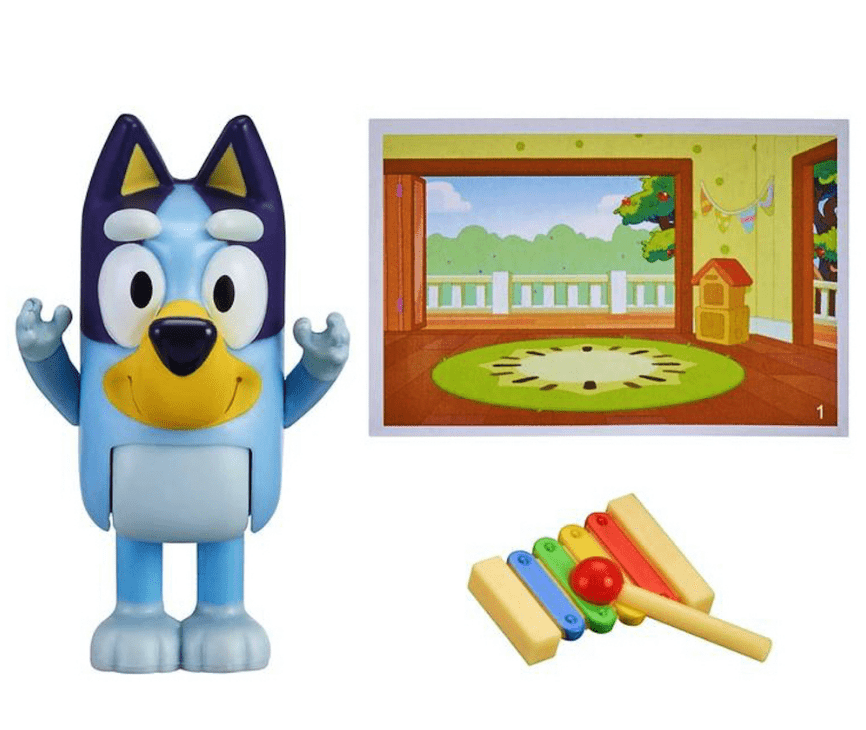 I searched long and hard to come up with no musical toys for Bluey and her friends. It's sad because musical toys are tremendous fun for little ones. Finally, I found the story starter version of Bluey with a xylophone. Toddlers and preschoolers will love driving you mad while learning to create stories.
Woofing Facts
Type: Story Starter Bluey With Xylophone
Ages: 3 to 6
Activity: Musical play
Hidden Skills: Storytelling and communication
Woofers
Storytelling and musical play are two of the top woofers for excitement, and kids will gain creative skills with both activities
The Bluey figure comes with articulated movements and hands capable of grabbing the sticks to play the xylophone
Bloopers
I wish the story starter Bluey and friends' toys were more significant, but they're inspiring and exciting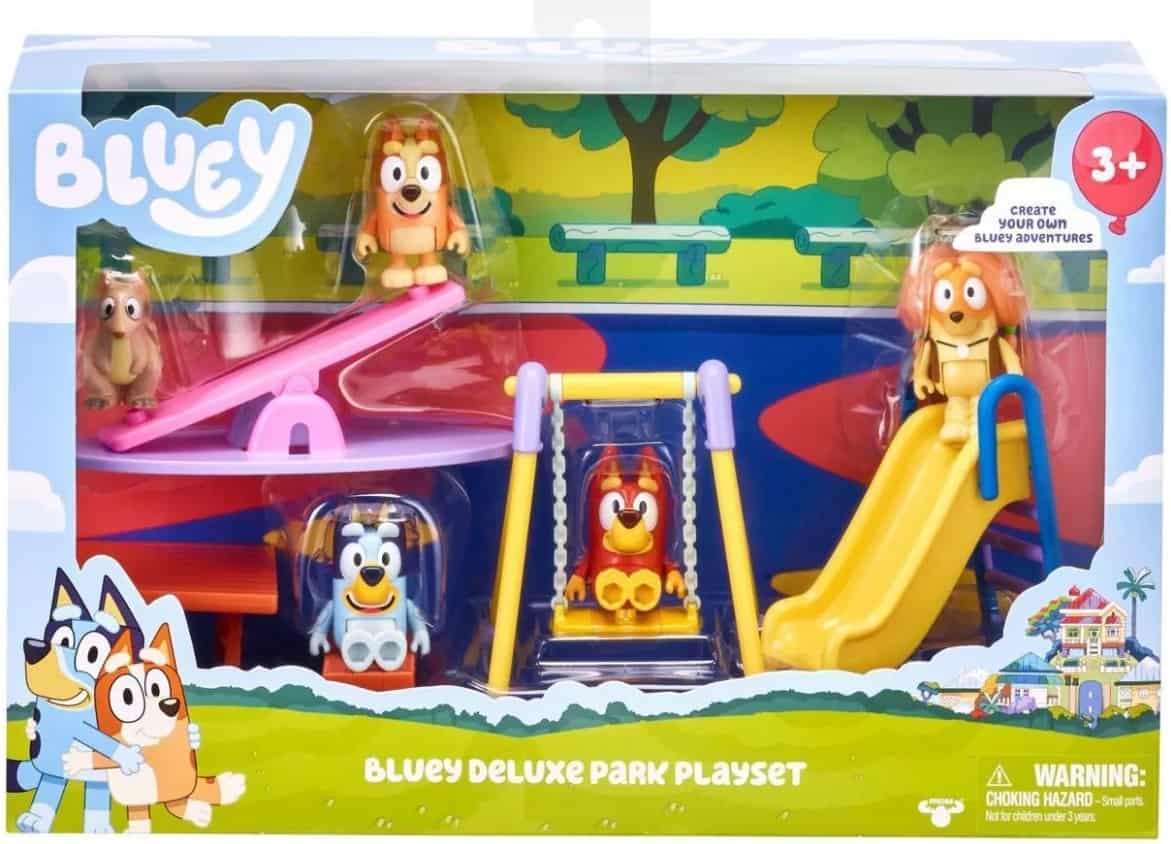 I looked at a few options for woofing fun in the outdoor toy category. The only choice I saw was a Bluey tent, but I prefer the playground set with Bluey and her friends. It won't make children play outdoors, but the set represents one of the classic woofer playtimes children enjoy. My kids love the playground.
Woofing Facts
Type: Bluey Deluxe Park Play Set
Ages: 3 to 8
Activity: Imaginative play
Hidden Skills: Cause-and-effect and social
Woofers
The Bluey Play Park might inspire little ones to look for more woofing fun outdoors when they see how much Bluey and her friends enjoy the playground
Playground models and figures are exciting because they remind children of the best laughs and maybe some tears while playing with friends
Bloopers
It's not an outdoor toy that gets children outside, but I hope it inspires the activity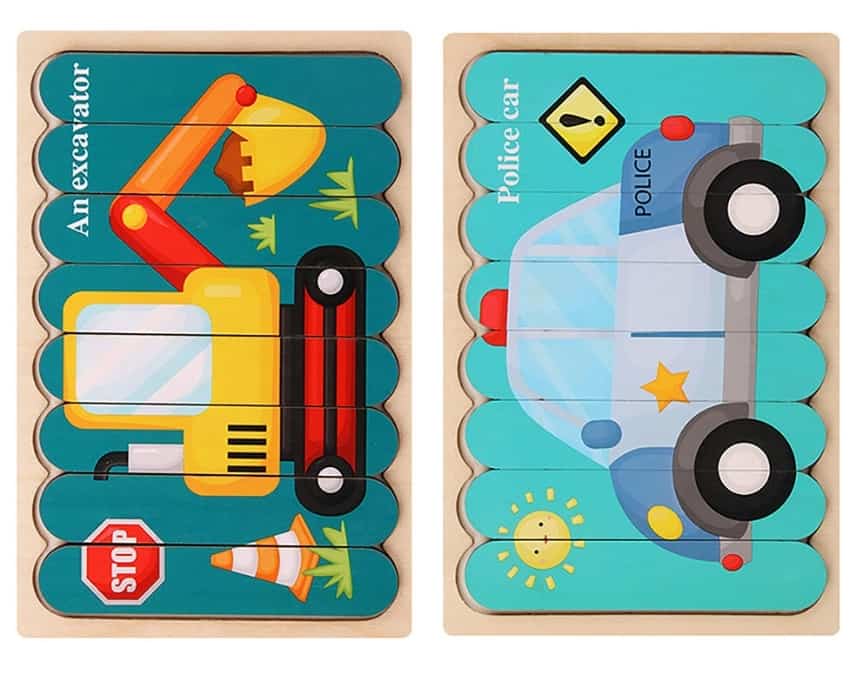 Puzzles are a woofer of excitement for little children learning to fit pieces together. The Bluey and Bingo puzzles combine for little ones to enjoy two puzzles from their favorite show. The puzzles aren't complicated, so kids of the right age will have endless fun finding pieces that match each other.
Woofing Facts
Type: Bluey & Bingo Jigsaw Puzzle
Ages: 3 to 5
Activity: Educational play
Hidden Skills: Strategy and problem-solving
Woofers
The 36-Piece Bluey & Bingo Puzzle welcomes tiny fingers to enjoy some exercise while the woofing fun meter goes up
The puzzles are more detailed than the packaging, and children end up with two Bluey and family pictures they can hang on their bedroom walls
Bloopers
Puzzles are exciting for many little fingers, but some kids outgrow the fun quickly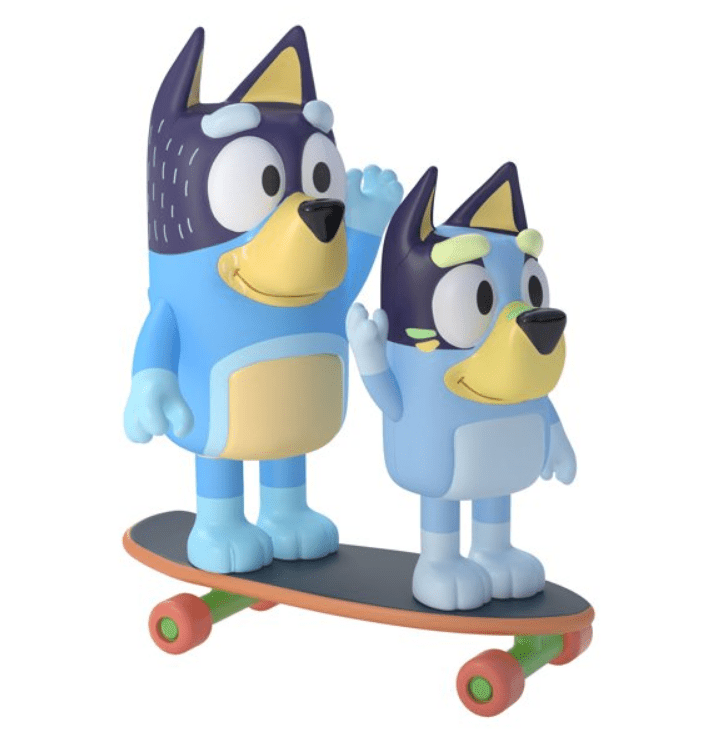 I'm finding it challenging to find some popular toy category favorites from the Bluey theme. I'm sure more toys will come soon, and the limited types likely target the smaller and younger age groups. However, I'm replacing some toy types with representations that kick your child's woofing fun to the next level.
Woofing Facts
Type: Bluey Ride-On Skateboard
Ages: 3 to 6
Activity: Pretend play
Hidden Skills: Fine motor and imagination
Woofers
The Bluey Skateboard combo is an adorable representation of ride-on toys, and it helps little fingers exercise their muscles to enhance fine motor skills
A child can imagine riding anywhere possible with the Bluey figure on her skateboard, and it comes with a friend
Bloopers
It's not a ride-on toy little children can ride outside like a trike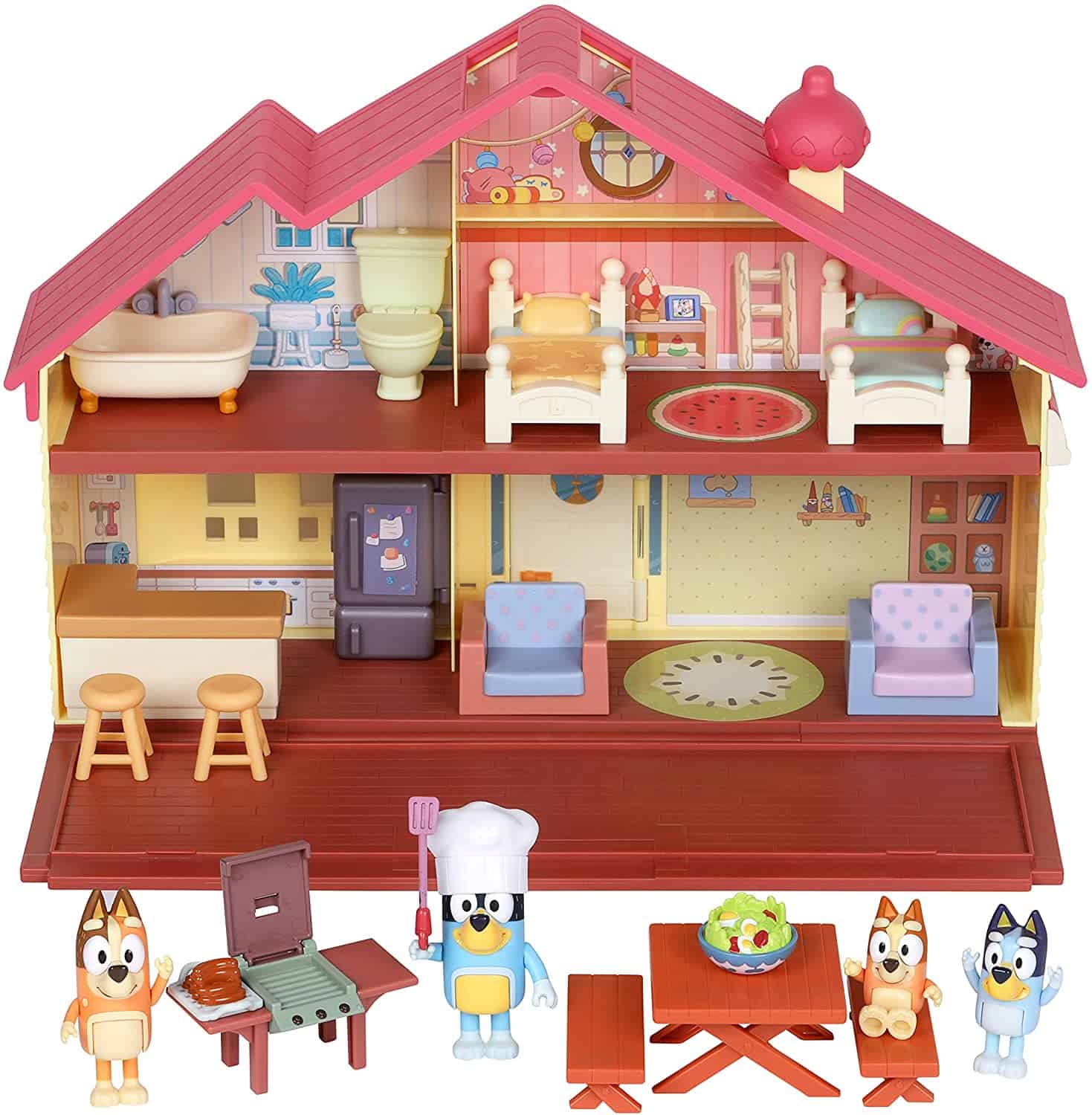 Role-playing toys are a must-have for any child. But, of course, the woofing fun depends on your little one's affinity for imaginative games. Dollhouses are a classic for little girls, but the Bluey playhouse is a welcomed excitement for boys and girls. It includes furniture pieces, Bluey, and her friends' figures for any game.
Woofing Facts
Type: Bluey Mega Bundle Home Play Set
Ages: 3 to 8
Activity: Role-play
Hidden Skills: Creative and social
Woofers
The Bluey playhouse is a role-playing foundation for boys and girls, and it will send their woofing levels into space if they love imaginative games
The playhouse is simple to use with folding sides and movable furniture, and a child can imagine any scenario they saw on the show, or they'd still love to see
Bloopers
It's the type of playhouse children outgrow because of the theme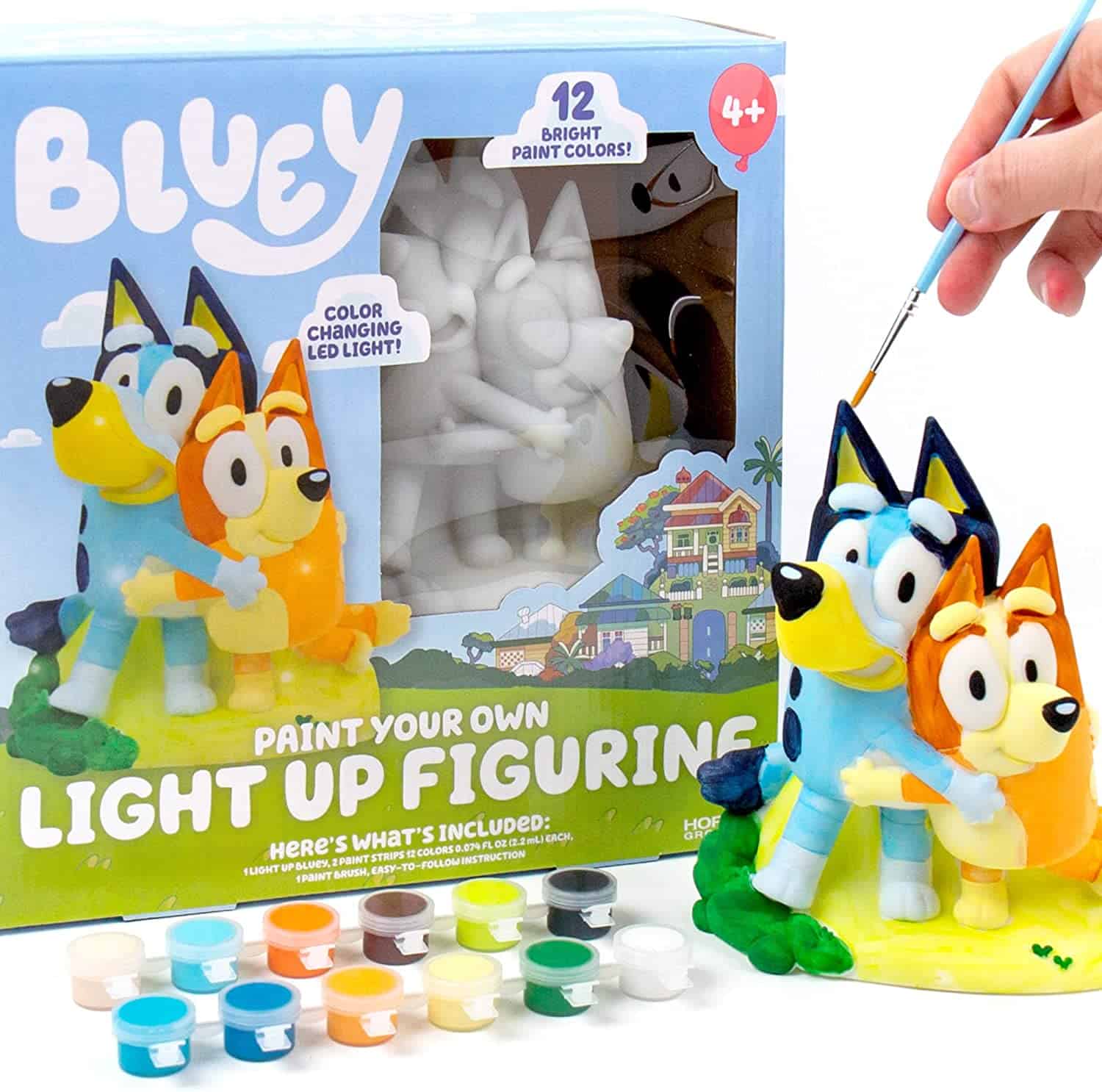 Creative and sensory toys are exciting for little kids because they get to design whatever comes to mind. They also love the feeling of child-friendly paints and the mix of colors on their fingers. I suspect my daughter would have a field day with this sensory Bluey toy because she's a profoundly creative child.
Woofing Facts
Type: Bluey Paint Your Own Figurine
Ages: 3 to 8
Activity: Sensory play
Hidden Skills: Creative and emotional
Woofers
The Bluey Paint Your Own Figurine comes with Bingo as a bonus, and children get hands-on to decorate the puppies as they wish
Sensory toys that encourage children to be creative can also help toddlers express emotions, and the set becomes a comforting nightlight when they finish painting the figures
Bloopers
Children will need some help with this creative kit, but it will be worth the laughs and giggles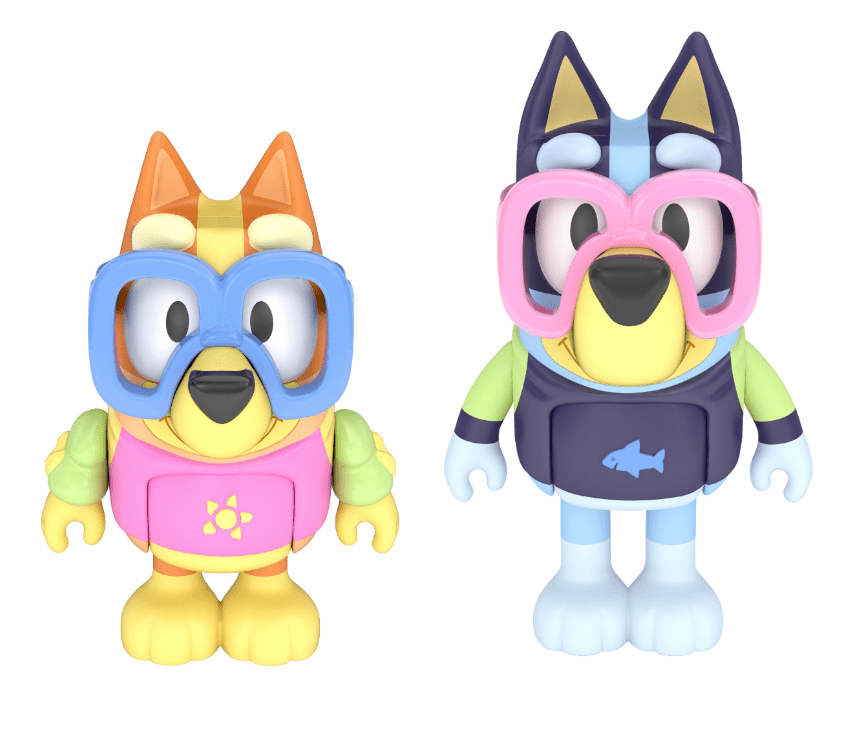 Imaginative play is the leading activity for many skills. You'll also be surprised at what children imagine if your little ones haven't shocked you yet. For example, my daughter once imagined her favorite toy figure was a robotic visitor from the year 3000. She was only a toddler, and I had no idea she understood time or time travel.
Woofing Facts
Type: Bluey Collector's Case With Figures
Ages: 3 to 6
Activity: Pretend play
Hidden Skills: Creative and social
Woofers
The Bluey Play Set With Figures is another simulated treat for little kids to imagine anything, which typically improves their woofing excitement
I love the figures inside, including a 3″ Bluey and two of her best friends, and the furniture pieces encourage children to play school
Bloopers
I don't understand the decorations inside the case, but the moving floor is incredible for little fingers
Top Q&As
Question: Which Bluey Toy Is Good for 1-Year-Olds?
Answer: I focused primarily on toddlers and preschoolers because Bluey doesn't have many options for babies just entering the toddler years. The Bluey Talking Plush is the most suitable toy for one-year-olds. Most plush work as long as babies don't sleep with them. However, this plush also teaches them valuable first words.
Question: Which Bluey Games Can My Toddler Enjoy?
Question: What Bluey Accessories Do Kids Love?
Best Bluey Toys Guide: Final Woof
The best Bluey toys bring a woofing level of excitement to little fans who love the blue puppy and her friends. Children know how to turn most toys into a fun time, but parents should buy age-appropriate toys that appeal to a child's chosen themes and activities. But, of course, doing it would increase your child's woofer levels.
Sure, toys are educational, but toddlers and preschoolers need a lot of excitement to get the hidden lessons to stick. Bluey and her friends already shake a theme tree children love today. Picking the activity and type of toy your kid loves is how you ensure they have fun. Which toys appeal to your kids?
I highly recommend imaginative play toys because every child loves to pretend. The Best Bluey Animal Toys and the Best Bluey Role-Playing Toy allow for broader imaginations. Role-playing toys can sometimes be limited, but more pieces add to the opportunities for what a child imagines.
Creative toys are another hard recommendation for most toddlers and preschoolers. The Best Bluey Arts & Crafts Play Set and the Best Bluey Musical Toy work well to stimulate creative juices. In addition, I love the story starters because storytelling is a way for children to be creative and imaginative simultaneously.
Social toys are my third best recommendation. The Bluey Board Game and the Bluey Card Game win the social category on all accounts. They encourage socialization while boosting the woofing fun meter.
First, determine which Bluey toys work better for your little one. Then, get their woofing meters into space with the right excitement.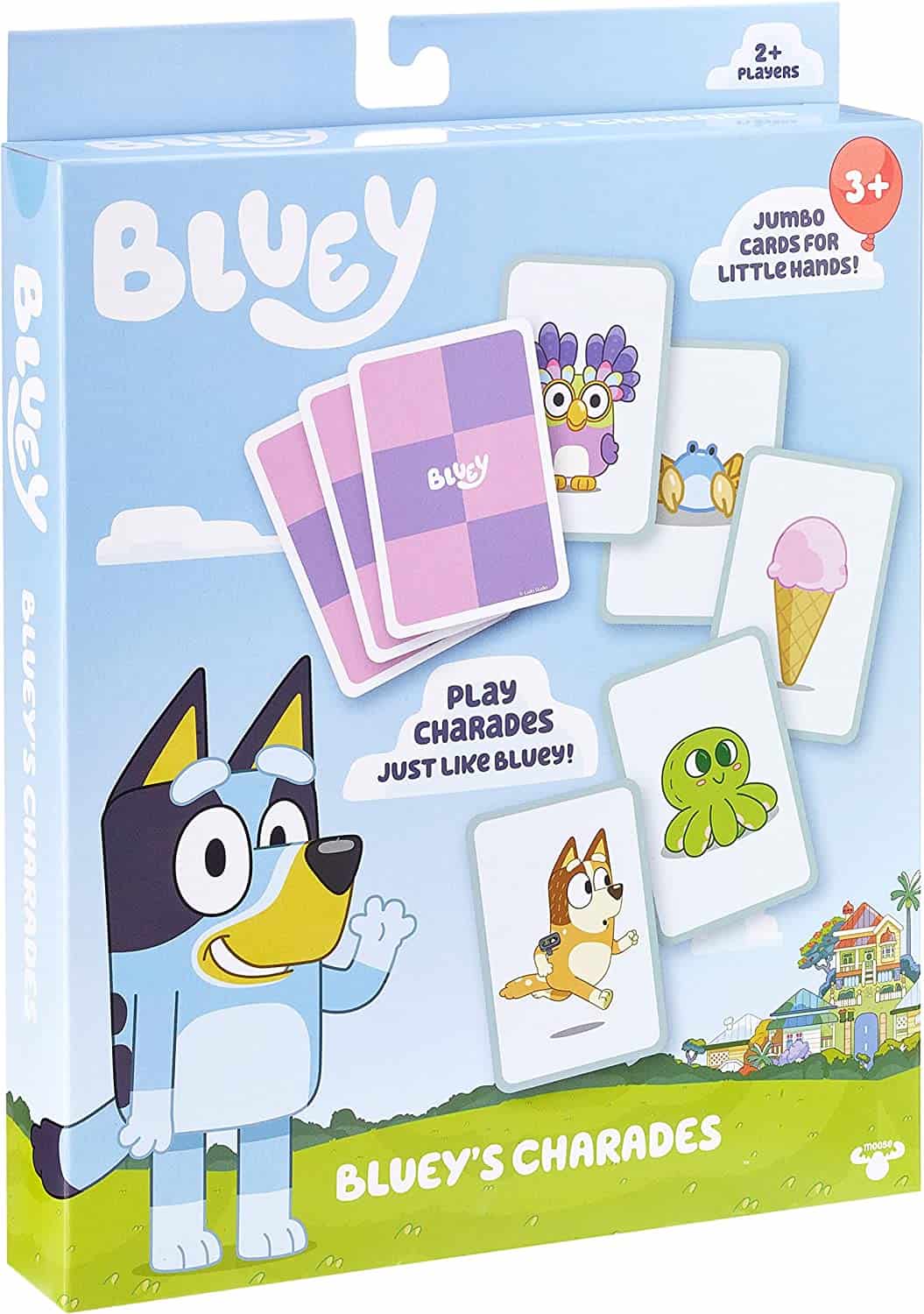 For more awesome toys:
Best Jack-in-the-Box Toys Guide for Babies and Toddlers – Avid Toy Insider
11 Best Mickey Mouse Clubhouse Toys – Avid Toy Insider