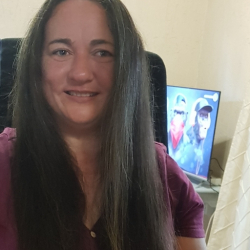 Latest posts by Caroline Lambert
(see all)
Did you know that superheroes can be role models, even as fictional characters? My son doesn't only enjoy Batman toys and collectibles. Instead, he learns from them, and I'll explain how in the best Batman toys guide. Batman is one of the greatest-themed toys and comes with various types of toys.
I consider myself a supermom, always finding suitable, age-appropriate toys that provide the best activities. Fortunately, I know my son like the back of my hand. I know what he loves doing, which toys strike the perfect happiness, and how much his joy for themed toys paves the way for every benefit they offer.
Would you love to see how Batman becomes a role model for kids? If so, let's get to the facts.
The All-Time Best Batman Toy Revealed
Batman toys offer role-model opportunities because children love the theme. However, it's also about choosing the best Batman playthings that appeal to children's ages, needs, and activities. Therefore, I must first share the ultimate Batman toy for kids above and below eight.
My ultimate pick for kids under eight is the DC Comics Bat-Tech Batcave Transforming Playset because it encourages interactive play. Children can action what they imagine and get a response. Interactive play is pivotal for kids this age, and the playset has countless imaginative and creative playtime opportunities.
In contrast, my ultimate pick for kids over eight is the LEGO Technic DC Batman Batmobile Building Kit. These kids also enjoy interactive play but need more educational and creative activities. LEGO kits challenge their minds while they enjoy fitting pieces together for an interactive adventure.
Before I share the secrets to how Batman plays a role model and how you use it to benefit children, let's see my other top picks for kids in both age groups:
More of the Ultimate Batman Toys for Kids Under Eight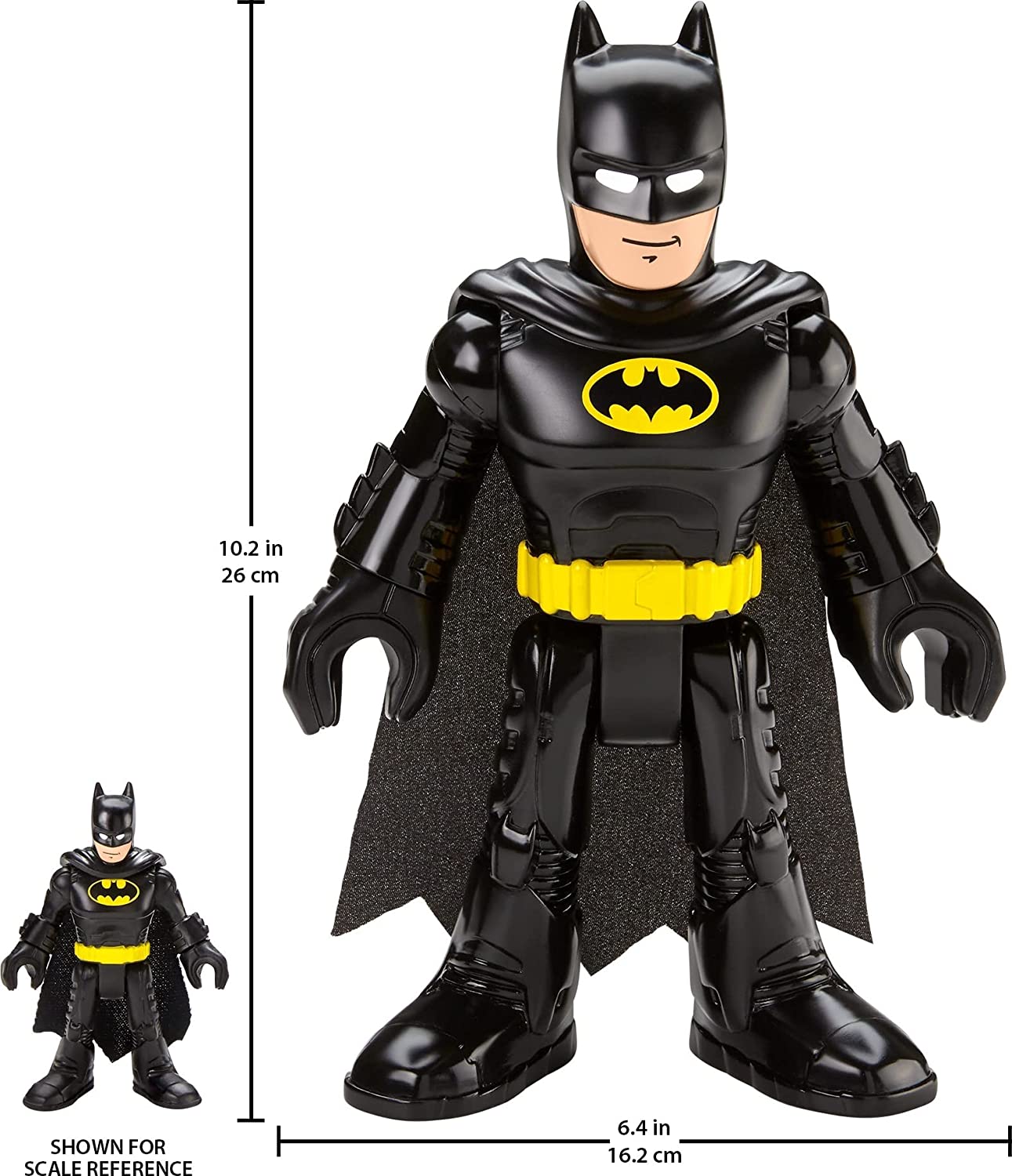 More of the Ultimate Batman Toys for Kids Over Eight
The Ultimate Guide to the Best Batman Toys
Batman is a legend among DC fans, and it's time to bring the excitement within your superhero fanatic to life. In addition, Batman opens a world of lessons for your child, and playtime will never be the same for little heroes again. So, let's find out how Batman does his magic.
A Gotham City Hero Brings a World of Value to Kids
My son is avidly obsessed with superheroes and everything DC. My family is between DC and Marvel heroes, but we have favorites from both franchises. I feel that DC heroes have a more profound backstory, making the characters likable and interesting. I love The Flash. However, my son is bat crazy.
The question is, what makes Batman toys a key theme for kids who love the hero? Batman is a role model who teaches children valuable life lessons. You'll notice subtle cues in his movies and comics. So, let's see three reasons Batman is an excellent role model:
Batman shows an empathetic and socially acceptable demeanor in the Dark Knight series when he speaks to young Clair on her level, using a stuffed animal. Any parent knows the value of connecting to a child with a stuffed toy, and this scene encourages children to reach out to others who feel sad.
Batman steps away from his stoicism in The New Batman Adventures Comic series when he actionably apologizes for degrading a man in front of his family. The hero recognizes his mistake and makes every effort to correct it. Watching heroes correct their mistakes is a priceless lesson for kids.
Batman remains empathetic, even when it looks like the hero is a hard man. He always finds empathy to see that some villains are victims of circumstances, such as when Jessica Cruz never willingly accepted the Green Lantern in the Justice League. Yet, he tried to help her, even though she was a villain.
Batman isn't merely an aggressive, die-hard hero who does anything to defend the city. The emotional self-control he exudes is one of the many reasons I love my son enjoying the fictional mentor. Batman offers two worlds to young fans: mentorship and excitement.
Children who love Batman are likelier to see him as a role model.
Tips for Batman Toys that Mentor Children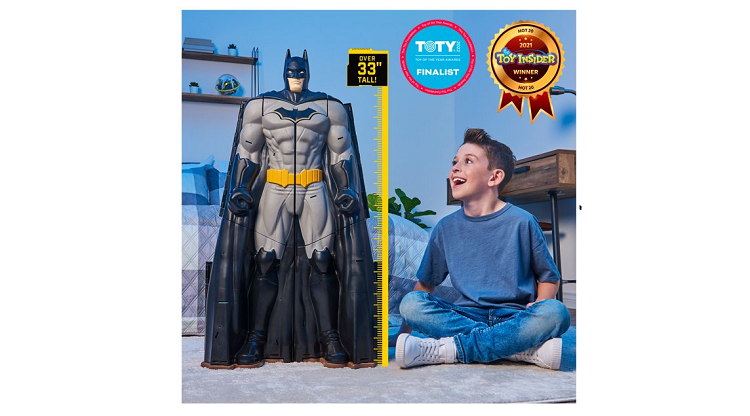 A child's passion is the foundation of everything they'll learn. Imagine arriving at work every day, and you dislike your job. Undoubtedly, you'll put in the least effort and go home exhausted. The same applies to a child's playtime activities. Kids love or feel neutral about specific toys, themes, and types.
For example, my son loves Batman. However, he doesn't like action figures that don't move. In contrast, he enjoys the possibilities of action figures with articulated movements. As a result, he plays more with the articulated action figures. Children's favorite toy themes count for much of their engagement with them.
However, adding types of toys and playtime activities children enjoy will double the benefits. Age-appropriate toys are a no-brainer. So, my son won't play with a Batman toy recommended for three-year-olds, but he'll enjoy Batman toys for tweens and teenagers. In addition, he prefers toys that encourage role-playing activities.
Why toys are important is pivotal to a child's development, exceeding the subtle messages and lessons they learn from their favorite themes and characters. However, keeping a child engaged with a toy is best achieved by offering them a favorite theme or superhero that lends to their enjoyable playtime activities.
In addition, providing toy types a child loves will keep them engaged longer. Finally, the heroic role-models lessons combined with the valuable lessons toys provide will come once you offer children the toys, themes, and activities they enjoy. Hence, I recommend you consider these three factors for young Batman fans.
How to Pick the Best Batman Toys
I can't merely add Batman toys my son loves because they won't appeal to every superhero fanatic. So instead, I'll add a variety of educational and interactive Batman toys. Some include building kits, articulated action figures, transforming playsets, and remote-controlled models to appeal to children under and over eight.
I'd love to see children enjoy various interactive and educational playtime activities because they benefit different age groups. For example, challenge a child's mind with Batman toys. However, the chosen activities also feel more versatile, lasting children longer than six months before they outgrow each one.
Finally, I want Batman toys that focus on the hero, bat vehicles, or Batcave. The toys should embody Batman because he's the center of attention.
Recommended Batman Toys for Kids Under Eight
Children under eight require more interactive Batman toys instead of too many action figures and building kits. Instead, they're stretching their imagination by getting responses from toys when they action something, whether it's a transforming toy or clicking two blocks into each other.
Some action figures also give responses, particularly if they have articulation points. However, kids under eight aren't into extensive builds and arty action figures, so I'll stick to simpler models for them. Let's see the top seven educational and interactive Batman toys for children under eight.
DC Comics Batman Bat-Tech Transforming Action Figure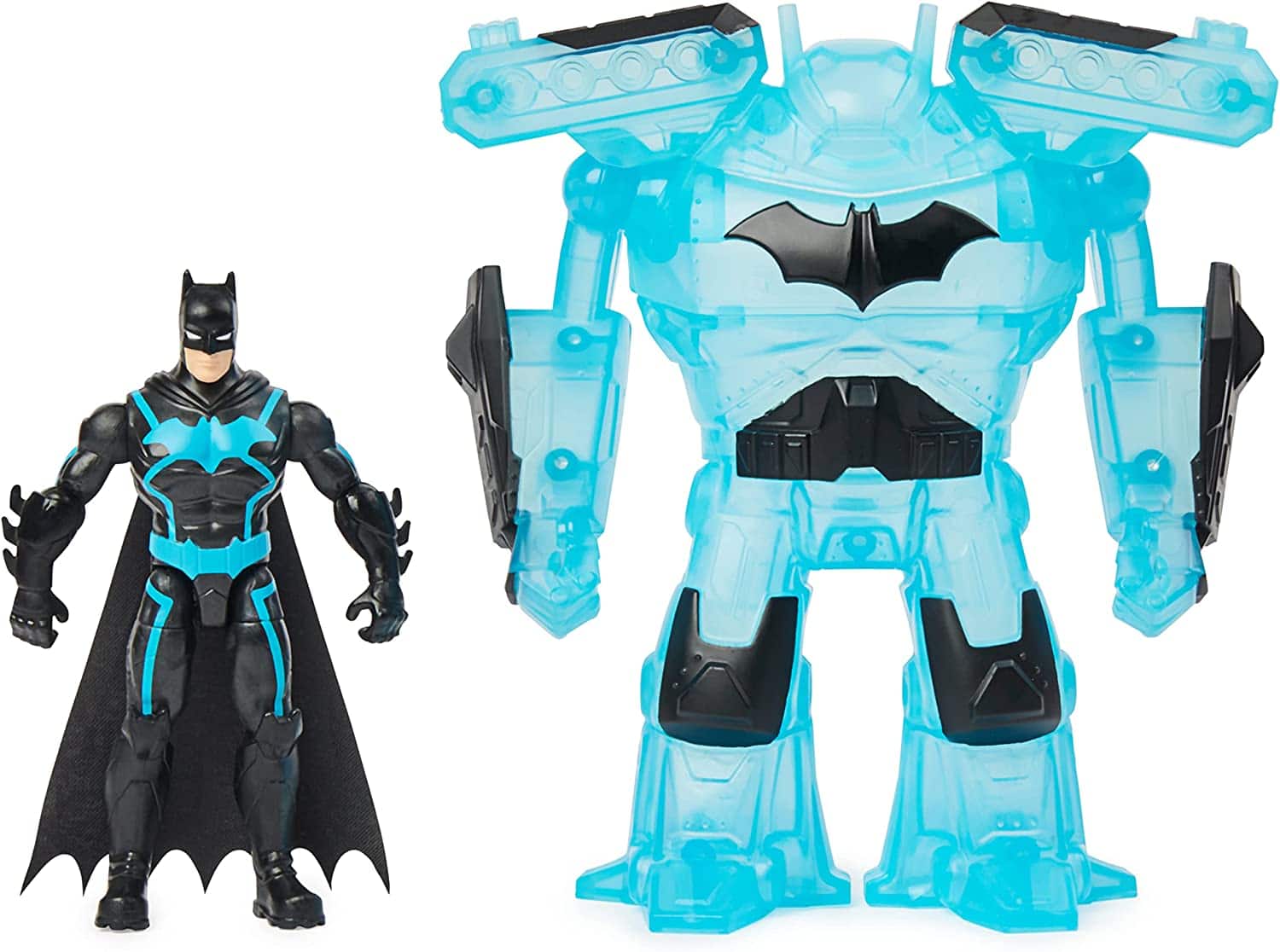 Action figures aren't the top priority for kids under eight. However, a transforming action figure is something entirely different. It offers an interactive opportunity for kids to learn cause-and-effect while enjoying their favorite superhero. Children also explore fitting Batman into another suit, doubling it as an educational toy.
Facts
Toy Type: Batman transforming action figure
Activities: Interactive play and pretend play
Ages: 3 to 8
Key Lesson: Cause-and-effect and social cues
Pros
The transforming Batman action figure encourages children to interact with how the figure changes positions and fits into the more oversized costume, and both figures have articulation points for interactive purposes
The Batman figure also welcomes children to experiment with role-playing games, another essential tool for kids under eight, and it teaches them patience and spatial reasoning
Cons
Few children under four enjoy action figures, and this toy isn't suitable for kids under three
DC Comics Bat-Tech Batcave Transforming Playset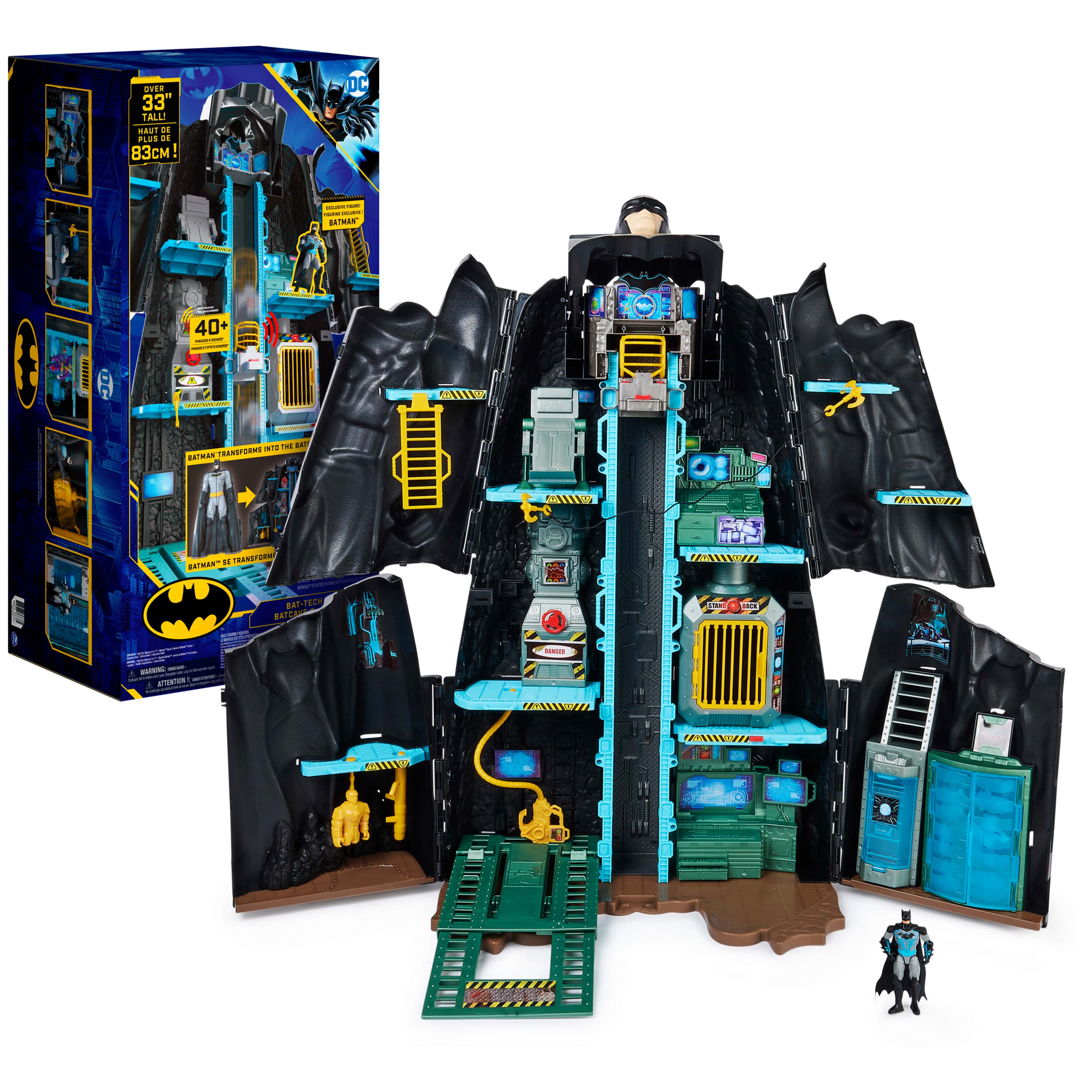 The transforming Batcave playset is my favorite Batman plaything for a reason. Various activities have much potential to keep a young child engaged for hours. They'll also love imaginative play with the many ways the story can unfold for Batman and his team. In addition, the toy has countless interactive qualities.
Facts
Toy Type: Batman transforming playset
Activities: Interactive play (with loads of imaginative activities)
Ages: 3 to 8
Key Lesson: Limitless creativity
Pros
The transforming Batcave playset is one of the top hero toys you'll find with these many storyline opportunities for imaginative play, and it's the ultimate interactive playset kids can enjoy
Young superheroes will spend hours enjoying subtle educational opportunities with transforming toys, and Batcave includes interactions like an elevator, lockable jail cells, and over 40 sound effects
Cons
The massive Batcave playset stands over 33 inches tall, which might cause space-saving issues
Fisher-Price Imaginext DC Super Friends Batman XL Action Figure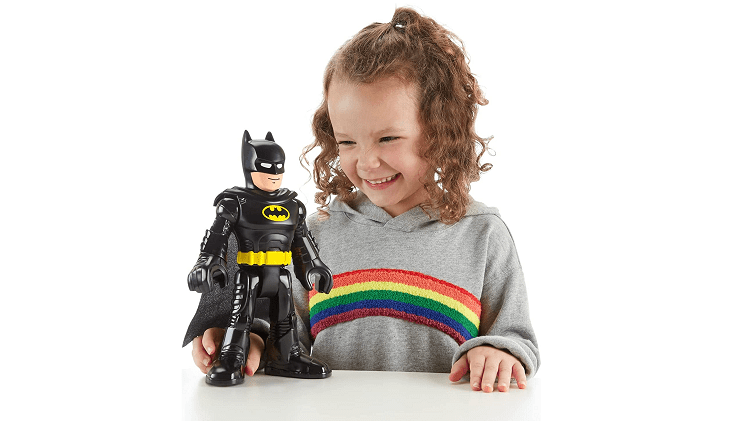 Fisher-Price Imaginext toys specifically target children under eight, and the playsets tune into the needs of this age group, providing interactive toys. I love this Batman XL action figure because it also better appeals to this age group. However, it doesn't have intricate aesthetics that older children enjoy and start to collect.
Facts
Toy Type: XL Batman action figure
Activities: Interactive and pretend play
Ages: 3 to 8
Key Lesson: Social cues and hand-eye coordination
Pros
The XL Batman action figure looks simple but has articulated movements to encourage early interactive play while children start exploring the adventures of imaginative playtime activities
The Batman figure comes with a fabric cape that benefits children still exploring tactile play, and the hands can hold objects to help children enhance their spatial reasoning and fine motor skills
Cons
The Batman figure looks plainer than most, but kids under eight can enjoy simpler toys
Fisher-Price Imaginext DC Super Friends Bat-Tech Batman Robot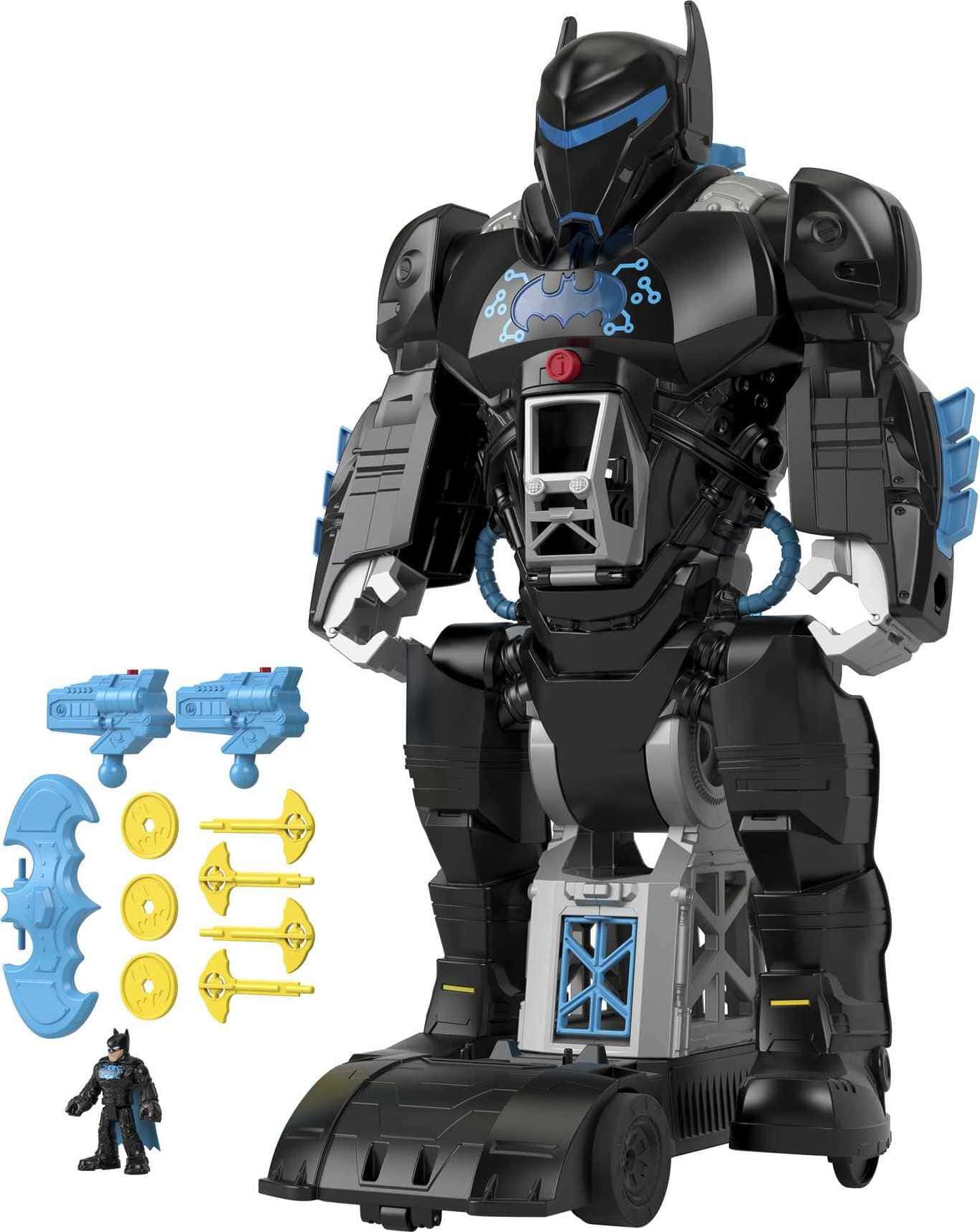 I always considered robot toys better for older kids. Still, Imaginext brings the Batman robot to life for children under eight. It's an interactive wonder with countless opportunities for adventure, interactive, educational, and pretend play. I'm not sure I love the Batmobile stand, but the toy stands its ground as a magical experience.
Facts
Toy Type: Interactive Batman robot toy
Activities: Interactive and imaginative play
Ages: 3 to 8
Key Lesson: Critical thinking and spatial awareness
Pros
The interactive Batman robot toy is a beautiful experience for kids under eight, with rolling wheels, movable joints, and sound and light effects to stimulate a child's senses
The mini Batman figure fits into the Bat-robot with another interactive quality as the mask rises, and the toy provides children with critical thinking skills by shooting missiles and aiming for enemy targets
Cons
The Batman robot undoubtedly seems complicated for kids around three and four, but leave them to explore the playset
Fisher-Price Imaginext DC Super Friends RC Transforming Batmobile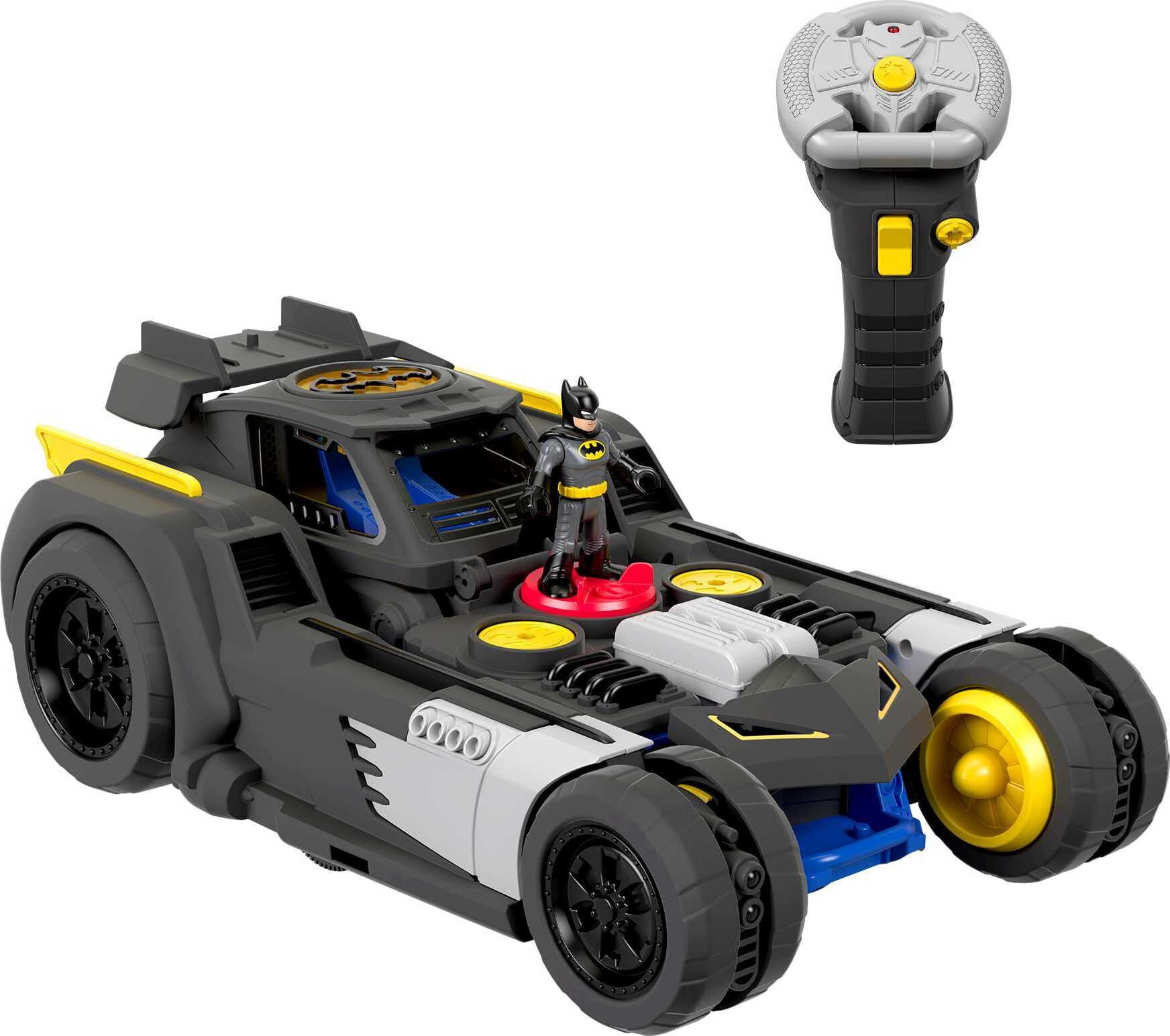 Transforming toys are must-haves for kids under eight, and Batman has a few, thanks to Imaginext toys. The Super Friends range is ideal for toddlers and preschoolers learning to interact with toys that respond. Combining remote-controlled toys with something transformational is like hitting a diamond in the rough.
Facts
Toy Type: Transforming Batmobile
Activities: Pretend and interactive play
Ages: 3 to 8
Key Lesson: Strategy and spatial reasoning
Pros
The transforming Batmobile is another gorgeously interactive toy with many opening parts, moving pieces, remote-controlled driving, and a mini figure that fits into the cockpit
The Batmobile transforms into a Batcave for the hero to watch over his city, providing children with hours of sensory, educational, and imaginative play
Cons
It's a pity the Batmobile doesn't transform into a robot or another vehicle instead
LEGO Duplo Batman Building Kit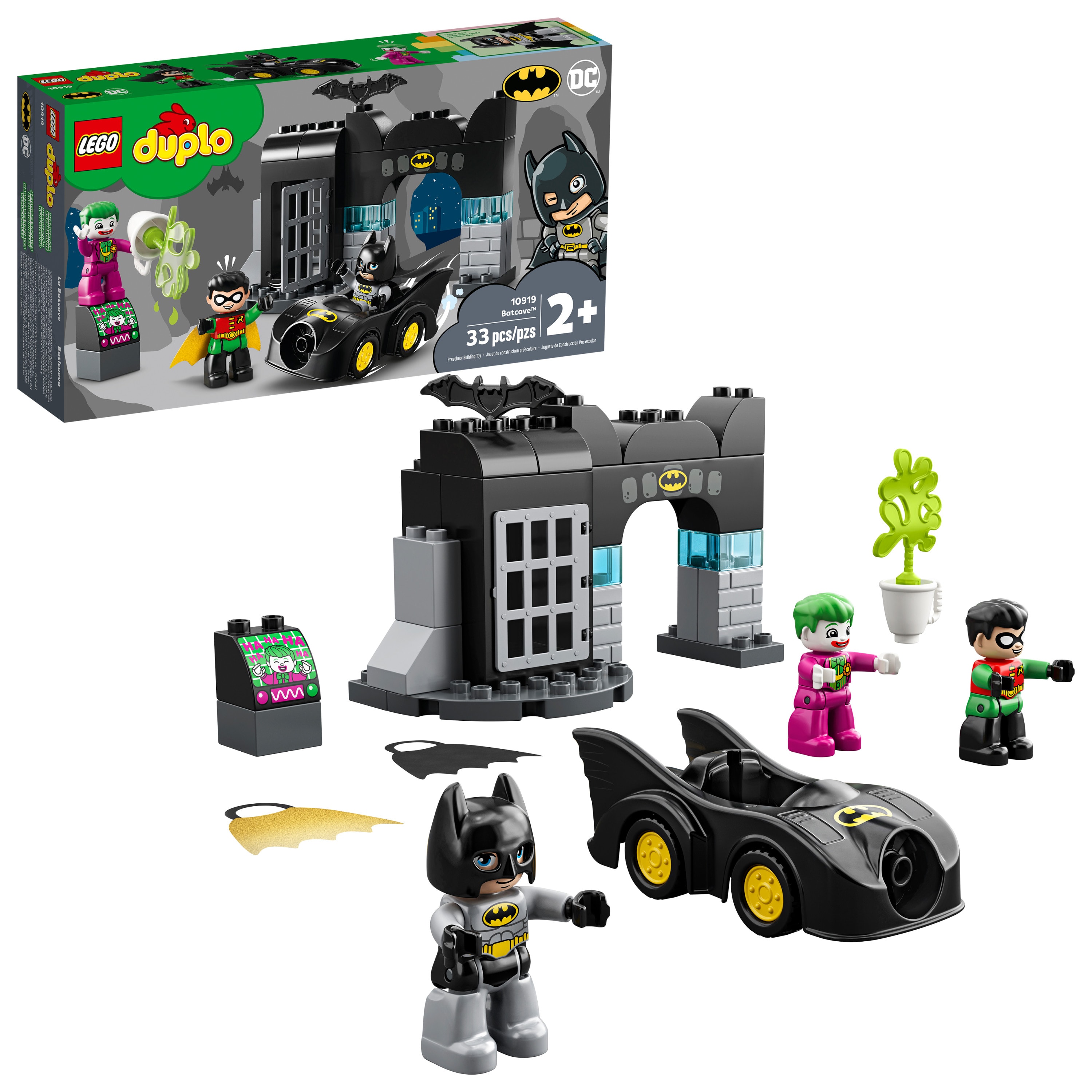 LEGO Duplo offers a world of educational and interactive play for the youngest building fans. The sets come with a few pieces that easily click together. This LEGO Batman kit even works for two-year-olds. In addition, the building kit provides an imaginative experience once a child finishes building it.
Facts
Toy Type: Batman building kit
Activities: Interactive and constructive play
Ages: 2 to 5
Key Lesson: Spatial reasoning and fine motor skills
Pros
The LEGO Duplo Batman building kit is one of the youngest interactive and educational playsets, welcoming little ones to enjoy finding creative ways to build their blocks
The set only has 33 pieces to ensure that it's not too complicated for two-year-olds, and it has Batman, The Joker, Robin, and the Batmobile for little ones who know the superhero
Cons
Two-year-olds generally don't know Batman yet, and the set quickly grows old for preschoolers
LEGO DC Comics Batman vs The Riddler Building Kit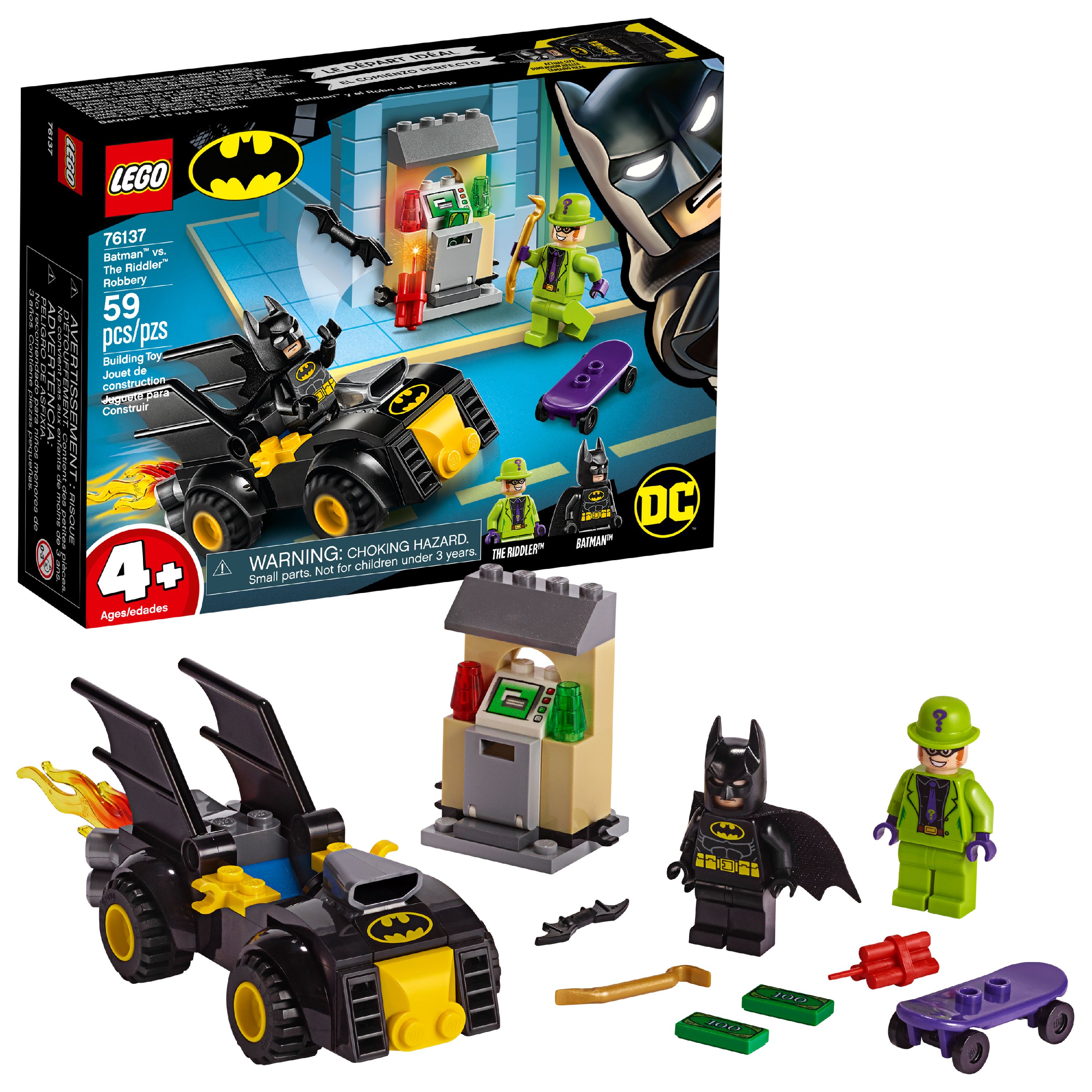 LEGO also offers a slightly more challenging Batman building kit for kids under eight. The set looks more straightforward than the Duplo Batman building kit. However, the blocks change. In addition, the various shapes introduce older toddlers and preschoolers to new forms they'll learn about in school.
Facts
Toy Type: Batman building kit
Activities: Interactive and constructive play
Ages: 4 to 6
Key Lesson: Creativity and critical thinking
Pros
The LEGO Batman building kit is ideal for older toddlers and preschoolers to start exercising their critical thinking, and it isn't too complicated to upset little ones learning to play independently
The Batman LEGO kit has 59 pieces made from various shapes and colors to help preschoolers learn more about each one, and it comes with mini Batman and The Riddler figures
Cons
It's another LEGO kit children outgrow fast, but building kits are an exception because they target specific ages and abilities
Recommended Batman Toys for Kids Over Eight
Children older than eight start benefiting more from creative and educational Batman toys that encourage them to think outside the box. These toys include more challenging building kits, remote-controlled Batman toys, and diamond-dot types of building toys. However, kids around this age also take more pride in toys.
Therefore, I'll add more complicated Batman action figures with premium articulation for kids to enjoy a little interactive play. I'll also include more challenging remote-controlled Batman vehicles to encourage creative interactive play that makes children strategize. Let's see the best Batman toys for kids over eight.
Alliance Entertainment Batman RC Flying Helicopter Figure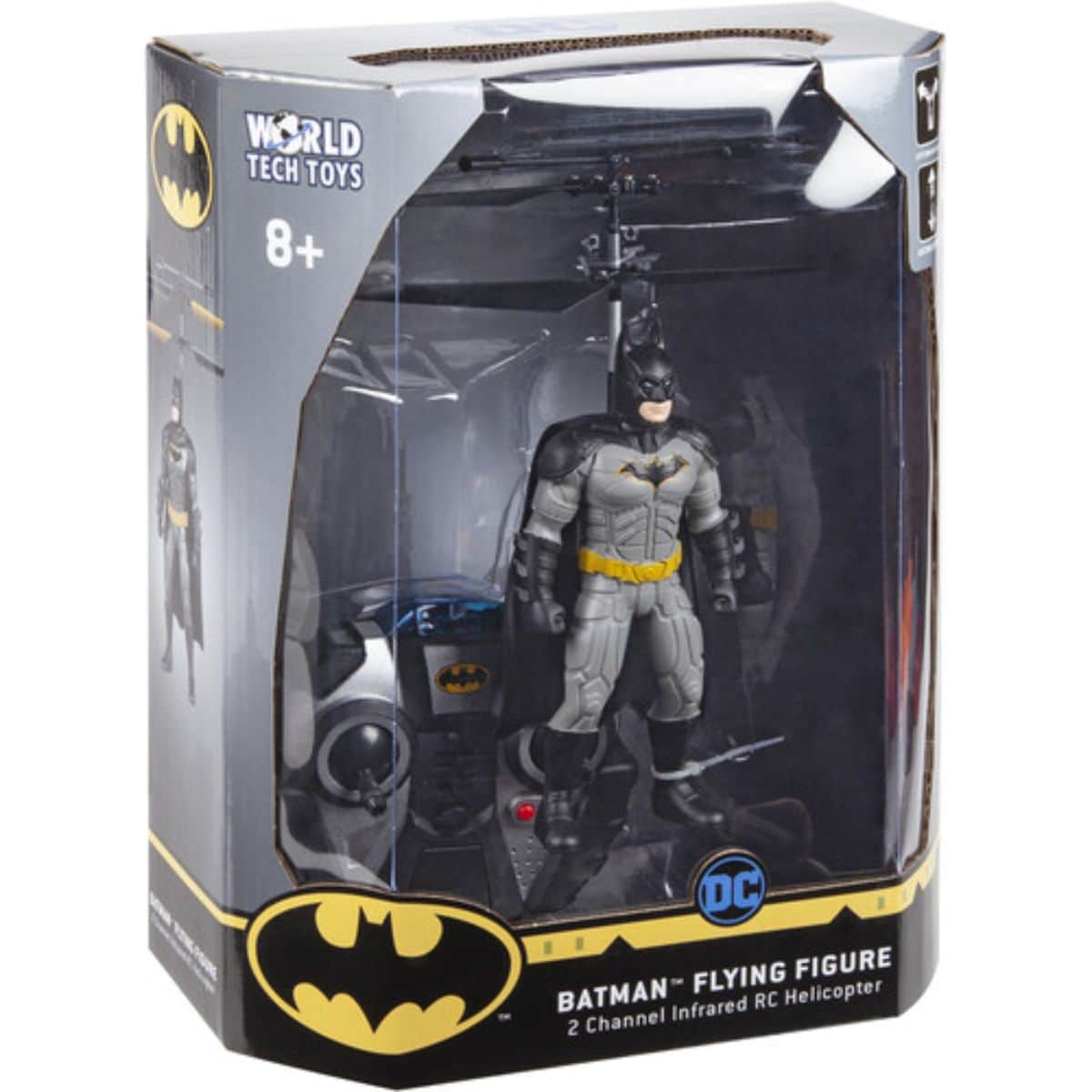 My son is 13 and loves playing with interactive toys that allow more adventure. Flying helicopters offer a world of exploration and reasoning. He nearly hopped out of his skin when he saw a Batman flying helicopter toy, and it got worse when he saw the remote-control abilities. I suppose I should add it to his wish list.
Facts
Toy Type: Batman RC helicopter toy
Activities: Interactive and outdoor play
Ages: 8 to 14
Key Lesson: Hand-eye coordination and critical thinking
Pros
The toy Batman RC helicopter looks insane because it turns the hero into a flying object, and it has a remote control to make it an outdoor adventure
The Batman action figure doubles as a different toy because it has articulation points, and older kids can explore their role-playing abilities
Cons
It's a battery-operated RC Batman toy that requires refills, and the blades are flimsy
Hollywood Rides 1:16 Diecast Batman RC Batmobile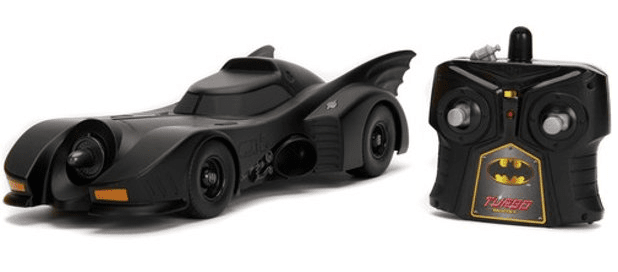 I love remote-controlled Batman toys because they encourage my son to play outdoors more often. If your child is like my son, who loves superheroes and video games, they likely don't get a lot of outdoor adventures. Remote-controlled cars encourage them to spend time outdoors because they want to race everywhere.
Facts
Toy Type: RC Batman Batmobile
Activities: Outdoor and interactive play
Ages: 8 to 14
Key Lesson: Social interaction and critical thinking
Pros
The RC Batmobile is a gorgeous remodel of the original 1989 hero's vehicle, making it a collectible toy, and the remote-controlled aspect provides plenty of interactive play for kids outdoors
Remote-controlled Batman vehicles also encourage social interactions with other kids when they race outside, and the critical thinking factor comes from planning the race and learning to control the car
Cons
Batman's Batmobile doesn't look the same anymore, but most kids will recognize the car
LEGO Art DC Batman Diamond Dot Building Kit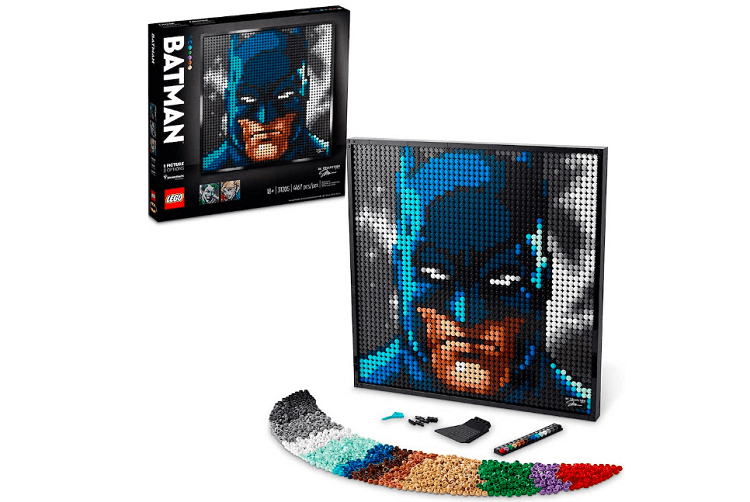 Diamond dot painting is a trending idea for adults and children, especially kids over eight. It's a creative outlet that reinforces focus and attention through intricate work. However, LEGO Art diamond dot painting kits offer less mess than traditional ones with glue and millions of different colors.
Facts
Toy Type: Batman diamond dot painting
Activities: Creative and educational play
Ages: 10 to 18
Key Lesson: Creativity and emotional resilience
Pros
The Batman diamond dot painting from LEGO offers hours of interactive and educational play that encourages a creative edge, and kids will take pride in this beautiful wall hanging on completion
The art of building one of three Batman diamond dot paintings will teach children patience and perseverance because it comes with over 4,000 clickable pieces
Cons
Diamond dot paintings target slightly older children because they're challenging
LEGO DC Batman Batmobile Scarecrow Showdown Building Kit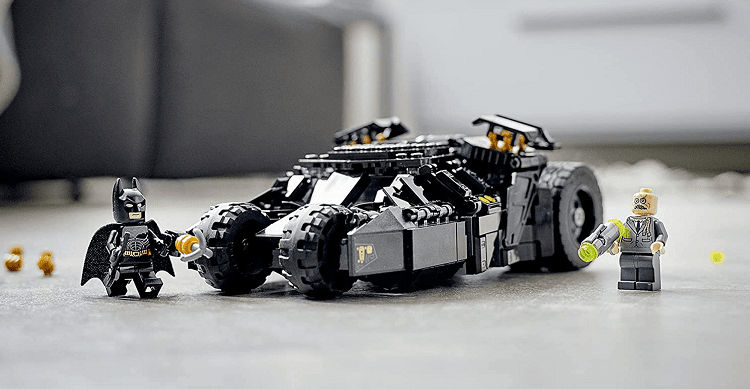 LEGO makes an incredible Batmobile in the standard building kits, close to the Technic set coming next. It also offers a tremendous challenge. However, it's slightly easier than the challenging task from the next LEGO Batman kit. In addition, it provides fantastic role-play because kids face The Scarecrow villain after completion.
Facts
Toy Type: Lego Batman building kit
Activities: Educational and imaginative play
Ages: 8 to 14
Key Lesson: Critical thinking and problem-solving
Pros
The LEGO Batmobile kit is challenging enough to engage children over eight with 422 pieces, and it finishes as a Batmobile with moving wheels for added interactive play
The educational qualities come from being creative and thinking hard to complete the model, and it comes with Batman and Scarecrow mini-figures
Cons
Scarecrow doesn't have a platform or base for play after building the kit
LEGO Technic DC Batman Batmobile Building Kit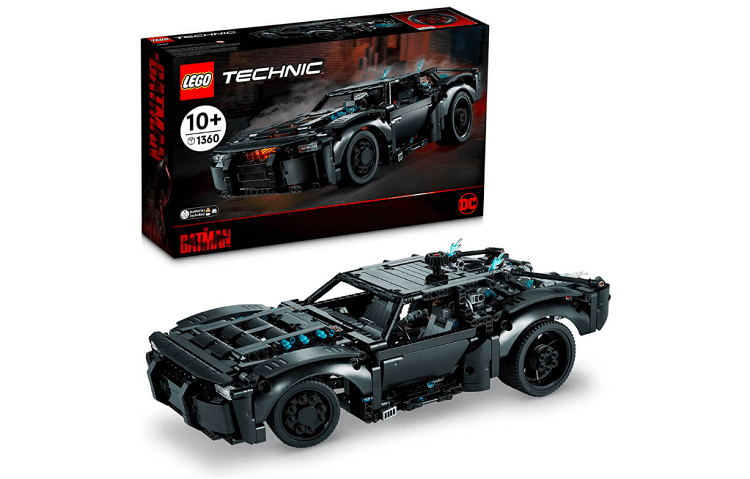 LEGO Technic is a fantastic way to combine interactive and educational play, and it's versatile across ages. The Technic range from LEGO is an engineered model once complete. So, it becomes a functional Batmobile that kids can enjoy in role-play, social, and racing games outside. These kits are also an excellent mental challenge.
Facts
Toy Type: Batman LEGO building kit
Activities: Interactive and educational play
Ages: 10 to 18
Key Lesson: Critical thinking and early engineering
Pros
The Batmobile LEGO Technic building kit offers children one of the most versatile activity choices, and it's complicated enough to take hours to build
The LEGO Technic set has 1,360 pieces to challenge a young engineer's mind, and it comes with endless potential once the model rolls around like a Batmobile
Cons
The model building kit might be too challenging for some kids under 12
Medicom Toy Batman Premium Action Figure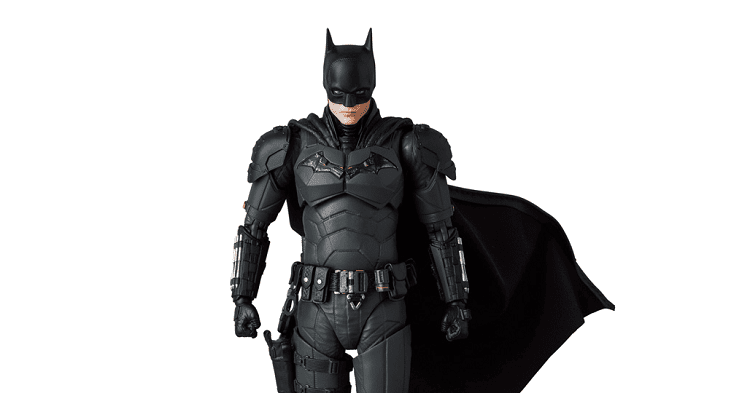 My son is old enough to cherish premium toys of his favorite heroes, even collecting models, action figures, and Funko Pop. This Batman premium action figure is a salute to my son. However, any child who loves playing with highly articulated action figures will enjoy every moment of the role-playing journey.
Facts
Toy Type: Premium Batman action figure
Activities: Role-play and social play
Ages: 8 to 15
Key Lesson: Self-control and creativity
Pros
The premium Batman action figure teaches children about self-control because they learn to cherish their toys, and it has the premium articulation to make role-playing games a breeze
The interactive qualities are endless because Batman has interchangeable heads, alternate hands, a cowl, a grappling hook, a flair, a holster, and a different chest plate for extreme imaginative play
Cons
Children must already take some pride in their action figures to enjoy a premium spoil
Todd McFarlane DC Multiverse Batman Action Figure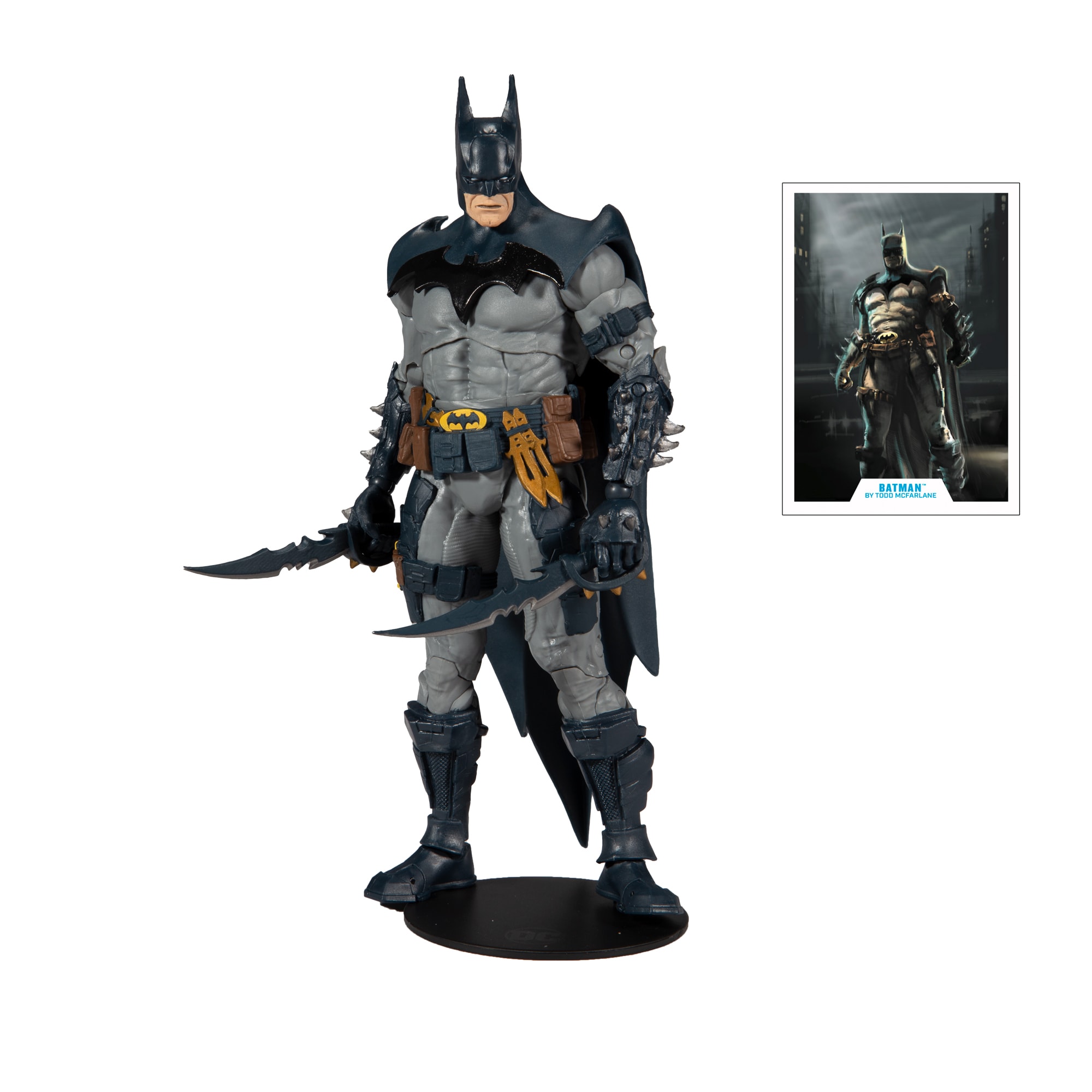 Admittedly, the last Batman action figure was pricy, but I included one that doesn't cost an arm and a kidney. This Batman action figure also has incredible articulation and artwork and works for kids who don't collect toys. In addition, it comes with weapons for role-playing games.
Facts
Toy Type: Batman action figure
Activities: Interactive and pretend play
Ages: 8 to 12
Key Lesson: Creativity and social
Pros
The Batman action figure is a better option for kids who love playing with action figures but aren't good at keeping them in one piece, and it has fantastic features
The action figure has complete articulation with weapons and accessories, and it becomes a social playtime because children love using figures to play games with friends
Cons
It's only seven inches tall compared to the other Batman action figure (which is 12″ tall)
Top Q&As
Question: Which Batmobile is the Best in 2022?
Answer: The LEGO Technic DC Batman Batmobile Building Kit is the most incredible Batmobile toy for kids in 2022. Why may you ask? Quite simply, it's a LEGO Technic set that challenges children to construct the model before enjoying a fully functional Batmobile. So, it offers two kinds of pivotal activities for kids to enjoy.
Question: Is There a Batman Robot Toy?
Answer: Yes, the Fisher-Price Imaginext DC Super Friends Bat-Tech Batman Robot is a fantastic toy for younger kids between three and eight. The robot moves on wheels and has interactive parts that allow kids to put Batman in the cockpit. In addition, the Batman robot toy has articulation points for actionable playtimes.
Question: What is the Best Batman Playset in 2022?
Answer: The DC Comics Bat-Tech Batcave Transforming Playset is all your child needs for a Batty playdate. The towering Batman figure playset is over 30 inches tall before opening the doors to a transformational playset resembling the Batcave. It includes a jail cell, mini-figures, a command center, and a working elevator inside.
Best Batman Toys Guide: Conclusion
Batman is a role model, and there's no doubt. The toy theme offers a world of exploration, interactive play, and educational qualities. You must only pick your child's favorite type of toy and the appropriate age recommendations. Then, you'll have a winning gift for a young Batman fanatic.
My son has been a Batman fan for years and would've played with most toys. However, he has favorite types and activities, which I always considered before buying them. Should you be looking for an all-around interactive toy for kids under eight, I recommend buying the DC Comics Bat-Tech Batcave Transforming Playset.
Transforming toys are brilliant options for early childhood development. In addition, kids can enhance their excitement about their DC role model with their favorite theme. The playset has more potential than most, welcoming children to create new stories whenever they open the massive Batman figure.
However, suppose your child's older than eight. In that case, I recommend the LEGO Technic DC Batman Batmobile Building Kit that offers an educational challenge before turning into an interactive activity. It's healthy to challenge children's minds with LEGO sets.
So, choose your child's age, and get a heroic role model to help educate your future stars.
For more heroic toys: