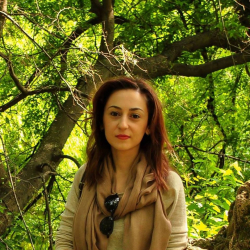 Latest posts by Alexandra Gavrilescu
(see all)
What kid doesn't love superheroes?! Most kids these days do. Many of them are fans of the Marvel series, and they love watching those movies and playing with their favorite action figures. From Superman to Wonder Woman and Star Wars characters, there's a wide range of superhero toys you can choose from to delight your little one.
Below, I will talk about the best superhero toys on the market, things to keep in mind when choosing and buying them, and a few more other interesting facts.
My Bottom Line Up Front
I confess that I love many of the toys described below, but if I were to pick one, I would have to say that my personal favorite is the Justice League set of figurines. They're so colorful, and the set consists of seven different beloved superheroes. It's what I would have dreamt of as a child if Marvel existed back then. Yes, I know, I'm old! :)) The classic Superman and Batman characters were back then as well, but I never received these toys as a child. My parents were more focused on giving me dolls, books, and clothes.
With this set with so many different pieces, you can enact many fun stories and play games starting from a wide range of scenarios.
I remember I even went through a phase where I only wanted tiny collectible cars, but the phase was cut short by my father, who said those cars were costly.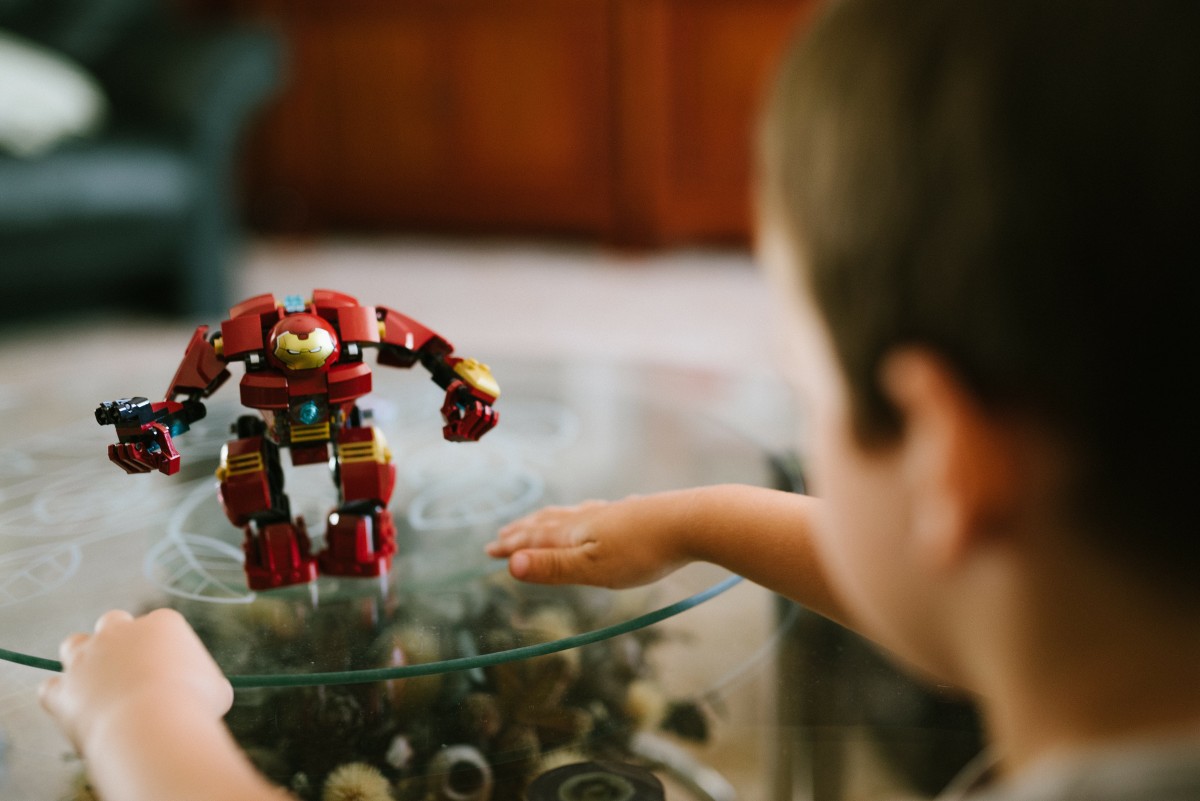 Must-Have Superhero Toys – My Top 9 Picks
I've chosen the following superhero-themed toys based on their complexity, popularity, and sturdiness. They're listed in no particular order.
a. Playskool Heroes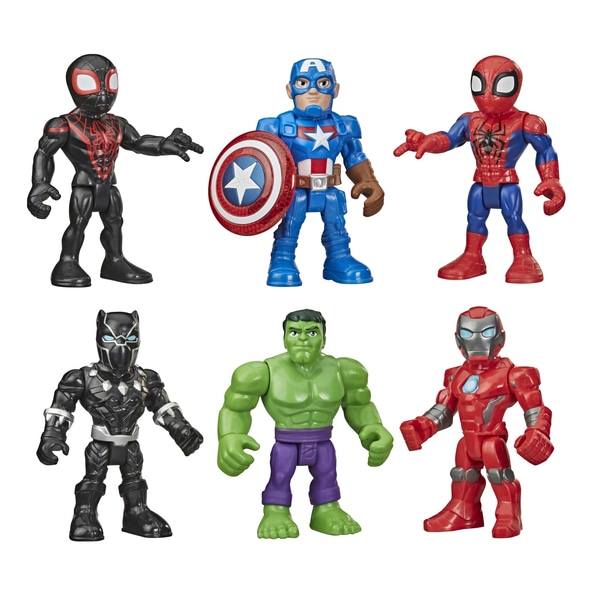 This Marvel Line of toys includes superheroes such as Spider-Man, the Hulk, and Captain America. They're great for younger children. So, if you have a little Marvel fan at home, these toys are a great place to start. If I were to choose, I would probably opt for the Iron Man Playskool Heroes action figure because I enjoyed watching the movies.
Each of these superhero toys is suitable for kids who're at least three years old. Moreover, each figurine has a height of 10 inches, so it will be easy for your child's little hands to handle and play with it. These items are colorful and can be bent in three different areas. You can help your little one collect all these iconic Marvel characters in time.
b. Spider-Man Web Slinger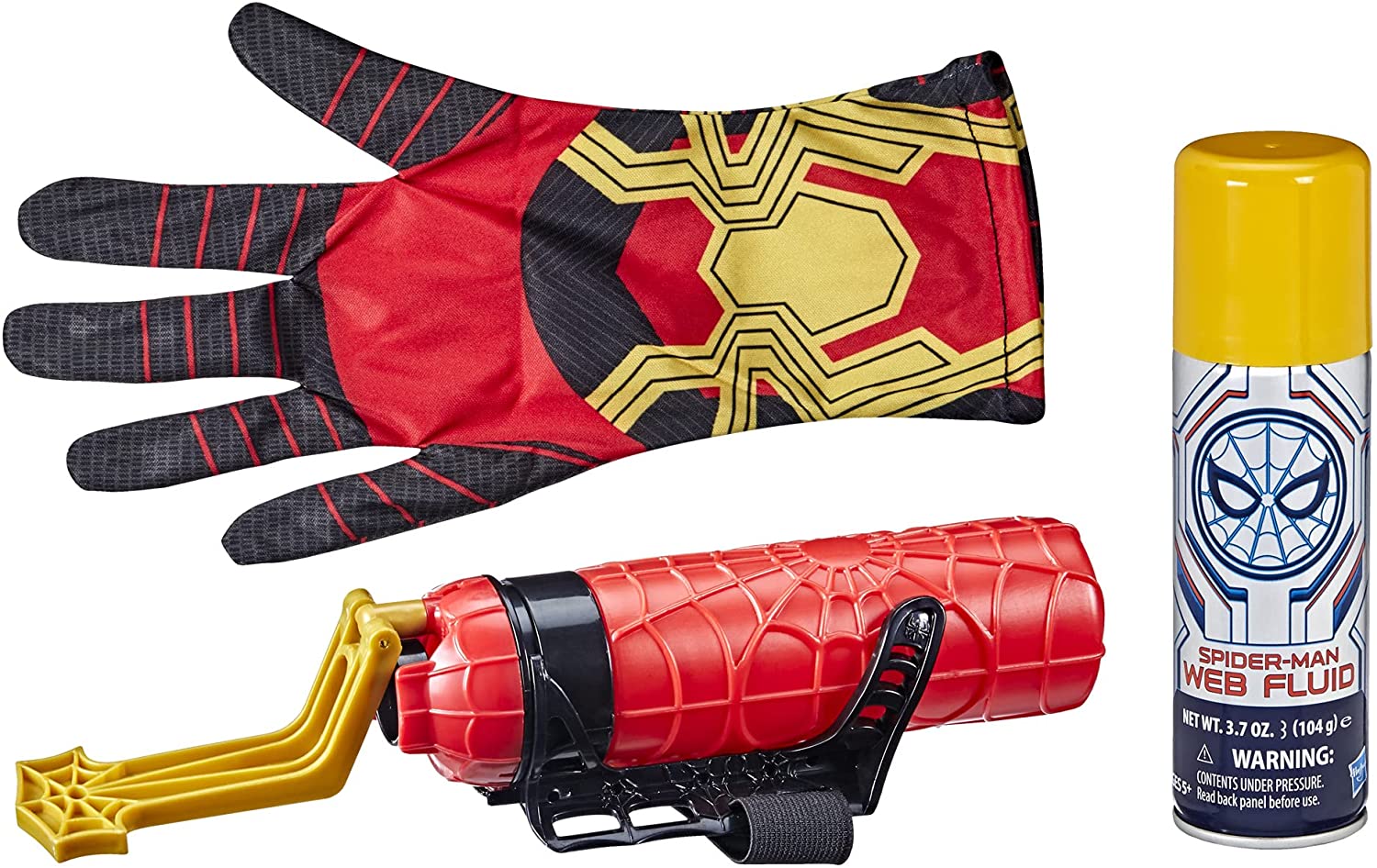 This affordable Super Web Slinger is inspired by the Spider-Man comics, cartoons, and movies. With it, your child will finally be able to enjoy the whole experience of pretend play. On Amazon, this toy has received over 4,000 positive reviews, and it seems that numerous customers are more than happy with how it functions. This toy is great for kids who're at least five years old.
The slingers don't really shoot webs. Instead, they shoot a fluid web, which is actually water. However, if you also attach the special container to the glove, the toy will shoot something that resembles a spider's web, only thicker. So, it's a 2-in-1 product. Your child can also wear the gloves on their own and fasten them with their velcro bands.
c. Attack on Avengers Tower LEGO Kit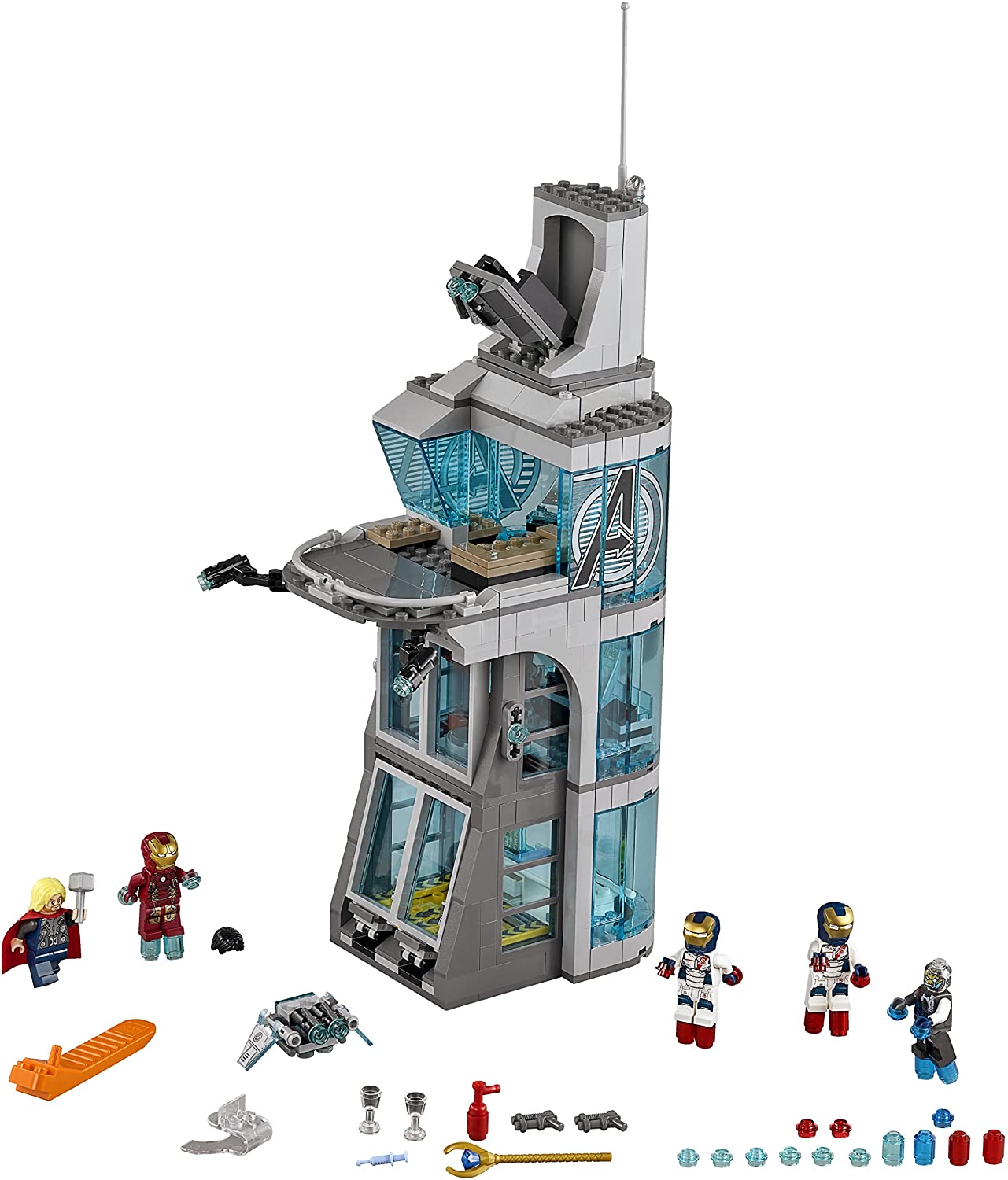 Like any other LEGO toy, the Attack on Avengers building kit is quite expensive but, if you can afford it, you should certainly consider it as one of the best options out there when it comes to must-have superhero toys. The set contains over 500 pieces and can be folded to enable easy play. In addition, it includes many exciting items like a lab with robotic arms, a sickbay, a lounge, a robot bay, the Loki scepter in an analysis lab, Jarvis control room, and more.
There are also five tiny Avenger figurines, as well as various other accessories and weapons. Make sure your kid isn't too young to play with such small toys to avoid choking accidents. According to what it's written on the box, this LEGO set is dedicated to children between the ages of 7 and 14.
d. Endgame Infinity Gauntlet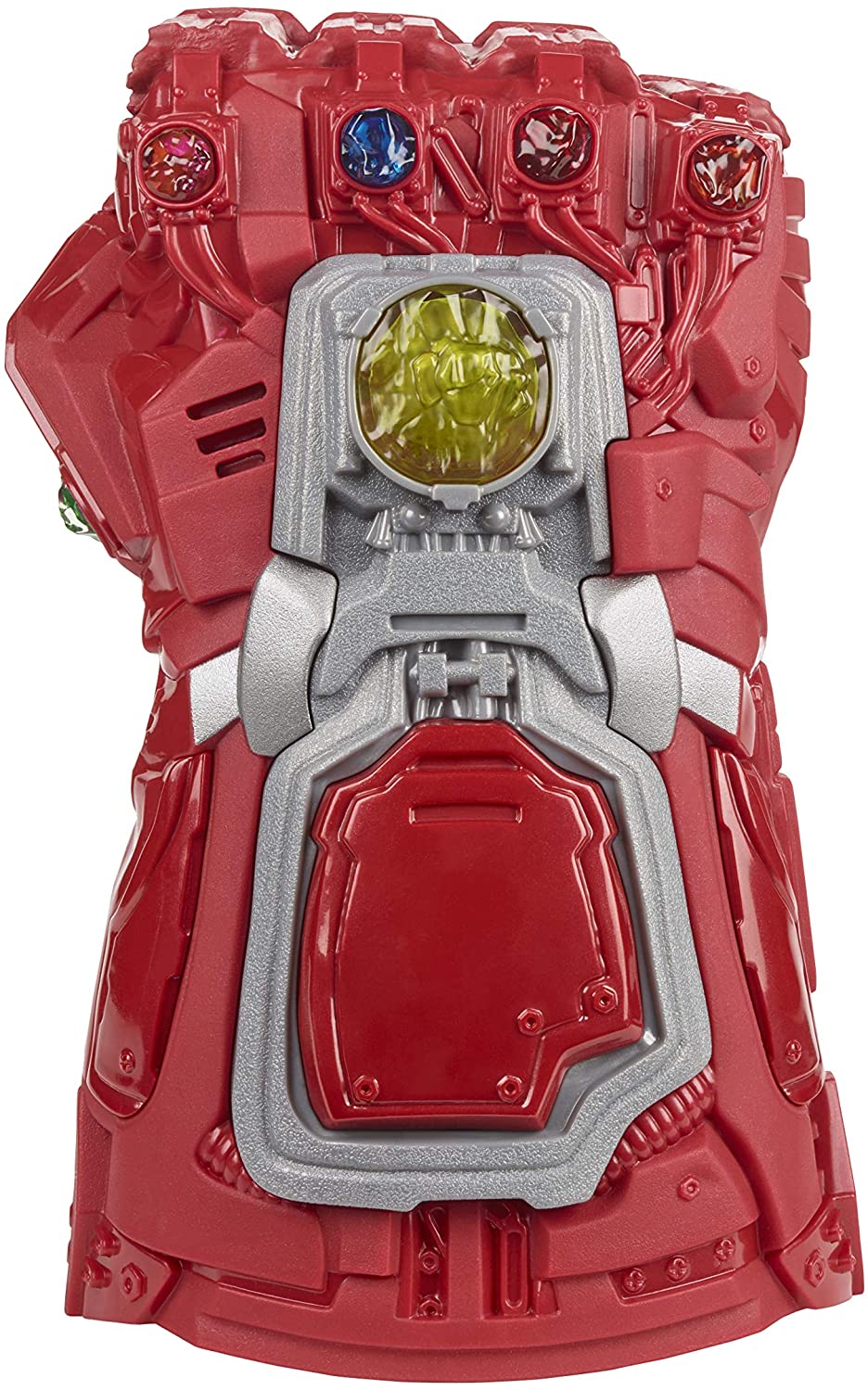 The Endgame Infinity Gauntlet is a child-friendly alternative to Iron Man's Avengers. It features colored stones and electronic lights. This toy will fit the hands of almost any child who's over five years old. This superhero-inspired toy also has astonishing sound effects. You will find it online for a reasonable price.
The classic version is red, while there's also a grey option, but that costs a bit more. With this toy, your little one will enjoy playing numerous games, pretending to conquer or protect the universe. After a while, you could also purchase other items from the same family, like Iron Man's mask and countless other Marvel toys that your child will love and cherish.
e. Marvel United Card Game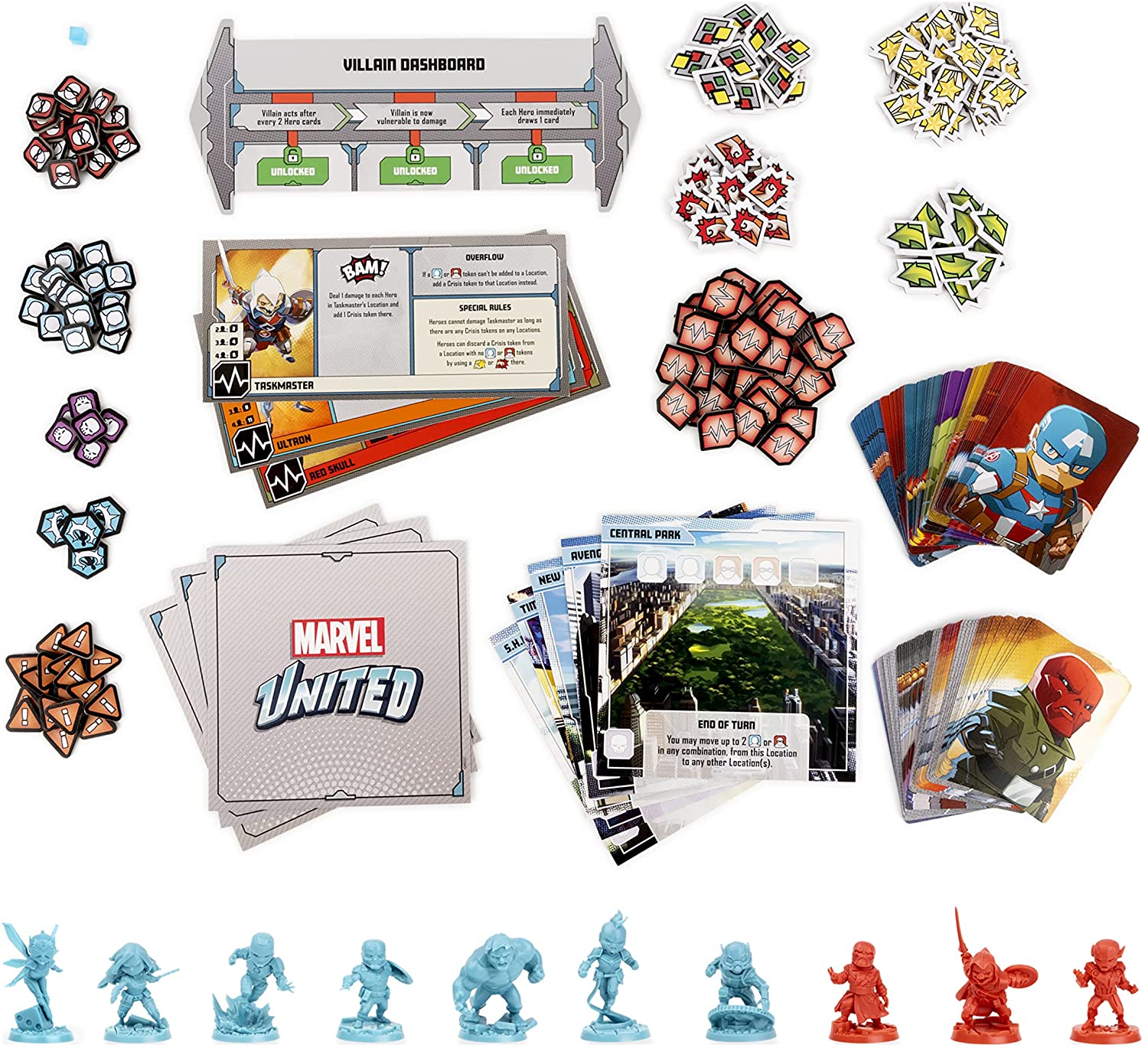 This Marvel United product is a strategy card game involving the entire family. It's meant for kids who're eight years old or more. There's a villain character with a master plan, and the other players must act as one team that should work together and cooperate to defeat the plan mentioned above.
This game will teach your kids the proper way to collaborate with their peers. They will also learn social skills and strategic thinking. The kids should choose their special power wisely since they are allowed and even encouraged to pick their favorite Marvel hero as their game avatar. It's both an affordable and engaging game.
f. Marvel Encyclopedia (the Updated Edition)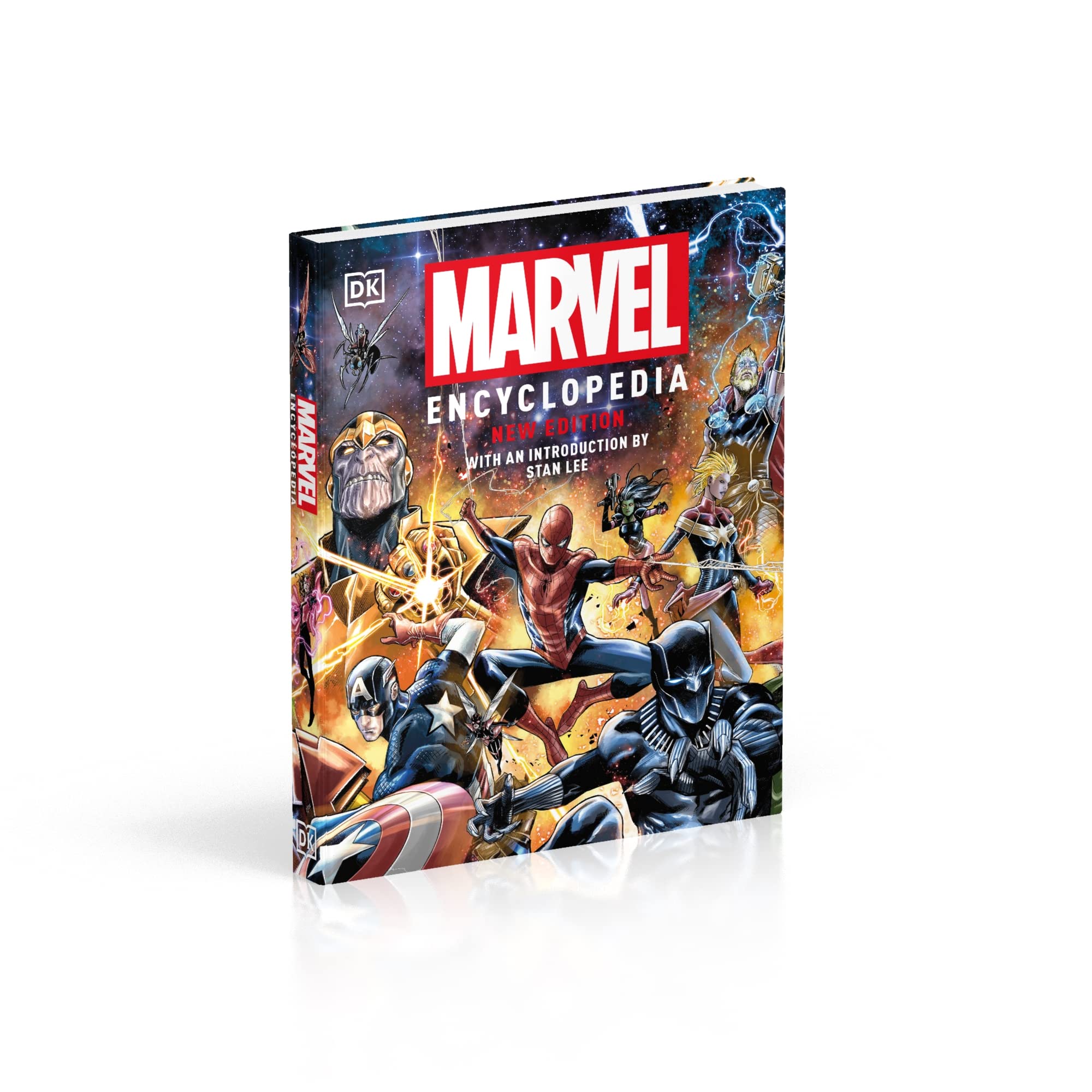 This updated version of the Marvel encyclopedia can be a beautiful gift for your little one. The hardcover contains over 440 pages filled with more than 1,000 famous Marvel characters. It's a pretty affordable and special idea for a child-friendly gift. You will find a lot in this encyclopedia, from villains to superheroes.
Being an updated edition, the book also features 50 new characters, among which there are Sabreclaw, Anti-Venom, Spider-Man 2211, and Doctor Nemesis. It also has expanded entries. Furthermore, it's also a book for Infinity War and the Age of Ultron fans.
g. Justice League Boxed Set

This Justice League set includes four characters: Superman, Batman, Green Lantern, and Wonder Woman. They're all bendable figures. One figurine measures around five inches in height. These toys are made of washable PVC. Your child will be able to make these toys pose due to the products' flexible legs and arms. These features will definitely help your kid engage even more in their storytelling and pretend play.
The Justice League set is suitable for kids who're at least three years old. If I were you, though, I would purchase this more diverse and upgraded version of the boxed set I've just mentioned. This one contains seven figures, including all the four superheroes that the small box has. Besides those four, you will also find Aquaman, the Flash, and Cyborg. Another great thing about this more extensive set is that each figurine has a height of around six inches, so they're taller than the ones included in the 4-piece set.
h. Infinite Power Board Game by Marvel Villainous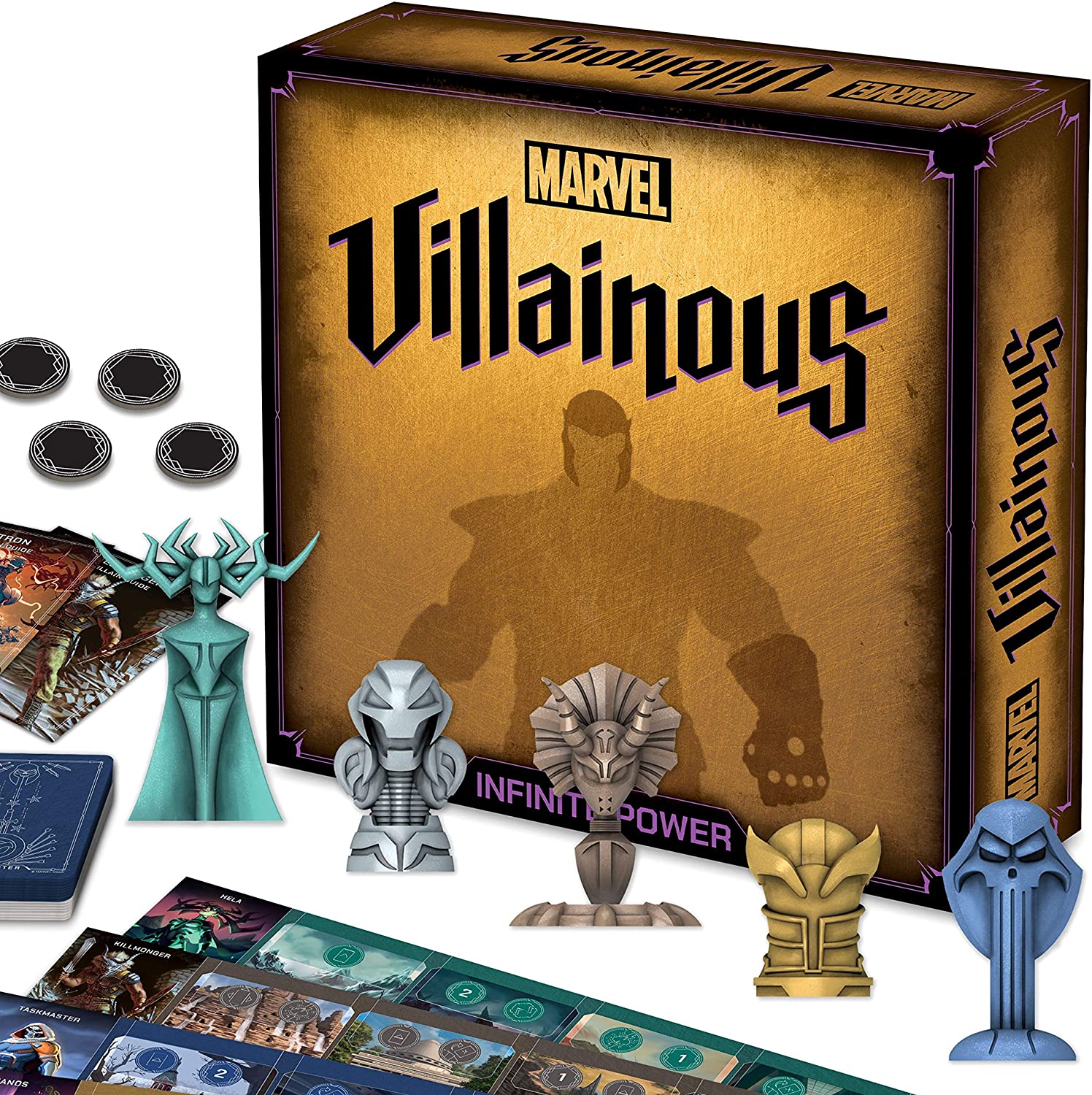 This is just like the classic Villainous board game; only that's the Marvel edition. Children will be able to play as their favorite character, choosing from the mightiest superheroes on the planet, fighting against famous yet dangerous villains. Two to four players can play this board game at a time.
All the components are made of high-quality materials, and the cards feature the characters your child loves most. There's also a card with easy-to-follow instructions so that you can start playing and having fun right away. One gameplay session can last up to a maximum of 80 minutes. You can adjust the difficulty level based on the round you're playing if you want something more challenging. So, this game represents moments of fun for the entire family.
i. Marvel The Ultron Figure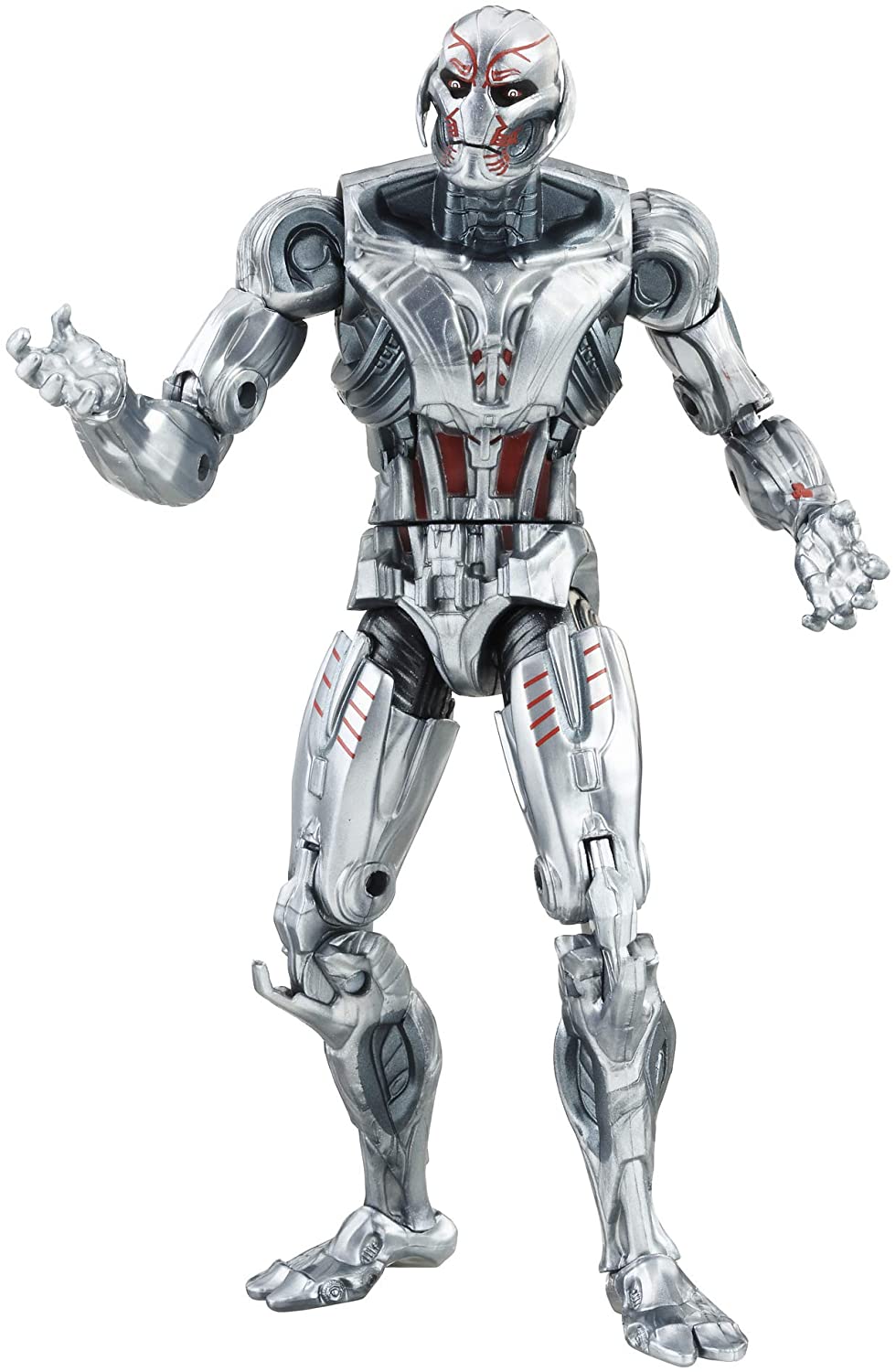 This Marvel Ultron figure is another excellent masher toy that your child can easily customize using other Marvel figurines. It's bendable and has nine flexible points of articulation. However, what I like the most about it is the fact that it comes with no less than 11 different accessories such as various arms and legs shields, motorized wings to pretend the character can fly, and many others.
This way, your little one can customize the toy as they want, based on the pretend play and storytelling they're coming up with. The toy isn't recommended for kids younger than three years old.

Must-Have Superhero Toys – How to Choose
There are so many available options on the market. So, here are the things to consider when choosing the best super hero toy for your child. The following considerations will definitely narrow down the list.
a. Your Child's Favorite Superhero
First and foremost, ask yourself who your child loves the most out of all the superhero and cartoon characters they watch. I couldn't get enough of all Superman movies when I was little. As a teenager, I remember I enjoyed watching Spiderman a lot. Maybe your fearless little girl wants to wear her Wonder Woman costume all the time.
So, pay attention to your child's interests and preferences to make sure you buy the toy they'll enjoy playing with. This way, you can genuinely bring excitement to your little one's life.
b. Your Child's Age
Age is an essential factor to consider, and it plays a significant role when it comes to purchasing toys. For example, certain toys will consist of small parts that can become a choking hazard if your kid is too young for those types of toys. In addition, kids who have yet to develop fine motor skills won't enjoy playing with toys that require them to enable complex movements or plenty of articulation.
Pick a more complex and advanced superhero toy if your child is older. Think about something that will challenge them, such as building toy sets. These will be entertaining and engaging to them.
c. The Toy's Durability
Some kids play nicely and softly with their toys, while others (most of them, to be honest) are vigorous, and they don't mind breaking those items. So, it's always a good idea to verify the toy's materials and opt for sturdier versions that can safely take a couple of bashes from time to time without showing signs of wear and tear.
d. Educational Potential
Most toys are created to provide fun and relaxation. However, some of them can also be used as educational tools. Nowadays, numerous toys teach your kids different skills and help them develop a wide range of abilities such as imagination, creativity, motor skills, problem-solving skills, sensory skills, and more. So, pick those toys that are great for pretend play.
Superhero toys that are also stimulative for your child's brain are ideal because they can keep them engaged and focused for hours.
e. Safety
All the paints and materials used to create the toy should be kid-safe and non-toxic. Look around for those toys that have machine-washable fabrics. Children will often put those toys in their mouths, so you have to make sure all the items you give them are entirely safe.
Must-Have Superhero Toys – FAQs
Question: What Toy Should You Buy to a Child Who Loves Superheroes?
Answer: Based on the toys' popularity, it seems that most kids love to play with superhero action figures. Also, they love accessorized sets. So, for instance, if you offer your children a Batman figurine that also comes with the batmobile and other pieces, I guarantee they will love it, as long as they're fans of Batman, obviously.
That's why it is crucial to know or ask your child about their interests regarding their favorite superhero movie characters. There are plenty of exciting and fun superhero-themed toys on the market, from action figures and dolls to vehicles, LEGOs, and board games.
Question: Who's the Superhero with the Highest Popularity?
Answer: In the last couple of years, it seems that Spider-Man has had the highest level of popularity among superhero and Marvel fans. In fact, its popularity is spread worldwide; it's not just a trend that occurred in the US. However, in 2021, the Dark Knight has also seen a significant increase in popularity. Some say it may even exceed the one known by Spider-Man.
Question: What Superhero Was Featured Initially?
Answer: When the superhero movie trend took place, the first iconic character was Superman. In 1938, Superman was featured in the first issue of the Action Comics magazine.
Question: Who Are the Best Female Superheroes of All Time?
Answer: The best and most popular female superheroes are Wonder Woman, Batgirl, Harley Quinn, Black Widow, Storm, Supergirl, Invisible Woman, and She-Hulk.
Question: Who Are the Most Popular Superhero Characters of All Time?
Answer: These are the following (in no particular order): Superman, Spider-Man, Wonder Woman, Captain America, Captain Marvel, Batman, Aquaman, and Iron Man.
Question: Who Are the Most Famous Supervillains?
Answer: People don't just love superheroes. Many of them also like the villains presented in comic books and movies, such as Lex Luthor, Magneto, Loki, Joker, Galactus, Doctor Doom, Ra's al Ghul, and Darkseid.
Must-Have Superhero Toys – Final Thoughts
Superhero toys will delight any child. Kids are more than happy to receive these kinds of toys because they make them happy. Moreover, superhero action figures and all the other related toys I've presented today will spark your child's imagination and creativity. Kids will be eager to recreate and enact their favorite action scenes they've seen in all these Marvel superhero movies.
You could even encourage your little ones to create new storylines by offering certain twists to their superhero stories. But, choose wisely when it comes to superhero toys because they will definitely become your kid's best friends for a pretty long time
Continue reading:
Best Spiderman Toys Guide for the Fan in Your Life