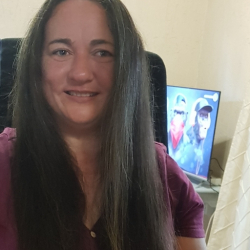 Latest posts by Caroline Lambert
(see all)
Iron Man's mind is as metallically solid as his costume, and you'll find the best choices for kids in my Ultimate Iron Man Toys Guide. I'm a toy expert who sees the various types of Iron Man toys that fit into numerous playtime activities and suit many age groups. What makes me think I'm as sharp as Tony Stark with toys?
I'm a fan, collector, and parent to a son who thinks Iron Man is the next smash hit theme. I can see why he loves Iron Man toys so much. There are many fabulous choices for superheroes and Marvel fans, and they fit my requirements as a mom. Let me share why I love the Iron Man toys I picked.
Bottom Line Up Front
I agree; we want our kids to have extreme fun while playing with their favorite toys. I love seeing my children's faces light up light Times Square on New Year's Eve. However, I also want them to have the best in life. How they achieve the best is about two things: what I teach and provide.
Iron Man toys make my son do backflips, and I find relief knowing how much they give my son beyond the excitement. He loves action figures, building kits, and NERF guns. What boy doesn't love those toys? I use three simple rules to pick the best Iron Man toys. They must center on Iron Man and fit favorite activities and types.
Look at the Iron Man toys I picked before diving into the ultimate guide.
My Top Iron Man Toys at a Glance
My top choices fall into specific toy types that allow children to enjoy the benefits of each. I also decided to stick to the classic Tony Stark Iron Man style. Here's a quick look at my best Iron Man toys:
I'll show you why each toy caught my attention. Iron Man is a legacy among Marvel fans, and he earned his spot.
Iron Man Toys: The Ultimate Guide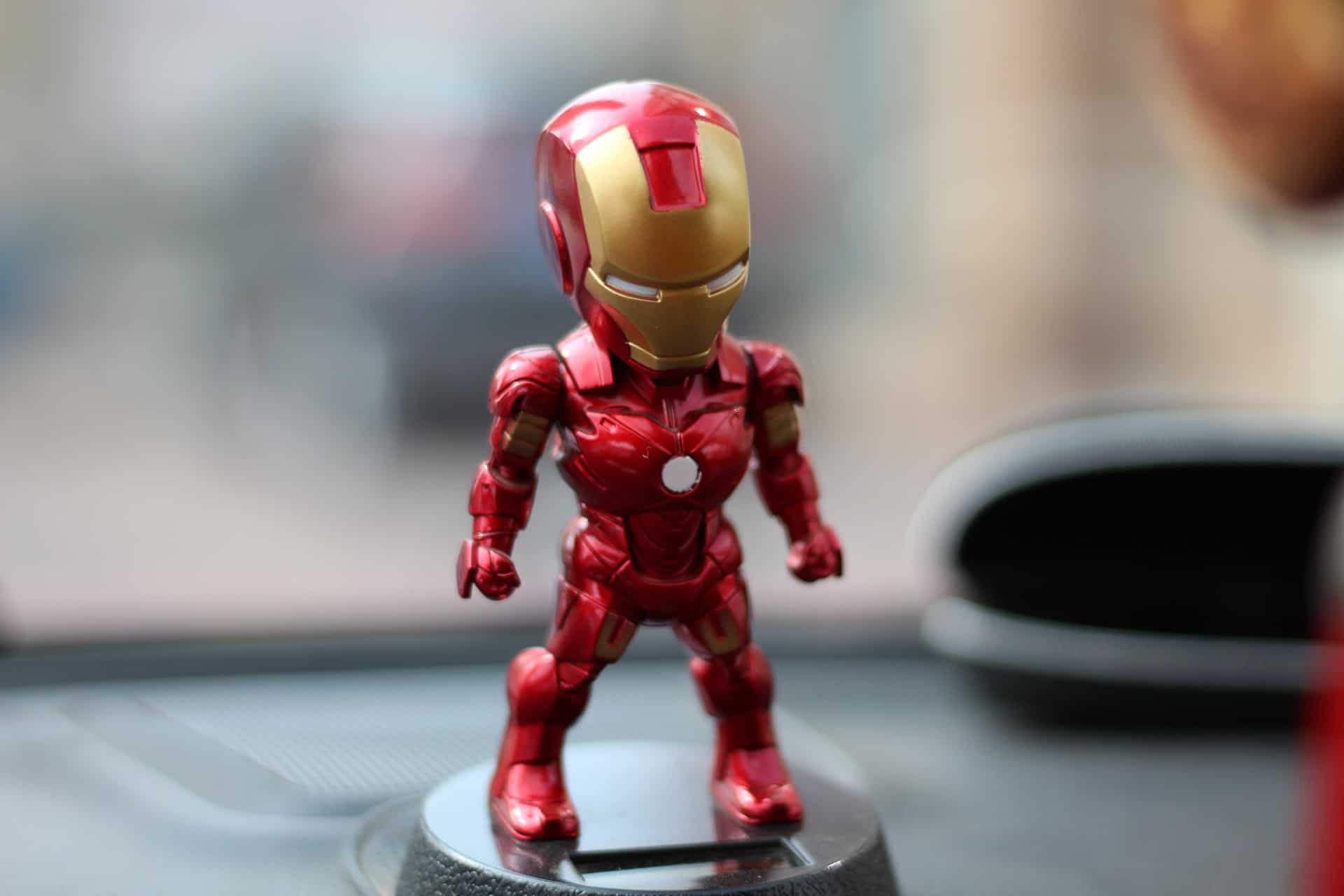 I'm a sucker for superheroes. My son's a typical tween who loves the heroes that make him imagine a world beyond ours. Iron Man toys are as legendary as the man from Marvel Avengers, End Game, and Infinity Wars. What makes Iron Man toys fabulous? What advice can I share, and how did I pick the best ones?
Genius Super Toy Theme
When I hear "Iron Man," I think of Tony Stark. Tony is a genius who designs a suit so fast, influential, and legendary that he becomes one of Marvel's best heroes. Too often, billionaires become villains in superhero movies. Tony was different. Instead, he established the Avengers and headed Stark Industries.
Iron Man is a superhero I approve of for my kids because of the storyline. Tony is a mentor and someone who can teach my son that he can make a difference in this world. He wasn't born with superpowers. Tony used his hard-earned money to bring heroes together to protect civilians, even becoming a hero himself.
I hope my son learns the lessons I wish he does from his favorite superheroes. Sure, Iron Man is strong, durable, fast, and can fly. However, there are more hidden lessons behind the genius who suits up. I admire any toy theme that encourages my child to see beyond the norms of life, showing him that anyone can be a hero.
Iron Advice
Iron Man is a superhero, meaning he doesn't have various toy types. He does, however, have multiple famous toys that fall into subcategories. You can either try to find a toy that suits one of the 27 types if you're a parent like me. Choosing the right type can provide children with suitable toys for their age while having fun.
Alternatively, you can also pick toys that suit your child's favorite activities, targeting the right age groups and developmental milestones. I consider myself a guru of early childhood development splashed with the ultimate excitement for children, which brings me to my strategy.
I find the best toys by considering age, activity, and type. Remember that picking the right kind and activity leads to the appropriate age groups. Every toy has educational potential. Typical Iron Man toys like action figures, building kits, gauntlets, helmets, and NERF guns provide educational playtimes.
Don't think of me as a stick-in-the-mud, either. I consider my children's levels of excitement. My son's obsessed with superheroes and Iron Man. I know he's bound to have a ball with the toys. I consider his age, know his preferred activities, and discuss his favorite toy types before buying him one I think works.
I advise that you work as a team with your kids to choose the one they love. Select a few like I did, and allow your kids to discuss why they want a specific toy. You're bound to have at least one toy they want badly using my three rules to pick Iron Man toys.
How to Pick the Best Iron Man Toys
Before picking the best ones, you have to think about why you or your child loves Iron Man toys. I depend on using three rules to find the best Iron Man toys with so many available:
I choose toys that fit into a popular category or subcategory because my kids benefit from the advantages various types bring. It also helps me create a variety of Iron Man toys that appeal to numerous age groups.
They should center on Iron Man, the red and gold version. The other Iron Man versions aren't as famous as the classic Tony Stark design.
I prefer when they suit a popular playtime activity for my kids. My son's favorite playtime activity is role-playing, which aligns with gauntlets, costumes, figures, and building kits.
Ultimate Iron Man Toys Guide: Super Recommendations
Enough talk about why Tony is brilliant and how you can help your kids become their best selves with toys. I'm sure your kids are revving to jump into the selections from their favorite hero. It's time to see what makes each Iron Man toy the best. I'll even show you what sucks about each one.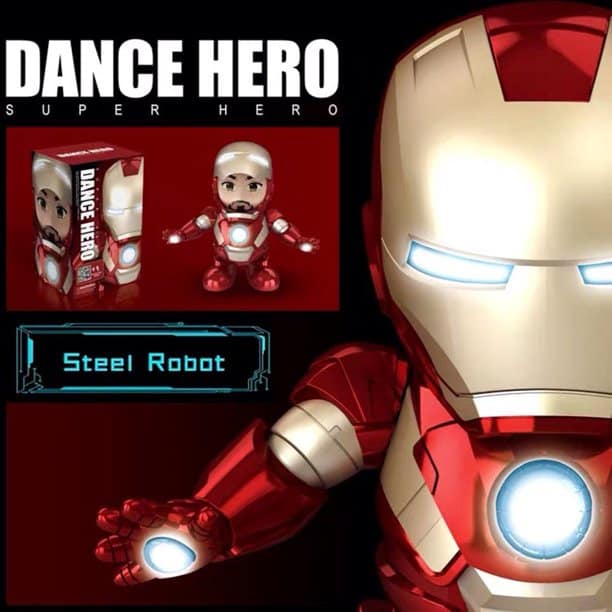 I love interactive Iron Man toys. A dancing Iron Man sounds insane, but this figure works as the ideal sensory toy that simultaneously helps little children experience fun and learning. Besides, you can lift the mask to see the genius underneath. I'll emphasize how educational Iron Man toys are if you pick the right ones.
Iron Features
Brand: Dance Hero
Type: Interactive Iron Man toy
Activity: Iron Man sensory play
Ages: 3+
Pros
The sensory Iron Man figure lights up inside the gloves and on his chest for realistic effects
It comes with music and sound effects to make Iron Man appeal to toddlers
The Iron Man dancing robot shakes his booty to the music, raising his arms and moving his legs
Cons
The cute Iron Man sensory toy uses plenty of batteries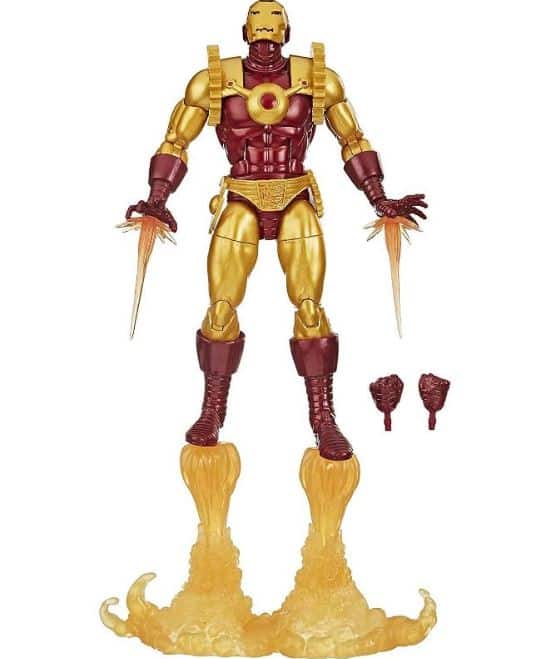 You'll find that most Iron Man toys fall into the figures and building kit categories. I won't complain because my son has an ocean of action figures. It's one of his favorite toy types, allowing him to express his wild imagination. I also love that my son uses his action figures for social play because kids need social experience.
Iron Features
Brand: Hasbro
Type: Iron Man action figure
Activity: Iron Man role-playing
Ages: 4+
Pros
The Iron Man action figure has fabulous effects making him look like he's blasting off to save someone
It comes with a second pair of hands, an unusual base, and a stunning costume
The Iron man figure has 20 points of articulation for kids to position him in various play scenarios
Cons
It's a pity the action figure is only six inches tall and made from plastic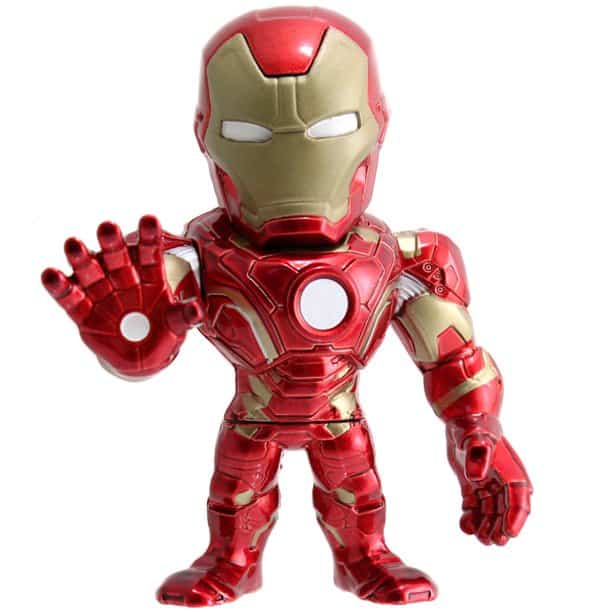 Diecast figures are more likely to appeal to me than my kids because I collect action figures. They last longer, even while kids play with them. I think this action figure makes Tony look ironically short, but it's a fantastic choice for older fans like me. My son also has a few diecast figures, but none from Iron Man.
Iron Features:
Brand: Marvel
Type: Iron Man diecast figure
Activity: Iron Man pretend play
Ages: 3+
Pros:
The Iron Man figure is entirely diecast with hand-painted metallic details to look real
I like how the white inside his hands and on his chest makes the figure look like it's lighting up
Iron Man has eight points of articulation for children and fans to position him any way they wish
Cons:
Iron Man looks weirdly short, and the figure is only four inches tall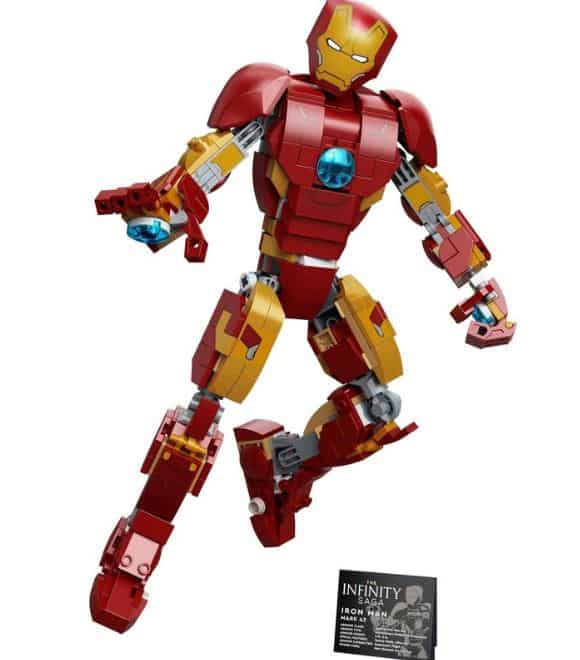 Lego has a few Iron Man building kits, but this one makes him look fantastic. I picked an educational construction kit that appeals to older age groups to enjoy exercising their more refined skills while constructing a figure from their favorite superhero. It's not the most complicated building kit, but the result will stun fans.
Iron Features:
Brand: Lego
Type: Iron Man construction toy
Activity: Iron Man educational play
Ages: 9 to 16
Pros:
The Iron Man Lego kit results in a stunning figure children can enjoy once they finish building him
It has 281 pieces to keep kids entertained for hours or days, and you can build it with them for a social experience
The Iron Man Lego figure becomes an articulated beauty for actionable playtime
Cons:
The Lego Iron Man kit is too challenging for children under nine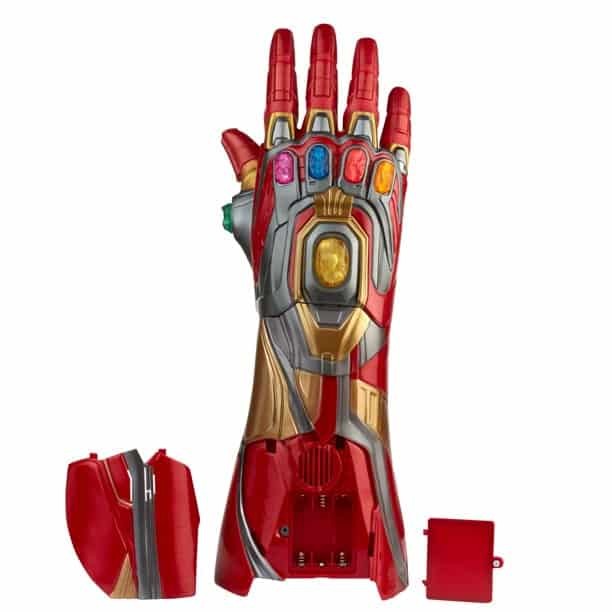 The Iron Man gauntlet is one of my ultimate favorite toys for children because it's interactive, educational, and tons of fun. It has lights, sounds, and music to stimulate children's creativity. It's one of the better gauntlets available because it's also articulated for kids to enjoy actionable fun with their friends or imagination.
Iron Features
Brand: Marvel
Type: Iron Man interactive gauntlet
Activity: Iron Man imaginative play
Ages: 14 +
Pros
Children feel like they're in the movies when the gauntlet lights up and makes sounds from the films
The gauntlet is fully articulated for better play and brings the imagination to life
It comes with six affinity stones and is a life-size scale model for genuine cosplay excitement
Cons
It uses tons of batteries, is only right-handed, and doesn't work well for tweens or younger kids
The Heroes of Goo Jit Zu make excellent figures that work as sensory toys for younger kids. It doesn't mean older kids can't enjoy the stretchy gooiness of these figures. I find myself squishing Goo Jit Zu toys for sensual relaxation. The Iron Man Goo Jit Zu figure looks incredible with an ultra gooey filling.
Iron Features
Brand: Heroes of Goo Jit Zu
Type: Iron Man Goo Jit Zu figure
Activity: Iron Man sensory play
Ages: 2+
Pros
I love seeing my kids stretch their Goo Jit Zu toys to the extremes while enjoying a sensory experience
The Iron Man Goo Jit Zu has a super gooey filling that feels like another favorite toy, slime
Iron Man has a starry interior when you stretch or squish the figure hard enough
Cons
The bad news is that kids will want more Goo Jit Zu heroes once they feel them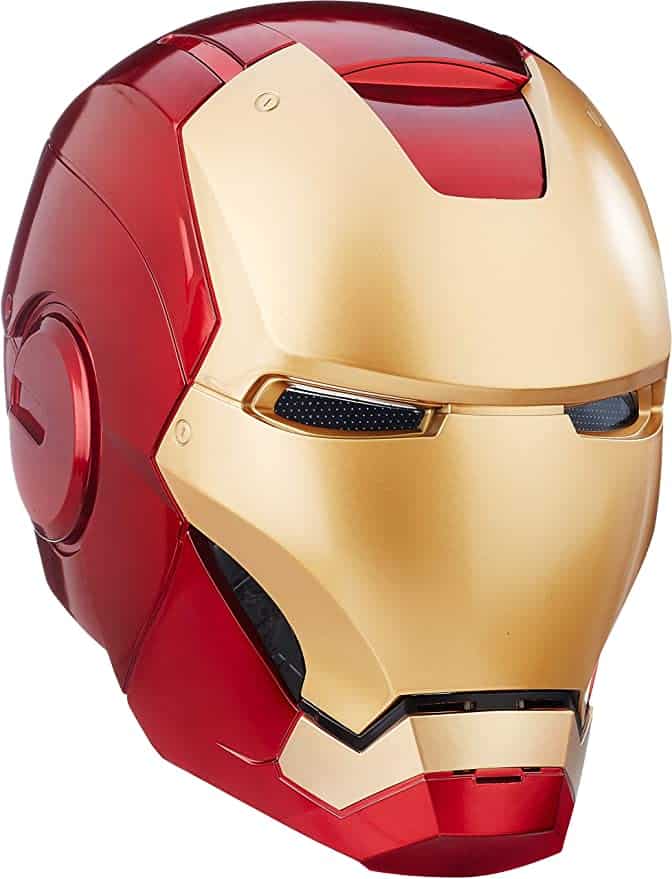 Superhero helmets are enjoyable for kids and adults. Fans can feel like their famous heroes while wearing helmets. I love this Iron Man helmet because it's electronic and has excellent details. It's also an iron helmet instead of plastic, perfect for years of fun. You get an instruction manual to use it safely with children.
Iron Features:
Brand: Avengers Legend Series
Type: Iron Man electronic helmet
Activity: Iron Man imaginative play
Ages: 12+
Pros:
The Iron Man helmet comes with lights, sounds, and everything fans need to feel like a hero
The iron helmet has a metallic paint finish to make it look more natural than plastic helmets
It's the perfect helmet for kids to enjoy imaginative and sensory playtimes
Cons:
It uses tons of batteries and doesn't fit kids under 12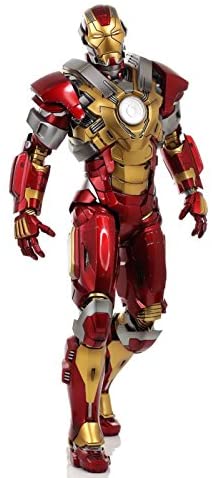 Iron Man action figures are likely the most common among his toys. I looked at what felt like hundreds of options before picking the most articulated and detailed action figure I could find. The Iron Man action figure feels robotic, but the suit is technically just that. I could see my collection including this action figure.
Iron Features
Brand: Hot Toys
Type: Iron Man articulated figure
Activity: Iron Man role-play
Ages: 6+
Pros
I like how Iron Man takes on his third robotic form to look modern, futuristic, and stylish
It comes with a base, two pairs of extra hands, and various accessories to enhance the premium articulation
It has 22 points of articulation, includes a blast-off effect, and stands at 15 inches tall
Cons
It's not the best choice for Iron Man action figures for young kids but rather for those who collect figures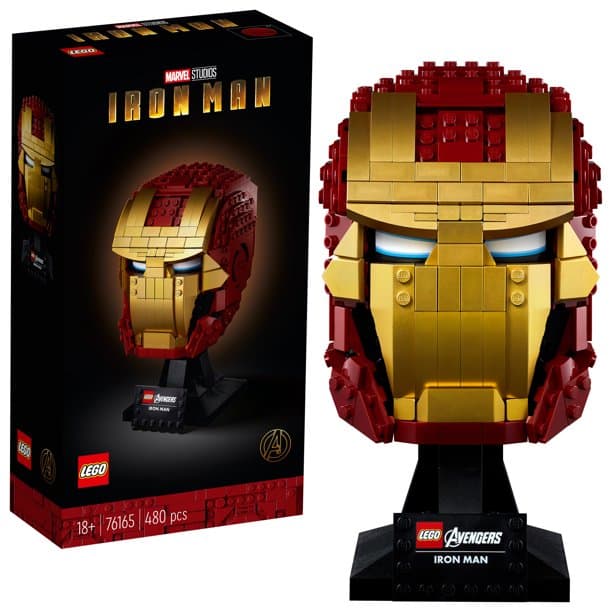 Iron Man has a couple of fantastic Lego building kits available. Children love Lego kits, and they teach kids many lessons. I picked one with a higher challenge level for older kids again because I love building these sets with my son. Although, I also enjoy seeing him invite his best friend over to help him complete the sets.
Iron Features
Brand: Lego
Type: Iron Man Lego kit
Activity: Iron Man educational play
Ages: 13+
Pros
The Iron Man Lego kit contains 480 pieces for kids who love a challenge like my son
The result is a serious-looking Iron Man mask that makes a perfect collector's piece for fans
You can allow older kids to enjoy some escapism with their friends as a team challenge
Cons
Lego recommends the kit for adults, but my son builds adult kits often (maybe I encouraged Lego building at a young age)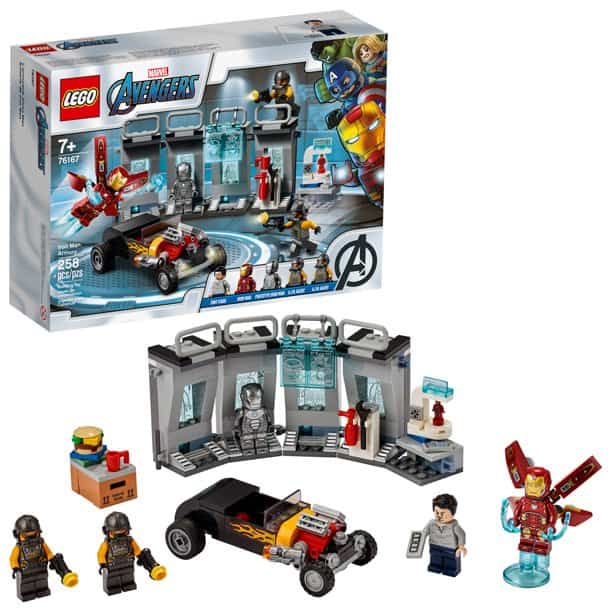 I should include a younger building kit because Lego is a bonus for every child. Younger children are still developing their motor and critical thinking skills. Building kits encourage their creative and intelligent minds to clash. My children began building Lego kits with me in their toddler years. I regret nothing.
Iron Features
Brand: Lego
Type: Marvel Avengers Iron Man building kit
Activity: Iron Man educational play
Ages: 7 to 14
Pros
The Iron Man Lego kit includes a few figures and vehicles from the Avengers franchise everyone loves
It has 258 pieces, ideal for parents to teach their preschoolers (or toddlers) to begin model building
It comes with two Iron Man figures, one having a blast-off effect on the base
Cons
Lego doesn't recommend it for toddlers (I'd start building kits with toddlers to enhance their intellectual development)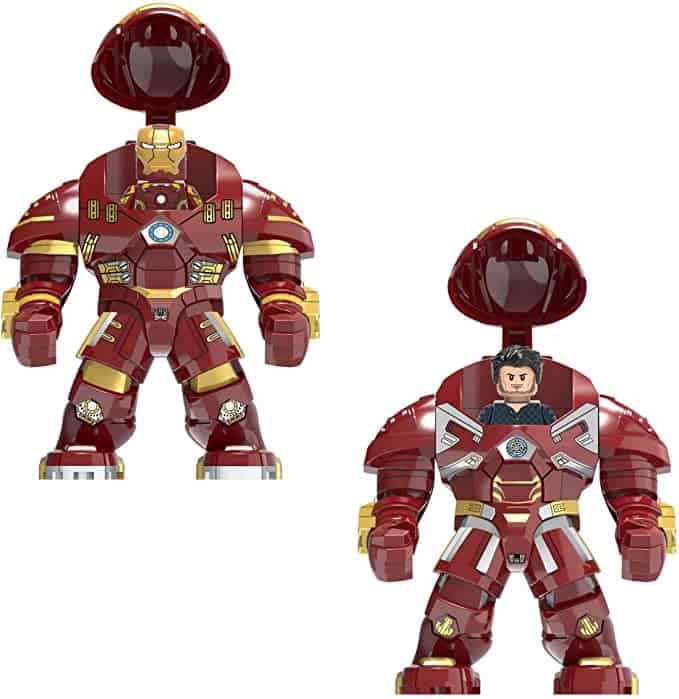 Iron Man has more building kits and figures than any other toy. I love that about the superhero because his toys challenge my son's creativity, intellect, and strategy skills without me saying a word. I told you my son's an avid fan of Iron Man, and he insisted that I add an Iron Man Mech Armor toy kit to my best picks.
Iron Features
Brand: Geaoge
Type: Iron Man Mech Armor building kit
Activity: Iron Man creative play
Ages: 4+
Pros
This Iron Man building kit works ideally as a starter for toddlers to build with their parents or friends
The Mech Armor suit comes with a mini Iron man and Tony Stark figure for next-level creative play
The armor opens at the top to put the mini figures inside
Cons
It's a pity the armor suits are only four inches tall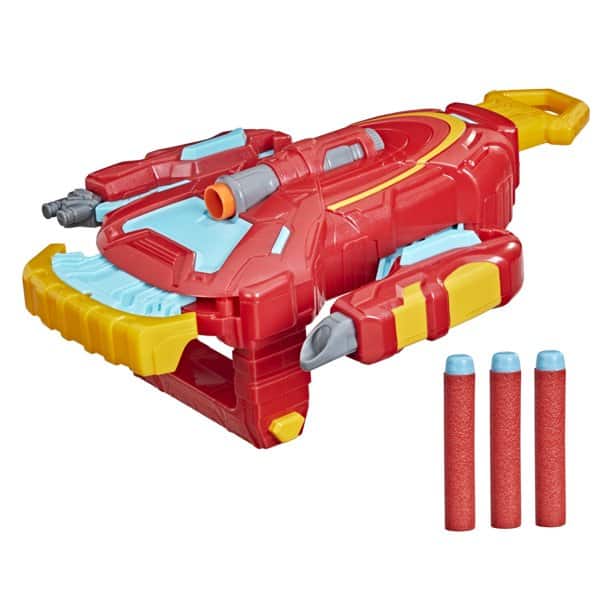 My son's a total NERF nerd, if that makes sense. It gives him opportunities to get more exercise outside when he's chasing friends with NERF dart guns. I don't appreciate him plonking his sister against her forehead to impress his friends sometimes. Otherwise, he's getting physical activity outside, which matters a lot.
Iron Features
Brand: Hasbro NERF
Type: Iron Man Repulsor NERF gun
Activity: Iron Man social play
Ages: 5+
Pros
Iron Man NERF guns get children outside to soak up the sun and spend some of their endless energy
The NERF gun comes from the Mech Strike era, which is popular with young boys
It includes a dart-launching, gauntlet-styled gun for children to target their imaginative enemies
Cons
Your child might dart his sister as my son does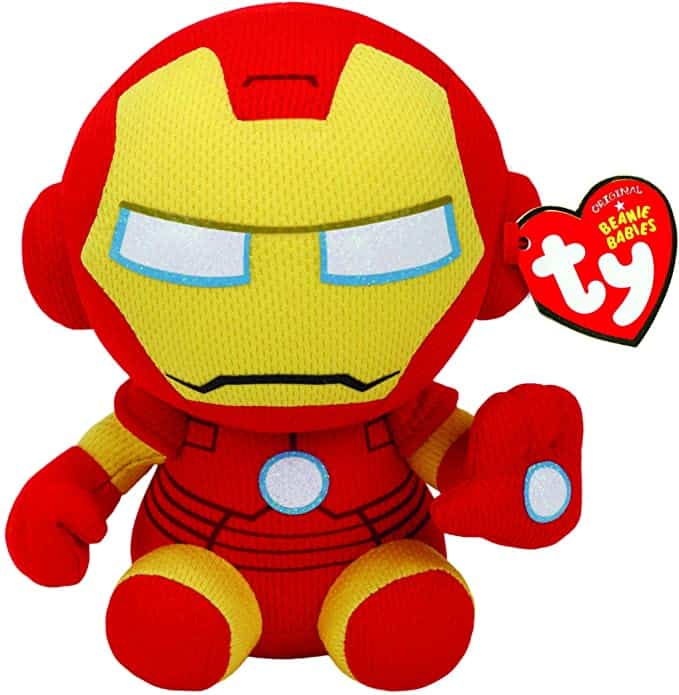 I always think superhero plush are hilarious because they're ironic. I can't imagine Iron Man in a plushy, squishy form, but I found a fantastic stuffed toy for the hero. Beanie Babies were part of my toy collection from my teenage years. I can somewhat see Iron Man Beanie Babies being more realistic than other plush.
Iron Features
Brand: TY Beanie Babies
Type: Iron Man Beanie Baby
Activity: Iron Man imaginative play
Ages: 2+
Pros
Superhero Beanie Babies are sought-after and collectible for younger and older fans
The Iron Man plush doesn't look like a pushover as you'd expect with superhero stuffed toys
The colors are brilliant, and Iron Man's light features on his suit are still notable
Cons
Superhero fans don't always go for plush toys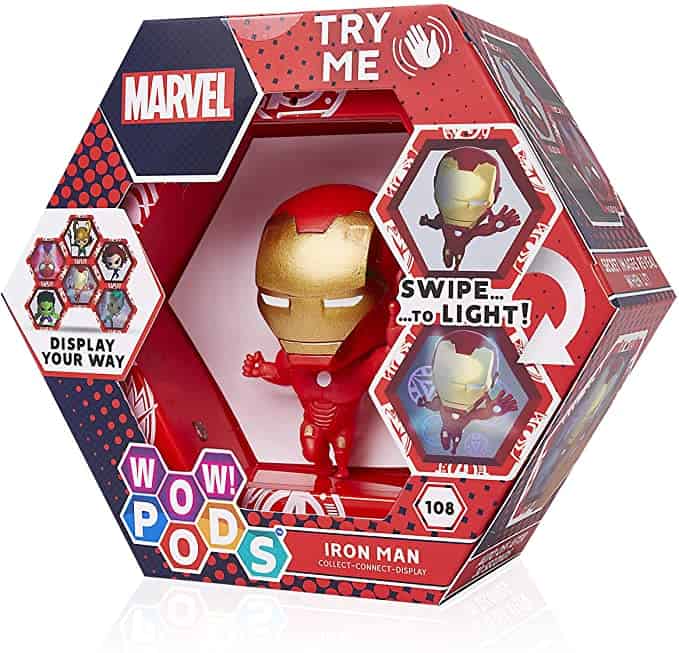 Iron Man sure has excellent effects for sensory toys and figures. I can see my son swooshing the figure through the air as it makes noises from the movies. WOW, Pods have hexagonal backgrounds that light up with a swiping motion. It's a fantastic feature for younger children to enjoy figures, and it works for older fans.
Iron Features
Brand: WOW, Pods
Type: Iron Man sensory figure
Activity: Iron Man sensory play
Ages: 2+
Pros
Toddlers can also enjoy Iron Man action figures that expose them to sensory stimuli
Fans who want to collect their superhero figures can stack the hexagonal pods for display
Imagine the light show from multiple pods stacked together
Cons
It uses batteries, and parents can grow tired of battery-operated toys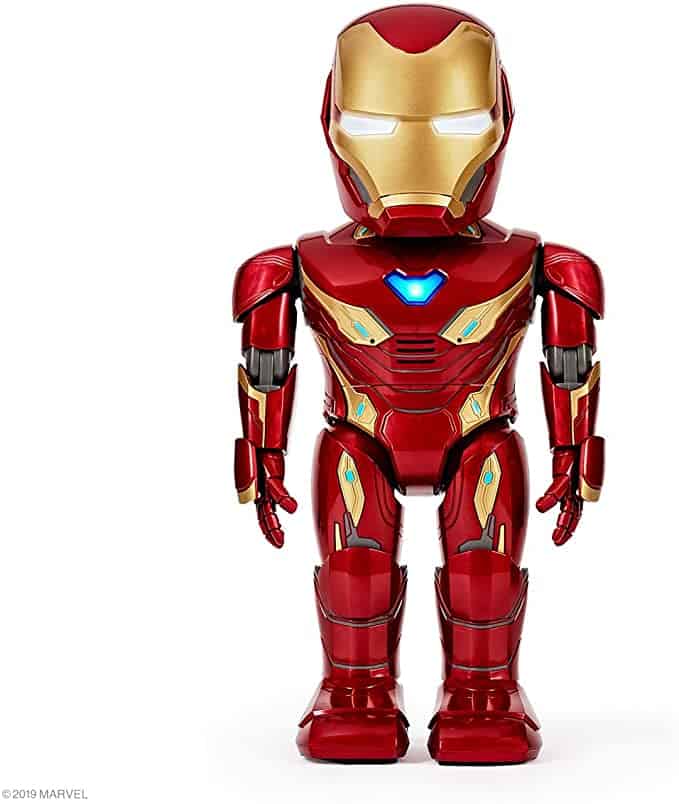 Iron Man's suit is robotic, and it makes sense that a robot toy will appeal to his fans. Modern toys are electronic and interactive. You can control the Iron Man robot from a phone or tablet. It has excellent effects that strike an interest in children and adults. I can see myself playing with this Iron Man toy. Yes, I still enjoy toys.
Iron Features
Brand: UB Tech
Type: Iron Man robot toy
Activity: Iron Man imaginative play
Ages: 3+
Pros
The Iron Man robot functions from an iPhone, iPad, or Android device
You can play as Tony Stark, who suits up in a virtual game on your device while the robot interacts in real-time
You can also upload your face into Iron Man's suit for a custom experience
Cons
It's a complicated toy for younger kids, and it can drive parents insane when their children spend so much time on their devices
Iron Man looks fantastic in all figures, but vinyl figures have a chibi design. Superheroes take on a new, cuter form with the vinyl figures. I collect various vinyl figures, and my son has a few favorites. Iron Man's suit is the best one I find because it brings a twist to the standard figures.
Iron Features
Brand: POP! Marvel by Funko Pop
Type: Iron Man POP vinyl
Activity: Iron Man pretend play
Ages: 3+
Pros
The Iron Man Funko Pop suit glows in the hall of armor version, showcasing a metallic effect
The figure is highly collectible for fans of all ages who like collecting vinyl varieties
It comes in a protective case with an issue number if fans don't want to open it
Cons
Vinyl figures have no articulation and can't change positions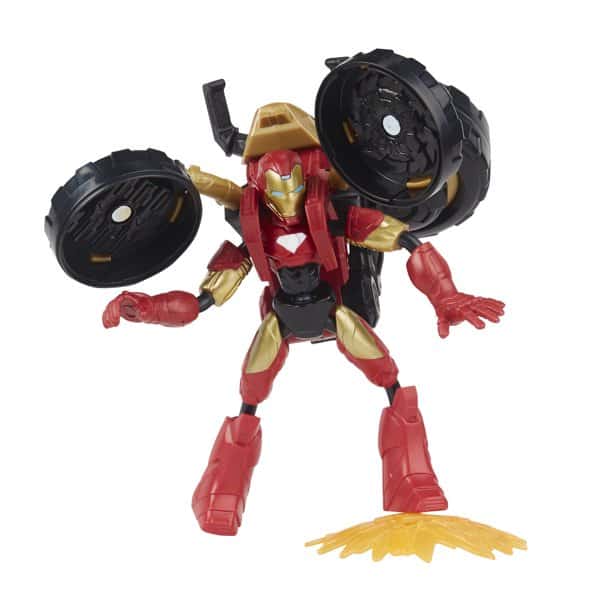 A few varieties of Iron Man figures with cars exist. I prefer the motorbike combo because I'm a biker fan. I also like figures and vehicles you can bend, change, and flex. Remember, I'm focusing on Iron Man toys, meaning they should center on the hero. I'm only picking toys with Iron Man or his suit, which this one includes.
Iron Features
Brand: Marvel
Type: Iron Man car toy
Activity: Iron Man role-play
Ages: 3+
Pros
The Iron Man figure with the motorbike is excellent because of the bendable and flexible opportunities for little hands
The Iron Man bendable figure has more potential than most action figures because the limbs are flexible
The motorbike can bend and transform into a hover suit for Iron Man
Cons
I wish the figure were more prominent and the maker didn't use plastic
Top Q&A
Question: Which Iron Man Toys are the Most Popular?
Question: Where Can I Find an Iron Man Helmet with Jarvis Voice Commands?
Answer: Iron Man helmets with Jarvis voice commands are rare and expensive. They're better suited to serious collectors or fans with deep pockets. However, they make fans feel like they're part of the action in the movies. Cosplay fans can find these pricy helmets from eBay sellers for a few hundred dollars.
Question: Which Iron Man Action Figure is the Most Expensive?
Ultimate Iron Man Toys Guide: Conclusion
Iron Man fans will jump for joy when they see the top selections from Tony Stark's classic suit. Kids will have tons of enjoyable memories when they have toys that match their favorite activities and types. The age groups guide you toward selecting appropriate toys from Iron Man.
Which toys appeal to your children? Maybe your little one's still learning through sensory play. In that case, the Best Dancing Iron Man Figure works well. Do you want your children to enjoy social play while enhancing their critical skills? The Best Iron Man Educational Construction Kit challenges their minds better.
Spoil your child with a collectible action figure with the Best Iron Man Highly Articulated Action Figure if they want toys they can keep for years. Watch children have endless fun outside with the Best Iron Man NERF Gun. Allow kids to relieve the stress of modern life with the Best Iron Man Goo Jit Zu Figure.
Suppose you want the most modern Iron Man toy that works with technology. The Best Iron Man Robot Toy will drive kids wild and parents up the walls. Iron Man toys aren't vastly varied, but you'll find the one that makes your child light up like Times Square. Buy your child the best Iron Man toy before they tear the house down.
For more fabulous toys:
Best Spiderman Toys Guide for the Fan in Your Life
Best Hulk Toys Guide for Supernova Fans – Avid Toy Insider