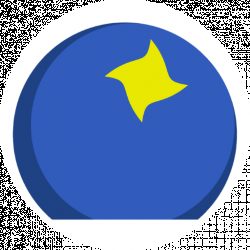 Latest posts by Avid Toy Insider Team
(see all)
Toys and pizza are both great, but you get a fantastic combination when you combine them. I've grown up in a state famous for its pizza by the slice for years.
From homemade to Pizza Hut to pizza in Italy, I've tried it all. So I'm excited to combine my love for pizza with my passion for toys.
If you love pizza and toys too, why not celebrate that by buying a pizza-themed toy? I've created this guide to pick out the best pizza-themed toys that you can check out today. So read this guide on the best pizza-themed toys!
Bottom Line Up Front
There are various options for you to choose from for your child when it comes to the best pizza-themed toys. I love how your child can use their imagination to make a delicious and piping-hot pizza for you.
No toy list would be complete without Melissa & Doug! They're known as one of the top toymakers for children's toys, including educational options.
I chose the Melissa & Doug Deluxe Pizza and Play Set as my top option because it comes with the fixings. It also comes with measuring cups, toppings, pasta, pizza dough, sauce, and a miniature recipe book.
Have your child practice whipping up homemade pizza for you right from the comfort of your own home. I love how it even comes with a check and money too. This is an excellent way for your child to practice counting.
My Top Picks at a Glance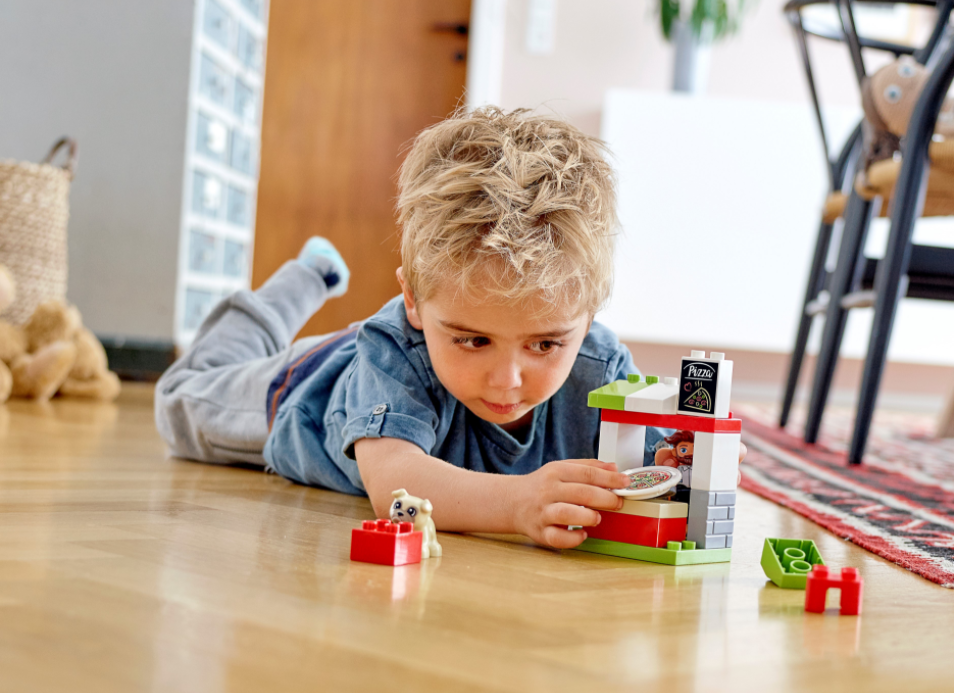 Melissa & Doug Deluxe Pizza and Pasta Play Set-Have your child practice making homemade pizza. They can even hand you a check and take fake money at the end.

Pizza Party-Wooden Play Food Set-I love how this is made from wood, perfect for children from all walks of life!

Melissa & Doug Disney Mickey Mouse Wooden Pizza and Birthday Cake-This is the ideal gift for pizza and Disney lovers combined.

Fisher-Price Laugh & Learn Slice of Learning Pizza-A fun pizza toy for children ages 6 months up!

Eleven Piece Pizza Set for Kids, Play Food Toy Set- A great pizza toy for preschoolers ages three and up. Have your child practice cutting and serving you a slice.

Melissa & Doug Top & Bake Wooden Pizza Counter Play Set-A great opportunity for your little one to practice making pizza through play! It's perfect for the ages of 36 months and up.
Tips for the Reader
It's a good idea to keep your computer open or use a pen and paper to write some pizza-themed toys down. Take your time thinking about your child's favorite toys and age range to pick out the right option.
Selection Criteria
I wanted to include Melissa & Doug since they're well-respected in the educational toy community for children. I remember my nieces always playing with their toys when they were younger and having a ton of fun.
A few different age groups were considered as well. I wanted to make sure that younger children could have options too!
Why Should My Child Play With Toys?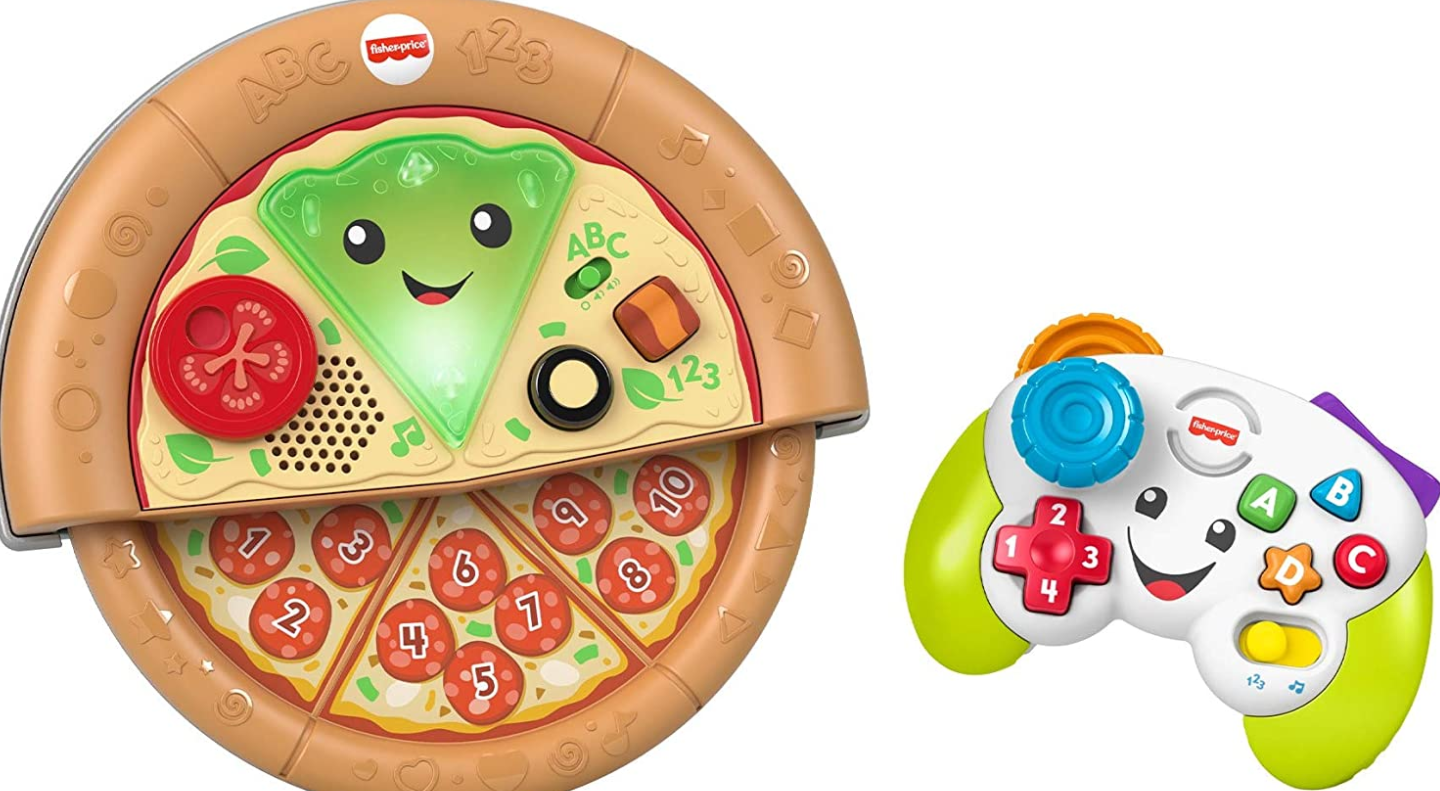 It's a common misconception that a toy must be labeled educational to provide learning for your little one. But this isn't necessarily the case.
When your child is playing, they're using their imagination. Even if it's pretending to bake pizza in the oven and serving it. Even if your child isn't a future chef, creativity through play will stimulate their cognitive skills and learning. Just be sure that the toy you pick out is age-appropriate and matches where your child is right now.
How To Pick Out the Perfect Pizza-themed Toy
First, it's essential to consider that each child is different and their age isn't everything. The age range on toys is a guideline to ensure that you don't pick out something too overwhelming for your child.
Certain children have developmental delays, which will make some toys harder or overwhelming for them. Pay attention to your child's individual needs and consider going down an age range if you're unsure. Some toys on this list start as young as 36 months.
Melissa & Doug
I wanted to dedicate an entire section to Melissa & Doug. Working in preschools and daycares, I've seen numerous Melissa & Doug toys and how beneficial they are.
First off, Melissa & Doug toys tend to be award-winning since they can stimulate your child's mind. Even though education and play are combined, your child is still having fun too! They have various toys, especially for toddlers and preschoolers, that are age-appropriate.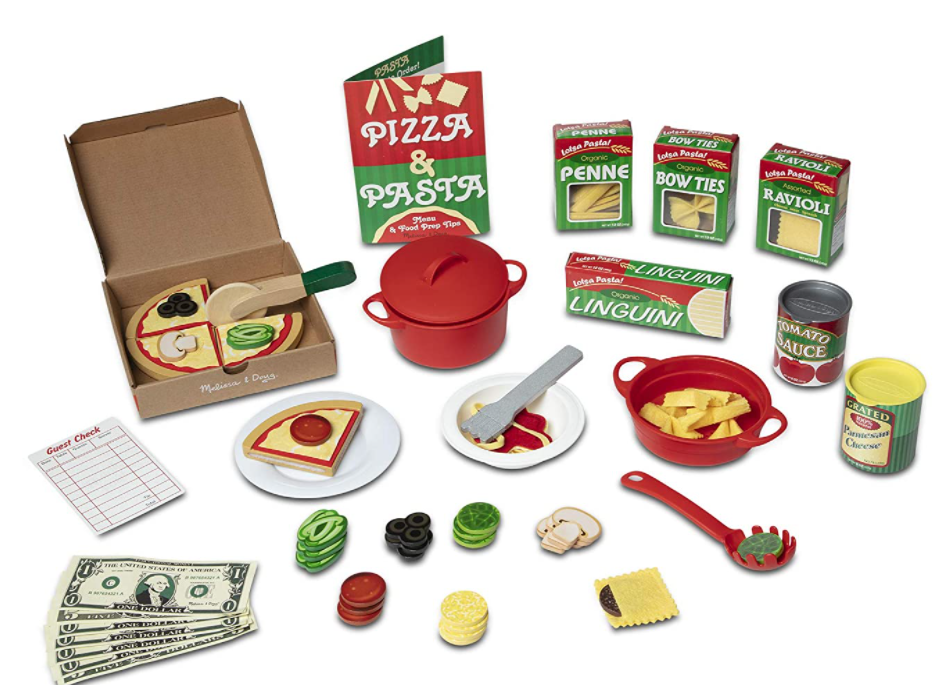 I am excited to see a playset that includes both pasta and pizza! It's incredibly creative and will give your child plenty of options for learning through play.
Have your child throw on some toppings and cut the pizza for you. They can even pretend to make the pizza with the sauce containers and toppings. It comes with a miniature recipe book and measuring cups to enhance your child's learning experience.
There are four different types of pasta:
Linguini

Ravioli

Penne

Bowtie
I love how it even comes with the check and play money. Have your child practice counting by giving you your change. The set comes with 92 pieces!
Pros
92 pieces

Various pieces to satisfy the perfect pizza experience

I love how it even comes with a check and play money
Cons
I kind of wish that it came with a play toy register, even if it was smaller

No toy oven to place their pizza in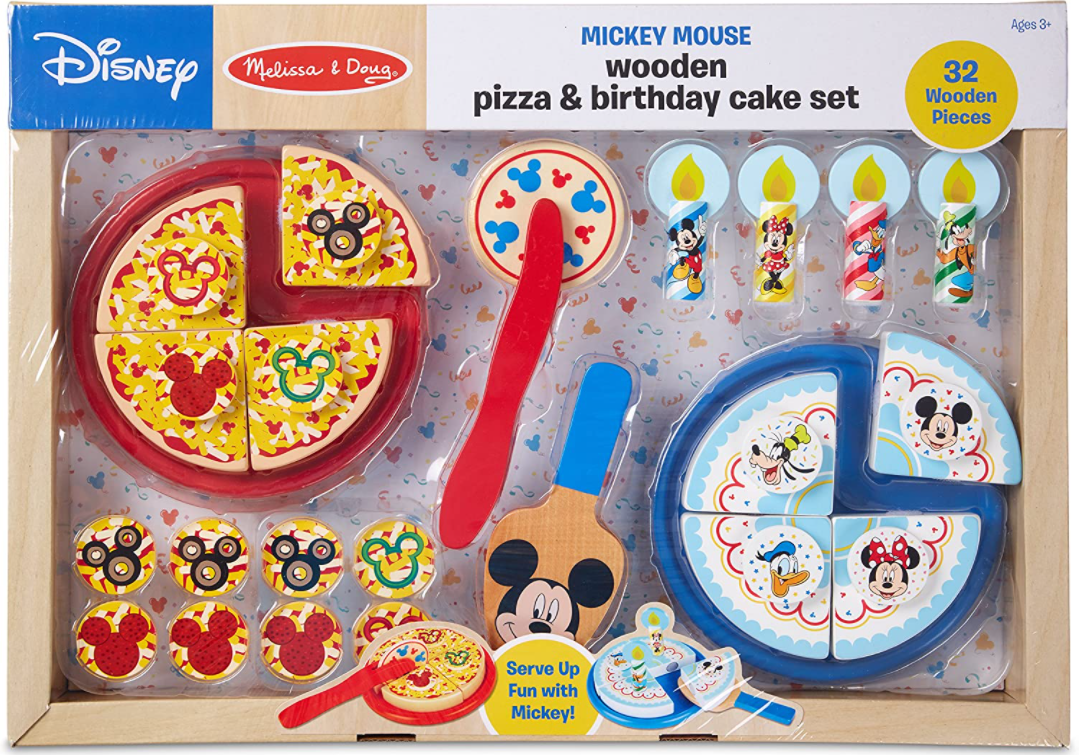 There's nothing better than combining a toy that comes with a pizza and birthday cake! Plus, it's Disney-themed.
This is the perfect gift for your Disney enthusiast as they get ready for a birthday party with Mickey! I love how it even comes with pins for your child to wear.
The birthday cake features fake candles for your child to practice blowing out. The pizza and birthday cake have slicers to cut the cake and pizza.
I love how colorful both the pizza and birthday cake are. The blue of the cake really makes it stand out. Plus, even the pizza has Mickey themes on it!
Pros
Disney themed!

Comes with a pizza and birthday cake

Comes with pins
Cons
It might be monotonous after a while since it comes with a limited amount of pieces

If your child isn't crazy about Disney, then they might not like this toy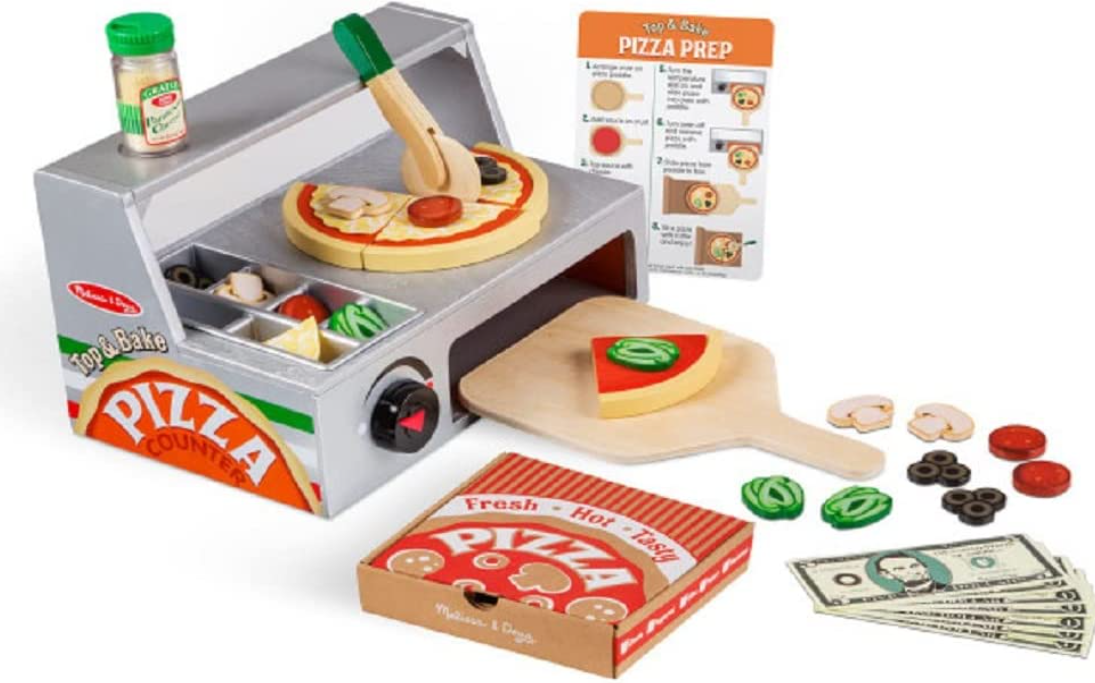 Another excellent option for Melissa & Doug fans! It comes with the works!
A brick oven, pizza, the box, money, toppings, prep instructions, and cheese.
They have other themes to choose from, too, including:
Pizza and Slice and Bake Cookie Set

Pizza and Thirst Quencher Dispenser

Pizza and Birthday Party

Pizza and Pizza Party
I love how this comes with everything you need for your very own pizza shop! The only thing missing is the register. It even comes with a brick oven too. Perfect for children who are three and up.
Pros
Hours of fun

Comes with various ingredients for fun pizza-making

I love how it even comes with a pizza oven
Cons
Be careful with the pieces because the felt could come off easily

A smaller pizza

No cash register
Preschool Fun
Whether your child is in preschool or about to be, give them these educational toys to learn through play. I love how your child can have hours of playmaking a pizza with these different toys.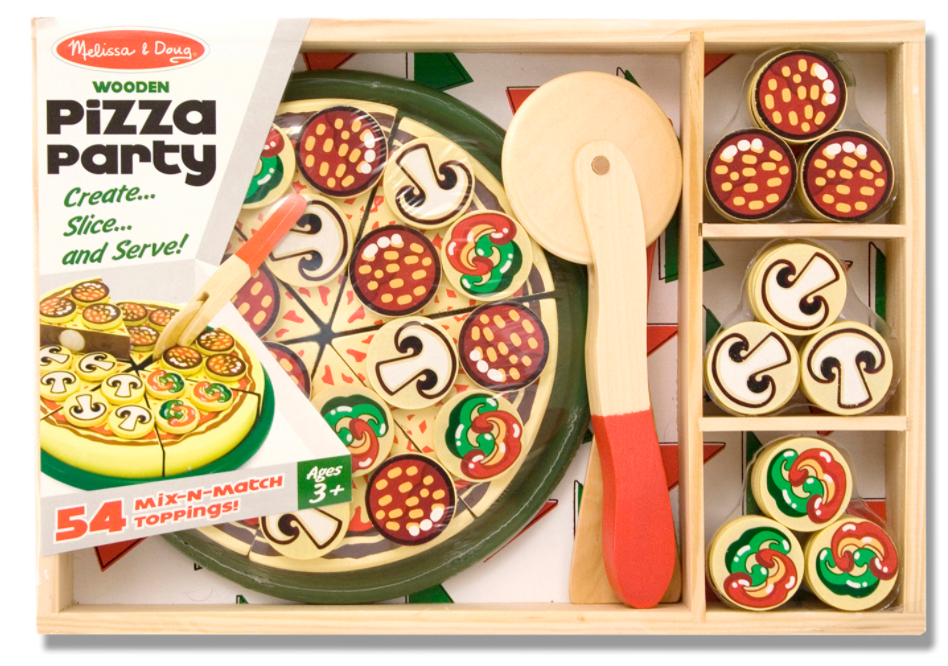 Take your next play pizza party to new heights with this fun playset. It even comes with 54 pieces!
I love how it's wooden, which is perfect for various ages. If your child is at least three years old, they might love this toy.
The toppings allow them to make different kinds of pizza. Finally, there's a slicer for them to serve the pizza after creating it.
Pros
Plenty of toppings for a different variety of pizzas

Has a slicer and serving utensil

Comes with a pan for the pizza
Cons
It comes with fewer pieces than other toys

Some children might find it too simple of a toy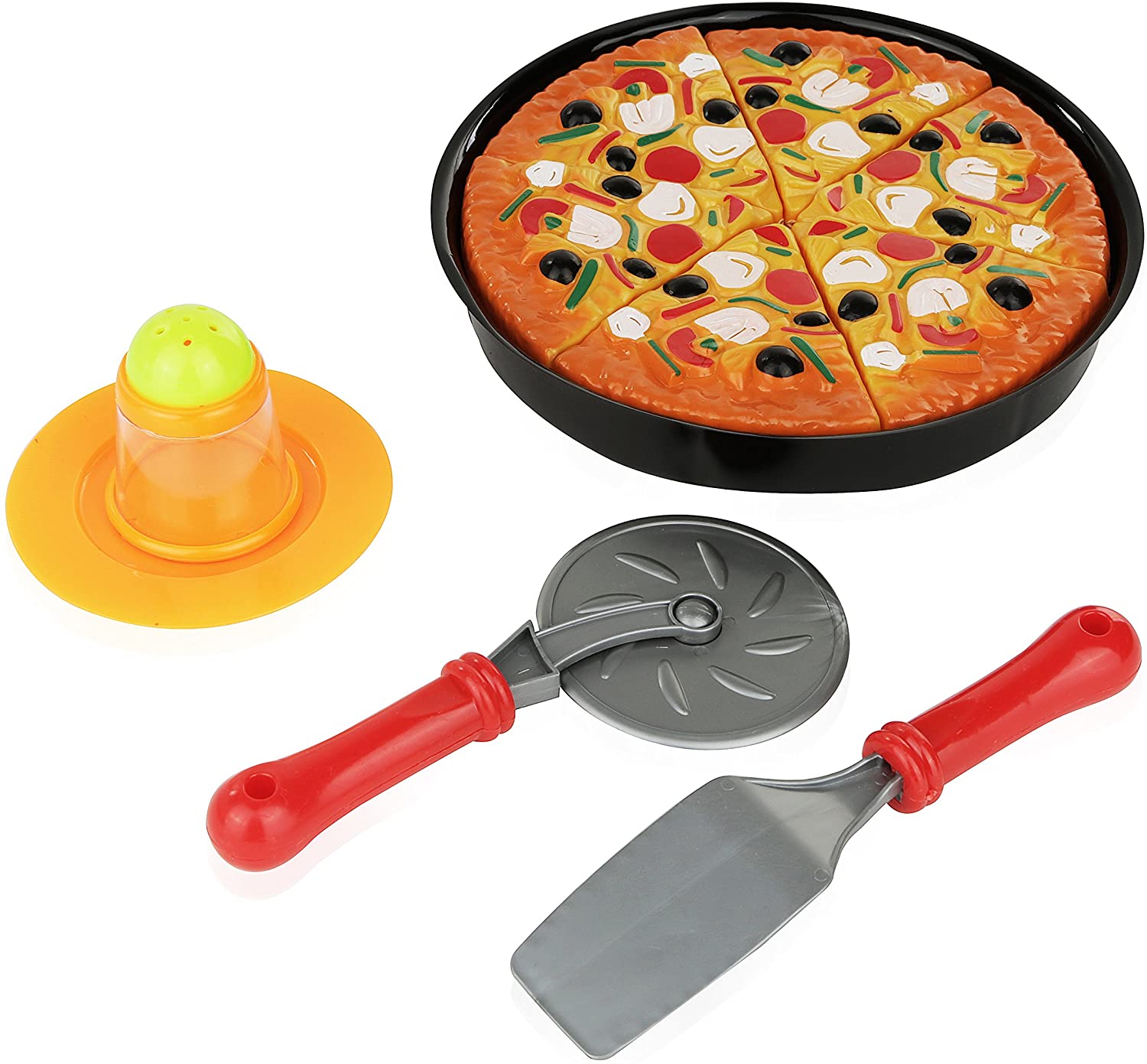 This is another fun option for preschoolers! Have your child cook, slice, and serve your pizza on a plate.
The perfect pretend toy for your child to learn through imagination. I love how each slice has velcro on it, making it easy to place together or apart.
The pizza is colorful, with different toppings already pressed on it. It even comes with slicing and serving utensils. There's even a bottle for your child to pretend to place more cheese or other spices.
Pros
A great option for preschoolers

Fun to slice and serve

Convenient and not too many pieces to worry about losing
Cons
Fewer pieces

It might be boring for older children
Unique Finds
These toys don't fit into the above options and might be slightly different from what you'd expect! However, not all toys have to be marketed as educational learning opportunities.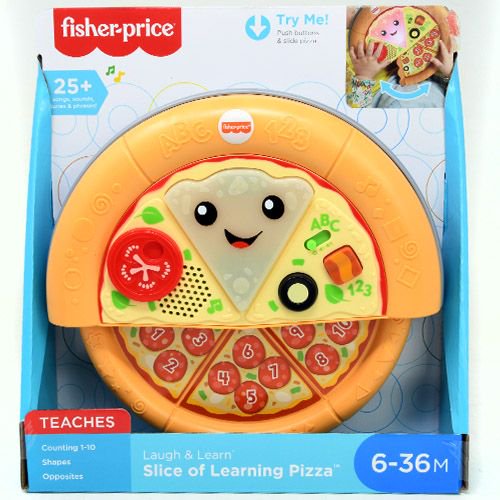 An excellent toy for the younger ones who are at least six months old. If your child is between six months and three years, they might love it.
I love how Fisher-Price thought of little ones when they made this toy. It even lights up and plays songs.
Your child can push the button or slide the pizza to learn to count, shapes, etc. The colors are vibrant to keep your little one engaged through play.
Pros
Perfect for younger children

Lights up while they play

Plays music
Cons
It doesn't do much since it's for younger children

Not much included
Pizza Plush
No pizza-themed list would be complete without pizza plush! This is a great one for children and adults alike.
They make great gifts for the pizza lovers in your life too.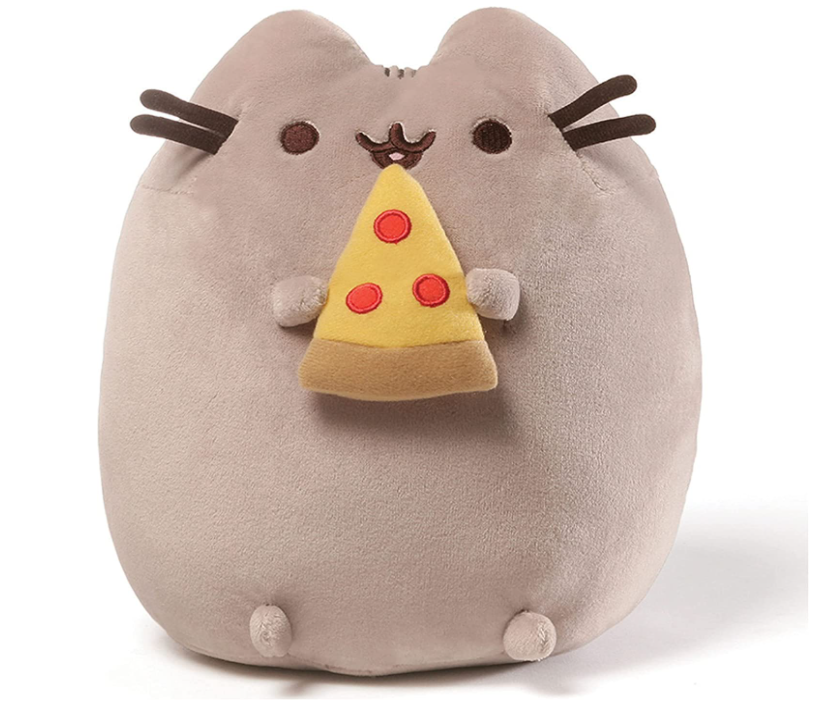 Whether you love cats, pizza, or both, this is the perfect gift! I love how this toy is of the original Pusheen smiling while she eats a slice of pizza.
It's a more simple design that works. There are even three pieces of pepperoni on the pizza. Plus, the size of this Pusheen is squishy, cuddly, and the perfect size to carry around.
Pros
Cuddly

Pizza and Pusheen

Original Pusheen design
Cons
A more basic design

Not a good option for those who don't like cats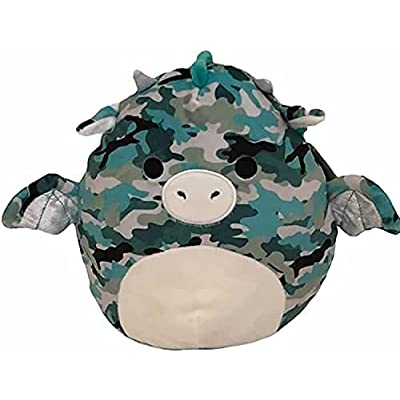 The perfect toy for fans of Squishmallows! If you know someone who loves Squishmallows and pizza, this is a great option.
It's super cuddly and squishy too. Plus, it's a great size for cuddling and carrying around. Finally, I love how colorful this is.
This Squishmallow is also smiling at you! But, of course, since it's a Squishmallow, you can expect for it to be soft like a marshmallow.
Pros
Soft and cuddly

A great idea for starting a collection
Cons
A more basic design

Doesn't do anything or make sounds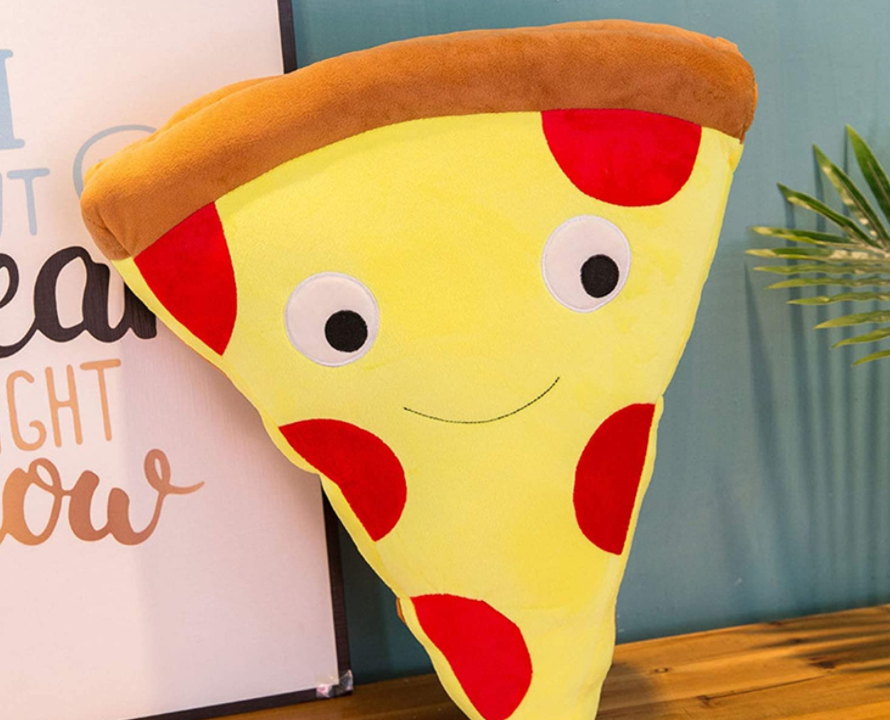 I love how soft and cuddly this toy is! Whether your child or friends love pizza or stuffed animals, this is bound to be a hit.
Look at the size too! Perfect for picking up and squeezing tight.
The eyes almost look like googly eyes, although they're stuck on. It's a happy smiling pizza with pepperoni! The colors are nice with red pepperoni, a yellow body, and a brown crust.
Pros
Large

Soft and cuddly

Colorful
Cons
A more boring toy for some

Too big for younger children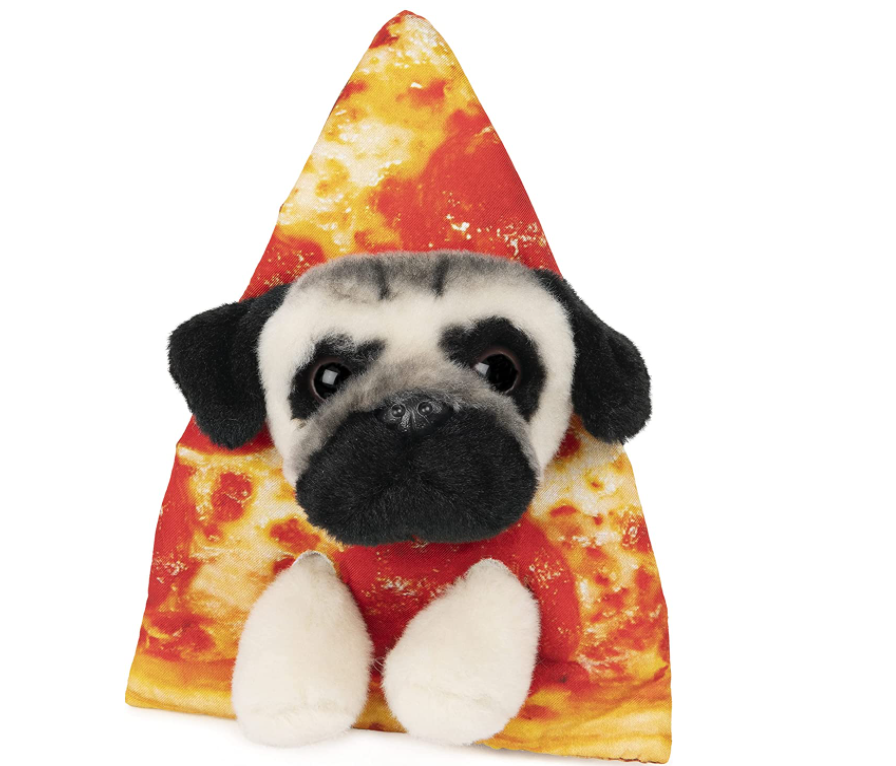 Another fun option for kids who are at least one year old. A dog and pizza combination perfect for those who love both!
Cuddle up with the precious doggy as you carry them around with ease. It's smaller, which makes it compact and easy to carry around. I love how vibrant and colorful the pizza is too. Plus, it's GUND which is a popular stuffed animal brand.
Pros
Cuddly and soft

Colorful and vibrant

Precious dog
Cons
On the smaller side

Be careful around pets because they might think that it's a toy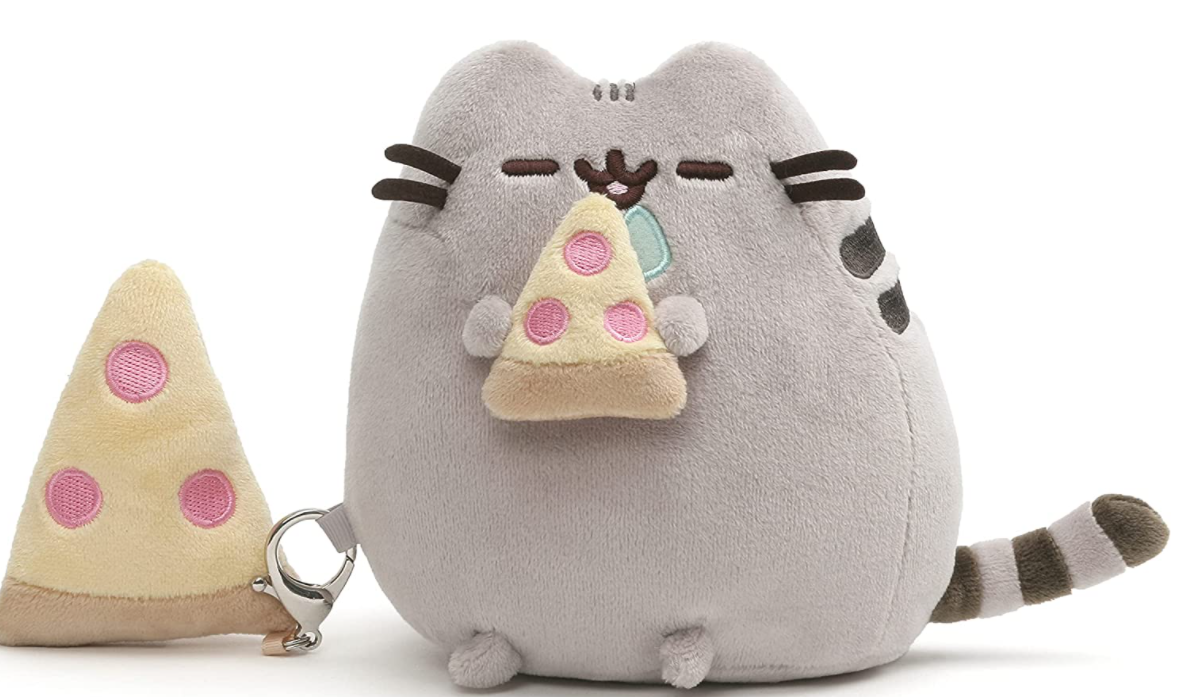 Another fun pizza toy from GUND! Whether you love Pusheen or cats, this is a win-win. It even comes with a pizza clip!
I love how soft and cuddly this toy is. Pusheen looks like the original cat too. There's even pastel coloring on her while she eats a slice of pepperoni pizza.
It's interesting too how the pepperoni is pink instead of red. Pusheen is soft and cuddly too. It even has a Spin Master Care Commitment too.
Pros
Soft and cuddly

Pastel colors make her pretty

The perfect gift for cat and Pusheen lovers alike
Cons
A more basic Pusheen toy

It isn't interactive
FAQs
Question: What are the Best Pizza Toys for Kids?
Answer: From pizza toys for kids to Melissa & Doug pizza ovens, there are various options to choose from!
Question: What are Some Good-themed Pizza Activities for Kids? 
Answer: Pizza Alphabet Play Dough Mats, Pizza Book Report, and more!
Question: How to Pick out a Suitable Pizza-themed Toy? 
Answer: First, think about your child's age and interests. From here, you can take a look at the different categories to pick out the suitable toy for your child.
Exploring the Best Pizza Themed Toys
After exploring this guide, you should better understand some of the best pizza-themed toys. Remember to keep your child's age and interests into consideration.
At the end of the day, if I had to choose a favorite, it'd have to be the Melissa & Doug Deluxe Pizza and Play Set. It comes with the different elements of making the perfect pizza.
Watch your child learn and grow through play. From making pizza to pasta, they'll have hours of fun!
If you enjoyed this article, be sure to check out our other articles today.
To read about more impressive toys: