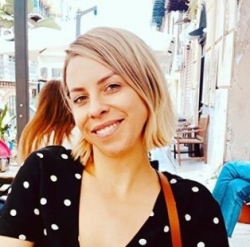 Latest posts by Jodie Chiffey
(see all)
There is an overwhelming amount of information and endless choices when it comes to theme toys like Wolverine toys, so it can be a challenge to know where to even start when looking for the best Wolverine toy.
I'm not going to claim to be a huge Wolverine fan; I'm not. But I am the mom of boys who find this immortal (yet, not undefeatable) mutant absolutely fascinating! Wolverine has enhanced physical abilities, super healing powers, and unreal hunting skills; he's also a competent and experienced hero. So, I fully back their idolization of Wolverine.
However, this Best Wolverine Toys guide isn't about me buying Wolverine toys for my kids, but me helping you to buy the best Wolverine toys for yours, or the Wolverine fan in your life.
So, let's get to it!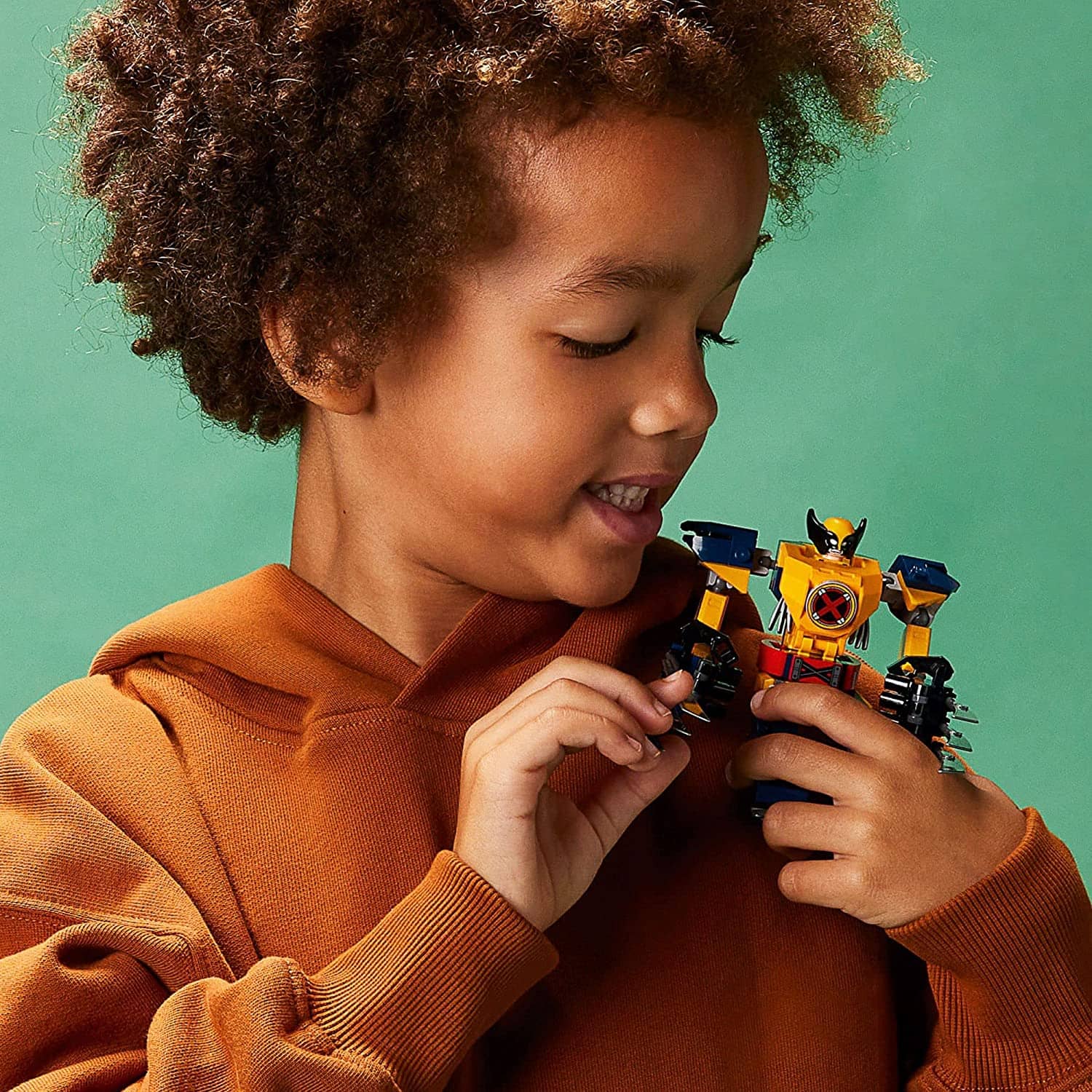 Best Wolverine Toys: Bottom Line up Front
Many may not agree with my choice of the Marvel X-Men 20 Pack Die-Cast Figures as my top choice, so let me tell you why. This pack of figures is hugely affordable, includes all the leading Marvel figures, and is multi-use (cake toppers, decorations, stocking fillers, battle toys, they do it all). While there isn't the wow factor, there are so many uses met with this purchase.
Best Wolverine Toys At a Glance
How I Selected the Best Wolverine Toys
Wolverine is one of the most popular Marvel characters out there, so it is no surprise that there is an incredible amount of merchandise out there. I wanted my Wolverine toy guide to be something other than a rundown of one type of toy, figures, so I looked to include different Wolverine toys that suit various ages and are suitable for a range of activities.
The types and subtypes I will include in this guide are:
Action figure (this was hard to choose!)
Building kit
Collectible figure
Complete playset
Plush
Role-play costume

My Product Criteria
As well as considering the options above, I also looked at the following:
Features
Were the features worth it, or purely gimmicks? I wanted to feel 100% comfortable in recommending each toy here, so if I deemed the features of a toy to be simply a price accelerator, I didn't include that toy in this guide.
Quality
Not every toy here is an officially licensed product. However, the toys I have included are all of good-to-excellent quality and contain no harmful substances.
Price
I wanted to accommodate every reader's budget, so I looked for Wolverine toys that were super affordable and for those that were a little more in the luxury bracket. I also included lots of toys that were between these price points. This way, I hope to have catered for everyone.
Different Types of Wolverine Toys
As discussed above, this isn't a 'best Wolverine figures guide'; it is an overall guide to the best Wolverine toys. And so, I looked at various types and subtypes to include my #1 in that category.
Consumer Feedback of Wolverine Toys
I wanted to ensure that verified consumers had a positive experience with their purchases. If, speaking generally, this wasn't the case, then that toy would not make it into this guide.
My 7 Best Wolverine Toys
#1 Marvel X-Men 20 Pack Die-Cast Figures – Top Pick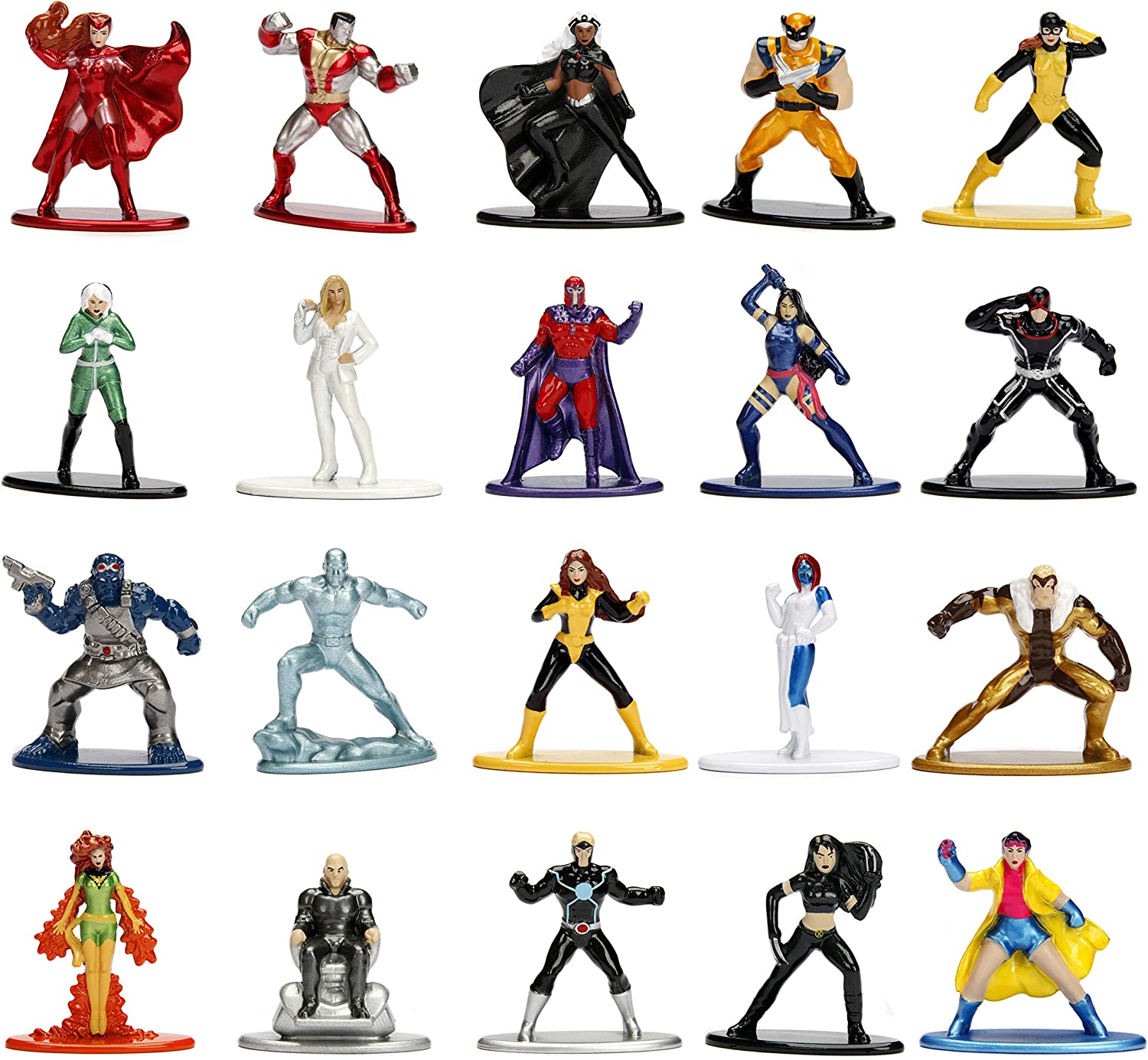 As discussed earlier in this post, the Marvel X-Men 20 Pack Die-Cast Figures do not have the wow factor; it is doubtful that children will open this present and gasp in disbelief. However, the set has so much going for it, which I believe outweighs an initial moment.
If you're looking to create an awesome Marvel-themed cake, these will do it. If you want to have small figures on hand as reward presents, these are perfect. And, if you want to add a load of figures to an existing toy collection or you're looking to start a figure collection, this set is ideal. The absolute best part? They're under $25 with free delivery at Amazon.
Each of the 20 figures is made from 100% die-cast metal with premium metallic paints; they stand at between 1 and 2-in tall and stand-alone. In addition to Wolverine, this exclusive 20-pack also includes other Marvel favorites such as Phoenix, Iceman, Beast, Cyclops, Colossus, and Professor X.
The manufacturer is Jada Toys, an American manufacturer of collectible scale model cars, figures, radio-controlled model vehicles, and dolls. These figures are of great quality, with excellent attention to detail.
Pros
American Manufactured
100& Die-Cast Metal
Premium Metallic Paint
20 Mini Marvel Figures Included
Multi-Purpose Figures
Excellent Consumer Feedback
Cons
The is no wow-factor
The figures are mini
The stands for the figures can be annoying for imaginative play
Figures have no moveable limbs
#2 Wolverine Titan Hero Series Action Figure
When looking for Wolverine figures, the amount of choice is literally incredible. Narrowing this down was challenging, but I decided that the Wolverine Titan Hero Series Action Figure was the best all-around choice due to the fact it is affordable, fun, durable, part of the Titan Hero series, and manufactured by Hasbro. What more could you want?
Also, this figure is an online bestseller with masses of positive consumer feedback.
Wolverine stands at 12-in, which is typical for Marvel figures, you can move his limbs, but they do not bend. My sons are rough with their play, and this figure stands up to being launched, thrown, battled with, and when played with as a bath toy. The paint doesn't chip and has a lovely high shine to it, which makes it look more expensive than it is.
Pros
Manufactured by Hasbro
Part of the Titan Series
Stands Alone, Moveable Limbs
Durable
High Shine Finish
Very Affordable
Cons
#3 LEGO Marvel Wolverine Mech Armor 76202 Building Kit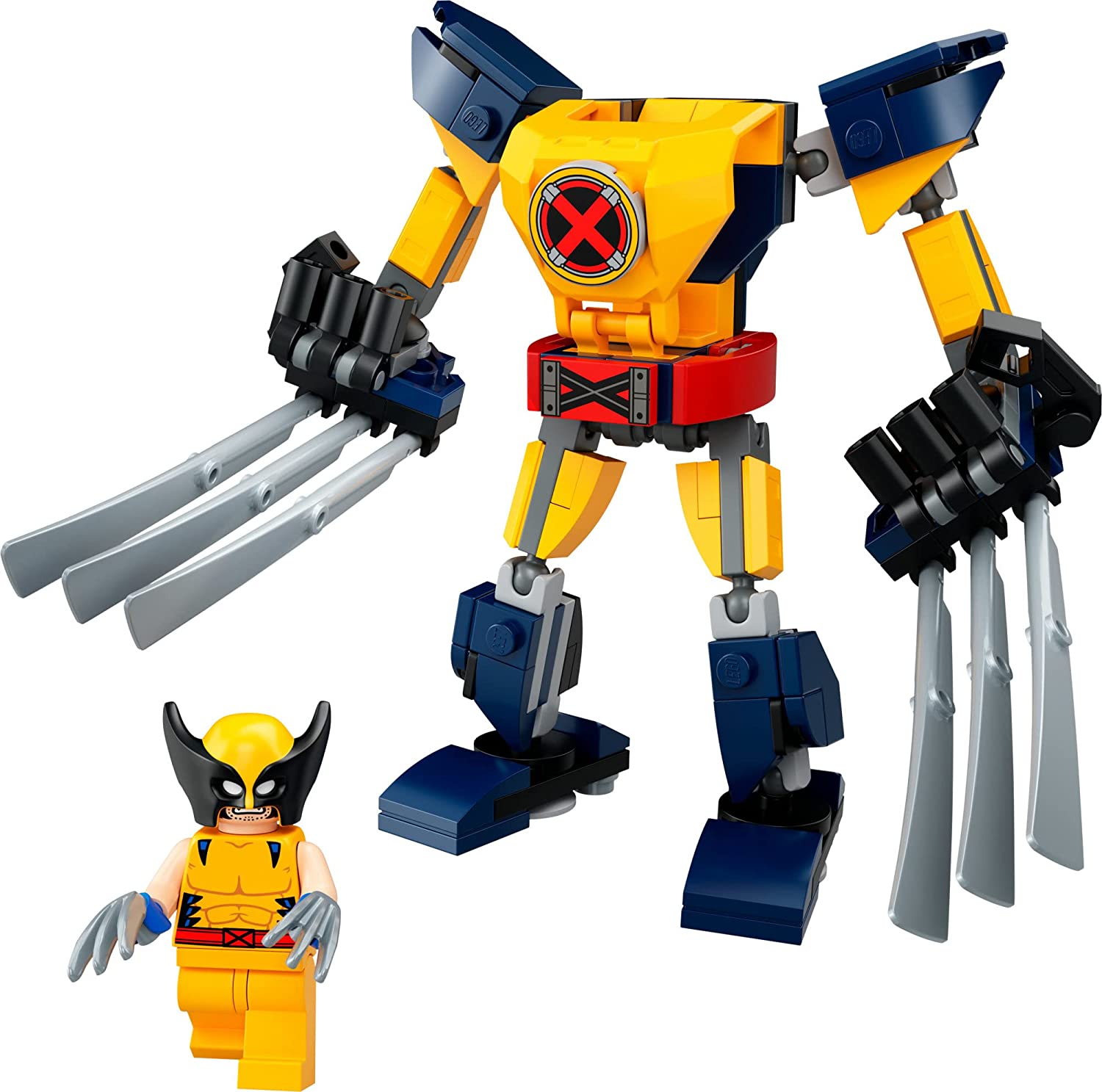 The LEGO Marvel Wolverine Mech Armor 76202 Building Kit is an Amazon #1 in building and construction toy figures, and it's easy to see why. To begin with, the price is unreal! For under $7, you have a hugely educational toy that is great fun.
I love LEGO toys, and this Wolverine LEGO set does not disappoint. The overall quality is superb. However, there are more than 100 pieces to this puzzle, so I wouldn't recommend it for younger children or those who haven't mastered great patience yet!
When complete, Wolverine stands at around 4 inches, so he isn't huge. However, the claws are moveable, and there's so much opportunity for play. Overall, this is a great buy.
Pros
Huge Value for Money
#1 Best Seller
Official Merchandise
Educational and Fun
Cons
Not Suitable for Younger Children
Small Figure Once Built
#4 DIAMOND SELECT TOYS Marvel Gallery: Wolverine PVC Figure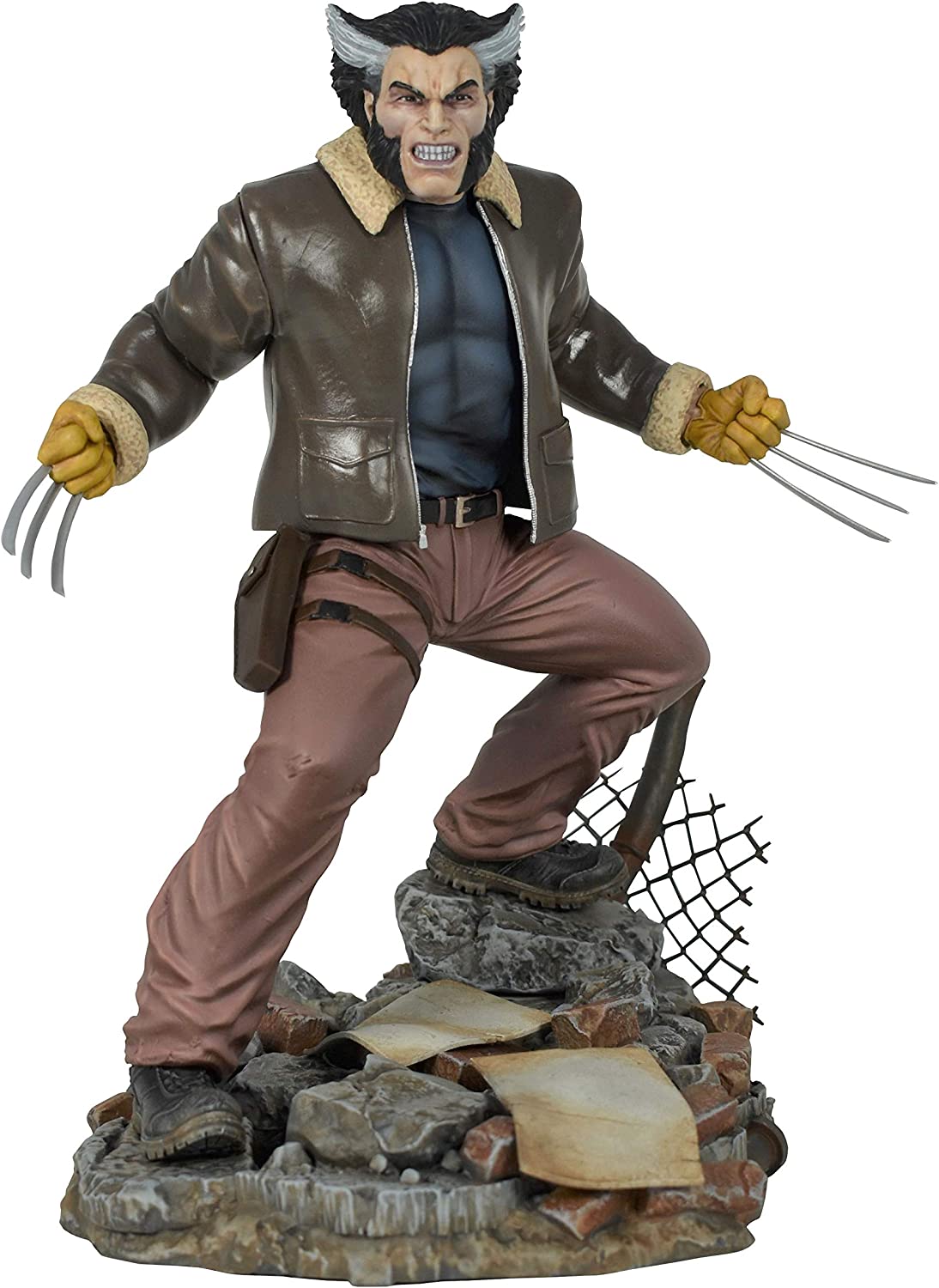 If you're looking to buy Wolverine toys for teenagers or adults, the DIAMOND SELECT TOYS Marvel Gallery: Wolverine PVC Figure could be a good choice. This is extremely well-made and undoubtedly worthy of a place on any collector's shelf.
While expensive, it isn't excessive for a product in the collectors' category, and the attention to detail is incredible.
DIAMOND SELECT TOYS has a range of Wolverine figurines to choose from, as well as other characters. The brand is reputable, has great reviews, and has an excellent catalog.
Drawback? If anything, I would like the figurine to be a little taller.
Pros
Superb Quality
Excellent Attention to Detail
Impressive Brand Catalog
Cons
Smaller than Expected
Quite Pricey
#5 Marvel Wolverine 10″ Plush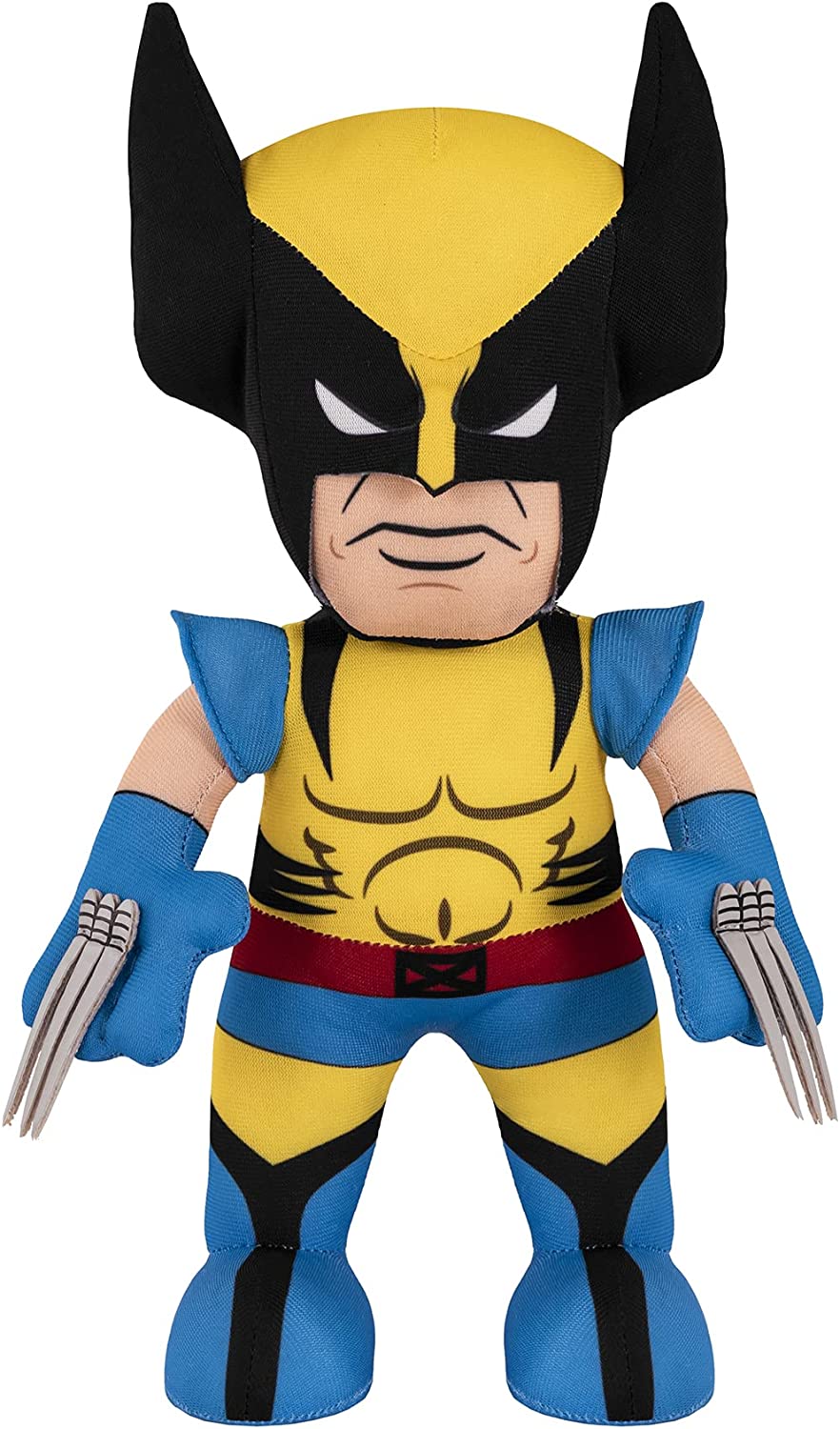 There are many Wolverine plushies on the market today, but I have chosen the Marvel Wolverine 10″ Plush to recommend because – quite simply – I believe it to be the best one.
This plush stands alone at an impressive 10-inch tall; it's sturdy yet comfortable to cuddle. The detail is much better than I've seen on other Wolverine plushies, too.
While I believe this to be a durable plush, I am unsure how well it will retain its bright coloring after a few washes. I think it will withstand this well, but I cannot guarantee it!
Pros
Stands Alone
10-in Tall
Sturdy and Durable
Comfortable to Cuddle
Great Detail
Cons
Unsure How Well it Will Wash.
#6 Superhero LED Wolverine Masks and Capes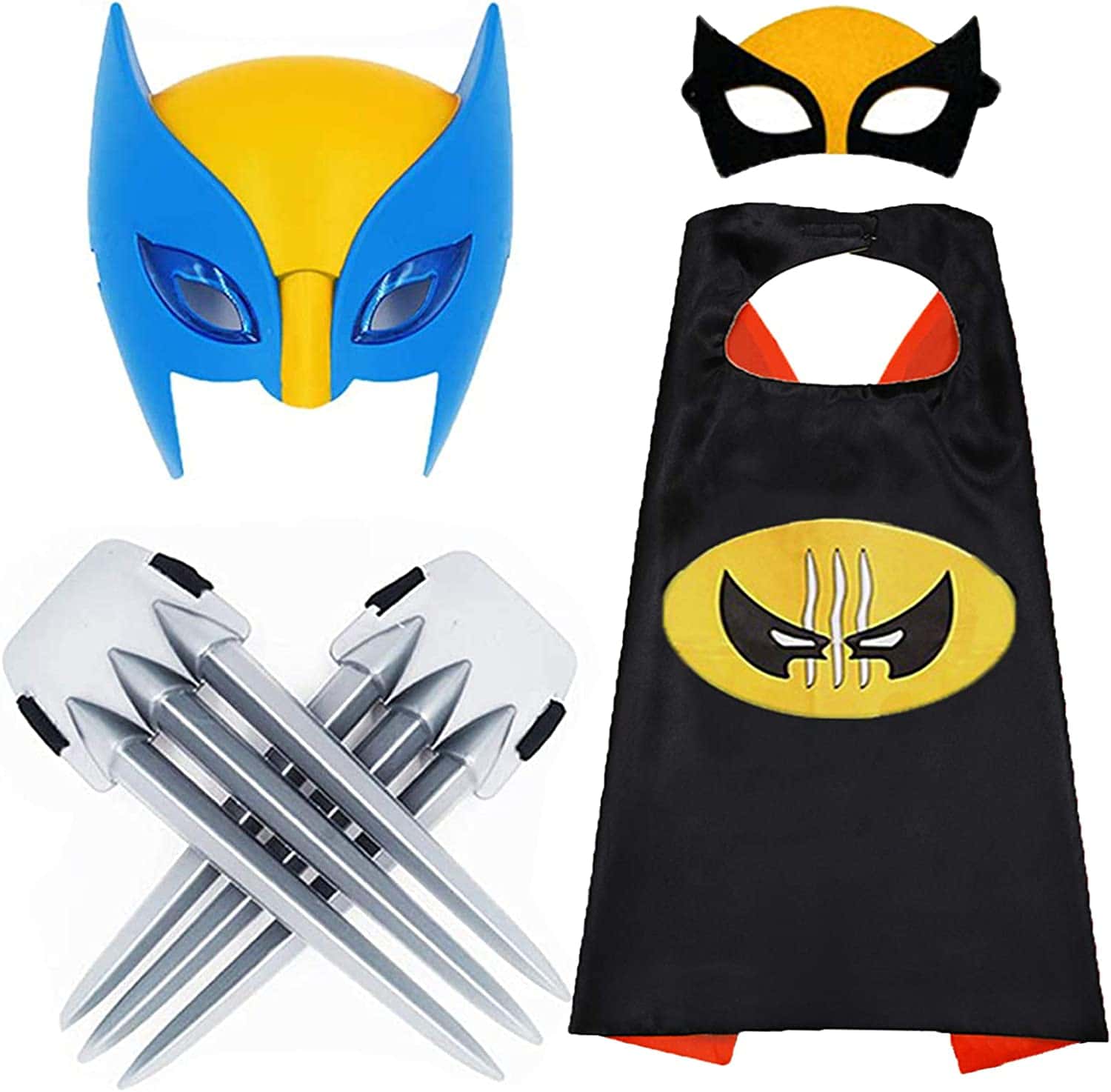 We have a vast collection of dress-up costumes for kids at my house, so I am somewhat of an expert when it comes to choosing and caring for them. I avoid the unwashable ones at all costs – my children have all had a favorite costume that they would wear all day (and night) for months on end; if you can't wash it, it's kind of a job for the local sanitation department after a while!
The Superhero LED Wolverine Masks And Capes is made from silk, so it can be thrown in the washing machine on a delicate setting and come out fresh and lovely again. The material choice also makes it really comfortable and non-itchy to wear, which is perfect for children with Autism or sensory disorders.
Most costumes are just a standard costume, but this has the addition of a super cool LED mask, felt mask, and two Wolverine-style claws, which is certainly an upgrade on a typical one-piece costume.
I dislike that this is a one-size costume, meaning it will be difficult to find the perfect fit for your child.
Pros
Comfortable
Washable
Great Accessories
Excellent Feedback
Cons
#7 Wolverine Funko Pop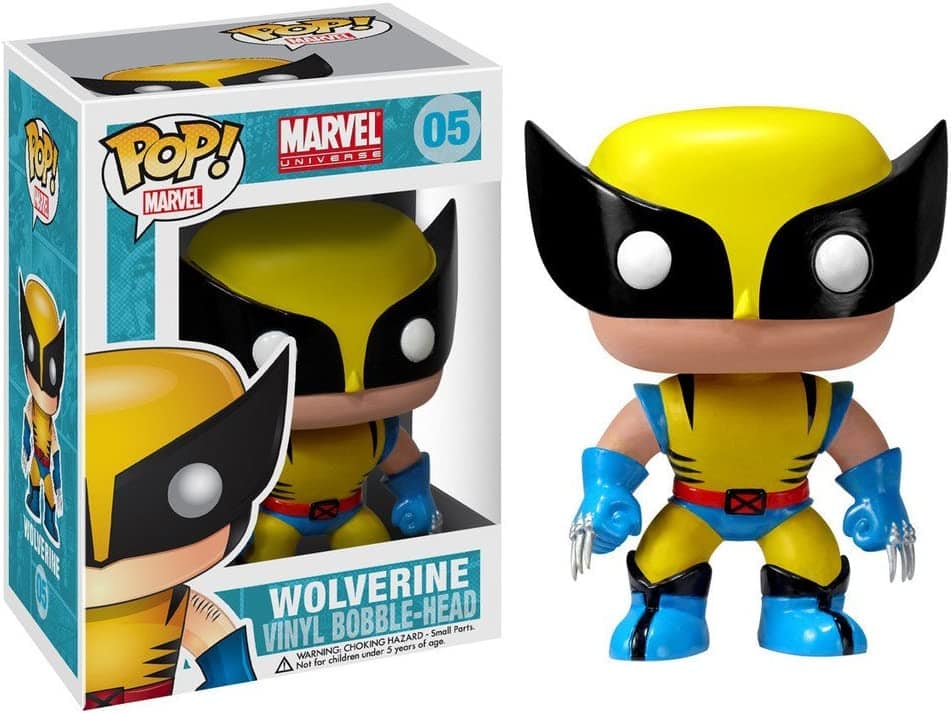 Who doesn't love a Funko Pop? If you're unsure what to buy the Wolverine-lover in your life, it would be hard to go wrong with this Wolverine Funko Pop.
As standard, this officially licensed Funko Pop stands at 3 ¾ inches tall and arrives in a pristine classic box (most consumers have found this to be the case, anyway).
As well as being a great gift, Funko Pops can make good investments and be worth a hefty sum of money in the future. Buying today? It's less than $20.
Pros
Safe Choice for Gift
Good Price
Excellent Consumer Feedback
Officially Licensed Product
Cons
Buying Funko Pops online means a risk in transit for the box – while this doesn't seem to be the case with this one, it is worth bearing in mind.
Frequently Asked Questions
Question: Is There a Universal Wolverine Toy, Perfect for Everyone?
Answer: If you want something more than an annual or comic, the Wolverine Funko Pop is a safe choice that's suitable for most ages, budgets, and fan level.
Question: How Much is my Wolverine Figure Worth?
Answer: If you have a rare, original Wolverine figure, it could be worth a lot of money in today's collectors market. The best way to find out its value is to search online auction sites or head into your local comic store to speak to a real-life figure expert!
Question: Are There Any Educational Wolverine Toys?
Answer: I firmly believe that all toys are educational and provide an excellent foundation for learning and developing various skills. If you're looking for a specifically educational toy, the LEGO Marvel Wolverine Mech Armor 76202 Building Kit is designed to help with hand-to-eye coordination and the development of fine motor skills and logical thinking.
The Best Wolverine Toys: Verdict
I believe all the Wolverine toys featured in this guide are the best options within their category. And that each category has its own appeal to individual readers. In my personal opinion, the Marvel X-Men 20 Pack Die-Cast Figures are the best multi-purpose toys and are hugely cost-effective, too.
However, for toys that's main focal point is on the fun factor, my recommendations would be the Wolverine Titan Hero Series Action Figure, Superhero LED Wolverine Masks, And Capes, or the LEGO Marvel Wolverine Mech Armor 76202 Building Kit.