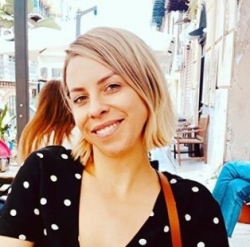 Latest posts by Jodie Chiffey
(see all)
Out of two sons, I have one who loves Transformers, and I mean love in a huge – slightly obsessive – way. So, for each occasion, such as Christmas, Birthday, or as a reward, I will look for a Transformer toy to meet their current preference and my current budget; as both can change!
For this post, I have looked at current trends, age-specific buys, as well as my tried-and-tested favorite Transformer toys, to produce a guide that should suit every reader. But before we get to the products, let's see them in brief!
7 Best Transformers Toys at a Glance
Bottom Line up Front
I genuinely adore the Desuccus Remote Control Car, Transformers Robot RC Cars. It is a fabulous all-around toy for children of most ages. Younger children can operate it simply via the one-button control, and older children can have endless fun using their imagination and the transformation between vehicle and robot.
Parents will likely love the price, durability, and fact that the toy's made from non-toxic ABS plastic material.
The Desuccus Remote Control Car is also an online best-seller!
What are Transformers Toys?
Transformers are toys that transform, typically from a vehicle to a robot and vice versa. They're often inspired by children's-favorite characters from big movies or TV shows.
Transformers toys have been a mainstream popular toy for generations, and this is down to many reasons but mostly their ability to be changed; basically, children receive two toys in one toy, which is fantastic for imaginative play.
Are Transformers Toys Educational?
I am a Mom who loves to use any kind of resource as an educational tool, and Transformers toys haven't escaped this! Learning through play is scientifically proven to be one of the most effective ways for a child to grasp educational concepts.
I fully believe that Transformers toys can help children to learn and develop new skill sets, such as problem-solving, fine motor skills, and to learn about the world around them. For example, why does a plane fly and a boat sail; how does a plane fly and a boat sail?
Any time you sit down on the floor and play with your child, you provide them with an education. They're learning to interact socially in an appropriate way, developing reciprocal conversation, and making memories with you that you'll both treasure forever. In this sense, Transformers toys are the perfect educational toy.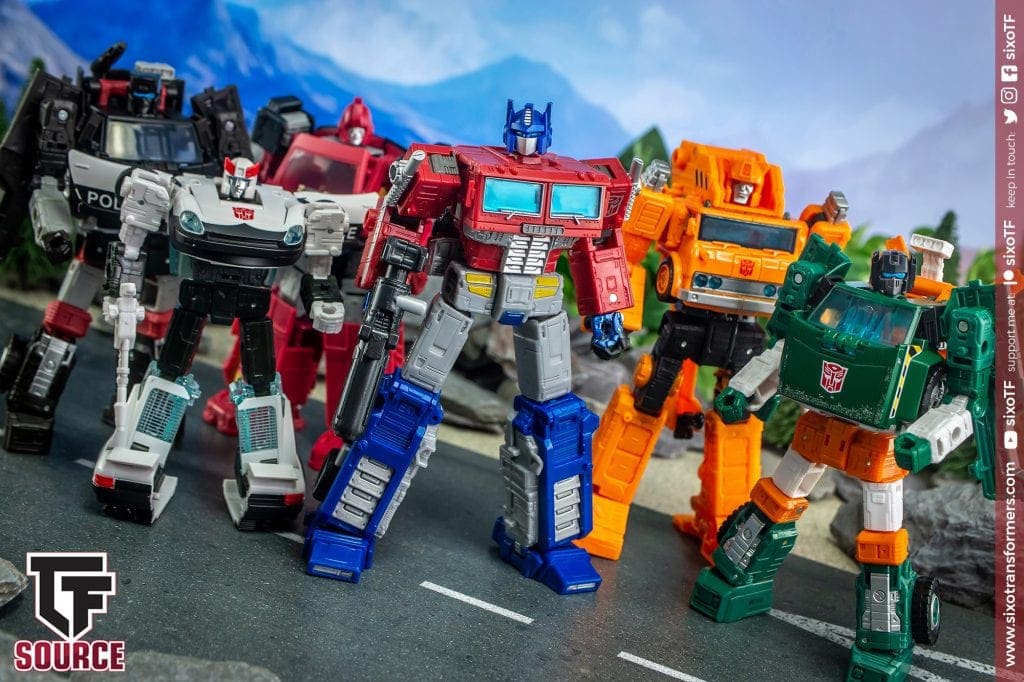 How to Choose the Best Transformers Toys for Your Kids
As with any type of toy, there are many things to consider when looking to choose the best Transformers toys for your kids.
Here is my go-to list of priorities:
Type of Toy
If you have a child in your life that loves Transformers toys, there's a high chance other people in their life will buy them this type of toy for special occasions. Having two of the same Transformers can be pretty devastating for a child, so I'd always look at my own toy stock or inquire about the toy stock in another home to prevent duplicate buying.
Additionally, there are various types of Transformers; robots, monsters, aliens. Trucks, planes, boats. What is the child's preference? Do they prefer monsters and planes or robots and trucks? Whatever they like, there'll be a Transformer toy to match.
Manufacturer
Now, I am all for a bargain, but if it comes at a cost such as a lower quality or a poorer standard of manufacturing, that price is too high for me. I would always ensure the manufacturer of the Transformers toy is a verified seller with an official merchandise license. This way, you've removed the risk of fragile or unsafe toys.
Age
For safety reasons, I would always adhere to the manufacturer's recommended age rating when it comes to Transformers toys. Some can have such small parts that they're absolute choking hazards. On the other end of the spectrum are the complicated, electronic Transformers that would just be too complex for a younger child to figure out.
Price
I have paid a little for Transformers toys, and I have paid a lot. I have found that the more you pay for this type of toy, the better the quality and the greater the longevity. I don't regularly recommend buying expensive toys, but for this particular toy, there is a clear difference between the cheaper options and the more costly.
However, I would consider what it is you're actually paying for. If the Transformer is a character from a currently popular movie, this would not be enough to encourage me to pay $60 when I know similar quality products would be half this price.
My Product Criteria
It is one thing shopping for Transformers toys for my son and another trying to find Transformers toys to suit every reader. So, here are the things I considered:
Budget
Most of the Transformers toys in my guide are under $20, which is deliberate. The cost of living is high, we're fresh out of a global pandemic, and people can no longer justify spending hundreds of dollars on a toy – or, is it just me?! I believe the toys I have chosen are great toys, with lots going for them. I also believe they're all well-priced, so that I feel fully comfortable recommending them for you to buy.
Quality
A lower price shouldn't mean a lower-quality toy, yet it often does with Transformers. This is why I have vigorously checked the toys out. I had to ensure they were durable, safe, and would stand the test of rough play! All of my toys here meet these standards.
Consumer Feedback
It isn't all about what I think. I needed to ensure I wasn't the only consumer to feel so confident about the Transformers toys in this guide, so I checked out what other people thought. While no product will ever make every single person happy, if the Transformers toys I chose made the majority of people happy, I thought this was good enough.
My 7 Best Transformers Toys
#1 Desuccus Remote Control Car, Transformers Robot RC Cars – Top Pick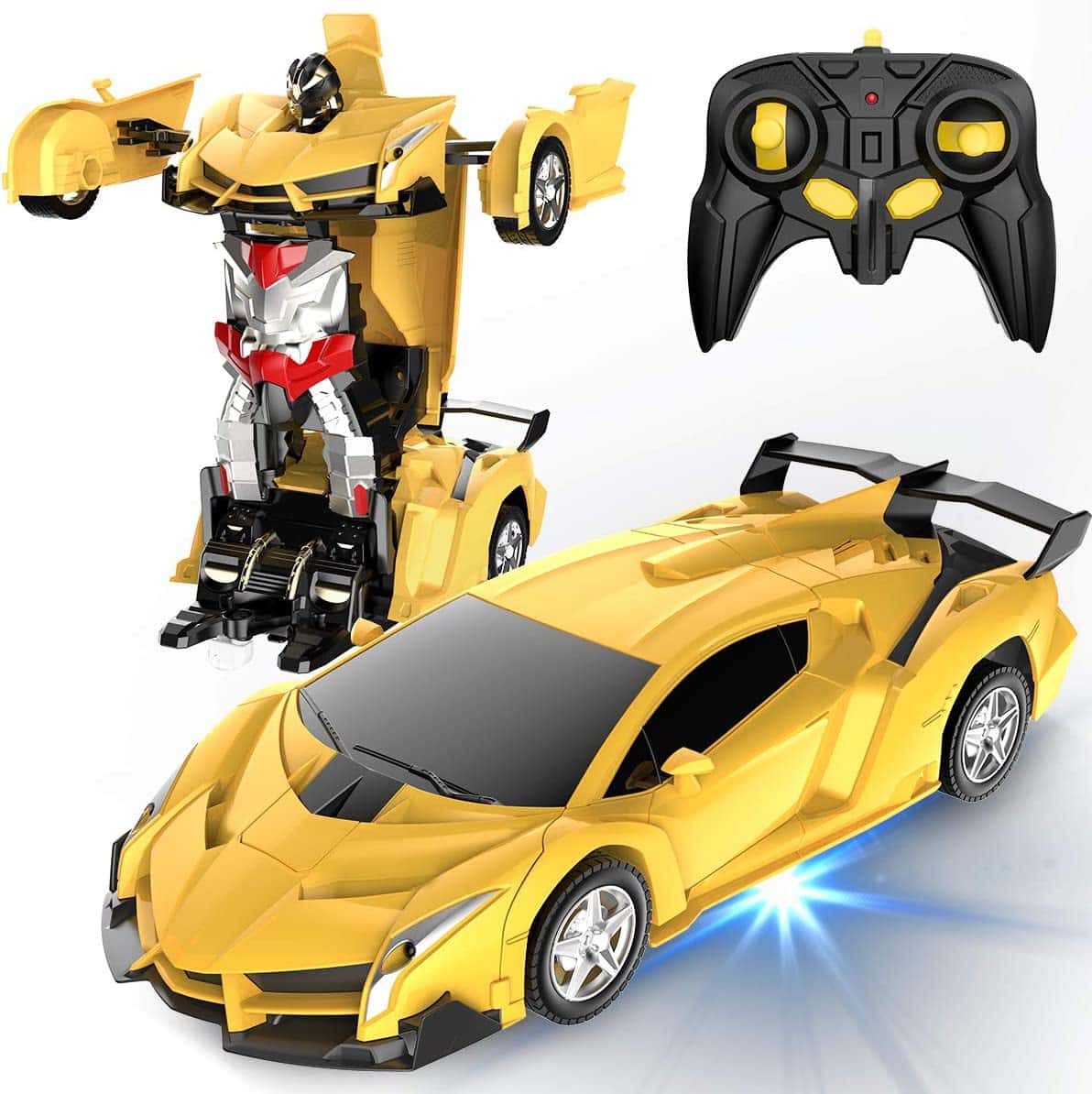 Available in yellow, blue, or red, the Desuccus Remote Control Car, Transformers Robot RC Cars are online best-sellers for under $40. This Transformer toy is either an RC car or an RC robot, depending on the preference, and it is easily changed at the click of a button – ideal for those who want to shape-shift in a hurry!
This Transformers toy is perfect for younger kids as the controller is extremely easy to operate; forward, backward, right, left, and there's the one button deformation. Older children or those who like to physically transform the toy may prefer something a little less push-and-go, however.
I like how sturdy this toy feels, and I believe it will be around for a long time. It is very well made from non-toxic ABS plastic, and the exterior seems to be scratch-resistant, which is a great bonus for those who like to display their Transformers.
Pros
Remote Control Double Toy – Excellent Fun Factor
Online Best Seller
One Button Transformation
High Quality
Scratch-Resistant
3 Color Options
Excellent Consumer Feedback
Cons
It may not be the best choice for kids who like to physically transform this type of toy.
#2 Transformers Toys Heroes and Villains Optimus Prime and Megatron 2-Pack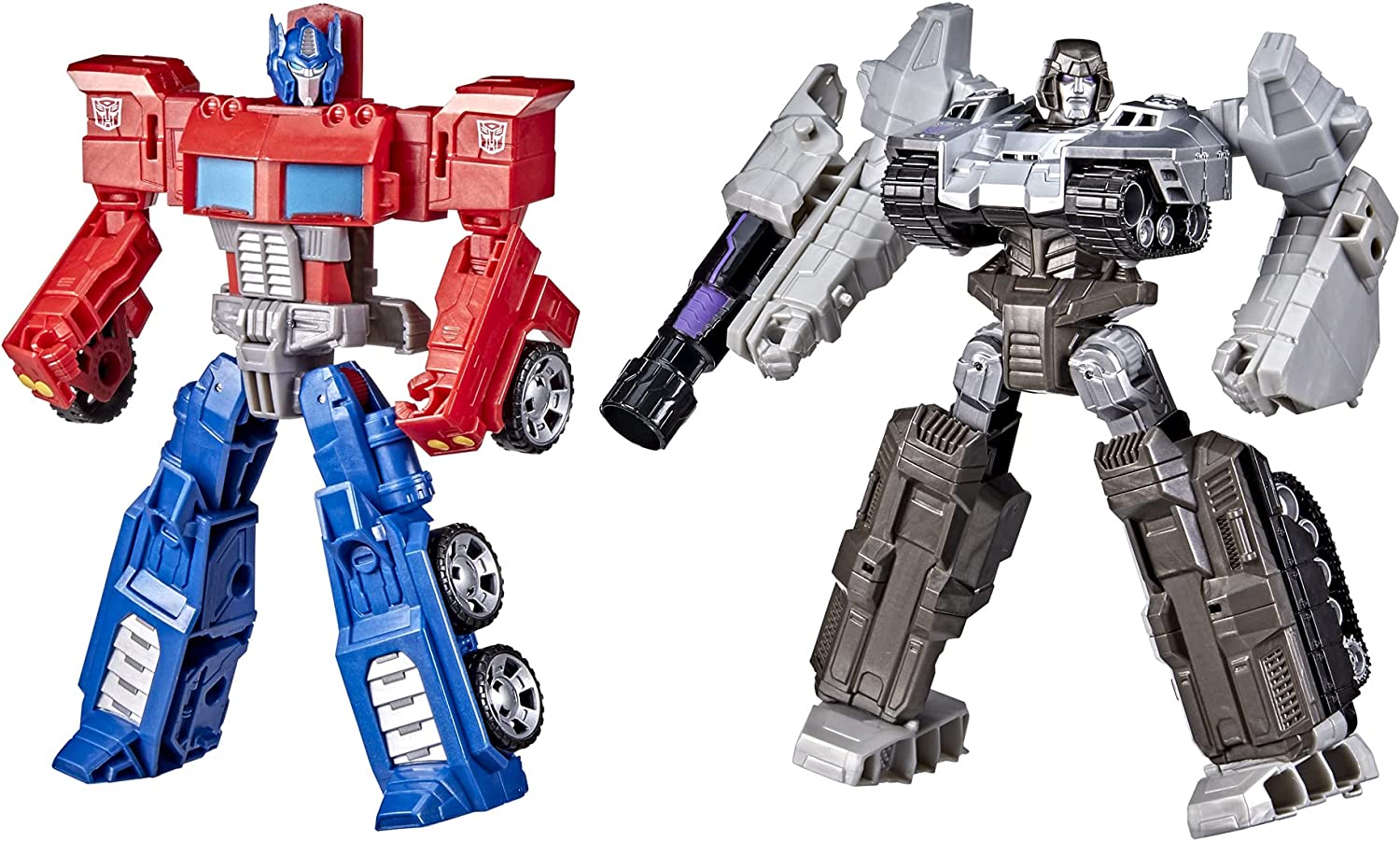 The Transformers Toys Heroes and Villains Optimus Prime and Megatron 2-Pack are exclusive to Amazon as a pair, but they are available separately elsewhere. This Heroes Vs. Villains duo are the perfect gift for someone looking to start a Transformers collection or for those who wish to add a couple of new characters to an existing one.
The figures stand at 7-in tall when in robot form, they transform into vehicles (a truck and a tank) in 8 steps, which is pretty standard for Transformers toys targeted at children aged 6 and over.
The packaging is underwhelming. In my experience, kids love the bright and bold colors of typical toy boxes, whereas these Transformers come in a plain cardboard box. Yet, once this is done with, the toys themselves are awesome.
Pros
Perfect Battle Duo
Great Starters for a Transformers Collection
Good Price
Well Made
Cons
#3 Transformers Toys Studio Series 49 Deluxe Class Movie 1 Bumblebee Action Figure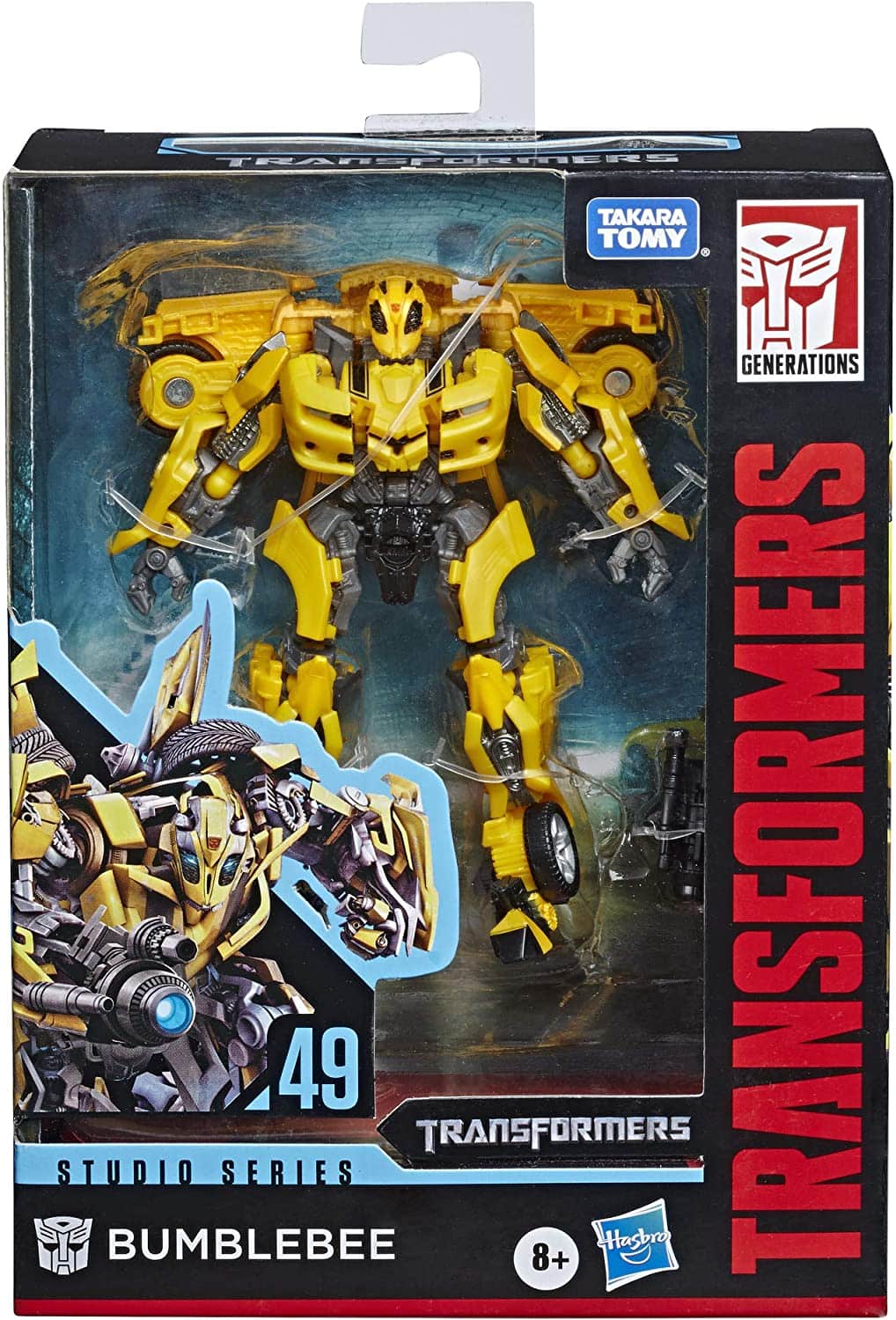 For older children (or even adults), the Transformers Toys Studio Series 49 Deluxe Class Movie 1 Bumblebee Action Figure is a fantastic choice. This collectible action figure is the best Bumblebee I have seen – the level of detail is outstanding. It features movie-inspired, vivid deco and includes weapon accessories that are equally well-detailed.
This Transformer toy is an advanced converting figure and transforms from a robot to a car in 39 steps; while it states it is suitable for ages 8 and up, this would have to be a very dedicated 8-year-old, in my opinion!
I found the Transformer to be a little more delicate than most, and I have read many reviews that cite breakages. So, again, I would avoid for young children.
Pros
Official Hasbro Product
Highly Detailed Figure
Perfect Gift for Older Kids and Adults
Cons
Not Designed for Younger Kids
#4 TEMI Kids Transform Robots Truck for Toddler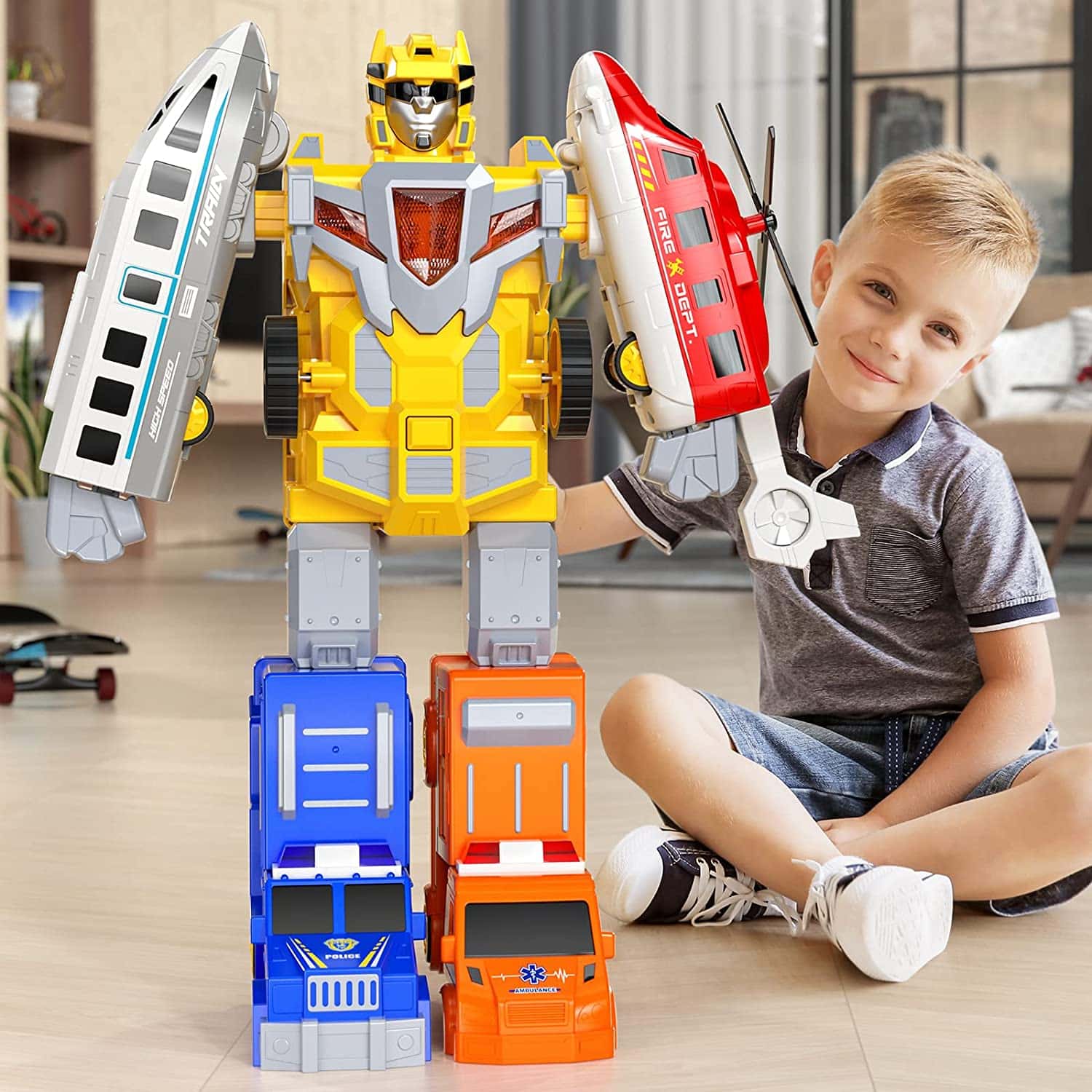 My Transformer-obsessed son would have sold his siblings to have been gifted with the TEMI Kids Transform Robots Truck for toddlers, but sadly, we didn't come across this when he would have been the perfect age. I urge Moms of kids aged between 3 years and 7 years (or over) to consider this Transformers toy, and I have many reasons as to why!
You have a 16-in self-standing robot action figure in its complete form – cool enough in itself, right? But wait. This can convert into five different vehicles: an ambulance, police car, fire truck, train, and an engineering vehicle. That must be fiddly; I sense you ask. No, the model is made – and unmade – using magnetic force!
The vehicles are friction-powered, pull-and-go, meaning they'll move independently. It's when you build them into the robot that the action really happens, though. This is when you can activate the lights and sounds, which I found to be pretty realistic.
Pros
Fantastic for Imaginative Play
Helps to Develop Fine Motor Skills, Hand-to-Eye Coordination, and Logical-Thinking Skills
No Sharp Edges or Fiddly Mechanisms
5 Pull-and-go Vehicles
16-in Robots with Lights and Sounds
Cons
I'm Unsure of the Durability of This; It doesn't feel as sturdy as some others.
#5 Transformers | Bumblebee Plush Toy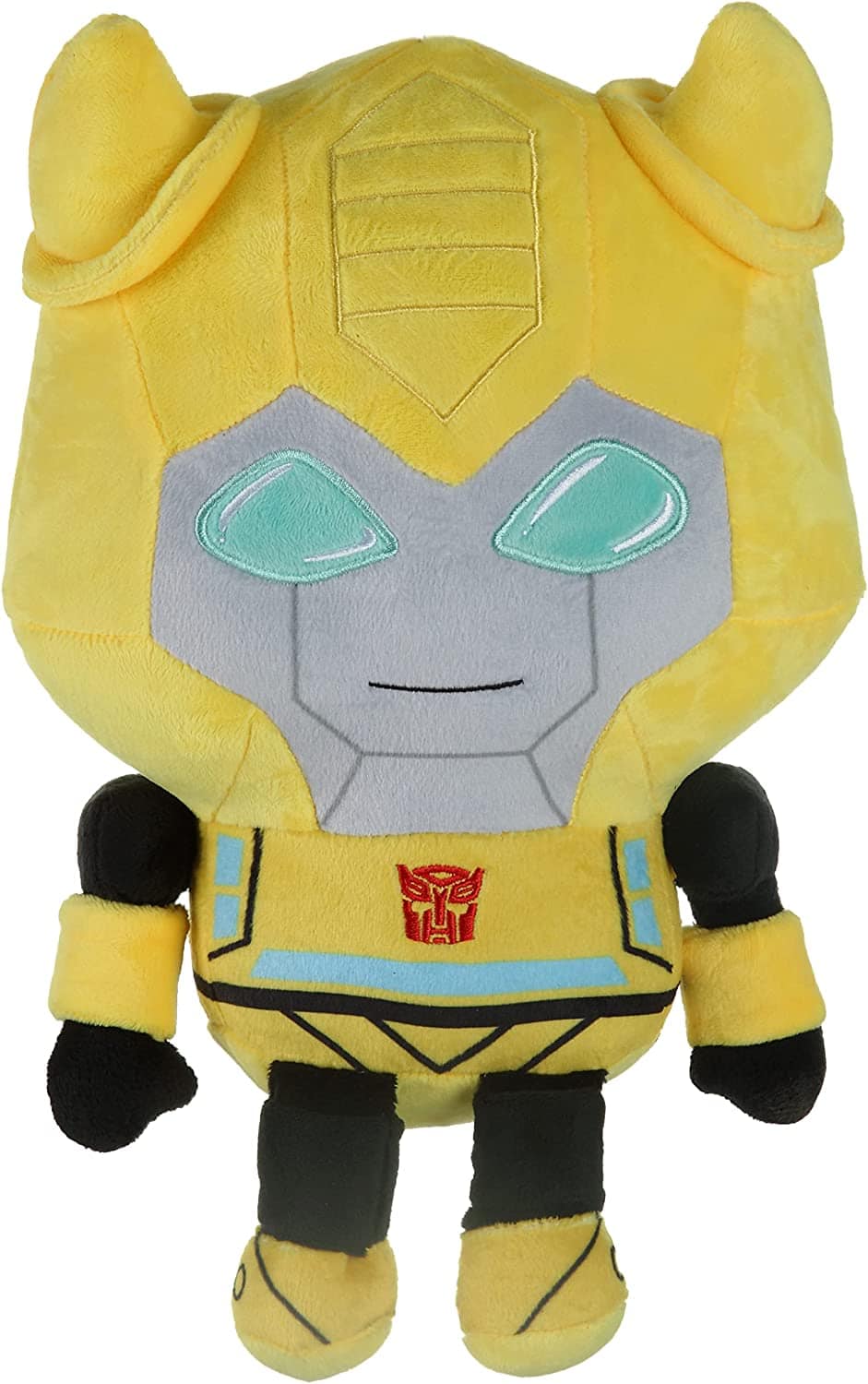 It doesn't get much more simple than this. If you're really unsure of which Transformers toys to buy, you can't go wrong with a Transformers | Bumblebee Plush Toy, and there are several to choose from. I really like the Bumblebee Plush, and this seems to be the most highly rated, but alternatives such as Optimus, Grimlock, and Starstream are also well-regarded.
The Transformers plushies are super soft and sit/stand alone. Many consumers found them to be heavier than they thought, which says a greater quality level to me. The plushies are brightly colored, wash well, and look great. I'm less in love with the RRP (they're just plushies!)
Pros
Super Soft
Brightly Colored
Wash Well
Lots of Choices
Cons
Don't Transform
Quite Expensive
#6 Toysery Transforming Robot Police Car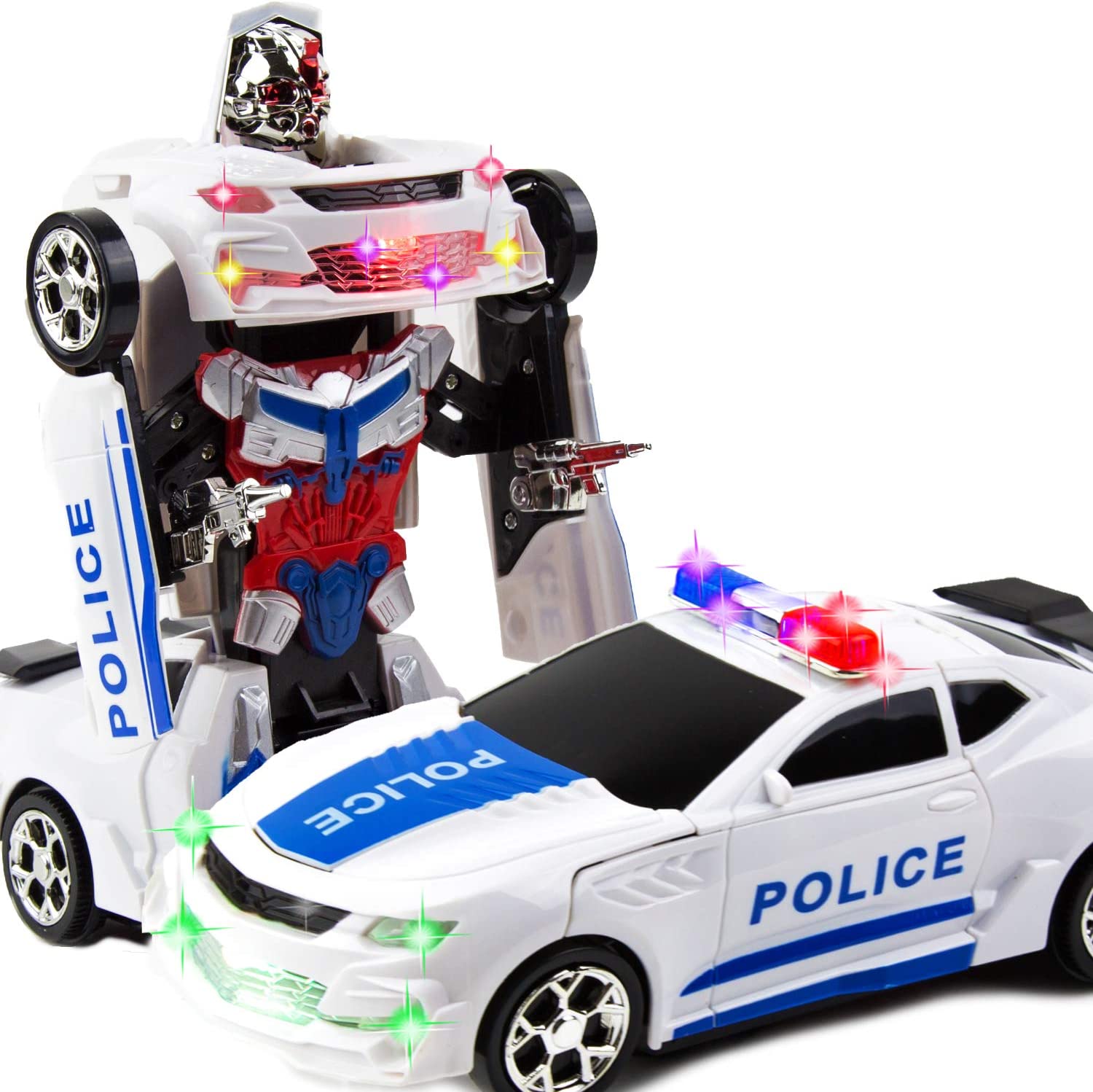 If you're looking for an inexpensive Transformers toy for a young child, consider the Toysery Transforming Robot Police Car. This is under $20, but in honesty, this isn't a shock when you see, hold, and play with the toy – I do not believe it to be built to last years. For the here and now, however, it's great fun.
The lights and sounds of the police car are cool, and while not the most realistic, you get the gist. The toy transforms by itself, so no need for a fiddly step-by-step process.
I think this is a great gift for younger children, children's friends, or as a reward gift. But if you want something that will last a little longer, it may be best to skip this one.
Pros
Cool Sounds and Lights
Police Car Vehicle
Unassisted Transformation
Budget-Friendly Price
Large Gift Box
Cons
#7 Playskool Heroes Transformers Rescue Bots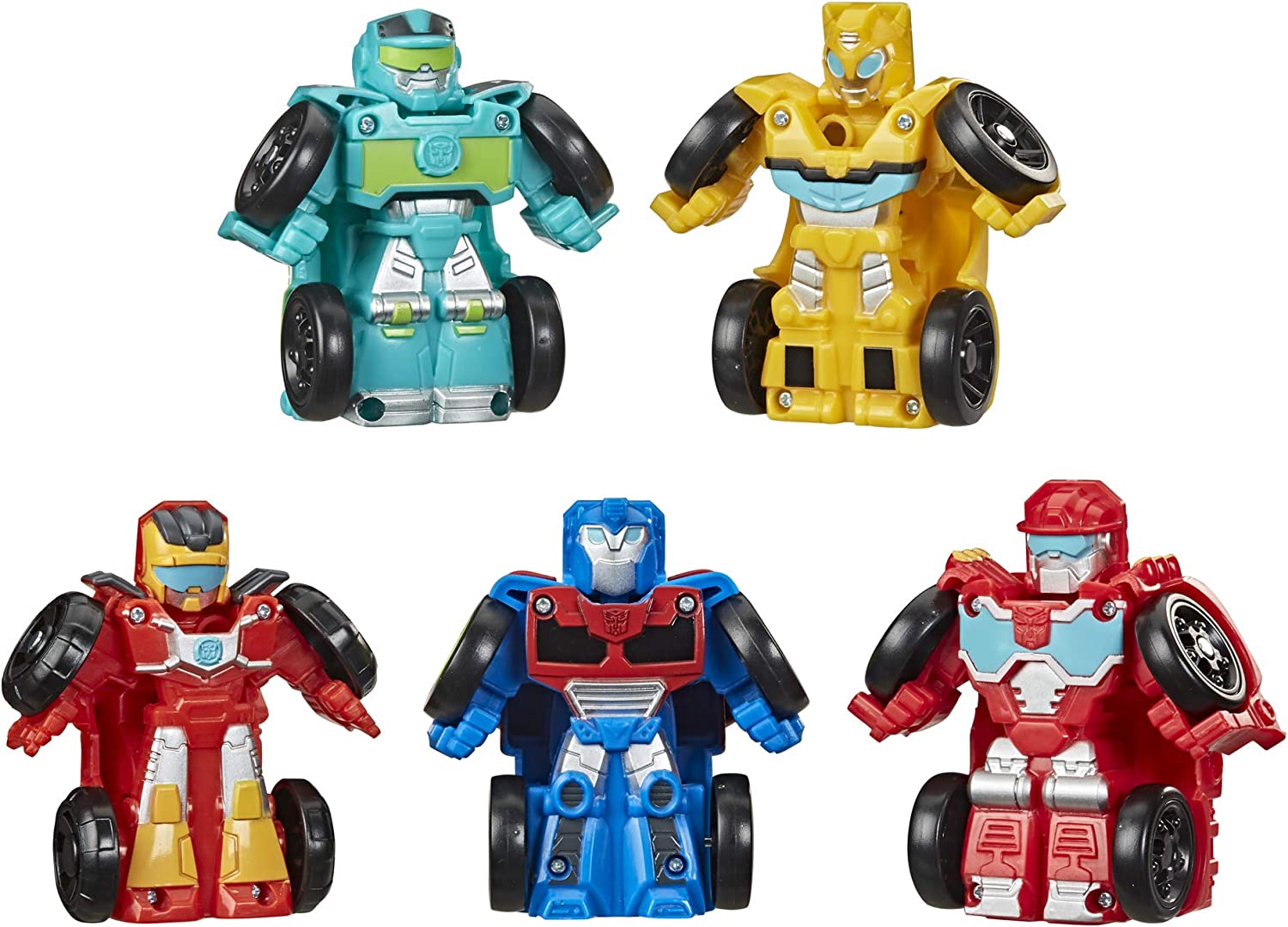 For toddlers and young children, the Playskool Heroes Transformers Rescue Bots offer the perfect beginner's step into the world of Transformers toys. In this five-pack, you receive the Transformer classics; Bumblebee, Optimus Prime, Hoist, Heatwave, and Hot Shot.
In one step, the toys transform from mini robots to mini vehicles. In each form, they're the perfect size for little hands, and there are no fiddly bits, sharp edges, or choking hazards. I found them to be super durable, and I love how the box contains the 5 toys individually to make perfect reward presents or stocking fillers.
Talking of the box, it is plain and boring. However, it is sustainable.
Pros
Excellent Value for Money
5 Toys (or 10!)
One Step Process
Perfect for Toddlers
Cons
Frequently Asked Questions
Question: When Did Transformers Toys First Come Out?
Answer: Transformers were first a cartoon and then a toy line that was introduced by Hasbro in 1984. The toys quickly became the best-selling toys of all time, and their popularity has never wavered over the decades.
Question: Where is the Best Place to Buy Transformers Toys?
Answer: For me, I will always go online when looking to buy Transformers toys.
While I have been known to pick them up in Walmart and Target before on a whim, when I am specifically looking, I like to head to online marketplaces. This is for many reasons (I have Prime, for one) but also because I like to read all the information about the toy and see what other consumers think of it. You don't get that in a physical store.
Question: How Much Should You Spend on Transformers Toys?
Answer: This question can be applied to all types of toys, especially figures. I think there are two major factors to consider; the first has to be your budget and what you can afford to actually spend. And the second should be the participant and why they're receiving the toy.
For example, I would be inclined to spend much more on a 12-year-old for Christmas than I would a 3-year-old for receiving full stars on their reward chart that week. For me, it's how you can justify the price.
Best Transformers Toys: Verdict
For toddlers and young children, and for parents looking for value for money, I believe the Playskool Heroes Transformers Rescue Bots to be unbeatable. This 5-pack of toys are super cute, really durable, and perfect for gifting on a number of different occasions.
Older children and Transformers enthusiasts would likely find products like the Transformers Toys Studio Series 49 Deluxe Class Movie 1 Bumblebee Action Figure a much better gift.
My overall top choice is the Desuccus Remote Control Car, Transformers Robot RC Cars, and this is because I think it is the most appropriate toy for the largest audience. Young and older children will find something fun here, and the price is great for buyers!