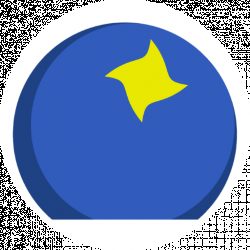 Latest posts by Avid Toy Insider Team
(see all)
My son loves the water – whenever he's in water, he loves splashing around and going crazy. One of the only times I can get him to calm down is when I add in a toy boat into the water. He focuses so much on pushing the toy boat around, so he calms down and gets himself ready for bed.
And if you're looking to ways to ways to make your child's bathtime more exciting, adding in a toy boat can encourage your little ones to hop into the bath and have some fun. But, with all of the boat bath toys on the market, narrowing down your choices can be tricky. Many children, no matter what age they are, love playing in the water.  So, why not celebrate your child's love for the water by getting them a boat toy? It's a great way to encourage learning through play. They can pretend that the boat is sailing, going fishing, and more!
Bottom Line Up Front
My favorite boat on this list is the LED light up ship toy. I think all of the different LED lights on this boat make it super unique; I love watching all of the lights and my son get mesmerized while we play with this boat in dim lighting!
My Top Picks at a Glance
Eco-Friendly submarine and tug boat set
Munchkin little boat train set
Fishing boat and fish bath toy
Rescue boat with helicopter
Ferry boat set
Animal Planet shark research boat
Barbie Doll boat set
Light up pirate ship adventure
LED light kids boat ship
Tips for the Reader
When you're shopping around for your child, you want to make sure that you're only picking out the best (and safest) toys on the market. But, with all of the product recalls that happen nowadays, narrowing down your options can seem a little tricky. Plus, you don't want to go over budget. There's so much to think about when you're shopping around for a toy boat. Here are a few tips to help you find the perfect toy boat:
Look at the Label
The first thing that you want to do when you're shopping around for a toy is to read the label. Before you even think about bringing a toy into your house, you should know what dangers it could present to your child. Choking hazard? Dangerous paint? If there's anything you know you want to avoid exposing your child to, make sure to read the label.
Make Sure the Toy is Age-appropriate
It's really important that you keep your child's age in the back of your mind while you're shopping around. You don't want to buy a toy that's too old for your kid, as it may have a lot of small parts on it. At the same time, you don't want to buy a toy that's too young for your child, because it may not be enough to keep them entertained. Look at the age recommendation on the toy before you make your final purchase.
UL Approval
If you're buying an electronic toy, make sure the toy has a UL approval. A UL approval means that the toy has been tested out to meet national standards for sustainability and safety.
Selection Criteria
I chose all of the boats on this list based on specific criteria. The criteria I used while making the selections in this list include availability, affordability, and overall safety for your child. Plus, all of these toys my son currently uses or are toys I'd love to see him play with in the future!
Bathtime Fun
Bathtime can be a challenge for children as you're trying to get them to take one in the first place! I've created this section to make bathtime more of a breeze and more enjoyable for all involved!
Eco-Friendly Submarine and Tug Boat Set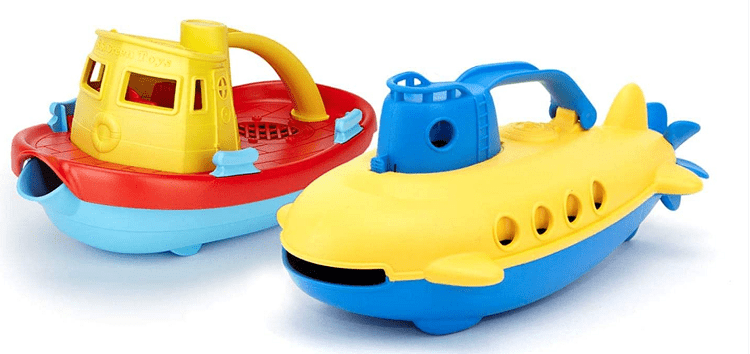 I love this boat set because of how creative my son is with it! But, I think it's a great option for anyone that has twins or just two kids. Sometimes, having kids that fight over toys can make bathtime way less relaxing than it's supposed to be – but if you've got toys to share, you don't have to worry about fighting!
What I personally love about these toys is they're super compact too. I know I hate it when my son's toys take up a lot of space in the bathroom cabinets. But, with these toy boats, they're so small that they don't take up to much room. This doesn't mean that they're too small to be safe for your imaginative child to play with, though!
Even better; these boats are made in the USA (which is something I always love to support). Plus, they're made completely out of recycled plastic, so I can feel good about buying plastic toys for my family.
Pros
No dangerous chemicals used in the creation of the toy
Comes as a set, so you don't have to worry about your kids sharing
Made up entirely of recycled plastic
Cons
They're a bit expensive
A lot of small parts to clean to prevent mold growth
Munchkin Little Boat Train Set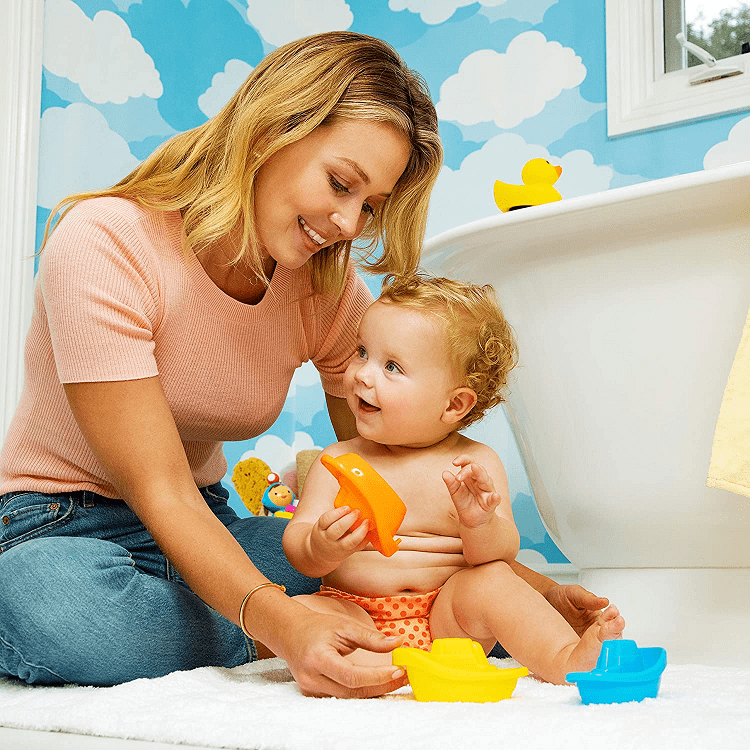 If two boats isn't enough, what about six?
These little boat toys are super simple, but sometimes, that's all you need! I love how all of these boats are in different colors. For my son and I, I love using these boats to help introduce him to new colors (and words). So, I use these boats to try to teach him all of the different colors and numbers!
But, as a working mom, there's one part of these boats that are my favorite: how easy they are to clean. There aren't a lot of small parts that I have to worry about mold growth. Instead, I can just throw these boats into some diluted bleach if I'm worried about bacteria. And even better – they're stackable (yayy) meaning even less space in my cabinets are taken up! 
Each boat can strain, scoop, and float in the water. As you're placing them in order, you're teaching your child recognition and counting. As your baby learns how to pick up these toys, their fine motor skills can develop as they play with them.
Pros
Wide variety of bright colors
Great toy to helo your child learn colors and numbers
Easy stackable
Super cheap
Cons
Faces are hard to see
Sharp edges, which isn't great for babies who chew on toys
Fishing Boat and Fish Bath Toy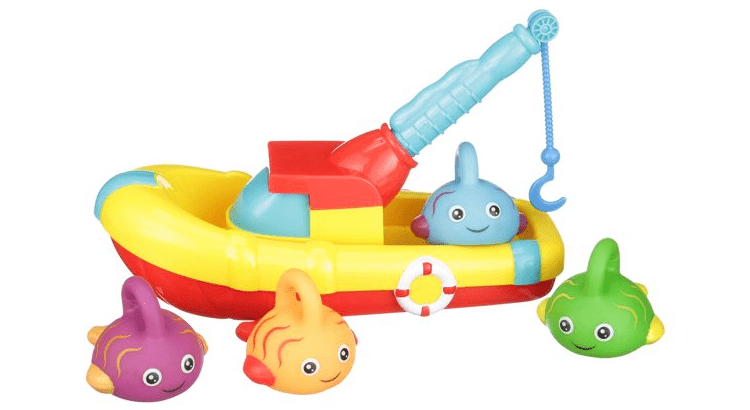 Want to give your child a headstart on the joy that fishing brings? This is the perfect toy! You can teach your child about fishing, boats, and cranes all in one with this toy.
I love all of the different colors on these fish; they're all super easy to see and easy to find in bathwater. Plus, I love how easy it is to pick up each fish with the crane on the boat. I know there are a lot of toys out there that use magnets to make fishing for the fish possible. But, I love how this toy is a lot more interactive.
Pros
Perfect for older children looking for a bath toy
Doesn't use magnets
Complex toy, which helps to refine your child's fine motor skills
Cons
Lots of parts are used in this toy, meaning lots of possibilities for molding
Since there's no way to keep everything together, it's easy for the different parts to get lost
Working Boats
I think that it's vital for each child to learn how boats can have various responsibilities. From boat ferries to rescue boats, they can be beneficial to the world. You can also teach them about how important the Coast Guard is to save lives.
Rescue Boat with Helicopter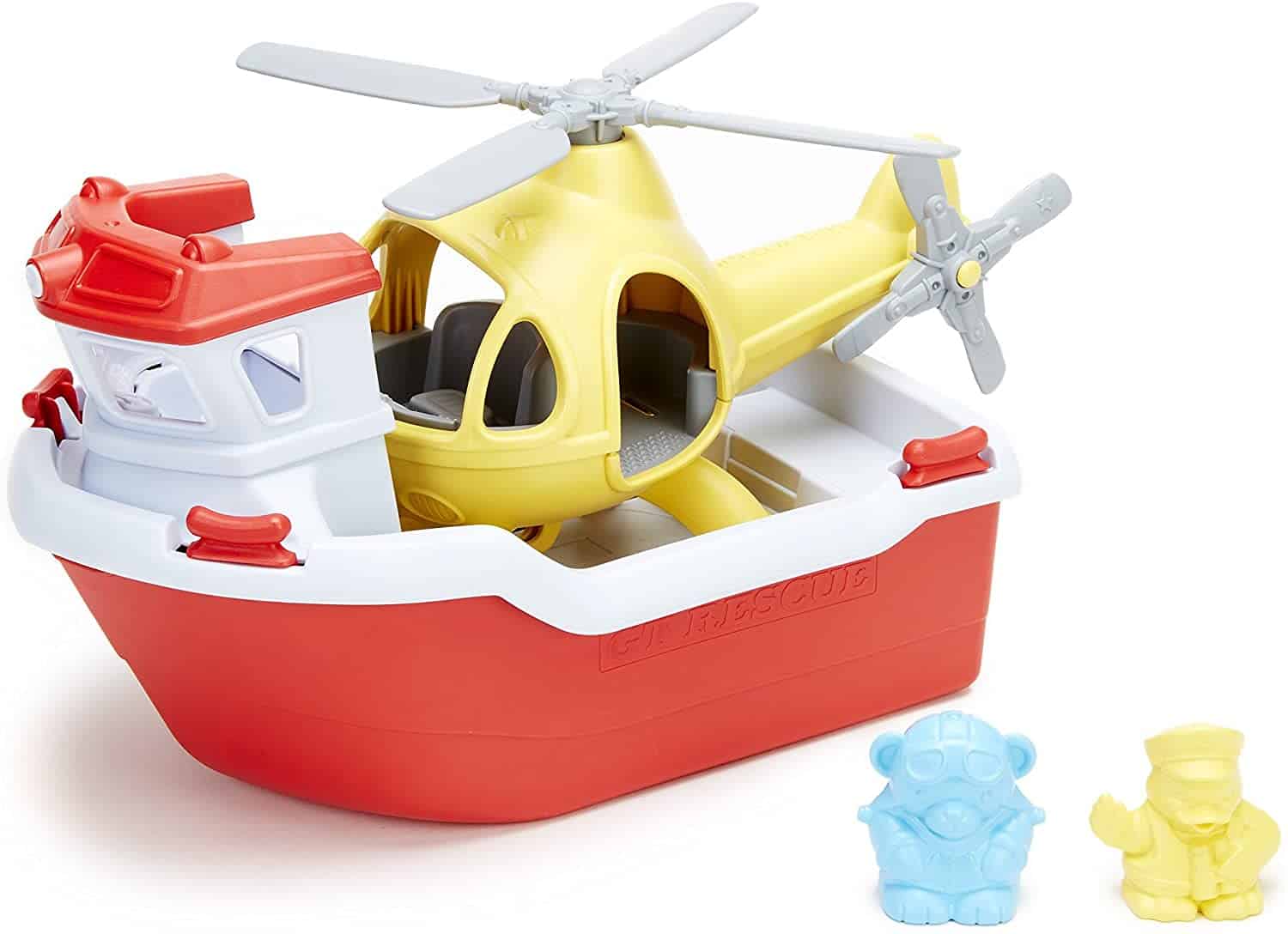 This is another great set option! I love how it's two toys in one: there's the helicopter and the boat option!
Even better, I love how my son could use his imagination with the small character toys. Since this toy is bigger and more complex, it's great for kids who are older. But, just because they're older doesn't mean they can't have fun bathtime toys too!
Or if you're not looking for a bathtime boat toy – that's great too. This rescue boat and helicopter toy set is great for play outside of the tub too. If you're looking for a toy to give your child to play with while they're hanging out in the pool with their friends, I think this is a great toy to share with friends!
Pros
Great for sharing
100% recycled materials
No external dyes
Cons
Super heavy, doesn't float well in the water
Lots of small parts, so may present choking hazard for smaller children
Ferry Boat Set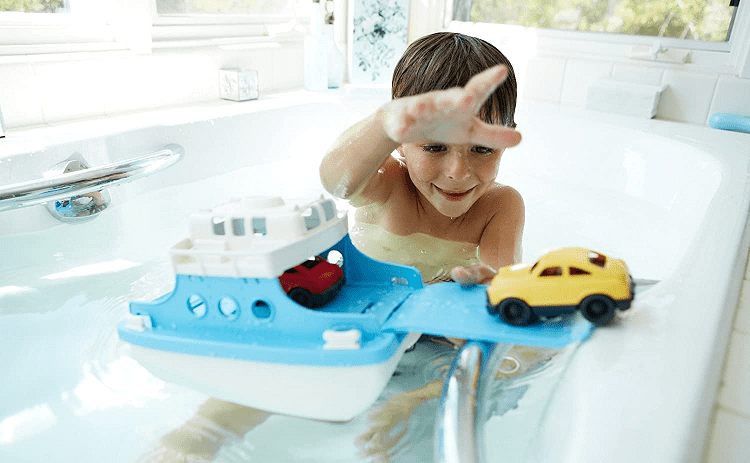 Are you looking for a boat option that's environmentally friendly? Look no further than this ferry!
Personally, I think the ramp on this ferry is the coolest feature on this boat. I know I would love to help my son put cars into the ferry while he's playing in the bath! That's not all – the space inside of the ferry makes for great storage space too!
But, my all-time favorite part about this ferry boat is that it's dishwasher safe. No more scrubbing all of the tiny spots on this boat to try to stop mold growth; I can just throw it in my dishwasher and know that I'm giving my son a clean (and safe) toy to play with. Even better, this toy boat is made from 100% recycled materials.
Pros
Super sturdy
Dishwasher safe
Made up of completely recycled materials
Cons
Heavy, so it doesn't float very well
Animal Planet Shark Research Boat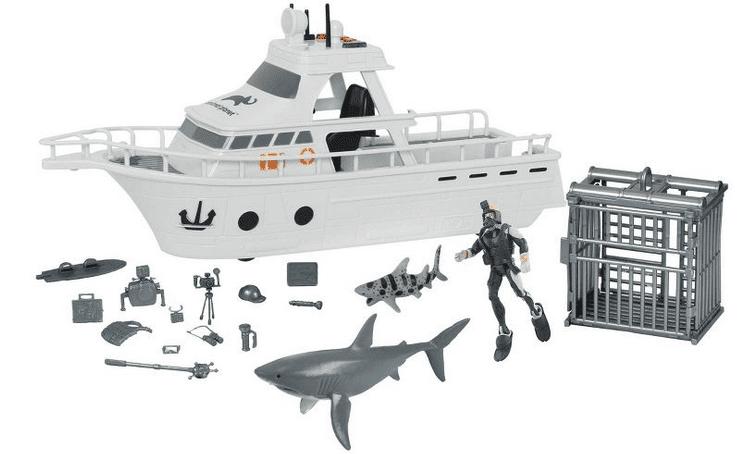 I love all of the small toys that come in this boat, but because of all of the small parts, I wouldn't recommend this toy for smaller children. I wouldn't recommend you take this toy into the bath; but I do think it's a great toy to encourage your child's imagination while they're playing in their playroom. There are two sharks available too, so if your child loses one, there's still another shark available in the set!
Even better, I love how the boat makes sounds and lights up as your child plays. There are emergency lights available too; your child just needs to press a button.
Pros
The boat lights up and makes sound
Two shark options are available
Your child can imagine that they're a shark researcher
Cons
Lots of small parts are in this set, which makes it easy to lose bits and pieces of the set
Barbie Doll and Boat Playset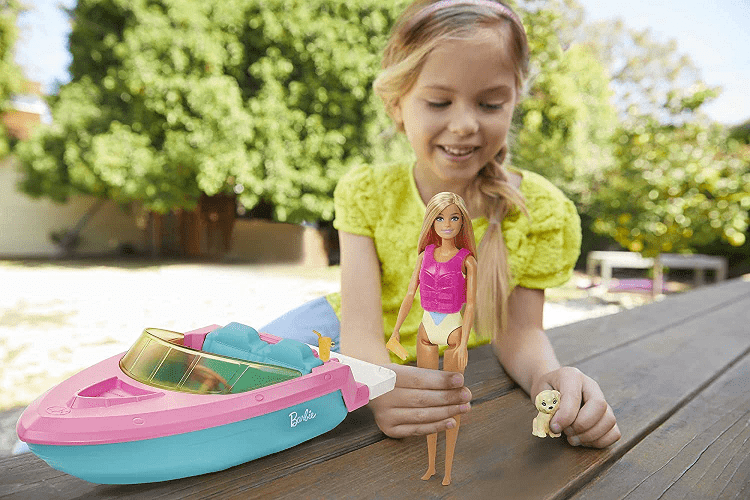 Growing up, I was the biggest Barbie doll fan! I'd collect various Barbies including the motorhome, car, and more. Even my little cousin, he'd love to play with my Barbie cars.
Barbie is a ton of fun for various ages! If your child loves Barbie, consider getting this playset. I can't believe how affordable it is since it comes with Barbie, her dog, and her boat.
If you've got a girl that loves speed, this Barbie on a high-speed adventure on the land or in the water. The only thing I worry about is how tiny the dog and drink are. But, if you take that out of the boat before you put those small toys in the water, I think it'll greatly reduce the risk that comes with those small toys. Barbie even comes with a life vest that you can place on her, which is great if you're looking to teach your child about water safety.
Pros
Boat moves around in the water, so it's great for outdoor fun too
Great for girls looking to expand their Barbie collection
Cons
Sharp edges on the boat, so there's a chance your child could get hurt
The small dog is a choking hazard
Light Up Pirate Ship Adventure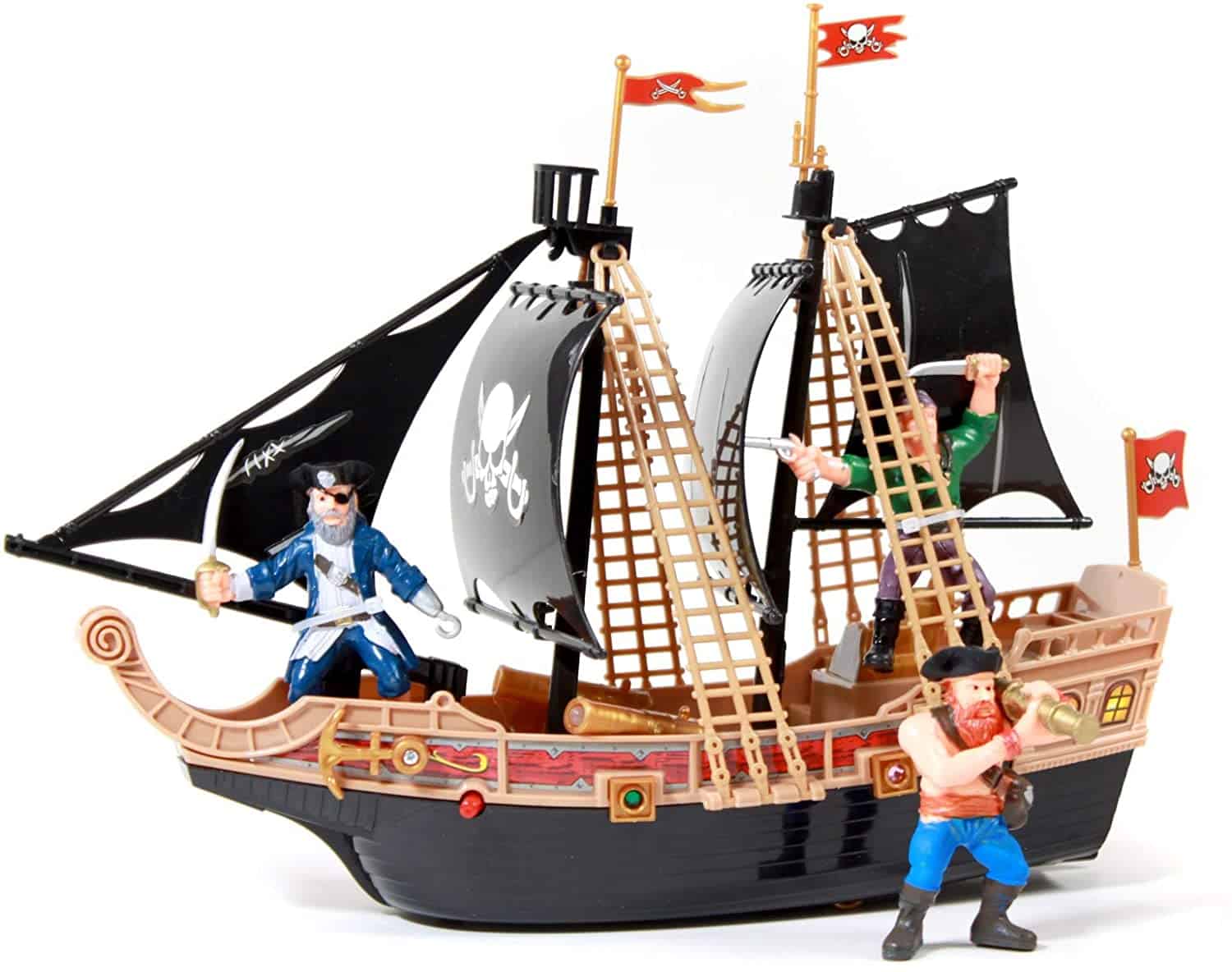 Who doesn't love pirates? I know I sure do!
The ship makes a lot of different sounds and lights up too, so it helps to encourage your child's imagination. There are four different pieces that come with this boat, so I love how many options there are for my son to get creative with his imagination! What I love most about this toy is how complex it is; there's so many small parts, lots of details on the boat, and the pirates all look different. Once my son gets older, I would love to use this toy to teach him about history and how pirates used to live.
Pros
Lots of details in the design of the ship
Interactive toy
Big toy, so the parts won't be easy to lose
Cons
LED Light Kids Boat Ship Toy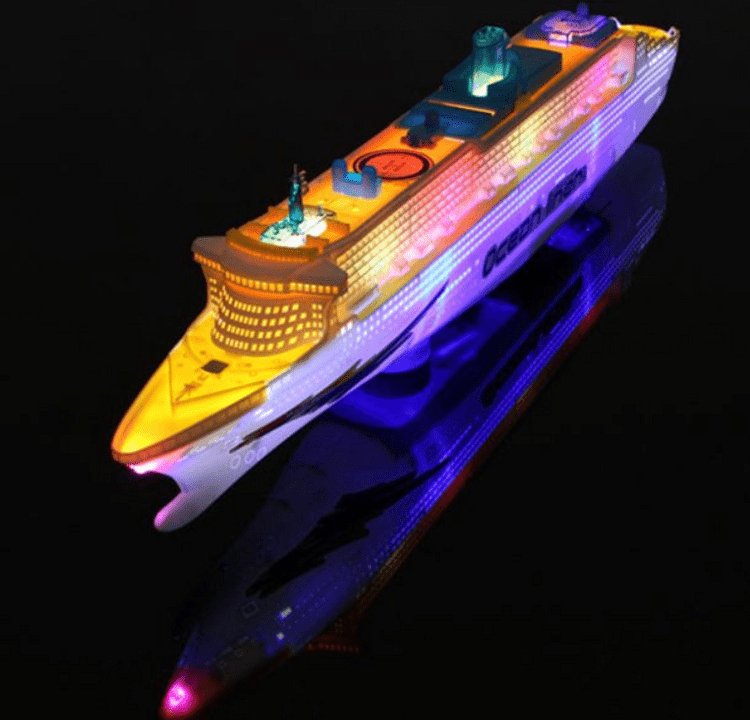 Honestly, I think this boat is my favorite on the list! I'm not sure if I bought this toy more for myself or my son…
I love all of the lights on this ship. The engine noise this ship makes are super cool too, but all of the different lights on this ship are what makes it unique for me. I know that this is a super big ship, so it has made storage difficult. Thankfully, my son's room is ocean-themed, so this fits right in with decore!
Pros
Different color lights
Large, so there aren't any choking hazards
Based on a real cruise ship model
Cons
Doesn't come up with batteries
Very large, so it's difficult to store
FAQs
Question: Why are Boat Toys Important?
Answer: They can stimulate learning due to the requirement of the imagination
Question: How do I Pick Out the Right Boat Toy?
Answer: First, think about your child's age and what developmental needs you'd like for them to develop.
Question: What is the Best Boat Toy?
Answer: I think that the Animal Planet shark toy is pretty awesome!
Conclusion
There are so many fun boats on the market! I just can't get over how cute the LED light up ship is. But, I love every boat on this list; they all offer something unique and fun. What's your favorite toy on this list?
Find more exciting toys by reading these guides below:
Best Unicorn Theme Toys for Magical Times
Best Alien Toys Guide for Every Age