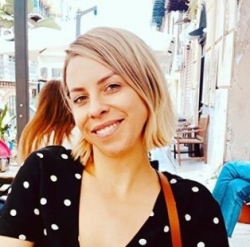 Latest posts by Jodie Chiffey
(see all)
As a mother of two boys, I am no stranger to Marvel and Deadpool toys. I'm also an educator, and I look for any way to make a toy educational – this isn't a challenge with many Deadpool toys as they're often perfect foundations for aiding imaginative growth and developing a range of skills.
In this guide, I will discuss how to make the Deadpool toys perfect learning tools and include some expert buyers tips when looking to buy the best Deadpool toys online.
My Bottom Line Up Front
I believe that the Marvel Hasbro Legends Series Deadpool Collection Action Figure is the toy that will best meet most people's needs. It's a fun toy, it can be a cool decoration, it's great for educational use, and it's hugely affordable. If you're unsure which Deadpool toy to buy, this is the one!
Buying Deadpool Toys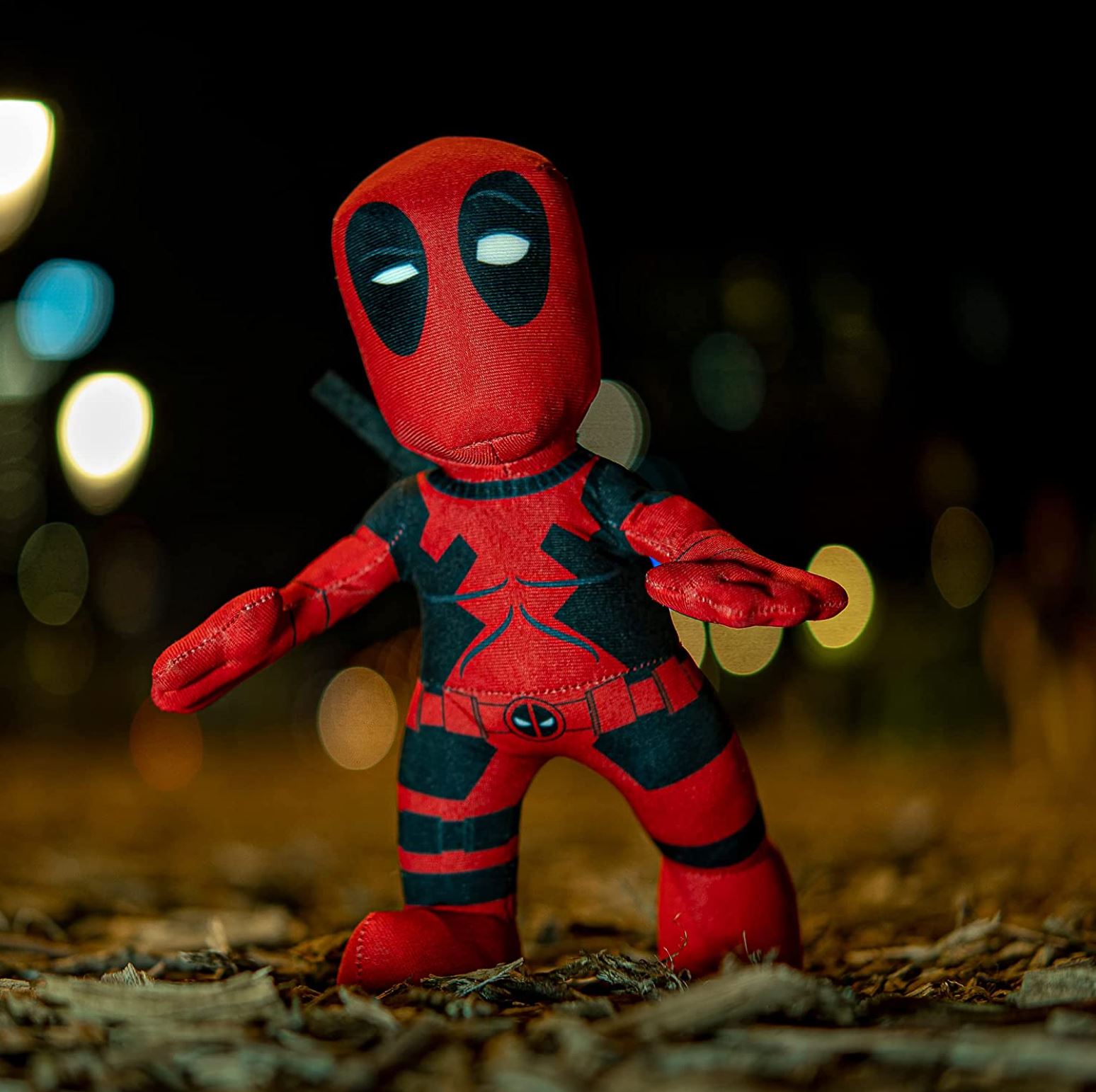 Deadpool is one of the most recognizable and beloved Marvel characters around, so it is no surprise that when looking to buy Deadpool toys, the choice is vast! Even the most experienced toy buyer can feel overwhelmed, so here are my buyers' tips that should help:
Age
Firstly, age is often just a number, and not everyone's biological age will meet their mental development.
However, it is important to use age as a marker when buying toys to ensure they're safe. For example, if a toy is recommended for 3 years and over, this could be due to small parts or sharp edges. And, if the toy is recommended for 12 years and over, it may be too complex for most children younger than this.
Activity
A good way to filter your search is to look at toys by activity. This will remove all the unnecessary categories for you and hopefully make looking for that perfect Deadpool toy a little more straightforward.
Budget
You'll find that the Deadpool toys in my guide vary quite dramatically in price, but this doesn't always equal a difference in other areas. I have purchased very inexpensive toys before that have lasted forever for my sons, and I've made really expensive purchases that simply haven't! Look at the price and consider if it is justified for you.
Education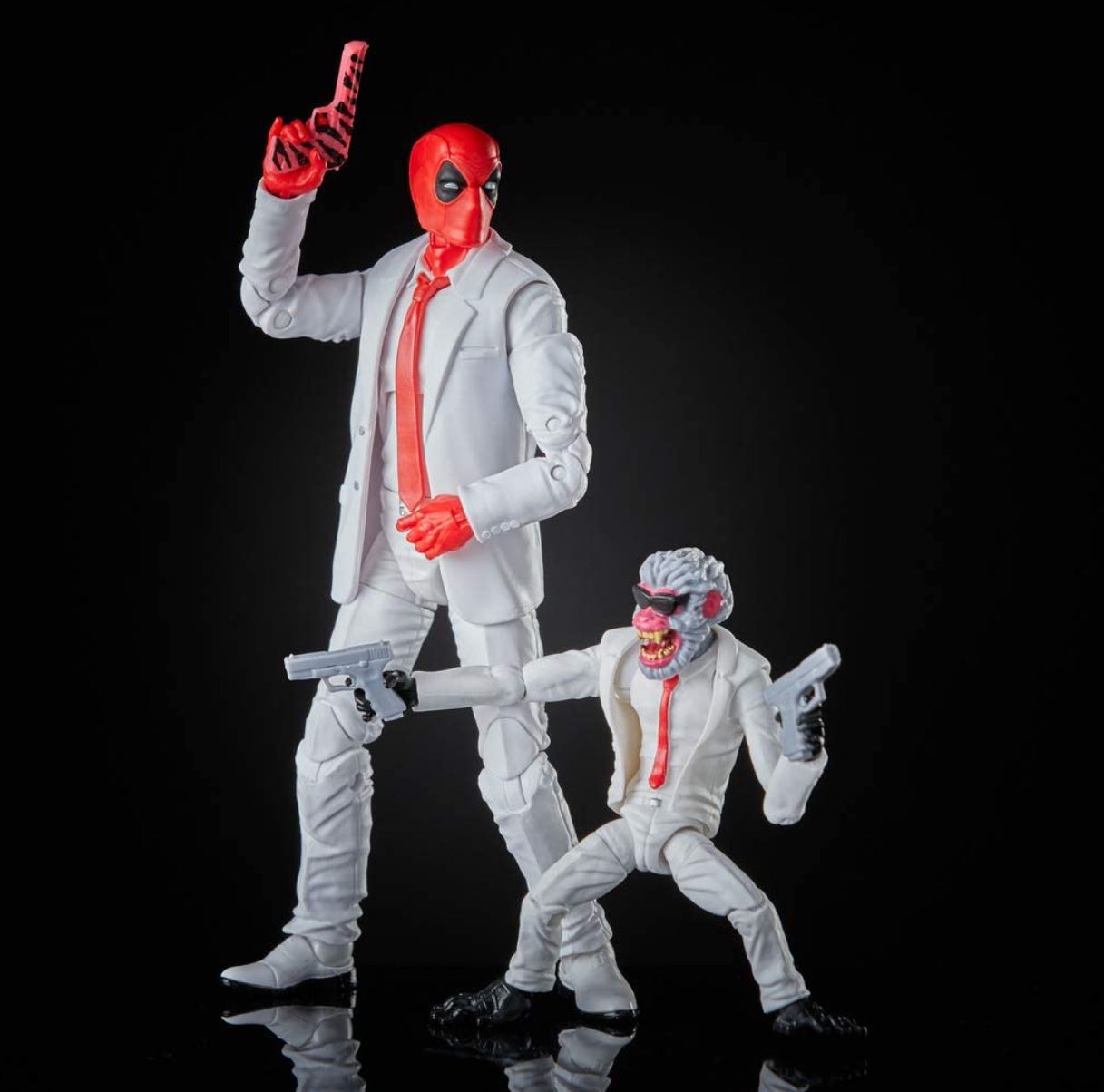 Deadpool toys can all be perfect tools for learning, and there are so many educational benefits to providing toys to children. While Deadpool toys may not sit within the educational search filter, they can all be used to help to develop the following skills:
Hand-to-eye coordination
Imaginative play
Social skills
Fine motor skills
Logical thinking
Roleplay
Series planning
Additionally, if you get on the floor and play with your child, you're helping to strengthen a bond while making priceless memories. While these days may feel long, the years are so short!
My Product Criteria
As well as using the above priorities to choose Deadpool toys for this guide, I also had to feel comfortable with my recommendations. For this, I considered the following:
Quality
I looked at how well-made and durable, and robust the toys were. I considered if they'd stand up to vigorous play; could they be launched, thrown, dropped? I made an educated guess at their longevity. And, if, after this, I had faith in their quality, I was happy to cement their position in my guide!
Detail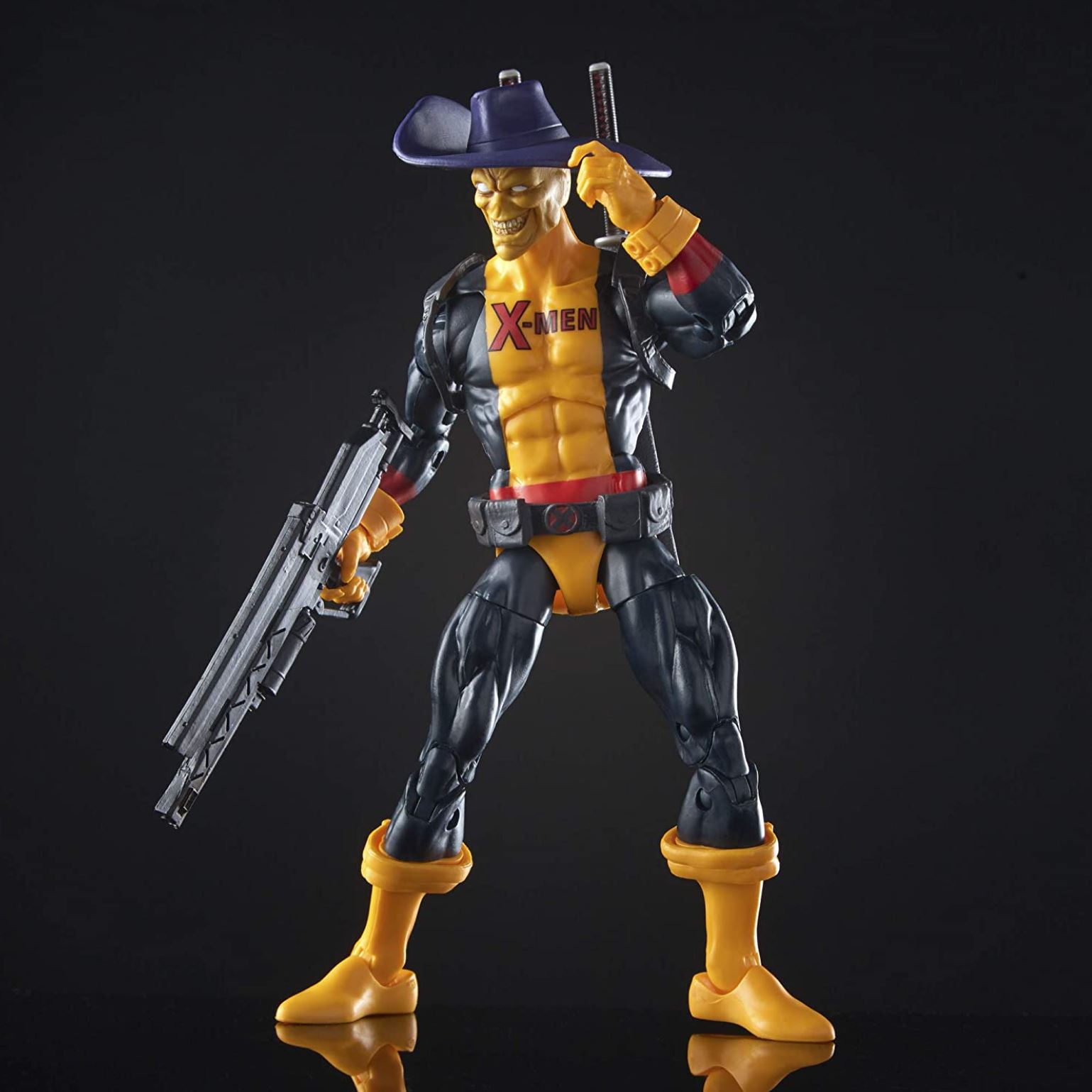 Especially when looking at Deadpool toys destined for shelves or display cabinets, I inspected the attention to detail in the look. How were the textures crafted, how carefully applied was the paint? Overall, how good did it look, and would I be proud to display the Deadpool toy myself? If yes, it made the cut!
Price
I hate to feel – or be – ripped off, and I wouldn't want to contribute to this happening to anyone else. For this reason, I considered how expensive the Deadpool toys were compared to other figures in the same category and in offline retail stores.
While it's acceptable to pay a little more for the convenience of online shopping, this should only ever be a little. Any more and the toy wasn't making my guide!
Consumer Feedback
Online marketplaces can be strange places when reading consumer reviews. Often I wonder what people expect, to be honest. But, reading across platforms and discovering the general feeling towards the Deadpool toys I liked was a good way for me to decide if it was truly a good product. If it didn't seem to be, off my list it went!
My Chosen 9 Best Deadpool Toys
Marvel Hasbro Legends Series Deadpool Collection Action Figure – Top Pick
The Marvel Hasbro Legends Series Deadpool Collection Action Figure is a little more than I'd usually spend on an action figure. Still, I believe the price is justified when considering the amount of enjoyment a fan would get from it. The figure features a premium design with excellent attention to detail.
There is simple articulation for straightforward poseability or display, making the figure multipurpose, which, again, helps to justify the price. There are multiple points of articulation, and the figure can be positioned in a number of different realistic ways.
This Deadpool figure stands alone at 6 inches tall, which isn't the tallest action figure, but it's also not considered mini at this height. I believe it to be durable, and the overall feedback is good.
Pros
Multipurpose Figure; Play or Display
Poseable
Durable
Good Consumer Feedback
Cons
Marvel Deadpool 12-inch Deadpool Figure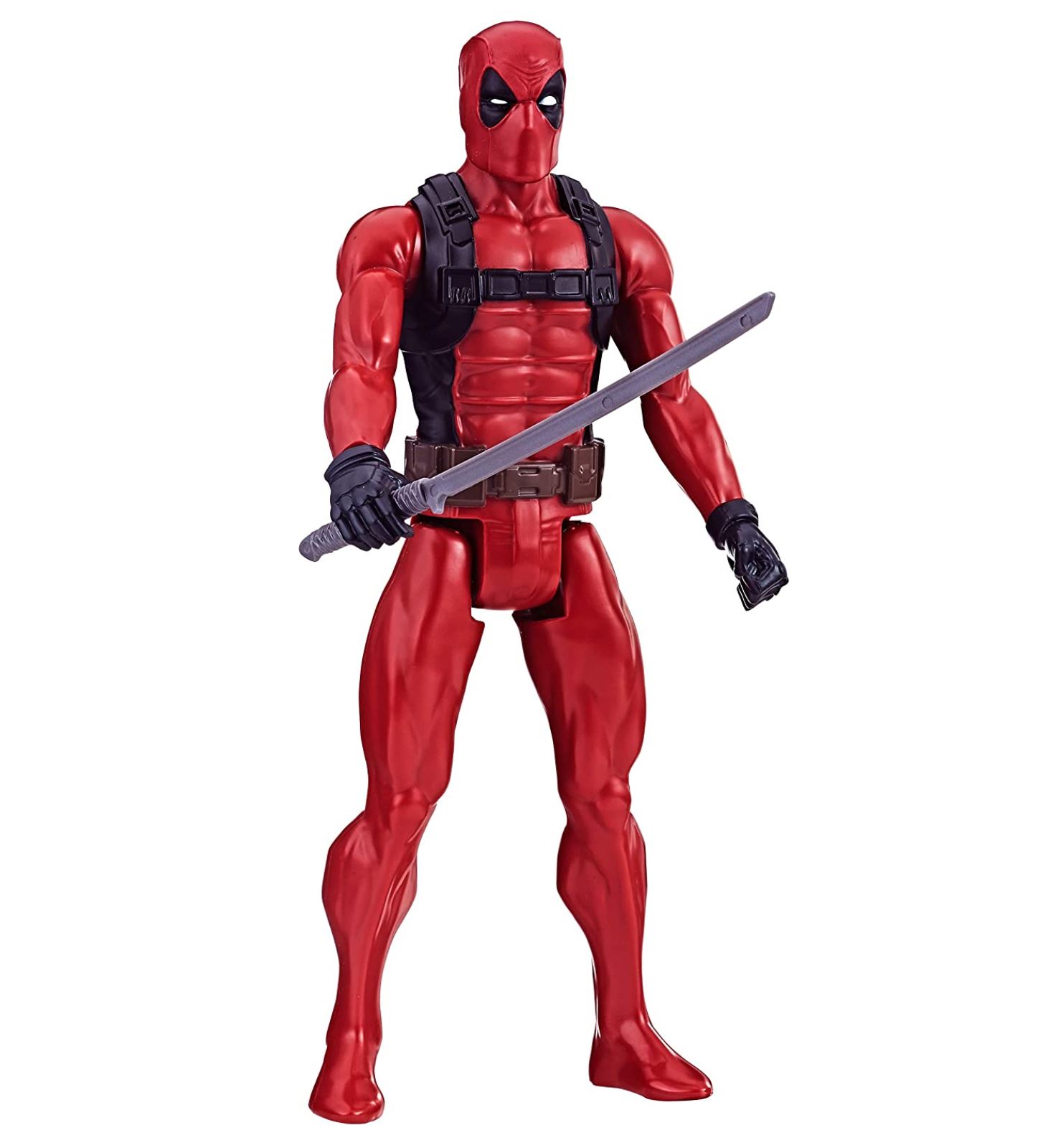 The Marvel Deadpool 12-inch Deadpool Figure is more in my affordable price range. However, some reviews state it is overpriced, so the price may have been recently reduced, as it isn't the price indicated by consumers. For the RRP now, it is a good product. Anything more, maybe not so much.
This is a 12-in-scale action figure, which is standard for action figures. It stands alone, but there is limited movement; limbs move but don't bend, and the figure isn't able to hold anything in its hands (such as the included sword).
I feel this is a durable figure that should stand the test of play. However, I am unsure why it is recommended for children aged 14 and over; could it be the included sword?
Pros
Affordable Price
Standard 12-in Figure
Official Merchandise
Stands Alone
Poseable
Weapon Included
Durable
Excellent Longevity
Cons
Limited Movement
Hands Cannot Hold
Marvel Deadpool 10″ Plush Figure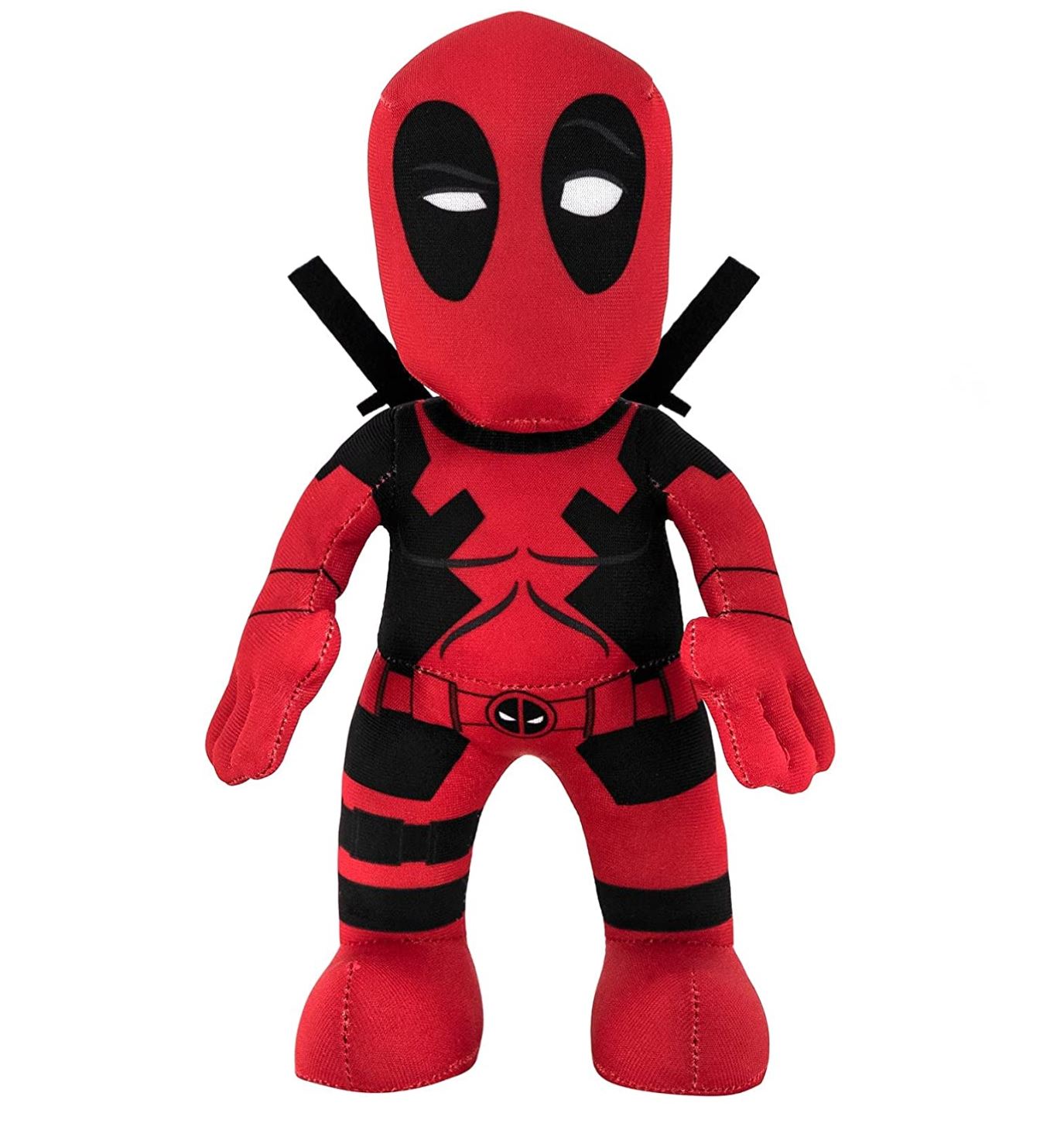 There are many Deadpool plushies on the market, but I was particularly drawn to the Marvel Deadpool 10″ Plush Figure. I like how it isn't childish and can be gifted to fans of all ages, yet it is fairly weighty and comfortable to cuddle, too!
This plush is sturdy enough to stand alone, and I like the detail, too; this combination makes it a lovely piece for any collector's shelf or cabinet.
The price is good, and the feedback is generally positive.
Pros
Sturdy and Robust
Soft and Comfortable
Well Detailed
Good Price
Multipurpose
Officially Licensed
Cons
Not every Deadpool fan will like plushies!
Classic Deadpool Weapon Set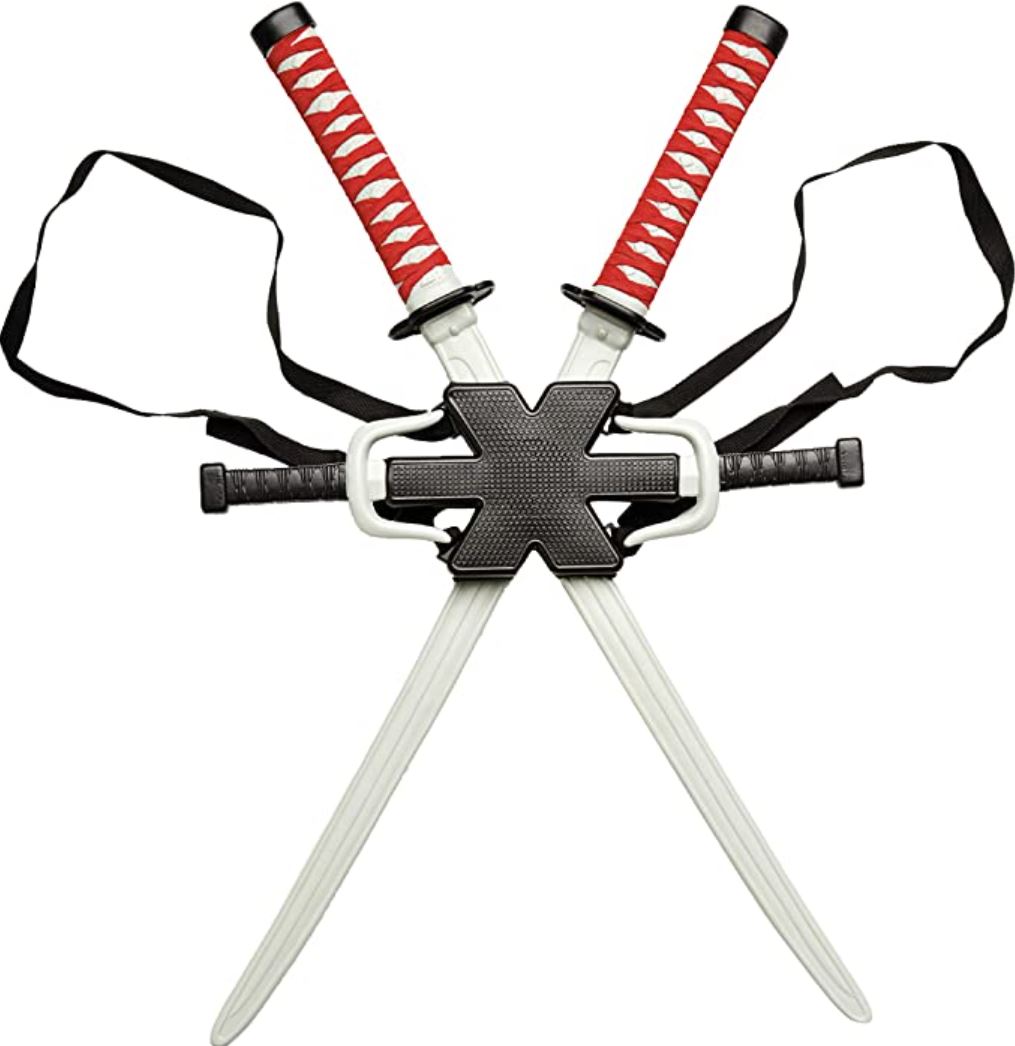 The Classic Deadpool Weapon Set is an officially licensed Marvel Deadpool costume accessory, and this is plain to see in the detail, such as the molded 3D pattern. The set feels super durable, although it is more geared towards the cosplay market than physical activity.
Personally, I believe the price to be a little high for what is fundamentally a backpack with shoulder straps. But I may be alone in this, as most reviews are very positive.
Pair with the matching Deadpool costume to complete the look!
Pros
Officially Licensed
Excellent Consumer Feedback
Very Well Detailed
Perfect for Cosplay
Matching Costume Available
Cons
Expensive
More for Dress up Than Role Play
Legends Series 6″-Scale Deadpool Collectible Action Figure 2 Pack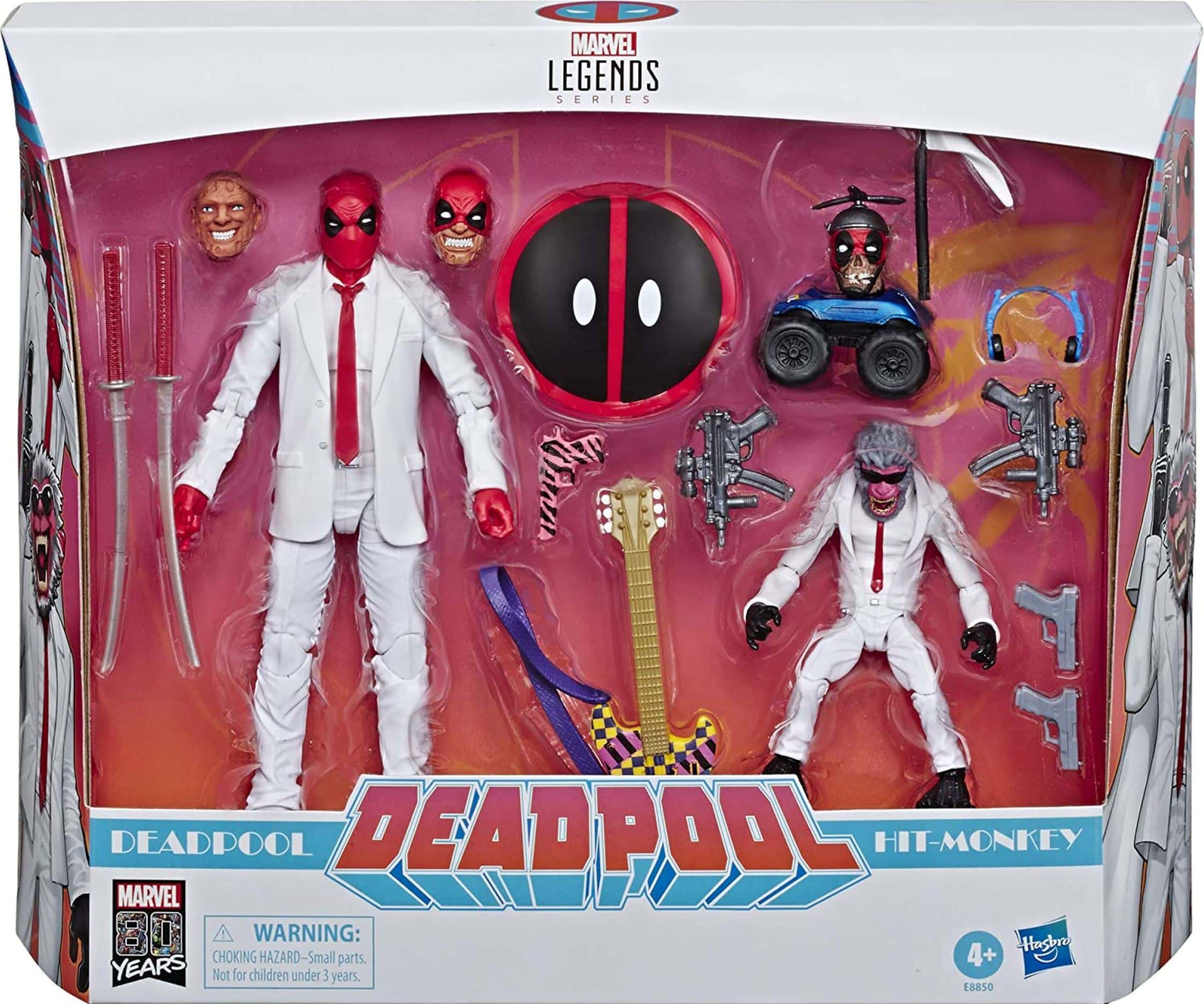 I am aware that I can come across as a person who likes to save money, and while this is true, there are times I would be happy to splurge. One of those times would be to buy the Legends Series 6″-Scale Deadpool Collectible Action Figure 2 Pack. Yes, it is pricey, but it is so worth it!
This 80th-anniversary edition set includes Deadpool and Hit-Monkey with a range of accessories, including an electric guitar, interchangeable masks, and the typical guns and swords. The figures stand alone at 6 inches and feature intricate character detailing. They're also easily posable, so perfect for play or display!
I wish that Hit-Monkey's legs would go fully straight, as they're always bent, which limits his poses somewhat. If that line reads a little petty, it is, but I gotta find something I wish I could change!
Pros
Marvel Branded
Highly Detailed Figures
Large Range of Accessories
Poseable
Perfect for Play or Display
80th Anniversary Edition
Unusual Gift!
Cons
Slightly Expensive
Hit-Monkey is Not as Poseable as Deadpool
Marvel Legends Deadpool's Rainbow Squad 5-Pack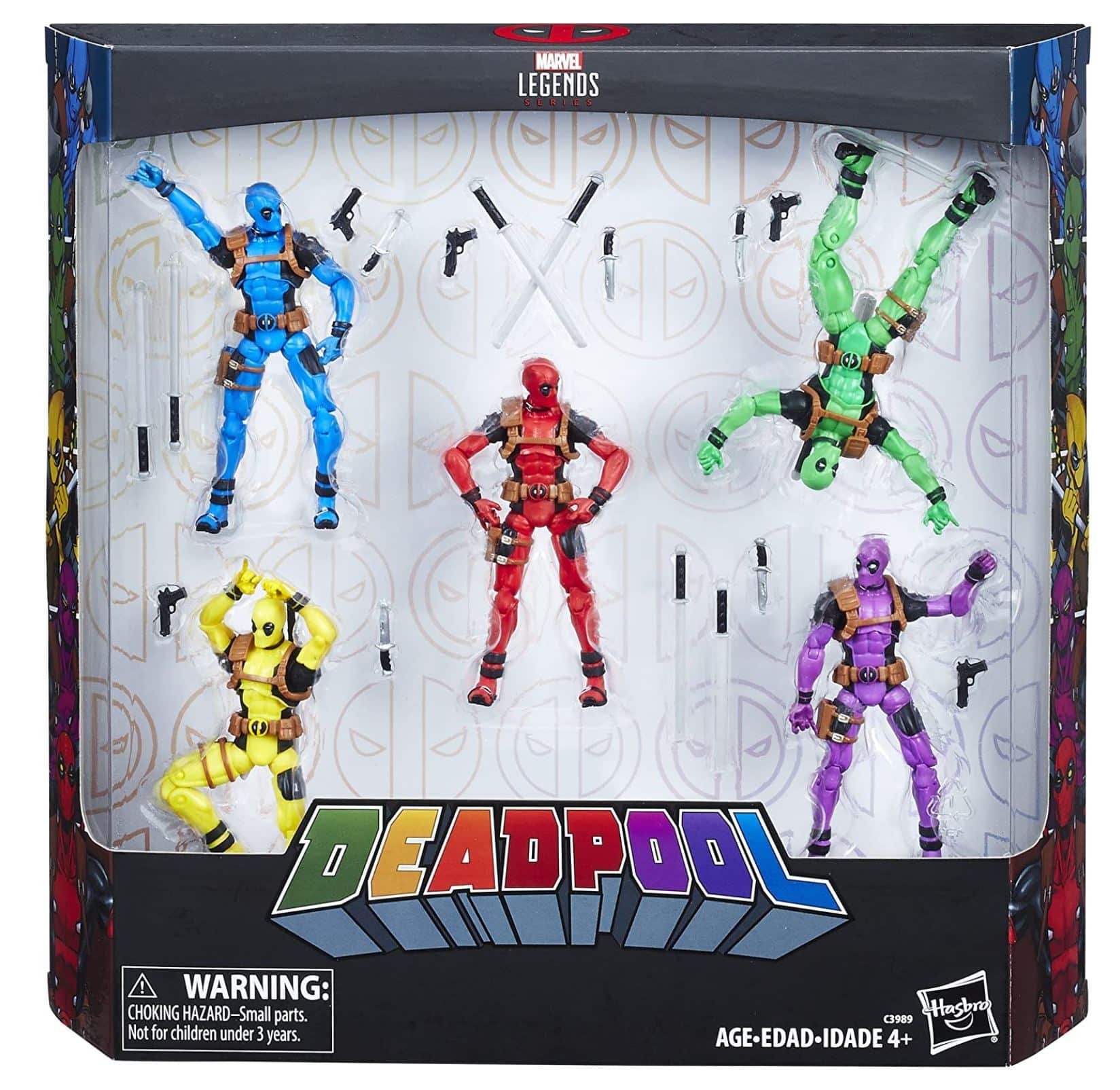 My youngest son loves action figures; WWE, Power Rangers, and of course, superheroes. If this is the same in your home, the Marvel Legends Deadpool's Rainbow Squad 5-Pack is a surefire way to instantly upgrade a figure collection.
While expensive, there are 5 figures with rainbow-colored Deadpool designs and an amazing 20 accessories, all delivered in a sturdy presentation box with a clear front. Each figure has multiple points of articulation, and they seem a little retro-inspired and very similar to the smaller action figures of the 1970s and 1980s. They also appear as durable!
Hasbro manufactures this pack, so there will be great longevity, which would encourage me to pay the slightly higher price.
Pros
Great Fun
20 Accessories Included
Fully Moveable Figures
Super Durable
Hasbro Branded
Cons
They're Expensive (there's no getting away from this!)
Marvel Deadpool & Taco Truck Die-cast Car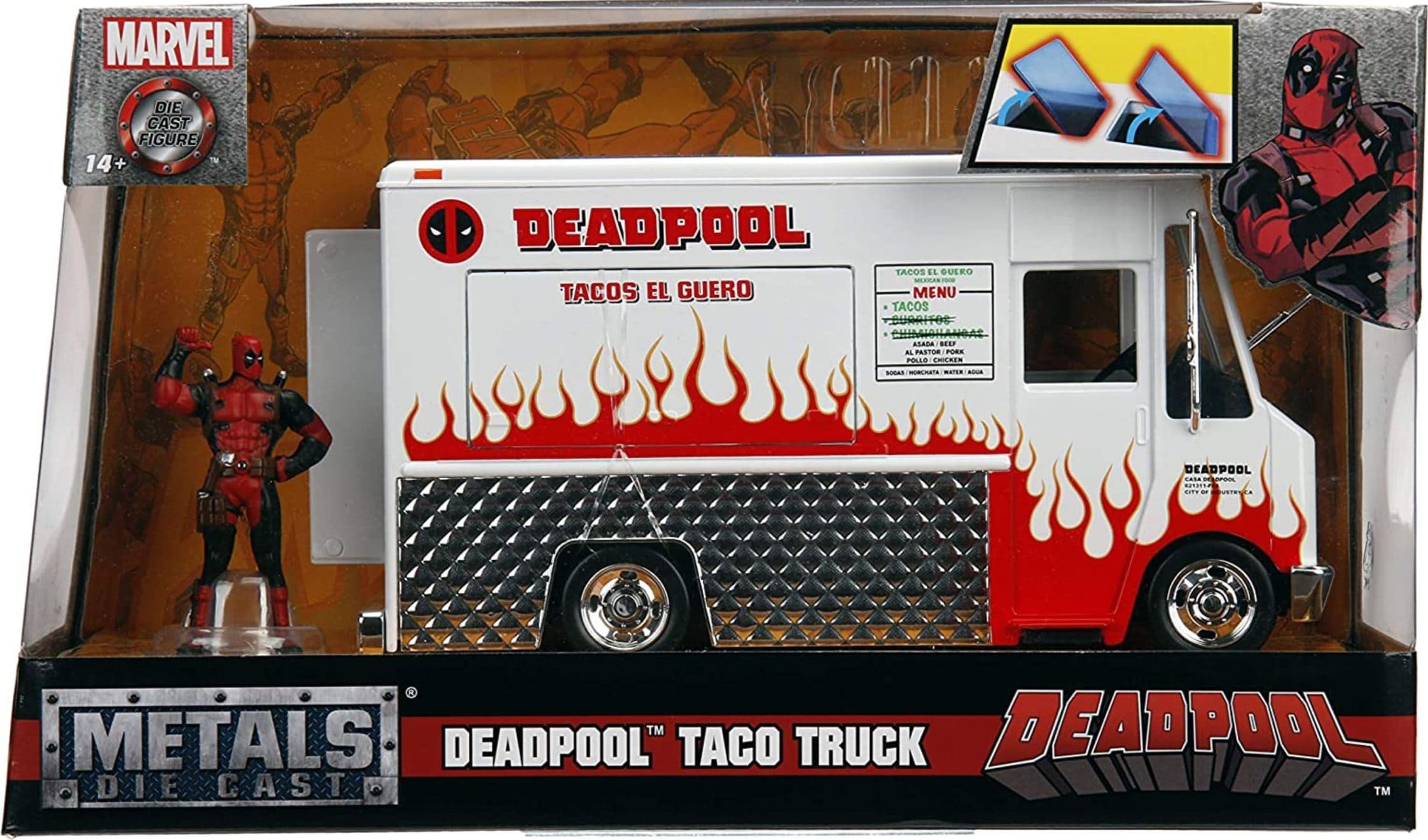 I have a lot of happy memories thanks to Jada toys (the company that produces this Marvel Deadpool & Taco Truck Die-cast Car), so I'm fully confident in recommending it based on this alone! However, there are more good things, too!
The fun factor with this figure and car set is extreme! Although small, the car is mighty and features loads of cool stuff, such as a realistic mobile kitchen, sliding entry door, and retractable roof doors. Imaginations can really run wild with this set.
The attention to detail is amazing, the paintwork is incredible, and I love how sturdy the Deadpool figure is. Super impressed with this one!
Drawback? It is a little overpriced, in my opinion.
Pros
Absolute Fun Factor!
Reputable Brand
Officially Licensed
Lots of Cool Features
Great for Imaginative Play
Cons
Marvel Legends Series 6-inch Deadpool 2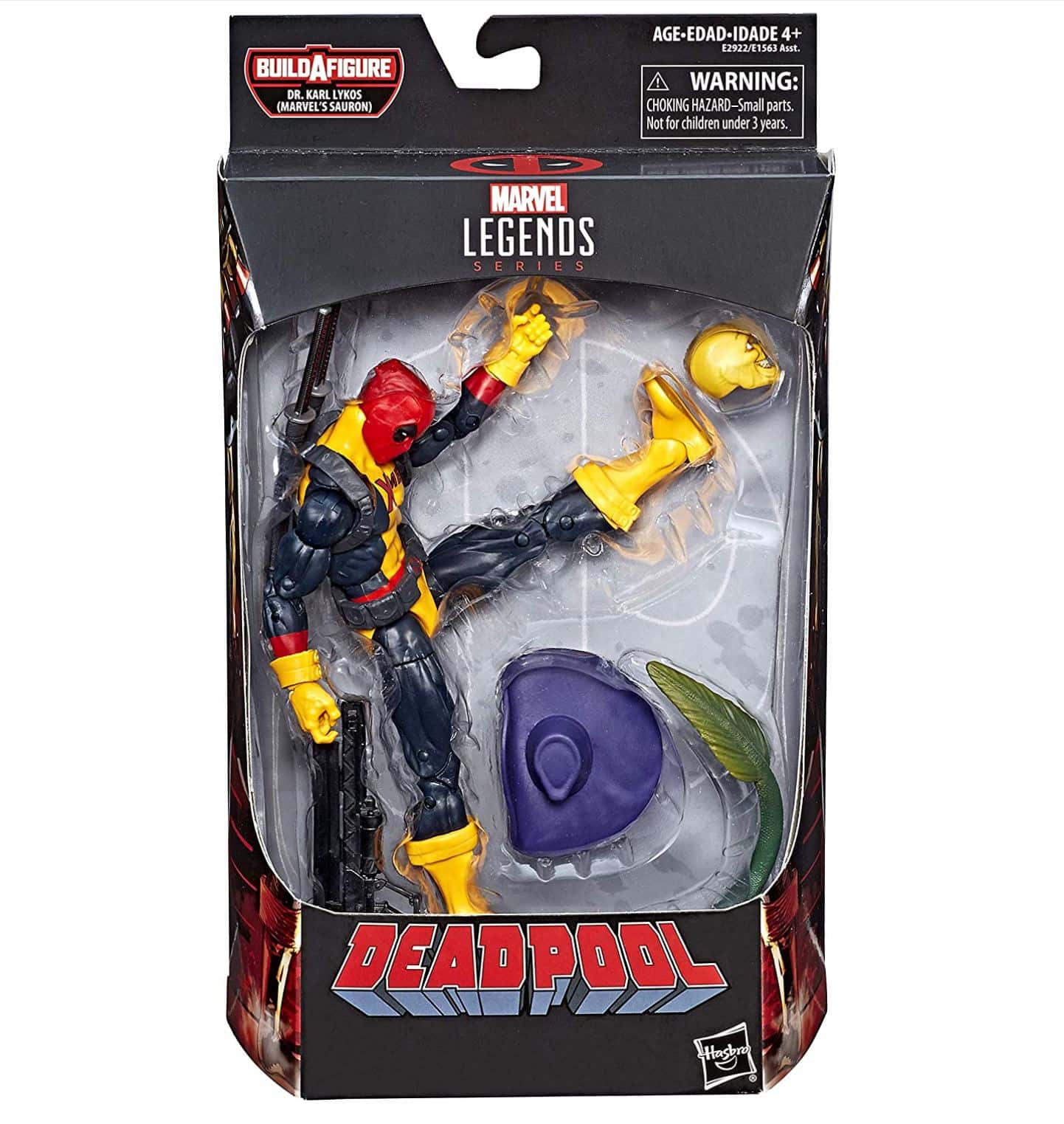 My boys and I absolutely love the Marvel Legends Series 6-inch Deadpool 2. I believe it offers something a little more special than most figures, and my youngest son declared he would 'never' stop playing with this – never.
When Hasbro calls this a premium figure, this is something I cannot dispute. The detailing and articulation are certainly above and beyond many others. I especially like the build-a-figure part of the set and other included accessories.
This figure is well worth its RPP, although sadly, it is for children aged 4 years and up. I wouldn't feel comfortable gifting this to younger children due to the small accessories. The item arrives in a sturdy box and very quickly. Most consumers are happy with this purchase, although I have found a couple of mentions of damaged accessories.
Pros
Premium Figure
Reputable Brand
Cool Accessories
Expert Detailing
Fair Price
Cons
Not Suitable for Under 4s.
Funko POP Marvel: Deadpool Two Swords Action Figure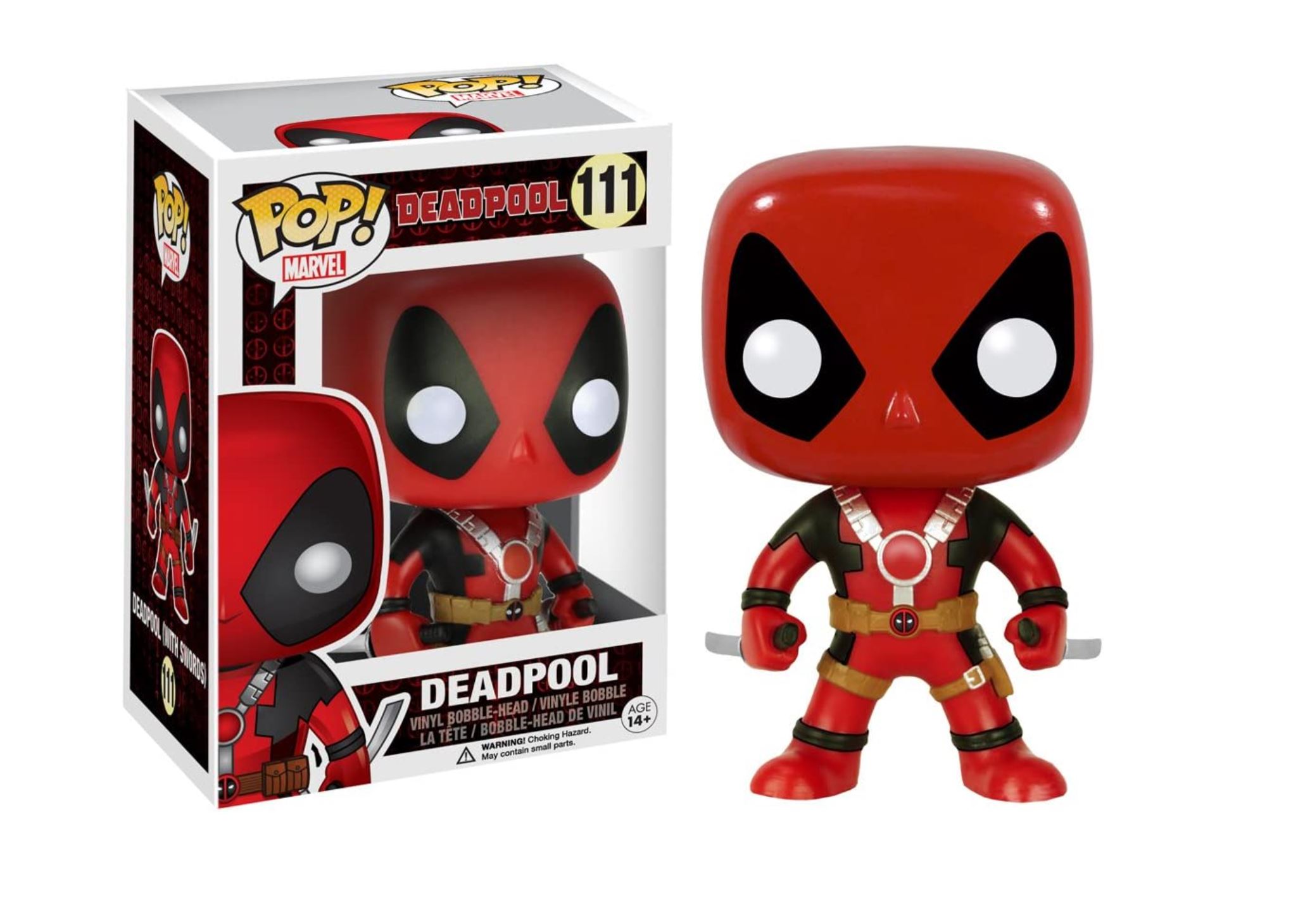 I love Funko POP figures and believe them to be a fail-safe gift for fans. The Funko POP Marvel: Deadpool Two Swords Action Figure is no exception. Now, there are many Deadpool Funko POPs to choose from, but I was drawn to this; and given the excellent feedback from hundreds of consumers, I'm not alone in this!
Deadpool stands proud here, almost regal, and holds his two swords unashamedly. The figure arrives in the typical Funko window box, but given its low pricing, I would feel okay taking it straight out of the box to play with!
Pros
Officially Licensed
Sturdy Window Box
Good Feedback
Excellent Quality
Fail-Safe Deadpool Gift
Cons
May not have the wow factor!
Frequently Asked Questions
Question: When did Deadpool Toys Become so Popular?
Answer: From 2009 to 2012, there was an incredible eleven different comic series that featured Deadpool. This was record-breaking, as never in comics history has any character been so prolific.
The astounding surge in comics, social media, advertising, and games led to increased merchandising; ever since Deadpool has been one of the most popular Marvel toys on the market.
Question: Is Deadpool a Good Role Model?
Answer: Before indulging my kids' latest passions, I always consider if their ventures, hobbies, or interests are 'good.'
When it comes to Deadpool, I believe him to be an incredible role model; yes, he is verbally aggressive, wields weapons, and doesn't always make the right decision – But he is kind-hearted, humorous, and he cares for those he loves. Our kids could follow much worse examples!
Question: Where is the Best Place to Buy Deadpool Toys?
Answer: I'm all about convenience, and while I have purchased Deadpool toys in toy stores and Walmart, I would always head online first. This is mainly because it's so convenient, but also because I can find out so much more from an online advertisement than I can from a store shelf. This knowledge can be so valuable, especially the feedback of other consumers!
In Conclusion: What are the Best Deadpool Toys?
My boys love the Marvel Legends Series 6-inch Deadpool 2, and one son is apparently going to spend his entire life playing with it. This figure set has so much appeal, and I believe the age recommendation here is sensible and accurate. However, this does leave younger kids out.
The Marvel Deadpool & Taco Truck Die-cast Car is another fine example of Deadpool toys; the fun factor is incredible, and I love this set so much. However, I'd love it even more if it were between $5 and $10 cheaper!
My overall favorite has to be the Marvel Hasbro Legends Series Deadpool Collection Action Figure, and I believe this will appeal to the majority of readers!