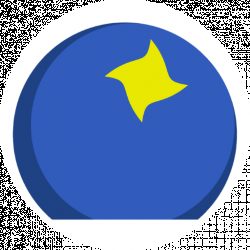 Latest posts by Avid Toy Insider Team
(see all)
From a young age, I was always a massive fan of Mario! It started out with Super Nintendo and continued from there.
Today, various games feature Mario. If your child is a fan of him, you might want to buy them some Mario toys. But which should you choose is the question?
You have options for different age ranges and hobbies, from stuffed animals to playsets. Read this ultimate guide to Mario toys today to pick out the right choice for your child!
Bottom Line Up Front
Since there are so many toys to choose from as far as Mario goes, it's hard to pick a favorite. You could even find cake toppers that are a playset.
Factoring in a budget and staying under $30 whenever possible, I would choose the Super Mario 58541 Nintendo Super Mario Mushroom Kingdom Castle Playset. Your child could have hours of play pretending that Bowser has taken over Princess Peach's castle. It's also an excellent option for kids who are three and older.
My Top Picks at a Glance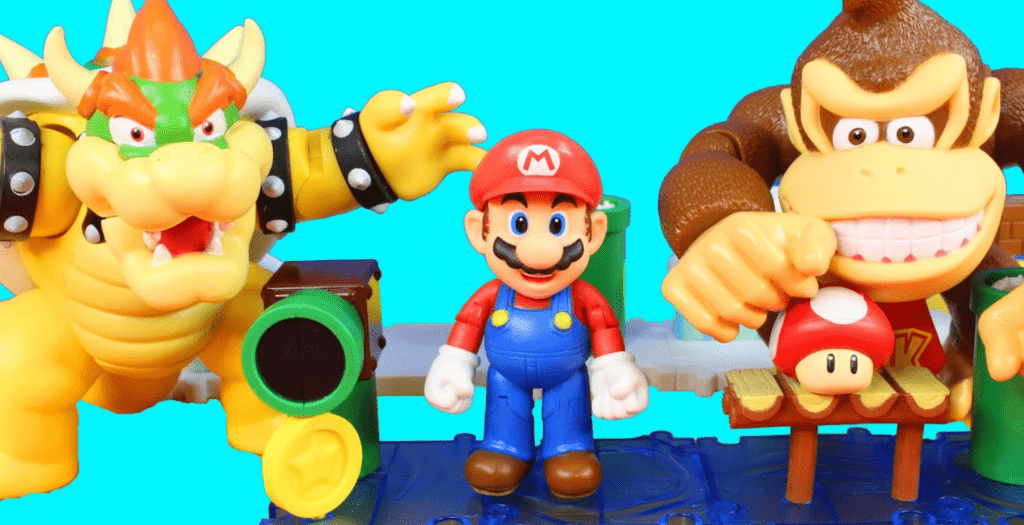 Super Mario 58541 Nintendo Super Mario Mushroom Kingdom Castle Playset-It comes with different accessories for hours of fun!

Epoch Games Super Mario Piranha Plant Escape!-This also comes with accessories with this tabletop game.

Hasbro Gaming The Game of Life: Super Mario Edition Board Game-I love the game of Life, and I love Mario; what a perfect pairing!

Carrera RC Nintendo Mario Kart 2.4 GHz Mini Collectible Radio Remote Control Toy Car Vehicle-Slightly over $30, this toy is worth it. Your child will have hours of play with this remote control toy car.

JoySee Set of 3 Pcs Super Mario Bros Luigi, Mario, Yoshi-Wow, you get all three for this pretty nice price! When posting this, there's a coupon you can add as well.

Super Mario Action Figures Deluxe Boo Mansion Playset-I love Boo, so I couldn't resist. However, his mansion drives me crazy to find your way through! It's right under $30 as well.

ADW 6 Pcs Set Super Mario Bros Super Mary Princess, Turtle, Mushroom, Orangutan-I love how this set comes with your favorite characters at an affordable place. What a great way to increase your child's imagination while they play.
Tips for the Reader
Think about your child's favorite characters as you go through this list. But, of course, you'll also want to keep your budget in mind.
I tried to keep everything under $30 whenever possible since you shouldn't have to pay a hefty amount for a toy. Think realistically about how many years your child will get out of the toy before you buy it. It's also a good idea to pay attention to their hobbies to ensure that they get the most out of the toy.
Selection Criteria
Since staying within a specific budget is essential, I tried to choose as many toys under $30 as possible. However, I understand everyone's budget is different, so I will have a section for more expensive toys.
Please understand, though, that you don't have to spend a fortune on a toy. Many of the best toys are under $30!
I also tried to choose various toys since each child would be different. But, of course, board games will be at the top of the list since they're a passion of mine!
Why Should My Child Play With Toys?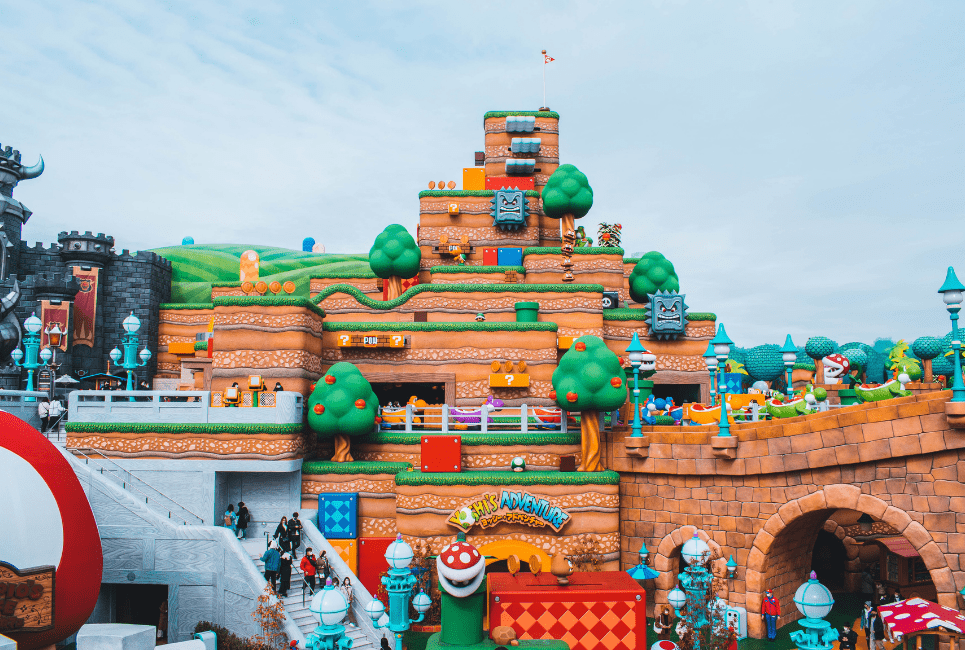 As children play with various toys, it's an excellent way to develop their language and emotional needs. Along with this, play can also enhance their cognitive and motor skills.
Playing with toys can help them figure out how to act in different situations in real life. Interactive toys are great for learning to share and play with others. Toy cars, balls, and blocks can help with social and motor skills.
How To Pick Out the Right Mario Toy
First, think about your budget as you decide on a suitable Mario toy for your child. Don't feel pressured to spend more than you can afford.
Remember to check the age range for each toy. You don't want to get something that'll bore or overwhelm them.
Pay attention to their current hobbies and which toys they tend to gravitate toward. This will help you in your overall decision. It's also a good idea to think about what you're looking for them to improve educationally.
Interactive Mario Toys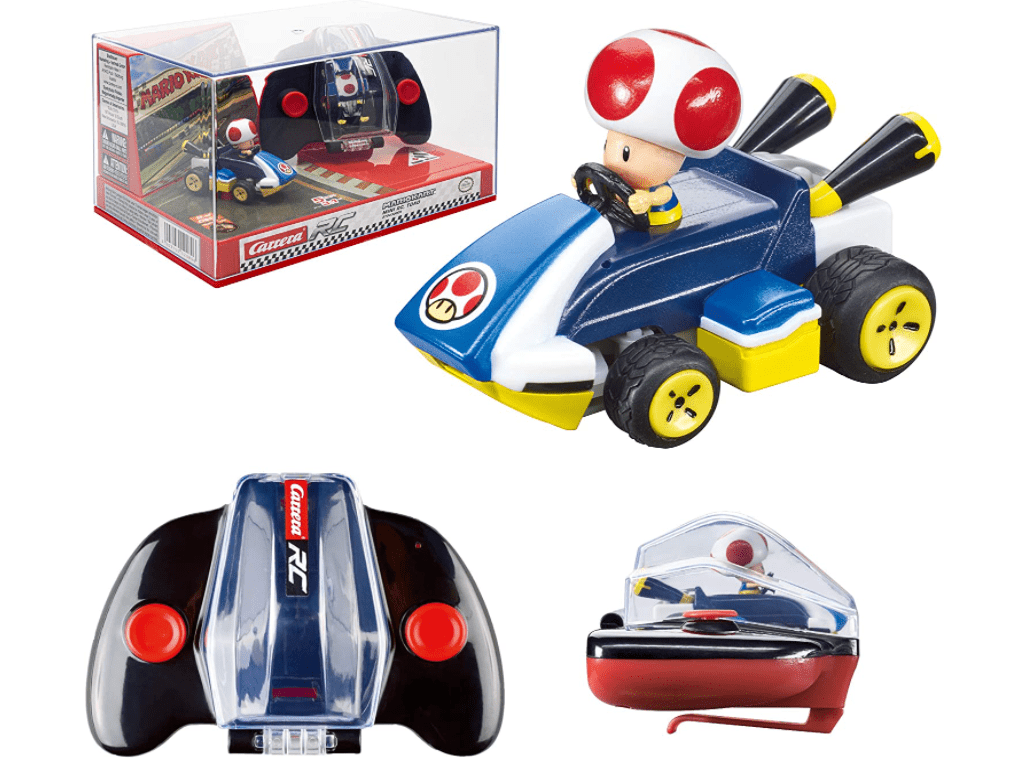 Your child can have hours of play with this Mario remote control toy vehicle! It's an officially licensed Nintendo product which is also great for collectors.
It even comes with all of the batteries for the controller and vehicle. The remote controller has a storage section to hold the car when you're not using it. There are six different models you can choose from for your collection!
It comes with remote control with a belt clip and storage compartment. It also comes with a clear display case to show off this beauty.
Pros
Comes with a display case

It's part of a collection.

Remote control with a storage compartment
Cons
It's rather small

Your child must be at least six years old.

It's slightly over $30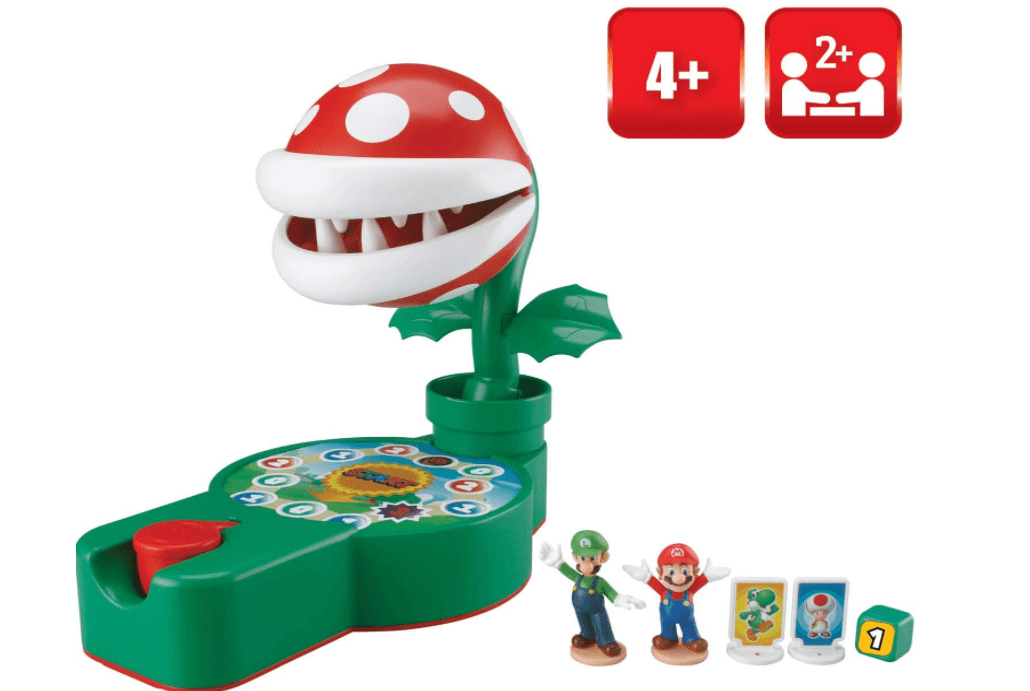 This affordable game is under $30 and comes with two action figures! I love that it comes with the plant base, action figures, dice, and character plates.
If you're a collector, the action figures can be part of your collection. You can use them with other Mario games as well. It's also an easy setup that even children can do!
Pros
Affordable

The action figures work for other Mario games.

An interactive game where the piranha plant randomly attacks
Cons
The instructions are a bit hard to understand

On the higher end price-wise
Increase Their Imagination Through Play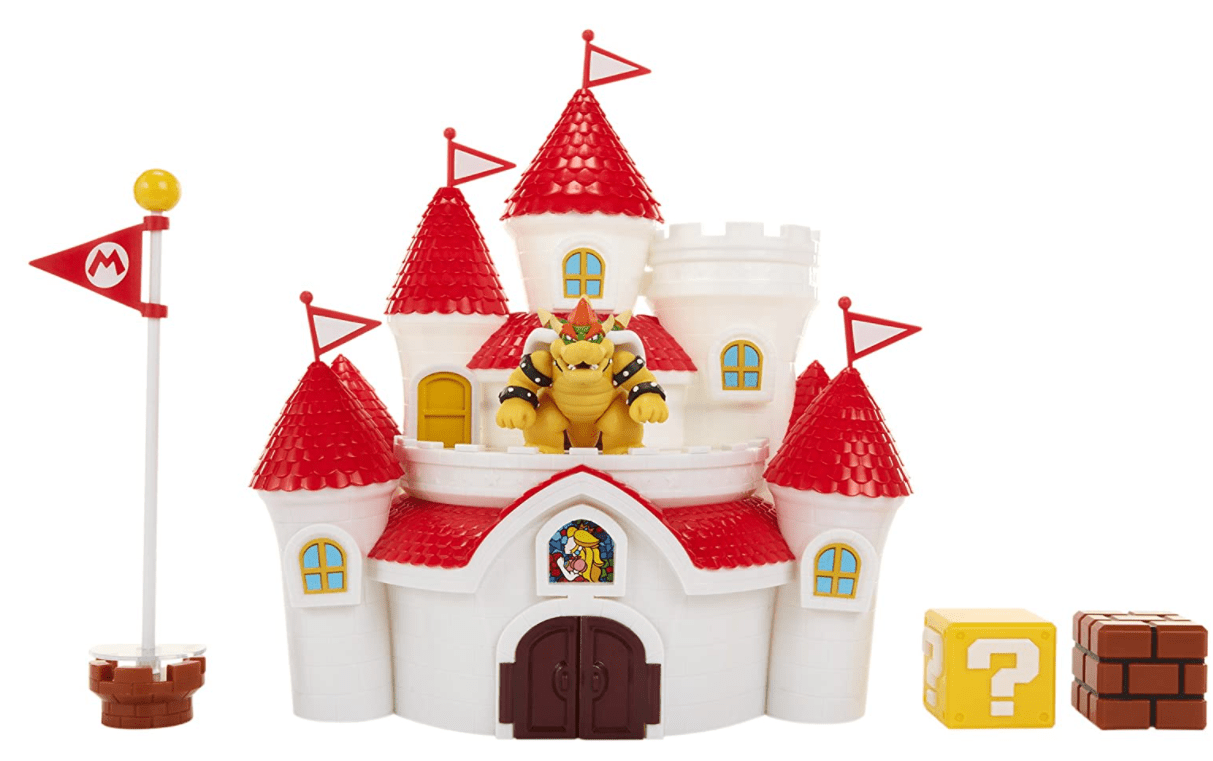 If you've played any of the Mario games, you'll notice that Bowser is always trying to take Peach away. Here your child can reenact those scenes since it comes with Peach's Castle and Bowser.
It includes:
Goal flag

Bowser

Poster

Princess Peach's Castle

And blocks
Keep in mind that it's a choking hazard for children under three years old. Also, keep in mind that Bowser is tiny.
Pros
Beautiful castle

Bowser

Extra accessories
Cons
It's really tiny

Be careful while playing with it since it could break easily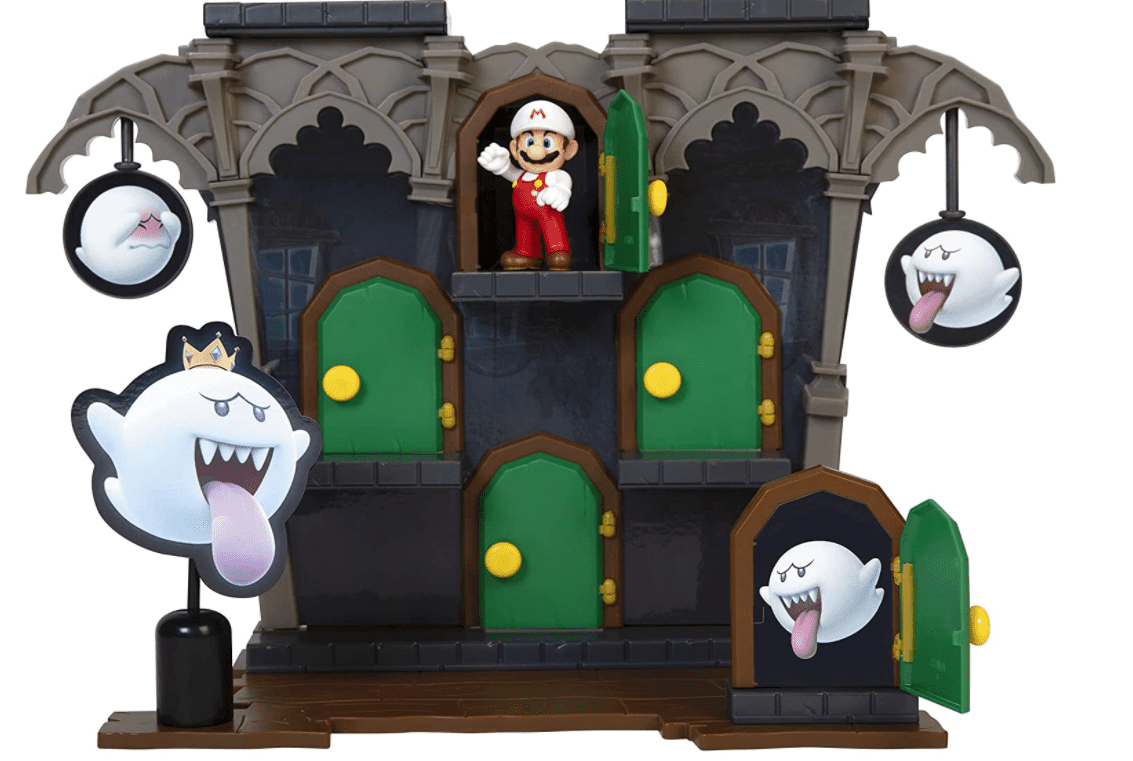 I love Boo, and I needed to include this on the list! While it's toward the higher end, just under $30, it deserves a spot.
If your child has played with Boo's mansion before, they've seen how frustrating it is to try to find your way with the various doors. This playset allows your child to reenact that since it comes with Mario plus part of the mansion.
Pros
Comes with Mario and Boo's mansion

Great for various ages
Cons
Harder to assemble

On the more expensive end
Hasbro Gaming The Game of Life: Super Mario Edition Board Game for Kids
What better game than Life and Super Mario combined? This is an excellent option for kids between eight and twelve, although adults would like this one too!
It's still the same game of Life that you love, but with Super Mario. It has a twist, though; it's not about money and retirement.
The goal of the game is to defeat Bowser. The Game of Life is excellent for adults and children alike and great for family game night.
Action Figures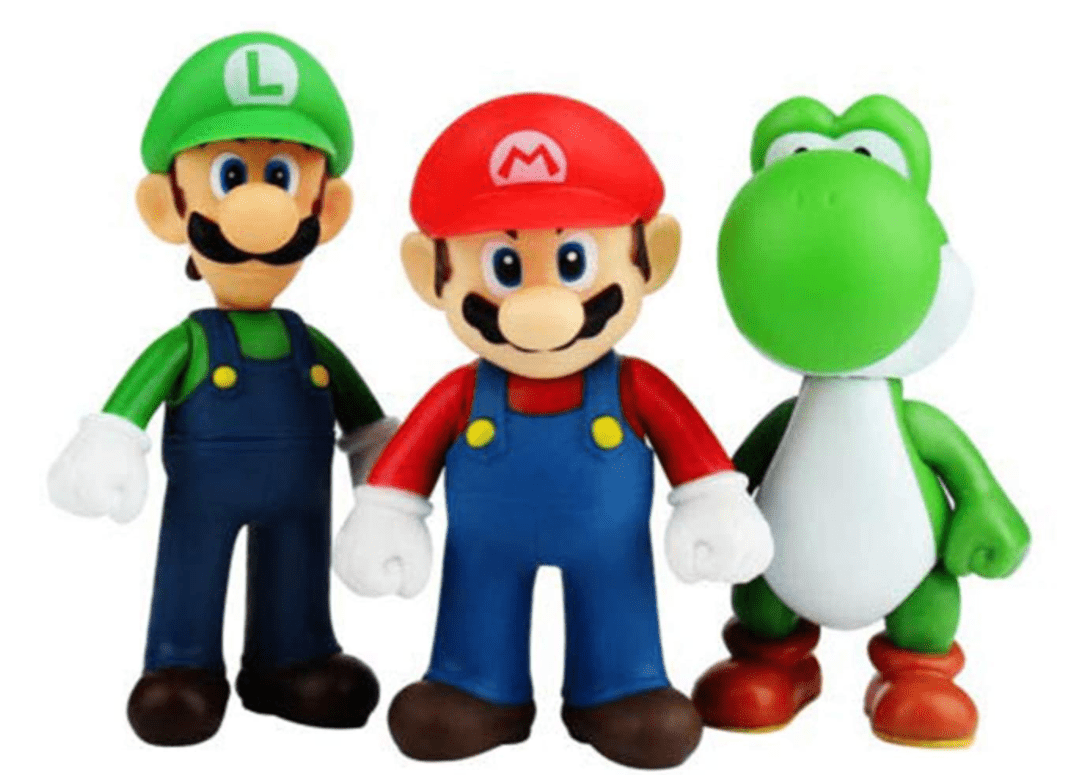 I love how you can get a set of three toys at such an affordable price. At the time of posting this, it's on sale. Plus, you can add a coupon to save even more.
Whether you're looking for toys for your child to add to your collection or add them to your desk, these are great options. However, keep in mind that they're on the smaller end.
Pros
Comes with three

Great for collectors or children

Children as young as three years old can play with these
Cons
They're quite small

Since they're small, your child might get bored of them

Not interactive
Pricier Options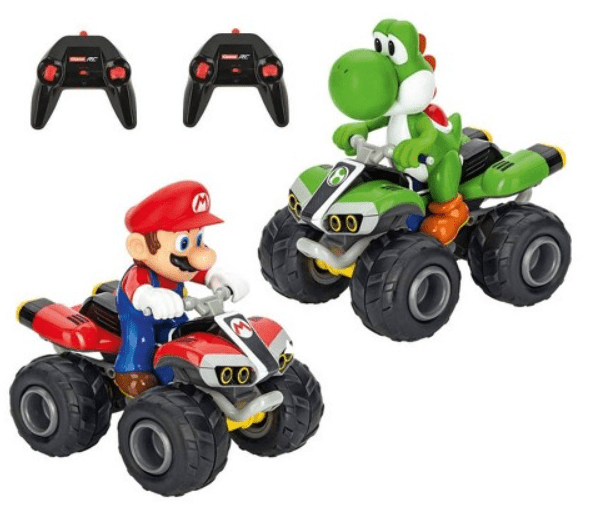 While this toy is on the more expensive side, you get a pack of Yoshi and Mario. I love how they're remote control for hours of play.
It's also a great way to increase their imagination since they can create stories while moving around.
It comes with:
USB charger cables

One Mario on a quad

One Yoshi on a quad

Two controllers
These toys are great for inside or outside. It's excellent for children three years old and up.
Pros
Comes as a two-pack

Hours of fun for your child

Comes with remote controls for play
Cons
It's expensive

It can be frustrating to charge and take it on and off of the charger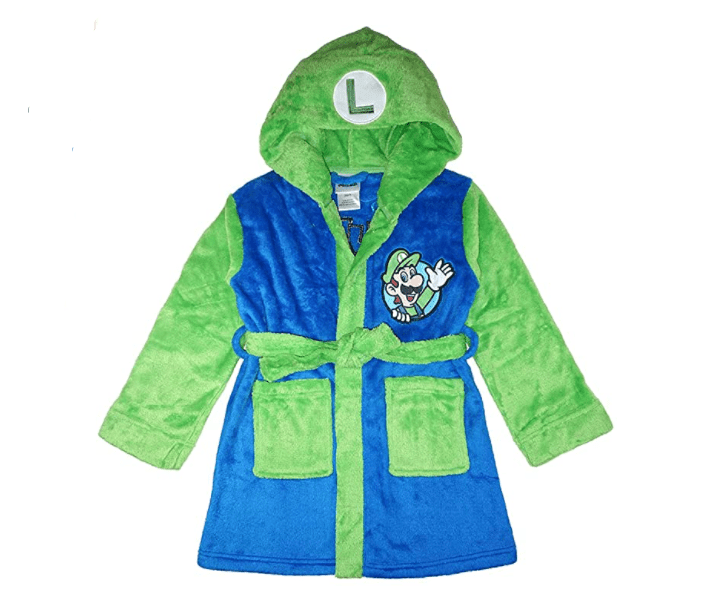 I love how your child can have fun playing dress-up and pretending to be their favorite character! It even gives you the choice of Luigi or Mario. So whether your child is getting out of the bath or going on an adventure, it's great.
Great for collectors since it's officially licensed as Super Mario Brothers Merchandise.
Pros
Great fun whether they're going on an adventure during play or getting out of the tub

Extremely adorable

You can choose from Mario or Luigi
Cons
Not the best quality

Handle with care to not damage it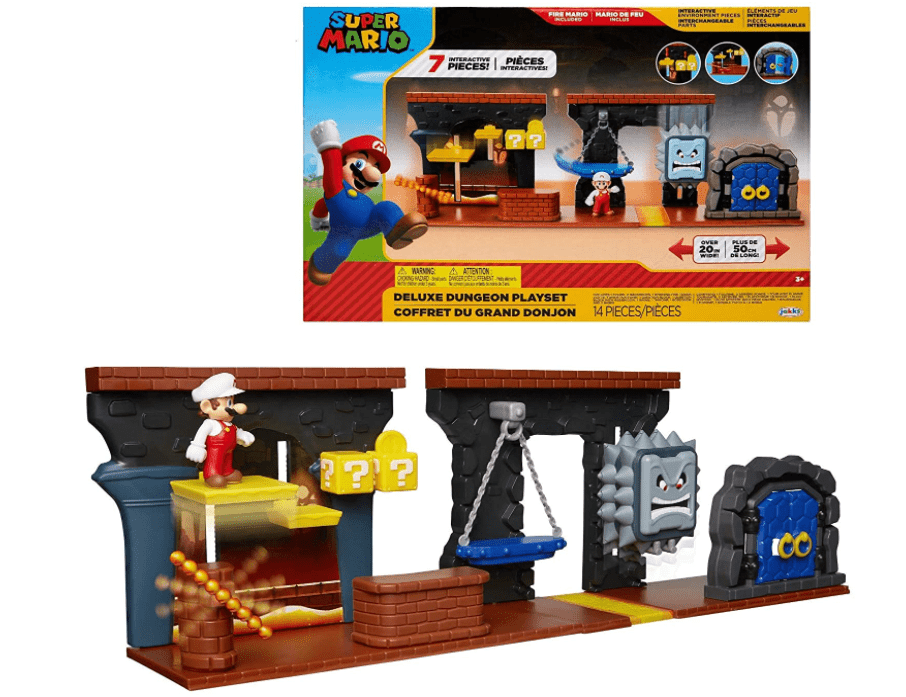 I love how you get spinning fireballs, a swing, a door, hidden coins, and moving platforms for this price. Let your child reignite their video games through play.
The pieces are interactive as well. Keep in mind that it's not for children under three years old.
Pros
An interactive toy

Made for hours of play

Many components involved
Cons
The structure is flimsy, but a little super glue should help

Quite expensive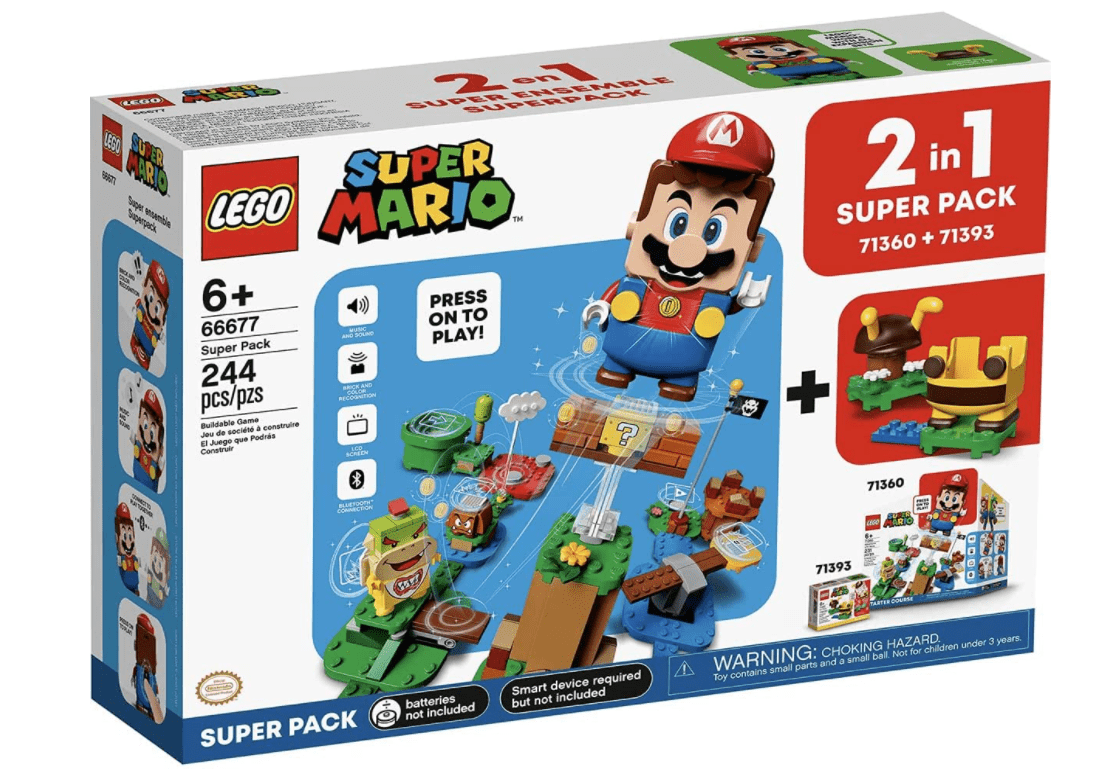 This Mario Starter Course is tons of fun for various ages! But, of course, your child will love the Mario Power-Up pack as well.
Begin at the start pipe and end at the goal pole. There are question mark blocks, cloud platforms, and more. You could even switch up the starter course too.
Keep in mind that it's not for children under three years old.
Pros
An excellent pack for various ages
Your child will have hours of fun with this interactive toy
Cons
It's on the pricier side
It's for children who are six years old and higher
FAQs
Question: What is the Most famous Mario?
Answer: Super Mario Brothers is the best-selling.
Question: Who makes Super Mario toys?
Answer: All different brands, including Super Mario merchandisers. JAKKS Pacific Inc is one company.
Question: What is the Most Challenging Mario Game?
Answer: The Lost Levels is up there!
Question: What Age is Mario?
Answer: He's about 41 years old, but others claim he's 38 years old.
Question: What is Mario's Real Name?
Answer: His full name is Mario Mario.
Question: Who is Luigi's Girlfriend?
Answer: Daisy! She's from Super Mario Brothers. She's a student of archaeology whom Luigi falls in love with.
Exploring the Ultimate Guide to Mario Toys
After exploring the ultimate guide to Mario toys, you should have a better idea of some of the top toys out there for your child to play with. While there are various toys to choose from, including different price ranges, there's still a favorite of mine.
I have to go with the Super Mario 58541 Nintendo Super Mario Mushroom Kingdom Castle Playset. I love how you receive the castle, Bowser, and other accessories at an affordable rate. In addition, your child will be able to recreate plenty of storylines from the games.
If you enjoyed this article, be sure to check out our other articles today!
To read about more fantastic toys: