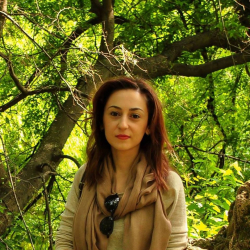 Latest posts by Alexandra Gavrilescu
(see all)
Kids of all ages love mermaids and mermaid toys, ever since the Little Mermaid became a Disney movie. Nowadays, it seems that the most popular trend when it comes to mermaid toys is a bold and fabulous color mix of purple and teal blue covered in sparkle and sequins. Obviously, most mermaid toys are made for girls, but there are also some dedicated to boys.
From toddlers to older kids, all children will love the following products. Based on my research, these are some of the best mermaid-themed toys out there.
The Best Mermaid-Themed Toys to Consider for Your Little One
The following products are presented in no particular order. I've chosen them based on their popularity and customer ratings.
The Best Mermaid-Themed Toys for Toddlers
Musical Jewelry Box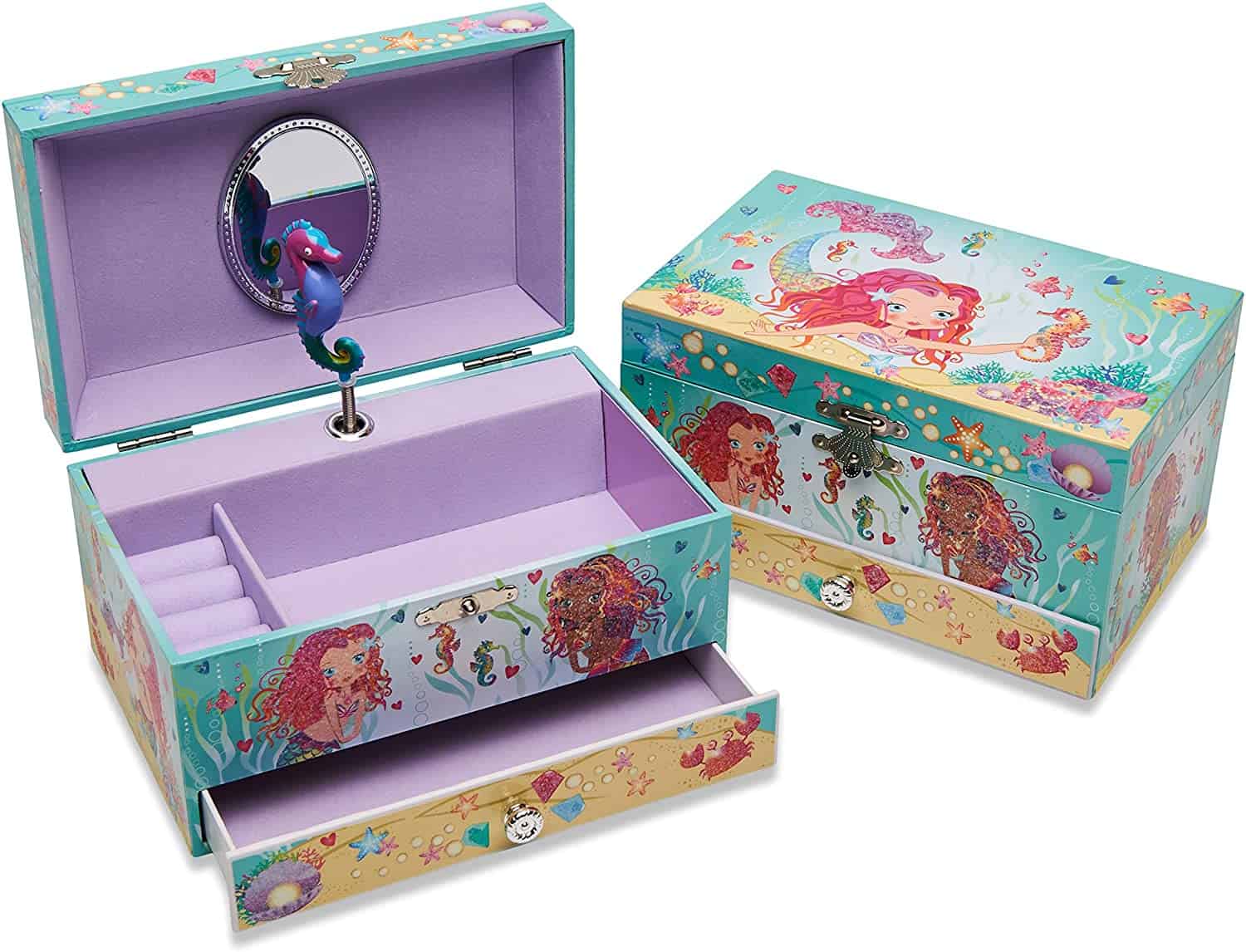 This mermaid-themed toy could become your child's first keepsake that she will always cherish and remember. In addition, all little princesses need and want a precious jewelry box where they can keep their costume-made accessories, such as tiaras, friendship bracelets, seashell necklaces, and more.
This musical jewelry box is affordable and features beautiful drawings of mermaids. Besides the playful illustrations of mermaids, the package also has plenty of glitter decorations. Inside the box, your daughter will be pleasantly surprised to discover a graceful twirling seahorse. The inside part is covered in a soft lilac plush material. Right behind the seahorse, there's a small oval mirror in which your little girl can see how beautiful she is.
There are two main compartments where children can keep their precious brooches, rings., and more.
Pros
It looks adorable, and it's covered in glittery decorations;
Mermaid fans will love this as a gift;
There's plenty of space inside to keep all your girl's accessories;
The size is perfect for your little girl.
Cons
Some clients complained about the materials being of low-quality material;
One parent said that she disliked the music played by this box, but I guess that's a highly subjective matter. 
Ariel Dress-Up Wooden Doll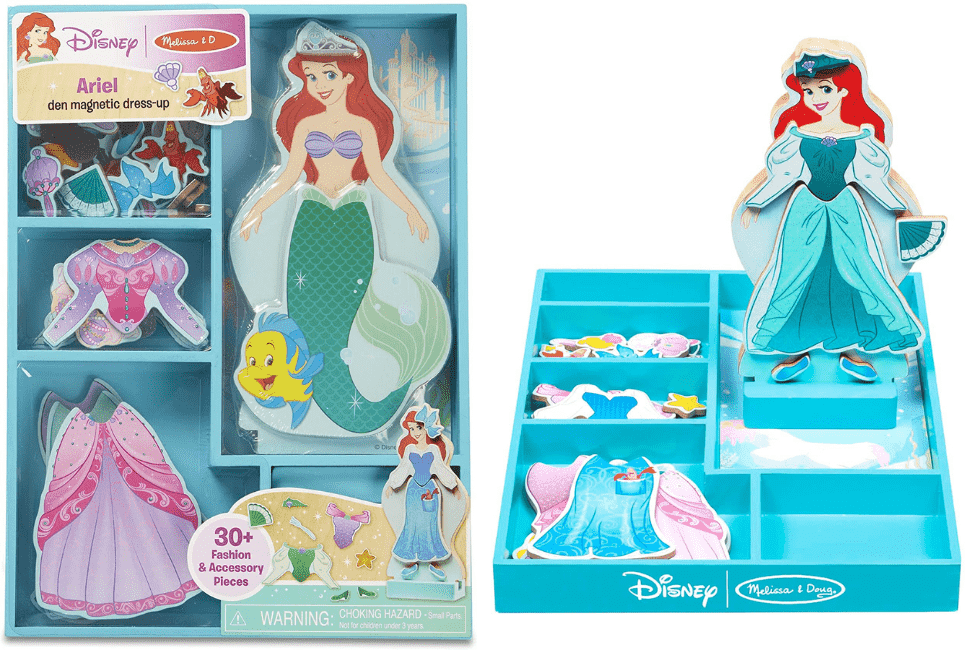 This magnetic dress-up doll marketed by the Melissa and Doug Store is very affordable and features the beloved Disney mermaid princess Ariel. I bet your daughter will be fascinated by this type of toy and will play with it for hours. Moreover, her creativity and imagination will be boosted by all the fantastic magnetic pieces that come with this doll. There are over 30 of them.
Therefore, children can create more than 100 different outfits using those individual clothing pieces. The toy comes with a portable storage tray that's very easy to carry and take with you during your travels. It's suitable for kids between the ages of 3 and 6 years old.
Pros
The material is a sturdy wood that will last a long time;
Comes with mix-and-match accessories and clothing pieces;
This is a hands-on toy that will develop your child's imaginative thinking;
It's a great alternative to video games since it's a screen-free toy.
Cons
The main downside of this toy is the lack of a lid that should be placed on top of the tray. 
Mermaid Rubber Rain Boots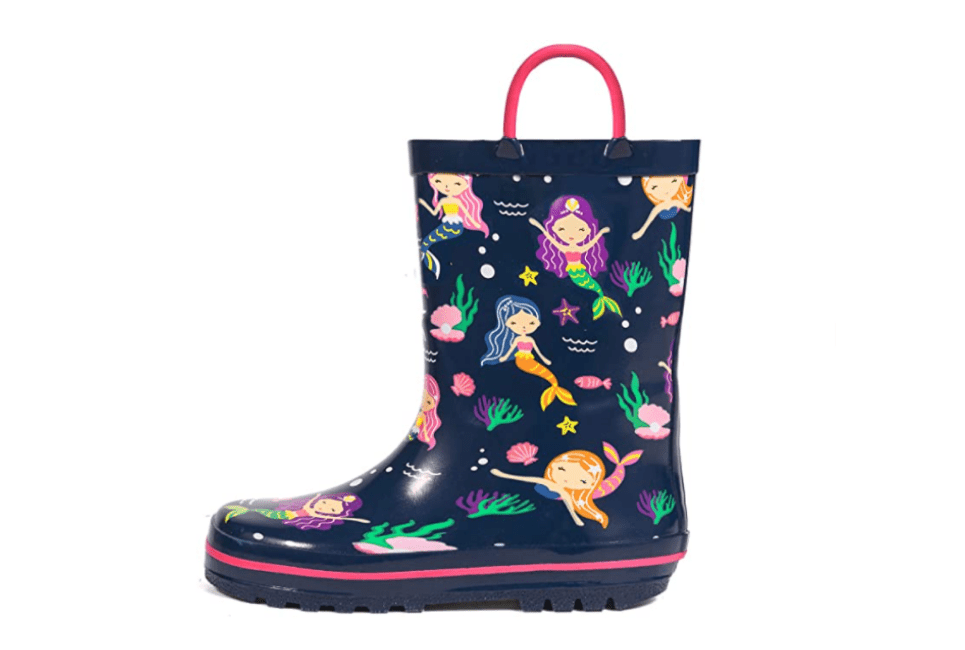 With these mermaid-themed rain boots made from durable rubber, your child will become the master of all the puddles created on the streets or in your backyard. These boots should become part of all toddlers' wardrobes since they're the ideal footwear choice for outdoor play during or after the rain.
These easy-on rain boots could be the perfect idea for a birthday gift. The fit is true to size. These shoes are waterproof, easy to clean or wash, and very comfy to wear. Besides being cute, these boots are also practical, functional, and fun.
Pros
These rubber boots are lightweight and eco-friendly;
They're made of resistant materials and have non-slip soles;
The handles on the top part are there to make the pull-on process a breeze;
There's a detachable layer that's called the comfort sole;
The pattern is simply adorable. 
Cons
One reviewer said that the boots she received had a smudged part of the print, but after communicating with the company's representatives, she got a replacement pair that was perfectly fine. 
Princess Mermaid Costume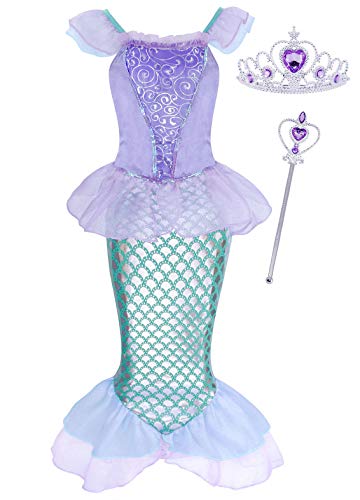 If your little girl is a toddler of about 2-5 years old, I bet she will love wearing this mermaid costume all day long. In fact, I believe you'll have trouble trying to convince her to take it off and wear something else for a change. It's a pretty affordable costume that looks beautiful. In addition, it comes with two precious accessories: a wand and a crown.
Pros
The fabric is stretchable and soft and won't scratch or irritate the delicate skin of your daughter;
Although it's a one-piece mermaid costume, it's multicolored, featuring shades of blue and purple;
It even has a removable brooch which is a lovely decoration;
The details are so exquisite. Just take a look at the fish scales printed on the skirt, the broad hem layers on the bottom that resembles the mermaid's tail, and the shoulder straps with their flatter sleeves. 
Cons
One reviewer said that the materials feel a bit cheap;
Another client mentioned the fact that the crown could be made of better and sturdier materials. 
Mermaid Watter Bottle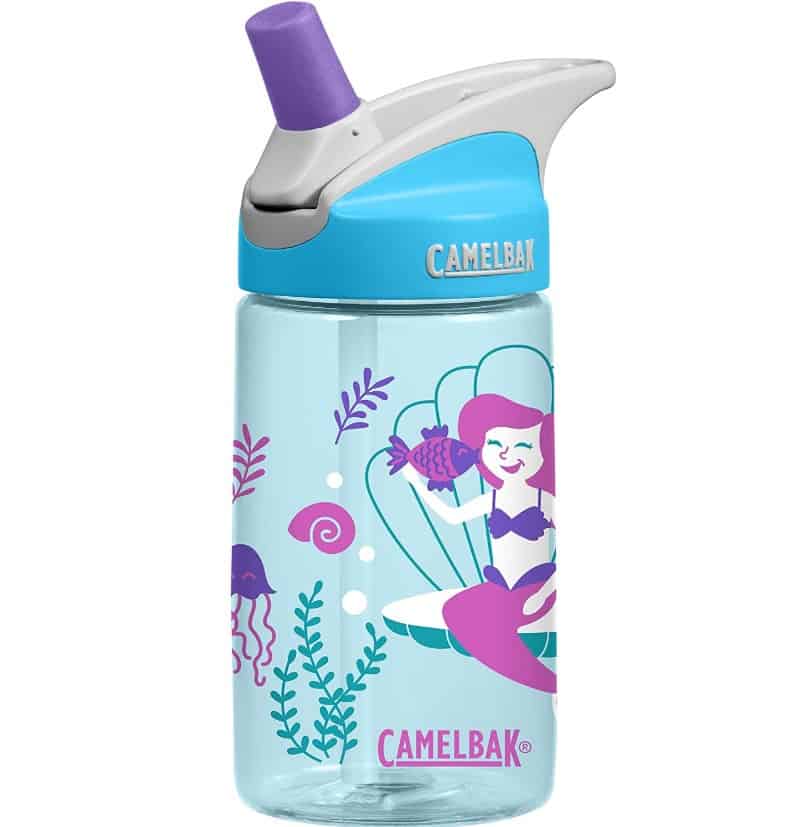 This mermaid-themed water bottle is a fun, cute, and practical gift that you could offer to your child. The Camelbak water bottle has a capacity of 12 ounces. Your little girl will love it, and she will want to carry it around with her everywhere she goes: around the house, at kindergarten, on vacation, etc.
There are plenty of similar items available on the market, but this particular water bottle is made of high-quality materials, and it's also very affordable. If you have more than one child, you could purchase several Camelbak water bottles, choosing the specific graphics that suit the interest of each of your kids. There's a wide range to opt from magical mermaids, cherries, airplanes, dinosaurs, daisies, footballs, jungle animals, and more.
Pros
Toddlers can use this mermaid water bottle since it's spill-proof;
The design makes this toy suitable for toddlers, and they will be able to hold the bottle in their tiny hands;
The materials are child-safe and BPA-free;
All the parts are easy to clean and machine-washable;
It features colorful illustrations, fun graphics, and it's both convenient and practical. 
Cons
One parent said that she bought this water bottle, but after a couple of uses, it started to leak;
Apparently, the mouthpiece isn't very easy to clean. 
Mermaid Island Board Game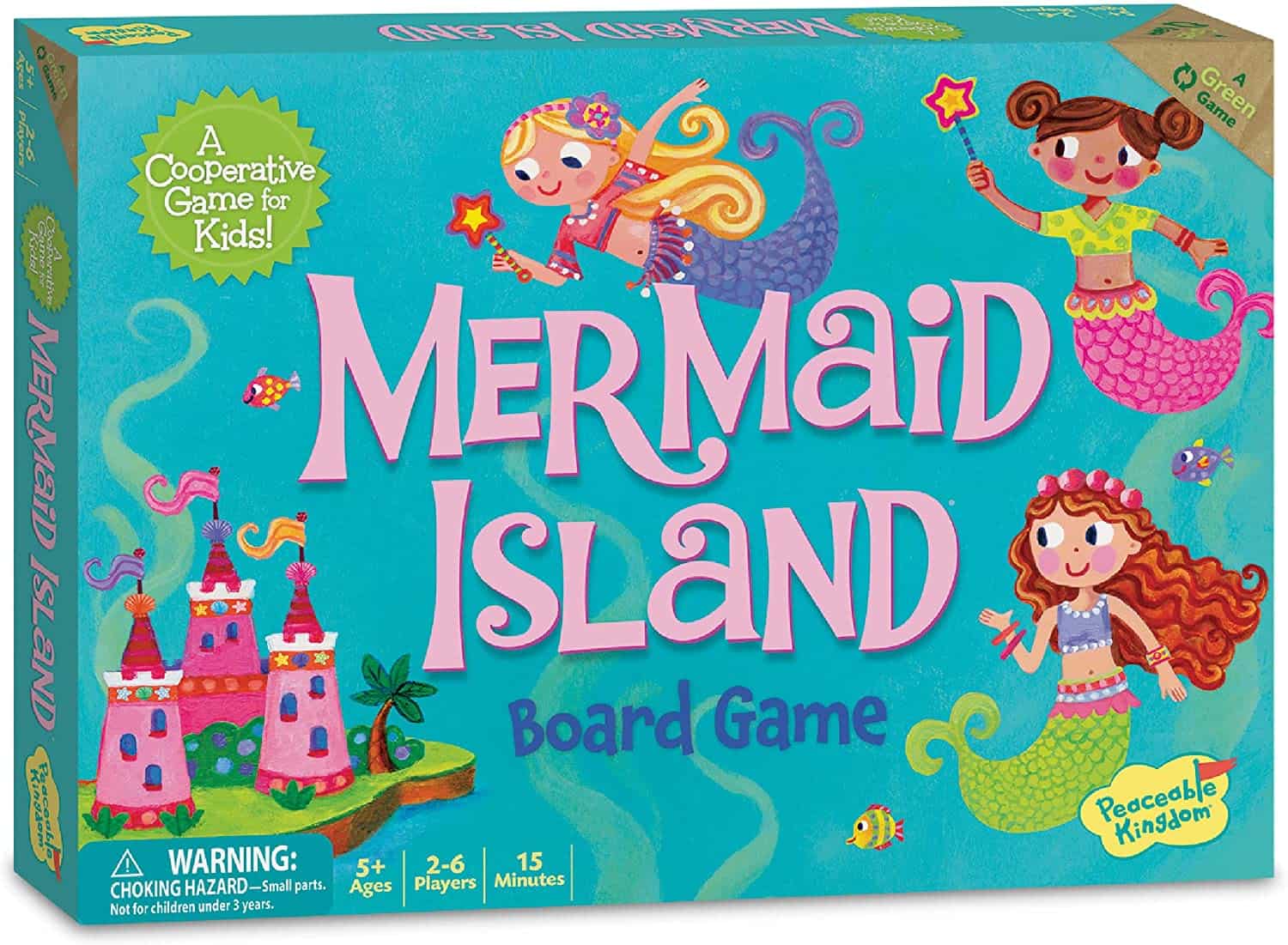 This mermaid-themed product is a cooperative board game that will teach your little one everything about teamwork. The game is approved by STEM, and it has received numerous positive reviews. It requires between 2 and six players, and one round lasts about 15 minutes. So, your kids will engage in playing it without getting bored.
All the players must work together and cooperate in order to help the mermaids swim and arrive safely to Mermaid Island. All that must be accomplished before the witch appears. To defeat the wicked witch, players must choose a wand and spin or move it. The game comes with several pieces, including the board, a sea witch with her own stand, three mermaid tokens, guidelines, a spinner, and four wand tokens.
Pros
It's a fun and engaging game that will teach kids social skills and strategy abilities;
Your kid doesn't have to know how to read to play the game;
This game allows all the players to be winners if they save the mermaids together.
Cons
One parent said it's pretty hard to win at this game which might become frustrating for young children. Another said quite the opposite; that this game is relatively easy to play and win. So, I guess that's a highly subjective topic;
Another reviewer complained that this game is pretty dull.
The Best Mermaid-Themed Toys for Girls Aged 6 to 10 Years Old
Craft Kit by I Love Mermaids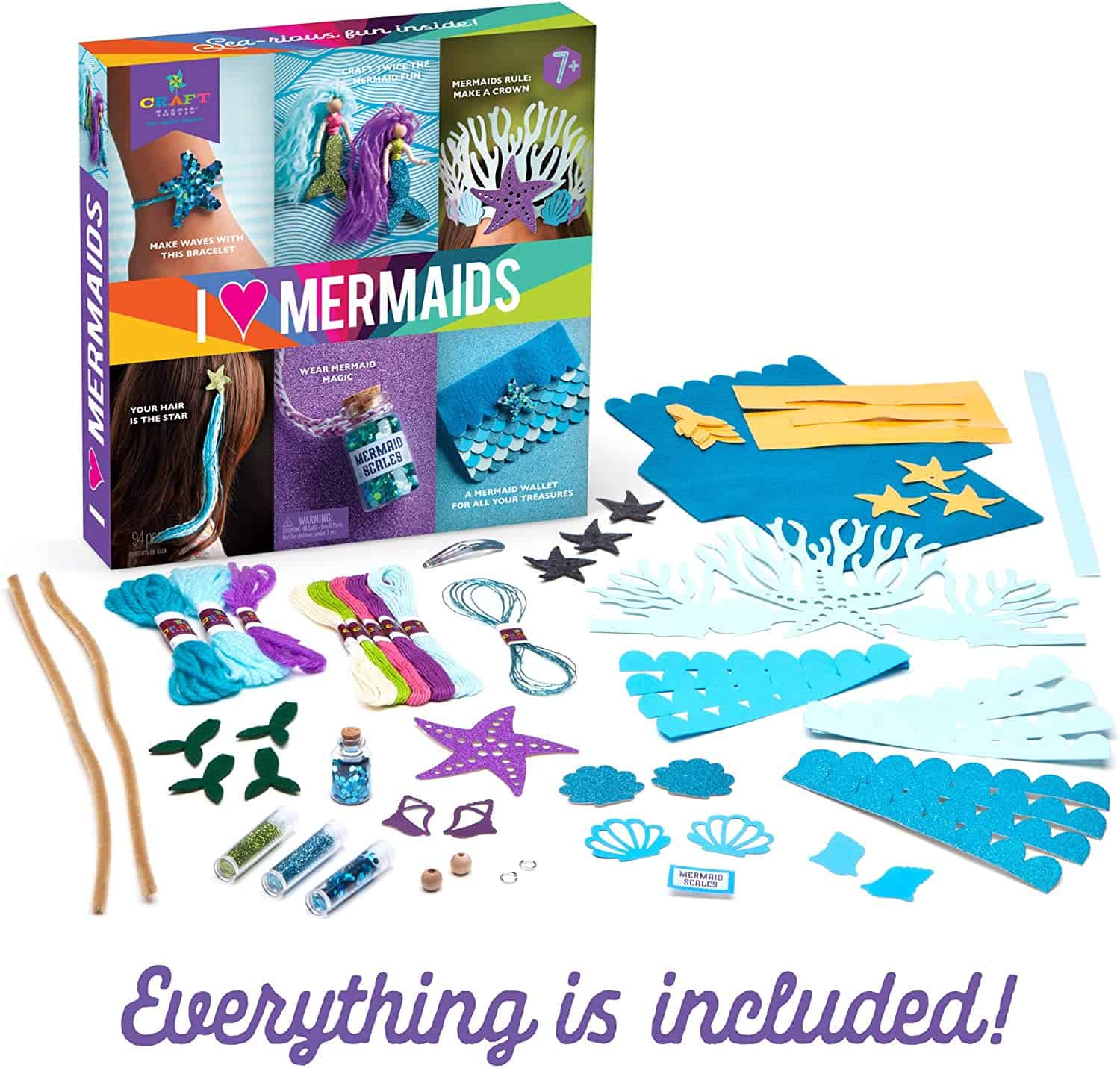 This craft kit for children is excellent at teaching your kids the proper ways to create different items and then offering those handcrafted products as gifts to their loved ones. This kit allows children to develop six various projects, all of which are focused on mermaid themes. Once created, these items can be proudly worn or offered to someone else.
With this themed toy, kids can craft hair clips, necklaces, bracelets, a purse, and more. All the tools needed for these DIY projects are included in the kit.
Pros
It's a very affordable mermaid toy;
It will keep your child focused and entertained for hours;
Your little one will develop new skills thanks to this toy;
It will stimulate your kid's imagination as well as their creativity.
Cons
One parent said that the instructions aren't self-explanatory, and that could create a lot of frustration;
Another client said that the materials aren't high-quality ones. 
Under the Sea Ariel's Palace LEGO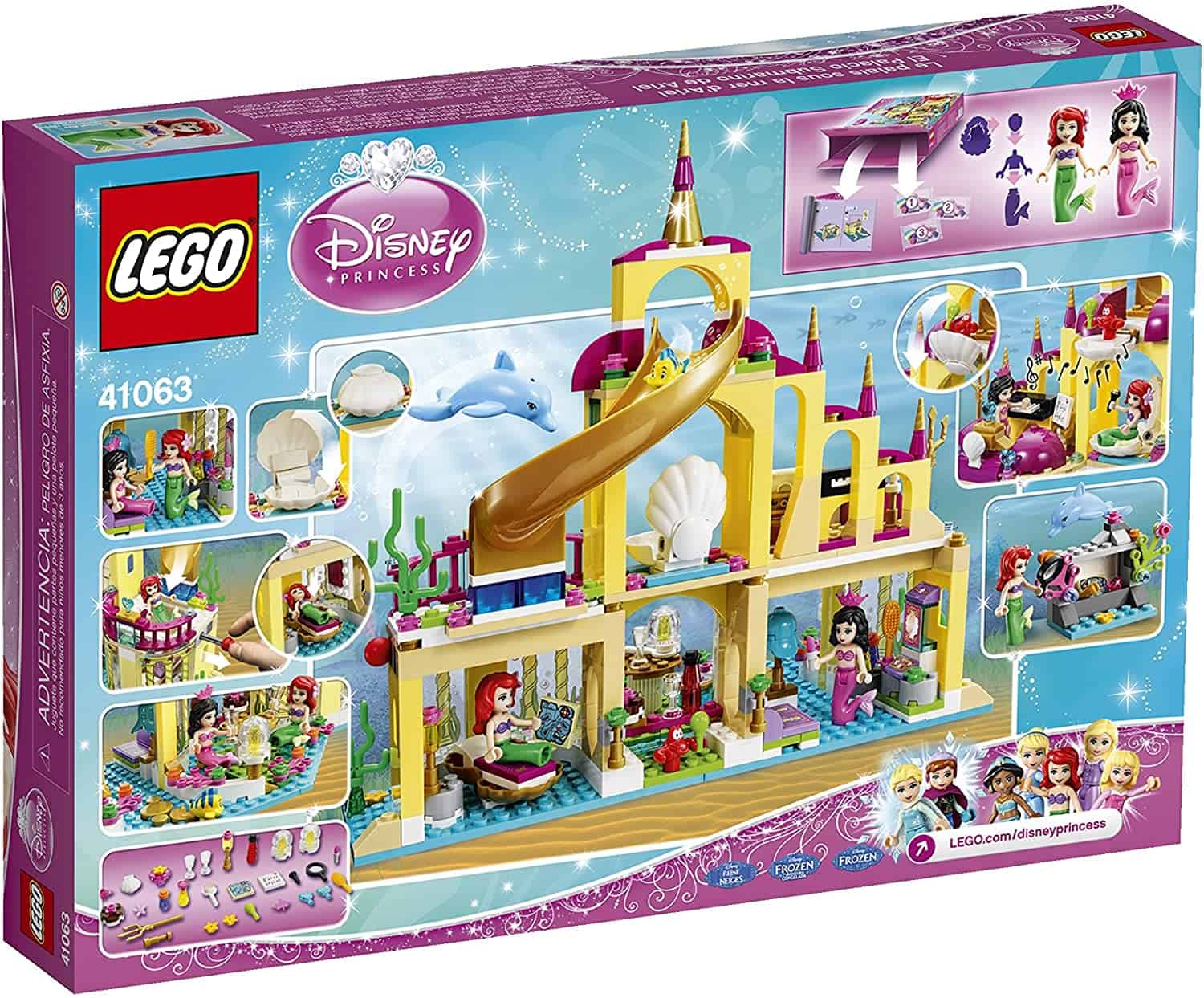 I've chosen this Ariel LEGO set, although there are several mermaid-themes LEGOs out there due to the fact that is so comprehensive and fascinating. Your child will enjoy crafting and playing with these LEGO pieces while also engaging in STEM learning without even knowing.
The set comes with a palace that also has a hidden cave, a trapdoor, a clamshell bed, a dressing room, and accessories. Among the accessories, you'll find a piano, a microphone, lipstick, cake, coral, trident, shell, decorative stickers, and seagrass.
Pros
Your little one will be delighted to create many magical underwater adventures with this LEGO toy;
Has so many beautiful pieces and accessories and your child won't get bored easily playing with this item;
It's an excellent set for hours of pretend play;
The product is made of premium materials. 
Cons
It's an expensive toy, but all LEGO toys are pricey;
The pieces are pretty small.
Mermaid Sequin Notebook Diary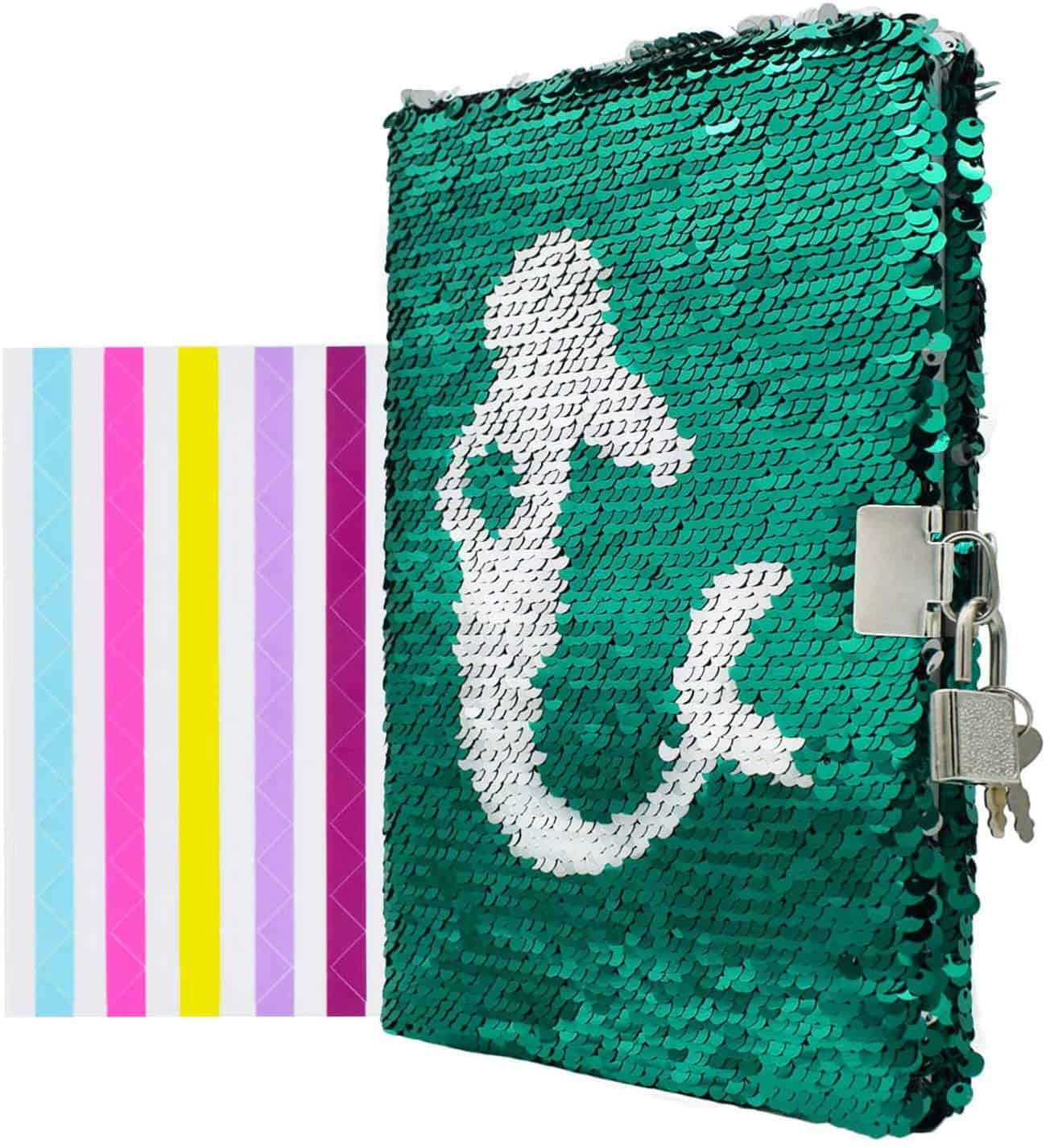 This mermaid-themed notebook diary is an exciting and affordable item that you could offer to your daughter. It's covered in reversible sequins and features a key and lock for total privacy. Sequins are very trendy, and little girls love them. Your child will be delighted to write down her thoughts and daily experiences in this cute diary.
It's also great to keep up to 25 photos and write down one's secrets, thoughts, and dreams. One face of the sequins is silver and features a green mermaid, while the other one interchanges these two colors.
Pros
This is a great gift that comes with many important details such as a bookmark, corners where you can insert photos, reversible sequins that you can move and play with to create different shapes, letters, or numbers;
The sequins remind us of fish scales and a mermaid's tail;
Most clients are happy with this product, saying it's excellent in terms of quality and design.
Cons
One parent commented about the lock falling down after a couple of uses;
Another one said that the notebook arrived without the lock.
Magical Mermaid Stationery Kit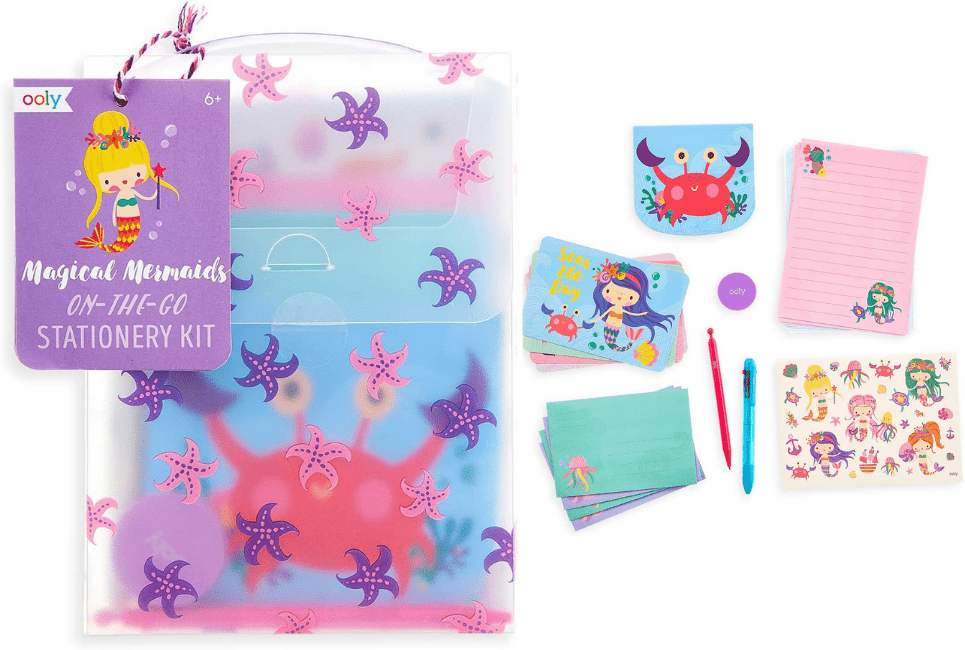 This mermaid stationery kit is truly magical, and it comes with so many fun and exciting pieces. It's a high-quality toy made by the well-known Ooly brand. The company is famous due to its arts and crafts. This set consists of no less than 21 different pieces, including four envelopes, eight letter sheets, one notebook, a mechanical pencil, four postcards, and more.
Pros
It's portable due to the transparent plastic box in which you can store and carry all the other pieces;
The design is simply gorgeous, full of colorful imagery;
The quality of the materials ensures their durability.
Cons
I couldn't find any negative reviews of this product. 
The Best Mermaid-Themed Toys for 10-12-Year-Old Girls
Mermaid Tail Blanket
I personally love this turquoise mermaid tail blanket. The color is one of my favorite ones, and it's simply gorgeous. With this blanket, your child will remain cozy and warm even during stormy weather. You can even use it as a sleeping bag, and your little one will probably fall asleep dreaming of majestic mermaids and the high seas.
I just told you that my favorite color is turquoise, but if your kid prefers another shade, you can always opt for another available color among the ones featured on the seller's website.
Pros
It's handmade, being hand-crocheted;
It's suitable for kids as young as three years old to as big as eight years old;
The way this tail blanket is made makes it very easy to slip inside it;
The material is soft to the touch and very cozy;
You can choose from several gorgeous colors, including pink, turquoise, purple, blue, and mint green. 
Cons
Make sure to check the size several times before purchasing this blanket;
One client said that the gaps created between the stitches are too large. 
Mermaid Easy-Wash Bed Set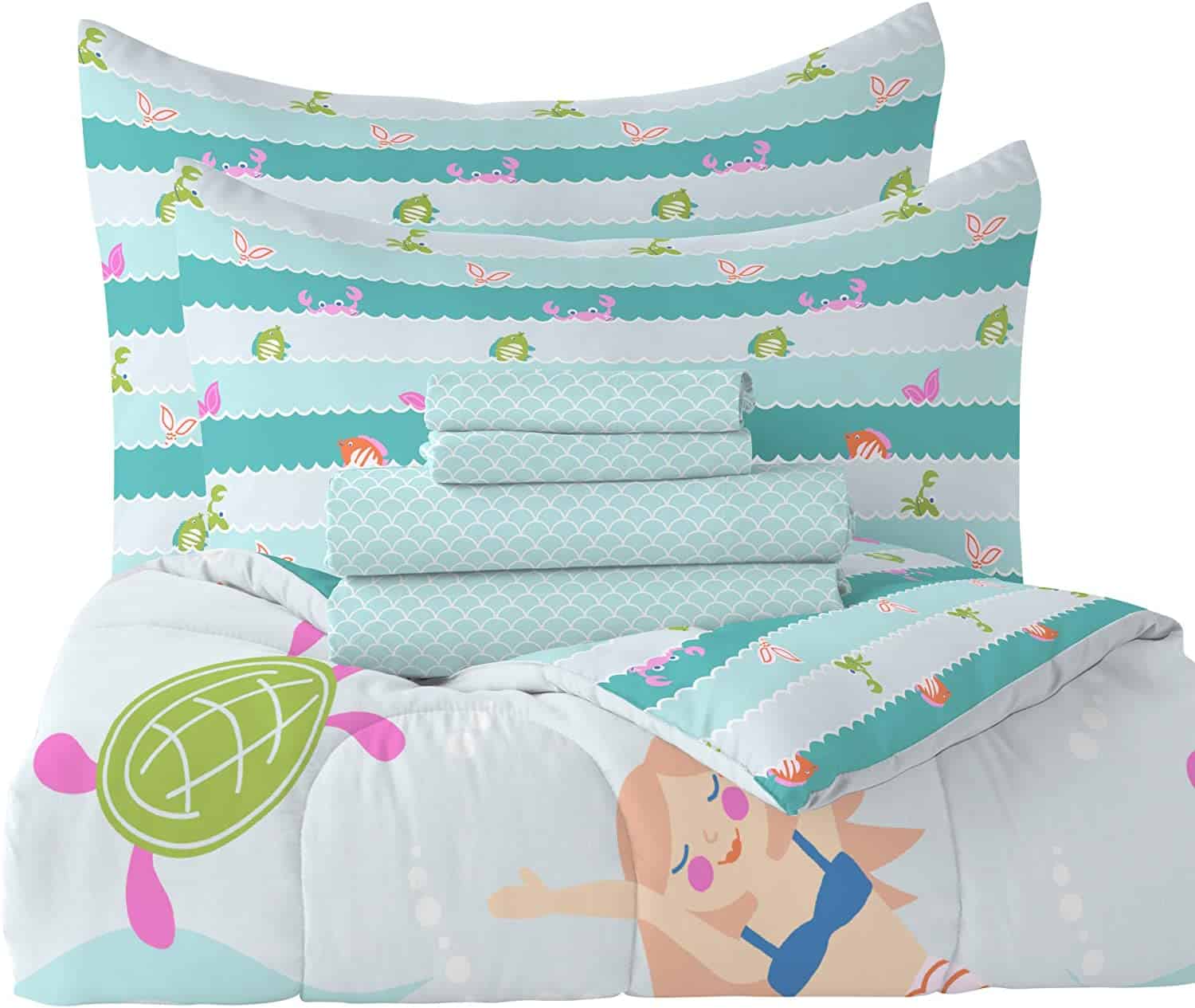 This could be the perfect bed set that every little girl dreams of. It contains no less than seven different pieces, including matching pillowcases and fitted bed sheets. It's basically a 7-piece bed comforter kit. The thing I love about this product, besides its fun pattern and illustrations, is the fact that you can choose from two available sizes: full or twin. So, you can buy the exact size that suits the bed of your child.
Pros
These bedsheets are easy to clean and wash;
They're very colorful, fun, and creative;
The whimsical design could become a statement piece in the mermaid-themed bedroom of your little one;
The material is soft and cozy, and the product is pretty affordable.
Cons
For me, the fact that it's made of polyester instead of cotton is a bit of a drawback;
At first, when you take it out of its box, this mermaid bed set smells funny like chemicals.
Mermaid Scales Shoulder Bag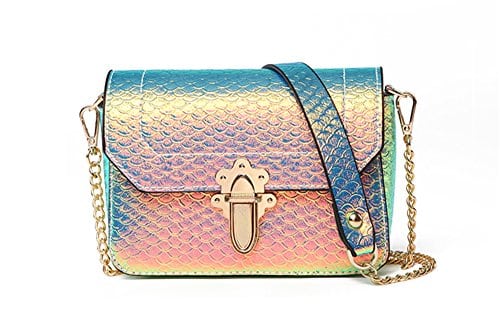 This cross-body purse looks so glamorous and chic, and your young lady will totally love it. It is pretty spacious, with numerous pockets and a zipper closure. There are two golden chains, one of which is shorter, while the other is longer. The longer chain is made so that one can wear the purse across the body.
The inner space consists of the main pocket, which is the largest, a smaller phone pocket, an even smaller card slot, and a changing bag. The front metal clasp is so elegant and delicate.
Pros
It's pretty affordable for a purse;
Has received a lot of positive reviews on online platforms;
This mermaid purse is made of durable materials.
Cons
One reviewer said that the purse is a tad smaller than she expected.
The Best Mermaid-Themed Toys for Boys
Mermaid Colors Playdough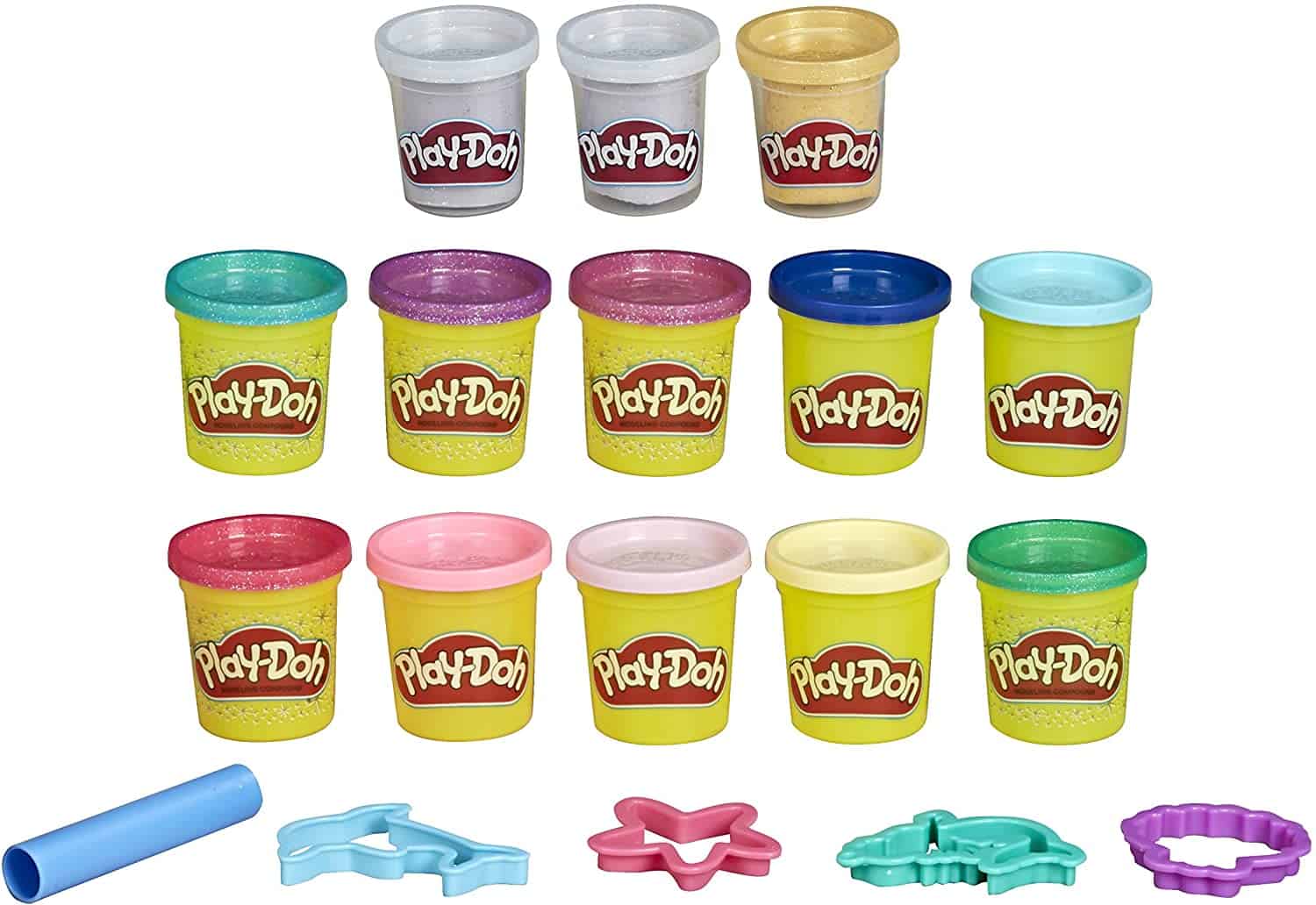 Your little fellow's imagination will go wild with this playdough set of 13 pieces featuring different colors. All the colors are inspired by mermaid themes. They include shades such as pink, purple, blue, green, and turquoise. Your little boy will be able to create numerous shapes due to the set's molding tools and rolling pin.
Pros
The set comes with 13 pieces, each with its own fabulous color, as well as a couple of accessories like a rolling pin and four molding tools that will allow your kid to create the following shapes: a mermaid, a starfish, a dolphin, and a seashell;
The playdough is non-toxic and child-safe;
This mermaid-themed toy is shipped in sustainable and recyclable packaging;
It's suitable for kids who're at least three years old.
Cons
One client said she wasn't pleased with the playdough's texture.
Mermaid-Colored Curtains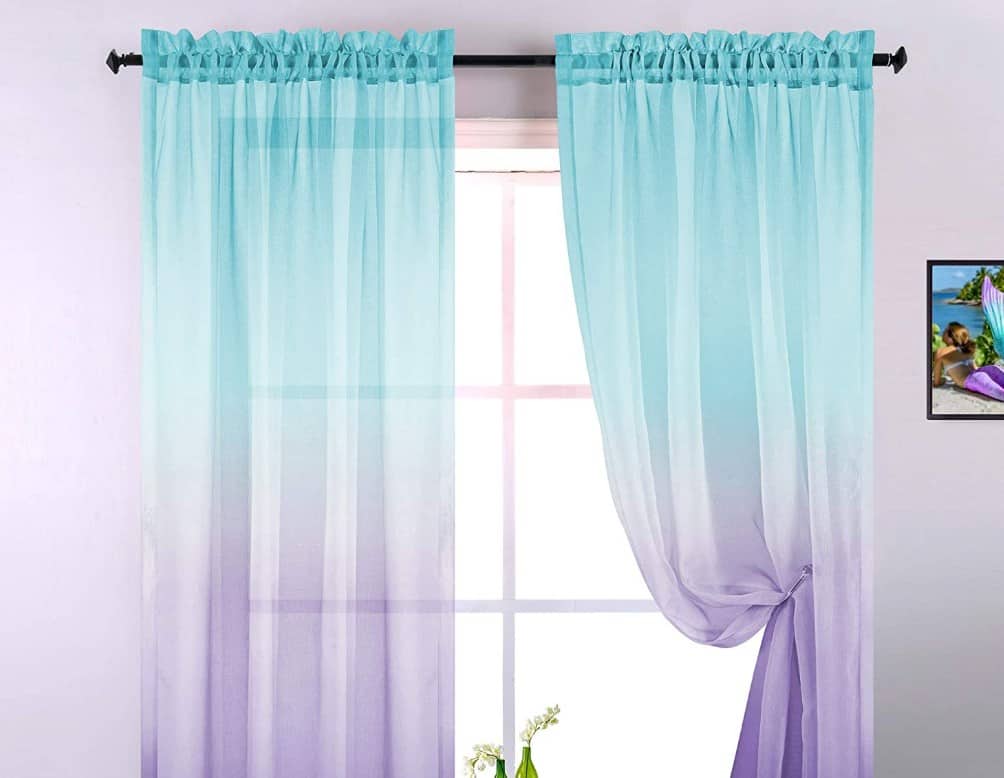 This is more of a unisex kind of mermaid-themed item. These mermaid-colored curtains can be installed in a boy's room or a girl's room. They have an ombre look, featuring a blue color on top and a purple shade on the bottom part. The panels are reversible, and I simply adore the effect the sunlight makes when it goes right through these curtains.
Pros
The material is a very durable one and provides plenty of discretion and privacy compared to other sheer curtains;
These curtains allow natural light to go through them, and they don't darken the room too much;
The package is portable and features dual pockets, one for each panel;
You can use these curtains for numerous purposes and occasions since they're highly versatile.
Cons
One client said she uses four panels, two on each side of the window because one single panel is way too sheer;
Another customer has questioned the quality of the fabric. 
FAQs
Question: What Are the Best Mermaid-Themed Toys for 3-Year-Olds?
Answer: There are numerous viable options like mermaid bath toys, mermaid dolls, mermaid stuffed animals, mermaid illustrated rain umbrellas, etc.
Question: What Are the Best Mermaid-Themed Toys for 5-Year-Olds?
Answer: For a 5-year-old child, you could opt for mermaid blankets or bed sheets, mermaid pajamas, mermaid swimming tail, and more.
Question: What Are the Best Mermaid Bath Toys?
Answer:
Disney Princess Ariel;
Munchkin mermaid;
Pinkie Pie Seapony by My Little Pony;
Barbie mermaid doll, etc. 
The Best Mermaid-Themed Toys – Final Thoughts
As you can see, there are numerous options when it comes to the best mermaid-themed toys you can offer to your children. All of the above are fun, educational, and entertaining. I'm sure your little one will be so happy to receive any of the toys presented in today's guide as their special birthday gift.
I love all of them, but my favorites are the mermaid tail blanket for its color and soft material and the stationery kit due to all its superb and colorful pieces.
Featured Image 1
Continue reading:
A Guide on the Best Water Toys for Water Play
Best Toys by Activity Guide for Kids in 2022