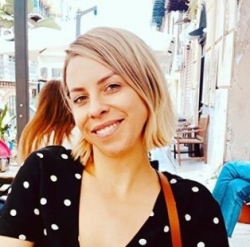 Latest posts by Jodie Chiffey
(see all)
If you're looking for the best Learning Express fidget toys, there could be many reasons why. Maybe you're just interested in this relatively new toy phenomenon. You could be the parent of a child with sensory or additional needs. Or you may work in an educational establishment and want to add some fidget toys to your stock.
Whatever the reason, I hope to have you covered in this guide.
My journey with fidget toys began a few years ago when the first of my sons diagnosed with Autism got his diagnosis. My world completely changed, and I had to think differently about pretty much everything, including toy buying. My main priority was always: how do I help him? I found fidget toys to be a fantastic aid for so many reasons.
In my guide, I have recommended 12 fidget toys, and before getting into this, you can find an overview just below.
At a Glance: 12 Best Learning Express Fidget Toys
Bottom Line Up Front
I like the Mystery Fidget Box, which includes 21 different fidget and sensory toys, so most children will find something they like here! It could be pop-its, rings, rubber ropes, squishies, or a Rubix cube. This set is great to begin a fidget toy collection or to add to an existing one. It would also be great for party bags, and the price is fantastic!
What Are Fidget Toys?
I have fidget toys in my purse, car, cupboards, drawers, lounge, and kitchen. I rely on them multiple times a day at home and work – where I support children and adolescents with social and emotional mental health needs and disabilities. But, several years ago, if you'd asked me what a fidget toy was, I'd have had no clue.
Basically, fidget toys (also known as fiddle toys) are handheld tools designed to help children to focus, regulate, and decrease stress levels. Some experts claim that this type of toy can even help to improve learning ability.
How do Fidget Toys Help?
I have found the benefits of a fidget toy to be pretty remarkable. A child who is stimming, about to enter 'crisis,' or who is crippled with anxiety can be quickly soothed by using a fidget toy as it redirects their attention to something else.
While I can't pretend that fidget toys are always a magic quick fix, I have found two main benefits that are hard to dispute.
These are:
#1 Reducing Crisis Situations
Children living with conditions such as Autism Spectrum Disorder (ASD) or Attention Deficit Hyperactivity Disorder (ADHD) can have many pent-up emotions, which can lead to sensory overload. Sensory overload will result in things such as shutdowns and meltdowns, which are commonly termed a 'crisis.'
Now, 'crisis' looks different depending on the child, situation, and condition. It can be screaming, lashing out, or hurting themselves or others. It can be howling, sobbing, and rocking. Or, it can be a complete 'checking out,' where the child has become temporarily locked in their own world.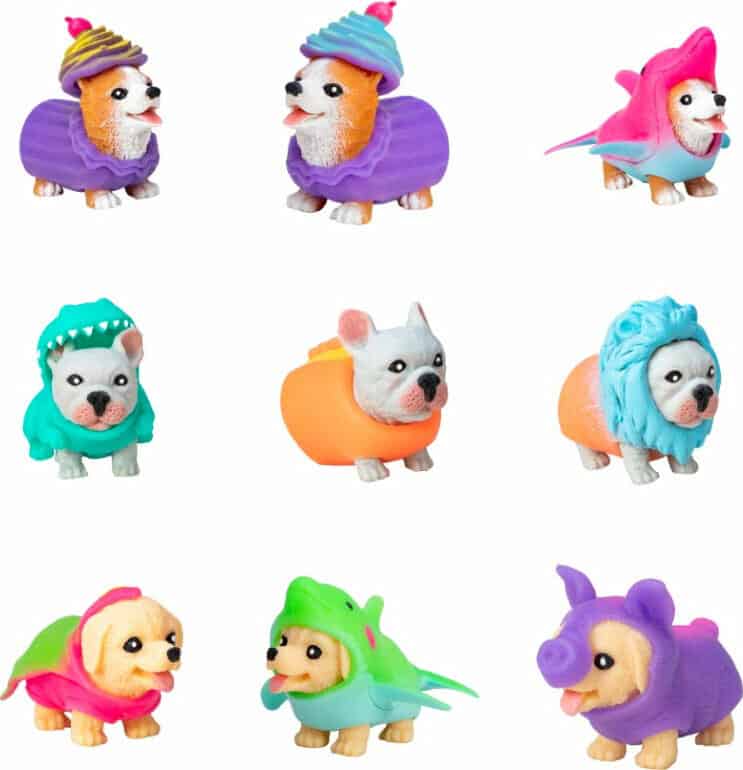 In all cases, you can expect the child to be unresponsive for the duration of the crisis and possibly for a long time afterward. Fidget toys can prevent all kinds of crisis from happening. When a child in low-level distress is given something concrete to touch, hold, or see, this can reduce their mental turmoil by being a new, interesting focus.
 #2 Alleviating Stress and Anxiety
Stress and anxiety are something many children can suffer from, and they can affect the entire body. When a child is in a heightened state of anxiety, you may spot this when you look at their hands; they may be shaking, cramping, restless, or being manipulated by the child. When highly stressed or anxious, some children will suck, bite, or chew on their hands and fingers.
Fidget toys won't cure stress and anxiety, but they can help to prevent associated issues (such as finger biting), as fidgeting is a calming mechanism. When the hands are kept busy, the mental stresses will decrease.
What to Look for When Buying Fidget Toys
The market for fidget toys today is vast, and not all products are made equally. This is why I like to stick to trusted retailers such as Learning Express. Their website is user-friendly, and you can filter your search on the relevant things, such as by age or by interest.
As an experienced fidget toy buyer, there are several things I would advise looking for when buying fidget toys.
These are:
Durability
Fidget toys are not meant to be 'handled with care,' and they'll likely have to put up with vigorous use. For this reason, they have to be tough. I would also advise looking for what the toy is made from – especially if it is filled with liquid that could leak if pierced; how safe is this liquid?
Stick with branded items from reputable online sellers to obtain the highest level of durability.
Coloring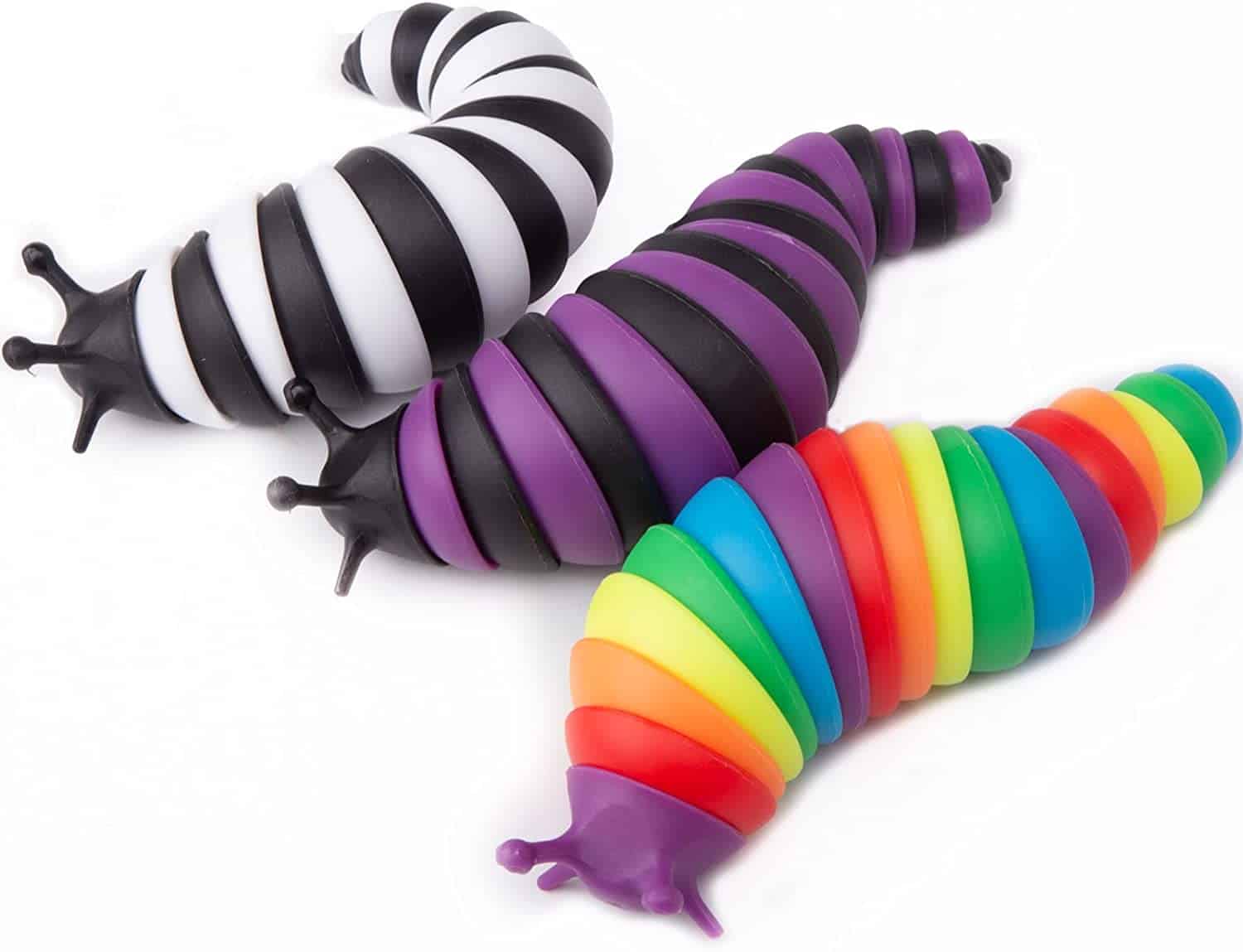 Children feeling anxious or stressed are not helped with bright, bold, or vibrant colors, which can further stimulate the brain to reach crisis point faster. Look for soothing, pastel shades that help calm the mind, focus the brain, and redirect thoughts to more calming topics.
Toys that light up or change color can help to soothe a child, but only if these colors are tranquil.
Sounds
If you have experience with children with ASD, you'll likely be aware of noise sensitivity and how even minute sound can lead a child to meltdown. This could be as simple as clicking or popping. Conversely, some children on the Autistic Spectrum will find quiet, repetitive noises calming. So this consideration will be very personal to your situation.
My Product Criteria
Here's what I looked for when putting this guide together
Diversity
My two sons are both Autistic but wildly different. My students are certainly not all the same either, so I am acutely aware of the enormous diversity of fidget toys needed to pretty much do the same thing! There is not one fidget toy to suit all children's needs, so I have shopped around to find a wide range of products.
Durability
It goes without saying that these toys need to be tough!
Price
If you put the word 'Autism' or 'ADHD' in front of the term 'toy,' you will find a price increase. This is absolutely wrong and drives me crazy. So, I have only included fidget toys in this guide that I believe are priced reasonably.
Consumer Reviews and Personal Experience
I have a wealth of experience with this toy type, but I am just one person, and my experience and opinion may not always be right (this should never be repeated to my partner!). To back up my thoughts on my chosen fidget toys, I have searched around the net to ensure other parents feel the same.
My Chosen 12 Best Learning Express Fidget Toys
#1 Best Learning Express Inclusive Toy: Mystery Fidget Box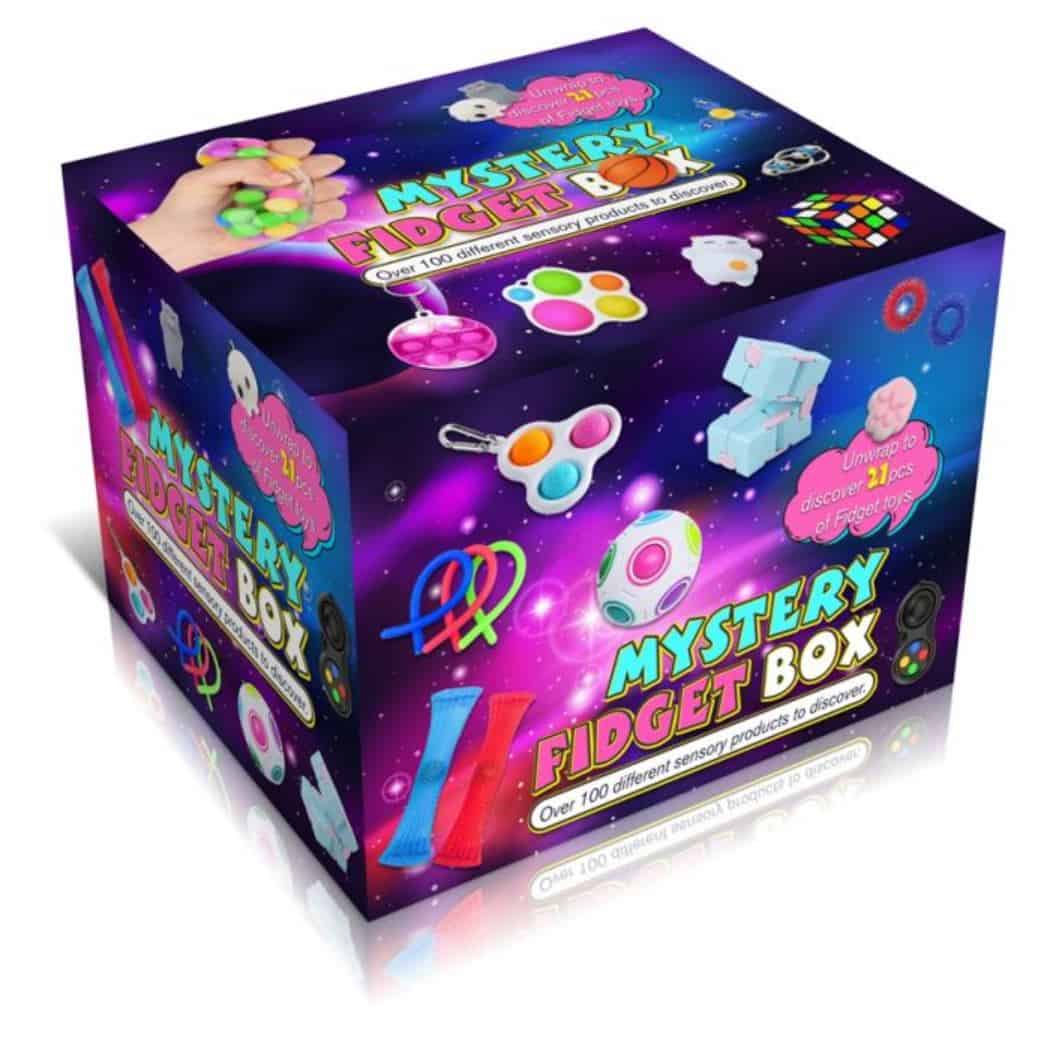 I have purchased many fidget bumper boxes for home and work over the years, as I find their contents diverse enough to suit many different preferences and needs.
The Mystery Fidget Box is an affordable buy that I think would be suitable as a gift, or to break up and use as stocking fillers, or within party bags and advent calendars. The box is also great to use when wanting to add to – or start building – a fidget toy collection at home.
While you don't know precisely what you'll be getting in this mystery box, there will be 21 different fidget toys inside. These could be poppers, squishies, chewies, fidget cubes, spinners, or simpl dimpls.
Pros
Great Value
Sure to Cater to All Needs
Excellent Collection Starter
Perfect for Party Bags
Cons
You Don't Know Exactly What You're Getting.
#2 Best Learning Express Fidget Toy Budget Toy: Mini Pop Tube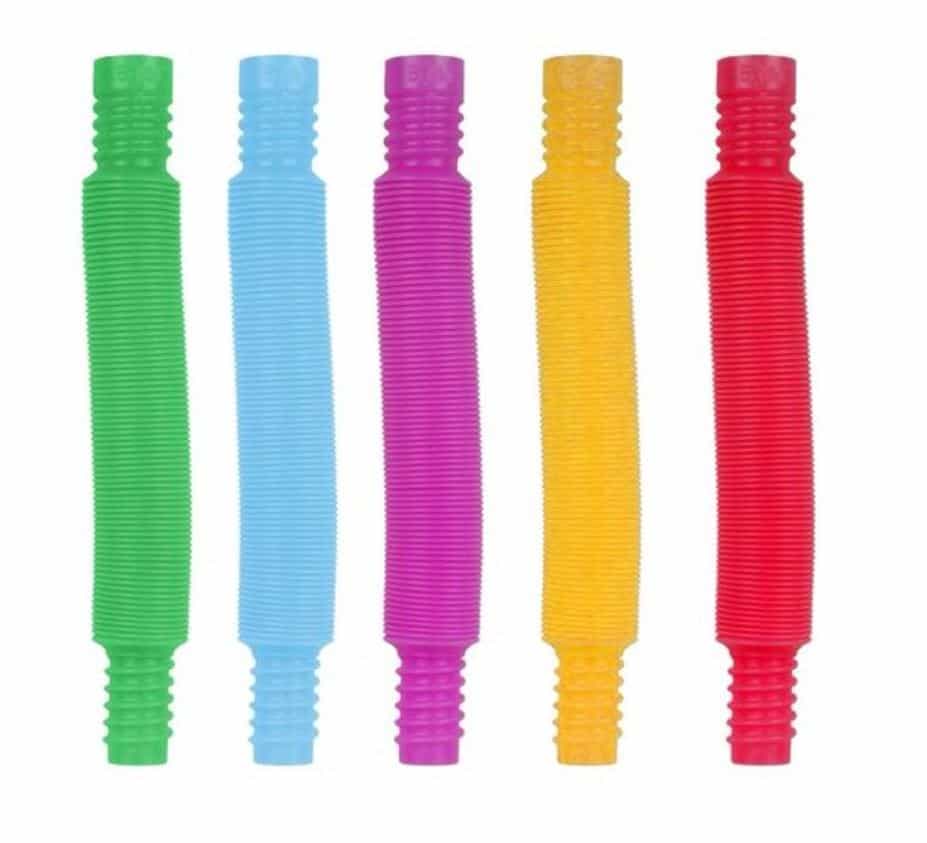 My kids, and a lot of kids at work, absolutely love these Mini Pop Tube. They're extendable and make a cool noise when pulled and swirled around in a circular motion.
You can buy multiple pop tubes to connect and make a long line or some form of structure, which can be excellent for team-building activities and to help with social skills.
This mini pop tube is under $2, which is fantastic value for money. However, alone, it may be a little underwhelming, so additional purchases would be beneficial.
Pros
Hugely Affordable
Great Fun
Good for Building Social Skills
Cons
#3 Best Learning Express Fidget Toy for Babies and Tots: Dimpl Duo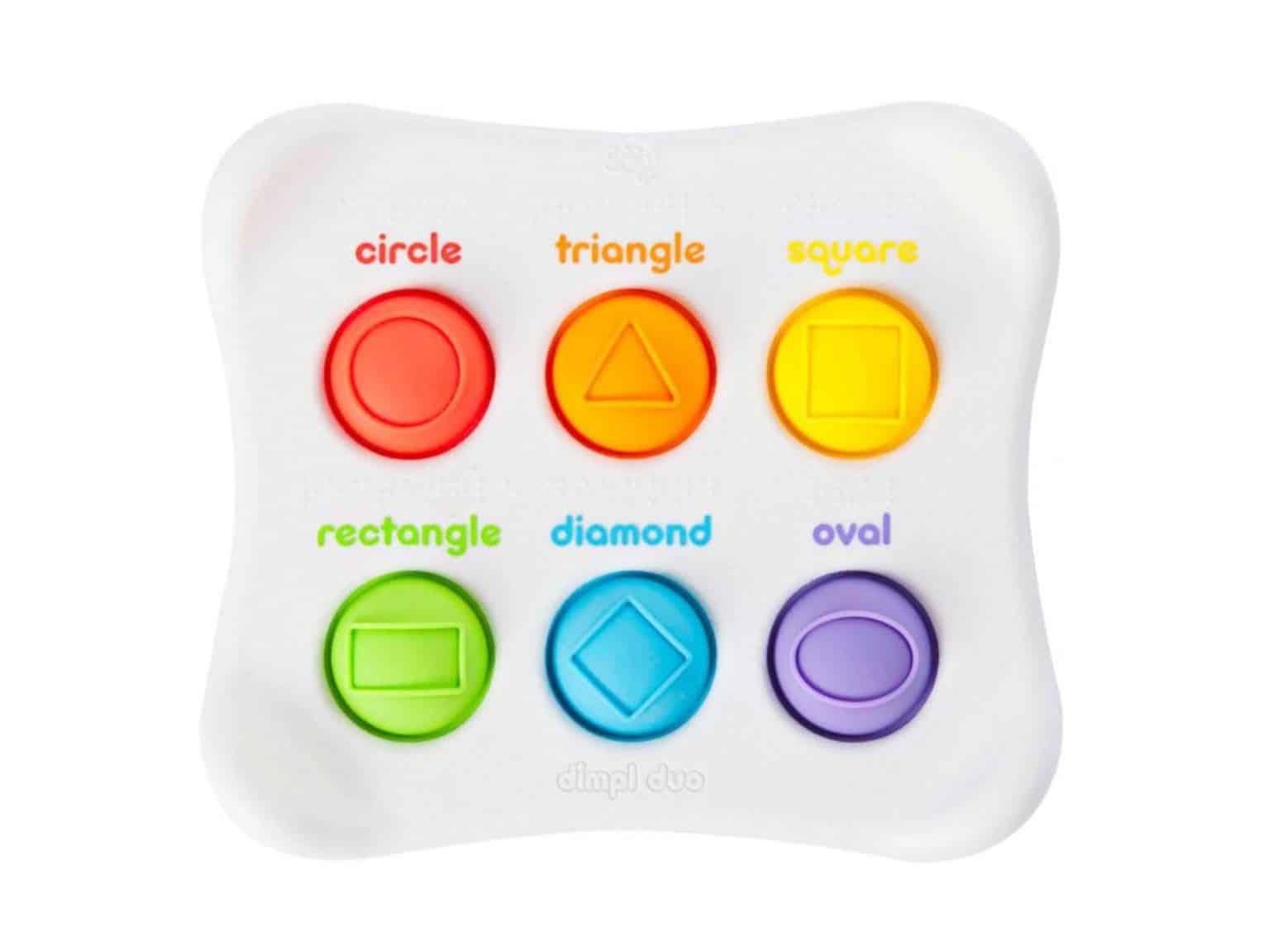 The Dimpl Duo is BPA-free, features food-grade silicone buttons, and is compact for little hands. I love the different colors and textures and think this is a great fidget toy for babies and toddlers who are starting to learn about the world around them.
A great feature of this fidget toy is that it features Braille, making it a great option for children with sight problems. I do find the price to be a little high, but this toy has many benefits that could justify this to some parents.
Pros
BPA-free
Compact Size
Braille
Excellent for Sensory Play
Cons
#4 Best Learning Express Fidget Toy for Anxiety: Tangle Therapy Toy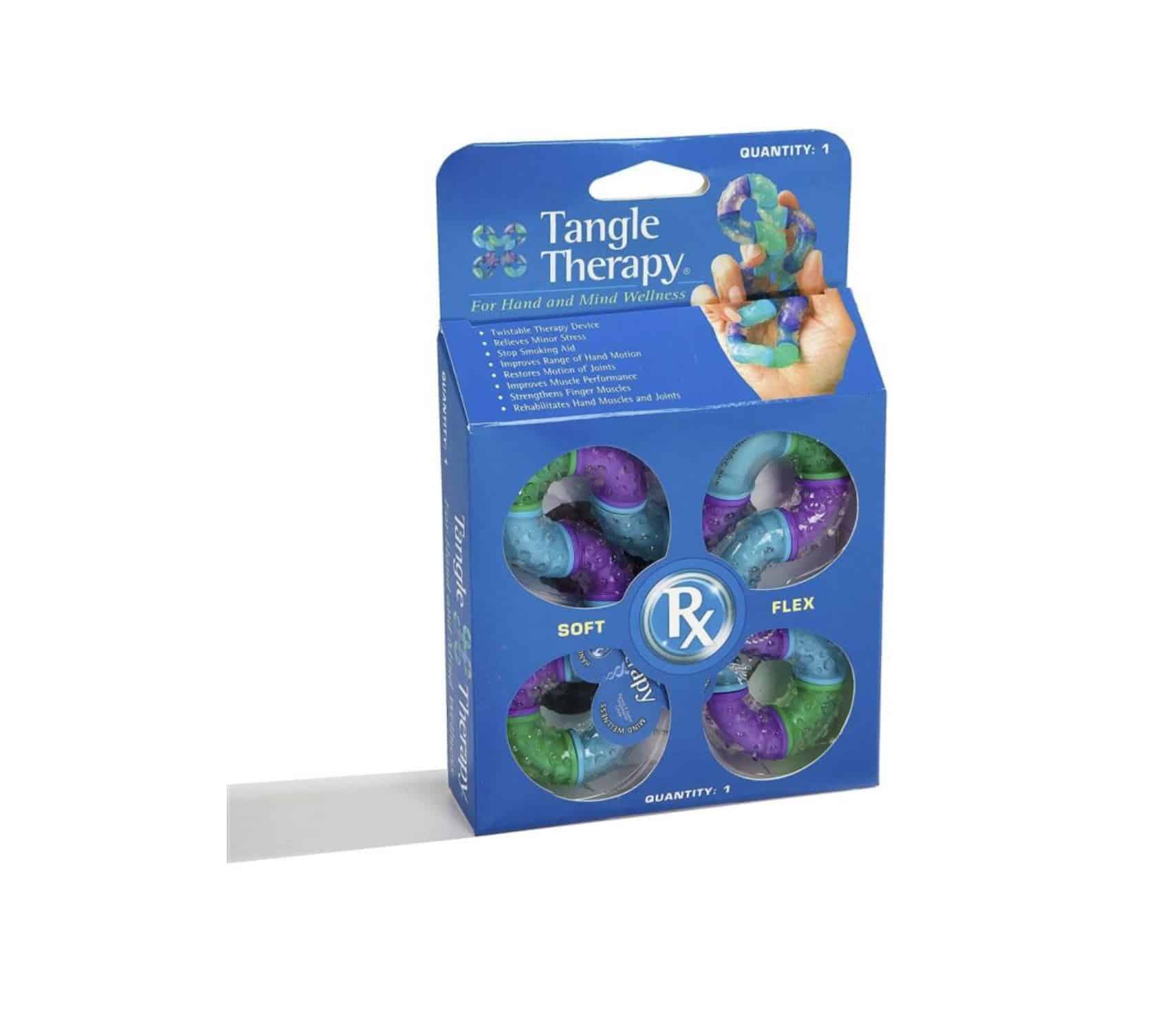 My very first experience of fidget toys was with the Tangle Therapy Toy, and this is one of the original toys that fit in this category. Tangle toys are excellent for fidgeting with; most schools also accept them.
Today, you will find many versions of the original tangle toy; some will pop out of place, and others will be chewable. But, fundamentally, they all do the same job: relieve stress and anxiety.
This tangle toy features different surfaces for an increased sensory experience, and its pastel shades are unisex colors. I find the price a little high compared to some, but I do think this could be a lifeline for many children in school and other stressful situations – can you put a price on that?
Pros
Durable
Different Textures
Pastel Shades
Universally Recognised Fidget Toy
Cons
#5 Best Learning Express Fidget Toy for On-The-Go: Simpl Dimpl Key Chain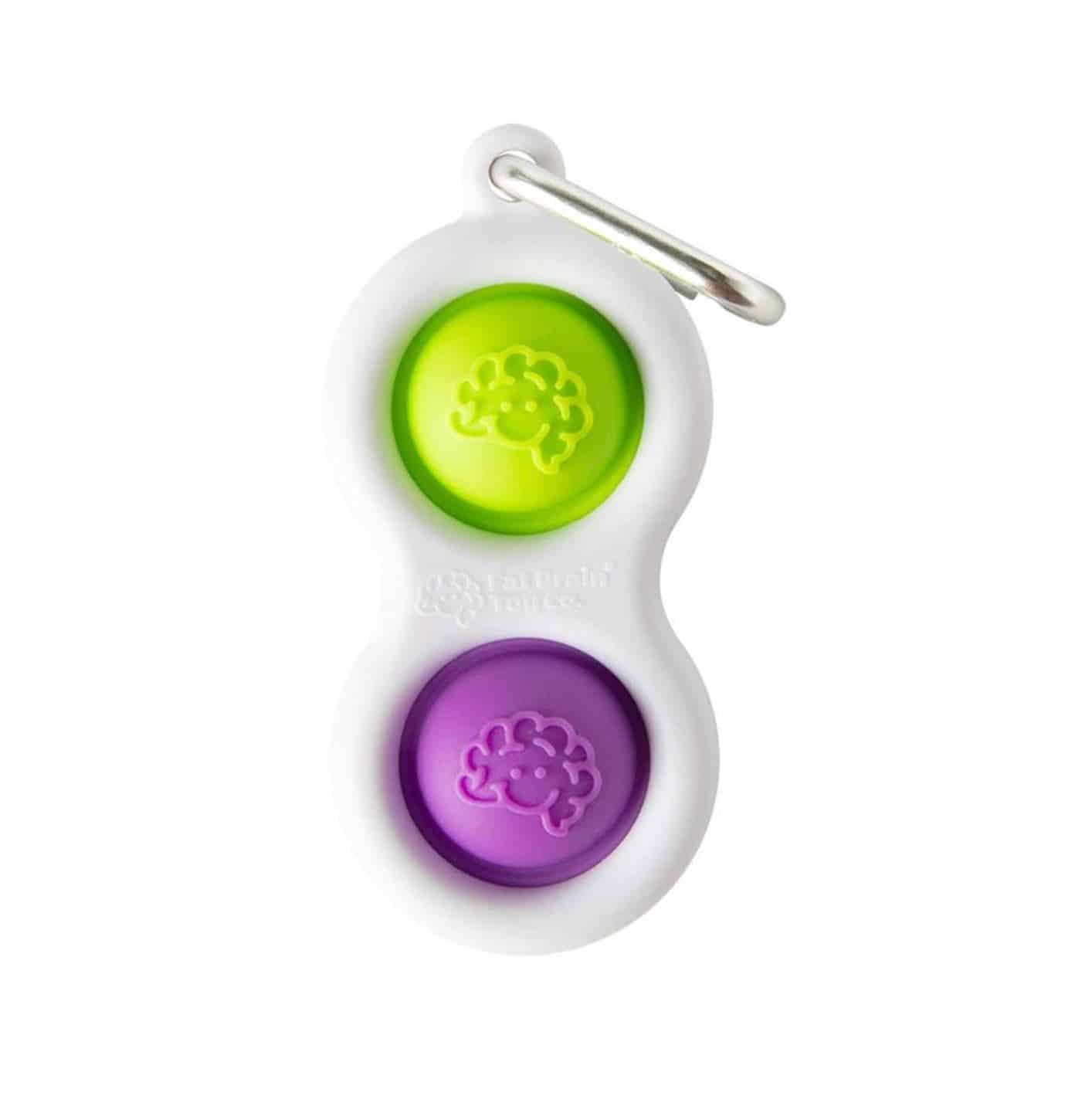 The Simpl Dimpl Key Chain is great for children of all ages and can be clipped easily onto backpacks, zippers, or through button holes to remain with them all day. Greatly portable and with fun elements, this fidget toy is perfect for all ages; it can be discreetly kept in a pocket for those who don't want fidgets on show, too.
I found the popping noise to be barely there, which will be a pro or a con depending on preference. Personally, I like the silence of it. The Simpl Dimpl key chain is made from quality ABS plastic, and the poppers are 100% silicone. I feel this is durable and should last a long time. I also think the price is very reasonable.
Pros
Great for All Ages
Solid Attachment to Clothing, Accessories Etc.,
Discreet Fidget Toy
Quality ABS Plastic
100% Silicone Poppers
Cons
Silent Poppers Maybe a Con for Some
#6 Best Learning Express Fidget Toy to Collect: Party Puppies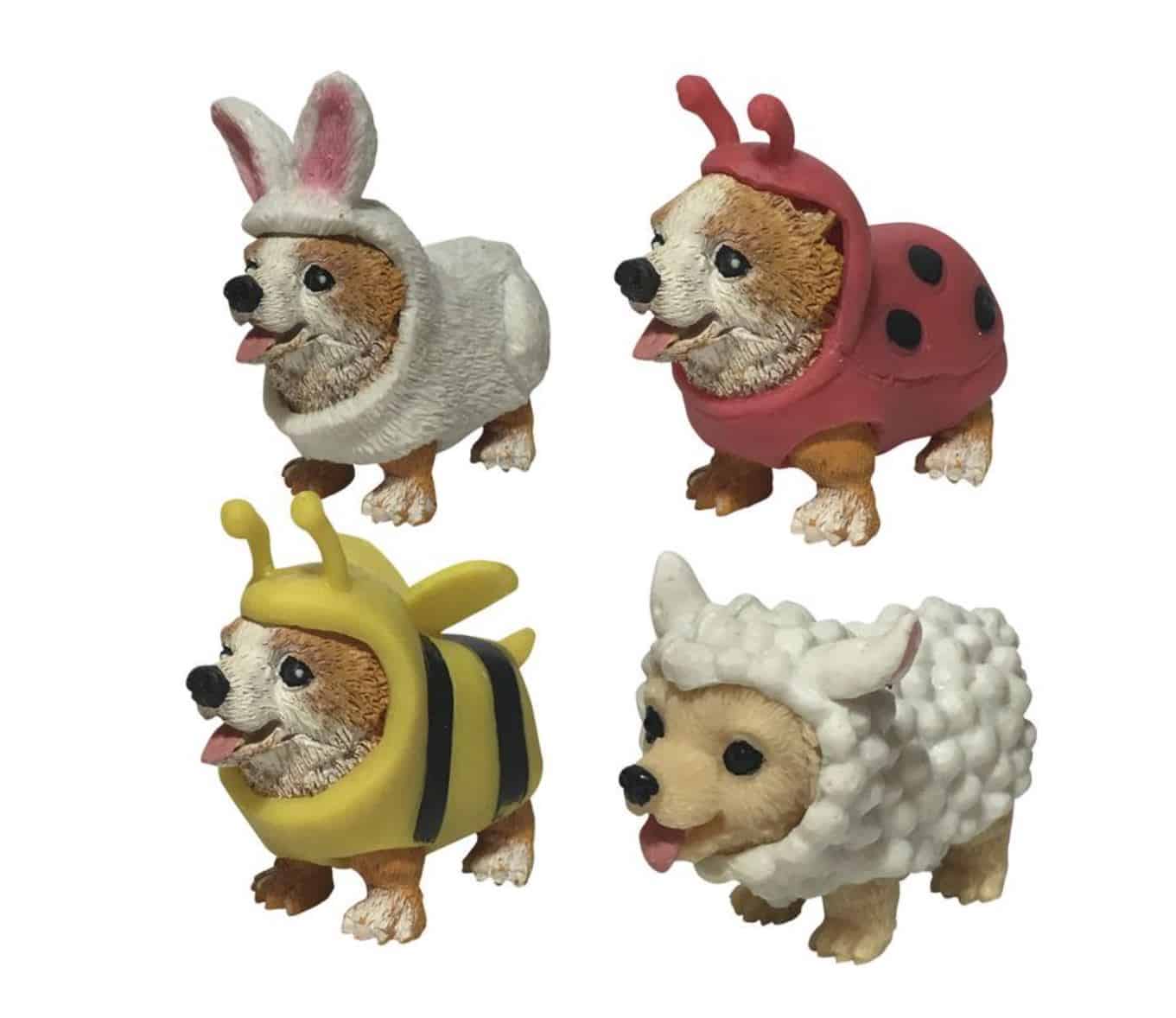 I love the idea of collectible toys for kids to give as rewards for achievements or just to treat them from time to time. The Party Puppies are perfect for this. However, the biggest drawback is you can't choose which puppy you get, so you could be duplicating. This aside, the puppies are super well made and completely adorable.
Some kids benefit from having a mascot-type 'friend' to have with them at times; they can talk to and confide in them or just feel much better having them by their side. I think the party puppies can be this for so many children.
The puppies' clothing is removable and made from strong (yet soft) rubber, and the outfits can vary from shark costumes to raincoats.
Pros
Great Pocket 'Friend'
Super-Cute Design
Durable
Strong yet Soft Rubber
Excellent Price
Cons
Can't Choose What You Get.
#7 Best Learning Express Fidget Toy to Gift: Mermaid Sensory Bin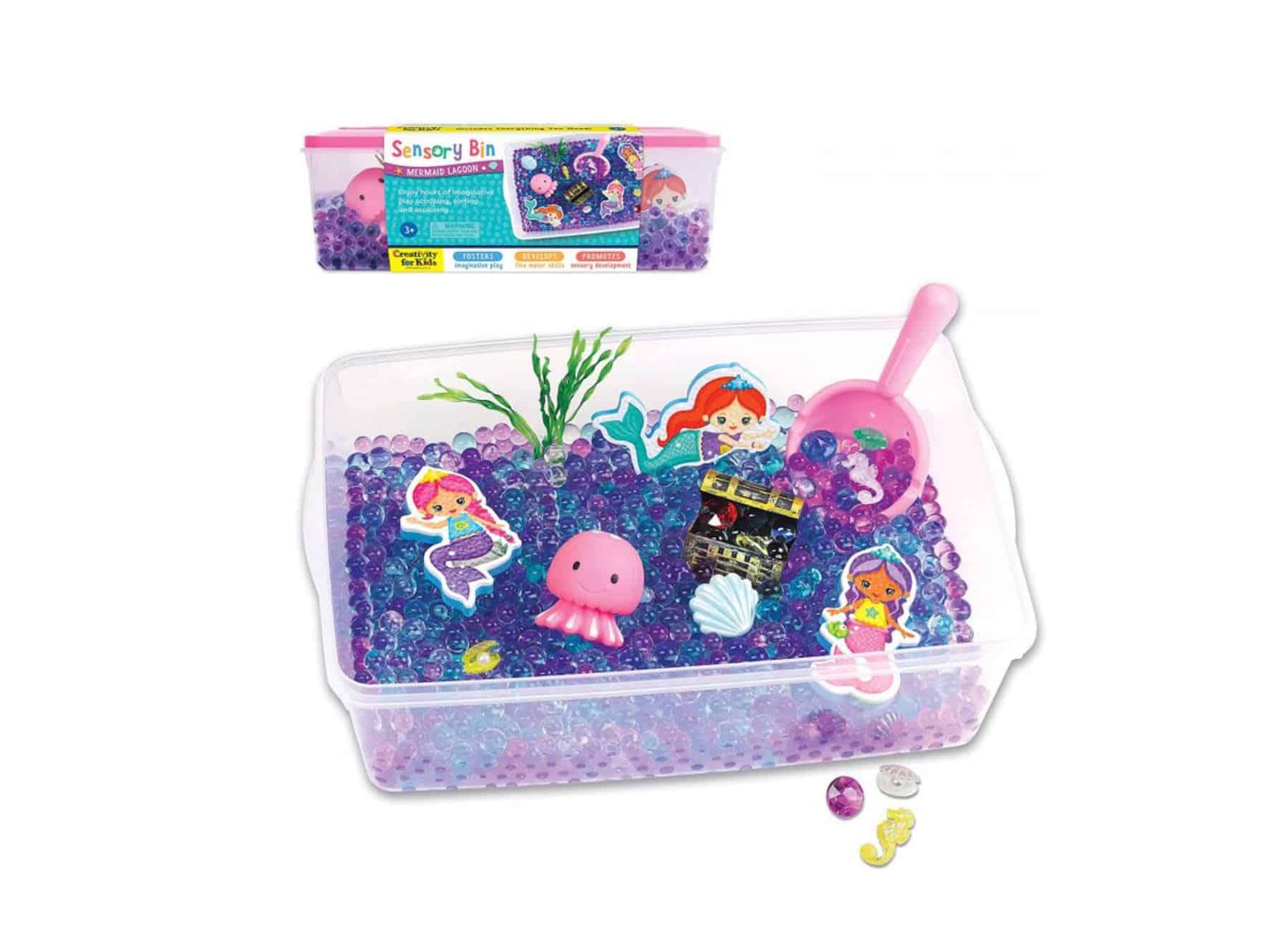 The Mermaid Sensory Bin is a great gift and well priced considering the contents. Inside, you will find everything a child needs to create their undersea world, including; seahorses, gems, shells, jellyfish, and a treasure chest. The set also comes with durable, colored water beads.
I like how the set can keep all the contents stored neatly and that the items are made from foam, so easy to keep sanitary. The bin measures 14.5-in x 10.25-in x 4.75-in.
Pros
Neat Storage
Excellent Gift Idea
Perfect for Sensory and Imaginative Play
Cons
Quite Girlie, Although Boys Would Enjoy They May be Reluctant!
#8 Best Learning Express Fidget Toy for Discreteness: Silver Fidget Ring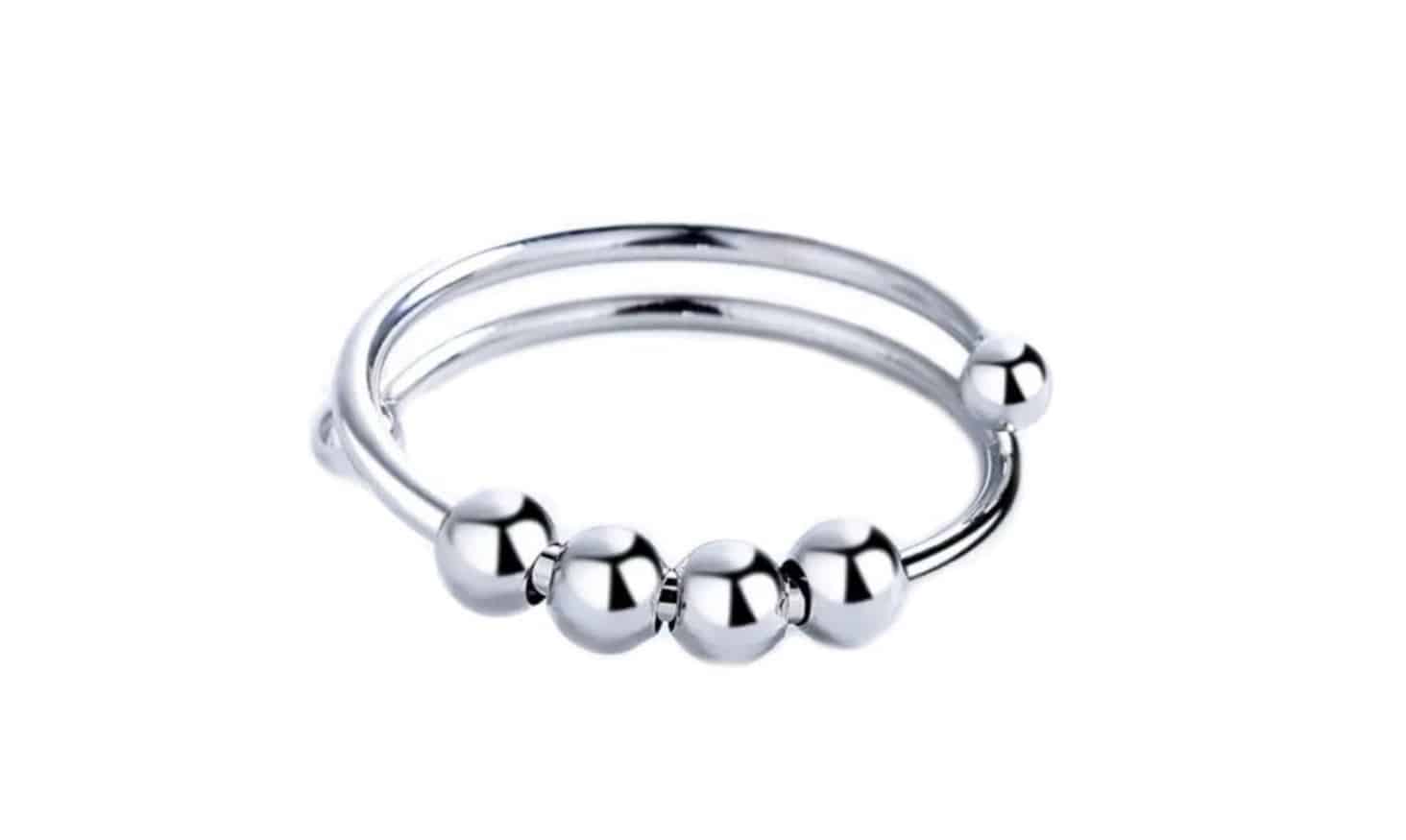 When my oldest son with Autism became aware of his differences in relation to his peers, he became self-conscious, highly anxious, and extremely reluctant to use any aid to help him. He didn't want to be seen as different. If this resonates with your circumstances today, you may be interested in the Silver Fidget Ring.
This ring looks like nothing more than a fashion ring, yet its four moveable balls are great to fidget with and can reduce anxiety. The ring is adjustable and suitable for ages five and up.
You can find many of these around today, and Amazon has plenty of design choices. I particularly like this 8-piece set by Mucal!
Pros
Fashion Meets Fidget!
Discreet Calming Aid
Adjustable
Cons
#9 Best Learning Express Fidget Toy for Older Girls: Fidget Gold Ball Necklace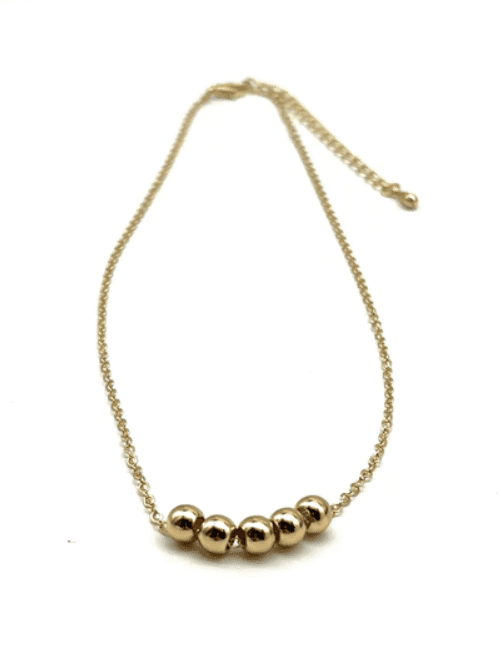 The Fidget Gold Ball Necklace is the same premise as the silver ring; it helps, but it doesn't look like a fidget toy. The necklace arrives in a nice little presentation box and features five gold balls to roll and slide when you feel anxious or stressed.
The necklace is suitable for ages six and up and is adjustable from 16-in to 19-in. It is affordable, but I am unsure of the metal grade and subsequent durability.
Pros
Fashionable Necklace
Discreet Calming Aid
Nice Presentation Box
Adjustable
Cons
#10 Best Learning Express Fidget Toy for Younger Girls: OMG Pop Fidgety Cupcake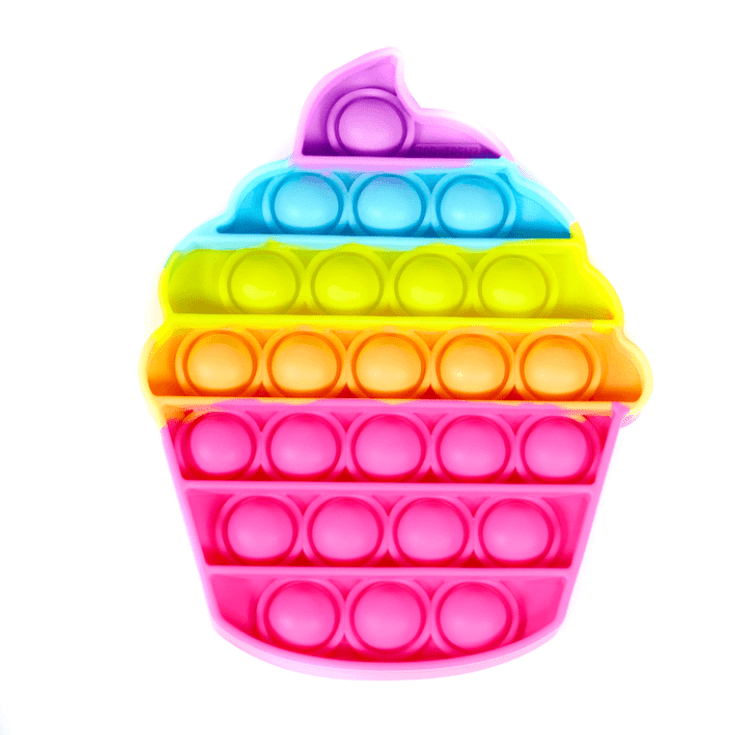 The OMG Pop Fidgety Cupcake is a great fidget toy for younger girls due to its colorful and fun design and large size. You can safely wash this fidget in the dishwasher or by hand, and it's super easy to keep it sanitary.
I find the price a little high and have seen these cheaper elsewhere, but you do get the peace of mind that it is well made and coming from a reputable company.
Pros
Washable
Fun Design
Large Size
Cons
#11 Best Learning Express Fidget Toy for Younger Boys: Splinx Transforming SpinTop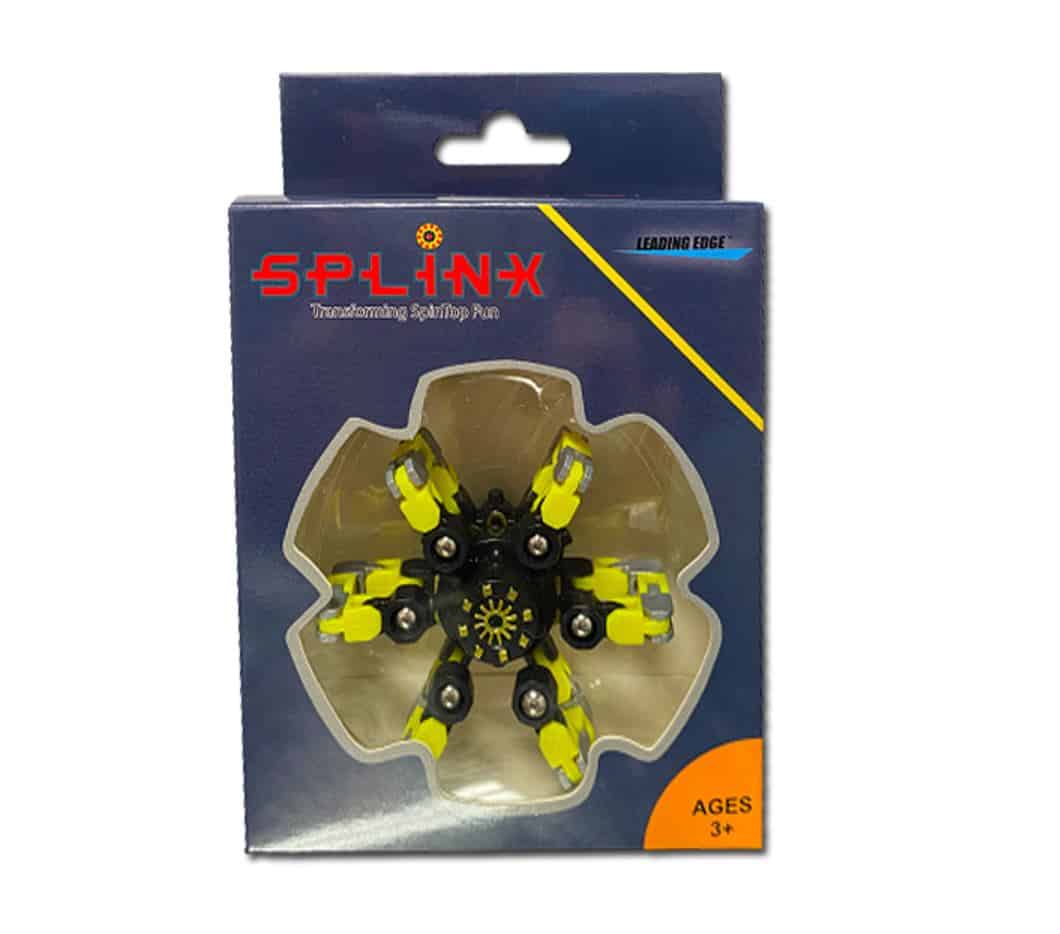 My youngest son (who is 9) loves the Splinx Transforming SpinTop. It's a fidget toy when it needs to be and a super-fun transforming battle toy when that is required! I have found this toy to be brilliant at helping to develop fine motor skills and to help build on imagination.
There are several different toys to collect, but you cannot make a choice at the time of purchase, and one is randomly sent out.
The fidget activities on offer here seem endless, you can make multiple shapes and see which is best, and the spinning mechanism works well.
Overall, super impressed with this fidget toy.
Pros
Transformable Fidget Toy
Excellent for Imaginative Play
Great for Motor Skill Development
Super Fun Toy
Cons
Can't Choose Which You'll Get.
#12 Best Learning Express Fidget Toy for Older Boys: FinGear Magnetic Rings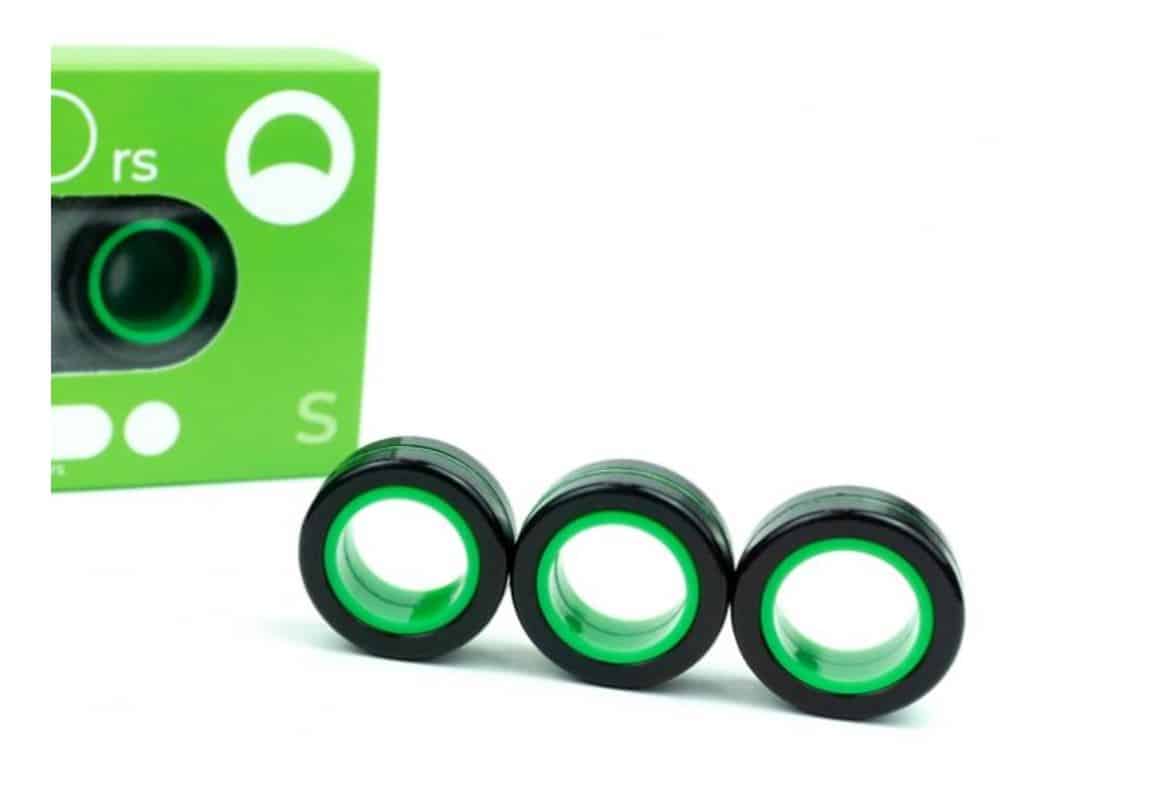 Last but not least are the FinGear Magnetic Rings – and you can choose different colors with this toy. My boys all have a set of these, and I'm forever finding them stuck on the metal bed frame, refrigerator, and tumble dryer – so, yes, the magnetic function works well!
You can spin these rings around your fingers at whatever pace you like, build a collection, and even stick to the appliances! The price is fair, and I can vouch for how fun and well-played this fidget toy is.
Pros
Strong Magnetic Hold
Different Color Choices
Fun and Functional
Cons
Frequently Asked Questions
Question: When Were Fidget Toys Invented?
Answer: Probably longer ago than you think! In 1997, the fidget spinner toy was patented. However, the designer, Catherine Hettinger, couldn't afford to renew this in 2005, and companies leaped on this, bringing fidget toys to the mainstream. In 2017, fidget spinners became trending toys; 10 years after their invention.
Question: Can Adults Use Fidget Toys?
Answer: Absolutely. Ever stood in a queue and found you're messing with your car keys? The zipper on your pocket when sitting in a waiting room? Tapped your feet when the plane's about to take off? Yeah, you could have benefited from a fidget toy! Fidget toys are also said to be helpful when trying to stop smoking as they keep the hands busy and the mind occupied.
Question: Can Children Take Fidget Toys into School?
Answer: This depends on the school and authority. Some schools will be OK with this and even have fidget toys available in the classroom. Others will require medical letters from your child's practitioner stating that a fidget toy is beneficial or required. Always check with your child's school first to save the child being the one to have to deal with any issues.
The Best Learning Express Fidget Toys Conclusion
While you can get fidget toys from pretty much anywhere these days, it's always wise to use a company such as Learning Express. This should prevent you from buying inadequate or possibly even dangerous fidget toys.
Fidget toys can certainly help a lot of children, and adults, in a lot of situations. There are more discreet options for those who don't want their issues on display, such as the Silver Fidget Ring and Fidget Gold Ball Necklace.
For children who need fidgets regularly, the Simpl Dimpl Key Chain is an excellent option as it can be easily attached.
Fidget toys can be super fun, like the Splinx Transforming SpinTop or Mermaid Sensory Bin. They can be universal, like the Tangle Therapy Toy and Mystery Fidget Box.
As long as you look for toys to suit your child's preferences and ensure there is good durability with the product, you may find that buying a fidget toy is one of the best things you ever did. I certainly did!
Continue reading:
A List of the Best Walmart Fidget Toys
Best Goo Jit Zu Toys for Heroic Fun