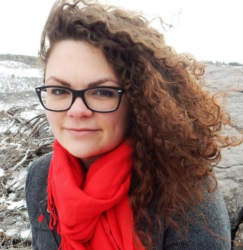 Latest posts by Candace Osmond
(see all)
Some people think that fidget spinners are the only toys to help fidgeters manage their habits. But there are also bubble pops, cubes, and flippy chains that let you blow off some steam.
Check out my roundup of the best Walmart fidget toys based on their function, price, and design. Whether it's for focusing, anxiety, or toddlers' sensory experience, there's a toy for all purposes!
Bottom Line Upfront
My son has ADHD and was always getting phone calls home from his teacher about talking in class and fidgeting constantly. We got him a fidget toy, the Houkiper Fidget Toys Cube in black, and it made a huge difference. He was able to focus in class without disrupting.
Top Picks at a Glance
What is a Fidget Toy?
Fidget toys are tools or toys that offer simple yet satisfying ways to keep the hands busy. They either pop, spin, or click for a unique tactile experience. These toys are also available in various colors, styles, and movements, depending on the user's preference and needs.
Have you ever felt nervous or stressed that you fidget to focus on a task? You might tap your fingernails, bite your nails, hold your hair strands, or fold your arms. You might find that fidget toys help you stay concentrated and calm if that sounds like you.
Instead of fidgeting with your pens, paper clips, flash drive, or earphones, these specialized items will help. Fidget toys are safe, effective, and durable enough to serve their purpose. Some even create popping sounds for more fun.
Benefits of Using Fidget Toys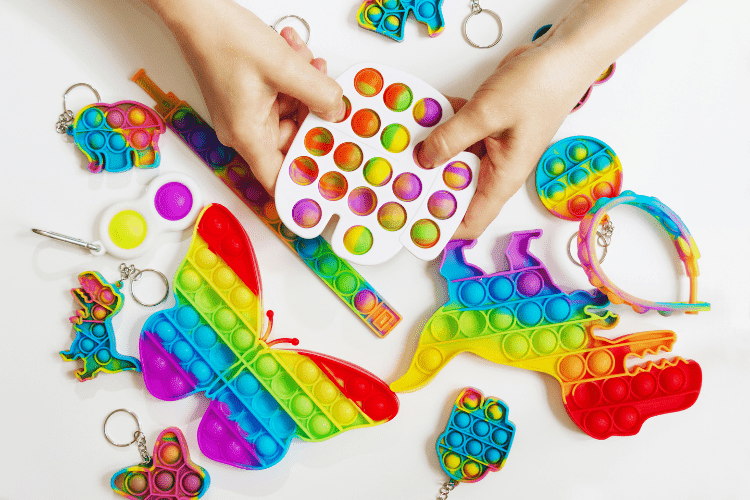 Even though fidget toys caused a debate on their pros and cons in 2017, antis merely discussed fidget toys as distractions to stress. The truth is individuals work well under different circumstances. Here are some potential benefits of fidget toys.
Sensory Exploration for Kids
The central role of fidget toys for toddlers is to provide sensory exploration. As our babies explore the world around them, sensory experiences become more essential for improved learning.
Sensory-based toys should have high-contrast colors, pleasant sounds, and different textures. Fidget toys have all of these properties!
Soothes Stress and Anxiety
Stress, anxiety, and ADHD have different impacts on the body, especially the hands and fingers. Restlessness, cramping in the hands, and shaking are some of the effects of anxiety attacks.
Fidget toys cannot treat these symptoms, but they help individuals cope with their situation. The most common toys for anxiety are fidget spinners and cubes. Limited studies also show that these objects can soothe pre-surgery anxiety among adults.
More Focus and Concentration
Both kids and adults can enhance their focus when controlling their actions and movements. This is mostly true when an individual is stressed or anxious.
Sensory input and movement are critical for performing tasks and acquiring skills and knowledge. That's because both the left and right hemispheres of the brain are at work.
Limited studies have also shown that fidget toys can boost learning for everyone, especially those with ADHD. One case study revealed that stress balls improved the academic achievements of students.
Keeps You Busy
Fidget toys can distract and occupy children's and adults' attention to focus and be more productive. It gives the mind a fun break to pay attention to their work later on. So, whether you're listening in class or brainstorming for a report, the toy will keep you busy.
They keep you occupied through a sense of deep pressure. Such compression is also known as proprioceptive input. Some examples include pinching, squeezing, pushing, or stretching apart.
Stimulates the Brain Stem
The brain stem can control your heart rate, breathing, consciousness, and other essential body functions. It works whether you're sleeping or awake, but some people are not alert enough even when they wake up. Others even have difficulty getting up.
The brain stem can work better through movement, and a fidget toy is an easy solution. It serves other functions like coping with stress alongside stimulating the brain stem. Small movements of the hand can transmit signals to the brain to stay awake and alert.
Fun Stress Relief
Even without the scientific discussions on movement and attention, it is undeniable that fidget toys are fun. They distract the mind from worrying and stressing out because of the enjoyable clicks and pops.
Some fidget toys also offer satisfying sounds when you twist or press them. They might pop, click, or release pressure. But if sounds are not your thing, there are also noiseless items you can play with during meetings and quiet moments.
Plus, fidgets are available in different designs. Whether you want a colorful bubble pop or a discrete spinner, there is an appropriate toy for you!
Types of Fidget Toys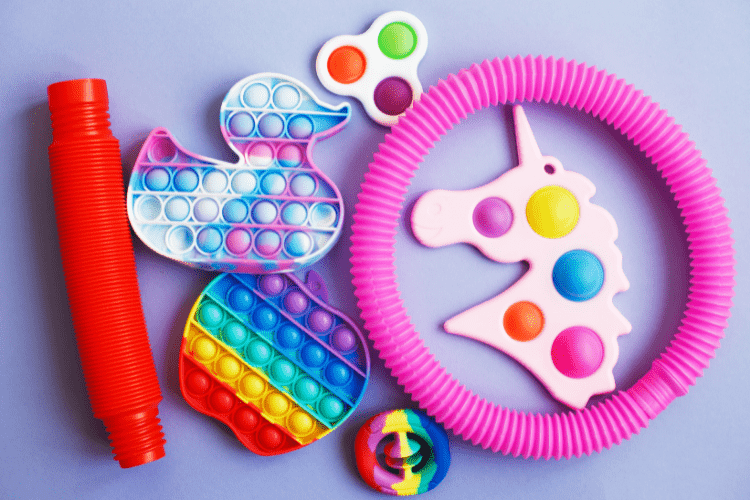 The best type of fidget toy should help you concentrate on your work and reduce stress. For kids, it should offer multi-sensory experiences for exploration. Here are the different kinds of fidget toys you should try.
Fidget Spinner
Fidget spinners are the original fidget toys that started the trend. These ball-bearing items allow a user to twist using their fingers.
The ordinary fidget spinner has three lobes made of metal or plastic. There's also an axis in the middle where the user holds the item.
Bubble Pop
Before fidget toys, there were bubble wraps. Bubble pop fidgets are colorful and silicone versions of the packaging item.
Some are available in keychain form with only one button to press. Others can be bigger with multiple bubbles. They come in unique colors and shapes, including animals, characters, hearts, and more!
Infinity Cubes
A fidget cube is another popular toy with a different tactile feel on each side. One resembles a switch, while the other looks like a mini gear. Joysticks, rolling balls, five buttons, and a spinning stick are also present on the other sides.
Fidget Cubes
A fidget cube is another popular fidget toy that has a different tactile feel on each side. One resembles a switch, while the other looks like a mini gear. There are also joysticks, rolling balls, five buttons, and a spinning stick.
Squish Panel
Squish panels are simply plastic pouches containing gel, glitter, water beads, slime, googly eyes, etc. They are fun to squeeze and squish because of their soft texture and bright hues.
Tangle Toys
A tangle toy is a particular plaything that consists of several curves that users can twist and turn. It uses infinite motions to provide calming yet straightforward therapy.
Monkey Noodle
Monkey noodle is a new fidget toy that twirls, stretches, and squeezes. You can pull the handheld item and watch as it bounces back to its actual shape. These noodles are available in a smooth texture with bright colors for stimulation.
Stress Ball
A stress ball is a plastic plaything that a user squeezes to soothe stress and muscle tension. Newer stress balls are available in amusing shapes but still come from a foam material.
What to Look for in a Fidget Toy
With the new inventions on fidget toys, looking for one that serves your needs can be daunting. Here are four criteria to consider when looking for a fidget toy.
Purpose
Ask yourself why you're buying a fidget toy. Some people buy for their toddlers who need play, and others want to cope with mannerisms and mental health conditions. You might also buy a fidget toy because you're interested in it.
If you're buying a fidget toy for toddlers, make sure it's colorful and produces sound. The multi-sensory experience is essential for babies who want to discover more about their environment.
But if you're buying a fidget toy for work or school, it should be quiet to avoid interrupting discussions. It should also be discrete to avoid confiscation.
Age
Most fidget toys are appropriate for all ages. But there are better variants for kids and adults. For instance, colorful Monkey Noodles and squish panels encourage kids to focus more on the neon colors. Some adults would buy a plain-colored spinner or cube instead.
Durability
Fidget toys are prone to beating because individuals use them when stressed or anxious. That's why durability is an essential consideration before buying.
Make sure the hard plastic doesn't break with just one fall. The squishy materials should also stay intact after hard squeezes.
Appearance
Appearance may also matter, especially if you're buying a fidget for a kid. Boring fidget spinners may not attract them anymore. Shapes, forms, colors, and materials should be visually pleasing for a fun fidget experience.
Some fidget spinners come in holographic colors and shuriken designs for kids to channel their inner ninja. Other exciting elements for fidget toys include slime, neon, and unicorn shape.
Customer Reviews
Examine the reviews of previous customers and users before making a final decision. Check whether the fidget lives up to the hype or not.
Best Fidget Toys for All Ages
Take a gander at the top picks for fidget toys. Everything on this list is appropriate for all age ranges!
Best Fidget Spinners
KoolSpin Green Hand Metal Plating Fidget Spinner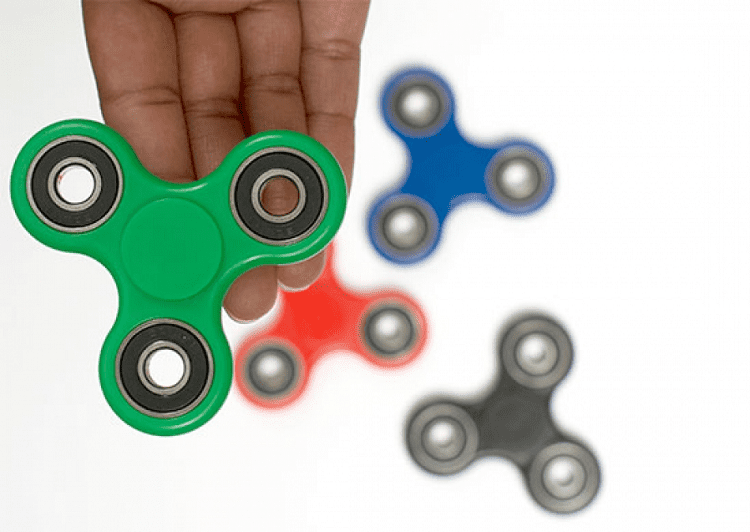 Best Overall
Fidget spinners are likely the most popular type of fidget toys out there. Available in 5 different colors, this fidget spinner features metal plating. It is designed to keep your hand occupied, promising to help people with ADHD problems or those who suffer from anxiety.
Pros
5 color options.
Metal plating.
Good for anxiety.
Cons
May be distracting for other people.
ZURU Fidget Spinner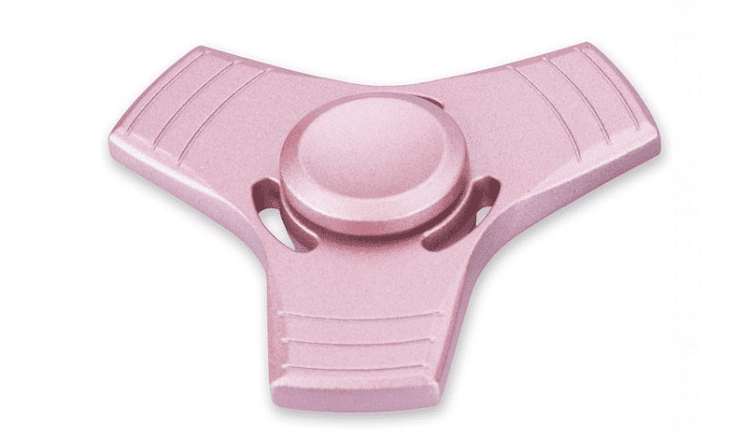 Best Quality Spinner
Made using high-quality materials, this item has been specially engineered to provide exceptional durability and usefulness. The ball bearings, which are constructed of iron with a zinc coating, are the latest in low-friction technology. The lightweight, small form fits easily into your pocket, ensuring that it is always available for when you have a fidgeting urge.
Pros
Zinc-coated ball-bearing.
4 color options.
Lightweight and compact design.
Cons
Could be distracting for other students.
Best Bubble Pops
PWFE Pop Backpack Fidget Toys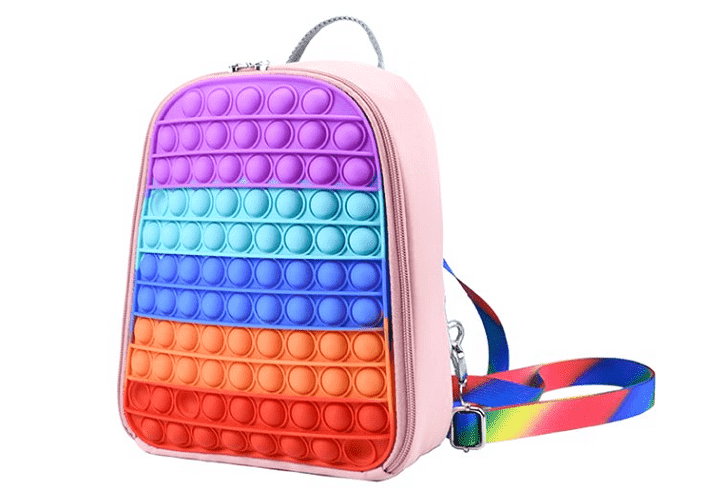 Best 2-in-1 Popit
The Push Bubble Fidget Toy is a bubble game with popping sounds made of silicone and serves as a sensory toy. If you have TikTok, you've surely seen bubble pop trends done all over the globe. This one comes in the form of a colorful bag which is lightweight, easy to carry, and makes it so that children can pop at any given time.
Pros
10 design options.
Doubles as a bag.
Rather spacious compartment.
Cons
Only suitable for children.
256 Popits Bubble Giant Fidgets Toy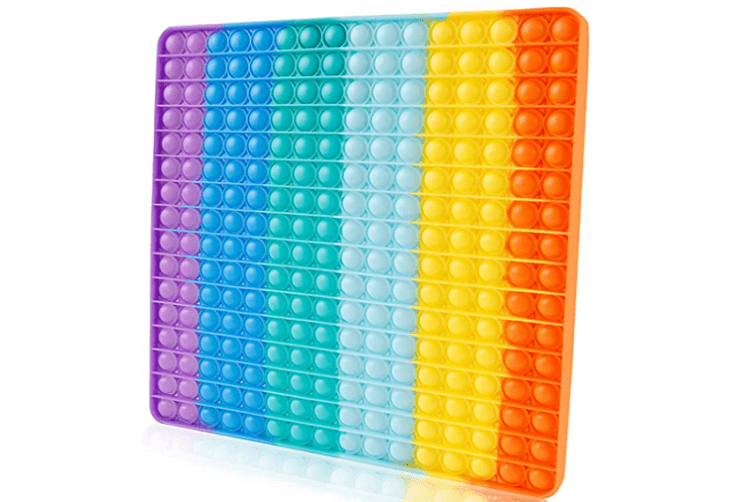 Largest Popit
To those who are true popit fans, I'd like to introduce the 256 popit toy. Press the bubbles down until they make a little popping sound, then turn the bubbles over and start the process again. The push pop bubble toys create a discrete pop sound when pushed. Although it does not have the same acoustic properties as bubble wrap, it is equally as entertaining.
Pros
9 different design options.
Good for kids and adults.
Silicone material, easy to clean.
Cons
Popping sound could be more satisfying.
Fiomva Push Pop Bubble Fidget Toy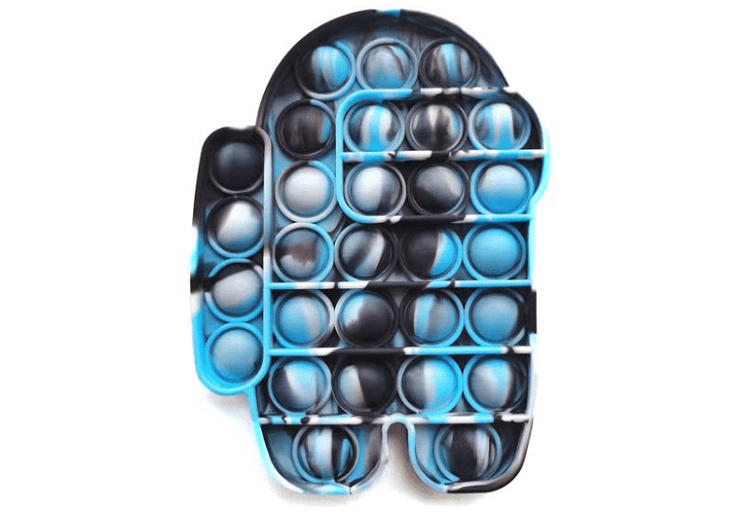 Best for Videogame Fans
You definitly heard of one of the most popular online games during the pandemic. It's called Among Us and it's a digital adaptation of the card game Mafia. On your quest to catch the imposter or try to sabotage your crew members, Among Us characters have become quite the internet sensation.
This is a fidget toy shaped like a game character, designed to bring children the joy of using a silicone sensory toy.
Pros
9 color options.
Made with quality silicone.
Can help with focus.
Cons
Best Fidget Infinity Cubes
Infinity Cube Fidget Toy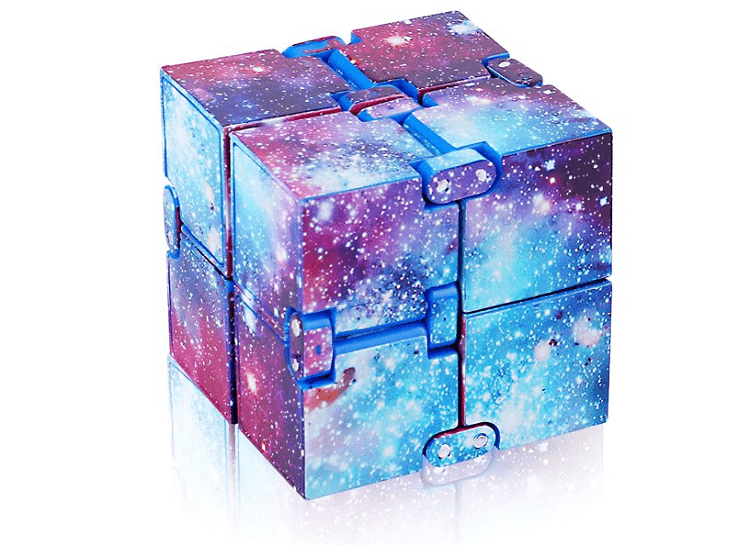 Best for Adults
With the EEEkit infinite cube, you can get instant stress relief on the go. With it, you can fidget with one hand while swiveling with the other. The decompression cube is constructed of high-quality ABS material and features a solid block design with strong connecting points that is both sturdy and capable of withstanding repeated folding and flipping.
Pros
Child-safe ABS construction.
Gorgeous galaxy design.
Smooth edges.
Cons
Feels like parts would come off easily.
Infinity Cube Fidget Toy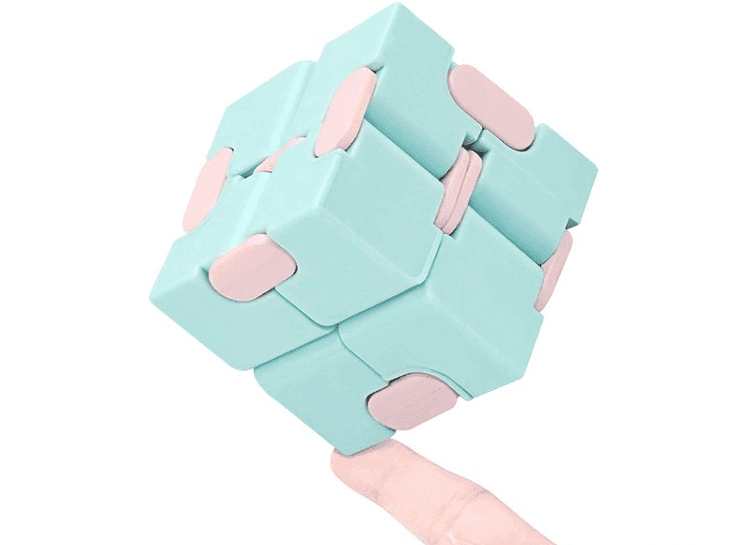 Editor's Choice
Keeping your children away from screens while also ensuring that they do not drive you insane is the most difficult task a caring parent can face. No one will be bored with our fidget cube toy, which will engage your child's attention and keep them away from the television.
By just flipping it over and folding it, you can boost your concentration. It's a soothing, noiseless, small, sensory, never-ending cube with tactile sensations.
Pros
4 color options.
Lightweight and portable.
Can relieve anxiety.
Cons
Prone to easily breaking.
Best Fidget Cubes
Houkiper Fidget Toys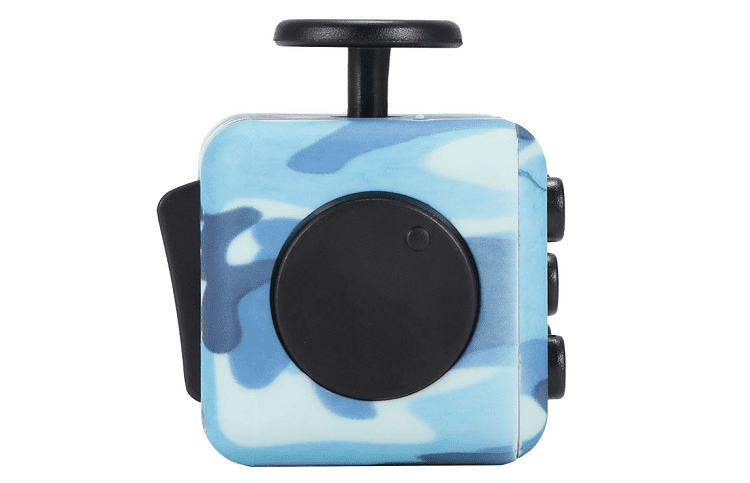 Easier to Carry
A fidget cube is an essential, versatile sensory toy for children and adults that love tactile and audio cues. This particular cube is designed with six sides, each one offering a different fidgeting activity. It's made from silicone and packs everything from switches to rockers.
Pros
6 activities in 1 toy.
Can relieve stress.
Smooth edges.
Cons
Minilopa Fidget Dodecagon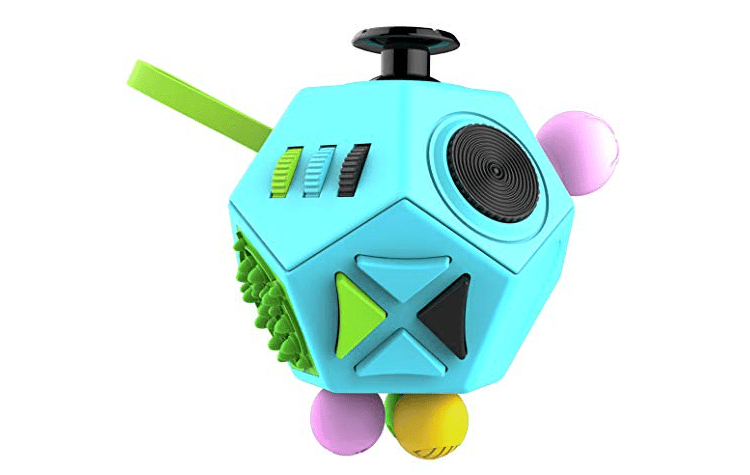 Most Activities
If you want to step up your fidgeting game, this is one of the coolest toys I can suggest. It musically comes in 12 different sizes that multiple the number of activities. It includes gears, switches, buttons, and more. It's the perfect tactile toy for people with anxiety that feel the need to keep their fingers occupied.
Pros
12 sides with 12 activities.
Larger than most similar toys.
Good for adults and kids alike.
Cons
Choking hazard for very small kids.
Best Squishies
4 Pack Pop Stress Ball Fidget Toy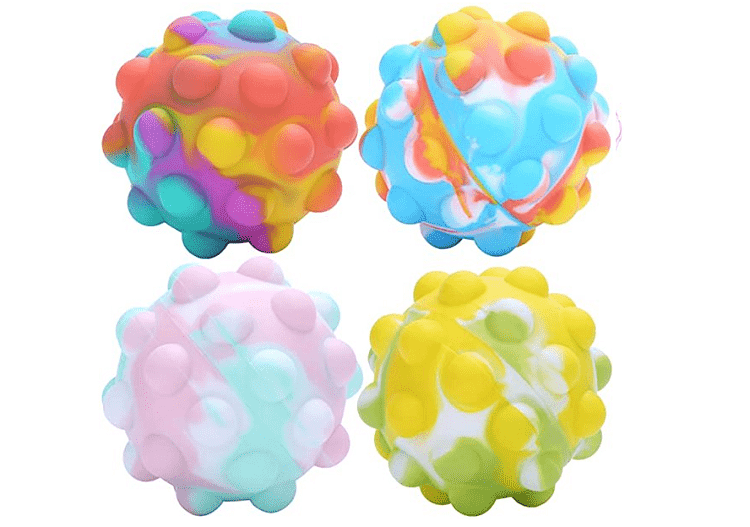 Best Anti-Stress Balls
Since it is composed of food-grade silicone components, this 3D pop fidget sensory toy was created with one main goal: providing a safe and user-friendly experience. This pop it toy pack is devoid of BPA, phthalates, and latex, and it is non-toxic. In addition, it is machine washable and resistant to high temperatures.
Pros
Includes 4 squishy balls.
Multiple color combinations.
Easy to clean.
Cons
EEEkit Balls
Best Sticky Balls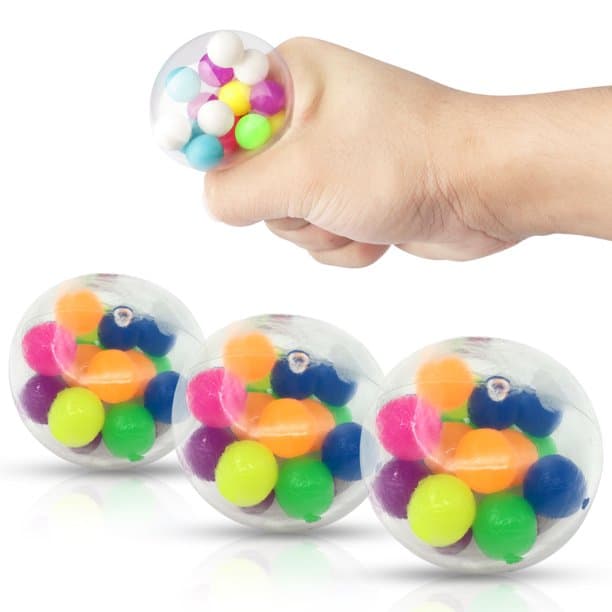 The anti-stress balls are useful and extremely fun to play with. They are beneficial for all children and adults, but they are especially beneficial for people who have ADD/ADHD, OCD, autism, or excessive levels of anxiety. This set includes 8 similar fluorescent fidget balls.
Pros
Comes with 8 balls.
Made with silicone.
Easy to clean.
Cons
Best Monkey Noodles
Sensory Stress Relief and Fidget Therapy Toy
Most Durable
This fidget sensory toy is flexible, soft, and robust, making it an excellent choice for children with autism. It will help them relieve tension and focus their spirits, and it is both amusing and useful. Manufactured from high-quality environmental rubber, it is completely safe and non-toxic for children to play with.
Pros
Includes 12 unicorn noodles.
6 color options.
Made with quality rubber.
Cons
You can't buy just one noodle.
Just Play Fidgetz Stretchy Jellies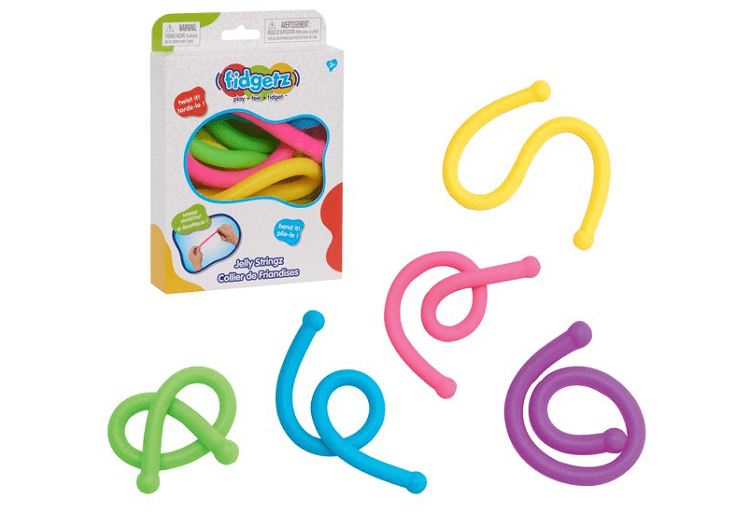 Bargain Buy
Fidgetz sensory toys are designed to keep restless hands and minds engaged. A total of five 7.25-inch tubes of stretchy jelly are included in this set. Twist, stretch, and pull activities all create a level of stimulation that can help you concentrate and relax more effectively. The Fidgetz Stretchy Jellies, which come in a set of five brightly colored sensory tubes, help keep restless hands and brains focused.
Pros
Set includes 5 noodles.
Very stretchy.
Each noodle is a different color.
Cons
You can't purchase them individually.
Best Stress Balls
Willstar Pineapple Stress Ball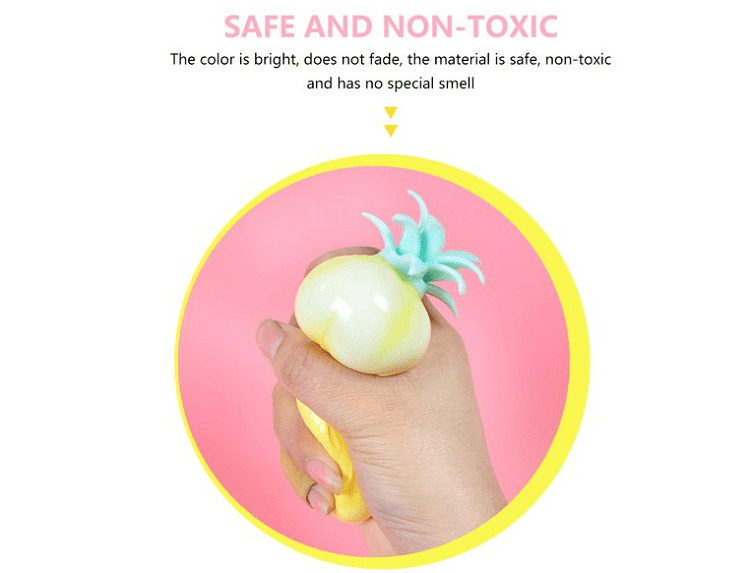 Cutest Design
I love the design of these stress balls which are shaped just like miniature pineapples. A bonus is that you can buy these individually but also in sets, leading to a lower price per product. They're made from non-toxic rubber and are suitable for adults and children. I'm not crazy over the fact that you can't choose your color, and you will apparently receive one at random.
Pros
Can buy individually and in bulk.
Very flexible and squishy.
Non-toxic rubber material.
Cons
Power Your Fun Glitter Fidget Toy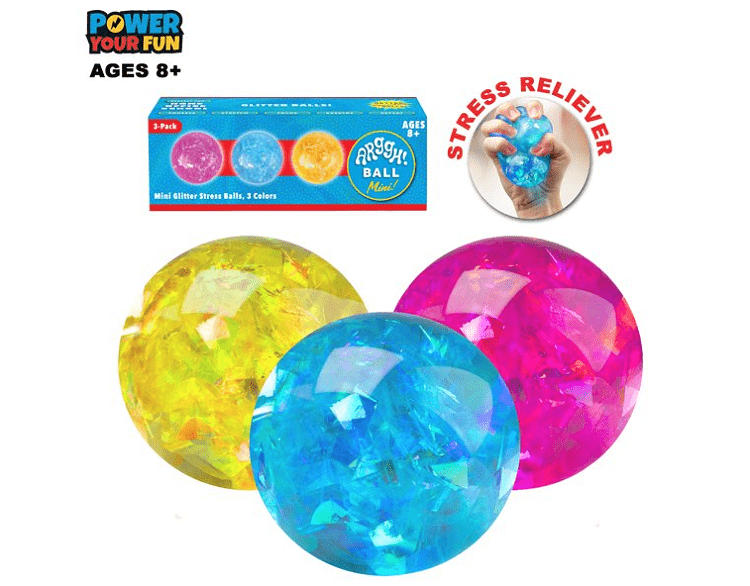 Best for Office
Each Arggh little stress ball set contains three mini squishy balls with a diameter of 2.5 inches, which are available in the colors blue, pink, and yellow. These squishy balls are packed with non-toxic gel and are appropriate for children ages 8 and up to play with. Since they're small, they are convenient to transport everywhere, including to and from school or the office.
Pros
Set of 3 toys.
Non-glitter version available.
Filled with non-toxic gel.
Cons
Best Fidget Toy Sets
Fidgetz Combo Set Fidget Toys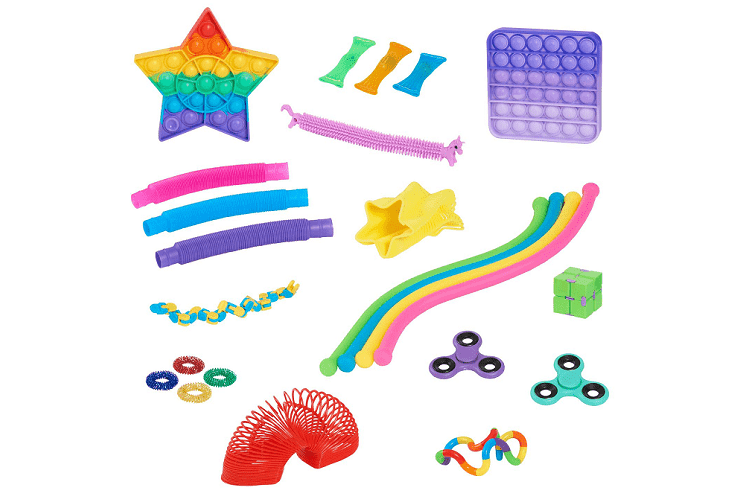 Best Value
Each fidget toy in this set can assist children and adults in remaining focused in the face of external distractions, and they are an excellent tool for keeping idle hands occupied. You get spinners, noodles, popits, cubes, and a variety of other toys that engage your hands in all kinds of activities.
Pros
Includes multiple toys.
Good for children and adults.
Some toys can be gifted.
Cons
Some toys are a choking hazard.
Wangscanis DIY Decompression Fidget Toy Set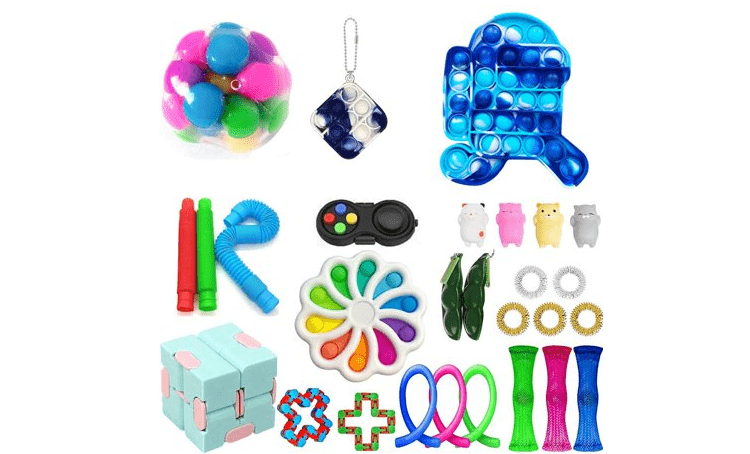 Best Set
This is another great set to purchase if you're looking for a great value buy. The toys are made with non-toxic plastic and safe silicone material with smooth edges. The colors are bright and beautiful and can help children improve their color recognition abilities. You get clickers, noodles, popits, infinity cubes, and more.
Pros
Very generous set of toys.
Made with non-toxic plastic.
Can choose sets of different sizes.
Cons
Toys are too small for adults.
FAQ
Choosing a fidget toy that will work for you or your child is important, as not all fidgets are the same. Hopefully, some of these common questions will help answer any other questions you have. If not, feel free to pop them in the comments, and I'll answer you as soon as I can.
Question: What is the Most Popular Fidget Toy?
Answer: Fidget spinners used to be the most popular fidget toy. But many users have been loving bubble pops and infinite cubes because of the numerous tactile experiences.
Question: Can Adults Use Fidget Toys?
Answer: Yes, adults can use fidget toys to soothe their stress and anxiety.
Question: What is the Purpose of Fidget Toys?
Answer: Fidget toys help fidgeters showing signs of stress, lack of focus, ADHD, anxiety, and other
The Bottom Line
Children and adults can use fidget toys to relax the mind, relieve stress, and improve focus. And there's a vast supply of options in stores!
If you want my opinion, the Houkiper Fidget Toys Cube is one of the best choices. Mostly because I feel like a kid won't get bored of it and I know it's effective.
Always choose a fidget toy made of safe plastic or silicone to avoid skin irritation. Did you enjoy reading my top recommendations? For even more great recs, have a peek at my list of best toys for 5 year olds.
Find more cool toys by readings these guides below:
Best Squishy Toys Guide for Sensory Experiences
Check Out Some of the Best Bubble Guppies Toys