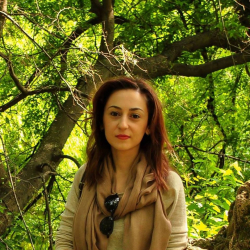 Latest posts by Alexandra Gavrilescu
(see all)
Some kids are filled with joy no matter what toys you offer them, while others are very picky. So, the age of two years old can feel like something very challenging to some parents and a terrific period for other parents. Regardless of how your toddler's personality is, the subject of how to find the best toys for two-year-olds remain a tough one.
Toddlers have developed more complex skills than infants, but they still have a very short attention span. Therefore, the ideal toys are those that help them engage in a fun yet educational activities; toys that teach them how to properly develop their sense of self and express their needs, desires, and personality.
In today's article, I will present some of the most popular toys on the market that could be suitable for your little one, but before that, let me just tell you the best practical guidelines on how to choose the perfect toys.
My Bottom Line Up Front!
It doesn't seem very easy, but it gets simpler if you focus on your toddler's skills before choosing a toy for him or her. Put safety first and read the box to see if the toy suits your two-year-old. Then, think about your toddler's interests and skills and opt for those toys that are fun, interactive, and educational without being boring or too repetitive.
The toy should be sturdy enough to last for a long period but be aware that your child might get easily bored with it since toddlers are at an age when they go from one interest to another pretty often.
So, the ideal type of toy is a multi-purpose one or a convertible item that can be played with for a longer period, even when your child is three or four years old. Last but not least, your budget is also important in choosing the right kind of toy for your little one.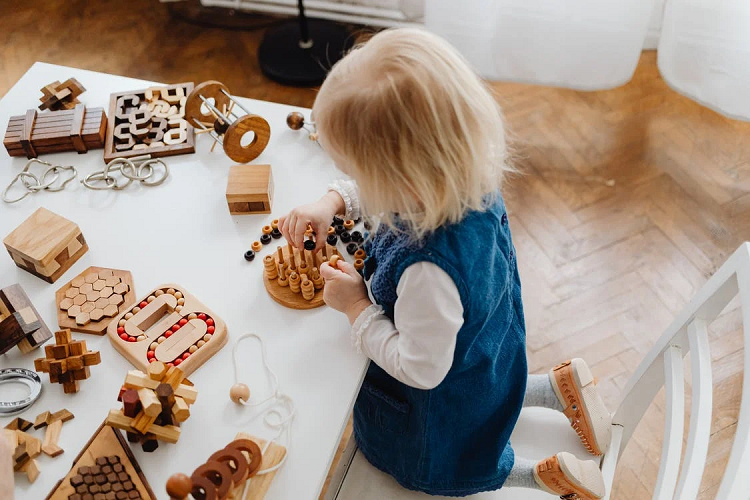 How to Find the Best Toys for 2-Year-Olds – Tips to Consider
First and foremost, you must concentrate on your child's abilities, and they will guide you towards the proper toys for your little one. At two years old, toddlers are going through all sorts of changes, both physically and mentally.
Experts like to call them "social butterflies" because these young kids are starting to move and communicate in ways they've never tried before.
By now, not only your kid walks confidently, but he or she might even run effortlessly while also carrying different items around, walking up and down the stairs, pulling or pushing his or her toys, and kicking balls.
Two-year-olds can detect the differences in terms of shapes, colors, sizes, and they can identify certain people and items. Moreover, these toddlers can follow simple directions. Every day, they learn and absorb new words; they're like human sponges in that concern, and their brains are developing every single hour.
So, a very wise idea for a gift for your little one is a book full of pretty illustrations, and short sentences are written in a large font that you can read to them.
That way, you will help develop your toddler's vocabulary. By now, you'll start noticing that your child wants to play with other children of similar ages, and they might even develop company preferences, wanting to spend more time with certain kids, and less time with others.
Pretend play or make-believe is also good as toys for two-year-olds. Ideas such as costumes, dress-up clothing, and animal figurines will boost your kid's imagination. Each child is unique. So, each toddler will achieve every development milestone in their own time. However, all toddlers grow and learn pretty quickly.
For that reason, you might want to consider toys like building blocks and musical instruments that your little one will certainly enjoy. Let's see the main things you should keep in mind when choosing appropriate toys for a two-year-old child.
Recommended Age
To see if a toy is suitable for your child, age-wise, you should always verify the details written on the box or package; sometimes, this type of information is printed directly on the label that's featured on the toy. Otherwise, you might pick toys that aren't safe for your kids or that are too complicated and not very appealing to them.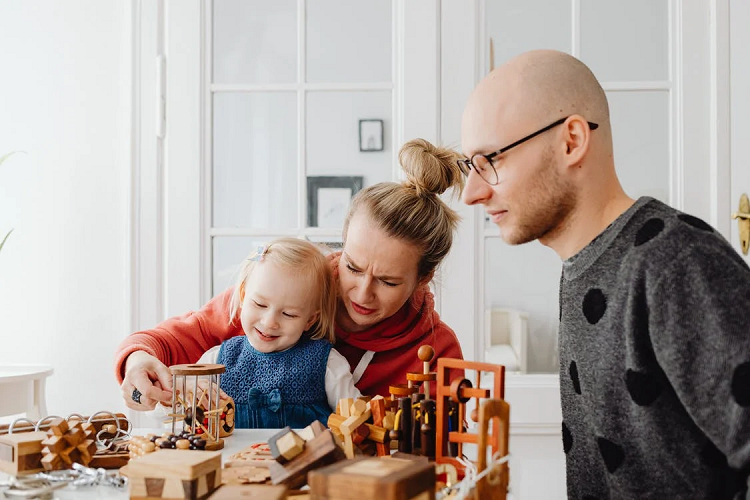 Safety Standards
I bet you're familiar with the expression "safety first," which also applies in this case. We all want the best for our little ones, and we want to keep them safe. Therefore, make sure that the toys you purchase for your toddlers are free of any small parts that can be easily swallowed since they represent choking hazards.
These types of toys have the +3 sign on them, which means they're only suitable for kids over the age of three years old. I agree that two-year-old toddlers know a lot more and can do a wider range of things than infants and babies. Still, they're too young to be playing with toys that consist of small parts.
Educational Value
Toddlers who're two years old are quickly learning new skills and language abilities every day, especially motor skills and cognitive abilities.
So, it would help if you opt for toys that are still fun and engaging but also have letters, numbers, and other components with an educational value. Through these toys, you'll support your child to grow and develop properly, both physically and mentally.
Longevity
Toddlers shift their focus and preference quite easily and frequently. Their interest in a toy might decrease rapidly, which becomes very frustrating for parents who spend money on these toys.
So, it would be best to consider the time length during which you believe your children will play with the toy. Whenever possible, purchase multi-purpose toys because these products will keep your toddler entertained for a longer period.
Appealing Factor
Aside from the educational factor, all toys must have the wow factor via features that are engaging and appealing to young kids. Colorful toys that match the interests of your little one are the solution. Also, interactive toys that make sounds are beautiful to little kids.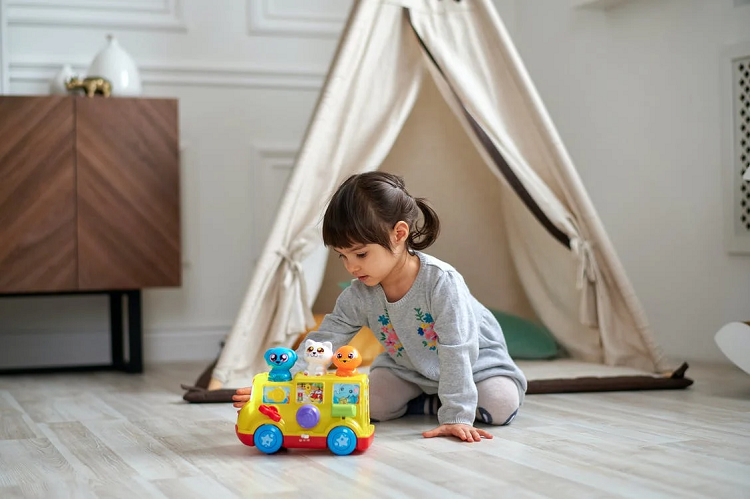 How to Find the Best Toys for 2-Year-Olds – Top 5 Choices
The best types of toys for toddlers are the ones that keep your child engaged due to the toy's fun and educational characteristics. So, those were the main features I've considered when I made my selection.
Go and Grow Ride-On Toy by Little Tikes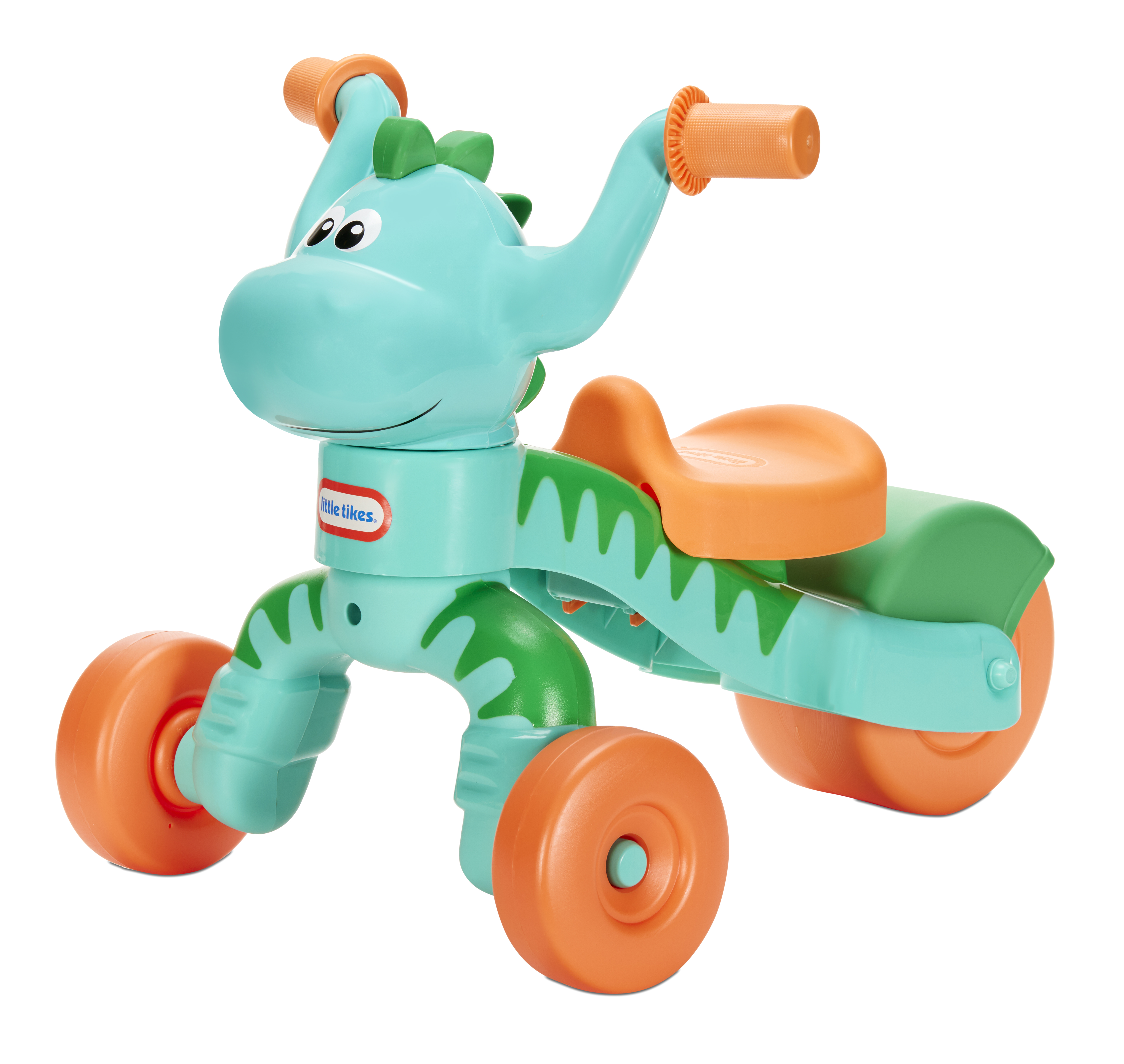 Many toddlers love dinosaurs and everything related to that theme. So, this Little Tikes tricycle is the ideal toy if your kid has that particular interest. The design is kid-friendly, consisting of one oversized wheel in the back and two wheels in the front for increased stability.
Pros
Your toddler can ride this Little Tikes bike both indoors and outdoors;
You can adjust it so that your kid can use it for a longer period;
It's colorful and has an appealing design that features the shape of a dinosaur;
There's also the improved Deluxe version that's a 4-in-1 product.
Cons
The quality of the plastic material feels a bit cheap and too lightweight, in my opinion;
There's a weight limit of 50 pounds. 
Lovevery Play Kits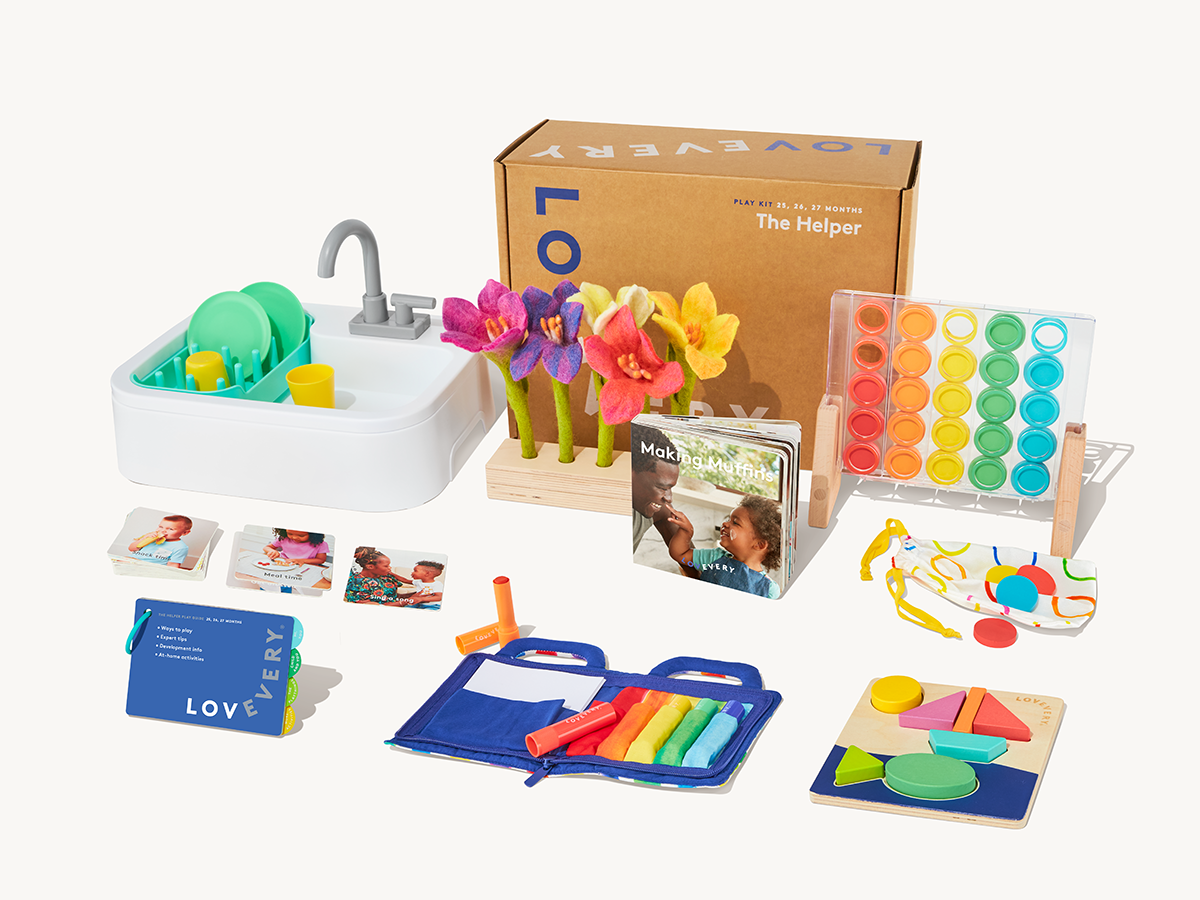 These fun play kits from Lovevery are part of a subscription-based service. They provide you with all the necessary items and toys that your toddler needs to properly develop his or her brain, motor skills, and other important abilities.
There are several available play kits based on your child's age. Those meant for 2-year-old toddlers are based on the STEM learning concept that helps kids build their self-trust and independence.
Pros
All the kits are fun and engaging, and they're also educational;
The shipping is free;
One box comes with puzzles, mini science experiments, and matching games – so, more toys in one single package;
Subscribers can cancel their membership anytime they want;
All the fabrics are sustainable and kid-safe: non-toxic paint, organic cotton, responsibly-harvested wood, etc.;
Many healthcare practitioners support these toys as suitable for children over the age of one year old.
Cons
You cannot buy one single time, one item because one-time purchases aren't available yet;
It's a subscription service, so you have to be willing to commit, although you can always cancel your subscription. 
Battat Wooden Activity Cube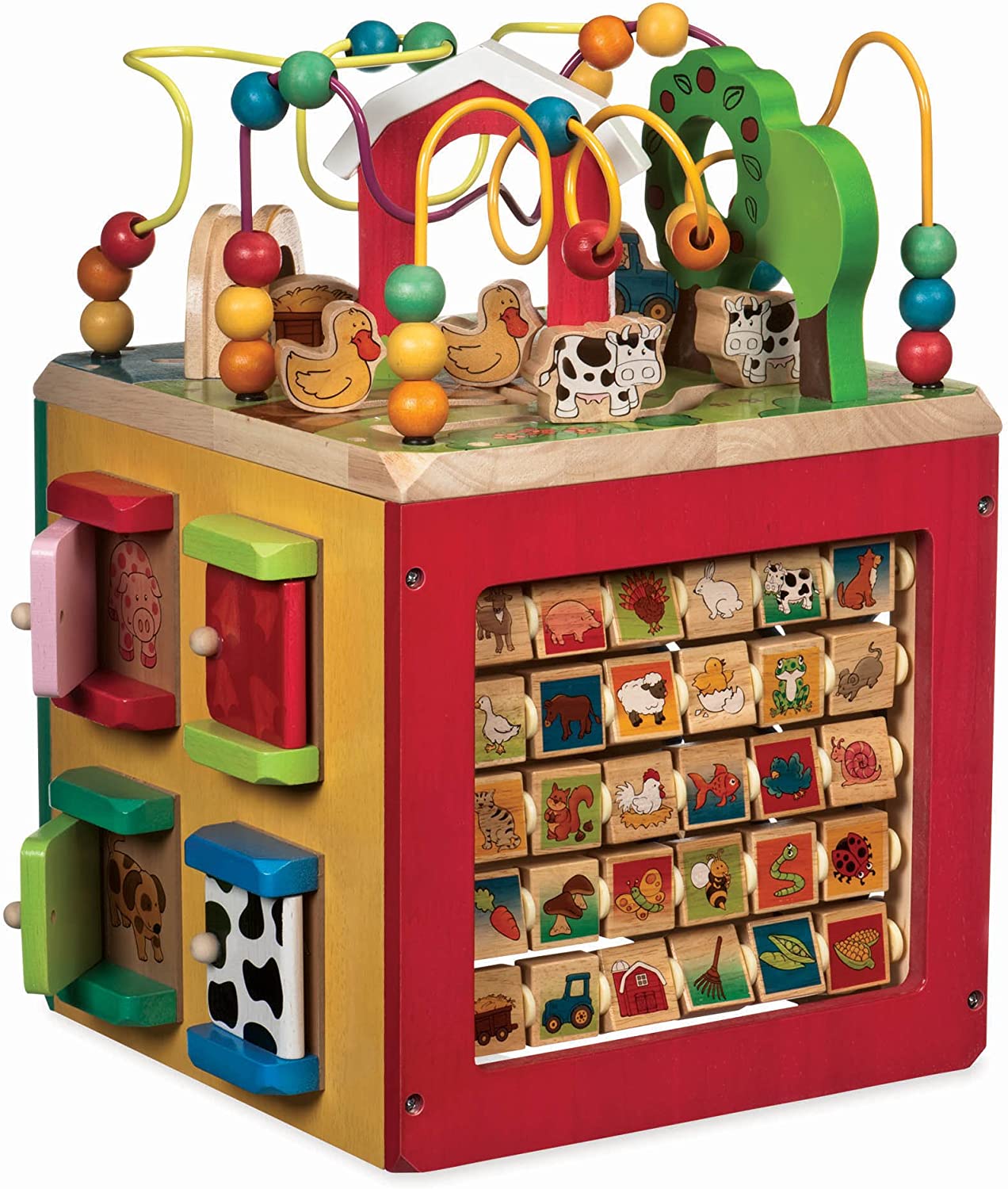 The cube has five unique sides, each with its own type of activity that your toddler can engage in. Based on what they want to do, two-year-old kids can play with the beads, moving them up and down, move spinners, or drive a tiny tractor around.
It's such a lovely, intricate, and fun toy to play with. It has so many wonderful details that offer numerous developmental benefits.
I bet my 2.5-year-old niece would love this toy. I'm sure it could keep her engaged and entertained for hours.
Pros
The theme is a pretty interesting and appealing one: animals at the farm;
The cube seems durable enough, and the construction is solid;
Again, you have multiple activities included in one single toy. 
Cons
It's pretty expensive;
The paint seems quite dull to me;
Older toddlers might not enjoy this toy for long since they might not find it interesting and challenging enough. 
The 100 Words Book by Learning Friends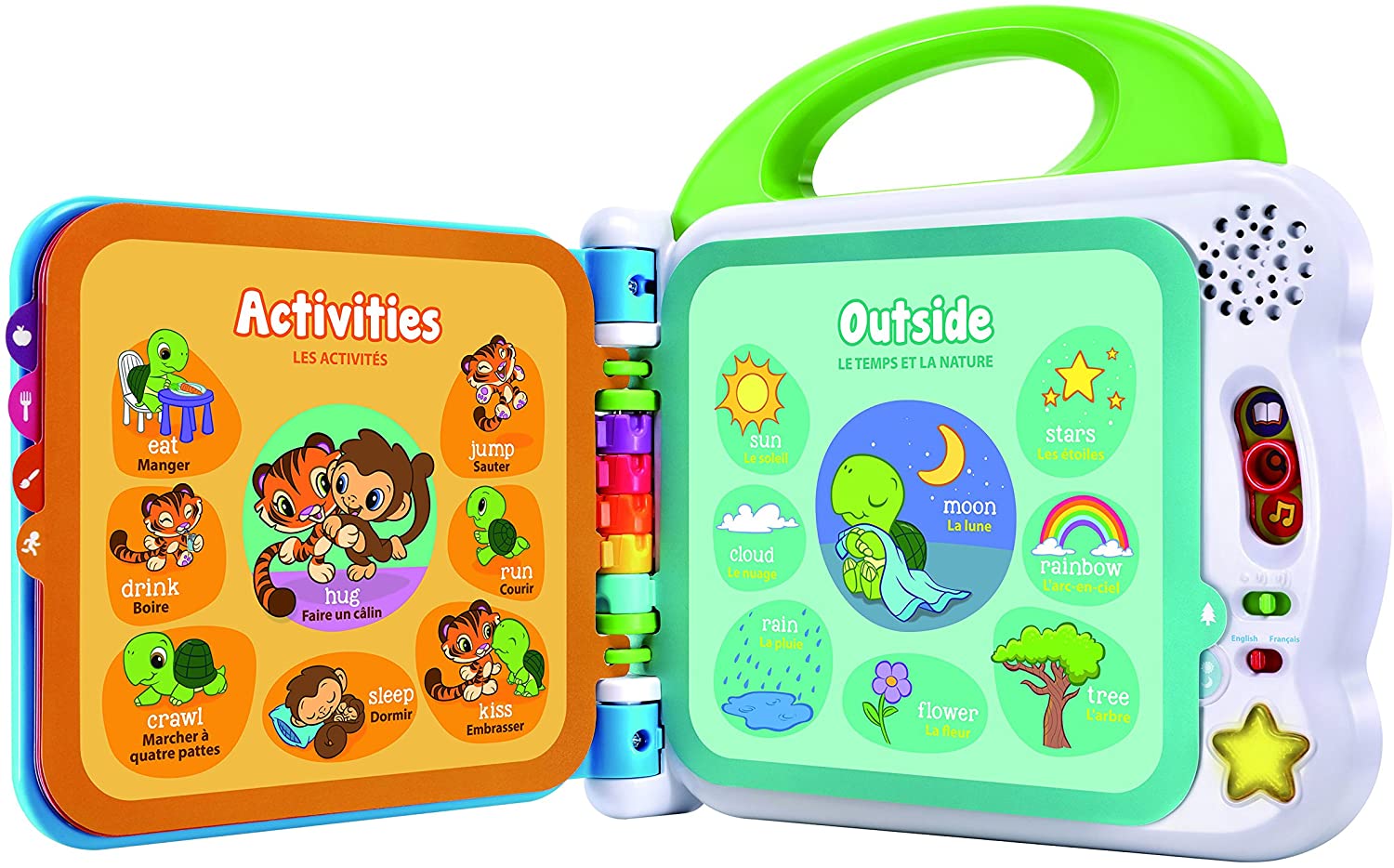 This toy is another amazing choice that's suitable for toddlers. The interactive plastic book is so colorful and has so many amazing features.
It's affordable and educational, and it will help your kids to develop their vocabulary. There are three main characters featured in the book: Money, Turtle, and Tiger. The selection of over 100 words was carefully created by learning specialists.
Pros
It's fun, colorful, and educational;
This toy focuses a lot on interactivity;
It's an affordable toy;
The toy supports and encourages bilingual learning;
It allows more than one way to play with it. 
Cons
The toy can be a bit loud, and there's no way to control the volume;
The pages might seem a bit thin to some parents.
Number Lovin' Oven by LeapFrog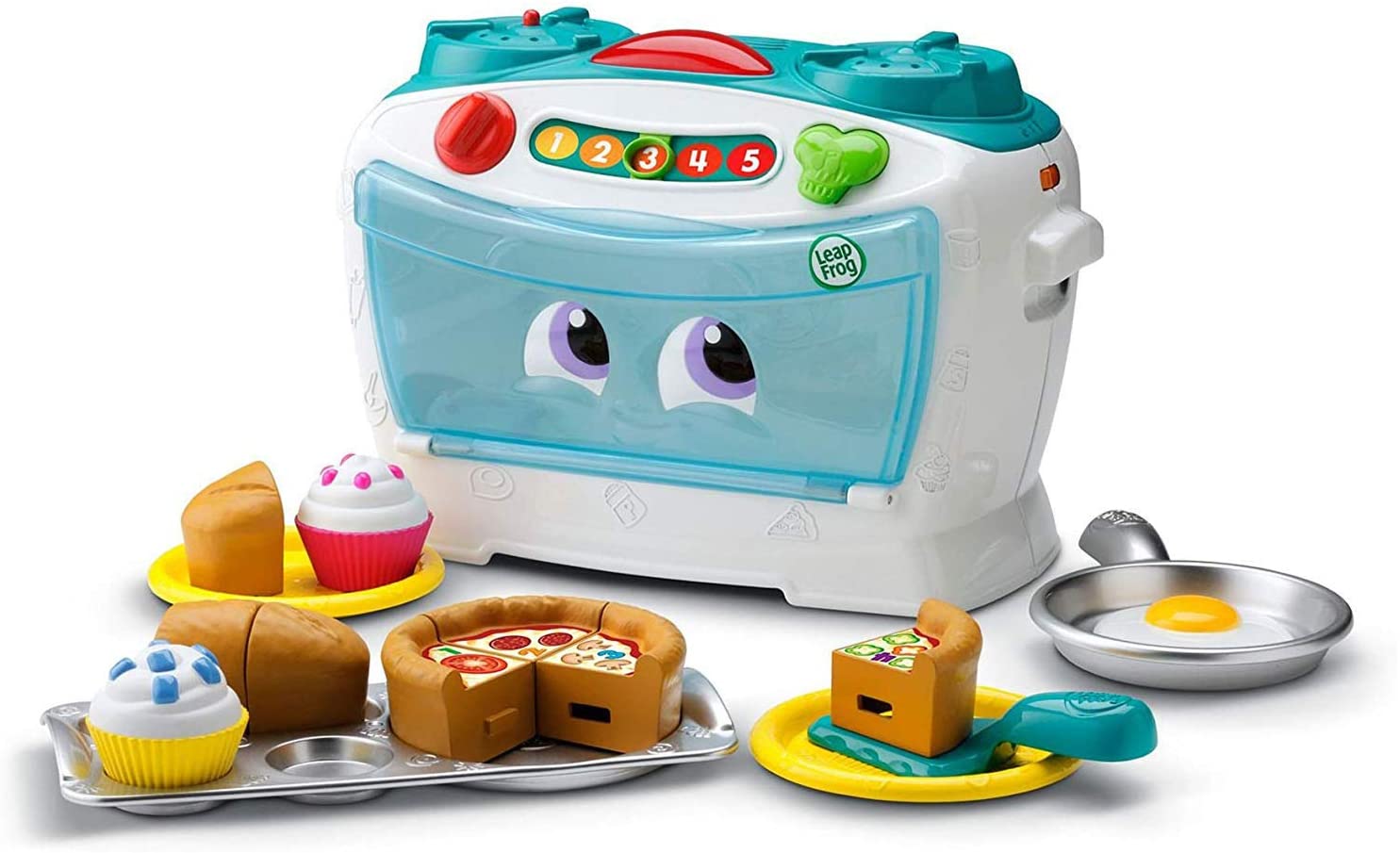 This LeapFrog kitchen toy set is so fun and comes with so many wonderful pieces such as an egg, a pan, an oven with numbers, slices of pie or pizza, bread, muffins, and more.
Damn, this set makes me want to be a kid again so that I can play with it; that's how fun it looks. The toy oven features different buttons and can play a wide selection of kid-friendly songs.
Pros
It's highly educational, and it teaches children the concepts of food recipes, ingredients, basic math, time, and baking temperature;
It's a top-notch toddler's toy, with over 2,300 5-star reviews, that supports creative play;
All the pieces are portable because they all fit inside the oven.
Cons
The songs can become a bit weird and boring to listen to over and over again;
Based on where you live, the shipping could take longer than expected.
How to Find the Best Toys for 2-Year-Olds -FAQs
Question: What Are the Best Toys for Two-Year-Old Boys?
Answer: The perfect toys for little boys are interactive items such as ride-on toys that are suitable for their age, simple puzzles, musical instruments, pop-up books, coloring books, and building blocks. Obviously, these are just a few ideas I've come up with. The market offers almost endless possibilities.
Question: What Are the Best Toys for Two-Year-Old Girls?
Answer: At this age, little girls love to carry their toys around, interact with other kids, socialize, engage in pretend play, and wear funny or princess costumes.
So, some of the most inspired toy ideas for a two-year-old girl would be kitchen sets, dolls, kids' picnic basket sets, learning bikes and other ride-on toys, mermaid tail blankets, musical doodle boards, coloring crayons, and more.
Question: What Are the Best and Most Appreciated Gifts and Toys for Toddlers?
Answer: Kids who're two years old are very energetic, full of life, eager to explore the world. They love novelties, and everything around them seems almost new to them.
Each kid is different, so the same toy might not have the same level of success as numerous kids. Generally speaking, two-year-old toddlers love coloring books, finger puppets, alphabet blocks, illustrated books, simple puzzles, musical instruments, and animal figurine sets.
Bottom Line
Being a parent is wonderful but also challenging at times. I know how hard it can be to raise a happy child, including when it comes to apparently simple tasks such as choosing the right toys for your toddler.
I get it; it's tricky and frustrating but, at the same time, when you finally find the right toy and see that big smile on your little one's face, all the effort becomes totally worth it.
One thing I can say to you: aside from purchasing safe and kid-friendly toys, which are both imperative, just let go of all the other stress triggers and have fun while shopping for your kids.
Further readings:
How to Find the Best Toys for 5 Year Olds
Best Toys by Activity Guide for Kids in 2022