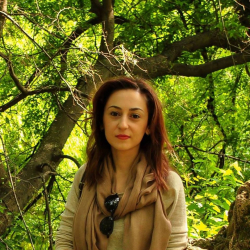 Latest posts by Alexandra Gavrilescu
(see all)
12-year old kids are almost teenagers; they're preteens. By this age, they've most likely become quite picky when it comes to their toys.
Therefore, it's hard to choose the best toys for 12-year-olds, especially because nowadays, most kids have a lot of things at home and they receive numerous presents. Moreover, the market is flooded with a wide range of choices, and that can make the searching and purchasing processes pretty overwhelming.
The best thing to do is to consider what your kid really wants. Think about your children's interests and hobbies. What are their passions? What makes them truly happy?
Obviously, aspects like realistic expectations and budget are also important. Around this age, a child tends to change their preferences almost daily, so it's hard to keep track of their desires.
In today's article, I decided to write about how to find the best toys for 12-year-old tweens. Moreover, I've also included some of the most popular choices out there to make the buying phase a lot easier for you (I hope).
My Bottom Line Up Front!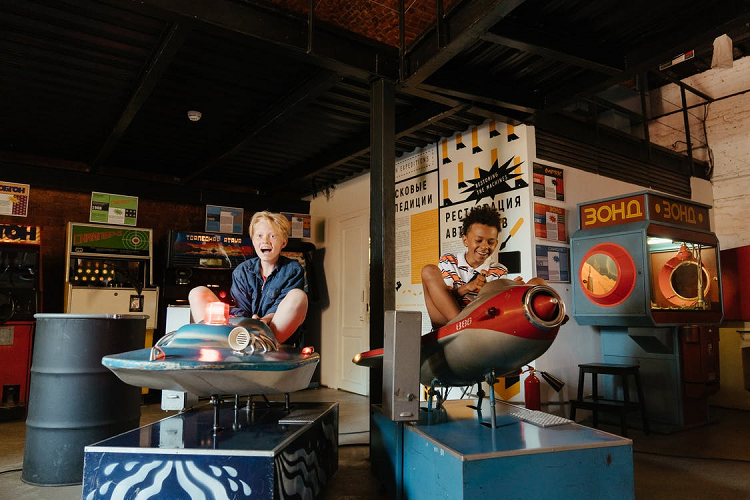 Finding the best toy for your 12-year-old might become tricky if you don't follow these simple guidelines:
Opt for toys, items, and gadgets that are more grown-up – tweens tend to act more like adults, and they want nice things that can express their newly-acquired identity. Most of them develop hobbies through which they master a skill or ability. Search for things like science kits, more complex puzzles, arts and crafts projects, journaling tools, computer games, video games, sporting equipment, scooters, bikes, and more. It all depends on what your child is like and what he or she prefers;
Offer your child money or a gift card – that's if you really don't know what to give your kids. Regardless of your children's interests, these types of gifts are very safe since they can use those money or gift cards to buy whatever they want. Or, perhaps they want something more expensive, and receiving money will help them save for the item they want to eventually purchase;
Toys and items that boost emotional intelligence – around this age, kids start to comprehend different emotions and those feelings' subtilities. You need to be there for them and support them unconditionally by teaching them the proper way to handle their empathy, anger, sadness, disappointment, and more. By offering them toys that nurture their EQ, you'll provide them with a strong base in how they perceive future challenges. Puzzles or board games that encourage team play are one possible alternative.
How to Find the Best Toys for 12-Year-Olds – Things to Consider
There are certain important aspects to keep in mind when searching for the best toys for your 12-year-old child.
a. Recommended Age
I know how hard it can be to find the proper toy for your 12-year-old, one that will be fun to play with but also safe and suitable for their age. They no longer enjoy those toys they played with a couple of years ago. But, of course, that's normal since they've grown. But, at the same time, they're not mature enough to be given high-tech gear.
All you can do is to read the instructions or details written on the label or package to make sure the toy you're about to buy suits the needs of a 12-year-old child.
b. Educational Value
Not all pre-teens are the same. They have different tastes preferences, and they like different things. For example, some kids might love to explore, which represents the perfect opportunity to purchase a dual-purpose toy that's both fun and educational.
If I were you, I would opt for an interesting and engaging board game to involve the whole family during game nights and even create a tradition out of this.
For others, perhaps STEM-focused experiments might be more appropriate. Through these types of toys, your child will be more than happy to continue the learning and development process outside of the school.
c.  Entertaining and Engaging Value
Obviously, any toy or item you offer to your 12-year-old tween should be fun, interesting, entertaining, and engaging. Otherwise, your child will get easily bored with it. Unique shapes or designs might help. Fun games with challenging quests could also be the answer.
There's no wrong or correct option here. It all depends on what your child likes. And that's easy to find out if you communicate with your kids and ask them what they really want as long as their wishes don't exceed your budget too much.
d. Safety
Safety can mean many things, depending on the toy or item. For instance, if you want to offer your child an active toy that will involve him or her in a type of physical activity, you should also buy protective accessories like helmets, knee pads, or goggles. Yes, even for pre-teens, these precaution measures are still a must.
At first, your child will most likely refuse to wear those accessories. That's why it is very important to involve your tween in the purchasing decision.
Take your kids with you when you want to shop for protection gear so that they can choose their desired patterns, colors, shapes, and more. It's the perfect compromise that will allow your children to express their personalities.
Try to convince them that wearing a helmet when riding a bike or a skateboard is not only safe but also very hip and cool.
How to Find the Best Toys for 12-Year-Olds – My Top 6 Choices
When selecting the following toys, I've considered all the elements presented above about what a toy for a 12-year-old should be like. I've also taken into consideration the toys' popularity.
The Best Toys for 12-Year-Old Boys
The following products are listed randomly.
a. ThinkFun Gravity Maze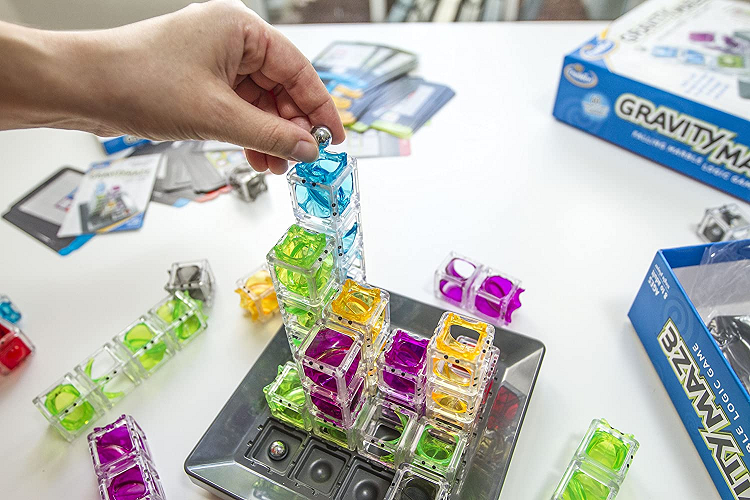 This Gravity Maze made by ThinkFun comprises two main materials: paper and plastic. It's suitable for kids who're at least eight years old. It's a combo toy when it comes to its educational value. It mixes STEM concepts with the marble run and logic game.
Kids must create a path throughout the plastic tower to make the marbles fall down to their target places in order to win this game.
Pros
This game has numerous fun challenges;
It suits all types of players, from beginners to experienced ones;
The toy is perfect if your kid loves to solve puzzles;
It's a single-player type of toy;
It'll develop your child's critical abilities;
The game comes with easy-to-follow instructions.
Cons
Certain pieces of the toy don't really fall into place perfectly;
It's a bit expensive;
There aren't many combinations that the player can create.
b. Jenga Hardwood Game – the Giant Version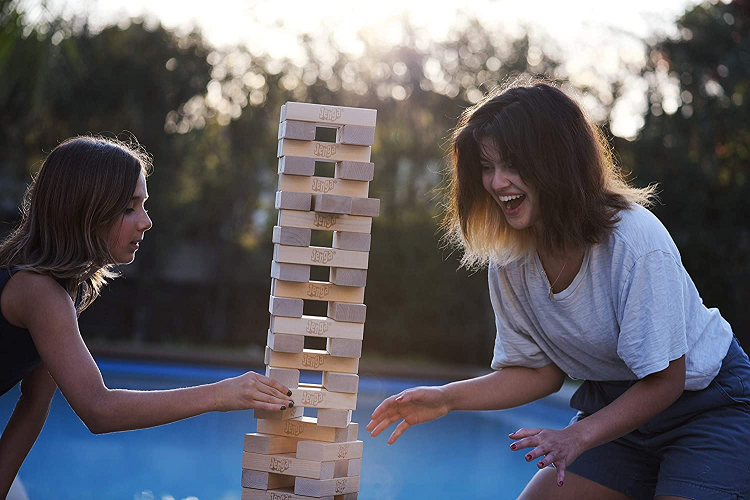 The Jenga Giant JS7 model is quite pricey, but it's worth it for parties and spending fun time with friends or family.
If you want something traditional but also want to take it to a whole new level, you should consider this giant Jenga game. It's the perfect toy for outdoor play. You could even gather the entire family and play it in your backyard.
Pros
Players can build a tower made of these Jenga wooden pieces that can measure up to three feet;
It's great for both parties and group play so it could boost social skills;
Due to its height, the suspense and anticipation are felt more intensely;
It has a carrying case which makes it portable;
When it tumbles down on the ground, the excitement will be immense.
Cons
At first sight, the craft quality of this toy seems average at best;
The carrying case could be made of sturdier and better quality material.
c. Building New York City by LEGO Architecture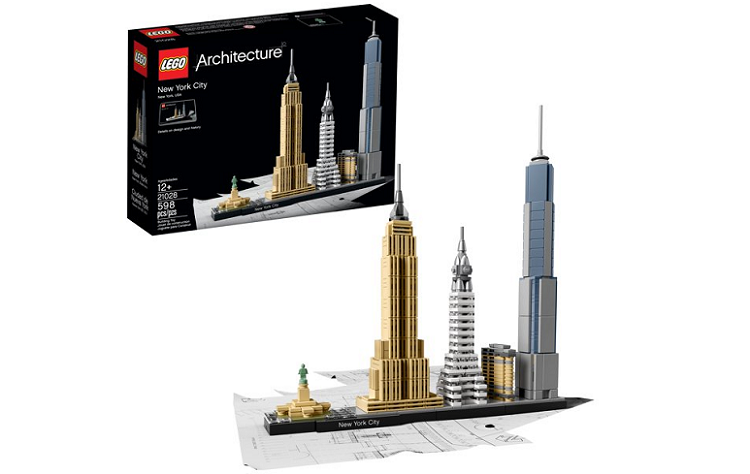 I know that you're probably tired of hurting your feet by stepping on small LEGO pieces all the time but brace yourself because that period isn't quite over yet, even though your child is now 12 years old.
The Architecture series was specially created to suit older kids. However, this LEGO NYC set comes with a challenge due to its intricate building plans.
This toy is suitable for 12-year-olds, but adults can build the set too.
Pros
This LEGO set is amazing and boosts creative thinking;
Once it's finished, it can be used as decor;
The set consists of no less than five NYC landmarks: One World Trade Center, Lady Liberty, Flatiron Building, the Chrysler Building, and Empire State Building;
It features an impressive number of pieces: almost 600.
Cons
The final result is a bit smaller than one could expect;
It's a LEGO toy so expect to pay a higher price compared to other brands that provide building blocks;
For some kids, it can become frustrating if they cannot build the entire set in a reasonable timeframe.
The Best Toys for 12-Year-Old Girls
These toys are also listed like the ones above, in no particular order. 
a. Polaroid Instant Print Camera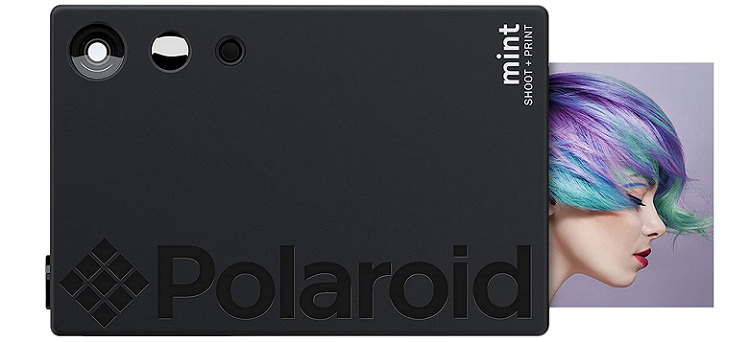 12-year-old girls love to take as many photos as possible. At least, most of them love that. So, why not offer this Polaroid camera to her as a gift. Also, it's a great gift if your daughter is passionate about photography. She can easily start her hobby with this Polaroid camera that prints all the photos in an instant.
Pros
It offers fast, reliable printing;
The photo paper has a sticky back so that your little girl can place the photos wherever she wants; on her backpack, notebooks, laptop, and more;
I know we live in an era where everything seems to occur online, but printed photos still have a certain charm to them that sensitive and romantic individuals can appreciate – I would've appreciated this toy since I'm more of an artistic soul;
The camera's main features are its vertical orientation that helps one take great selfies and the zero-ink technology, which is highly innovative.
Cons
The camera's Bluetooth connectivity isn't working as great as expected;
The concept is amazing, but the execution could be improved in terms of photo quality and extra features like a light indicator.
b. Photo Clip String Lights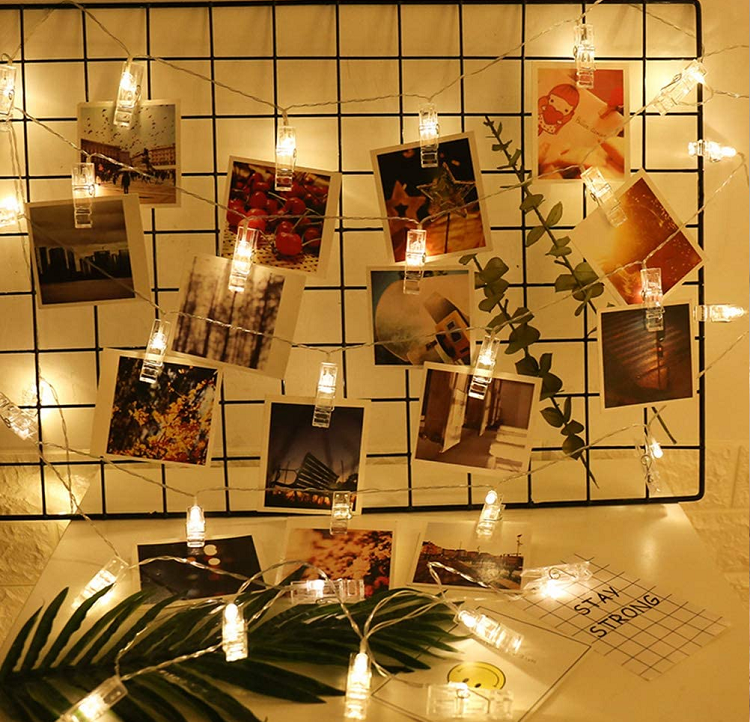 These string lights are great if your daughter wants to personalize her room. All girls love decorating their bedrooms and making them unique through items that show their personalities. These string lights look lovely and create a cozy atmosphere, an almost otherworldly feeling.
Pros
Not only these lights are warm and cozy, but they come with photo clips where your little girls can hang her favorite memories and moments;
There are several available sizes that you can choose from;
It's a great memorabilia type of toy or gift where your girl can attach lots of her favorite memories pictured in small photos.
Cons
The string is a bit hard to attach to your room's wall – it will need some effort on your part;
These lights look good when they're turned on, but when they're off, not so much – this is also a highly subjective matter that's based on your personal preferences;
The battery container is a tad large.
c. Ship in a Bottle LEGO Ideas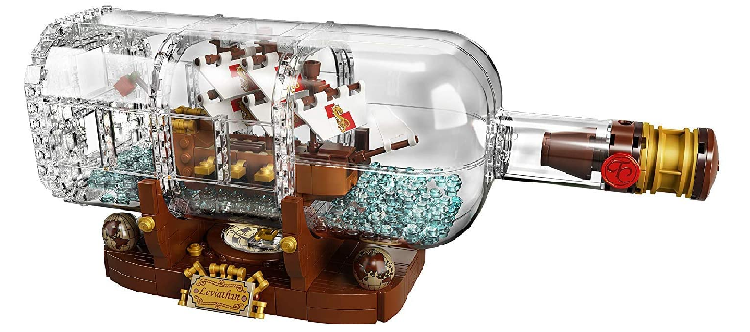 This LEGO building kit is very engaging and intriguing. If you're looking for the ultimate building kit that features a ship inside a bottle, this is the one.
It has over 960 pieces and consists of numerous attractive elements such as cannons, sails, a mast, crow's nest, a flag, and more. Everything is buildable, even the bottle's cork. So, your daughter can lock her precious ship inside the bottle.
Pros
It's a great and engaging toy that will keep your daughter entertained for hours;
The LEGO set comes with clear instructions written in a booklet;
The finished result can be proudly displayed in her room on a display stand that has a nameplate.
Cons
It's an expensive toy;
Most kids who're 12 years old will be able to build and finish the entire thing pretty quickly, so they might get easily bored with the toy.
How to Find the Best Toys for 12-Year-Olds – FAQs
Question: Should 12-Year-Old Kids Have Their Own Mobilephone?
Answer: According to experts, kids who're around 12-13 years old already own a phone. There's no such thing as the ideal age. After all, it all comes down to how mature and responsible your kid is and how much your child needs a phone. It's a personal decision that varies from one family to another.
Question: Are 12-Year-Old Kids Considered Teenagers?
Answer: Kids become teenagers when they are 13 years old. The word teen is used because between 13 and 19, all the ages end in that exact sound of "teen."
So, therefore, this period is linked to adolescence. So, 12-year-olds are not children anymore, but they're not teenagers either. They're somewhere in the middle, and they're known as pre-teens or tweens.
Question: What Can 12-Year-Olds Do to Have Fun?
Answer: There are numerous activities they can engage in to feel good, have fun, and spend a few lovely hours:
Play with their favorite toys;
Play their favorite board games;
Follow their passions regardless of whether that means they go to music lessons to learn how to play musical instruments or play sports;
Solve challenging puzzles;
Engage in DIY home projects;
Sketch doodles or write their own comic book story;
Learn how to code;
Take part in a scavenger hunt;
Play card games, etc. 
In Conclusion
Now that your children have grown expect them to become pickier than before. In other words, choosing the best toys for your 12-year-olds might feel more challenging than ever.
However, you must be patient, do your best to communicate with your kids openly, listen to their needs, and understand that this age is quite difficult for them since they're caught in the middle, between childhood and the teenage period.
Find more exciting toys by readings these guides below:
How to Find the Best Toys for 3-Year-Olds
How to Find the Best Toys for 4 Year Olds