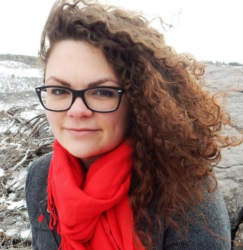 Latest posts by Candace Osmond
(see all)
Many toddlers and preschoolers are huge fans of Molly, Gil, and other friends from Bubble Guppies. The animated series swam into our hearts when it started airing on Nick Jr. in 2011.
When my two littles were preschool age, they were absolutely obsessed with the show. But I found it so, even when the show was airing, to find good Bubble Guppies toys. So, I decided to curate a list for other parents.
If you're looking for a fin-tastic toy for kids, check out my list of the best Bubble Guppies toys. There's a few good options for you, from playsets and puppets to plush toys and coloring books!
Bottom Line Upfront
Of course, the best Bubble Guppie toy, in my opinion, would be a bath toy! My daughter refused to have a bath without her Just Play Bubble Guppies 5-Piece Bath Toy. So I'd highly recommend it.
Top 3 Picks
Best Overall: Just Play Bubble Guppies 5-Piece Bath Toy- This bath toy set

makes bathtime more enjoyable as kids play with the floating guppies.
Best Plush Toy: Bubble Guppies Plush Toy- These Bubble Guppies Plush Toys

make great playmates and huggable slumber party buddies.
Best for Pre-School Kids: Bubble Guppies Swim-Sational School Bus- The school bus in this Swim-Sational toy set

doubles as a bag for the Bubble Guppies figures.
What is Bubble Guppies?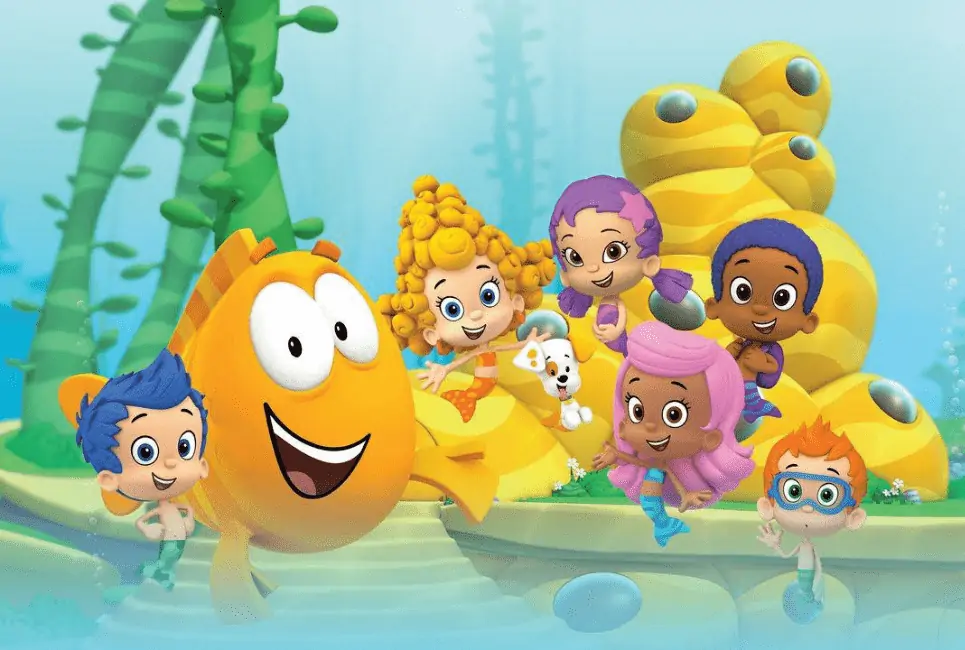 Bubble Guppies is a Nickelodeon television series for children that combines edutainment, sketch comedy, and musicals. The story centers on merperson preschoolers underwater and their adventures.
The show initially ran for four seasons from January 24, 2011, to October 21, 2016. But it revived for a fifth season in June 2018, with 26 episodes. And because kids loved the show so much, Bubble Guppies renewed once again for its sixth season in 2021.
The episode always starts with the Little Fish saying the title of the show to the audience, then an introduction by Molly. Then, they chant, "It's time for Bubble Guppies!" before the theme song plays.
Bubble Guppies is famous because of its two-level humor track. The series also discusses science, life underwater, and music.
What are the Bubble Guppies Characters?
The Bubble Guppies characters are Goby, Oona, Molly, Gil, Deema, Zooli, Nonny, and more. They are a group of fun mermaids and mermen in preschool.
Molly is Bubble Guppies' main host and her best friend is Gil. She's a spirited, guppy girl who starts the show and always helps Gil in their adventures. Brianna Gentilella, Bailey Gambertgolio, and Taylor Kaplan are the voice actors for Molly.
Gil is a funny, guppy boy who co-hosts the series. He can be clumsy, scared, and silly. Zachary Gordon, Jacob Bertrand, Jay Gragnani, and Quinn Breslin voiced Gil in Bubble Guppies.
Goby is a guppy boy who's creative and imaginative. Jelani Imani, Marleik Walker, Isaac Ryan Brown, Caleb Clark, and Josiah Gaffney voiced him.
The other guppy people in Bubble Guppies include Oona, Nonny, Zooli, and Mr. Grouper. There's also a talking dog named Bubble Puppy, who is Gil's furry pet.
Bubble Guppies also has the Little Fish, which consists of goldfish that guide the viewers into answering questions in the show. They also give commentary and announce the episode name.
What Age Range is into Bubble Guppies?
The Nickelodeon show Bubble Guppies is excellent for children ages three to five. Critics might say logical preschoolers won't understand why you could use a tricycle underwater, but these quirks enhance children's imagination!
Each episode has a theme and a coherent plot that includes the typical conflict and an uplifting resolution. Some topics include colors, cowboys, dinosaurs, and even recycling. But my absolute fav part of the show, and the reason I introduced my kids to it, is that it engagingly teaches science and math.
The series also integrates reading skills. They won't be annoyed learning how to read since they enjoy the story, music, and graphics.
Kids can even learn the importance of hard work, teamwork, and friendship with Bubble Guppies. Overall, it's a fantastic show for their intellectual and social skills. The six characters are positive role models that show respect and patience.
Are There Bubble Guppies Toys?
There are several Bubble Guppies toys available online and in stores. The products range from $4 to $50, from plush toys and figures to games and coloring books.
The primary manufacturers of Bubble Guppies toys are Nickelodeon, Trends, and Just Play. These companies have a positive relationship with the show producers, offering a steady supply of toys for kids.
Manufacturers also design Bubble Guppies toys for the same age range as its viewers. Most products are suitable for kids ages three and above since the small pieces may pose choking hazards. Kids below three tend to put objects in their mouths, so parents must be cautious.
Types of Bubble Guppies Toys Available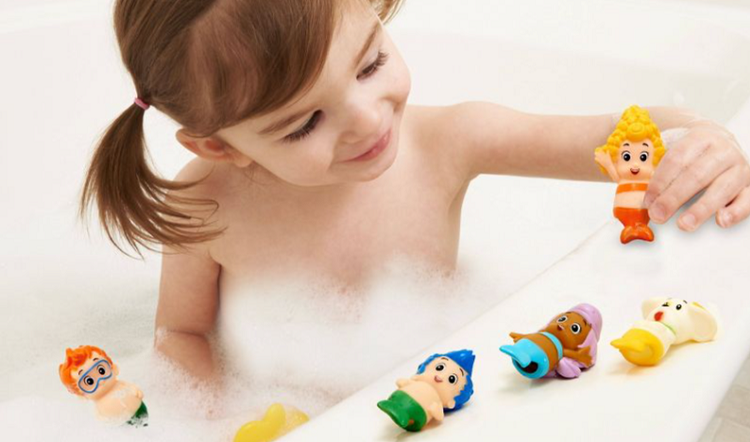 There are various Bubble Guppies toys available. Some are for education purposes, while others promote pure play and imagination!
Bath Toys
Bath toys help children divert their attention from the bath as they focus on playing. Some Bubble Guppies bath toys change color when wet, while others squirt liquid through the mouth.
Stuffed Toys
Your kid's favorite character can also be available in fabric material. These stuffed toys or plushies are calming and comforting for kids who want a companion when playing or sleeping.
Figurines
Some Bubble Guppies toys are available as figurines. They are usually made of hard and sturdy plastic for long-term play. These figures help kids act out being these characters, promoting social skills and verbalization.
Activity Toys
You'll also find many coloring books, sticker pages, and activity toys with Bubble Guppies characters on them. Kids can learn to solve puzzles, color within the line, and write with these products.
What to Consider When Shopping for Bubble Guppies Toys
It might seem like choosing a toy for preschoolers is easy, but it's very overwhelming. Below are some factors to consider before buying Bubble Guppies toys for kids.
Multipurpose
Choose a multipurpose toy so that children can play numerous games with them. For example, finger puppets can be helpful in role-playing, storytelling, and teaching numbers. These toys spark a kid's imagination for problem-solving, communication, and other skills.
Age-Appropriate
Your kids might not be huge fans of Bubble Guppies until they grow old, but it's best to buy a toy that grows with them. And we're not just talking about the longevity of the material. Kids can be attached to their plush toys for a long time, making them ideal as a toy gift.
Safety
Make sure to get a toy that follows the US Consumer Product Safety Commission's guidelines. For example, art materials should be non-toxic, while painted toys must be lead-free. Beware of choking hazards that may pose risks for kids ages three and below.
Price
Bubble Guppies toys range from $4-$50, and you can get decent ones at about $20. Never sacrifice quality for affordability because it might affect your kid's safety and health.
The Best Bubble Guppies Toys for Kids
Are you planning to treat a Bubble Guppies fan? Check out the eight best Bubble Guppies toys you can give to them.
Best Overall Bubble Guppies Toy: Just Play Bubble Guppies 5-Piece Bath Toy

This Bubble Guppies set will be a kid's favorite bath buddy. The fin-tastic bath toy set includes six characters to bring to the bath or shower. Each tiny friend fits a child's hands perfectly to carry them around anywhere.
Let kids play with these toys during bath time so they can have fun squirting water from each character's mouth. It's an excellent choice for Bubble Guppies fans ages three and up.
Pros
Hard-to-find set.
Made of high-quality materials.
Excellent bath toy for kids aged three and above.
Cons
May pose choking hazards for toddlers due to size.
Key Features
Price Range: $17-$20.
Pieces Included: 5-piece bath toys.
Age Range: 3+
Best Bubble Guppies Plushie: Bubble Guppies Plush Toy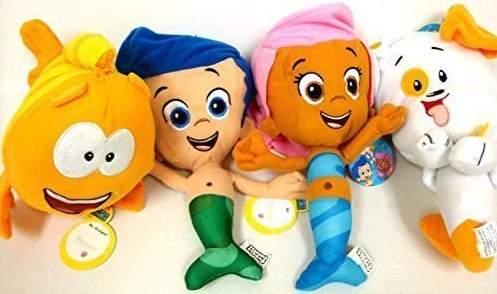 If you prefer stuffed toys over miniatures, check out these Bubble Guppies Plush Toys. It's a 4-piece plush doll set that includes Mr. Grouper, Gil, Molly, and Bubble Puppy. Each toy measures approximately 9 inches tall, so kids can hug them to sleep and carry them everywhere.
The material is also high-quality and machine-washable. I promise that your kid will love them!
Pros
Made of high-quality plush.
The toy comes as a set.
Machine-washable.
Cons
Key Features
Price Range: $22-$24.
Pieces Included: 4 plush doll sets.
Age Range: 3+
Best Bubble Guppies Toy for Pre-School Kids: Bubble Guppies Swim-Sational School Bus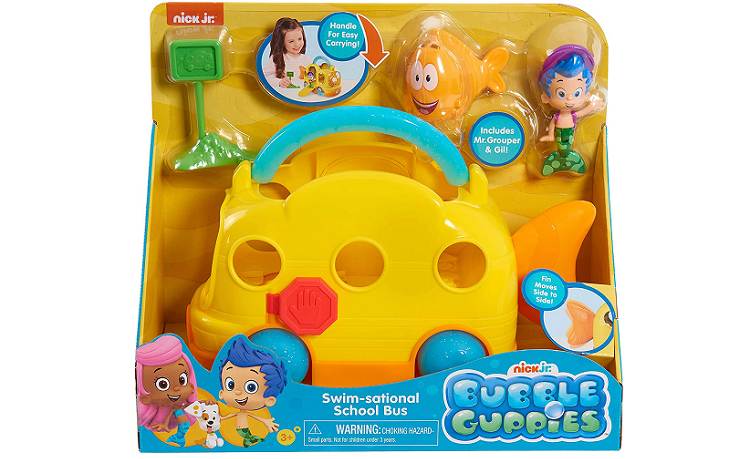 Are you preparing your kid for kindergarten? Excite them with this Bubble Guppies Swim-Sational School Bus. It includes a minibus stop, Gil and Mr. Grouper figures, and a school bus.
The bus moves back and forth because of the wheels, with fins at the back that also move. It even has a little handle for easy transport from one place to another.
Pros
Unique toy school bus to keep the Bubble Guppies figures inside.
The handle makes transporting easier.
Made of sturdy and lightweight plastic.
Cons
Only two characters are available.
Key Features
Price Range: $20-$22.
Pieces Included: 1 school bus, 1 Gil figure, 1 Mr. Grouper figure, 1 bus stop sign.
Age Range: 3+.
Best Bubble Guppies Toy for Little Girls: Bubble Guppies Splash and Surprise Molly Bath Doll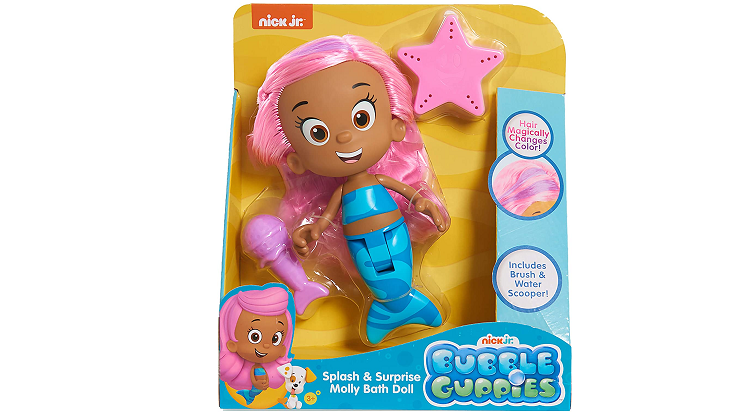 The Bubble Guppies Splash and Surprise is another bath toy that includes a Molly doll, water scooper, and flower brush. Its materials don't degrade in water because of the premium-quality, sturdy plastic.
But that's not the best part yet! Molly's purple hair turns pink when soaked in warm and cold water. Let your child boost their imagination with this lovely doll.
Pros
Attractive pink and blue colors that change.
Perfect for bath time.
Cons
It only includes one character.
Choking hazard.
Key Features
Price Range: $14-$16.
Pieces Included: 1 Molly bath doll, 1 water scooper, 1 flower brush.
Age Range: 3+
Best Bubble Guppies Educational Toy: Bubble Guppies Coloring Activity Set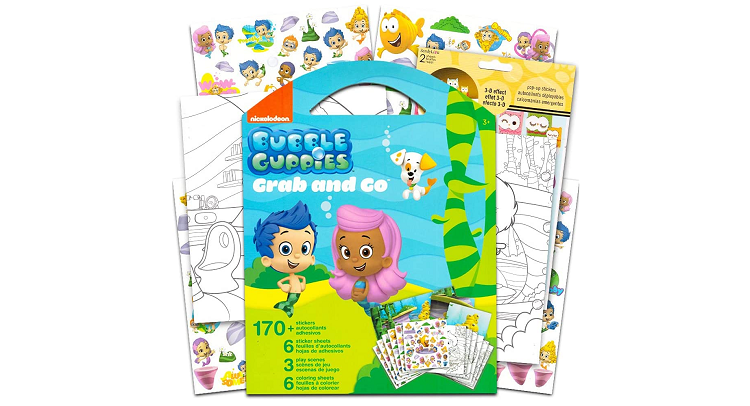 Bubble Guppies' coloring and sticker sets have over 170 stickers that kids will enjoy sticking on their scrapbooks. The beautiful illustrations feature all their favorite characters and some additional owl drawings.
Kids will also learn to color within the line using the coloring pages. It's a perfect educational activity at home, school, and anywhere else!
Pros
It includes 170+ stickers and six coloring sheets.
Clear and colorful print.
It contains three play scenes.
Cons
Stickers get worn out easily.
Key Features
Price Range: $7-$9.
Pieces Included: sticker sheets, sticker pages, play scenes, coloring pages.
Age Range: 3+
Best Bubble Guppies Toy for Storytelling: Nickelodeon Bubble Guppies Bath Finger Puppets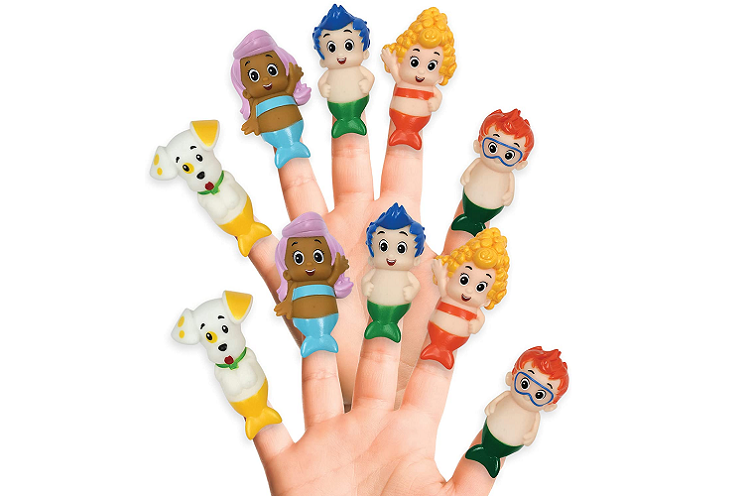 Puppet play is beneficial for individuals in their early childhood. It's a good thing Bubble Guppies fans can enjoy with the 5-piece bath finger puppet. Each character fits a toddler's finger perfectly so they can narrate stories with only one hand.
The set is also bath-friendly, allowing children to practice puppetry in the tub. You can also use these finger puppets to teach colors, counting, and other skills.
Pros
Puppet toys encourage storytelling skills.
Affordable.
Cons
Characters look slightly different.
Choking hazard.
Key Features
Price Range: $4-$6.
Pieces Included: 5-piece finger puppets.
Age Range: 5.
Best Bubble Guppies Toy for Little Boys: Just Play Bubble Guppies Gil's Surfboard Playset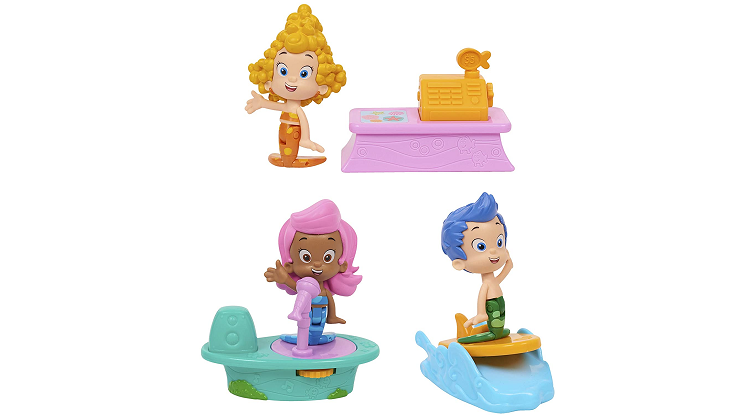 Give this Bubble Guppies Gil Playset to a tiny guy as energetic as this male guppy! The 4-inch Gil figure includes a surfboard to stand on his own and perform some surfing tricks. It also rocks back and forth to make it look like the figure is surfing the waves.
Pros
The surfboard moves to look like Gil is surfing.
No assembly is needed.
Cons
Key Features
Price Range: $8-$10.
Pieces Included: 1 Gil figure, 1 surfboard stand.
Age Range: 3+.
Best Bubble Guppies Birthday Decoration: Set of 10 Figures for Inspired Bubble Guppies Deluxe Party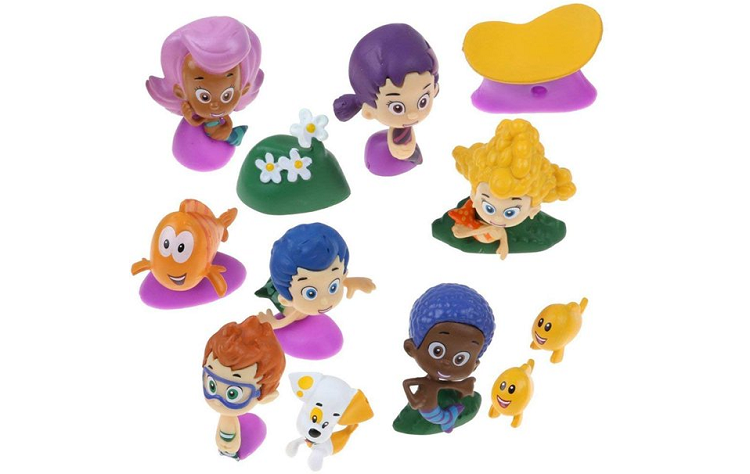 Have a Bubble Guppies-themed birthday party with these cute little figures. All characters are present to become cake toppers. Even Bubble Puppy is invited! The set also makes an excellent toy for kids, but the pieces might be too small for toddlers.
Pros
Affordable.
Ideal for cake topper party decorations.
Cons
Not meant for long-term play.
Key Features
Price Range: $14-$16.
Pieces Included: 12 Bubble Guppies figures.
Age Range: 3+.
FAQs
Question: Did Bubble Guppies Get Cancelled?
Answer: There are no updates about the status of Bubble Guppies after the sixth season, which first aired on October 2021.
Question: Is Bubble Guppies Good for Toddlers?
Answer: Bubble Guppies is suitable for toddlers ages one to three, but the show specifically caters to preschoolers three to five.
Question: How Old is Bubble Guppies Zooli?
Answer: Bubble Guppies Zooli is a preschool-aged character who is either African or Indian.
Final Thoughts
The CGI cuties of Bubble Guppies are a considerable part of your toddler's childhood. Why not let them play with the characters instead of just watching them on television?
I hope you found this list helpful in choosing a fun, age-appropriate, and safe toy for your preschooler.
Don't hesitate to buy a toy that encourages your child's exploration and life skills! I'd recommend the Just Play Bubble Guppies 5-Piece Bath Toy because I know any kid who's a fan will definitely want a bath toy. And for more awesome toy recs, check out our list of the best pizza-themed toys for kids!
Find more cool toys by readings these guides below:
18 of the Best How to Train Your Dragon Toys