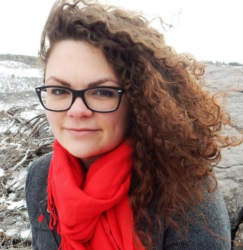 Latest posts by Candace Osmond
(see all)
There are so many toys for boys nowadays! How can you choose the best toy for your little one? Or your grandson? Or your younger brother or nephew? Don't worry. Today, I'm going to show you the 12 best Amazon toys for boys in terms of ratings, quality, popularity, and more.
Ever since Amazon graced the internet with same-day shipping and connections to sellers from all over the world, it's become easy to pick up the best toys on the market (even in a pinch.) Let's dive in and look at them, shall we?
Bottom Line Upfront: You really can't go wrong with the Remote Control Car – Transform Robot RC Cars, in my opinion. Because it's an interactive toy for boys that gets them away from a screen but still lets them have 'tech'.
Top Picks
I've got 12 top-tier toys from Amazon to show you today, but these 3 are the absolute best. I took the durability and current popularity of these toys into account when naming them the best 3, so be sure to take a look at them!
Best Amazon Toy for Boys: iHaHa 236 PCS Construction Race Tracks for Kids – This interactive STEM learning toy will provide your loved one with a full race track they build themselves! 6 cars are included.
Best Amazon Toy for Older Boys: ThinkFun Gravity Maze Marble Run Brain Games – This complex puzzle game helps your loved one develop valuable critical thinking skills.
Best Amazon Toy for Toddler Boys: FANURY Dinosaur Toys, 12 Dinosaur Figures with Activity Play mat – This fun playmat features roads running through a colorful dinosaur land. 12 different dinosaur figures are included.
What Types of Toys for Boys Does Amazon Have?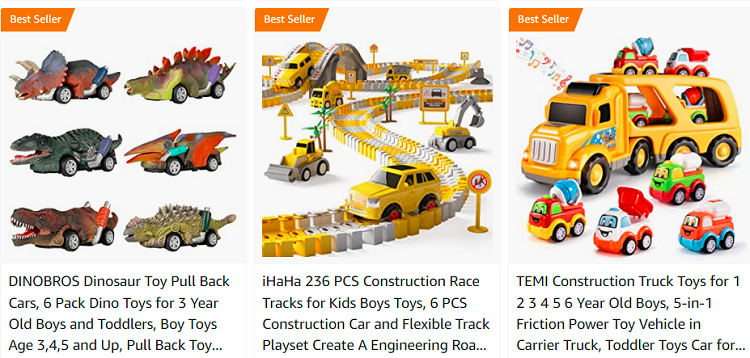 The good news about shopping on Amazon is that you can find anything under the sun! Amazon has all the most popular boy's toys from Paw Patrol to Lego to mini drones and more. In this section, I'll give you a few ideas as to what you can buy your little one from the website that has it all.
Games
Amazon has just about every game you can think of. Does your kid like board games? Amazon's got all the latest board games from the shelves. Not to mention, you'll be able to find any video game your kid has been asking for. Whether your young one likes Candyland or Xbox, you can find exactly what they want in seconds.
Sports Equipment
If the kid you're buying for participates in extracurricular activities like sports, then sports equipment could be the perfect gift! Amazon is stocked to the brim in equipment for soccer, football, baseball, volleyball, surfing, and more. Buying sports equipment is a great way to get your loved one active, too.
Outdoor Toys
What kid doesn't like to be outside? If you've got a little adventurer on your hands, you may want to consider buying them some outdoor toys. Water guns, frisbees, and skateboards can all encourage your young one to explore the outdoors. Be sure to check out the outdoor toys I have listed below!
Legos
I recommend Legos because playing with Legos can help your little one develop vital problem-solving skills. Legos help kids develop their imaginations, understand logic, and develop dexterity. There's a reason Legos have been popular for decades. You can find tons of Lego sets for sale on Amazon-even some rare ones.
Figurines
Lots of boys enjoy collecting figurines of their favorite characters. Whether that be superheroes, anime characters, cartoon characters, or any other figurine, these toys haven't gone out of style. What's even better? Toys from big franchises like Star Wars and Transformers could be worth a big chunk of money later on.
Pros and Cons of Shopping on Amazon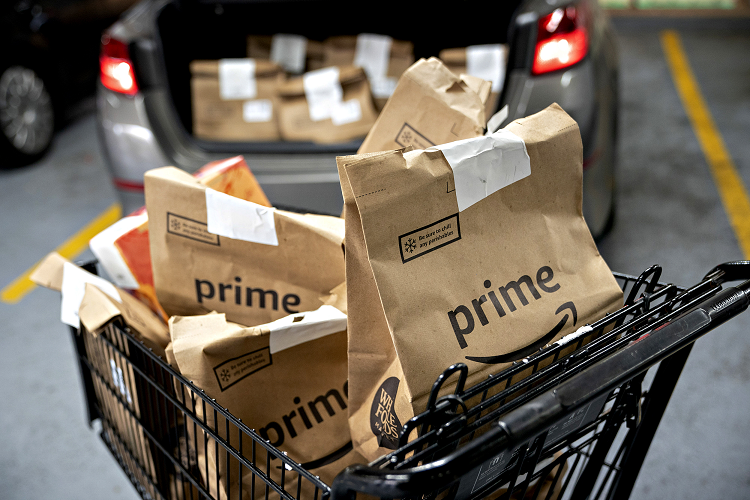 Just like everything else, shopping on Amazon comes with its pros… and cons. Most can agree that the pros of shopping on Amazon far outweigh any cons, but I'll let you decide for yourself. I've put together this chart to help you understand what you're getting into as an Amazon shopper.
Pros

Tons of toys available from sellers all over the world
A popular and trusted marketplace
Tons of official merchandise from top brands
Option to sign up for a membership and save on shipping

Can buy commercial or handmade toys
Shows seller ratings
Usually has a large product description section

Cons

Shipping from other countries can be expensive without a membership
Rare toys can go out of stock quickly
You're competing with many other customers for the best deals
Tips for Shopping on Amazon
We're almost ready to talk about the best toys for boys on Amazon, but before I do that, I want to give you some important info on how to shop for toys on this platform. Amazon is extremely popular and user-friendly, but that doesn't mean some sellers aren't trying to sell you junk. By reading this section, you'll know how to spot treasures from fakes.
User Reviews
Check to make sure that the seller you're buying from has a long history of receiving 5-star reviews. These reviews will let you know that previous customers have been more than satisfied with what they bought. Sellers with lots of 1-3-star ratings have disappointed their customers, so it's best to steer clear.
Reading the Fine Print
Near the bottom of a product page on Amazon, just above the product reviews, you can find key facts about the product you're buying. In the product information section, you can find out how big a toy is, how much it weighs, the recommended age, etc.
Checking the Seller's Website
Many sellers have a website you can check out. You can find the website by clicking on the seller's name and looking over their store's profile. A seller's individual website is another great place to find out what customers are saying in the reviews.
Certifications
Some toys will have safety certifications. These are important to look for if you're buying a toy that's meant to be played with outside for a sport, like a skateboard or a bicycle. Certifications should be listed in the key specs or product information section.
Return Policy
Luckily, Amazon has a 30-day return policy for most items sold on their platform. This means you have 30 days to return your product after you bought it for a full refund. You can either ship the toy you want to return or drop it off at an Amazon location.
Warranty
In addition to Amazon's return policy, many sellers offer individual warranties on their products. Check for the fine print in the product description to check if the seller you're buying for offers a warranty. Usually, big and expensive items will be protected this way.
Always Read the Key Specs
Next to the product picture, you'll see either some paragraphs or bullet points about the product. Be sure to read this over! This area will state whether or not the item needs batteries, whether it needs to be assembled, whether it is waterproof, etc.
Things to Consider When Buying Toys for Boys
We've gone over the fine details of buying quality Amazon products online, but now it's time to analyze something else. How do you buy the best toy for the kid you know? Let's read on to find out.
Knowing Interests
I'm going to share the most important rule for buying a toy for a kid: Know what they're interested in. Kids change up what they like best all the time! Just because your nephew liked Paw Patrol last year doesn't mean he still likes it this year. This year, he may like Pokémon or Teen Titans Go!
Durability
No kid wants a toy that's going to break a month after they get it! Looking at what materials a toy is made from will give you some idea as to its durability. Name brand toys are usually a safe bet.
Buying for Their Age
Most toys have an age rating on them. This gives an idea as to what age the toy is meant for. If you're buying for a child that's less than 3 years old, it's very important to pay attention to these ratings to make sure you avoid toys with choking hazards.
Knowing What's In and What's Out
Name the last time you heard a kid mention they wanted a Digimon toy. 15 years ago, at the latest? It's important to know which toys are popular and which toys aren't so you buy your little one something they enjoy. After all, you want them to be able to show off their new toy to all their friends.
Best Amazon Toys for Boys
I know you've been waiting patiently to see the 12 best Amazon toys for boys, and here they are! Each of these toys is offered by reputable sellers with histories of selling high-quality products. If you're at a loss for what to buy the little one in your life, be sure to check out these toys for toddlers, elementary schoolers, and even older kids!
TEMI Kids Bow and Arrow Set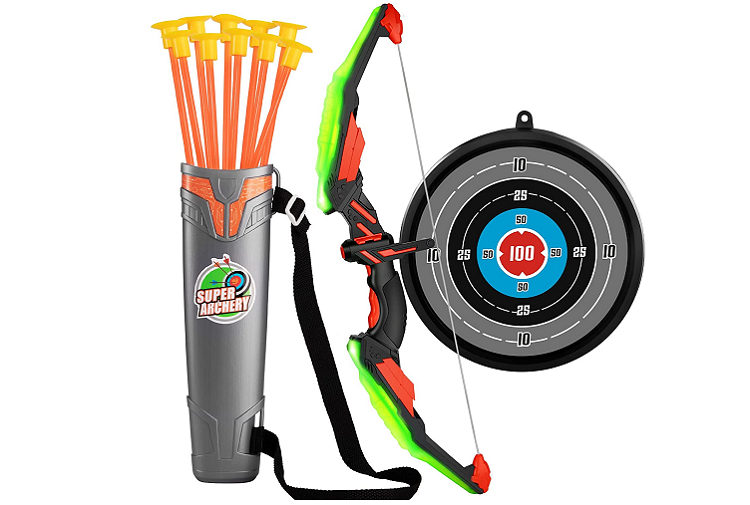 Best: Sports Equipment
This electronic bow and arrow set is a great way to keep kids active outdoors and away from their electronics. I know that's something I struggle with my two littles, so it must be a common problem amongst parents.
Price Range: $16-$26
Warranty: 30-day free return policy
Age Range: 3+
Along with a light-up bow, you'll get a target board and 10 suction cup arrows. Learning archery helps develop hand-eye coordination, patience, and accuracy skills.
Pros
Keeps kids engaged in an active, outdoor activity
Created with durable materials that are hard to break
The bow lights up green
Cons
Requires 2 AA batteries that aren't included
Remote Control Car – Transform Robot RC Cars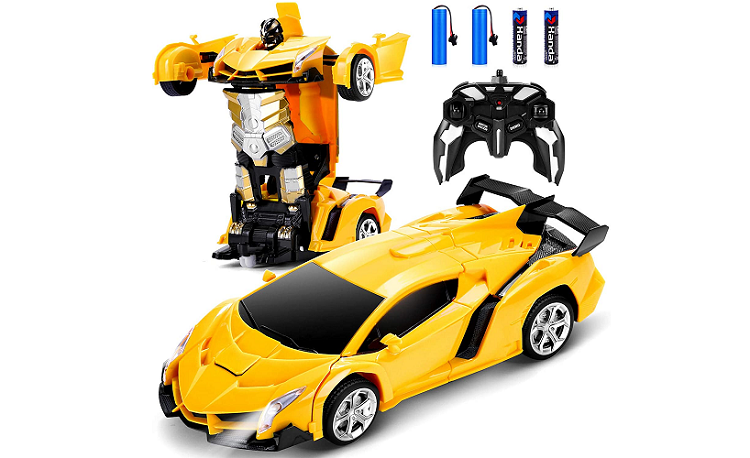 Best: Multifunctional Toy
Is the kid you're buying for a fan of RC Cars? This yellow car transforms into a robot and it's remote-controlled! My son went through a phase of these, and we tried every type under the sun. I highly recommend it if you have an active boy who needs to step away from electronics. This is a good bridge because it's still 'electronic'.
Price Range: $17-$27
Warranty: 30-day free returns policy
Age Range: 6-12 years old
Both rechargeable batteries that come with the remote controller can last for 2 hours with a full charge, but you can also use AA batteries. With high speeds and 360-degree rotation, your little one can have hours of family fun driving their new car around.
Pros
Remote controlled with anti-jam technology
Easy to transform the car into its robot form
Car can drive at high speeds
Cons
Not great for kids who don't like RC Cars cartoon characters
iHaHa 236 PCS Construction Race Tracks for Kids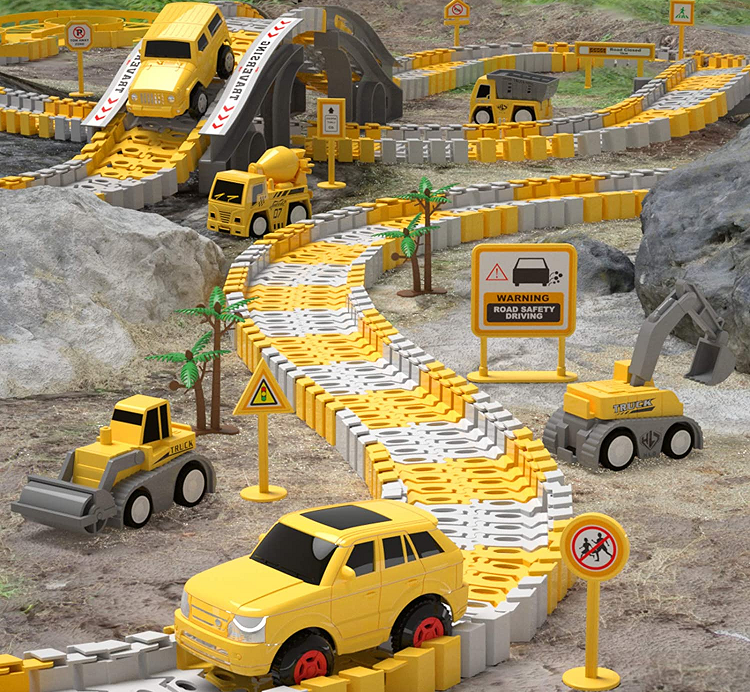 Best For: Best Amazon Toy for Boys
Have you got a little engineer on your hands? This build-your-own racetrack with 6 different construction trucks will allow them to flex their skills. I cannot stress enough how important toys like this are.
Price Range: $21-$31
Warranty: 30-day free returns policy
Age Range: 3+
I recommend this toy because it provides many hours of engaging, interactive fun. As a STEM construction toy, you can help your little one get a head start on valuable academic skills.
Pros
Helps kids develop engineering skills
Offers hours and hours of interactive play
6 different types of construction trucks included
Cons
Too difficult for toddlers to assemble without help
Force1 Scoot Hand Operated Drone for Kids and Adults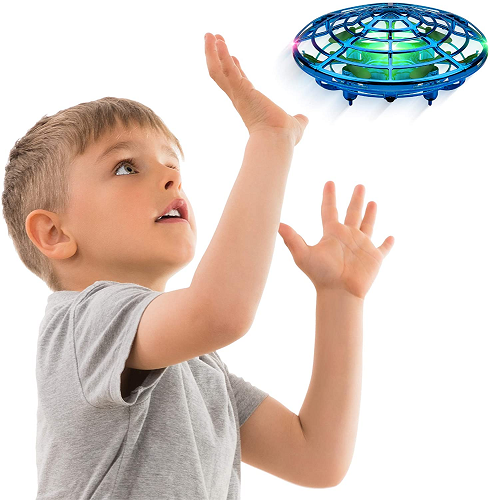 Best: Drone
Both my son and daughter love these. I mean, what kid doesn't think drones are cool these days? What's even cooler about this is that you won't even need a remote controller.
Price Range: $20-$30
Warranty: 30-day free returns policy
Age Range: 4+
The drone hovers and you can push it around in different directions mid-air by moving your hand closer to it. Neat, right? A webbed cage design protects little hands from the spinning propellers.
Pros
Drones are a wildly popular toy
US-certified STEM toy
Webbed shell design protects kids' hands
Cons
With each 50-minute charge, the drone flies for 8 minutes
VTech Write & Learn Creative Center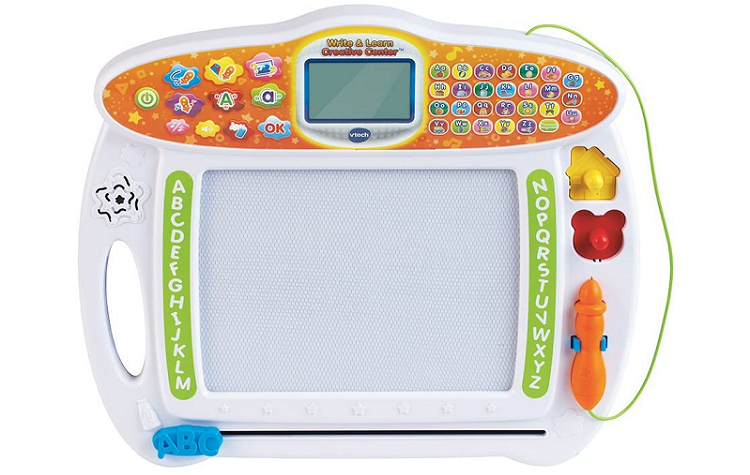 Best: Writing and Drawing Tablet
As a writer myself, I'm a sucker for buying toys like this for my kids. Writing and drawing are 2 essential skills for kids to have, and this electronic tablet will let them do both.
Price Range: $10-$20
Warranty: 30-day free returns policy
Age Range: 3-6 years old
For an electronic tablet, this one comes at a low price despite its high reviews. This tablet even comes with stencils so your child can learn to perfectly draw 26 different items with step-by-step instructions.
Pros
Helps kids develop writing and drawing skills
Stencil lets kids draw 26 different shapes
Interactive learning toy with batteries included
Cons
Batteries included with the toy are for demo use only
EpochAir Remote Control Car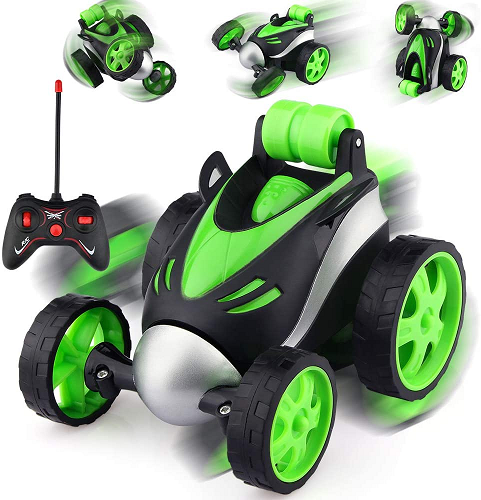 Best for: Durability
This remote-control car is meant for high speeds, stunts, and smooth driving. I'm a fan of the green and black design of the car, along with how durable this toy is.
Price Range: $9-$19
Warranty: 1-year warranty protection
Age Range: 3+
You can crash the car into walls and other objects without breaking it. Even if it falls from a distance, the anti-collision technology makes it difficult to damage.
Pros
Cool green and black design
Car can move 360 degrees and perform stunts
Made from durable materials that withstand collisions
Cons
Not great for kids not interested in cars
Laradola Dinosaur Toys for Boys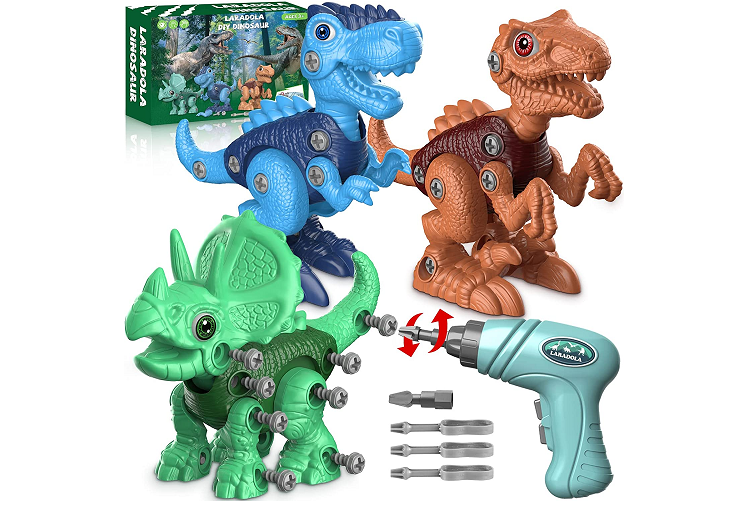 Best For: Dinosaur Fans
What kid doesn't love dinosaurs? My son is twelve and is still obsessed with them. His entire bedroom is littered with dinosaur figurines, Legos, posters, etc. This educational STEM toy allows your little one to assemble 3 different dinosaurs.
Price Range: $21-$31
Warranty: 30-day free returns policy
Age Range: 2-8
In addition to the dinosaur parts, they'll be given a set of plastic screws and a plastic screwdriver to assemble the dinosaurs themselves. This is a toy that helps kids start thinking like an engineer early.
Pros
3 different dinosaurs to build
Interactive STEM learning toy
Take apart and put back together easily
Cons
Some kids might get frustrated building these
TEKFUN Toddler Toys for Boys LCD Writing Tablet Doodle Board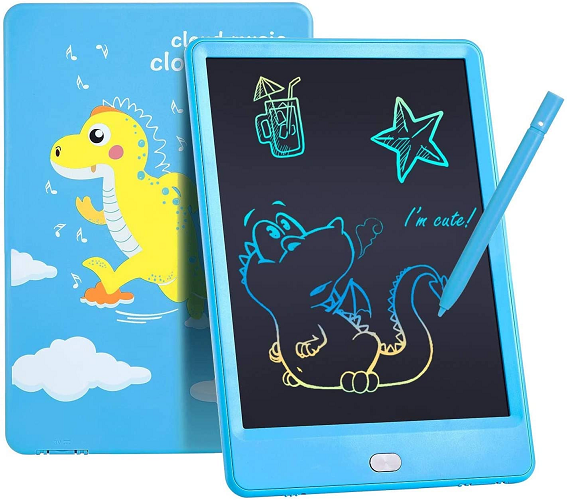 Best For: Low Price
Errr…I might be biased toward writing toys. This is another writing and drawing tablet that's perfect for creative minds. This LCD tablet comes in 5 different colors, so you can pick out your little one's favorite.
Price Range: $10-$20
Warranty: 30-day free returns policy
Age Range: 3-7
The included stylus allows kids to make countless designs in tons of different colors, too. With how lightweight this tablet is, it's easy for kids to take it with them on the go.
Pros
LCD writing tablet with eye protection and non-radiation
Easy to use
Lightweight and colorful
Cons
Not as many features as the other drawing tablet on the list
FANURY Dinosaur Toys, 12 Dinosaur Figures with Activity Play Mat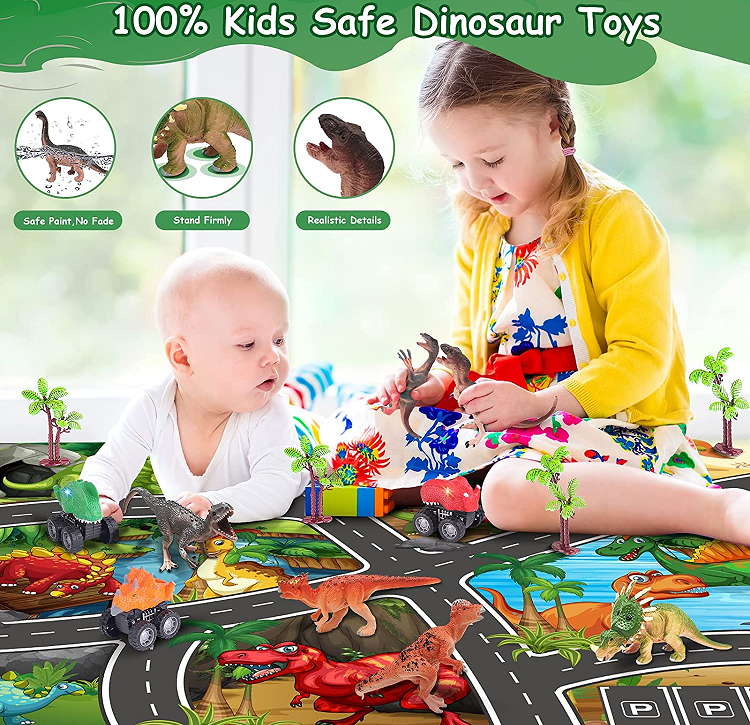 Best: Amazon Toy for Toddler Boys
Little kids will love that this mat combines 2 of their favorite things-dinosaurs and cars! The best thing I love about this is that it could actually double as a cool mat for his bedroom.
Price Range: $21-$31
Warranty: 30-day free return policy
Age Range: 3-7
The activity mat has roads going through the dinosaur exhibits, which can be used to teach your little one about basic traffic laws. In addition to an assortment of dinosaur figurines, this set also comes with little plastic trees.
Pros
12 different dinosaurs
Large activity mat
Helps develops kids' imaginations
Cons
ThinkFun Gravity Maze Marble Run Brain Games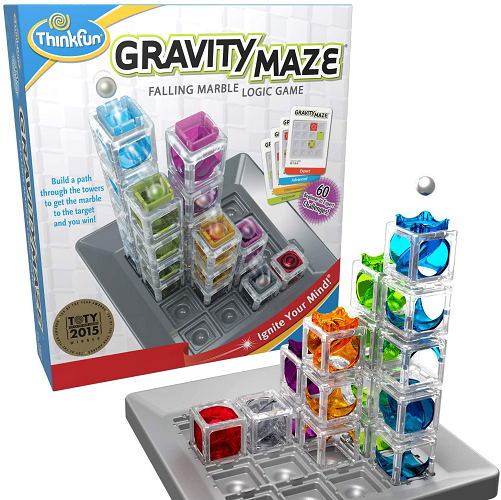 Best: Amazon Toy for Older Boys
Is your older kid or teen gifted when it comes to solving puzzles? My son began showing crazy puzzle skills at an early age, and I'm so glad we nurtured that with toys like this. This is the ultimate puzzle for increasing critical thinking skills and having fun with the family.
Price Range: $20-$30
Warranty: 30-day free returns policy
Age Range: Older kids and teens
As a STEM toy with over 50 million sold, you can trust that this is a popular puzzle from a reputable brand.
Pros
Educational STEM toy
Develops critical thinking skills
Fun, colorful game pieces
Cons
Too complex for little kids
Flybar My First Foam Pogo Jumper for Kids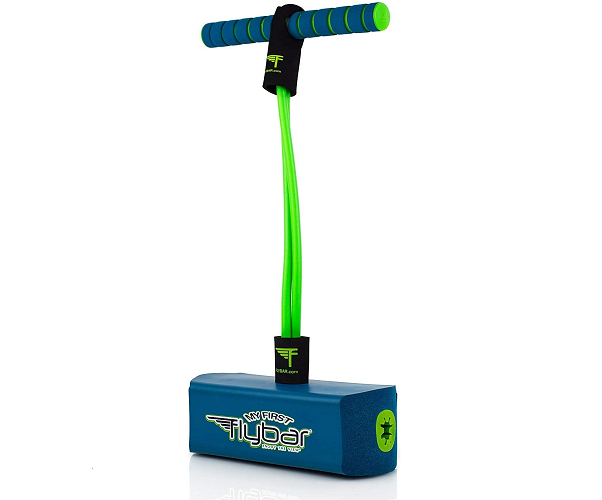 Best: Modern Spin on a Classic Toy
This toy offers the fun of a traditional pogo stick without danger. The foam pad at the bottom allows your little one to safely bounce around all day long. I think I might actually grab a couple for my kids to play with when the weather warms up!
Price Range: $12-$22
Warranty: 30-day free returns policy
Age Range: 3+
While it won't be as tricky to figure out how to use this toy compared to a regular pogo stick, it's an ideal toy for helping develop hand-eye coordination and balance.
Pros
Gets kids interested in playing outdoors
12 different colors to choose from
Much safer than a traditional pogo stick
Cons
Kids could still potentially fall while using this
NERF Disruptor Elite Blaster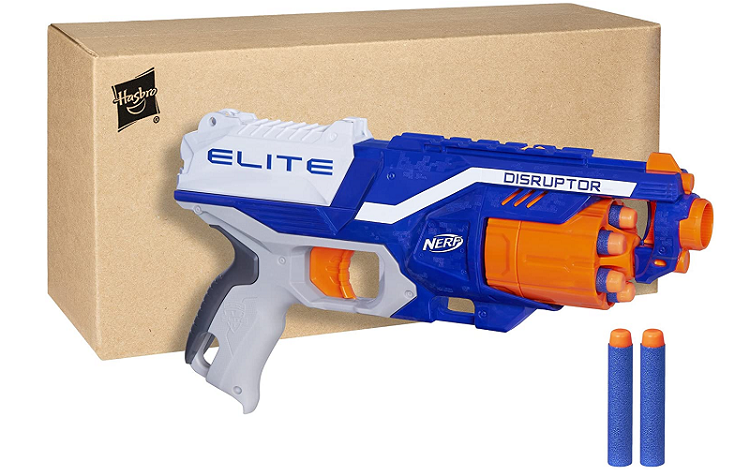 Best: Foam Gun
NERF guns are a classic boys' toy, which is why I've got to recommend this one. Your little one will get to fire 6 foam darts out of this NERF gun.
Price Range: $9-$19
Warranty: 30-day free returns policy
Age Range: Not listed
The darts shoot out of a rotating barrel. This is another toy that's great for teaching hand-eye coordination and accuracy.
Pros
Trusted NERF brand
Fires 6 foam darts out of a rotating barrel
Easy to reload
Cons
The foam darts can get lost
FAQs
We've almost reached the end, but before you go, I'll answer your most frequently asked questions about the best toys to buy for boys! What's in and what's out changes all the time, so don't hesitate to ask me more questions in the comment section below.
Question: What are the Newest Toys for Boys?
Answer: I've listed some of the newest toys for boys above! Be sure to check all 12 of them out if you're searching for gift ideas. Top brands like NERF and VTech are included.
Question: What Can I Buy a 5-6-Year-Old Boy?
Answer: Playmats with toys, remote-controlled cars, and toys to play with outside are all great options. I've listed some of these in the best Amazon toys for boys section above.
Question: What are Good Gifts for a 10-Year-Old Boy?
Answer: 10-year-olds usually appreciate toys that have to do with their favorite video games and movies. Make sure you know what the kid you're buying for is interested in before getting their gift.
Final Thoughts
I hope you enjoyed learning about the best Amazon toys for boys and you have a better idea of what to buy your child, grandson, nephew, or younger brother. Toys have improved in some ways since we were kids, and in other ways, they've stayed exactly the same, haven't they?
Were there any toys on my list you're planning on buying the little one in your life? I recommend you get the Remote Control Car – Transform Robot RC Cars. Let me know in the comments below! Then have a look at our list of the best toys for 4 year olds.
Continue reading:
Best Squishy Toys Guide for Sensory Experiences
A List of the Best Walmart Fidget Toys