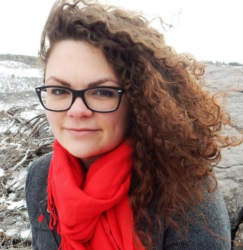 Latest posts by Candace Osmond
(see all)
Nighttime is the right time to fight crime!
If I have to hear that sing-song phrase one more time…
My kids loved PJ Masks. I mean, LOVED it. They were obsessed and wanted every poster, costume, and toy I could get them. But it was hard to find decent-quality toys for them. So, I compiled this list to help out other parents.
Save yourself time from searching by checking these eight best PJ Masks toys. These products will wow your preschoolers and boost their imagination! Kids love superheroes! So, there's no doubt that PJ Masks is a top hit in Disney Junior.
Bottom Line Upfront
My daughter's fav PJ Masks toy was her PJ Masks Hero and Villain Figure Set because she loved acting out the episodes with all the characters. If your kid loves role-playing and engaged play, I'd highly recommend this set.
Top 3 Picks
What is PJ Masks?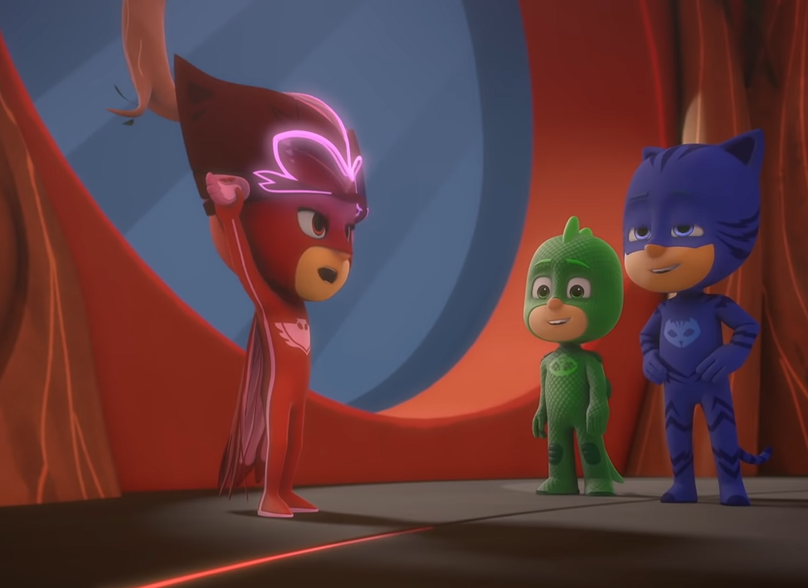 PJ Masks is a computer-animated show for children that broadcasts internationally on Disney Junior, Tiny Pop, ABC Kids, and more. The story centers on Amaya, Connor, and Greg, who are 6-year-old students by day and superheroes at night.
It has been airing since September 2015 in the United States. Because kids loved the show, it has continued for the second and third seasons. It was actually picked up for a fourth season in April 2020 but aired late due to the COVID-19 pandemic.
The show renewed for a fifth season which aired on April 2021. PJ Masks is set for the sixth season, which will air in 2023.
The series is a production of Entertainment One UK Limited, Frog Box, Walt Disney EMEA Productions, and TeamTO. It's also the first Disney Junior series under Hasbro after the company acquired Entertainment One.
Who are the PJ Masks Characters?
There are three main characters on PJ Masks. They seem like ordinary 6-year-olds in the morning, but they're superheroes who defeat baddies in the evening.
Catboy
Catboy, whose real name is Connor, is the leader of PJ Marks. He is the counterpart of Yoyo from an alternate universe in Marvel. His powers include hearing, speed, and stripes.
Owlette
She's Amaya in the morning and Owlette at night. The deuteragonist of PJ masks is the only female member of the team, and she can fly high with her feathers. Her other powers include eyesight and wing wind.
Gekko
Gekko or Greg is the youngest member of PJ masks and is the counterpart of Gluglu in Marvel. His superpowers include climbing, strength, camouflage, and shields.
PJ Robot
PJ robot is a small robot in PJ Masks that helps the team in the Headquarters or field. Romeo, the villain, invented the robot, which soon became genuinely friendly. The robot betrayed the antagonist and joined the PJ Masks instead.
What Age Range is into PJ Masks?
The average age range that enjoys watching PJ Masks are two- to five-year-olds. The show has attracted more than 1.5 million viewers, indicating a solid rating across Disney Channel and Disney Junior.
These two to five-year-olds might see the 6-year-old fictional characters as role models. They like that Connor, Amaya, and Greg are also ordinary kids, but with superpowers.
Are There PJ Masks Toys?
There are several PJ Masks toys available online and in physical stores. Hasbro is the leading manufacturer of these products after the 2019 acquisition of Entertainment One. But Just Play still makes toys for the kids.
Mot PJ Masks toys cater to kids ages three and above, an age range that matches the show's viewers. These toys range from action figures to costumes and models.
Types of PJ Masks Toys Available
If you know which type of toys your preschooler wants, you can give them the best gift ever. Here are some kinds of PJ Masks toys available in stores.
Action Figures
Hasbro is a champion of action figures. So it's no wonder there are several action figures of Catboy, Owlette, and Gekko in their superhero costumes. They are typically made of plastic and sometimes include other accessories and vehicles.
Costumes
Kids can pretend to be their favorite PJ Masks characters with the various costume options in stores. Some include a complete costume from head to toe, while others feature a mask and a wristband for daily play.
Mini Playset
Preschoolers can also recreate PJ Masks scenes with the mini playsets. Some sets involve the 2-in-1 vehicle and robot factory, while others include PJ Masks' headquarters. This variation of toys typically requires an adult's assembly because of the numerous parts.
What to Consider When Shopping for PJ Masks Toys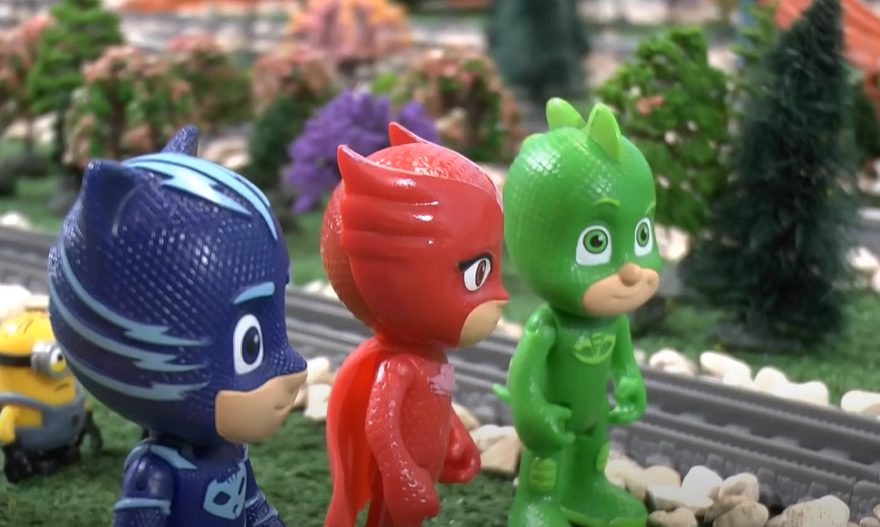 Don't rush into buying a toy right away. Take a look at some factors to weigh before purchasing PJ Masks toys for your child.
Purpose
Choose a toy that provides multiple sensory experiences through lights, sounds, and other effects. Kids love to use their imaginations, so the item must be as interactive as possible.
Materials
Aside from the toy's durability, consider how many losable parts the item has. Check if the pieces are too small that they fit a toddler's mouth.
You also want to examine if the materials quickly accumulate dirt. Avoid toys that are hard to clean and have sharp edges.
Easy to Assemble
Ease of assembly and use may also be a critical factor. Too much time building a toy might ruin your preschooler's excitement.
Price
Make sure the toy you're buying fits your budget. Most PJ Masks toys range from $7-$50. And you can get a decent item at only $20.
The Best PJ Masks Toys for Kids
No matter what your little PJ Masks is into, there is a toy for them to love. Here are the top 8 Best PJ Masks toys you need to check out.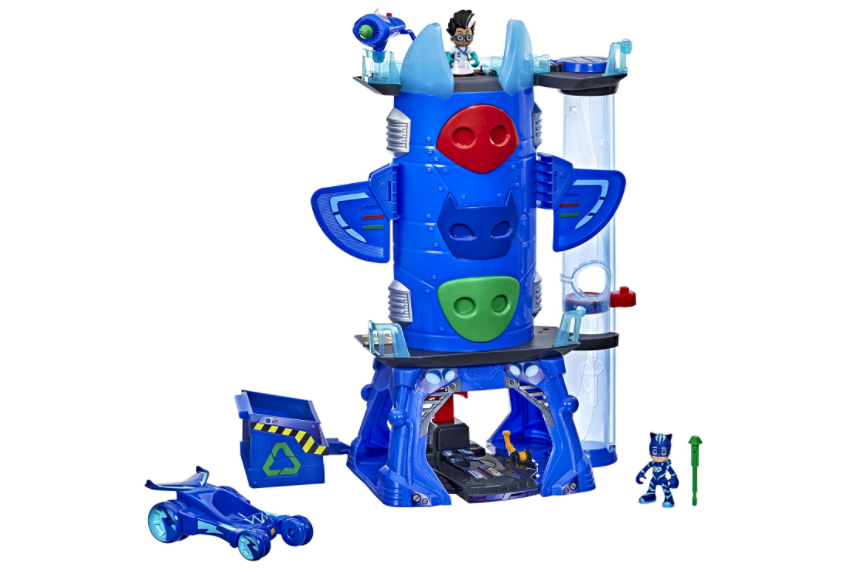 Best Overall 
This playset includes several fun actions and features that will enhance the imagination of preschoolers. It recognizes the Hero ID-compatible 3-inch PJ Masks figures to activate some features. It applies to Romeo, Catboy, Owlette, and Gekko figures.
Price Range: $38-$40.
Pieces Included: Various small parts, 2AA batteries required.
Age Range: 3+.
Kids can recreate their favorite scenes in PJ Masks, like capturing villains and using the secret escape chute. They can also execute projectiles using the blaster and use Catboy's car with the launcher!
Pros
Hasbro ID technology.
Several interactive features let preschoolers recreate their favorite scenes.
It includes character-specific lights and sounds.
Cons
Adult assembly required.
High price range.
Best for Role-Playing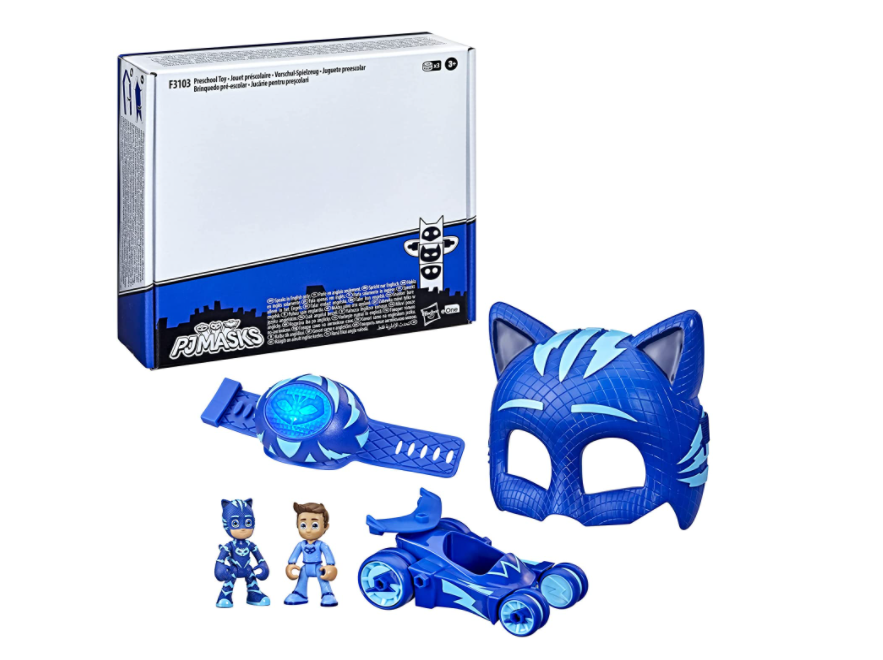 The Power Pack set includes five cool toys that are Catboy-themed so kids can imagine themselves as superheroes. It consists of a mask, wristband, a Catboy vehicle and figure, and an extra Connor figure.
Price Range: $26-$28.
Pieces Included: 2 PJ Masks action figures, 1vehicle, 1 wristband, 1 mask.
Age Range: 3+.
The mini-figures can fit the vehicle and are compatible with the ID-equipped Masks toys. Give this to PJ Masks fans who want to be like Catboy!
Pros
It includes an exclusive PJ-clad Connor figure.
Great costume for parties.
Hasbro Hero ID-equipped.
Cons
Issues on the wristband's sound.
Best Action Figures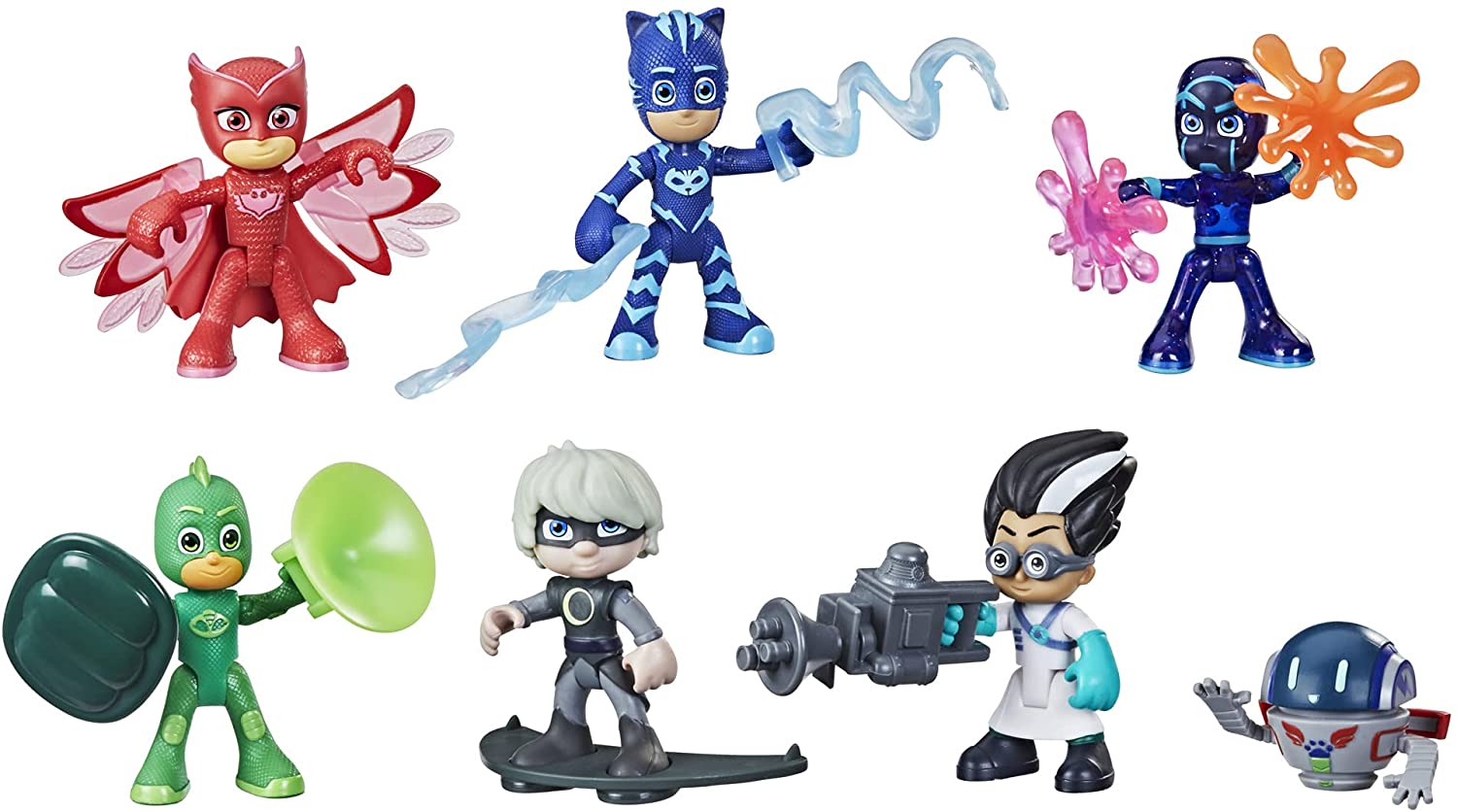 Let your kid develop their story-telling and role-playing skills with this complete collection of PJ Masks Hero and Villain Figures. They can dress the characters up and carry them with their tiny hands.
Price Range: $25-$27.
Pieces Included: 7 PJ Masks action figures, 10 accessories.
Age Range: 3+
Each set contains seven figures from the show, including Catboy, Gekko, Owlette, Romeo, Luna Girl, Night Ninja, and PJ. Each figure also has at least one detachable accessory.
Pros
Complete protagonist and antagonist action figures.
Attachable accessories for each figure.
Hasbro Hero ID-equipped.
Recyclable packaging.
Cons
Budget Option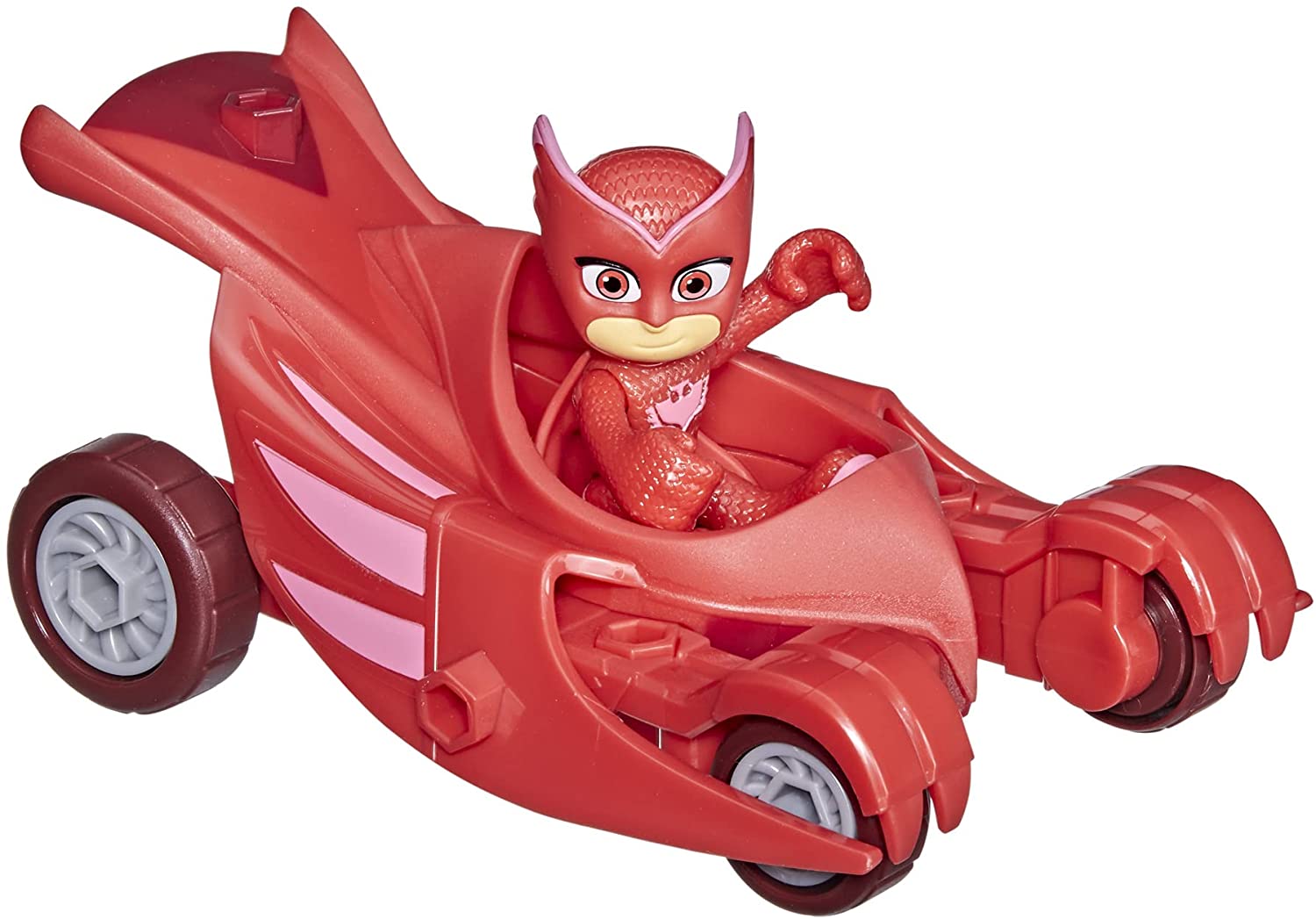 If your preschooler's favorite PJ Masks character is Owlette, they will love this 2-piece to set. They can ride into the imagination by creating scenes from the show with the vehicle and action figure.
Price Range: $6-$8.
Pieces Included: 1 action figure, 1 vehicle toy.
Age Range: 3+.
Allowing them to be a hero during playtime can turn into reality as they grow older! Take them "into the night to save the day" while playing with the Hero ID-compatible playthings.
Pros
Complete Owlette action figure and vehicle.
Compatible with Hero ID Technology.
Affordable.
Cons
The vehicle is not high-quality like other PJ Mask vehicles.
Best for Gekko Lovers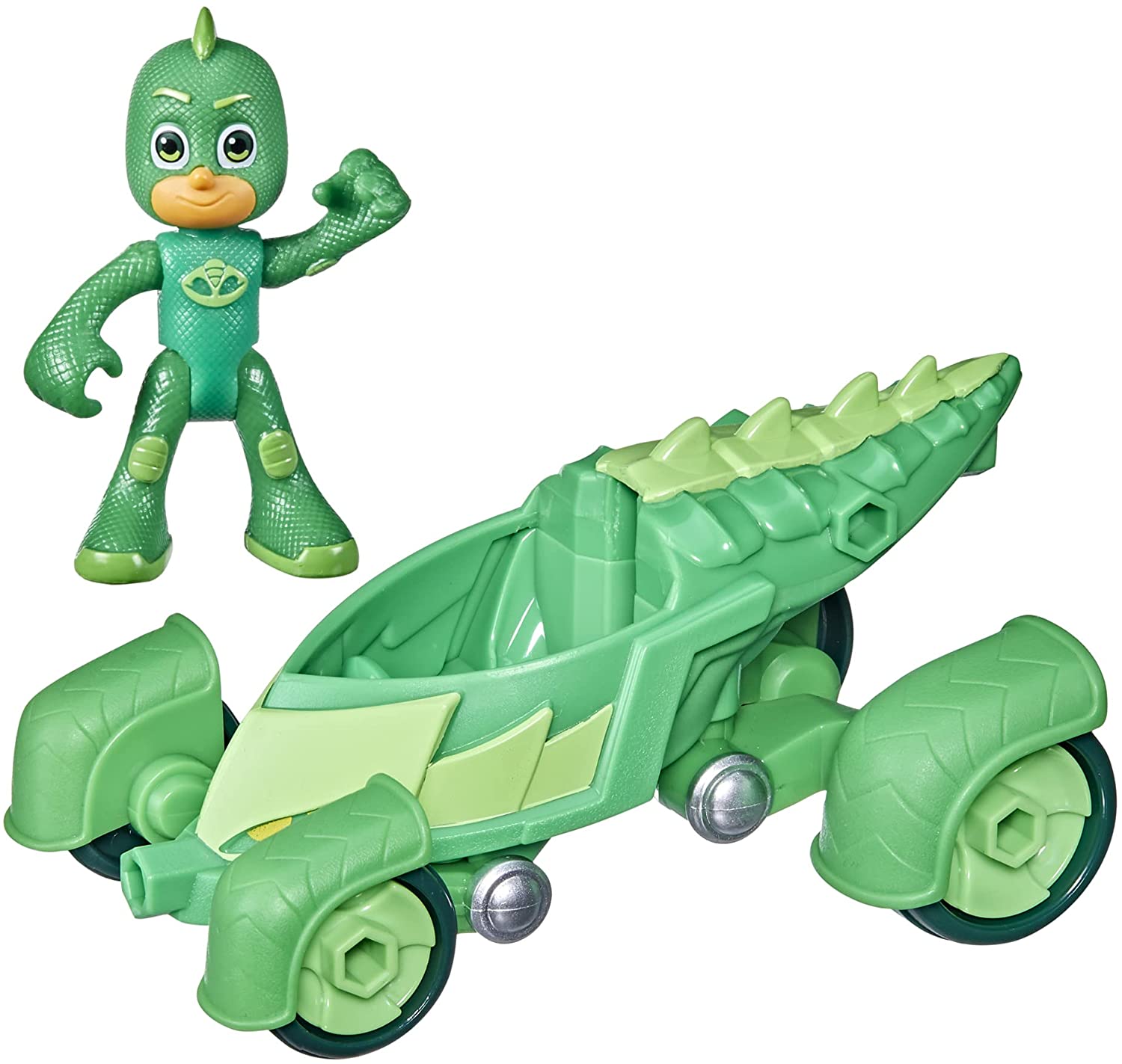 This Gekko Mobile Preschool Toy is another budget option if you're looking for a gift to give a Gekko fan. This character is the blonde-haired, green-eyed boy with green lizard clothes, tail, and fins. And the action figure is as realistic as the animation!
Price Range: $6-$8.
Pieces Included: 1 action figure, 1 vehicle toy.
Age Range: 3+.
The set also includes a Gekko vehicle that lets your kid ride into their imagination as a hero. The figure fits the vehicle seat perfectly.
Pros
It includes a Gekko figure and vehicle.
Compatible with Hero ID Technology.
Affordable.
Cons
Basic Gekko toy with no additional features.
Best Vehicle Toy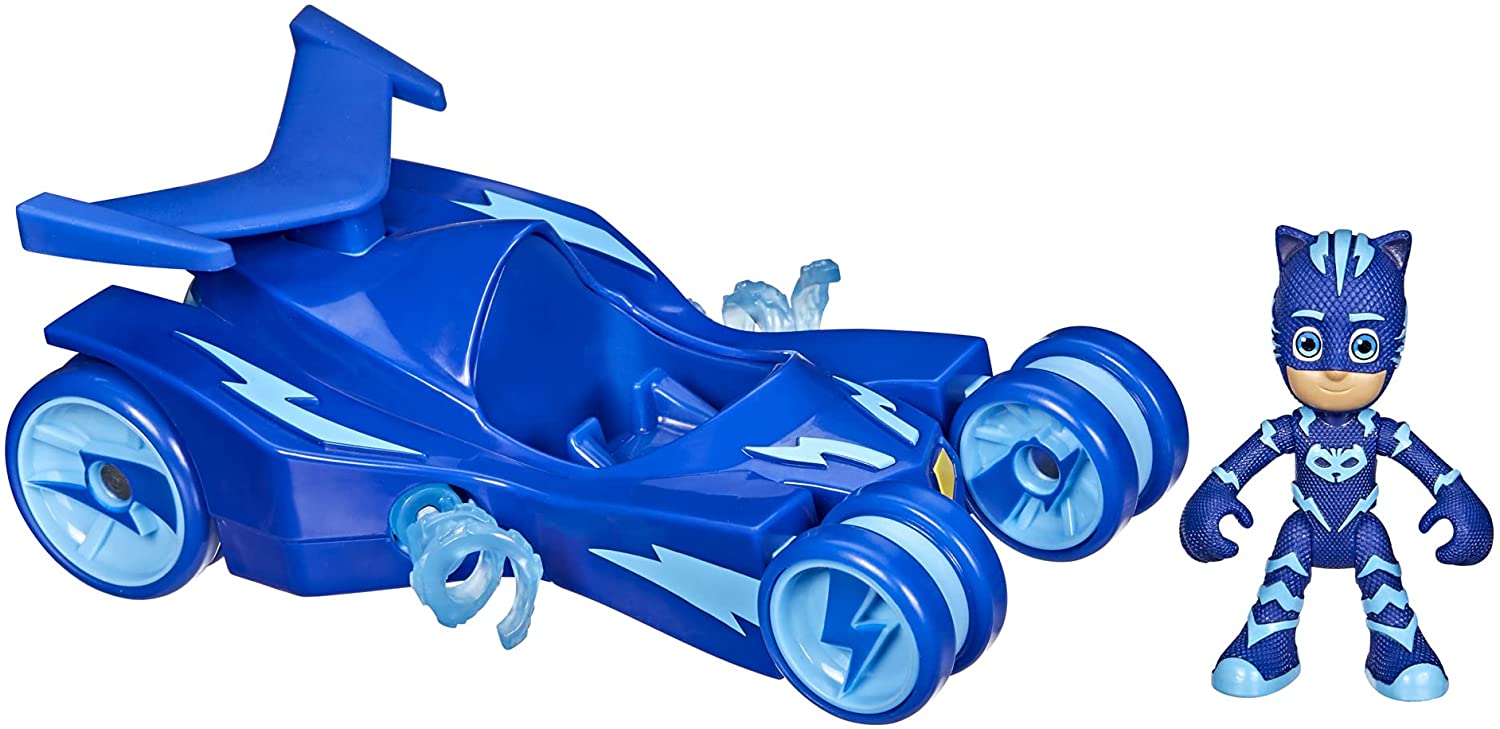 This exciting toy set is ready to use right out of the box. There's no need to place batteries on the car because you only need to activate the Cat Stripes to operate. It also includes a mini-figure of Catboy, one of PJ Mask's main characters.
Price Range: $13-$15.
Pieces Included: 1 action figure, 1 vehicle toy.
Age Range: 3+.
The Deluxe Vehicle Toy is also compatible with Hero ID technology. It detects and reacts to the figures with lights and sounds.
Pros
Gift-friendly for Catboy lovers.
No batteries are required.
Compatible with Hero ID Technology
Cons
Basic Catboy toy with no extra features.
More expensive than other PJ Masks Vehicle Toy Sets.

Best Ride-On Toy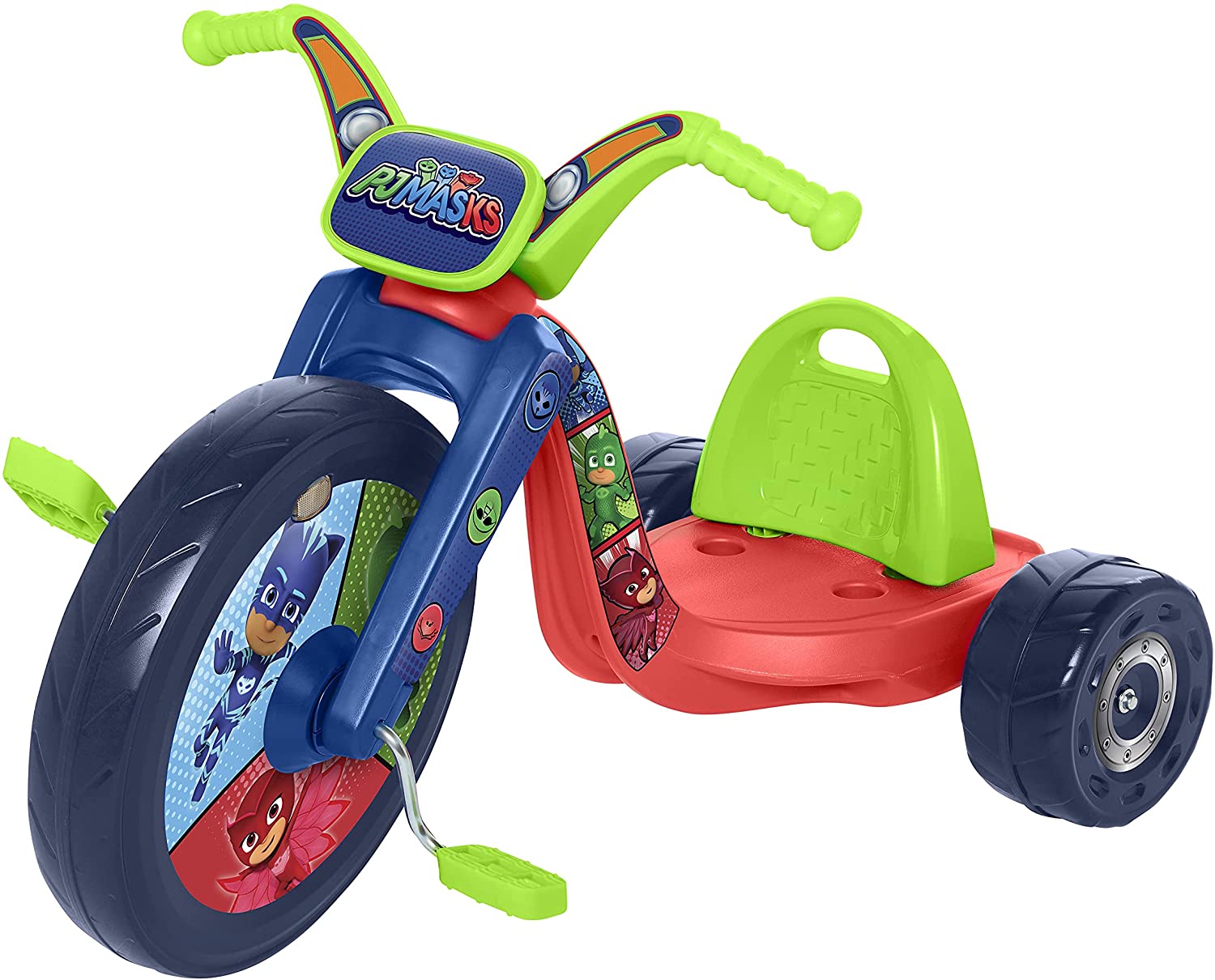 Why not give your preschooler an actual PJ Masks vehicle to ride? This Ride-On Cruiser may look nothing like the Gekko's, Catboy's, and Owlette's cars, but it grants your kid exploration.
Price Range: $58-$60.
Pieces Included: 1 Ride-on cruiser.
Age Range: 3-7.
The 11-pound vehicle is 15 inches tall and can accommodate kids aged three to seven.
Pros
It encourages play and exercise in kids.
Valuable little bike for preschoolers.
Cons
Wheels spinning on their own.
Most Interactive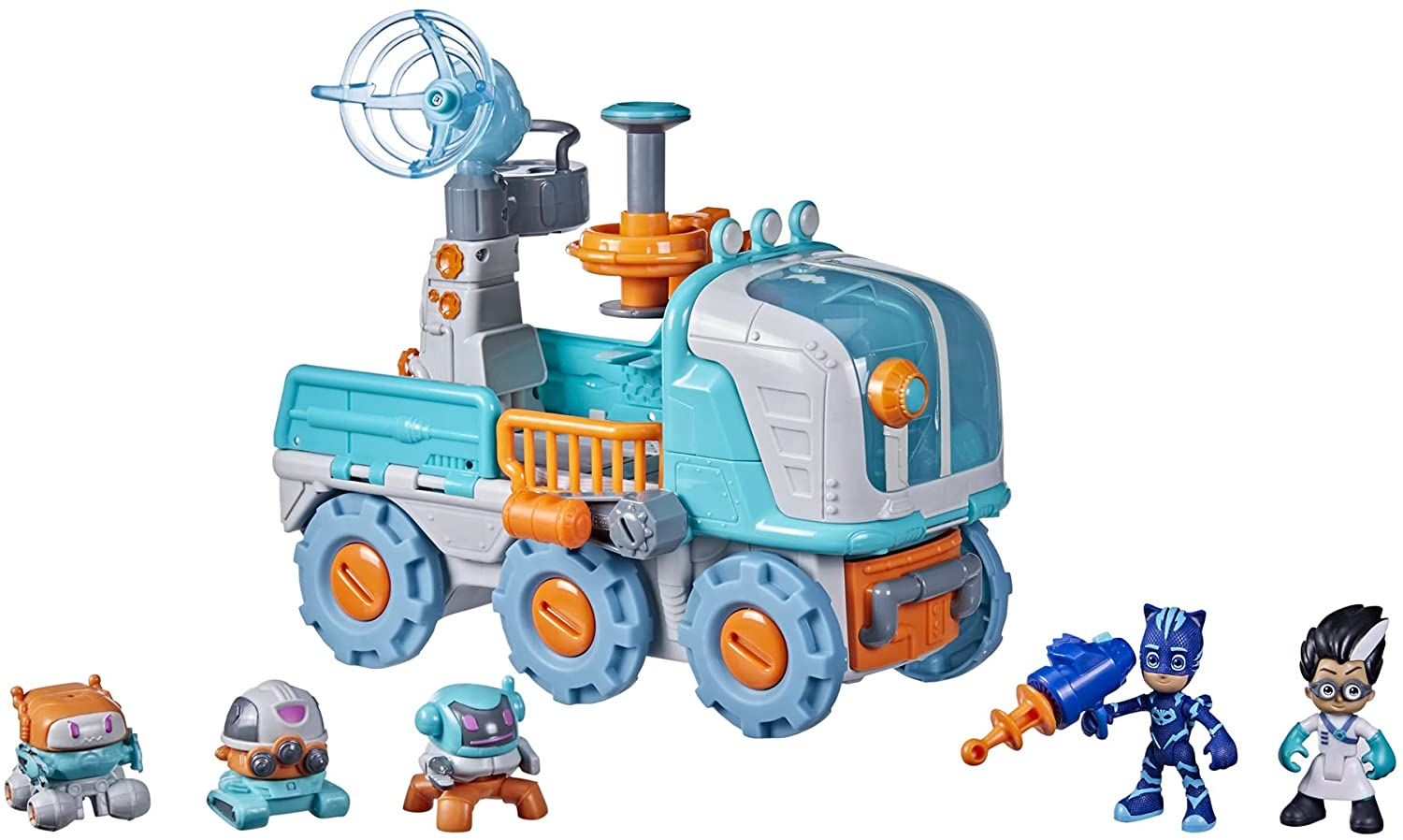 The PJ Masks Bot Builder is a 2-in-1 toy that can be a vehicle or a robot factory. It also includes several fun accessories and 2 PJ Mask action figures, Catboy and Romeo. The Catboy figure can hold and launch accessories that catch the robots too.
Price Range: $31-$33.
Pieces Included: 1 vehicle/robot factory toy, 9 robot parts, 2 action figures.
Age Range: 3+.
There's also a robot-masher that allows the assembly of robots with nine parts. Send each robot down the conveyor belt and let your kid recreate epic battles from the show.
Pros
Unique bot-builder with conveyor belt.
Compatible with Hero ID Technology.
Interactive light and sound features.
Cons
FAQ
Question: What Does the PJ Mean in the Show PJ Masks?
Answer: PJ Masks is the English version of the French show, Pyjamasques. The title could be a wordplay on the French counterpart or an abbreviation for pajamas.
Question: How did PJ Masks Get their Power?
Answer: They received their superpowers from a bizarre crystal statue.
Question: Did PJ Masks Get Cancelled?
Answer: No. Season 6 of PJ Masks will premiere in 2023.
The Verdict
PJ Masks toys are trendy because children want to relate with the fantastic superhero kids. Whether you're buying an action figure, playset, or costume, this list has got you covered.
Make sure the toy encourages your preschooler's imagination, giving many play possibilities. Like I said before, I'd recommend the PJ Masks Hero and Villain Figure Set above all on this list. Let me know which toy you're getting in the comments below! And check out our list of the best Spiderman fan toys!
Find more cool toys by readings these guides below:
A Guide on the Best Water Toys for Water Play
18 of the Best How to Train Your Dragon Toys