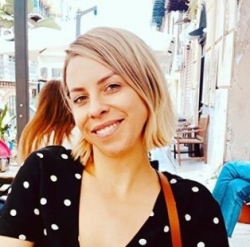 Latest posts by Jodie Chiffey
(see all)
My niece discovered Puppy Dog Pals on Disney Jr a few months ago, so this Birthday and Christmas, we're all going to be looking for the Best Puppy Dog Pals toys to buy her. If you're in the same boat, let me talk you through my buying journey and discover all the different options out there today – trust me, there's a lot!
I now have the Puppy Dog Pals theme tune permanently stuck in my head and love to watch my niece dance along when the shows are on. It also fills me with joy to watch her play with toys, even more so when I can join in!
I have looked for Puppy Dog Pals toys that I believe will suit most children. A brief overview of my findings is just below, but stay to the end to find out exactly what I thought of each Puppy Dog Pal toy I reviewed, and you'll hopefully find the perfect one for the Puppy Dog Pal fan in your life.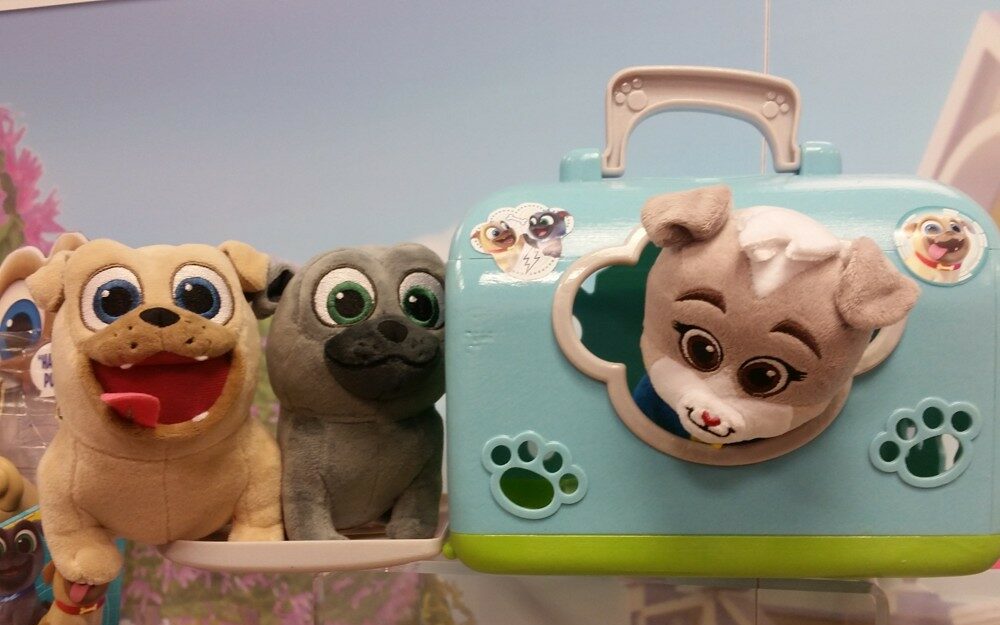 At a Glance: 7 Best Puppy Dog Pals Toys
Bottom Line Up Front
For me, the Puppy Dog Pals Stow N' Go Playset has so many great qualities that it was easy to choose as my favorite overall Puppy Dogs Pals toy. First, the price is great (and currently at time of writing, heavily reduced at Amazon, too); secondly, the carry handle is a unique feature that is incredibly convenient when transporting the set and all its contents; or storing it neatly.
This complete toy set is so well made, and I am confident it will withstand vigorous play. It's also easy to clean and keep sanitary. Super impressed with this playset!
What Is Puppy Dog Pals?
If you don't have a preschooler in your life, you may not be familiar with Puppy Dogs Pals, so before we go any further, let me explain what this actually is and the surprising benefits of encouraging your little one to watch this show.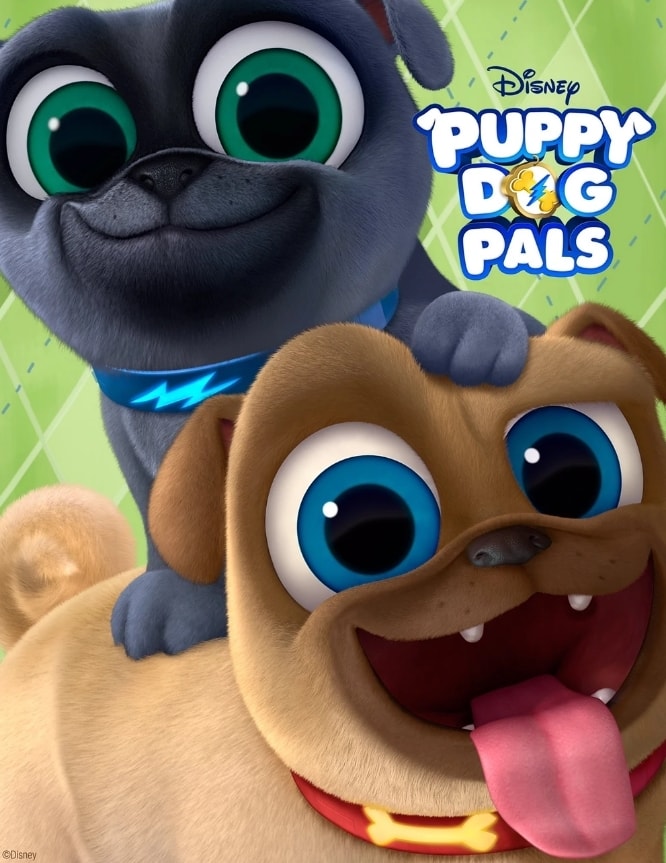 Puppy Dog Pals is a cartoon shown on Disney Jr that is primarily aimed at preschool children. It is based on the lives of two Pug puppies named Bingo and Rolly, and their various adventures as they travel around when owner Bob leaves home. Bingo and Rolly have a robot dog named A.R.F (Automatic Doggy Robot Friend) and a cat-sister called Hissy.
Benefits of Puppy Dog Pals
My favorite kids' TV programs offer bite-sized pieces of education to children, and while this isn't the main agenda of Puppy Dog Pals, there are some subtle messages about cooperation and friendship.
Here are some of the things I have noted from an educational perspective:
Positive Messages
A lot of the plots in the show have fine examples of kindness, friendship, and teamwork. Rolly and Bingo dive into their adventures with little-to-no thought about consequences, but their interactions illustrate mutually caring feelings. The pair show that when working together and supporting one another, things are much better than they could be.
Teamwork
Watching Puppy Dog Pals with your child offers many conversation starters about the importance of teamwork, a highly valuable skill. Some questions to consider could be: 'how have Rolly and Bingo helped each other? Do you agree with Rolly leading Bingo? How could the pair have made their adventure run more smoothly?
Brainwork
Rolly and Bingo go on many new adventures and share new experiences together, which can provide good insights into how your child feels about trying something new. It is likely your Puppy Dog Pals fan will be transitioning to big school from kindergarten; how do they feel about this? Rolly and Bingo show how stepping out of comfort zones can help a person to grow.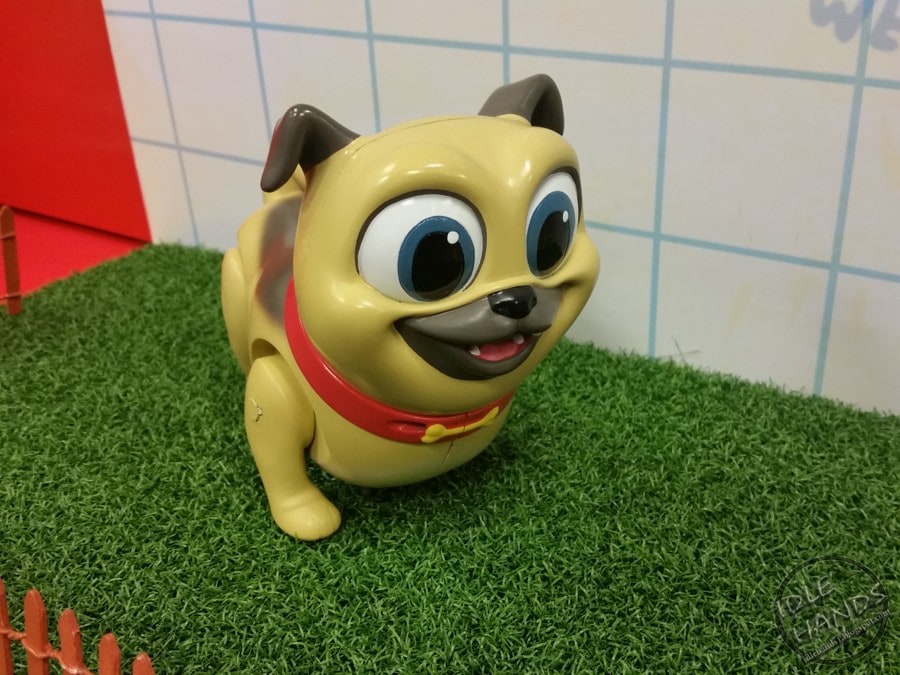 Things to Consider when Buying Puppy Dog Pals Toys
Buying toys is a complicated venture these days, and it isn't helped by the sheer number of them around. In fact, it can be quite overwhelming, especially when all packaging is screaming that it contains the best toy, top toy, or toy of the year, etc.,
However, there are some ways to make this shopping journey more straightforward.
I had my first child in 2006 and began working in educational settings in 2016, which has armed me with years of experience in buying toys.
Here are my top tips!
Age
Puppy Dog Pals is aimed at children aged 2 to 8, with the target audience being preschoolers. More brain development happens between ages 2 and 8 than at any other time in a human's life; some 2-year-olds cannot write their own name, whereas an 8-year-old is part of Mensa!
Also, not every child's developmental age will meet their biological age. So, basically, age is just a number – and I believe this to be so with all toys.
You know the recipient best, not the toy manufacturer. If you have a 6-year-old who you know would just love to have a set of Puppy Dog Pals board books, then you ignore the 3-year-old target and buy those books!
Age recommendations are merely that: recommendations. The only time to really consider these is when it comes to health and safety, for example, small parts that a younger tot could swallow.
Durability
Given the target audience, you would expect Puppy Dog Pals toys to be super durable; this audience isn't known for its delicate handling of toys! Yet, I have come across many toys with this title that have been far from standard: I must point out that these have not been officially licensed products.
If you're buying a toy online, it can be hard to tell how durable it is as you can't physically touch or see it. However, looking at consumer reviews and reading what the toy is made from will give you a better idea. Additionally, it takes a second to email a manufacturer and simply ask, if you can't find this info.
Fun Factor
My main agenda when buying toys is always how they can this be used as an educational resource. I have two sons with additional needs, so play has always been something different for us. However, I used the same message when toy-shopping for my neurotypical son and other family members.
Childhood is such a small window that as much learning you can cram into there, the better. However, this ethos is rarely shared by children, and for them to even want to play with a toy (for you to teach those all-important secret lessons), it has to have the fun factor.
What the fun factor is will vary depending on the preferences of the child. Some children want lights, sounds, and actions, whereas others may prefer customization options, crafting, or simply reading.
By tailoring the toy to the fun factor preference of the child, you stand the best chance of this toy becoming well-loved, well-used, and possibly even an investment in their future!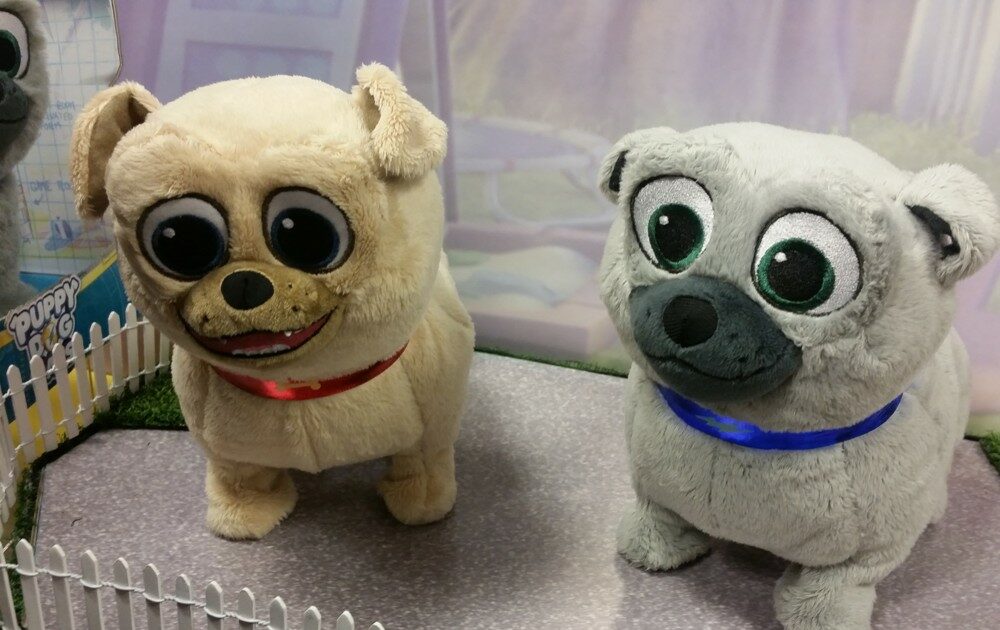 My Product Criteria
There are a few things I needed the Puppy Dog Pals toys to have or be before I considered reviewing them for this article. These were as follows.
Price
I have to say I was pleasantly surprised with the prices of all of the Puppy Dog Pals toys I came across. It seems the days are gone when parents have to shell out hundreds of dollars for bits of plastic that hold a TV show logo! Or, it seems so with this show anyway.
Even so, I wanted to ensure the price points were justified and that I didn't recommend a toy I didn't feel was reasonably priced.
Availability
At the Avid Toy Insider community, we're not handed products or told what to review, so you have my honest word that every Puppy Dog Pals toy I have recommended I was able to source and purchase at the time of writing.
Quality
The quality of a toy is so important. It has to last and be safe, and to be sure of these things. You have to look at the quality, primarily what the toy is made of. I believe all the toys in this guide have a high-quality level.
Diversity
I wanted to ensure that every reader found a Puppy Dog Pals toy for every child in my guide. So, I looked at many different products, from plushes and playsets to books and figures. This way, I hope to have catered to everyone.
Consumer Feedback
The most valuable asset you have when online shopping (for anything!) is the feedback from other – verified – consumers. And you can find these in several places online and it is essential to check various platforms to gain an accurate idea of what to expect with a product. I did this to back my own opinion with every Puppy Dog Pals toy I have featured.
Without further ado, let's check out my top 7!
My Chosen 7 Best Puppy Dog Pals Toys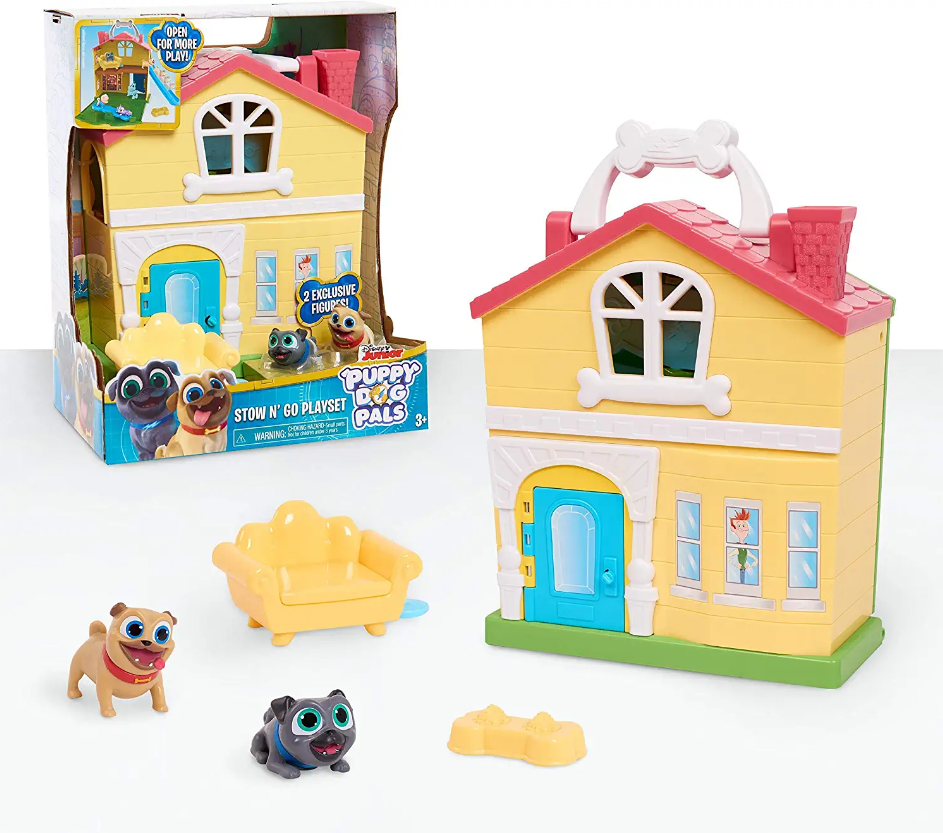 For me, the ability to store and transport a toy neatly and conveniently is so important, and the Puppy Dog Pals Stow N' Go Playset checks these boxes. It has two levels of play and comes with exclusive Bingo and Rolly figures, a slide, chair, and built-in see-saw.
I would have liked A.R.F and Hissy to be included, but never-the-less, this can still be seen as a complete play set that comes with everything you need to start playing. Additional figures can always be added at a later date.
The house and accessories are all made from hard plastic; it feels durable and is easy to wipe clean and keep sanitary.
Pros
Excellent Value for Money
Portable
Easy to Store Accessories
Durable
Hygienic
Cons
More Figures Would be Nice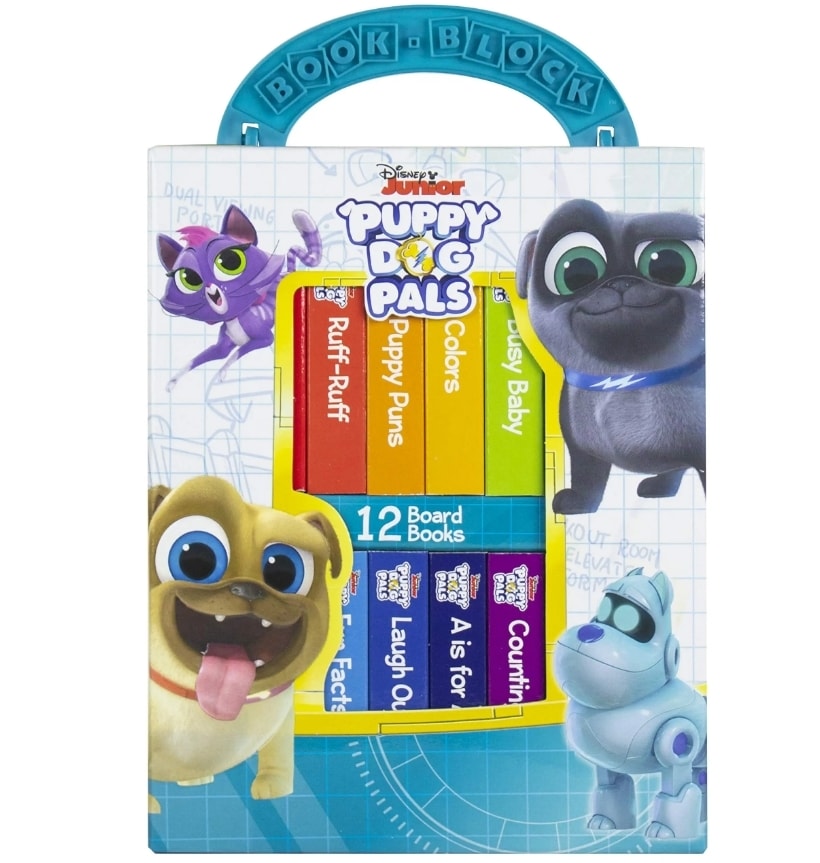 Reading to children is so powerful, yet fewer than half of toddlers are read to regularly. While this can be for many reasons, it could be that parents don't know where or when to start. If this sounds familiar, the Disney Puppy Dog Pals – My First Library Book Set is a perfect beginner set of books for very young children and babies!
This set is very much an A for Apple kind of reading with simple illustrations. The books are small and perfect for little hands, and they come in a convenient carry case. While they may not be interesting enough to hold the attention span of older children, they're a great way to start teaching phonics to younger ones and to begin the journey of reading together.
Pros
Great Price
Clear Illustrations
Convenient Carry Case
Excellent for Beginner Readers
Cons
Possibly Not Great For Engaging Older Children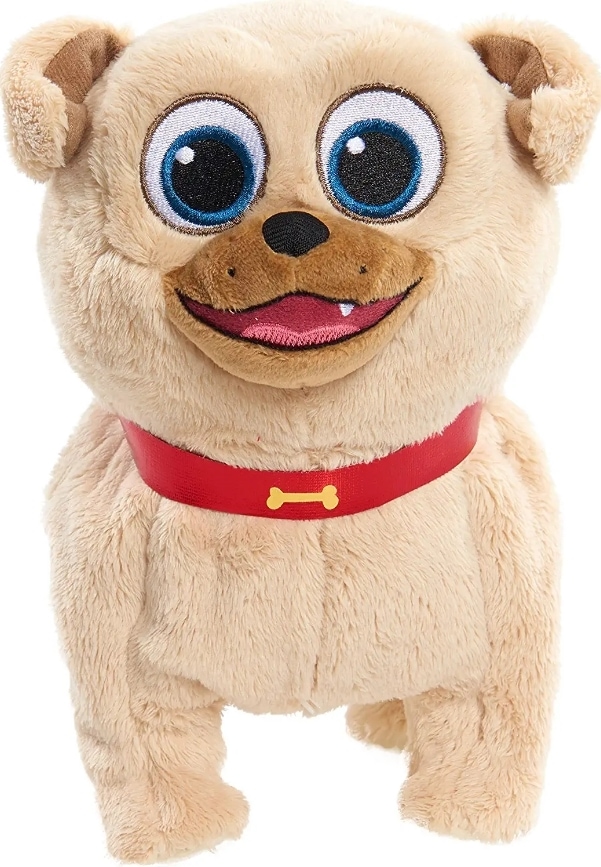 The Puppy Dog Pals Disney Junior Adventure Pals Rolly Walking Feature Plush is a toy that's all about the fun factor! This cute little plush walks and speaks various phrases from the show, including 'On your bark get set Goooo!' 'We're going on a mission,' and 'I'm as happy as a happy puppy!' And I love how the batteries are already included so that play can begin immediately.
I found this Rolly plush to be great fun and super cute. He feels a little hard and may not be excellent for bedtime cuddles, but for play, he's superb – and a top seller online. One drawback I have found is that the internal motor is pretty loud; while this doesn't disturb play, it may disturb Mom and Dad!
Pros
Batteries Included
Online Best Seller
Huge Fun Factor
Good Price
Super Cute
Cons
Not Very Huggable
Motor Fairly Noisy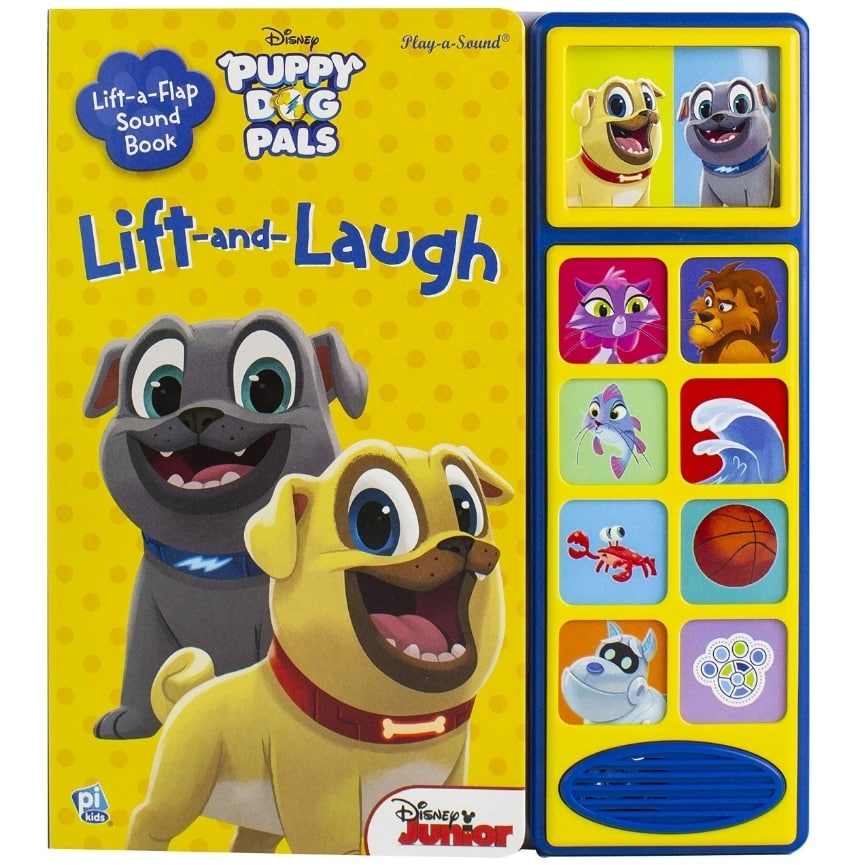 Another Puppy Dog Pals book I found that I really liked was the Puppy Dog Pals with Bingo and Rolly – Lift and Laugh Out Loud Sound Book.
I believe this book provides many bonding opportunities between child and caregiver and is a wonderful gateway into the world of independent reading. The balance between education and fun is perfect here.
This book is under $10 and is very sturdy. However, the flaps aren't so, which is a shame as I can see them easily tearing off. While this won't entirely ruin the book, it will reduce the fun factor.
Pros
Educational and Fun!
Good Price
Interactive
Excellent Gateway into Independent Reading
Cons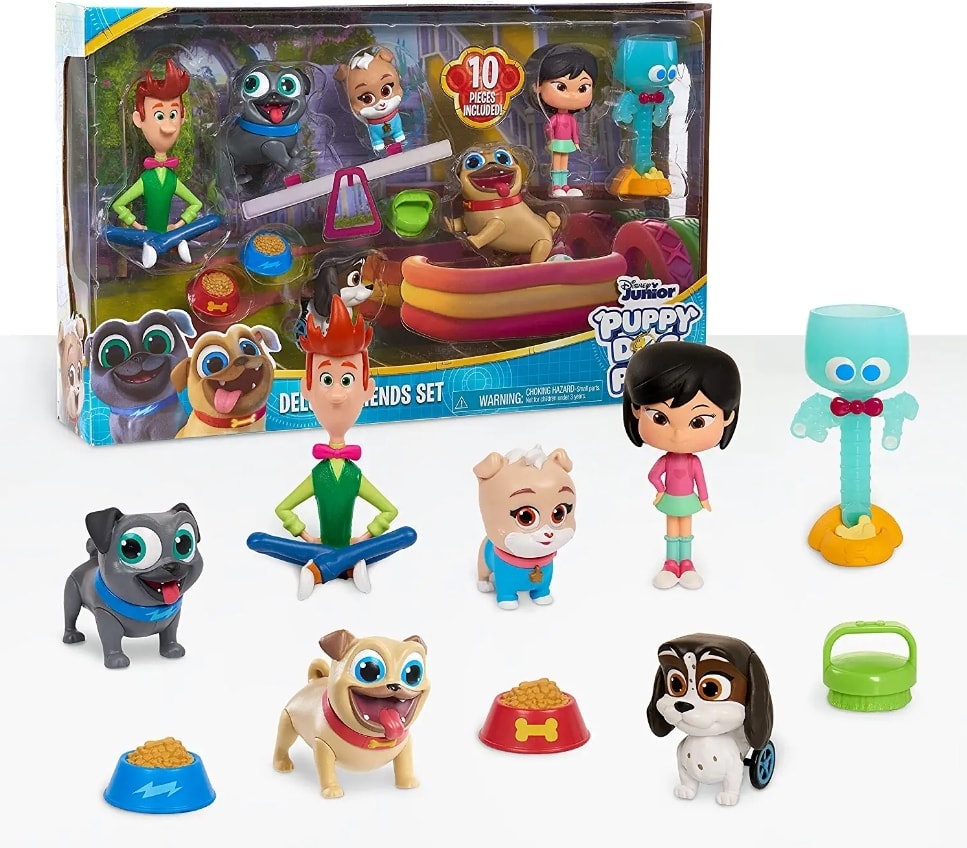 The Puppy Dog Pals Deluxe Figure Set includes all the show's main figures, food bowls, a grooming brush, and a snack machine. I found the figures to be of great size and larger than most in this category. Some consumers purchased them as cake toppers and found they are still the most played-with item from the day!
The figures are highly detailed, and they sit well. They feel sturdy and robust, and you can keep them clean with a damp towel or wipe. It irks me slightly that they are advertised as a ten-piece set when in reality, there are only seven figures; how much imaginative play can one have with a food bowl?
Pros
Good Sized Figures
Includes Main Characters From The Show
Value for Money
Durable
Stand Well
Cons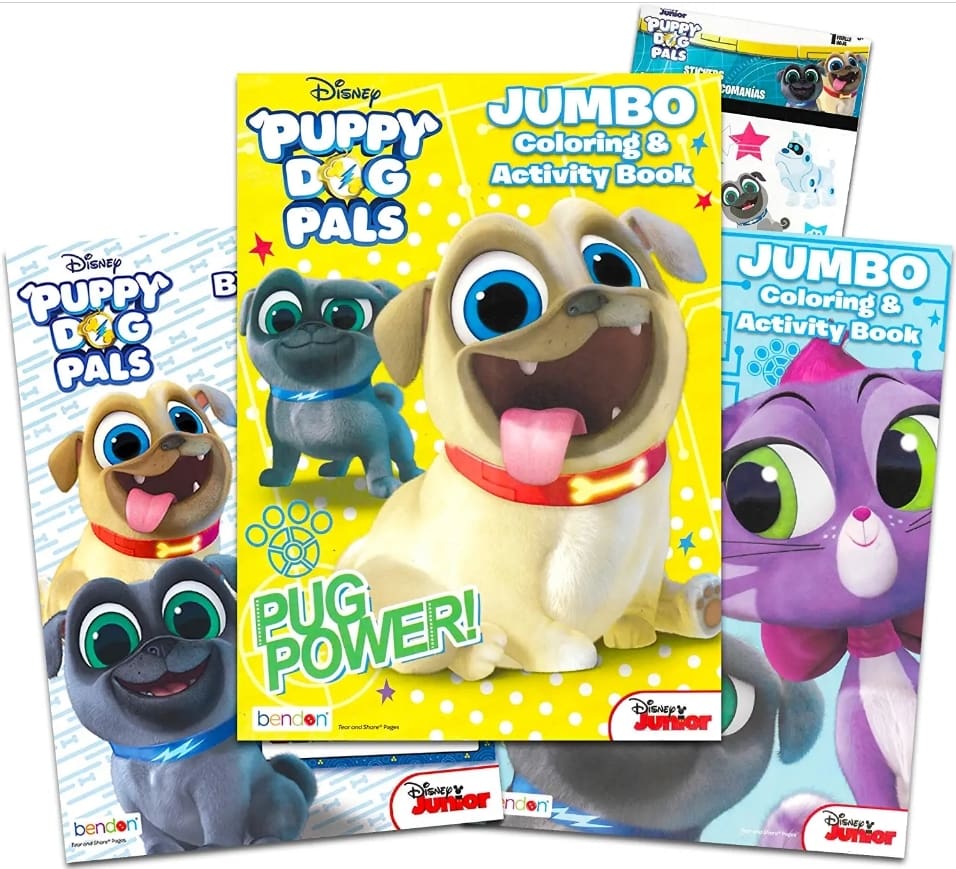 With more than 200 pages and 25 stickers, the Puppy Dog Pals Coloring Book Bundle Set can keep little ones entertained over weekends and holidays and those times you don't want to resort to a screen! I found the paper to be of good quality and liked the thickness of the image outlines.
This would be a good bundle to split up and use separately as rewards or stocking fillers. I found the markers to not be of the best quality, so it may be wise to purchase branded ones.
Pros
Great For Fine Motor Skills
Non-Screen Activity
Perfect for Rewards
Large Bundle at Value Price
Cons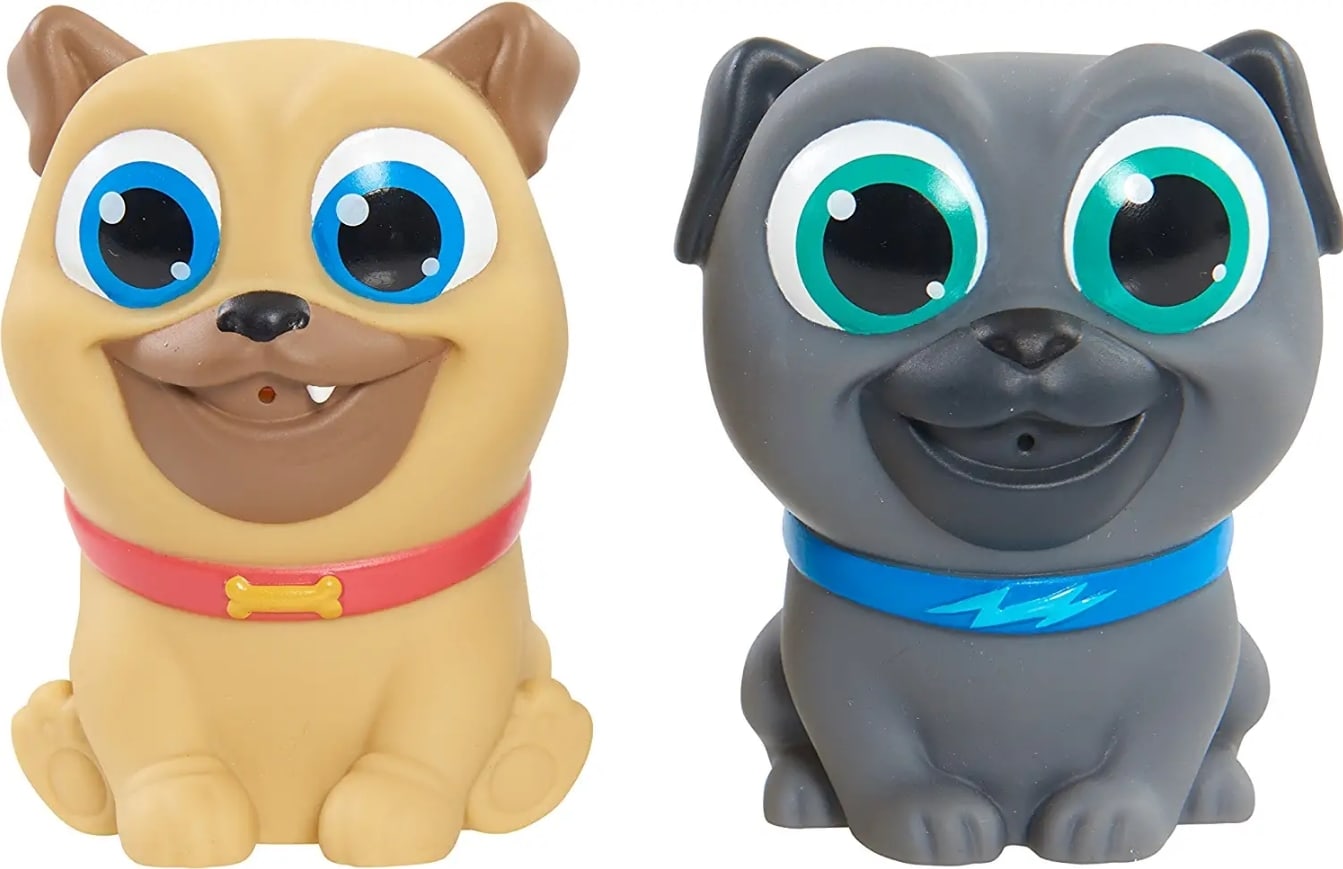 Water play toys such as the Puppy Dog Pals Bath Toys – 2 Pack are excellent when you need to keep your little one in the tub a little longer, even if just to get through that dreaded hair wash!
My issue with bath toys is they have the provision for growing mold and mildew inside, but this isn't so with this set as they're not squirtable, as there are no holes for water to enter and become unsanitary. Perfect!
The price is good, and most consumers were happy with their purchase. However, there are some complaints about receiving two of the same character.
Pros
Safe for Bath Play (Non-Squirty)
Good Price
Great Way to Extend Bath Time
Cons
Some Complaints of Duplicate Figures
Frequently Asked Questions
Question: Is Puppy Dog Pals Suitable for All Children?
Answer: Yes. This is a Disney show, so perfectly safe for all children to watch.
Question: How Educational is Puppy Dog Pals?
Answer: This isn't the most educational show out there. Having said that, the creators work alongside the Disney educational resource group and enlist the help of a team of educational consultants for each episode. The main emphasis is on fun, but there are valuable takeaways for parents to work on with their children.
Question: How Do You Know if Puppy Dog Pals Toys Are Official Merchandise?
Answer: If the Disney logo isn't proudly displayed on the box, there's a high chance you're looking at non-official merchandise. While this isn't always a bad thing and can be cost-effective, it can also mean that the toy isn't up to US standards.

My Conclusion on the Best Puppy Dog Pals Toys
I was amazed at the RRP of Puppy Dog Pals Toys, and most toys out there with this branding seem to offer excellent value for money. I also found most of the toys to have excellent fun factors and great playability. Still, the educational aspect is more for parents to implement here (which is possible with each toy but not instigated by).
I was pleased to finally find some safe bath toys and love the Puppy Dog Pals Bath Toys – 2 Pack, but some other consumers did find duplicates in their packaging, which is a shame.
If advertised as a 7-piece set, I'd be majorly impressed with the Puppy Dog Pals Deluxe Figure Set. While I think the figures' quality is excellent, I would be interested to see how much fun the manufacturers would have with a bowl.
The Puppy Dog Pals Disney Junior Adventure Pals Rolly Walking Feature Plush is a great buy and exceptionally well priced. It offers hours of fun straight from the box as batteries are included. The motor sound may get a little irritating, but no more so than many other similar toys.
Overall, my favorite Puppy Dog Pals toy is the Puppy Dog Pals Stow N' Go Playset. The set is currently heavily discounted at Amazon, but even at full price, it is still under $20, so it is perfect for the value-minded buyer. I found this set to be super cute and can envision many happy hours playing with it with my niece.
Continue reading: