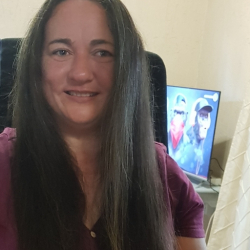 Latest posts by Caroline Lambert
(see all)
Has your home become another one of Blue's houses? I had to write the best Blues Clues toys guide to understand my daughter's obsession with the clue-sniffing dog before she took over my house like she did my television. But, on the bright side, Blues Clues toys have educational and fun benefits if you're anything like me.
I consider the advantages of my child's favorite toy theme and how it appeals to her early development age. Blues Clues toys come in various types that appeal to children's favorite activities. I'm happy to announce that my passion for Blues Clues toys matches my daughter's. Let's find out why.
Bottom Line Up Front
Blues Clues toys come from the top brands in early childhood development playtimes, already stealing my attention as a mother who picks toys by their benefits. Secondly, the toy range appeals as a theme to kids who love the spotted dog that sniffs clues. So, it's a double-whammy smackdown for my daughter and me.
All I had to determine was whether the toys offered the types and activities my daughter loves. Sure, she's older now, but she still has a thing for the blue pup. Let me share how I picked the best Blues Clues toys with type and activity in mind, but first, peek at my top Blues Clues toys to see whether they "clue up" your interest.
The Best Blues Clues Toys at a Glance
I won't go into much detail here. This list shows the best Blues Clues & You toy in various categories that fit popular activities. You can dive deeper into this article to find out why they're the best ones and to find the source of why I love Blues Clues toys.
Best Blues Clues Toys: Follow the Paw Prints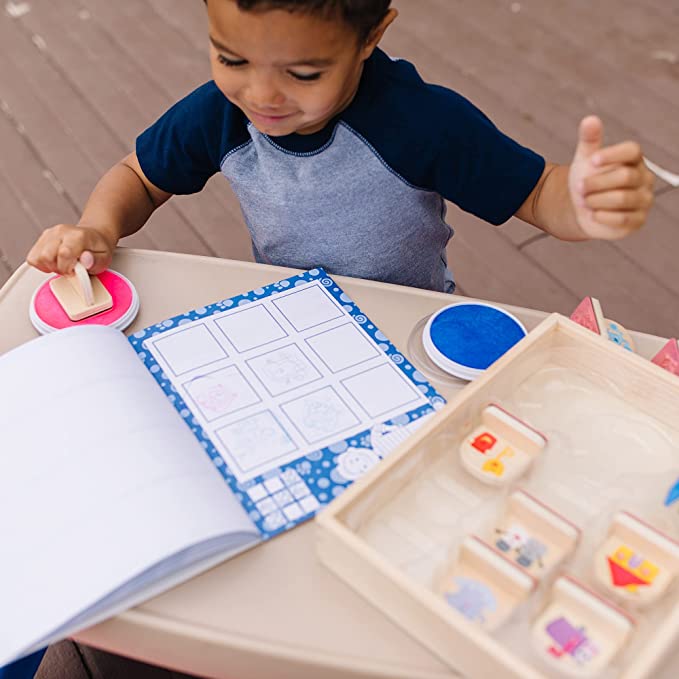 I know the challenge of listening to the same theme songs from the same shows your child watches repeatedly. However, Blues Clues is a show I highly approve of because of the benefits. It comes with hidden clues for children and parents, and I'll show you how I chose the best ones.
The Hidden Clues
Blues Clues is a popular television series, and you'll know it well if your kids are younger than six. Blue is a dog that teaches children to follow clues to find solutions. It's a simple concept that carries a lesson of its own. However, the toys offer a little more. They provide early childhood advantages. Why, you may ask?
Blues Clues appeals to the age range where kids learn through every experience. Melissa & Doug, LeapFrog, and Nickelodeon Toys are three of the leading runners in manufacturing developmentally-centered toys from the Blues Clues show. These three brands are well-known and trusted for educational toys.
Blue's Clues for Parents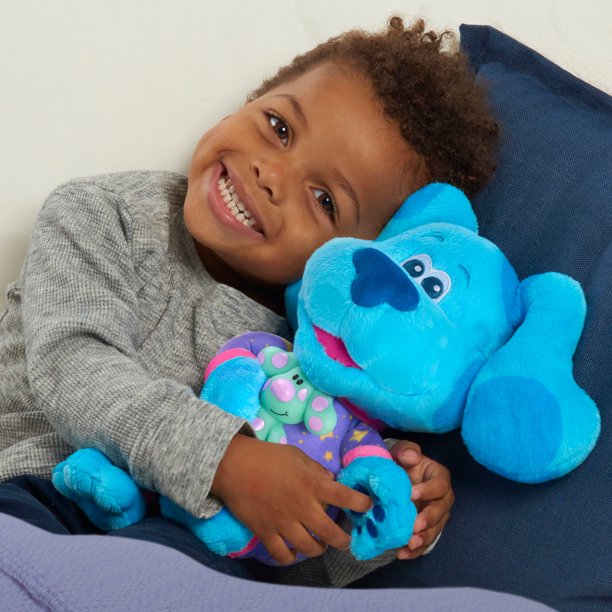 Blue also has a few clues for parents. Consider how the puppy sniffs out paw prints to find answers. How does this relate to your child? Well, the paw prints are virtual in this case. Imagine how many clues you can get by watching your child's mental paw prints. Which shows do they love? Which shows excite them?
If they love Blues Clues, you have a significant clue to giving your child something they love, while the toy theme holds many secrets. Kids are more likely to play passionately with toys from an enjoyable theme. Blues Clues is a theme, and they'll enjoy the toys, especially if they can have fun with their favorite activities.
Match a child's passions to their favorite activities, and you'll see them find more excitement than ever before. But, first, you'll need to pick the appropriate toys from the theme for their age, preferred types, and most-loved activities. Doing so ensures the full benefits of each toy.
Blues Clues toys offer a range of educational benefits as they target early childhood development. Be like Blue, and sniff out the paw print clues that show you which toys appeal the most to your children.
Spotting the Right Blues Clues Toys
When you follow the paw prints, Blue teaches kids that they'll find their answers. So, my paw prints helped me find the best Blues Clues toys for varied ages to which the spotted dog appeals.
Paw Print 1: It should be an outstanding choice from one of the top 27 toy categories. I'll also include some Blues Clues toys that fit into a sub-category.
Paw Print 2: The toy types must also appeal to children's favorite playtime activities. Kids are more likely to enjoy their favorite theme if they can do their best activities.
Best Blues Clues Toys Guide: Top Recommendations
My friends often say I'm too strict on what I consider before buying toys, but I need to know what makes each Blues Clues toy the best. I also want to know which age groups they suit and what disadvantages they hold. I look at both debate sides before deciding which is what parents learn to do.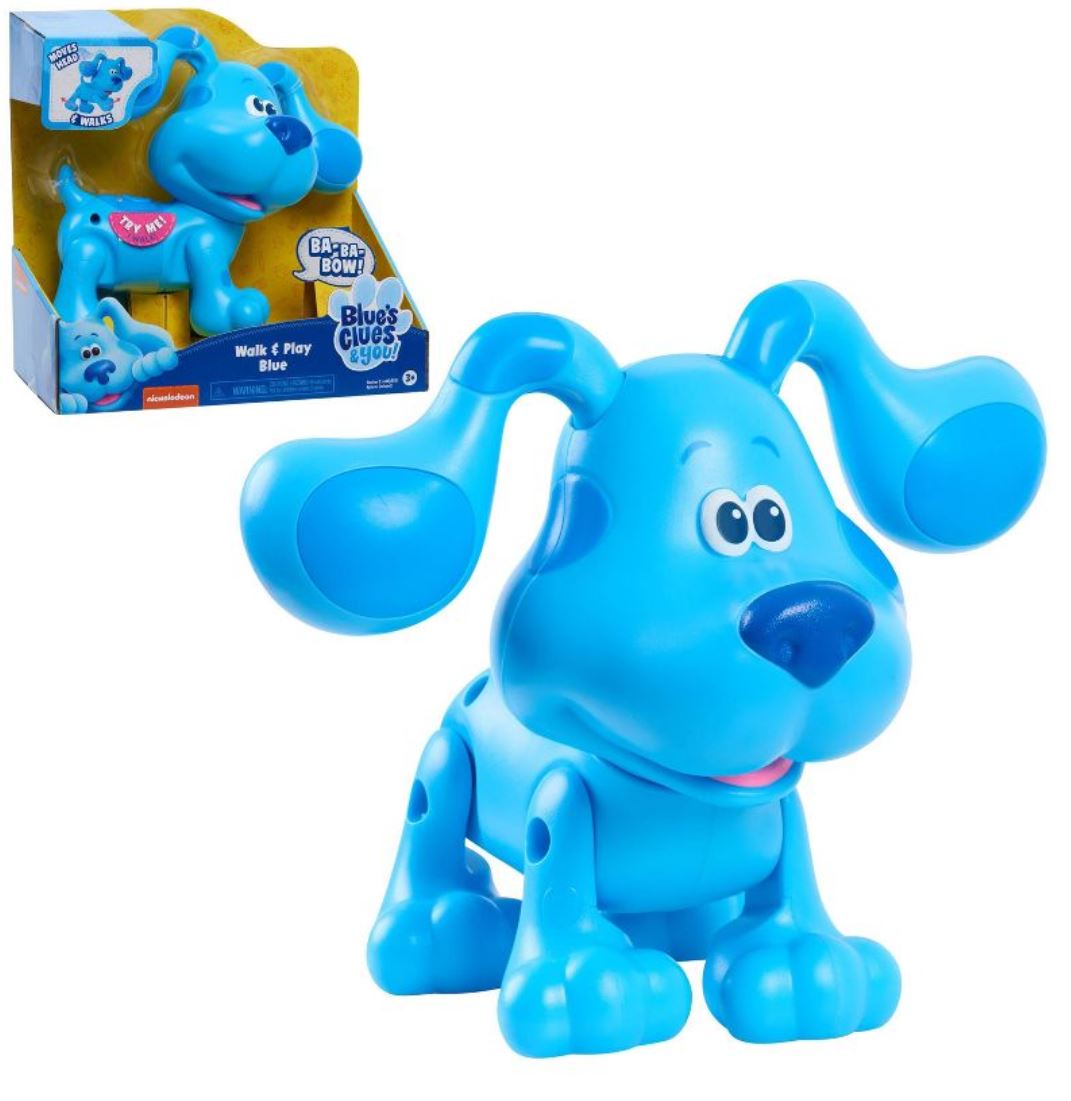 Okay, babies and toddlers aren't that fond of playing with action figures. However, my chosen Blues Clues action figure isn't the traditional kind. It's better suited to tiny hands with curious minds. Kids will love the walking, talking Blue action figure because they can interact with each and get a response.
Clues
Type: Blues Clues Walk & Talk Figure
Activity: Imaginative and sensory play
Ages: 3 to 6
Pros
The walk and talk Blues Clues dog figure works with batteries to make noises and move around for an interactive experience
The Blue figure's head also moves around to create a more entertaining experience, and her ears wobble up and down
Cons
Parents don't love buying endless batteries for toys that drive them nuts anyway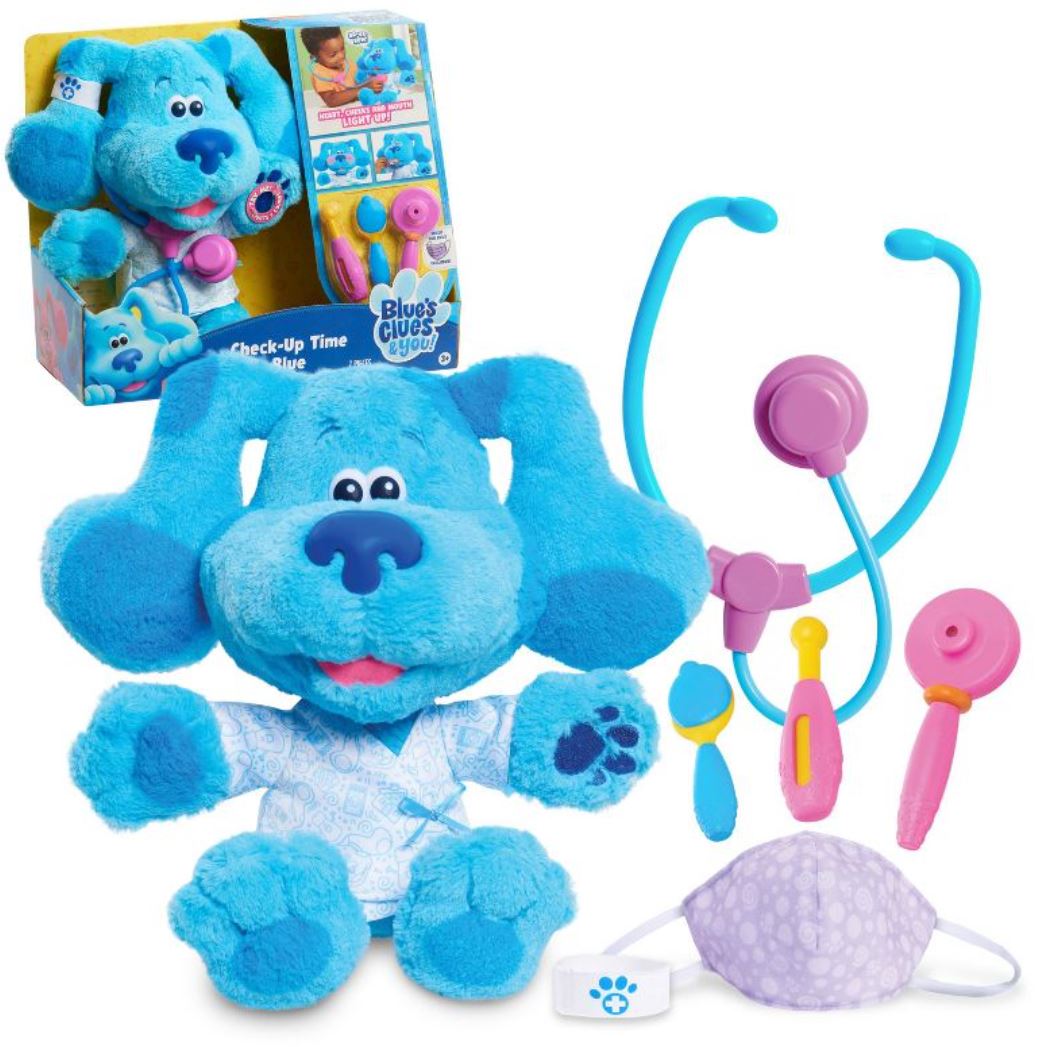 Animal toys are famous with little kids because they love exploring how they sound, feel, look, and smell. I chose the Blues Clues play pretend set because it allows kids to explore the puppy with their senses. For example, they can listen to the pup's heartbeat while feeling the soft texture of puppy fur.
Clues
Type: Blues Clues Check-Up animal toy
Activity: Simulated and imaginative play
Ages: 3 to 6
Pros
Blue comes as a soft plush with accessories for children to play pretend as a veterinary doctor, making sure the pup is good to sniff new clues
The puppy lights up and makes noises as another sensory toy, and it comes with a spoon of medicine to make her feel better if she's unwell
Cons
It's another Blues Clues toy that uses batteries, and I'm sure you're already flipping out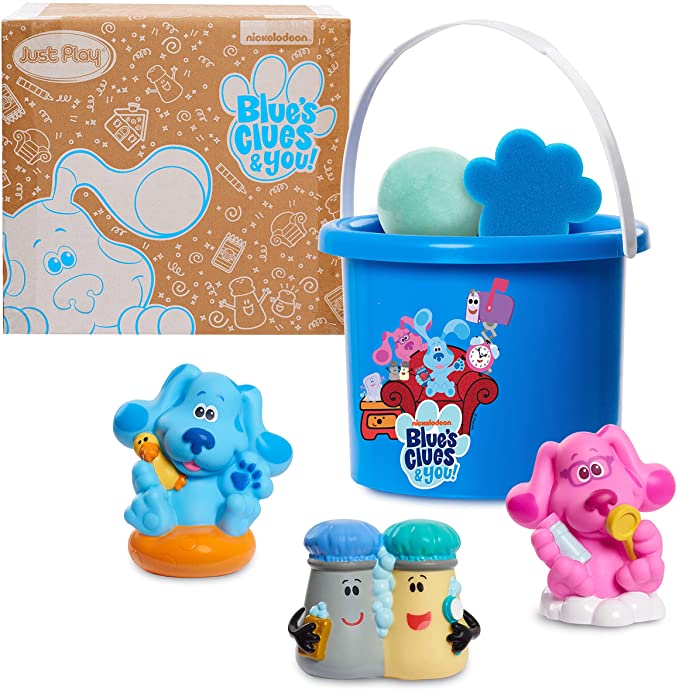 Bedtime routines are one of the worst challenges for parents with babies and young toddlers when it comes time to bathe their little tooshies. You either have an angel who loves water, or you're stuck with a ticking tantrum bomb every night. What if you could make bath time fun for kids? Well, you can with this playset.
Clues
Type: Blues Clues Sponge and Bucket imaginative playset
Activity: Imaginative and sensory play
Ages: 12 months to 6 years (please supervise babies)
Pros
Bath time won't be a struggle anymore once kids enjoy the bucket of toys from Blues Clues, three of which are water toys
Watch little ones squeeze the Blue pups until the bubbles pop and giggles unfold, and the set comes with a sponge to help them bathe
Cons
The playset doesn't especially suit bath time or babies, but it works as such (I used a similar set to get my daughter to bath without biting me)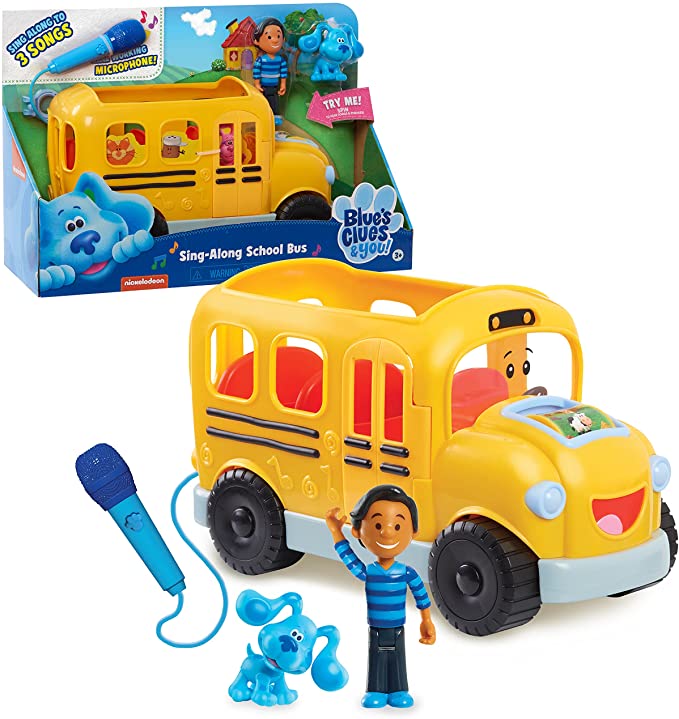 Blues Clues toys offer many sensory experiences. The toy bus with the Blue puppy figure is a musical wonder that will drive you up the walls. Consider the benefits to children before passing the musical Blues Clues toy bus. The Josh and Blue figures can bounce around inside the bus while children sing along to the songs.
Clues
Type: Blues Clues musical toy bus
Activity: Musical and sensory play
Ages: 3 to 6
Pros
You'll have your child bouncing around to the best preschool songs, making them ready for the upcoming trips to school
The songs include three favorites, one of which is "the wheels on the bus," and the bus has a microphone for singalongs
Cons
I'm afraid this Blues Clues toy also makes a noise and uses batteries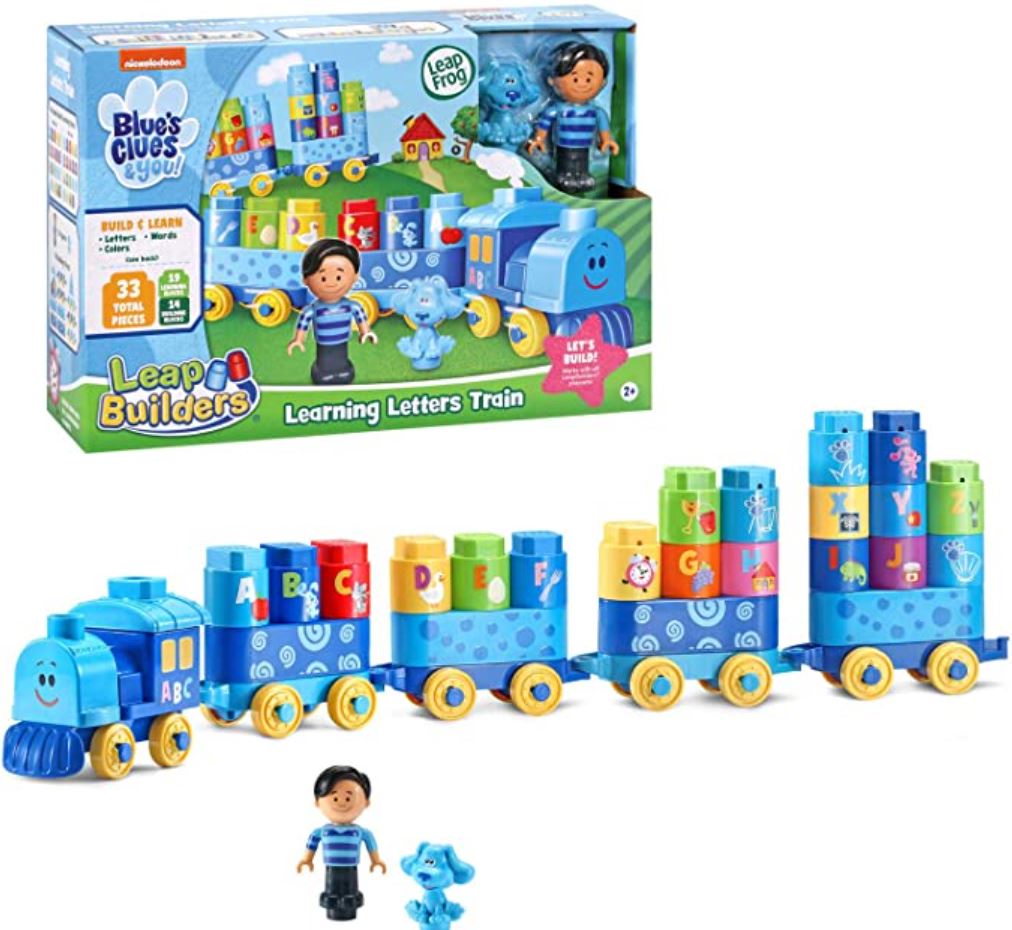 Blues Clues targets the same age range where kids begin to play with construction toys. The educational benefits of construction toys are endless. However, this toy isn't a traditional "building blocks" type of construction playset. It's more of a Blues Clues stacking toy for little hands to learn the alphabet.
Clues
Type: Blues Clues stacking toy
Activity: Imaginative and educational play
Ages: 2 to 5
Pros
Children learn to stack circular pillars on the train while they enjoy the alphabet, including pictures representing each letter
Little children can enjoy pushing the train around on its wheels while also learning about colors and numbers
Cons
You need to buy a separate toy to make it interactive with sensory features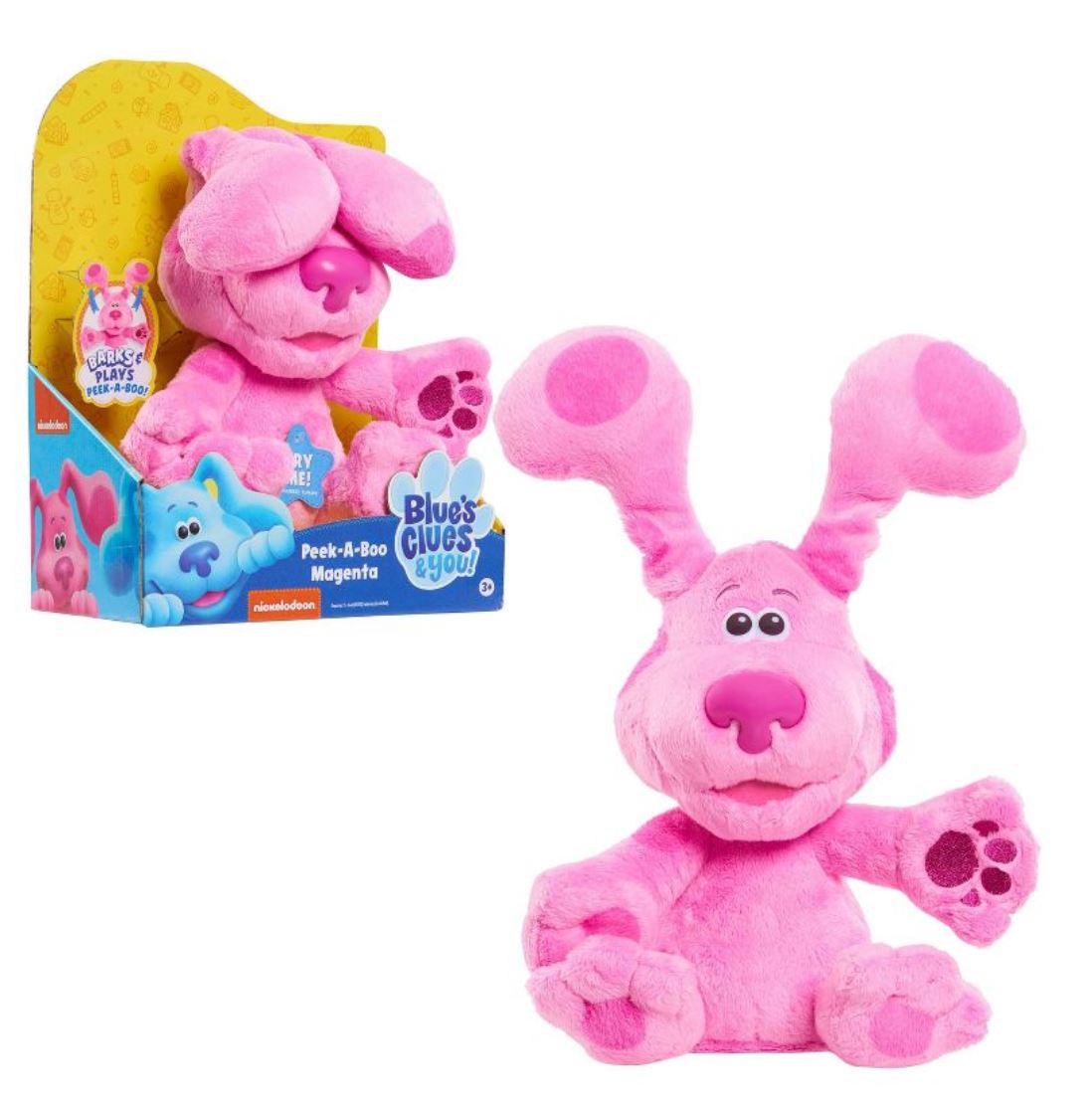 Blues Clues toys all come with some educational benefits, but this interactive plush showing the magenta version of Blue works for tiny toddlers and babies. What's a baby's favorite game? Peek-a-boo, of course! This interactive Blues Clues plush plays peek-a-boo with your little one to give you a break.
Clues
Type: Blues Clues interactive plush
Activity: Imaginative and interactive play
Ages: 12 months to 5 years (supervise kids under three)
Pros
The Blues Clues plush can bark and play peek-a-boo with little ones by hiding behind her massive ears
The Blues Clues sensory plush is safe for little ones as long as you supervise their peek-a-boo games, and it feels like a cloud
Cons
The Blues Clues toy uses batteries and makes noises again (but you'll realize how educational these toys are for little kids)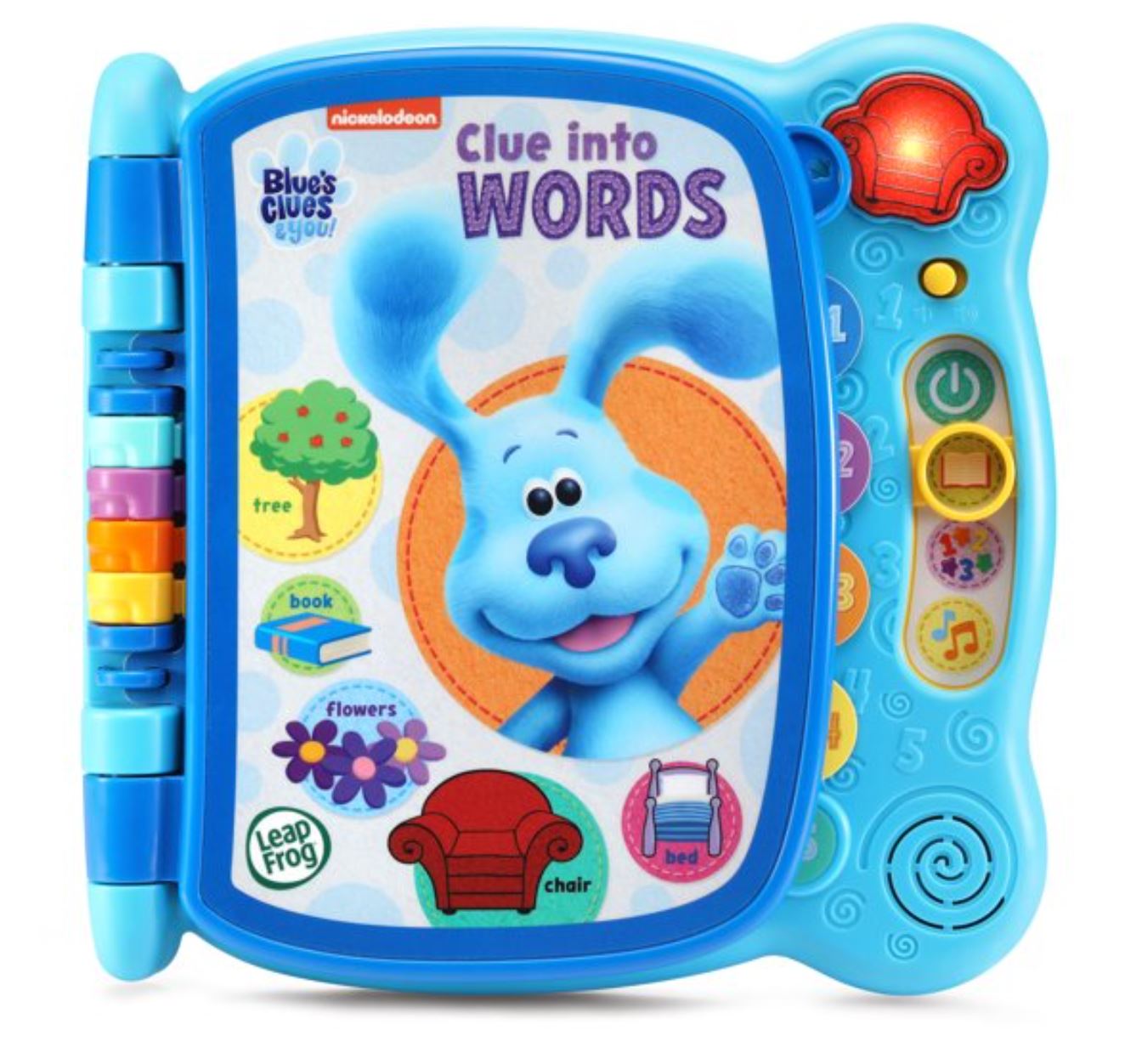 I suppose many Blues Clues toys are electronic because they use batteries. However, I consider electronic toys to be more like technology devices. The LeapFrog Blue Clues electronic word book is ideal for little fingers to press buttons that bring results. Children can enjoy an array of words and their meanings and sounds.
Clues
Type: Blues Clues interactive book
Activity: Educational and sensory play
Ages: 3 to 5
Pros
It's the ideal Blues Clues toy to teach preschoolers to count, the alphabet, and a few favorite songs, and it has touch interaction to make noises when kids press the pages
Children learn a total of 32 words, and they enjoy beautifully colored pictures of Blue, Magenta, Josh, and the post box
Cons
Again, it uses batteries and makes many noises, but it's worth every sound effect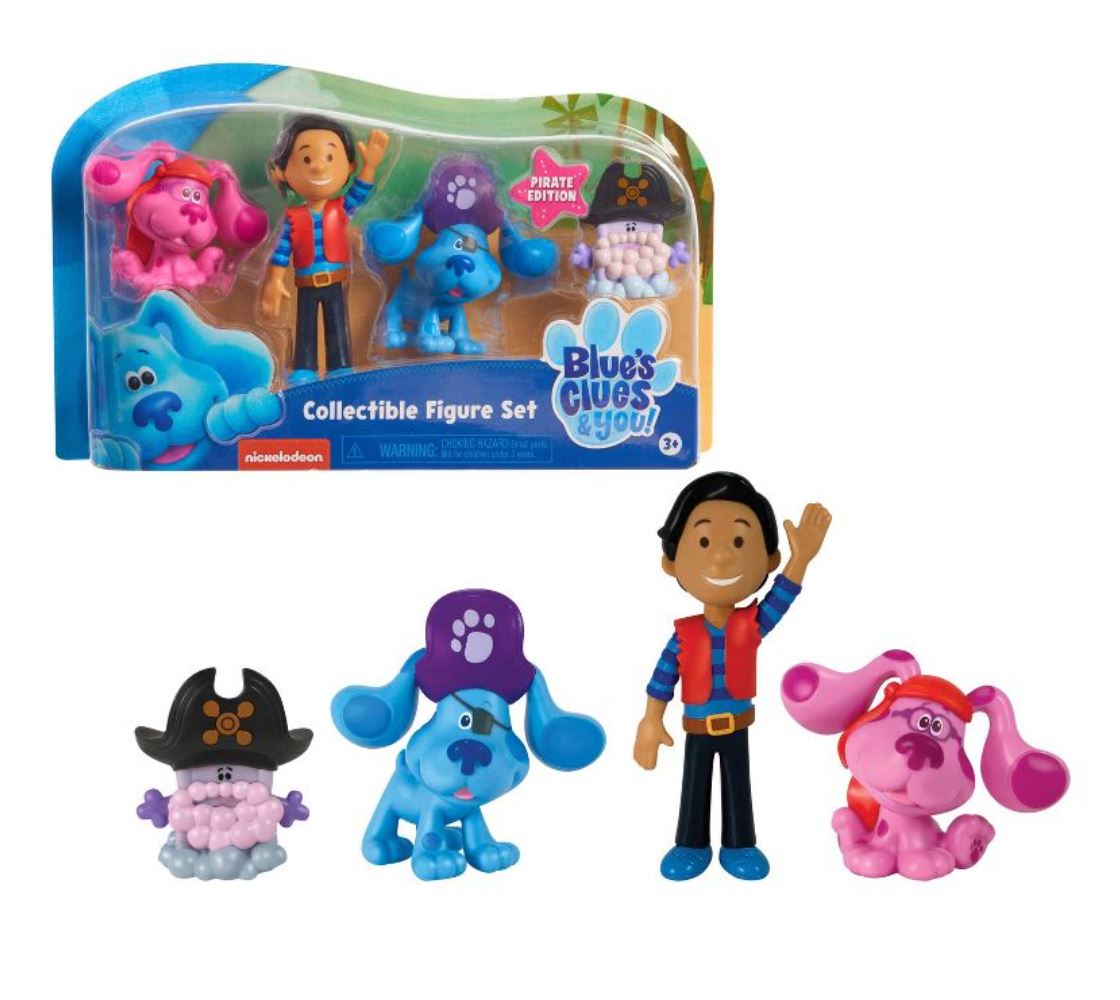 The Blues Clues collectible figure set suits little ones who like playing with their favorite characters. I love how the characters wear pirate costumes to help children imagine adventures and seaward journeys. Josh is the captain, while Blue plays the role of a pirate. Magenta is the first mate, and there's a Bubble Beard character.
Clues
Type: Blues Clues figure set
Activity: Simulated and imaginative play
Ages: 3 to 6
Pros
Watch children explore the adventures that await pirates out at sea with this Blues Clues & You playset
The figures are all around three inches tall, making them safe for toddlers, and the pirate theme is a favorite for many boys
Cons
Not every child likes figures around this age, but some kids enjoy playing imaginative games with them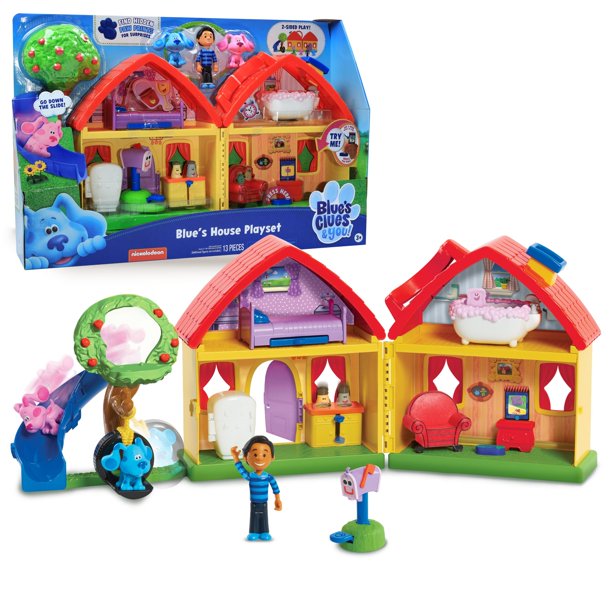 Blues Clues & You show how the blue puppy takes over the home with his "sniffing clues" talent. Children also love playing with playhouses. I had to add one Blues Clues & You Playhouse with figures. Playhouses aren't only for girls, either. Boys can enjoy the imaginative play potential of this figure set.
Clues
Type: Blues Clues & You Playhouse
Activity: Imaginative and stimulating play
Ages: 3 to 6
Pros
The Blues Clues playhouse comes with 13 pieces that take children into the land of puppy-sniffing clues and mailbox runs
Kids get a Josh figure, Magenta puppy, Blue puppy, mailbox, inside furniture, and much more to replay their favorite episodes
Cons
It would have been fantastic if the playhouse had musical effects, but it doesn't (it might be a relief for you)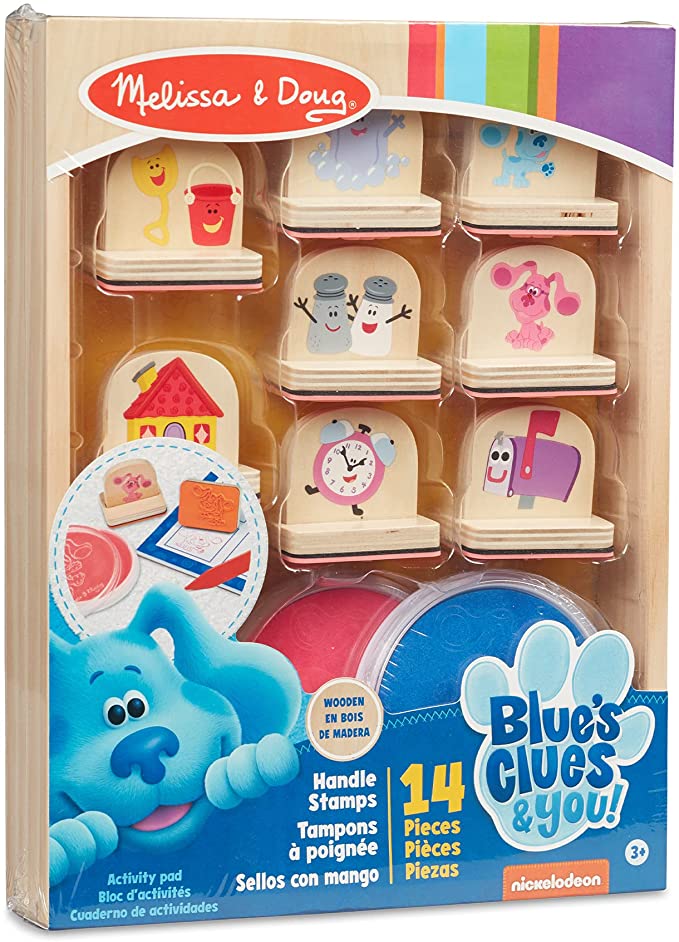 The Blues Clues & You toy range has an exciting game for little ones. It's a hand-stamp kit with an activity pad to keep children entertained for hours. Be careful of where they stamp the Blues Clues pictures, though. If your children leave the playroom, your walls might take on a new design.
Clues
Type: Blues Clues creative playset
Activity: Sensory and creative play
Ages: 3 to 5
Pros
Little children aren't adept at playing complicated board games, making this activity set the ideal alternative to keep them entertained
The Blues Clues & You activity set comes with 15 different challenges for kids to enjoy with their wooden hand stamps
Cons
Your kids might get to your walls, but it's a creative risk you should consider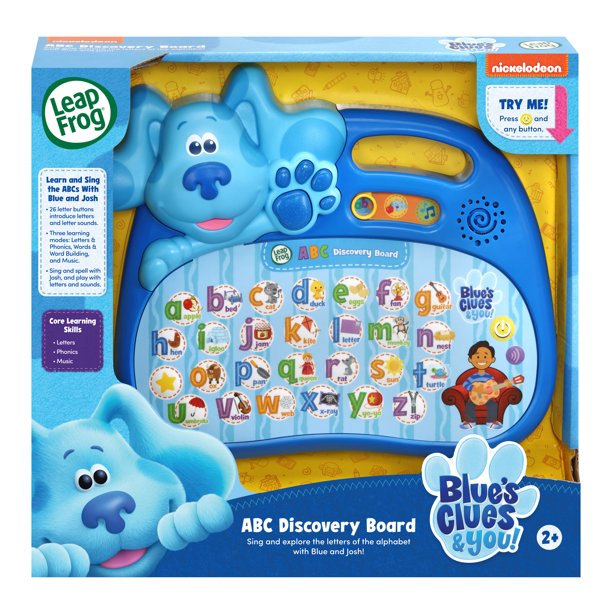 LeapFrog makes some of the best Blues Clues & You toys because they focus on education while showing kids cause-and-effect. Children love pushing buttons. Have you ever tried to convince a child not to press one? My son was daring enough to push every button, and I had to use reverse psychology on his curious hands.
Clues
Type: Blues Clues educational toy
Activity: Creative and educational play
Ages: 2 to 5
Pros
The Blues Clues & You interactive toy has 26 buttons for kids to press, which make sounds to teach them about the alphabet and numbers
The toy also has the alphabet song, and kids love learning through music more than reading the letters
Cons
It's another fantastic toy that uses batteries and makes noises, although it's for educational purposes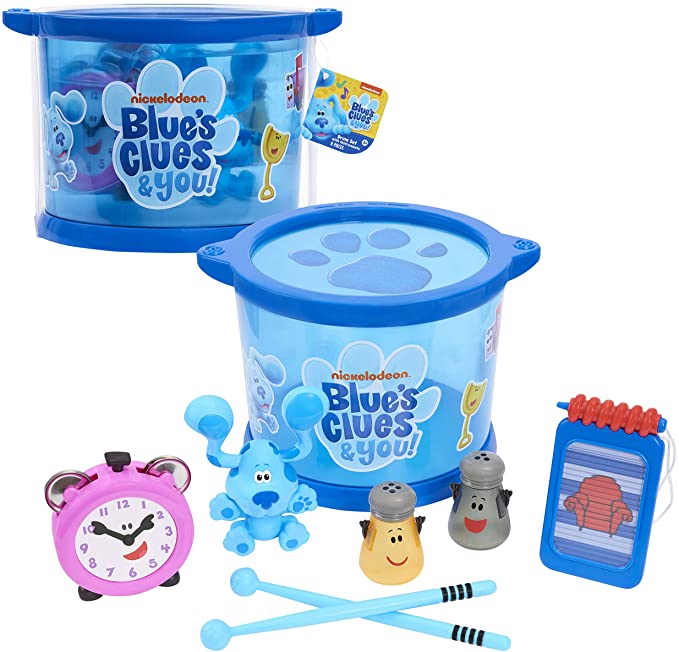 Yes, it's about to get louder with this Blues Clues musical toy, mainly because your little one's hands will create the sounds. I'd recommend some ear muffs before buying this toy. Musical toys' educational and developmental benefits outweigh the endless noise, but I still recommend earplugs.
Clues
Type: Blues Clues toy drum
Activity: Creative and musical play
Ages: 3 to 6
Pros
Get ready to see whether your little one has musical talent or not, the latter being an issue because they'll slam those drums whether they sound good or not
The Blues Clues musical drum toy also comes with an alarm clock, tambourine, puppy figure, and washboard for extra madness
Cons
Again, you'll need some earplugs, but you might find a musical star in the making
Honestly, many Blues Clues & You plush toys have musical abilities. However, this one's unique because it lights up and works perfectly as a nighttime lamp that lulls kids to sleep. I love how the giant plush comes with musical abilities and brings light to a child's bedroom. It's also cute how Blue wears starry pajamas.
Clues
Type: Blues Clues musical plush
Activity: Creative and musical play
Ages: 3 to 6
Pros
The Blues Clues & You plush comes in pajamas, ready to show your child it's time to sleep, and the light-up effect is a bonus
The Blue plush is super soft, which is odd, considering the lighting effects and singing abilities
Cons
You'll need some more batteries, but this one's not too loud because it's a lulling toy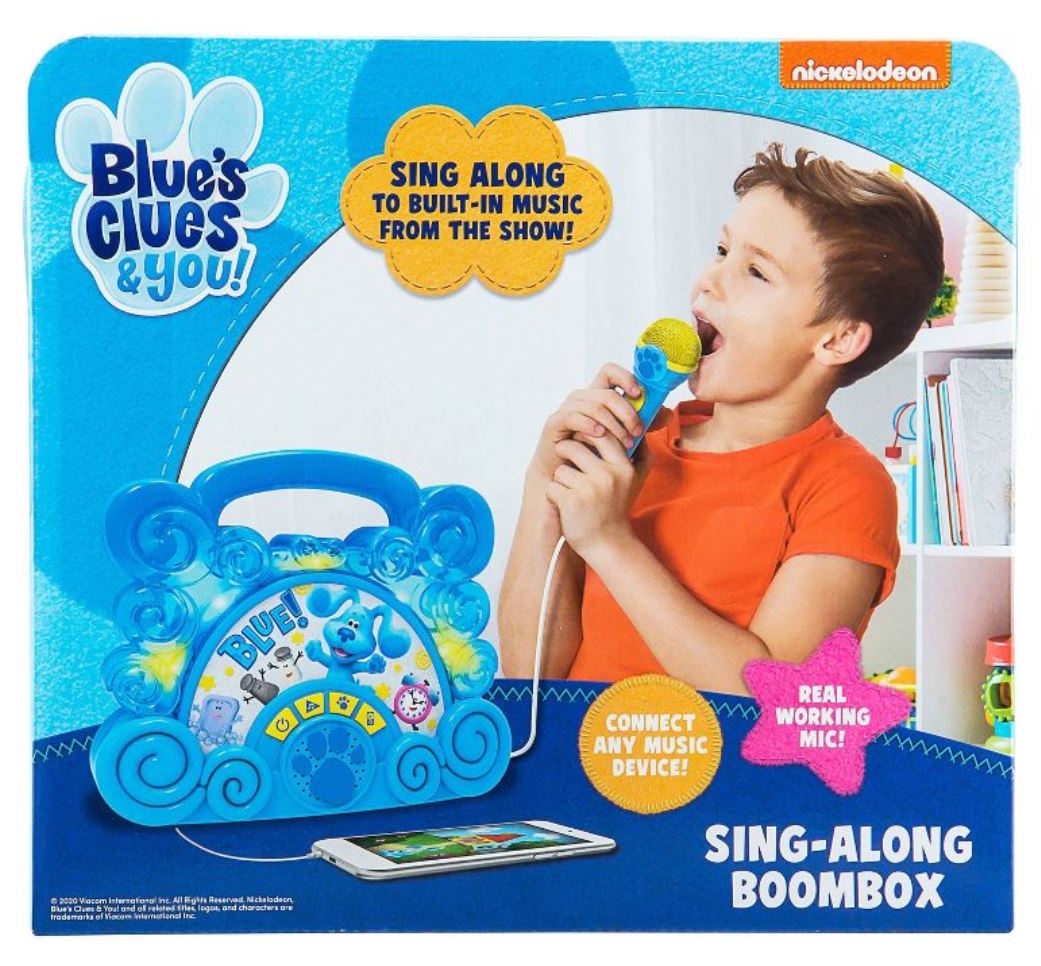 Musical toys are some of the most educational, and they encourage a child's creative abilities to expand. Creativity leads to intelligence, and you'll want the kids playing with musical toys. Music exercises the creative muscles in your little one's brain. So, don't panic if they love musical toys. It benefits them more than most.
Clues
Type: Blues Clues & You musical toy
Activity: Musical and creative play
Ages: 3 to 6
Pros
The Blues Clues musical boombox toy is a wonder on its own, allowing you to connect mp3 devices with music your child loves
It also comes with the show's theme song, a microphone for singalongs, and was a finalist for the Toy of the Year in 2021
Cons
It's another musical explosion waiting to happen, and it uses batteries (patience is a parent's best friend)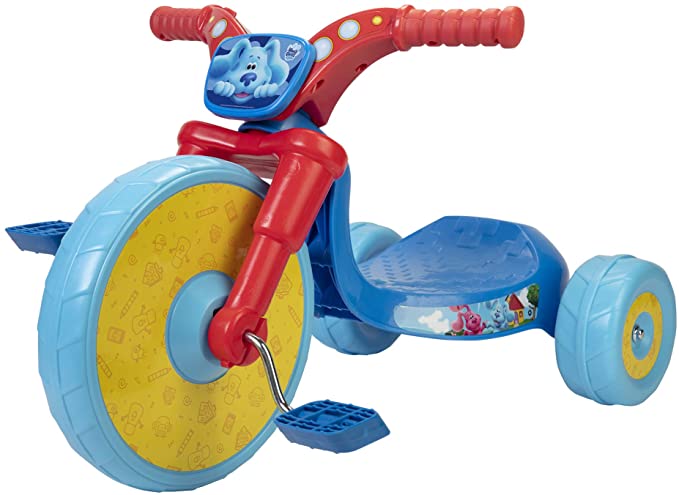 Children should play outside to scoop up sunlight, absorb natural vitamin D, and enjoy countless smiles. It also gets them out of the playroom for some exercise. Blues Clues & You ride-on trikes offer tons of outdoor fun, getting kids to work those gross motor skills while practicing their early driving skills.
Clues
Type: Blues Clues ride-on trike
Activity: Outdoor and imaginative play
Ages: 2 to 4
Pros
I can see my daughter zooming down the driveway with her Blues Clues trike (don't worry, there's a locked gate at the end)
Children can strengthen their gross motor skills by peddling away on the Blues Clues ride-on toy while soaking up the sun
Cons
It can be a nightmare when kids run you over indoors (make sure they have some garden space)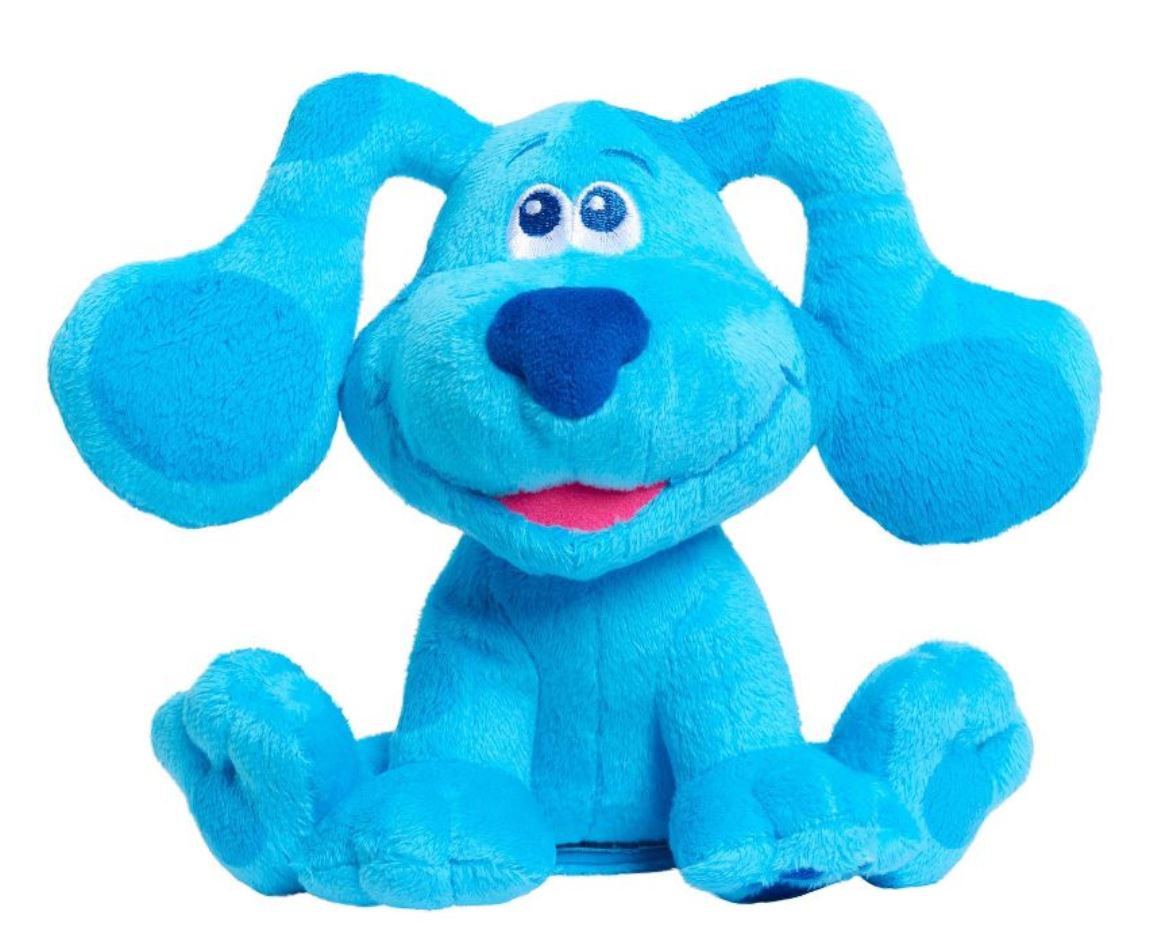 I mentioned how most Blues Clues plush friends interact with music and other abilities. However, some kids love the classic plush toys they can cuddle with before bedtime. The barking blue plush from the show is a fantastic beanie option for traditional kids who want a plush best friend. It does have music, though.
Clues
Type: Blues Clues & You plush
Activity: Social and imaginative play
Ages: 3 to 6
Pros
Allow children to explore companionship with a plush friend before they venture into the world of other children, and they can do so with their Blue buddy
The musical abilities of this plush toy are located in the ear, meaning you can remove the batteries to turn it traditional, and it's another finalist for Toy of the Year in 2021
Cons
Children might find the musical abilities and want batteries to operate the ears (it's okay if they do)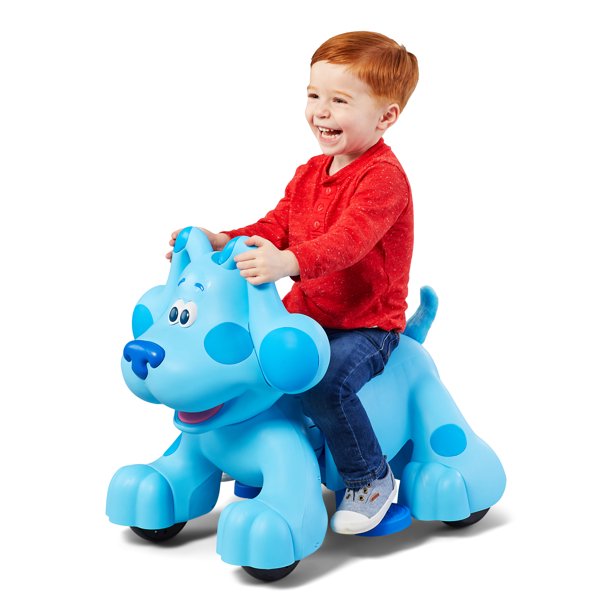 Do you remember the trike? Well, there's an indoor ride-on toy for Blues Clues fans. Kids can enjoy the Blues Clues ride-on puppy inside or outside. It looks like their favorite puppy, and they can help Blue chase clues wherever the weather allows. Blue's ears make the ideal handlebars for little hands, and the peddling is easy.
Clues
Type: Blues Clues ride-on toy
Activity: Outdoor and interactive play
Ages: 18 to 30 months
Pros
The Rideamal comes with easy-to-peddle features and looks like her famous puppy character
Please wait for it, but this ride-on Blues Clues toy also has interactive abilities, including sound effects and songs, making it ideal for kids who want multiple activities
Cons
You'll need many batteries with this ride-on toy, and the sounds are insanely loud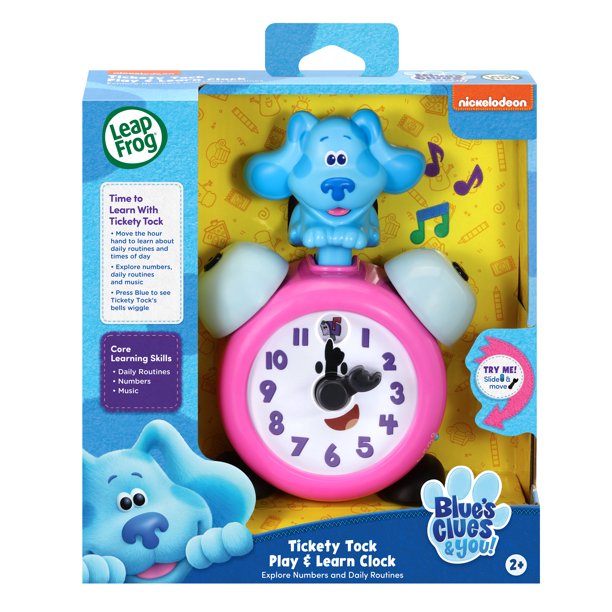 The Blues Clues sensory toy is slightly different from what you'd expect. I chose one that offers sensory play, but it also has routine benefits and educational advantages. Imagine using your child's favorite toy to teach them how to read time and when they should be ready for school? Well, you found it with this toy.
Clues
Type: Blues Clues interactive alarm clock
Activity: Educational and sensory play
Ages: 2 to 5
Pros
You can teach kids as young as two about telling the time and how to follow their routine because Blue gives them clues with pictures
Little kids also learn to count to 12, and the "tickety tock" clock also plays music to encourage everyday habits
Cons
It uses batteries and makes sounds, but it's the perfect toy to teach kids about their routines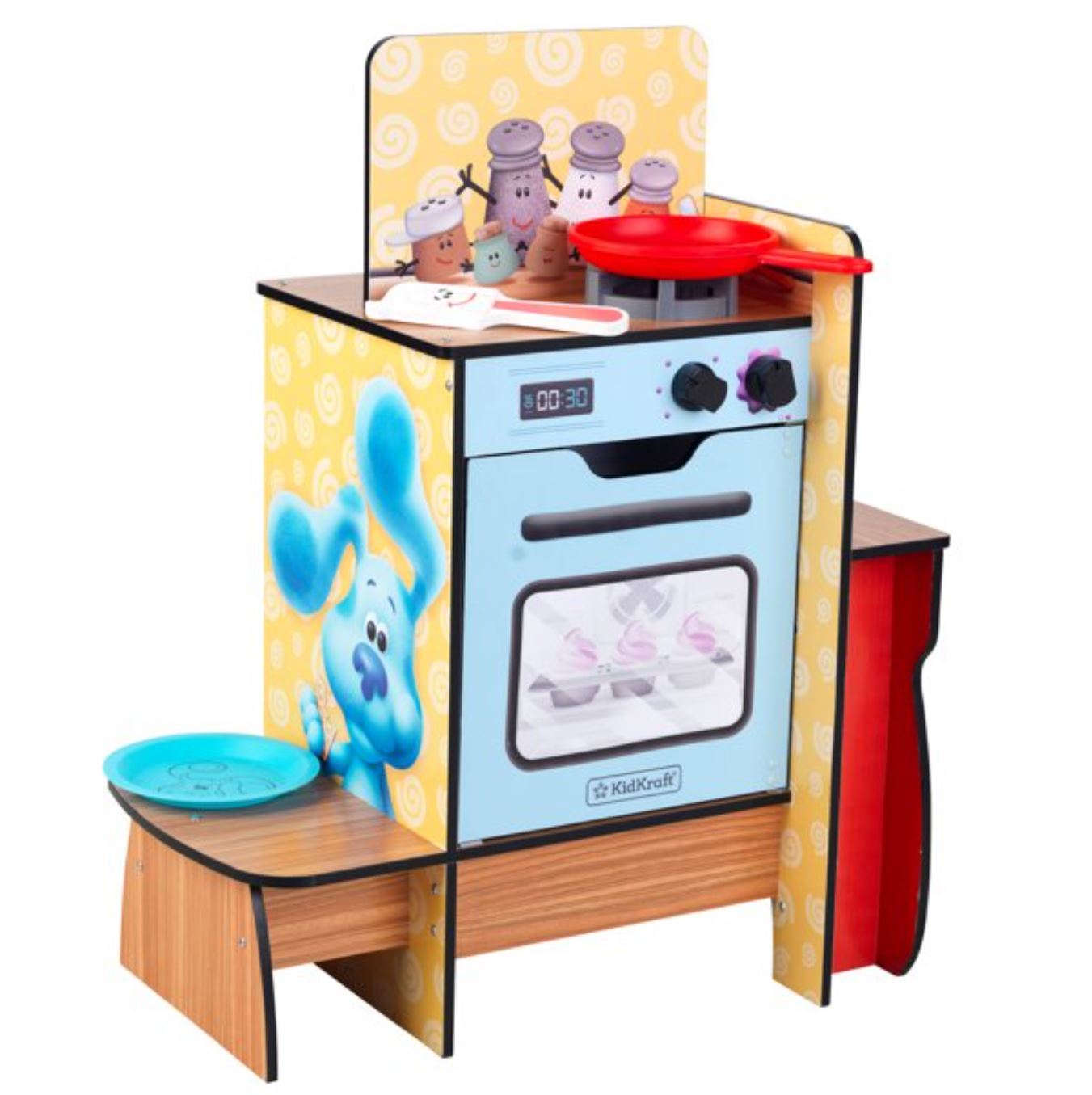 Simulated toys encourage children to explore the adventures within their imaginations. Toddlers and preschoolers also love playing with toys that make them think they're helping mommy in the kitchen. My daughter loves helping me with baked goods and little things in the kitchen. It's good she learns now.
Clues
Type: Blues Clues & You simulated toy
Activity: Creative and imaginative play
Ages: 3 to 6
Pros
This Blues Clues playset is ideal for little girls who dream about helping mom in the kitchen, and it has pictures of the show's characters
It comes with a snack table, sink, oven, stove, and side table drawer for hours of make-belief fun with a durable wooden set
Cons
It likely suits girls more than boys, although some boys love cooking like my son
I have to show you one more singing doll from Blues Clues & You. The Blue plush comes with a toy guitar for children to rock to their favorite show songs while Blue moves around. She's an interactive puppy with this plush again. The guitar also activates showtime phrases and sounds.
Clues
Type: Blues Clues plush
Activity: Imaginative and creative play
Ages: 3 to 6
Pros
Watch children's eyes sparkle as they control how Blue dances and sings with the guitar strings
Blue's ears also go up and down, and she can raise her paw while rolling her head side to side with the music
Cons
This toy needs batteries and tolerance for musical playtimes again
Top Q&A
Question: Is Blues Clues a Good Show for My Kids?
Answer: It's okay to wonder. It makes you a good parent. I can assure you that Blues Clues is an excellent show for kids to watch. According to the New York Times, children between three and five improved their concentration. In addition, they enjoyed problem-solving challenges more readily after watching Blues Clues.
Question: What Age Groups Benefit the Most from Blues Clues Toys?
Answer: Blues Clues toys come in many options for babies to preschoolers. For example, the Best Blues Clues Baby Toy Set targets babies and young toddlers who fight against bath time. Instead, they have fun water toys to raise the excitement of bathing. However, the majority of Blues Clues toys target ages three to five.
Question: Are Blues Clues Toys Overstimulating for Children?
Answer: I can't believe I've heard this question. Honestly, there's no such thing as stimulating a child too much. Sensory stimulation and everyday experiences like playing with their favorite toys instead help children learn to embrace the world. You should always follow recommended ages, but sensory stimulation is a must for kids.
Best Blues Clues Toys Guide: Conclusion
You won't want to cry when you hear another bark or Blues Clues theme song. You likely realize how beneficial and educational musical toys are to kids. I highly recommend investing in Blues Clues toys if you have a child between three and five. The Best Blues Clues Baby Toy Set also works for babies.
The Best Blues Clues Car Toy gets children ready for preschool bus trips, and the Best Blues Clues Construction Toy gets them counting. Are you struggling with your child's routine? Buy the Best Blues Clues Sensory Toy to help them learn the pattern faster. Forget how many batteries and earplugs you need.
Blues Clues & You toys are a must for developing children. So, pick the best match, and get it today.
For more little kid's toys:
Best Scooby-Doo Toys Guide for Howling Fun – Avid Toy Insider
Best Little People Toys Guide for Tiny Fans – Avid Toy Insider
Ultimate Guide to Minnie Mouse Toys for Tee-Hee Girls – Avid Toy Insider