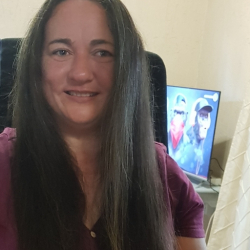 Latest posts by Caroline Lambert
(see all)
So, your preschooler scooted into middle childhood, a place of wonder and weirdness. So, it's no surprise you're wondering how to find the best toys for 6-year-olds. I felt the same dilemma with both my kids when they entered their younger schooling years because so much emphasis stays on preschoolers and toddlers.
I was one of the moms who spent hours looking for age-appropriate toys to encourage suitable educational activities and appeal to my children's loved themes. My mind constantly swam around a deep pool of toy types, which quickly felt overwhelming until I found a strategy. Today, my head's above water.
I choose the best toys for my kids with greater ease and a structured approach. Admittedly, the primary developmental reasons behind each choice remain at six. Still, I'm here to share my no-fail toy-picking system.
Unveiling the Best Toy for 6-Year-Olds First
I quickly learned that my son and daughter became social butterflies as first-graders. Hence, I targeted toys that gave them social opportunities while supporting the essential cognitive changes and developments they experience at this age. My system never failed with either child, and I'll share the details soon.
However, I want to share my ultimate toy with six-year-olds first. The 200-Piece Mega Marble Marathon Playset welcomes a social playtime with various cognitive development advantages for first-graders. The fun never stops. Children will find new, creative ways to roll the marbles down the massive building structure.
I'll share more about my ultimate toy soon. Meanwhile, check out my other top picks before diving into my toy-picking system for six-year-olds.
More of the Best Toys for 6-Year-Olds at a Glance
How to Find the Best Toy for 6-Year-Olds Explained
I only learned how to find the best toys for six-year-olds when I understood how their evolving personalities worked and how I could support their development. Then, it made everything much more straightforward, allowing me to choose the ideal toys for my kids at this age. So, let's see what you need to know first.
How to Understand the Face of a 6-Year-Old Child's Changes
A six-year-old child has a challenging place in this world because their developmental stage is multi-layered and ever-changing. You have a somewhat surprising and beautiful change in your child's personality at this age. The toddler and preschool years were training, and it's time to see your child's true character.
Six-year-olds start moving away from separation anxiety and into social acceptance and independence. The need for autonomy, self-made decisions, and unique preferences are adorable at this age. It's also heartwarming when your kid wants to fit in with their friends because socializing used to be tricky.
Some crucial developmental changes are happening to your new school-goer, and it's best to know about them before finding suitable toys. Some developmental milestones and transitions include:
The need for strong family and social relationships, including a newfound independence (some six-year-olds still have some separation anxiety, which is necessary to change as they need socialization now)
The urge to pursue curiosity and explore the world around them because their cognitive needs are much greater at this age
The desire to find and perfect their innate talents and skills because they recognize and articulate their interests and thoughts better now
The need to challenge their minds on the appropriate age level (more on this soon)
A desire to understand their emotions and those of the people around them because they're aware of emotions but are still learning to manage them
The changes feel advanced for six-year-olds, but these are the urges, needs, and desires of a child entering school and social circles outside their families. Supporting a child's transformation is essential as a parent, and I'll share some tips to help. But first, I'll show you the depth of their developmental needs.
How to Find the Best Toys for A 6-Year-Old Child's Developing Needs
Let's dive into a six-year-old's cognitive and physical changes before getting to the supportive tips, where I'll explain the changes in simpler terms you can easily relate to toys. The more technical developments around six include critical thinking, motor skills, social, emotional, and language.
Sometimes, you need to understand the foundational yet technical developments to find the best toys suitable for a six-year-old accurately. I'll share supportive ideas that sound less technical and relate easier to well-known toys soon. But first, let's see the major changes in the three key areas of a six-year-old's development.
1. Critical Thinking (Cognitive) Skills
A six-year-old child's brain is ready to explore the critical corners that question everything, including numbers, words, and problems. Curiosity is ripe among these kids, and they need to play with toys that challenge their critical thinking. They need to experiment with numbers, counting, writing simple-word sentences, and more.
Children benefit largely from toys that challenge how they need to fit two pieces together, solve a problem, or create a train of thought. Toys that promote counting and structured sentences (even musical toys) also help a child develop an improved memory and attention span to focus better on critical tasks.
In addition, six-year-olds begin learning to distinguish reality from make-belief. It's a vital development because it proves that first-graders enjoy role-playing games and toys while understanding the "play" part. More cognitive changes are happening. Six-year-olds can also distinguish the differences and similarities of objects.
For example, they can see how a pair of LEGO blocks look similar while another looks different and won't fit together. LEGO blocks and other building kits are fantastic cognitive challenges for six-year-olds. Constructive and educational toys offer a world of critical thinking, problem-solving, spatial reasoning, and memory games.
Finally, metacognition (yes, it's a weird word) develops around six, meaning kids start knowing they didn't do something right and try again. Therefore, it's okay when children enjoy toys that allow them to try repeatedly. Even LEGO blocks can help with this task because the first build can be a failure.
2. Motor Skills
Six-year-old children are starting to perfect their balance, hand-eye coordination, and agility. They enjoy jumping, skipping, and running. Some kids might learn to jump and skip properly at six, meaning toys encouraging these movements would work wonders. Physical exercise is essential for six-year-olds.
First-graders may master playground equipment easily, learn to ride a two-wheel bike, and throw a ball like a pro because they're refining their gross motor skills. A six-year-old child's fine motor skills are also rising because they can button a shirt, write their names, draw pictures, and brush their teeth.
3. Social, Emotional, and Communication Skills
During this phase, six-year-olds learn to expand their language skills, emotional expression, and individual boundaries. Language development is a critical secret to helping children become more social, and it provides the means for them to express better their newfound emotions, interests, ideas, and thoughts.
A six-year-old child also uses their improved memory to retell stories, which is why they gain a keener interest in dramatic or imaginative play. They can string words together and talk up a storm. Six-year-olds can better articulate their thoughts, feelings, interests, and experiences, and some toys can help them practice this skill.
Toys with music teach children how to string together words in memory. Toys that talk to or provide a listening ear to express emotions are also welcome. Six-year-olds should use proper grammar and understand more complex instructions, which works well with social toys that follow the rules.
Some six-year-old children might still deal with separation anxiety, meaning their emotional resilience isn't up to scratch. It's crucial to encourage their pursuit of independence, even if you suffer from separation anxiety in the process. Toys that encourage them to play with friends are winners.
Supporting a 6-Year-Old Child's New Journey With Toys
Toys remain a massive part of a child's desire regarding time spent. Therefore, it's the foundation on which you can support your child's developing needs as you did when they were younger. For example, you bought them Montessori toys to help them develop fine motor skills while guiding balls through wooden holes.
Now, it's time to pick age-appropriate toys that help six-year-olds find their way. It helps to know what type of toys, activities, and skill development will give them what they need. Here are some ideas to find the best toys without getting overly technical because they'll support the necessary cognitive and physical developments:
Age-appropriate books and word games help kids develop better language and communication skills
Musical or creative toys support a child's innate talents and independent exploration
Ride-on, outdoor, and physical toys help them coordinate improved balance and perfect their motor skills
Lego kits challenge their minds to be more creative and think critically, and they help six-year-olds understand better spatial reasoning and problem-solving
Activity playsets and books challenge their early math and language skills
Playsets that welcome social activities help them bond with other children
Role-playing games encourage imagination, the understanding of social rules, and emotional expression
Toys governed by simple rules, like boardgames, teach six-year-olds to act appropriately in social settings
How you support your child's development is broad, but you can narrow it down to a few toy types.
How to Find the Best Toys for 6-Year-Olds: Summary
My target was to find toys that supported my six-year-old's changes as a first-grader. Therefore, I needed a variety of toys that offered the support mechanisms to improve their cognitive, motor, social, emotional, and language skills. The toys must promote critical thinking, language development, and cognitive challenges.
Six-year-old children need a variety of supportive toys, which should also encourage multiple activities because some activities encourage specific skill development. For example, role-playing toys promote social interactions and emotional expressions. However, constructive play provides cognitive reinforcement.
Finally, the toys should encourage or work in social settings because your child's social development matters. In addition, you might be struggling with a six-year-old who still suffers from separation anxiety. It would help to offer toys with social play opportunities if you want an independent six-year-old child.
My Recommended Toys for 6-Year-Olds
Adding the best toys for 6-year-olds with spicy variety already covers most children and their much-loved activities. However, I'll also be sure to add options for girls, boys, and both to enjoy with friends. In addition, I'll share why the toy is incredible, what makes it challenging, and which skills improve with the toy.
200-Piece Mega Marble Marathon Playset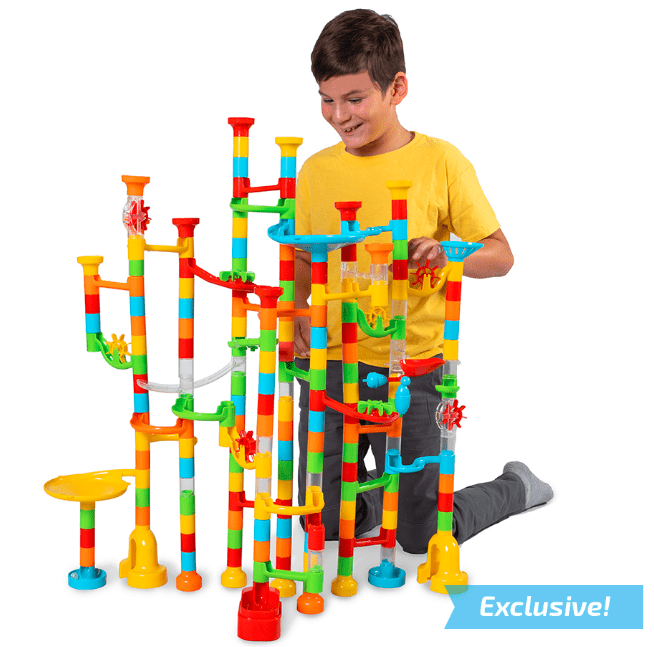 Regarding social toys, this playset is the ultimate good time for a group of six-year-old kids. I could watch my son spending hours with his friends when it came to marble games and playsets. However, the fun starts long before the marbles roll with this playset because kids have to build it. You can help, but let their friends join.
The Toy's Features
Type: Mega marble running playset
Skills: Cognitive, spatial reasoning, social, language, and problem-solving
Activities: Social, constructive, and educational play
Social: Extremely
The Toy's Pros
The 200-piece giant marble running playset captivates children to enjoy a social construction activity before creatively finding ways to make the marbles run in new directions
The bright colors, size, and changeable designs for the marble run will keep six-year-olds entertained for hours and days
The Toy's Cons
Packing the playset away is a nightmare unless you set it up in a playroom
Bambilo Electronic Dance Mat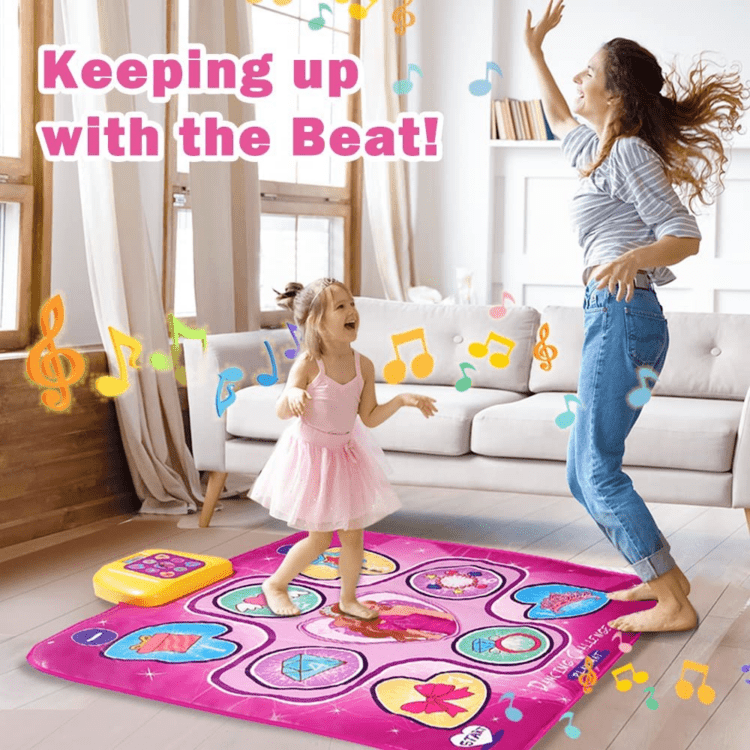 Music has a beautiful way of bringing children together to make them smile, laugh, and dance. Schools use music to connect children to their environment and peers. It starts long before children become talented dancers or singers. My daughter used to love shaking her booty with friends.
The Toy's Features
Type: Electronic dance mat
Skills: Gross motor, teamwork, coordination, balance, and strength
Activities: Social, interactive, and musical play
Social: Definitely
The Toy's Pros
The electronic dance mat comes with five game modes to keep six-year-olds dancing with their friends
It also welcomes children to challenge their moves with dance challenges, and the pictures are ideal for first-grade girls who love pink and diamonds
The Toy's Cons
Electronic dance mats tend to break after some time
Electronic Arcade Basketball Playset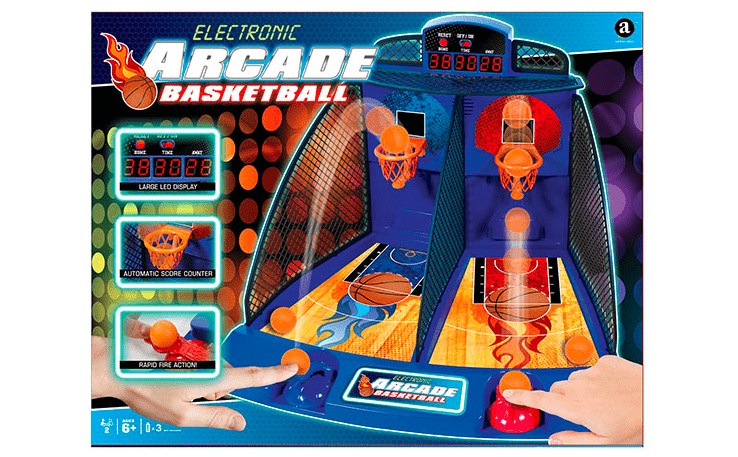 I love the social toys available for first-graders. The electronic arcade basketball game is ideal for social activities and teamwork. It also allows first-graders to be slightly competitive in a sporting environment that encourages their motor skills and hand-eye coordination. Additionally, it has tons of laughs waiting.
The Toy's Features
Skills: Fine motor, gross motor, hand-eye coordination, and communication
Activities: Social, physical, and interactive play
Social: Undoubtedly
The Toy's Pros
The electronic basketball playset for six-year-olds will welcome them to play as teams and against each other
Basketball is a popular sport in America, making this inspiration ideal, and the physical exercise gained is essential for growing first-graders
The Toy's Cons
It breaks a child's heart when the electronic bits stop working
Electronic Keyboard With Microphone Playset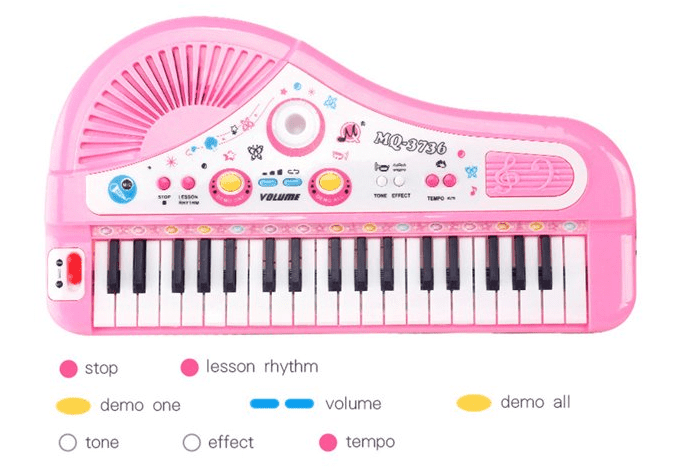 Since toddlerhood, my daughter has focused on musical toys, and I've seen the value of her developed talents. She's only eight now, turning nine in a month, but she already sounds like a musical maestro on her violin. She dabbled with many musical toys, some of which offered social activities like this one.
The Toy's Features
Skills: Creativity, hand-eye coordination, fine motor, and critical thinking
Activities: Social, musical, and interactive play
Social: Moderately
The Toy's Pros
Musical playsets welcome social activities when kids play for their friends or sing a song for feedback, which also boosts self-esteem
Electronic keyboards guide six-year-olds with lights and cues to help them learn how to play, and it comes with 24 demo songs to practice
The Toy's Cons
Keyboards are either brilliant or hopeless, depending on whether a child is musical
Hilarious Jokes for 6-Year-Olds Book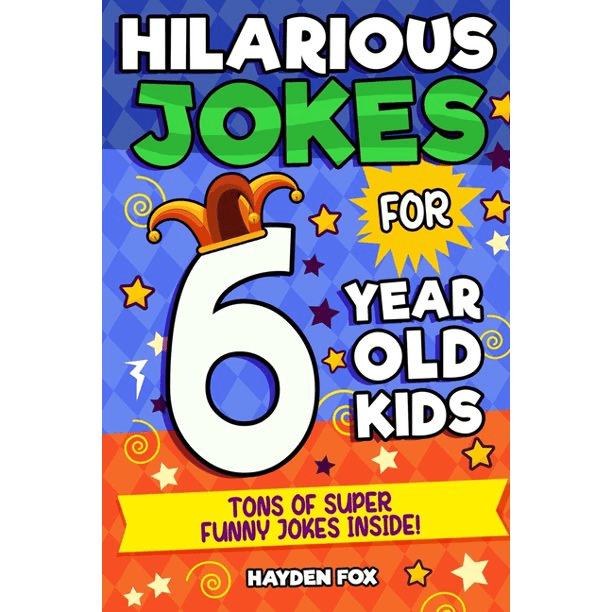 Do you know what makes kids laugh on the playground? Of course, they love hearing jokes. I'd buy this book because it helps a six-year-old bond with other children when they retell the jokes. Nothing bonds people better than a few laughs; your child gains language and vocabulary skills.
The Toy's Features
Type: 6-Year-Old Storybook
Skills: Reading, language, vocabulary, humor, and emotional
Activities: Social and imaginative play
Social: Moderately
The Toy's Pros
I bonded quickly with kids who told jokes in school, and my son does the same, making this book incredible
Storybooks engage children in a learning process while they enjoy a story (imagination), and joke books make them laugh simultaneously
The Toy's Cons
A child can only read it so many times
IQ Builder: STEM Engineering Playset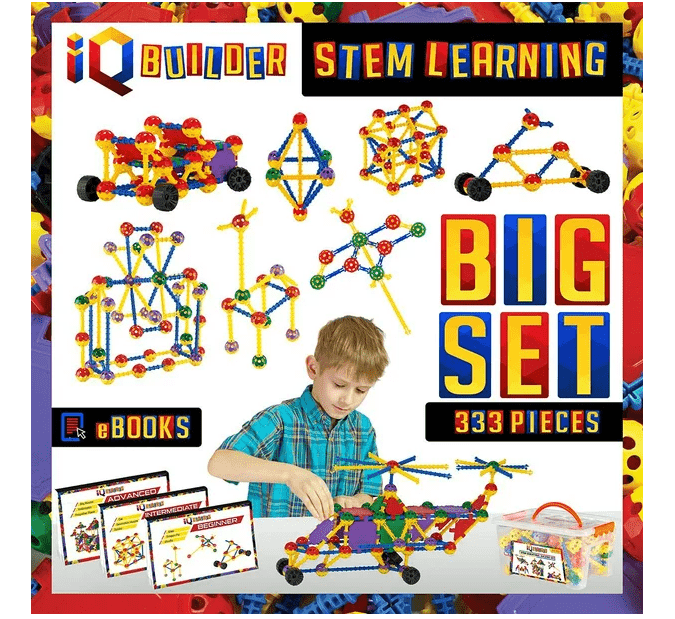 STEM toys are ideal for introducing first-graders to the world of learning early math, engineering, technology, and science skills. In addition, the larger playsets welcome the social aspect for kids to work as a team. I love this STEM toy for six-year-olds because it repeatedly challenges them to build new models.
The Toy's Features
Type: STEM building kit
Skills: Critical thinking, problem solving, spatial awareness, fine motor, and emotional resilience
Activities: Social, constructive, and educational play
Social: 100%
The Toy's Pros
The STEM building kit is a social activity because there are countless ways to build it with friends
The pieces fit together quickly, and kids can enjoy reading the instructions to find new ways to build models, vehicles, houses, and more
The Toy's Cons
The pieces get lost over time, which frustrates children
Laradola Robot 5-in-1 Transforming Building Kit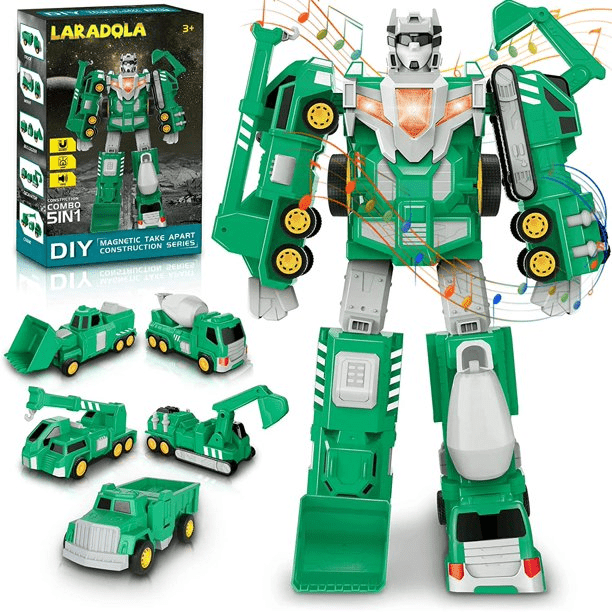 Robots and transformational building kits inspire children to use their critical minds as first-graders. In addition, everyone loves robots and will want to play with your child when they see this playset. It's a 5-in-1 jumbo robot transforming playset that breaks into five different construction vehicles, another favorite toy.
The Toy's Features
Skills: Problem-solving, spatial awareness, critical thinking, and patience
Activities: Creative, constructive, and interactive play
Social: Yes
The Toy's Pros
The 5-in-1 transforming robot toy brings to life a first grader's imagination and creative independence with multiple ways to play with the set
Social activities are always a possibility when kids play with such a cool toy, and the robot is musical to add to the adventure
The Toy's Cons
Losing any part of the robot-building toy will break a child's heart
LEGO Friends: Doggy Daycare Building Kit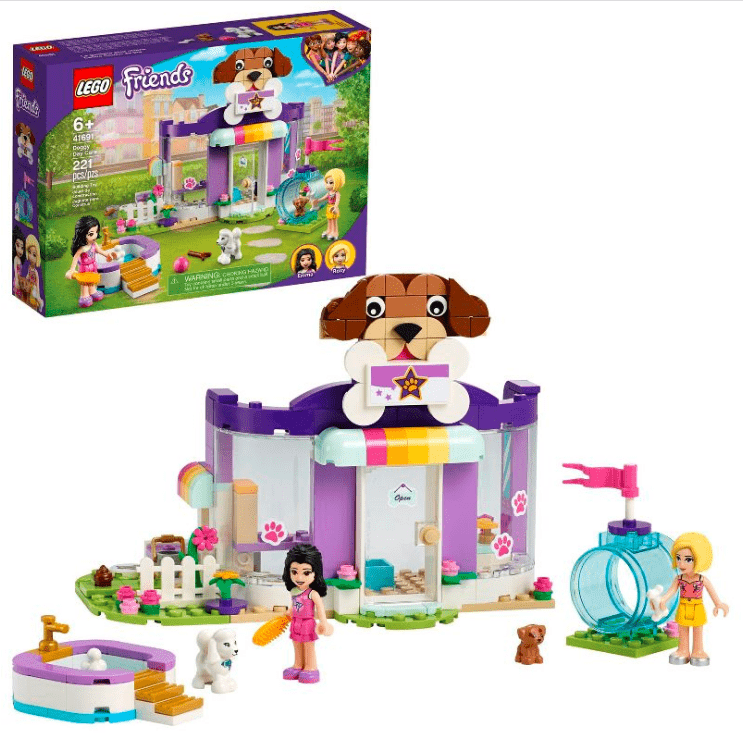 LEGO building kits for first-graders are ideal for social playtime activities, whether a child builds it alone or not. The playset welcomes children to take turns with friends when they pick mini-figures to represent themselves. In addition, it's the perfect way for kids to role-play their games with miniature playsets.
The Toy's Features
Type: LEGO kit for 6-year-olds
Skills: Critical thinking, spatial awareness, problem-solving, creativity, and fine motor
Activities: Social, interactive, and educational play
Social: Indeed
The Toy's Pros
LEGO building kits are one of my top picks for most ages, and this one welcomes first-grade girls to play along and take turns
The building kit's name says it all because it invites friends to play, and the 22-piece set revolves around puppies and what first-graders love
The Toy's Cons
It's not the most extensive LEGO kit for social play, but it works
LEGO Star Wars Microfighters Building Kit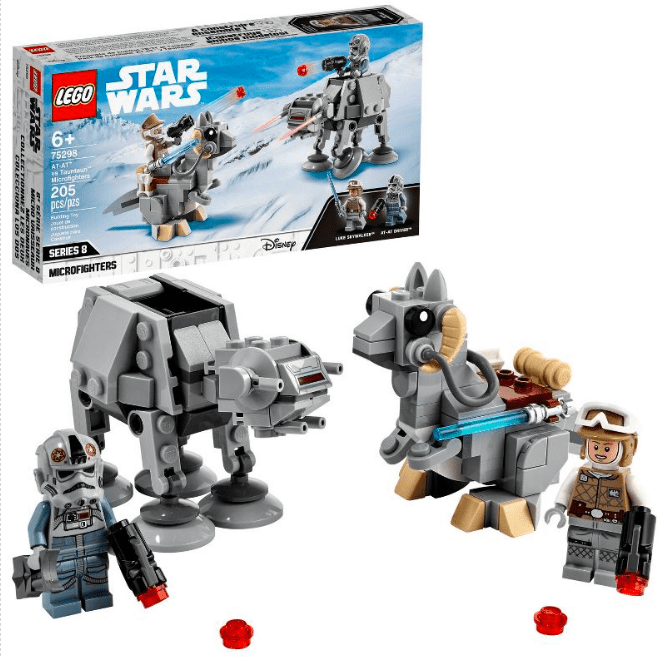 The puppy and friend-inspired LEGO building kit appeal more to girls. So, I had to find one that worked for boys. Star Wars is an age-old, legendary show every child can welcome, even in the first grade. The Mandalorian targets younger children. I love this set because it has a competitive edge to encourage social play.
The Toy's Features
Skills: Fine motor, emotional, critical thinking, and teamwork
Activities: Social, interactive, and constructive play
Social: Definitely
The Toy's Pros
The Star Wars LEGO kit is ideal for six-year-old boys who want to play competitive games against their friends
The building kit has two figures and aircraft models to ensure social play, and kids gain cognitive skills while building them
The Toy's Cons
Not every six-year-old knows Star Wars
Musical Jump & Toss 2-in-1 Outdoor Toy
Don't worry; it's not another musical toy, although it can be if you want that. The Jump & Toss Outdoor toy is an exceptional experience for first-graders. It combines two elementary games even we played as kids. In addition, it's simple for six-year-olds to change from one game to the other. The nostalgia of this toy got to me.
The Toy's Features
Type: Classic Outdoor Toy
Skills: Fine motor, gross motor, teamwork, coordination, and balance
Activities: Interactive, social, and musical play
Social: Indeed
The Toy's Pros
The 2-in-1 Jump & Toss musical playset is a building kit that quickly changes between a skipping and ring-tossing game
Kids can easily set it up outside for physical exercise, and they can enjoy cooperative play with friends while gaining rhythm if they use the music
The Toy's Cons
This toy takes more batteries than you'll like to know
Rock Band Musical Playset With Guitar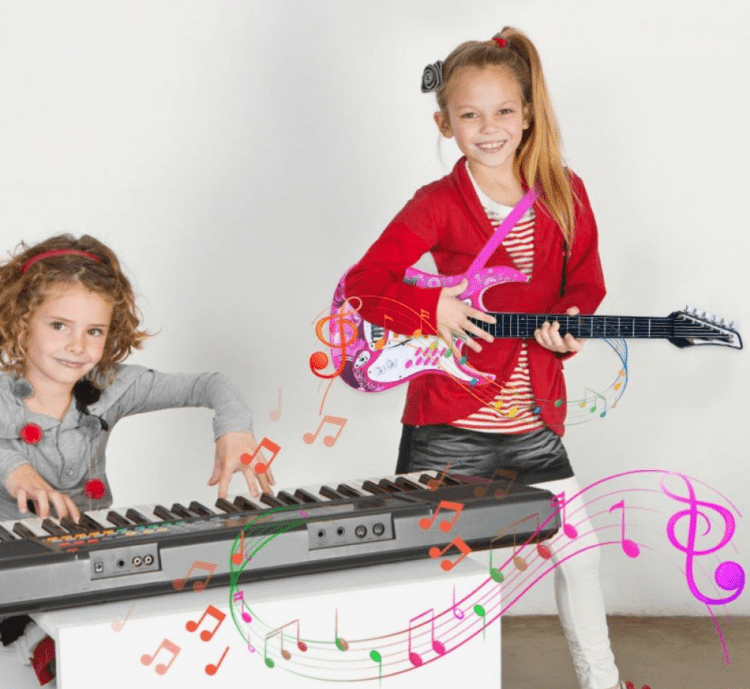 Music connects friends on another level, so I add many options. Musical toys offer a social setting with tons of laughs and happy memories. Additionally, these toys welcome critical and cognitive development for first-graders. Music helps their brains structure more creative pathways, and creativity is the start of intelligence.
The Toy's Features
Skills: Creative, teamwork, language, emotional, hand-eye coordination, and tactile
Activities: Interactive, social, and musical play
Social: Super
The Toy's Pros
The Rock Band musical playset for six-year-olds will encourage them to learn numerous skills while enjoying time with friends
The guitar comes with six demo songs that light the strings up to teach first-graders how to follow a tune
The Toy's Cons
A group of musically-inclined children might struggle with who plays next
RollPlay Powersport 12V Ride-On ATV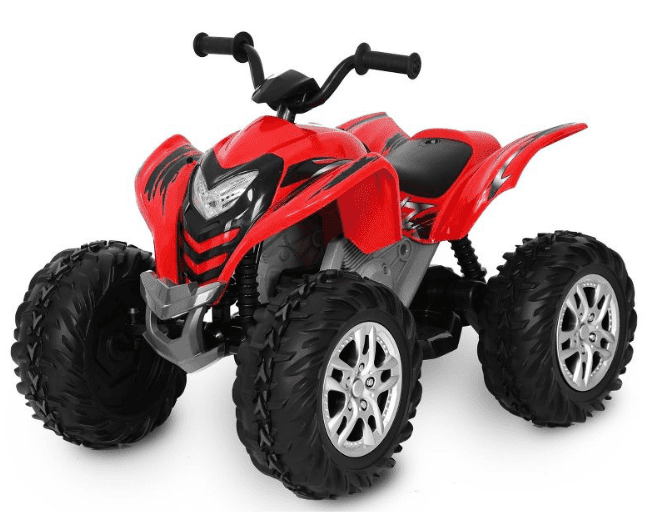 Ride-on toys for six-year-olds can be costly, but I found this ride-on ATV that won't cost the child's college fund and suits boys and girls. The biggest problem with ride-on toys is that a child's friends might not have one. In addition, it would be unfair to pair two kids with different types of ride-on toys. So, only pair suitable toys.
The Toy's Features
Skills: Fine motor, gross motor, social, competitive, spatial awareness, and self-control
Activities: Outdoor, physical, social, and interactive play
Social: Moderately
The Toy's Pros
The ride-on for six-year-olds is a joyous experience for outdoor fun and exercise, and it can be social if friends have one
The ride-on ATV has excellent wheels capable of navigating most terrains safely, and it's a fully-automated drive for kids to enjoy
The Toy's Cons
It won't be a social toy if other kids don't have any ride-on vehicles
Spy Detective Role-Playing Kit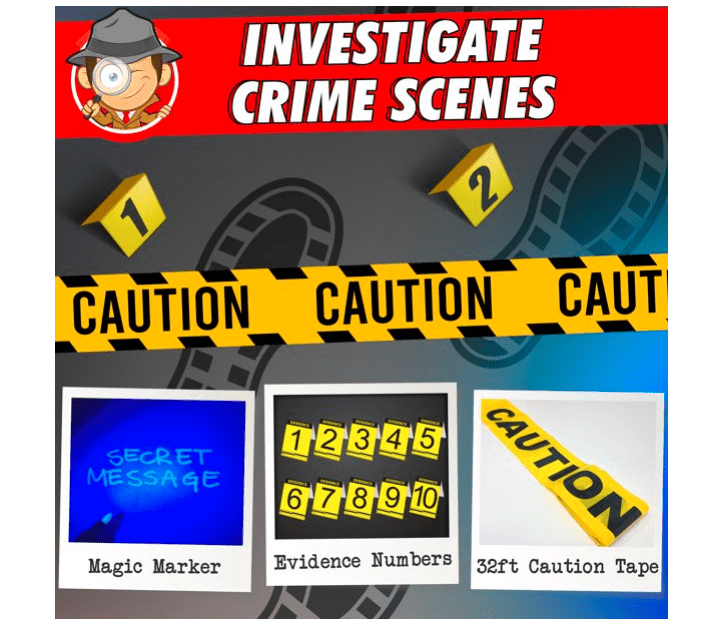 Role-playing is vital to a six-year-old child's development, and I haven't shared any toys yet. However, I love role-playing games, playsets, and costumes encouraging children to seek answers, investigate the story, and explore new things in their worlds. Therefore, the Spy or Detective role-playing playset is ideal.
The Toy's Features
Skills: Imagination, creativity, curiosity, social, problem-solving, and communication
Activities: Educational, creative, and social play
Social: Yes
The Toy's Pros
First-graders love role-playing games because they can imagine any story they want with their friends by their sides
The set comes with everything a curious first-grader needs to seek answers and explore, including an activity book that inspires them to play a detective
The Toy's Cons
The set also has fingerprint powder and other accessories kids will finish
STEM Science Laboratory Kit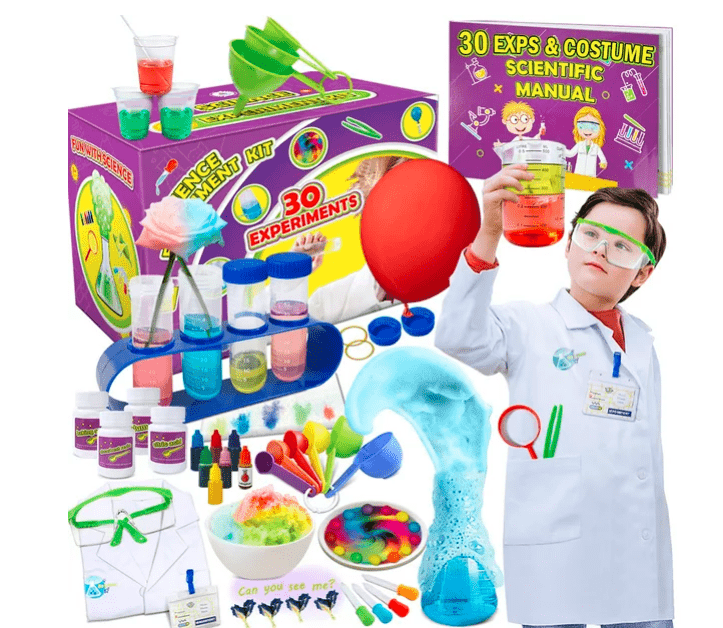 Many playsets come with manuals to help first-graders along with the imaginary journey. This playset is a role-playing scientist kit that doubles as an educational STEM toy. The set includes goggles, a laboratory costume, and accessories to make children feel like they're in the role. But, of course, nothing beats pretend play games.
The Toy's Features
Skills: Critical thinking, problem-solving, early science, math, creativity, and communication
Activities: Interactive, social, and educational play
Social: Extremely
The Toy's Pros
Role-playing a mad scientist is far more fun with friends, and the 30 experiments will ensure hours of laughter and messes between them
The set comes with everything children need to adopt the role, including beakers, instruction manuals, powders, gels, clay, and more (all accessories are child-safe)
The Toy's Cons
This playset will encourage messiness and tons of colorful accidents
Stomp Rocket Stunt Planes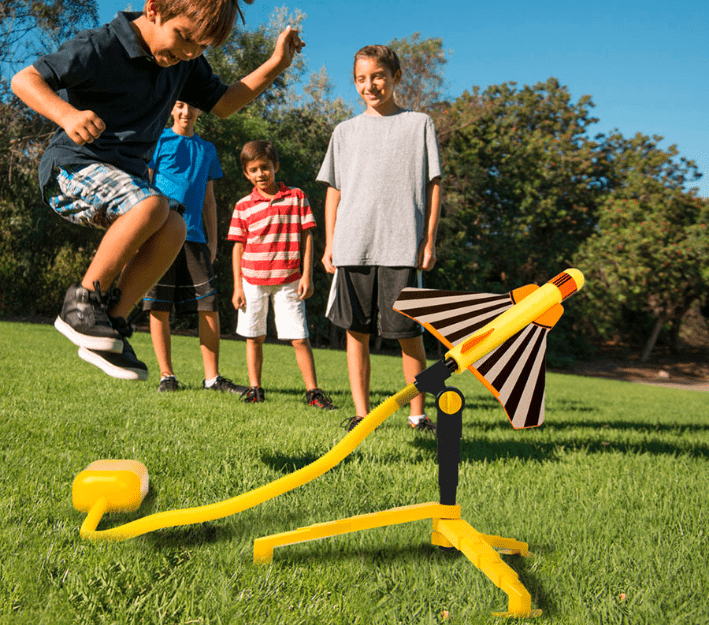 Outdoor fun with friends is an essential tool for first-graders learning to embrace their social butterfly natures. Stunt rockets can turn the social experience into bubbling laughter and endless physical play. Additionally, children must use their critical minds to determine which direction to launch the missiles.
The Toy's Features
Skills: Gross motor, coordination, teamwork, communication, and spatial awareness
Activities: Outdoor, social, and interactive play
Social: 100%
The Toy's Pros
The rocket-launching outdoor game for six-year-olds will have them enjoying the summer sun while exercising with friends
First-graders will learn early cognitive skills by planning the direction of the rockets and the amount of pressure they need to apply to the launch pad
The Toy's Cons
The missiles can leave the backyard and have kids in a fuss
The Floor is Lava Board Game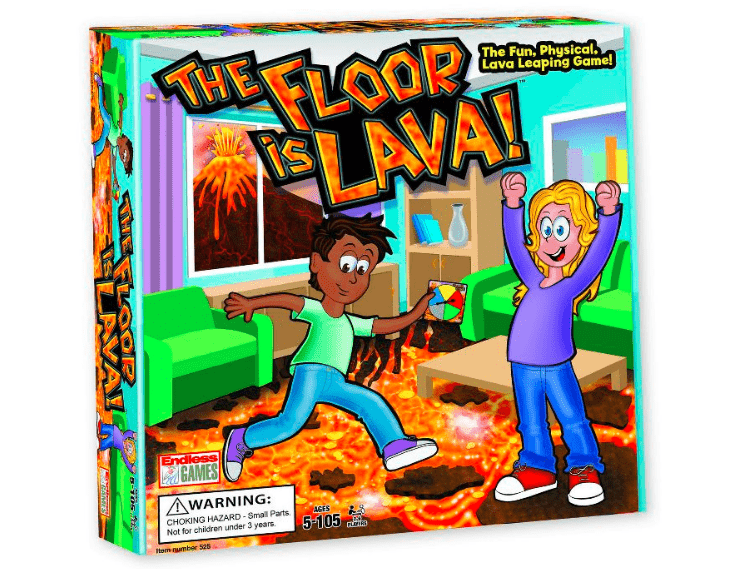 All my games, toys, and playsets have been social playtimes. However, none genuinely followed set rules, which is crucial to your first-graders development. They must know how to follow the rules to do well in school and social circles. Board games offer the ideal opportunity for rule-play, which kids have to learn eventually.
The Toy's Features
Skills: Critical thinking, communication, teamwork, rule recognition, and social acceptance
Activities: Social, educational, and interactive play
Social: Definitely
The Toy's Pros
The Floor is Lava is a famous show on Netflix, and first-graders enjoy watching the fails and successes, making this ideal for fans to play socially
The board game's rules offer a structure for first-graders to begin understanding guidelines at school and in social settings, even teaching them to take other perspectives
The Toy's Cons
This game only works socially and not when a kid's alone
Top Race RC Robot Toy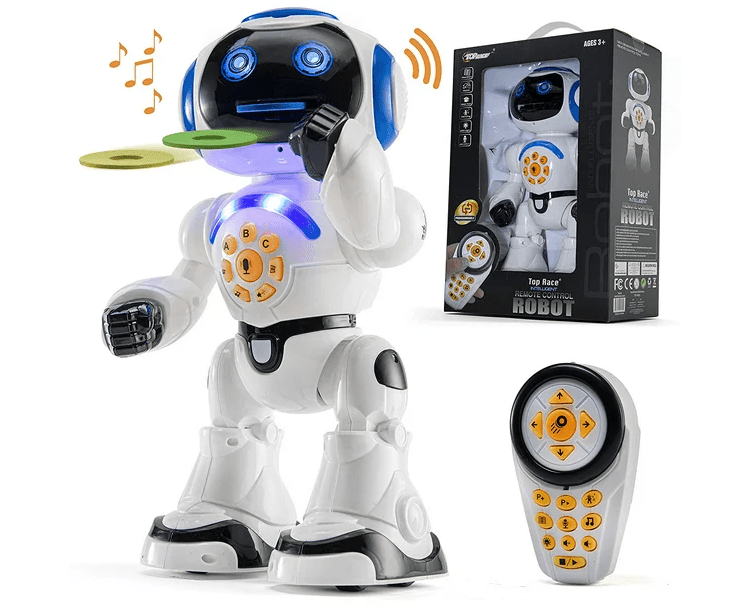 Toys that encourage first-graders to race against each other are social play instigators. However, this robot is slightly different because it walks rather than runs. It also has interactive qualities with talking abilities and music. First-graders will enjoy this robot toy as a pet. But, trust me, they'll want to take it to a friend's house.
The Toy's Features
Type: Interactive Robot Toy
Skills: Critical thinking, creativity, problem-solving, communication, and fine motor
Activities: Social, educational, musical, and interactive play
Social: Moderately
The Toy's Pros
The toy robot is a social experience waiting to happen because first-graders will treat it like a pet, taking it along on playdates
The interactive qualities will also see children playing together, dancing to music played from a smartphone or tablet
The Toy's Cons
Toy robots use a lot of batteries and can break children's hearts when they stop working
Qaba Kitchen Role-Playing Cooking Toy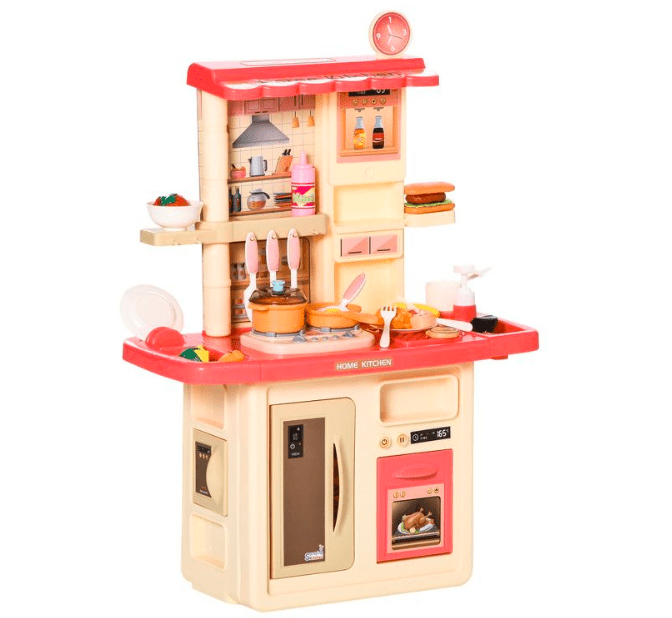 Another role-playing toy that offers social bliss and imaginative creations is kitchen sets. In contrast to the detective role-playing game that works better for boys, this one is ideal for girls. My daughter had a kitchen playset around five, and her friends loved joining her for pretend play games. It was adorable to watch them.
The Toy's Features
Skills: Creative, social, communication, tactile, spatial awareness, and emotional
Activities: Pretend, social, and interactive play
Social: 100%
The Toy's Pros
The kitchen role-playing set is a beautiful social experience for little girls who love reimagining foods they ate and saw
The playset is entirely interactive with lights and sounds, even including a running water feature for first-graders compared to the less-complicated sets
The Toy's Cons
Leaving a first-grader to play with water is sometimes scary
Top Q&As
Question: What Type of Toy is Good for 6-Year-Olds?
Answer: At six, children move from preschool to first grade, with many developmental changes. However, their need to socialize and learn independence outside the family is vital. Therefore, any toy that promotes social play combined with cognitive skill development is the foundation for six-year-olds to build what they need.
Question: Which Toys Help 6-Year-Olds Improve Their Motor Skills?
Answer: Six-year-olds are refining their balance, coordination, and physical strength. Toys like the Stomp Rocket Stunt Planes and the Bambilo Electronic Dance Mat encourage first-graders to explore their physical development. Additionally, both toys offer a touch of creative and cognitive development opportunities.
Question: What Toy Challenges a 6-Year-Olds Mind?
Answer: Six-year-olds are transforming into school-aged children, starting the first grade and ready to absorb knowledge. It's critical to introduce educational toys that help first-graders develop cognitive skills. So, I recommend STEM toys like the STEM Engineering Playset and the STEM Science Laboratory Kit.
How to Find the Best Toys for 6-Year-Olds: Conclusion
Six was one of the most enjoyable ages for my kids, even with the structured system I used to pick their toys. Consider what a first-grader needs before buying a toy because they're transitioning to a new life phase. It's a milestone they'll never forget, and you're there to see that it goes smoothly.
I still recommend the 200-Piece Mega Marble Marathon Playset because it meets every requirement I have for a first-grader. It has social experience, cognitive challenge, and enjoyable outdoor exercise. I recommend buying it as soon as possible so your son or daughter can enjoy the benefits with their friends.
Otherwise, I highly recommend musical, outdoor, or STEM toys to get the ball rolling for your new school-aged child. Gone are the preschool days, and it's time to get suitable toys to inspire their new journeys. So, pick the best toy for your six-year-old today. Then, watch as the magic of their development flourishes in front of you.
For more age-appropriate toys: