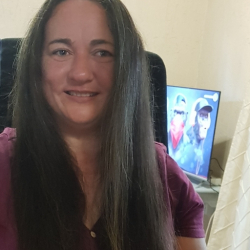 Latest posts by Caroline Lambert
(see all)
A child's passion is as great as a parent's. They fall in love with their favorite movie characters. Disney and Pixar are two of the most famous inspirations. Let me show you how to fuel their passion in this complete Luca toys guide. You'll match the right activities and toy types to your child's ultimate favorites.
It's merely a bonus that your kids will learn lessons through each toy, especially if you follow the age recommendations on the packaging. Luca is another themed toy with fans around the world. I'll share the secrets of why it's such a popular theme. Welcome to the underwater exposé of Disney adventures.
Bottom Line Up Front
Luca toys aren't unlike other themes. Kids either love them or hate them. Anyway, Luca is a newer movie with toys entering the sight of children. I believe in selecting toys that bring educational value to my kids, but I also allow them to have a say because they know their favorite characters.
Individualism is as essential as any other part of their development. Finally, I pick the best Luca toys by considering the activities that suit my children. If I must recommend one plush Luca toy from the range, I'd suggest you buy the Luca Plush Set With Friends because your child gets four lovable characters.
My Top Luca Toys at a Glance
Let's hop right into the top categories in which Luca toys are available. Each Luca toy comes with a lesson for kids and fits into an activity type. The leading toy category winners include:
I might include a few bonus options that don't make my best Luca toys list.
Complete Luca Toys Guide: Luca's Secrets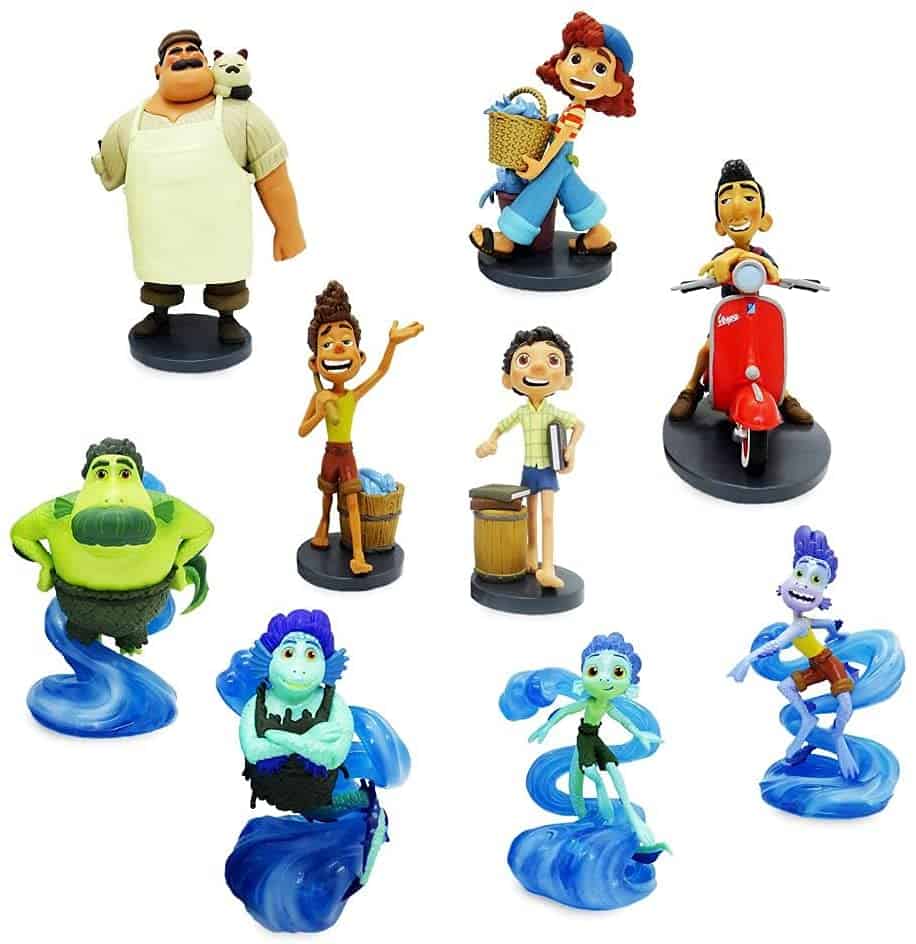 Luca toys are relatively new, and there isn't a broad range available. It doesn't make them less popular with kids who love the movie. I call it Luca's secrets, but I'm going to show you why the toys are unique, give you tips to select the best ones, and provide a buying guide so that you don't spend a fortune.
What Makes Luca Toys Special?
The magic of Disney combined with Pixar is what makes Luca toys unique. Luca was a 2021 movie collaboration between the two giants. The movie was in an Italian Riviera seaside village. A boy named Luca carries the secret that he's also a sea creature. The story revolves around Luca and his friends Alberto and Giulia.
I've seen the movie and think it's so sweet. I love the friendship factor, but I know what nugget the film holds. Like my children and me, Disney-Pixar fans wait all year to see the new magical adventure on the big screens. Disney and Pixar collaborate for only one to two movies per year.
The Disney-Pixar movies are always a coming-of-age, modern, family-orientated feature. It's a moment of memorable movie-watching for my family. Adults also love watching them. So, when you ask what makes the toys unique, I'll have to remind you of the magical duo that inspires the toys, even if the movie rates average.
Tips for Selecting Luca Toys for Disney-Pixar Fans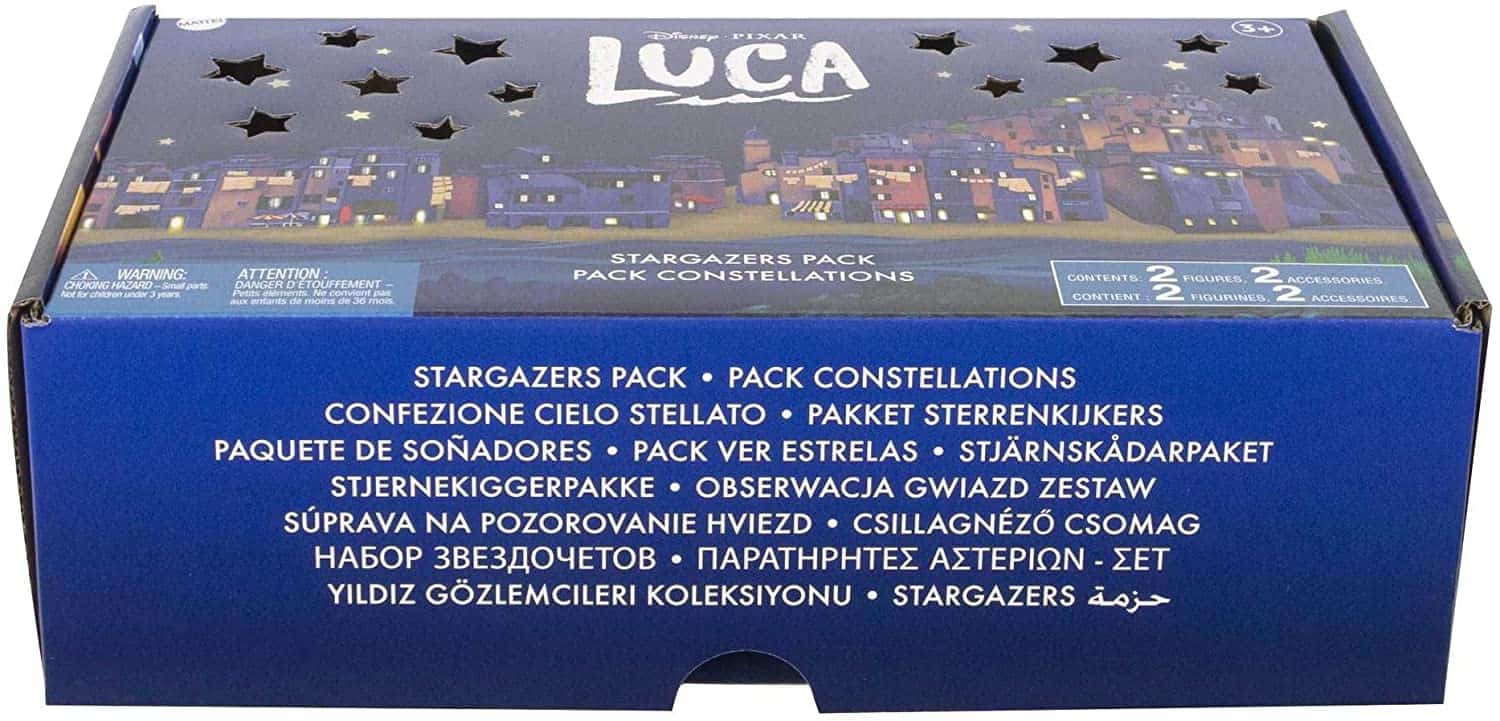 We always want what's best for our children, right? I agree wholeheartedly, but my children also have a say in selecting their new toys. After all, they know their favorite characters, types, and playtime activities. I might discuss the chosen toy with them and recommend a few options should they pick something pointless.
You might think I'm crazy, but let me explain. I have a give-and-take relationship with my kids. We share opinions and discuss the reasons for the best toys. I expose my children to as many toys, activity types, and skill-developing playtimes as possible. Still, they're ultimately the pickers of which toys make the cut.
Children aren't individuals yet. It's something they develop over the first few years. Creativity, intelligence, confidence, and self-image are closely related to individualism. Allowing children to select their favorite toys from a range you offer will teach them to become the individuals they need to be.
Letting kids make decisions can open their minds to the potential of their individual selves. It helps them grow more than you can encourage them to do by choosing everything for them. Experts agree that kids should pick their toys within limits and reasons set by parents.
Guidance is all you must offer. Discuss the benefits of certain toy types and playtime activities with your children. Give them a range of options, including five or more toys from their favorite brand. Show your children how to grow, but give them the floor to express their individualism as Luca did in the movie.
Buying Guide for Luca Toys
I'm way too pedantic for some parents, but I cherish my children's enjoyment and development. I pick the best Luca toys with three criteria, including:
My standards aren't only about good parenting. It's also about what makes children happy. The Luca toy should include one of the favorite characters from the movie because kids love themed toys that fit their favorite movies.
Each Luca toy should fit a popular playtime activity.
The toys should teach children a lesson. Maybe they learn to bond with a plush friend or communicate better through musical toys.
Complete Luca Toys Guide: The Countless Luca Activities and Adventures
Luca has an adventurous spirit, so let's see if I can help you find the toys to discuss with your kids. Offering a child an adventure is like giving them the keys to Funland while they learn.
Best Luca Action Figure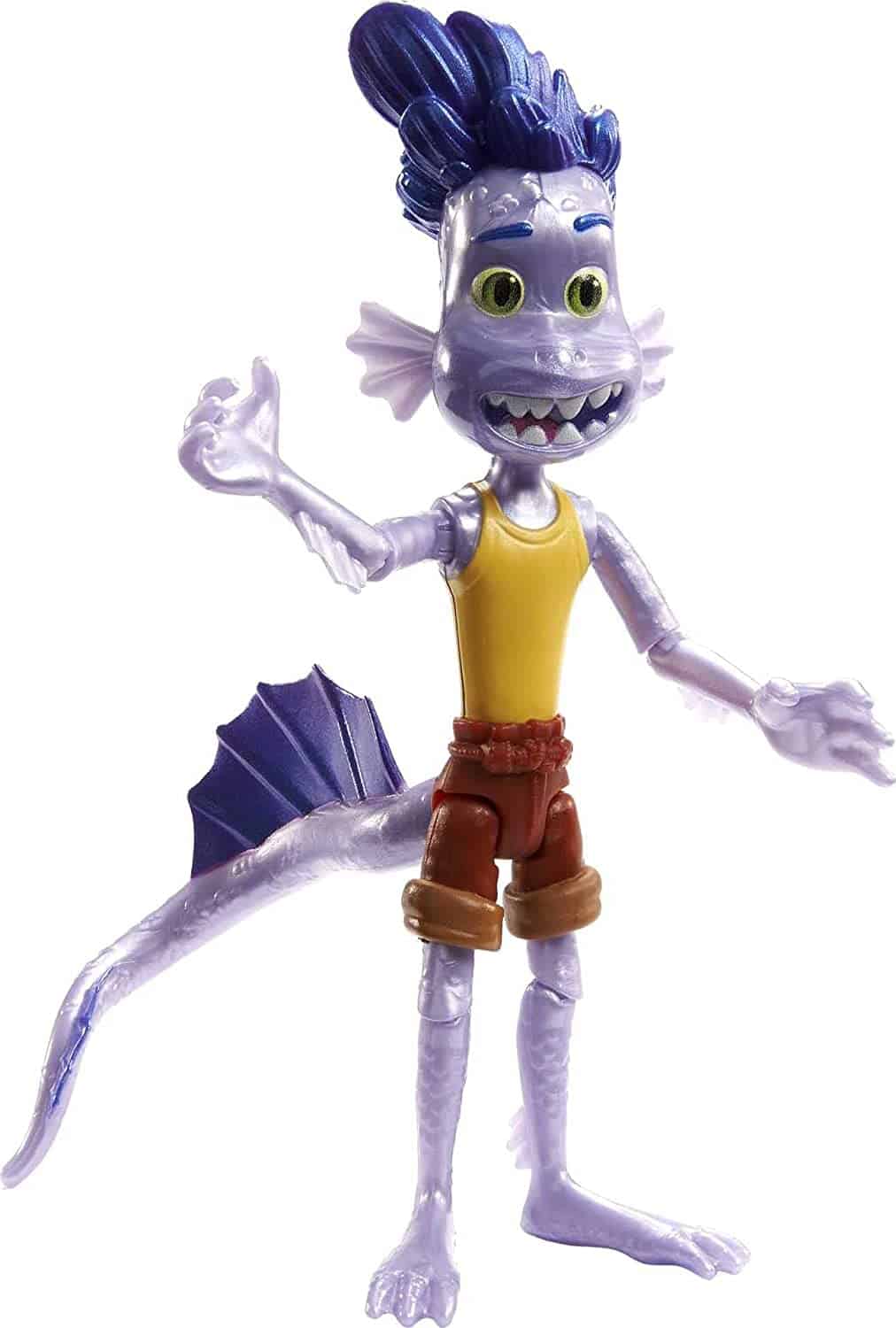 The backstory is highly inspirational. Alberto inspires and befriends the main character in the movie. I think Luca's secret of being a sea monster hangs over his head, but friendship teaches him to overcome it. Luca and Alberto's sea monster toys can inspire kids to accept their inner truths, no matter what they want in life.
Monstrous Facts
Activity: Imaginative play
Characters: Alberto sea monster action figure
Lesson: Friendship and creative storytelling
Pros
The Luca Alberto action figure has posable limbs, interchangeable parts, and color-changing fins to keep kids intrigued
I like how the Alberto sea monster figure smiles because it inspires kids to overcome their fears
Cons
I wish the toy weren't plastic and so shiny
Best Luca Animal Toy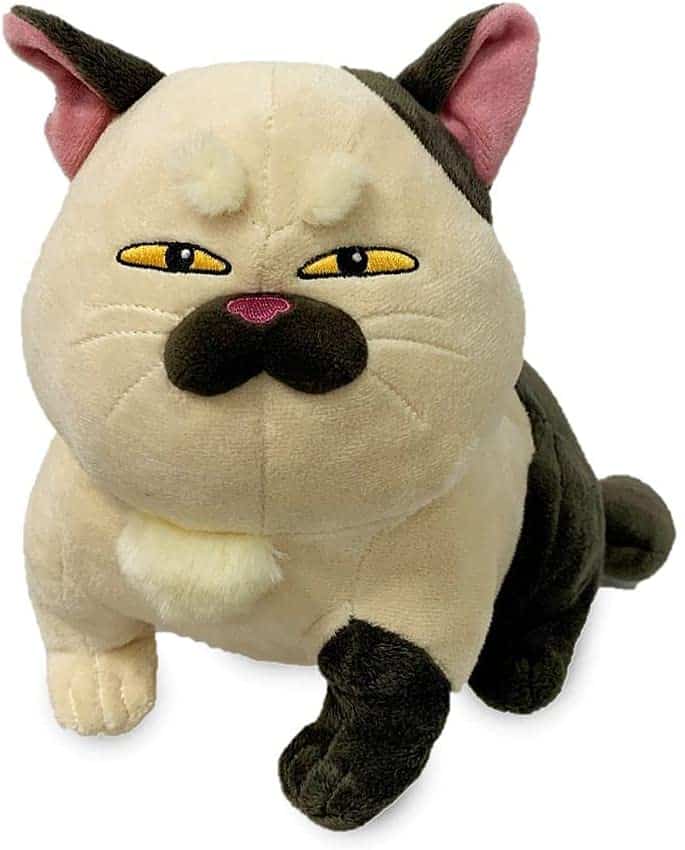 My daughter loves cats, even the sly one from Luca. The most memorable animal on the Italian Riviera is Machiavelli. The aristocratic cat named after a philosopher discovers Luca and Alberto's secrets before anyone else. Machiavelli is a cunning cat, but he represents the species perfectly.
Monstrous Facts
Activity: Imaginative play and sensory play
Characters: Machiavelli Luca plush
Lesson: How to love animals who typically behave like snarky beasts
Pros
The 7″ Luca plush cat is a Disney original with excellent features
It has furry eyebrows and a tail with embroidered features for extra cuteness (well, plush cuteness)
Cons
Not all kids love the sly cat from the movie
Best Luca Collectible Toy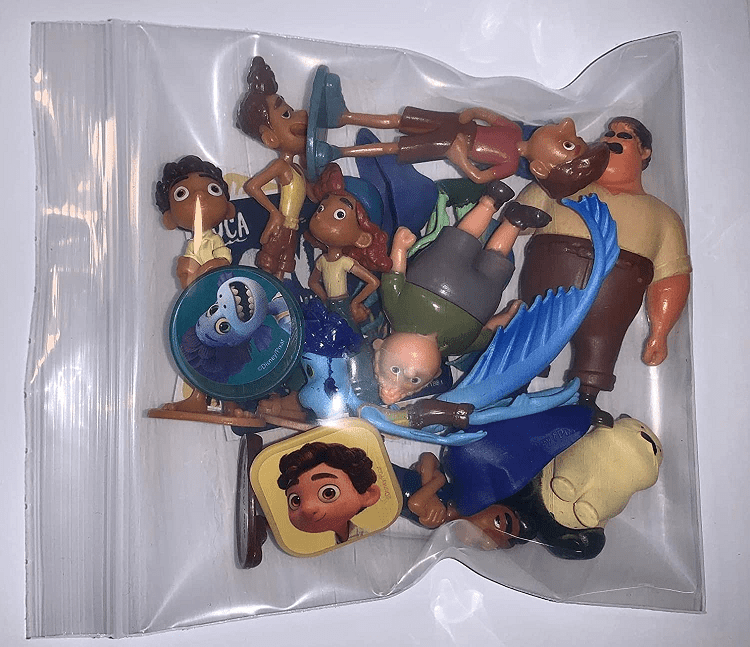 The deluxe figure set includes all of the famous characters from the movie, and it suits true fans who can't only pick one or two toys. My kids love Disney-Pixar, and they'd be happier to collect a toy that includes all of the characters. It's also a fantastic option for adult fans of the collaboration movies.
Monstrous Facts
Activity: Imaginative and sensory play
Characters: Luca, Alberto, Ercole, Daniela, Ciccio, and Giulia figures (plus more)
Lesson: Social, creative, and strategy skills
Pros
The deluxe Luca action figure set is a collector or fan's dream and includes cards and rings
It's a magical set that allows kids to relay the movie scenes and create new ones
Cons
The figures are small, with the tallest one at 2.5″
Best Luca Construction Toy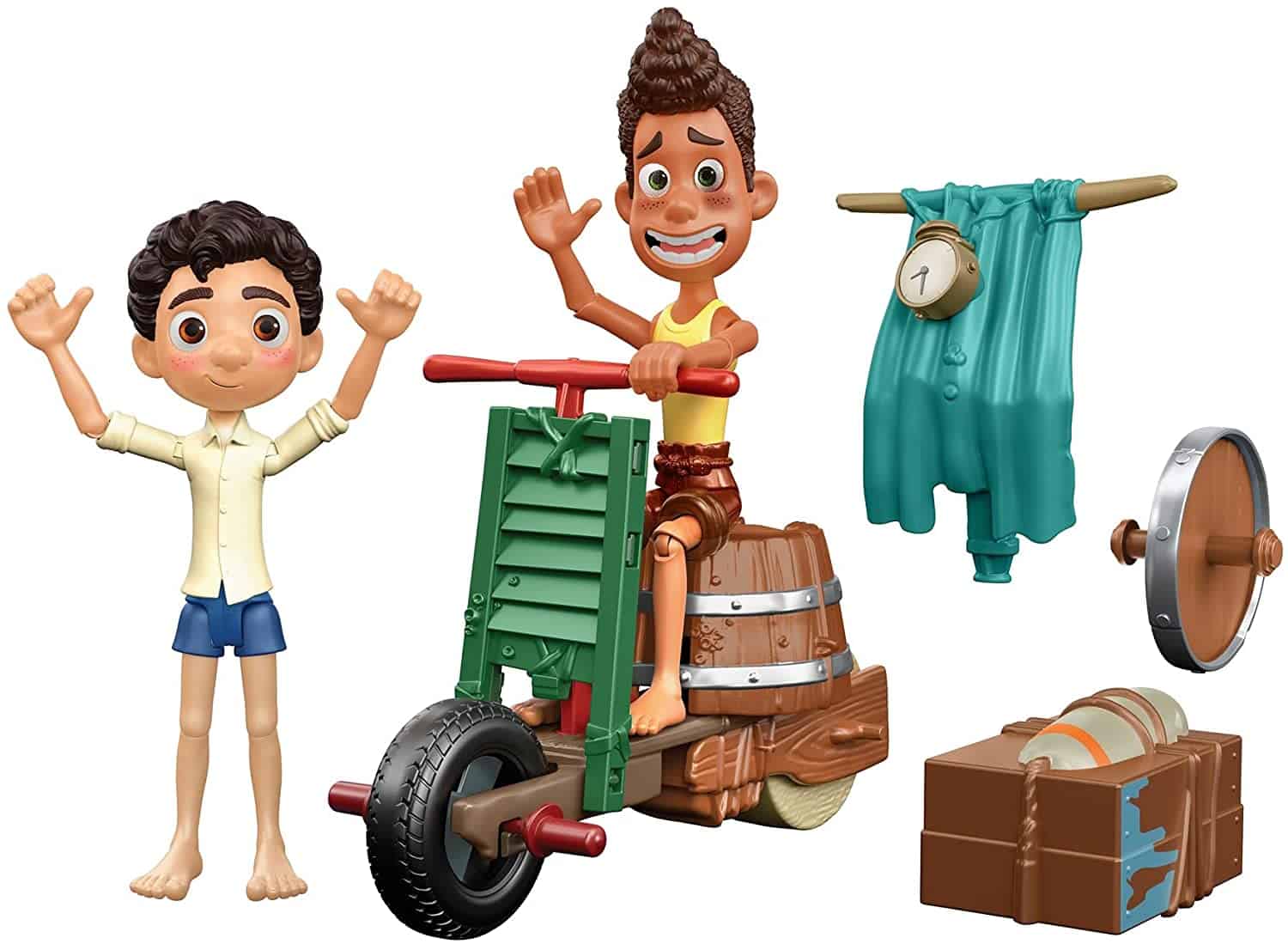 Luca has a lot of energy when he's on land, reminding me of my son. My son's constantly cycling everywhere and has a few scratches to tell the tale. The Luca crash & build kit also reminds me of how my son and his best friend race across the backyard, crashing into everything. They'll hit the single pole in the entire garden.
Monstrous Facts
Activity: Imaginative and creative play
Characters: Luca and Alberto figures
Lesson: Creativity, critical thinking, and social skills
Pros
I love that the Luca scooter toy includes the two besties from the movie
The scooter has interchangeable parts to make it look new each time it crashes, and it doubles as a Luca car toy
Cons
The toy might give kids (like my son) unwanted ideas because kids love reenacting everything a toy does
Best Luca Creative Toy
Luca toys aren't vast yet, but the creative Luca bundle with an activity book, puzzles, games, and coloring book is an excellent start for fans who love being creative. My little girl colors more pictures than I have space for on my fridge. She's also pretty keen on activity books, and I've already ordered one of these bundles.
Monstrous Facts
Activity: Creative play and Montessori play
Characters: All the Luca characters
Lesson: Creativity, critical thinking, emotional, and language skills
Pros
The Luca creative kit comes with a color-by-numbers book, eight crayons, a magic marker with a matching booklet, spot the difference puzzles, maze puzzles, and more
It keeps kids busy for a long time with their favorite activities and characters
Cons
It comes with a sticker album for the Minions, which makes no sense
Best Luca Doll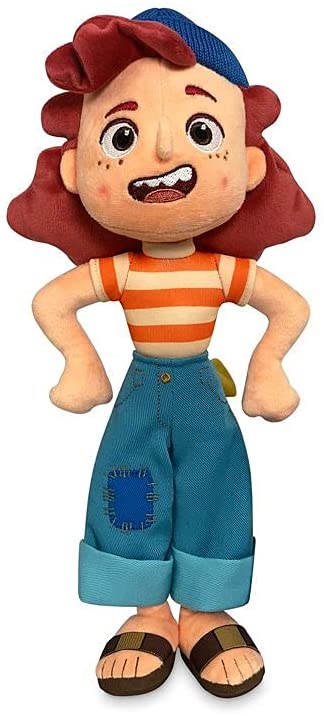 Giulia is a tomboy in the movie and the daughter of fisherman Massimo, making her another owner to Machiavelli. I find it ironic that her plush doll looks the best of the lot because she's a tomboy. She has a Tom Sawyer style. The Luca doll looks fantastic. I'm sure she'll fit a tomboy. My daughter is anything but one.
Monstrous Facts
Activity: Imaginative play and sensory play
Characters: Giulia plush doll
Lesson: Social, language, and emotional skills
Pros
I think the details around the Luca Giulia doll's face are impressive
It comes with top-notch stitching, a knitted hat, and beautifully embroidered features
Cons
The irony of Giulia as a doll and a tomboy is too much for some fans
Best Luca Educational Toy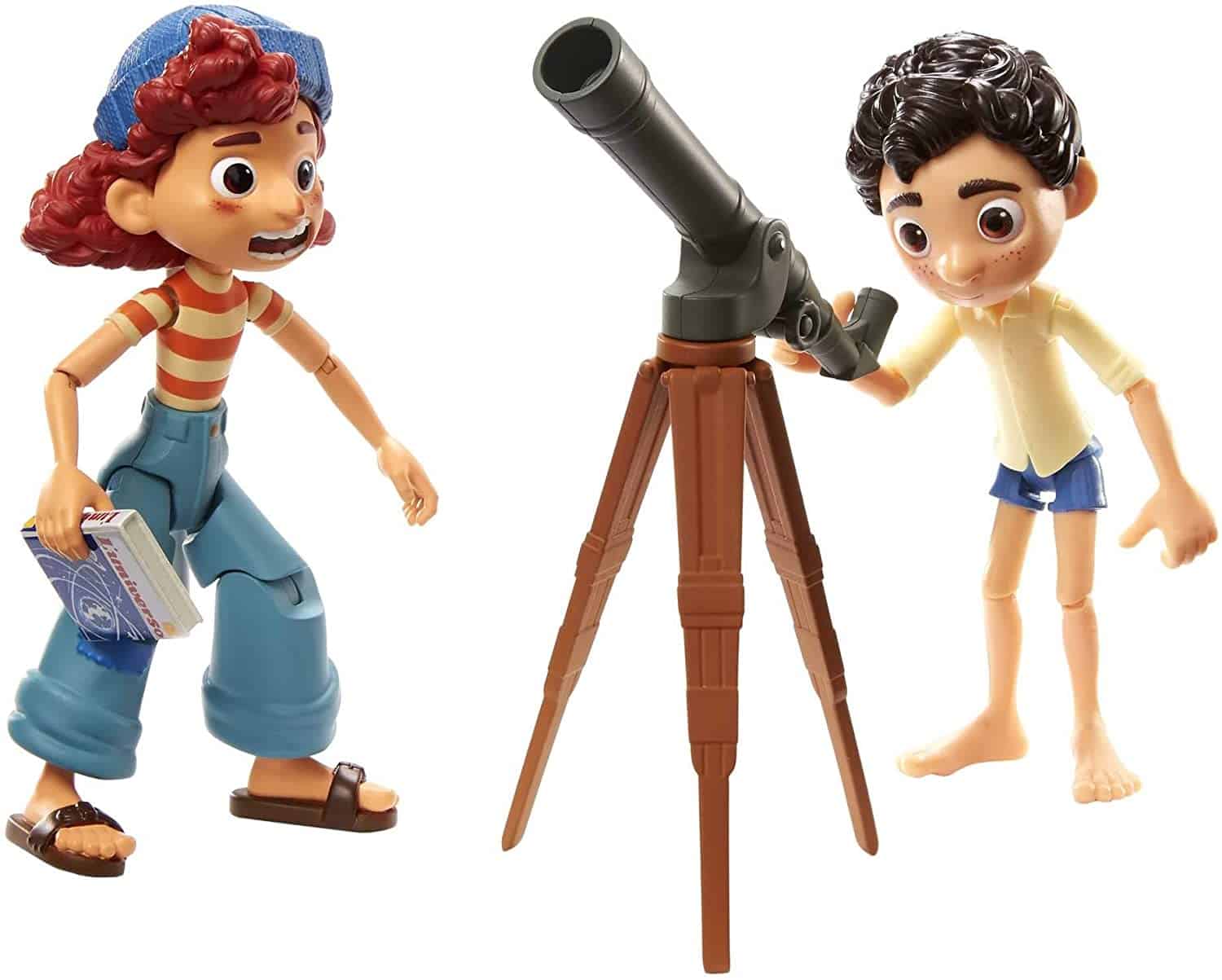 The Luca toy range doesn't have many options for educational toys unless you opt for the construction or creative toys that double as learning experiences. However, the star-gazing pack with Luca and Giulia figures is adorable. It encourages kids to be curious about the stars. My girl loves star-gazing through our telescope.
Monstrous Facts
Activity: Imaginative and educational play
Characters: Giulia and Luca figures
Lesson: Curiosity, critical thinking, and creativity
Pros
I love how cute the Giulia figure's facial expression looks, and both figures are highly posable
Kids can also transform Luca into the sea monster with this interchangeable figure set
Cons
You can't change Giulia's expression when you want something else besides shock
Best Luca Game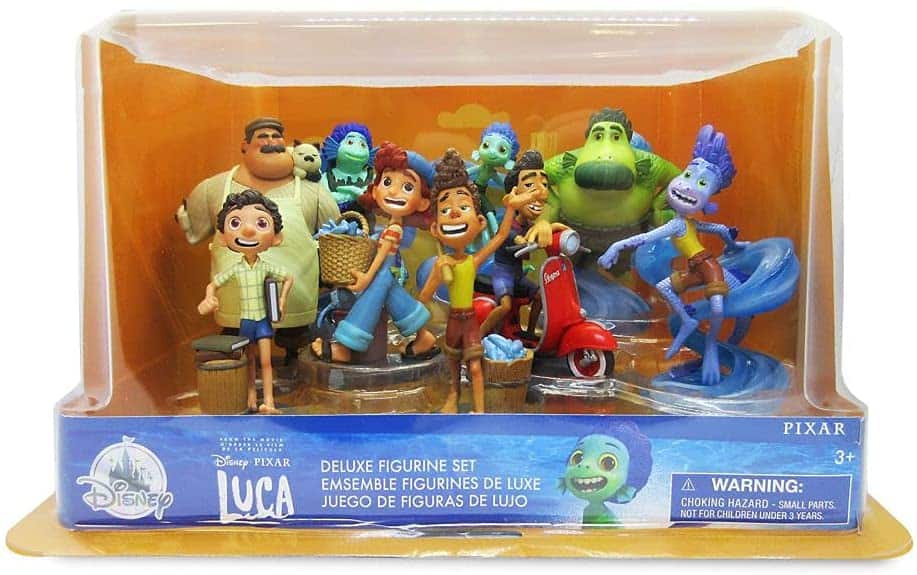 Imaginative playtimes are open-ended, with many possibilities. The best games begin in the imagination and not on a board. Children have everything they need when they allow their imaginations to wander into the playroom. I've seen my daughter turn figurines into tea parties and plushies into school classrooms.
Monstrous Facts
Activity: Sensory and imaginative play
Characters: Nine Luca toy figures, including Luca sea monster figures
Lesson: Creativity, critical thinking, and individualism
Pros
The Disney Luca figures are original pieces with gorgeously sculpted details
I love the variety of 4.5″ Luca character figurines that encourage kids to play any game they desire
Cons
It's not a traditional game like board or video games
Best Luca Plush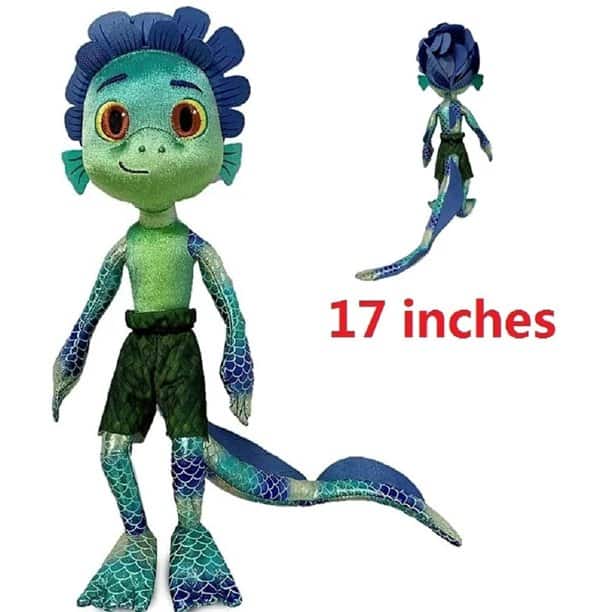 Luca is an adorable boy who reminds me of my son, except for the sea monster part. Luca is a curious child with a passion for finding new ventures. My son's the same regarding explorations and some experiments of which I don't always approve. I think children should be children, and Luca inspires them to be their young selves.
Monstrous Facts
Activity: Imaginative and sensory play
Characters: Luca sea monster plush
Lesson: Social, emotional, and communication
Pros
I love the gentle shine over the Luca plush's face and body that makes you think of scales
It's an enormous 17″ plush to keep kids happy and making additional friends with a stuffed toy
Cons
It's not a Disney original plush toy
Best Luca Sensory Toy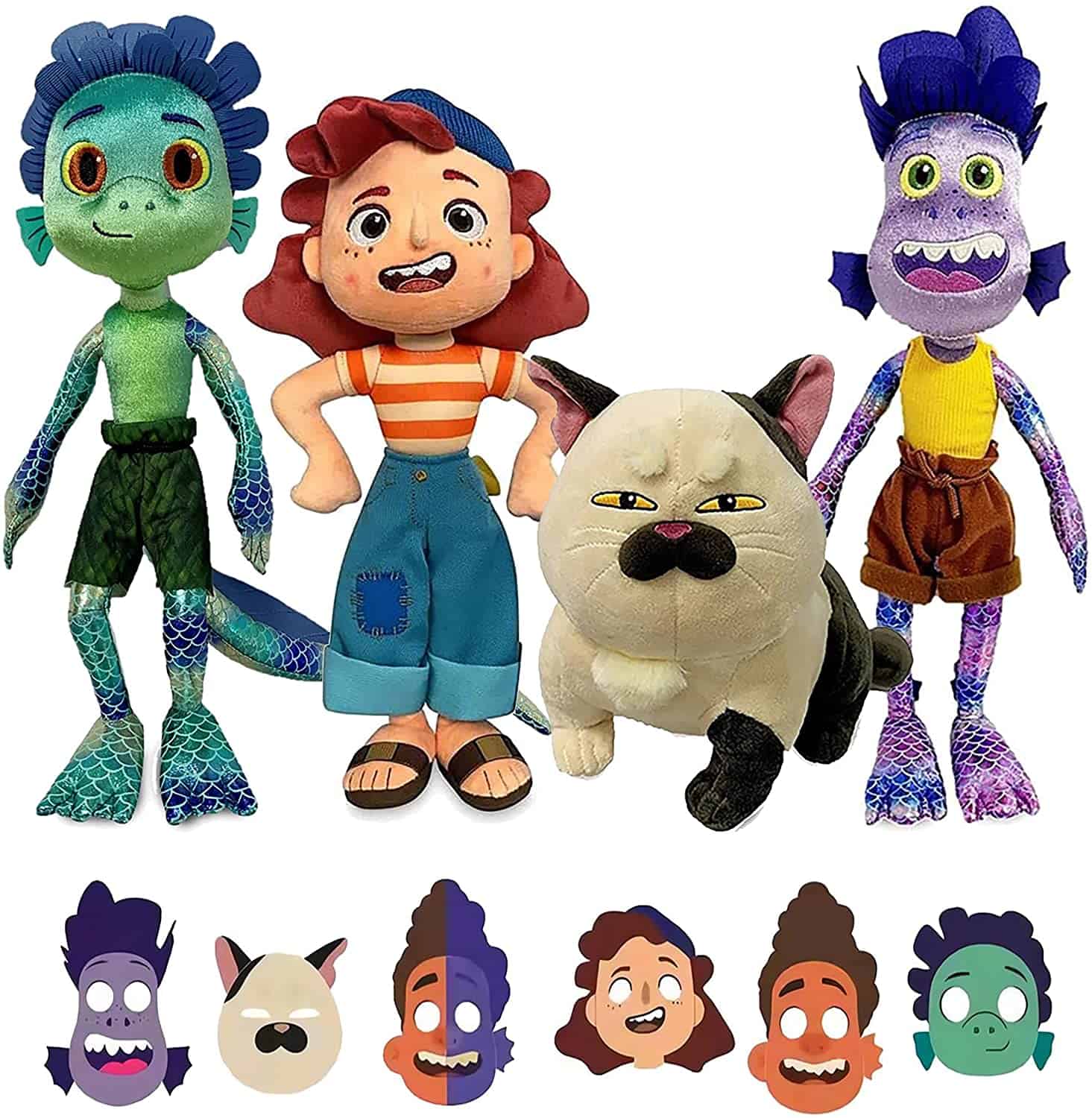 Plush toys are safe for small kids and offer sensory playtimes with various textures. Luca plush toys are popular choices for sensory experiences. I already shared three options, but this pack includes the missing choice. The Alberto sea monster plush completes the set for kids who love Luca and his friends.
Monstrous Facts
Activity: Sensory play
Characters: Luca sea monster, Giulia, Machiavelli, and Alberto sea monster plush
Lesson: Emotional, social, sensory, and fine motor skills
Pros
Kids can collect all four of their favorite Luca plush characters in one set
It also comes with a bonus, a mask for kids to wear and match their favorite characters
Cons
It's not original Disney plush, and parents must buy four new toys at once
Best Luca Simulated Toy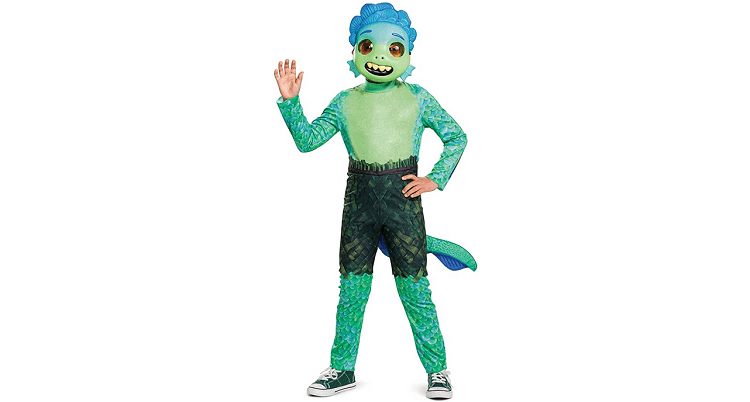 Simulated toys encourage children to use their imaginations and dream of anyone they want to be from their favorite movies. Luca fans can enjoy dressing up as Luca sea monsters with a mask. Seeing your child wear the costume for the first time might frighten you, but they love playing dress-up.
Monstrous Facts
Activity: Role-play or imaginative play
Characters: Luca sea monster costume
Lesson: Creativity and social skills
Pros
The Luca sea monster costume is adorable and made from friendly polyester
Kids can wear this costume as a Halloween choice or for playtime with their movie-fan friends
Cons
The costume's waist sits higher than it should, and it only fits three to eight-year-olds
Best Luca Vinyl Figure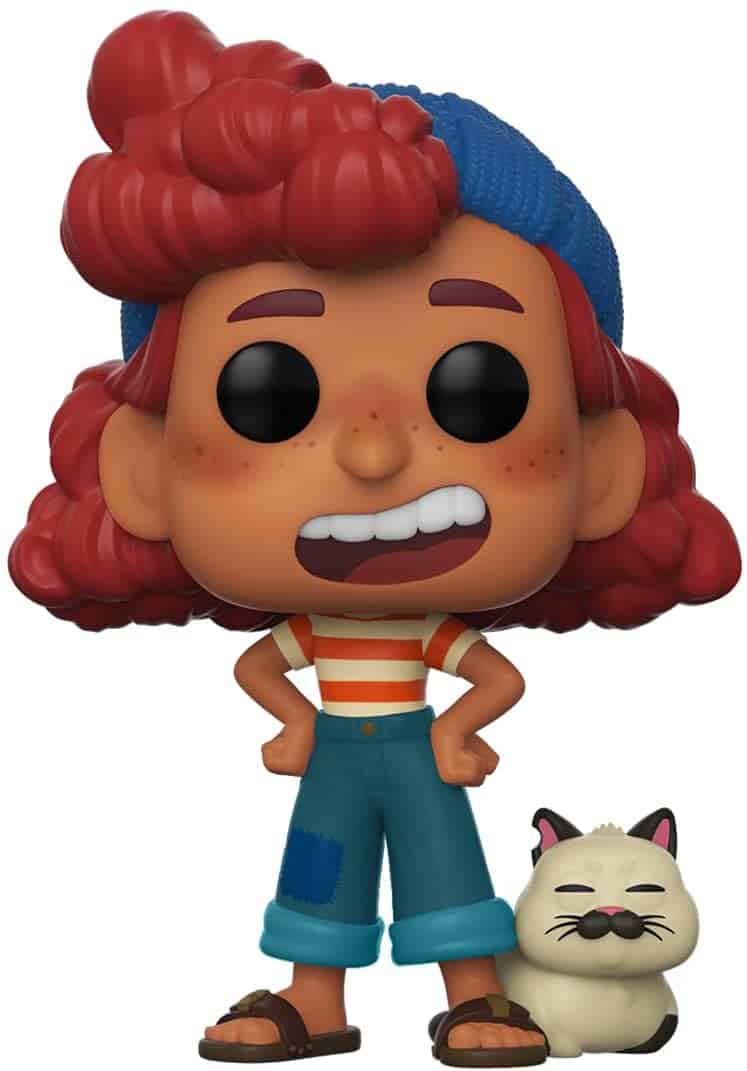 Funko Pop is a brand that makes gorgeous vinyl figures for fans of all Disney movies. It even comes in a box with an issue number. I love the Giulia Funko Pop Luca figure because her eyes look like a cartoon. I'd recommend this Luca Funko Pop for older kids who look after their toys like avid collectors.
Monstrous Facts
Activity: Imaginative and sensory play
Characters: Giulia Funko Pop Luca figure
Lesson: Responsibility and pride (older kids)
Pros
The Giulia Funko Pop figure comes with a Machiavelli mini-figure to complete the look
I love how Giulia stands in a confident position with a fat smile on her face
Cons
You might not want kids to play with it because of the collectibility (it's better for older kids)
5 Bonus Luca Toy Ideas
There are more Luca toys, albeit not many. I promised a complete Luca toy guide. It means I have to include a few Luca toys that didn't meet my criteria or lost the winning spot to another toy in the same category.
Luca and Giulia Plush Set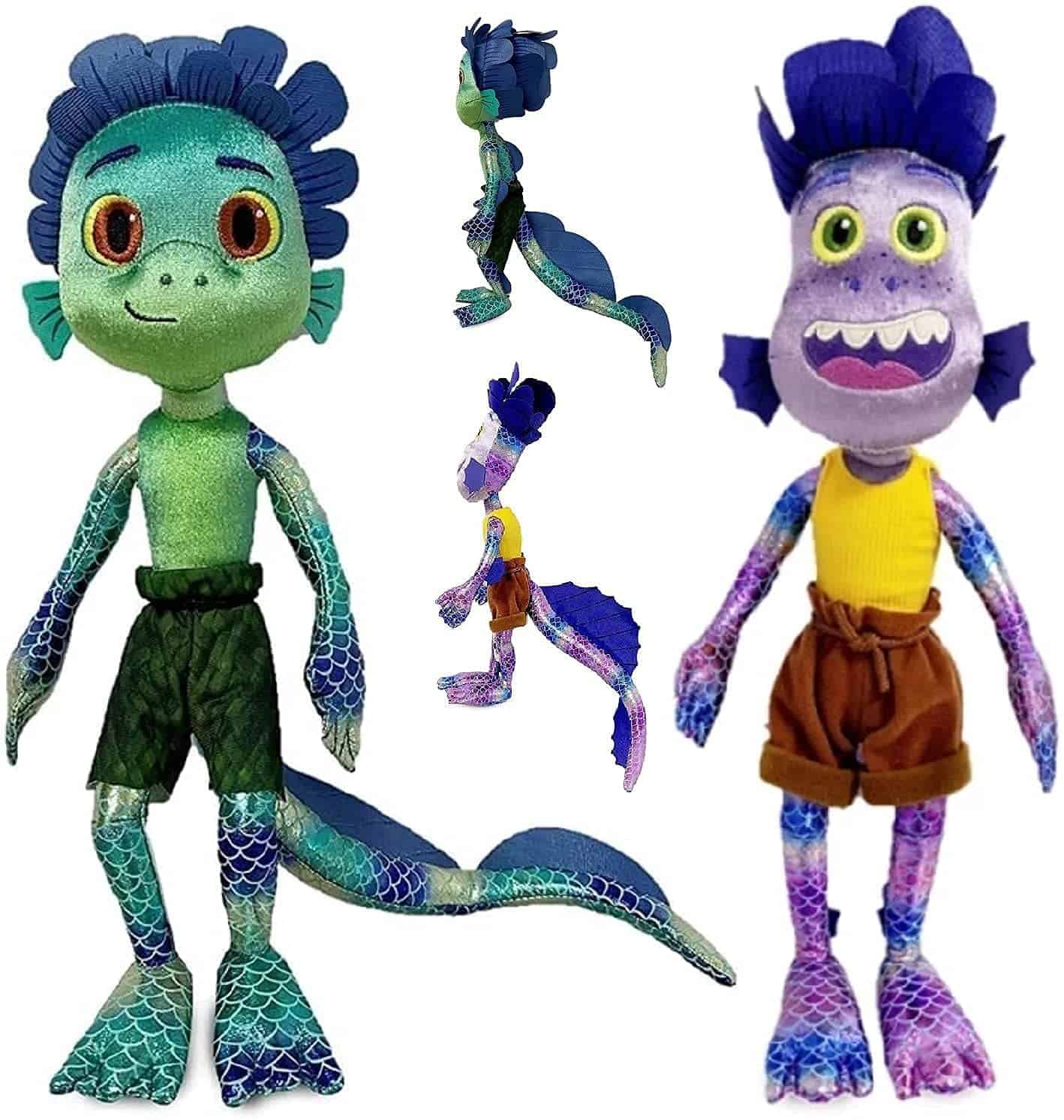 Luca and Giulia might be your child's favorites. Instead, buy the set that appeals to them if they don't want all four characters in the complete Luca plush set.
Medium Luca Sea Monster Plush Doll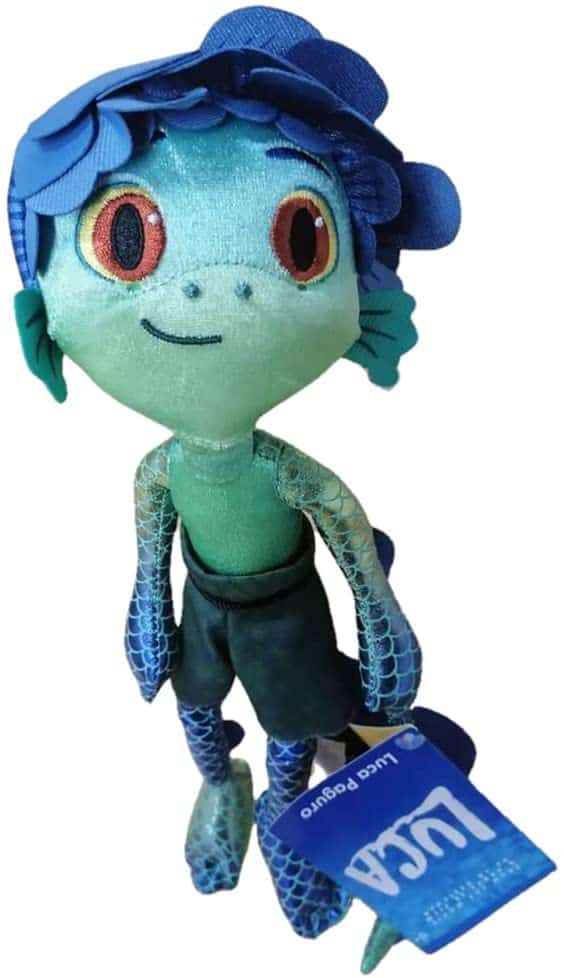 The 17″ Luca plush could be too big for your little one. In that case, the 12″ Luca sea monster plush is a great alternative. He's just as adorable and comes with an authentic tag.
5-Piece Disney Luca Vinyl Figure Set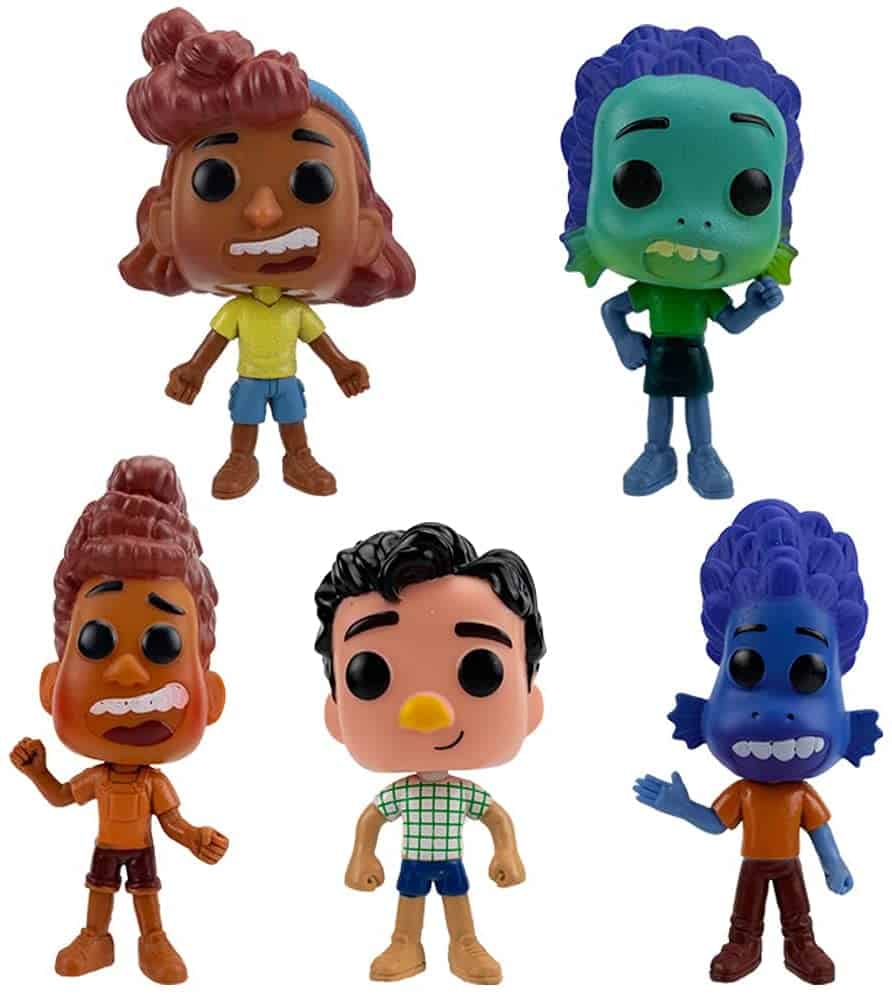 The Funko Pop Giulia figure is appealing, right? Why don't you consider the set that includes five of the best Luca figure characters? These figures are cake-toppers, but they measure 4″ tall each.
Luca and Alberto Adventure Pack Playset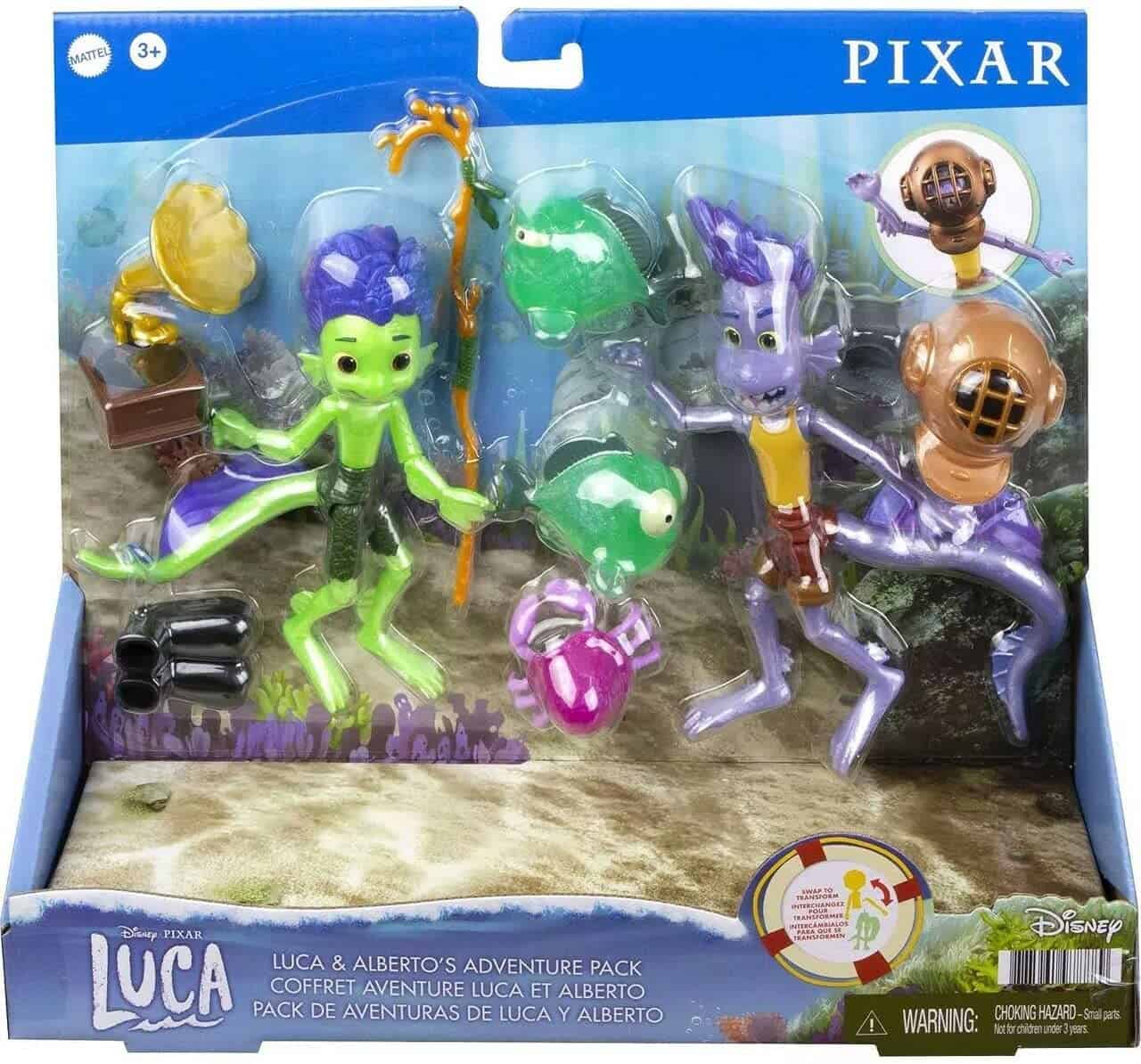 Luca and Alberto also come in an exclusive playset for the sea monster duo fans. You get a few underwater accessories included. I never added this set to my list because it's currently out of stock.
6-Piece Disney-Pixar Luca Figures Set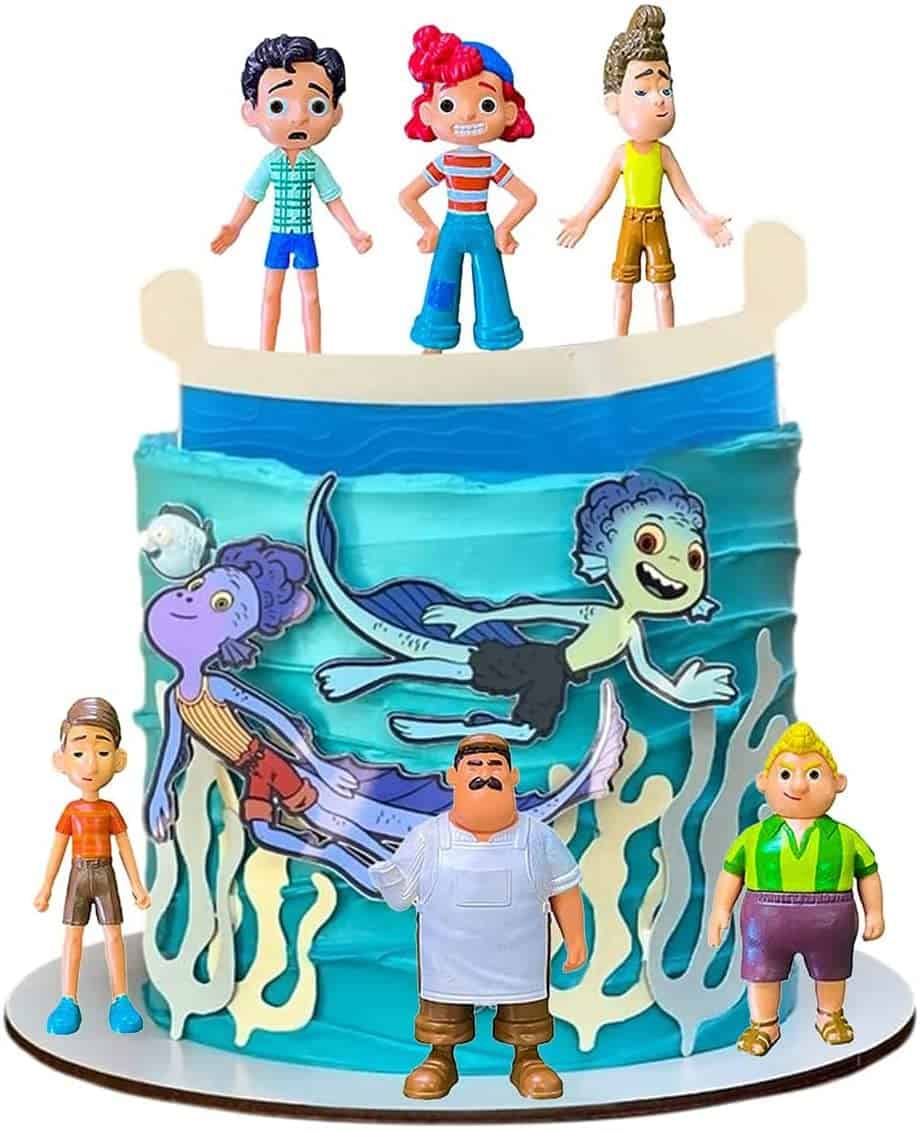 Luca and his friends also come in static PVC figures if your child wants Luca, Alberto, Massimo, Giulia, Ercole, and Ciccio. The figures range from 2″ to 5.3″ tall and work well as imaginative play toys.
Top Q&A
Question: Does Disney Make Luca Toys?
Answer: Luca, the Disney movie, aired in 2021, but it oddly doesn't have a massive toy range. Maybe it's still too new to have toys in every category. Still, you can find Luca toys for every age and numerous activities. The Disney brand makes some Luca toys, but other brands like Bemmer and Mattel also create Luca merchandise.
Question: Which Luca Toy Changes Color in Water?
Answer: Luca is a sea monster in water and a boy on land, meaning the transformation should be prevalent in the Luca toys. The Disney-Pixar Alberto Posable Action Figure has fins that change color in water. The fins change from blue to purple when it gets wet. It's an exciting and sensory experience for kids.
Question: Does McDonald's Have Luca Toys?
Answer: Yes, McDonald's had a range of Luca toys in their happy meals. There were eight McDonald's Luca toys available. Two of them were color-changing wonders for kids who played in the water. McD's is selling the complete McDonald's Luca toy set on Amazon if you missed it at the franchise.
Complete Luca Toys Guide: Conclusion
Which Luca toys will you show your children? You'll also realize that your gut instincts as a mom are pretty spot-on when you think your child will love certain toys. Remember to give them choices, but don't underestimate your motherly instincts. You spend years learning what your kids love.
Suppose your child likes the Alberto sea monster character. In that case, I recommend the Disney-Pixar Alberto Posable Action Figure. It doubles as an imaginative playtime activity and teaches them lessons. I think the Luca Scooter Build & Crash Pack Toy is a fantastic option for kids who love creative and constructive toys.
The Disney-Pixar Luca Giulia Plush Doll might appeal strongly to little girly fans of Giulia, especially if they're not as girly as you'd hoped. The Luca Activity Bundle With Puzzles and Games allows kids to express their creative sides and includes the main characters to be a sure winner with any child.
I know which Luca toys appeal to my kids, and I consider them. If I must recommend one plush Luca toy from the range, I'd suggest you buy the Luca Plush Set With Friends because your child gets four lovable characters. You can't go wrong with four choices. Spoil your child today with a new Luca toy.
For more exciting toys: