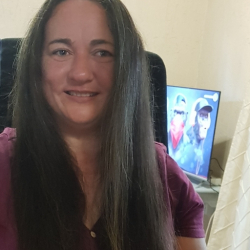 Latest posts by Caroline Lambert
(see all)
Goofballs and sponge brains are what you find in Bikini Bottom. However, the best Spongebob toys guide reveals a world beyond the goofballs and laughs, one that blends learning and fun into a single activity. Spongebob Squarepants and his friends appeal to kids who enjoy a wide range of age-appropriate toys.
Spongebob fans love him so much that he has countless types of toys to encourage key activities and inspire play education, a term I just invented. Spongebob is a themed toy favored by many, including the little sponge brains who need to soak up all the information they can hold.
Trust me; I'm not insulting anyone with the sponge brain term. Toddlers and preschoolers have sponges ready to absorb every ounce of information from their environment. It's a good thing, and Squarepants is the key to play education for Bikini Bottom fans. I'll explain, but first, let's see the winning toys.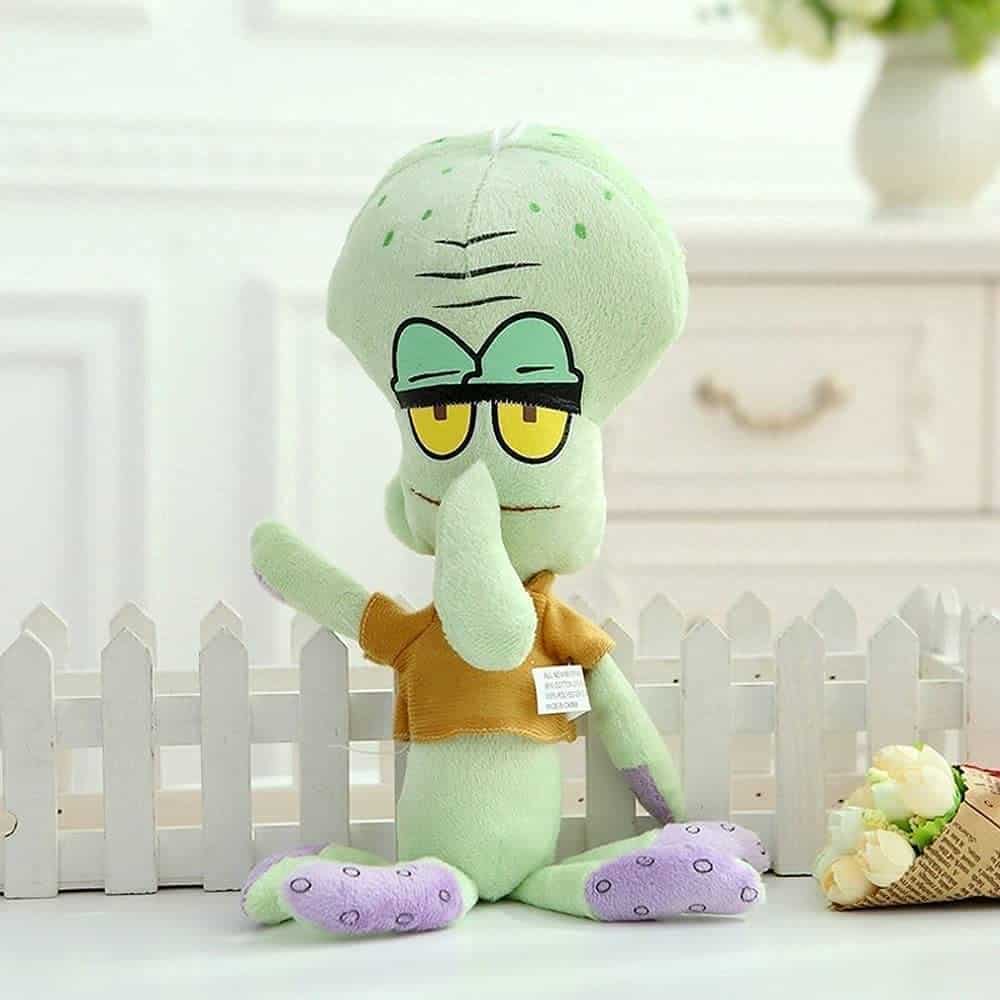 My Top Spongebob Toy for Play Education
Giving kids a toy to enjoy and learn from is as simple as targeting their favorite activities and themes. For example, Spongebob toys target various types that encourage specific activities. Anyway, there's a method to my education play madness, and I'll show you how you can hit both balls with one swing.
First, let me tell you about the best Spongebob toy and why I love it. The Spongebob Play-Doh Building Kit jumped right at me because it's a construction type of toy offering sensory, imaginative, educational, and creative play activities. It provides a world of opportunities for young, spongy brains.
Additionally, the modeling kit knocks excitement out of this world for Spongebob fans. It includes Spongebob and Patrick figures with the famous pineapple home. Children love the feeling of Play-Doh while they sculpt the inspired image. The Spongebob toy suits kids over five, and my daughter would still enjoy it at eight.
You'll also see these brilliant Spongebob toys among the coming winners:
The Ultimate Guide to the Best Spongebob Toys
Spongebob is a themed toy most children enjoy because various ages find laughter in the Bikini Bottom show. First, I'll share how sponging around can lead to tremendous benefits and how you must encourage the advantages as a parent. Then, I'll share how I picked the best Spongebob toys.
Sponging Around
Sometimes, parents think kids are goofing around when they play with toys. I also used to think that way before I began finding suitable toys to help my kids with developmental issues they faced. My daughter was innately creative with a beautiful mind. But sadly, she lacked social and communication skills.
My son was as sharp as they come, but he struggled with emotional and social issues. I started searching for answers when my son was three. Little did I realize the solutions to my problems would be enjoyable for him and beneficial to overcoming his shortfalls. Toys educate children through enjoyable activities.
A child's brain is almost like a sponge, absorbing more details than any other time in their lives before the age of six. It doesn't mean they stop learning after six, but play education and toys play a significant role in their early lives. Every toy has educational potential, but some offer more lessons than others.
For example, my daughter found a friend to teach her social and communication skills with her favorite talking plush. In contrast, my son learned emotional and creative skills with construction toys. The connection between which toys work for your children lies in themes and activities. For example, Spongebob is a valuable theme.
Parental Advice for Spongebob Fans
It's weird to think that the sponge brain crew from Bikini Bottom can offer so much value to your kids. Nonetheless, it's true. Spongebob is a themed toy that welcomes children to enjoy the entire range of benefits because they love the characters. Additionally, you can use the Spongebob theme to encourage activities.
As a parent, I focused on finding toys from my children's favorite themes (both of whom love Spongebob). Once I had a suitable theme, I looked for specific toy types that encourage various playtime activities. For example, a Spongebob plush would encourage imaginative play, leading to communication and social skills.
Various activities are excellent for teaching children different skills. However, you can't expect a child to express the full potential of a toy unless they love the theme and enjoy the possible activities. But, it's all you have to consider as a parent, and the toy will take care of the play-education part for you.
Selecting the Best Spongebob Toys
Spongebob has many incredible toys, but I'll show you the best picks from the main types, and sub-types children enjoy. Each toy type should offer an educational activity potential to encourage skill development. I'll also focus on various age groups to ensure every Spongebob fan gets a fantastic toy.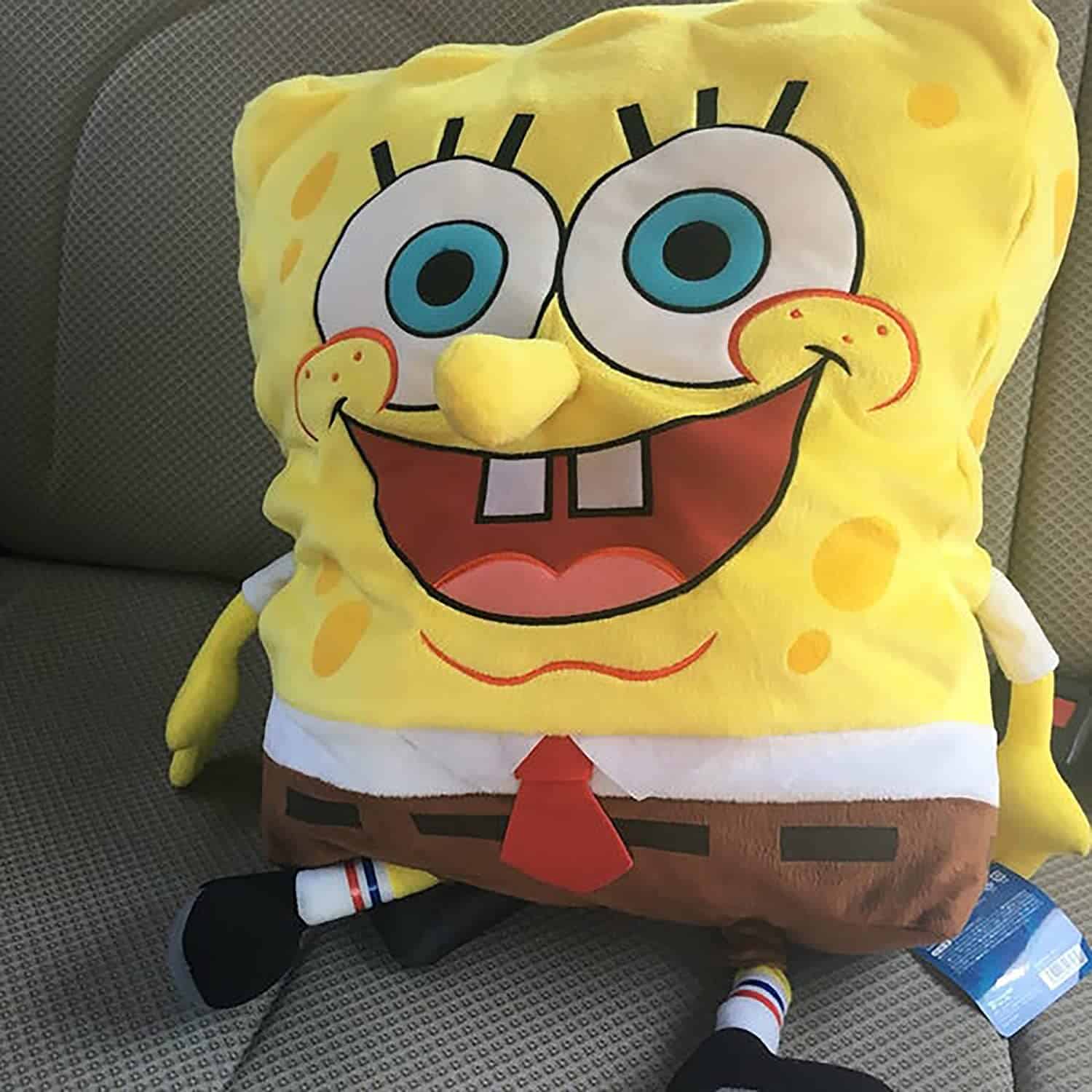 Best Spongebob Toys Guide: Bikini Bottom Winners
I hope your kids have their spongy caps ready because I'll share the best Spongebob toys for play education. It was a hard choice, but I'll share why I love these top picks. I'll show you the recommended ages and activities the toys promote, which lead to specific skill exercises.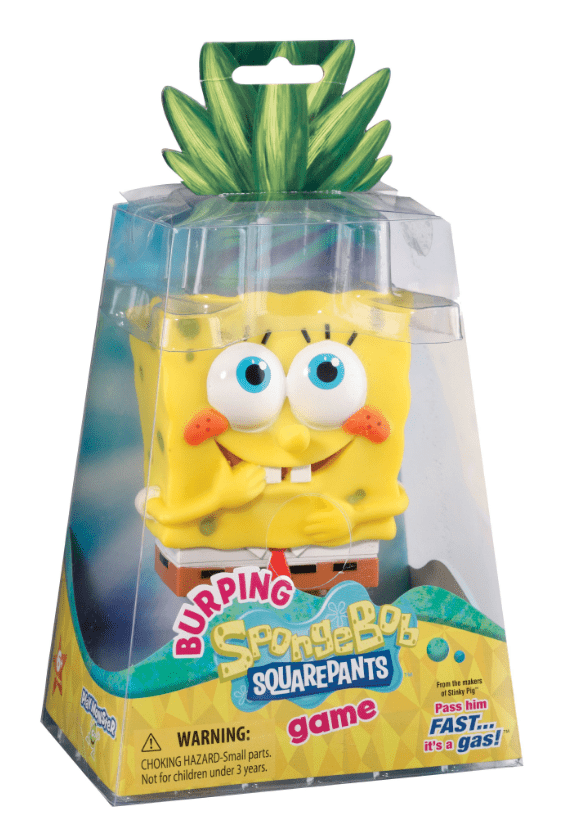 The burping Spongebob game grabbed my attention because of a dear friend's child. My friend's little one had speech delays, and she was utterly frustrated but didn't want to force a developmental delay to go away on its own. Her son attended speech therapy, but it was a toy similar to the burping game she believed helped him.
Forgive me, but I don't remember the toy. However, it was a plush that made farting sounds. My friend got so excited every time her son giggled or snickered at the sound effects but quickly lost hope in the toy as the weeks passed. However, I'll never forget her Facebook rave when her son finally said "mom" to look at the toy.
We might think the sound of a burping or farting toy is ludicrous. In contrast, my friend believes that it helped her son learn to express himself after years of silence verbally. Her son's a happy, healthy talker today. So, maybe it was the toy, or perhaps it was speech therapy. However, I agree that the toy helped to some extent.
Spongy Facts
Toy Type: Spongebob game
Activity Opportunities: Social and interactive play
Recommended Ages: 6+
Yippee
The burping Spongebob game is giggles for a crowd because it's a simple recreation of hot potato
The Spongebob figure is hilarious, and it plays music until the sponge lets one rip
The social opportunities are the greatest with this game, and kids learn to communicate better
Awe
It's a pity the game doesn't work for younger kids, but you can play with kids over three-under supervision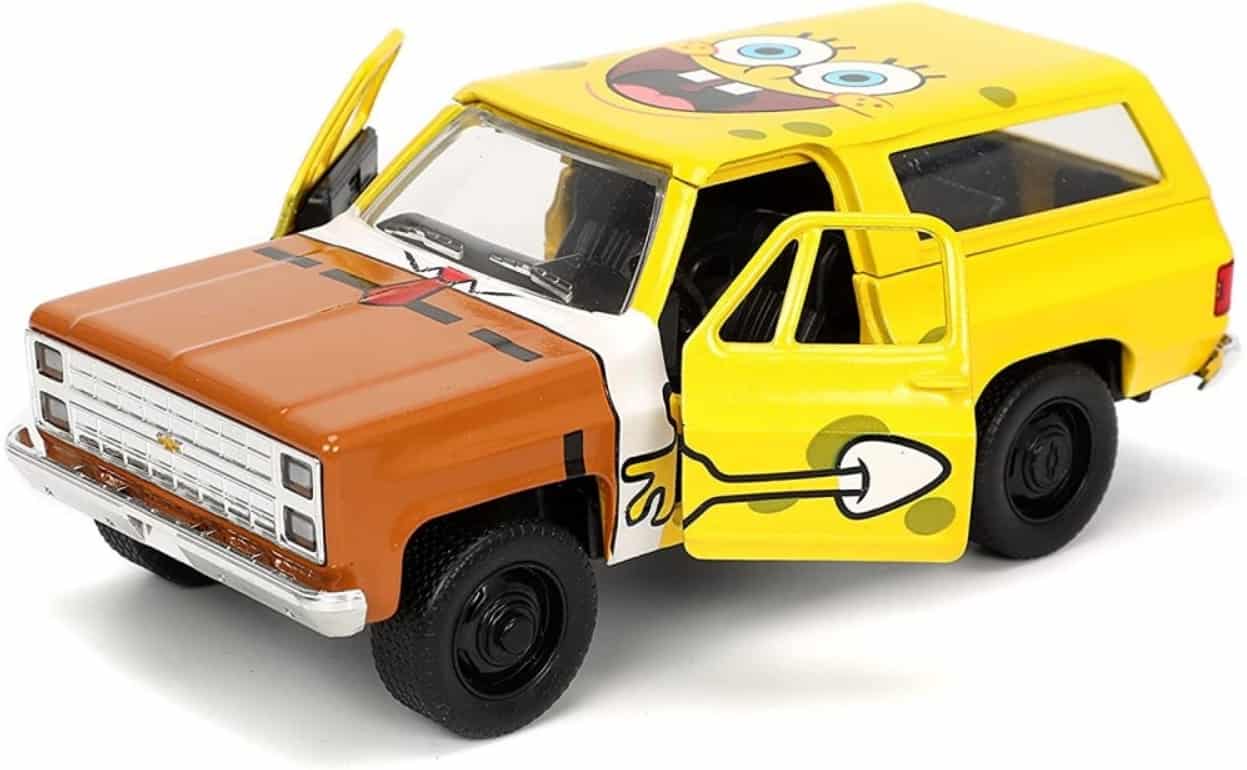 Toy cars are excellent playthings for kids, but this one also fits a collectible opportunity for older fans. It's a scale model of a classic car. I'm not sure what it has to do with Spongebob, but it offers interactive play. I love that the car has Spongebob's colors and that kids can open the doors and roll it around for a sensory experience.
Spongy Facts
Toy Type: Spongebob 1980 Chevrolet K5 Blazer 1/32 scale diecast toy car
Activity Opportunities: Interactive and sensory play
Recommended Ages: 3+
Yippee
The Spongebob model car looks like the character and comes with full-interactive qualities for sensory playtime
Little fingers can practice their grasp and muscle strength with the opening doors and rolling wheels
It's a highly-unusual collector's piece for older Spongebob fans
Awe
I'd recommend this more for collectors than little fingers, but kids benefit from it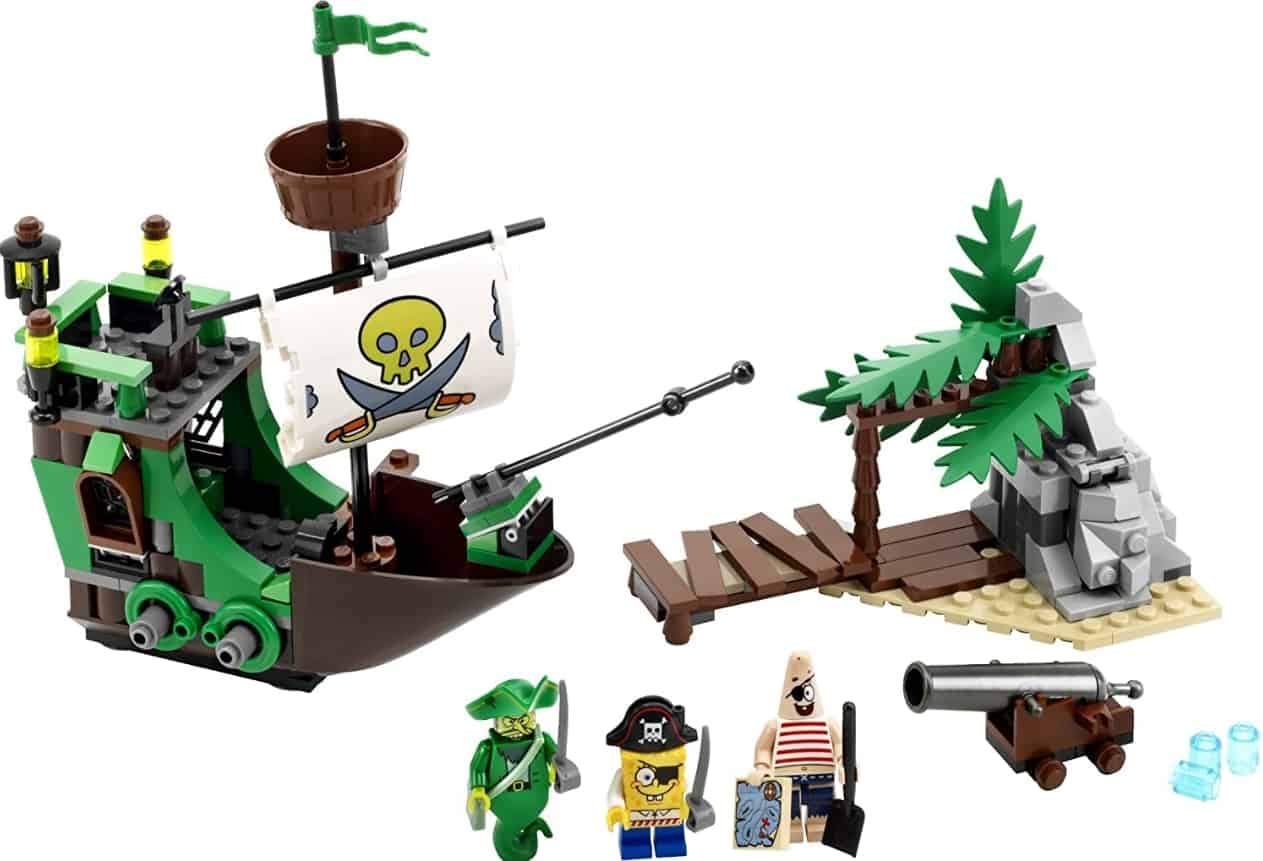 LEGO is a masterful toy for play education. There are LEGO kits for adults and children, yet Spongebob LEGO kits fall into both categories. There are more Spongebob LEGO kits than I realized. Still, I picked this one because the Flying Dutchman fits into the adventures of Bikini Bottom. It adds a sense of imaginary magic.
Spongy Facts
Toy Type: LEGO Spongebob Flying Dutchman building kit
Activity Opportunities: Interactive and constructive play
Recommended Ages: 6 to 12
Yippee
Spongebob LEGO kits take play education to another level, teaching fine motor, creative, critical thinking, and problem-solving skills
Spongebob LEGO kits offer children a constructive playtime before they get to enjoy imaginative play
The 241-piece LEGO Spongebob set includes mini-figures for Spongebob, Patrick, and the Flying Dutchman
Awe
The Spongebob LEGO kits only work for kids over six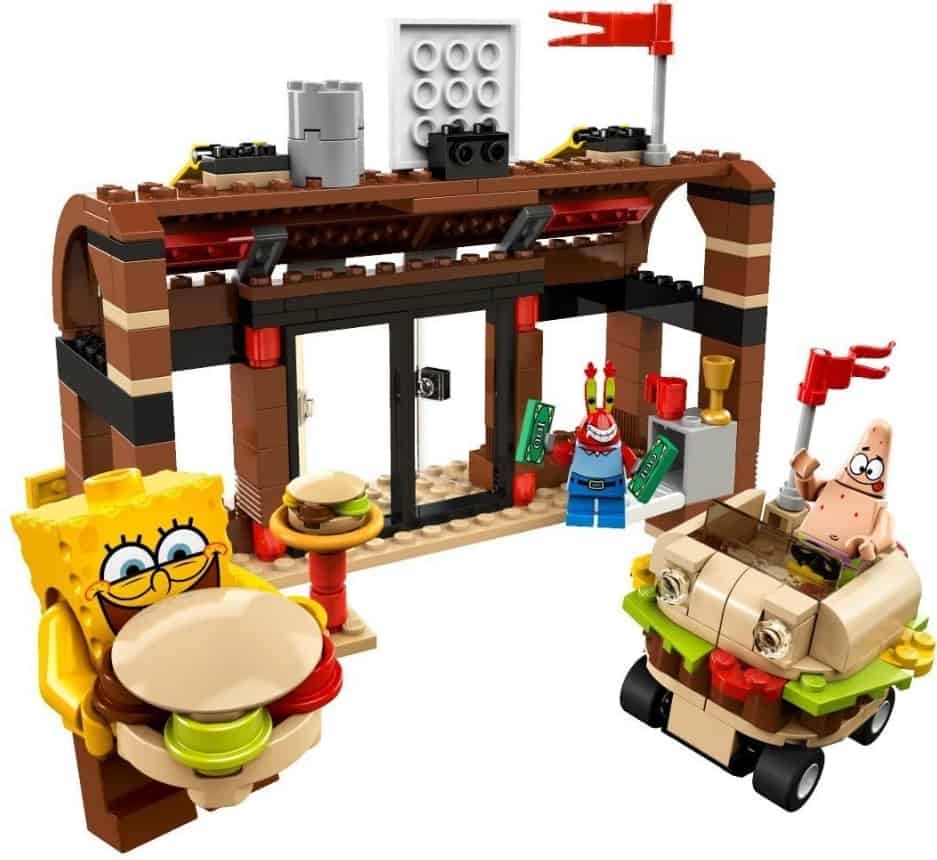 Krusty Krab is an iconic feature of Bikini Bottom, and Spongebob is one of a few memorable characters from the restaurant. I love the episodes where Spongebob prevents Plankton from stealing the secret recipe. My son loves how Mr. Krabs is a stingy creature who would do anything to keep every dollar the restaurant earns.
Spongy Facts
Toy Type: LEGO Spongebob Krusty Krab Adventures building kit
Activity Opportunities: Educational and imaginative play
Recommended Ages: 6 to 12
Yippee
Kids enjoy the educational benefits of building an early-development LEGO set with their favorite characters
The Krusty Krab comes with Patrick, Spongebob, and Mr. Krabs mini-figures, and it has a Krabby Patty car kids can build
LEGO kits offer children opportunities to build problem-solving, creativity, teamwork, perseverance, social, and spatial awareness skills
Awe
Again, Spongebob LEGO kits sadly appeal to older children only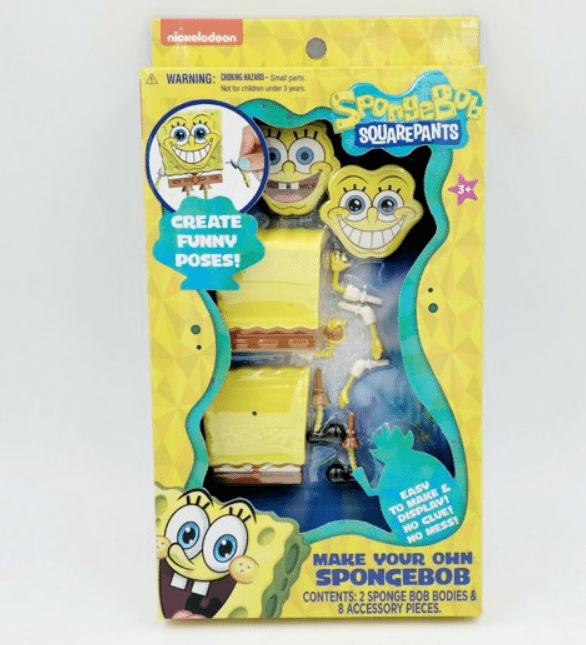 Spongebob and his friends show children how to engage with their goofiness. Model kits that design various Spongebobs can encourage the goof-meter to erupt. I loved buying build-a-models for my little girl. She even cut dresses out of magazines to add to her favorite characters. These toy types are super valuable.
Spongy Facts
Toy Type: Make Your Own Spongebob building kit
Activity Opportunities: Creative and imaginative play
Recommended Ages: 3+
Yippee
The Make Your Own Spongebob kit includes eight accessory pieces children can fit into two bodies, encouraging creativity
Imaginative play comes from children being able to change Spongebob to the mood and poses they need for today's game
The two faceplates are adorable for Spongebob because he's a goofball with a massive heart and smile
Awe
Losing a single piece would send kids into a giant rant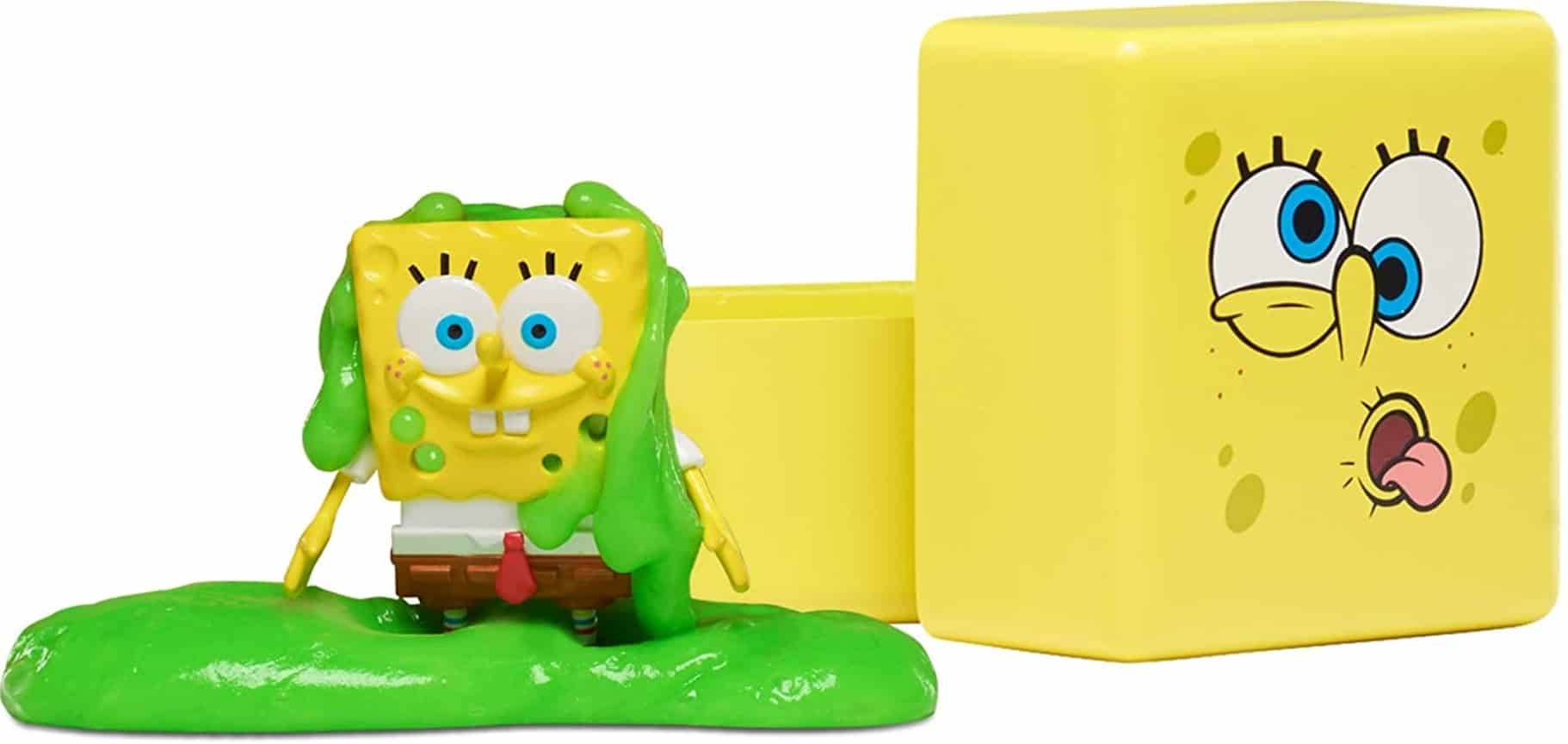 My son loves goo, and it's an excellent way to manage his social anxiety when in a crowd. Sensory toys allow children to calm their nerves and engage their anxious feelings in the motion of massaging goo. For example, Spongebob combined with goo is like handing a child their best friend to help them calm down.
Spongy Facts
Toy Type: Slimeez Spongebob goo
Activity Opportunities: Imaginative and sensory play
Recommended Ages: 6+
Yippee
The Spongebob Slimeez goo feels horrible in my hands, but it offers a sensory experience profound enough to calm nerves
I love that the set comes with a mysterious figure inside the goo, meaning you can get anyone and not just Spongebob
You also get various Spongebob expressions on the goo container, and the skill potential includes emotional resilience and intelligence
Awe
Sadly, the goo is only suitable for kids over six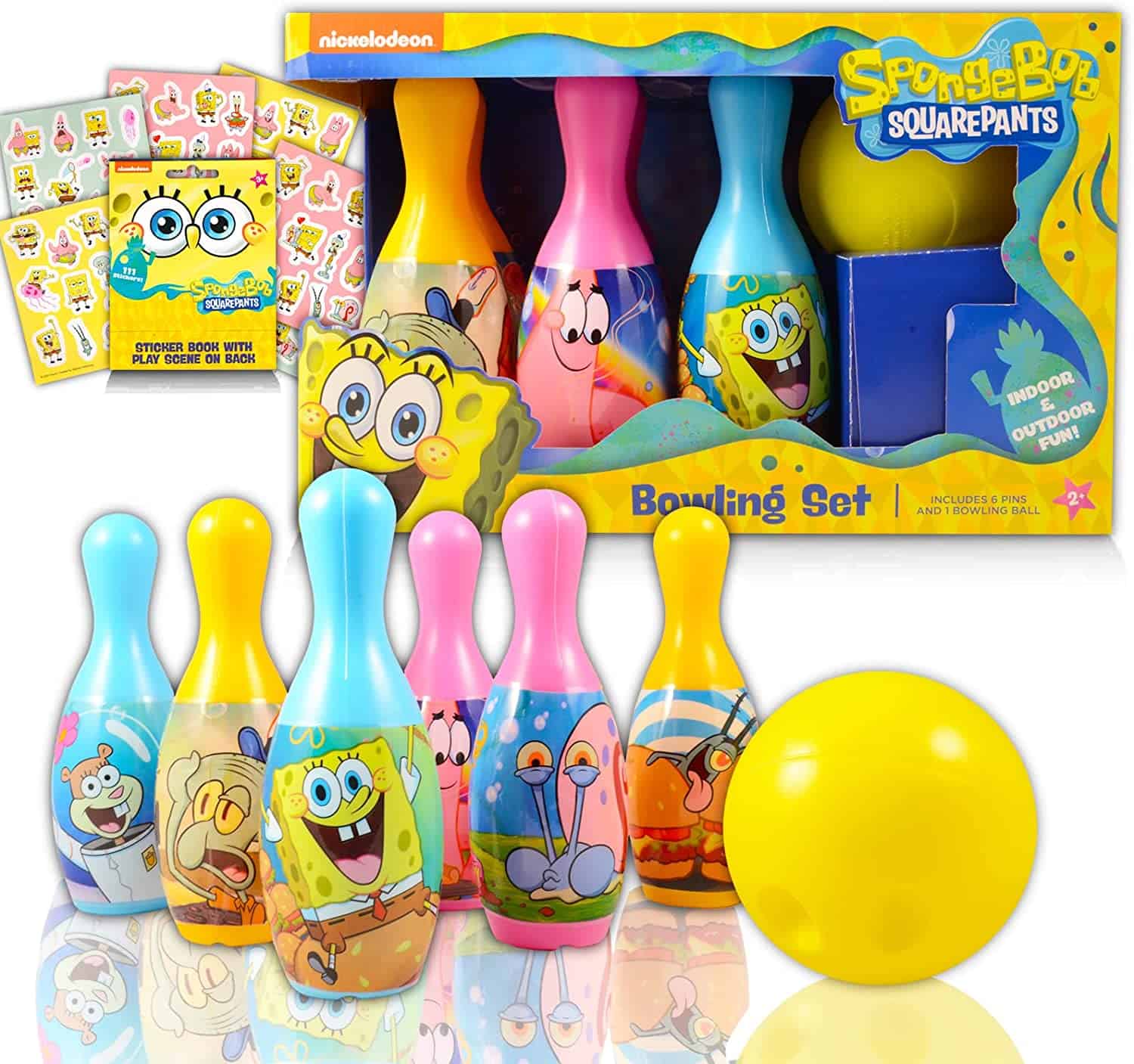 Remember that I'm looking for the best educational toys for Spongebob, meaning they must have the right activity potential. I love that kids over two can partake in a social game with friends and family. However, young toddlers have no social skills, and this game will insert turn-taking and teamwork to start social development.
Spongy Facts
Toy Type: Spongebob bowling set
Activity Opportunities: Social and interactive play
Recommended Ages: 2+
Yippee
The Spongebob bowling set is a true bliss with the potential to get the proper age group into social playtime
I love that each bowling pin has much-loved characters, including Patrick, Gary, Plankton, Squidward, Sandy, and Spongebob
The set also comes with stickers for little ones to decorate the pins and ball as they desire
Awe
Sadly, the pins aren't super durable, and the set won't last years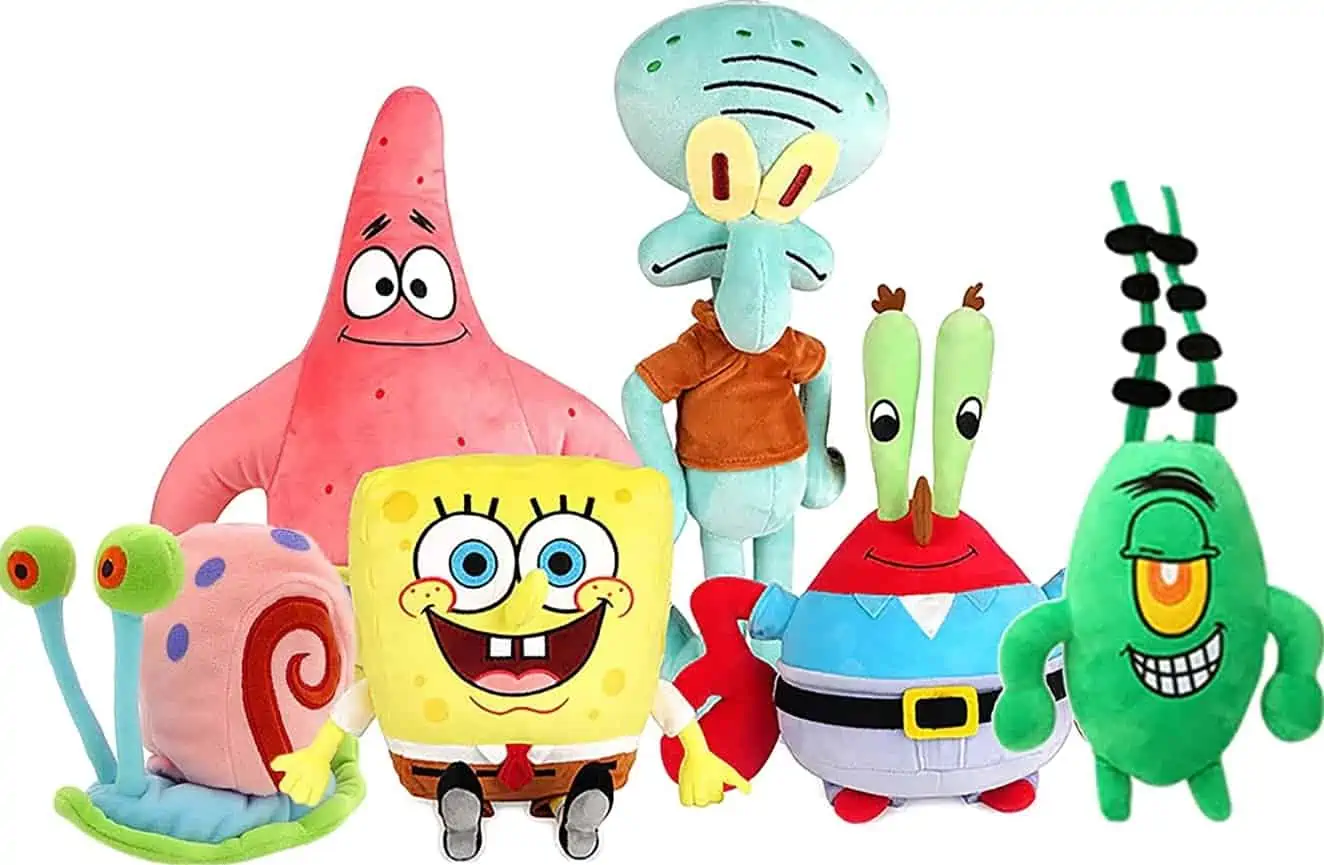 I add plush toys to every listicle I write because they help my daughter through her social anxiety and communication delays. My daughter had massive temperament issues as a toddler, more than most. However, her plush friends allowed her to express herself healthily while teaching her basic social skills and morals.
Spongy Facts
Toy Type: Spongebob plush set
Activity Opportunities: Social and imaginative play
Recommended Ages: 2+
Yippee
Most Spongebob plush look odd, but this set makes every character's plush look high-quality
Children can enjoy six loved characters, including Spongebob, Squidward, Plankton, Mr. Krabs, Gary, and Patrick plush
Few toys bring the same benefits to early childhood development as much as plush playthings
Awe
Some kids might only want a Spongebob or Patrick plush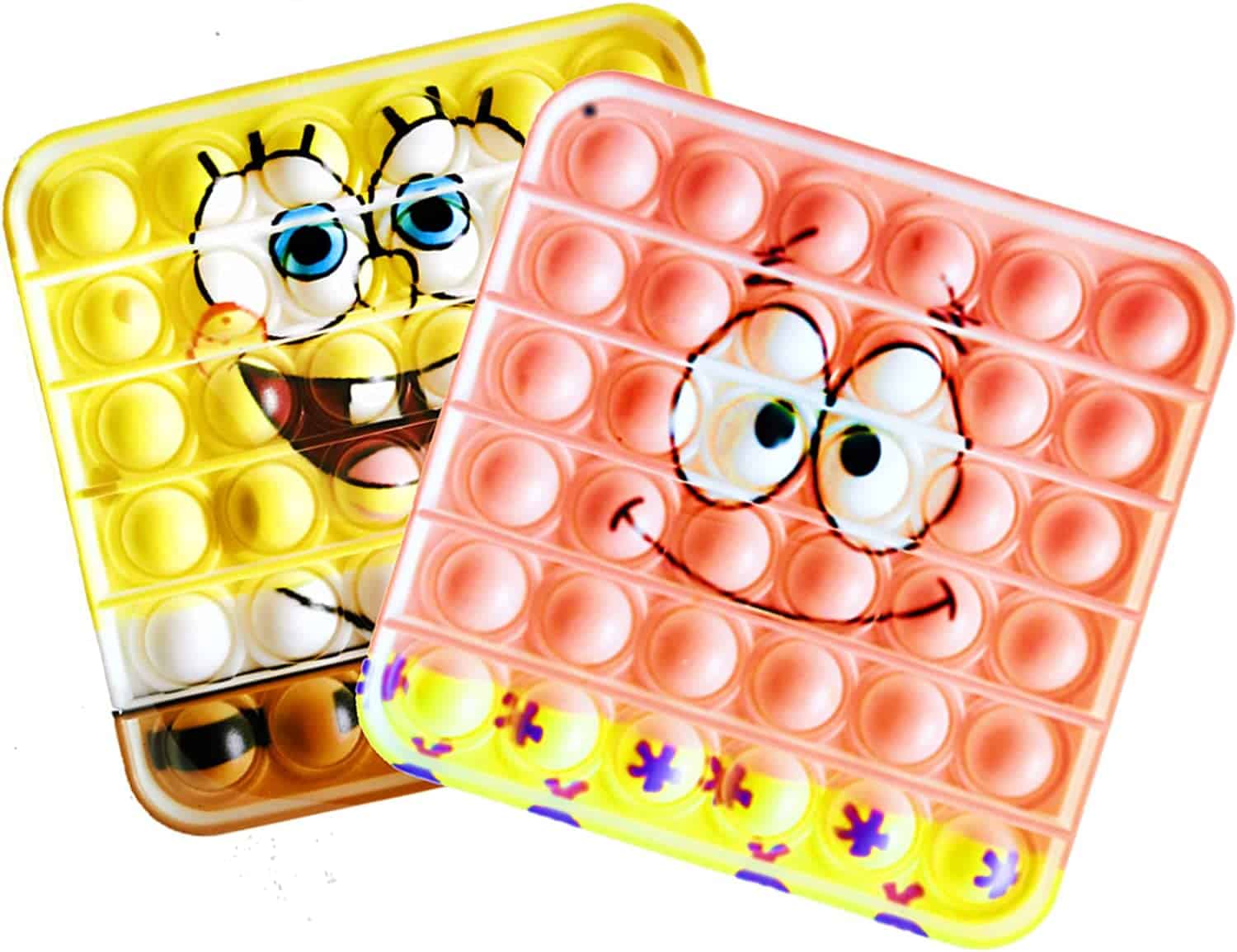 Fidget toys aren't as old as you think. Unfortunately, there weren't many options when my daughter struggled with emotional expression. However, I found a fidget popper before knowing about the benefits. Spongebob and Patrick fidget poppers look fantastic, and I'd also pop them to focus my frustrations into some fun.
Spongy Facts
Toy Type: Spongebob fidget popper
Activity Opportunities: Social and sensory play
Recommended Ages: 3+
Yippee
The Spongebob and Patrick fidget popper set brings two much-loved characters to a child's rescue
Sensory and fidget toys also help children with autism and ADHD channel their energy and focus
The fidget poppers help children overcome anxious feelings (including social anxiety) through sensory play
Awe
There aren't many activities related to fidget poppers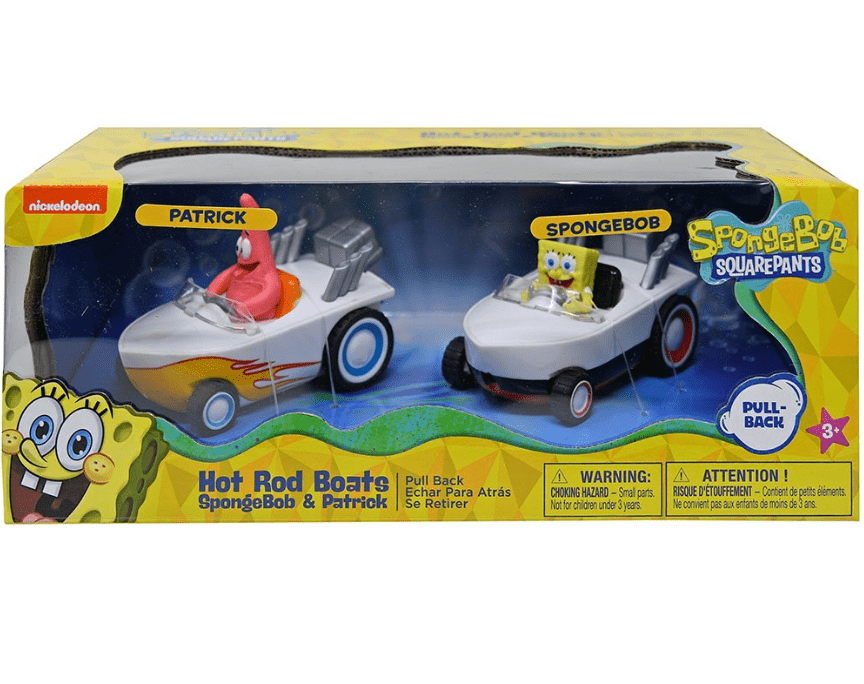 Admittedly, some of the funniest episodes I watched with my kids include the ones where Spongebob destroys poor Mrs. Puff's resilience when he fails to drive a boat. The boat school episodes are hilarious, and my kids bend backward with laughter when Mrs. Puff blows up again.
Spongy Facts
Toy Type: Spongebob toy boat
Activity Opportunities: Sensory and imaginative play
Recommended Ages: 3+
Yippee
The Spongebob and Patrick boat toys have pull-back functions to help little kids learn cause-and-effect
The boats look fantastic as hot rod versions, and Spongebob and Patrick drive the hilarious boats
Children can play pretend racing or retell the stories of underwater boating school fails
Awe
I'd recommend this pull-back toy for kids over two under supervision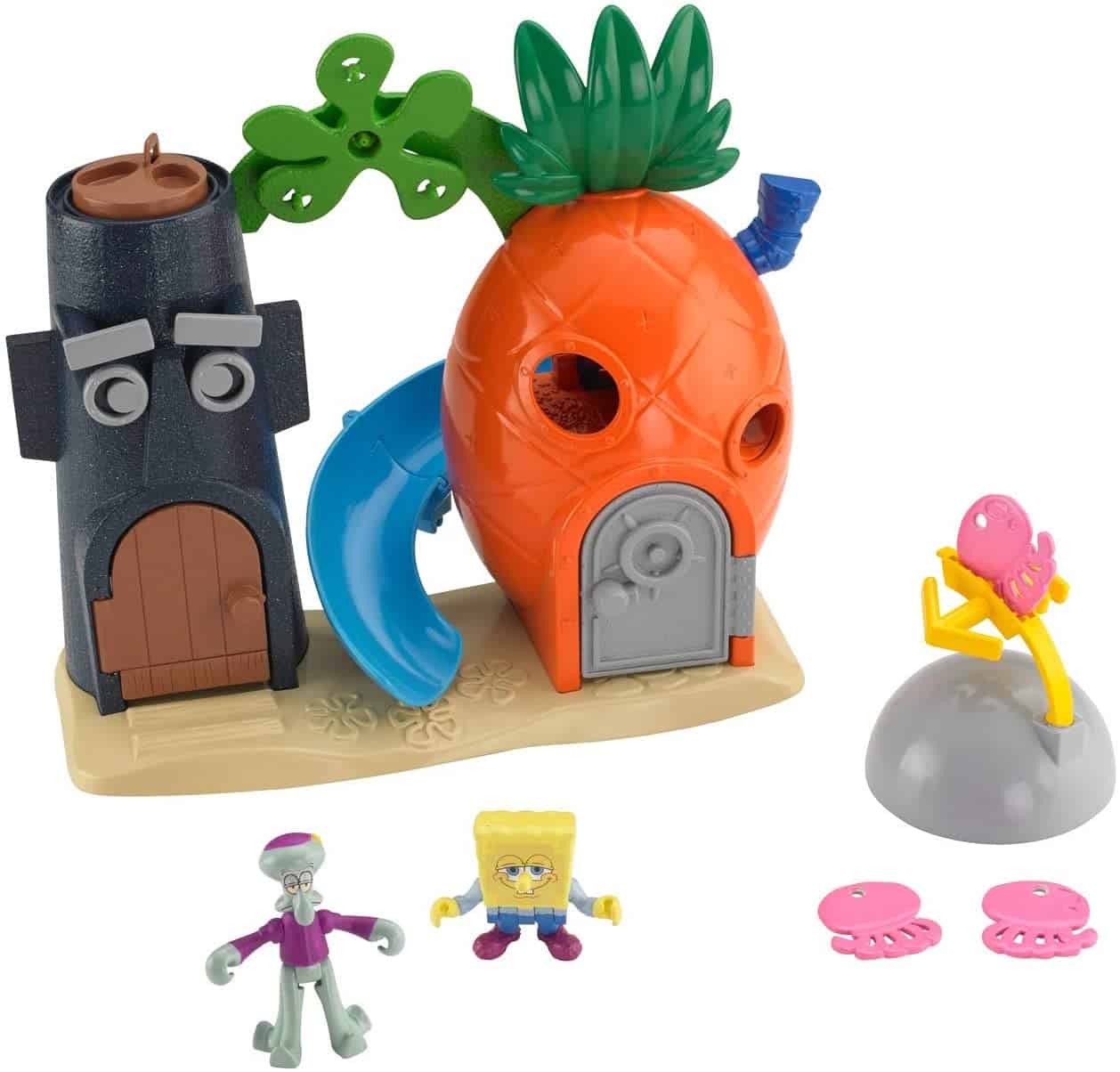 The Spongebob LEGO sets have a significant disadvantage because they aren't suitable for younger kids. However, the Fischer-Price playsets are ideal for kids over three. Toddlers and preschoolers need a lot of educational, sensory, imaginative, and interactive play to enhance their early development skills.
Spongy Facts
Toy Type: Spongebob Bikini Bottom playset
Activity Opportunities: Imaginative and interactive play
Recommended Ages: 3+
Yippee
The Spongebob Bikini Bottom playset includes the famous pineapple house and Squidward's home
Both home models are entirely interactive with opening doors and windows to help little fingers learn
There are also moving pieces, turning parts, and a long slide for young kids to experiment
Awe
I wish Patrick were a part of the playset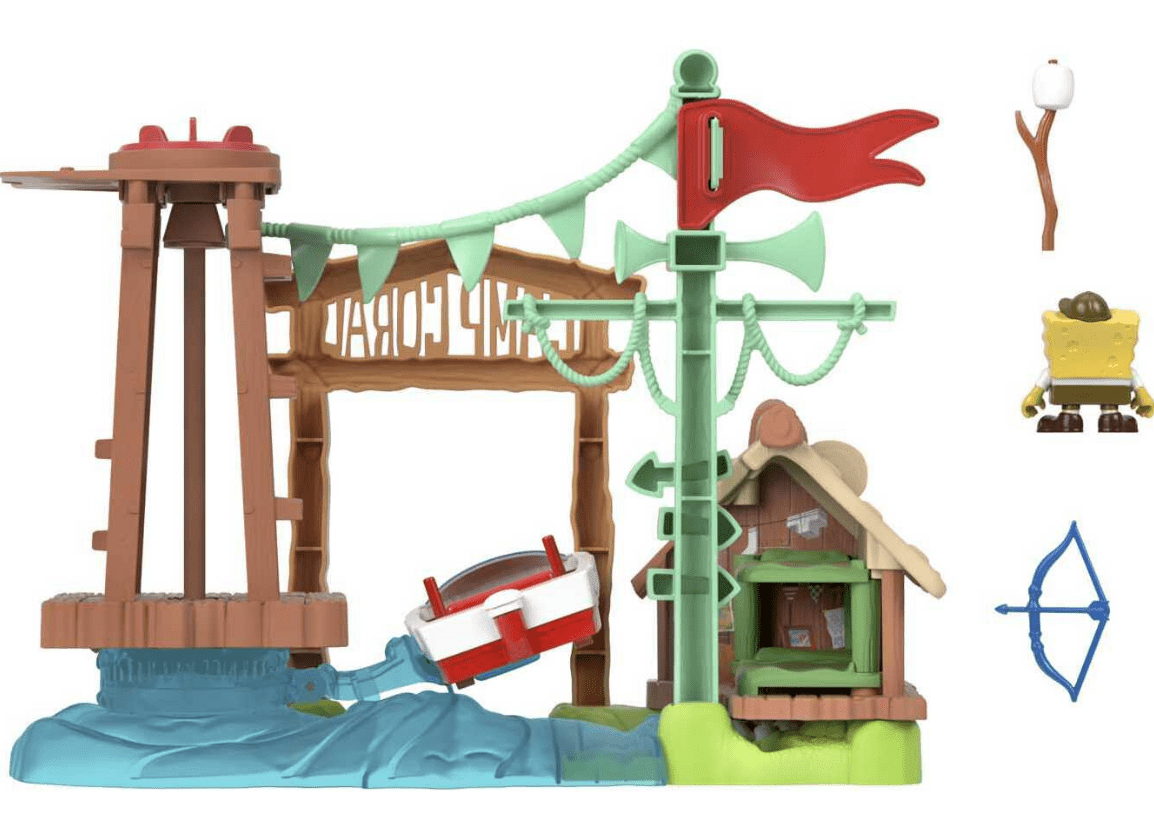 A few episodes occur in Camp Coral, typically including Spongebob's friends. I'm surprised Imaginext chose to exclude the buddies. However, it doesn't take away the value of this playset for toddlers learning to exercise their finger muscles and brain simultaneously. It's an excellent choice for toddlers and preschoolers.
Spongy Facts
Toy Type: Spongebob Camp Coral playset
Activity Opportunities: Interactive and imaginative play
Recommended Ages: 3+
Yippee
The Spongebob Camp Coral playset is a beautiful piece for kids to enjoy imaginative play
There are various moving pieces, turning parts, and interactive advantages for active little fingers
Young children learn about cause-and-effect, spatial awareness, and critical thinking with this set
Awe
I wish the set included some of Spongebob's friends, especially Patrick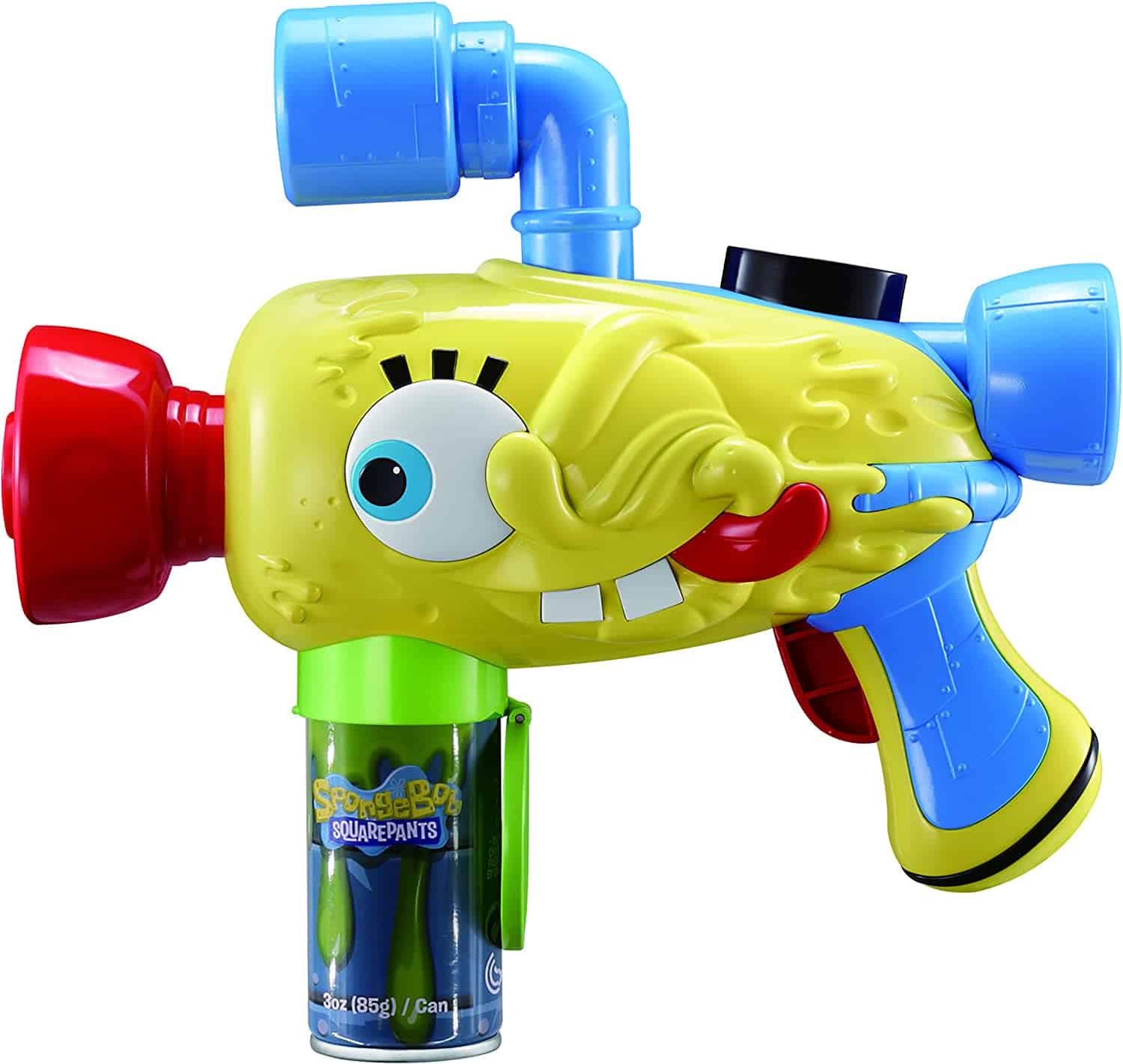 Blasters, toy canons, and NERF guns are trending; my son has a few he enjoys with his friends since he learned to overcome his social anxiety. Of course, you'll need two Spongebob giggle blasters to make it a social event. But imagine the backyard laughter as kids blast each other while the gun makes funny sounds.
Spongy Facts
Toy Type: Spongebob Giggle Blasters
Activity Opportunities: Social and imaginative play
Recommended Ages: 4+
Yippee
The Spongebob giggle blasters also shoot goo, which makes it a sensory experience with additional laughter
The toy guns look brilliant, with Spongebob's face designed to look like he's aiming at a target
The blaster has a working periscope for added fun and comes with over 20 sound effects
Awe
You'll need two guns for social play, and you'll need Spongebob goo refills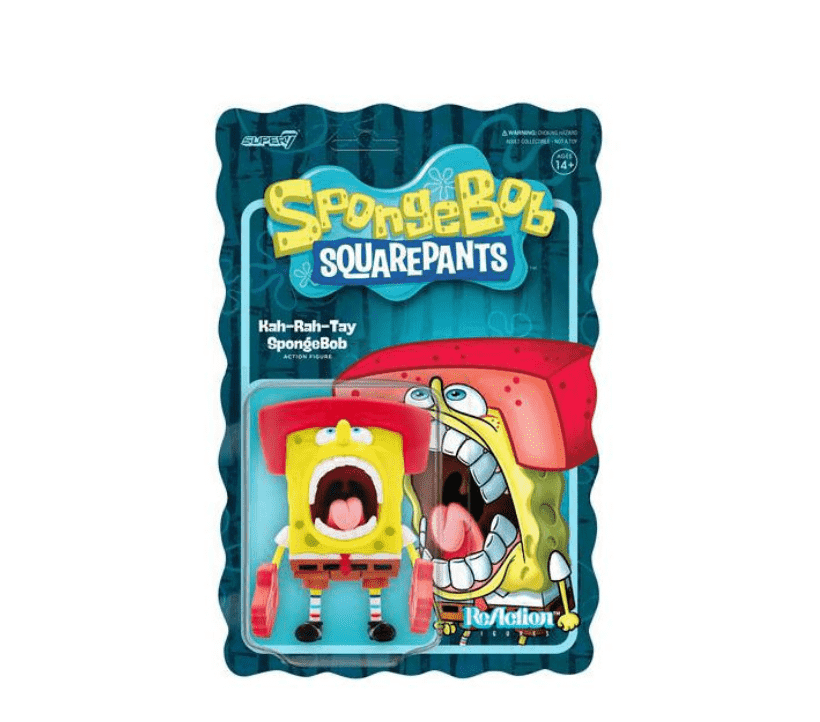 I love how Spongebob completely ignores the right way of pronouncing karate. I can hear him yelling kah-rah-tay as I type this line. I have to mention that I disagree with the recommended age. Suppose the figure is for a collection. In that case, it's a good recommendation. However, kids can also enjoy Spongebob's figure.
Spongy Facts
Toy Type: Spongebob kah-rah-tay figure
Activity Opportunities: Imaginative play
Recommended Ages: 14+
Yippee
The Spongebob figure looks brilliant, and it makes you hear the character yelling the famous mispronunciation
Spongebob toy figures work well for imaginative play with children and collections with older fans
I can't emphasize how much I love Spongebob's crazy facial details and tongue
Awe
I'd still recommend kids play imaginative games with Spongebob figures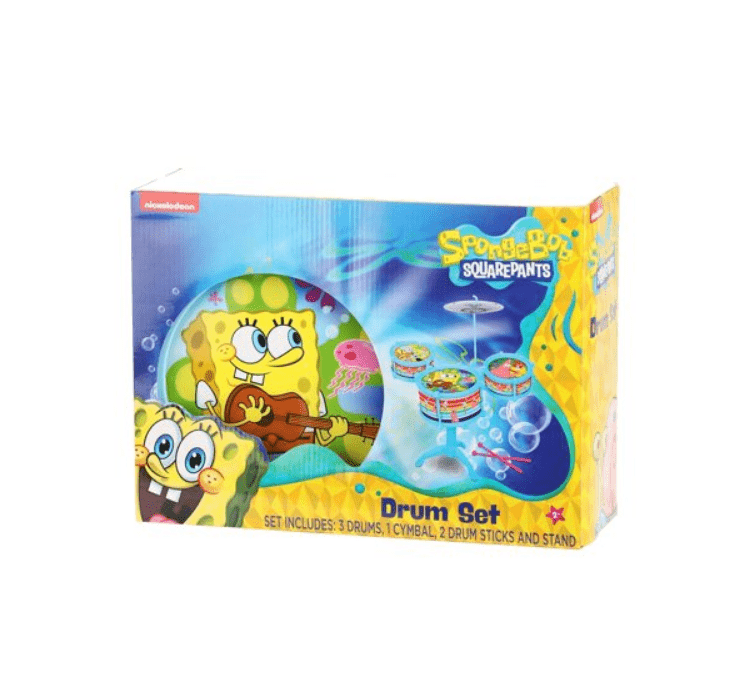 Do you know what helped my daughter overcome her emotional challenges as a toddler? Sure, the plush toys helped. However, little did I know that I had a musical genius in my home. The first instrument my daughter touched showed me her innate passions, and there's no better way to express yourself than through music.
Spongy Facts
Toy Type: Spongebob musical instrument
Activity Opportunities: Creative and musical play
Recommended Ages: 2+
Yippee
The Spongebob music drum set is gorgeous and promotes creative and musical play education
The set looks like a drum kit and is ideal for any child over two (which is great because kids show music talent young)
Musical play teaches children social, coordination, math, language, critical thinking, and problem-solving skills
Awe
You only have to supervise kids under three
I can only imagine how wrong Spongebob would be in a game of Trivial Pursuit. Sure, he's hilarious but lacks smarts. On the other hand, I like how the game encourages older children to engage with their Spongebob fandom and learn something new simultaneously. Trivial Pursuit has always been a favorite game of mine.
Spongy Facts
Toy Type: Spongebob Trivial Pursuit
Activity Opportunities: Education and social play
Recommended Ages: 12+
Yippee
The Spongebob Trivial Pursuit game welcomes older kids to give this list a complete range of skill development
The Spongebob game has 600 questions to inspire thought, and they're all related to the first 12 seasons of the show
This set is one of the best social activities for older children to enjoy as collective Spongebob fans
Awe
I'd invite kids over eight to join under supervised play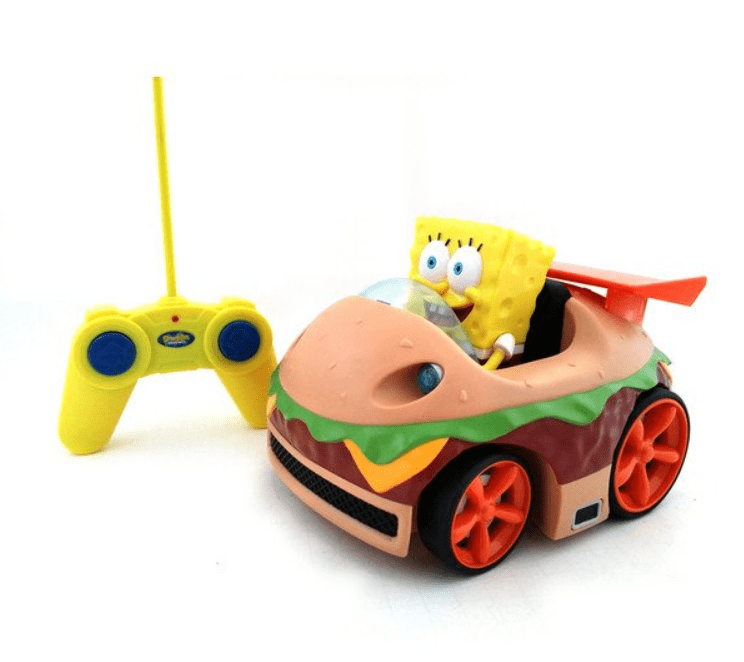 Remote-controlled cars are a joy for most kids, and Spongebob has a model that looks like the Krabby Patty Burger. Imagine driving this beauty over the back lawn or in the park other Spongebob fans might visit. The RC Spongebob car even has full-interactive abilities with lights and sounds.
Spongy Facts
Toy Type: Spongebob RC Krabby Patty toy car
Activity Opportunities: Interactive and social play
Recommended Ages: 6+
Yippee
The RC Spongebob car engages a child's sense with lights, sounds, and the ability to control it remotely
The RC Spongebob car charges quickly with a USB port, and the remote control matches the Spongebob theme
The car even has a turbo boost and goes to unexpected places and terrains
Awe
I'd play with the vehicle with kids under six while supervising them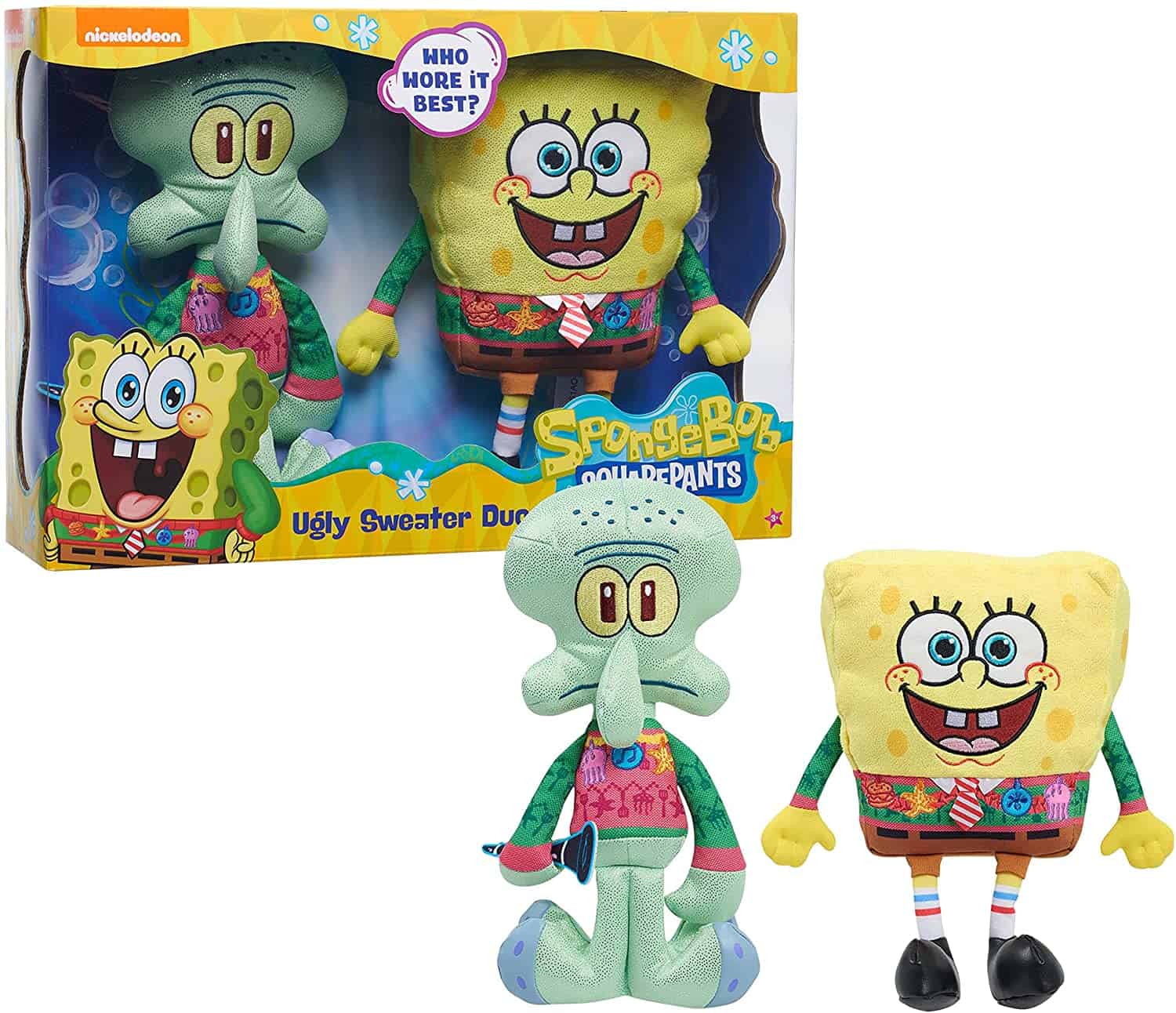 Since plush toys offer more value than you think, I'll share another favorite I found. I love the "ugly sweater" duo, even though Squidward's not my favorite character. This plush set welcomes young toddlers to learn about different textures through sensory play. It also provides excitement with sound effects.
Spongy Facts
Toy Type: "Ugly Sweater" Spongebob plush
Activity Opportunities: Social and interactive play
Recommended Ages: 3+
Yippee
The Spongebob plush set is entirely interactive with sound effects that enhance sensory play
The various textures are excellent for tiny fingers to explore and learn how they feel
Kids get two famous Spongebob characters to turn into their plush best friends with talk-back features
Awe
Again, I'm not the biggest fan of Squidward and think Patrick should be in the set
Top Q&As
Question: Which Spongebob Toys are Collectible?
Answer: Spongebob has a massive fandom, and various toys are collectible. The best Spongebob toy cars are collectible. However, my favorite collectible brand for Spongebob is Funko Pop. This Spongebob Funko Pop guide shows you the lowdown of the most collectible and weird vinyl figures.
Question: How Many Spongebob LEGO Sets Exist?
Question: What is Spongebob TokyoPop?
Answer: Spongebob TokyoPop is a new craze similar to K-Pop. It's a genre of fans from Tokyo and surrounds. It includes songs, lore, and merchandise, primarily picture books. The Patty Hype paperback book is one example of the merchandise under TokyoPop. Another example is the third book: Tales from Bikini Bottom.

Best Spongebob Toys Guide: a Goodbye "Wave"
Play education combined with Spongebob fandoms brings the ability to learn through play alive. I'm always looking for the next toy to teach my kids lessons while they enjoy their favorite characters. Spongebob and the Bikini Bottom crew are invaluable for the connection between play and learning.
Use your child's favorite activities and developmental needs to help them find a toy they'll cherish for years. Welcome the opportunities each Spongebob toy provides. At the bottom of it all, I still highly recommend the  Spongebob Play-Doh Building Kit as my number one choice for kids under eight.
I also highly recommend the Burping Spongebob Game because of my friend's story. My final recommendation is the Spongebob Music Drum Set if you even mildly suspect you have a creative or musical child. My daughter continues to stun me with her beautiful singing and dancing. Moreover, her violin talent is ripe today.
Countless Spongebob toys are available for popular activities that help kids learn valuable skills. I included various age groups to ensure every fan gets a new Spongebob toy. But, ultimately, it's in your hands now. So, pick the Spongebob toy that speaks to your children's needs, and get it before the stores run dry.
For More Impressive Toys:
Complete Guide to Tonka Toys for Young Engineers – Avid Toy Insider
18 Best Blippi Toys Guide for Clever Tots – Avid Toy Insider
Best Super Wings Toys for Constructive Play – Avid Toy Insider