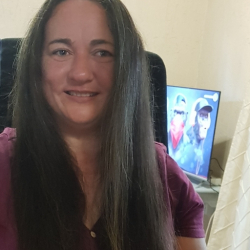 Latest posts by Caroline Lambert
(see all)
I love focusing on toys that blow my mind out of the water, and writing the complete guide to Tonka toys left me speechless. Fortunately, I'm not wordless. So, I can show you the awe-inspiring brand that turns classic types of toys into something beyond phenomenal, falling into a themed toy as old as playthings.
My son loves playing with trucks, and I only saw the true potential behind Tonka trucks once I did some research. I'm all about age-appropriate toys that fit fun activities while teaching children lessons. Tonka trucks come with an entirely new lesson I've never thought about with trucks before. Have you heard of STEM toys?
Let me unravel what blew my mind.
Let's Get Right to the Point
Tonka trucks come from a vintage brand that focuses on realistic designs with movable parts to make the playthings fall into a STEM toy category, which encourages learning through play. However, the trucks don't fall short of imaginative games. Boys will love playing construction while picking at the engineering qualities.
Tonka toys are a valuable asset to a child's development, especially if they love playing with toys that move and interact in the ways they would in real life. The best Tonka toys don't include dolls and plush. Instead, they have curiosity-inspiring engineering models with accurate details.
My top Tonka toys come from the heavy machinery, construction models, trucks, and vehicles range to suit the engineering qualities I want for my son. Here's a rundown of my favorites:
A Complete Guide to Tonka Toys: All the Facts
Young boys often have an affinity for heavy trucks and machinery during playtime. Tonka toys offer much more than a few fun runs around the garden. They have STEM qualities, which you can use to add value to your child's potential future career. I'll also share how the best Tonka toys help you do that.
The Unbelievable Value of Tonka Toys
Tonka trucks are some of the most famous toys from our childhoods since 1947. The brand is well-known for metallic trucks with durable designs, but they also make dolls, plush, and other toys. I'm honing in on the trucks because they're a phenomenal plaything for kids, and an idea sprung to my mind.
I'm one of those moms, and I've been obsessed with educational toys, particularly those that offer STEM qualities. STEM educational toys are often simple, but they introduce young minds to bright future ideas, including science, engineering, math, and technology. I never saw trucks as a STEM opportunity before Tonka.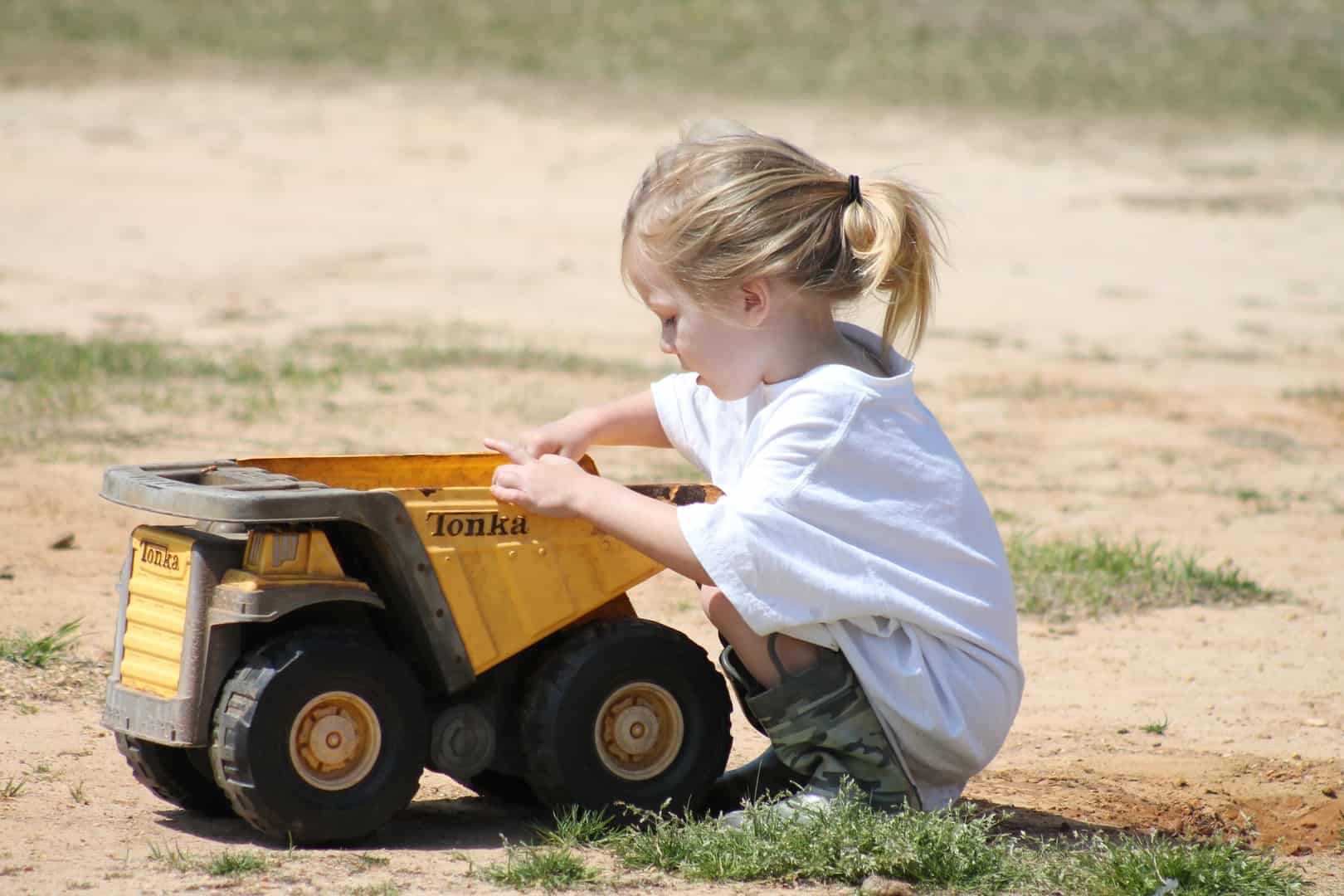 Now, I look at heavy machinery, trucks, and construction vehicles as an introduction for kids to learn about simple engineering and technology. The accuracy of scaled cars with rolling wheels and movable parts encourages young minds to become curious about the engineering behind the models.
For example, the Tonka Steel Bulldozer has a circulating grouser around the wheels and a movable blade on the front. The machines often function like real-life models. The functionality inspires curiosity and interest in the technology and engineering used to create such glorious devices.
Tonka Type Rundown
There are a few Tonka toys, and some lesser-known toys include:
The trucks, construction models, heavy machinery, and vehicles also come in various ranges, including steel classics and mighty force. Some examples include:
Not all Tonka toys add as much value as the machinery and trucks regarding STEM qualities.
Adding Value to a Child's Life
I'm a mom always looking to add value to my children's lives and development. STEM toys are a massive part of our daily playtime activities. Tonka trucks don't offer the math and science aspects, but they bring two STEM qualities to stir curiosity in a child's mind. Who knows? You might inspire your son to become an engineer.
STEM toys trigger both sides of the brain. For example, the technology and engineering behind Tonka trucks will trigger the logical side of a child's brain. In contrast, the fun activities children can imagine trigger the opposite side of the brain to inspire creativity. There's no age limit to these toys, either.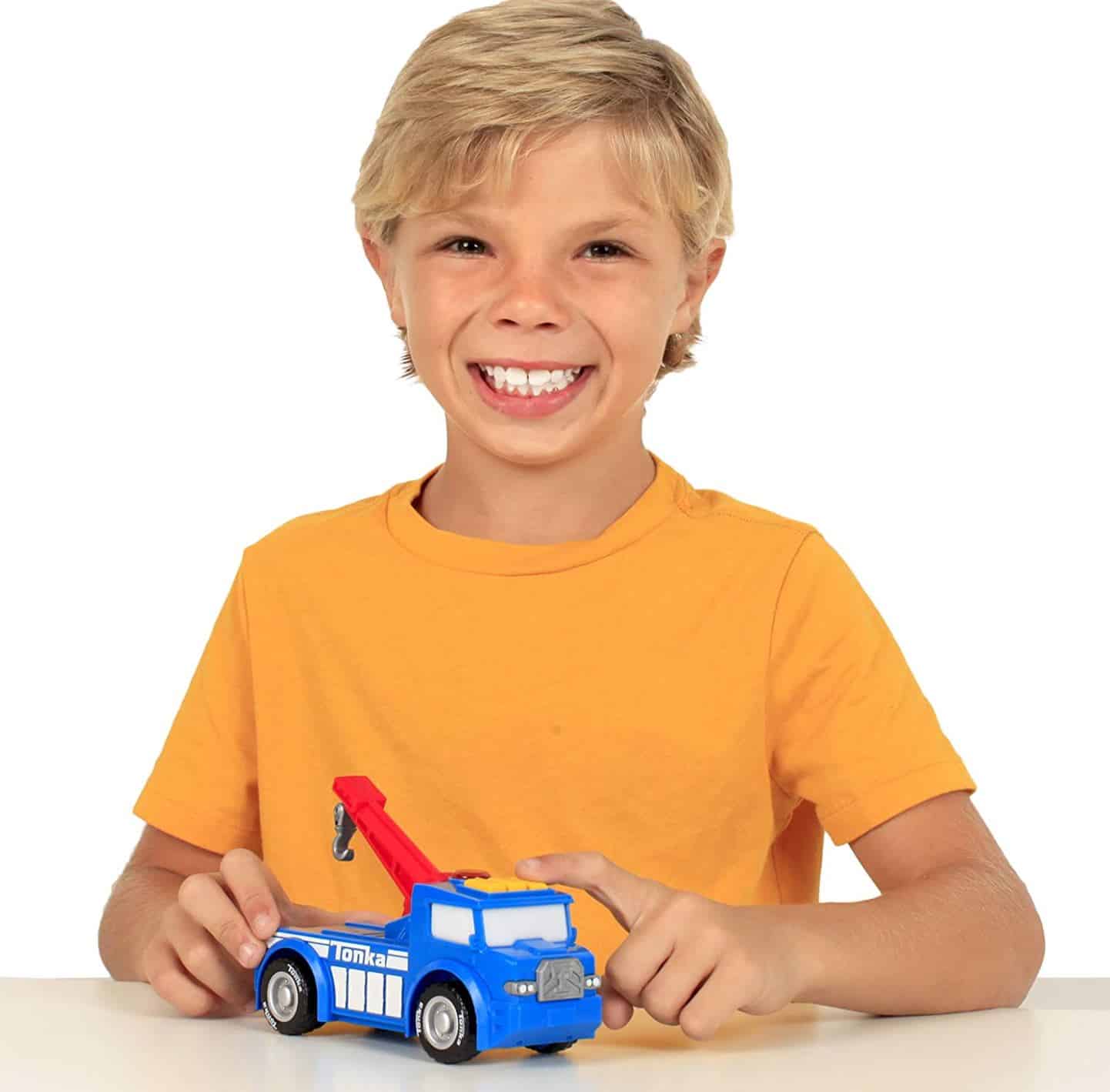 You won't give Tonka trucks to kids under three. Still, toddlers and preschoolers can enjoy imaginative play while learning early engineering skills. Cause-and-effect is an early engineering skill. A toddler pushes a truck to understand that pressure and weight move it on wheels. It's a simple lesson that opens many doors.
Cause-and-effect even helps children develop social and communication skills. On the other hand, older boys will start becoming more curious about how the wheels turn and the blades move. I've caught my son dismantling toys to put them back together.
I leave him because his curiosity leads to an understanding of simple technology. My point is that Tonka trucks work for kids of any age, as long as it's older than three. The trucks will inspire learning and imagination simultaneously to create fun educational activities.
Picking the Best Tonka Toys
I'm focusing on the point of young engineers, meaning my best Tonka toys should be the big trucks, construction vehicles, and heavy machinery famous to the brand. I'd also prefer models with accurate and engineered details. Finally, I want metallic models with movable parts or sensory stimulation.
Sensory stimulation can also inspire curiosity about engineering and technology.
An Ultimate Guide to the Best Tonka Toys
There's a lot to consider with Tonka toys, but I showed you how they add value to a child's life. Now, it's time to break down the details of why each Tonka toy stole my heart. I'll share the essential information for each before providing pros and cons so that you can decide which one suits your son.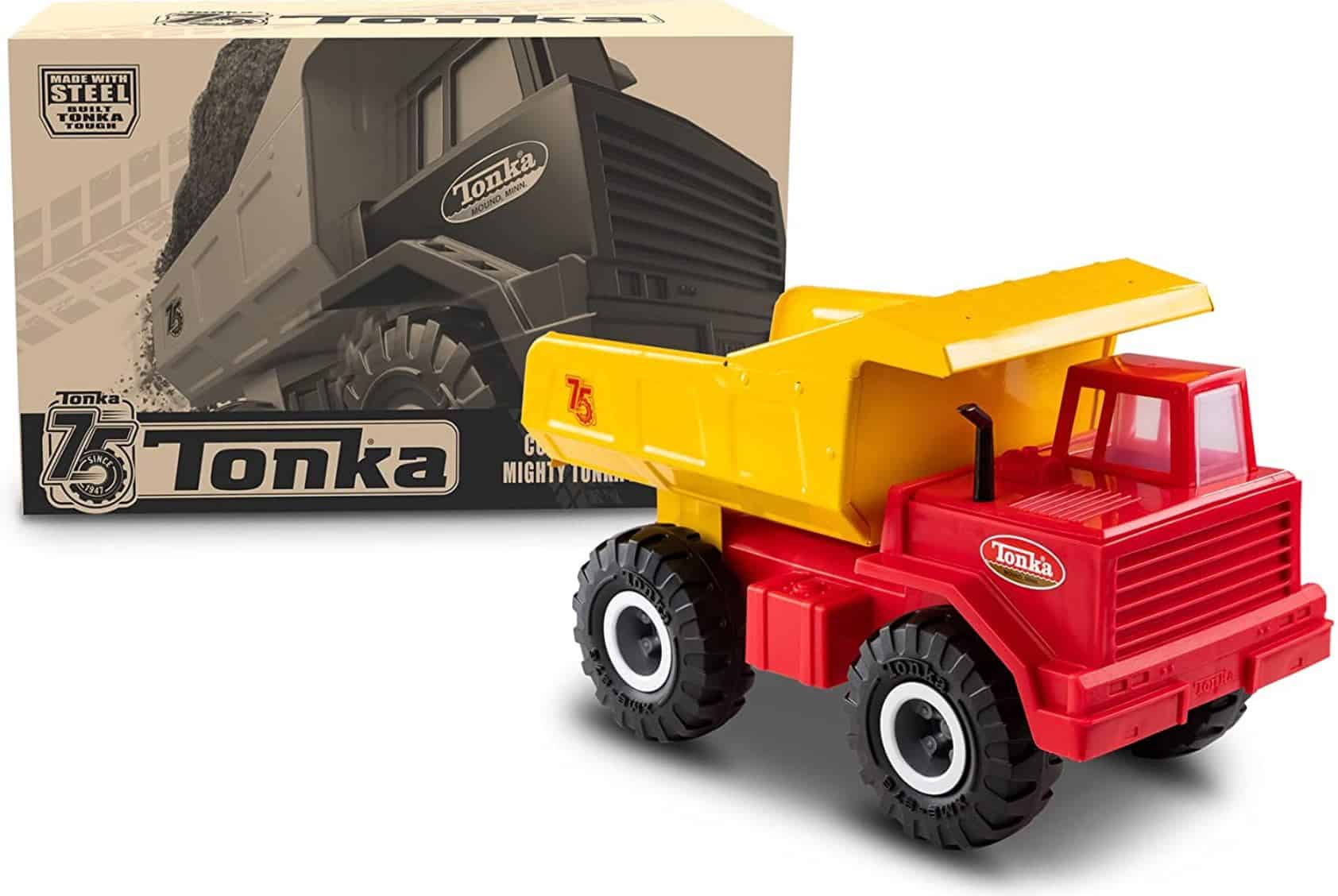 This Tonka truck is my favorite because it's an affordable model with the right benefits and could become a collector's piece. It looks like an older dump truck, which makes sense because the design comes from the 1968 Tonka toy. It also adds more color than the newer dump truck models.
Features
Type: Tonka Steel Classics 1968 Dump Truck
Special Features: Rolling wheels and movable tipper
Size: 17″ long
Pros
The commemorative dump truck is noteworthy for multiple reasons, and it's a beautiful 75th-anniversary edition for the toy brand
The details are gorgeous, and children will love flipping the tipper over to empty sand while rolling over massive heaps with the giant wheels
Cons
You might not want kids playing with this collectible beauty, and it could break your heart to see it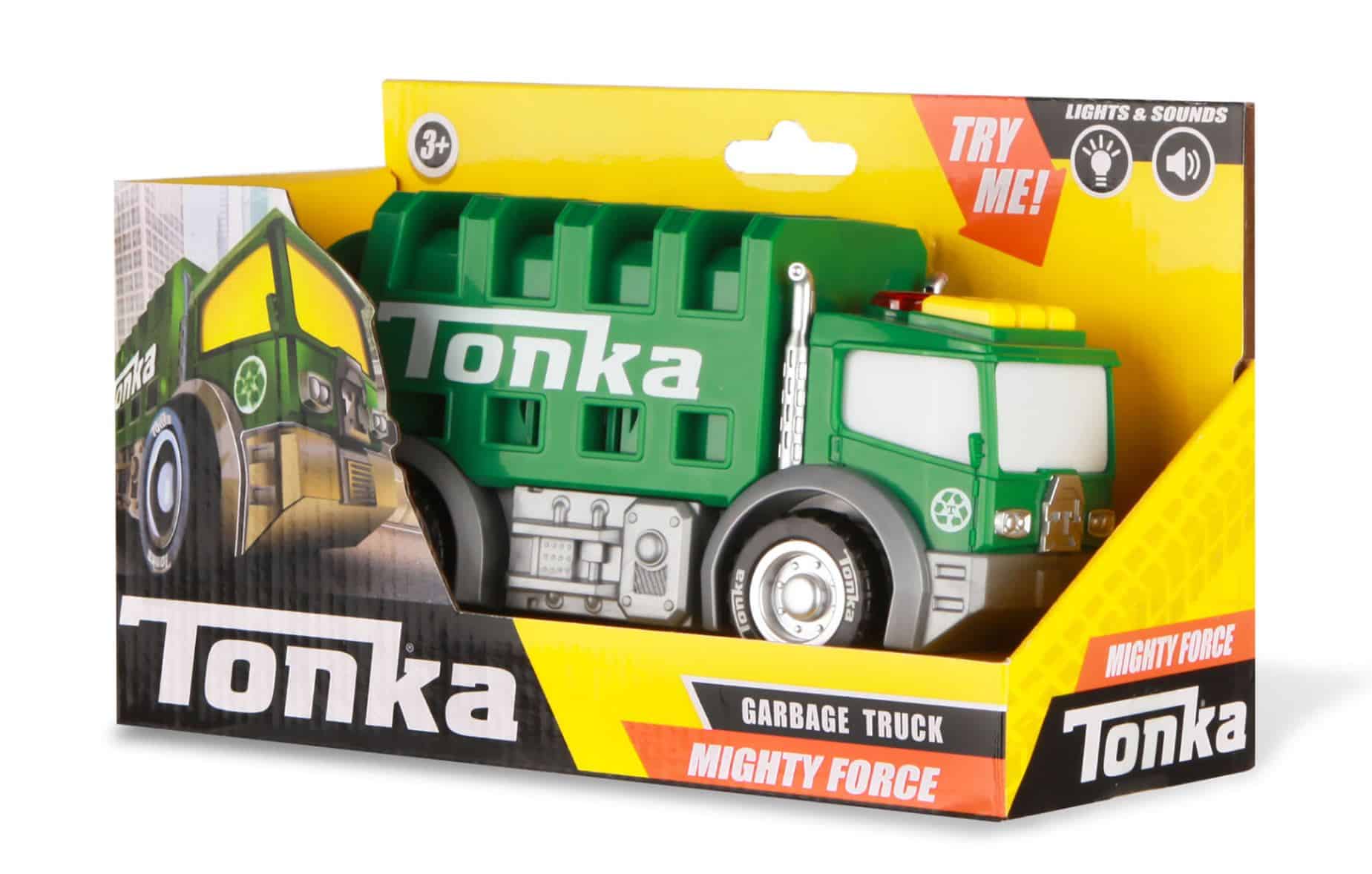 The first heavy machinery from the Mighty Force range is the Garbage truck. Sure, I understand your concerns about a child playing with garbage trucks. No parent dreams of their kids becoming garbage collectors. However, the engineering behind the garbage truck is what I'm focused on, and it's as incredible as others.
Features
Type: Tonka Mighty Force Garbage Truck
Special Features: Rolling wheels with light-up cab and sounds
Size: N/A
Pros
The Tonka Garbage Truck doesn't have as many moving parts as steel classics, but the lights and sounds offer sensory stimulation to increase the engineering qualities
The sound effects are realistic compared to what you'd expect a garbage truck to sound like, and the truck looks pretty accurate
Cons
I wish the tipper were movable like the steel classics range to enhance the engineering qualities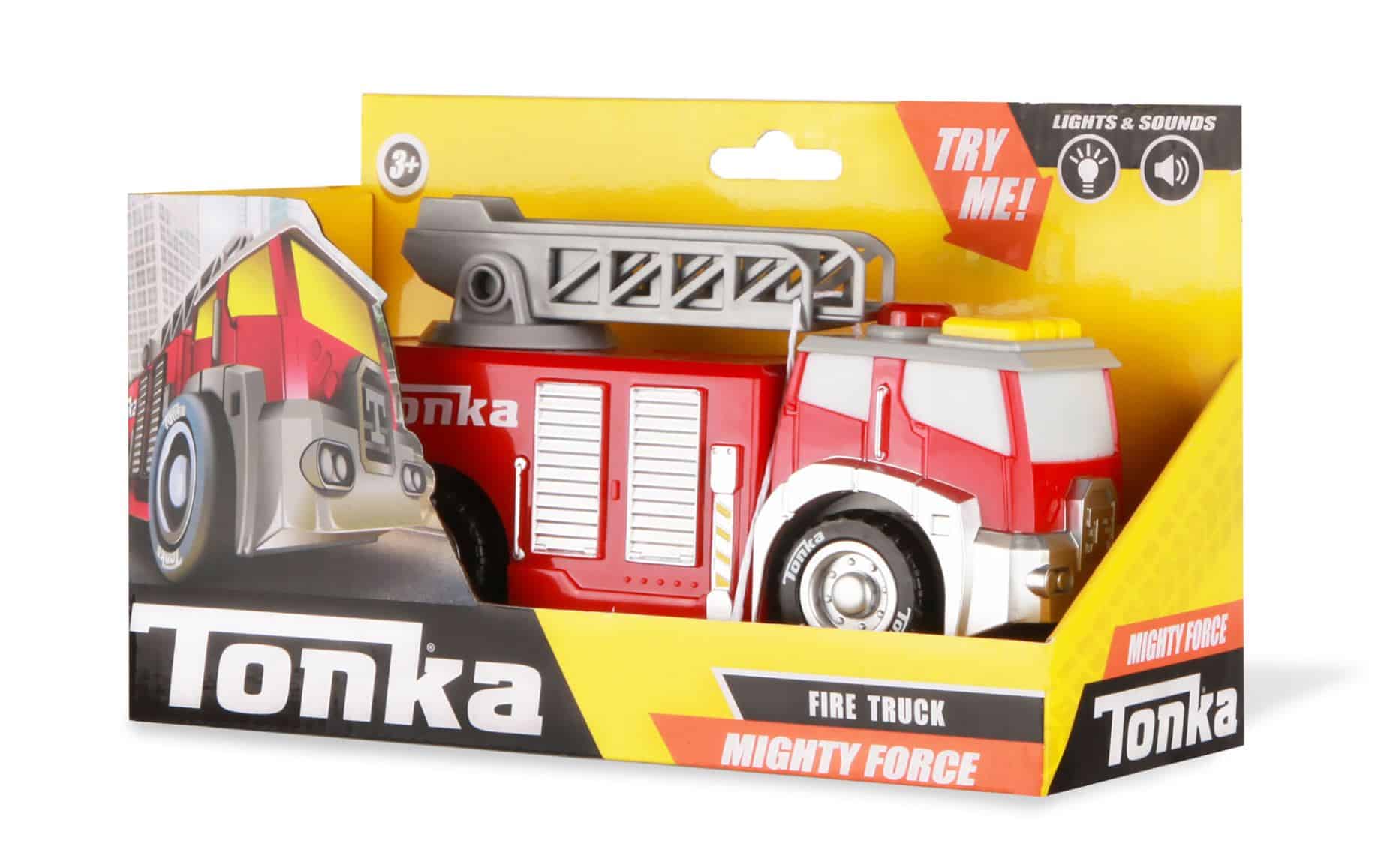 The Mighty Force range also has a fire truck, and which little boy doesn't love playing with one? The fire truck also comes with more movable parts that impress me. The details are adorable as the ladder reaches higher and higher, and it's a durable toy that welcomes little boys to imagine the engineering qualities.
Features
Type: Tonka Fire Engine Model
Special Features: Rolling wheels with an extendable ladder and lights and sounds
Size: N/A
Pros
The Tonka Fire Truck is a beautiful piece representing many boys' dreams, and the model is more interactive than the garbage truck
The cab also lights up, and the truck makes realistic sounds to help children enjoy an entire sensory experience with their educational playtimes
Cons
It's a pity that the Mighty Force models come in plastic, but they're super durable because the brand has a reputation to uphold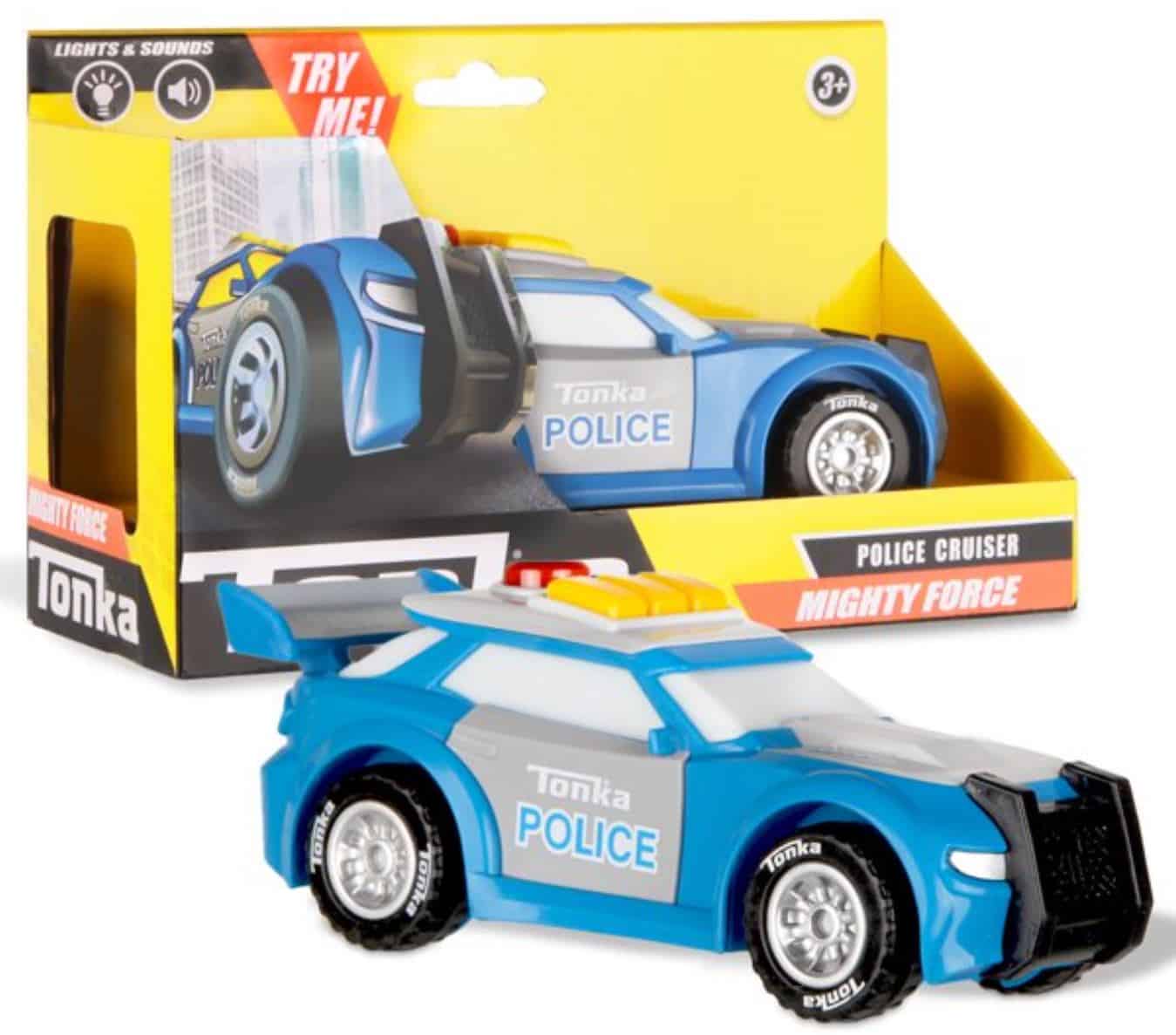 Police cruisers are also favorites for boys to zoom around. They also enjoy the sensory and engineering qualities of the toys. My son loved playing with police cruisers when this toy mattered a lot. The Mighty Force range brings a series of rescue vehicles and ordinary trucks to life with sounds and lights.
Features
Type: Tonka Interactive Police Cruiser
Special Features: Rolling wheels with flashing lights and sound effects
Size: N/A
Pros
The Tonka Police Cruiser has loud and practical sound effects while the lights flash to signal a police chase on the back lawn
The hidden lessons behind playing with a police cruiser toy also include lessons about morals and what's right and wrong
Cons
I wish the police cruiser was a die-cast model and had more movable parts, but it's super durable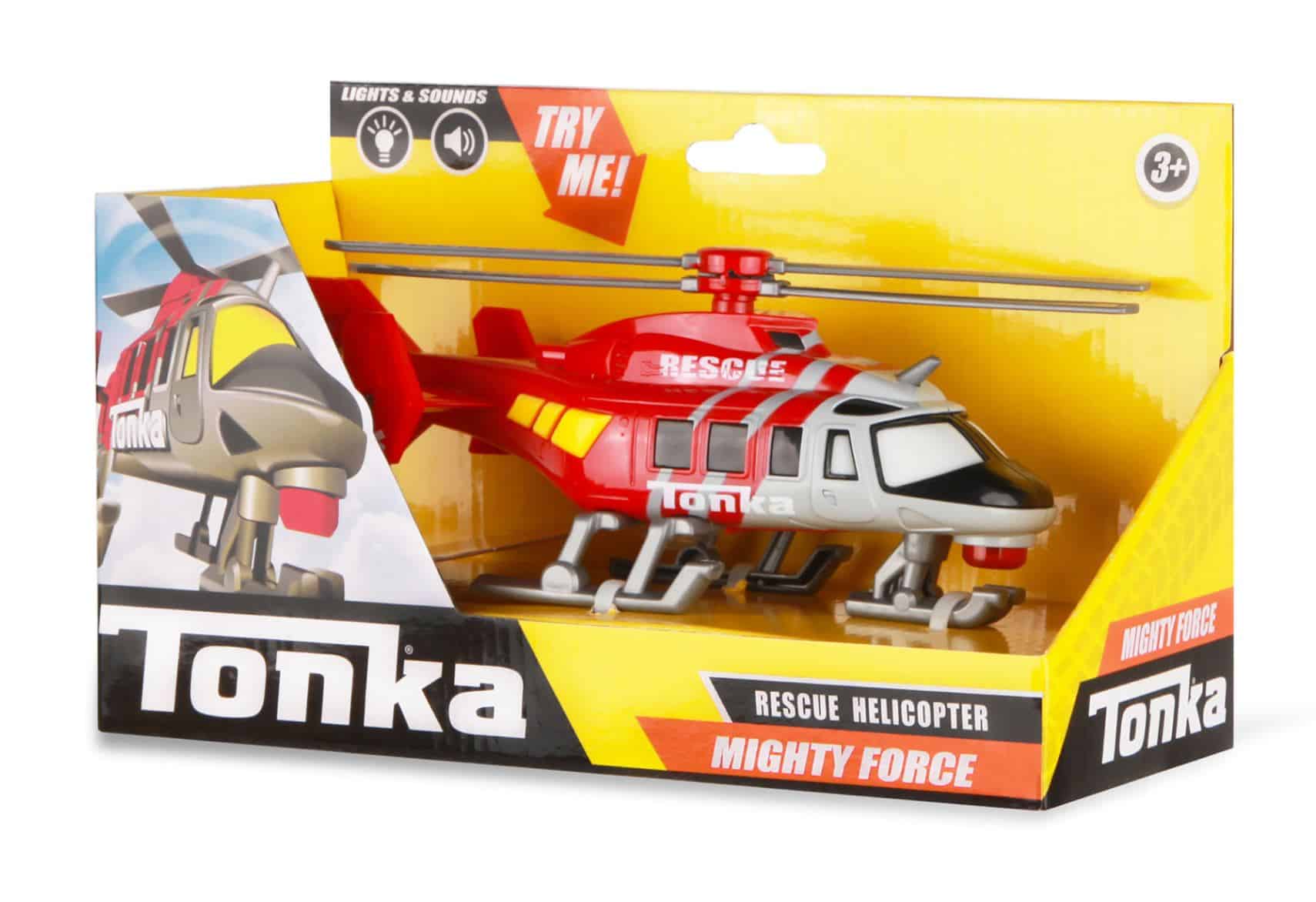 The rescue chopper is my favorite Mighty Force model because it has more movable parts and looks incredible. Children love playing with helicopters and airplanes. The rescue chopper allows them to enjoy engineering qualities while listening to realistic sound effects and watching light flashes.
Features
Type: Tonka Rescue Chopper Model
Special Features: Spinning rotor blades with lights and sounds
Size: N/A
Pros
The Tonka Rescue Chopper is a beautiful piece that welcomes children to play with spinning rotor blades while listening to accurate sound effects
Helicopters offer children a broad level of curiosity regarding the engineering behind these air-borne vehicles
Cons
The rescue chopper doesn't have rolling wheels and comes in a plastic model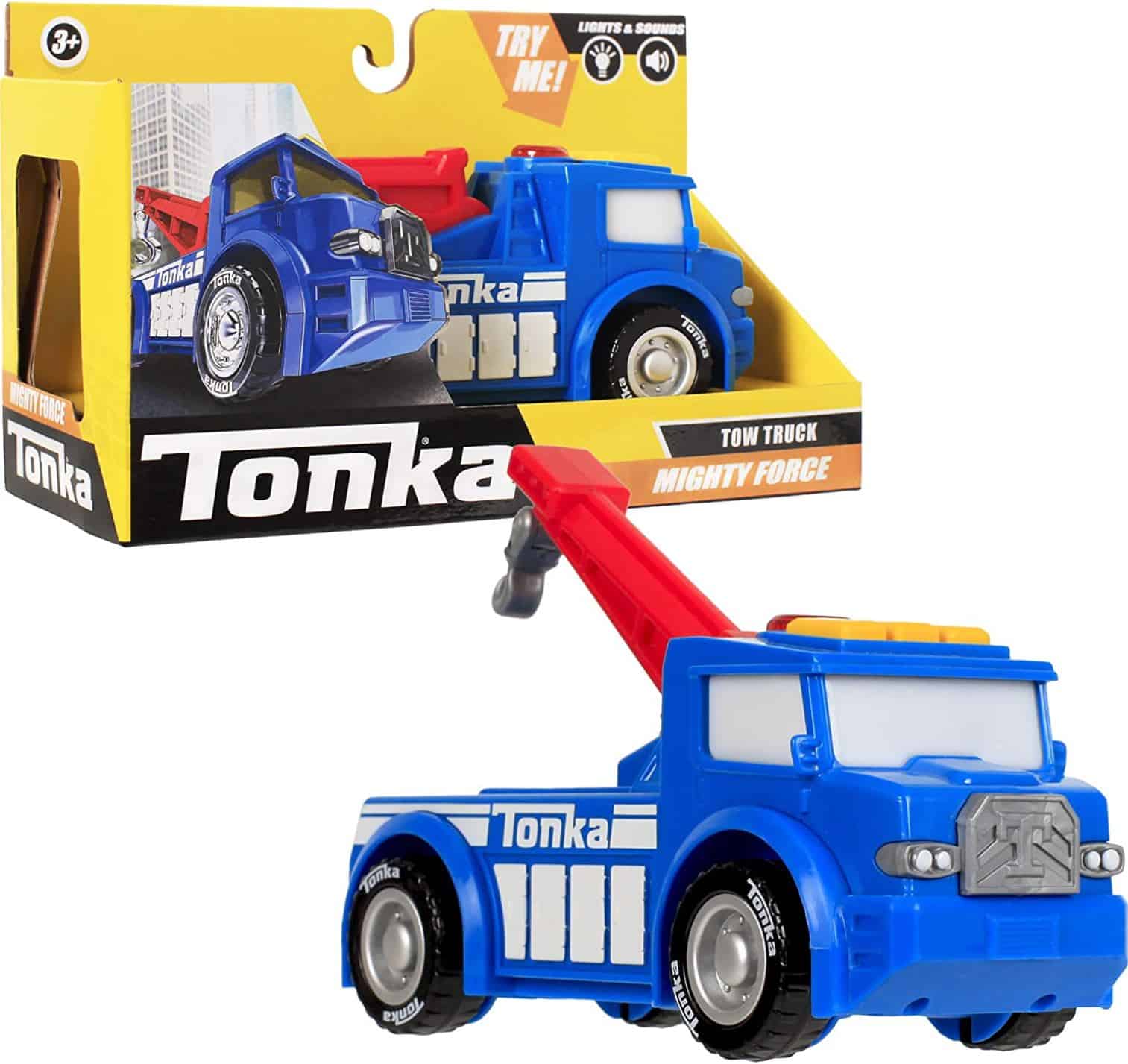 Tonka has a few tow truck models in various ranges. The interactive truck is fantastic for little boys who need sensory stimulation. But, I have to admit something. I love playing with tow trucks in Grand Theft Auto. My son has the same problem because they're my favorite vehicles to ride. We take police cruisers for a ride.
Features
Type: Tonka Interactive Tow Truck Model
Special Features: Rolling wheels with a movable tow hook, sound effects, and lights
Size: N/A
Pros
The Tonka Interactive Tow Truck has gorgeous sound effects and lights that make you feel like a king on the playtime road
The truck has two movable features, and the design looks mean enough to tow heavy machinery (not that I'd recommend trying it)
Cons
The tow truck is a plastic model, which is only acceptable because the brand uses durable plastics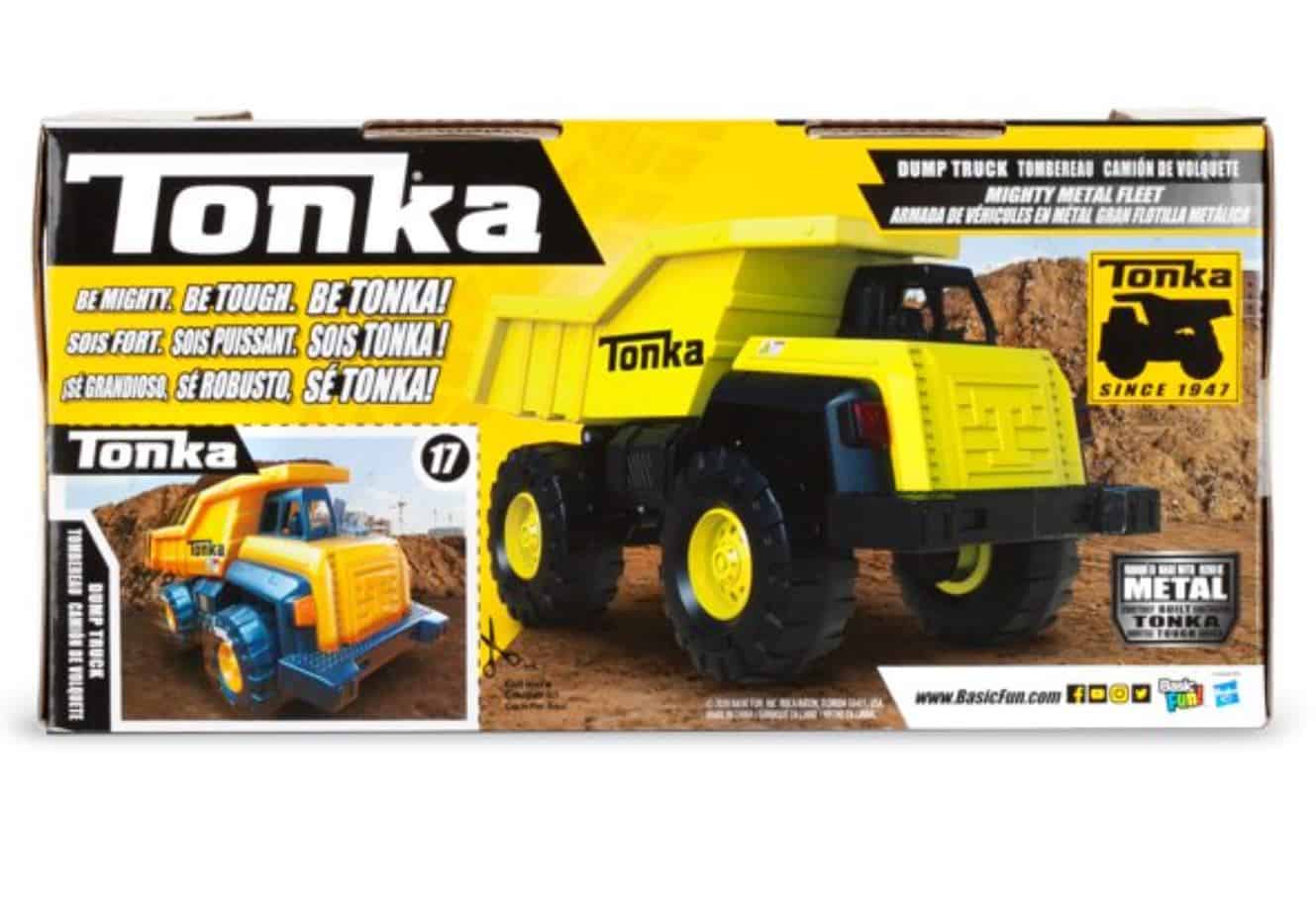 The Mighty Metal range doesn't have many options yet. That doesn't matter because the dump truck model is movable and a steel treasure that lasts many years. Boys love dump trucks for some reason. My son owns a few models and still gets the urge to play with them. I think my son loves the engineering beauty behind them.
Features
Type: Tonka Metal Dump Truck
Special Features: Rolling wheels and a movable tipper
Size: 8″ long
Pros
The Metal Tonka Dump Truck is a beast that lasts forever, and it has movable pieces to make a child wonder and experiment
The tipper can carry heavy weight for such a small toy because it's metallic, and the giant wheels see this model going everywhere
Cons
I can only imagine how this model would excel if it had interactive qualities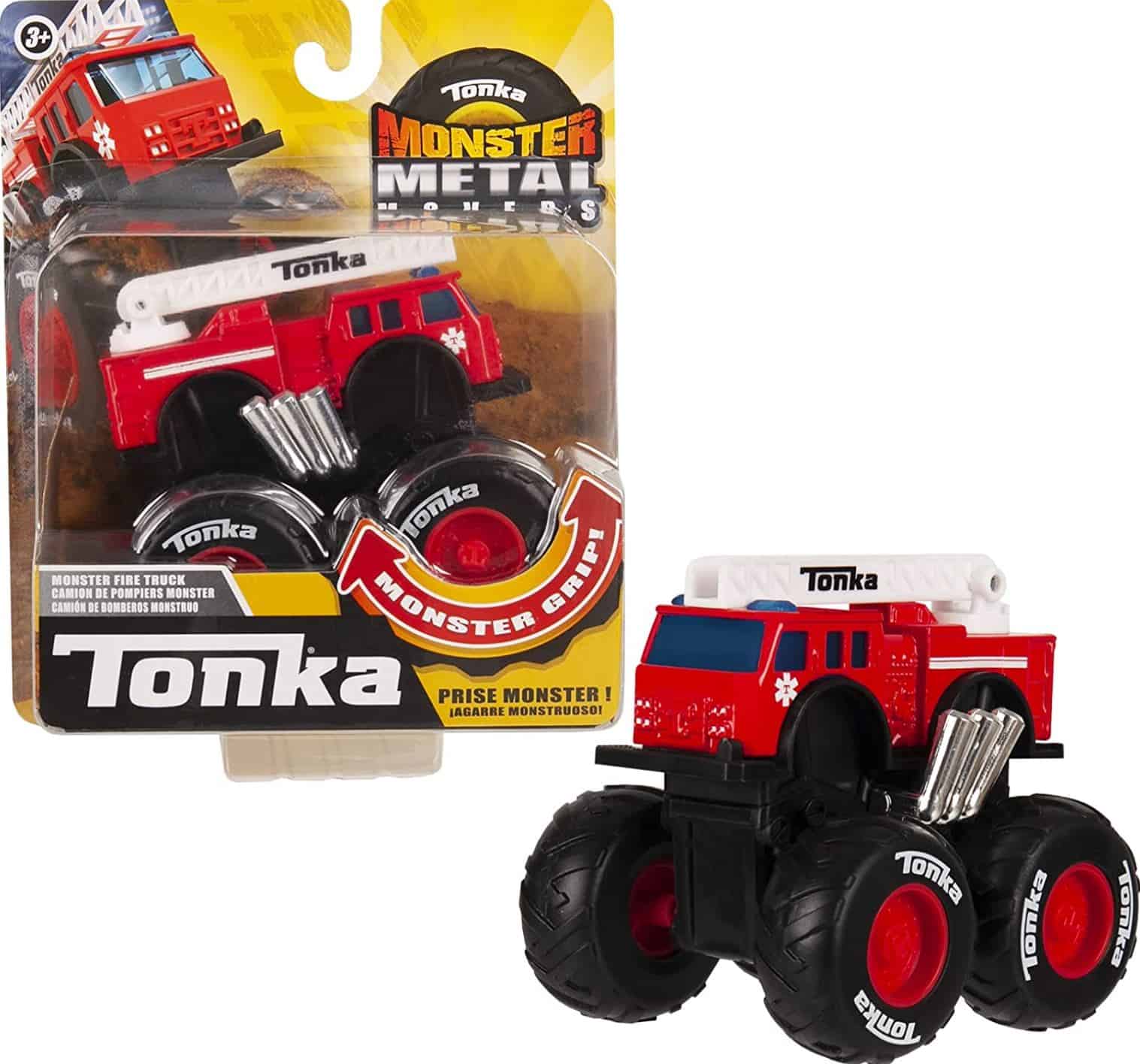 What would you find if you combined a monster truck with a fire engine? Of course, you'd get the Tonka Monster Fire truck. Imagine rushing to a fire where no other vehicle can navigate the land. Kids can go wild with this model. It's a metallic beauty that withstands much punishment on rugged terrains.
Features
Type: Tonka Monster Fire Engine
Special Features: Rolling wheels and moving ladder
Size: 3″ tall
Pros
The Tonka Monster Fire Truck is a glorious beauty for imaginative play, and it has double-moving parts for an exceptional experience
I love how comical the monster truck combined with a fire engine looks, making it an adorable plaything for any child
Cons
It's smaller than many of the other Tonka models, but it packs a miniature punch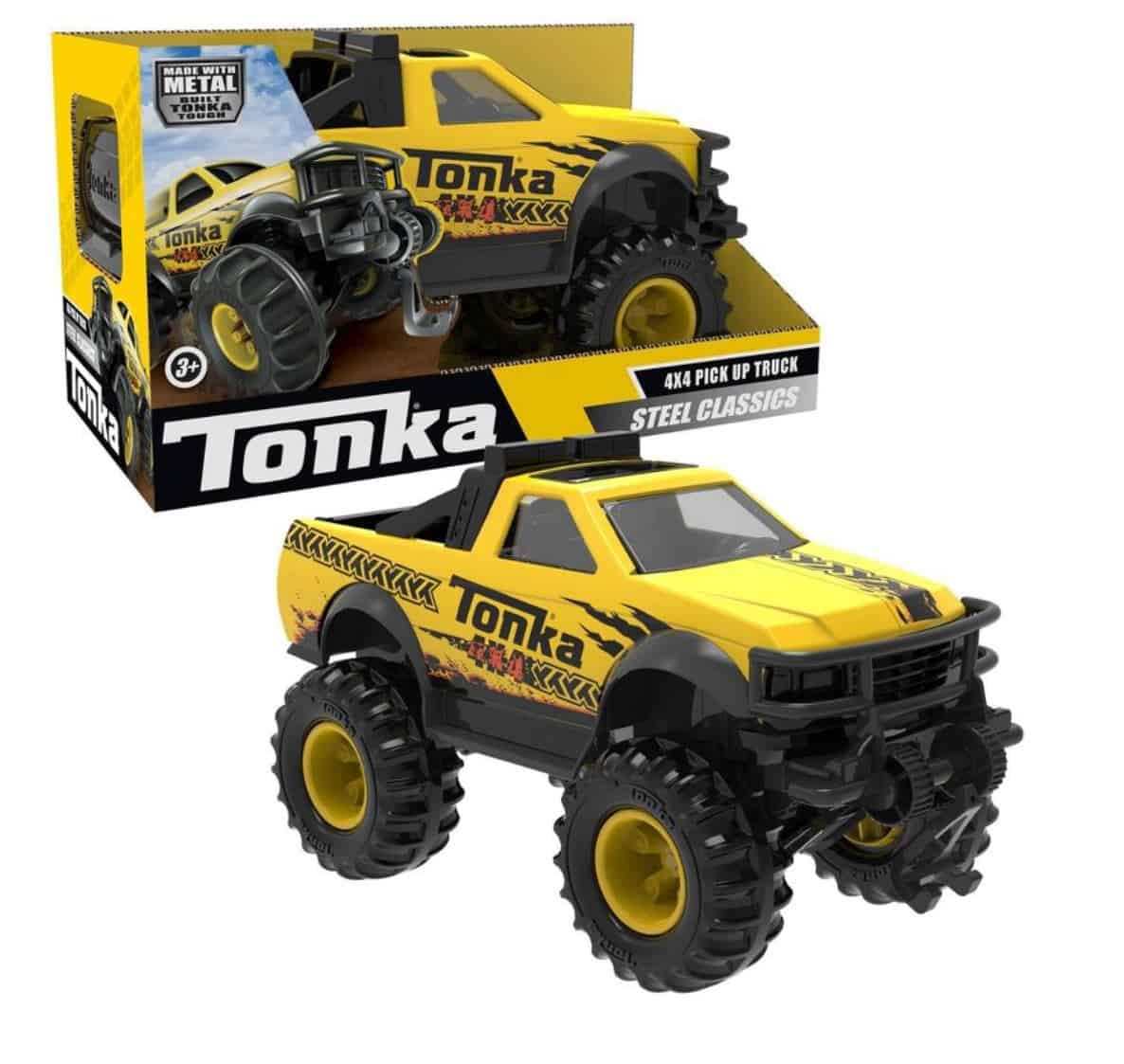 The Steel Classics range brings to life a few favorite trucks and machinery, and the classic 4×4 pick-up truck is one of them. I love that it's massive; kids can enjoy it on the lawn outside while imagining the race of their dreams. The giant wheels also allow the truck to go anywhere a child can imagine.
Features
Type: Tonka 4×4 Pick-Up Truck
Special Features: Rolling wheels and front tow bar
Size: 12.5″ long
Pros
The Tonka Pick-Up is a gorgeous steel-designed truck with movable parts to make the engineering qualities noticeable
Kids can tow other toy trucks with the movable front bar if you add some string, and it's a popular piece for most boys
Cons
I would've loved to have seen interactive qualities with this truck, especially the hillbilly lights at the top
I'll admit I was a little boyish as a child and had my favorite heavy machinery to play with: a bulldozer. My mom knew I loved boy's toys more than girly dolls and plush, even though she owned too many of the latter toys. So, she always ensured I had my bulldozers and cars, helping me be creative and analytical.
Features
Type: Tonka Bulldozer Model
Special Features: Circulating grouser (the thing around the wheels) and movable blade
Size: 12.5″ long
Pros
The Tonka Bulldozer is my favorite from the Steel Classics range, and it has incredible moving parts and clever engineering
The bulldozer welcomes a cross between analytical and creative minds with the imaginative play that inspires technical activities
Cons
I'm sorry, but I have no disadvantage for the Tonka bulldozer because every child should own one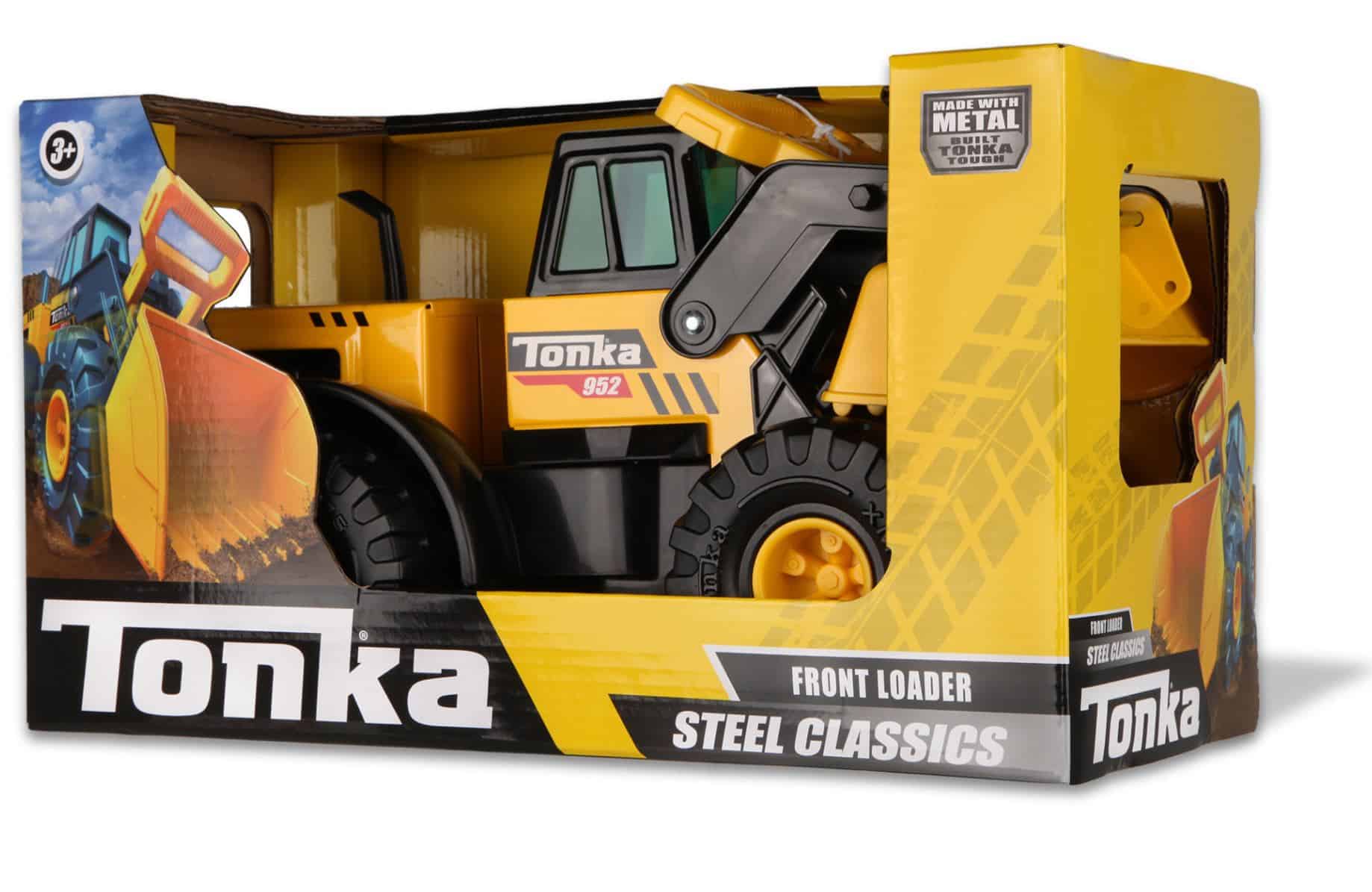 I haven't seen a modern model for a tractor from Tonka. However, the front loader looks like a tractor and might appeal to kids who love farm equipment toys. It's also the first model I found from the Steel Classics range with three movable parts for engineering curiosity. It's a winner for multiple reasons.
Features
Type: Tonka Front Loader Model
Special Features: Moving blades, rolling wheels, and twisting horse
Size: 12.5″
Pros
The Tonka Front Loader is a gorgeous design with durable steel and three movable parts for kids to enjoy
The massive wheels make the Tonka Front Loader reach anywhere, and you can remove the back parts to create a tractor model
Cons
I'd love to hear this model roar like thunder if it had interactive qualities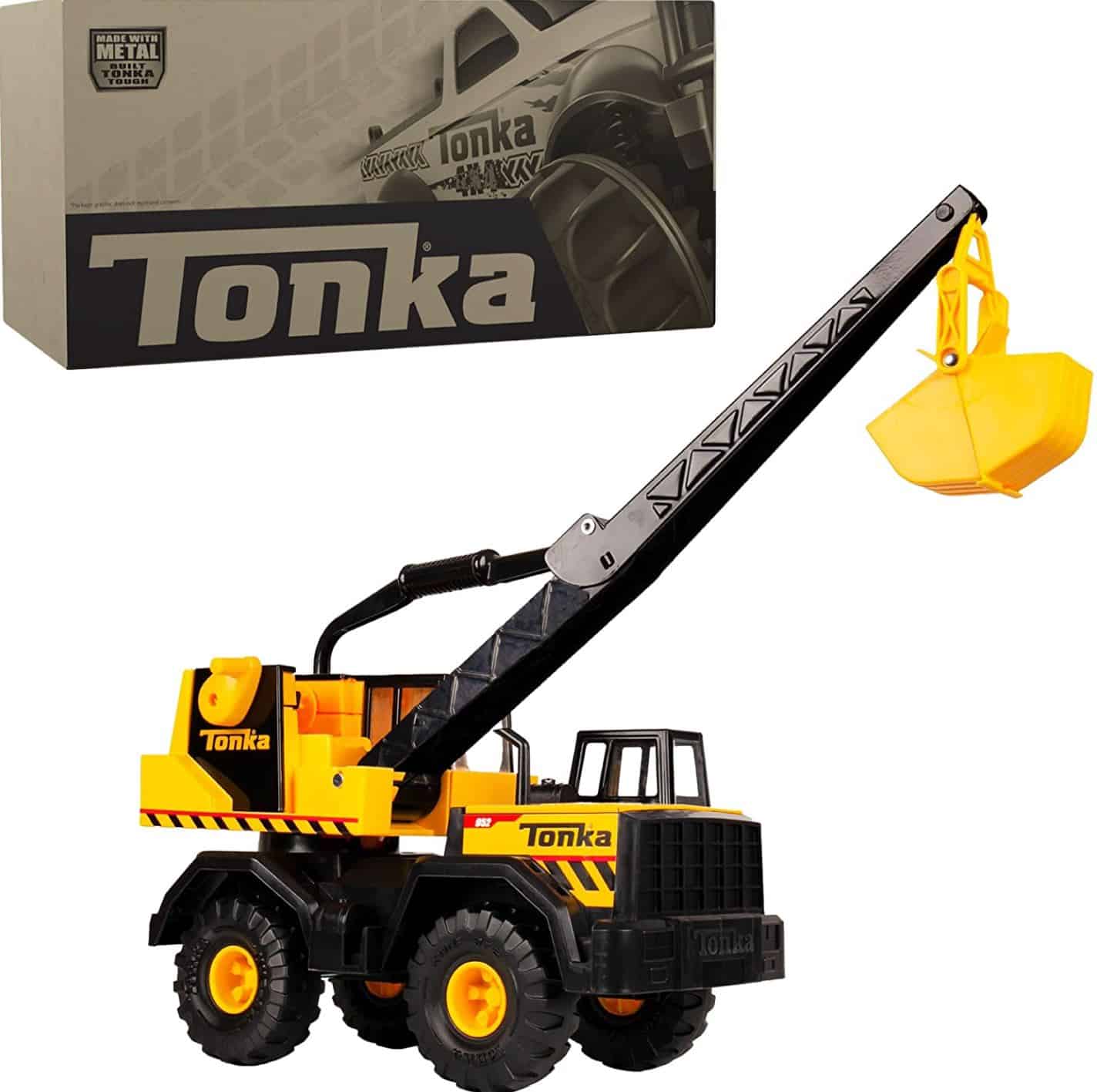 Cranes are another incredible classic from Tonka that welcomes children to dream higher than the sky. Cranes invite children to a world of engineering they never experienced before. I love this crane model toy because Tonka ensured that it was as functional as a child would love. It's an enjoyable, imaginative playtime.
Features
Type: Tonka Crane Model
Special Features: Rolling wheels, opening bucket, functional crane, and turning base
Size: 12.5″ long
Pros
The Tonka Crane has four movable parts to enhance the engineering, even surpassing the front loader model
The design is exceptional, and kids can imagine any scenario where they use a crane, even lifting things with the bucket
Cons
I wish this model were also interactive with sounds and lights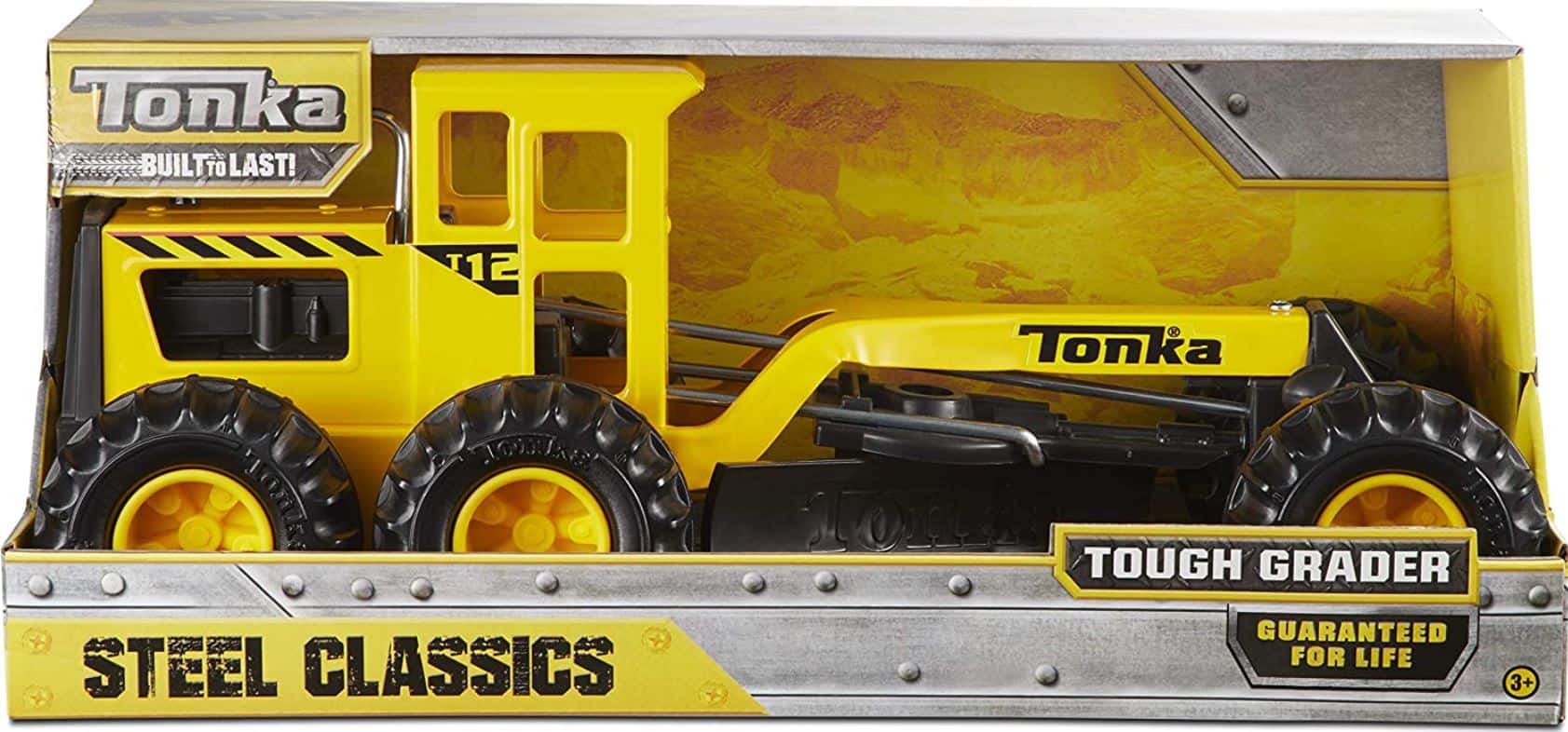 Heavy machinery is a sure-fire hit for Tonka because children see these vehicles on the back roads, and kids go wild learning more about them. My son used to ask many questions when he saw farming and construction equipment. I welcomed his curiosity and offered him toys to help him learn what these machines do.
Features
Type: Tonka Road Grader Model
Special Features: Rolling wheels and movable grading blade
Size: 17.4″ long
Pros
The super-engineered Tonka Road Grader is a beautiful steel model with movable parts, and it's a massive toy
Kids will enjoy the giant wheels that allow them to experiment with the road grader model, and the elongated frame holds together nicely
Cons
Again, why did Tonka not add interactive and sensory features to the Steel Classics models?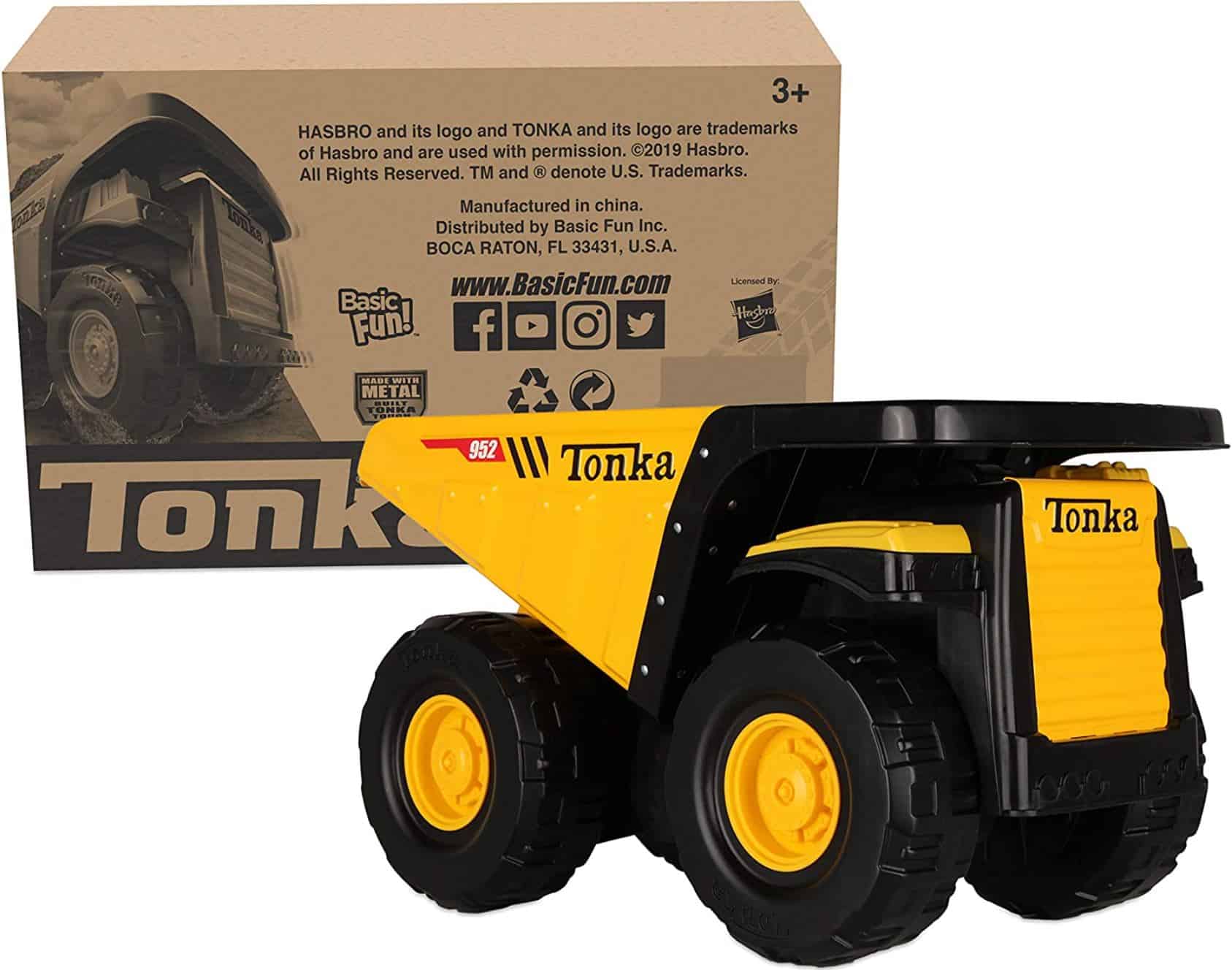 Dump trucks remain a favorite toy for boys who love moving dirt around the garden, whether mom's happy with it or not. Anyway, the toughest model is also a giant dump truck from Tonka. This insane size toy is welcome to any child's playtime activities. But, of course, they'll be loading all their other toys in the tipper bin.
Features
Type: Tonka Toughest Dump Truck
Special Features: Rolling wheels and movable tipper
Size: 20″ long
Pros
The Toughest Tonka Dump Truck is a beautiful metal model with movable parts kids can enjoy in a massive engineering playtime
The wheels are so huge that they might run over your feet, and the tipper bin allows plenty of storage for other toys
Cons
Tonka would do wonders by adding lights and sound effects to this gorgeous model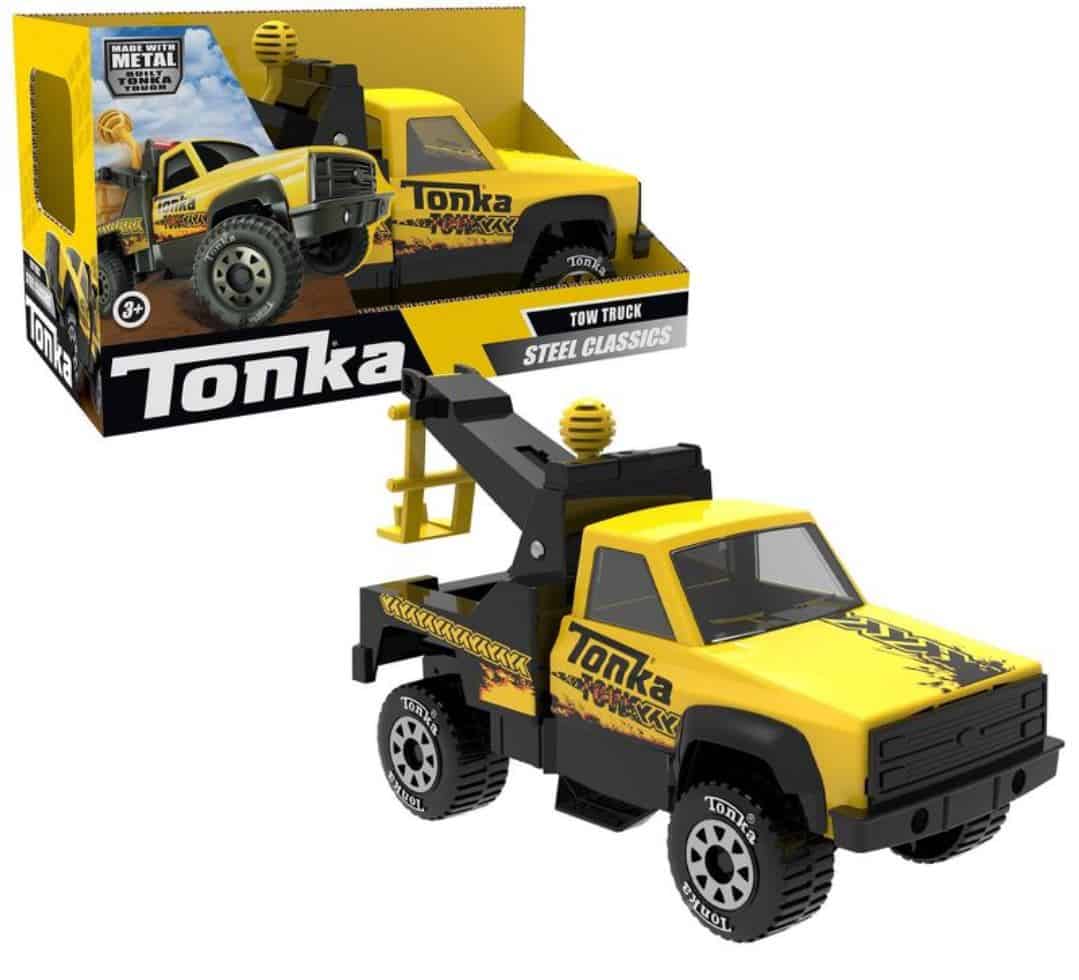 Tonka has a few dump trucks, but they also have multiple tow truck models. I must stop thinking about tow trucks on GTA because I have work to do. I can't keep dragging police officers everywhere with tow trucks. Anyway, it's another classical steel beauty from the brand, and it's more functional than the last tow truck.
Features
Type: Tonka Metal Tow Truck
Special Features: Rolling wheels and functional tow hook and arm
Size: 12.5″ long
Pros
The metal Tonka Tow Truck is a better option because it has more functionality in the truck's purpose for engineering qualities
The tow truck also looks like an incredible pick-up with added features, and it has good-sized wheels
Cons
I wish this model had flashing lights and sound effects
My son used to dig trenches to play games outside in summer. He loved getting dirty; I didn't mind because children experience so much outdoors. So, it wasn't an issue when his clothes got drenched with trench dirt. The Tonka Trencher would've been a fantastic model when my son was a toddler.
Features
Type: Tonka Trencher Model
Special Features: Circulating grouser, movable arms, and functional scoops
Size: 12.5″ long
Pros
The Tonka Steel Trencher is another magnificent piece of engineering that would last a lifetime, and it's entirely functional
It's the ideal Tonka model for kids who love getting dirty outside, and the driver's area is open, unlike other models
Cons
I wish all Tonka toys had sensory stimulation with sounds and lights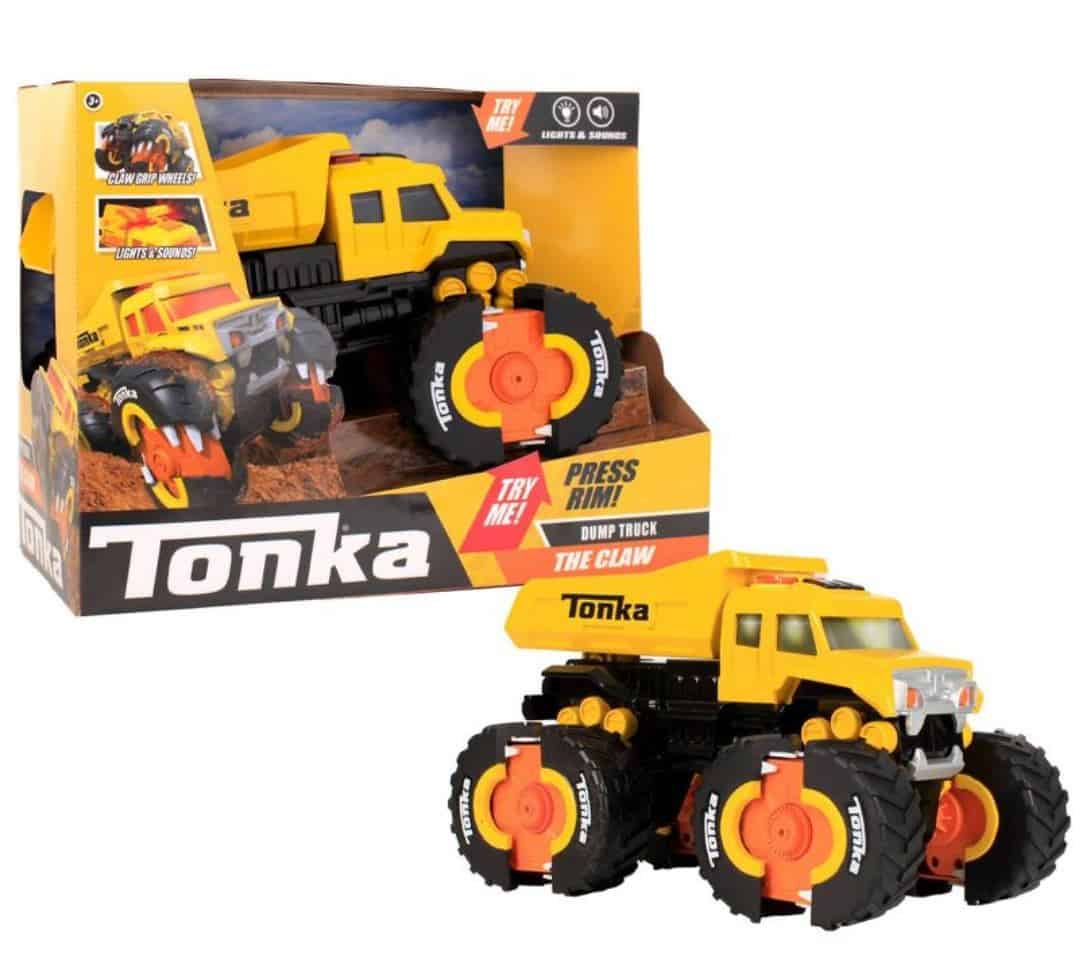 Tonka has an unusual dump truck model called The Claw. It has expandable wheels that encourage children to wonder about the engineering behind the toy. Of course, I'm not sure why the wheels would expand, which is a perfect example of the curiosity this model would inspire. Your son will undoubtedly ask questions.
Features
Type: Tonka Claw Expandable Wheel Dump Truck
Special Features: Expanding and rolling wheels with movable tipper, lights, and sounds
Size: 9.5″ long
Pros
The Claw Dump Truck is a phenomenal toy model that comes with various interactive and engineering qualities
The expandable wheels are a question waiting to happen, and the trimming that looks like teeth is another debatable accessory
Cons
I wish this model were larger like the Steel Classics
Top Q&As
Question: Which Tonka Truck is Worth A Lot of Money?
Answer: Scratch your attic out right now if you suspect a Tonka truck hiding there from your childhood. Tonka trucks have a value ranging from hundreds to thousands of dollars, especially for the vintage beauties. For example, the Mighty Tonka Clam Train is worth $499, but the Tonka B210 Road Builders Set sold for over $3,000.
Question: What Toys Come From the Vintage Tonka Brand?
Answer: Tonka trucks are one of the best-known types of toys available from the brand. However, Tonka makes toys for other children who aren't in love with trucks and construction vehicles. The brand is a large part of Hasbro Toys, and they make dolls, plush, toy tools, balls, and toy guns.
Question: Which Collectible Tonka Truck Won't Break the Bank?
Answer: There are incredible modern options for Tonka trucks. However, there's one commemorative model you can quickly source now. It won't cost much, and it represents a 1968 model. The Tonka Commemorative 1968 Mighty Dump Truck won't break the bank and might become a collector's piece.
Complete Guide to Tonka Toys: It's a Wrap
Tonka trucks and machinery inspire engineering and technology curiosity, which is valuable for children of all ages above three. The trucks move around and come with functional parts to bring questions to every child's mind. Which Tonka model would you love for your little one's early engineering experiences?
I would first recommend the Tonka Commemorative 1968 Mighty Dump Truck because of its collectible potential. I also recommend the Tonka Monster Metal Fire Truck as a favorite for boys and the Tonka Steel Classics Bulldozer for heavy machinery classics.
Additionally, I'd recommend buying the Tonka Steel Classics Trencher for kids who love playing outdoors and getting dirty. Finally, the Tonka The Claw Dump Truck would inspire multiple questions and a wide range of engineering curiosity. Welcome the possibility of engineering and technology futures to your children.
Buy your son a lifelong toy model from their favorite heavy machinery or vehicles today. Then, watch the STEM qualities unfold into your child's precious young mind.
For more incredible toys:
Best Jack-in-the-Box Toys Guide for Babies and Toddlers – Avid Toy Insider
Best Garbage Truck Toys Guide – Avid Toy Insider
Best Airplane Themed Toys Guide for Sky-High Dreams – Avid Toy Insider