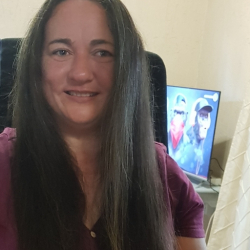 Latest posts by Caroline Lambert
(see all)
Did you know that Blippi is a mentor and educator for young minds? I'm constantly sourcing toys for toddlers and preschoolers that target the essential milestones the little ones need and writing the best Blippi toys guide blew my mind. The children's show comes with countless valuable lessons, as do the toys.
Blippi has various types of toys that target age-appropriate playtime activities. Blippi is also a themed toy representing a much-loved television character, making young minds likely to interact with the lessons, character, and fun activities. I love seeing my children watch educational television and play with the toys.
I never knew how much of a mentor Blippi was until I wrote this article. Would you like to find out?
First Blips First
I'm one of those research-everything moms who want the best toys for my kids. I want them to enjoy their favorite characters because themed toys value educational play.
However, I also want to ensure that they learn the things they need when needed. Age-appropriate toys are the answer. My favorite Blippi toy is the Blippi Talking Plush. It's adorable and build's up those critical communication skills.
Blips at a Glance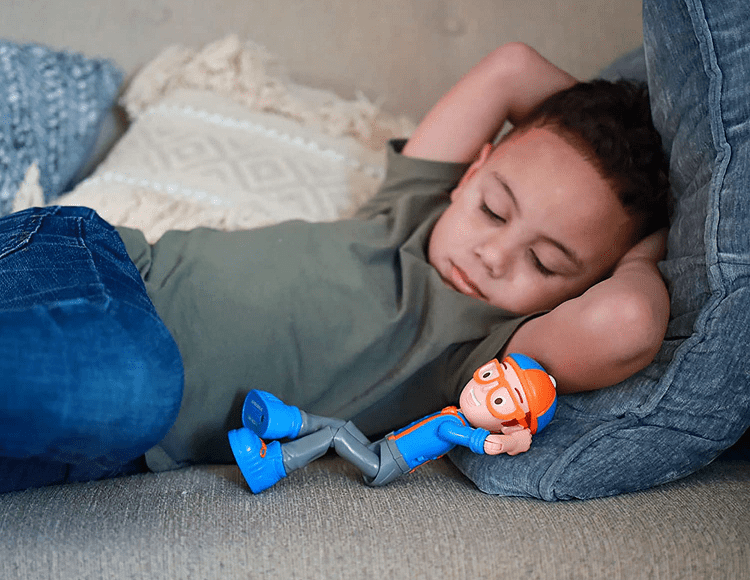 Blippi is a mentoring, educational character from television that teaches young children foundational skills, including counting and sorting. I don't have to do much other than choose age-appropriate toys from the brand, and I picked a few best choices for the many types and sub-types available. Here are some examples:
The Best Guide to Blippi Toys
My daughter watched Blippi as a toddler. I was okay with it because everyone said it was an educational program. However, I never realized Blippi's value for young minds until I began my research. So, let me share the findings that lead to exciting toys for little ones.
Blippi: A Mentor?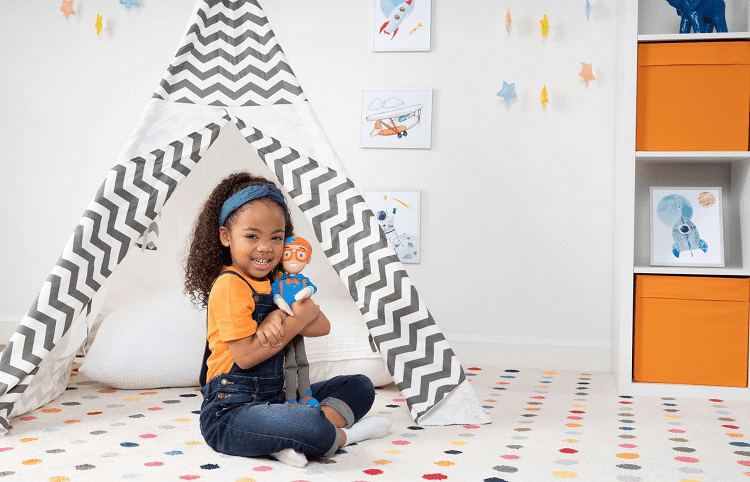 Blippi is many children's favorite television show. I loved seeing my little girl explore the world with her televised mentor. Yes, I see Blippi as a fictional educator who teaches children about the essential things in life. Blippi is a mentoring show for kids between two and six. It's so famous that it shows on multiple platforms.
Blippi welcomes toddlers and young preschoolers to an exciting world where they learn about colors, numbers, letters, and shapes. The targeted age group is in the phase of learning about the simple things in life, including counting, sorting, and recognizing shapes. But unfortunately, we take these lessons for granted.
Children learn to make sense of the world after classifying shapes, recognizing different colors, and communicating numbers and words. These are foundational skills every toddler has to learn. Blippi is the ideal mentor to introduce critical skills to little ones. He also teaches other valuable lessons.
For example, Blippi shows children how to play safely and socially on playgrounds, a skill they'll soon need. Blippi also conveniently shows children the dangers of fires and safety precautions when he visits the fire station. Every episode is a lesson, and the toys are no different.
Blippi toys target specific age groups for essential lessons.
Blippi Tips for Parents
The Blippi toy designers paid careful attention to the targeted age groups that love the show. Therefore, I recommend you follow the ages they mention on each toy. Don't buy a Blippi toy suitable for toddlers for a baby, and vice versa. Age-appropriate toys are key.
It also helps if you research your child's developmental milestones. Educational toy companies and shows can only do so much for your little one. Your research and determination as a parent ensure successful developmental progress. Use your child's age on a trusted source to find the recommended milestones.
The CDC Website has an excellent breakdown of the expected milestones in infants, toddlers, and preschoolers, covering the age groups targeted by Blippi toys. Spend time and invest in your child's development before buying toys. Then, my strategy for picking the best Blippi toys will make much more sense.
How to Select the Best Blippi Toys
I'll start by choosing various toy types and sub-types in the Blippi theme. However, the mixture also has to bring multiple lessons and skills like the show's character would. Each Blippi toy should target at least one essential milestone for the recommended ages on the toy. That way, you can make the right choice for your child.
Best Blippi Toys Guide for Every Milestone
Blippi toys open a world of opportunities to help little ones reach the expected milestones on their developmental journey. First, let me share which Blippi toys stood out for each category and the foundational skills they exercise. Additionally, I'll add the recommended ages to each toy for easy picking on your part.
Best Blippi Construction Model
Blippi introduces toddlers to numerous construction vehicles and heavy machinery, an excellent way to learn about early engineering. Of course, they wouldn't understand the concepts yet, but they'll become curious about how the toys work. The Blippi Excavator is an interactive joy for tiny fingers with curious minds.
Blippi Features
Type: Blippi Interactive Excavator
Activity: Interactive play
Ages: 2 to 6
Skills: Fine motor, language, cause-and-effect, and object permanence
Yes
The Blippi Excavator welcomes little children to practice their muscle strength while interacting with the functional pieces to learn about object permanence and cause-and-effect
The toy excavator also makes sounds to help little ones advance their language and communication skills, and it will keep them laughing
No
Be careful with little ones under three because there are smaller pieces
Best Blippi Creative Activity Set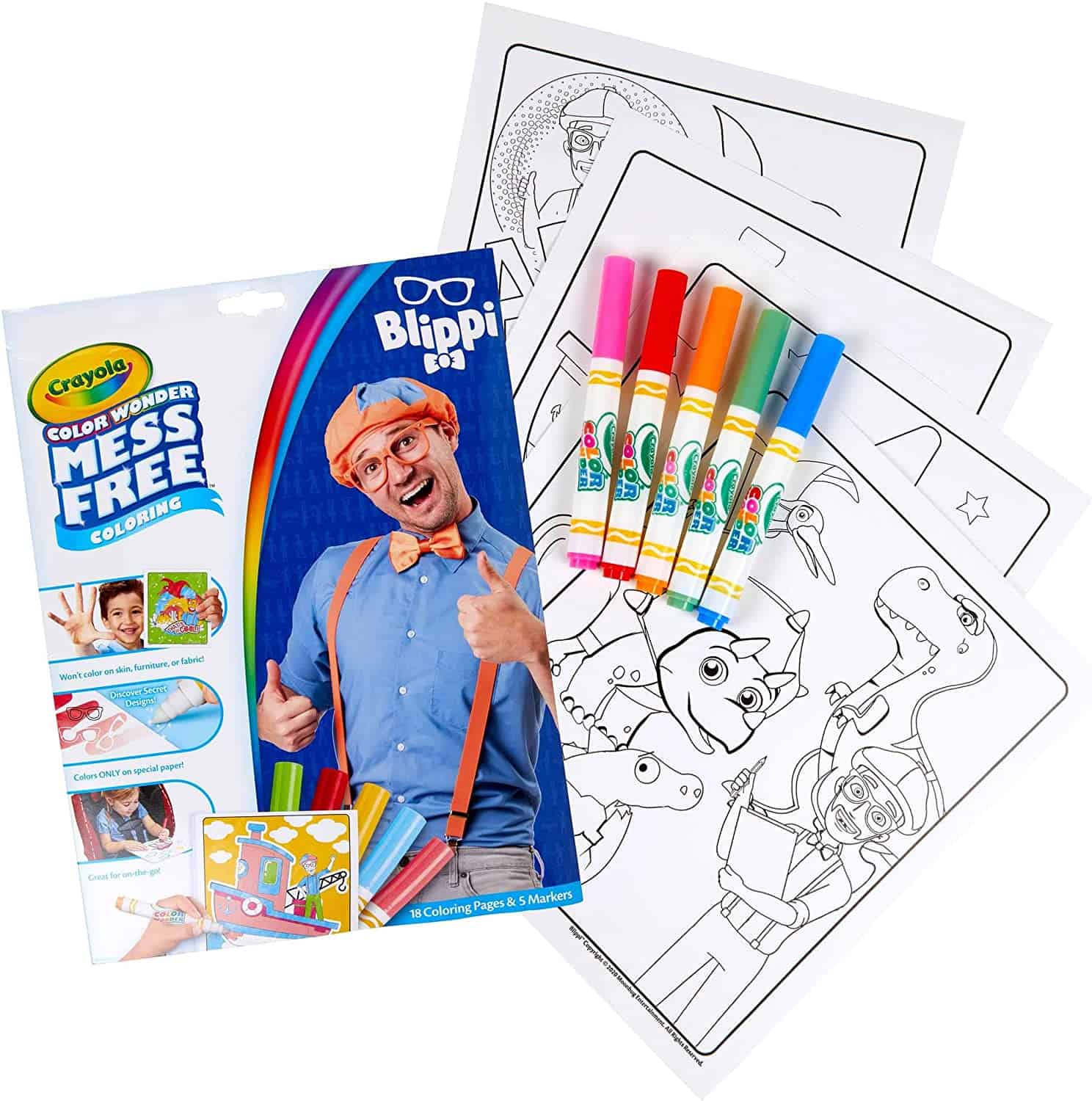 Coloring books have always been an excellent way to help little ones figure out the differences between colors. They also learn spatial awareness when they practice enough to color within the lines. In addition, toddlers aren't familiar with healthy emotional expression, and coloring is a comforting way to express their feelings.
Blippi Features
Type: Crayola Blippi Activity Book
Activity: Creative play
Ages: 3 to 6
Skills: Color recognition, coloring within the lines, and emotional expression
Yes
The Blippi Coloring Book inspires toddlers to practice their creative skills until they become the next Picasso
Little children need healthy ways to express their feelings without throwing tantrums, and the colorful activity soothes their unfamiliar feelings
No
Kids might color more than the pictures, even if the activity set promises safe coloring
Best Blippi Dress-Up Costume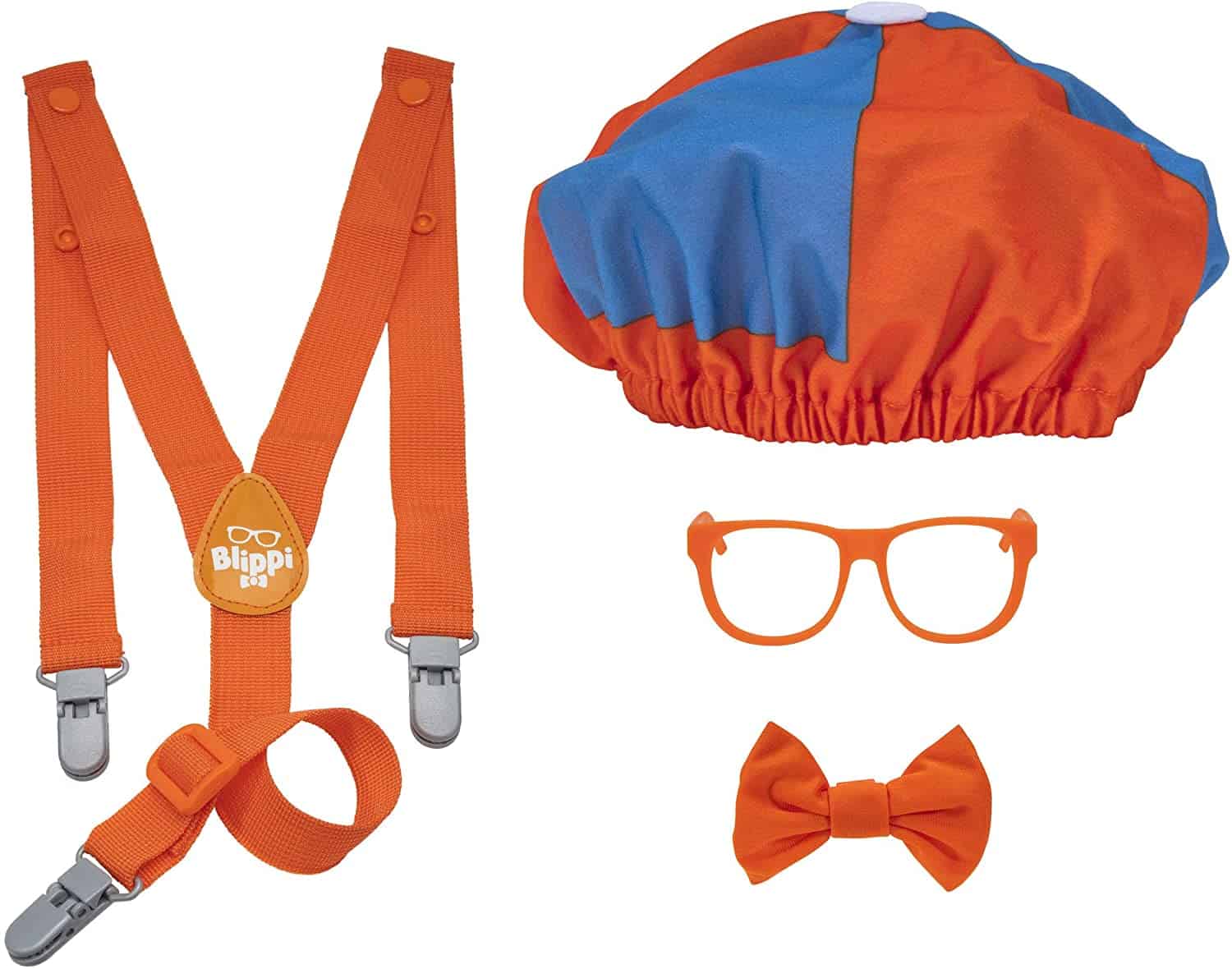 Role-playing remains a foundational method for toddlers and preschoolers to engage with many skills they need to practice. For example, my son wasn't the biggest cosplay fan, but my daughter loved dressing up as her favorite character. She expresses creativity in everything she touches, and her imagination has no end.
Blippi Features
Type: Blippi Dress-Up Costume
Activity: Role-play
Ages: 3 to 6
Skills: Social, emotional, perspective-taking, and communication
Yes
The Blippi Dress-Up Costume encourages toddlers to take on the role of someone else, helping them take other perspectives in a literal way
Any role-playing Blippi toy that invites children to play socially will also improve their communication and emotional skills
No
The Blippi Costume undoubtedly makes a bad choice for kids under three with small parts
Best Blippi Educational Playset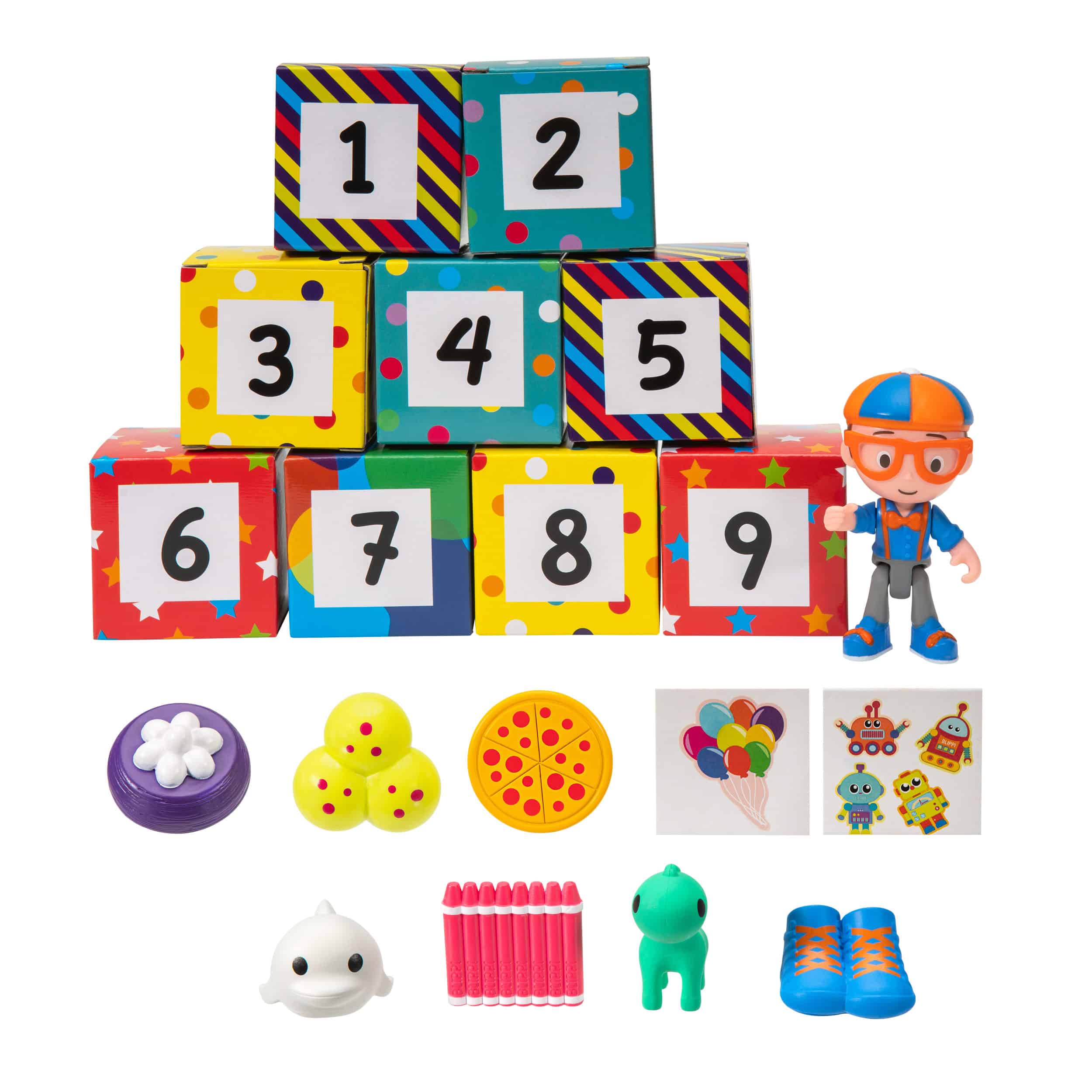 Educational qualities hide in many toys, but the Blippi stacking blocks with numbers is an ideal plaything for toddlers. It looks like a simple toy set, but the numbers allow little ones to count while stacking. They also learn about colors and shapes while playing with the box surprises.
Blippi Features
Type: Blippi Surprise Boxes Learning Blocks
Activity: Educational play
Ages: 2 to 6
Skills: Counting, sorting, color recognition, shapes, and stacking
Yes
The Blippi Stacking Playset is a perfect educational toy that targets the essential skills young toddlers need to practice
Stacking blocks are a favorite for many kids, and the numbers and patterns bring the little boxes to life for curious minds
No
Unfortunately, the stacking boxes aren't as durable as traditional wooden blocks with numbers
Best Blippi Electronic Toy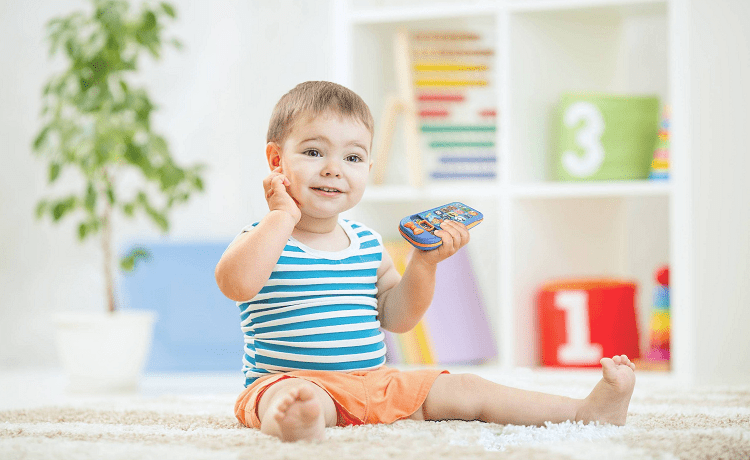 Don't flip out before I show you the value of some educational electronic toys. Sure, little kids already ask for smartphones and tablets. However, I'm hoping you're not in that phase yet.
Preschoolers and toddlers aren't familiar with the devices yet. My daughter played with my phone, and I allowed it for the hidden advantages.
Blippi Features
Type: Blippi Smart Phone
Activity: Interactive play
Ages: 2 to 6
Skills: Cause-and-effect, fine motor, communication, social, and counting
Yes
The Blippi Smart Phone targets young toddlers who want to press buttons and get results, and it makes noises to mimic the pictures on the "screen"
The Blippi Smart Phone has 75 sounds to help kids learn about numbers, animals, first words, and colors, and the light show will stimulate a child's senses
No
You'll need plenty of batteries and a mountain of patience with the noises, and you must supervise kids under three
Best Blippi Figure & Car Set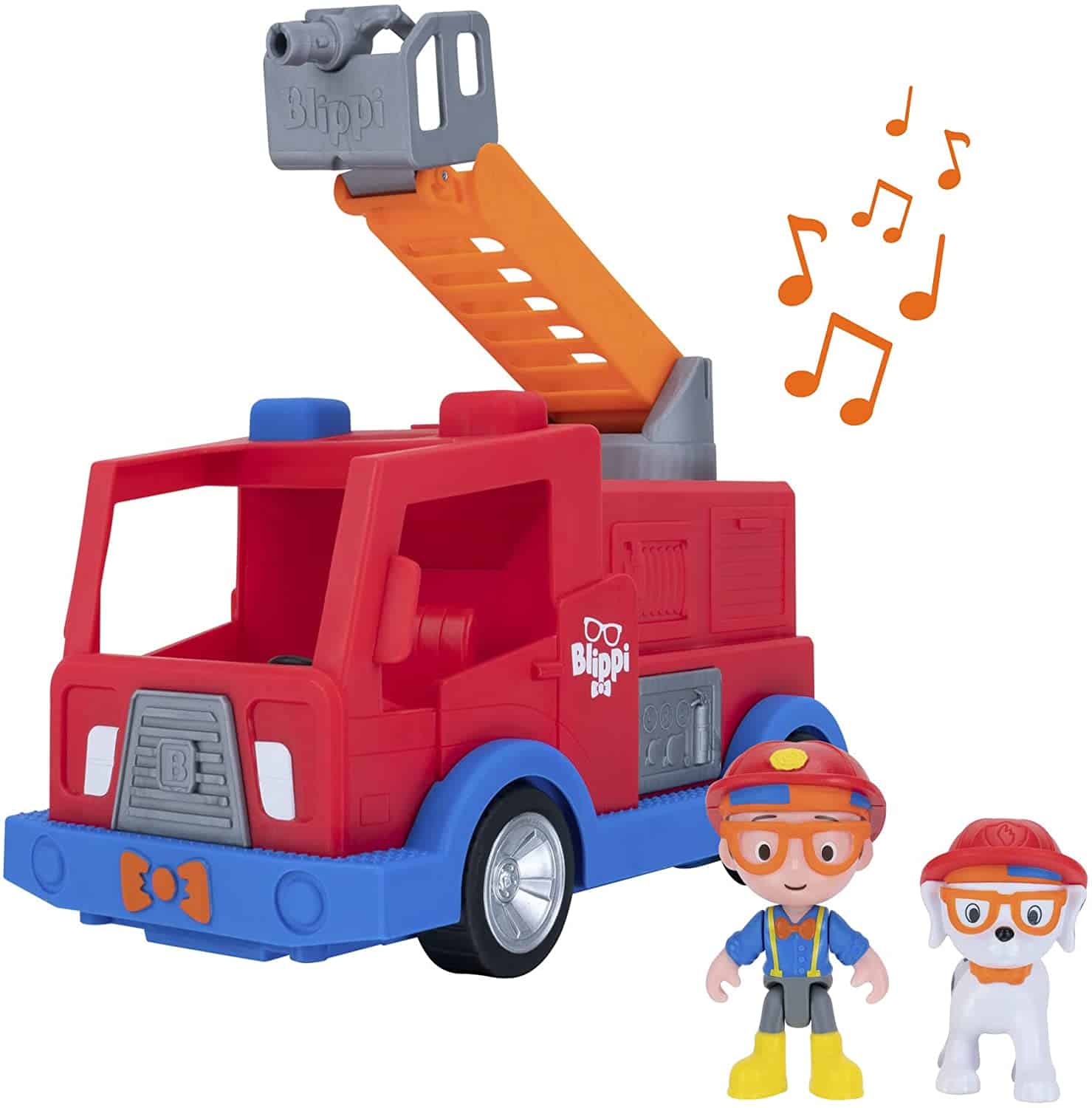 Blippi has a few videos with fire trucks and houses. He teaches children valuable lessons about the safety and hazards of hot flames. The Blippi Fire Truck brings a new mountain of lessons, and it makes noises to keep a child's attention. Holding a young toddler's attention can be challenging.
Blippi Features
Type: Blippi Fire Truck With Figures
Activity: Interactive play
Ages: 3 to 6
Skills: Cause-and-effect, language, fine motor, focus, and spatial awareness
Yes
The Blippi Fire Truck is sure to keep your child's attention stuck with sound effects and light shows while they learn about the spatial differences when the truck rolls around
The fire truck rolls easily on the wheels, and children will love the speedy pull-back motion of the vehicle, which also has multiple buttons to press for responses
No
It's another toy that requires batteries and will become loud with time (it's worth it)
Best Blippi Heavy Machinery Toy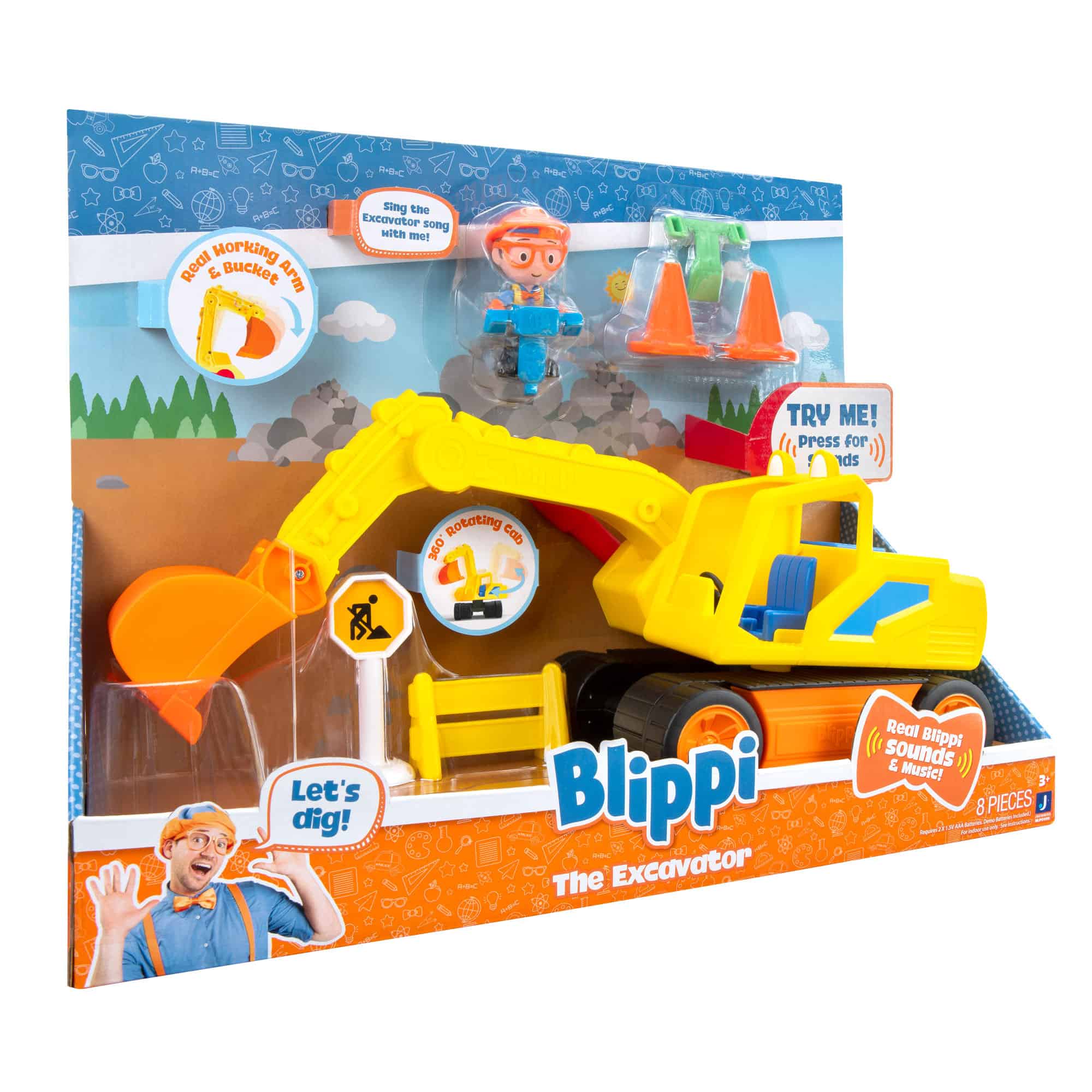 I love toy excavators because I watched my son play with them in the dirt outside. I'm one of those moms who love seeing my kids get dirty to spend time in the sun. Blippi also has an excavator model with lights and sounds to improve the outdoor experience. Imagine the excitement of excavation.
Blippi Features
Type: Blippi Toy Excavator
Activity: Interactive play
Ages: 2 to 6
Skills: Spatial awareness, object permanence, language, cause-and-effect, and fine motor
Yes
The Blippi Excavator Model has lights and sounds to improve a little one's language skills while exercising their finger muscles, and the set comes with extras to make playtime more exciting
The excavator is functional for kids to play outside, and the Blippi figure fits into the driver's seat
No
Kids might excavate things you don't want them bringing into the house
Best Blippi Imaginary Playset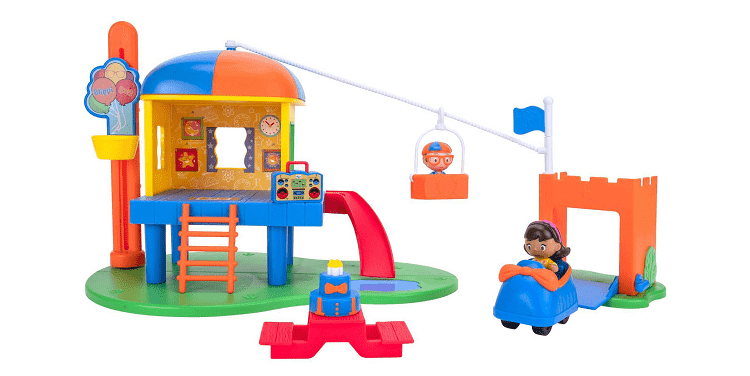 Playhouses are classic toys that encourage children to dig into their deepest imagination pools while learning essential skills. Little ones will enjoy the traditional dollhouse-style toy with moving pieces and noises. In addition, the playhouse can introduce little ones to big, scary birthday parties before they have to attend one.
Blippi Features
Type: Blippi Ultimate Party Playhouse
Activity: Imaginative play
Ages: 3 to 6
Skills: Object permanence, spatial awareness, creativity, and fine motor
Yes
The Blippi Ultimate Party Playhouse is a colorful and fully functional toy that allows children to practice their little finger muscles while learning how things move around
Young toddlers quickly realize that objects can change from one end to the other, and the creative opportunities are countless
No
It's another fabulous Blippi toy that needs many batteries and makes noises
Best Blippi Interactive Storybook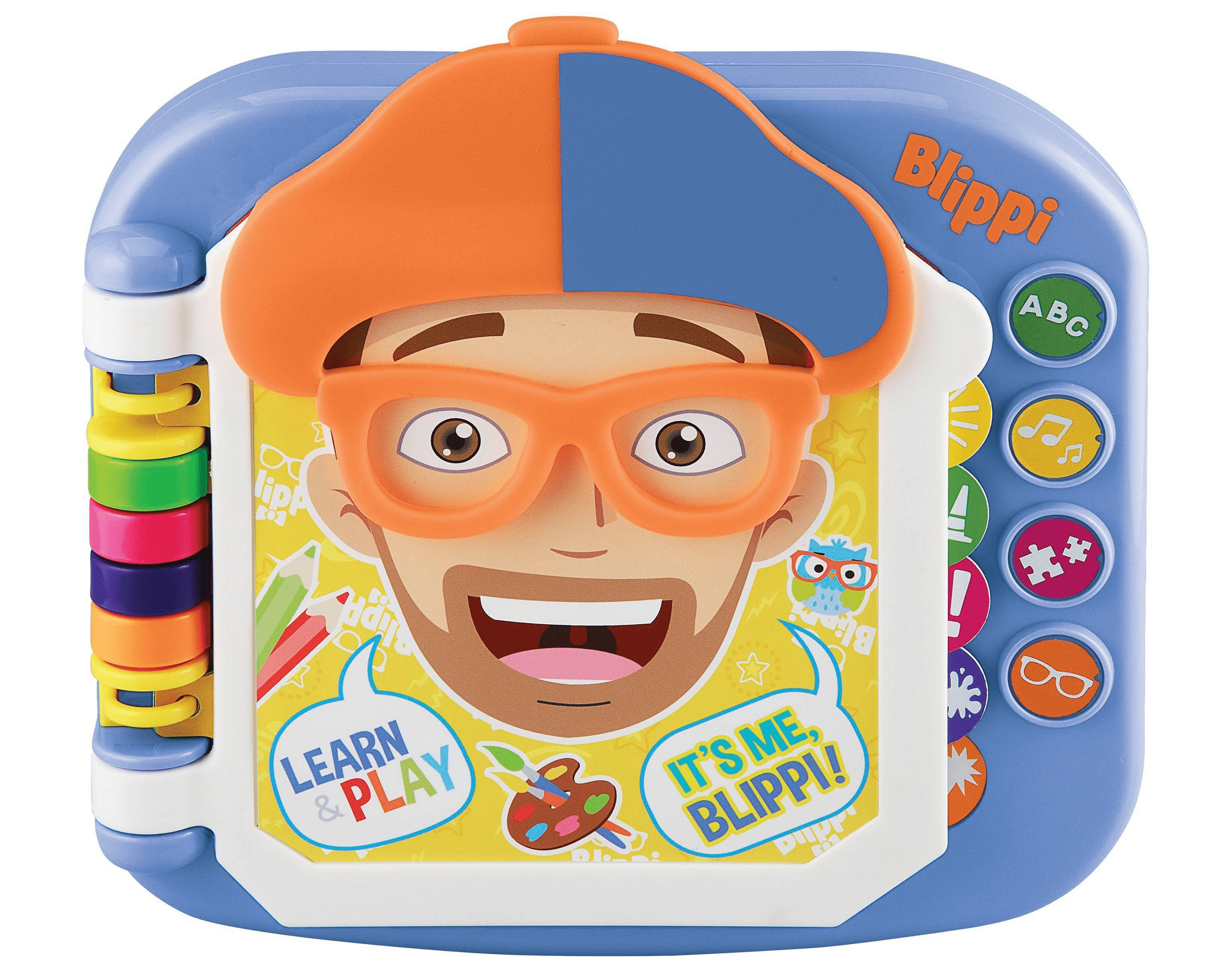 Every child has a favorite storybook, and Blippi fans will love his interactive version filled with fun learning. Books are the source of many lessons, whether you're 50 or starting life as a young toddler. Books can increase your knowledge, and they work the same for kids. The difference is that children's storybooks are fun.
Blippi Features
Type: Blippi Interactive Storybook
Activity: Educational play
Ages: 2 to 6
Skills: Counting, sorting, colors, shapes, numbers, words, and communication
Yes
The Blippi Interactive Storybook teaches toddlers many lessons with pages full of sound effects, buttons, terms, and pictures
Toddlers love pressing buttons to hear what sound an animal makes, and they quickly learn to count and sort with interactive storybooks
No
The book uses batteries, and you should supervise reading with your toddler under three
Best Blippi Musical Instrument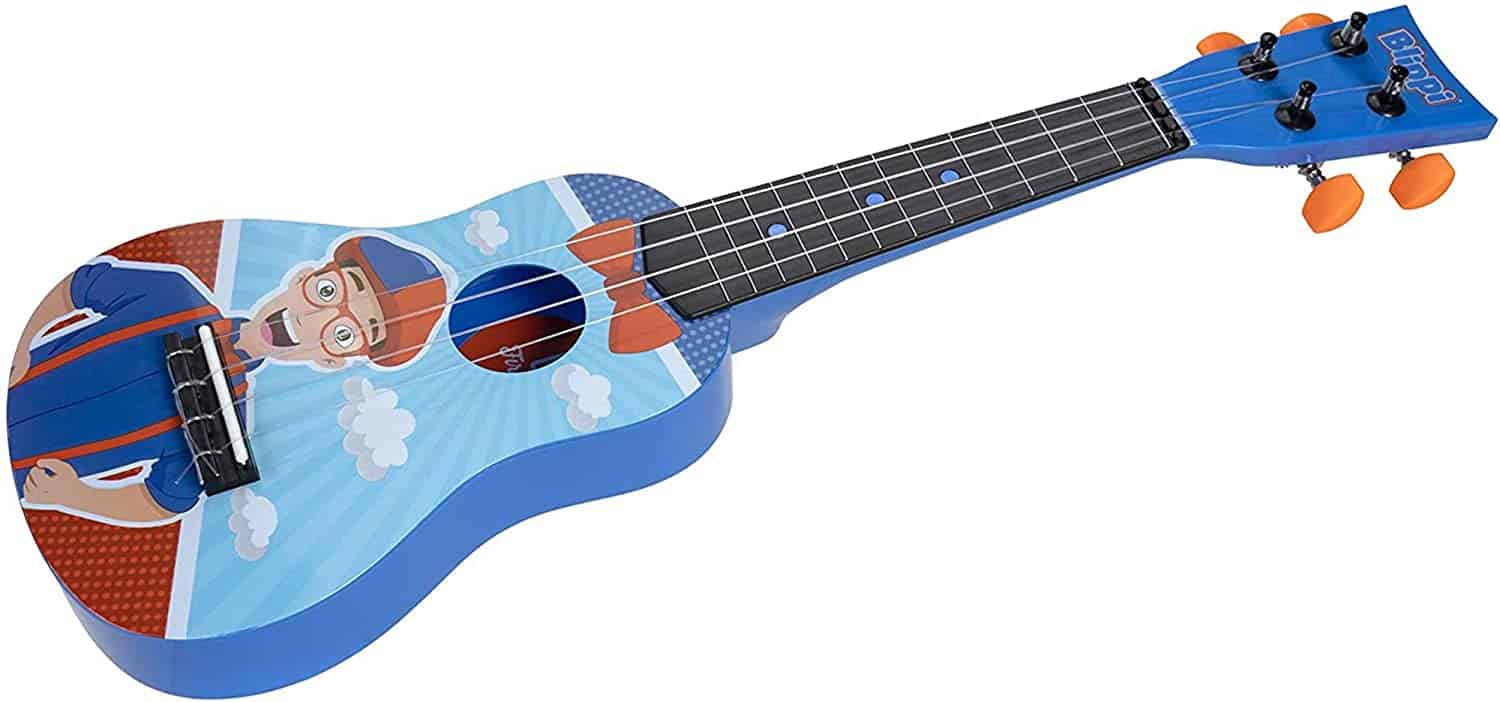 My daughter loves musical instruments and has the talent to pursue her wildest dreams. She can sing, play the violin, and dance like a rockstar. She's only eight and has the skills because I helped her practice them as a toddler. I guaranteed she had every musical instrument and Playstation dance game she wanted.
Blippi Features
Type: Blippi Ukelele Musical Instrument
Activity: Musical play
Ages: 3 to 6
Skills: Pattern recognition, language, and creativity
Yes
The Blippi Ukelele is a treat for toddlers wanting to practice their musical and creative skills, and the pattern recognition can enhance their critical skills
Any musical instrument provides cognitive development alongside creative skills, and the Blippi instrument welcomes the youngest children to the music world
No
You might find out that your little one is a heavy metal fan more than a rockstar
Best Blippi Remote-Controlled Car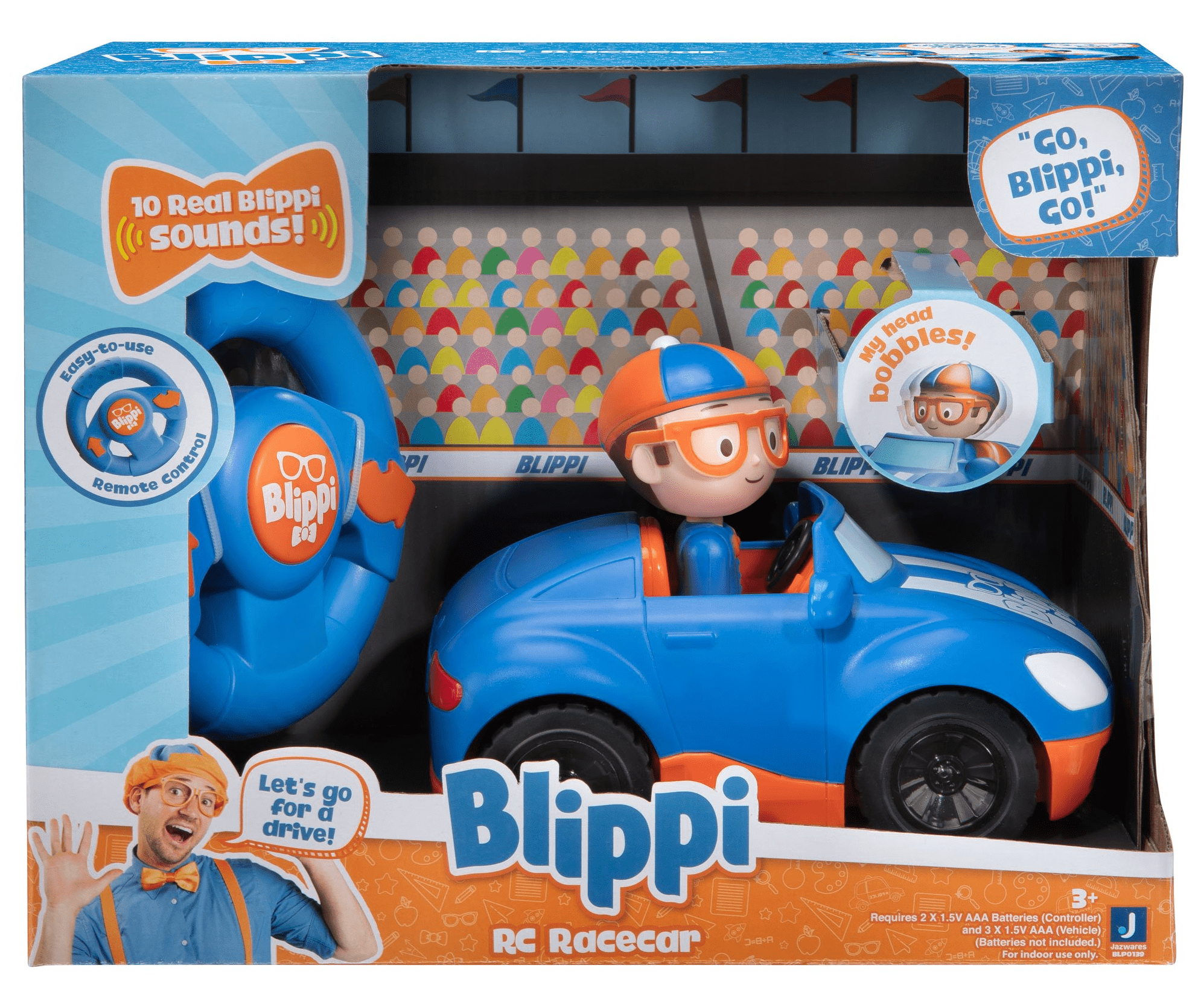 Remote-controlled toys are another excellent source of interactive play. Children learn a lot through interactive play because the buttons bring results, showing them how objects move through different spaces. I love that this remote-controlled Blippi works for two-year-olds because most of them don't cater to the age.
Blippi Features
Type: Blippi Remote-Controlled Car
Activity: Interactive play
Ages: 2 to 6
Skills: Object permanence, spatial awareness, fine motor, language, cause-and-effect, and critical thinking
Yes
The Blippi Remote-Controlled Car has a remote that looks like a steering wheel, and it welcomes children to drive the little car with realistic movements
The sound effects also enhance language and communication skills, while maneuvering the vehicle around objects and into small spaces can improve critical thinking
No
The remote-controlled toy will require many batteries, and the sound effects will become annoying
Best Blippi Role-Play Set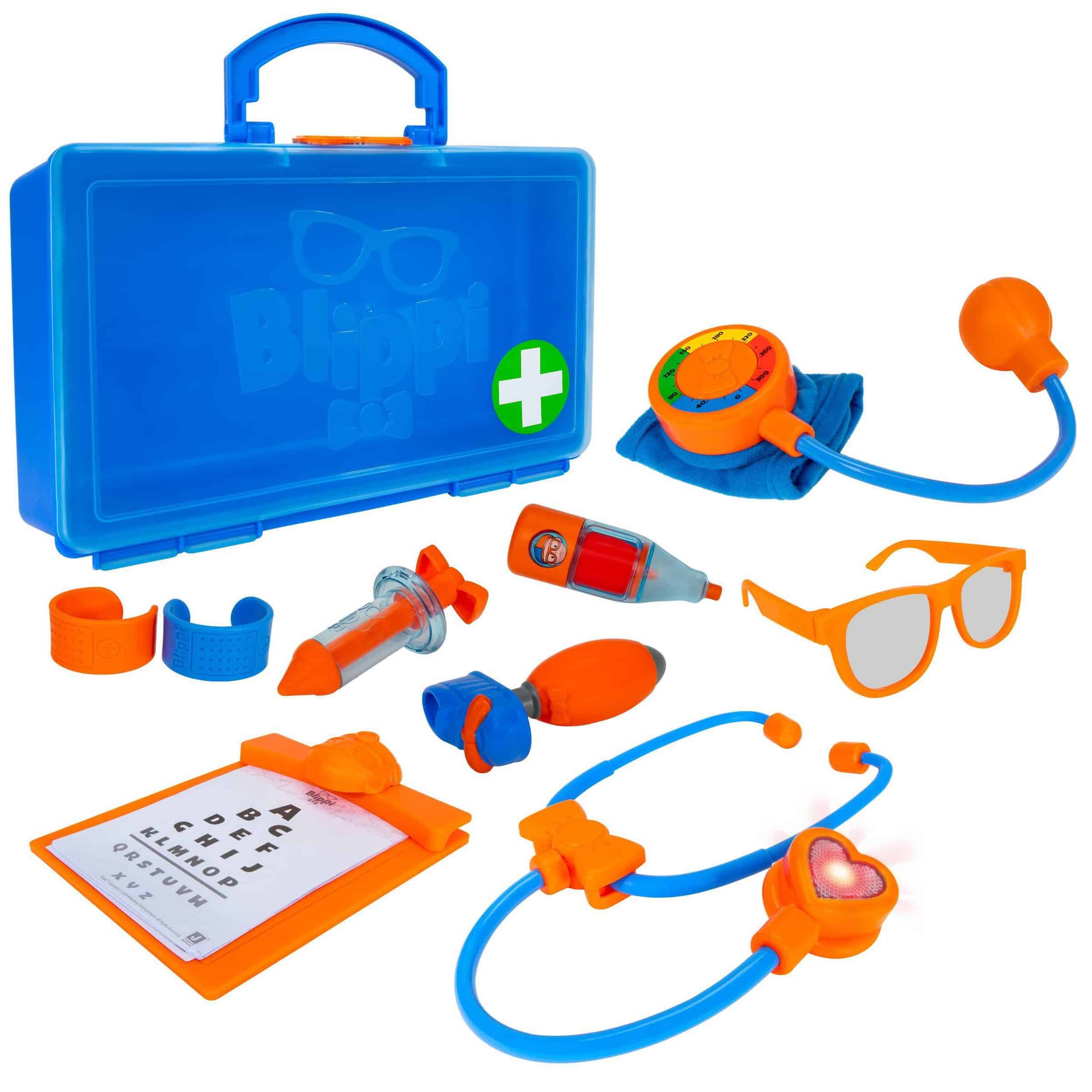 Where does your toddler hate going? My son nearly bit his doctor a few times when he was a toddler. He screamed loud enough for the poor doctor to walk out of the room once. My daughter wasn't much better, so I always pick doctor role-playing sets when I see them. They can slowly comfort kids with the idea.
Blippi Features
Type: Blippi Doctor Role-Playing Set
Activity: Role-play
Ages: 3 to 6
Skills: Perspective-taking, communication, cause-and-effect, and object recognition
Yes
The Blippi Doctor Role-Play Kit introduces your little one to the place they fear, and it allows them to learn about the instruments a doctor may use
The playset also includes objects children can interact with to get responses, and Blippi's friendly face makes the whole doctor's introduction less frightening
No
I wish the set were safe for kids under three because my son hated doctor's visits long before then
Best Blippi Science Playset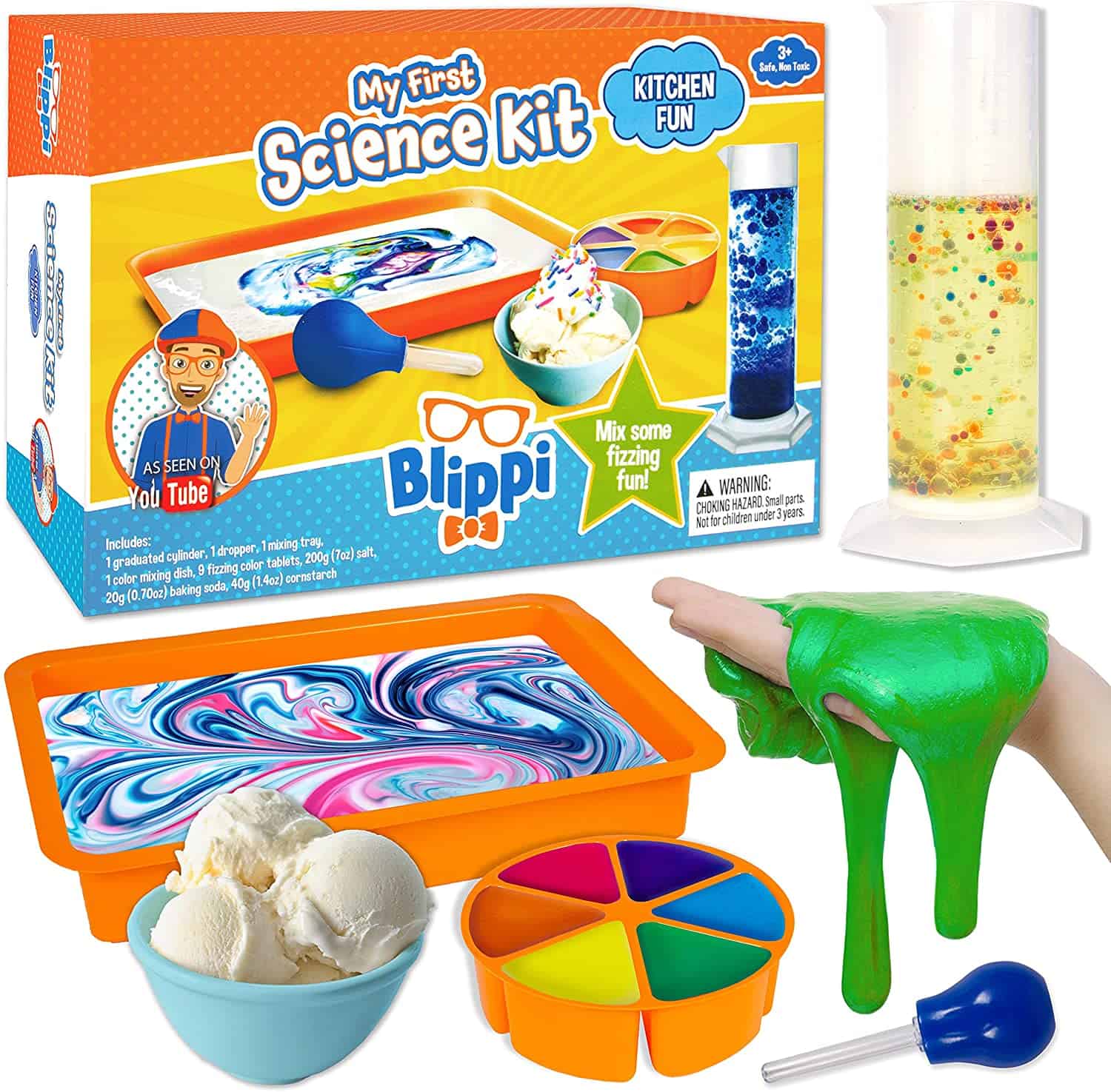 Early science kits invite toddlers and preschoolers to experiment with safe tools and sensory items that encourage their curiosity about the field. The targeted age groups don't have much science knowledge yet, but there's no such thing as too young. The Blippi STEM toy welcomes young brainiacs to the world of science.
Blippi Features
Type: Blippi My First Science Kit
Activity: Educational play
Ages: 3 to 6
Skills: Early science understanding, sensory, emotional, object permanence, and cause-and-effect
Yes
The Blippi Early Science Kit invites little ones to learn how different textures feel and what happens when they run the recommended experiments
The science kit has experiments for creating a lava lamp, sticky goo, ice cream, and movement patterns that work the critical brain to enhance intelligence
No
The goo is edible, meaning children will eat it and cry for more
Best Blippi Sensory Toy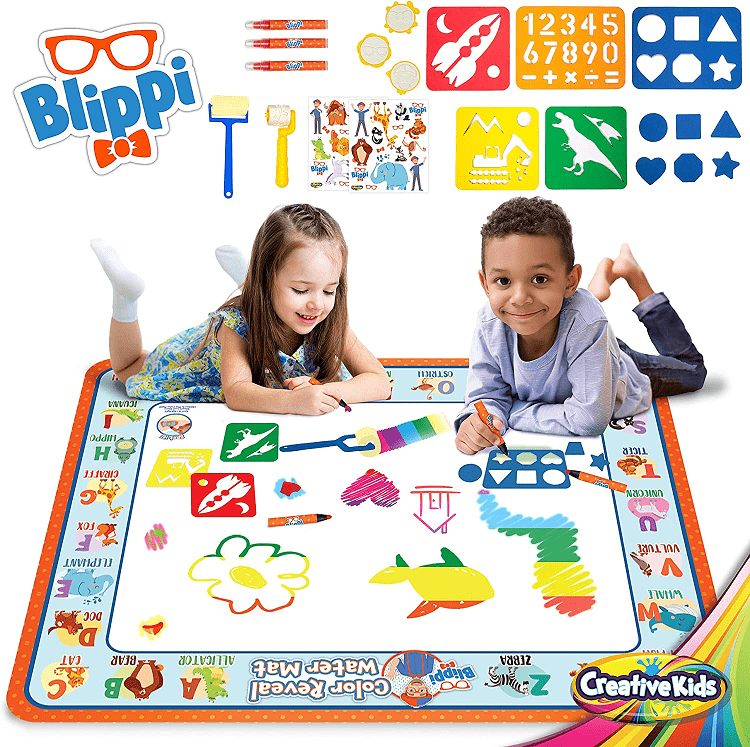 Sensory playmats are some of the best toys for kids under three. Young toddlers must interact with many different textures to begin classifying objects in their world. It even teaches kids not to be afraid of things because they know they can't harm them. Playmats also offer the essential cornerstones of learning.
Blippi Features
Type: Blippi Water Doodle Playmat
Activity: Sensory play
Ages: 2 to 6
Skills: Letters, words, counting, shapes, sorting, and colors
Yes
The Blippi Water Doodle Playmat is tons of fun for little fingers to experience multiple sensory stimulations, and it's a colorful space to play
The playmat allows you to help little ones learn about numbers, counting, sorting, and much more, and it's one of the few safe toys for kids under three
No
Prepare for little ones with messy fingers, but it's part of the sensory fun
Best Blippi Talking Figure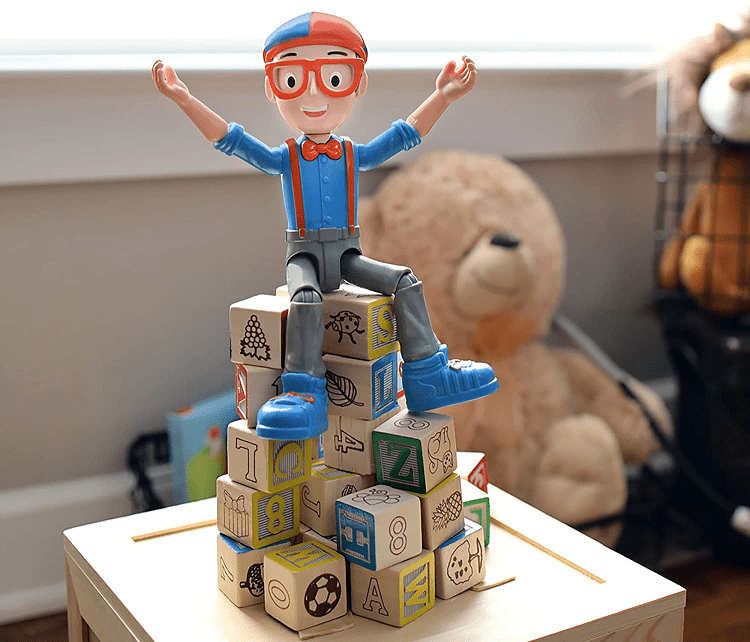 I bow to this Blippi toy because I've seen many talking plush, but I've never seen a talking figure. It keeps blowing my mind because the figure also has articulated points. Little fingers can exercise their muscles while positioning the talking friend. I'm deeply impressed and would buy this any day for a toddler.
Blippi Features
Type: Blippi Talking Figure
Activity: Social play
Ages: 2 to 6
Skills: Language, social, creative, fine motor, and emotional
Yes
The Blippi Talking Figure is an awe-inspiring representation of the online edutainer, and it teaches children how to interact with friends because it talks back
The Blippi figure has impressive articulation points for toddler toys, and the smile on Blippi's face is enough to brighten any child's day after they feel big emotions
No
The toy requires batteries, but I'm too impressed to even care about it
Best Blippi Talking Plush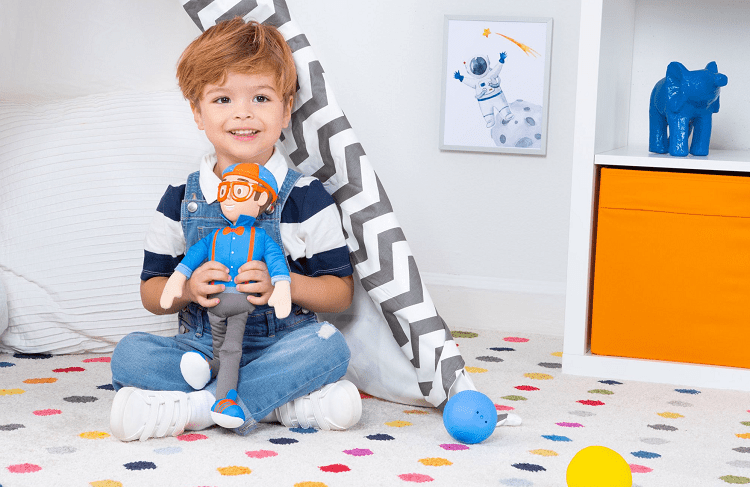 Plush toys are among the brands' most fantastic choices, and they suit many age groups. However, Blippi plush might better serve toddlers and preschoolers because they know the character. The plush also comes as a 16-inch, highly movable toy, making it easy for little kids to turn Blippi into a comforting friend at bedtime.
Blippi Features
Type: Blippi Plush
Activity: Social play
Ages: 3 to 6
Skills: Emotional, social, and language
Yes
The Blippi Plush has arms and legs that bend more efficiently than traditional plush toys, and the size offers additional comfort and emotional release
Plush toys encourage little ones to speak earlier and clearer because they find a new friend they trust, and the plush has a few phrases to welcome conversations with your little one
No
The Blippi Plush is gorgeous, but the head is uncomfortable because it's a hard material
Best Blippi Toy Car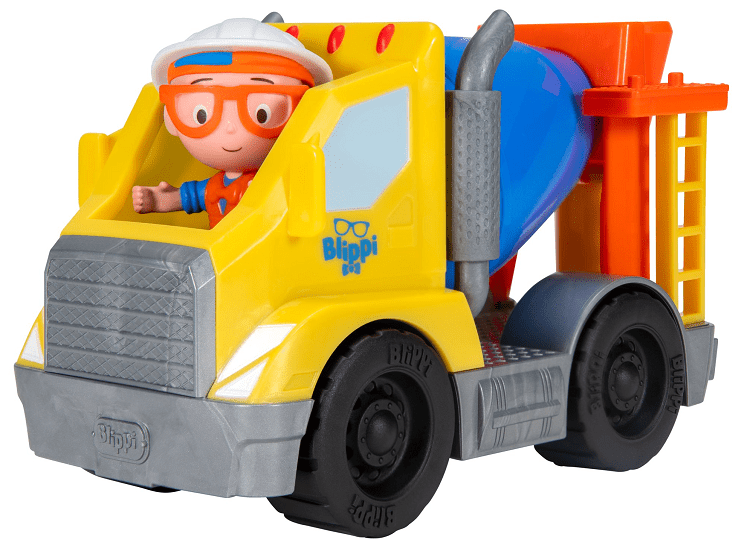 Blippi teaches toddlers about many big cars and heavy machinery, so there are countless options I'd love to add. However, I like the interactive cement mixer. Interactive toy cars help children make sense of strange things by allowing them to get responses after doing something. The truck also comes with a Blippi figure.
Blippi Features
Type: Blippi Interactive Cement Truck
Activity: Interactive play
Ages: 2 to 6
Skills: Cause-and-effect, fine motor, object permanence, and critical thinking
Yes
I love the Blippi Cement Truck more than most because it invites children to learn about a vehicle that might seem scary on the road
The Blippi figure has a few articulated points to help children reimagine his style, and the truck scoots at high speed from the pull-back function
No
I wish the cement mixer toy had more functional features for little fingers to explore
Best Blippi Toy Truck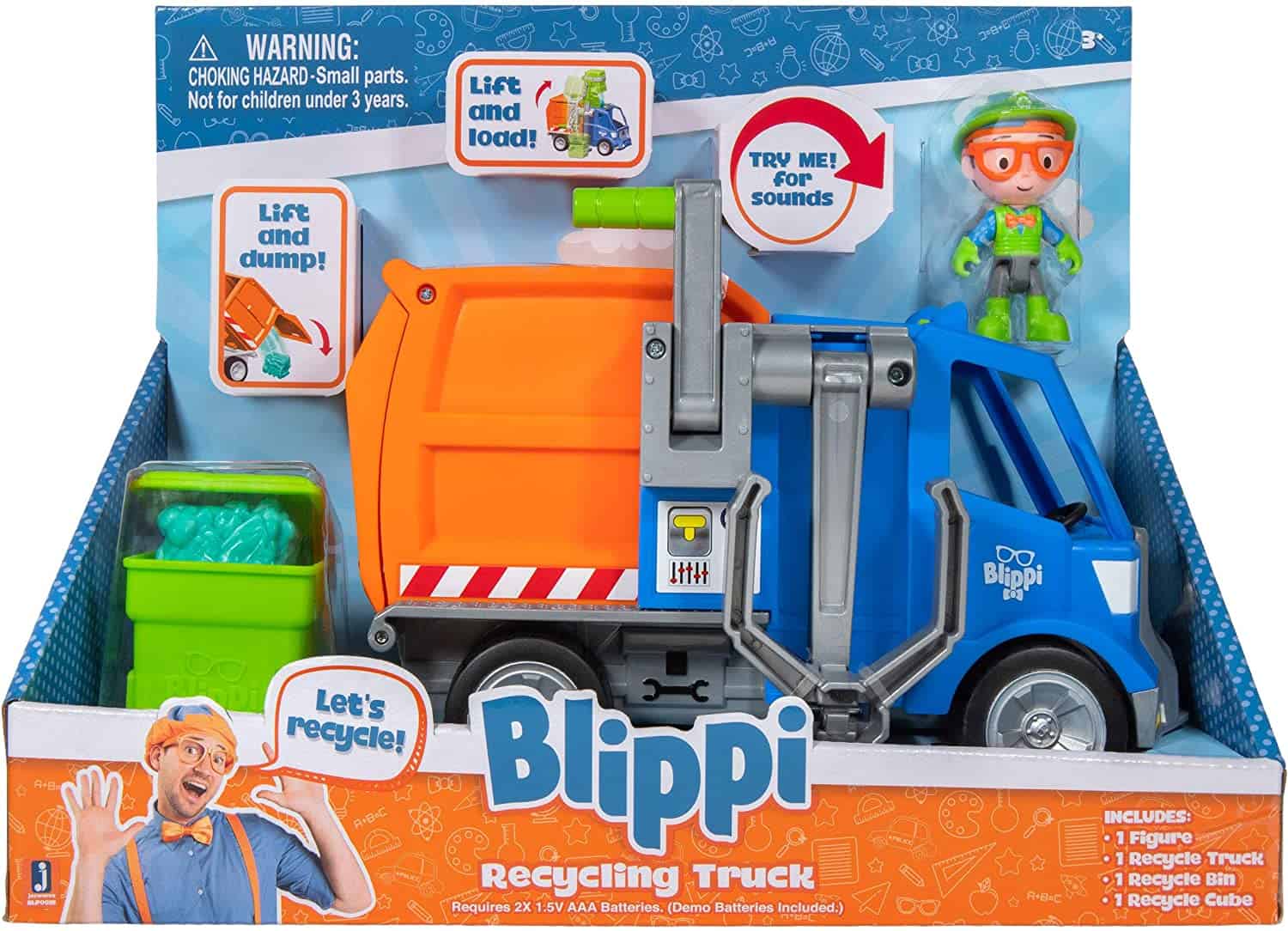 I'm adding a favorite truck to the mix because I love the Blippi models. The recycling truck is a fantastic option because it welcomes young children to the environmental lessons in this world. Additionally, it offers minor object permanence lessons by helping them realize something exists when they can't see it anymore.
Blippi Features
Type: Blippi Recycle Truck Toy
Activity: Interactive play
Ages: 2 to 6
Skills: Cause-and-effect, fine motor, and object permanence
Yes
The Blippi Recycle Truck can teach little ones about object permanence by hiding and exposing the bins in the truck's back, which makes them feel more comfortable when someone leaves (often mom or dad)
The truck invites toddlers to keep exercising their finger muscles while getting responses from the various buttons they can push
No
Some parents might not like the idea of children playing with garbage vehicles
Top Q&As
Question: Which Age Groups Benefit From Blippi Toys?
Answer: Blippi is an educational program for the youngest of minds. The show began as a YouTube Channel when Blippi started teaching toddlers and preschoolers about the essentials of life, including counting, sorting, colors, and shapes. The Blippi toys target the same age groups, ideally between two and six.
Question: What's the Best Blippi Toy for Two-Year-Olds?
Answer: You need to know where a two-year-old is on the developmental scale before picking the best Blippi toy. Two-year-olds learn to walk, talk, jump, and climb. However, they're also learning about emotions and social interactions. The Blippi Talking Plush enhances a two-year-olds social and emotional skills.
Question: What's the Best Blippi Toy for Three-Year-Olds?
Answer: Three-year-olds are learning to explore the world around them. They're more mobile and start learning to stack up to ten items. They also learn to sort and recognize different shapes and colors while counting to three. The Blippi Surprise Box Numbers Playset helps toddlers achieve many of their goals.
Best Blippi Toys Guide: Conclusion
Blippi is most welcome to "edutain" my children any day. The shows are fantastic, and the toys bring the same excitement and learning to playtime activities. I love many of the toys, but there are a few I'd highly recommend if they fit your child's age and expected milestones.
Firstly, the Best Blippi Educational Playset is a no-brainer for young toddlers learning to stack and count. Next, the Best Blippi Interactive Storybook will get your little one's tongue untwisted in no time. Then, the Best Blippi Musical Instrument is a set recommendation if your little one enjoys creative activities.
I'd recommend the Best Blippi Remote-Controlled Car if you have a toddler under three who loves remote-controlled toys. You'll have their fine motor skills improving while they learn critical thinking. The Best Blippi Science Playset is another incredible option for toddlers hopping on the young genius train.
However, the one Blippi toy I can't recommend enough is the Best Blippi Talking Plush. Breaking through the language milestones allows your toddler to communicate with you, and learning to deal with their emotions can help decrease the tantrums. Every toddler needs a plush best friend, and Blippi is an excellent choice.
Why are you hesitating? Allow Blippi, the edutainer, to help advance your child's intellect and development. Then, buy the best toy for your child's age and necessary skill development.
For more fantastic toys: