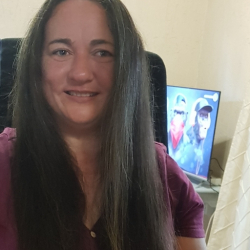 Latest posts by Caroline Lambert
(see all)
Have you ever been surprised by your little girl saying, "Here I am, I've come so far?" If so, your daughter is as passionate about Elsa from Frozen as mine is. Another magical Disney movie brings Elsa and her friends in various toys. Let me show you the magic in the amazing Elsa toys guide.
Elsa toys are a theme on their own, and they fall into various types and activities. Never think Elsa toys appeal to little girls alone. They have toys appropriate for multiple age groups. Elsa is a princess with magic and ambition, and your daughter sees her as an icon. Let me show you the many Elsa toys popular in 2022.
Bottom Line Up Front
I've lost count of how many times I've been to a Frozen birthday party. My daughter's at the age where every one of her friends is obsessed with Elsa and Anna. It explains why there are countless Elsa toys available. How do you pick the best toy for your little girl when so many exist?
Firstly, Elsa is undoubtedly the most famous character to Frozen fans. Secondly, I want a toy that fits one of the popular categories. Finally, toys should always be age-appropriate to appeal to a child's favorite activity types. As a bonus, certain Elsa toys take every little girl's dreams to the next level.
Please take a peek at my best Elsa toys to see which combos and types are raving right now.
My Top Elsa Toys at a Glance
My daughter and her friends guided me with a few Elsa toys on every little girl's lips in 2022. Your daughter will likely see her favorite among the dolls, costumes, and singing dolls. Frozen is partly a musical to make sense of the variety of singing dolls available. And let me tell you, the Elsa styling heads are insanely popular.
Here's a quick peek at my top 18 Elsa toys:
How many times has your little one yelped when you read the list? It's time to learn more about what makes these toys the best picks, even if she only gasped once.
Amazing Elsa Toys: A Complete Frozen Fan's Guide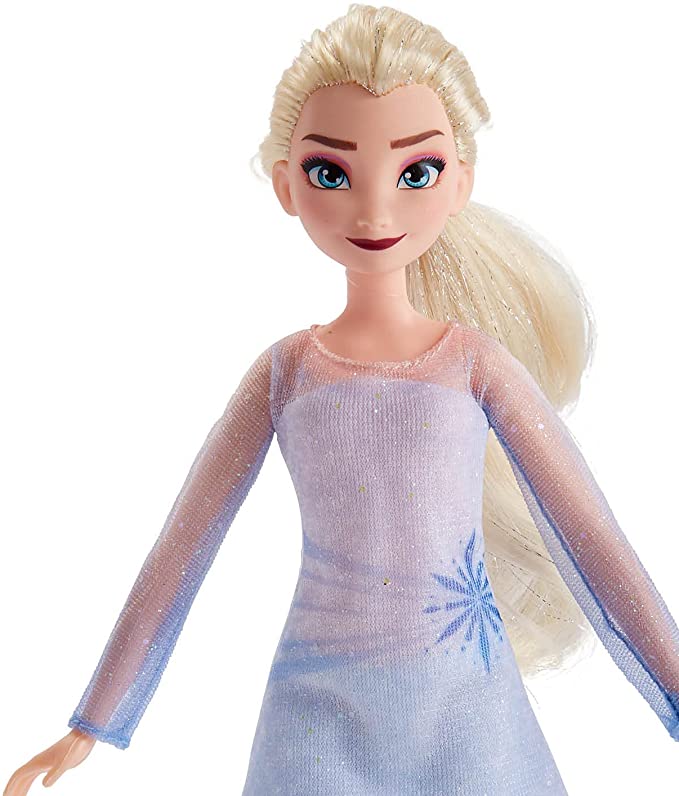 Frozen is likely one of Disney's biggest hits with little girls since 2013. It has Disney magic combined with singalong songs and princesses from every girl's dream. What makes Elsa's toys so unique? What advice can I share as a parent, and how should you choose the best Elsa toys?
The Magic of Elsa Toys
You're about to give up if your little girl asks for one more Frozen party. Most parents are stunned by the passion behind Frozen. However, Elsa seems to be the center of that passion. She's the princess with ice powers, capable of creating entire castles with her abilities.
I like Elsa's powers because they're benevolent, kind, and pure. Frozen is also popular because the movies are more family-friendly than Maleficent and even the Lion King. Every Disney movie has sad and happy parts, but Frozen is a balance that doesn't frighten little girls. An article in Time explains why kids can't resist Elsa.
The article focuses on the science of magical realism appealing to kids. Kids love Olaf, Anna, and the Nokk, but Elsa is the one they want to see in toys. Elsa particularly has a strong appeal because of her ice powers. She also becomes an icon for little girls who love fairy tale storylines. Elsa is the center of the Frozen empire.
Advice for Parents
I'm all for encouraging kids to share their passions with me. My daughter and her friends helped me find the trending Elsa toys in 2022. Who knows better than kids? Parents do! It's healthy for a child's development when they have some say in which toys they receive. However, kids get overwhelmed with too many choices.
My advice is that you step in as a parent to help your child select the most appropriate Elsa toy. Go through the list and allow them to choose the trending toy they hear about from every friend at school. Let's say your daughter wants the styling head. Before buying it, make sure it fits her favorite activities and age.
I must share a secret: toys can include fun and learning experiences for kids. Your daughter is likely to pick a toy appropriate to the activity she enjoys. She might not like an age-appropriate toy. Age-appropriate toys often target specific developmental milestones.
Childhood is the time to learn and grow through enjoyable experiences, so help your kids do that.
How to Select the Best Elsa Toys
Elsa toys take a girl's heart by storm, and I've had to work with guidelines to select the best ones. Otherwise, you'd end up with the entire superstore in your playroom. My three rules for the best Elsa toys are:
The toy must center on Elsa. It can include her friends from the Frozen movies, but I want to see Elsa as the main inspiration for the toy.
It should fall into one or more popular toy types. I've carefully chosen Elsa toys that fit the best categories in 2022.
Each toy should encourage a popular activity for little girls who love Elsa. The activities should also suit the recommended age for each one.
Amazing Elsa Toys Guide: The Trending Picks
I would never have thought about the Elsa styling head unless my daughter mentioned it. The trending Elsa toys come straight from the mouths of school ground trendsetters. Your little girl will find a fantastic Elsa toy in the trending picks. Let's see what's available.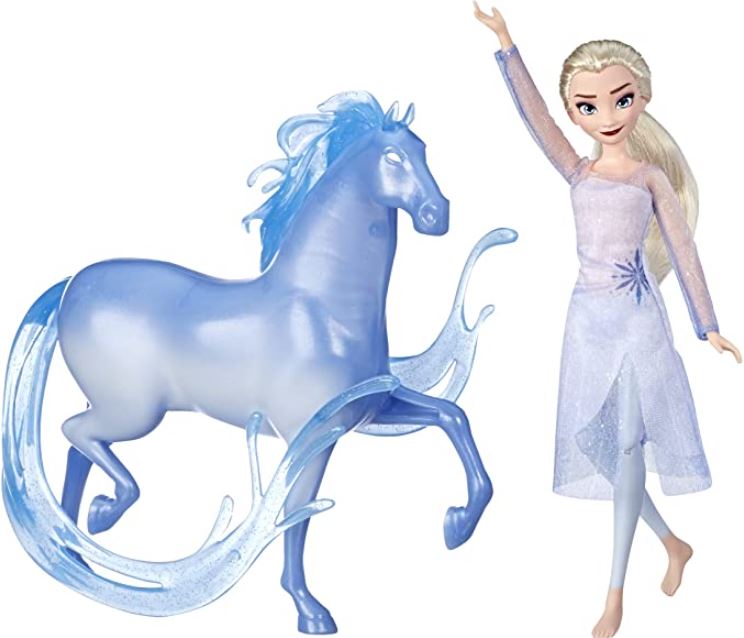 The Nokk is a must-own for kids who love magical creatures and princesses. My daughter insisted on me adding an Elsa and the Nokk combo because the water-element horse is as appealing to Frozen fans as unicorns are to every girl out there. Girls have always loved ponies and unicorns, so why not the Nokk?
Frozen Facts
Characters: Elsa and the Nokk
Type: Elsa doll and the Nokk figure
Activity: Imaginative play
Ages: 3+
Pros
It includes a well-designed, articulated Elsa doll that fits on top of the Nokk figure's back
It's a fantastic toy for fueling the imagination with fantasy and magical stories
I love how the Nokk's mane looks like water (it's a water-element horse, after all)
Cons
The Nokk figure's legs are in one position and can't change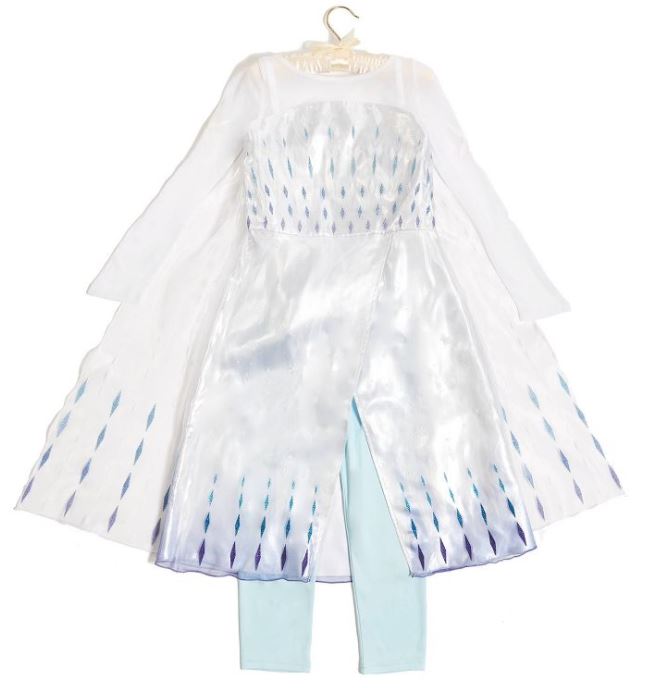 My daughter loves playing dress-up. Which little girl doesn't? I think the Elsa costume would look fantastic as a Halloween costume, or you can buy it for the next Frozen birthday party. There won't be a shortage of those parties for years. At least Elsa wears beautiful princess outfits, making every girl look magical.
Frozen Facts
Characters: Elsa
Type: Elsa costume
Activity: Imaginative play
Ages: 3 to 10
Pros
The dress has a pretty layered effect with lace and silky styles for a true princess feeling
It comes in many sizes that fit kids from three to ten
I love the diamond-style pattern along the edges and on the waist
Cons
It's white, which rightfully scares any parent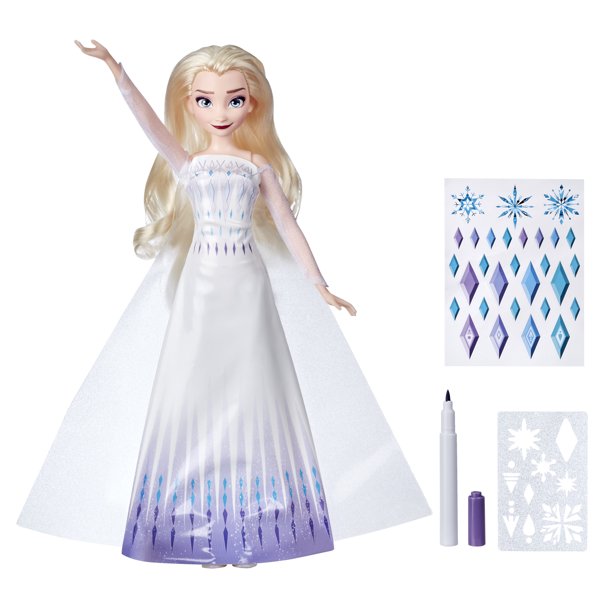 Kids can create beautiful dresses for the Elsa doll. I chose a few Elsa toys apart from those my daughter picked. I focused on educational and creative toys, and this toy is the first of my selections. Educational toys should still appeal mainly to kids, and the Elsa design-a-dress doll meets mine and my daughter's passions.
Frozen Facts
Characters: Elsa
Type: Elsa design-a-dress doll
Activity: Creative play
Ages: 3 to 12
Pros
The dress is similar to the costume and has that gorgeous diamond pattern
It comes with stickers, a unique fabric marker, and a stencil for girls to design their patterns
I love how this doll encourages children to create unique dresses
Cons
The fabric marker makes for loads of stress once the dress is complete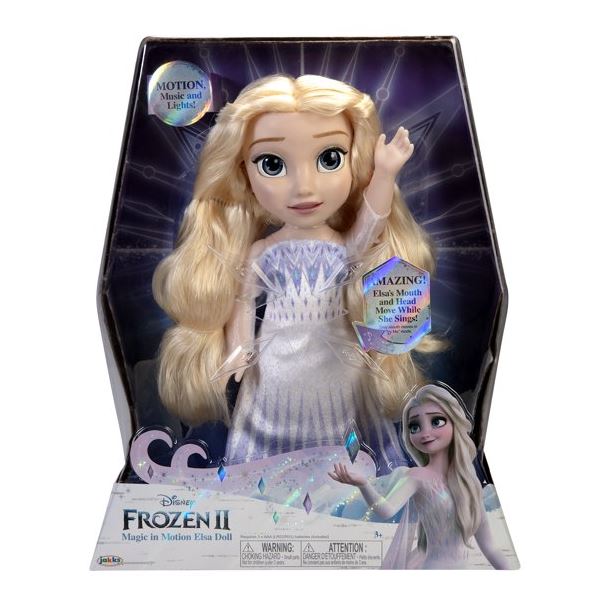 Picking the best Elsa doll is like scoping the ocean with a teaspoon. I saw dolls as big as kids, and others were as tiny as possible. However, I knew this doll was the winner when I saw it. This doll screams girls in every way. Even the box has a gorgeous shape to match Elsa's beautiful personality.
Frozen Facts
Characters: Elsa
Type: Elsa doll singing
Activity: Sensory play
Ages: 2 to 11
Pros
The 14″ singing Elsa doll also works for younger girls who enjoy a sensory playtime
The doll sings "Show Yourself" from Frozen 2, while the head and mouth move
I love how the dress is also a light show for little girls to enjoy more sensory experiences
Cons
It works with batteries, so be prepared to buy plenty of them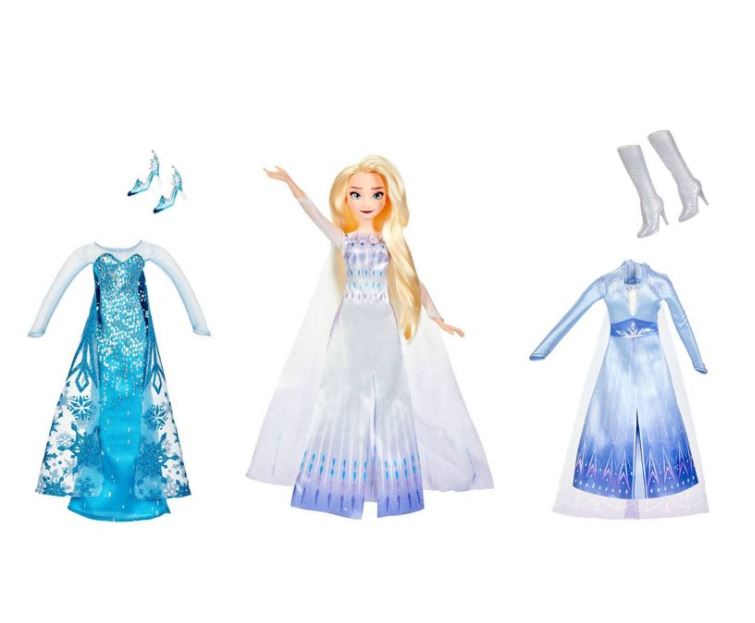 Elsa also comes in a few dress-up options, which is another trending idea I would've missed if my daughter's friend didn't own one. Elsa is most famous for wearing her diamond dress, but this doll comes with two additional dresses for little girls to play dolls as we used to in the olden days.
Frozen Facts
Characters: Elsa
Type: Elsa styling doll
Activity: Imaginative play
Ages: 3 to 10
Pros
The Elsa doll comes with a total of three gorgeous princess dresses from both movies
Elsa also has two pairs of shoes to complete the styling fun
I love the sparkly details on the dresses because every girl loves glitter and sparkles
Cons
The doll is hard to dress because it doesn't have many articulation points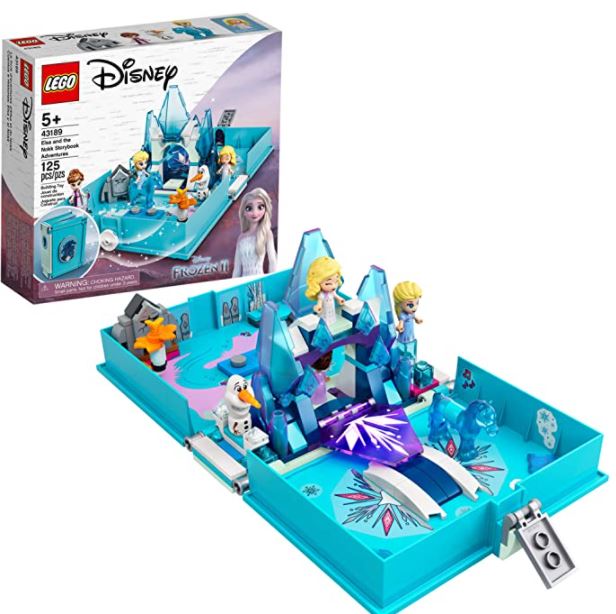 You guessed right. The educational toy is my idea, but the Elsa and the Nokk Lego kit offers kids exciting adventures while developing skills. It's also not the most complicated Elsa building kit, so my daughter approves. She loves it because it includes all the best characters from the Frozen movies with Elsa.
Frozen Facts
Characters: Elsa, Anna, Olaf, and the Nokk
Type: Elsa building kit
Activity: Educational play
Ages: 5 to 12
Pros
The Elsa Lego kit includes the most-loved characters with a storybook type building kit
It has 125 pieces for younger girls to enjoy while they develop skills
I love how the Elsa Lego kit has a glacier style with movable elements and closes inside a case
Cons
I don't like that the Elsa Lego figure's eyes are closed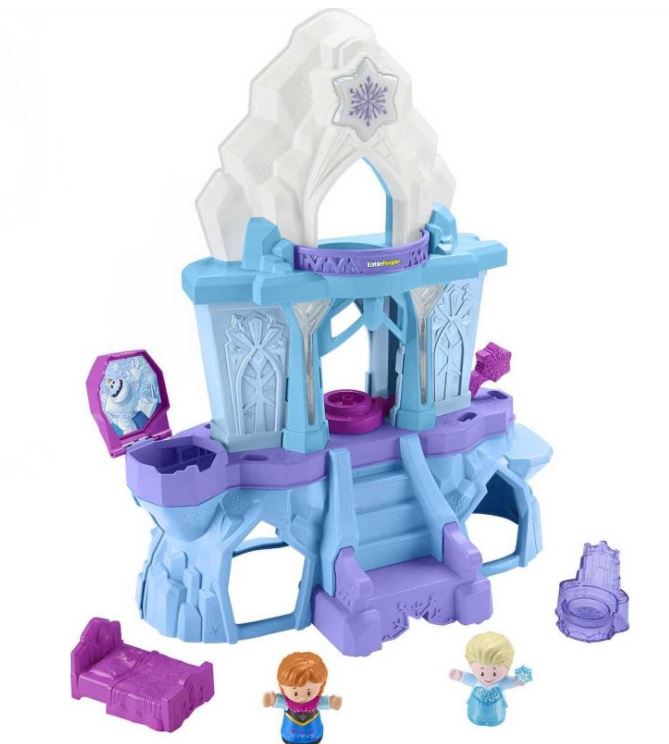 An imaginative toy is one of the best things for little girls who love Elsa. Most of her toys fall into imaginative play. The Little People Elsa Enchanted Palace is also a sensory experience for smaller children. It has a cause-and-effect design where kids can press buttons and pull levers to enjoy the fun consequences of their choices.
Frozen Facts
Characters: Elsa
Type: Elsa palace toy
Activity: Sensory play
Ages: 1 to 5
Pros
The Elsa's palace toy has gizmos, levers, and buttons to help young toddlers develop essential skills
The side lever allows Elsa to drop down from the top of the palace
I love how the castle also lights up for an added sensory experience
Cons
I worry about kids who still chew everything (maybe supervised play is the best option)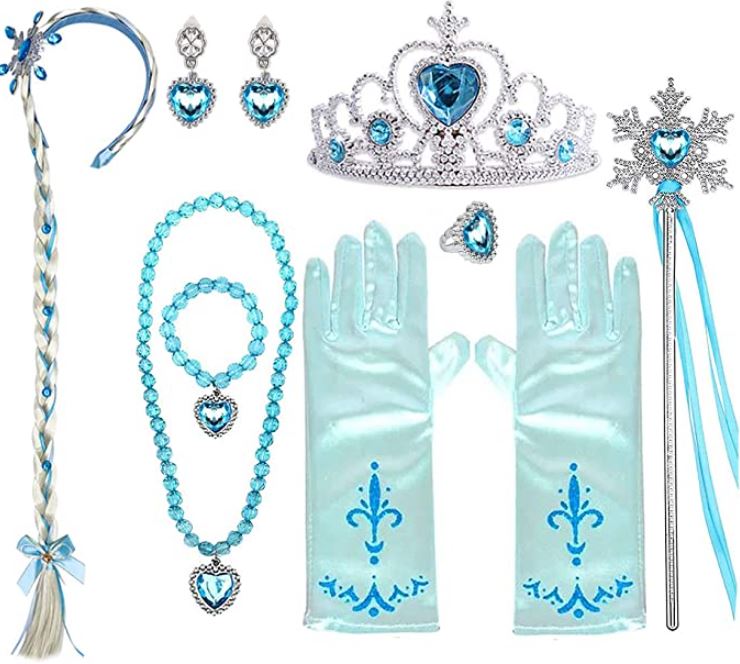 My daughter always got into my makeup and jewelry. She doesn't do it now that she has her selection of princess makeup and jewelry from her favorite movie characters. I selected this Elsa jewelry and accessory set because it also has a hairpiece, crown, and wand. My little girl can feel like an actual princess with this set.
Frozen Facts
Characters: Elsa
Type: Elsa's jewelry
Activity: Pretend play
Ages: 3 to 10
Pros
Elsa's jewelry set includes two necklaces, gloves, a crown, a wand, a hairpiece, and earrings
It makes any little girl feel like she's royalty in the Frozen realm
I love how the hairpiece adds an extra depth to the costume if you combine the two toys
Cons
The hairpiece can also get stuck and cause crying princesses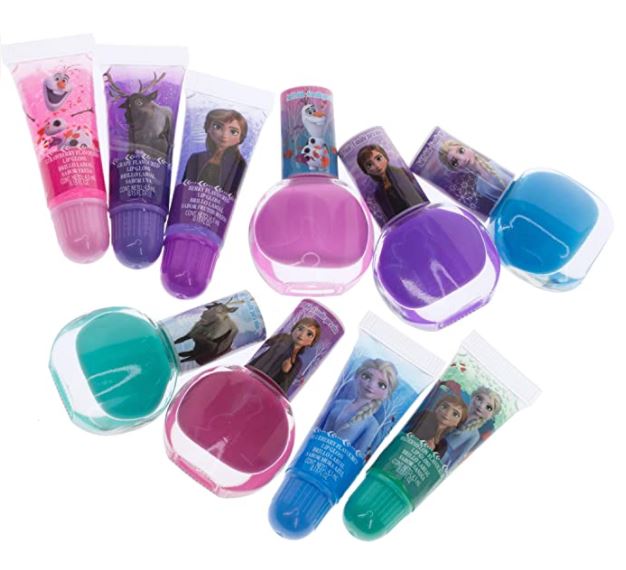 Little girls and makeup can be a train smash, but not buying them toy makeup will have them walk around the house with your lipstick, coloring every wall and table. Okay, my daughter loved makeup after this phase, thank goodness. The Elsa makeup kit is safe for kids and parents who watch their kids.
Frozen Facts
Characters: Elsa and Anna
Type: Elsa makeup kit
Activity: Pretend play
Ages: 3 to 12
Pros
The Elsa makeup kit includes five lip gloss, five nail polish, and a sheet of nail stickers
The colors are bright and pretty for little girls who love princesses
I love how the different colors represent different Frozen characters
Cons
Watch out for little ones painting the walls and everything else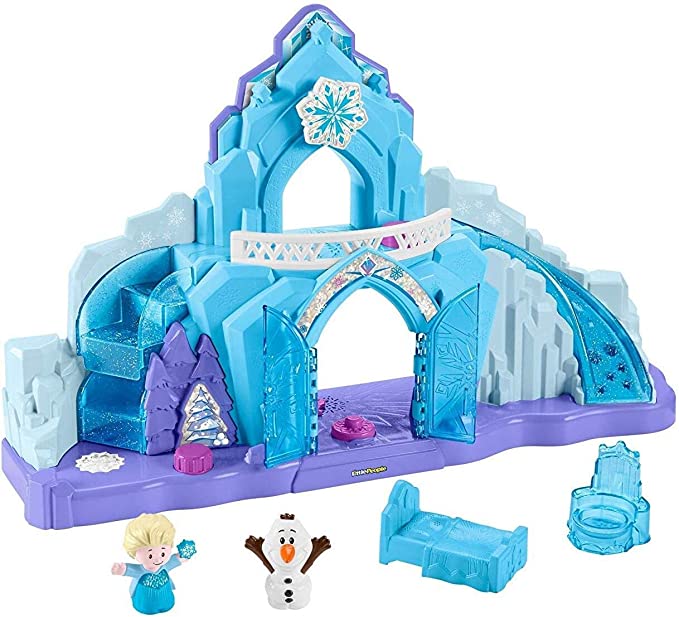 The Frozen movies have magical music that matches the reality of the background stories. Kids love musical toys, and the benefits are more significant than the annoyance of buying batteries and listening to the same songs repeatedly. My daughter is super melodic and loves any toy with sounds and melodies.
Frozen Facts
Characters: Elsa and Olaf
Type: Elsa's ice palace toy
Activity: Musical play
Ages: 1.5 to 5
Pros
The Elsa ice palace musical toy has a gorgeous sparkly design with accessories
The Elsa palace playset includes sounds, lights, and the favorite song, "Let It Go"
I love how the top of the palace extends when you press a button
Cons
I worry about smaller toddlers playing with it (unless you supervise them)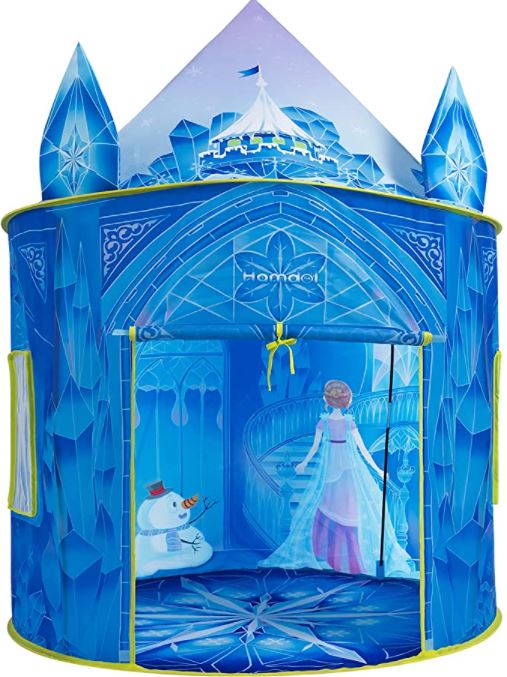 I would never have thought about an Elsa play tent, but my daughter's other friend has one. They're the talk of playground buddies. I also like that play tents provide kids with a hiding place outside to enjoy a hint of fresh air while having some fun. Kids shouldn't only play indoors.
Frozen Facts
Characters: Elsa and Olaf
Type: Elsa play tent
Activity: Imaginative play
Ages: 1 to 9
Pros
The Elsa ice palace play tent is a great way to get kids outdoors and safe from the scorching sun
It's a 51″ x 40″ imaginative playhouse for kids to explore every corner of their imaginations
I love how it looks like the ice palace when you walk inside
Cons
Play tents don't last long, especially outdoors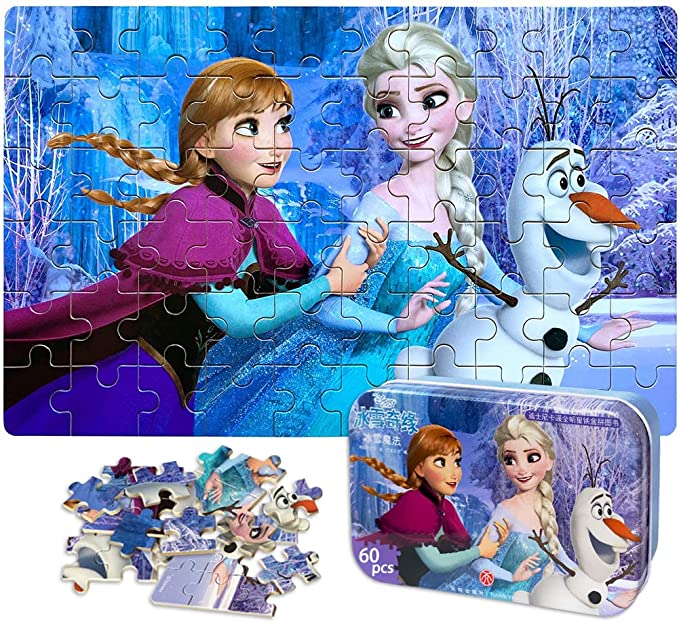 Puzzles are a gateway to educational play without making kids feel like they're sitting in class. Most children love jigsaw puzzles anyway. My kids loved them for a time, and my daughter still has one hanging on the wall. She was so proud of completing a giant puzzle. This Elsa puzzle is smaller and suitable for young kids.
Frozen Facts
Characters: Elsa, Anna, and Olaf
Type: Elsa puzzle
Activity: Educational play
Ages: 4 to 8
Pros
The 60-piece Elsa puzzle is a winner for educational activities for preschool girls
The Frozen puzzle comes in a metal tin to protect the pieces
I love how the picture depicts the friendship between Olaf, Anna, and Elsa
Cons
Losing one piece can make any girl cry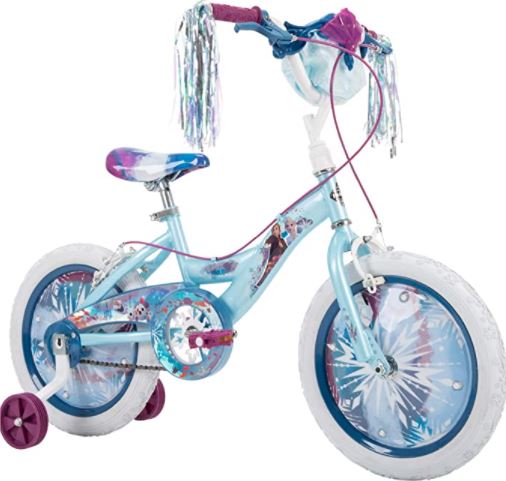 There are a few exciting Elsa trikes, bicycles, and push-buggies. Every little girl should learn how to ride a bicycle, and buying her an Elsa bicycle might do the trick. The Frozen ride-on toy you pick will depend on your daughter's age and size, but I selected the bicycle as an option that lasts longer.
Frozen Facts
Characters: Elsa and Anna
Type: Elsa bicycle
Activity: Outdoor play
Ages: 3 to 5
Pros
The 12″ Elsa bicycle is ideal for little girls between three and five to learn how to ride a bike
The Frozen bicycle also comes in a 16″ option for kids between four and six
I love how the entire bicycle looks like it belongs in the Frozen realm, and the streamers are so girly
Cons
It's pretty limited to specific age groups for a Frozen ride-on toy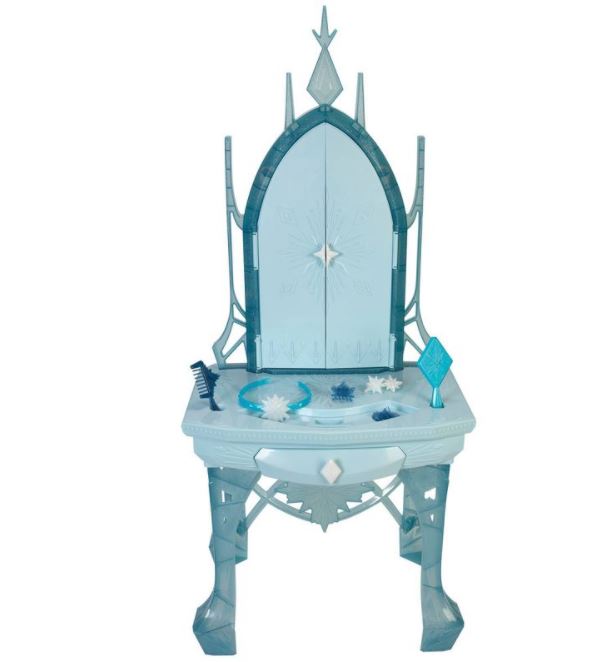 Once you pick Elsa jewelry, accessories, and makeup, you might want to consider a matching vanity. I don't know if you've noticed, but daughters love pretending to be divas, queens, princesses, and adults from a young age. My daughter wants everything she sees me use, which includes a vanity. This vanity is pretty enough.
Frozen Facts
Characters: Elsa
Type: Elsa's toy vanity
Activity: Imaginative play
Ages: 3 to 10
Pros
The Frozen toy vanity matches Elsa's style and looks gorgeous in any child's bedroom
The Frozen vanity even comes with a headband, brush, comb, and four snowflake clips for princess hairstyles
I love how the vanity doors open to a light show and sound experience
Cons
The Frozen toy uses batteries, and lots of them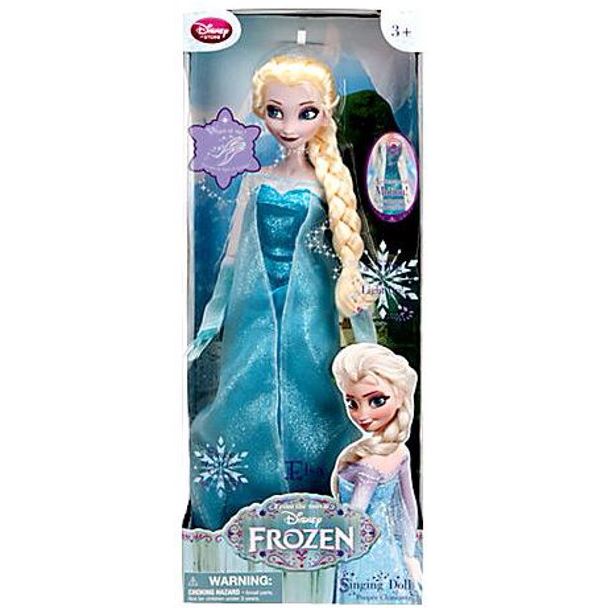 Frozen dolls are every girl's dream, but Elsa also comes in a variety of singing dolls. Many Elsa dolls have music and light effects. I like this Frozen singing doll because Elsa also looks like a diva with her iconic shimmering gown. The doll is also motion-activated, which is a bonus for little girls who want to hear her sing all the time.
Frozen Facts
Characters: Elsa
Type: Elsa singing doll
Activity: Sensory play
Ages: 3 to 8
Pros
The motion-activated Elsa singing doll lights up in a blue shimmer when your kid waves her hands
The Frozen doll also sings the iconic "Let It Go" song when kids activate the motion sensors
I love how the doll teaches kids about cause-and-effect while being a musical playtime
Cons
You'll be buying endless batteries again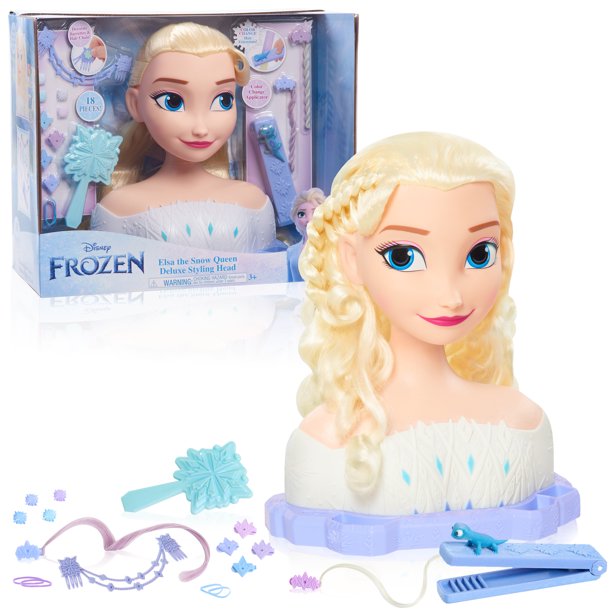 According to my preschool experts, frozen styling heads are the rave right now. Little girls have a thing for toys with brushable hair now. It allows them to play with someone's hair without the cries and screams you hear when they try each other's hair. I'm sure you've listened to it. Elsa's styling heads are the in-thing now.
Frozen Facts
Characters: Elsa
Type: Elsa styling head
Activity: Pretend play
Ages: 3 to 8
Pros
The Elsa styling head includes a hairbrush, a hair chain, a straightening iron, four barrettes, four hair gems, and four elastic bands
It also contains two color-changing hair extensions and a color change applicator that changes Elsa's hair with warm and cold water
I love how kids can also enjoy creative play with countless opportunities to make Elsa look different
Cons
It's a nightmare to keep Elsa's hair neat once a child braids it multiple times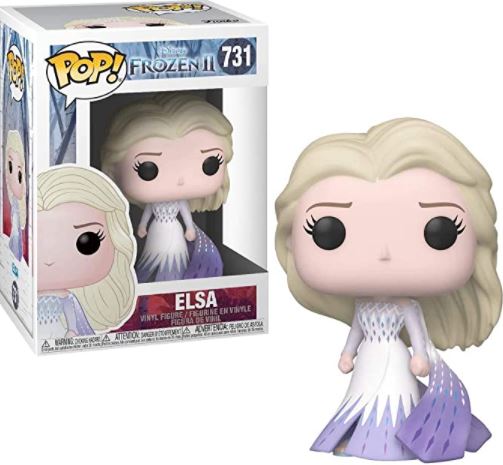 Once kids hit the teenage years, it's more about which trending toys they can collect. Frozen toys appeal more to kids younger than 12, but some older kids are also fans of Elsa and her friends. They deny enjoying toys, but I know my kids better than they think. For that reason, I must pick one Elsa toy that appeals to older children.
Frozen Facts
Characters: Elsa
Type: Elsa vinyl figure
Activity: Imaginative play
Ages: 12+
Pros
The Frozen vinyl figure comes from a famous brand, Funko Pop
It's a cute figure that showcases Elsa like an anime character instead (popular with older kids)
I love how Elsa looks with googly eyes
Cons
It doesn't look precisely like Elsa because the hair is too short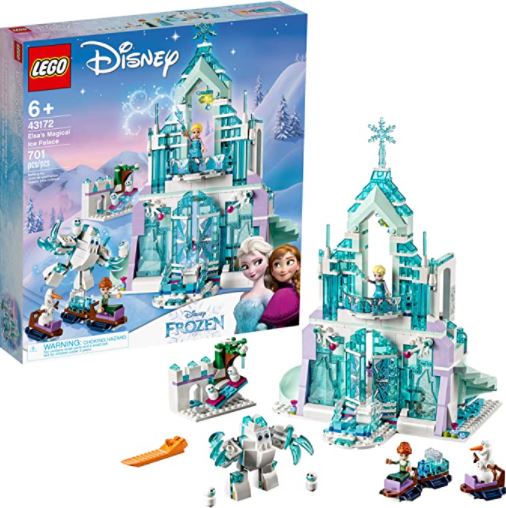 I've shown you an educational Lego kit. I wanted to add another Frozen building kit that appeals to slightly older kids. Kids over ten want Lego kits with more pieces for a more significant challenge. Some tweens and teens will love this Elsa ice palace Lego kit. It's an excellent project for older fans.
Frozen Facts
Characters: Elsa, Olaf, and Anna
Type: Frozen ice palace Lego kit
Activity: Educational play
Ages: 6 to 15
Pros
The Frozen Lego kit includes three favorite characters with the famous ice palace
It's a challenging 701-piece Elsa building kit to keep kids entertained for a long time
I love how Lego still adds glitter and sparkle to their more complicated Elsa toys
Cons
The ice robot figure is a little random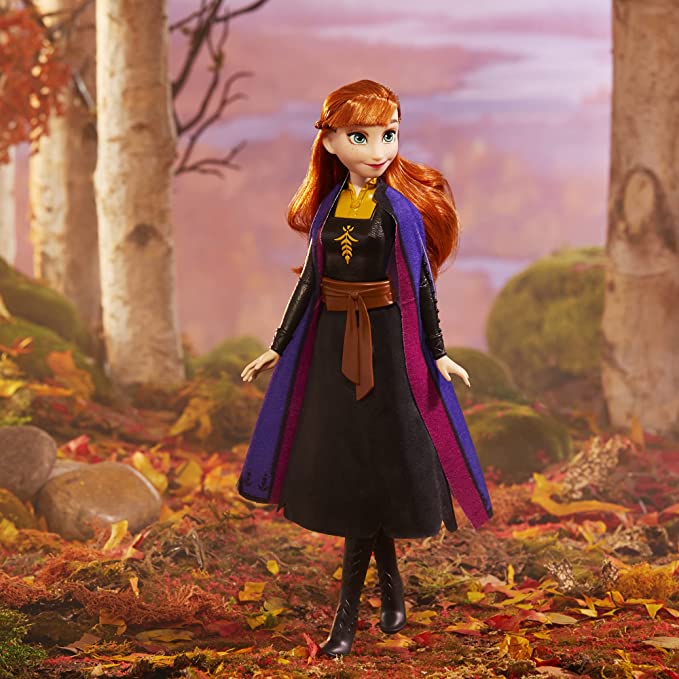 I'm adding an Anna doll because your daughter might love the duo. Anna dolls are nearly as popular as Elsa dolls, and you can get fabulous Frozen dolls for both sisters. Anna dolls aren't as noisy as Elsa dolls, either. Kids can have imaginative play balls with the two sisters.
Frozen Facts
Characters: Anna
Type: Anna doll
Activity: Imaginative play
Ages: 3 to 8
Pros
The Anna doll has five articulation points to match her beautifully to the Elsa and the Nokk figure
Anna has her shimmering design with long, red hair for little girls to enjoy styling
I love how her smile brightens the room
Cons
It's an Anna doll and not an Elsa one, and it doesn't sing
Top Q&A
Question: Which Elsa Doll is the Best?
Answer: There are more Elsa dolls than snowflakes in the North Pole, just kidding. There are a few good Elsa dolls. My favorite Elsa doll is the 14″ Frozen 2 Magic in Motion Elsa Doll because it sings, lights up, and looks fantastic. The Frozen 2 Elsa's Style Set comes second because kids can play dress-up with the doll.
Question: How Many Elsa Dolls Exist in 2022?
Answer: Maybe there are as many as the North Pole snowflakes after reading the Insider's claim that there are 8,500 Elsa dolls on the market. If you think that's insane, you might want to learn that Anna also has more than 8,000 dolls available. Elsa's sister is nearly as famous as her, and there's no shortage of either doll.
Question: Which Elsa Toys are Trending in 2022?
Answer: The best place to learn about toy trends is by the children talking about them on playgrounds. My daughter and her school friends voted for the trendiest Elsa toys in 2022. The top two positions go to Elsa dolls and Elsa styling heads. They enjoy playing with these toys the most, and they're the talk of preschoolers.
Amazing Elsa Toys Guide: Final Freeze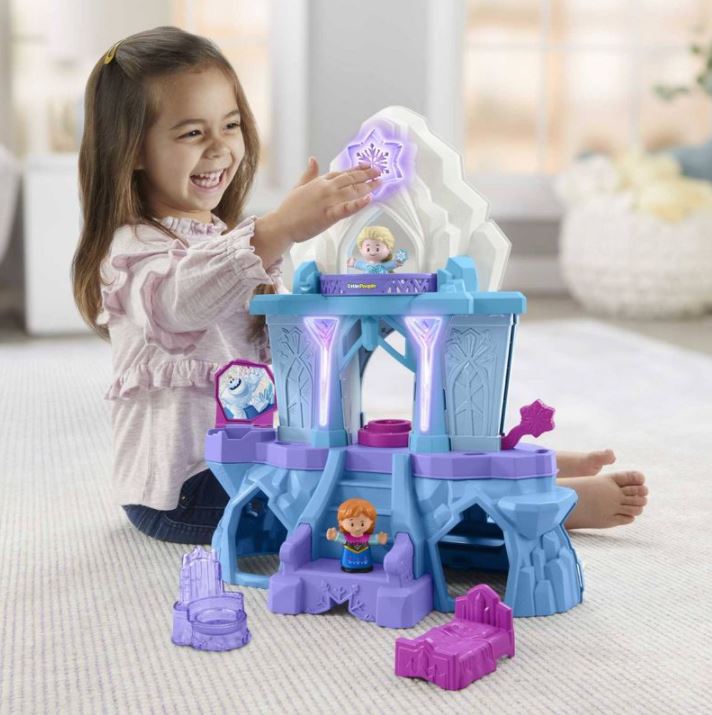 Your little girl is probably hopping up and down, pointing at every Elsa toy right now if she's watching the screen with you. I apologize for her excitement, but she surely will want an Elsa toy if she's a Frozen fan. Take a deep breath and remember to help her pick the right one according to her age.
The Little People Frozen Elsa's Ice Palace Playset is likely her best option if she's still a toddler. It has sensory, imaginative, and educational play for her needed development. The Frozen 2 Elsa Costume combined with the Elsa Dress-Up Accessory Set is likely her best option if she's a preschooler who loves playing dress-up.
The Frozen Singing Doll is the better option for preschoolers with a musical passion. The Frozen Styling Head is an excellent choice for preschoolers who have a thing for fashion, creativity, and trending Frozen toys. There's an Elsa toy for every little girl. Let her point, but look at the appropriate ages to ensure her fullest benefits.
Are you ready to see your little girl freeze up like the ice princess zapped her with magic? Then, it's time to click on the best choice for your little girl and spoil her with a new Elsa toy.
For More Amazing Toys
Complete Luca Toys Guide by Type
Best Wall-E Toys Guide for Every Age