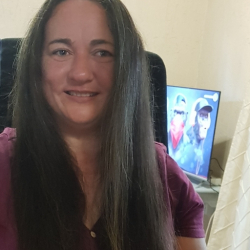 Latest posts by Caroline Lambert
(see all)
I jumped for joy with my joyful kids when I learned the secret of Island of Misfit toys. I would never have believed that misfit toys could teach children a priceless lesson. However, I'm here to share the not-so-secret lesson in this Island of Misfit toys guide because every parent deserves to know the value of these toys.
Island of Misfit toys don't have an extensive range of the greatest types of toys, nor do they have toys appealing to a broad age group. Instead, the Christmas-themed toys provide key activities toddlers and preschoolers can enjoy and cherish. The word cherish is the secret behind Island of Misfit toys.
So, let's see how they work.
The Island of Misfit Toys Revealed
Island of Misfits toys mainly includes plush. As a result, they're as collectible as Beanie Babies, especially when you find a goldmine of choices at Walmart. Unfortunately, very few stores still stock the collectible CVS Island of Misfit plushies.
However, the collectibility combined with the story's lesson could teach kids about cherishing their plush toys. But first, let me share the most incredible Island of Misfit plush toy. I admire the CVS Island of Misfits Hermey the Elf Plush because his innate lessons go beyond the movie's message.
Indeed, Hermey is an outcast because his dreams are more significant than himself, his birthright, and the Christmas-themed world around him. I love plush toys that become children's friends while teaching them valuable life lessons.
However, let's look at the rest of the ultimate Island of Misfit toys before learning more about them.
More of the Island of Misfit Toys at a Glance
A Complete Guide to the Island of Misfit Toys
The Island of Misfit toy hides a unique lesson for little kids, which I'll share soon enough. Storylines and characters can teach kids more than you realize, and lessons are always welcome. I always try to find toys with hidden lessons for older kids or young tots.
Rudolph and the Misfit Adventures
Island of Misfit toys come from a loved world of exciting imaginary adventures. However, the story begins tragically after a toy taker steals children's toys from Santa. Rudolph, the Rednose Reindeer, enlists the help of Hermey, Yukon, and the Abominable Snowman to rescue the toys from Misfit Island and return them home.
It's an unknown yet similar story to Toy Story, with the same ups and downs. Ultimately, the toy taker reveals himself as an old teddy bear no longer wanted by his boy owner. Mr. Cuddles (toy taker) only wanted to save the misfit toys from being rejected when their children outgrew them.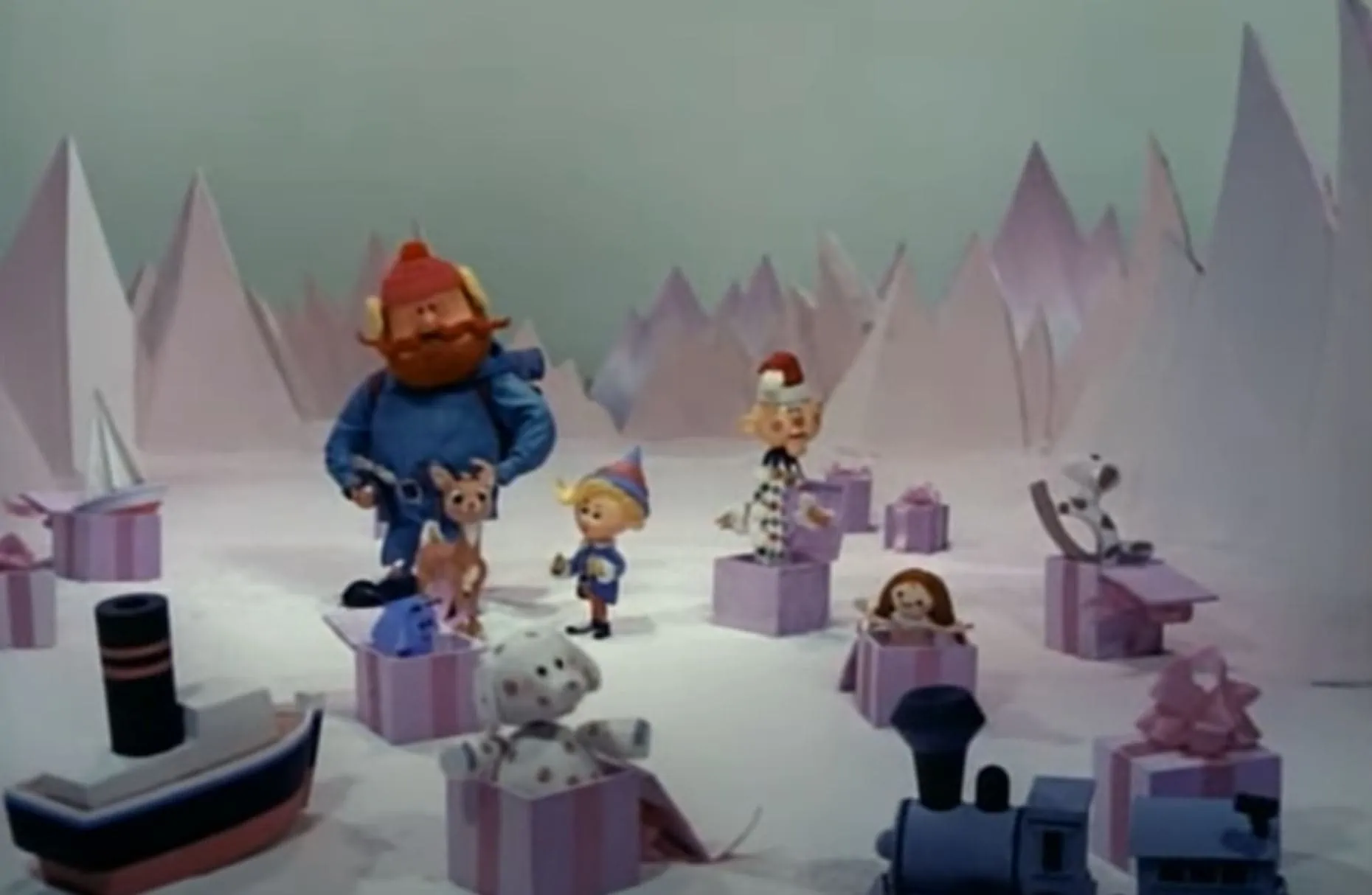 Little did Mr. Cuddles know that his owner never stopped loving him. Instead, he saved Mr. Cuddles for his children as a family gift. But, tragedy always leads to happy endings in children's movies. Island of Misfits fans get a reminder to cherish their toys as though they're sentient beings able to speak.
An adorable storyline creates a chance to teach the correct age group about cherishing their toys. Unfortunately, the target age group for these toys doesn't know about loving their plush friends and mini-figures.
Advice for Island of Misfit Fans
My son and daughter are 13 and nine, respectively, and they collect toys and cherish every one. However, it didn't begin like that. At first, my kids didn't look after their toys. Instead, their plushies looked like nightmare dolls, and their toy vehicles had no wheels or doors. So, I understand the pain of spending money on toys.
Many toys, prevalent ones like the Island of Misfit toys, gather a dollar momentum because children aren't happy with one toy. But would you have loved a single toy growing up? I didn't think so. So, teaching children how to look after toys is a valuable and often overlooked skill.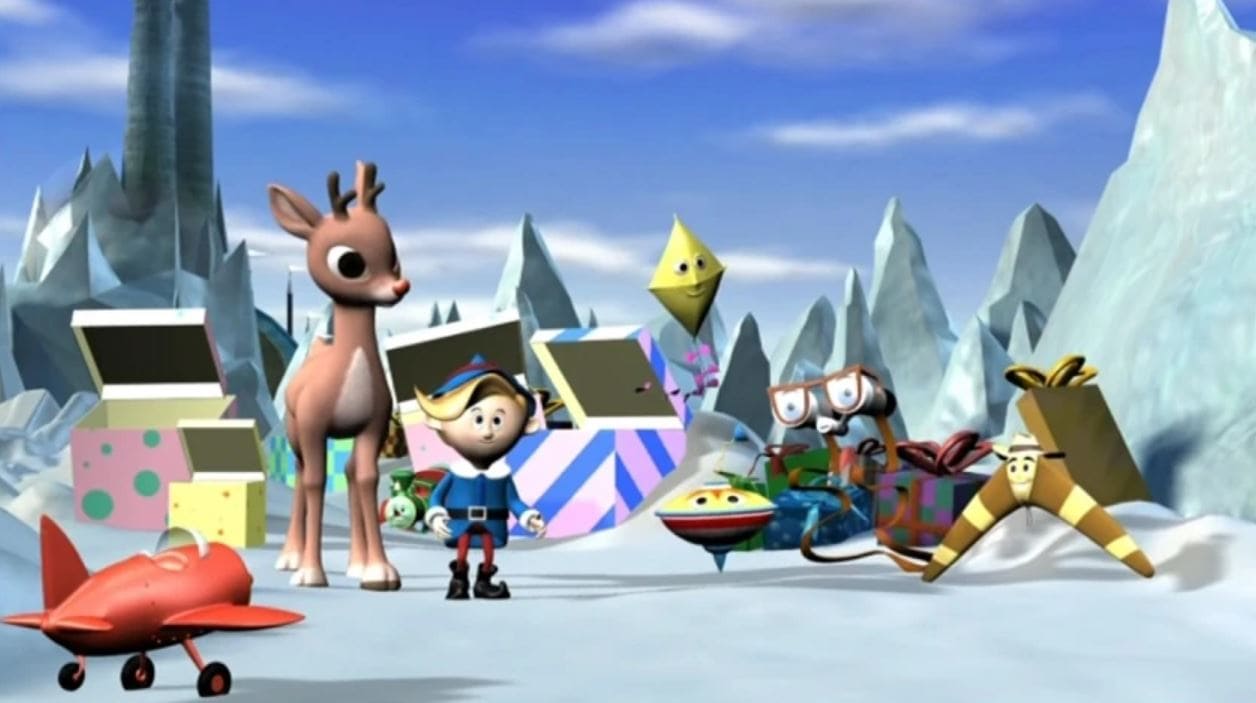 In addition, teaching them to be proud of their playthings will slowly resonate in other areas of their lives. For example, my son doesn't only collect and polish Funko Pop. But, he also keeps his shoes shiny for school and packs his clothes away neatly. Children should never see a lesson coming. Instead, it should land in their laps.
My advice comes straight from the heart. Introduce children to toys with the subtlest lessons and watch them soar. However, there's one consideration. Follow the age recommendations on each toy. Toddlers and preschoolers slowly learn to take pride in their belongings, and these toys target the correct ages.
How to Select the Top Island of Misfit Toys
Island of Misfit toys undoubtedly lack a variety or range, but there are excellent choices for toddlers and preschoolers. Therefore, I'll focus on finding Island of Misfit toys that best suit these developmental stages because toddlers and preschoolers are busy learning to own pride in their possessions.
They're also learning about ownership and independence, which Island of Misfit toys reinforce. In addition, I'll only be looking at Island of Misfit stuffed toys, not merchandise or Christmas ornaments. I want plush toys because they appeal to the show's lesson for children to cherish their stuffed animals.
In addition, stuffed toys are evergreen compared to others, and kids tend to love them longer. Finally, it would be a bonus if the plush had collectible potential.
Best Island of Misfit Toys Guide: My Plush Recommendations
Island of Misfits brought to life the tragic tale of what happens to many plush toys. However, the CVS Collectible Christmas Classics plush beanie range from 1998 and 1999 carries more sentimental value than most. The collectible plush toys will teach kids to cherish their stuffed beanies. Let's see which ones are still available.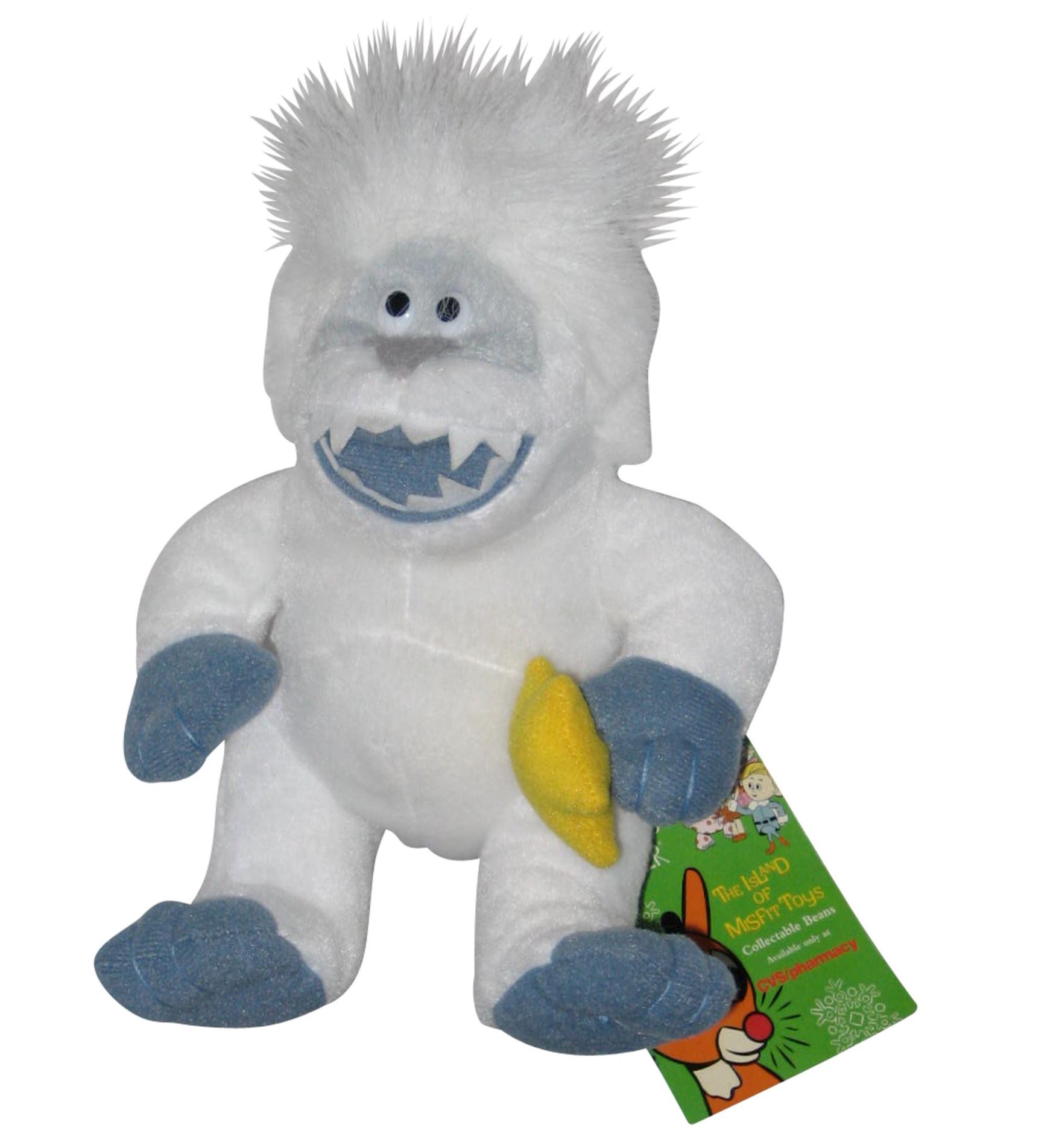 The Abominable Snowman is a great legend and myth for kids, whether they know him from Island of Misfits or another story. I love how this show brought the kinder side of the Abominable Snowman to light. The plush looks a little scary with giant teeth and a freaky hairstyle, but it makes the character suit the show better.
Island of Misfits Toy Facts
Category: Hero
CVS Year: 1999
Size: 7″
Island of Misfits Toy Pros
The CVS Abominable Snowman plush is adorable with his punk-rocker hairstyle and a crazy look in his eyes
The collectible plush from Island of Misfits comes with a tag and holds a star
He is perfectly safe for younger kids to play with
Toddlers and preschoolers will quickly learn to cherish the mythical beast, and his heroic efforts in the movie will encourage them to be brave and stand up for others
Island of Misfits Toy-Cons
The Abominable Snowman's teeth can be scary for little kids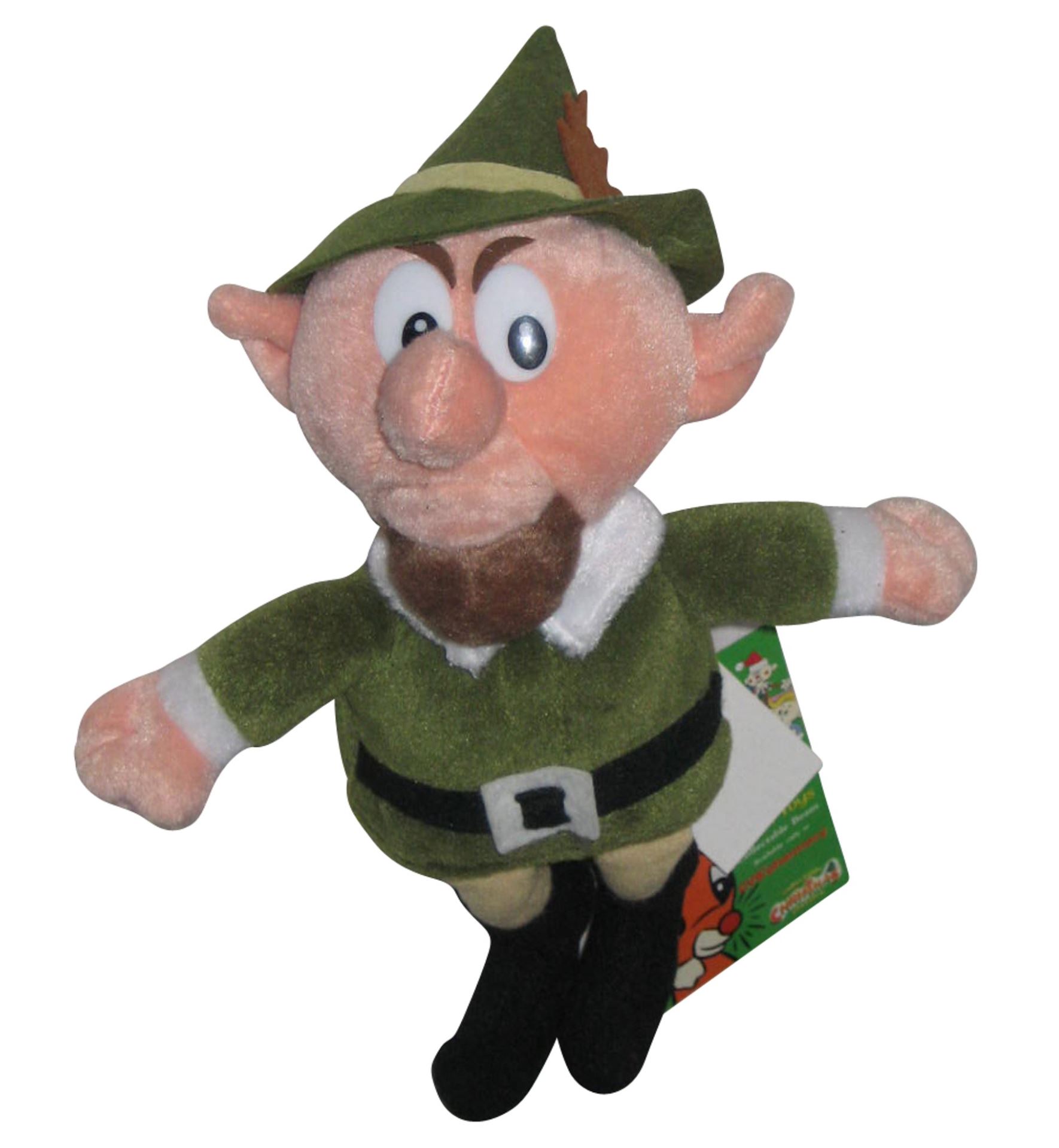 Stuffins didn't think before making the CVS Island of Misfits plush toys because the Boss Elf is taller than the Abominable Snowman. The height difference is unrealistic in myth and the movie. However, Boss Elf is a man with an attitude, and you can see it in his facial expression with this plush toy.
Island of Misfits Toy Facts
Category: Santa's Helpers
CVS Year: 1999
Size: 9″
Island of Misfits Toy Pros
The Island of Misfits Boss Elf Plush looks as mean as he seems in the movie, and his goofy ears make you giggle
The Boss Elf plush is as collectible as the others, and he comes with a tag for authenticity for young collectors
Young kids are sure to learn a lot about the elf plush because he might seem mean to Hermey and the crew, but the elf undoubtedly knows when his duties come first
Island of Misfits Toy-Cons
Boss Elf isn't always a mean-looking character in the various movies he appears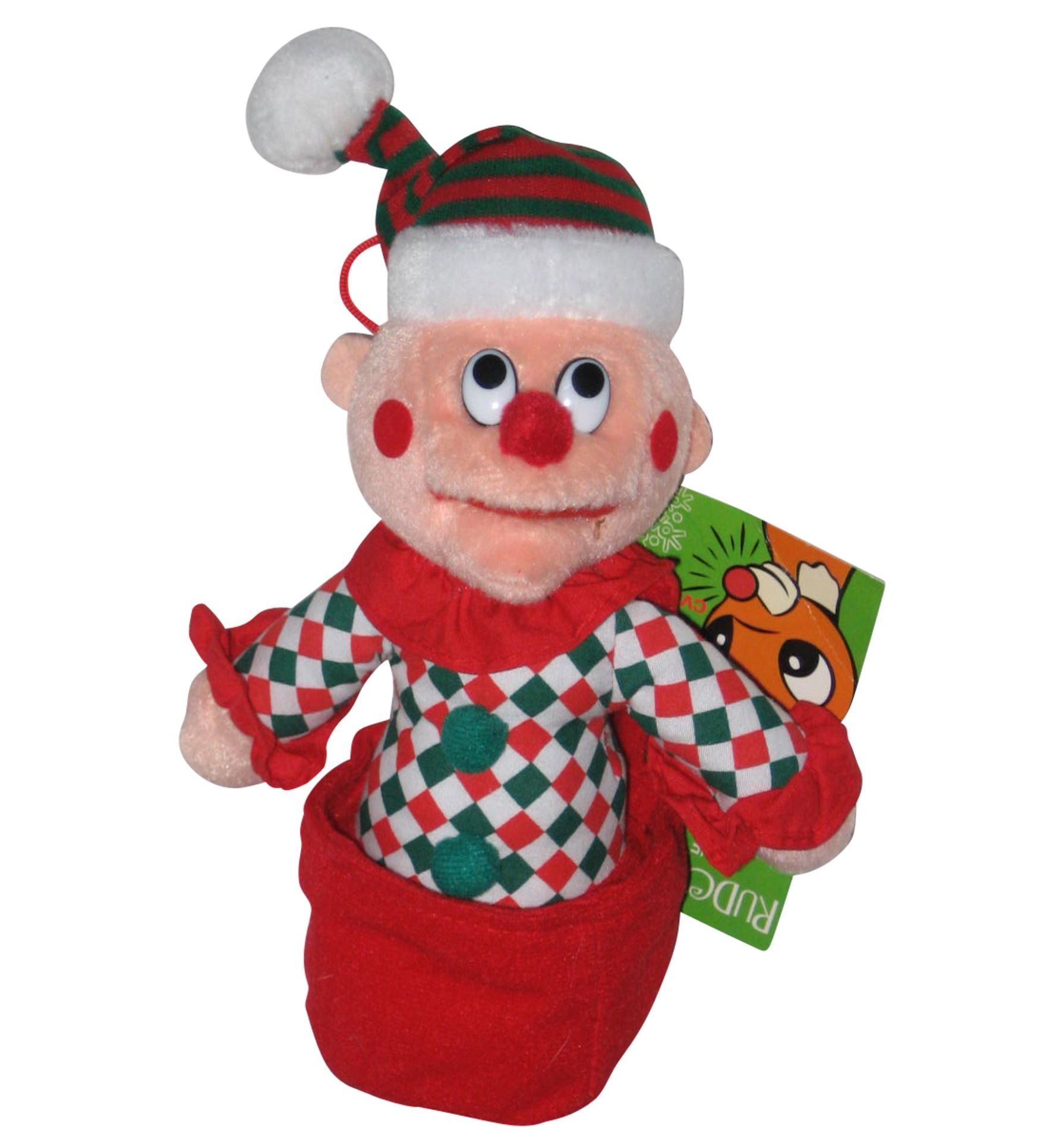 Charlie is one of the many misfit toys which become residents of Misfit Island. He claims no child can love a mismatched Charlie-in-a-Box and would rather play with Jack-in-the-Box toys. As a result, he develops intensely low self-esteem, to which some younger kids can relate.
Island of Misfits Toy Facts
Category: Misfit toy
CVS Year: 1999
Size: 7″
Island of Misfits Toy Pros
The Island of Misfits Charlie-in-a-Box plush looks neutral and friendlier than he often looks in the movie
The collectible CVS plush toy comes with an authentic tag for collectors
The design adorably looks like a clown
Charlie has many lessons for kids, especially if they have low self-esteem, and he can become a child's best friend while they learn to make friends
Island of Misfits Toy-Cons
Charlie's face doesn't match the movie, and collectors would want a perfect match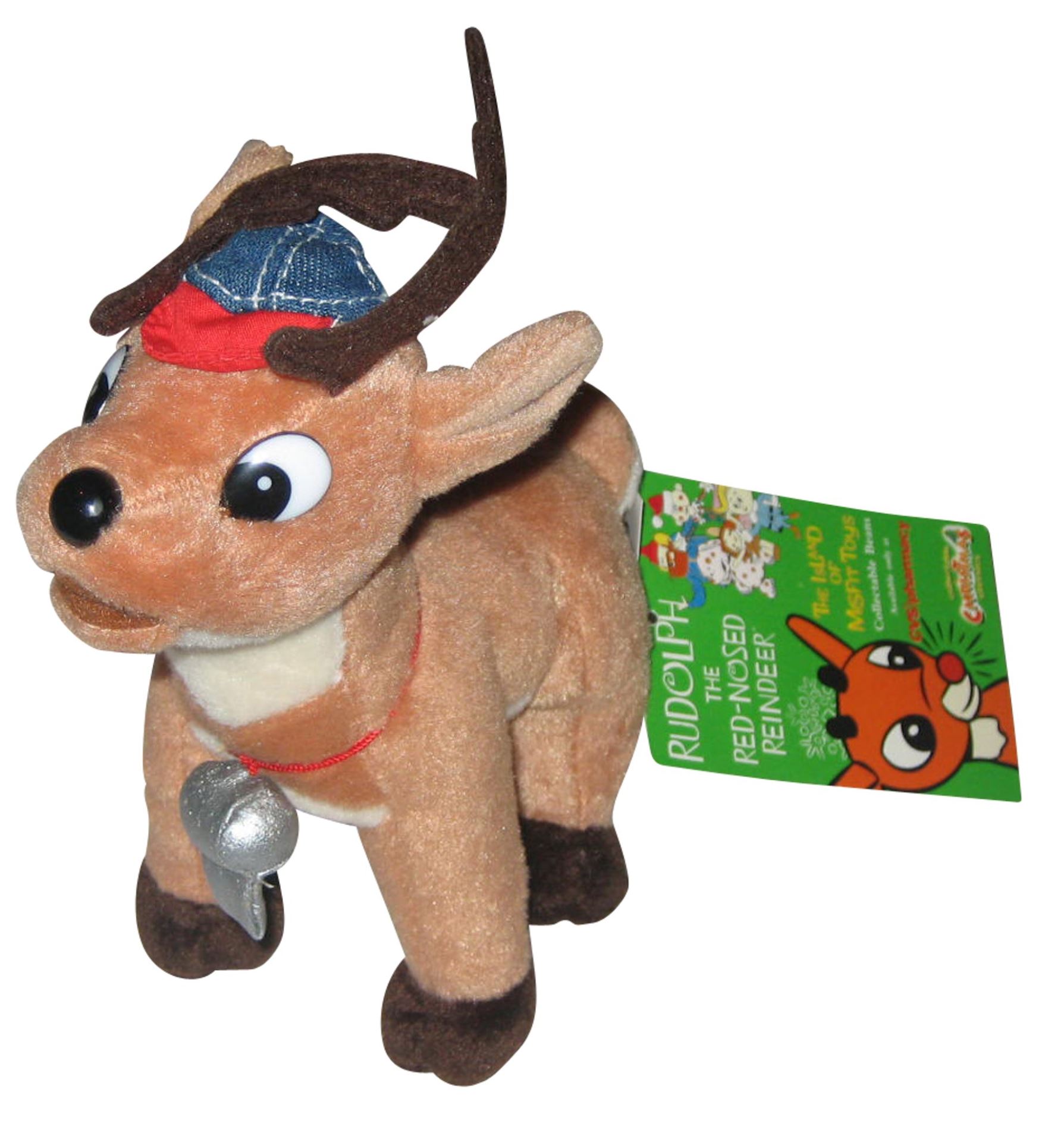 Most kids are passionate about Christmas, and Santa will know Comet, Santa's reindeer's most robust and stubborn. Comet's impressive following also ensures that most children would love him, whether they see the movie or not. Comet causes much havoc in the film because of stubbornness, but he's a laugh.
Island of Misfits Toy Facts
Category: Santa's Helpers
CVS Year: 1999
Size: 8″
Island of Misfits Toy Pros
The Island of Misfits Comet Plush looks mischievous more than stubborn with this plush, which is adorable
The collectible plush toy includes the tag and famous coach whistle
The details look incredible for a small stuffed animal
Young kids can learn different lessons from the Comet plush because he coaches them to be persistent, determined, and confident
Island of Misfits Toy-Cons
Comet's style is off because he isn't a naughty reindeer like Rudolph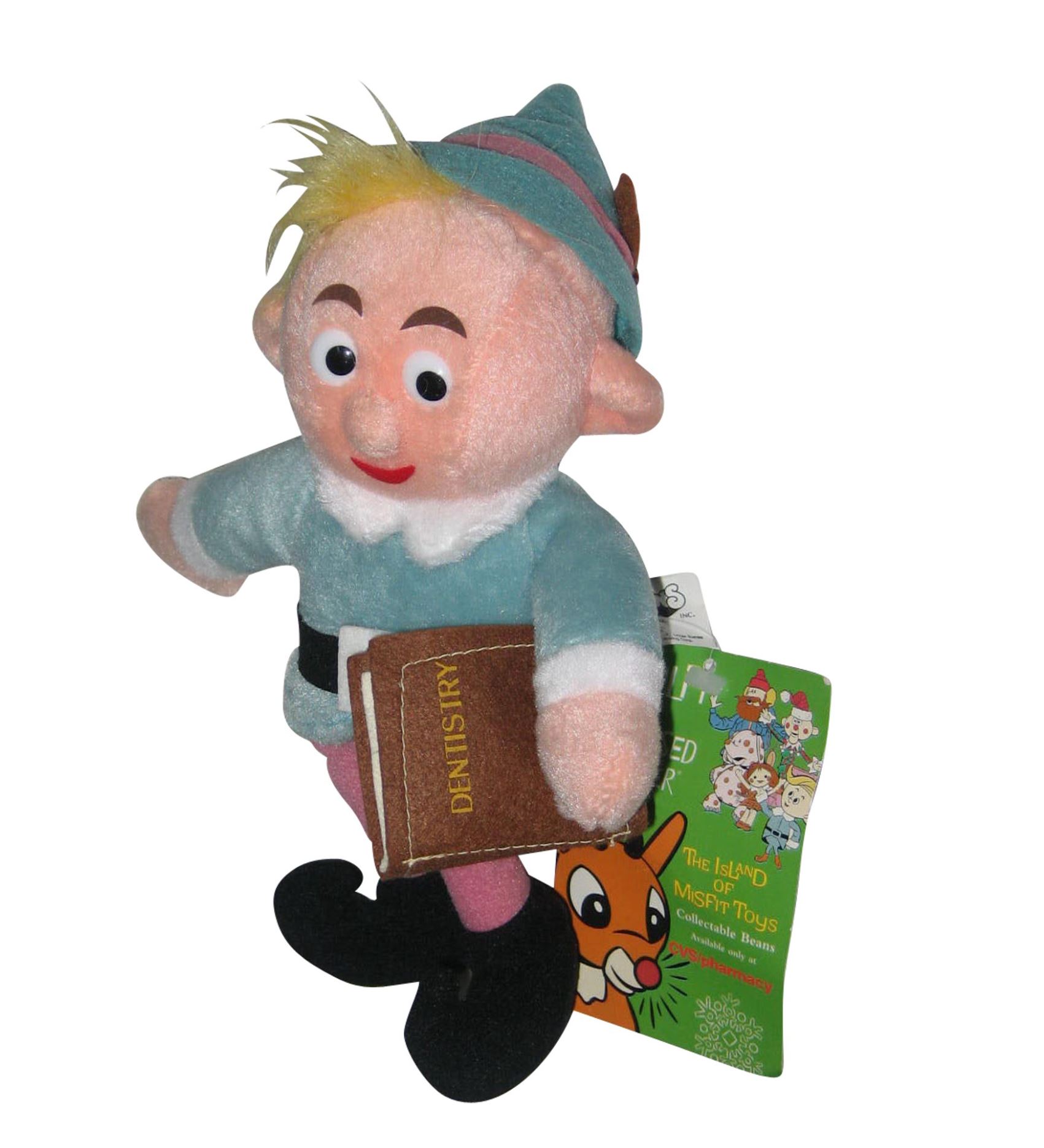 Hermey is an unusual elf, unlike the toy-making, song-singing elves in the North Pole. Instead, Hermey dreams of becoming a dentist, studying and ignoring the calls from Boss Elf. In a sense, I admire Hermey for trying to become something his entire family and group of friends believe won't happen.
Island of Misfits Toy Facts
Category: Hero / Misfit Elf
CVS Year: 1999
Size: 7″
Island of Misfits Toy Pros
The Island of Misfit Toys Hermey Plush looks like a sweet, innocent elf with massive dreams, carrying his dentistry study guide under his arm
The collectible toy is one of the main characters from the Island of Misfit toys, and he's a must-own for collectors
Hermey can teach younger children about pursuing their dreams, whether other people believe in them or not
Island of Misfits Toy-Cons
Some of Hermey's features, like the hair, are fragile and will break with excessive play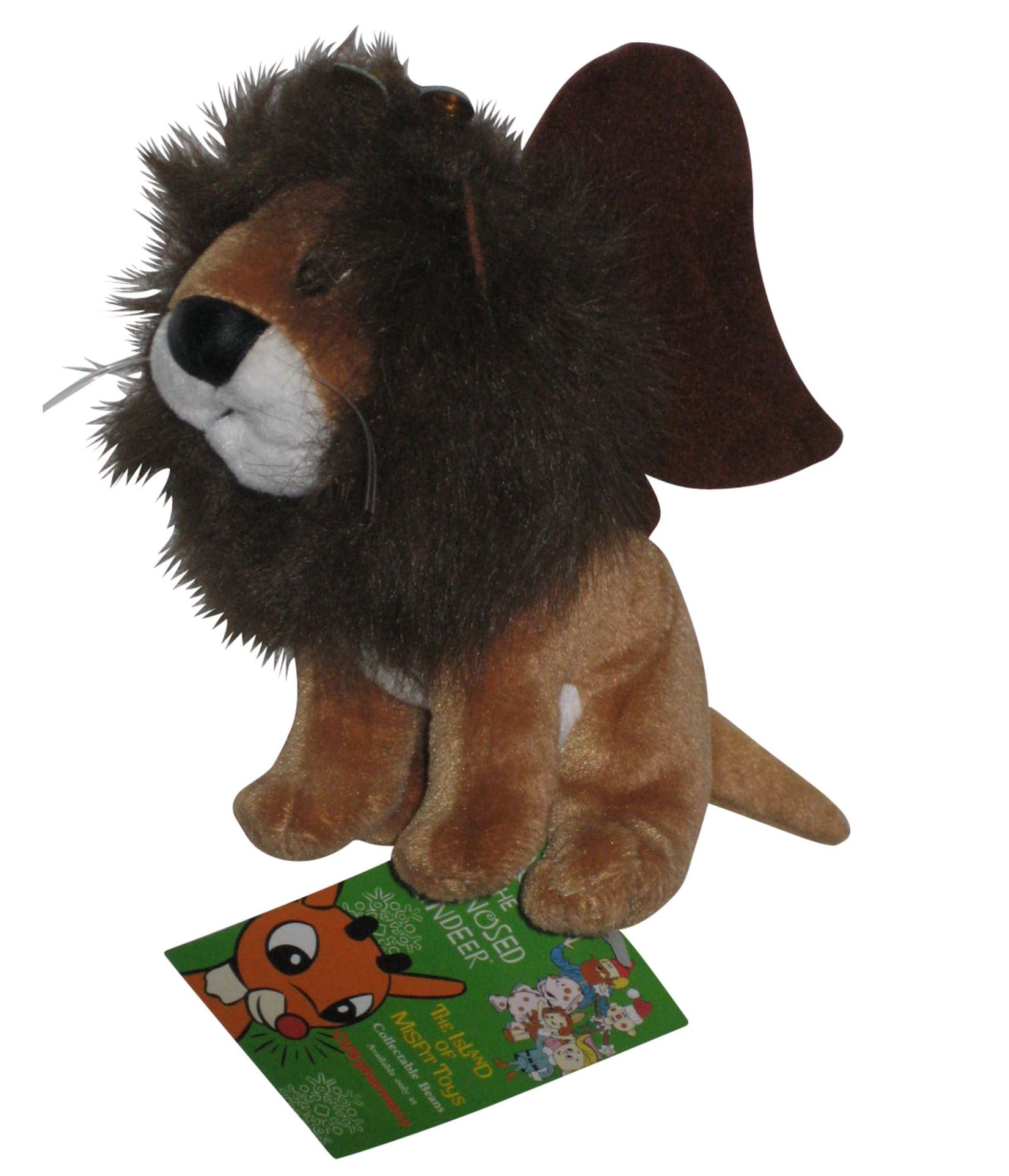 King Moonracer is a unique character on Island of Misfit toys because he isn't quite a misfit. Some fans even believe he isn't a toy but rather a mythical ruler watching over the mismatched toys on the island. I love King Moonracer because he has confidence like no other character and teaches children to show theirs.
Island of Misfits Toy Facts
Category: Island Ruler
CVS Year: 1999
Size: 5″
Island of Misfits Toy Pros
The CVS King Moonracer Plush is a brilliant design that makes him look half mythical rather than a genuine lion
The collectible value is next-level with the King Moonracer toy because he leads the Island of Misfit toys, and he comes with a tag
King Moonracer could teach your little one to shine bright like no one's business with his confident character and beast-like style
Island of Misfits Toy-Cons
I can't believe King Moonracer's plush toy is so tiny compared to others
I see the value of the creative edge because I'm creative myself. Putting a cowboy on an ostrich undoubtedly makes him feel ostracized and cast out from the usual toys. Ostrich-riding is a thing, but cowboys and ostriches are the last things that Western fans think about, whether they're kids or adults.
Island of Misfits Toy Facts
Category: Misfit Toy
CVS Year: 1999
Size: 8″
Island of Misfits Toy Pros
The CVS Cowboy on an Ostrich Plush salutes everything mismatched about the toys on the island
The cowboy comes with an authentic CVS tag to make him collectible
The design is adorably weird when you try to match the two concepts
An ostrich-riding cowboy can teach kids about being different by encouraging them to think outside the box
Island of Misfits Toy-Cons
The cowboy on an ostrich plush undoubtedly has a few flimsy pieces that break with time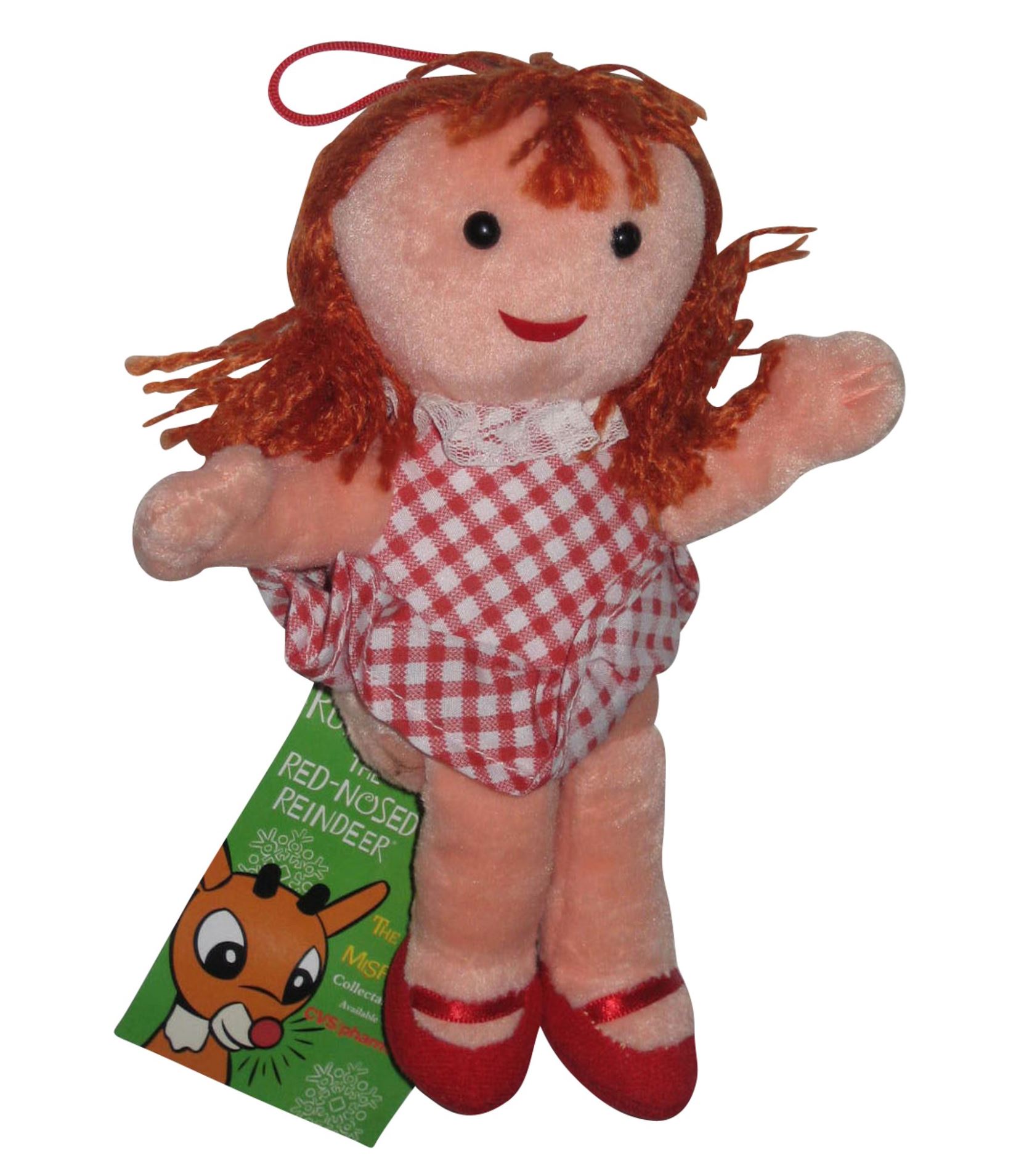 Dolly is another misfit toy from the island, and her story or lesson is straightforward. But sadly, the young doll suffers from depression and low self-esteem. Why may you ask? Dolly's initial design is what makes her feel worthless. In addition, she has red hair, and all parents know how hard that can be for children in school.
Island of Misfits Toy Facts
Category: Misfit Toy
CVS Year: 1999
Size: 7″
Island of Misfits Toy Pros
The CVS Misfit Doll Plush represents her character well because she looks sad regarding her appearance
The Dolly plush has the authenticity tag from CVS to make her collectible
She's adorable to people who like red hair like me
Dolly can help children realize their red hair is gorgeous, or she can help other kids accept how uniquely beautiful red hair looks
Island of Misfits Toy-Cons
Unfortunately, Doll's hair is a mess and fragile enough to break off easily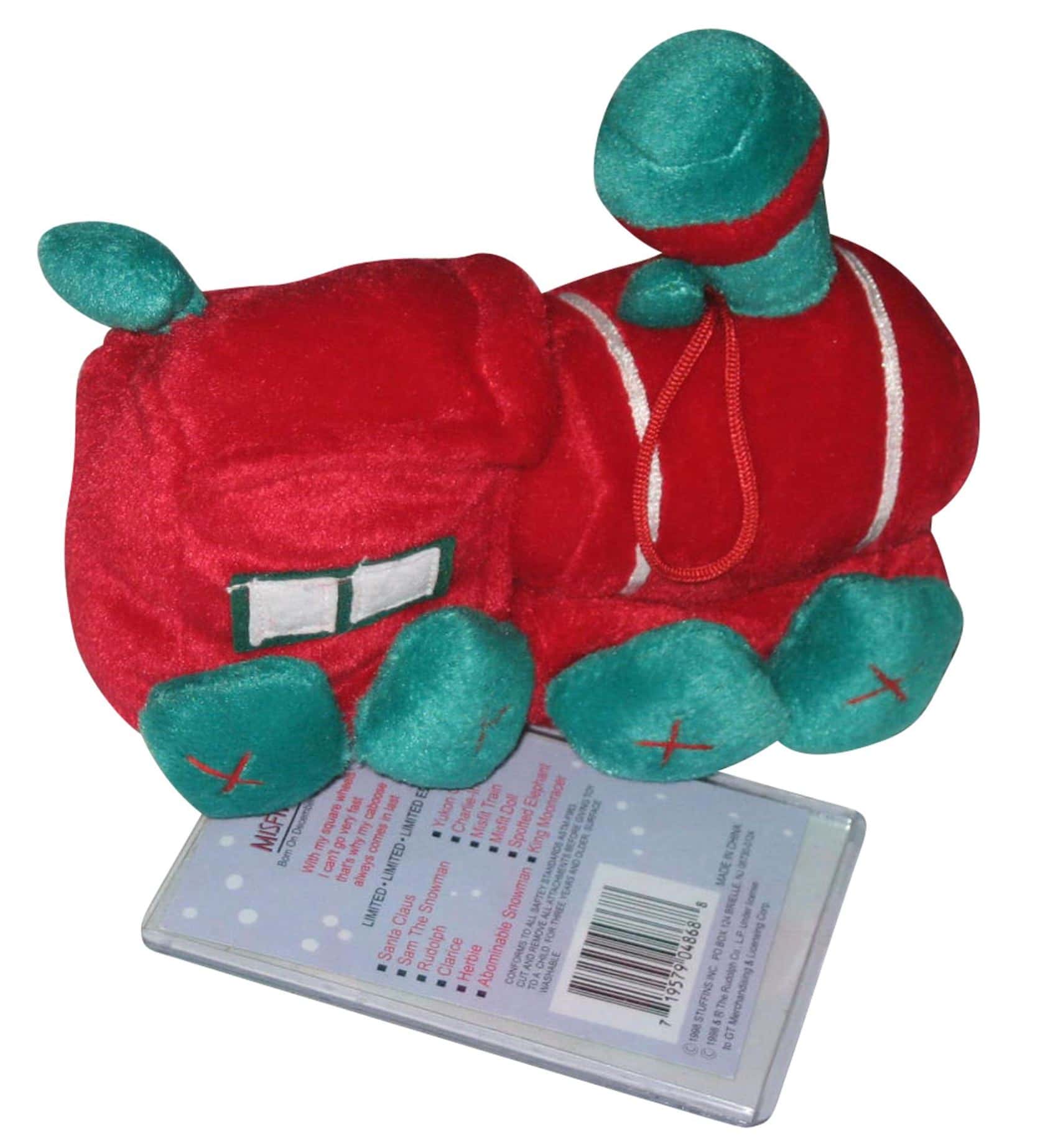 The red train from the Island of Misfit toys also has a sad story. The toymakers put square wheels on the train, making his movability impossible, which is why he ended up on the island with other misfits. He couldn't believe a boy would play with a train that couldn't move. So, I understand Misfit Train's issue well.
Island of Misfits Toy Facts
Category: Misfit Toy
CVS Year: 1998
Size: 5″
Island of Misfits Toy Pros
The CVS Misfit Train Plush makes the character look adorable, with a friendly face despite his square wheels
The red train from Misfit Island is highly collectible, and it's a 1998 model that increases its collectible potential
The red train can teach children about pursuing their dreams and remaining determined, even when they face seemingly impossible challenges
Island of Misfits Toy-Cons
The shape looks weird because it's a beanie plush rather than having standard stuffing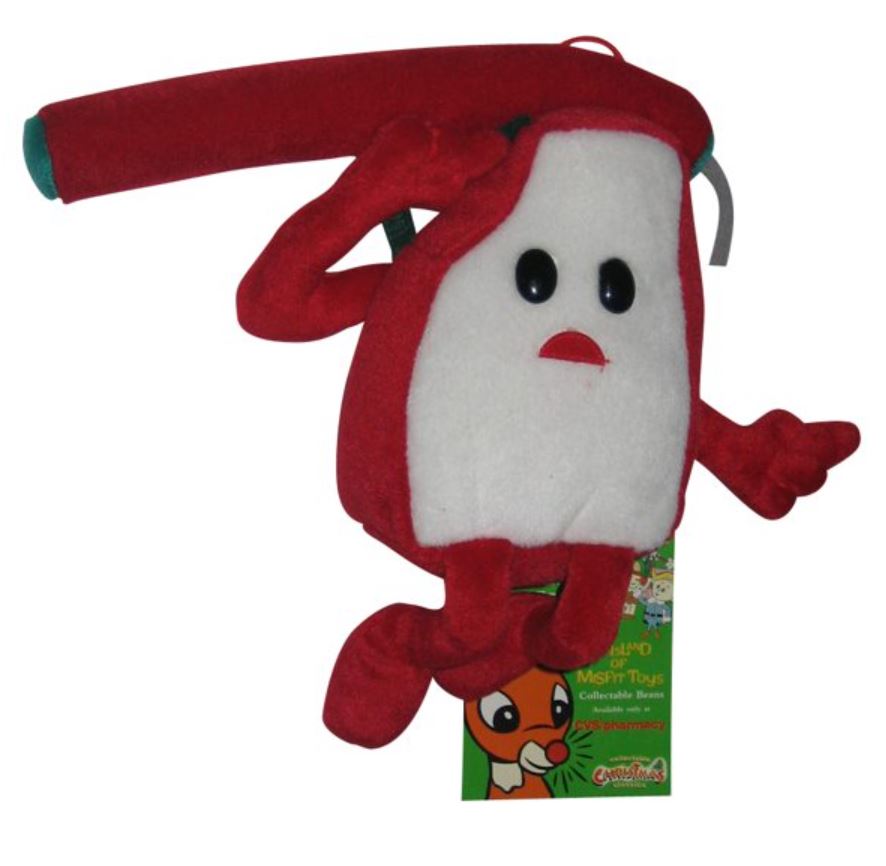 What do you imagine children doing with water pistols? Rightfully, you imagine them squirting each other with water and making a mess in the backyard. However, the red water pistol from the Island of Misfit toys has a story that says otherwise. The toymakers unfortunately designed him to squirt grape jelly instead of water.
Island of Misfits Toy Facts
Category: Misfit Toy
CVS Year: 1999
Size: 8″
Island of Misfits Toy Pros
The CVS Water Pistol Plush looks as confused as the movie's character if you watched it
The red water pistol stuffed toy is another collectible beauty with a tag
The design is comically cute
Children could learn that it's okay to stand out and be different because they can do it if the little red water pistol can learn to accept grape jelly
Island of Misfits Toy-Cons
The plush toy's design is flimsy and would break with too much play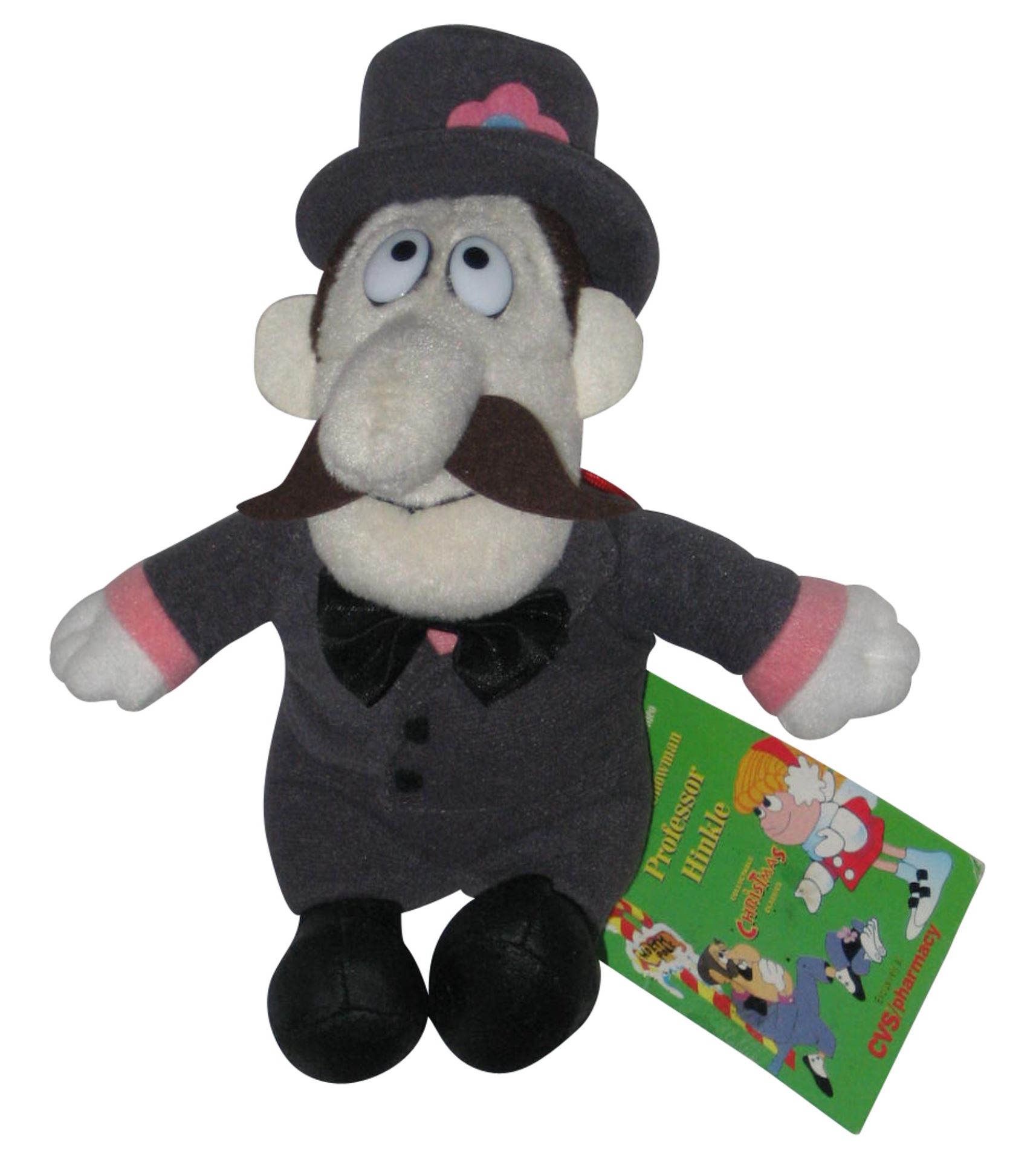 Professor Hinkles is likely one of the least collectible characters from the movie because he's a villain more than anything. He has magic powers and doesn't teach positive lessons to kids. However, I added him because he was one of the few remaining collectible CVS plush toys for the Island of Misfit.
Island of Misfits Toy Facts
Category: Villain / Magician
CVS Year: 1999
Size: 8″
Island of Misfits Toy Pros
The CVS, Professor Hinkle Plush, looks as naughty as the movie shows him
He might not be as collectible as the loved characters, but he still helps to complete the collection
Professor Hinkle can't teach children many valuable lessons if any at all, but he still offers value as a lesson to cherish toys before they turn bad
Island of Misfits Toy-Cons
Professor Hinkle won't be on every child's wishlist and better suits collectors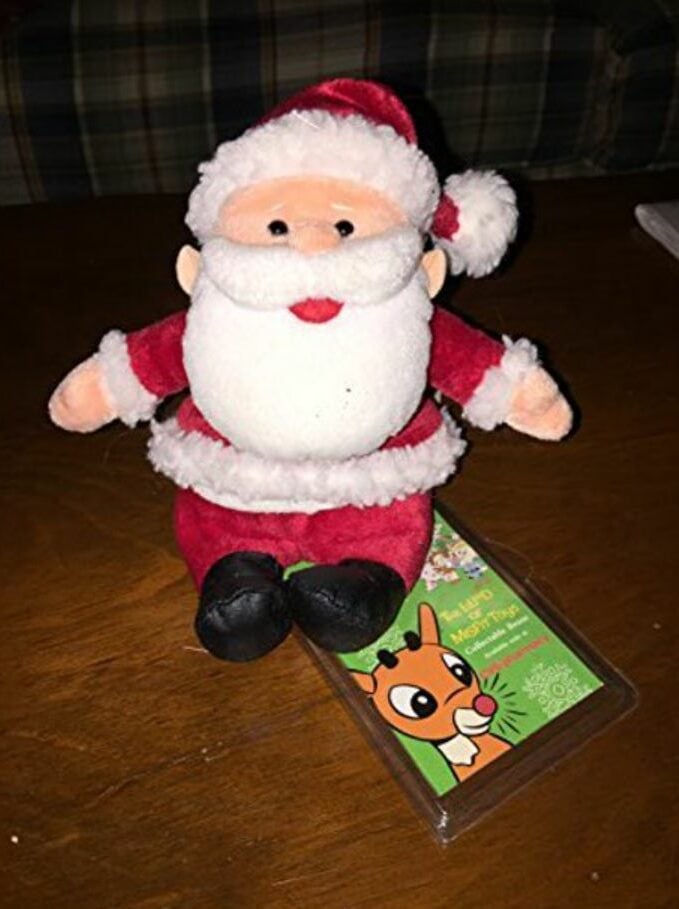 Santa Claus is a well-known and much-loved plush toy for children worldwide. However, the Island of Misfit version of his character is somewhat sketchy. Santa ultimately sends the misfit toys to their doom because he chooses not to deliver toys with faults. Honestly, I don't mind children seeing another side to Santa.
Island of Misfits Toy Facts
Category: North Pole Leader
CVS Year: 1998
Size: 7″
Island of Misfits Toy Pros
The CVS Santa Claus Plush looks like the jolly toy kids love, but it also matches the movie's character
Any Santa Claus plush from CVS is collectible, including a tag for authenticity
The design is adorable to look like the friendly Santa kids know well
Santa Claus teaches children about many wild dreams and fantasies, but this version can show kids that everyone has two sides and can make mistakes
Island of Misfits Toy-Cons
Santa's beard and hat are fragile enough to break with time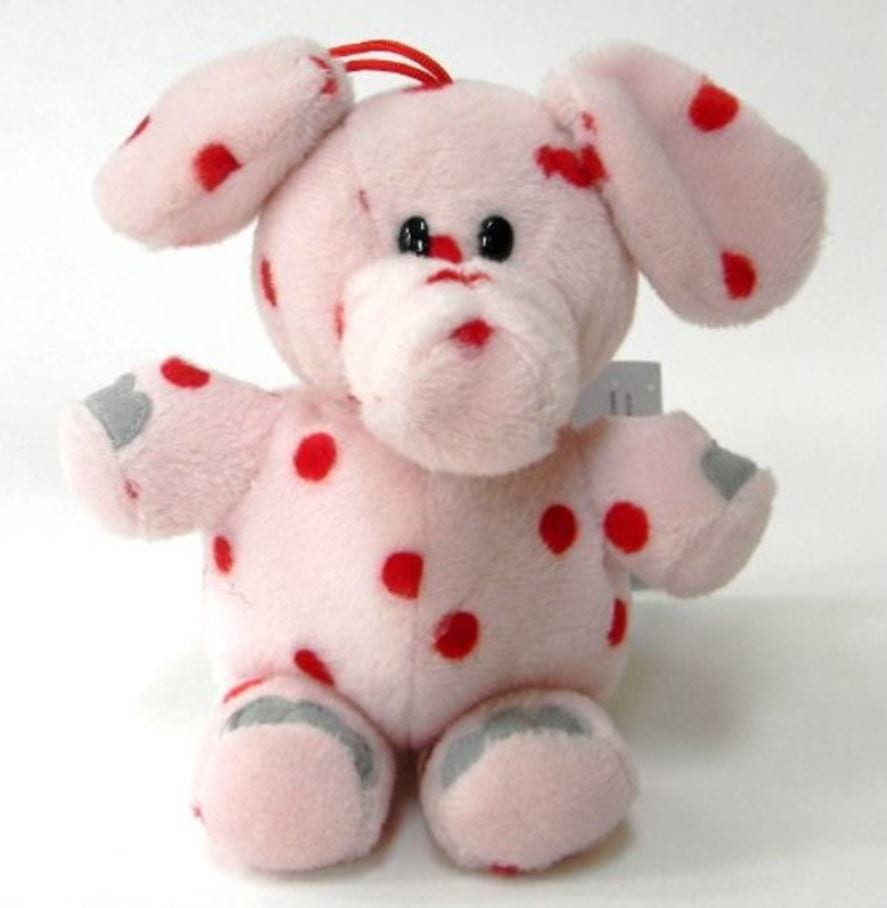 The spotted elephant from Misfit Island seems like the least mismatched character because the pattern and color make it feel like an outcast. In contrast, I think the spotted elephant is one of the most adorable plushies. My daughter would've loved the imagination behind it.
Island of Misfits Toy Facts
Category: Misfit Toy
CVS Year: 1998
Size: 7″
Island of Misfits Toy Pros
The CVS Spotted Elephant Plush looks cuter than pie with a pink background and red spots
It's another highly collectible 1998 CVS plush toy from the Island of Misfits
The design looks incredible for little girls
The spotted elephant can show young girls how being slightly different could make them beautiful
Island of Misfits Toy-Cons
I'm not 100% sure if the plush toy has an authentic tag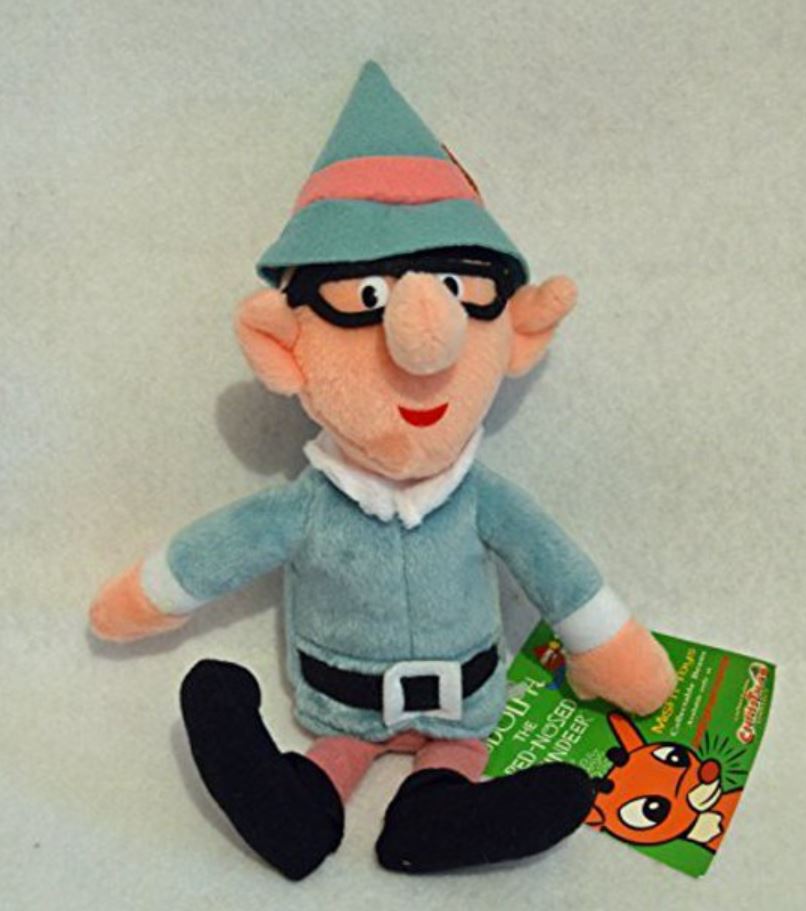 I agree that the character name's aren't super original because Tall Elf got his name from his height. However, young children seem fine with clear titles like this elf. This Island of Misfit toy character also doesn't play a significant role, making him another maybe collectible for Misfit fans.
Island of Misfits Toy Facts
Category: Santa's Helpers
CVS Year: 1999
Size: 8″
Island of Misfits Toy Pros
The CVS Tall Elf Plush looks like his character and stands taller than most plushies in this range
The plush toy includes a tag for collectibility
The design is cute enough for an elf
I can't imagine skills Tall Elf can share because he isn't essential in the movie, but the plush can merely teach kids to cherish toys
Island of Misfits Toy-Cons
It's not a featured character from the Island of Misfit toys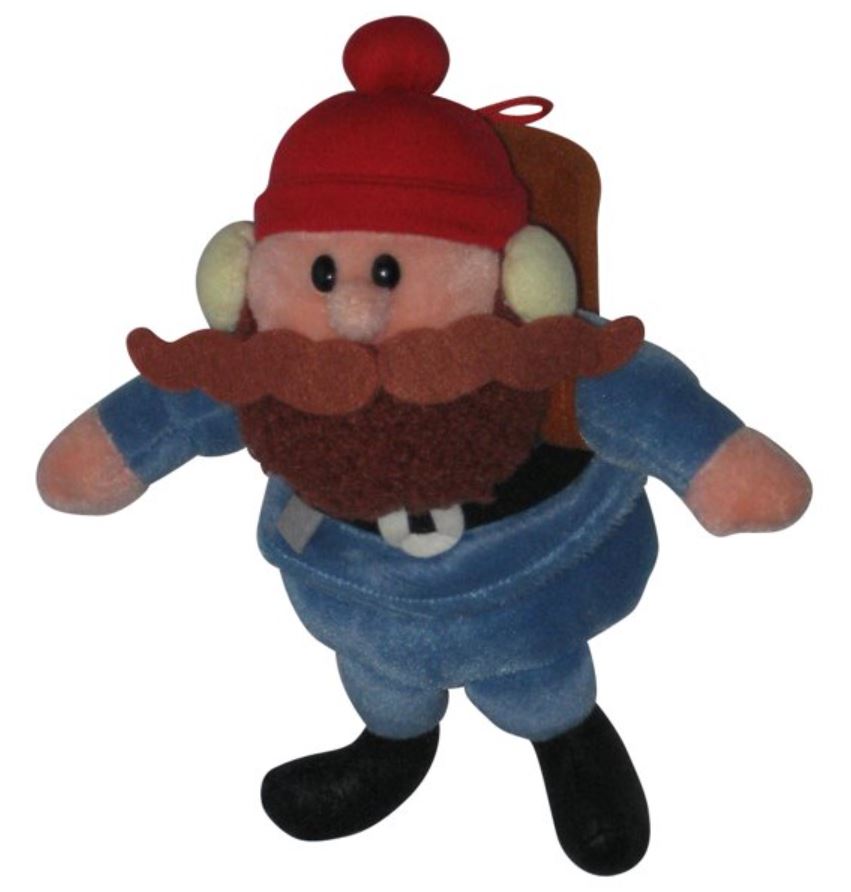 Yukon is an admirable character from the Island of Misfit toys because he judges no one and shares his skills to help Rudolph and the others. Little children can learn much from this Misfit character, who also has red hair. Admittedly, I love red hair, but the generalization can be hard on kids.
Island of Misfits Toy Facts
Category: Hero
CVS Year: 1999
Size: 7″
Island of Misfits Toy Pros
The CVS Yukon Cornelius Plush is brilliant because it captures the character's personality well
Yukon is one of my most collectible characters because he represents many kind traits I love seeing in my kids
Yukon can teach children to accept others, no matter how they look or sound, and he always helps others in trouble
Island of Misfits Toy-Cons
Sadly, Yukon doesn't come with an authenticity tag
FAQs
Question: How Many Toys Were on Misfits Island?
Answer: There were 14 misfit toys on the island, including a doll, scooter, airplane, spotted elephant, water pistol, and judgemental pig freak. Others included a set of clown matryoshka dolls (Russian dolls), a train with square wheels, a bird that couldn't fly, and a cowboy riding an ostrich.
In addition, King Moonracer led the island of misfits. Finally, the toys included a Charlie-in-the-box (like a jack-in-the-box), a boat that couldn't float properly, and a blue bear with random feathers on its tail. Every toy had a misfit reason. For example, cowboys don't ride ostriches, and trains can't depend on square wheels.
Question: Are the Island of Misfits Toys Collectible?
Answer: Yes, the Island of Misfits toys are collectible. The plush beanies from CVS (1998 to 1999) are pricy yet sought-after by collectors and parents who want kids to learn to cherish stuffed animals. However, the Christmas ornaments and figurines aren't collectible and don't suit children's playtime activities.
Question: Why Was Charlie a Misfit Toy in the Island Of Misfits?
Answer: Charlie believed no child would love him because his name was mismatched to the type of toy he represented. He thought every child wanted a Jack-in-the-Box toy instead, and that's how he became a sentry on the island. The toy taker reinforced Charlie's belief that no child could want him, making him an angry toy.
Question: What Types of Toys Are Available for Island of Misfit Toys?
Answer: Unfortunately, the only playthings still available are Island of Misfit Plush. However, you can search eBay for collectible toys from the Island of Misfits. You'll find Island of Misfit Toy Figures, Island of Misfit Toy Playsets, and Bumble & Friends Playsets. However, the sets are second-hand and change due to rarity.
Ultimate Island of Misfit Toys Guide: Conclusion
The word cherish and toddlers don't often mix well, but Island of Misfit toys can make the difference. Let kids learn about looking after their things by playing with toys and plushies. The Island of Misfit toys works if you let kids watch the movie so they can relate to each character's plush toy better.
Ultimately, I still encourage you first to buy the CVS Island of Misfits Hermey the Elf Plush because it represents many suitable lessons for children. In addition, the CVS Hermey plush is also the starter for any collection. You also know that the Island of Misfit toy collectibles are becoming rarer and rarer as time passes.
So, pick your child's lesson or your collector's heart's passion, and buy the best Island of Misfit toy now before the plushies also disappear.
For more exciting educational toys:
Best Spongebob Toys Guide for Play Education – Avid Toy Insider
Best Imaginext Toys Guide for Imaginative Play – Avid Toy Insider
Complete Guide to Tonka Toys for Young Engineers – Avid Toy Insider