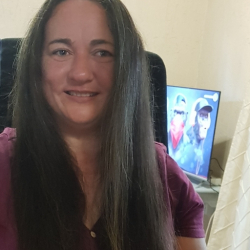 Latest posts by Caroline Lambert
(see all)
Do you hear Tee-Hee every time your little girl sees Minnie Mouse pictures and toys? Then, the ultimate guide to Minnie Mouse toys will help you repeat the adorability of your little one saying, Tee-Hee. Minnie Mouse toys are a favorite Disney-themed pleasure for girls. My daughter loves the mouse, who became a global icon.
I also grew up loving Minnie Mouse, maybe more than Mickey. She has a worldwide following, leading to toys that target specific age groups, fit into favorite types, and encourage the best playtime activities. However, I'll focus on girls ten and younger because there are many Minnie Mouse toys I recommend for this age group.
Let's get you one step closer to the cute Tee-Hee echo.
Bottom Line Up Front
Would you like to know why I recommend Minnie Mouse toys for younger girls? Minnie Mouse has been an iconic personality for young girls since 1928. There aren't many personalities moms can hand down to their kids like Minnie Mouse. Let her influence your little girl's playtime as she did for you growing up.
I picked the 22 best Minnie Mouse toys for girls ten and younger. I even include favorite baby toys. Each toy will align with a popular category to help your little girl develop the personality traits she needs in life. Have a peek at my Minnie Mouse toy variety for prim and proper little girls. You can always read on if the toys interest you.
My Top Minnie Mouse Toys at a Glance
My best Minnie Mouse toys appeal to girls who love girly activities and playtimes. Some also appeal to modern girls who want electronic toys and collectible figures. Here's a snippet of my top picks:
Minnie Mouse Toys: An Ultimate Guide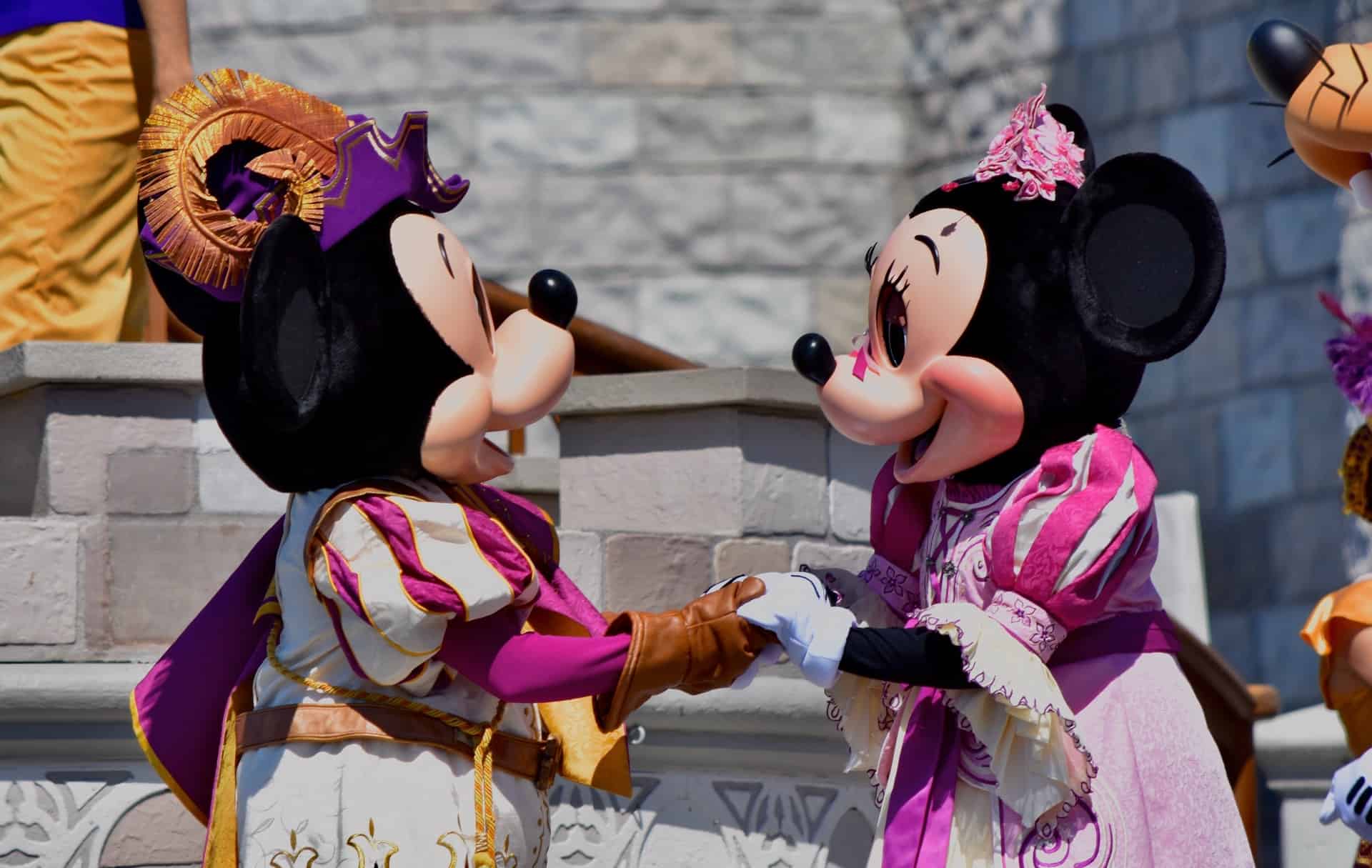 Minnie Mouse is a legend to girls worldwide. She's likely one of yours. Why shouldn't she become your little girl's nostalgic memory one day? Let's see why she's so fabulous, advise you on Minnie Mouse toys for little ones, and determine what makes the best ones.
Minnie Mouse: A Disney Icon
Minnie Mouse and her famous Tee-Hee laugh come to every mom's mind because we grew up with her. I remember wanting Minnie Mouse shoes, backpacks, and plush. I had stickers on everything because Minnie was my first best friend. My mother also loved Minnie Mouse when she grew up. It's a generational thing.
There's nothing more precious than sharing your childhood passions and memories with your little girl. My daughter doesn't understand Cabbage Patch Kids as much as she does with Minnie. I can't explain how deep our bond runs when we share Minnie's love. I'm excited to find her new Minnie Mouse toys.
She does backflips when I show her my collectible Minnie Mouse merchandise. If you ever wondered what makes Minnie Mouse toys so spectacular, you can stop now. Share your childhood with your little girl.
Tips for Minnie Mouse Toys
Sure, sharing our love for Minnie Mouse brings my daughter and me closer. However, Minnie Mouse toys target young girls still developing skills. Choosing age-appropriate toys that your little one loves because of her favorite activities or toy types is the gateway to helping your child pursue the correct abilities.
I'm always looking for how I can improve my daughter's trajectory in early childhood development. I wrote another article about the best types of toys, which leads to various activities and what skills they offer. I don't thumb-suck my facts, either. I'm super serious about how each toy benefits my child.
How does my pursuit of the perfect toys by age and type relate to your child's Minnie Mouse fetish? I recommend that you pick the best toy for their age and preferred type because it promotes the relationship between playtime and learning. Give your little girl the kick-start she needs with Minnie Mouse toys.
Selecting the Best Minnie Mouse Toys
I won't complicate my Minnie Mouse toys too much. Minnie Mouse is iconic enough to have countless toys, so my best picks come from three guidelines:
Each toy should center on Minnie Mouse.
I'll target girls ten and younger because they love the Tee-Hee queen.
The toys should fall under popular type girls of this age love.
Ultimate Minnie Mouse Toys Guide: The Mousey Options
Perhaps I should stop the serious talk. Minnie Mouse toys are also fun beyond words. You'll merely have to pick one that makes your little girl smile from the moon to the sun. I'll show you the type or sub-type of each while sharing the recommended ages.
Little girls love creating jewelry and wearing the prettiest necklaces. I'm sure you've found your daughter scratching through your jewelry box. Instead, you can buy her a beautiful Minnie Mouse necklace activity set. Allow her to express her creative side while designing the most beautiful necklaces and bracelets.
Tee-Hee Facts
Type: Minnie Mouse jewelry set
Ages: 3 to 10
Pros
The Minnie Mouse jewelry kit has five different necklace and charm bracelet designs, and your little girl can create new styles each time
The Minnie Mouse accessory set provides hours of creative learning while your daughter enjoys herself
Cons
Don't allow little girls under three to play with it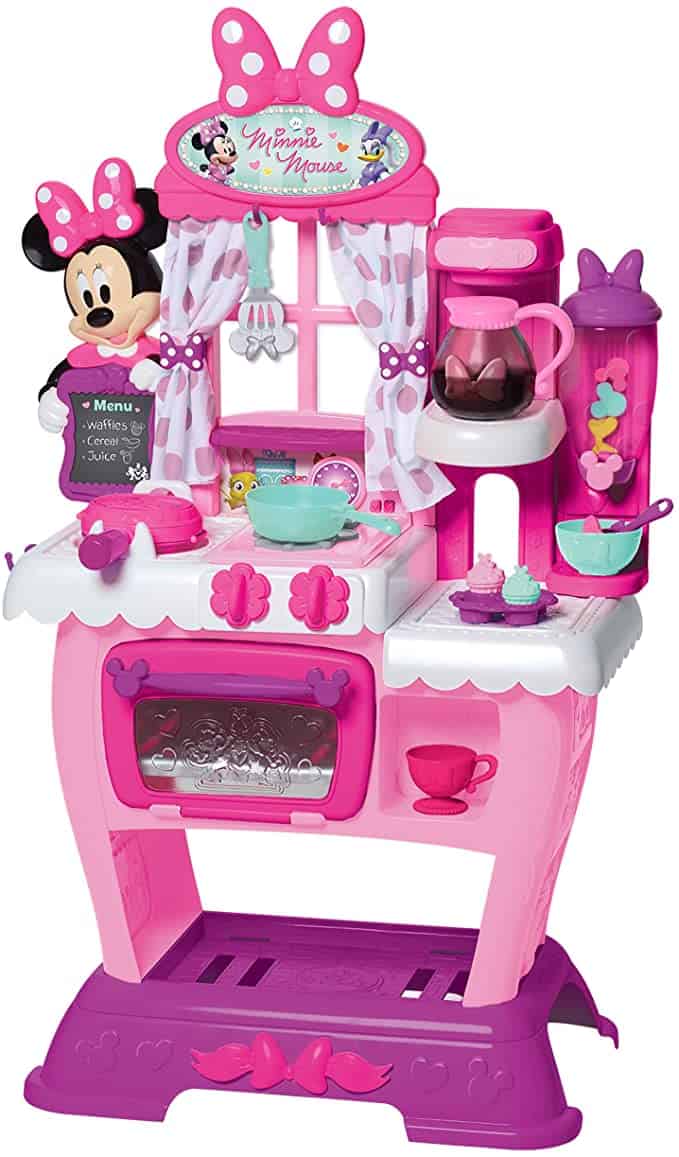 My daughter can't get enough of pretend play activities. I love seeing her pretend to run a boutique or shop for mommy's groceries. Minnie Mouse's imaginative play is fabulous for your daughter's educational activities as any role-playing set. I love this set because it's one of my daughter's favorite role-play activities.
Tee-Hee Facts
Type: Minnie Mouse brunch cafe role-play set
Ages: 3 to 10
Pros
I love how the interactive Minnie Mouse playset helps my daughter pretend to run a busy restaurant
The 39″ tall Minnie Mouse cafe set plays sounds and has the famous phrase every girl knows
Cons
Don't buy this Minnie Mouse playset for kids under three
My first two Minnie toys were for toddlers and older kids. I want a few baby options, and the Minnie Mouse baby plush is the first beauty. The feet have buttons for noises that teach babies about their ABCs and 123s. It's also an interactive Minnie Mouse musical plush that babies can enjoy to learn cause-and-effect.
Tee-Hee Facts
Type: Musical Minnie Mouse baby plush
Ages: 9 months and older
Pros
I love that babies can press Minnie's chest to hear "I love you" more than the lessons from the feet and hands
The Minnie Mouse plush's design is safe for babies, and toddlers will keep learning from the pretty stuffed toy
Cons
Preschoolers will undoubtedly outgrow the Minnie Mouse plush with letters and numbers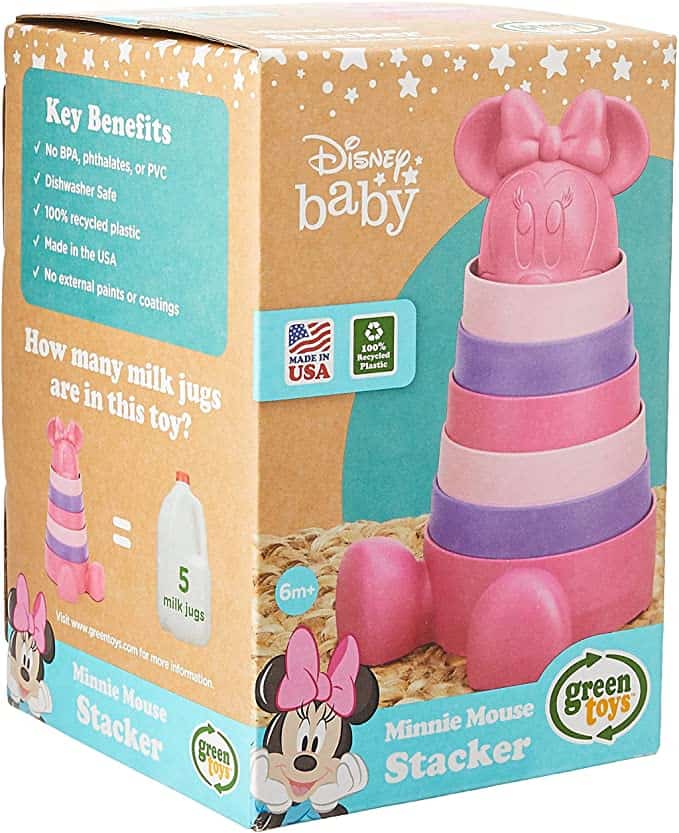 Babies benefit vastly from plush toys but love playing with stacking toys. The Minnie Mouse stacking toy is ideal for babies learning to put blocks on top of each other. Babies also exercise their fine motor skills by practicing the pincer grasp. This Minnie Mouse baby toy is adorable and has tons of excitement for laughing little girls.
Tee-Hee Facts
Type: Minnie Mouse stacking toy
Ages: 6 months and older
Pros
The Minnie Mouse stackable toy has seven pieces that end with Minnie's face to complete her look
The plastic pieces are BPA and phthalate-free to keep babies happy and healthy
Cons
This Minnie Mouse baby toy won't suit girls once they reach two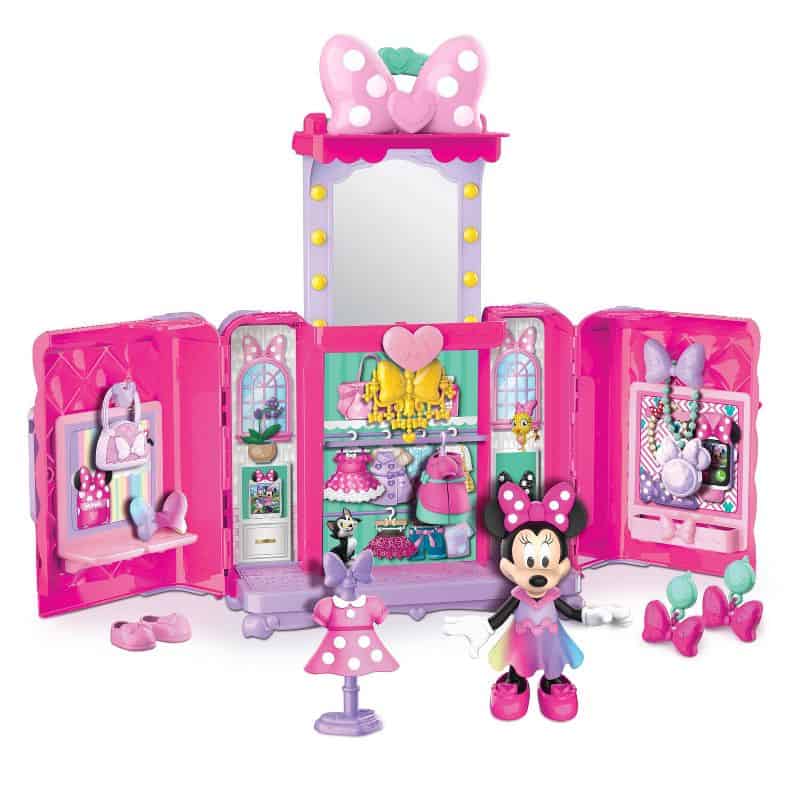 I promised a variety, meaning I must focus on babies through to 10-year-olds. My daughter loves dressing her dolls up in the prettiest outfits. The Minnie Mouse dress-up set gives her a change of clothes while she has accessories to add to the bendable Minnie figure. It also comes in a gorgeous carry case for easy storage.
Tee-Hee Facts
Type: Minnie Mouse dress-up kit
Ages: 3 to 10
Pros
The Minnie Mouse dress-up playset includes shoes, earrings, dresses, bows, jewelry, and even pajamas
The set also lights up and plays music for your little girl to have endless Minnie Mouse sensory play while she dresses the icon
Cons
Please keep it away from kids under three because it has many choking hazards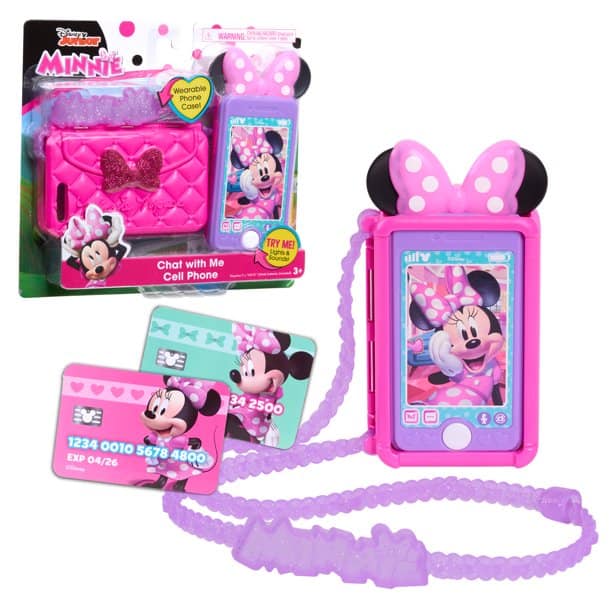 Kids are into electronic toys today. Some parents don't love the idea of buying their preschoolers iPhones and laptops. Minnie Mouse phones work perfectly as an alternative before your daughter convinces you to buy her first iPhone. I like this phone set from Minnie Mouse because it comes with a purse for some traditional play.
Tee-Hee Facts
Type: Minnie Mouse play phone kit
Ages: 3 to 8
Pros
The Minnie Mouse play phone lights up and plays realistic sounds for your little one to think she has an actual phone
It comes with a pretty purse for storage, and it has a massive pink bow on top to make it look more girly
Cons
You're bound to get into trouble as a mom once your daughter learns what an actual phone does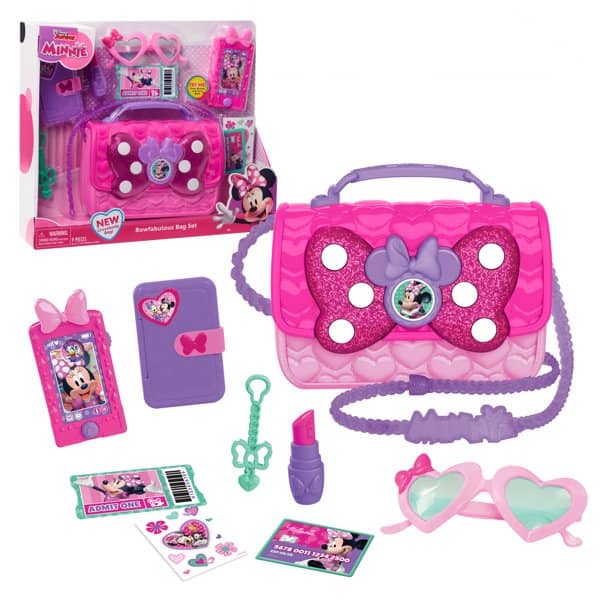 Little girls love make-up as much as jewelry. I always found my daughter walking around the house in my heels while her face looked like something from a circus show. It takes time to teach your daughter what make-up should look like, and you don't want chemicals on her skin when she's so young. Plastic make-up is excellent.
Tee-Hee Facts
Type: Minnie Mouse make-up kit
Ages: 3 to 8
Pros
The Minnie Mouse make-up set includes a handbag, lipstick, glasses, stickers, a phone, and a phone pouch
I see my daughter feeling like a Disney princess with her pretend Minnie Mouse make-up accessories
Cons
It doesn't have a lot of make-up accessories included (but it's a girly glamor set)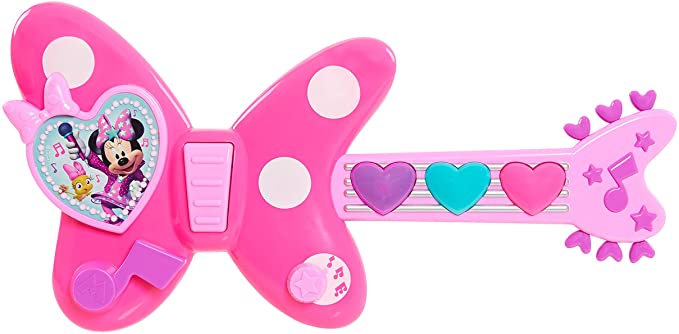 My daughter is musical on another level. She just began violin lessons because she loves stringed instruments. Okay, she's a bit older now, but she loved musical instruments from her favorite themes. Combining her musical talent with a Minnie Mouse instrument was like handing her Christmas morning in July.
Tee-Hee Facts
Type: Minnie Mouse musical guitar toy
Ages: 3 to 8
Pros
The Minnie Mouse guitar looks like a bow with hearts all over the neck to make girls feel more glamorous
The Minnie Mouse instrument has three play modes and two favorite songs from the Disney Junior series
Cons
Kids will drive you mad with musical toys and need many batteries, but I promise it's worth the madness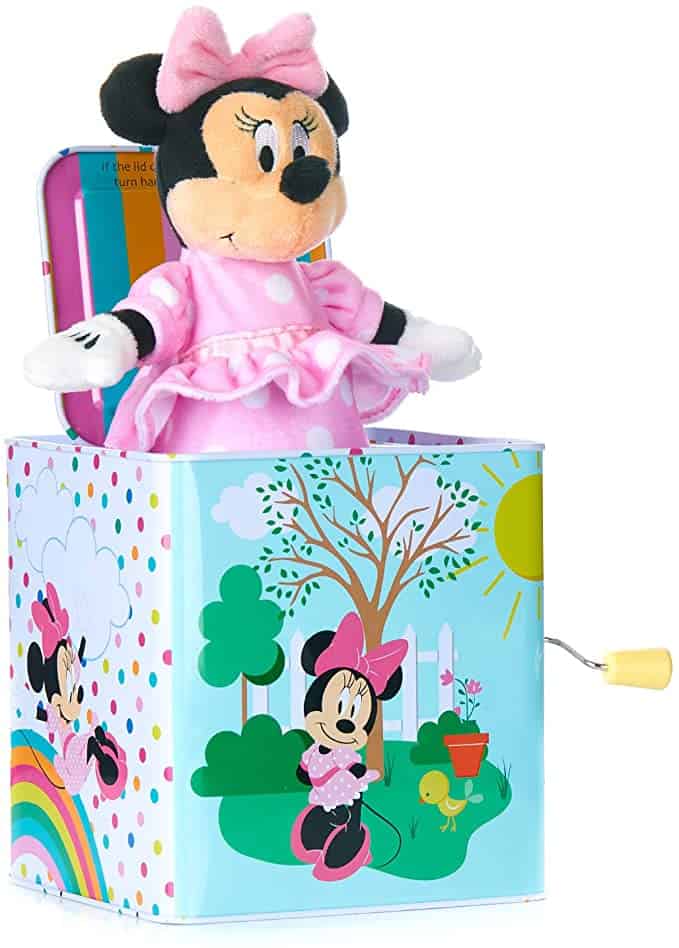 I'm going straight from musical instruments to Minnie Mouse musical toys. I'm sure you're rolling your eyes now, but kids need musical playtime. Musical toys help children develop intellectual, emotional, and creative skills like no other toys. Minnie Mouse's musical playtime is as adequate as any other noisy toy.
Tee-Hee Facts
Type: Minnie Mouse musical jack-in-the-box
Ages: 1 to 6
Pros
The Minnie Mouse musical toy is a classic jack-in-the-box that allows babies to play peekaboo, a valuable playtime activity for this age range
The adorable Minnie Mouse jack-in-the-box plush pops out of a tin box when kids wind the toy up
Cons
Parents might go insane with the noises again, but the giggles alone are worth every song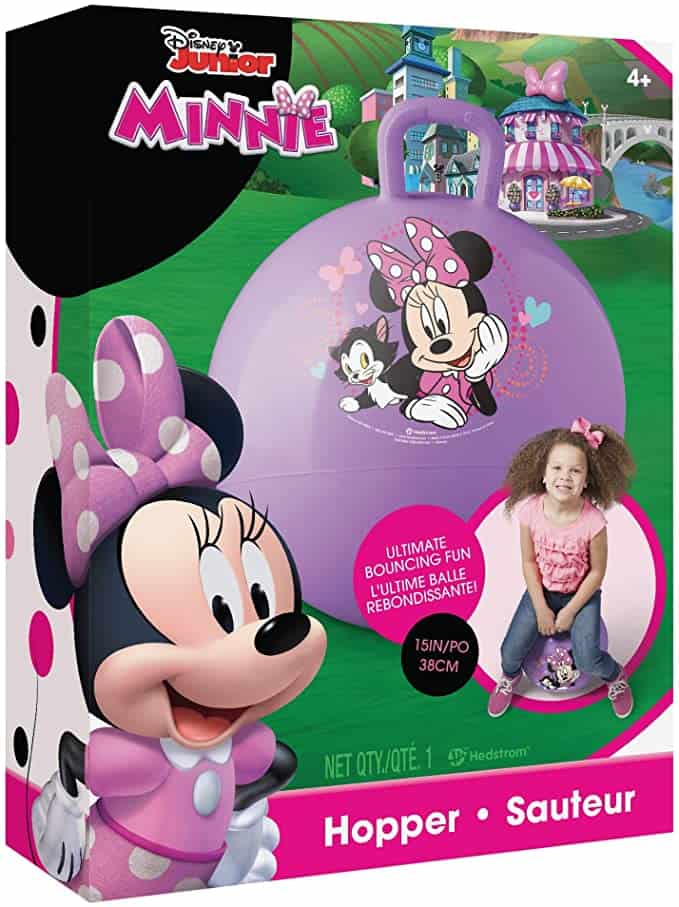 Minnie Mouse also comes in a range of outdoor toys. Every little girl needs some time in the warm sun to soak up the natural benefits of outdoor play. I picked the Minnie Mouse bouncy ball over the tents to get the children active. Your daughter will be bouncing her way through the backyard, giving you a few giggles.
Tee-Hee Facts
Type: Minnie Mouse bouncy ball
Ages: 4 to 10
Pros
I love how silly my daughter looks when she bounces her way over the lawn, and she exercises her gross motor skills while doing it
The Minnie Mouse Hopper Ball's style is from the Happy Helpers range, which is better known to today's Minnie fans
Cons
Little kids might need some supervision unless they're hopping about a soft lawn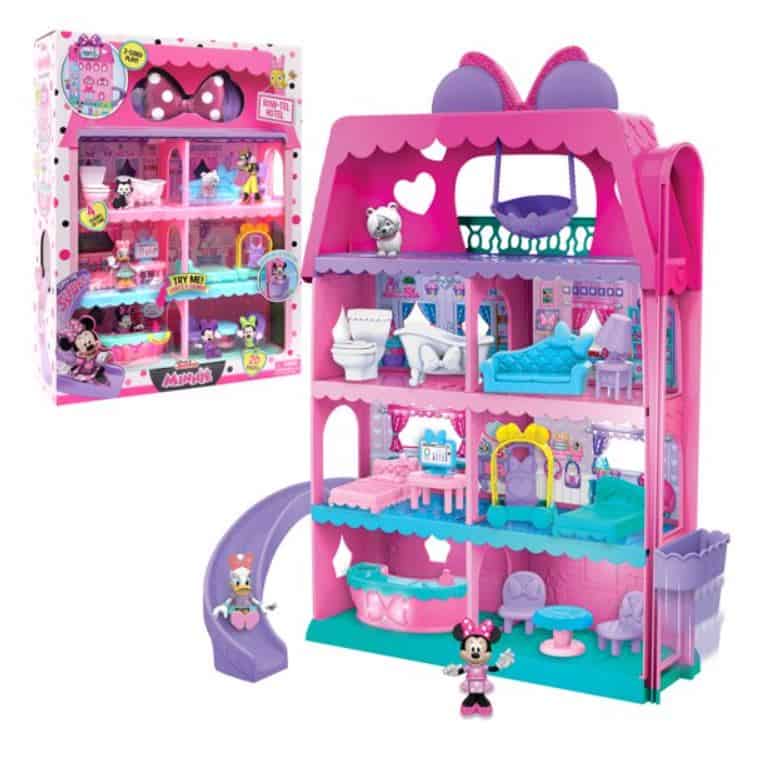 Little girls dream of playhouses where everything's possible and nothing's farfetched. My daughter has a massive playhouse, not a Minnie Mouse one, but she spends hours with her pretend play. The Minnie Mouse playhouse set is fantastic because it's double-sided and interactive with lights and sounds.
Tee-Hee Facts
Type: Minnie Mouse playhouse set
Ages: 3 to 10
Pros
The Minnie Mouse playhouse has everything little girls dream about, including furniture, a slide, an elevator, a Minnie Mouse figure, a Daisy Duck figure, and pets
The playhouse lights up with musical joy while little girls enjoy playing pretend from both sides for social learning
Cons
It has too many choking hazards for girls under three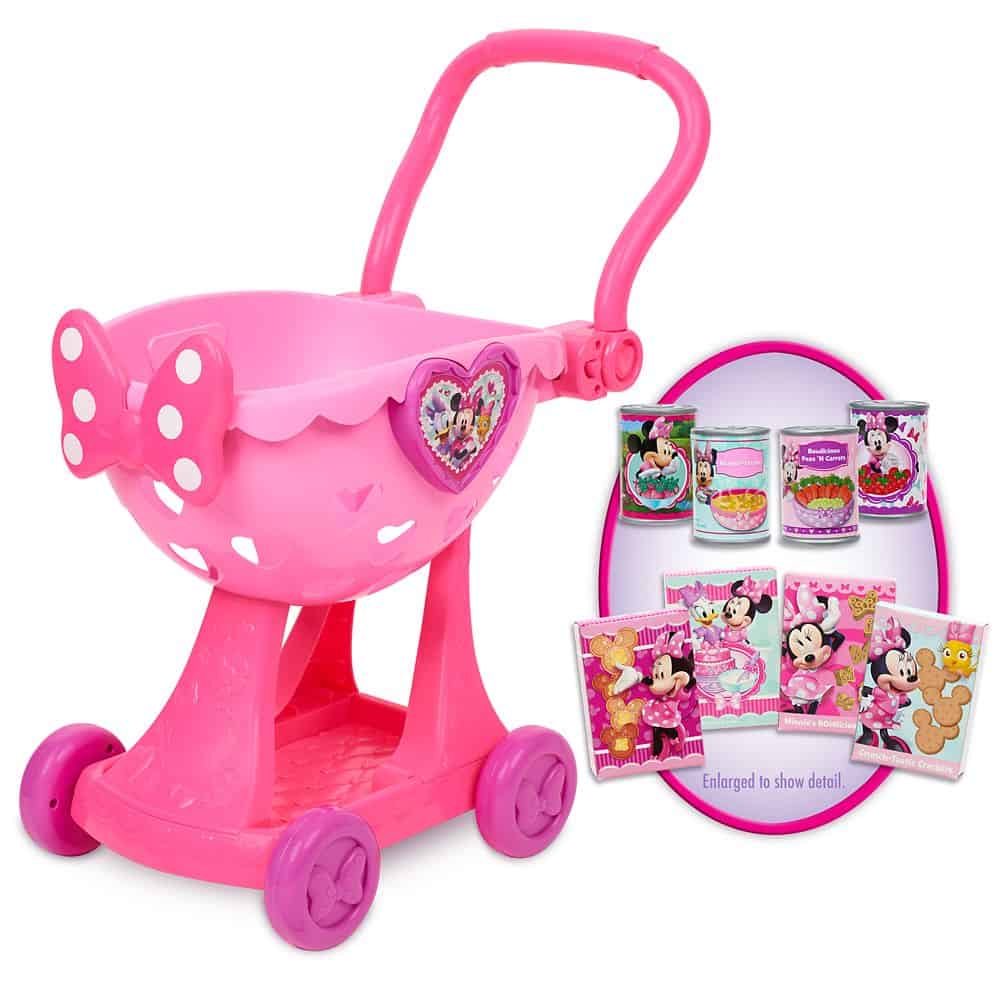 Your daughter benefits from the moon and back with pretend play activities, which explains why I'm adding many role-playing activity sets. My little girl loves shopping with me. I also love it now that she's older and doesn't throw tantrums for every toy and candy bar. The Minnie Mouse pretend shopping cart is fabulous.
Tee-Hee Facts
Type: Minnie Mouse role-play shopping cart
Ages: 3 to 6
Pros
Teach your little girl about shopping with this beautiful Minnie Mouse play cart, including a lid
I love the design, especially the famous Minnie Mouse bow on the front and the folding handle
Cons
It's better suited to a narrower age range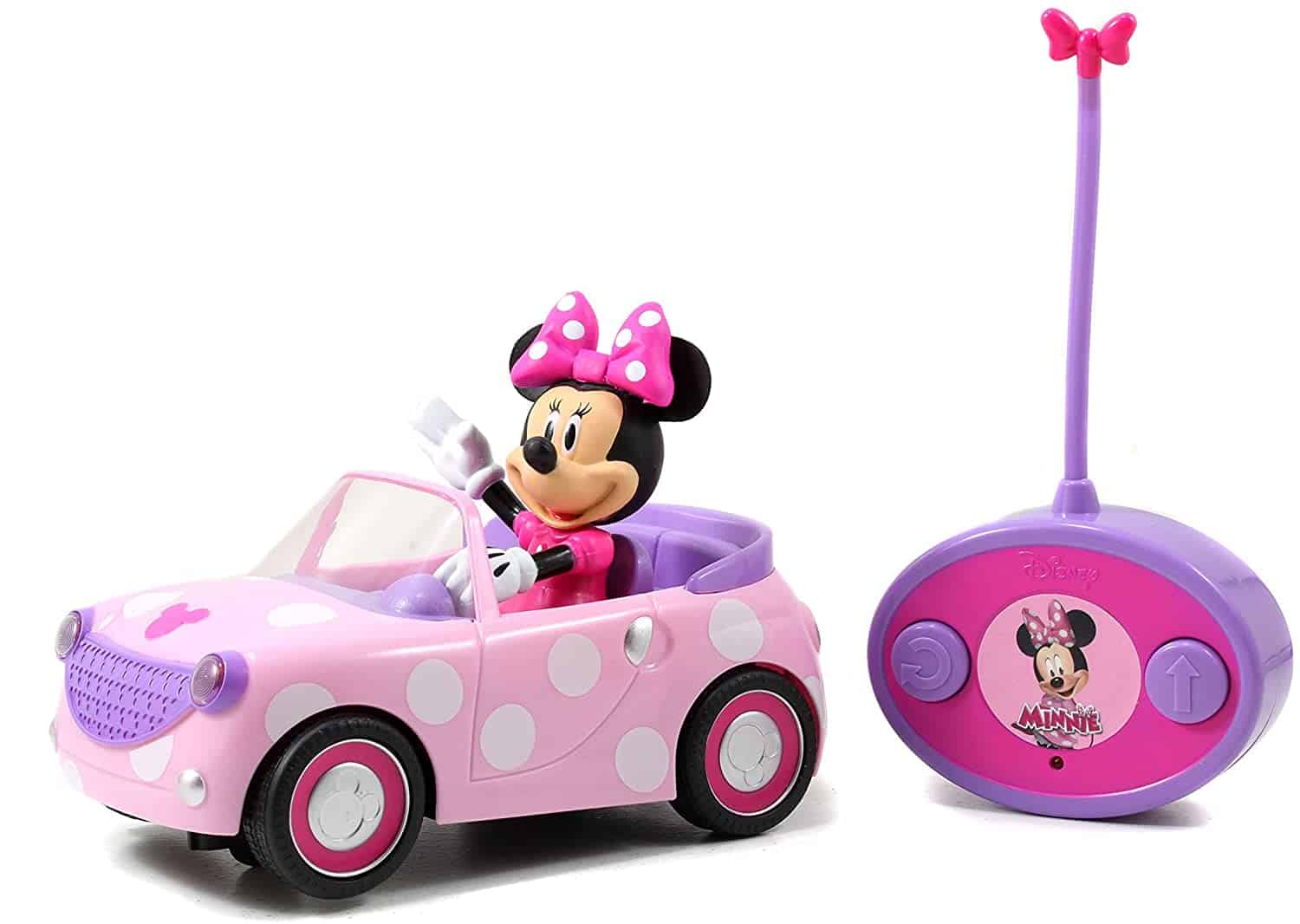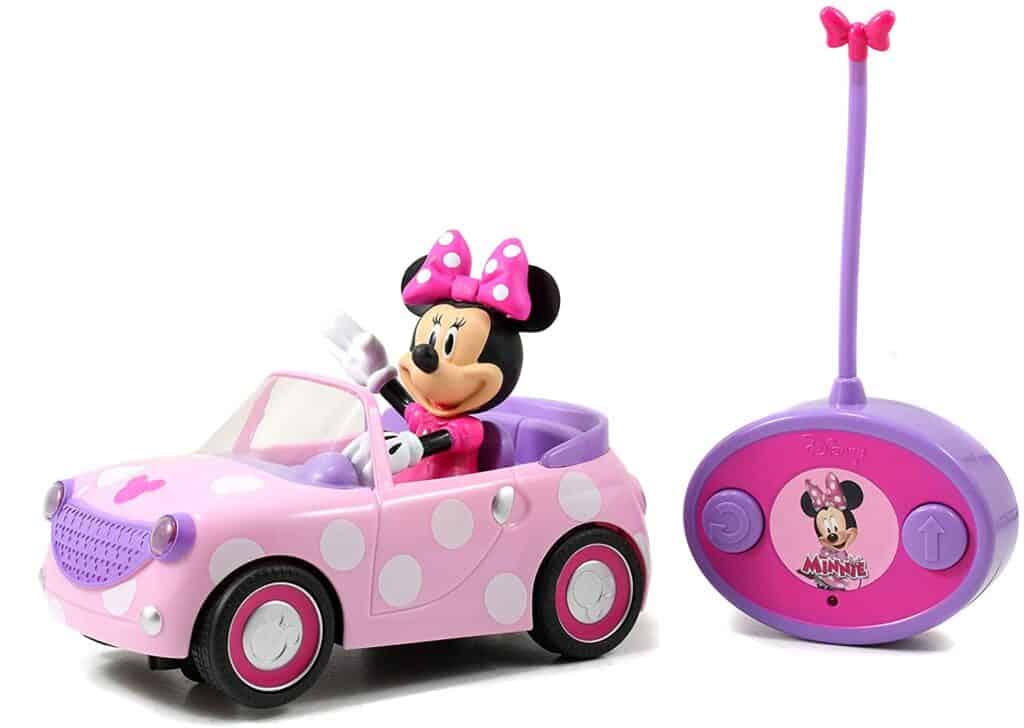 Remote-controlled toys are another fad with little kids. You think of them as choices for boys with remote-controlled monster trucks and cars. However, the Minnie Mouse remote-controlled car with a figure is a salute to girly fans. Even the remote has Minnie Mouse's face on it, and the car is adorable with polka dots.
Tee-Hee Facts
Type: Minnie Mouse remote-controlled car
Ages: 3 to 10
Pros
The Minnie Mouse car looks as girly as the icon sitting inside, and the remote has a star on the end of the aerial
I like how it shows Minnie waving at her fans because kids know her to be friendly
Cons
It uses batteries and doesn't suit girls under three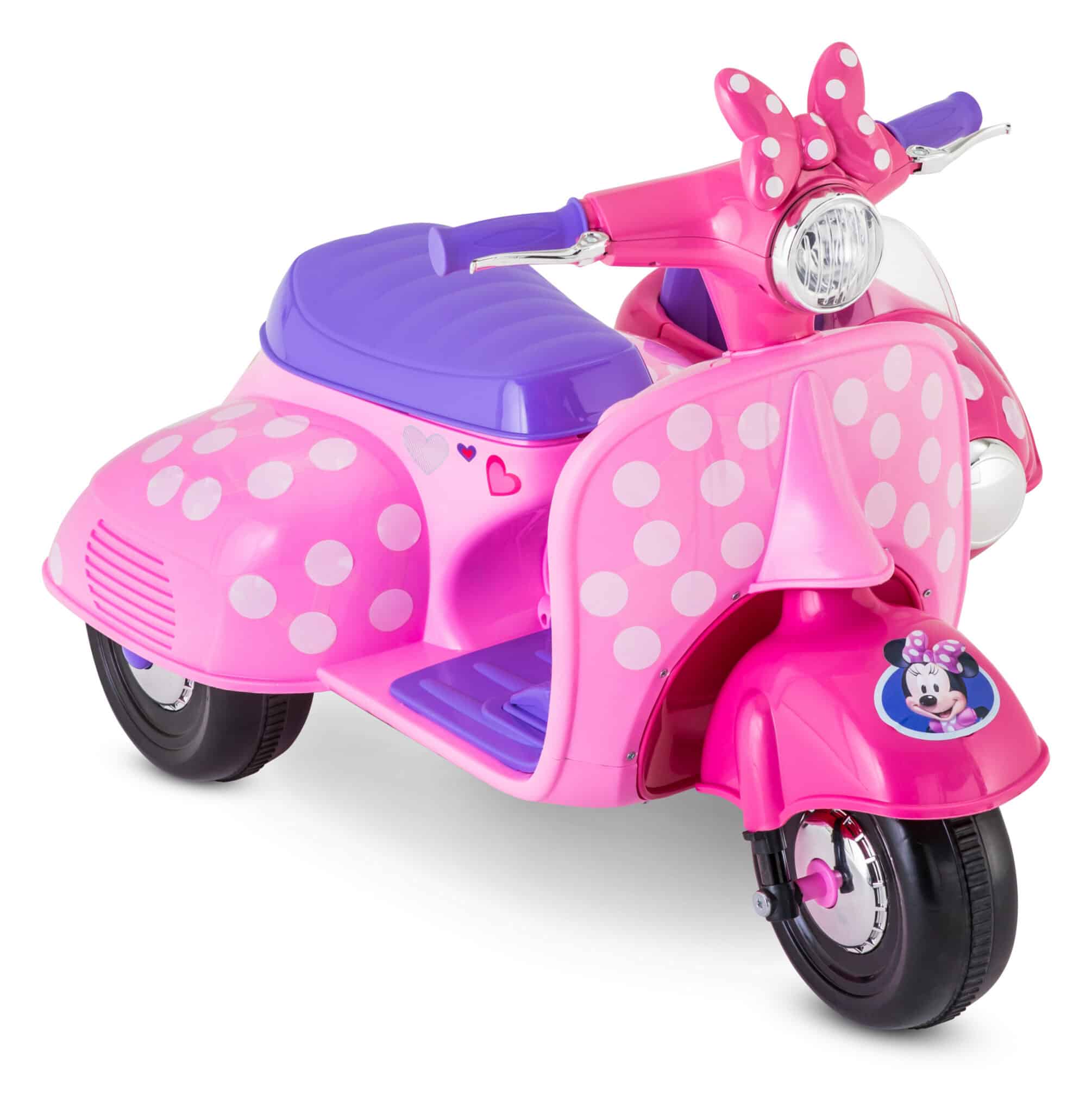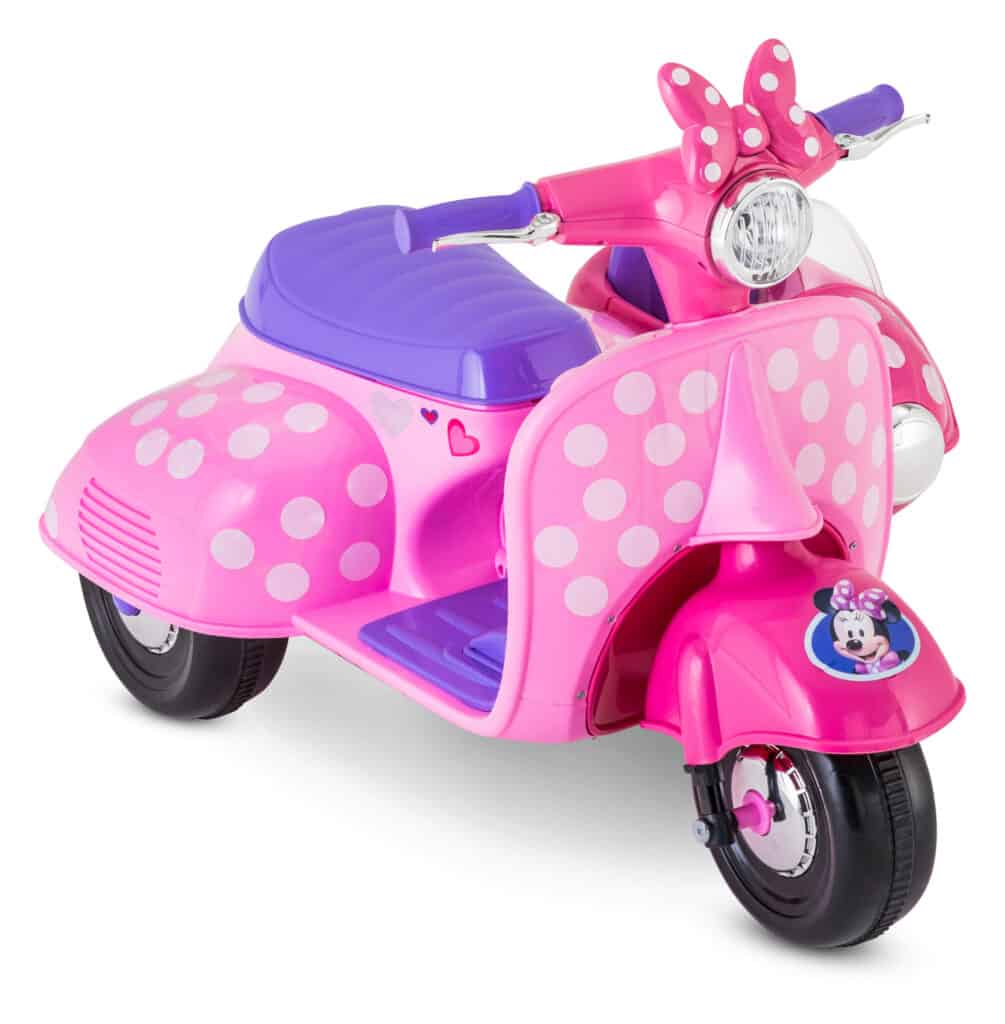 A ride-on toy is a step above the remote-controlled Minnie Mouse car. The sidecar comes with a beautiful Minnie Mouse plush for little ones to tag along. I fell head-over-heels with the Minnie Mouse ride-on toy with a sidecar as soon as my eyes caught it. Which little girl wouldn't love taking their best friend along for a ride?
Tee-Hee Facts
Type: Minnie Mouse trike
Ages: 18 to 36 months
Pros
The Minnie Mouse scooter with a sidecar has a gorgeous design with polka dots and the famous Minnie bow on the handlebars
The Minnie Mouse trike can carry 44 pounds, and the sidecar can carry new plush friends as your daughter makes them
Cons
The trike isn't suitable for babies or kids over three years due to weight restrictions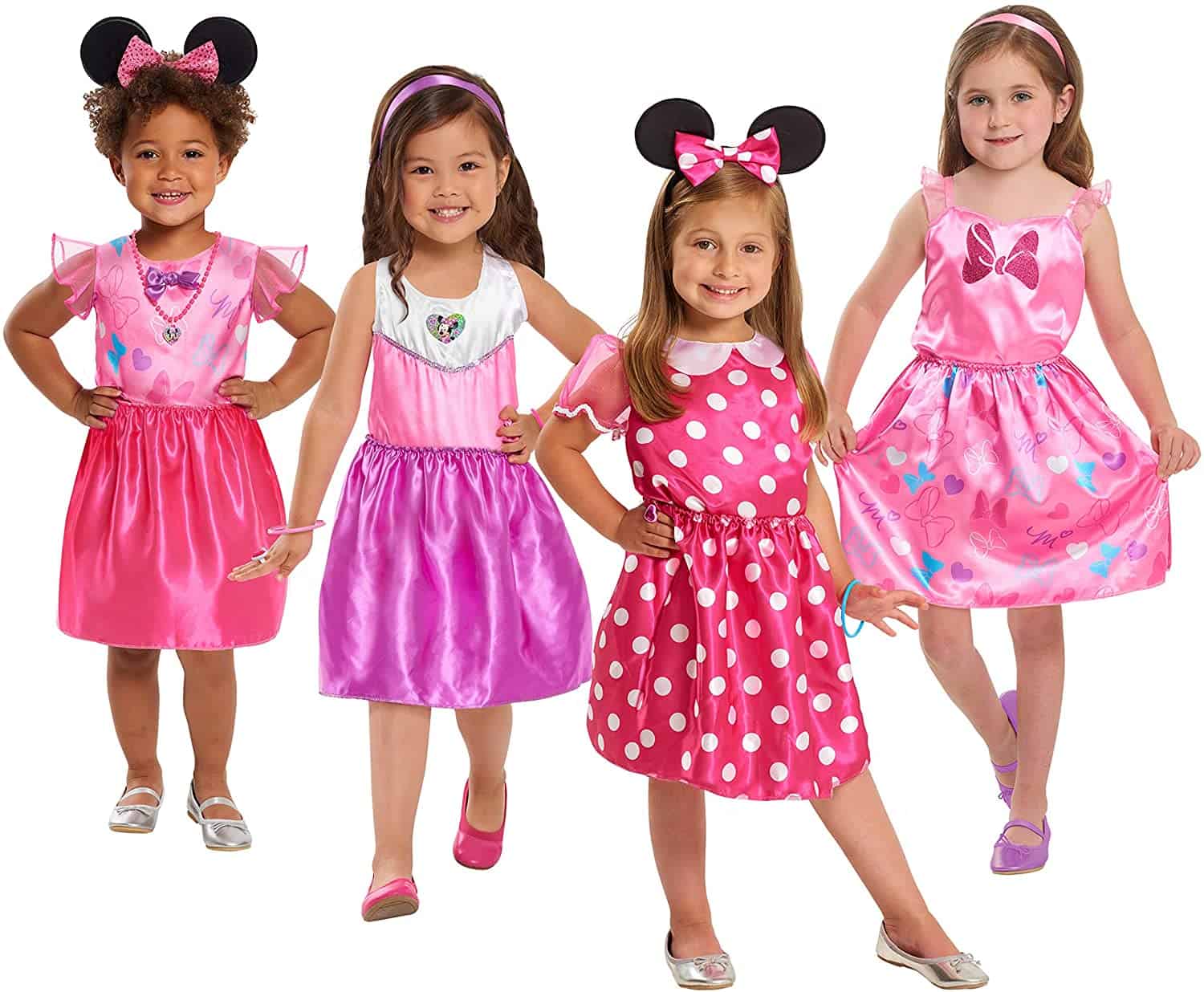 The Minnie Mouse costume set comes with three dresses and an extra top for girls to dress their hearts out. My daughter dresses up passionately, whether she's wearing my shoes or dragging my dresses from the hangers. I love giving her costumes she can enjoy wearing without breaking my heels.
Tee-Hee Facts
Type: Minnie Mouse costume
Ages: 4 to 6
Pros
I can see my daughter wearing every outfit, including the matching headbands, bows, earrings, bracelets, and necklaces
The Minnie Mouse costume set comes with a carry case for storage and looks as pretty as a toddler should
Cons
The costumes only come in sizes four to six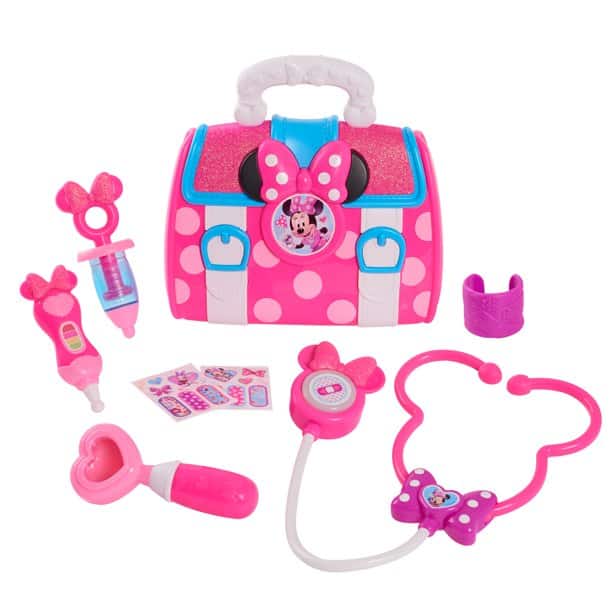 Yes, I'm right back to role-playing Minnie Mouse toys. Children under ten can't have enough Minnie Mouse imaginative play toys. Disney is all about the imagination, and Minnie Mouse is one of the greatest icons. Maybe she can inspire your little girl to love doctors? You know how tough doctor's visits can be with kids.
Tee-Hee Facts
Type: Minnie Mouse doctor playset
Ages: 3 to 8
Pros
The Minnie Mouse role-play doctor set includes mouse ears with a bow, a stethoscope, a doctor's bag, and a few other accessories
I love how this kit can teach little girls how valuable doctor visits are, and maybe your little one will cry less at her next visit
Cons
It's not the best Minnie toy for kids under three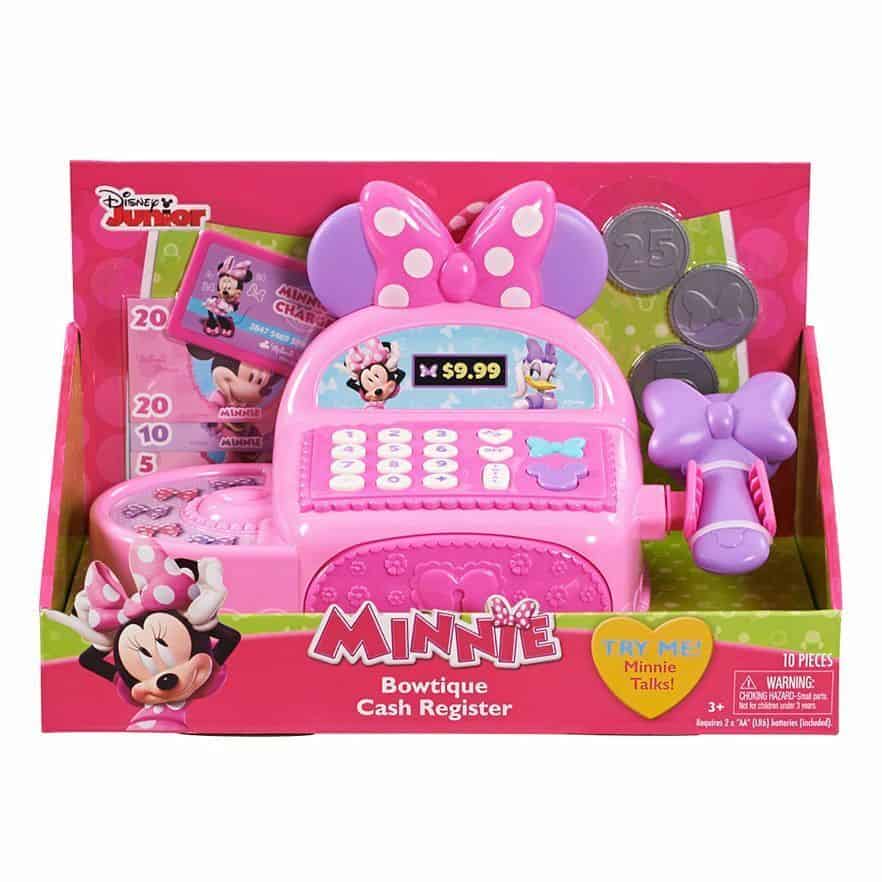 You're about to pull your hair out if you see another role-playing toy. Don't fret because pretend play toys are the most common type for Minnie Mouse. Your daughter can learn to count, keep money safe, and press buttons to get reactions. A Minnie Mouse pretend play cash register holds many lessons for little ones.
Tee-Hee Facts
Type: Minnie Mouse cash register toy
Ages: 3 to 8
Pros
The Minnie Mouse toy cash register looks like something you'll find in a Disney store outside Minnie's house, and it comes with toy money
I love the heart-shaped buttons and scanner, and the cash register makes noises and lights up for a sensory experience
Cons
Don't let your daughter under three play with it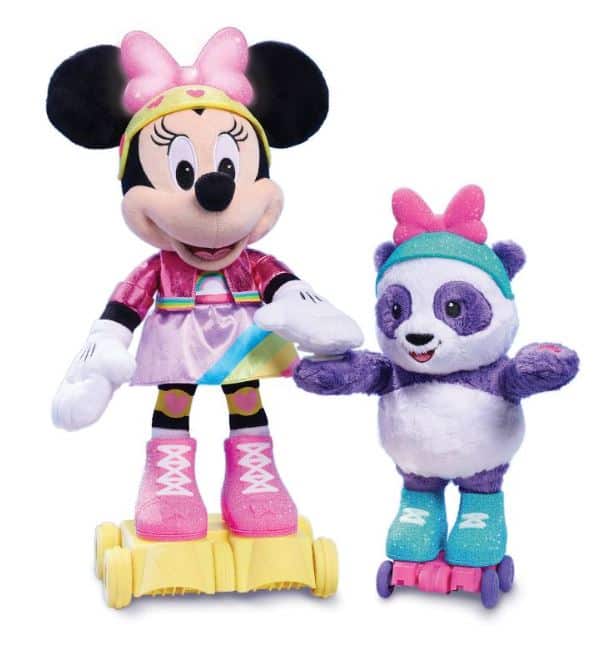 Minnie Mouse plush is the second most popular toy from the icon. I loved this plush because Minni skates around while singing and dancing. She can keep any little girl entertained for hours. Additionally, she comes with a friend to show your child how friendship works. There is various singing plush for different age groups.
Tee-Hee Facts
Type: Minnie Mouse singing plush
Ages: 2 to 10
Pros
The Minnie Mouse plush talks and sings while her bow sparkles and she skates around the room
Minnie Mouse has an adorable panda plush friend that skates and sings with her
Cons
You'll need loads of batteries and have to listen to Minnie sing all day, every day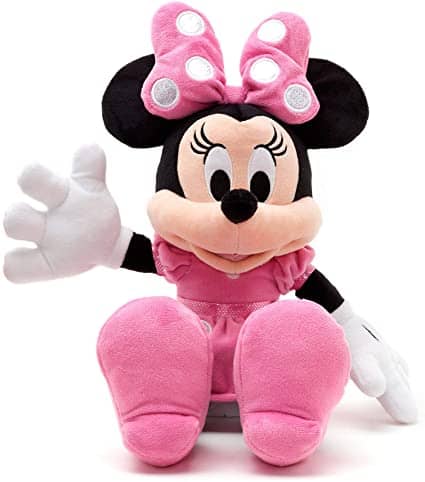 Many of Minnie Mouse's plush have singing abilities, but I like this stuffed doll because it's slightly bigger than most others. Besides, no little girl will complain about how many Minnie Mouse sings and dances while they cuddle their favorite friends. Sure, it might become annoying for you, but children love singing dolls.
Tee-Hee Facts
Type: Minnie Mouse stuffed doll
Ages: 3 to 10
Pros
The Minnie Mouse stuffed doll is 12″ tall and shakes her booty to the songs coming from the pretty plush
She looks like she's always ready to dance to whatever music comes her way
Cons
This Minnie plush isn't suitable for babies because of the chewable parts
Squishmallows are ideal for kids of all ages because they're safe, cuddly, squishy, and collectible. The Minnie Mouse Squishmallow is part of the Disney squad from the collectible brand. She's as cute and cuddly as you can imagine a marshmallow feeling between your fingers. She's also excellent for all ages.
Tee-Hee Facts
Type: Minnie Mouse Squishmallow
Ages: 0 to 10
Pros
Squishmallow Minnie Mouse has her famous bow with polka dots to complete her iconic style
She's the cuddliest Minnie Mouse plush you can buy for all age groups (although you need to supervise chewy babies with her bow)
Cons
Be careful of a chewy baby eating Minnie's bow off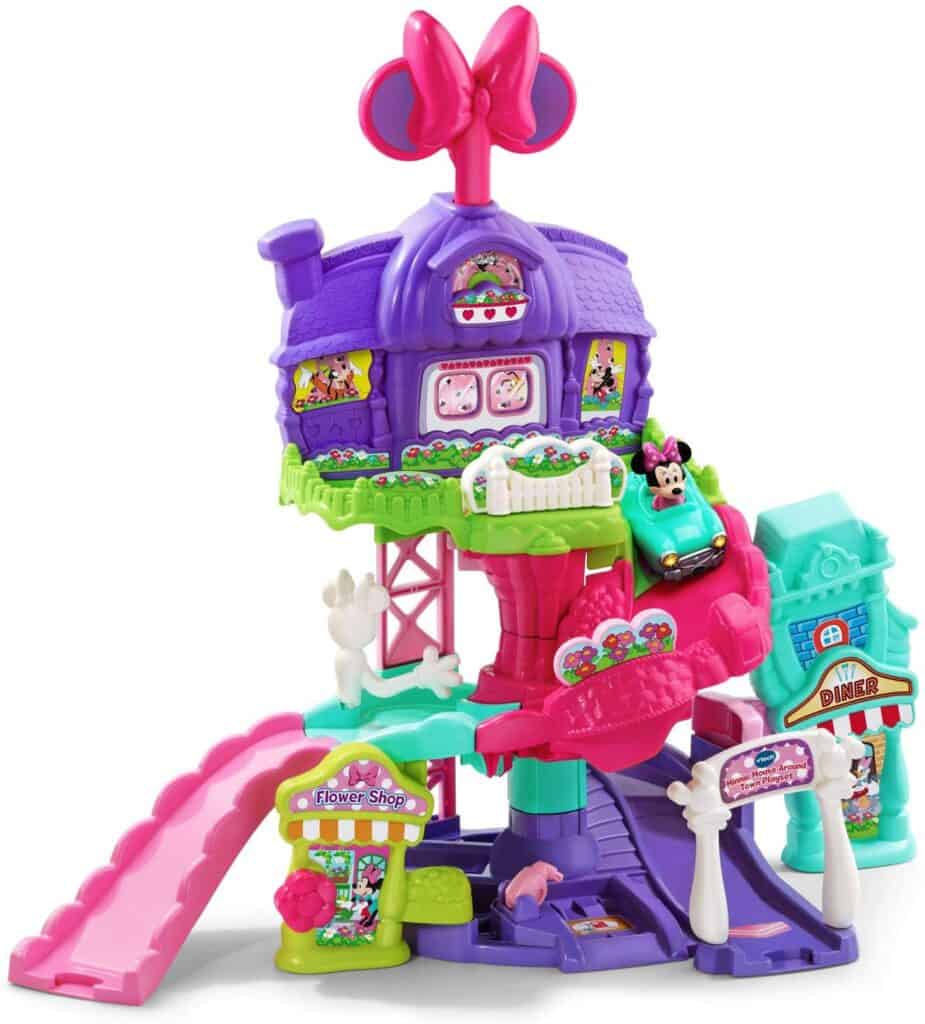 Toddlers love pushing cars around and sliding down gigantic slides. Little girls also love moving cars and sliding as much as boys. This Minnie Mouse playset is a girly version of classic playtime fun. Your daughter can push Minnie's toy car around the play town to meet with friends like Donald, Daisy, Goofy, and Mickey.
Tee-Hee Facts
Type: Minnie Mouse playset
Ages: 3 to 6
Pros
This Minnie Mouse playset is the ideal choice for toddlers who want to learn how to slide and move things down the ramps
Minnie Mouse can visit a gas station, flower shop, diner, or her best Disney friends
Cons
The set isn't suitable for girls under three (it's perfect for toddlers)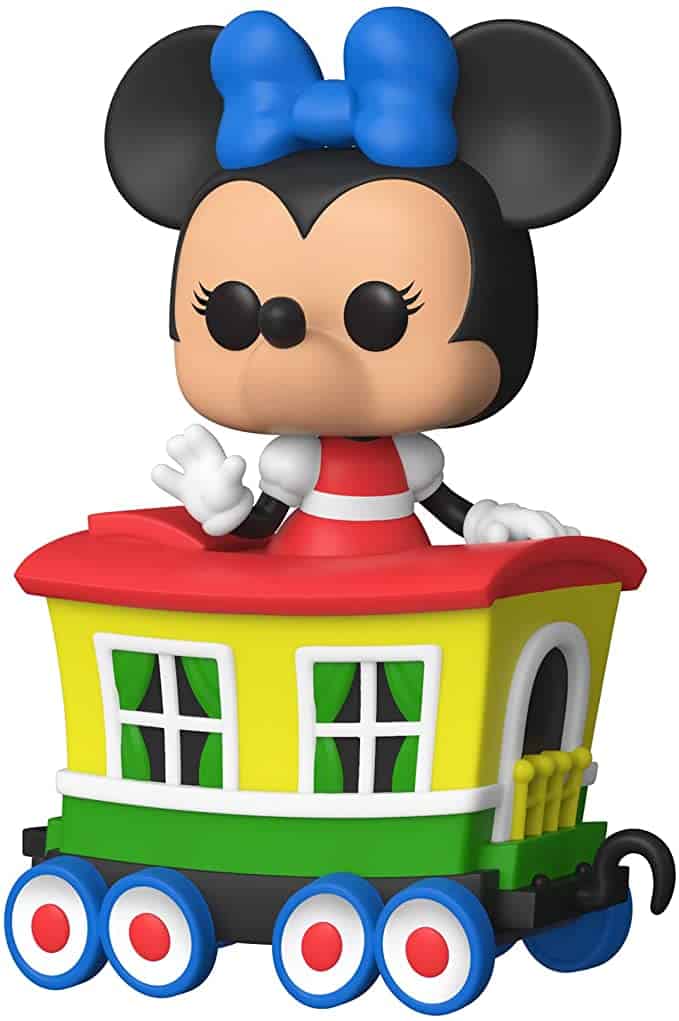 My daughter learned the value of Disney collectible figures young because I've always collected toys. Not every girl under ten will value collectible Minnie Mouse toys, but you can introduce them to the ones they store in protective cases as young as eight. I like how unique this Minnie vinyl figure looks on the train.
Tee-Hee Facts
Type: Minnie Mouse vinyl figure
Ages: 8 to 10
Pros
The Minnie Mouse vinyl figure comes on a Disney-styled train with a classic feel and massive blue bow
Minnie Mouse waves at her audience in this Funko Pop collectible figure with a protective casing
Cons
It won't appeal to kids under eight and maybe not even ten
Top Q&A
Question: Which Minnie Mouse Toys are the Most Popular?
Question: Which Minnie Mouse Toy is the Best for Toddlers?
Question: Which Minnie Mouse Toy is the Best for Babies?
Answer: The best Minnie Mouse toys for babies are safe, chew-friendly, and interactive on some level. The Best Minnie Mouse Baby Toy allows babies to practice their pincer grasps and exercise their fine motor skills. The Best Minnie Mouse Baby Plush has push buttons on the feet to teach babies about their 123s and ABCs.
Ultimate Minnie Mouse Toys Guide: Final Tee-Hee
How broad a smile do you want to see on your little girl today? Then, it's time to select her best Minnie Mouse toy. Consider her age, favorite toy type, and the activities she loves before picking one that suits her to the Tee-Hee. Get the Best Minnie Mouse Baby Plush for a baby learning to communicate with you.
Consider buying the Best Minnie Mouse Dress-Up Doll for endless girly fun with accessories. Why don't you buy your musical toddler the Best Minnie Mouse Musical Instrument? Do you want your daughter to stop raiding your make-up? The Best Minnie Mouse Make-Up Kit can get her out of your kit.
Suppose your child wants a phone. Try giving them the Best Minnie Mouse Electronic Toy before their first iPhone. The Best Minnie Mouse Singing Plush will bring many laughs and giggles to your daughter's playroom. Buy your daughter's new Minnie Mouse toy so that you can bond over nostalgic icons while having fun.
For more Disney toys
Best Disney Toys of All Time – Avid Toy Insider
Amazing Elsa Toys Guide for Frozen Fans – Avid Toy Insider
Best Wall-E Toys Guide for Every Age – Avid Toy Insider