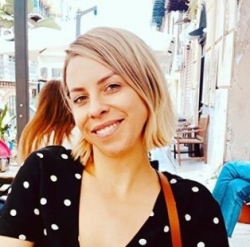 Latest posts by Jodie Chiffey
(see all)
In my personal opinion, as a mother of boys approaching their teen years, Fortnite is the perfect storm when it comes to gaming for children and adults. My only problem is that some of the jargon and techniques they talk about go right over my head.
However, luckily, I am the perfect candidate to ask when it comes to buying toys inspired by Fortnite. Not only because my kids are such big fans of it but also because they're still at the age where they enjoy playing with actual toys and the on-screen version.
So, together with my little gamers, we've clubbed together and researched the best Fornite-inspired toys on the market.
Between us, we have looked at qualities such as whether or not they're educational, whether they were good value for money, and whether they are worth buying in terms of keeping the kids away from the remote control for long enough.
Best Fortnite Toys at a Glance
Bottom Line Up Front
When it came to reviewing the Fortnite-inspired toys, we were spoilt for choice, as there are so many out there.
I picked my favorite first, and my boys took a bit longer to decide, but eventually agreed that the Fortnite Legendary Series 6in Figure Pack, Skull Trooper was the best above everything else.
We all loved the appearance of the trooper, with its cool black and white skeleton figure, and also enjoyed the fact that it had lots of movement.
I would personally have this in my collection as a display piece, but that's just me.
How I Chose the Fornite Toys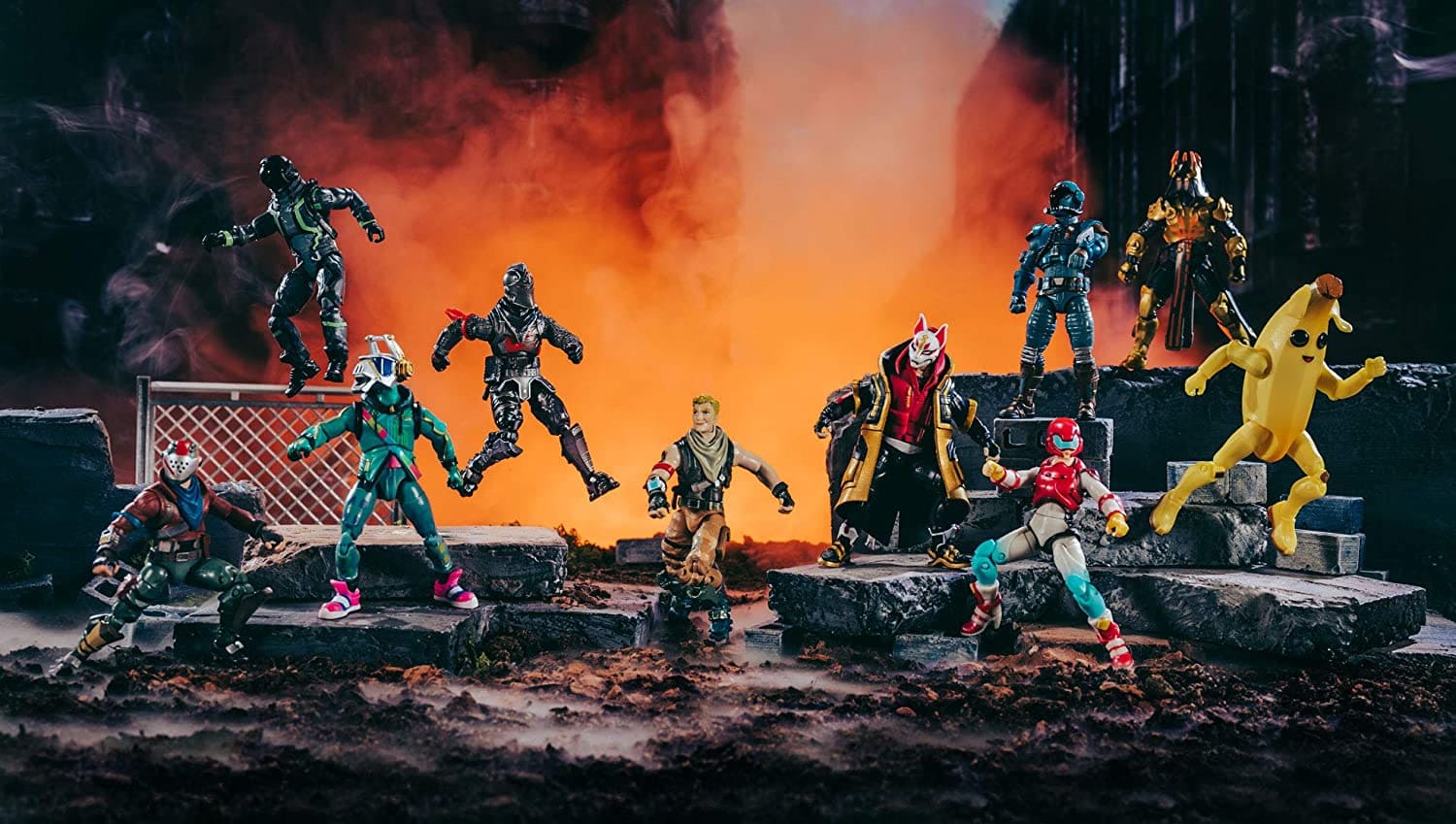 I have broken it down into sections, precisely what I was looking for when selecting products to review, so let's take a look at that breakdown here.
#1 Educational
Fortnite is quite a controversial subject amongst parents, as many people do not agree with any games involving playing with weapons or even pretending to be on a screen.
Personally, I believe that any form of role-playing can encourage the imagination and play a significant role in our children's interaction with others. Do I encourage kids to play games such as Fortnite regularly? Of course not, but I believe it's an excellent game for older kids and teenagers to enjoy as they start outgrowing toys aimed at younger children.
#2 Safe
Although most of the Fortnite toys are aimed at children who are a bit older, I still think it's essential to check out the safety of the products to some extent.
I can say that many of the toys in this guide are not age-appropriate for toddlers because most of them contain small detachable parts, which can be a choking hazard. I have included at least one toy in this guide that is 100% safe for younger ones, just in case you have a little one that doesn't want to be left out of the Fortnite hype.
#3 Fun
If you're a Mom of boys like me, you will know how hard it is to keep them entertained, especially as they get a little bit older.
However, I was surprised to find that every toy included in this guide had some element of fun that kept my lads entertained. My youngest even liked the toy I included, which was meant for toddlers.
My Product Criteria
Toy Type – Many of the toys in this guide are moveable figures and packs containing various accessories. I have tried to include as many variations of the figures as possible in this guide. So, when selecting the best toy for your children, you have plenty to choose from.
Age – As I said earlier, Fortnite is aimed at children aged 12 and up. Therefore a lot of the toys are aimed at older kids as well. However, I thought I would try to include at least one toy here that would be suitable for toddlers and babies.
Durability – One thing I noticed about all of the Fortnite toys we tried out is their durability. As many of them are made by reputable brands such as Hasbro and Nerf, you can be pretty confident that they will be good quality and come with some kind of returns policy.
Consumer Feedback – I thought it best to look at what other parents thought of these toys after purchasing them. After all, although I consider my opinion to be a valued one, I know sometimes it's preferable to get the views of more than one person. Most of the reviews, bar the odd few, on the products I checked out seemed to have the same opinion as we did on their purchases.
Price – One thing I find frustrating when buying big-named themed toys is that they usually come with a higher price tag. However, I must say that although some of these toys cost slightly more than I would usually spend, I was pleasantly surprised with their cost-to-quality ratio.
My 8 Best Fortnite-Inspired Toys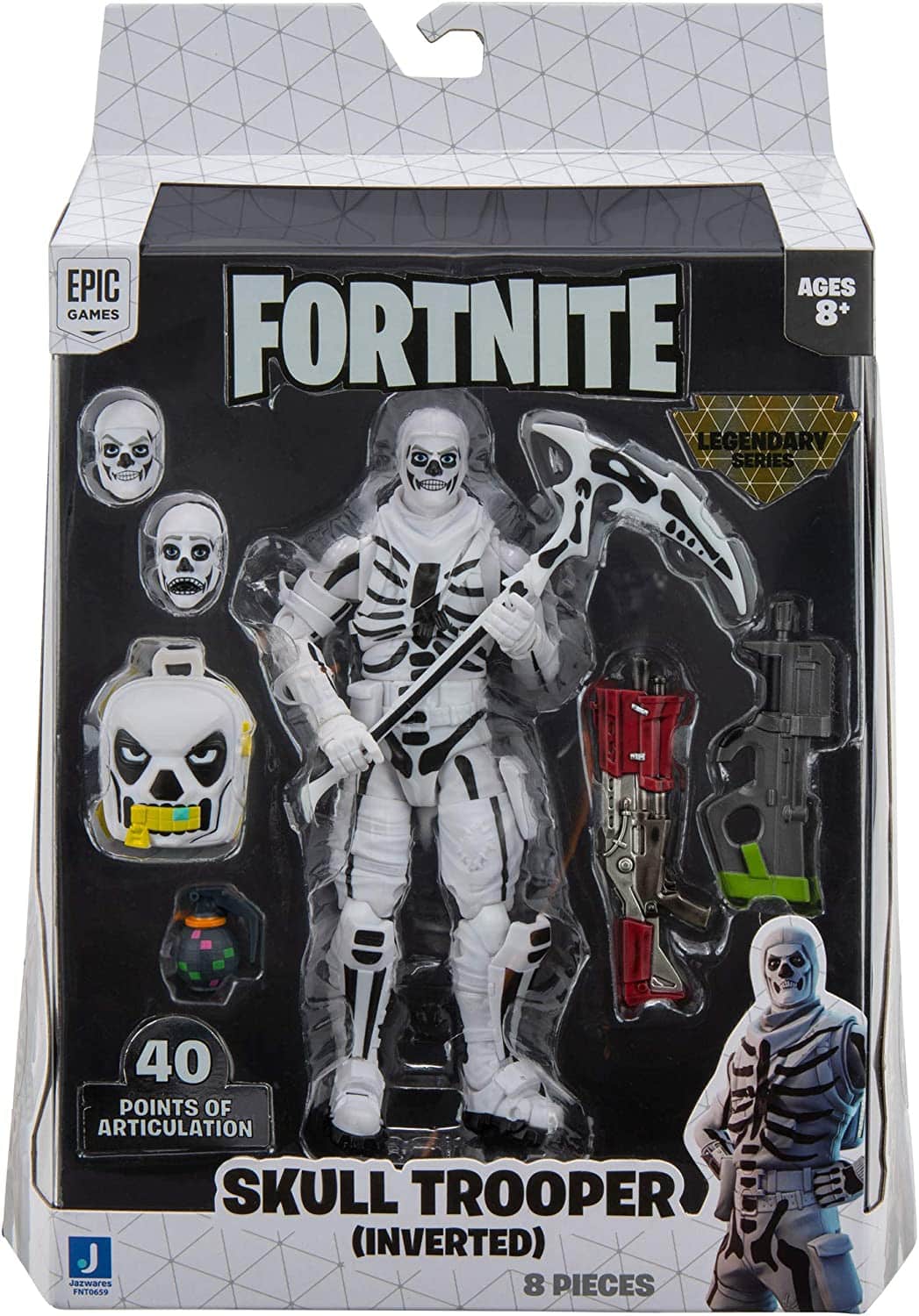 Honestly, this toy had already made it to the top of my list before we had even opened the box. But that is just because I loved anything with a skeleton appearance, not really because of my knowledge of Fortnite characters (which still isn't quite up to scratch).
The first thing we noticed about the Fortnite Legendary Series 6in Figure Pack, Skull Trooper, is that it came with many accessories, such as a harvesting tool, a boogie bomb, some submachine guns, and a grinning ghoul back bling. It also included three interchangeable faces. This, along with the fact it has 36 adjustable posing parts, means the possible actions you can put this figure into are endless.
This is an officially licensed product as well, so as you can imagine, the quality is exceptionally high. I was impressed with the detailing that had gone into the design of the action figure itself.
Being an avid collector of action figures, as well as anything gothic and skeleton related, I personally wanted to keep this as a display thing only. Still, having boys in the house during toy reviewing, of course, there is no chance. But I think this would make a great collector's piece for kids or adults.
I liked the price too, though on first look it seemed expensive, as soon as I looked at it I could see that you're getting a lot for your money.
Pros
Great value for money
Officially licensed product
Durable
Well made
Great detailing and design
Lots of accessories
Suitable for children aged eight and up
Cons
We couldn't find fault with this toy.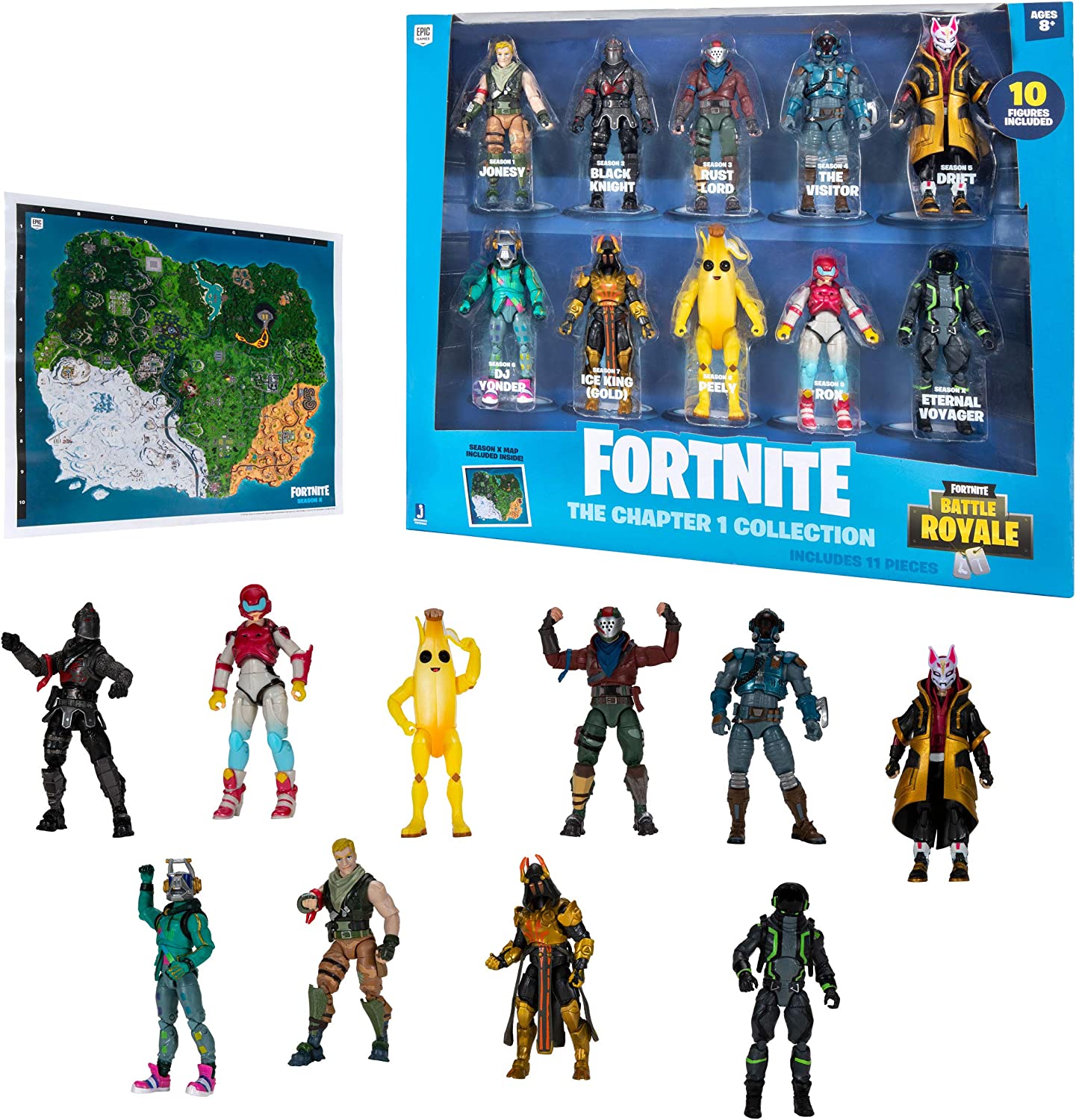 A slightly more expensive toy we reviewed was this set of Fortnite The Chapter One 4″ Action Figures.
The set included characters like Ice King, Drift DJ Yonder, Rust Lord, The Visitor, and the Eternal Voyager. It also contained a 14-inch map from the chapter one collection.
The figures themselves were impressively detailed, especially given their small size, and most of all, my boys loved the fact that there were ten characters in total. These included their personal favorite, Peely, which is some kind of strange banana man, not to be confused with Unpeely, as a recently discovered.
One thing that I did notice about this set is that the price seemed to vary from place to place, and there were often discounts on different sites, so it could be worth shopping around for this before buying the first one you come across.
Pros
Great selection
Good quality
Suitable for ages eight and up
Includes large map
Cons
Mixed pricing across sites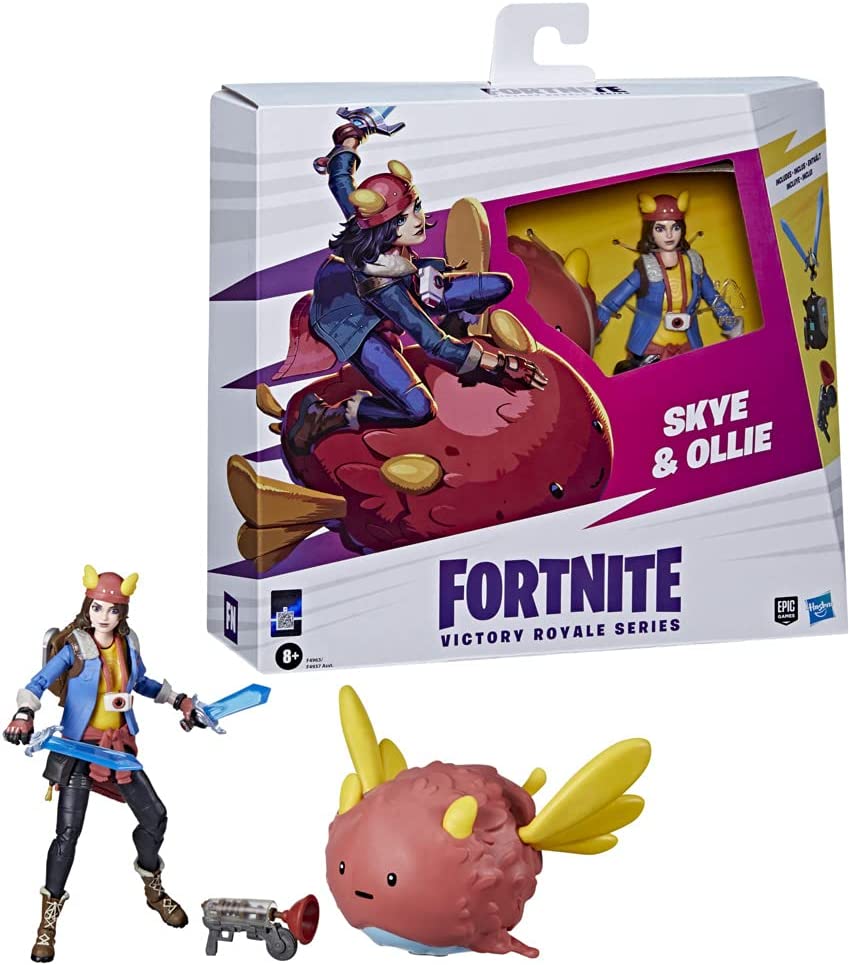 I thought this was a great little set, suitable for eight-year-olds. The Victory Royale Series Deluxe Pack Collectible Action Figures is a great addition to any Fortnite fan's collection, whether as a toy or a display item.
The set is made by Hasbro, which means it's durable and of good quality. I felt it was robust enough to handle a lot of serious playtime and only came with one small part, so not too much could be lost or damaged.
When I purchased this, I got a significant discount from Amazon, which meant it was great value. However, I can't say that I would be happy to pay the full price for this item in normal circumstances, mainly because of its simplicity and entertainment value if buying it as a toy.
Pros
Great detail
Robust
Reputable brand
Good for collectors
Cons
Expensive when full-priced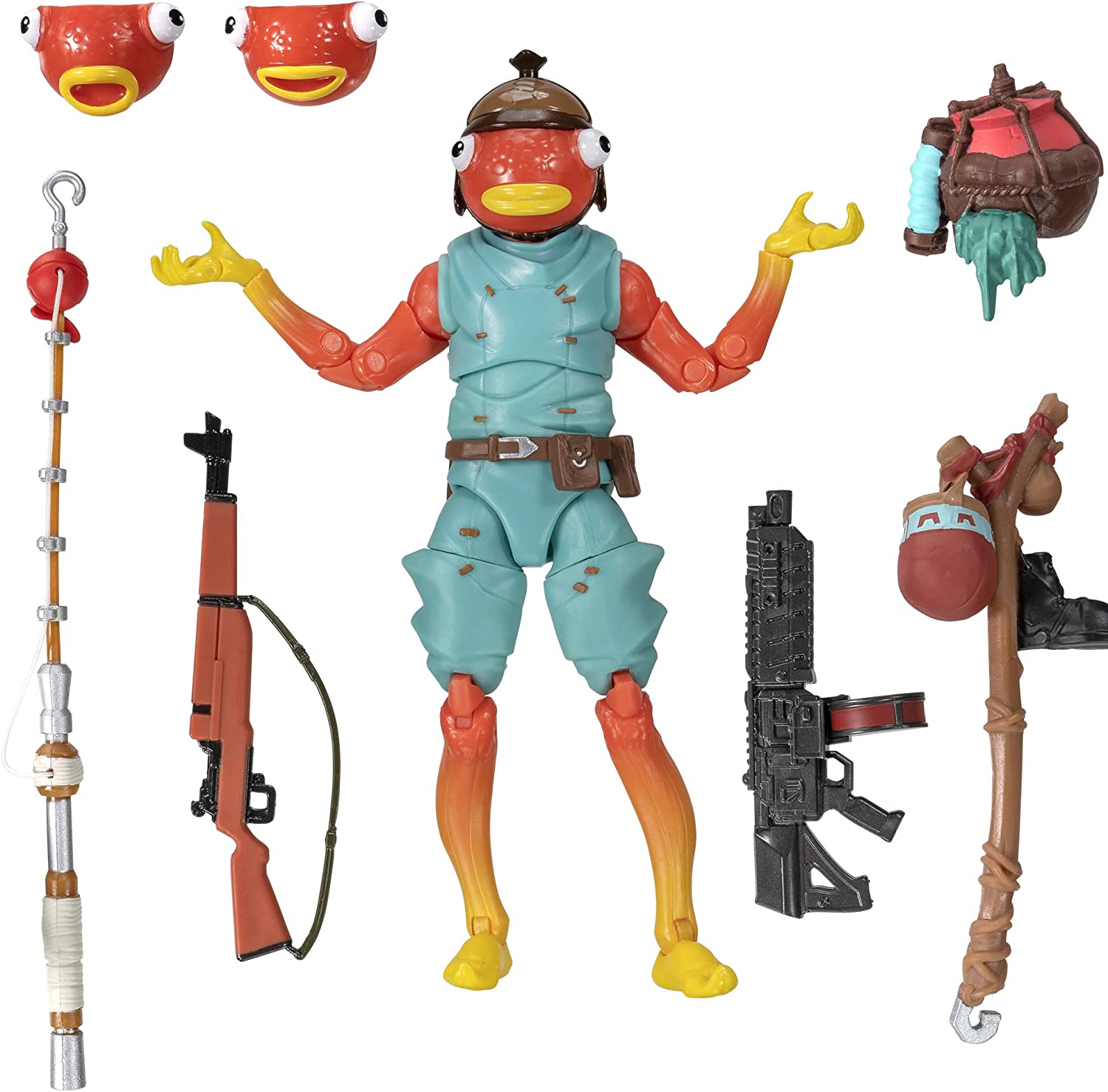 I have to say I laughed when we first opened this 6 Inch Fishstick Collectible Action Figure because, if you don't already know, Fishstick is, quite literally, a fish. It's got quite an amusing appearance, or maybe I am just easily amused!
However, once the laughing matter was over, I came to have a good look at the toy itself and saw that it was rather impressive.
In the pack, there was more than just an action figure, which was excellent quality, by the way, but also tons of accessories, such as a Saltwater Satchel back bling, a harvester, a rifle, a fishing pole, and some other cool parts. It also had interchangeable faces, each one with a different facial expression.
Like the figure I discussed earlier, this one also had 36 plus moving parts, including its fingers. Jazwares definitely doesn't skimp out when designing their action figures, that's for sure.
This figure would also make a wonderful addition to anyone's Fortnight collection for display purposes.
Pros
Very high quality
Lots of moveable and interchangeable parts
Plenty of accessories
Great fun
Fast shipping from Amazon
Cons
No downsides to this product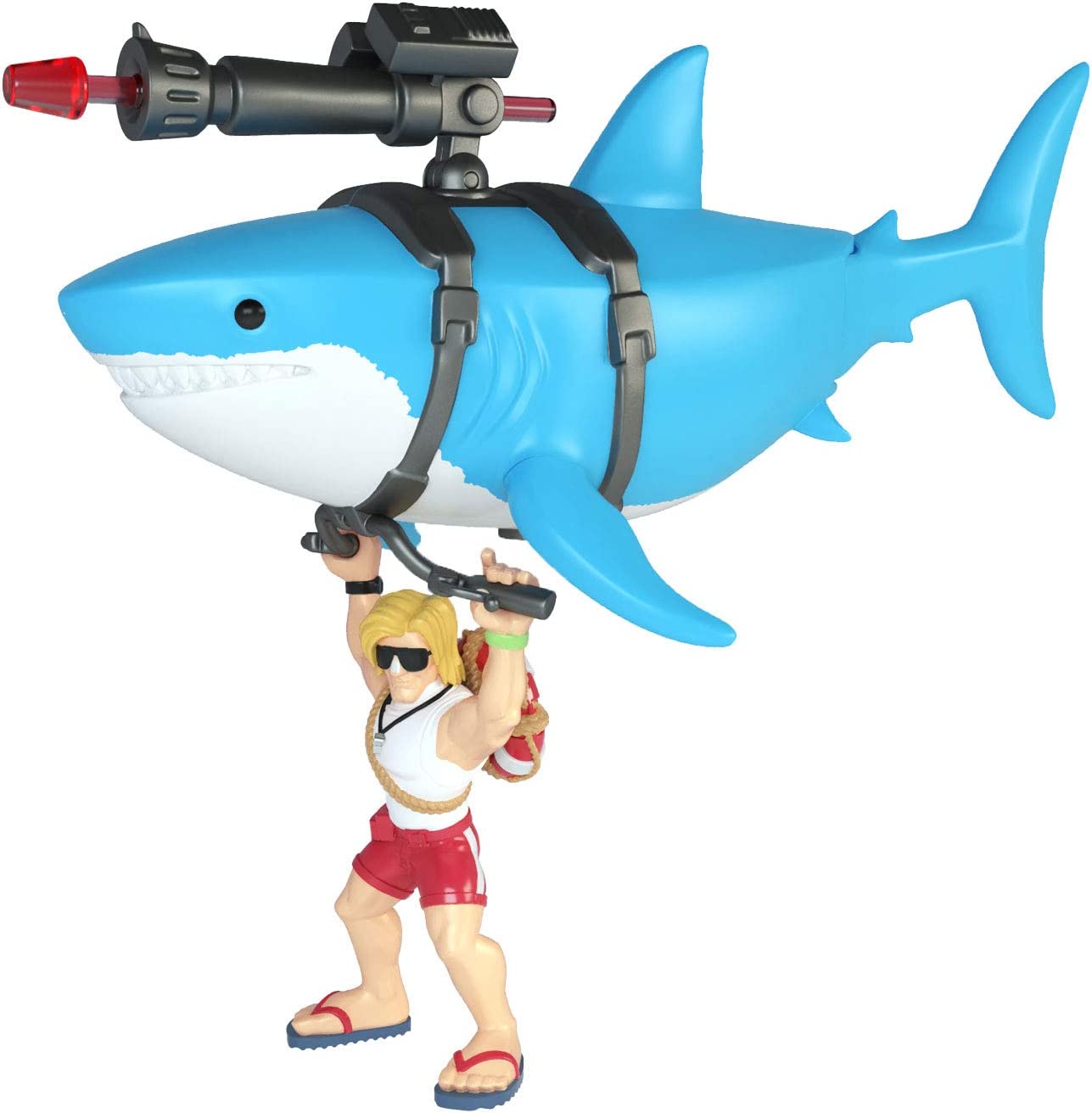 I was pretty pleased to come across the Laser Chomp Glider & Sun Tan Specialist Action Figure because of its low price tag, and when I first received it, I was pleasantly surprised by the kit I got for my money.
The stand-out item in this set is the chomping shark, which can be strapped into the included stand or into the figure's hands. The shark also has a laser gun positioned on his back.
One thing to mention is the action figure included in this set is only a miniature, measuring just a couple of inches in height.
The set also comes with a couple of small lifeguard-type accessories, which you can also place into the action figures' hands.
Overall, I thought this was good for a miniature set and had some great little features.
Pros
Lots of great little features
Good value for money
Great detail
Durable
Cons
Much smaller than other Fortnite action figures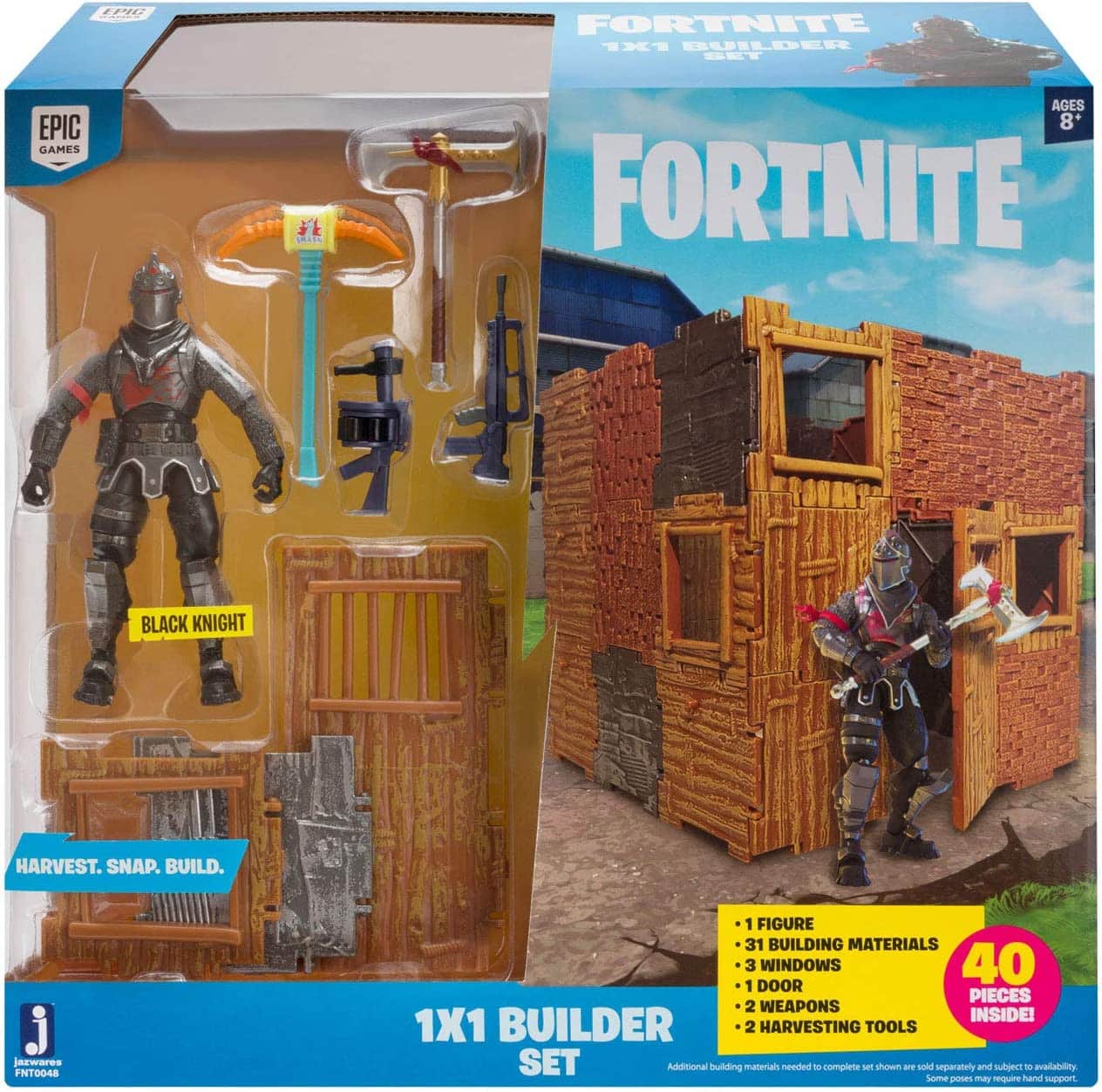 If you're looking for a statement gift for the Fortnite fan in your house, then this Fortnite 1×1 Builder Set is probably going to be the one that interests you the most.
Inside the set are over forty different pieces, including a miniature action figure, lots of building materials, weapons, and harvesting tools.
Regarding entertainment value and keeping the kids occupied, this came close to making it to our number one spot. We just thought for ourselves; personally, it didn't have that wow factor when it came to a cool appearance. However, it kept my lads entertained for hours, which is something to keep in mind.
Considering it had so many small parts, I was overly impressed by how robust everything felt, but as with all Jazwares products, this is usually the case.
The one argument I did have with this is that even though it states it is suitable for children aged eight and up, it's relatively tricky to put together, even to the point where I struggled slightly. We did manage it between us in the end, but it was pretty fiddly, and some kids may get quickly bored with trying or overly frustrated.
Pros
Great quality
Lots to play with
Includes collectors guide
The miniature figure has articulating parts
Cons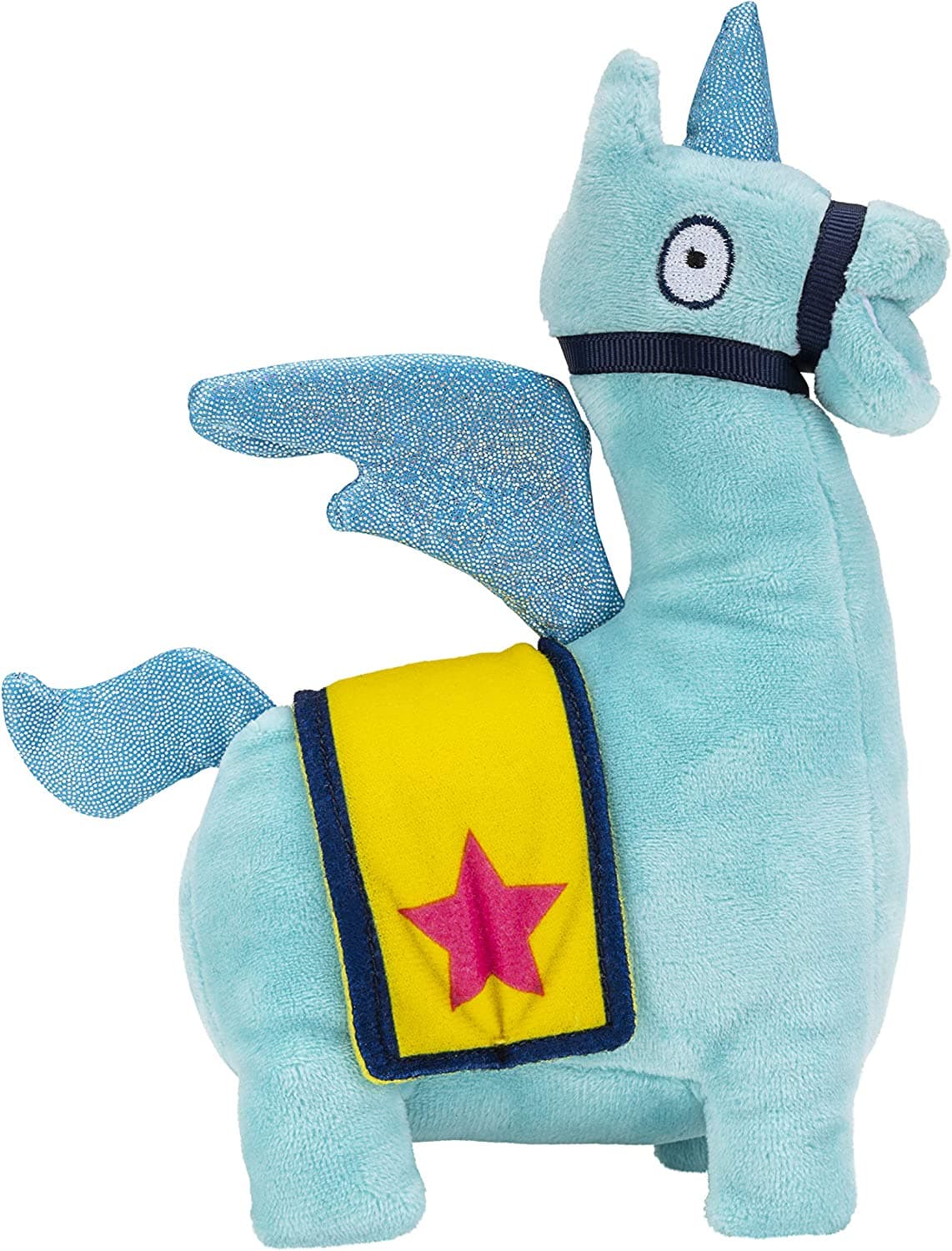 I thought I would include this Fortnite 7″ Brite Unicorn Llama Plush in case you have any little ones in your house who might feel left out when the other kids receive their Fortnite gifts. Plus, I thought it was super cute.
The unicorn toy has no detachable parts and only embroidered details, meaning it's perfectly suitable for the youngest children, even babies.
It's made by the same brand that makes many of the figures I've discussed today, Jazwares, which tells me that it will last a long time, although I can't comment on the durability personally, as my lads haven't exactly played with this a lot. However, it seems well made, and I think it would last well, even when washed.
It's also collectible, and other plush toys from the same brand can be added to the collection, such as Durr Burger, Llamacorn, Loot, Boogie Bomb, and Cuddle Team Leader.
Pros
Suitable for toddlers and babies
Machine washable
Brightly colored
Super soft
Lots to collect
Cons
No features for entertainment value

I couldn't discuss Fortnite-inspired toys without talking about this NERF Fortnite Heavy SR Blaster, Longest Fortnite Blaster. We already had this product in our house before I decided to review other Fortnite toys, and we just love it!
If anything, what really beats chasing each other around the garden with a NERF gun? I mean, I even remember doing that when I was a kid back in the 90s. It just doesn't get old.
But before I get carried away with my own nostalgia, let's talk about the product. It's mega! Firstly, it's a great size, in fact, it's rather on the large side, so if you're buying for a smaller child, maybe look at some other more suitable products.
The shooting distance is excellent, so if you have a large garden, you don't have to worry about missing your target when they run too far.
Also, it doesn't get jammed up, like similar toys we've had in the past, which is a bonus.
Pros
Great fun for all the family
Good shooting range
Durable
Cons
Fortnite Inspired Toys – Frequently Asked Questions
Question: Who are Fortnite Toys Made By?
Answer: Brands such as Hasbro and Jazwares have many Fortnite toys on the market. However, some people replicate these brands, so they won't be officially licensed products. Always check the manufacturer before purchasing if you want a reputable product.
Question: Is Fortnite Suitable for a 7-Year-Old?
Answer: The computer game Fortnite is not recommended for children under the age of twelve due to its violent tendencies. However, many toys based on the game can be played with by children of various ages.
Question: Does Funko Make Fortnite Toys?
Answer: Yes. There are plenty of Funko Pop variations relating to the Fortnite brand.
In Summary
Overall we had the most fun with the NERF Fortnite Heavy SR Blaster, Longest Fortnite Blaster. We loved that the whole family could get involved with this, and it's a game that can be enjoyed in the garden.
Our number one pick, and my personal favorite, was by far the Fortnite Legendary Series 6in Figure Pack, Skull Trooper. The appearance was super cool, the detailing of the product and the accessories were on point.
Continue reading: