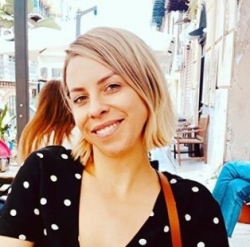 Latest posts by Jodie Chiffey
(see all)
If you're a Mom of younger children, you will be familiar with Doc McStuffins and how she "does her thing."
The theme of Doc McStuffins is purposeful and educational, which is one reason I have always encouraged my kids to get involved. When it comes to the toys, there is quite a lot of educational value included there also, such as dolls that can be dressed up in doctors' uniforms and playsets that encourage role-play.
I always think that it's essential to look at what toys are age-appropriate, especially when it comes to learning, and with the Doc McStuffins, I found that it's aimed at the younger age range, similar to toys like the ones from Sesame Street.
During this guide, I will look at which toys are the most fun in terms of gameplay and which have the most educational value, as I firmly believe that learning while playing is a brilliant way of encouraging little minds to develop.
9 Best Doc McStuffins Toys – A Sneak Peak
The Bottom Line Up Front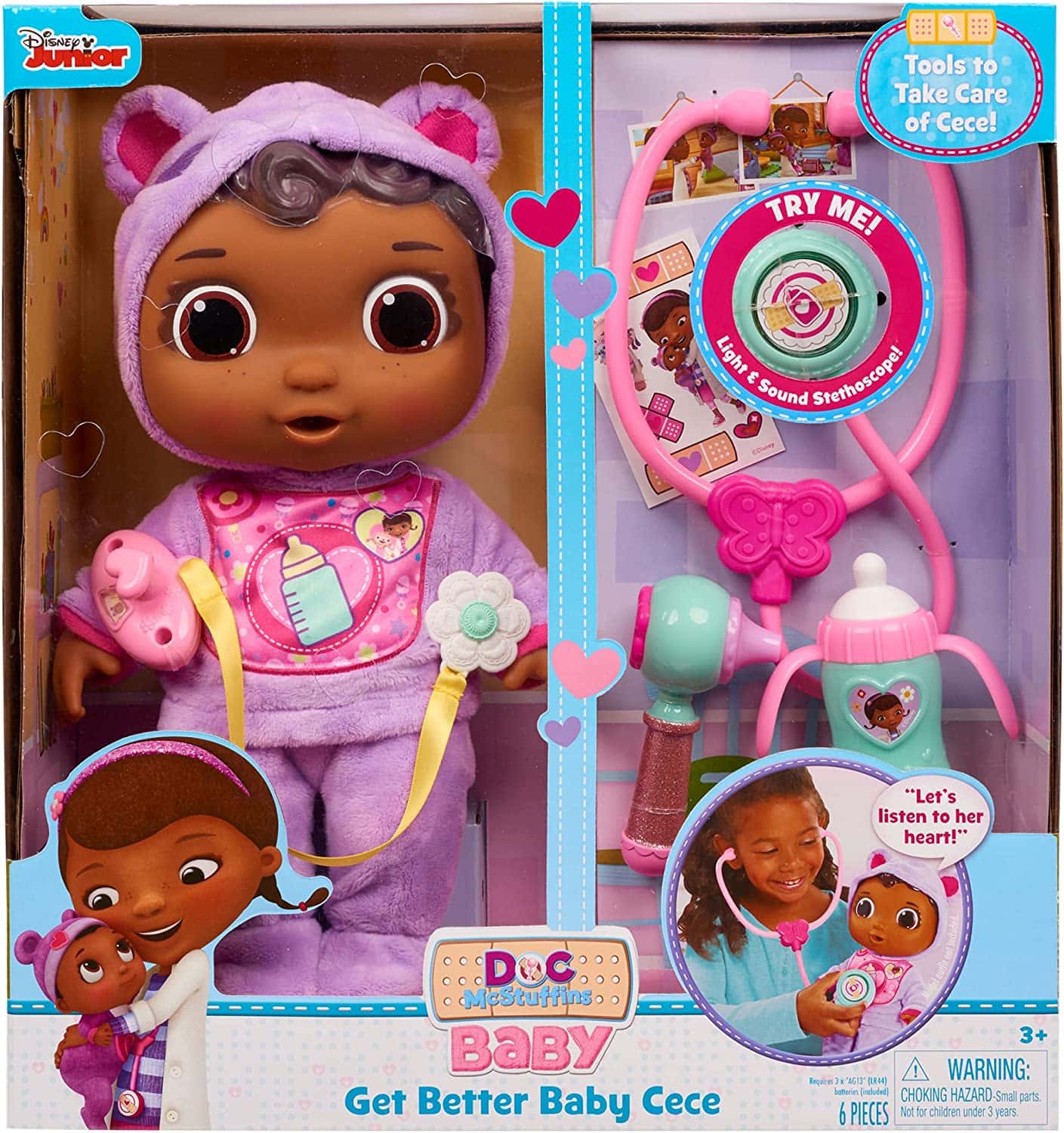 After much careful deliberation, the Doc McStuffins Disney Junior Get Better Baby Cece Doll made it to the number one top pick.
Although it wasn't without cons, the pros outweigh these. The doll is cute and comes with many features, such as lights, sounds, and accessories that accentuate the playing experience.
I found that because it's so popular at the moment, it can be challenging to find in stock, so I would advise you to keep checking because they seem to update online daily.
How I Selected the McStuffins Toys
Take a look at how I broke down my selection into the following categories.
#1 Educational
I am of the firm view that when children are playing, it's the perfect time to teach valuable life lessons, whether that's putting together puzzles, working out mathematical equations, or learning to care for animals.
So when selecting the toys in this guide, while some may seem like ordinary playsets and dolls, they all have some form of educational value.
#2 Safe
When choosing toys, especially for younger children, safety should always come first. When it comes to toys such as the ones we're going to look at today, the vital thing to be aware of is the small parts that come separately.
I would advise that most of the toys in this guide would be best suited to children aged around five regarding safety.
#3 Fun
It's all well and good for me to discuss the safety and educational values of the toys we buy for our kids, but, let's face it, the kids don't want to know about that. What they care about is how much they will experience while playing.
I have selected a wide variety of toys to be reviewed, all of which come with their own individual niche and features, such as a nursery, a doctor with accessories that light up, and some water toys for bathtime.
My Product Criteria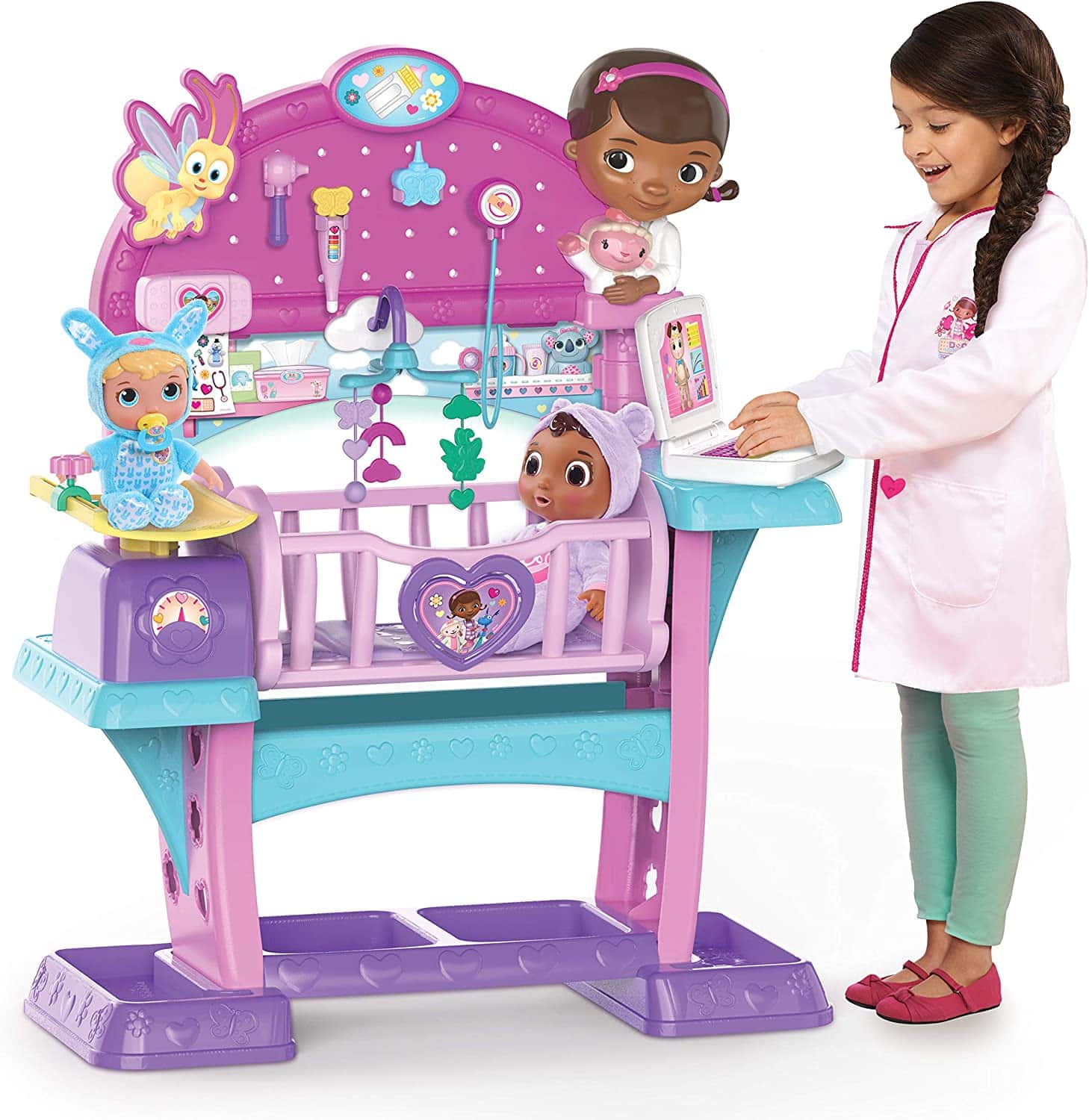 Toy Type – In this guide, there are all kinds of toys to suit children of all abilities. So whether your child likes flashing lights and sounds, engaging activities, or role-play, there is something for everyone.
Age – Most of the toys in this range are aimed at younger children who aren't likely to put small items in their mouths. I would put this to be at around age 3-5, though depending on the individual child, others may think they are suitable for younger kids.
Durability – Most Doc McStuffins toys are made by reputable brands such as Disney and Just Play. I believe these to be safe products for children to handle, but be sure to read the safety instructions on anything before giving it to your child.
Consumer Feedback – While I believe that my opinion is valid, others may prefer to hear from more than just me, so I thought it best to check out the customer reviews for each product. I have made sure to choose toys where most thoughts were the same as mine.
Price – I'm not particularly eager to pay over the odds for toys, especially when it's going to be something they will grow out of within a year or two. However, I think it's essential to look at a range of toys from different price brackets; after all, sometimes it's nice to splash out for a special occasion or when the kids have done something worthy of a fun reward.
My Favorite Doc McStuffins Toys – Best 9 On the Market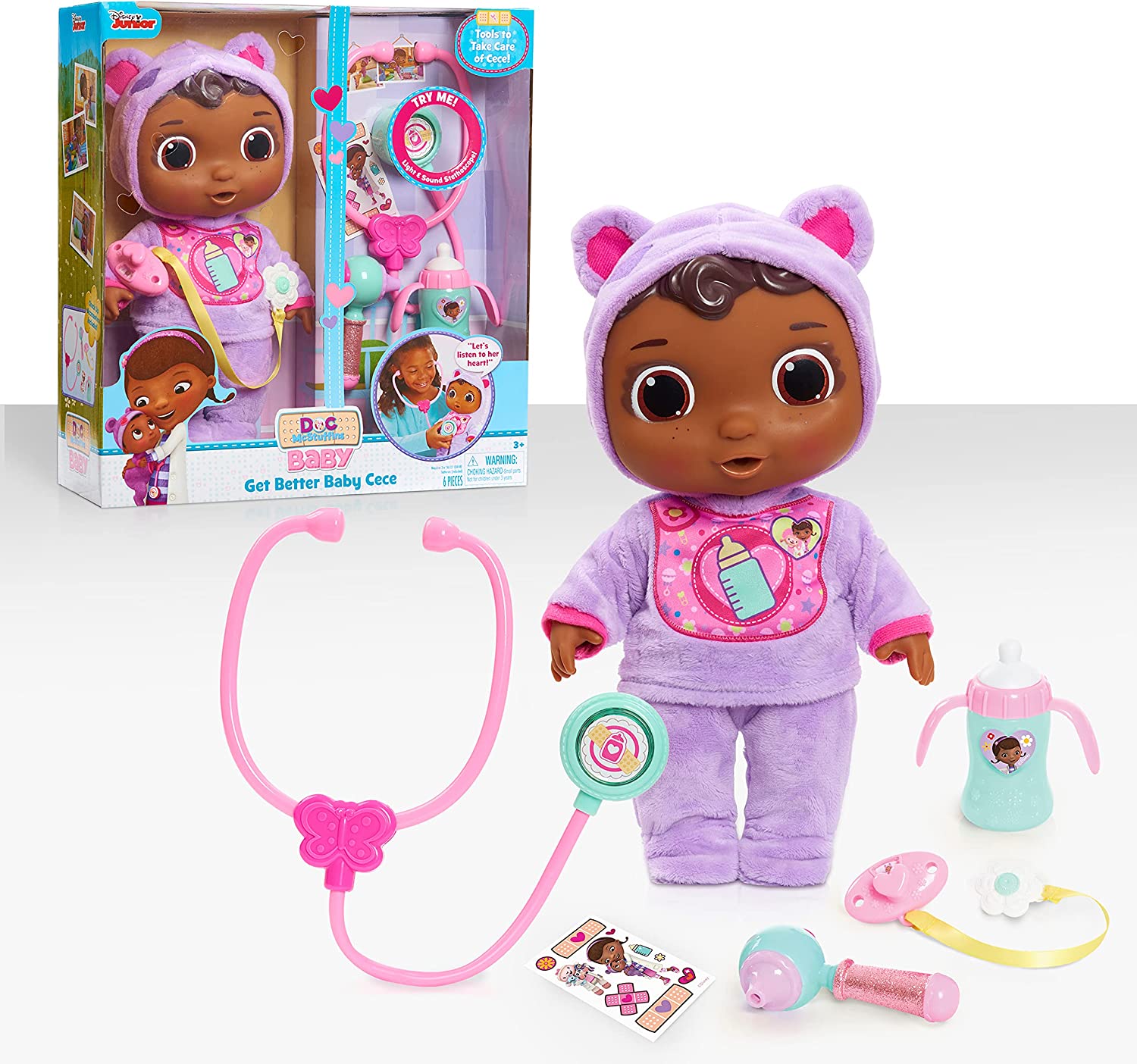 Aimed at children aged three years and up, the McStuffins Disney Junior Get Better Baby Cece Doll features many fun accessories such as a stethoscope, stickers, and a feeding bottle.
What I liked about this (and many of the Just Play products) was that batteries are included. It's an excellent choice for children who enjoy role play or any little aspiring doctors or nurses out there.
The delivery was super fast for the item, and it was well presented in a box with a try-me button to check it worked before opening.
I noticed from the reviews that people weren't getting the same color as they expected. Some people seemed to receive a doll in purple clothing, while others were blue — something to keep in mind before ordering.
Regarding price, I do find a lot of the Doc McStuffins products a little on the pricey side. So, I've had to compare whether or not I think they are reasonable, with other products from this range, which in this case, seems relatively in-line when considering the product's quality and the number of accessories.
I felt the accessories lacked the same quality as the rest of the doll, and I had some frustrations with minor things such as the hood falling down quite easily and the dummy not fitting perfectly in the mouth. However, I don't think these things would upset young children too much.
Pros
Fast delivery
Lights and Sounds
Lots of accessories
Good size
Great for role play
Cons
Uncertainty surrounding the color you will receive
Accessories are not the best quality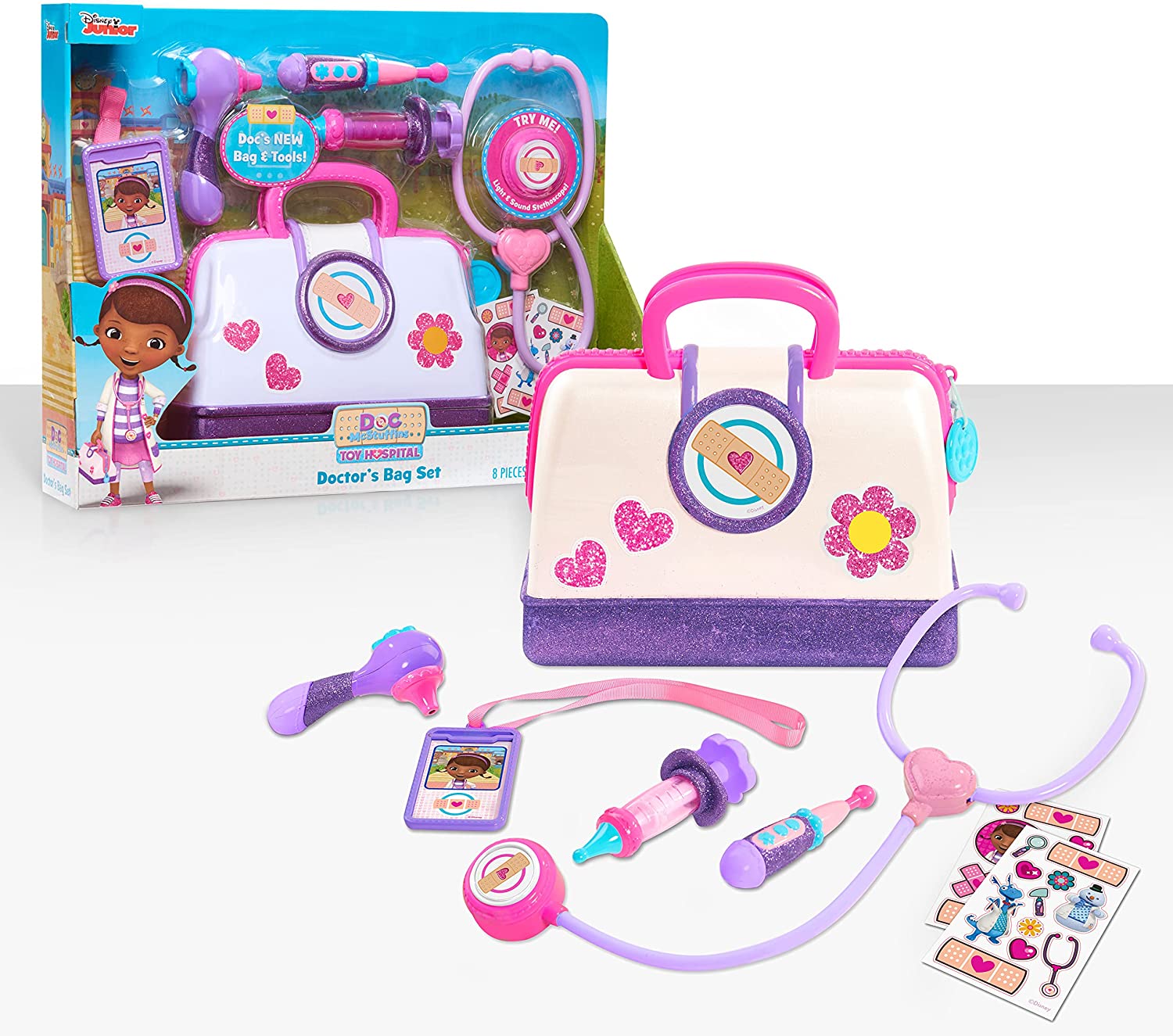 This is an official Disney product, which I thought was brilliant for encouraging role play and improving imagination.
What I thought was the best about Doc Mcstuffins Toy Hospital Doctor's Bag Set was that it's portable and small enough size, making it easy to carry around if your child wants to take it out with them.
In the set, you get Lambie, who needs to take care of using the accessory kit, which includes a stethoscope that makes sounds, an otoscope, and some pretend plasters. It all comes contained in a handy little carry case.
I liked the price of this product and thought it was highly reasonable, to the point where I would happily purchase this as a spontaneous gift.
After close inspection, I am happy to say that I think this toy can withstand a lot of playing with and traveling. It's hard plastic and feels sturdy and well made.
Overall, perfect for the little aspiring doctor in the house.
Pros
Durable
Good price
Portable
Sounds and Phrases
Cons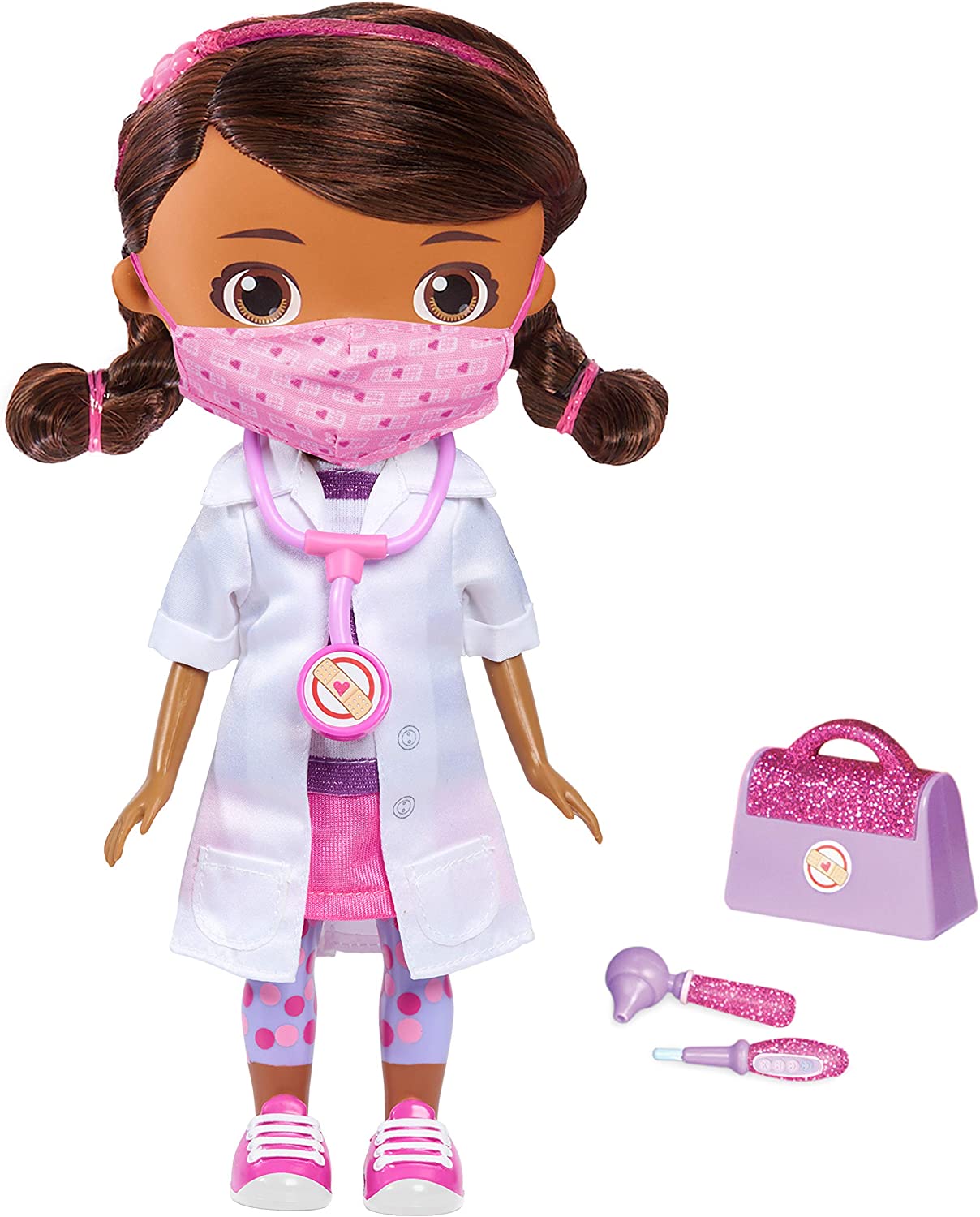 Another reasonably-priced product I came across and thought was great value for money was the Doc McStuffins Wash Your Hands Singing Doll, which came with a mask, and other accessories.
This product was inspired by the recent pandemic, which I thought was an intelligent way to teach children about washing their hands and being hygienic.
The package contains one 11.5-inch doll with her little doctor's kit and face mask. She also sings a song from the show called "Wash Your Hands."
I would say this item is mainly aimed at little girls, but there is no saying that some boys wouldn't enjoy it too.
The doll is made from solid plastic and feels robust. I feel as though it could handle some heavy play without being damaged, which is a plus for kids who like to take their dolls everywhere.
Pros
Made from strong plastic
Reasonable price
Educational
Sings a song from the show
Good size
Cons
Small accessories which can get lost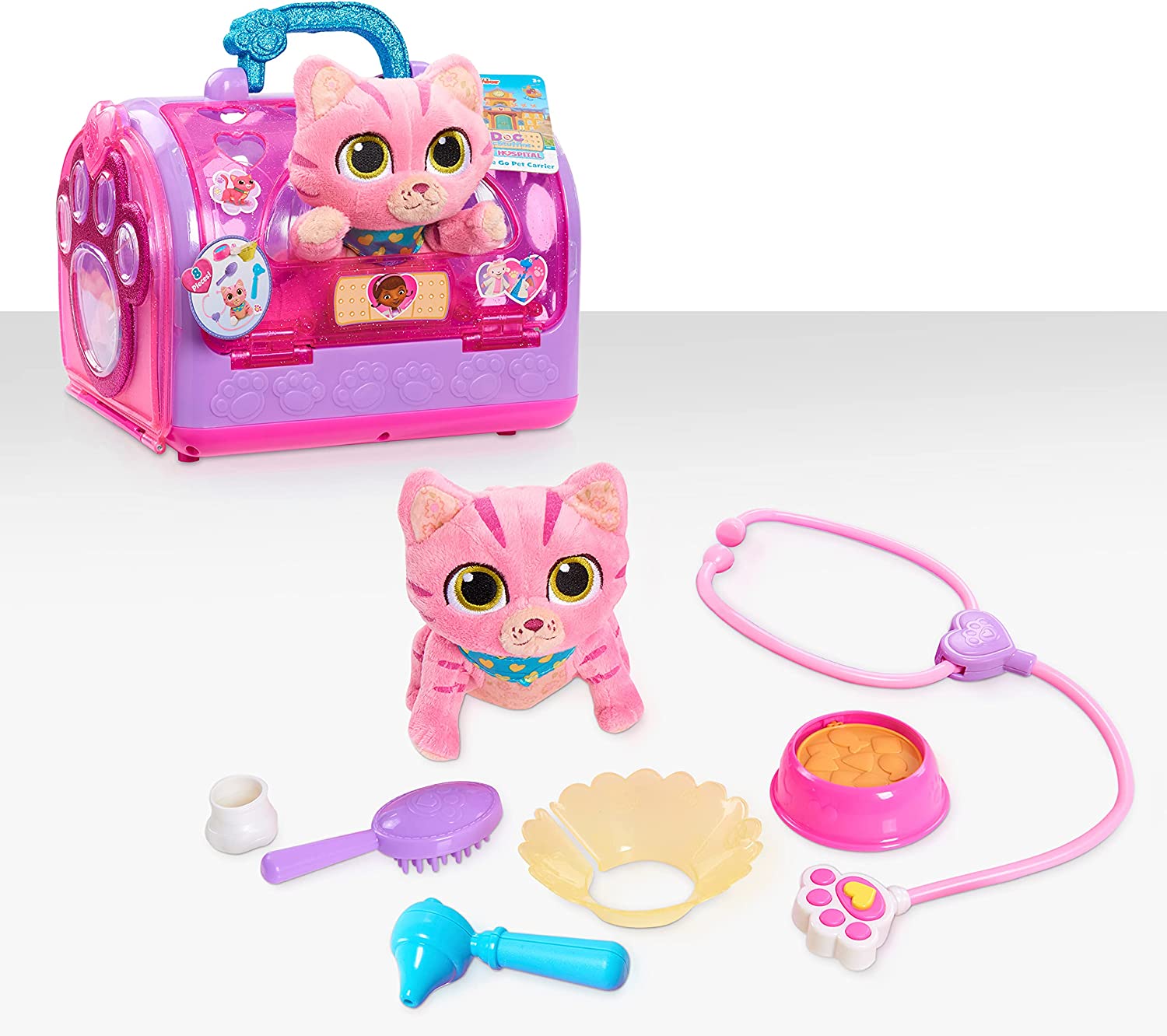 If you have a little animal lover in your household, then this Doc McStuffins On-The-Go Carrier, including Whiskers the cat, will be a great addition to their toy collection.
The set comes with everything an enthusiastic veterinarian in training will need to take care of their poorly kitty, including a food and water bowl, brush, cone collar, paw cast, and stethoscope.
This set is also recommended for children aged three and up but does contain some very small parts.
Everything comes packed neatly inside a pink plastic carry case, which is small enough to transport.
The cat, accessories, and carrier all appear to be really high quality, in line with most Disney toys, and I would imagine it would last a long time as long as the pieces were all kept together.
Pros
Nicely compact
Good for travel
Cute appearance
Durable
Cons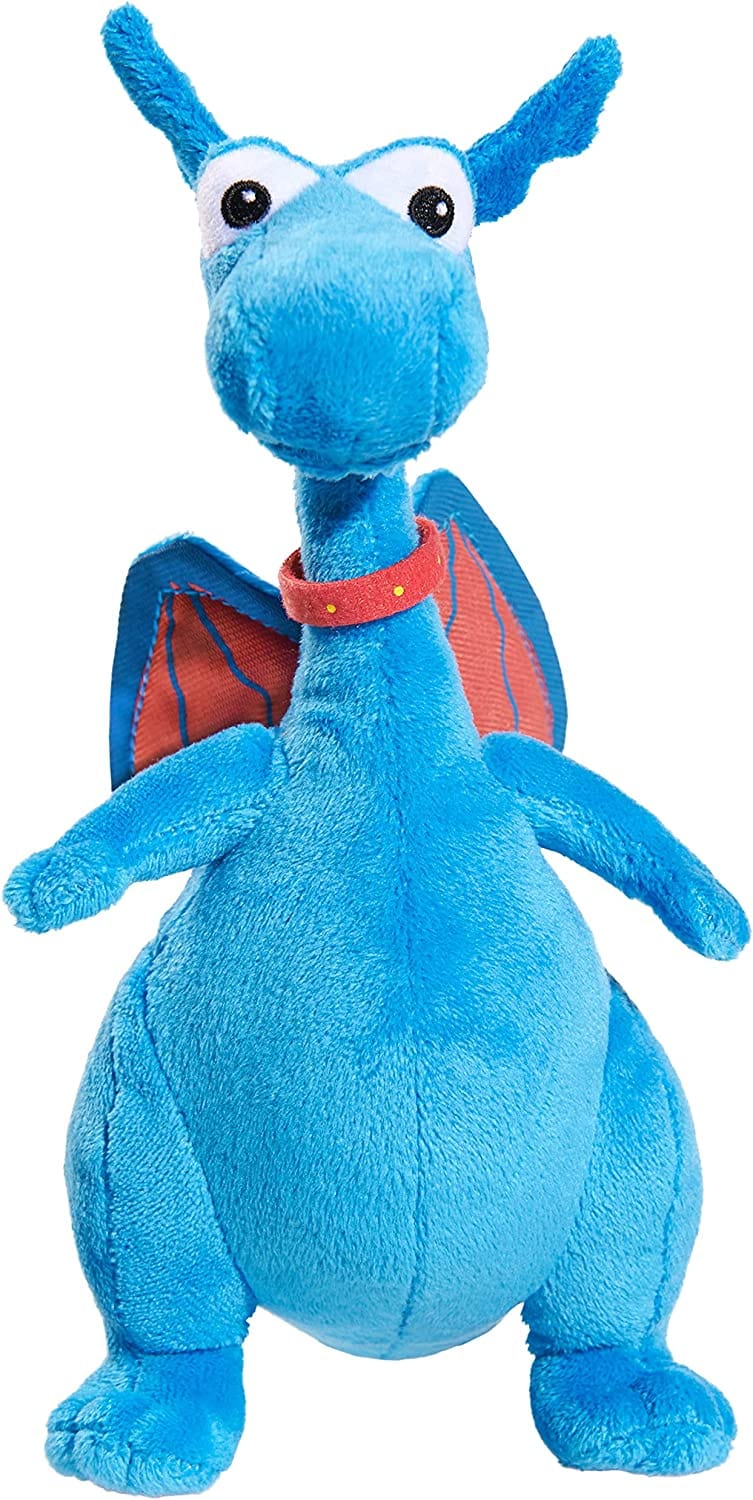 The Doc McStuffins Stuffy Beanbag Plush is a simplistic choice compared to some of the other playsets and dolls I have discussed previously. Still, it came up as one of my favorite picks, mainly because of the detail and quality of the product.
If your child loves soft toys and Doc McStuffins, this plush will be the perfect gift to give to them without breaking the bank, as unlike some of the other products from this range, it's pretty low-priced.
The toy is 8.5 inches tall, so it's not too large to carry around; it's brightly colored and super soft.
There are also other characters that you can purchase to add to the beanbag plush collection, such as Chilly, Lambie, and Hallie.
Pros
Suitable for children from two years plus
Soft material
Good price
Brightly colored
No assembly or small parts
Cons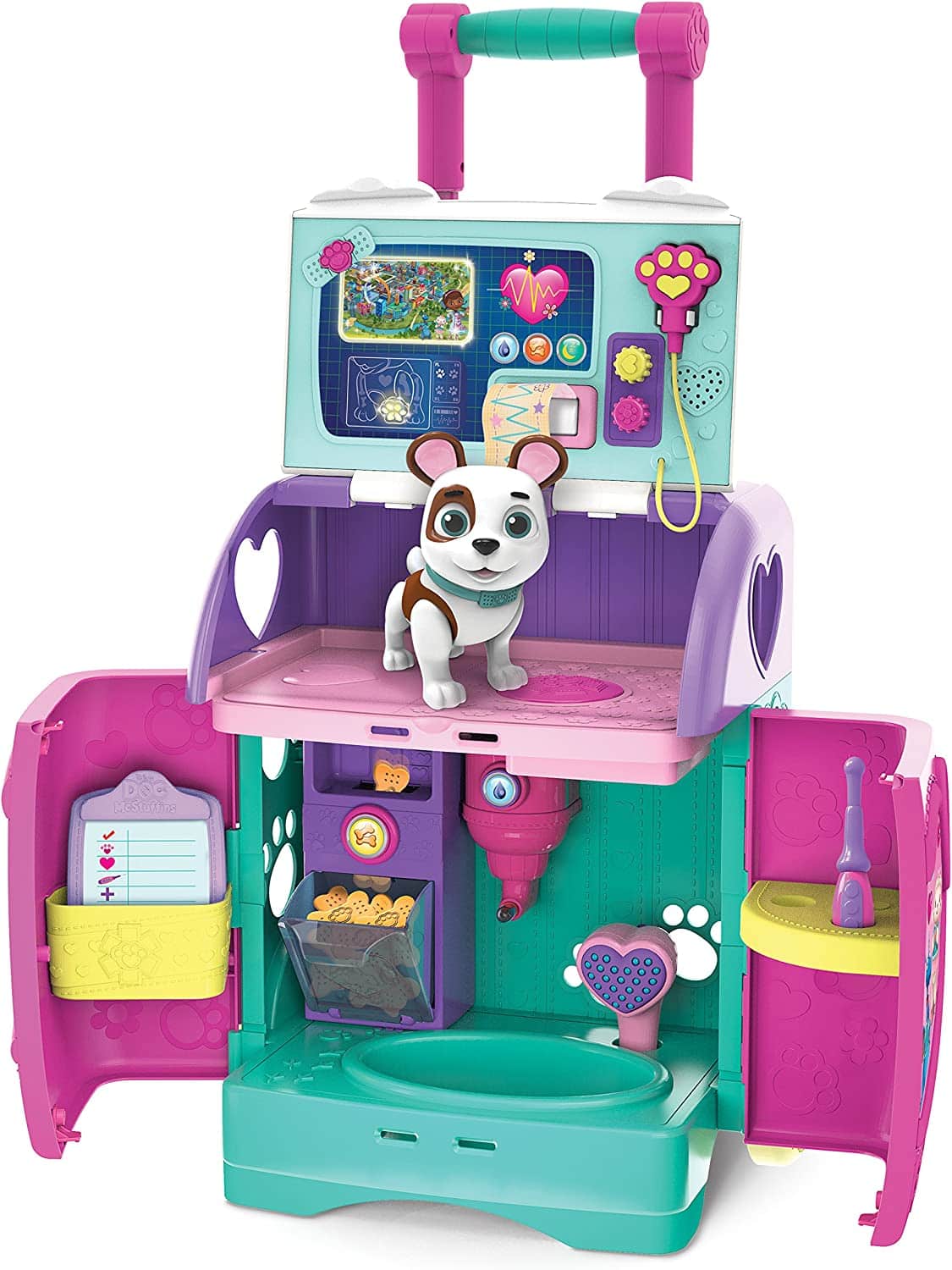 The Doc McStuffings Baby Nursery Pet Rescue follows one of the newest trends of the show.
With this set, your kids can rush to save the lives of all the pets that enter their rescue center, or they can hurry to their aid with everything they need to fix an animal's broken leg packed away in the pull-along case.
I wasn't overly excited by the price of this toy, but if your child is a die-hard fan of the show and loves animals, they will absolutely love this.
The set has a lot going on in terms of accessories. As well as lots of phrases, lights, and sounds, there is a stethoscope, an EKG reader, a light-up X-Ray, and lots of other medical tools that your little vet will have hours of fun playing with.
I feel like the case is well made, as are the accessories that came with it, but I did notice that it didn't include all of the items that the advert depicted in the images.
Pros
Lots to do
Included batteries
Portable case
It plays music and sounds
Durable
Cons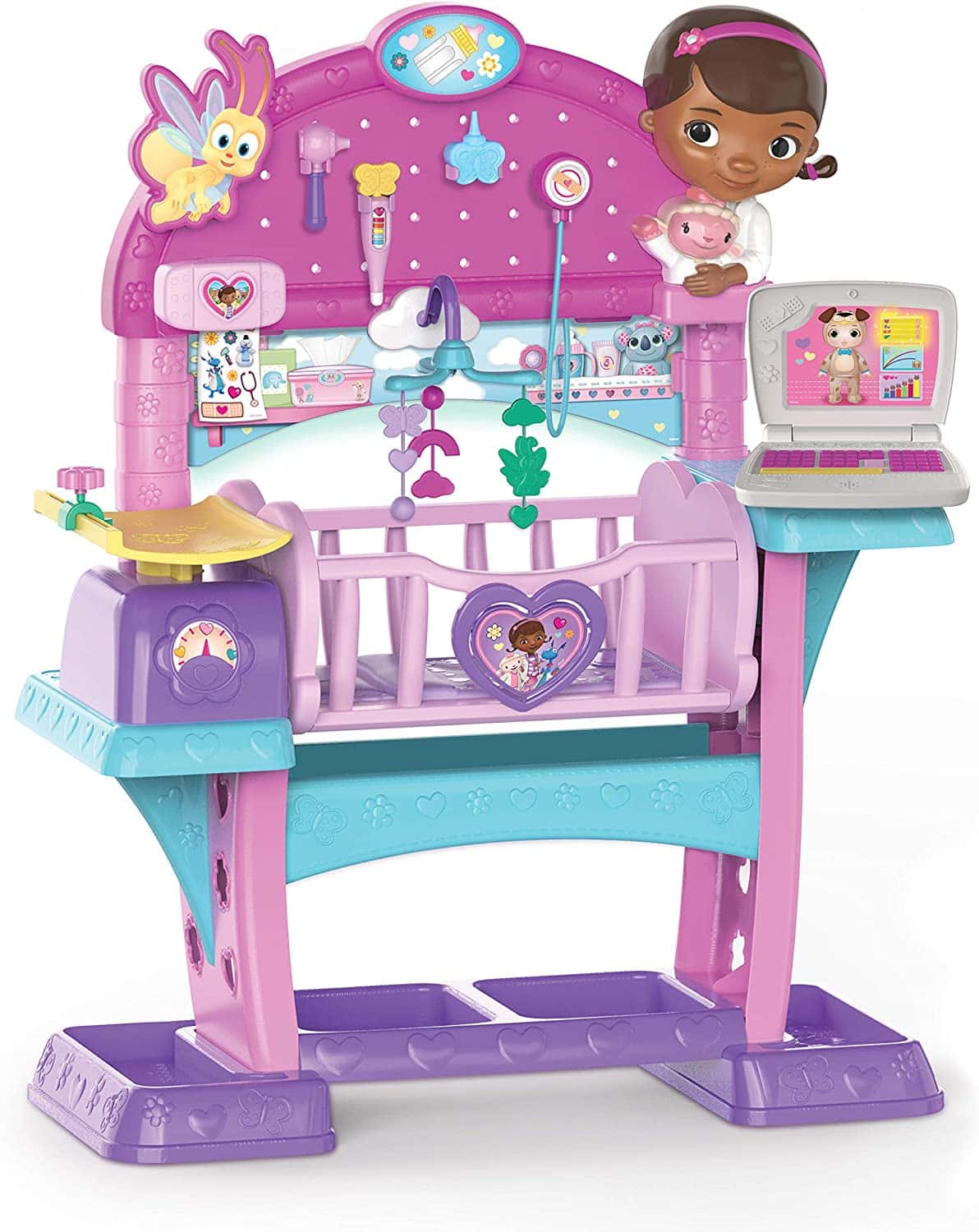 The Doc McStuffins Baby All-in-One Nursery is about teaching your children how to look after babies, which is an excellent way of teaching them to be gentle, caring, and empathetic in the real world.
If you have a child like mine who loves playing with anything that involves dolls, and role play, then they will love spending hours in front of their very own nursery, pretending to care for their babies, as well as cleaning them, clothing them, and making them feel better when they're sick,
The set includes exciting parts, including a rocking cradle, aspirator, bandages, nappies, scales, laptop, sticker dispenser, and loads. However, I was disappointed to discover that there was no doll included, which for the extremely high price tag, I kind of thought it should have done.
I did question the quality of the product, considering the price of over $200, I was expecting something extremely robust and well made, but I have to say, although the set is nice, I wouldn't have faith in it having a long lifespan if played with regularly.
Pros
Exciting
Great for role play
Good size
Lots of accessories
Lights and sounds
Batteries included
Cons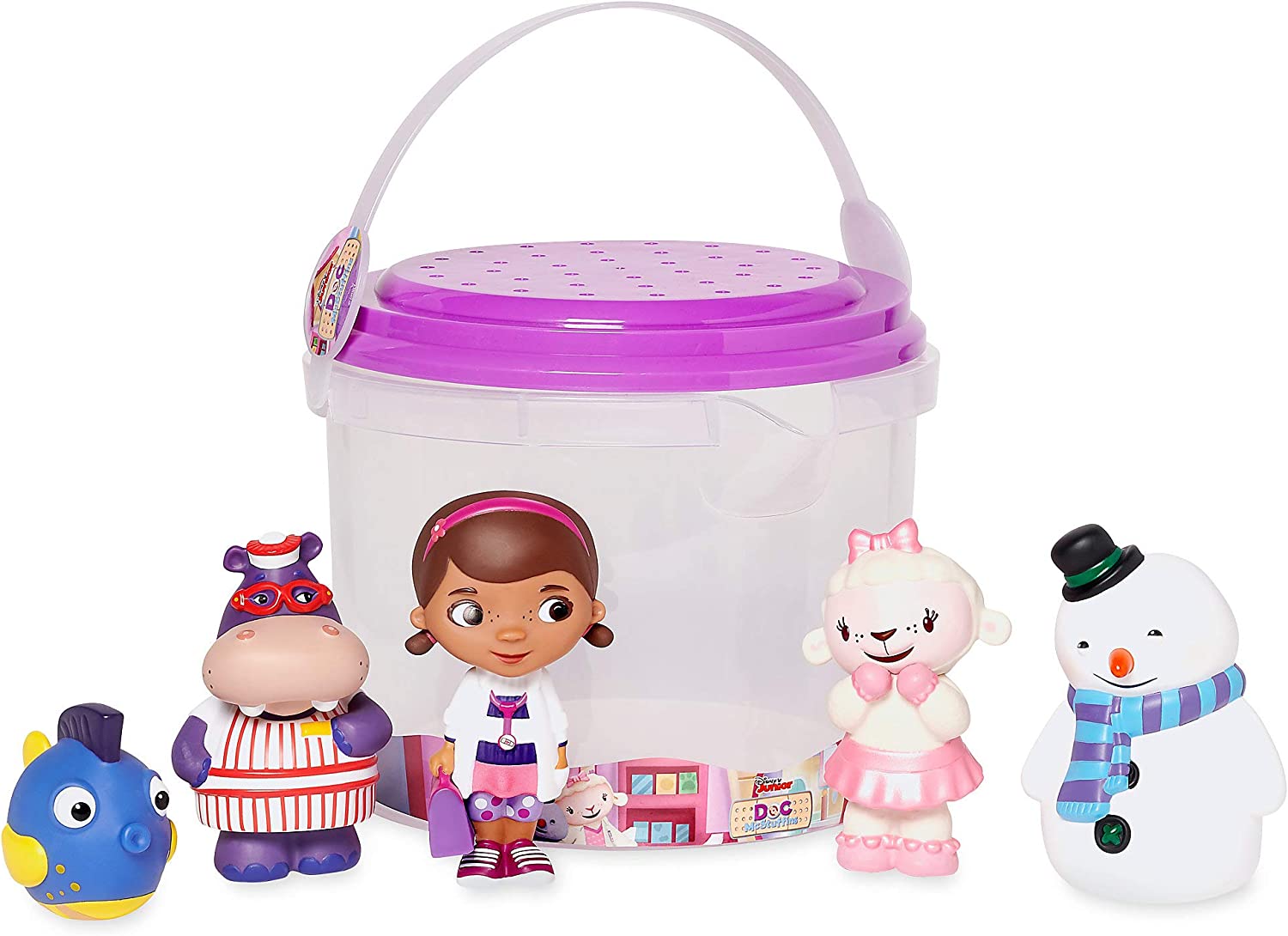 I have always found it challenging to find good-quality bath toys that keep the kids entertained for any length of time. If you also have this problem and your child loves Doc, then this Doc McStuffins Bath Set will go down a treat.
The set includes five figures, Hallie, Chilly, Dottie, Lambie, and Squeakers, and they come in a handy bucket, which is easy to store the toys away when not in use. I loved that the bucket had drainage holes, so after each bedtime, the toys could be packed away and left to drain without going moldy.
The figures themselves are made from quite stiff plastic, which I found surprising as I expected something more like a rubber duck. However, it works. They also don't have holes in the bottom, meaning they don't collect water inside, which can cause the toy to rot.
As far as bath products go, I thought this was a great little collection of toys.
Pros
Safe for the bathtub
Don't collect water
It comes with a draining storage bucket
Authentic Disney product
Cons
High price
Missing popular character from the show (Stuffy)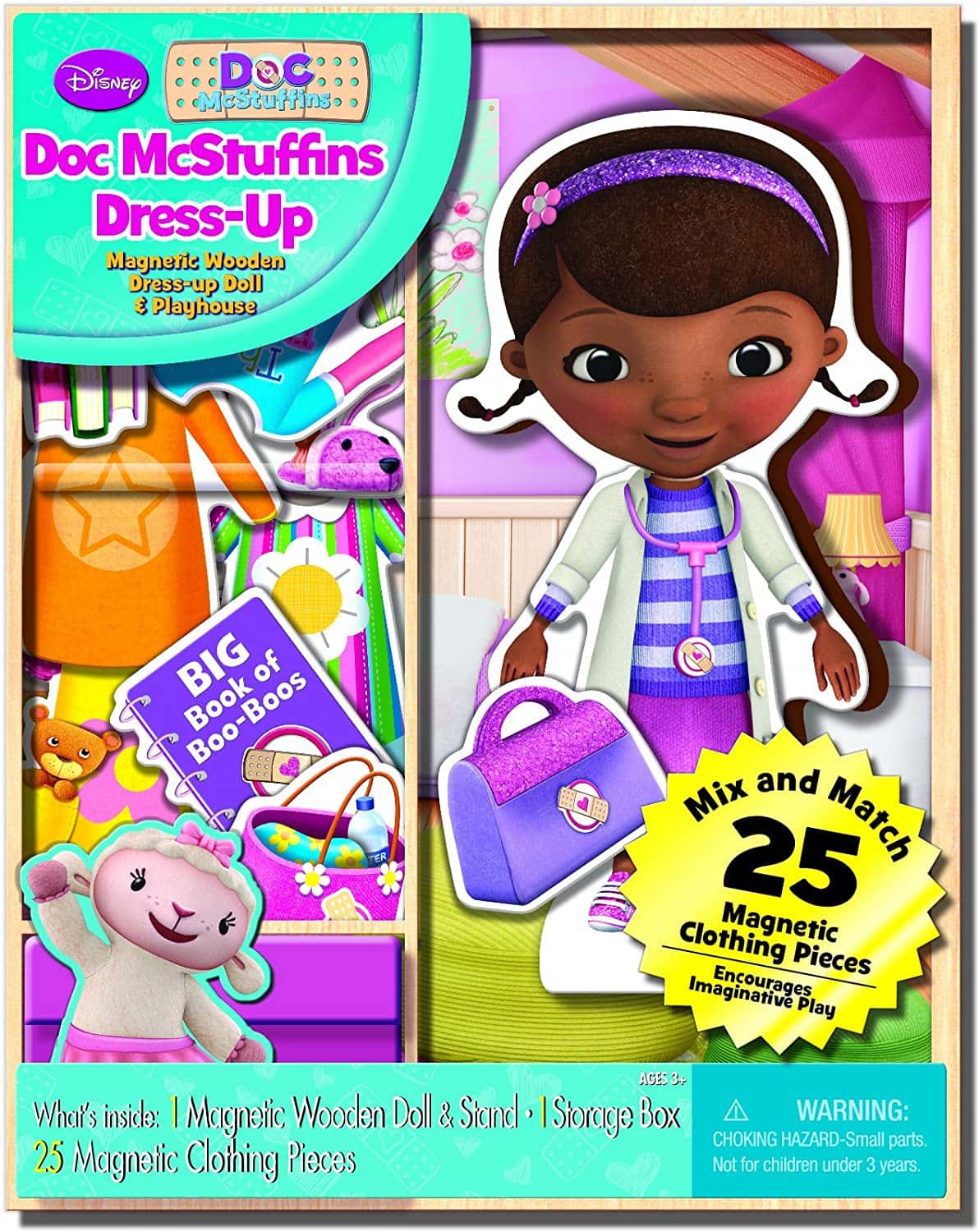 If you have a fashion fanatic in your family, then they will be obsessed with this Disney Doc McStuffins Wooden Magnetic Playset.
The main thing I loved about this was the ability to get creative and put any artistic skills to the test in the form of clothes and accessories.
The box included a wooden stand on which to place your magnetic doll, the doll itself, and 25 bright and colorful pieces of clothing, bags, and other bits to dress Doc up with.
I like that it came with a storage box to keep all the separate parts. The slight qualm I did have, is that I thought there could have been more of a selection of clothing items. While there were a few, they seemed to be mainly accessories over the clothing. The low price is also appealing.
Pros
Low price
Interchangeable
It comes with a stand
Suitable for all ages
Licensed product
Encourages creativity
Cons
Frequently Asked Questions
Question: Who is Doc McStuffins Aimed At?
Answer: Doc Mcstuffins is popular with young girls mainly but also boys too, aged between three and six years old.
Question: Are Doc McStuffins Toys as Educational as the Show?
Answer: Yes. In many ways, the toys are just as educational as the show. They are offering a positive role model and learning elements.
Question: Are Doc McStuffins Toys Safe?
Answer: Yes. Made by Just Play, a reputable brand, the Doc McStuffins toys are deemed safe for young children, but be sure to check for any choking hazards.
Best Doc McStuffins Toys – My Conclusion
Overall, I found none of the Doc McStuffins toys to be collectible as such. Instead, they are entirely focused on good old-fashioned child entertainment and learning. The Doc McStuffins Disney Junior Get Better Baby Cece Doll was super fun, with sounds and flashing lights, and was suitable for children aged three and up.
Regarding value for money and budget, the Disney Junior Doc McStuffins Wash Your Hands Singing Doll was probably the one I would opt for. It was purposeful while being fun, durable, and enjoyable.
Continue reading:
10+ Amazing Toy Houses for Little Girls