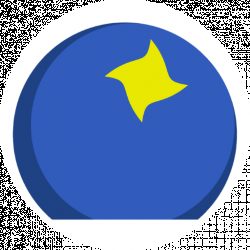 Latest posts by Avid Toy Insider Team
(see all)
I love time at the beach to relax, dig your toes in the sand, and of course, build sandcastles! So the next time you're heading off on a sandy adventure, there are some toys that you'll want to equip for a fantastic time.
It might be tricky trying to figure out what beach gear to bring. That's why I created this guide on the best beach toys for sandy adventures. So read on to help you decide what the best toys are for your next adventure on the beach!
Bottom Line Up Front
Living near the beach, I often find myself playing in the sand, and it's even more fun when my nieces come to visit! Of course, they like to bring the goods: a beach bucket, sandcastle shapers, and more when they arrive on their beach trip.
But if I had to choose one, there's a clear winner. I would have to go with Mint's Colorful Life Devil Fish Kite since it's such a fun beach toy. 
What better way to enjoy your day at the beach than bringing along a colorful and fun kite for all? Plus, what child wouldn't love the fun colors of this kite? Another plus is that it's under $20!
My Top Picks at a Glance
Mint's Colorful Life Devil Fish Kite-Help your child get physical activity for the day in while they're at the beach. This colorful kite will give your child loads of fun as they check out the colorful kite in the air!

Inflatable Beach Balls for kids-Whether you're on the beach or at the pool, inflatable balls are a ton of fun to play with! They're even great for toddlers as well.

JOYIN 24-Piece Beach Sand Toy Set-You'll want to be prepared for your next trip for hours of fun! There are plenty of kid-friendly molds for your child to make animal shapes out of the sand.

Matty's Toy Plastic Sand Grabber Claw Scoops-This is an excellent deal since you get two items in this bundle. They're great for picking up various things at the beach.

Active Life Kid's Flying Rings-This 2-Pack is an excellent way for kids and parents to stay active on their next sandy adventure!
Tips for the Reader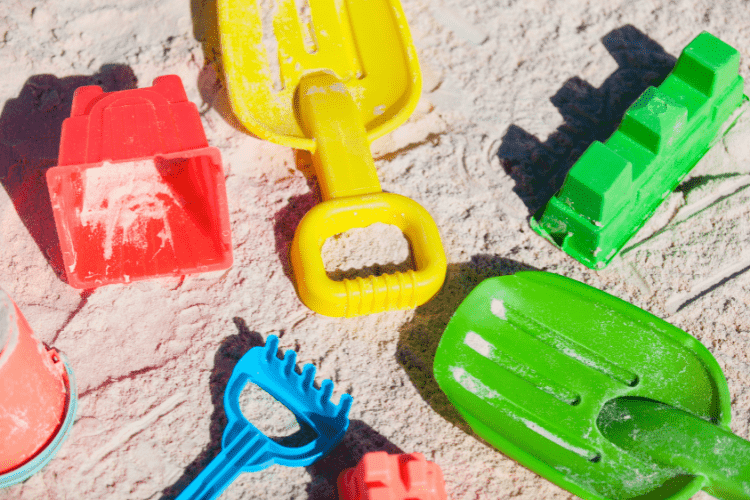 As you go to pick out the best beach toys for sandy adventures, try not to feel overwhelmed; that's why you can use this list! First, think about your child's hobbies and age as you decide on the best toy/toys for them.
Keep your budget in mind as well. Some options are very affordable since you shouldn't break the bank for fun.
Selection Criteria
The best toys I picked out are mostly affordable. There might be a few on the pricier side, but I tried to keep them all within a specific price point.
I also thought about the different age ranges and which will be the most appropriate for children to improve their cognitive skills while playing. Play is essential for them to enhance their imagination and concentration.
Why Buy Toys for the Sand?
As your child plays in the sand, it allows them to improve their imagination. In addition, they might meet other children while playing, which will help to improve their social interactions.
While they're focused on building the best sandcastle or finding the perfect shell, this will help them incorporate better concentration. I love how playing in the sand with different toys can help foster cognitive development. No matter what age your child is, there are plenty of toys for them to enjoy.
Some other benefits include:
Educational insights

Social skills

Fine motor skills

Gross motor skills

Critical thinking
Affordable Toys for the Sand
Mint's Colorful Life Devil Fish Kites for Kids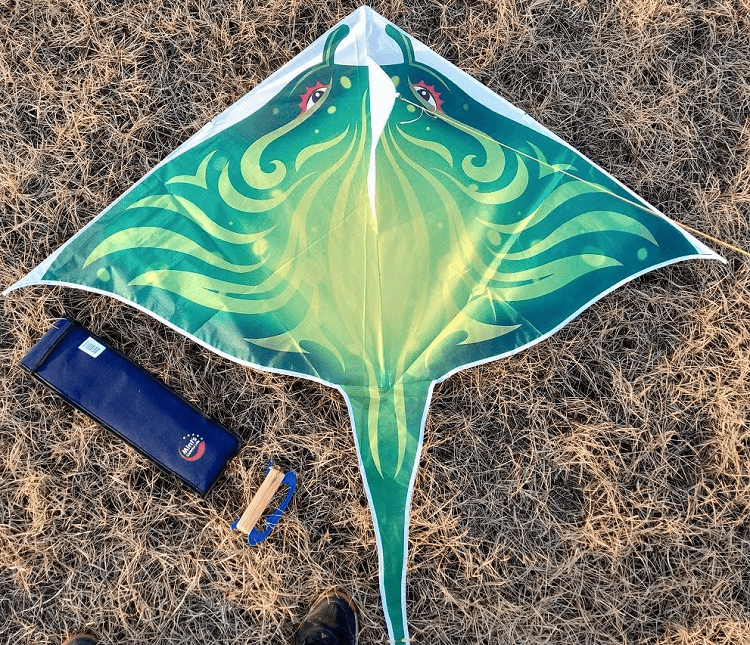 I love the colors of this vibrant kite that your child can wave around proudly during their sand adventure. Even if it's not very windy, this kite can move quickly.
The best part is that kites are easy to assemble. So your child will not only increase their focus but have fun while playing.
Pros
Vibrant colors

Easy assembly

Helps to improve focus

Great for exercise
Cons
If it's a hot day with no breeze at all, then it might be challenging to fly.

Your child might get bored of it after a while

You need to be careful while using it since it can break easily.
Active Life Kid's Flying Rings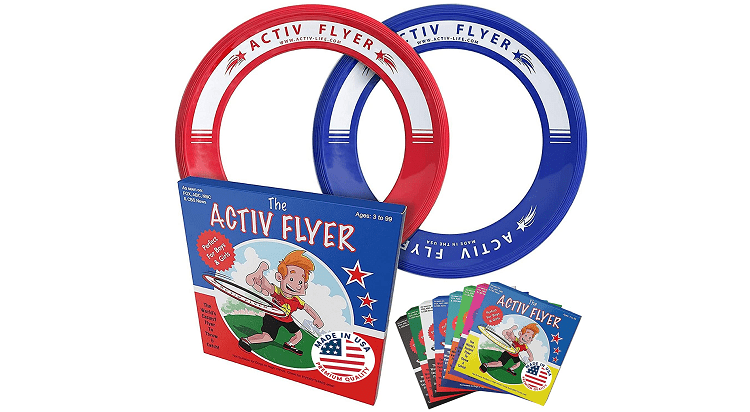 I love how this affordable option comes with two rings! So instead of your child sitting and staring at a screen, they can use these flying rings for fun in the sand, in their backyard, etc. It's a great way to get moving and spend quality time outside.
Pros
An extremely affordable price

Two rings for play

Bright colors that you get to pick from a few different choices
Cons
Be careful if you're playing them with pets since they can break.

Your child might get bored after a while since it's just throwing them back and forth.
Inflatable Beach Balls for Kids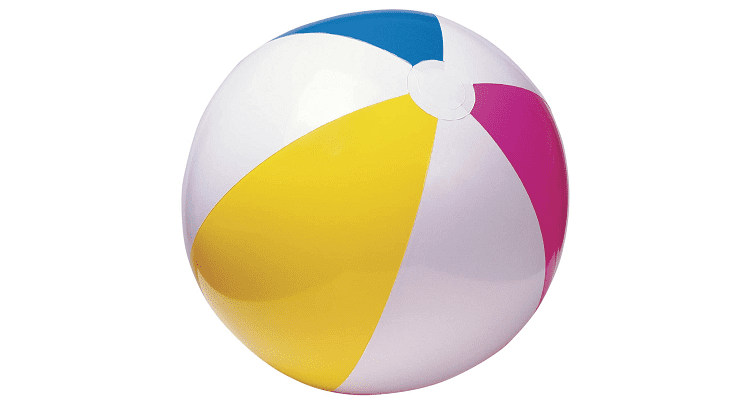 These beach balls are a great price and, at the time of posting, are on sale for $9.49! You also get three beach balls for this price. They're easy to assemble since you can blow them up by your mouth or use a hand pump. Having an inflatable beach ball will give you hours of fun at the beach or pool!
Pros
They're at an affordable rate.

Toddlers can play with them too.

Easy to assemble since you can use a hand pump
Cons
Since they're inflatable, they could break easily, handle with care.

If you have it shipped to your home, be sure that there are no holes or cracks before you blow it up.
Hours of Fun at the Beach
JOYIN 24-Piece Beach Sand Toys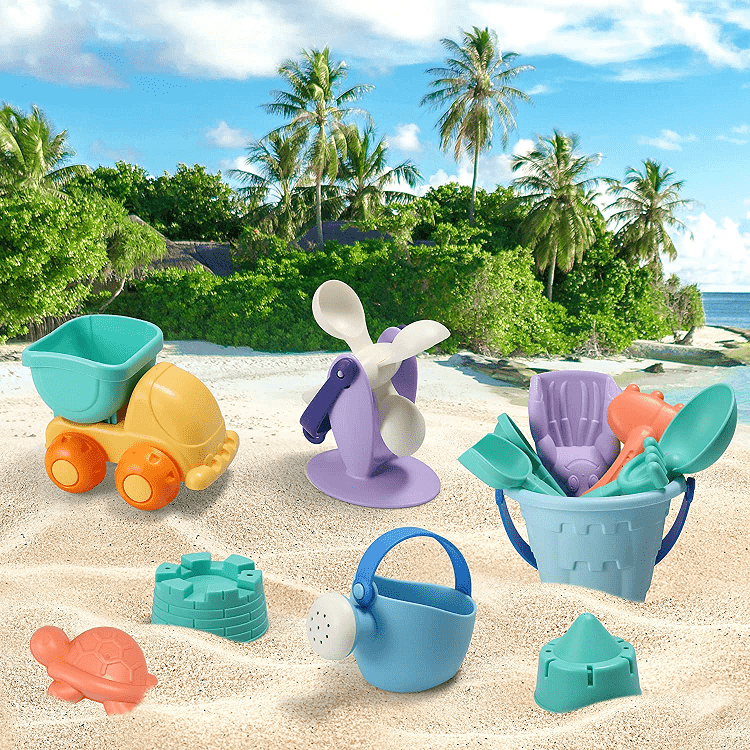 All I have to say is wow! For under $20 (at the time of posting this), you can get a 24-piece set for the beach. It comes with the staple items such as shovels, rakes, a sand bucket, etc.
A mesh bag is included for your little one to carry their items around. I love how it comes with molds for your child to create different animals in the sand!
Pros
Very affordable considering all of the items you receive

Plenty of various toys to choose from

Great for various age ranges, including toddlers
Cons
Only one color set to choose from

Contains the basics that your child might already have

They're easily breakable since they're plastic so keep that in mind.
Matty's Toy Stop Plastic Sand Grabber Claw Scoops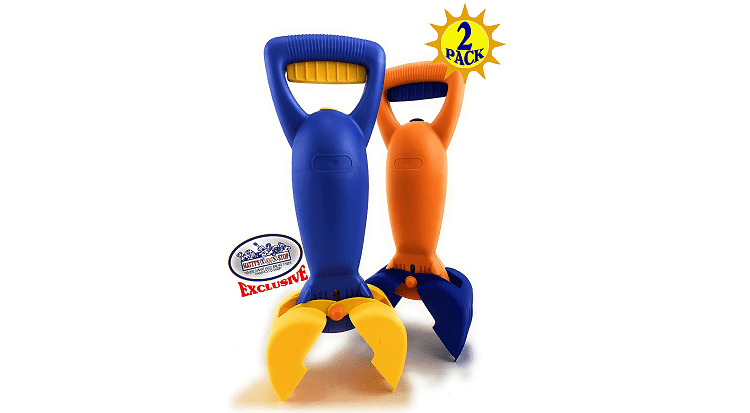 I love how you get two in this pack! This will provide hours of fun for two children at an affordable rate. It's even perfect for 3-year-old kids!
Pros
I love how affordable it is

You receive two in the pack.

It's great for various ages since 3-year-olds can play with their siblings.

Great for picking up different items that they find along the sand.
Cons
Since it's plastic, it could break easily, handle with care.

No other color options; you get the color that you see.
Unique Sand Toys
John Deere Dump Truck and Toy Tractor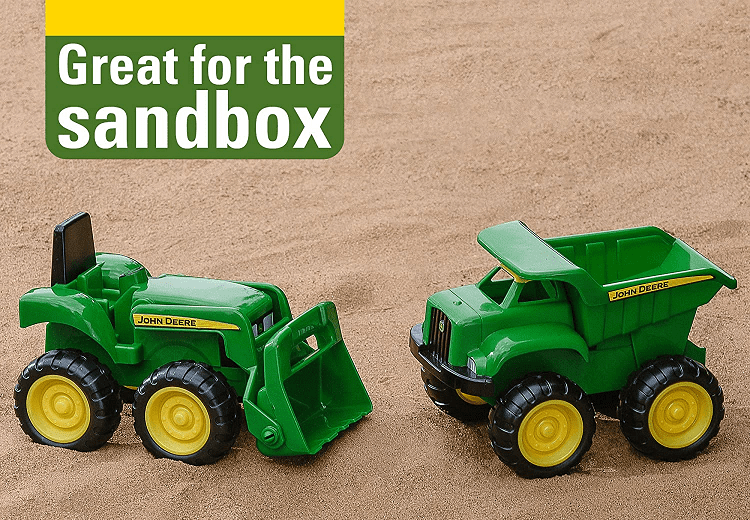 Wow, for this affordable toy, you get two! I love how you can have your child bring them in the sand for hours of fun. If you're looking for an interactive toy that'll help improve your child's concentration, this is a great option.
It's also easy to use and even children 18 months and older can enjoy it! It comes with both a tractor and a dump truck. Whether inside or on the sand, it's a fun toy to have.
Pros
Affordable since it comes with two toys

It can be used out in the sand or at home

Children as young as 18 months can play with them
Cons
Since it has plastic materials, it's not very durable, handle with care

Your child could get bored since these toys don't do any particular interactions.
Top Race Kids Beach Toys Set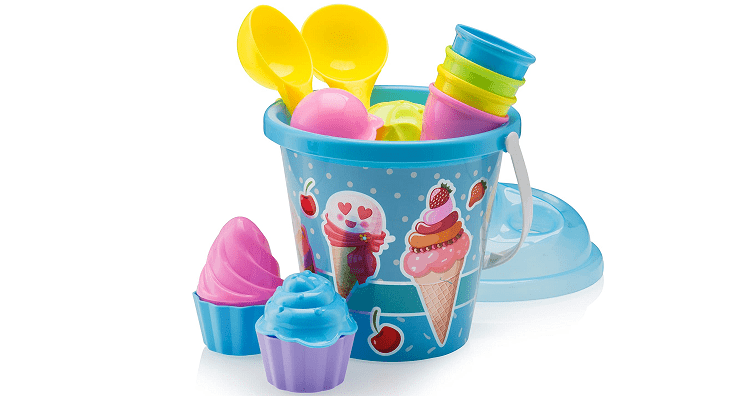 I think this toy is excellent since it'll encourage imagination through play. While at the beach, your child can scoop up sand and give you play ice cream.
Children as young as 2 can play with this toy. It's an affordable rate and comes with 16 pieces! I love the vibrant colors that'll attract your child right to it.
Pros
It comes with 16 pieces to keep your child engaged

A unique sand toy idea that'll get your child excited

Encourages imagination and exploration through play
Cons
Not for children under 2

Since it's plastic, it's not durable; handle with care!
Melissa & Doug Seaside Sidekicks Sand-and-Water Sifting Funnel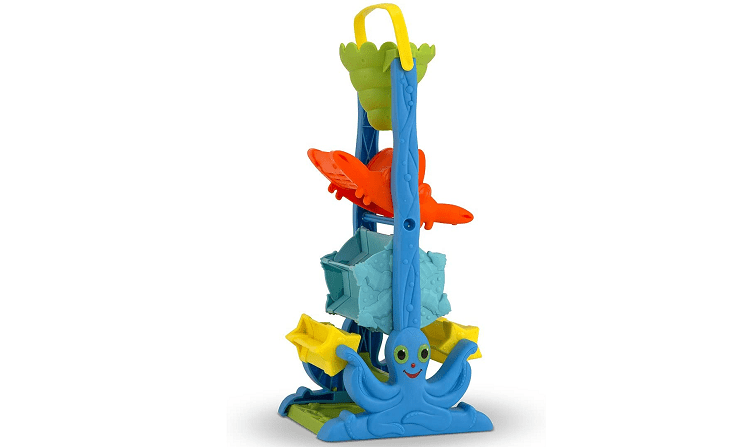 I love how unique this toy is and how it'll foster learning, creativity, and imagination. Children 24 months and up can play with it.
I love how it has different layers, including a sift, tip, spin, and funnel. Also, Melissa & Doug are respected children's toy creators.
Pros
They partnered with the American Academy of Pediatrics

It's great fun whether you're at home or at the beach

It's unique and different from other toys

A great option for play and fostering imagination
Cons
The age range is suitable for up to 5 years

More difficult to clean up after play
Take Apart Construction Trucks Toys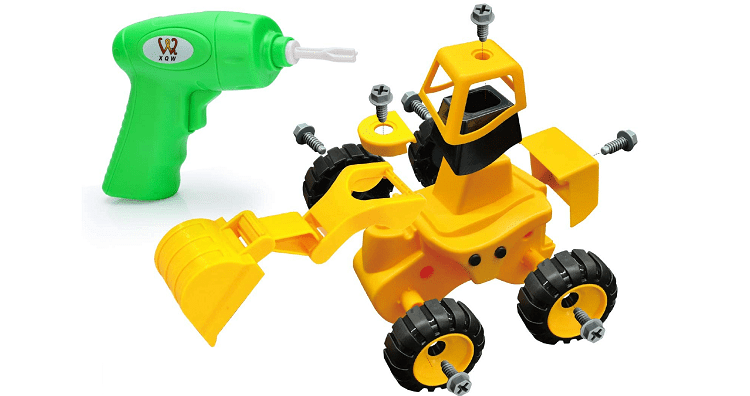 I love how this is a set! They're colorful, too, instead of just one color.
The great part is that your child can take these toys apart and put them back together as they play. They're a great way to improve your child's imagination, concentration, and cognitive skills.
Pros
An excellent price for a set!

Colorful pieces to make it more stimulating

Hours of playtime

It can quickly come apart or be put back together.
Cons
It's not for children under 3 since it's a choking hazard

It might be more difficult for younger children if they take it apart and struggle to put it back together
Melissa & Doug Sunny Patch Seaside Play Set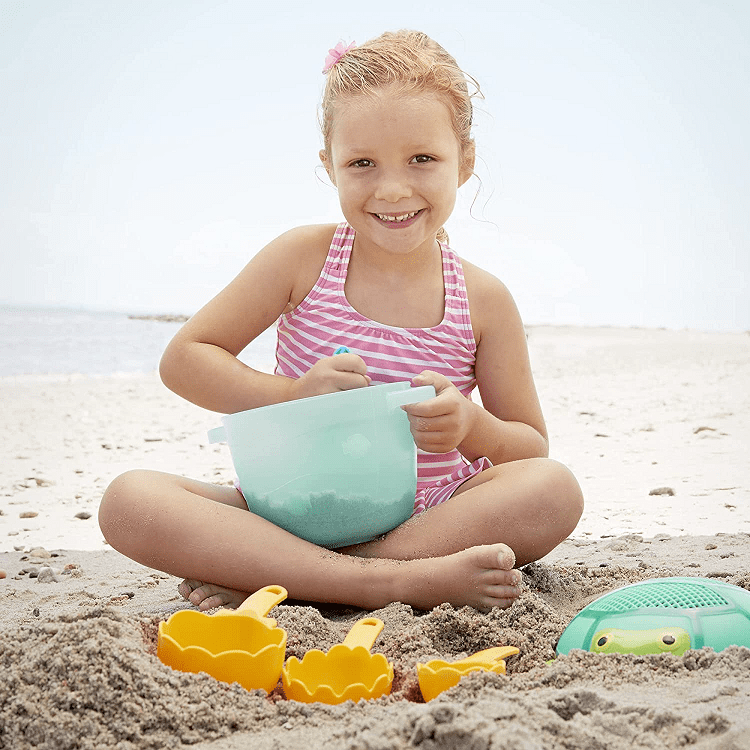 This is one of the most popular toys right now! It's easy to see why since it's unique. Have your child practice baking with these fun items. I love the different designs on each item to encourage creativity.
Melissa & Doug are well-respected in the toy community. My nieces have always loved these toys too!
Pros
A popular option but still unique

Hours of play to encourage imagination

Works well for the ages of 3-5 (preschool and kindergarten)
Cons
It's not an option for under 3-years-old.

Be careful while using this toy since it's plastic and could break easily, handle with care.
Beach Essentials
SupMLC Mesh Beach Bag Extra Large Beach Bags and Tote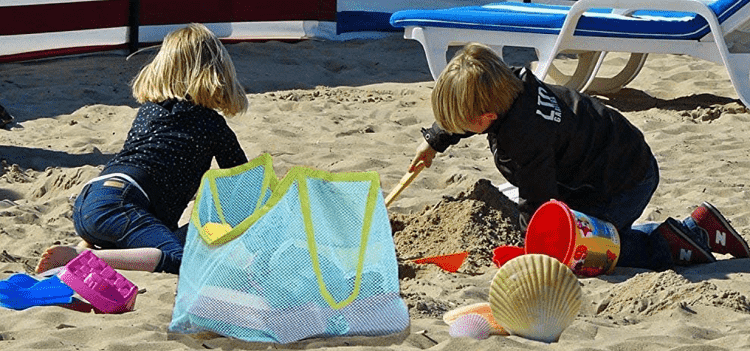 Whether you're looking for a shovel mesh bag or an all-in-one beach bag, this option has you covered. I love how big it is and how it can fit all of your children's toys for the beach.
The color is great and the drawstrings are nice and long to carry with ease. You can even hang it to dry off after a day of adventure.
Pros
Durable
Easy to carry
Affordable
Collect various items in
Cons
It might be too large and bulky to carry around all of the time
The design seems like it'll allow toys to fall out
Matty's Toy Stop Sand Sifter Sieves for Sand & Beach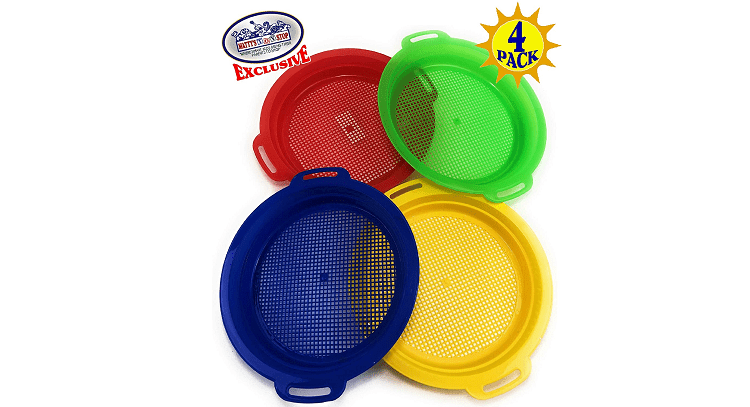 I love how this is a 4 pack that you can take with you for your next beach adventure. Plenty of fun to sift through the sand for the whole family. It also allows you to pick a different color each time you use it.
Pros
It comes as a 4-pack
Affordable
For ages 2 and up
Cons
It could break easily so handle with care
It's made of plastic so it's not very durable
How to Pick the Best Beach Toys for Sandy Adventures
I know that it can feel challenging to sift through the various options. First, think about your budget as you look at the different items.
Next, think about your child's age and how many years of play-life they'll get out of it. Some toys are less durable than others, so it might be worth paying a bit more.
Keep in mind that money doesn't equal fun, though. On the other hand, you could find a toy at an affordable price.
Consider your child's hobbies and what they enjoy best. Then, some of the items you could find with branded content from different companies. For example, if they like unicorns, then a bucket with a unicorn design might become much more exciting for your child.
FAQs
Question: What is the Most Popular Beach Toy?
Answer: This comes down to personal preference, but Melissa & Doug make a Sand Baking Set that's extremely popular.
Question: At what Age can Babies Use Beach Toys?
Answer: Between the ages of 6-12 months old, they can use sand toys as long as they can stand up. Be sure to check the age range for each toy that you find.
Question: How Does Playing with Sand Help a Child's Development?
Answer: They'll be able to develop their hand-eye coordination, motor skills and strengthen their muscles.
Question: Is Sand Sensory Play?
Answer: Yes! It could increase sensory skills along with many others.
Question: What is the Difference Between Play Sand and Regular Sand?
Answer: Regular sand doesn't go through a preparation process like sand in a toy box. If you have a sandbox, you can rest easy knowing there's a sifting and cleaning process.
A Guide on the Best Beach Toys for Sandy Adventures
I know that there are so many toys to choose from, so it's hard to pick one when it comes to the best beach toys for sandy adventures. However, I have to say that my top pick is still the Mint's Colorful Life Devil Fish Kite.
Not only is it colorful and vibrant, but on a breezy day, you can have loads of fun for the whole family. Practice taking turns flying it and show your child how to work it as you go. So pick up your favorite beach toys today before your next sandy adventure!
If you enjoyed this article, be sure to check out our other articles today.
You may also find these interesting:
Best Toys by Activity Guide for Kids
The Best Mermaid Themed Toys to Consider for Your Little One