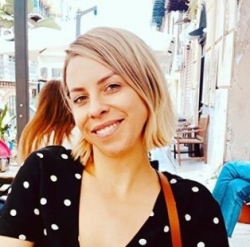 Latest posts by Jodie Chiffey
(see all)
Jojo Siwa toys are all the rage with young girls who have been inspired by the once child star, Joelle Joanie Siwa. At just 9-years old, JoJo Siwa competed in the 2nd season of Abby's Ultimate Dance Competition (the spin-off to Dance Moms). Her energetic personality led to her becoming a household name across the globe.
Much to fans' excitement, there's a wealth of Jojo Siwa toys and merchandise on the market today, including her signature large, stylish bows. But, finding the best Jojo Siwa toys can be tricky. This is where my guide to the best Jojo Siwa toys should help!
I have rounded up my favorite Jojo Siwa toys and merchandise to make your shopping venture easier. However, if you're in a rush, you can find my brief lowdown here:
My Bottom Line Upfront
I like the Jojo Siwa touchscreen watch and think the balance of features is perfect for younger children. There's a selfie-cam, pedometer, calculator, stopwatch, alarm, and three fun games. You can choose between 10 changeable watch faces, and the watch is super comfortable to wear, plus the price is awesome!
At a Glance: My 10 Best Jojo Siwa Toys
How to Choose the Best Jojo Siwa Toys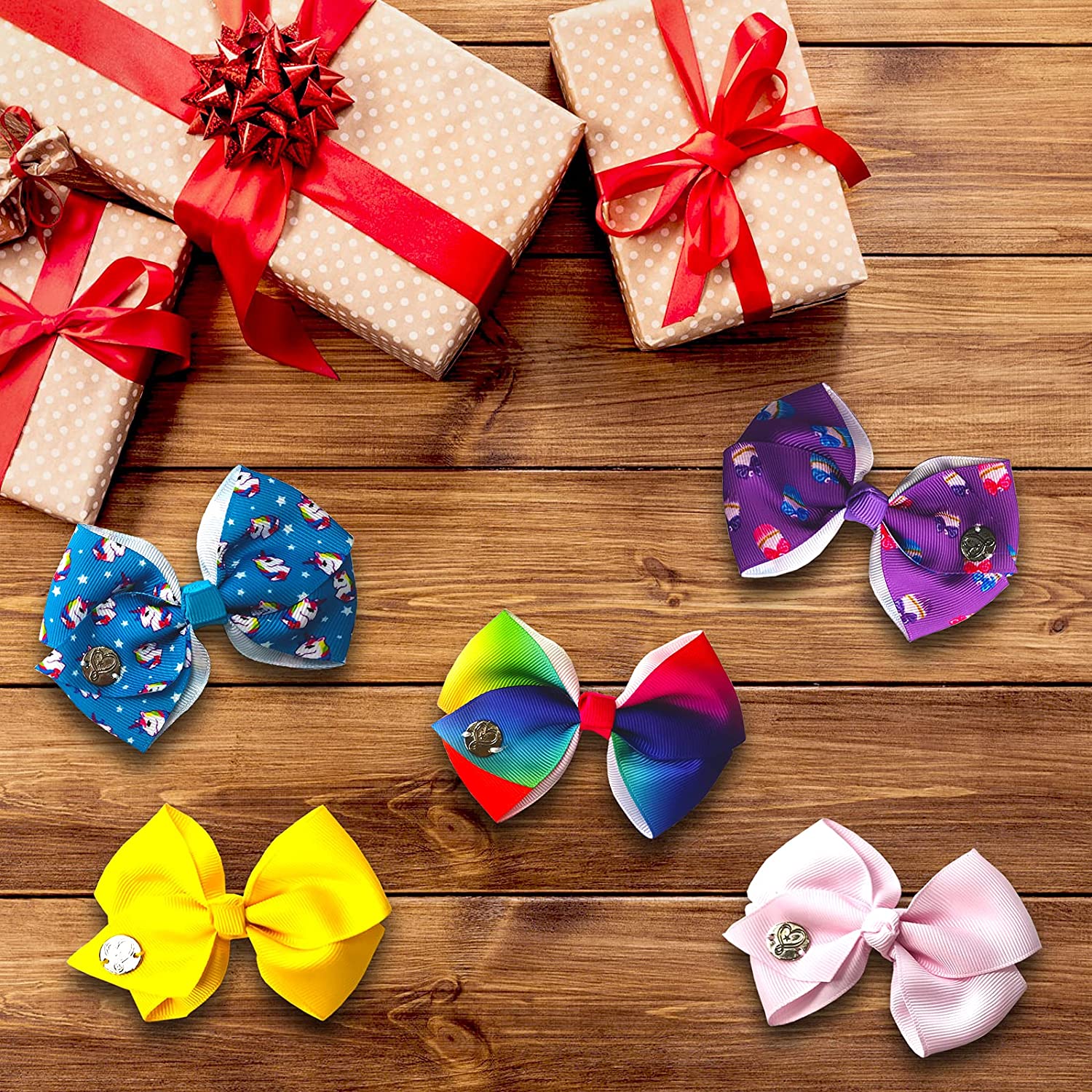 One of the most important aspects of toys and play is that children learn, and this is across the board with all toy types. But, this is often a secondary factor when choosing toys with a specific theme.
Here are my top tips for choosing the best Jojo Siwa toys:
Age of Recipient
It is often wise to look at the toy's age recommendations as an indicator of appropriateness. Yet, it's important to note that not every child's biological age will meet their developmental age.
Some Jojo Siwa toys will have an age recommendation on the packaging for health and safety reasons – for example; there could be small parts that may be choking hazards for preschool children. If there is an older age recommendation, such as 9+, this could mean that the toy is a little complex for younger children and aimed toward older kids.
Interest of Recipient
It is crucial to know the interests of the recipient before buying a Jojo Siwa toy. While they may love Jojo Siwa, they could have a strong preference for one type of toy over another. For example, one Jojo Siwa fan may be all about dolls and figures, while another could have no interest in this type of toy and much prefer arts and crafts.
The good news is that product types under the Jojo Siwa umbrella are so vast to meet the individual interests of fans that you're guaranteed to find something appropriate – once you know what appropriate means in this instance.
Quality of the Toy
Not every toy within a specific theme will be official merchandise, and while this can mean some great budget buys, it can also mean a lower quality product. When buying toys online, it is much harder to judge their quality; you can't physically see, hold, or feel them. But, you can consider the following points:
Labeling and certification – if this isn't evident, ask; if you get no response, move on.
Materials used: are they safe, durable, easy to keep sanitary?
Consumer feedback: what are verified consumers saying about their experience? For example, has the toy lasted?
My Selection Criteria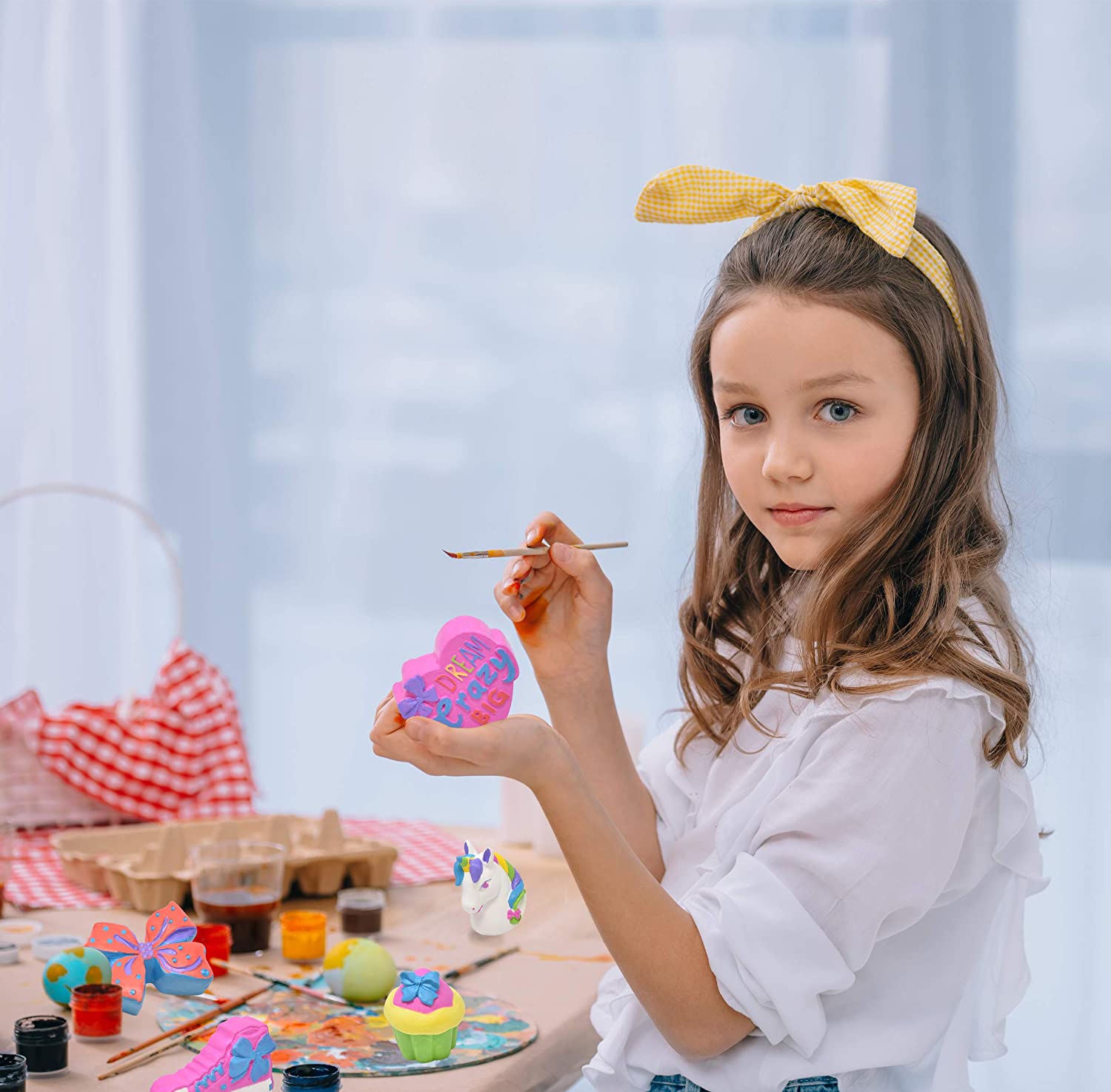 At AvidToyInsider, the products we review are entirely our choice – writers are not sent product lists and are left to choose the toys with complete freedom. Below are the things that matter most to me and have been my primary considerations for this guide.
Consumer Feedback
While we're moving away from gender stereotypes for toys, I believe Jojo Siwa toys to be aimed chiefly at girls. I don't have little girls, and with just one baby niece, I am pretty new to toy buying of this type. This meant I relied heavily on the consumer feedback of those with experience in this field!
Value for Money
To be honest, I came across Jojo Siwa toys that, to me, just screamed extortion. More than $100 for a doll, and I could not fathom why, so I avoided this and looked for Jojo Siwa toys that were fairly priced – when everything had been considered.
Quality
The quality of toys is so important, for a whole lot of reasons. I have closely inspected the materials and manufacturing of the Jojo Siwa toys I have chosen to include and believe them all to be of good-to-excellent quality.
Variety
As touched upon previously, children are a diverse group, and so are their interests. For this reason, I have included a large range of Jojo Siwa toys with the hope that every child will be catered to.
My 10 Best Jojo Siwa Toys
#1 Best Jojo Siwa Smart Tech: Jojo Siwa Touchscreen Watch – #1 Top Pick
With six strap designs to choose from initially and then ten interchangeable watch faces, the Jojo Siwa touchscreen watch can be perfectly personalized to suit a child's preferences.
Many interactive apps are pre-installed, including games, a stopwatch, selfie cam, and pedometer. Pedometers alone are a great way to motivate kids to get the recommended amount of daily physical activity and have fun doing it!
The balance of technology is excellent for younger children and just enough to entertain older children. You can't download additional apps, such as social media or instant messaging, which renders the watch 100% safe to be used unsupervised. I love this.
While the picture quality isn't outstanding, the photographs are clear enough and can easily transfer to a computer using an SD card (not included). A one-hour charge will result in plenty of power, although some consumers find this somewhat lacking – I suppose it depends on the amount of usage.
The touchscreen watch comes in a high-quality plastic case, making for a nice gift presentation. I found the silicone strap very comfortable and breathable; it also feels durable and like it'll last a long time. This is currently rated in the top #5 girls wrist watches at Amazon and has over 12,000 mostly positive accessible reviews.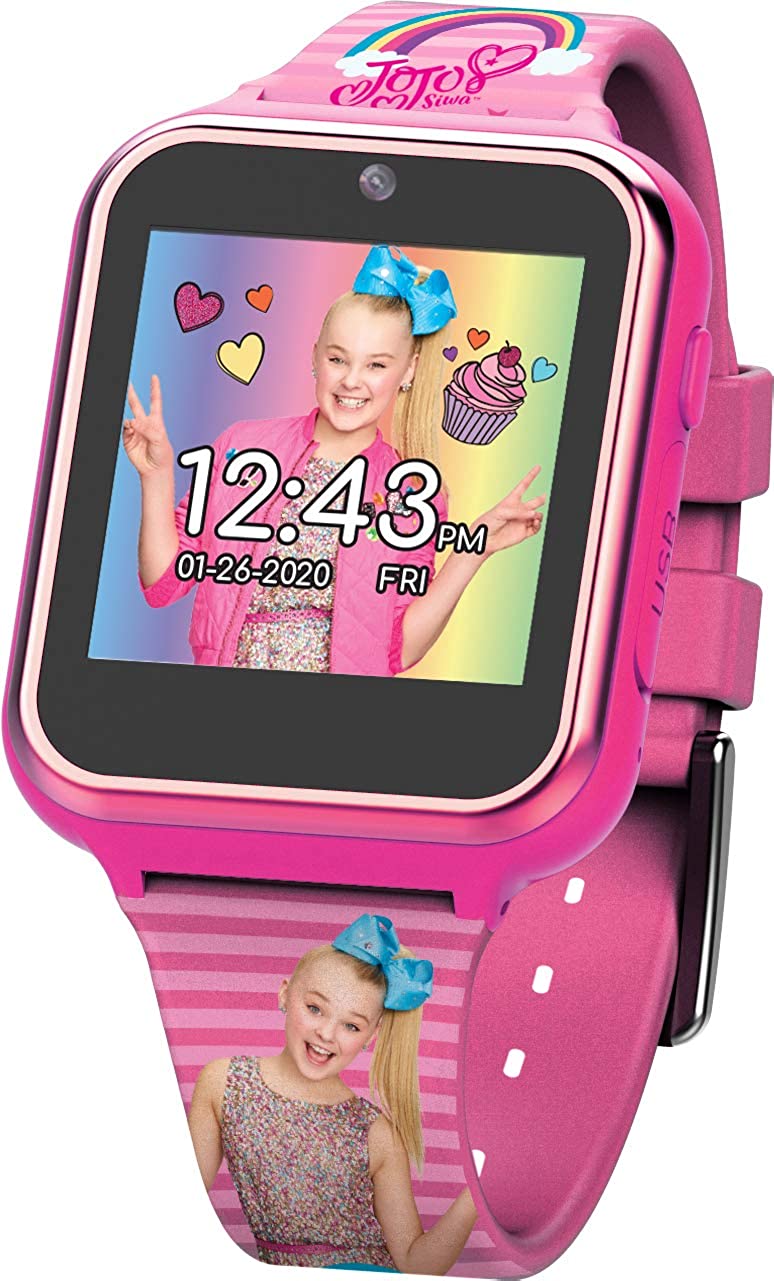 Pros
Safe Smart Technology – No Social Media Compatibility
Durable, Comfortable Wrist Strap
Different Strap and Watch Face Designs
Good Balance of Technology for Younger Children
Pedometer and Stop Watch to Encourage Physical Activity
Attractive Designs
Good Price
Cons
Not Suitable for Under 3's
Not Every Parent Wants to Endorse Selfie Taking
#2 Best Jojo Siwa Value for Money: 14 Jojo Siwa Hair Bows- #1 Top Budget Pick
The 14 Jojo Siwa hair bows are an absolute steal at less than a dollar a bow! Especially when you see just how incredible the quality is. Each of the 14 bows included is 100% handmade, which is evident in the look and feel of the bows. Many consumers have been using this set for months and remain super impressed with the quality of the material and the fresh look of the color.
At the back of the bows sits a strong yet comfortable metal clip that attaches easily to the hair and remains in place all day long. This set is a great start for a Jojo Siwa bow collection or to be purchased for favors if there's a Jojo Siwa party on the horizon.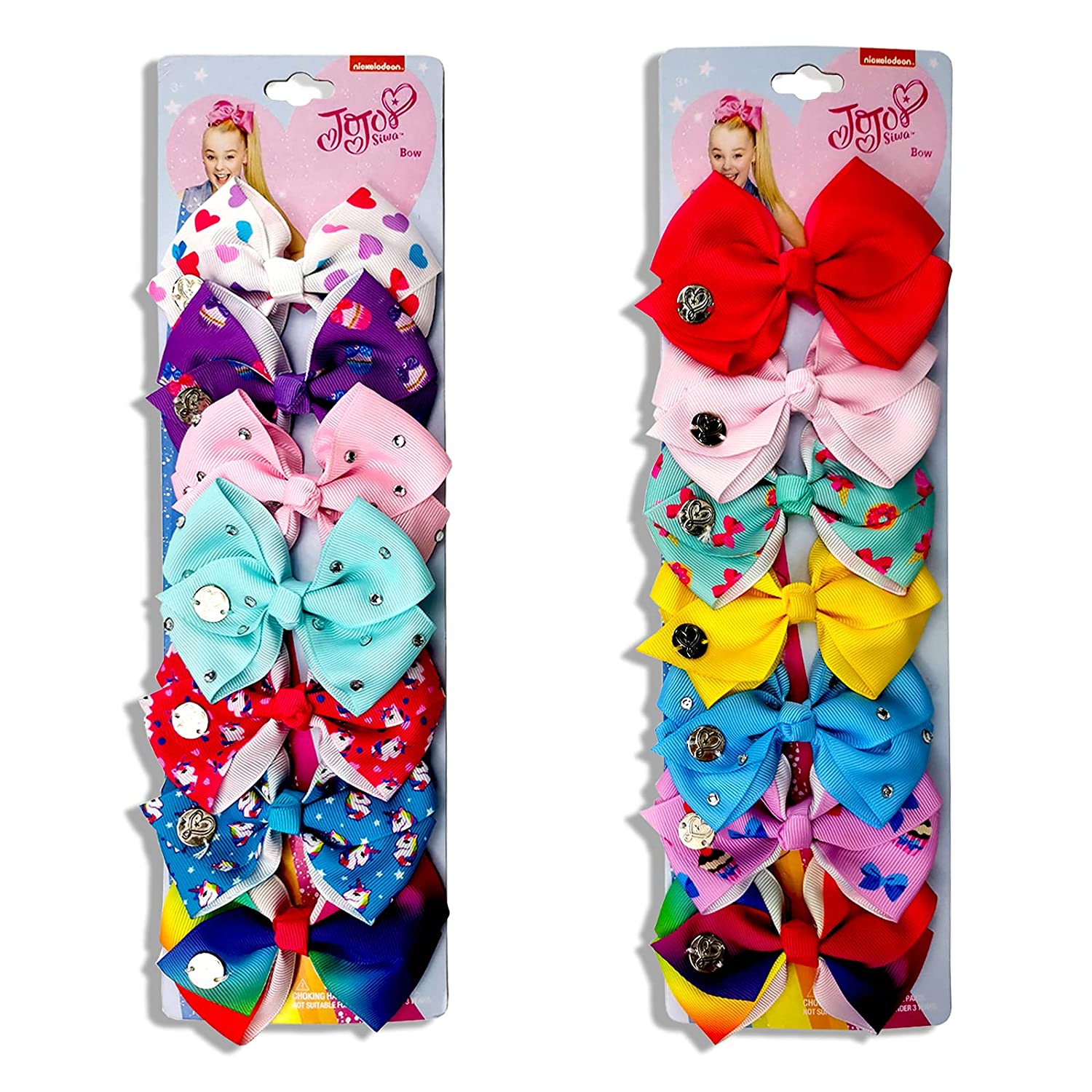 Pros
Super Quality
Non-Fading Color
Lots of Choice for Daily Wear
Strong Hold
Excellent Value for Money
Cons
Possibility of Receiving x2 Identical Sets
#3 Best Jojo Siwa Outdoor Toy: Foldable Jojo Siwa Scooter
There are so many benefits of scooters for kids, so if you have a Jojo Siwa fan in your life, the Foldable Jojo Siwa scooter is a great choice when looking to develop some skills.
Scooting helps kids to learn and develop a sense of balance, fine-tune motor skills, improve muscle development and core strength, improve coordination, increase decision-making skills, and cardiovascular endurance. And, if a child is allowed to scoot outside, they can also hone in on those social skills and the ability to make friends.
But, back to the product!
The Foldable Jojo Siwa scooter is available in a pink or white design, both featuring a signature JoJo bow at the front of the aluminum frame. The 1-screw assembly is super simple, and adjusting the handlebars as the child grows takes mere moments; an adult isn't needed.
I found the handlebars to be comfortable due to the soft foam grip, and the reinforced steel build results in a remarkably sturdy and durable product. The scooter glides smoothly over various types of terrain and folds almost flat to fit in the trunk or for neat storage.
Age recommendation: 5 – 14-years
Weight capacity: 140 lb / 68 kg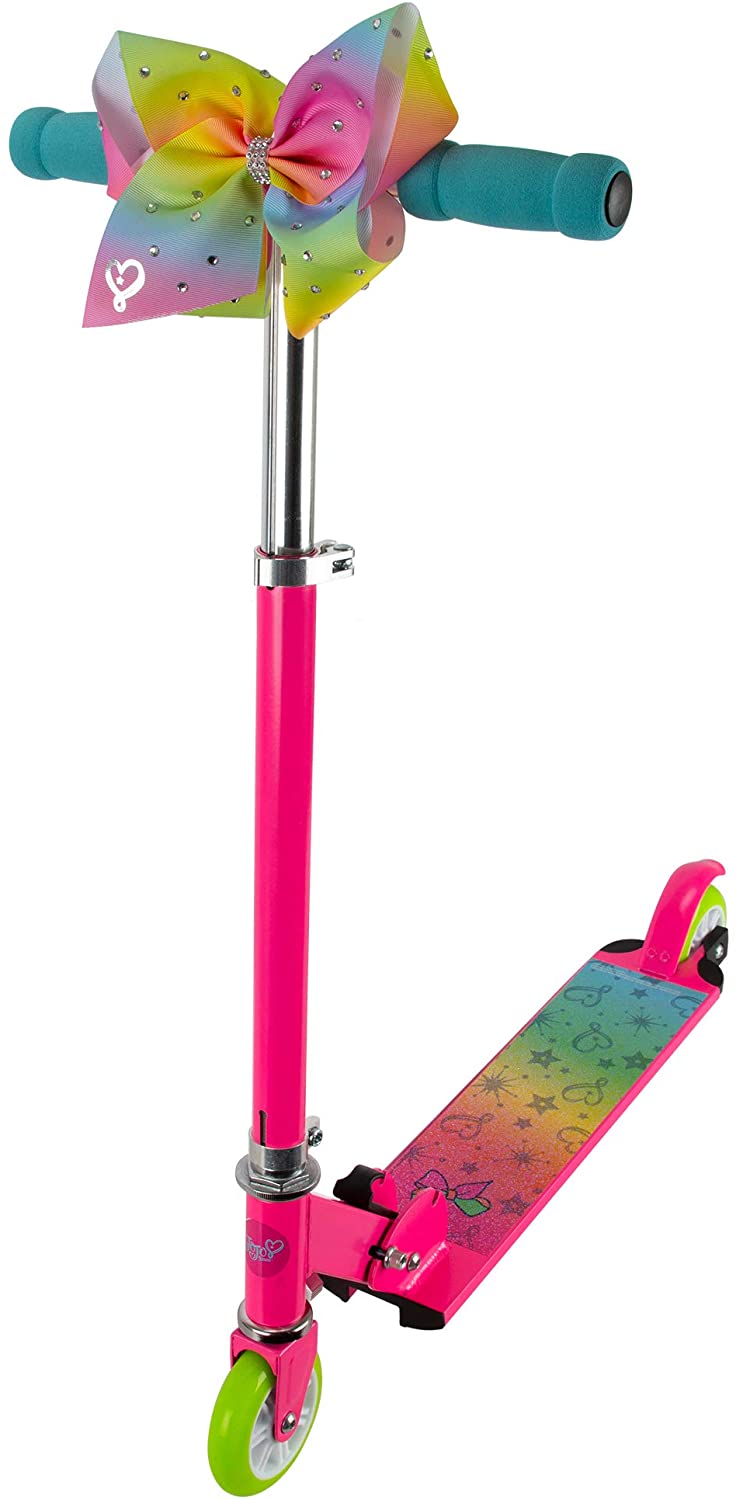 Pros
Sturdy and Robust
Choice of 2 Designs
Comfortable Handles
Foldable
High-Quality Aluminum Frame
Suitable for 5 – 15-years
Fast Delivery
Cons
#4 Best Jojo Siwa Arts and Crafts: Jojo Siwa Paint-your-own Figurines
Although a little pricey, the Jojo Siwa paint-your-own figurines include 5 figurines and the foundation to create some great memories with your child. In the box, there are six points, including the three primary colors, so there's the ability to create different shades – however, there isn't a massive amount of volume to play with here.
The plaster figurines feel sturdier than most and don't seem to chip easily. The box is strong and makes for a nice presentation if given as a gift. As far as paint-your-own kits go, the Jojo Siwa is pretty standard.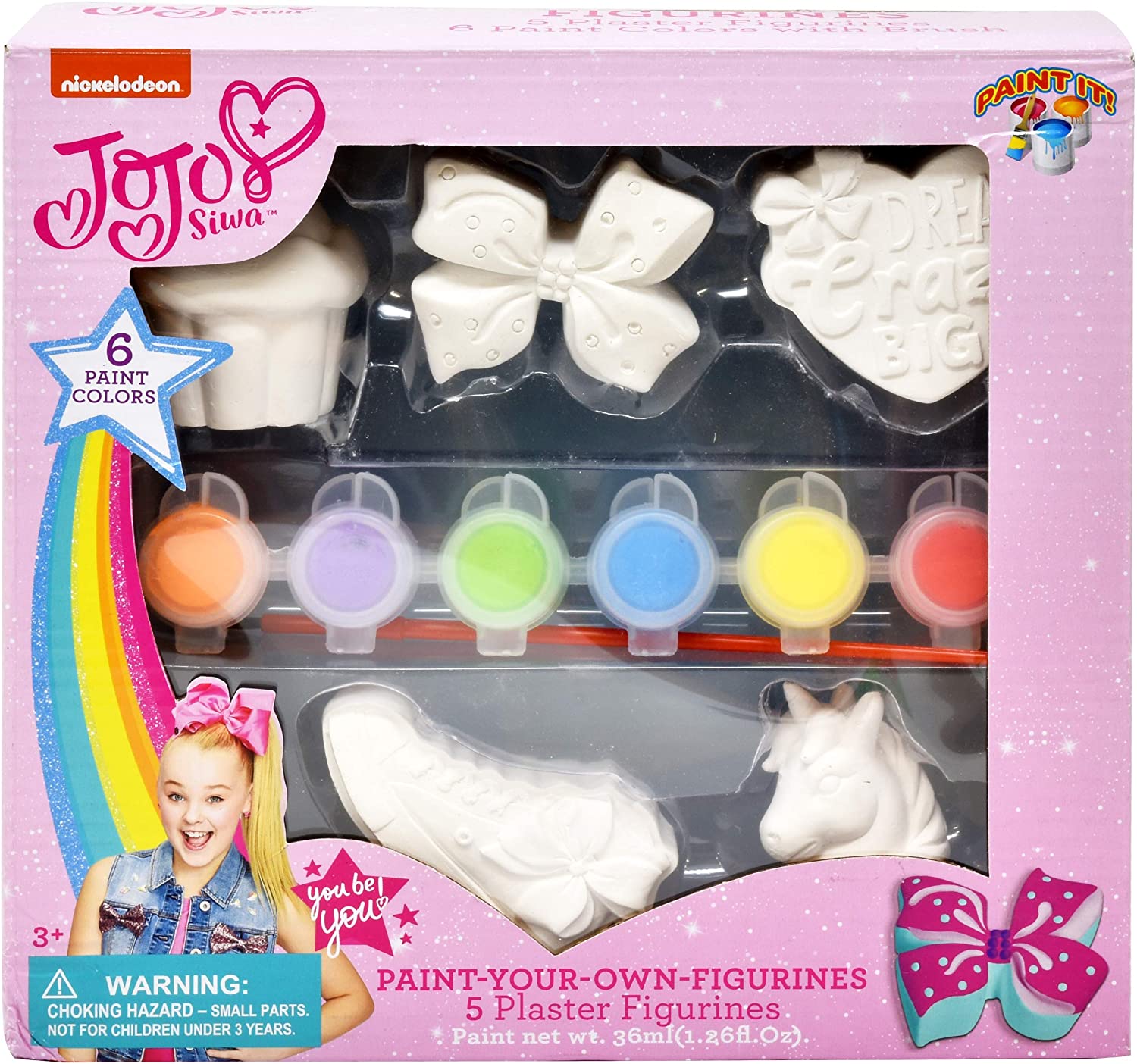 Pros
6 Paints Included / 3 Primary Colors
Nice Presentation Box
Strong Plaster Figurines
Cons
A Little Expensive
Not a Great Amount of Paint
#5 Best Jojo Siwa Activity Set: Jojo Siwa Coloring Stamper Set
The Jojo Siwa coloring stamper set could be the perfect gift if you know of a budding artist who likes Jojo Siwa. The portable art supplies kit includes a 30-page Jojo Siwa sketchbook, a stamper ink pad with four wooden stampers, three foam stampers, and six colorful parker pens.
There are convenient storage compartments to keep all of the included items neat.
I think the price is very reasonable, considering the number of items you get; although, I would have liked there to be a few more felt tip pens included.
I have found many online streaming videos that teach children how to draw and color Jojo Siwa, which could be a good inspiration for a child's first masterpiece!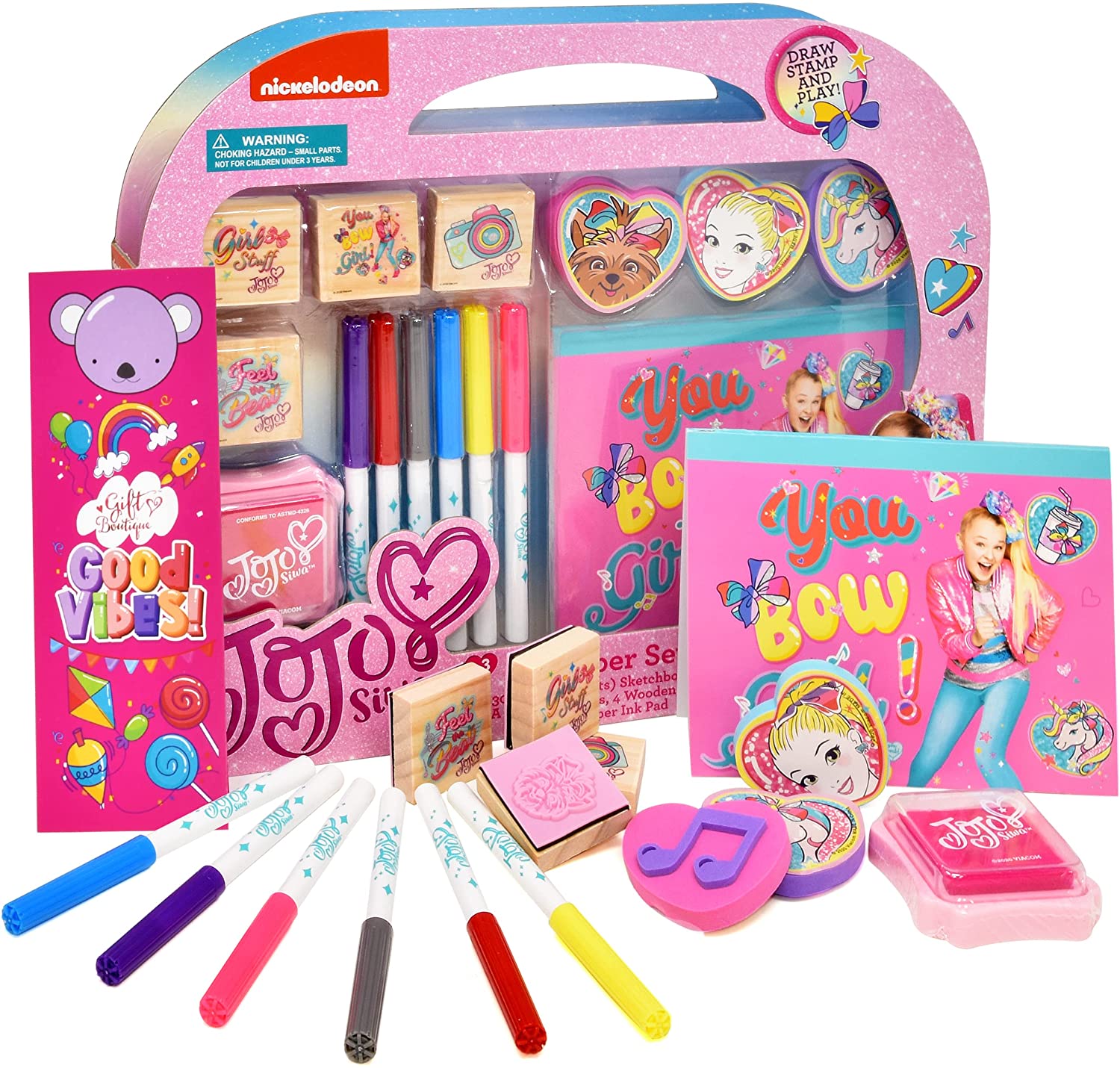 Pros
Attractive Art Set
All Basics Included
Well Priced
Portable Carry Case
Cons
More Felt Tips Would be Useful
#6 Best Jojo Siwa Figure: 10-in Jojo Siwa Fashion Doll
The 10-in Jojo Siwa Fashion Doll is very well made and comes with a large signature bow that can be shared with the recipient. The 10-in figure fits into all clothing accessory packs and Barbie figure clothes, too, so she will never be short of things to wear!
This doll comes with two TV host accessories, a radio, and a microphone and has posable arms and legs, although these do not bend at the joints. I find the price extremely reasonable, and the doll is highly rated online.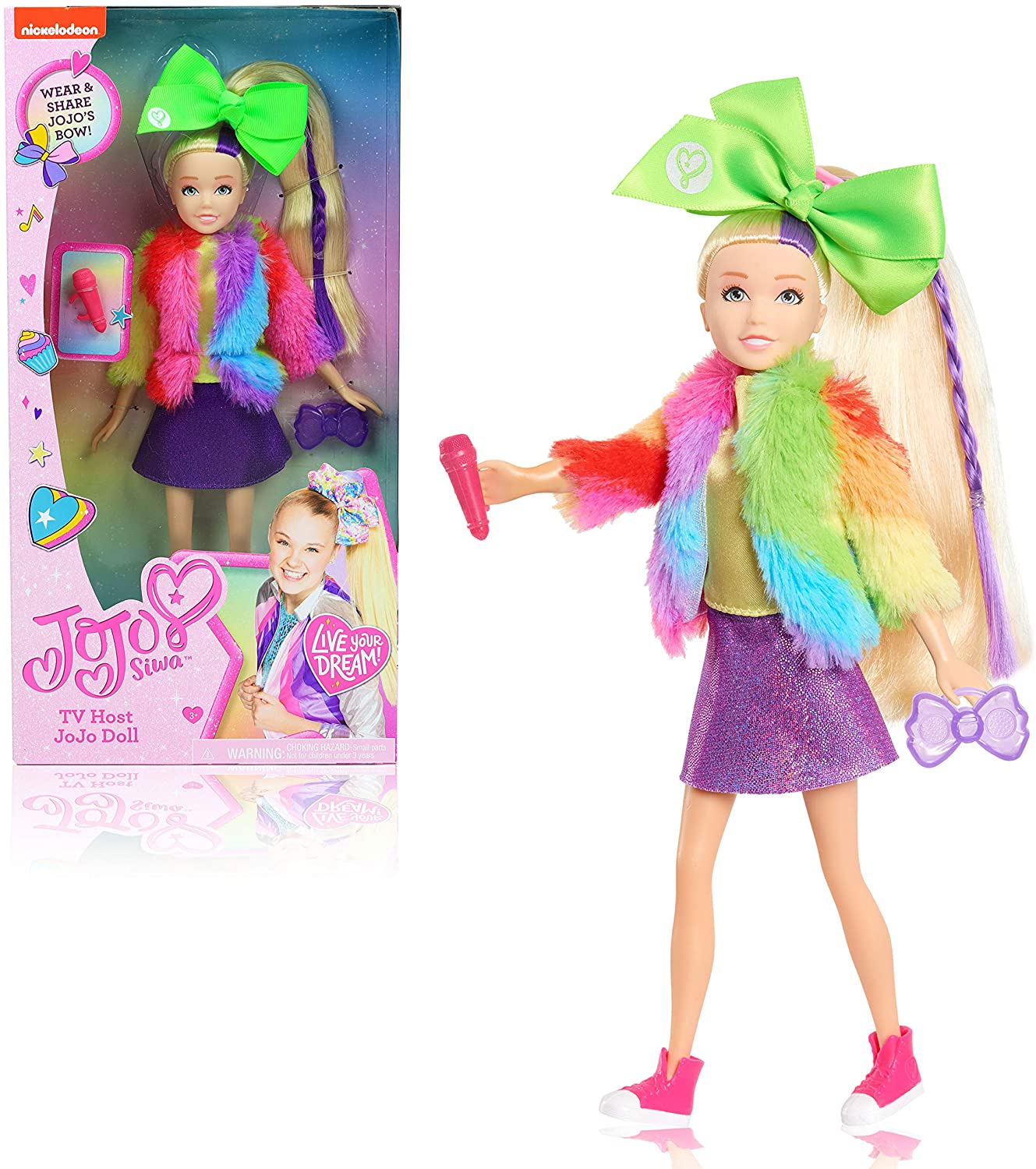 Pros
Reasonable Price
Sharable Jojo Siwa Bow Included
Posable Figure
X2 Accessories
Highly Rated Online
Cons
Not Suitable for Children Under 3-years
#7 Best Jojo Siwa Large Doll: 18-in Jojo Siwa Posable Doll
With excellent online reviews, the 18-in Jojo Siwa posable doll seems to be the must-have toy that has gone down extremely well with verified consumers. Yes, it is expensive, but as the main present, I think it sits within the reasonable price bracket. The doll has a soft body to cuddle and hard legs and arms for easy maneuvering during imaginative play.
Standing at 18-in, the doll fits most clothing and accessory packs of the brand (sold separately). The hair is a great feature; super soft and shiny, and you can restyle and brush as much as you want – it won't come out due to being well-rooted.
The doll is fairly realistic with closing and opening eyes as it lies or stands. It feels comfortable to cuddle and is suitable for all ages.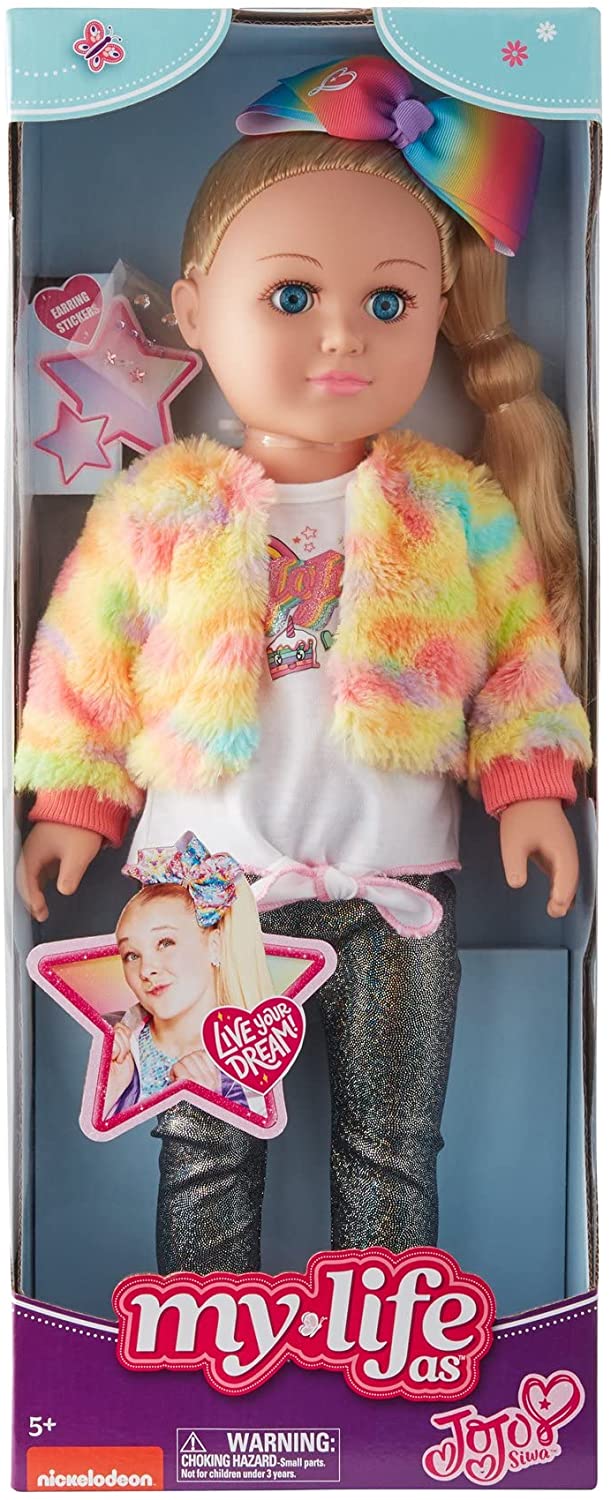 Pros
Highly Rated Online
Excellent Reviews
High-Quality Doll and Clothing
Fits Most Clothing and Accessory Packs
Cons
Expensive
Doesn't Talk or Sing
#8 Best Jojo Siwa Singing Figure: 10-in Jojo Siwa Singing Fashion Doll
Inspired by the movie The J-Team, the 10-in Jojo Siwa singing fashion doll is brightly dressed and sings 'Dance Through the Day '; batteries are included, but easily removed, I am told!
The doll stands at 10-in and comes with a microphone, hairbrush, and wear-and-share signature bow. It is recommended for ages six and over, although, with supervision and the removal of the microphone, younger children would find this a cool toy to play with.
So far, reviews are thin on the ground. However, the ones that are accessible are hugely positive. I find the price to be very reasonable and am sure this singing figure doll would delight most fans.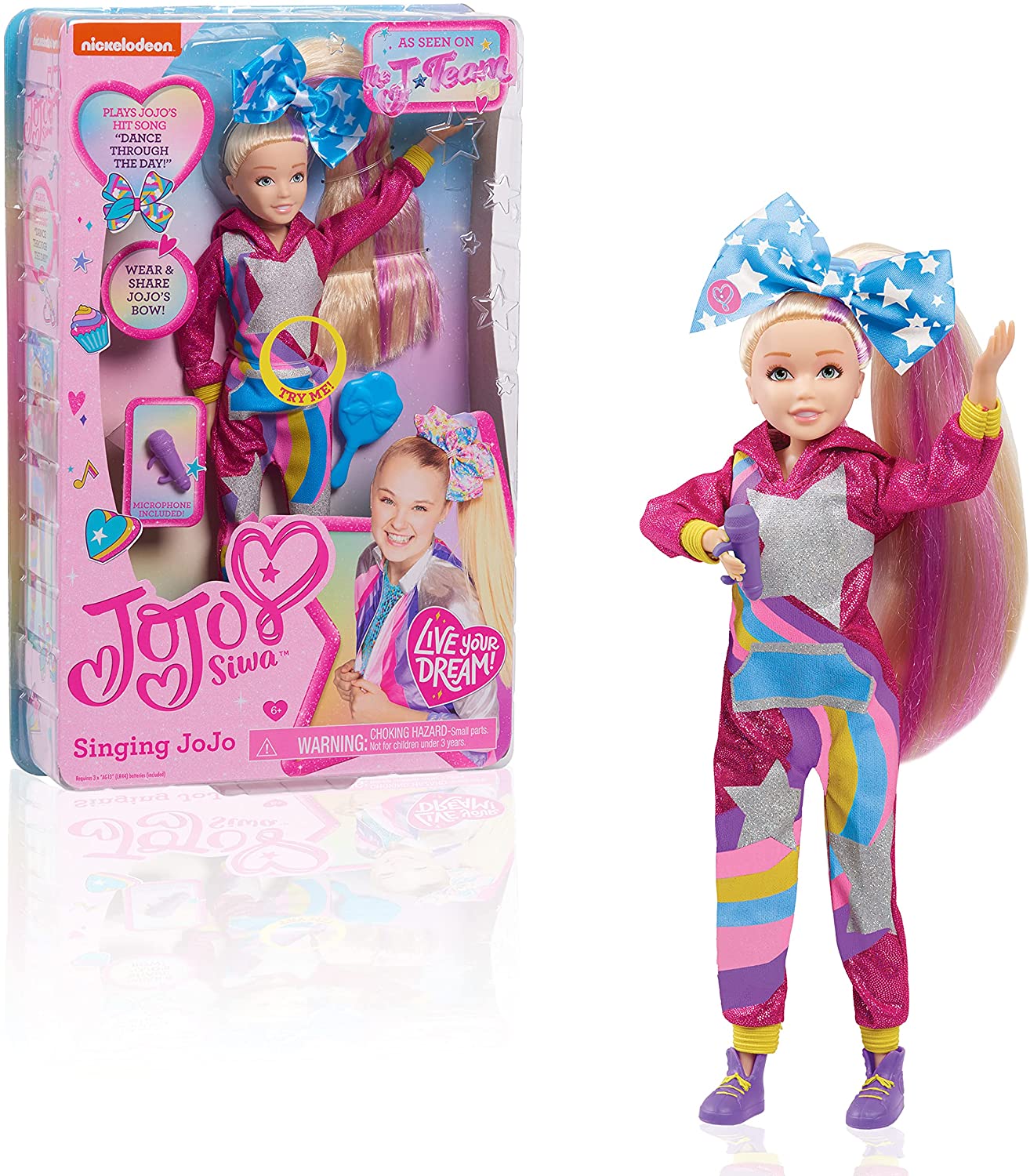 Pros
Singing Doll
Wear-and-Share Bow
Accessories Included
Batteries Included
Good Value for Money
Cons
Not Many Reviews at Present
#9 Best Jojo Siwa Jewelry Making Kit: Jojo Siwa Necklace Activity Set
I genuinely love the Jojo Siwa necklace activity set – and its price! The storage box is made of hard plastic and feels durable, and I like the neat storage components inside – and the exterior handle for great portability.
There are 150 colorful beads and five rubber character charms, with the ability to make and remake as many necklaces and bracelets as desired. An all-around excellent Jojo Siwa gift that is currently rated #1 for kids' jewelry-making kits on Amazon!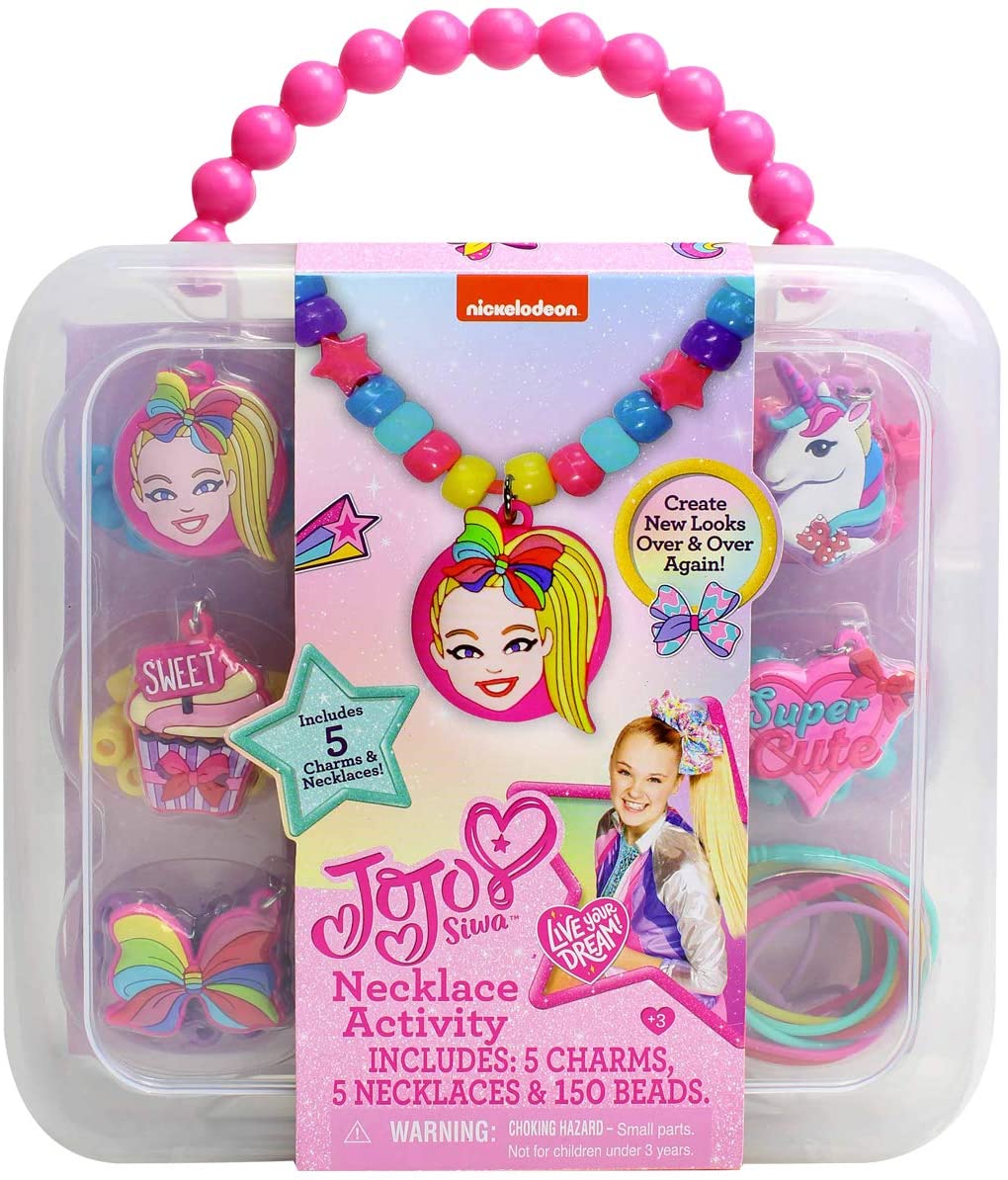 Pros
Currently #1 Kids Jewelry Making Kit at Amazon
Excellent Price
Portable Storage Case
Great for Creativity
Fine Motor Skill Development
Tons of Fun!
Cons
Very Small Parts Could be a Choking Hazard
#10 Best Jojo Siwa BowBow Toy: Jojo Siwa BowBow on the Go
Ideal for younger children, the Jojo Siwa BowBow on the go is an online bestseller that is just super cute! The toy dog barks walk (3 steps only), and wags her tail. Featuring glittering eyes, x3 interchangeable bows, and a brush, this little pup comes with everything she needs!
The BowBow toy is suitable for children from 3-years. It may be a little dull for older children, as the features are pretty limited. However, as a plush toy, it is suitable for most ages. The dog is supposed to mimic Jojo's Yorkshire Terrier; in my opinion, it doesn't look remotely like the breed – but cute, nonetheless.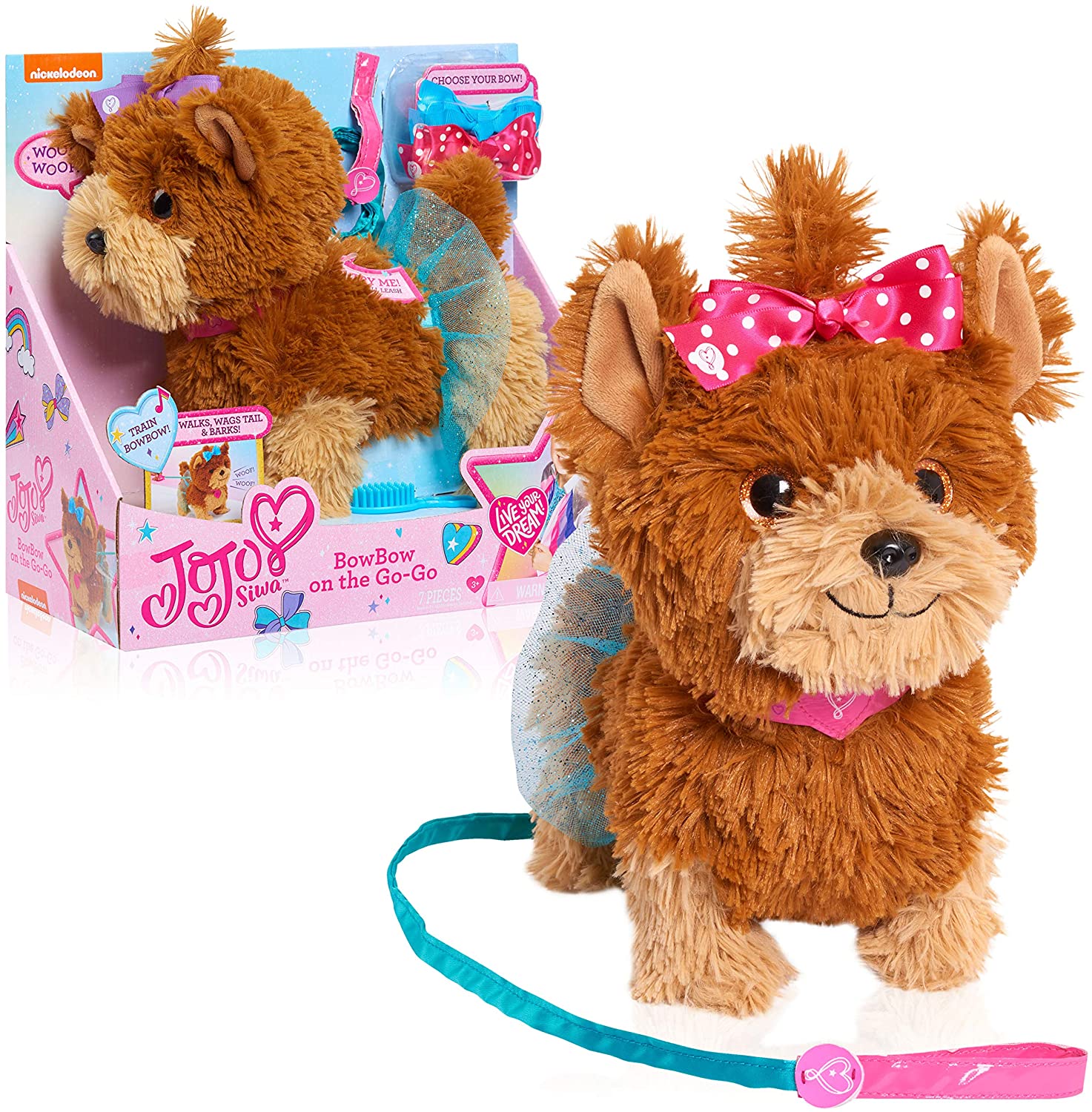 Pros
Cute Accessories Included
Barks, Walks, and Wags Tail
Suitable for Children from 3-Years
Batteries Included
Cons
Features Fairly Limited
Doesn't Look Like a Yorkshire Terrier
Frequently Asked Questions
Question: Is Jojo Siwa a Good Role Model for Children?
Answer: This depends on your viewpoint. Jojo Siwa is certainly an inspiring person who can encourage children to try their best and remind them that anything is possible. Yet, she may be a little full-on for some parents.
Every child needs an idol, and there are certainly more questionable influencers around than Jojo Siwa.
Question: How Much Should I Spend on Jojo Siwa Toys?
Answer: While budget is an important consideration, other things should take precedent, such as the child's interests and preferences. Some children would be more than happy with the $14 bow bundle!
There is no set amount anyone should spend on anything.
Question: What Other Jojo Siwa Merchandise is There?
Final Thoughts on Jojo Siwa Toys
Hopefully, now you know what to look for when wanting to buy Jojo Siwa toys and have found some inspiration with the toys featured in my guide.
My favorite product is the Jojo Siwa touchscreen watch; the amount of technology is just right, and I love how customizable this watch is. I was also very impressed with the Foldable Jojo Siwa scooter and how easy this is to fold and adjust when needed. I believe the scooter to be highly durable and worth the slightly high price point.
If the value for money is your main priority, you can't get much better than the 14 Jojo Siwa hair bows. These are fantastic value and remarkably well made. However, you may end up receiving two sets of the same bows, and while this may not be an issue if buying for party favors or the likes, it could be if buying specifically for one child.
The Jojo Siwa necklace activity set is another great buy that won't break the bank and offers lots of room for creative expression while fine-tuning those motor skills.
I have faith in all of the toys listed that they'll check most people's boxes when looking for the best Jojo Siwa toy for their criteria.
Continue reading: