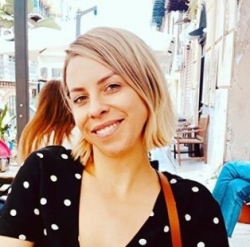 Latest posts by Jodie Chiffey
(see all)
Choosing the best Mickey Mouse Clubhouse toy is no easy task. Being the mascot of The Walt Disney Company, Mickey Mouse has multiple toys modeled around his character. The diversity is so vast, but I am confident you'll find a suitable Mickey Mouse Clubhouse toy in my guide.
As far as I'm concerned, Disney is ageless, and the leading man, Mickey, is timeless. Mickey Mouse has been loved for decades (since his debut in 1928), and there's so much joy to be had interacting with this popular cartoon character.
The primary audience for Mickey Mouse Clubhouse toys is 5-years and under. Preschool children can enjoy the pure innocence of Mickey, while those slightly older will find fun in lots of educational toys based on him.
My Bottom Line Upfront: I adore the Disney Mickey Mouse Clubhouse Sound Book. It offers plenty of bonding opportunities for caregiver and child and is an excellent gateway into independent reading. This book checks most of my boxes; it is durable, fun, educational, and good value for money.
At A Glance: 11 Best Mickey Mouse Clubhouse Toys
How to Choose The Right Mickey Mouse Clubhouse Toy For Your Child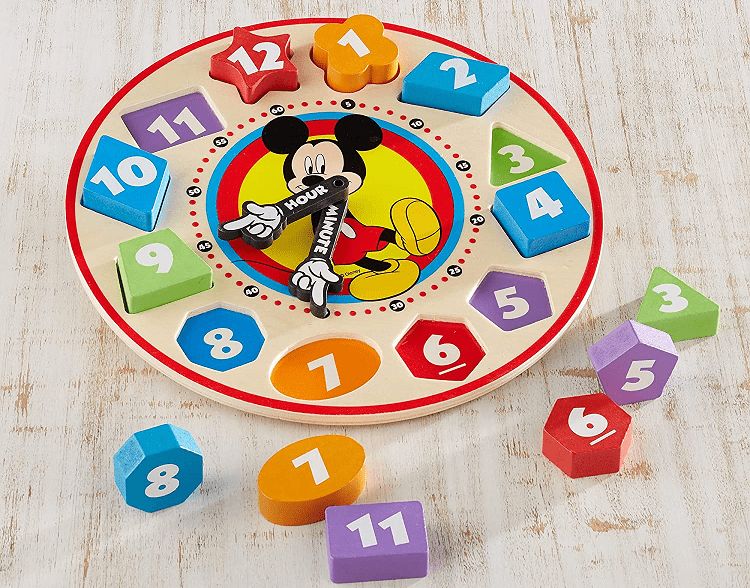 There are simply thousands of Mickey toys out there to buy, making this shopping venture a tricky one.
Once you have decided the age group and the type of toy you want to buy, here are some other things to consider.
Material
When you're looking for toys for children, the material it is made out of is an essential factor, as this dictates whether the toy is safe or not. Younger children use their mouths to explore, which entails a lot of biting and chewing of the world around them – including their toys.
Ensure that the Mickey Mouse Clubhouse toy you buy is made from safe, non-toxic, and BPA-free materials. The material should also be durable and sturdy enough to withstand the vigorous play that will undoubtedly come!
Purpose
Children's toys provide two key benefits – education and entertainment. While education – of some sort – can come with any toy, it is best to look for a toy that has this as a selling point while still being fun to play with.
Sound
This is a note more for parents than children. Having owned multiple singing and dancing Mickeys, I can tell you that the sound is very important – you're going to hear it a lot! Not all toys aimed at younger kids come with adjustable volume buttons, soothing music, or even off switches.
As well as reading about the product, watch a video and hear it in action. I promise you'll thank me for this pointer!
Authenticity
As popular as Mickey Mouse is with children, it is too with manufacturers keen to cash in (big time) by featuring this iconic character. While there are masses of Mickey toys out there, there's a high chance that some of them are underwhelming, or worse, unofficial: fake.
While not all unofficial Mickey toys are bad, t's important to thoroughly check out any toy to check it is up to standard.
My Product Criteria
There are a few things I have as key priorities when toy buying, and I have stuck to these when researching Mickey Mouse Clubhouse toys for this article. These are as follows.
Price
I don't believe toddler toys should cost the earth; their lifespan is so short – and the attention span of this age group even shorter – that I don't see this financial outlay as an investment. For this reason, I have stuck to the more affordable Mickey Mouse Clubhouse toys, with prices I would be happy to pay.
Variety
To ensure every reader finds a toy to their liking, I have stuck to one in each category; figures, playsets, ride-on, etc. While there are countless more in each category, I have chosen the one I believe to be the best.
Durability
Babies and toddlers play pretty roughly with their toys, and the toy has to be able to withstand this. Smashing, throwing, wetting, and so on. I have chosen the most durable toys that should be able to cope with your little one's style of play!
Consumer Feedback
To cement my notion of the toys being awesome, I needed feedback from other consumers. All of the toys in my guide have good-to-excellent reviews online, which are accessible for you to read (through product links).
My Chosen 11 Best Mickey Mouse Clubhouse Toys
#1 Best Mickey Mouse Budget Toy: Disney Mickey Mouse Clubhouse Sound Book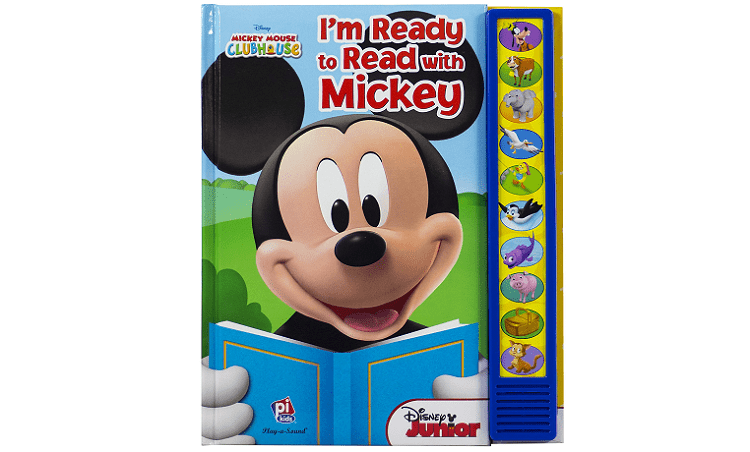 As mentioned in my product criteria, I'm not looking to spend a lot of money on toys for this age group – yet I want a lot out of them. The Disney Mickey Mouse Clubhouse Sound Book caters to my wishes perfectly!
This book is super well made and feels very durable. It's fun, with bright colors and fun sounds to entertain most toddlers and babies, and it opens the door to independent reading for older ones.
There are ten sound buttons, which I found to be smaller than most, but the battery life seems to belong, which overrides the smaller size, in my opinion.
Pros
Excellent Price (pre-loved sell for just over $1 on Amazon!)
Durable
Fun
Educational
Perfect Present
Suitable for Newborn – 5-years
Cons
Sound Buttons Quite Small
#2 Best Mickey Mouse Toy for 1-year olds: Go Grippers Mickey Mouse And Friends Collection

Mickey is simply incomplete without Minnie, and with the Go Grippers Mickey Mouse And Friends Collection, you get both characters in one box.
These cars are perfect for babies over 1-year due to their easy-grasp design and lightweight. I like the large finger holes in the side of the grippers, which make them easier for little hands to maneuver.
One issue I did find was with shipping. It can take weeks for this little set to arrive, but it does tend to be within 10-days.
You can complete the set with other Disney characters, including Pooh, Sulley, Tigger, and Mike.
Pros
Super Durable
Brightly Colored
Mickey and Minnie Together
6 to Collect
Cons
Made in China (But meet global phthalate, lead, and BPA requirements.)
No Free Shipping Option
Quite Expensive
#3 Best Mickey Mouse RC Toy: Jada Toys Mickey Mouse Clubhouse Roadster RC Car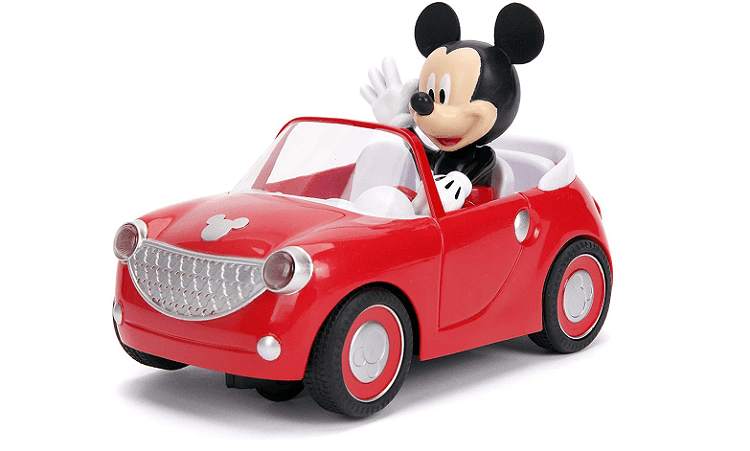 The Jada Toys Mickey Mouse Clubhouse Roadster RC Car is an officially licensed toy that really encourages imaginative play for children over 4-years. It has convenient and straightforward two push-button controls on the remote, enabling the vehicle to move and spin.
I found the vehicle to run smoothly and like the texture of the tires. The car is super cute and features a sitting Mickey. Sadly, Mickey can't be removed.
Pros
Great Value for Money
Simple Control
Spin Feature
Cons
#4 Best Mickey Mouse Baby Interactive Toy: Musical Discovery Plush Mickey Mouse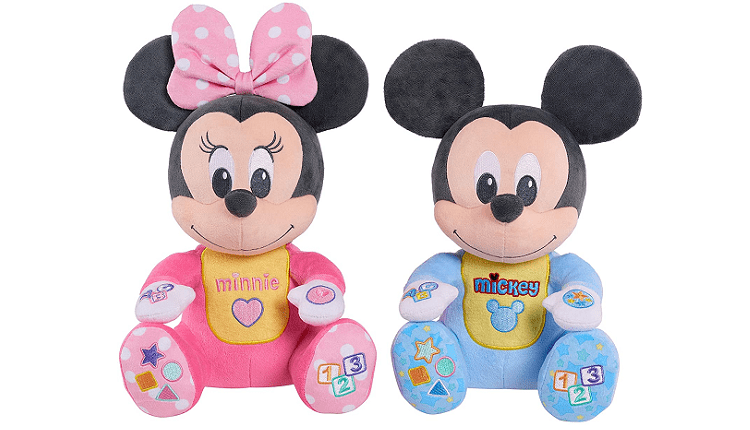 The Musical Discovery Plush Mickey Mouse is a super soft plush toy for babies from 9-months. It provides simple interactive play and will sing songs about numbers, letters, shapes, and colors in response to his hands and feet being pressed.
His ears are crinkly but look a little faded compared to his body. I believe this plush to be of excellent value for money, but I would be prepared to pay a little more for better packaging. As it stands, the plush arrives in clear plastic wrap.
Batteries are included, and shipping is free.
Pros
Great Value for Money
Super Soft and Cuddly
Lots of Songs
Basic Interactive Play
Crinkly Ears
Suitable from 9-months
Free Shipping
Batteries Included
Cons
Very Basic Packaging
Ears Look a Little Faded
#5 Best Mickey Mouse Ride-On: Mickey Mouse Plane Ride-On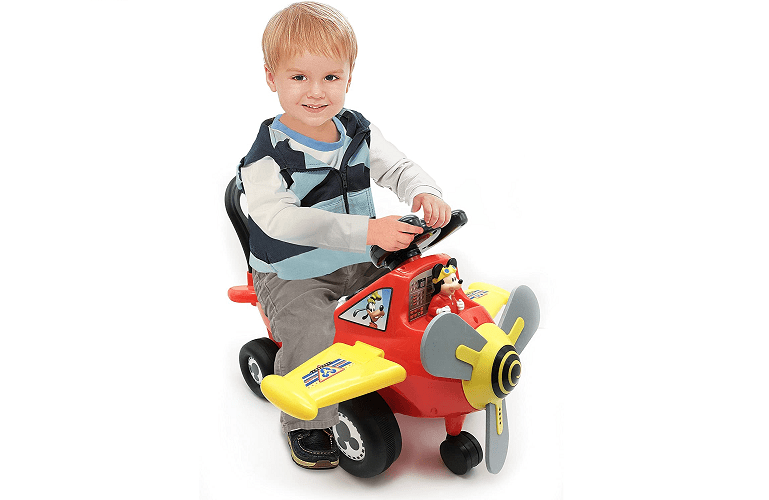 Ride-on toys have heaps of benefits for kids, and if you have a Mickey fan in your life, then the
Mickey Mouse Plane Ride-On is an excellent buy. How do I know? Because I have it! This also means I genuinely know the pitfalls, and when it comes to toys of this type, there are few to be found here.
This ride-on is super safe, easy to clean, doesn't have irritating sounds, and has excellent longevity. The wings fold up for simple storage, and there is a rear handle for parents to guide the plane or for younger ones to walk at the back of it.
The plane's cockpit features some super cool interactions, such as shifting gears, realistic radio frequency sounds, and a revving engine. The music includes the Mickey Mouse march song, among others, and the batteries last a really long time!
Pros
Super Cool Features
Durable
Excellent Longevity
Realistic Sounds
Songs
Easy to Clean and Store
Free Delivery
Cons
Quite Expensive
Battery Placement Would Look Better Underneath Than On Top
#6 Best Mickey Mouse Baby Educational Toy: Mickey Mouse Wooden Shape Sorting Clock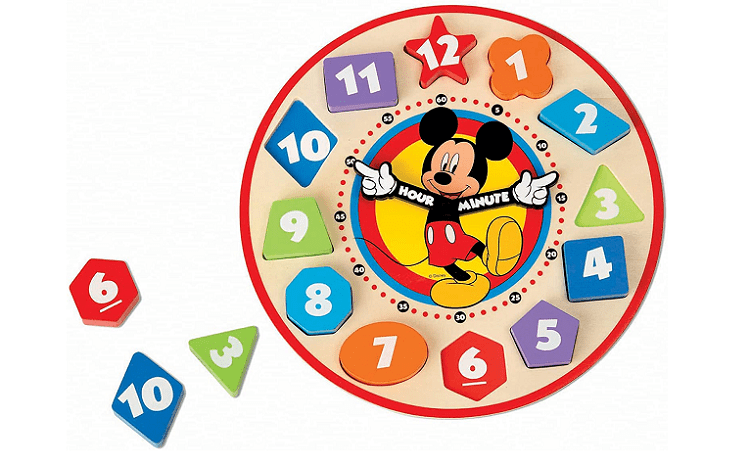 The sturdy Mickey Mouse Wooden Shape Sorting Clock has the perfect balance between education and entertainment and is suitable for children 3-years and over. This clock helps with learning to tell the time and recognize numbers, shapes, and colors.
The entirety of the clock is made from high-quality wood that is well varnished and built to last.
Most clocks designed for children this age don't have finer details such as the minutes, but this one does, which can significantly extend its longevity as the child grows and begins to move away from shape-sorting and onto time-telling.
Pros
High-Quality Item
Great Longevity
Many Educational Aspects
Good Price
Melissa & Doug Brand
Cons
Slightly Smaller Than I'd Have Liked
#7 Best Mickey Mouse Figures: Mickey Collectible Friends Figure Set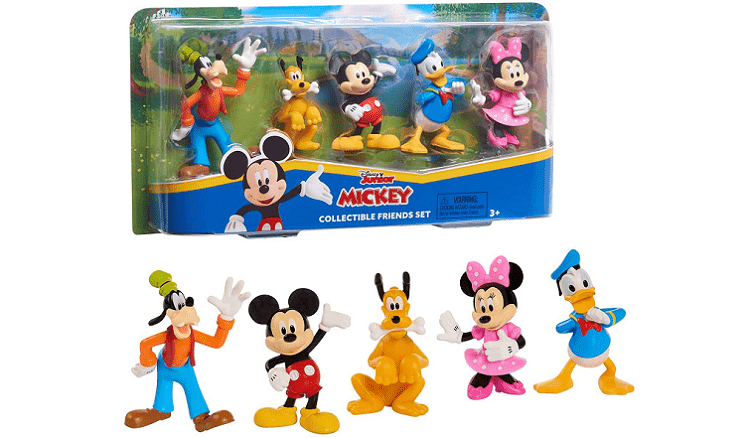 The Mickey Collectible Friends Figure Set includes Mickey, Minnie, Donald, Goofy, and Pluto. It retails at a very reasonable price compared to very similar sets in major off-line department stores. I am mentioning no names! The figures are highly detailed, with an excellent paint job and fantastic overall quality.
I like how the figures are able to stand alone and find the 3-in size appropriate for small hands. This size also means that the figures are compatible with large Mickey Mouse Clubhouse playsets.
There have been some comments about poor packaging and quality, but this is certainly not across the board.
Pros
Good Price
Highly Detailed Figures
Stand Alone
Compatible with Mickey Mouse Playsets
Cons
Some Mentions or Poor Quality and Packaging
#8 Best Mickey Mouse Puppets: x4 Melissa & Dough Mickey Mouse Clubhouse Puppets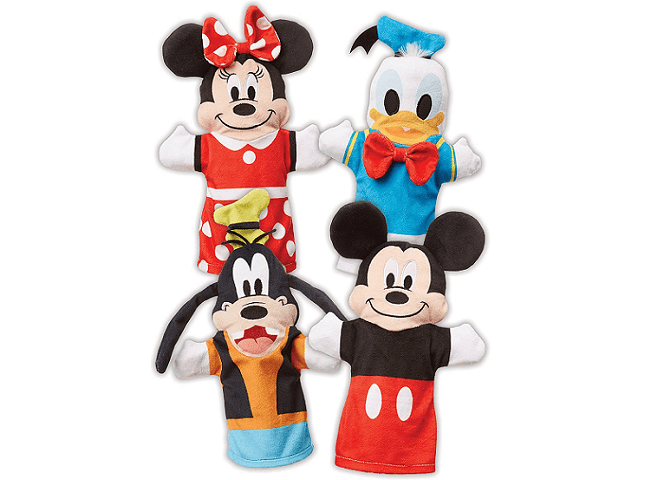 Another super cute listing by Melissa & Doug is the x4 Melissa & Doug Mickey Mouse Clubhouse Puppets.
This set includes four plush puppets: Mickey, Minnie, Donald, and Goofy, and each is soft-stuffed with really plush material to promote cuddle time. They don't itch or scratch when tickling and open the door to so much imaginative play. I just love these.
A huge bonus is that the puppets are all washable to remain hygienic. They're one-size-fits-all, but they actually do, kids and adults' hands work the puppets just as well.
The puppets are currently discounted at Amazon, so if you are interested, now is the time to grab a bargain!
Pros
Fantastic Value for Money
Washable
Super Soft
Great for Imaginative Play
Cons
I'd Love There to be More Clubhouse Characters Available.
#9 Best Mickey Mouse Bath Toy: Mickey Mouse Shoot and Store Bath Toy
I am a huge fan of bath toys and find them a fantastic way to keep little ones occupied when it comes to the dreaded hair wash or just to make bath time more fun. The Mickey Mouse Shoot and Store Bath Toy check both of those boxes.
The Mickey Hoop attaches to the bathroom walls via suction – this could be stronger in fairness and certainly works better on tiled walls. But, it's an inexpensive toy that can offer lots of enjoyment for toddlers in the bath and helps with gross motor skills.
I like how the three included balls all fit in the hoop for tidy storage.
Pros
Inexpensive
Tidy Storage
Bathtime Fun
Super Cute
Cons
#10 Best Mickey Mouse Puzzle: Mickey Mouse Clubhouse Wooden Chunky Puzzle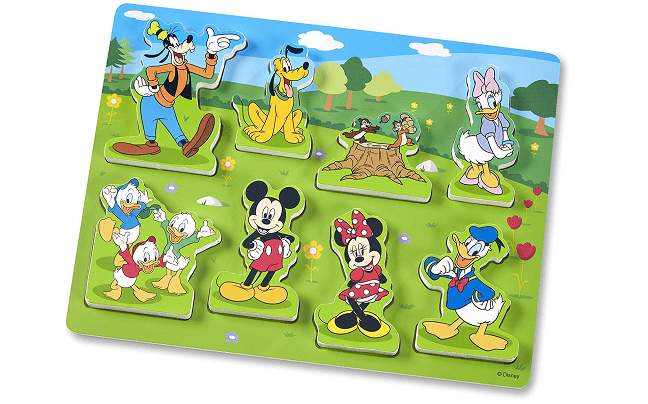 Another fantastic Melissa & Doug listing is this Mickey Mouse Clubhouse Wooden Chunky Puzzle.
I found this to be remarkably sturdy and love how thick (1-1.5-in) the pieces are; they are super easy to grasp for little hands, and the thickness also allows the pieces to stand up alone if used in other games as figures.
The puzzle itself is basic and aimed at children around 2-years. Underneath the pieces is a picture of the required piece to help tots complete it.
Pros
Extremely Sturdy and Durable
Easy to Complete
Melissa & Doug Brand
Good Price
Cons
No Replacement Pieces are Available
#11 Best Mickey Mouse Playset: Mickey Mouse Funhouse Playset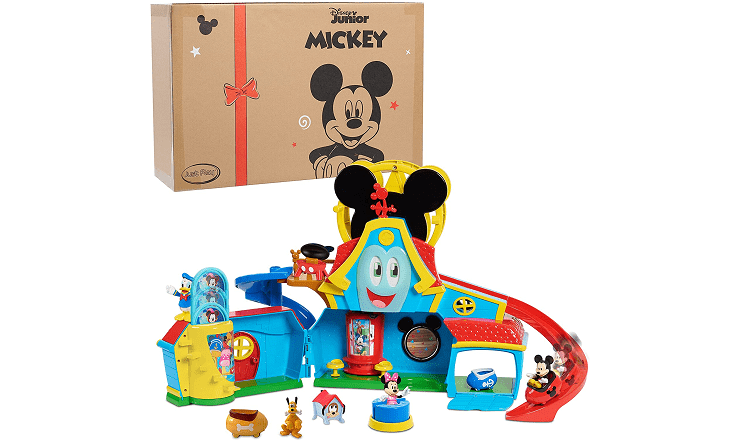 It was hard to choose just one with tons of playsets out there, but I found the Mickey Mouse Funhouse Playset to have a little more about it than most. Firstly, it is so much fun! There are many avenues to explore, such as a slide, stairs, floors, spinning sofas, and lights and sounds.
This set comes with Mickey, Donald, and Pluto, but additional figures can be added to the set.
I was surprised by the ease of assembly, and like the fact that batteries are included, so the set can be played with immediately from the box. It has a mid-range price point, which I think is very fair considering all of the things included with the set. The floaty wheel is great fun, and everything feels exceptionally sturdy.
Pros
Fantastic Fun
Lots of Activities
Promotes Imaginative Play
Lights and Sounds
Included Figures
Batteries Included
Cons
Advert Shows Minnie, But This Isn't Included in Most Sets.
Frequently Asked Questions
Question: What Are The Benefits of Mickey Mouse Toys?
Answer: All toys have enormous benefits for a child, primarily the development of skill sets – motor skills, hand-to-eye coordination, cause and effect, and problem-solving.
Perhaps an additional benefit of Mickey Mouse Clubhouse toys is that he reminds parents of the simplicity of days gone by. When we actually enjoy playing with our children, the activity is so much more fulfilling on both sides.
Mickey embodies childhood, play, and magic – the things we want to hold on to for as long as we possibly can. Yes, Frozen, Cocomelon, and Daniel Tiger are great, but are we filled with nostalgia, too? Probably not.
Question: How Can You Check if a Mickey Mouse Clubhouse Toy is Official or Licensed?
Answer: To avoid the pitfalls of buying a low-quality Mickey Mouse Clubhouse toy and to save money:
Take note if the price seems extraordinarily low (too good to be true), think twice, as this is a sure sign the product is a fake.
Check the wording in the advert; bad grammar, misspellings, or poor sentence structure. These are good indicators of poor-quality products.
Read the feedback from other consumers, as they have nothing to gain or lose by posting their comments online. Online feedback can be the best asset you have when shopping, so ensure you use it.
Question: Which Mickey Mouse Clubhouse Toy is Best for Toddlers?
Best Mickey Mouse Clubhouse Toys: Conclusion
Mickey Mouse Clubhouse Toys are a solid choice for early childhood development and tend to have a great blend of fun and learning on offer.
The x4 Melissa & Doug Mickey Mouse Clubhouse Puppets open many doors for role play, social interaction, and plain old traditional fun, making them an excellent choice for most tots. I love that they're washable, and the price is outstanding.
The Mickey Mouse Wooden Shape Sorting Clock will last a long time and be a great foundation for lessons as your child grows. Beginning with hand-to-eye coordination and ending in assisting your child in learning to tell the time, this is a must-have toy that is definitely wallet-friendly.
However, my favorite Clubhouse toy has to be the Disney Mickey Mouse Clubhouse Sound Book. I believe there is nothing better for bond and education than for caregiver and child to sit together and read. Start this as early as possible to reap the most considerable benefits!
Continue reading:
Ultimate Guide to Minnie Mouse Toys for Tee-Hee Girls