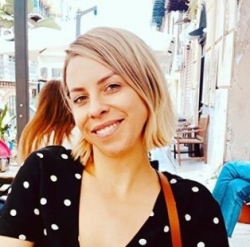 Latest posts by Jodie Chiffey
(see all)
For the parents who don't know, Miles Morales is one of the Spider-Man characters from the Marvel comics. So, if you've got kids like mine who are obsessed with anything related to the Marvel series, now you can brag to them that you know who Miles Morales is. You're welcome!
But I am guessing your next question is, where can you get your hands on the best-themed toys based on Miles Morales?
I enlisted the help of my marvel fanatic sons to help me select and review some of the best Miles Morales toys on the market. Throughout this guide, I will inform you of which are the best value for money, which are the best for each age range, and which were the most popular overall.
As well as our three eager eyes, I have also considered the reviews and feedback of other consumers because, after all, what some kids might love, others may not.
So let's go ahead and look at the top 6 choices for the best Miles Morales toys on the market.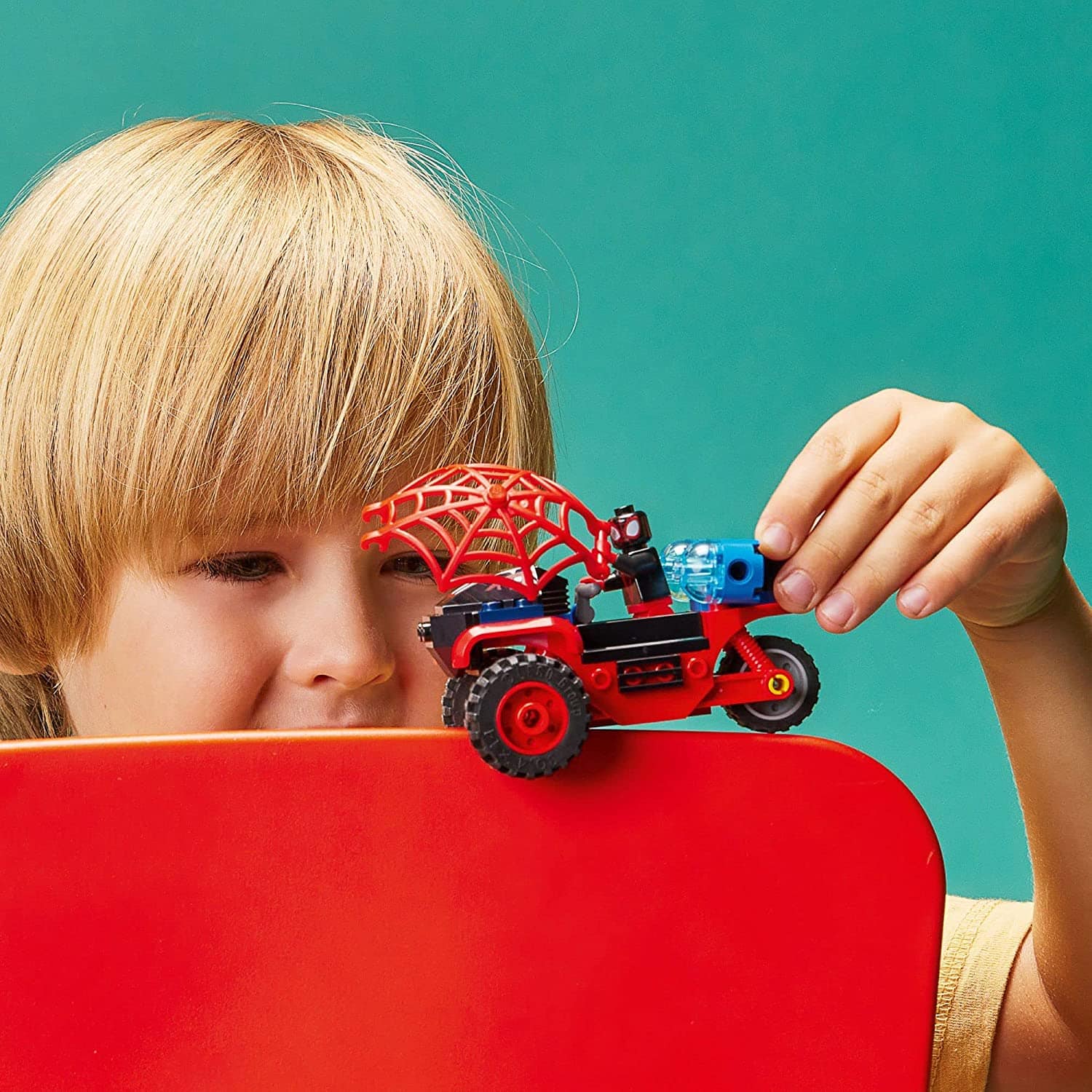 The Best Miles Morales Toys – An Overview
#1 Funko Pop! Marvel Venom – Miles Morales  -(My#1 Top Pick)
#2 Lego Marvel Spidey and His Amazing Friends – Spider Man's Techno Trike
#3 Spider-Man Hasbro Marvel Legends – Into The Spider-Verse Miles Morale Action Figure
#4 Spidey and His Amazing Friends – Web Clinger Miles Morales Poseable Plush
#5 Marvel Legends Miles Morales Gamerverse Exclusive Variant Action Figure
#6 Diamond Select Toys Marvel Gallery – Miles Morales PVC Figure
Bottom Line up Front
Out of all the Miles Morales products the kids and I checked out, as a collective, along with the tremendous amount of positive feedback from other consumers, we agreed that the Funko Pop! Marvel Venom – Miles Morales came up top of the leaderboard.
The detail that went into the making of the toy was great, and I thought it was money well spent.
How I Narrowed Things Down
There were a few things I thought were essential to check out when putting this list together, so here is a breakdown of how I judged each product.
#1 Educational
As with many movie-themed toys, there isn't much on the market that provides educational value. So although I have tried to include some toys that your kids can use for mental stimulation, many of the toys in this guide are aimed at cosplay, collectibles, and action figures.
This doesn't mean children can't benefit from playing with these toys. After all, any form of interaction with gameplay can be beneficial and have educational values regarding cognitive improvement.
#2 Safe
When looking for the best Mile Morales toys to buy, one of the things at the forefront of mind was the safety elements of the products. Even though my sons are no longer toddlers and can be trusted with toys suited to older kids, I still think it's always best to be on the safe side when looking at product materials and how easily they can be damaged.
I am satisfied with the quality of all these products regarding safety, but of course, it's always best to be wary, especially when buying toys for minor children.
#3 Fun Factor
Now in my kids' eyes, how fun the toys are the most crucial bit, and in many ways, of course, they're right. Using this, combined with my practical point of view, we were able to decide which games were the best when it came to good old-fashioned fun!
It can sometimes be challenging to get my kids to show an interest in anything that isn't electronic or has a screen, so when they are appealed by anything else, you can guarantee it's a toy worth buying.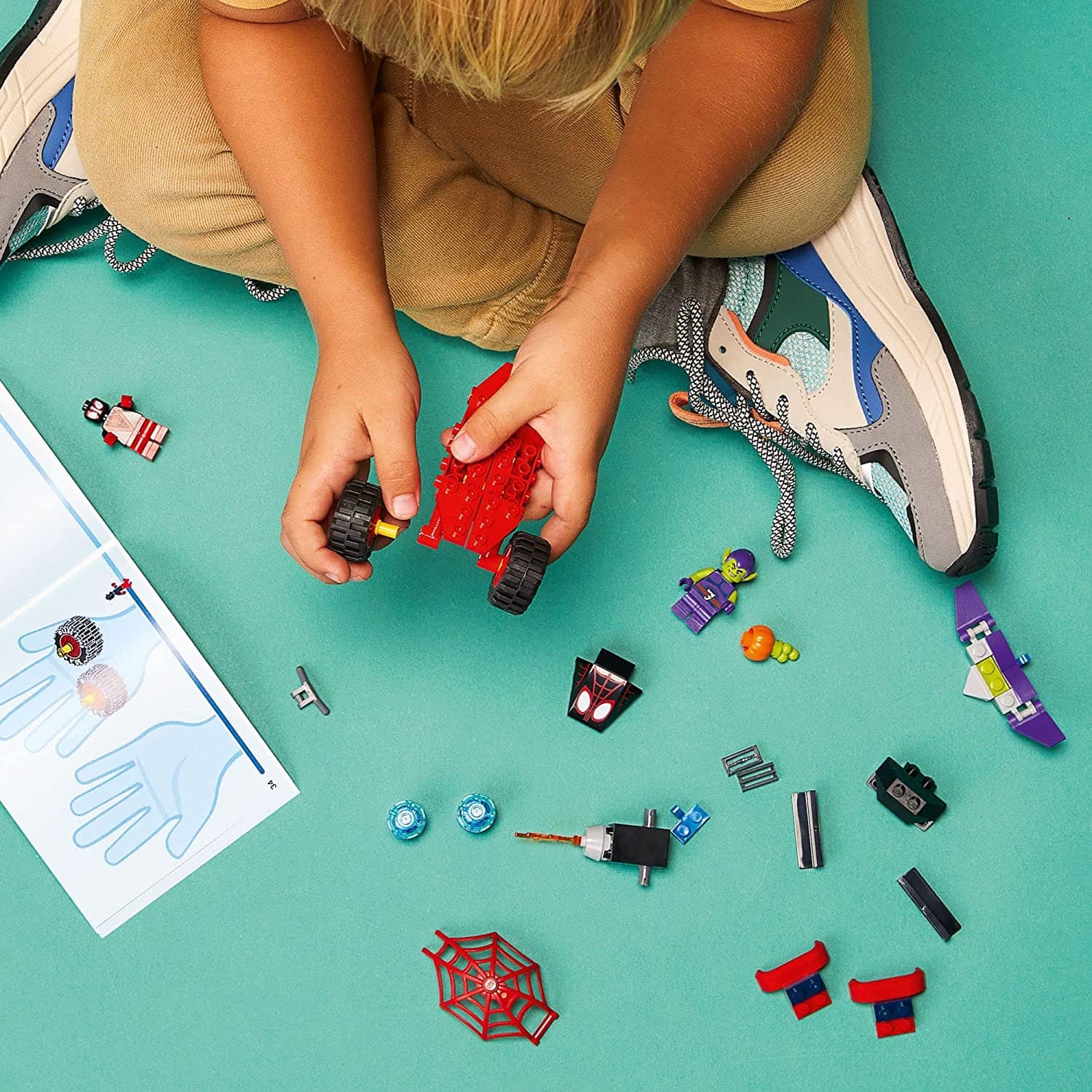 My Product Criteria
Here are a few extra things that I thought, as parents, you would like to know before ordering any of these products.
Toy Type: While one child might love to show their artistic side and get creative with toys, another might only like things that light up or flash. So I have kept these reviews as simple as possible by only selecting toys such as figures and models.
Age: It goes without saying, the age on the front of the box doesn't always tie in with our child's point in development, so try not to read too much into this other than for safety reasons.
Durability: The number of times I have purchased products online that claim to be long-lasting, hard-wearing, and break within a week is countless. I am confident that the toys I have selected in these reviews are some of the most durable on the market.
Consumer Feedback: It can be hard to trust one person's opinion, and some of your kids might have entirely different points of view from mine. So, I have checked out what other buyers have had to say about my selected products, to ensure I wasn't alone in thinking it was a great purchase.
Cost: I always check out toys from different price ranges to review. This is because, although my budget is in the mid to low end, others might like to splash out, and some might want the best value-for-money. So, in my reviews, you can expect different prices, some of which I wouldn't necessarily like to pay myself but could understand why others would.
Our Favorite Miles Morales Toys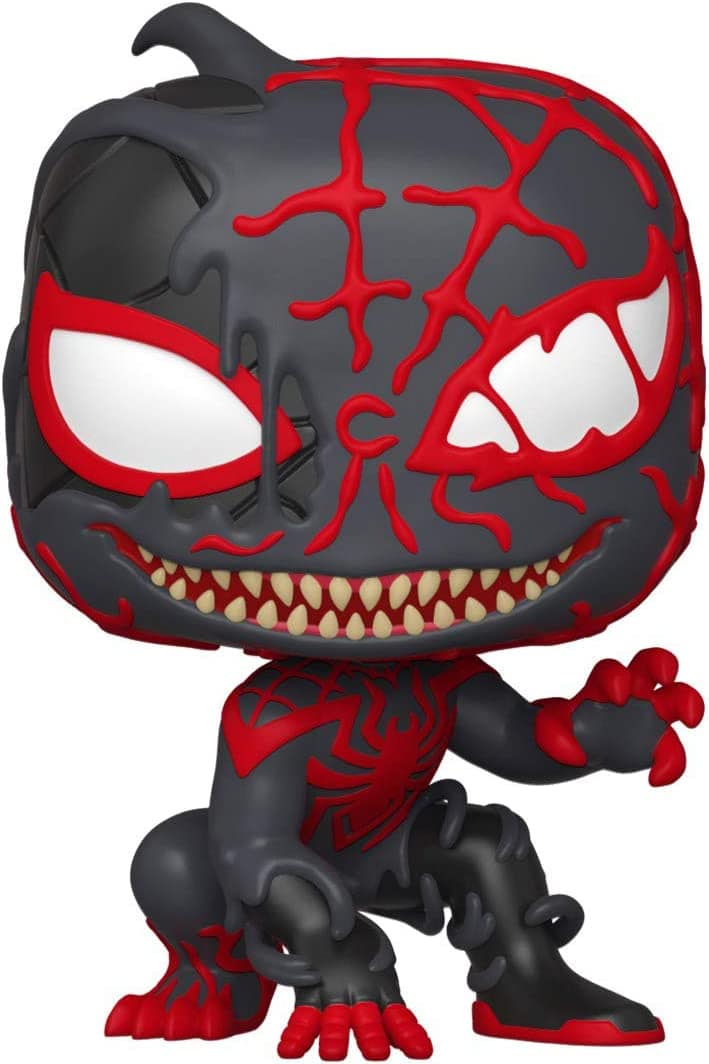 Before I had even asked my kids' opinions, I had already decided that this would be my favorite product from the second I opened it.
The colors were eye-catching, and the detail of the toy was exquisite.
Now, I looked at the sizing in the product details before I bought it, and because I was knowingly buying it as a collectible play figure, the pictures could mislead some people. At first glance, when you look online, the image makes it look as though this is a large toy; however, on inspection of the small print, it does state that it is only 3 ½ inches tall.
This brings me to the price. As I said earlier, I'm not someone who has a never-ending budget for kids' toys (I mean, who does at the moment?) Although I thought this was slightly high-priced for the size of the product, I could justify the cost when I considered the fact that this is a collector's item and when I looked at the details that had gone into the making of it.
One thing my kids love about these, as do I, is the endless selection of characters from Funko Pop, so you can constantly add to your collection with other items such as Harry Potter or Captain America.
Pros
Great detail
Well made
High quality
Lots more to collect
Reputable brand
It comes in a display box
Extremely durable
Cons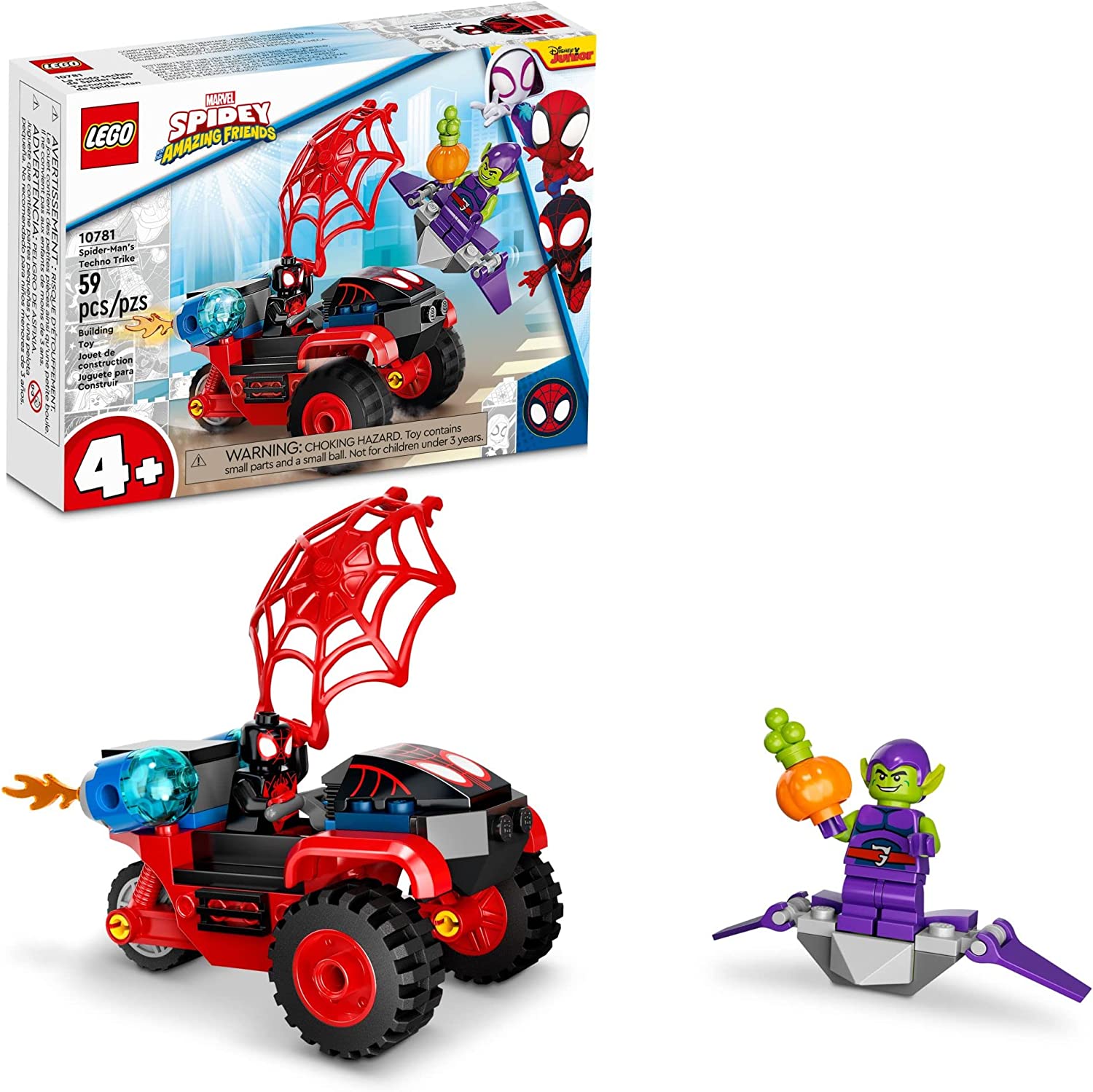 In my reviews, I have spoken a lot about how I think Lego is an absolute gem in childhood development. Even to the point where I often implement Lego activities as a form of therapy when working with children who need extra help with their development.
The Lego Marvel Spidey and Friends Techo Trike is an excellent addition to any lego lover's collection. It consists of 59 pieces, all of which are large and easy to handle.
It states that this is aimed at children four and upwards. Personally, I would say a little older, perhaps six and older, due to the smaller parts, although the instructions are straightforward to read, and my youngest son managed to put this together with no problem.
The quality was exactly as you would expect from any Lego product: strong, durable, and hardy, and overall, this was a great, educational, and interactive product.
Overall the customer ratings for this were excellent regarding the quality of the products. However, some buyers did seem to be having issues with the outer box being damaged, which would be an issue if you want to give this to someone. I, however, didn't have any such problem, and everything appeared perfectly intact.
Pros
Durable
Educational
Interaction
Stimulating
Simple instructions
Picture guides for ease
Cons
Complaints about damaged packaging from some buyers when ordered from Amazon.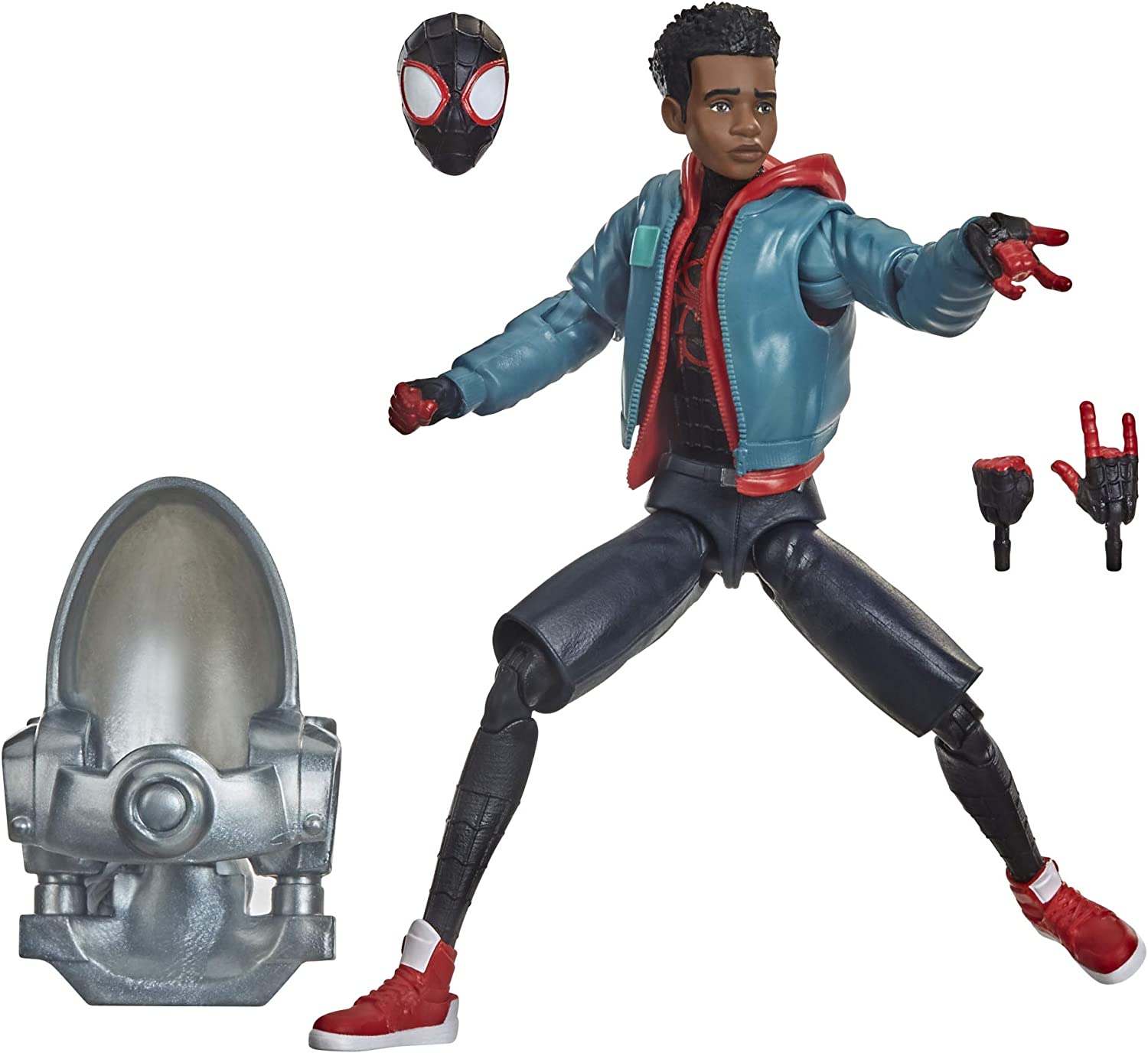 I have jumped up quite a lot here regarding the price, and don't get me wrong, this is certainly not something I would buy as a rainy day gift. However, if you're looking for something special for a Christmas or birthday present, and your kids are big fans of Miles Morale, you might want to consider The Spider-Verse Miles Morale Action Figure.
This is a 6″ collectible Miles Morale toy, probably not one you'll want little hands to rough up.
I was pleased with the figure's detailing and general construction, although, for $80.00, I had expected this would be the case.
This is a Hasbro product, so you know you are buying quality from the get-go, and they didn't disappoint regarding durability.
My sons both loved the fact that you have the option to transform Miles into Spider-Man by adding the mask feature and the fact that the hands are detachable; of course, my problem with this feature is helping them find said hands a few times a week when they go missing!
One thing I would advise is to shop around for this product. I believe that the high price tag is due to the low availability and popularity of the product. Each time it sells out, I think certain sellers raise the price, so have a look around for the best deals.
Pros
Very desirable
Collectible
Well made
Moving parts
Interchangeable head
Durable
Cons
High price tag
Often out of stock
Small parts which can go missing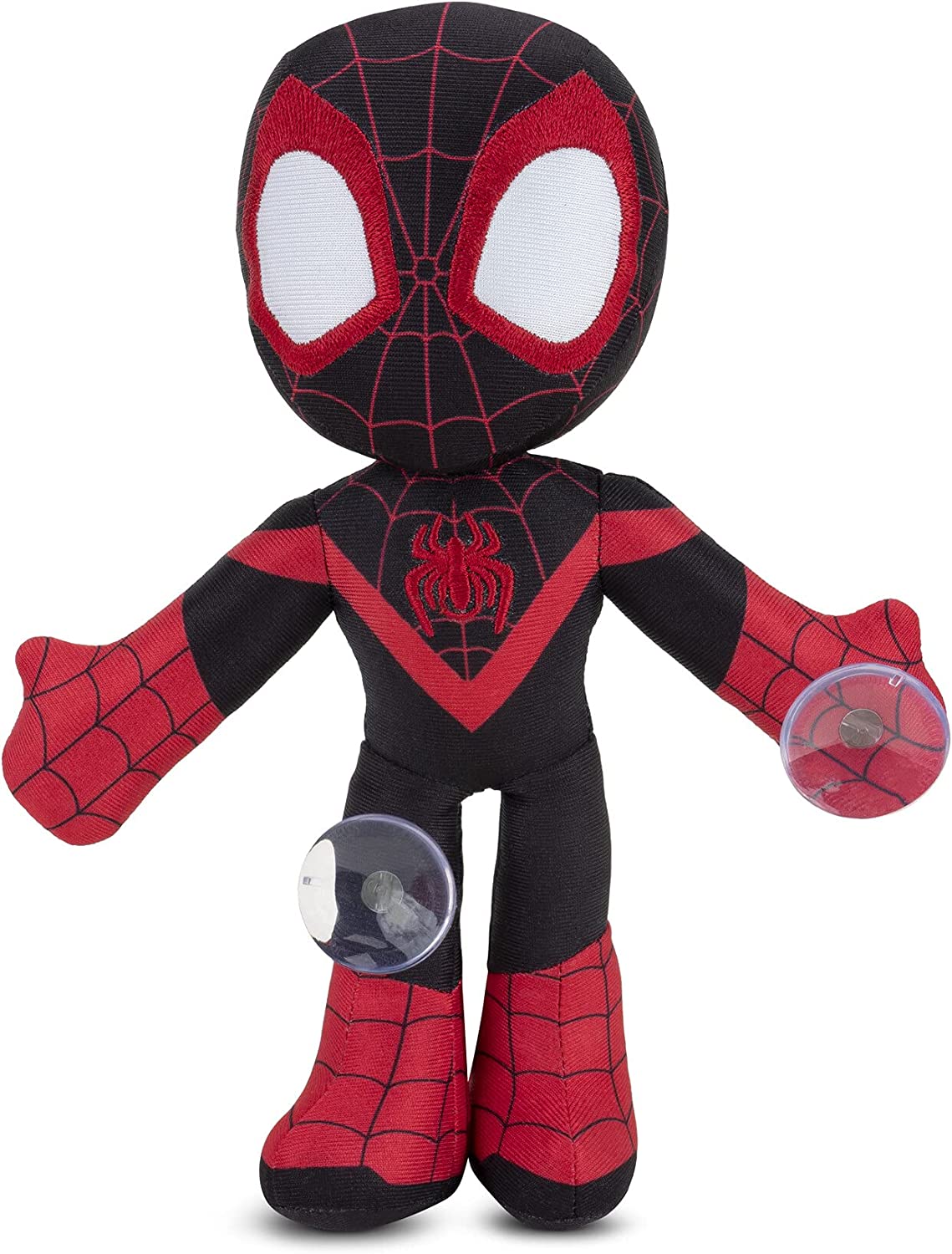 This 9″ Poseable Miles Morales Web Clinger is an excellent choice for any marvel fan, especially Miles Morales lovers.
This is a plush figure, which means it's super soft and suitable for children of a younger age. It's a straightforward toy, but one which I think most kids will enjoy, and despite my lads being that little bit older, they voted this as one of their top picks. They seem to keep my youngest entertained when he takes Spidey in the car, as he can attach him to the car windows.
It doesn't have many features, but it does have suction cups on the hands, meaning you can mimic Spidey climbing the windows. It is a great little addition that makes it stand out from other plush toys on the market.
It's a reasonably low price and will suit most budgets, especially for something with the Spidey and his Amazing Friends branding.
There are many more to collect, such as other characters from the series.
Pros
Low price
Durable
Suction cups
Super soft
Suits all ages
Cons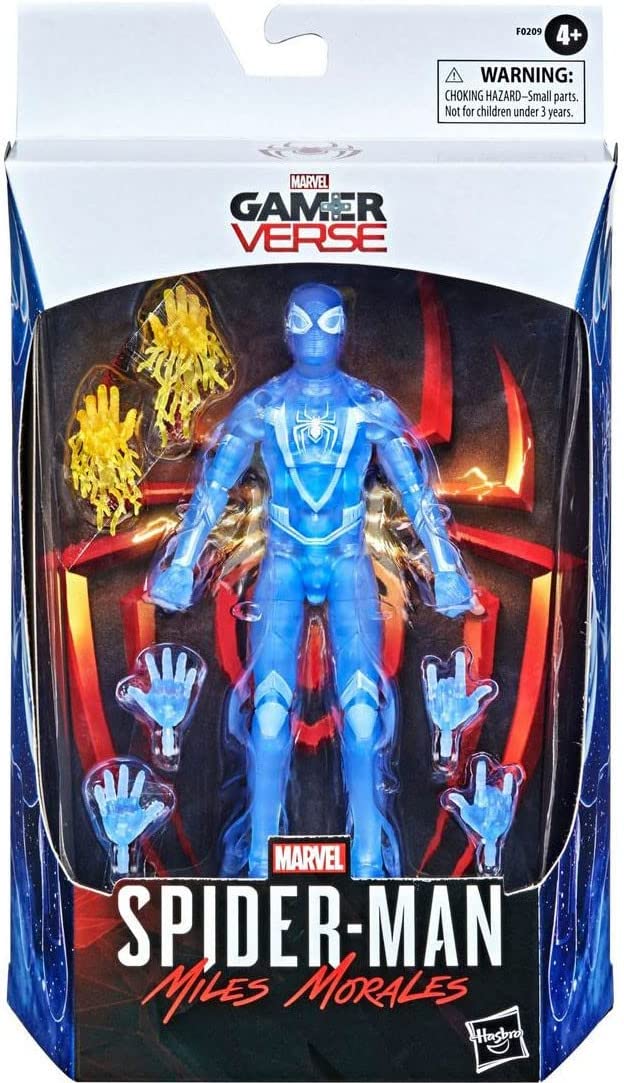 If you're looking for the coolest toy in the Mile Morales range, this Marvel Legends Miles Morales Gamerverse Exclusive Variant Action Figure is probably one you want to consider.
The toy itself, at first glance, looks impressive, which is what drew me to it initially, and the fact that it's an official Marvel product made me think that I was going to be getting my money's worth regarding quality.
The pack contains a 6″ marvel action figure, which can move and pose in different positions. The movement of the figure feels like it's made well, and it's going to break after multiple uses, and the detachable parts come on and off easily.
Again there is the issue of small parts, such as the hands coming off as they are interchangeable, so they tend to go walk-about.
The pricing, again, is probably not something I would usually spend on a toy for a regular gift, but because of the branding, it's only what's expected, and the boys loved it.
Pros
Interchangeable parts
Poseable
Great quality
Reputable brand
No batteries required
Cons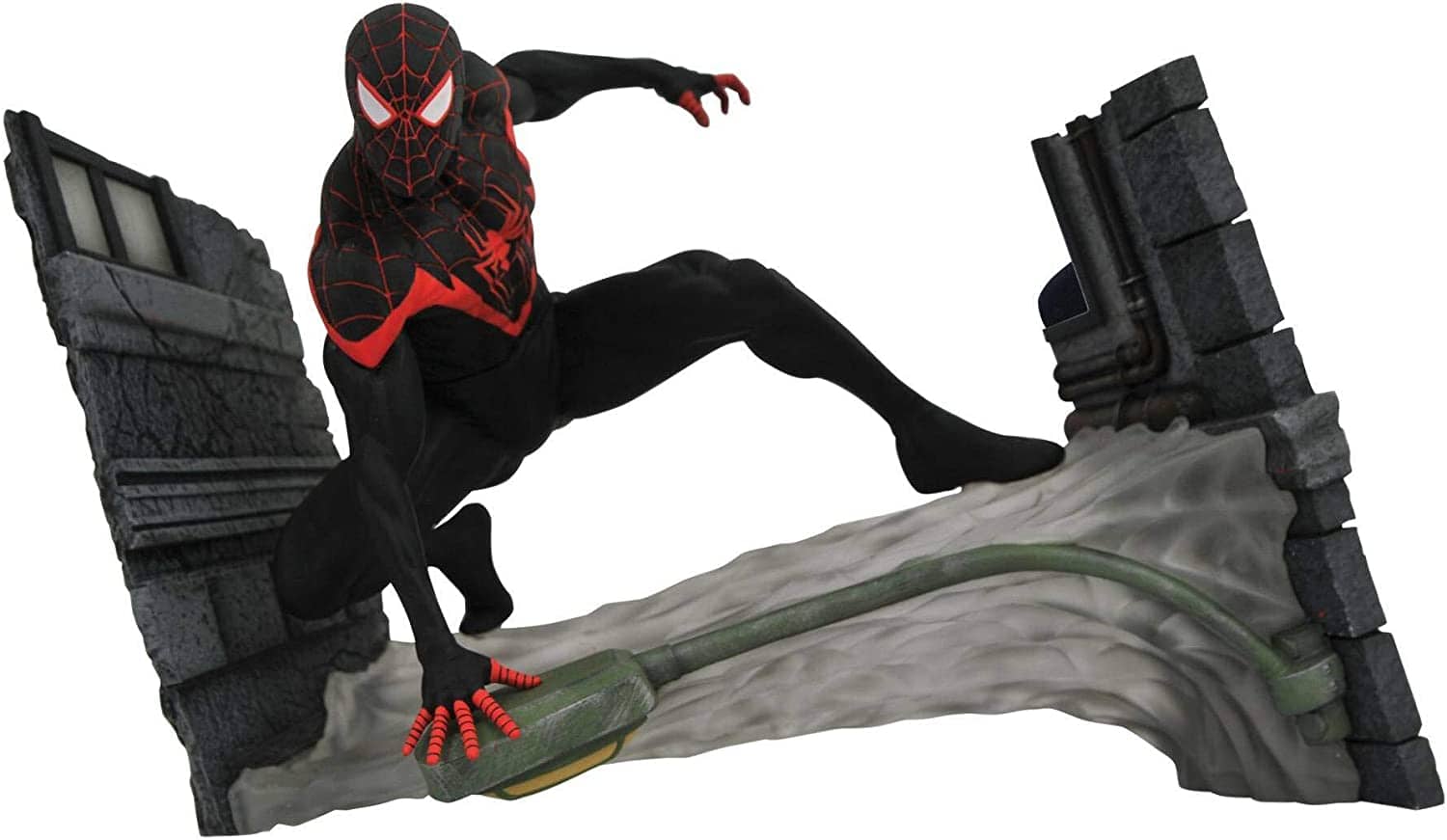 Looking at something slightly different, I thought that this Diamond Select Toys Marvel Gallery – Miles Morales PVC Figure was a fabulous gift and something unique regarding Miles Morales toys.
This is a great, realistic product that any Miles Morales fan will think is awesome. We all did!
The detailing on the figurine is impressively realistic and well done. It looks absolutely fantastic as a display piece, especially if your child has an area where they keep all their favorite pieces on view.
I did notice one person who had reviewed the product had it attached to the wall near the ceiling. I am not sure how they did this, as I didn't notice any wall attachments, but it seems like that's an option should you want it to seem like Spidey is looking down on you from the corner of the room.
Another thing I would like to note is that it's pretty heavy for a toy/figurine. So probably not the best for heavy use and gameplay. It is recommended for older children.
Overall, we all said this is a must-have for any Miles Morales fan.
It's currently on sale on Amazon for $46.10, which is kind of expensive in my personal opinion, but keep your eyes out and shop around, as I have previously seen this on offer at other online stores for slightly less.
Pros
Amazing quality
Well made
Realistic
It can be used as a collectors/display piece
It comes in a display box
Very detailed
Cons
No moving features
Higher price tag
Slightly heavy
Frequently Asked Questions
Question: What is the Best Brand for Miles Morales Toys?
Answer: Of course, the best brands to buy are usually the more reputable ones, mainly because they are trusted and reliable. Brands such as Marvel, Hasbro, and Lego can generally be guaranteed to be durable and high-quality.
Question: Where Can I Buy Official Miles Morales Toys?
Answer: When looking for official merchandise, your safest option is to go to reputable stores to be 100% sure of their validation. You can also buy official products on sites such as Amazon, but always check the seller's feedback and authorization, as Some people can often sell some unofficial brands to look like they're the real deal.
Question: Are There Any Other Toys Like Miles Morales?
Answer: Yes. If your child is a fan of Miles Morales, then it's highly likely they also like other Marvel characters, such as Iron Man, Doctor Strange, and Deadpool. If this is the case, there are tons of other toys and figures on the market. In fact, the options are endless and can be found in stores and sites all over the world.
Miles Morales Conclusion
Out of all the toys we tried, I must admit we had a hard time narrowing down our number one pick as a collective because, to be honest, we were impressed with their quality. But overall, we narrowed it down to Funko Pop! Marvel Venom – Miles Morales being the best quality, detail, value for money, and longevity.
We also concluded that the 9″ Poseable Miles Morales Web Clinger was an excellent option for a low-priced toy that was suitable for all ages, and we all loved the fact that it could be stuck to the windows and taken on car journeys.
Regarding fun factors, both my lads decided that the Marvel Legends Miles Morales Gamerverse Exclusive Variant Action Figure would be something they would ask for for Christmas. They loved the interchangeable parts and loved the cool appearance. My only concern with this was the many detachable hands were likely to get lost after being played with.
Continue reading: