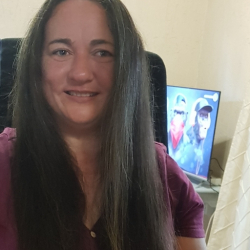 Latest posts by Caroline Lambert
(see all)
My kids call me the toy-selection guru, but I was intrigued by a new concept. I spotted a fabulous toy design in writing the best Dinotrux toys guide. It speaks to the motherly instincts that tell me to select toys that improve my children's educational journey. I'm all about education in playtime activities.
Dinotrux is an exceptional themed toy with the potential to appeal to more age groups than the show does. I realized that Dinotrux inspires fun and exciting educational types of toys. My daughter knows the show, but my son has outgrown the series. Fortunately, he never outgrew the Dinotrux toys, and I'll show you why.
First Dino's First
Dinotrux toys come from a popular kiddies series on Netflix. However, they suit children of all ages if they still enjoy the concepts of dinosaurs and vehicles. Boys will especially love the unique, creative combinations. For example, some have remote-control abilities, and others roll around to interact with the primary dino vehicles.
Dinotrux toys are superbly interactive and educational for children up to 12. The sensory and creative experiences help kids practice their most basic skills while enjoying the unusual designs. There are various ranges, and the toys have multiple benefits. Here's a quick look at the top Dinotrux dino vehicles:
The Ultimate Guide to Dinotrux Toys
Dinotrux is one of the extraordinary concepts to hit the toy world. Combining construction models with dinosaurs is like heaven for kids who love both ideas. There's a lot of potential in this concept, and I'll show you how before sharing valuable tips and how I chose the best Dinotrux toys.
The Dinotrux Concept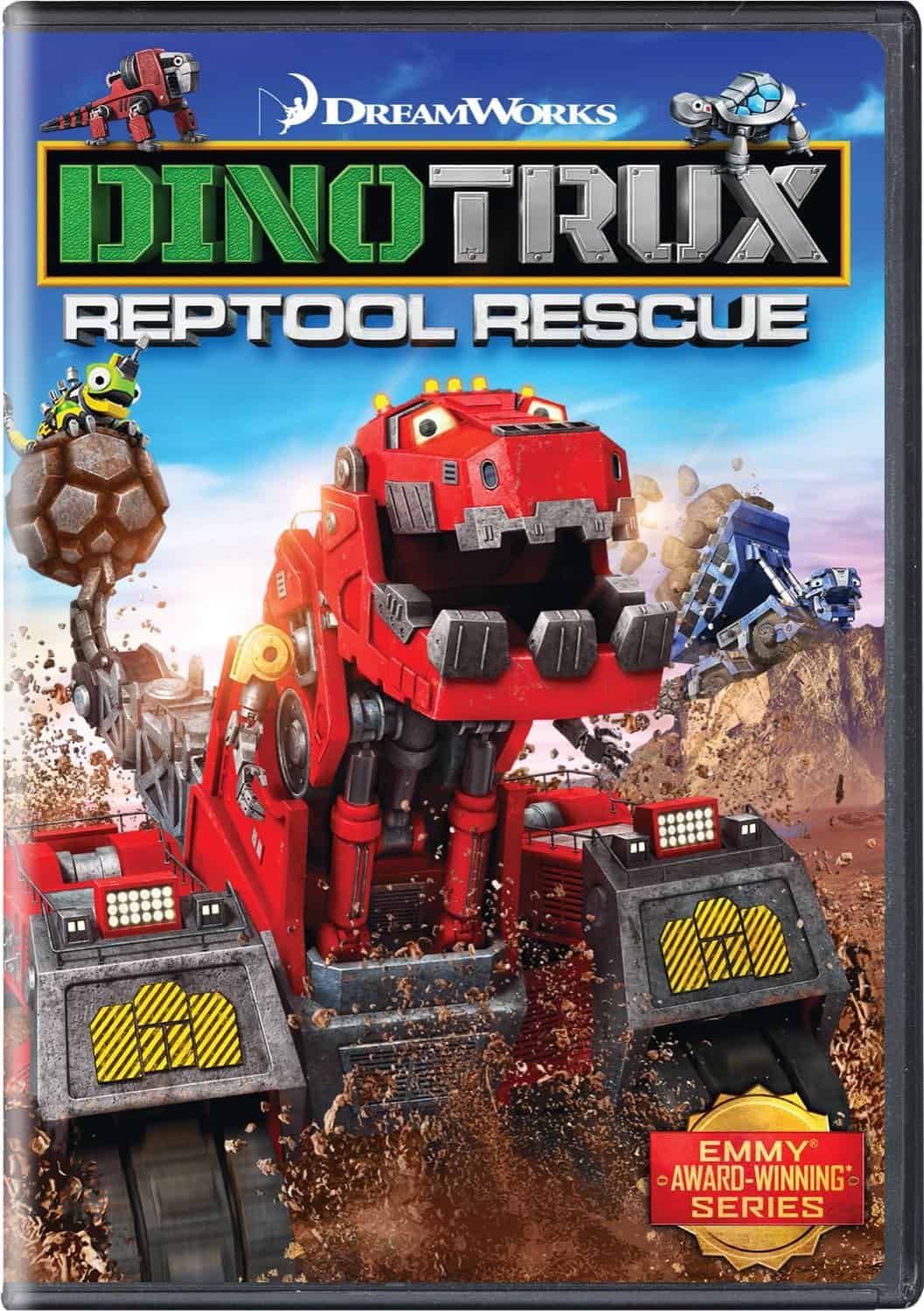 Dinotrux is a cute animated series children love, and it introduces new creatures that keep their minds creative. There are so many children's shows today, and designing an original idea is like mopping the ocean. I know how hard it is to think of original concepts because I'm creative by profession.
I'm also a mom who knows how kids lose interest in unoriginal concepts. There are too many dinosaurs, cars, and transformers toys. So, I have to think creatively to pick suitable toys for my kids. However, Dinotrux introduced an original idea where dinosaurs and construction or heavy vehicles become one.
I had to know whether toys were available when I saw my daughter sneaking an episode. Then, I saw the creativity behind the toy concept that lays a foundation for children to learn. The toys offer many benefits, and parents love seeing their children grow through playtime experiences.
Quick Dinotrux Basics
There are different types of Dinotrux toys, and they have varying abilities and fun features.
Various Ranges
The Dinotrux toy range includes a few characters beyond the dinosaurs and construction vehicles. For example, "reptiles blended with tools" is called the Reptool range. Here are some examples of the Reptool range, which are hard to come by:
The Reptool toys are smaller than the dino vehicles. Still, they interact with the dino toys and have extensive interactive features. The toys roll around and complete an imaginative playtime for Dinotrux fans. However, they might not appeal so much to older kids who want the dino vehicle combos.
Dinotrux Interaction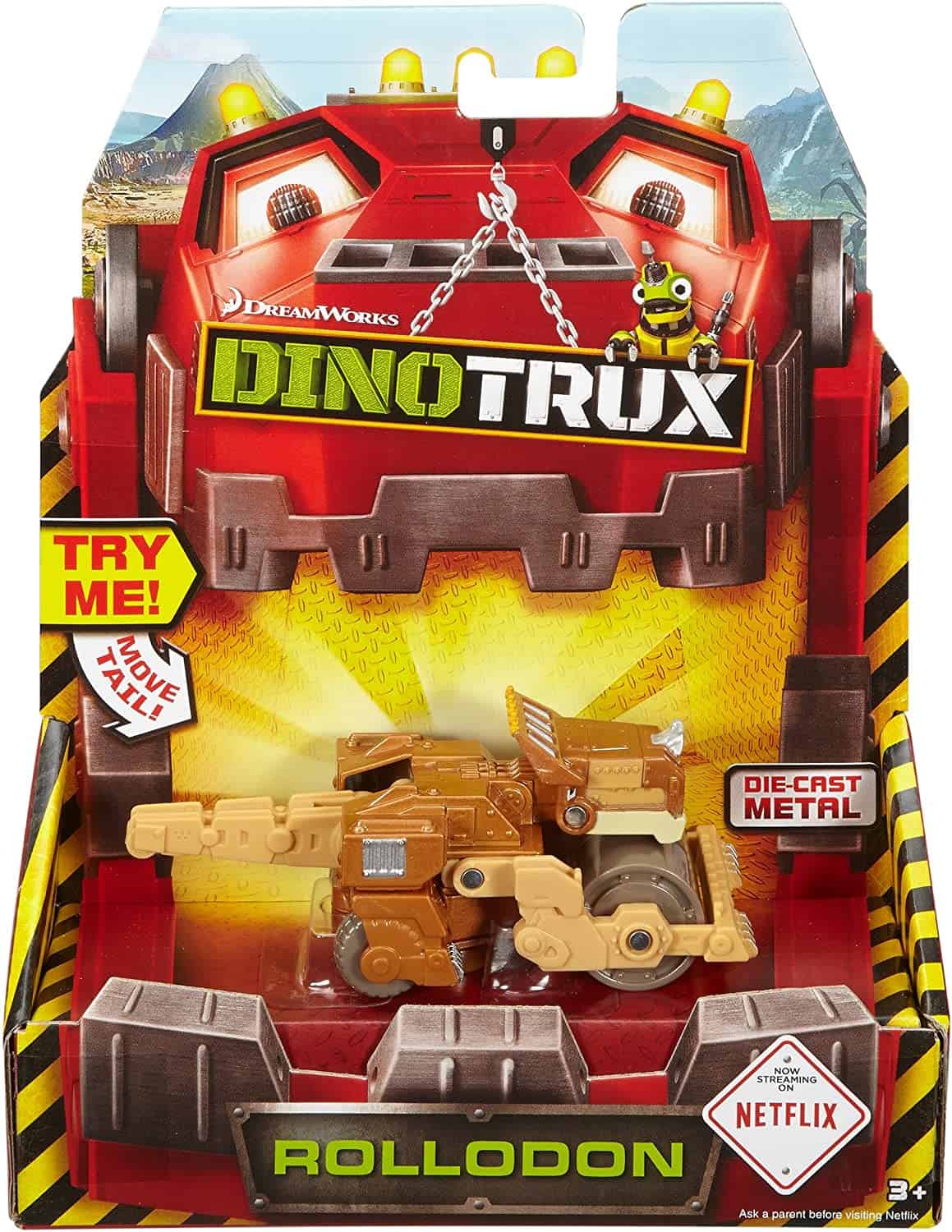 Dinotrux toys come with excellent features that enhance sensory experiences and educational playtimes. For example, the Dinotrux Rollodon Vehicle is a simple example of a toy rolling on wheels, helping little kids learn cause-and-effect. The Dinotrux Green Ty Rux Toy also features unique movements when children touch it.
All Dinotrux models that move with touch or when a child moves around them will mimic the movements children see in the show. Some models even make noises to match the show's characters. In addition, Dinotrux toys are highly interactive, allowing small hands and young minds to engage with them.
Dinotrux Original Quality
A few Dinotrux toys come in PVC models for bathtime fun with little kids. However, the primary material for Dinotrux models is die-cast metal. I love this news because die-cast toys last much longer, and the interactive features won't break down as quickly when kids play with the toys.
Other Dinotrux Toys
Dinotrux also offers a range of storybooks, from which Netflix got the show's idea. Storybooks provide a different kind of toy, one that teaches through reading. Small children love story time before bed. Here are a few Dinotrux storybooks available: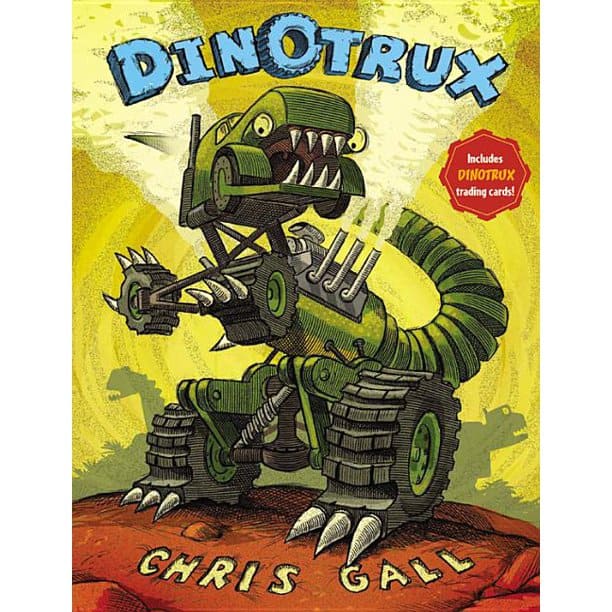 The storybooks are for little kids, and the last option even includes sound effects and comes as a board book for babies and young toddlers.
Dinotrux Advice
Education is at the center of everything I consider regarding toys. My first tip is that you consider Dinotrux toys for kids who love construction, vehicles, dinosaurs, and anything related to the show. Themed toys provide a platform to have fun and learn. Children are also more likely to continue enjoying their favorite themes.
Dinotrux is a fabulous gateway to educational play if children love the themes. Don't give children toys that bore them because everyone has the same. Instead, give them original themes and ideas to inspire their minds. Dinotrux toys offer educational benefits because they're a sensory experience with interactive qualities.
The wheels turn, and the dino vehicles are flexible with easy-to-maneuver joints. Little fingers have endless fun. However, Dinotrux toys also appeal to older kids who enjoy imaginative play. Kids don't even need to love the show to love the toys. Most boys love dinosaurs and construction vehicles, much like my son.
He's 13 now, and he still enjoys imaginative play. I'm hoping that the creative concept behind Dinotrux toys rubs off on his imagination because imaginative play is essential in every child's life. Encourage Dinotrux toys to any age child because they have sensory, educational, original, and innovative advantages.
How to Select the Best Dinotrux Toys
I'm obsessed with Dinotrux because of the combination of dinosaurs and construction or destruction vehicles. I want Dinotrux originals that show the best characters meeting a dino vehicle transformation. I also want die-cast models that last forever.
Best Dinotrux Toys Guide: Meet the Team
Dinotrux toys are phenomenal and creative, coming from my creative, professional opinion. Let me share the incredible dino vehicles taking the world by storm. I love that they appeal to more kids than the age group who watches the show. I'll share what makes me happy and unhappy about each with some fun facts.
Ty Rux and his friends are a fantastic choice for kids who love the show. He comes with his best friend, Revvit, and the six toys complete the main characters from most episodes. My son loves how Ty Rux combines an excavator with a Tyrannosaurus Rex, representing a formidable force. He's also the construction team's leader.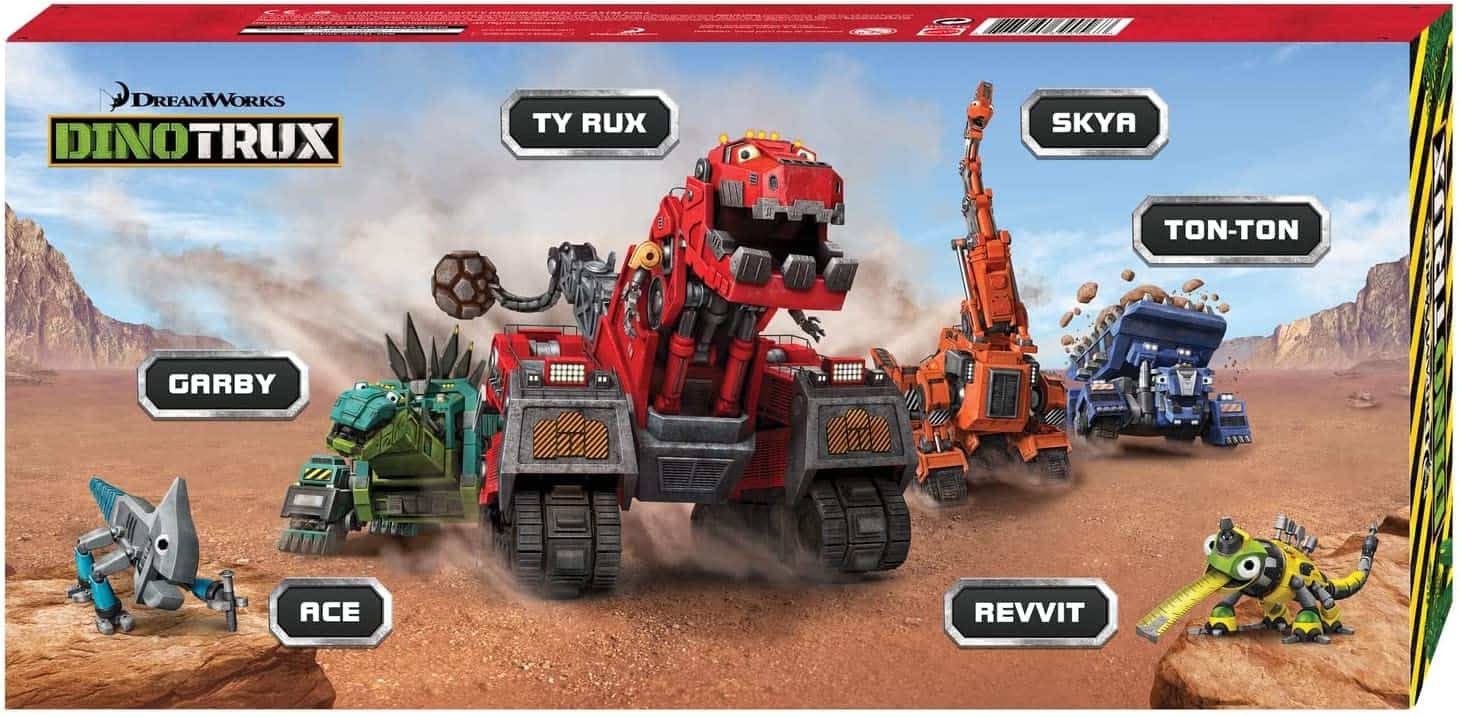 Fun Facts
Character: Skya, Ton-Ton, Garby, Ace, Revvit, and Ty Rux
Size: 6.5″ each
Abilities: N/A
Combo: N/A
Pros
Kids get six of the best Dinotrux characters in one shot, including much-loved and familiar characters
The set also comes with two Reptool characters for children who want to reenact the storyline
Each Dinotrux die-cast toy has wheels for little ones to push them around and mimic their on-show movements
Cons
The size differences between the Reptool toys and Dinotrux vehicles are inaccurate compared to the show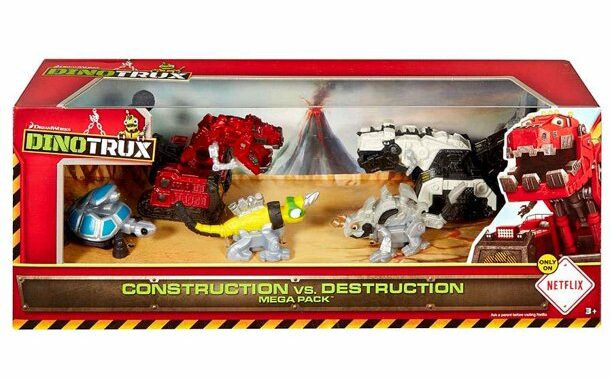 I love the destruction set because it includes characters you won't easily find on their own. I searched hard for D-Struct and Skrap-It, but I suppose the destruction crew aren't as loved and don't make toys. So, the construction versus destruction set is the only one I found, making it sought-after for die-hard Dinotrux fans.
Fun Facts
Character: Ty Rux, Revvit, Tortool, Skrap-It, and D-Struct
Size: 13″ x 5″ (entire set)
Abilities: N/A
Combo: N/A
Pros
The set includes unusual Dinotrux vehicle toys, one of which is a dino vehicle, while the other is a bad guy Reptool figure
Children can have hours of fun reimagining the storyline between the heroes and foes of the show
The dino vehicles for Ty Rux and D-Struct have wheels for kids to push them around and imitate the on-show character movements
Cons
Some kids might not love the destruction vehicles because little ones hold a grudge against bad guys from television
Dozer is one of the cutest characters now that I've learned more about these dino vehicle toys. He almost looks like a pet from another world. My daughter says he has a short temper with a grumpy nature, but he's a great friend to the construction crew. Dozer Dinotrux makes me think of a pet dog.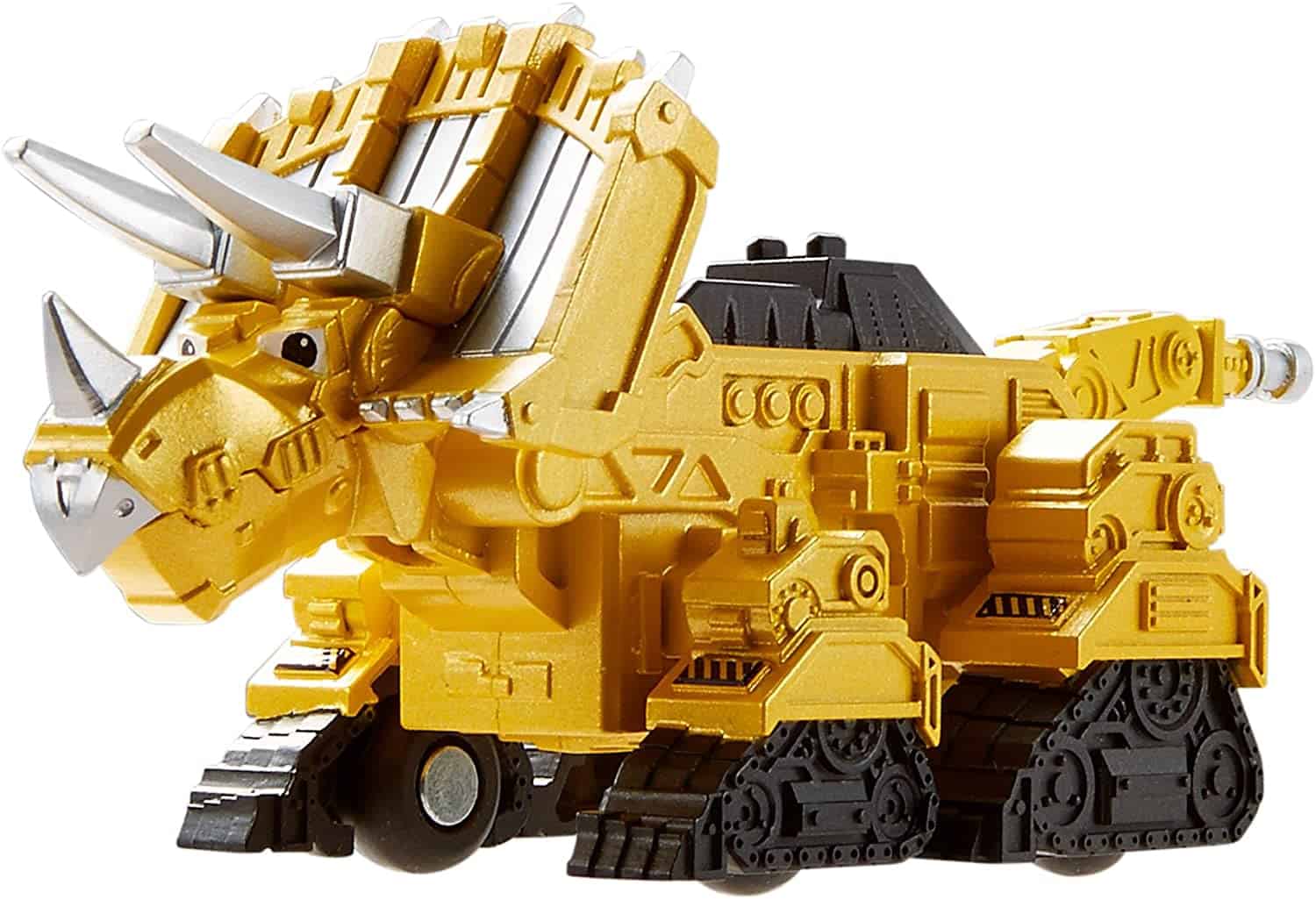 Fun Facts
Character: Dozer is a cranky but loyal friend to Ty Rux and the construction crew
Size: 8.5″
Abilities: Dozer can break his way into any structure with his bulldozing abilities and dinosaur attitude
Combo: Half bulldozer and half Triceratops
Pros:
The Dozer Dinotrux die-cast toy is a beautiful piece that looks like a mechanical puppy, and his nature is loyal like a dog
I love how the Dozer Dinotrux toy comes to life when a child pushes him around on the wheels, and he matches the show's movements gorgeously
You can also move the Dozer Dinotrux tail around to hear noises similar to the dino vehicle's on-show character
Cons
The toy is incredible, but I would've loved it if it were more prominent because I imagine dino vehicles being enormous
Technically, the Dragonslopter comes from the Reptool range, but dragonflies aren't reptiles. That's why I'm adding this unique creature. It doesn't belong to reptiles or dinosaurs, but dragonflies are a beautiful mystery I believe existed when dinosaurs did. They're ancient creatures, and the Dinotrux toy is gorgeous.

Fun Facts
Character: Dinotrux Dragonflopter is a helpful vehicle that often helps the construction team
Size: 4.47″
Abilities: Dragonflopter can fly and scout for trouble
Combo: Half dragonfly and half helicopter (which also isn't a construction vehicle but rather a heavy vehicle)
Pros:
The Dragonflopter Dinotrux toy is a beautiful masterpiece that showcases two concepts similar because they have matching flying patterns
The die-cast Dragonflopter toy allows young fans to download digital content for the character to their smartphones
The Reptool Dinotrux toy has buttons children can press for movements that match the on-show character
Cons
Dragonflopter is a Reptool and not a dino vehicle, but it's the one character that falls between the two ranges, in my opinion
Garby is one of the funny characters, according to my daughter. He's a little flatulent and can pass the stinkiest gas. I'm sure this gets little kids giggling like crazy. My daughter thinks flatulence is one of the funniest things, so I understand her affinity for the little garbage truck. He looks like an adorable character from the show.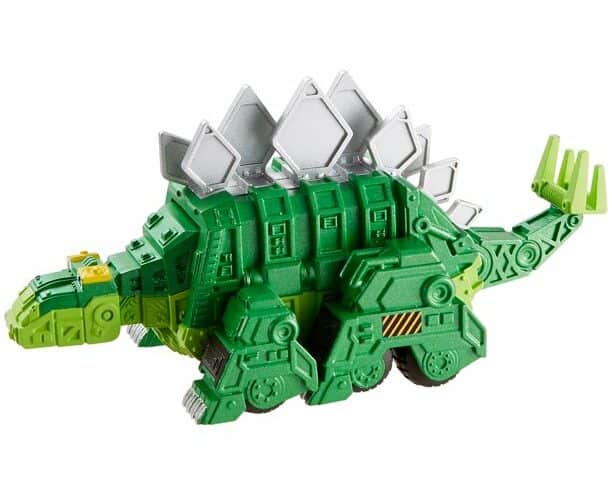 Fun Facts
Character: Dinotrux Garby is a sweet character who acts shy, but he has more power than he realizes
Size: 4.47″
Abilities: Garby extracts ore from rocks by eating them
Combo: Half garbage truck and half Stegarbarsaurus
Pros
The die-cast Garby Dinotrux vehicle looks like a futuristic garbage truck with spikes down its back
Kids will love the Garby vehicle toy if he's such a flatulent character because small children think it's hilarious
The Garby Dinotrux toy comes with wheels for easy pushing and matching sounds and movements to the on-show character (including the flatulent sounds)
Cons
I'm not sure I find flatulence funny, and the toy could've been more significant, considering it's a dinosaur vehicle
Ty Rux is originally a red dino vehicle, but he also comes as a green version. I can imagine how every child would want Ty Rux because he's the leader of the good side, constantly defending their world. Children unfamiliar with the show would also love him because he's a colossal T-Rex born into a construction vehicle.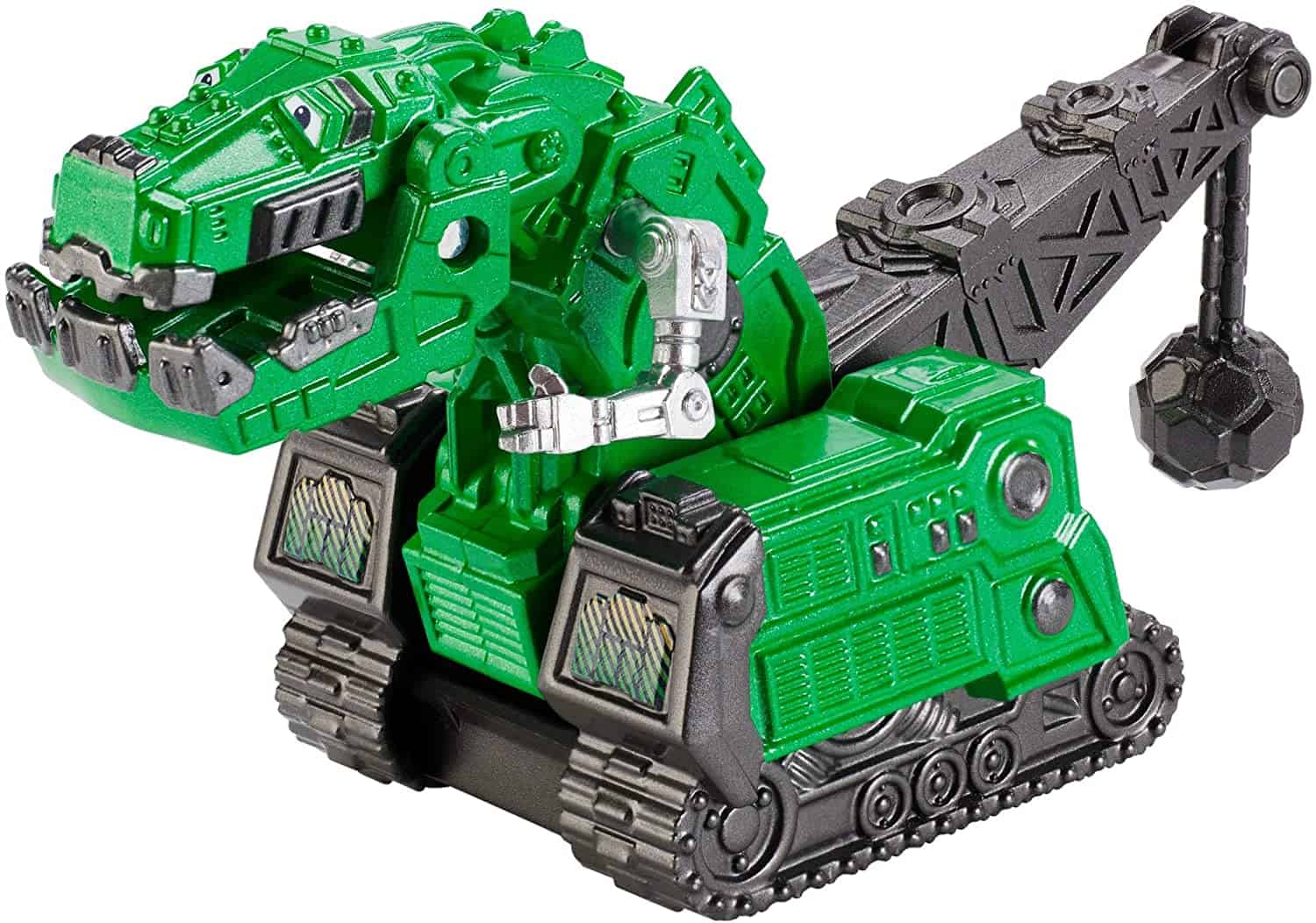 Fun Facts
Character: Ty Rux is the leader of the construction crew, and he's as confident as a wrecking ball
Size: 8.5″
Abilities: Ty Rux has a massive wrecking ball attached as a tail for powerful moves
Combo: Half Tyrannosaurus Rex and half excavator
Pros
The green Ty Rux Dinotrux vehicle toy is a change for kids who want the leader, and they can own him in two versions
I love how the dino vehicle's arms are as short as a T-Rex because it's the signature humor point of the dinosaur with ferocious abilities
The Ty Rux Dinotrux toy comes with wheels and on-show movements when kids push him around, and the sound effects are incredible
Cons
Some kids would prefer the original red version of Ty Rux, which I'll share soon enough
Rollodon is a unique character from the show because it's untamed and likely to steamroll anything in its path. The dino vehicle doesn't say much in the show, and it's unlikely to have a wide range of sound effects. It's a cool character because you never know what to expect. It can turn everything into a stampede if desired.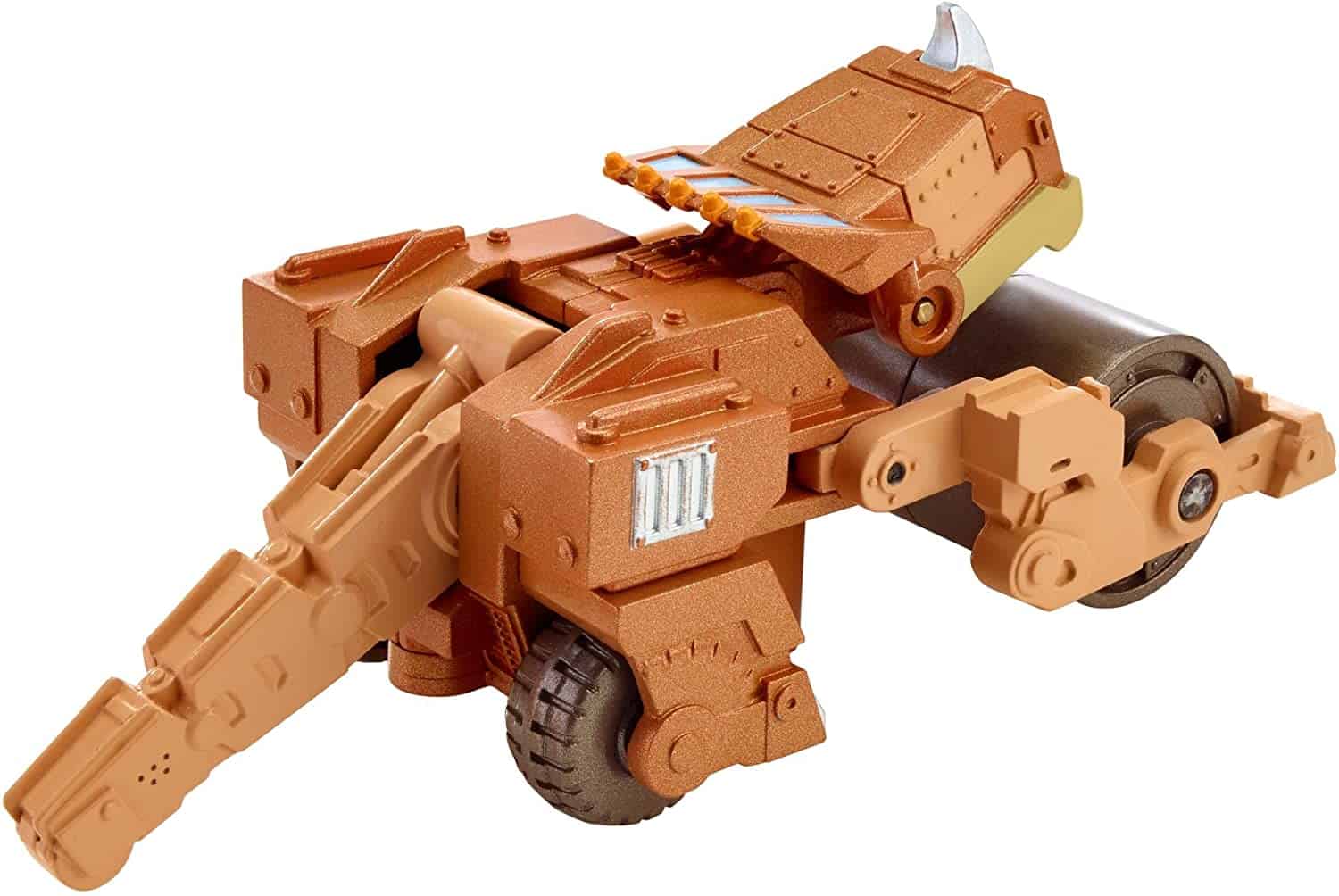 Fun Facts
Character: Rollodon is a wild dino vehicle that doesn't say much in the shows
Size: 8.5″
Abilities: Rollodon can flatten anything with the steamrolling ability
Combo: Half steamroller and half Centrosaurus
Pros
The die-cast Rollodon Dinotrux toy almost looks like a wild rhinoceros, and its personality undoubtedly matches the real animal's
The Rollodon dino vehicle toy has a mean but not too mean design, and I like the irony of its half-asleep eyes
Kids can push the Rollodon toy around to mimic the movements from the show while it makes the famous "roll" sound
Cons
The Rollodon character doesn't have a range of sound effects, and kids might get bored after a while
Scoot is another cute dino vehicle. The character is one of the smallest, almost as tiny as the Reptools in the show. Unfortunately, the toy is also one of the tiniest, which works against my pros. However, the dinosaur that inspired Scoot is one of my favorites, so the little guy earns a spot among the construction crew toys.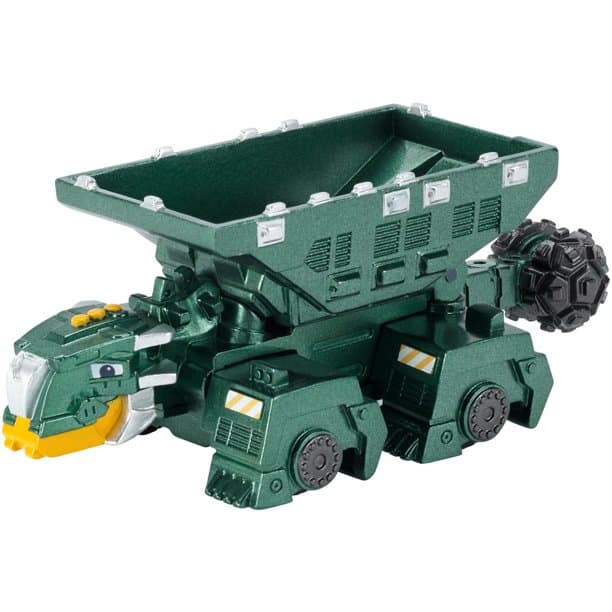 Fun Facts
Character: Scoot is a placid dino vehicle that only comes around when needed
Size: 1.77″
Abilities: Scoot has a powerful tail like the Ankylosaurus, ready to smash anything
Combo: Half tipper and half Ankylosaurus
Pros
The die-cast Dinotrux Scoot toy looks as sleek and speedy as the show's vehicle, and it looks like its smiling
The Dinotrux Scoot toy showcases the powerful tail beautifully, and the entire tipper bin spins around for added fun during playtime
The Scoot toy also has wheels for pushing it around while hearing sound effects and watching matching on-show movements
Cons
The Scoot dino vehicle is smaller than most of the show's construction crew, but I want a giant toy
Skya is a fun dino vehicle that looks like a Brachiosaurus. She's well-matched with a crane that lifts heavy items, and she has a sassy personality. I love Skya because of her "can do" attitude. She believes she can do anything her construction friends can do, and she's not wrong. I love cartoon characters with sass and determination.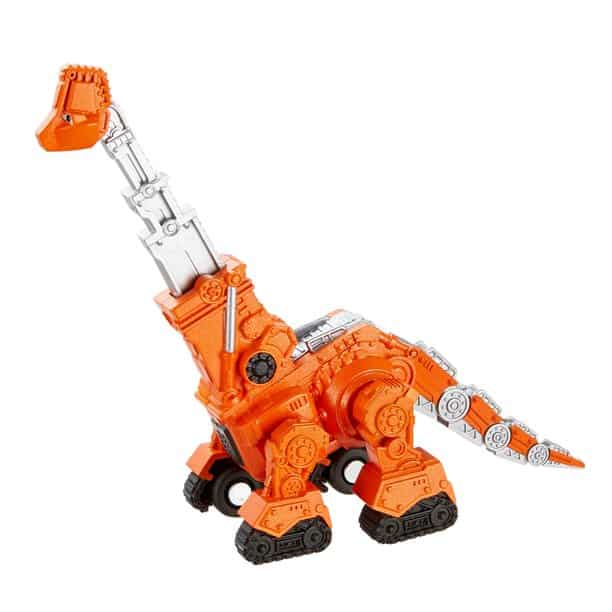 Fun Facts
Character: Skya is a persistent and determined female Dinotrux that wants to prove her worth
Size: 4.47″
Abilities: Skya uses her whipped tongue to move heavy objects and obstacles
Combo: Half crane and half Brachiosaurus
Pros
The die-cast Dinotrux Skya toy is a gorgeous dino vehicle with as much personality as her on-show character
The Skya dino vehicle toy design is more accurate than any others, and it's the best match the creator could've imagined between machines and dinosaurs
The Skya toy moves on wheels to match her on-show demeanor, and she makes the same sounds
Cons
I don't love that Skya is a medium-sized dino vehicle toy because she should stand taller than the others
I love daring cartoon characters because they also teach kids about determination and trying new things. But, a daring attitude can also get kids into trouble for trying new things. For example, ton-Ton has a daring personality with a hyperactive nature, making me think of a toddler on a sugar rush, but he's a friendly dino.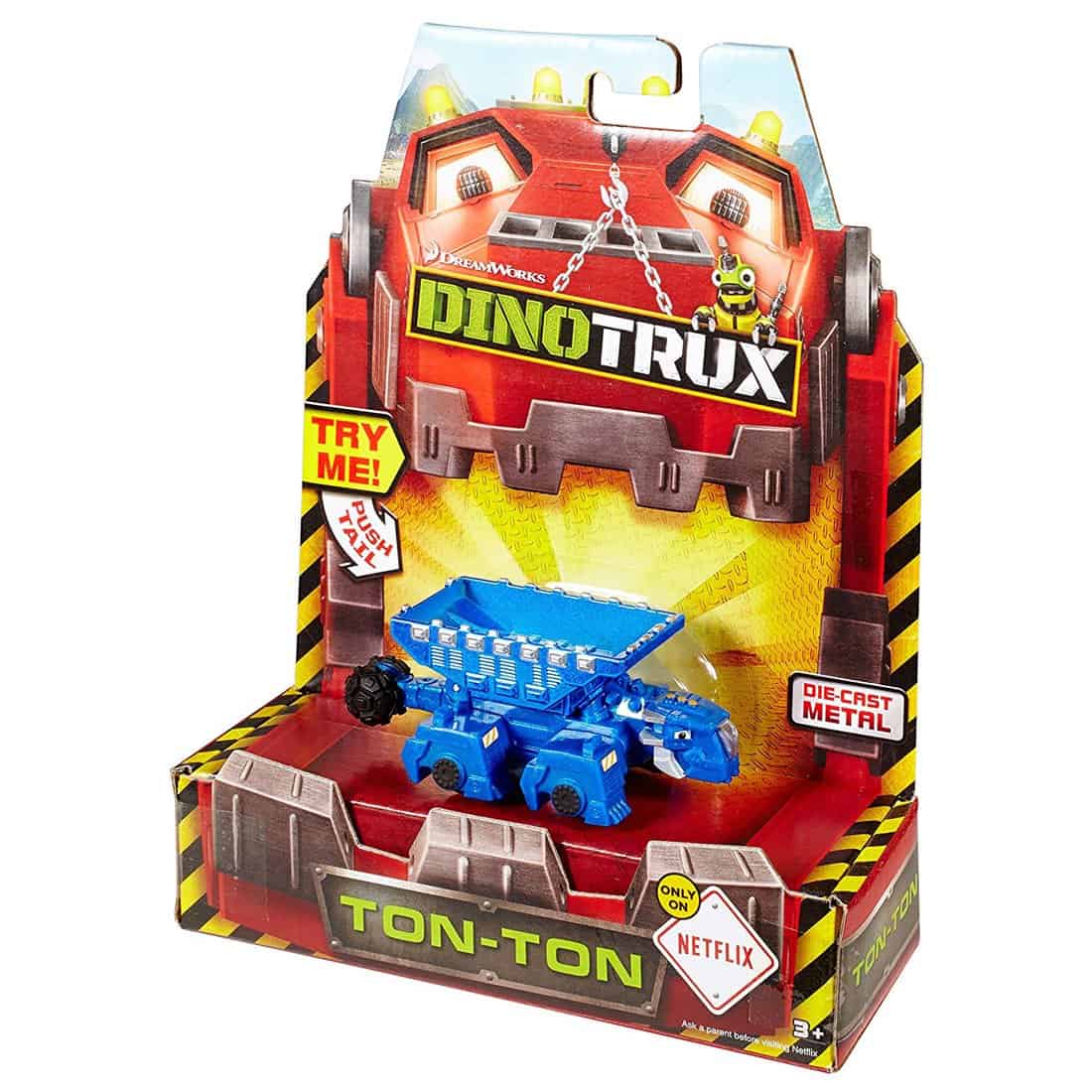 Fun Facts
Character: Dinotrux Ton-Ton is a hyperactive dino vehicle with a dare-devil personality
Size: 4.47″
Abilities: Ton-Ton can ride sideways against walls and carries supplies for friends
Combo: Half dump truck and half Ankylosaurus
Pros
The die-cast Dinotrux Ton-Ton toy vehicle looks like another smiling Ankylosaurus with an explosively positive attitude
Dump truck toys are tons of fun for kids—pun intended, and the dino vehicle is a famous blue color boy enjoy
The Ton-Ton dino vehicle toy comes with wheels for kids to push so that the truck matches the on-show movements and sounds
Cons
The toy seems small, and I still believe dino vehicle toys should be massive
The original Ty Rux is a fantastic choice for young fans who watch the show and older kids who enjoy dinosaurs crossed with construction vehicles. Ty Rux is the hero, and the dino vehicle toy looks like it will take no hassles from the destruction crew. Ty Rux and his friends often defeat D-Struct and his goonies.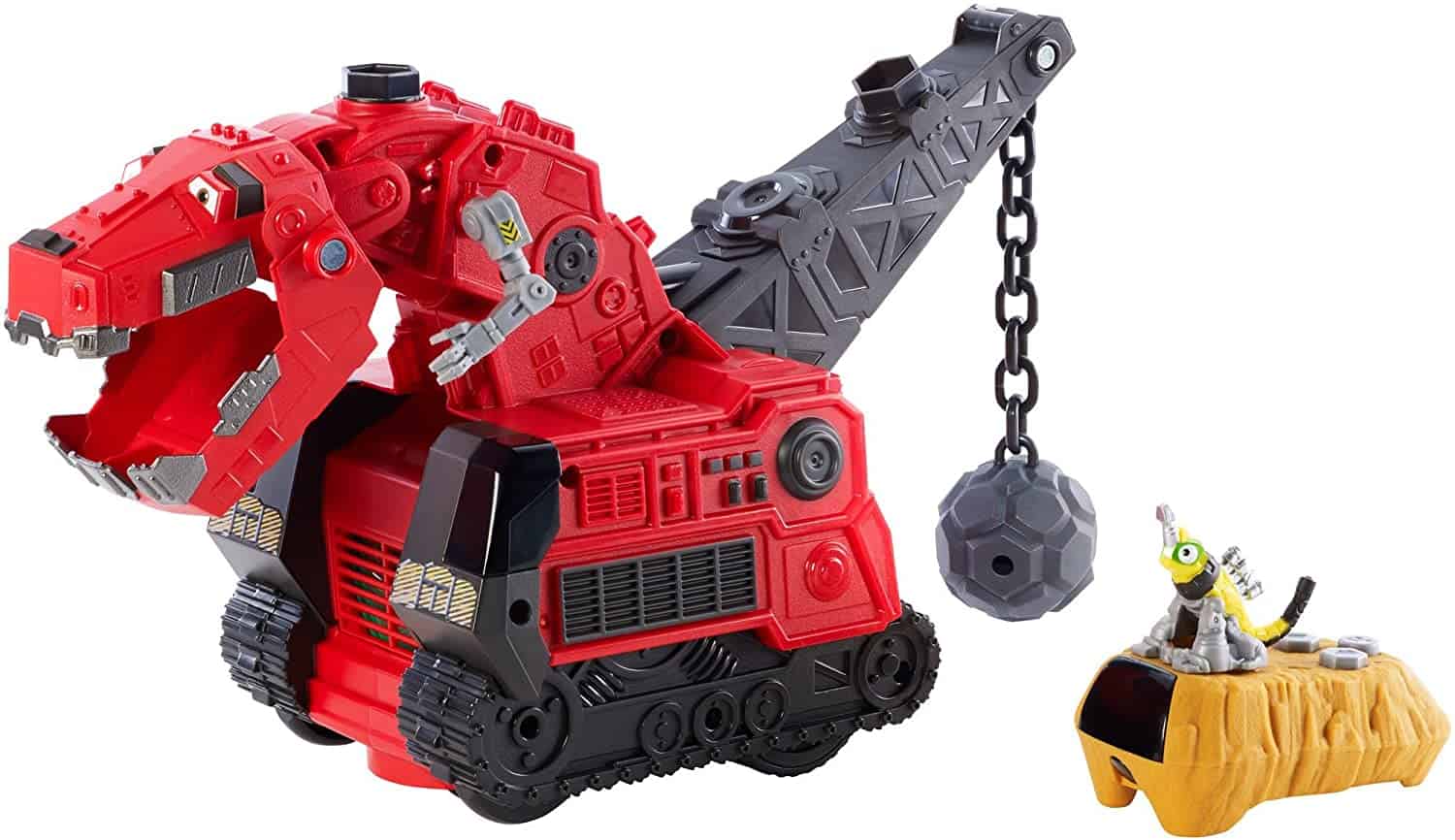 Fun Facts
Character: Ty Rux is an incredible leader with excellent lessons for little kids
Size: 8″
Abilities: Ty Rux can destroy and build because he has the powerful tail and personality to do it
Combo: Half excavator and half Tyrannosaurus Rex (with a touch of wrecking ball)
Pros
The remote-controlled die-cast Ty Rux Dinotrux toy comes with a special remote that includes his best friend—Revvit
The Ty Rux dino vehicle toy will search for the Revvit remote control if you place them within eight feet of each other
The Ty Rux remote-control toy follows a child around, making the same noises and movements as the on-show character
Cons
The Ty Rux and Revvit toy combo will have children addicted and unable to put them down
Top Q&As
Question: What Makes Dinotrux Toys Popular and Unique?
Answer: Firstly, Dinotrux is a creative concept as original as The Transformers when the show first came out. Secondly, the die-cast dino vehicles are highly interactive, making them educational and exciting for kids beyond the show's age range. Finally, boys love heavy cars and dinosaurs, making the toys more evergreen.
Question: What Are the Dinotrux Models in the Show?
Answer: Ty Rux is a name, but the T-Trux is a model combining a Tyrannosaurus Rex and an excavator. The Craneosaurus is a crane mashed with a brachiosaurus, and the Ankylodump is a dump truck blended with an Ankylosaurus. The creator was undoubtedly creative, and the combos are known as dino vehicle models.
Question: What Type of Dinosaur is the Ty Rux Dinotrux Toy?
Answer: Ty Rux is the primary dino vehicle. The construction crew leader is determined to protect their planet from the destruction crew. Ty Rux is a T-Trux model, a blend between the Tyrannosaurus Rex and an excavator. D-Struct is the same model, but he's white and belongs to the destruction crew.
Best Dinotrux Toys Guide: A Roaring End
I love nothing more than educational toys that allow my children to have hours of fun. As a mom, education is my number one priority, but excitement and playtime are the priorities for kids. So, offering my children creative and original ways to meet their passions and mine is a win.
Dinotrux toys wowed me because of their originality, but the more I learned about them, the more impressed I became. The educational qualities far exceed the creative edge. If your kids don't have the toys, it's time to get onto the Dinotrux wagon. Determine which dinosaur they love or watch their faces light up with the show.
Suppose your little one smiles every time she sees the Garby dino vehicle. In that case, you need to buy her the Best Dinotrux Garby Toy. Maybe your young son loves the wild Rollodon dino vehicle. Try buying him the Best Dinotrux Rollodon Toy. I love the Best Dinotrux Ty Rux Toy because it has many fabulous qualities.
Ty Rux is the construction crew leader, and any show fan will love him. The toy is also a remote-controlled T-Rex combined with a construction vehicle, suitable for any child who wants interactive toys. So, pick your original idea, and get your child a new Dinotrux model today.
For more fantastic toys:
11 Best Mickey Mouse Clubhouse Toys – Avid Toy Insider
Best Garbage Truck Toys Guide – Avid Toy Insider