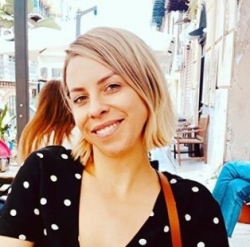 Latest posts by Jodie Chiffey
(see all)
Does your child love trucks, or more specifically, garbage trucks? Are you struggling to find them the perfect toy? Well, help is at hand! My best garbage truck toys guide includes ten great toys for your truck-loving little one!
While there is nothing wrong with a child wanting a specific theme of toy, it can make buying presents for that child a little limiting.
I am a Mom of a little boy with Autism who has an obsession with rocks – I know how to find the less obvious gifts, and while garbage trucks may be easier to come by than unique pebbles, they're still pretty specialist.
My Bottom Line Up Front: The manufacturer's age recommendation for the PLAYMOBIL Green Recycling Truck is from age 4-years to 10-years, one of the largest spectrums I have found.
This truck has a great balance between basic and advanced and includes accessories and figures. I found it super durable, and the price is great, too!
At a Glance: 10 Best Garbage Truck Toys
Choosing the Best Garbage Truck Toys For Your Child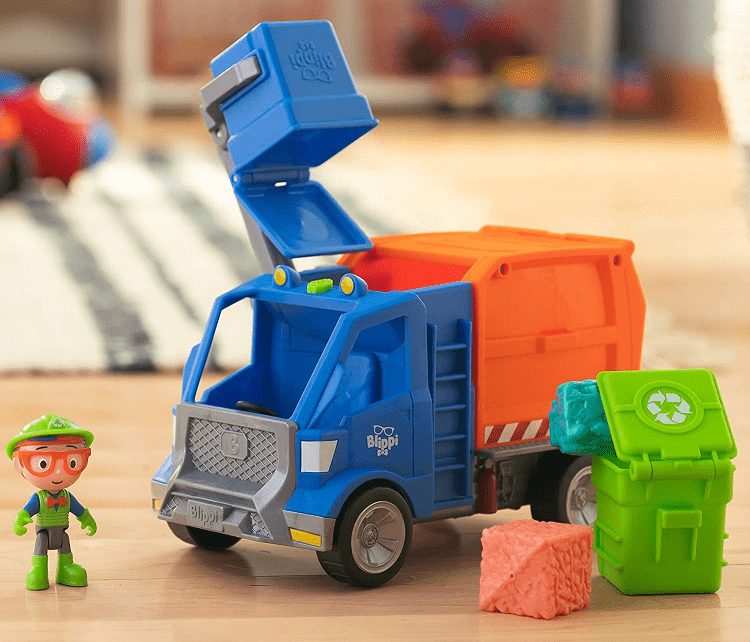 Garbage truck toys mimic the real deal, and some even have lights, sounds, vibrations, and several features and accessories that really upgrade the fun element. A great aspect of this toy type is that it can be so educational, helping to build imagination, improve motor skills and develop a love of recycling and the environment.
But, like most toy types, garbage truck toys are not made equally.
While some can be completely fantastic, super durable, and provide long-lasting fun, others are literal garbage trucks!
Here are a few things to consider when choosing garbage truck toys.
Child's Age
It is wise to use the child's age as a primary factor when selecting any toy. When it comes to trucks, a very basic type could be boring for an older child, and conversely, one with lots of features could be too complex for a younger child.
More advanced garbage truck toys could come with small parts that may be choking hazards for younger children.
Durability
Garbage trucks will have to withstand some rough play, alongside general wear and tear. So, it is essential to select a truck that is made from durable material such as sturdy plastic.
It can be hard to tell how durable a product is when buying it online, but by reading what the truck is made out of and considering the reviews from other consumers, you will have a better idea.
Safety
It's essential that all toys for children are made with child-safe materials, and you can confirm this by looking for BPA-free materials and safety certifications. To stay in line with the recycling element of this toy type, you could also look for environmentally-friendly materials.
Features
Toy trucks can come in many forms; battery, remote control, friction, or manual. A manual garbage truck is a solid choice for younger kids to help to develop their motor skills and imagination.
You can find trucks with really cool features such as bright signs and stickers, sirens and alarms, and realistic lights and sounds. A truck with a range of features can be more interesting for children and often have a greater longevity of play.
Accessories
Some garbage trucks are simply a one-toy-in-a-box kind of deal, whereas others can come with a selection of accessories like trash cans, barriers, figures, flashcards, and more. The more accessories there is then, the more room for imaginative play, but also the higher the price point is likely to be.
Consider if accessories are worthy of spending a little more or if they're merely raising the RRP without really increasing the fun factor.
Product Criteria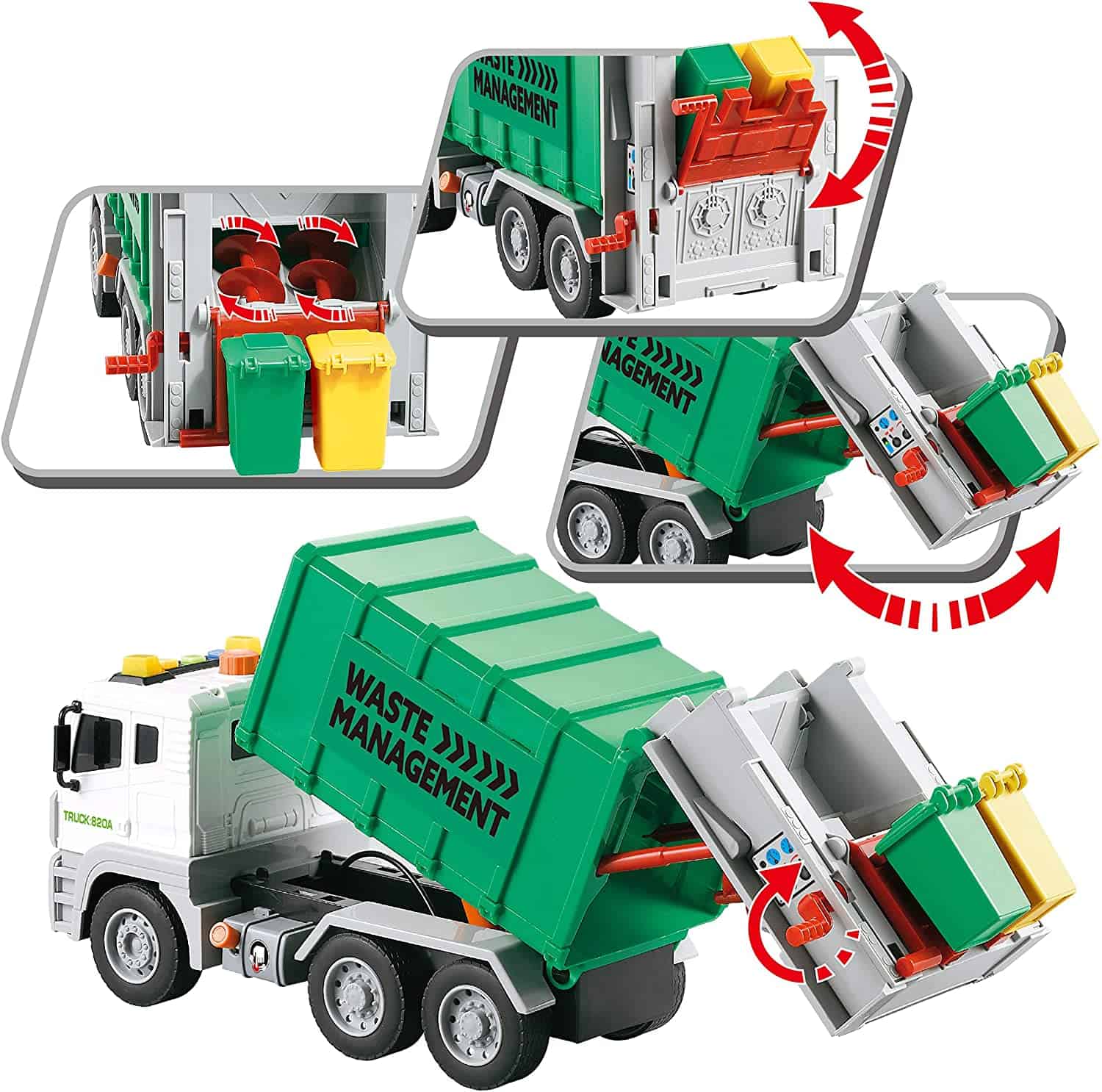 I have sons. I know what to look for when buying toy trucks! But, this feature isn't just for me, so I have broadened my search criteria to include a little more diversity. Here are the things I was looking for in the products I chose to review:
Age Range
I wanted to ensure that if you're the parent of a toddler or a teenager, you could find a suitable garbage truck toy in my guide. So, I have looked for the best trucks to suit different stages of childhood.
Inclusivity
Not all children have a biological age that meets their developmental age, so I have looked for a range of trucks with various features and accessories (from basic to advanced).
Quality
A garbage truck is not intended to be played with delicately, and it needs to be able to stand up to vigorous and boisterous play. This toy will be slammed, banged, thrown, or used outdoors, and it has to be able to tolerate all this. The greatest way I felt to ensure this was to only research trucks that were of high quality, durable, and robust.
Consumer Reviews
The greatest asset one has when online shopping is the feedback of other consumers. All of the trucks in my guide have received excellent reviews online from verified consumers.
My Chosen 10 Best Garbage Truck Toys
Best Inclusive Garbage Truck: PLAYMOBIL Green Recycling Truck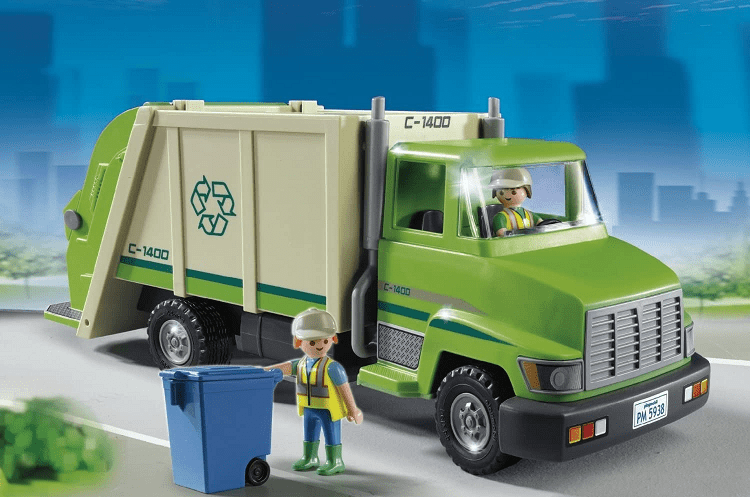 The PLAYMOBIL Green Recycling Truck is suitable for kids aged 3+. It has a straightforward operation (by hand) and feels very durable. I like that it is made from non-toxic plastic and believe it to be one of the more high-quality garbage trucks.
Included with the truck are two figures that can bend, sit, stand, and turn their heads.
I found this truck to offer great value for money and feel confident in its longevity due to the build quality and the brand reputation.
Pros
Realistic Garbage Truck Actions
Hand Activated
Easy Operation
Figures Included
High Quality
Durable
Leading Brand
Cons
No Free Delivery (Must spend $25 for this, and the truck is $24.99; annoying!)
Best Rated Garbage Truck: Matchbox Garbage Truck Large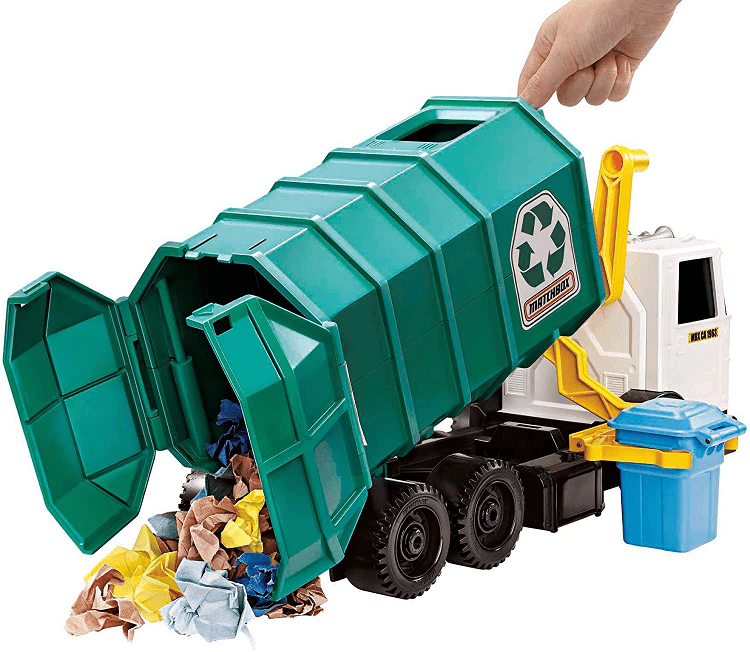 The Matchbox Garbage Truck Large is around 15-in long and makes realistic sounds as it dumps, rolls and loads.
The truck works by being pulled back to then be launched forward, and the garbage lever needs to be pushed down to raise the trash bin and dump its contents. It's straightforward but fun, with a good balance of features to keep most kids entertained.
This is one of the largest toy dump trucks I have found, and I love how spacious the interior is too. Another great aspect is that it comes pre-filled with AA batteries so that little ones can begin their recycling adventures immediately.
One drawback is the price. This truck is pretty costly. However, it is incredibly durable, and I do think it'll survive tons of vigorous play. This truck has the best online feedback of them all on the list, with very few negative reviews.
Pros
Realistic Garbage Truck Actions
Easy to Operate
Very Large Truck
Spacious Interior
Trash Can Included
Renowned Brand
Cons
Best Value Garbage Truck: JOYIN Garbage Truck Toy Trash Truck with Lights & Sounds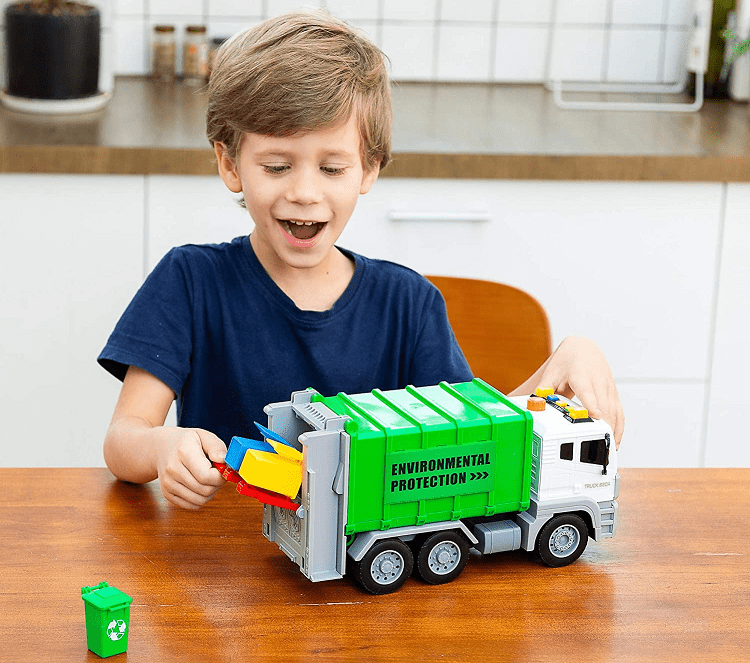 The JOYIN Garbage Truck Toy Trash Truck with Lights & Sounds is incredible value for money when you factor in the quality, features, and consumer reviews. This large push-and-go garbage truck comes with three colorful trash cans and has realistic sirens and built-in lights.
There's so much room for imaginative play with the various functions, such as an air pump, waste disposal, and back dump function.
The truck is made from strong plastic that is lead-free, non-BPA, and non-toxic – meaning it meets US toy standards. I was pleased to find all the edges smooth and no sharp corners.
Pros
Extremely Good Value
Lots of Accessories
Lights and Sounds
Push-and-Go Operation
Cons
Included Figures Would be Great
Best Garbage Truck for Babies and Toddlers: Green Toys Dump Truck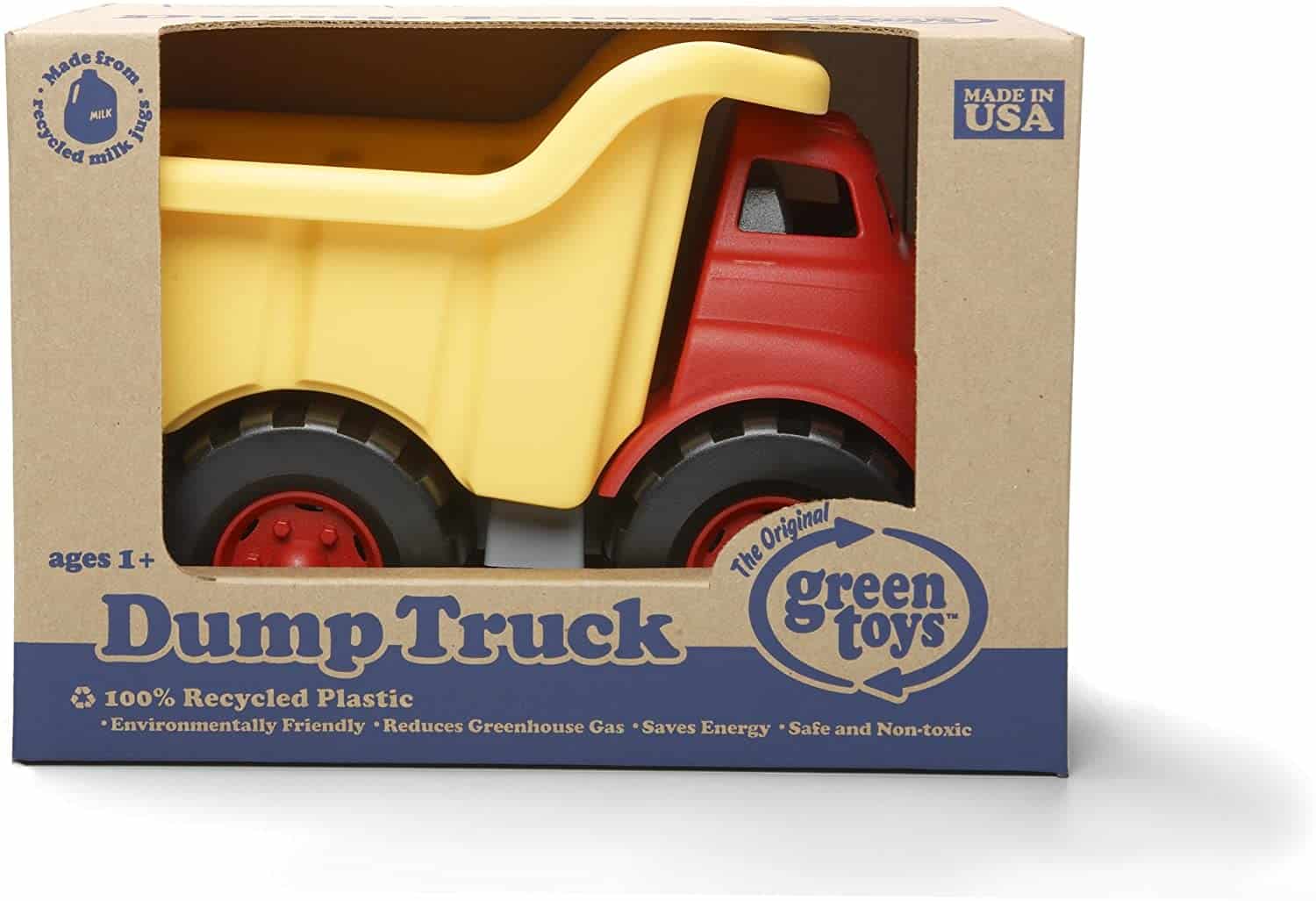 Great for babies and toddlers, the Green Toys Dump Truck is a very basic truck that's suitable for inside and outside use. This truck is highly durable, and things like the chunky, threaded wheels help keep it steady while ensuring it is also more robust.
This is a workable dumper with a back end that raises to discard any recycling. The main USP about this product is the fact it is made from 100% recycled plastic – excellent if you're starting the ball rolling on environmental lessons.
Pros
100% recycled plastic
Sturdy
Well-designed
No metal axles
BPA-free
Phthalate-free
Easy to clean
Cons
Quite Pricey for Limited Features
Best Realistic Garbage Truck: PLAYMOBIL City Recycling Truck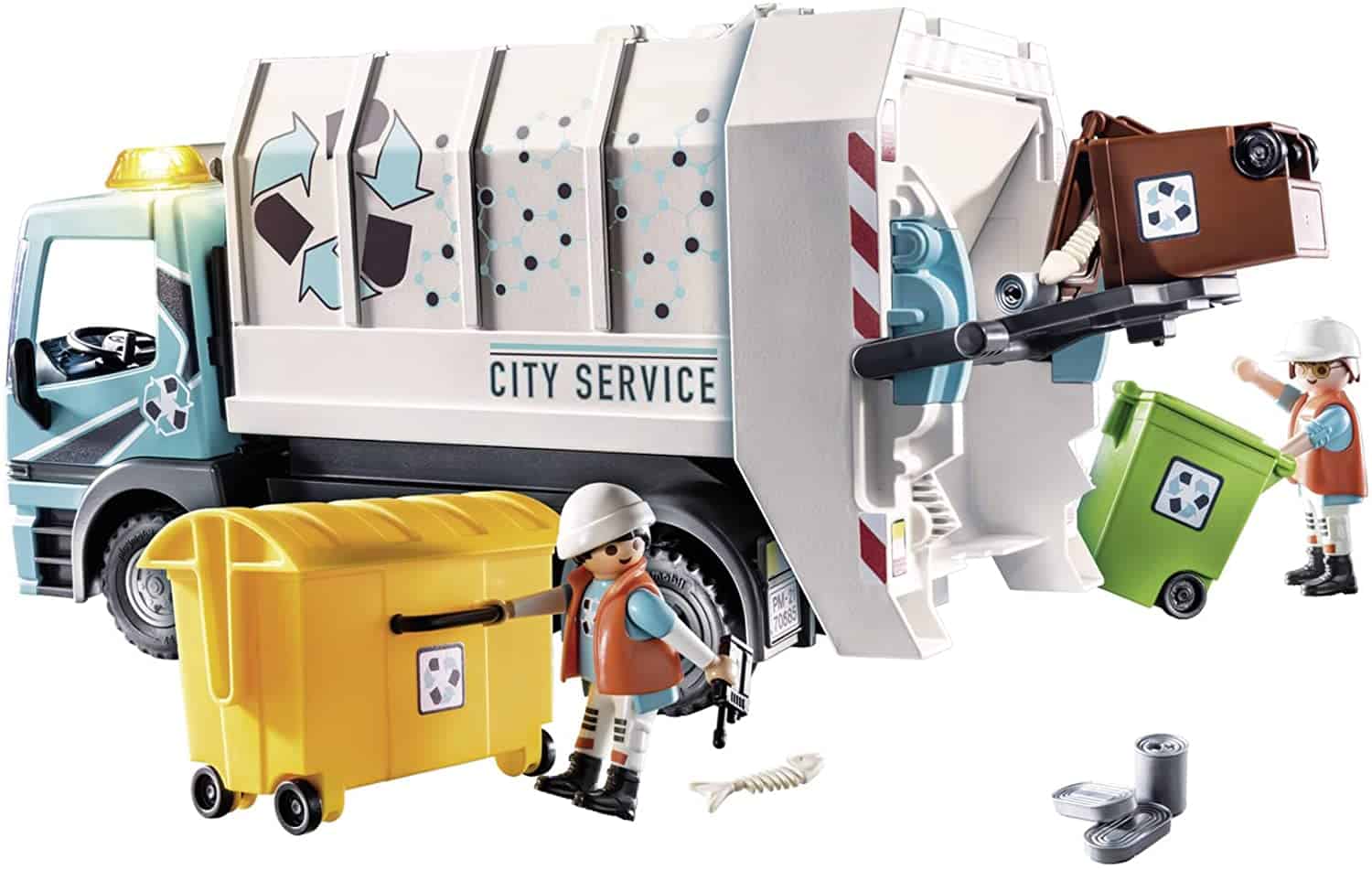 Another from PLAYMOBIL is the more fun-packed and slightly more expensive PLAYMOBIL City Recycling Truck. This is a truly realistic city garbage truck with flashing lights, and fun accessories, including two refuse collectors.
There are two figures included that can ride inside the vehicle, which strangely isn't typical for this toy type as many have fixed shut doors.
There's some assembly required, and the stickers can be a bit tricky to get precisely where you want them. But, once completed, this truck looks awesome.
Pros
Very Realistic Appearance
Multiple Cool Accessories
Figures Can Ride Inside
Super Durable
Leading Brand
Cons
Some Assembly Required
Sticker Placement Can be Awkward
Best Robust Garbage Truck: Bruder Toys Man TGS Side Loading Garbage Truck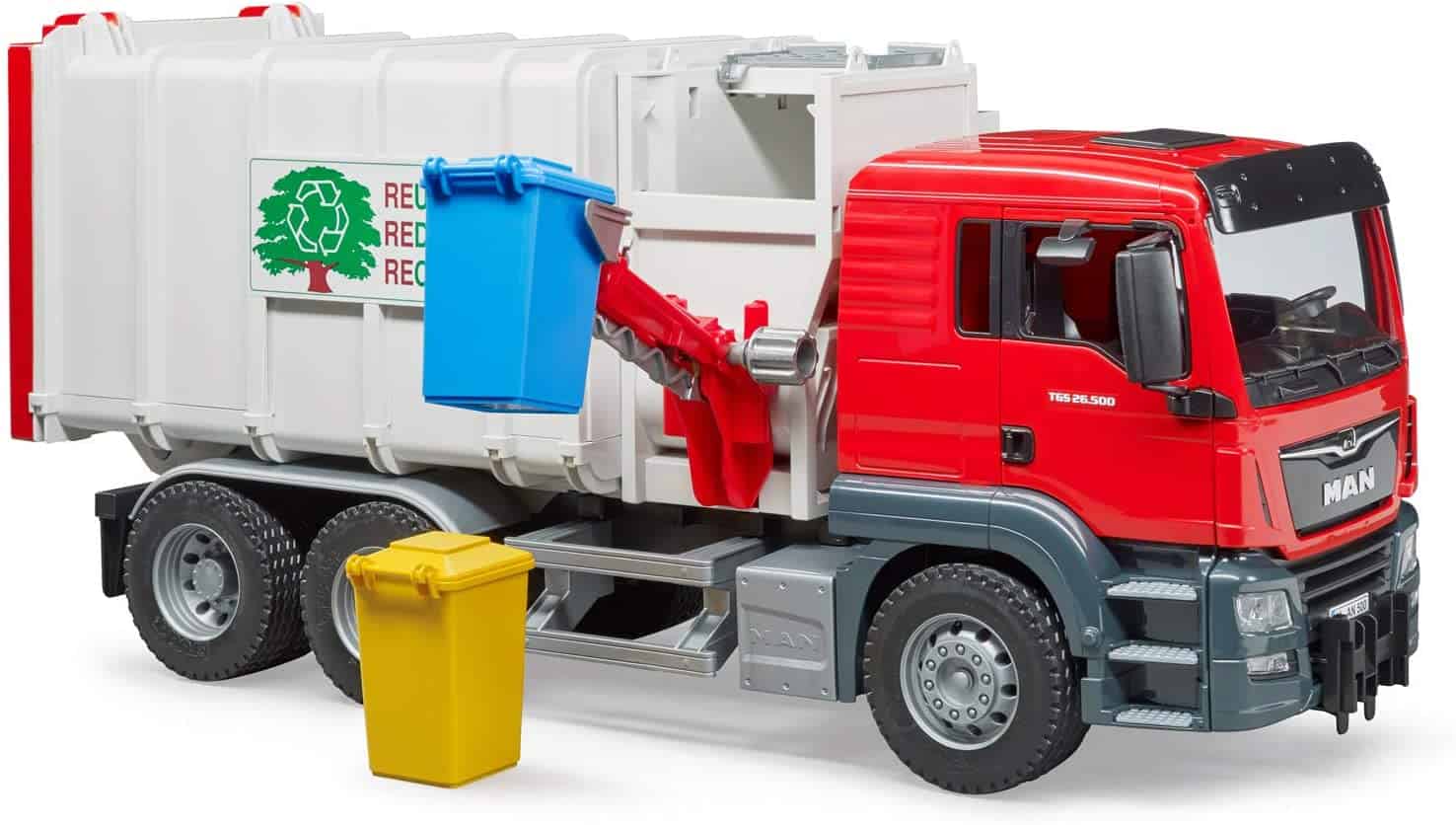 Now, the Bruder Toys Man TGS Side Loading Garbage Truck is expensive. So, it may not be the go-to option for a child who has suddenly decided they like dump trucks. However, if this vehicle is a huge obsession, or a long-lasting one, then you may be more inclined to invest.
You do get a lot of truck for your buck here, and this is the largest garbage truck (none ride-on) on my list. It looks the real deal and has so many realistic features such as the loading arm, opening windows, and doors.
Another note about the windows – they're made from transparent plastic that is completely shatterproof. Genuinely, this is so well made.
There are lots of interior and exterior features that just aren't found on other toy garbage trucks, and I believe – although expensive – this truck is worthy of its price point.
Pros
High-Quality ABS Plastic
Side Loader
Shatter Proof Windows
Opening Doors
Realistic Interior Features
Suitable for Indoors and Outdoors
Manual Operation
Cons
Best RC Garbage Truck: DOUBLE E Benz Licensed Remote Control Garbage Truck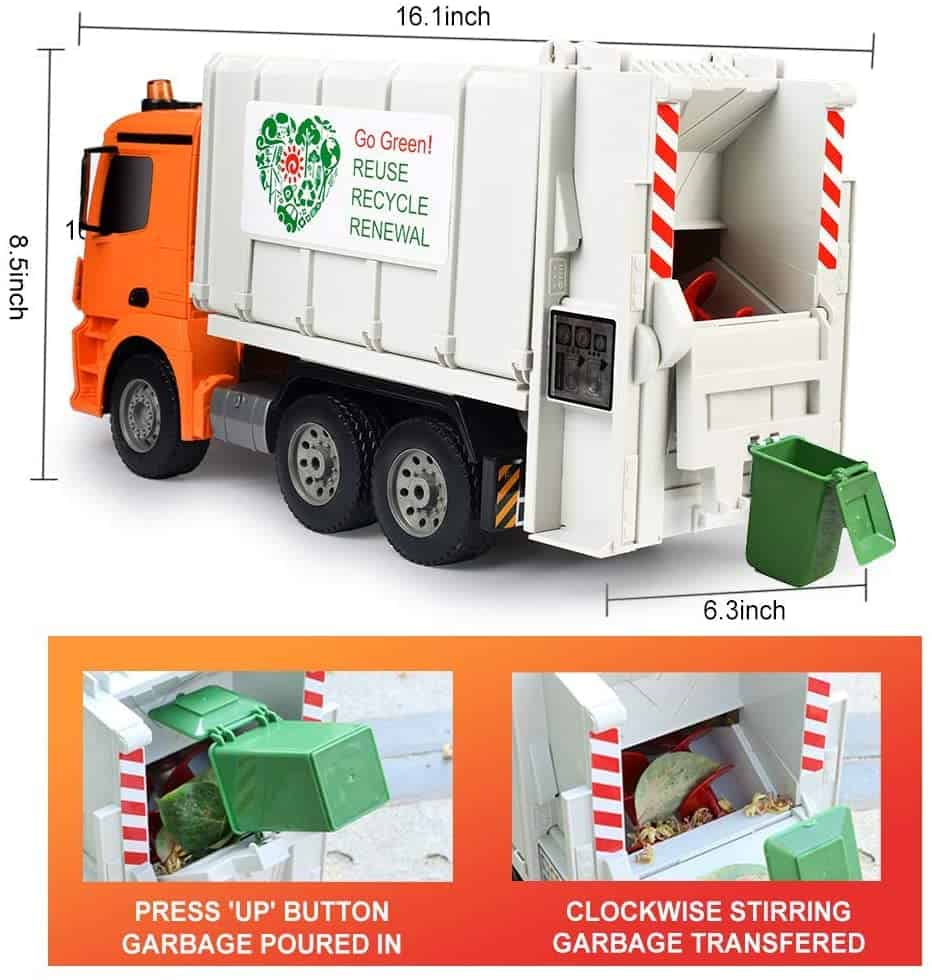 This 1/20 officially licensed RC garbage truck is super cool. The DOUBLE E Benz Licensed Remote Control Garbage Truck looks and works like a genuine garbage truck, but you can operate it remotely!
With realistic working sounds, lights (head and roof), and operations such as discharging of the garbage, this truck is truly unique. And, expensive for it.
But, again, worthy of its price point.
I found the truck to run smoothly over various terrain and was surprised at the speed and accurate response. You can operate multiple trucks simultaneously with automatic pairing.
Pros
RC Vehicle
Automatic Pairing With Other Vehicles
Realistic Sounds, Lights, and Actions
Large Size
Officially Licensed
Extremely Well Made
Cons
Best Garbage Truck for Preschoolers: Blippi Recycling Truck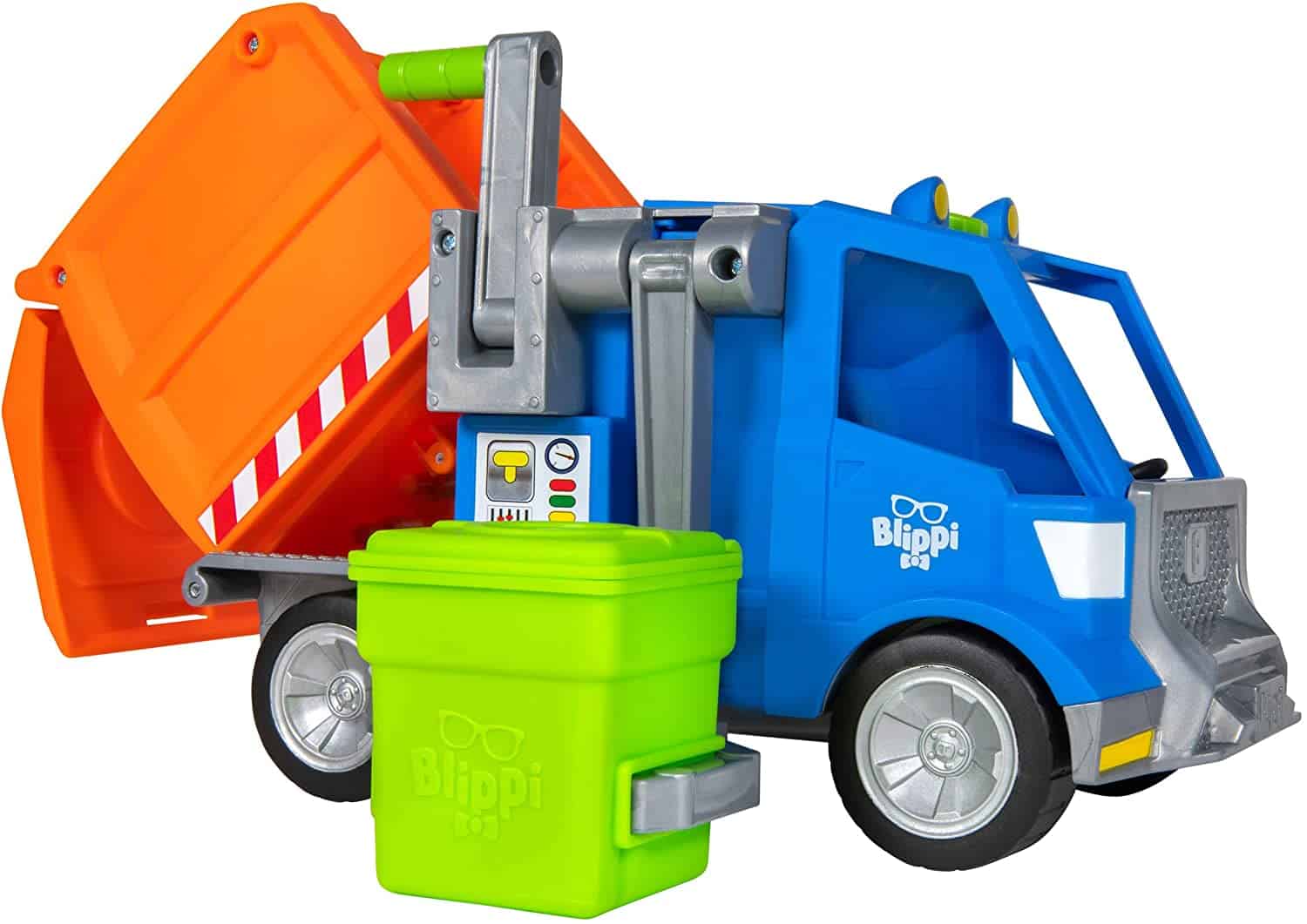 Super cute, with fluid operations, the Blippi Recycling Truck is a top choice for preschoolers who either love the Blippi show, love vehicles, or love garbage trucks! The truck has seven Blippi sounds and phrases and comes with a durable 3-in, freestanding Blippi figure – complete with a green recycling outfit.
I found the dumping action of the truck to be very fluid and simple for smaller children to operate. I like the exposed driver's seat, meaning that Blippi can ride or be by the truck as the child decides. I also like that the dumping action arm folds up and opens again with ease.
I feel that this truck is perfect for vigorous toddler play and find the price to be very reasonable.
Pros
Official Blippi Garbage Truck
Included Blippi Figure
Easy Operation for Small Children
7 Sounds and Phrases
Feels Very Durable
Cons
May Not be Appealing to Older Children
Best Garbage Truck Multi-Vehicle Set: 3 Pack Sanitation Truck Playset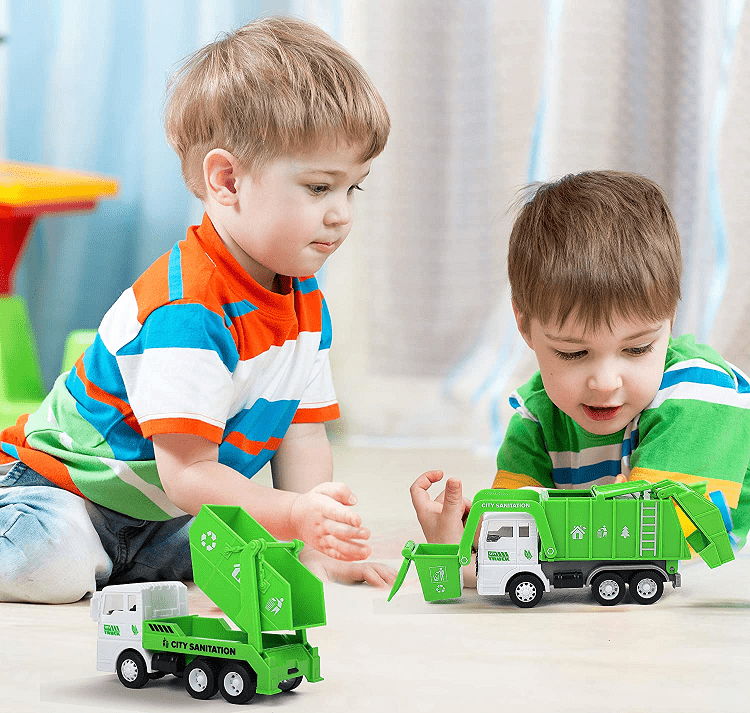 The 3 Pack Sanitation Truck Playset is a cheap and cheerful refuse set that includes a garbage truck, water tanker, sanitation truck, two figures, and a collection of road signs.
Although not the most durable, these trucks have been made from high-quality plastic and non-toxic paint. I think the finish withstands scratches pretty well, and the trucks seem to feel smooth and strong.
This set offers great value for money, and most of the consumer reviews I have found seem to be entirely positive, with many mentions of sturdiness, great quality, and 'hours of fun.'
Pros
Fantastic Value for Money
Strong and Sturdy Vehicles
Figures and Road Signs Included
Excellent Reviews Online
Cons
Figures and Signs Aren't Great Quality.
Best Garbage Truck Ride-on: Kid Trax Real Rigs Toddler Recycling Truck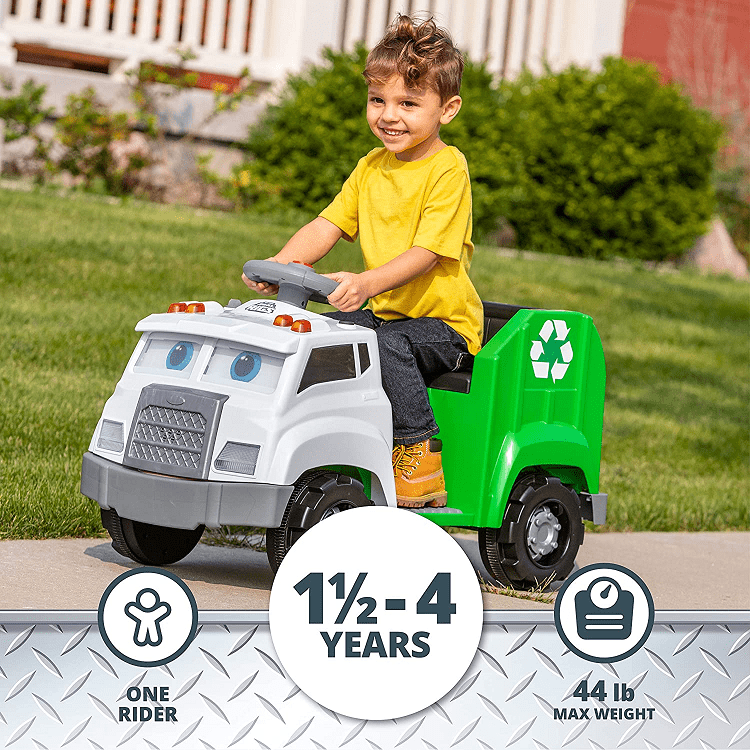 I have brought my fair share of ride-on over the years, and all the things I look for are to be found in the Kid Trax Real Rigs Toddler Recycling Truck.
For a ride-on, it's a great price, and it has some really cool features and effects, such as 100 voice lines, songs, instrumentals, and moving facial features, making the experience really interactive.
The ride-on garbage truck comes with 9 recyclable accessories, and it responds when an accessory is inserted.
The pull-lever is so easy to use, and I fully agree with the 18-month age guidance; most children of this age will be able to operate all of the aspects of the truck. For example, it begins to move with an effortless push-button acceleration and has a top speed of just 1.5MH. It's a steady and smooth ride, too.
Pros
Easy Push Button Acceleration
Suitable from 18-months
Responsive Facial Features
100 Different Sounds
9 Recyclable Accessories
Smooth and Steady Ride
Simple Assembly (1 Screwdriver Needed)
Cons
It Needs to be on a Smooth Surface
Expensive
Up to 4-Years Only
Frequently Asked Questions
Question: What's the Best Way to Clean Garbage Truck Toys?
Answer: Garbage truck toys that are made from plastic can usually be wiped clean with a damp cloth or disinfecting wipes (I use these wipes by Clorox). If the truck is battery-operated or electrical, you need to be more careful and avoid using much liquid.
It is best to follow the cleaning instructions provided by the individual manufacturer.
Question: What Kind of Accessories are there for Garbage Trucks?
Answer: So many! Sets of trash cans are good starting points, but you could move up to car rugs and additional recycle worker figures. You could even go one step further and begin a whole collection of different vehicles, such as fire trucks, delivery trucks, etc.
Question: How Much Should You Spend on This?
Answer: While budget is important, to me, it isn't the primary factor. I pay what I think something is worth once I have factored in how many hours of play my child will get from the toy. I also look at other toys in the same category to compare prices and see what I'm actually getting for my money.
Rounding Up My Best Garbage Truck Toys
I love something different about every truck in this guide. The PLAYMOBIL City Recycling Truck has some really realistic features, comes with figures and accessories, and is a great price. The Matchbox Garbage Truck Large is just as cool but much more expensive.
I like the price of the 3 Pack Sanitation Truck Playset immensely and would happily pay more now that I have fully explored the quality. These are very durable trucks that should last a long time. A drawback is that the quality of the figures and signs is not on par with the vehicles, which somewhat cheapens the set's aesthetics.
The Kid Trax Real Rigs Toddler Recycling Truck is one of the coolest ride-ons I have seen. It is so safe for young tots and has great interactive aspects; sounds, songs, and facial feature movements. The top speed is less than 2MPH, but a parental overriding controller would be a good upgrade.
For those with children who love RC toys, the DOUBLE E Benz Licensed Remote Control Garbage Truck is a great buy. It is a larger-than-average garbage truck toy and has realistic sounds and lights. I think this toy is one of the more expensive and one of the most fun.
I found the most inclusive garbage truck toy to be the PLAYMOBIL Green Recycling Truck; as this has such a large age-appropriate spectrum, it is suitable for most children. This truck comes with movable figures and is from a leading toy manufacturer. The quality is second-to-none, and the price point is extremely fair.
Continue reading:
Ultimate Army Toys Guide for Strategic Games