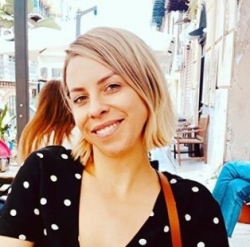 Latest posts by Jodie Chiffey
(see all)
Over the last few years, I have genuinely lost count of the number of monster trucks I have purchased – or tidied up in my home. As a Mom to car-loving boys, I am highly experienced in this type of toy and well-placed to provide you with an overview of the best monster truck toys on the market today.
My sons have whole collections of monster trucks; some hold pride of place on bedroom shelves, others have been relegated to be once-loved yard toys. But, all have been held very dear at one time or another and are often dusted down (or hosed off!) when friends come round to play!
In my guide, you will find a lot of variety; miniatures, sets, ride-ons, battery-powered, and more. But, before reading my recommendations in full, you can see an overview just below.
Bottom Line Up Front: With push-and-go mechanisms, and bright lights, the 4-pack ArtCreativity Light Up Monster Truck Set is an excellent choice for children of all ages. Play in the dark, play with friends, play with your choice of four super-cool trucks, and all very reasonably priced.
At a Glance: 10 Best Monster Truck Toys
How to Choose the Right Monster Truck Toy for Your Child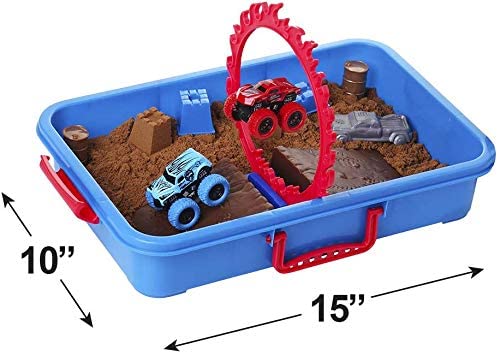 Today, there are so many monster truck toys that finding the right one for your child can be tricky. But, there are some factors to consider that should help break down this shopping venture and increase the likelihood of getting it right!
Here are some things to look at:
Functions
Would your child prefer a remote control monster truck or one with a pull-back mechanism? The mechanism and function of the truck can be a good starting point.
There are advantages and drawbacks to both types. Remote control trucks tend to be much noisier and rely on updating fresh batteries to keep going, which can be costly when you consider just how many batteries some of these toys take! However, kids love RC toys, and they're more likely to receive that initial 'wow.'
Pull-back cars and trucks are perfect for children of all ages but are aimed more towards preschool and just over. This is due to their ease of operation. This toy type usually requires little-to-no assembly and can be quickly understood by young children. But, are they as fun for older children? Probably not.
Individual or Complete Set
Are you looking for a single monster truck or a monster truck set that comes with ramps, dirt/sand, and/or obstacles? The price range will change depending on the number of items purchased, but additionally, so will the fun factor (for most children).
Younger children may be delighted with a single truck, while older kids may need more products for more engagement.
Track and Dirt
If you want to purchase a complete set, it's important to check over the track and dirt/sand. Are the tracks straightforward to connect? Is the sand simple to clean? When it comes to additional dirt or sand, most monster truck sets include synthetic or kinetic sand for a more realistic feel.
I am a massive fan of kinetic sand for sensory play with my children and have purchased many sets of this over the years, but it is essential to have separate storage to avoid a super messy playtime.
Brand
I am usually a keen budget buyer, but if you want certified high-quality monster trucks, I would advise you to never compromise with the brand. Always opt for those major players who have been around for a long time – this speaks volumes about their products.
'Boys toys' have to be durable. Children don't want monster trucks to play elegantly or daintily with them. They're going to be slammed, thrown, launched, crashed, and more. For them to sustain any kind of lifespan, they have to be extremely well made, and you can only really guarantee this with a well-established brand.
My Product Criteria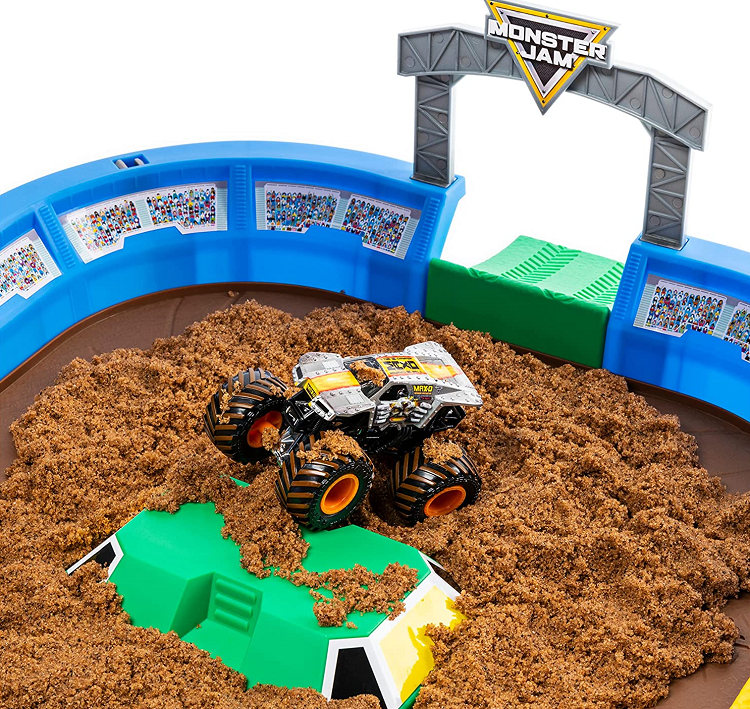 Did I mention I'm a regular monster toy buyer?! While this makes me experienced in knowing the things I look for in these toys, I have also considered the preferences of other consumers; so that everyone can find a suitable monster truck in this guide.
Variety
I tend to go for big, loud, colorful, and robust monster trucks. But, the market is vast, and to make sure I'm catering to every reader, I have included various types of monster trucks.
Price
I have shopped around the price points to try to meet different budgets. However, I have only included monster trucks that are fairly priced when everything has been considered.
Durability
As touched upon above, monster trucks will not be treated kindly by little hands! They have to be up to the job of very vigorous play, and for this, they must be well made and super durable. You won't find any flimsy or poorly made trucks here.
Safety
Monster truck toys tend to be made out of die-cast molds or non-toxic plastic parts – both suitable materials that have excellent longevity.
However, not all monster trucks are kid-safe; especially those not made in the US or sold unlawfully – it happens. I have looked at the materials used in all the toys in my guide and am confident they're safe.
Consumer Feedback
When shopping or researching products online, your best asset is consumer feedback. I needed to know that others felt as positive about my chosen monster trucks as I did. If they didn't, I ended my research there.
My Chosen 10 Best Monster Truck Toys
ArtCreativity Light Up Monster Truck Set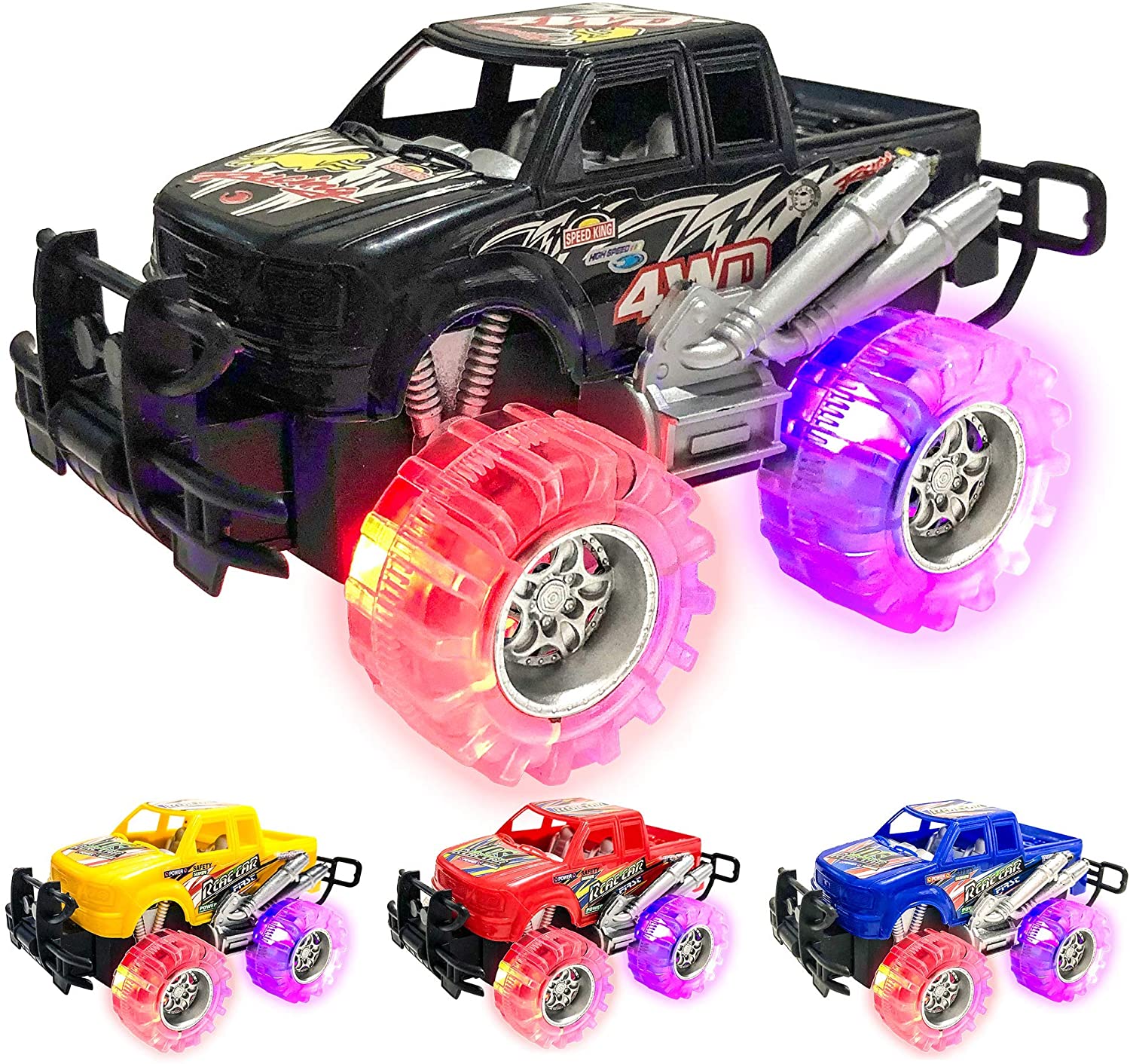 I have been stung so many times with light-up toys that I wasn't too confident in the main USP of the ArtCreativity Light Up Monster Truck Set being all that great. However, I was wrong!
They're super bright, and the lights seem to last for a long time. The trucks come with batteries included, and these look simple to replace should the time arise.
You will receive four different colored trucks with different racing decal stickers. The vehicles arrive in separate boxes, so they could be given to multiple children as stocking filler gifts or wrapped together for a larger present.
The price point is extremely fair when you consider the hours of fun to be had. Consumer feedback is excellent, and the brand seems to provide a speedy after-sales service should any issues arise.
Pros
4 Different Trucks Included
Bright Light up Wheels
Batteries Included
Separately Boxed
Cons
May Not Be The Most Durable
Hot Wheels x2 Monster Trucks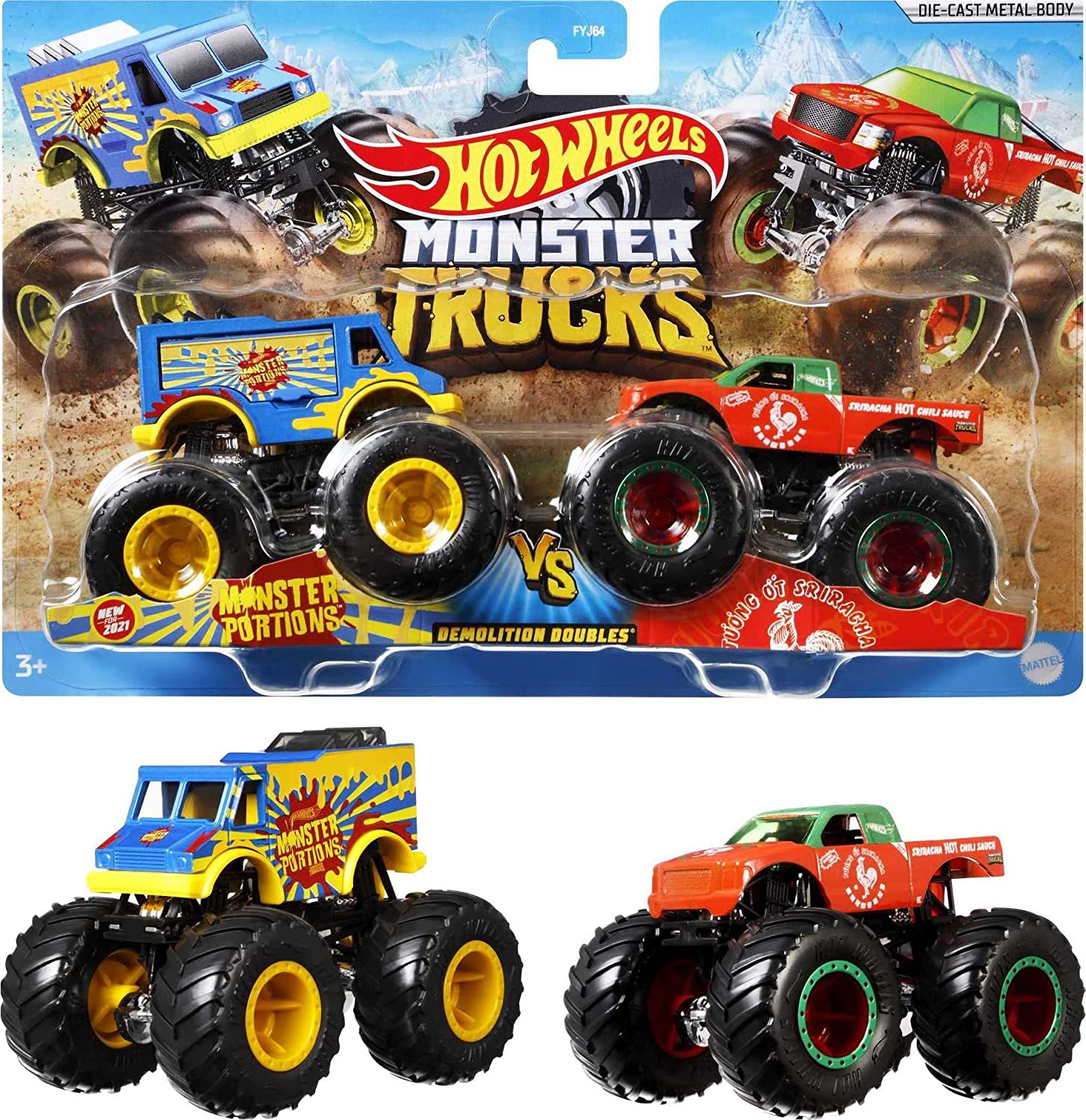 With this brand, you know you're going to get quality, and the Hot Wheels x2 Monster Trucks certainly doesn't disappoint. The attention to detail is impeccable, and each 1:64 scale monster truck has been expertly designed to be an authentic replica of its counterpart. They're incredibly durable, and I am positive they will have a truly long lifespan.
The pack includes two rival demolition trucks, ready for battle. You'll also find some stats about the trucks in the pack, such as their strength, crash attack, and motor-vation. The price is an absolute steal for the quality provided.
I do have two negatives for this one. Firstly, you can't choose what you get, so if you order a few boxes (given the price, this is likely!), you could end up with duplicate trucks. Secondly, they're bigger than traditional Hot Wheels Car, so they are not compatible with existing tracks you may have at home.
Pros
Outstanding Value for Money
Leading Brand
Excellent Attention to Detail
Durable
Tens of Thousands of Accessible Positive Reviews
Cons
You Can't Choose the Set
Not Compatible with Hot Wheel Car Tracks
Team Power: Exploding Monster Truck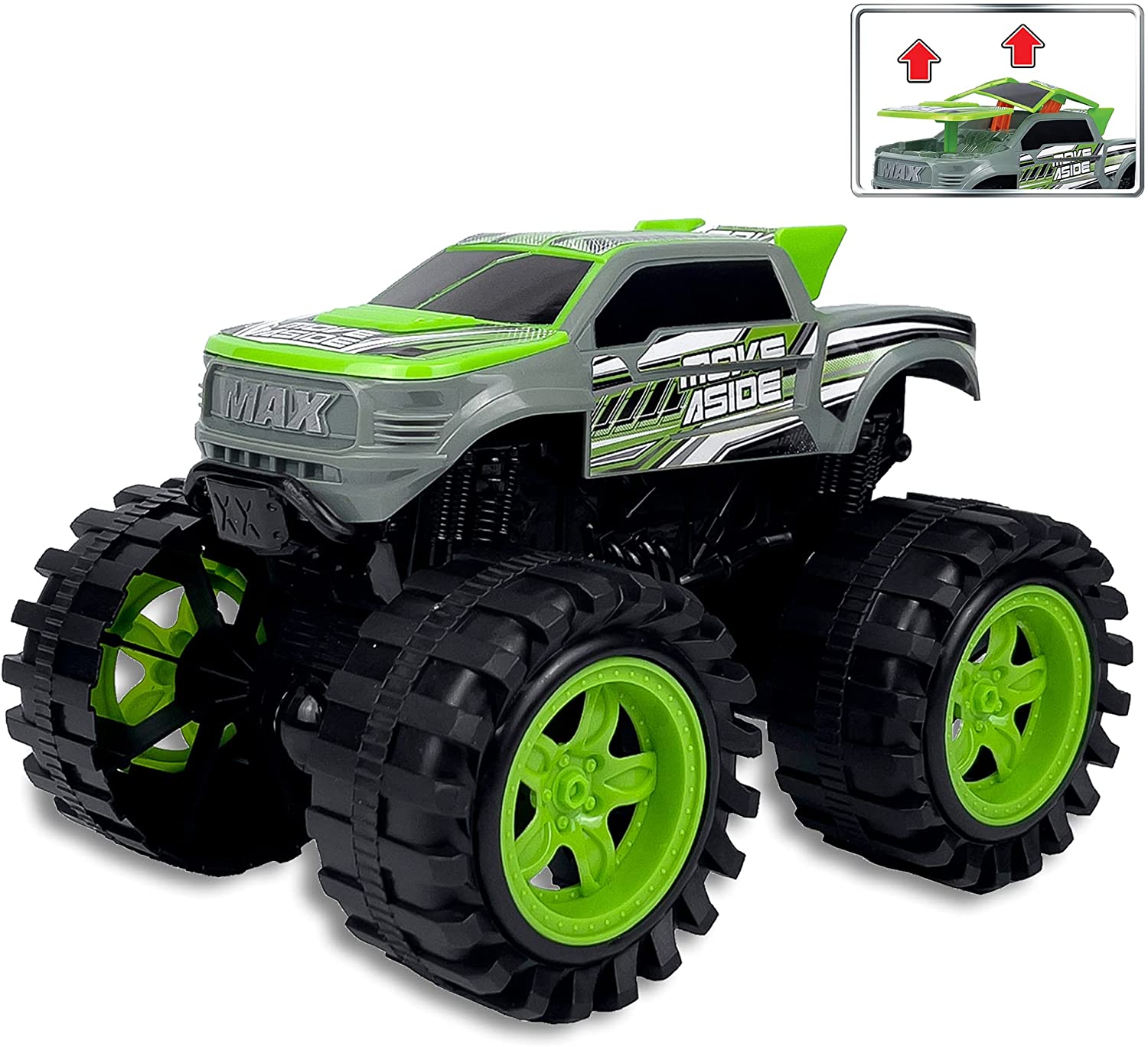 If you have children who love to smash and crash their toys, the Team Power: Exploding Monster Truck could be one to look at. This truck 'explodes' out on impact, with realistic sounds and flashing lights. The parts remain attached so they don't get lost and are straightforward to reassemble – simply click back into place.
There are some critical reviews for this one, with mentions of poor quality. But, this is a super fun and reasonably inexpensive toy.
Suitable for ages 3+ and batteries are included.
Pros
Realistic Sounds
Flashing Lights
Smash and Fix
Super Fun
Batteries Included
Cons
Quality Not on a Par With Some
Monster Jam, Official Champ Ramp Freestyle Playset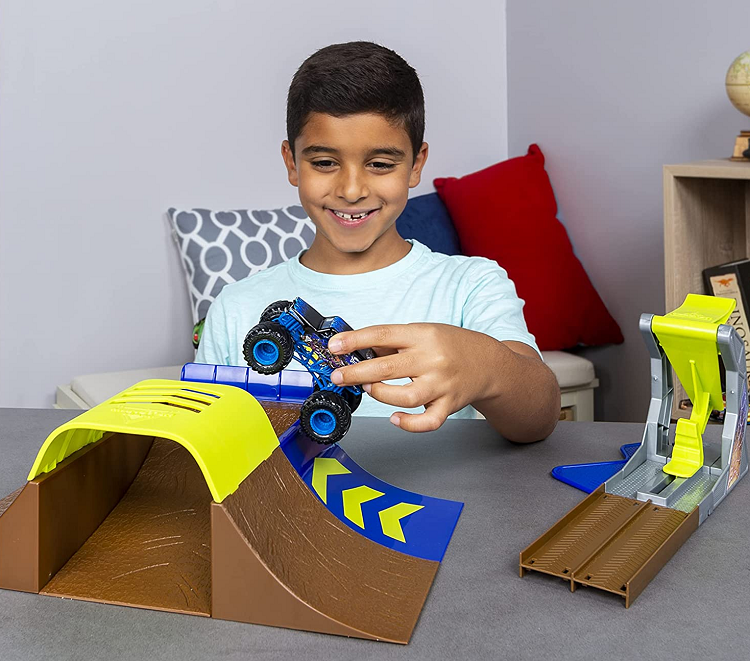 The neat and tidy Monster Jam Official Champ Ramp Freestyle Playset is perfect for children who love building and rebuilding tracks and are compatible with 1:64 scale trucks (1 is included). There are four unique ramps, a truck launcher, launch stabilizer, sticker sheet, and connecting bridge.
The trucks jump, flip, and land with a crash. For the price, this is a super cool set that most truck-loving kids will enjoy. I wish there were more cars included!
Pros
Great Price
Lots of Fun
Neat and Tidy
Compatible with 1:64 Scale Trucks
Cons
More Track Pieces Would be Good
Another Truck Would Enable Joint Play
Official Mega Grave Digger All-Terrain Remote Control Monster Truck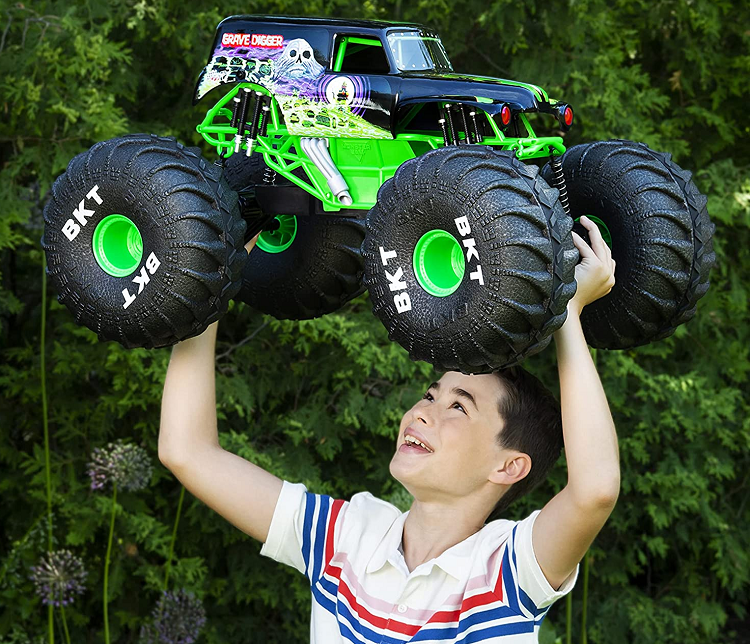 At over 2-feet long, the Official Mega Grave Digger All-Terrain Remote Control Monster Truck is the biggest RC Grave Digger on the market. It offers a fantastic 250-feet radius and is operated by a 2.4GHz frequency dual joystick controller, which makes it well suited to older children – or even adults.
The tires are impressive. They're huge! And feature genuine rubber treads with mega-sized shocks and suspension. This truck will handle most terrain with ease.
The truck is so well designed and looks awesome for it. With genuine graphics and working lights, it could easily be the coolest thing on 4-wheels in your neighborhood! It charges via a USB cable (included), and batteries are needed for the remote (not included).
Pros
Robust and Durable
Long Radius
Large Size
Looks Awesome
Cons
For this RRP, Batteries Should be Included!
Official Monster Mutt Dalmatian RC Monster Truck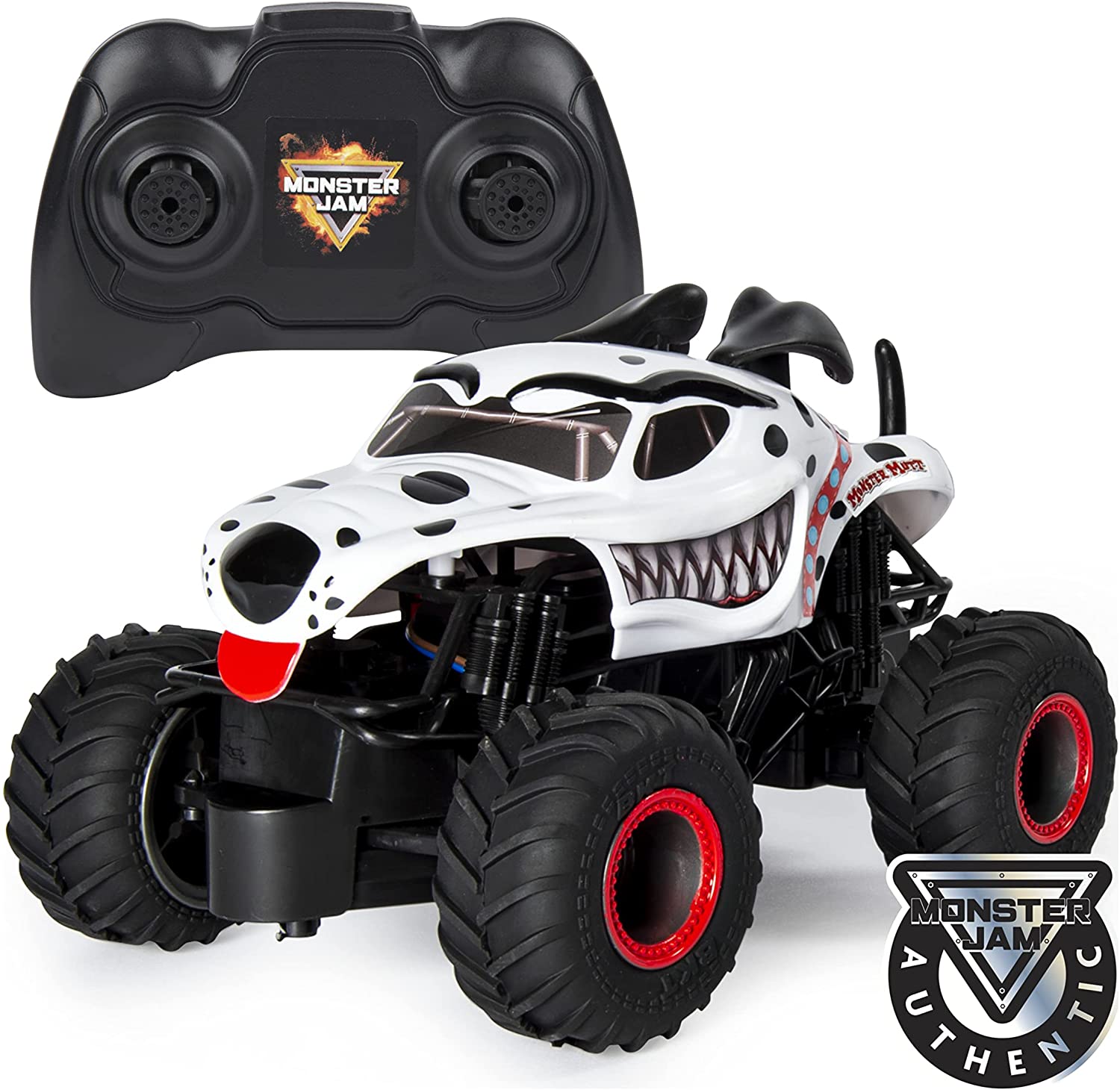 One thing that can be a little off-putting, especially for younger kids, when it comes to monster trucks is the scary design. This isn't the case with the super-cute Official Monster Mutt Dalmatian RC Monster Truck, making it ideal for younger ones who don't like monstrous designs!
This remote control truck can be operated from 250-feet away and comes with a dual joystick controller. It is covered by the Spin Master Care Commitment, which gives great peace of mind and has excellent reviews from previous consumers. This truck requires 5 AAA batteries that are not included.
Pros
More Attractive Design
250-feet Radius
Durable
Spin Master Care Commitment Cover
Cons
Monster Jam, Monster Dirt Arena 24-inch Playset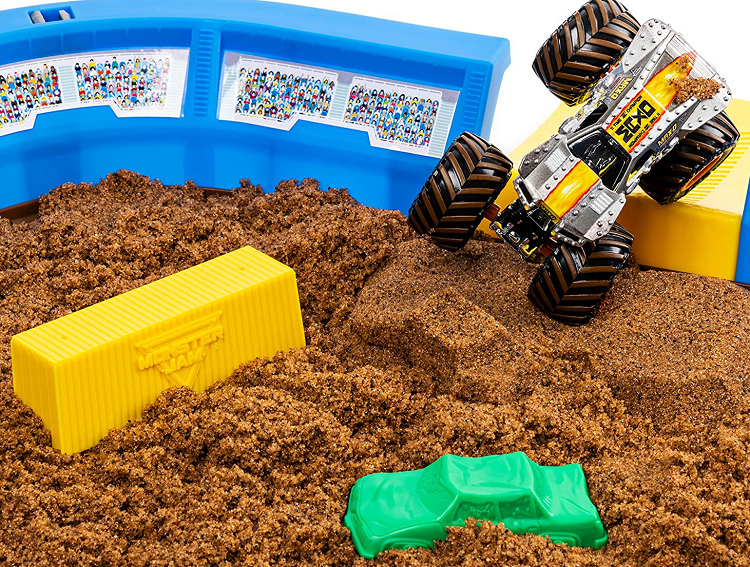 I absolutely adore the Monster Jam, Monster Dirt Arena 24-inch Playset, and so do my sons! This is a super fun set that has all the exciting fun on offer for kids, with the convenient tidy storage for Mom – it's a win-win.
The set includes a hard plastic arena (24-in wide), 2lbs of monster dirt (kinetic sand), entry ramps, molds, sculpting tools, a scoreboard, a sticker sheet, and one official Monster Jam monster truck.
One drawback of this set is you have to keep the box if you want to keep the monster dirt fresh, as although the hard plastic arena is a suitable container, it isn't lidded. If given as a gift outside of the family, this can be an issue.
Pros
Fantastic All-in-One Play Set
Excellent Quality
Super Fun
Kinetic Sand (Won't Ingrain into Carpets or Soft Furnishings, or Dry Out)
Good for Sensory Play
Cons
Arena Isn't Lidded to Keep Dirt Fresh; Free From Dust.
Best Choice Products Kids 12V Ride on Truck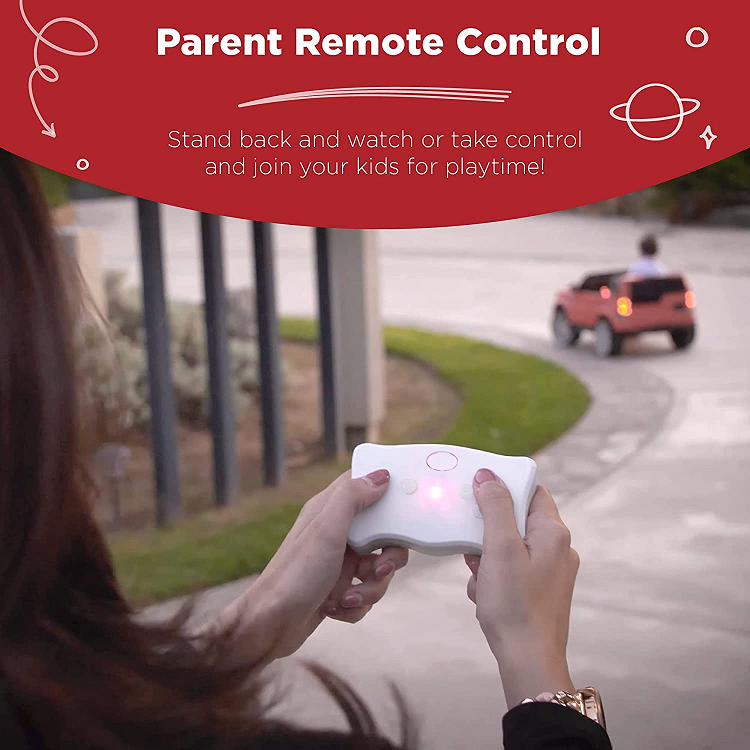 There is yet to be an exact monster truck replica ride on, but the Best Choice Products Kids 12V Ride On Truck is pretty close! With realistic driving action, interactive functions, and parental remote control, this toy provides extreme fun in a really safe way.
This ride-on is quite pricey, but I believe it's worth it when you consider things like the Bluetooth speakers, safety belt, locking doors, working LED headlights, and a powerful 12V battery. The battery is actually very impressive and gives 2-hours of operation on full charge.
It looks the business, yet only reaches 3.7mph at max speed. There are six colors and designs to choose from, and free delivery is available through Amazon.
Pros
Realistic Driving Action
Excellent Safety Features
Parental Controls
Interactive Functions
Bluetooth Speakers
6 Color Choices
Cons
Expensive
Not an Exact Monster Truck Replica
Dazmers Monster Truck Sand Play Set Sensory Kit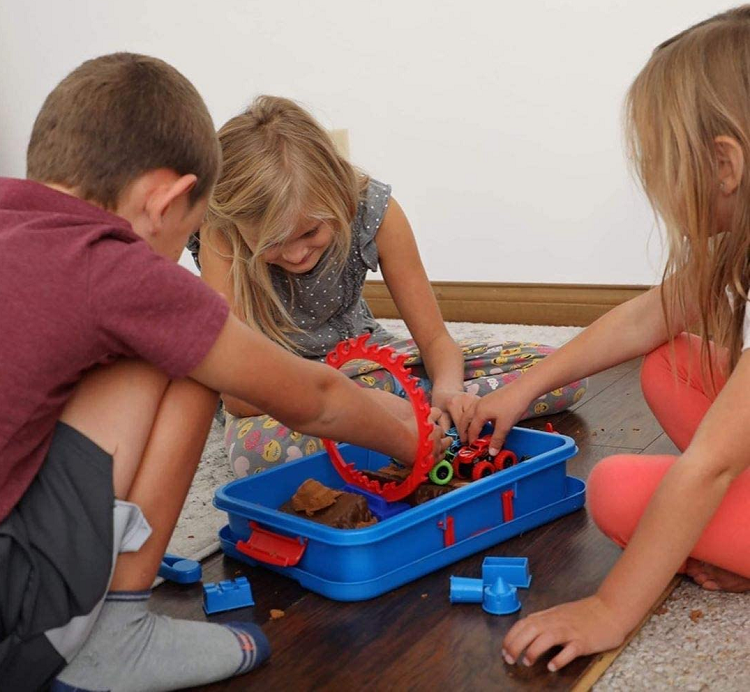 As a mother of children with additional needs and working in a specialist education school, I know what I am looking for with fidget toys and sensory toys. I believe the Dazmers Monster Truck Sand Play Set Sensory Kit to be a fantastic buy – so much so that I've ordered this exact product to keep!
This is truly a fantastic toy for any child who likes or benefits from sensory play. It has everything you could need, including off-road-ready monster trucks x3, vehicle molds x3, obstacle molds x3, molding tools x3, a fire ring, and a truck ramp. It comes in a convenient hard plastic tray with a lid for excellent storage.
The sand is safe and non-toxic; it doesn't dry out or become a mess around the home like actual sand. This set is suitable for children aged three and over.
I have to provide a drawback not to appear biased, but this is difficult with this product. My only small critique would be that a larger box would enable more children to play together at one time comfortably.
Pros
21-Piece Set
Kinetic Sand – Non-Messy, Non-Toxic
Great Storage Container
Good Price
Excellent for Sensory Play
Cons
A Larger Box Would Enable More Children to Play at One Time
Woby Baby Car Monster Truck Toys 12-18 Months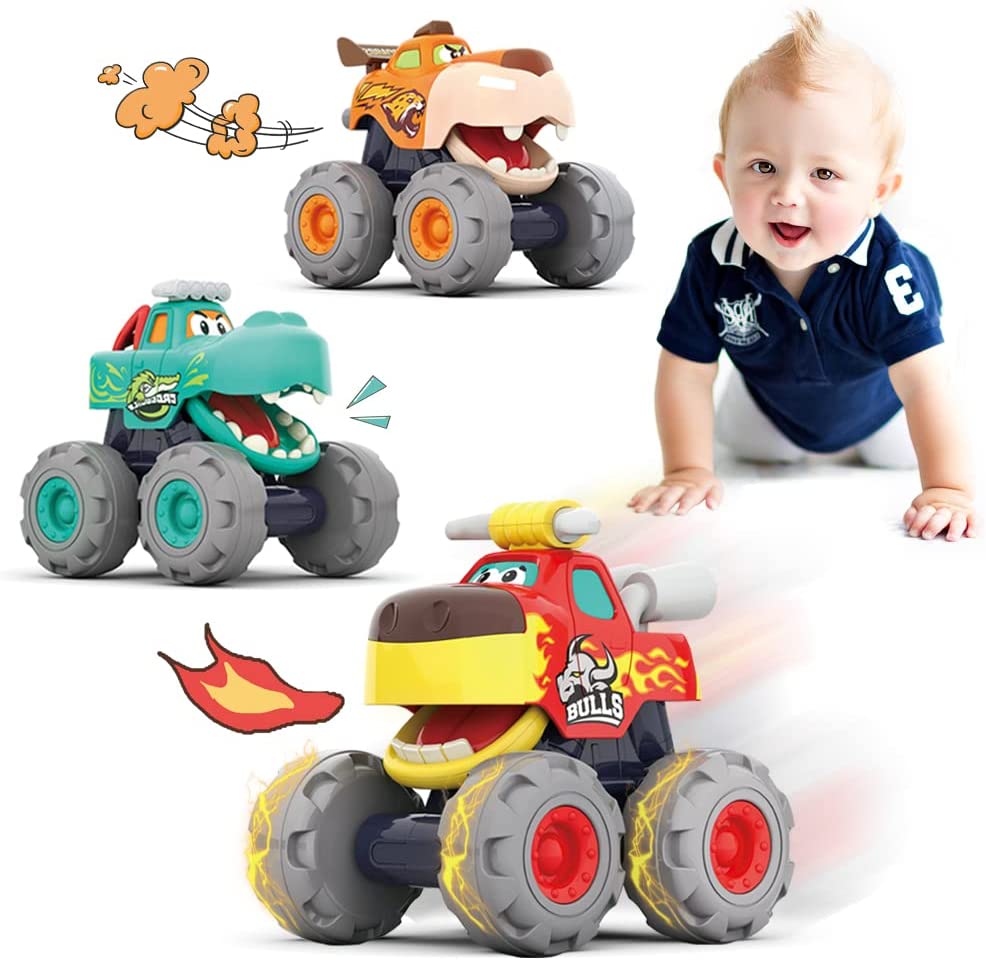 For babies and toddlers, the Woby Baby Car Monster Truck Toys 12-18 Months are a great buy. They're interactive, excellent for fine motor skill development, and 100% safe – passing US children's safety standards.
The set includes three monster trucks that all work slightly differently, which is excellent for brain work at this age. The trucks are super durable and work via push-and-pull, so there are no batteries, loud noises, or hazardous parts.
Pros
100% Safe
Excellent for a Range of Development Skills
Durable and Robust
Cute Designs
Cons
Frequently Asked Questions
Question: What are Monster Trucks?
Amazon: Monster truck toys are replicas of the big-wheeled, pickup-style trucks used for competitions such as demolitions and rallies.
Question: What is the Best Age for Monster Trucks?
Amazon: Monster trucks are a perennial favorite with kids of all ages. For younger ones, monster trucks make great toys; they're robust, durable, and excellent for fine-tuning motor skills.
And older children can enjoy outdoor or competitive battle-style play, letting their imaginations go wild – without the addition of a screen!
Question: Where is the Best Place to Buy Monster Trucks?
Amazon: If you can head to a store to buy monster trucks, then you have the advantage of being able to physically see and often feel the toy to confirm its suitability. However, online is where you'll often find the biggest savings and the convenience of consumer reviews.
Ultimate Monster Truck Toy Guide Conclusion
The benefits of playing with trucks and cars for young children are pretty astounding, but only if you make the right purchasing choice!
Monster trucks tend to be of excellent quality and enable things like imaginative play, the development of creativity, and the fine-tuning of motor skills. They're also very cool-looking toys! For me, some in this guide shone more than others.
I am a huge fan of sensory toys and particularly like the 21-piece Dazmers Monster Truck Sand Play Set Sensory Kit. This set will provide hours, weeks, months, and years of fun for little ones, and I like how easy it is to store away.
My only critique is that the box is only really suitable for one or two children to play with at a time, but often sensory play toys are tailored to solo or very small groups.
The Official Mega Grave Digger All-Terrain Remote Control Monster Truck is one of the best RC vehicles I have come across. I'm a little disappointed that batteries aren't included. Still, overall my experience of this product is entirely positive, and I believe it to have a huge fun factor for most children.
The value for money with the Hot Wheels x2 Monster Trucks is remarkable. These cars are very well designed and built to last. They look great and are super durable. However, I don't like that you can't choose a specific set online and could end up with duplicate boxes if you order more than one.
My overall top pick has to be the ArtCreativity Light Up Monster Truck Set, as I feel this is a good all-rounder that is suitable for most ages, most preferences, and most budgets.
Continue reading:
Ultimate Lego Toys Guide for Team Fun