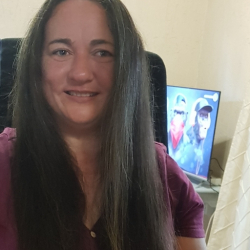 Latest posts by Caroline Lambert
(see all)
How high would your little one fly if they had dreams of becoming a pilot? I'd help my children soar to new heights, and the best airplane-themed toys guide could source the toys that help my kids chase their dreams. Themed toys are as effective as age-appropriate toys and encourage developmental activities.
Every toy type I pick for my kids has to meet two standards. Firstly, I never get enough of watching my kids enjoy their favorite themes and playtime activities. Secondly, I want my kids to learn everything through the most exciting platform available—toys. That way, I feel like I've done everything I can for them.
Are you ready to do everything you can as a parent?
Reaching for the Stars
Toys are a gateway between the world of learning and having fun while doing it. Giving a child toys they can play with, have fun with, and learn new skills is the cornerstone of happy parenting. Happy children lead to happy parents, or should I say, proud parents? I'm incredibly proud of my kids so far, and they're so young.
Themed toys are one diamond in the rough for parents to encourage children to learn and develop the skills they need without boring classroom lessons. However, airplane-themed toys take it to another level. My son was obsessed with airplanes, and I often arranged flights with student pilots to help him reach for his dream.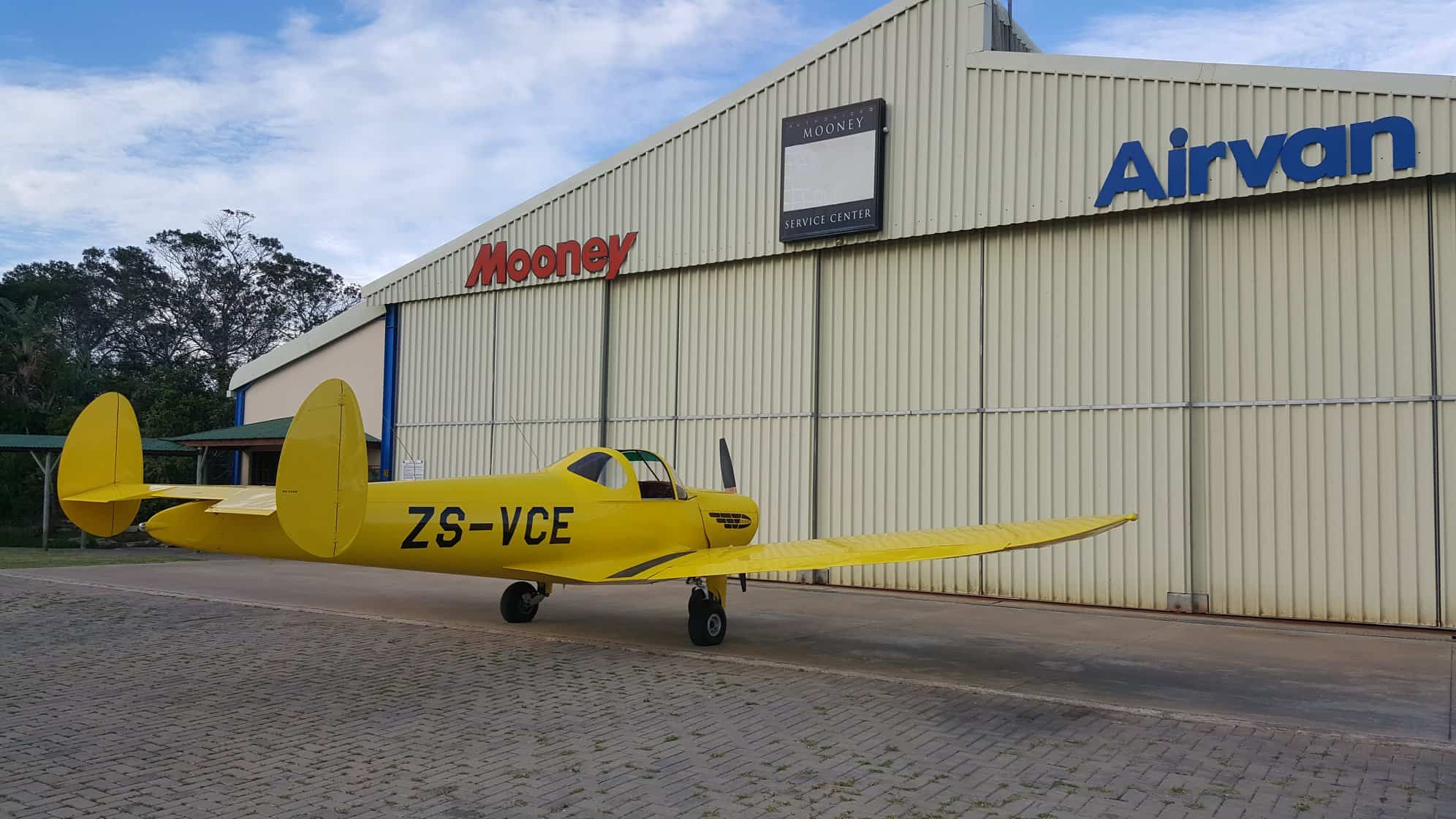 However, I also bought him numerous airplane-themed toys to enhance his excitement about soaring through the skies. Becoming a pilot is an admirable career, and I'd love for him to pursue it. I'll show you how airplane-themed toys uplift a child's dreams, but first, have a peek at my top airplane-themed toys with sub-themes:
The Ultimate Guide to Airplane Themed Toys
Is it a bird? Is it a plane? Nope, it's your child playing with a toy that promotes one of the most satisfying dreams they can have. Other parents dream of their children becoming doctors and lawyers. Still, I love the idea of my son becoming a pilot. So, I'll tell you why and show you how to pick the best airplane toys.
The Value of Themed Toys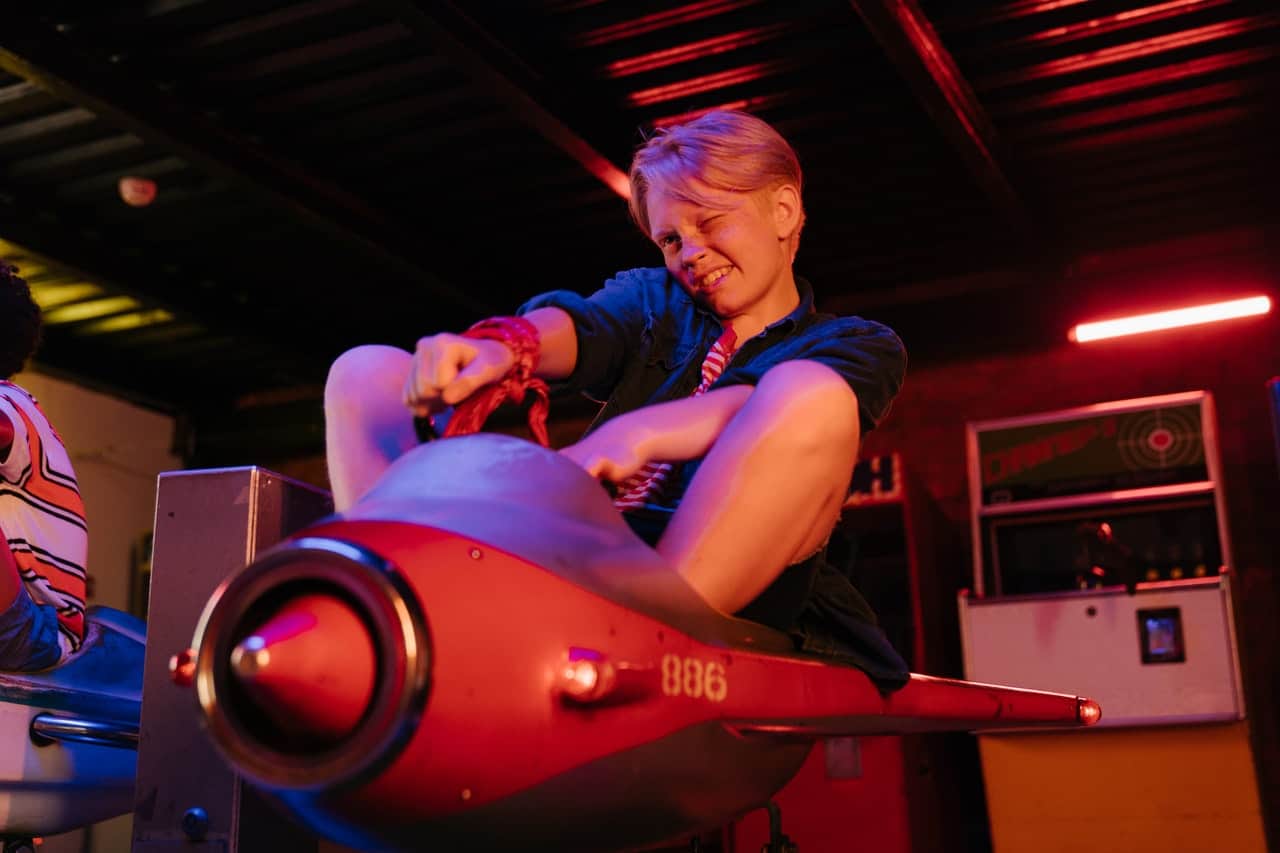 Themed toys appeal to a child's innate passions. Imagine that you go to work every day in a place that makes every part of you tingle and light up. Few people get to enjoy their passions while working every day. Applying this to children is simple because playtime is their workplace until they're grown up.
Children are more likely to connect with educational and developmental toys when they feel passionate about the theme. Toys are more than excitement and laughs. Many toys provide an educational foundation, whether kids practice their motor or cognitive skills. Playtime is like working for children, but they don't realize it.
Their brains are constantly connecting dots while they enjoy toys. Themed toys marry a child's passions to their job, making them love the activities and be more likely to learn from them. Themed toys are a must for children of all ages.
Advice for Parents
Again, my son is obsessed with airplanes, and he talks about becoming a pilot every week. He's only 13 now, but I've used his passion for encouraging other areas of his life. For example, I helped my son research the grades and subjects required in school to pursue his dream. Instantly, his grades improved in those subjects.
My advice is that you pay attention to a child's dreams. Airplane-themed toys signify that your little one could love engineering, flying, or astrophysics. Themed toys provide a window into what your child might flourish with in life. Look closely before a child loses interest in sharing their passions.
Once you glimpse their innate passions, help them pursue their dream. Do research, speak to teachers, and support your child in whatever they wish to become. I love guiding my children, but I allow their passions to guide my guidance. Don't dream for a child. Instead, follow their dreams and watch them soar.
How to Select the Best Airplane Themed Toys
Selecting the best airplane-themed toys comes down to a single rule. Airplane-themed toys are the main category, but some sub-themes appeal to various children. So, my rule is to pick the best airplane-themed toy that meets a sub-theme, whether it's a military plane or a theme from a child's favorite show.
Best Airplane Themed Toys Guide: The High Flyers
A child can love airplane-themed toys, but the sub-themes appeal to a second passion. For example, my son loves Lego Ninjago and military aircraft. His passions allow me to narrow his airplane-themed toys further to suit his love for all things that soar high. There are countless sub-themes, but here are a few popular options.
Airplanes have a popular sub-theme, especially if children dream of working as an engineer or a pilot who would frequent airports. This airplane playset is phenomenal because it includes the tower, a runway, and a baggage carrier. It makes for an excellent playtime activity for kids to imagine the airport scene.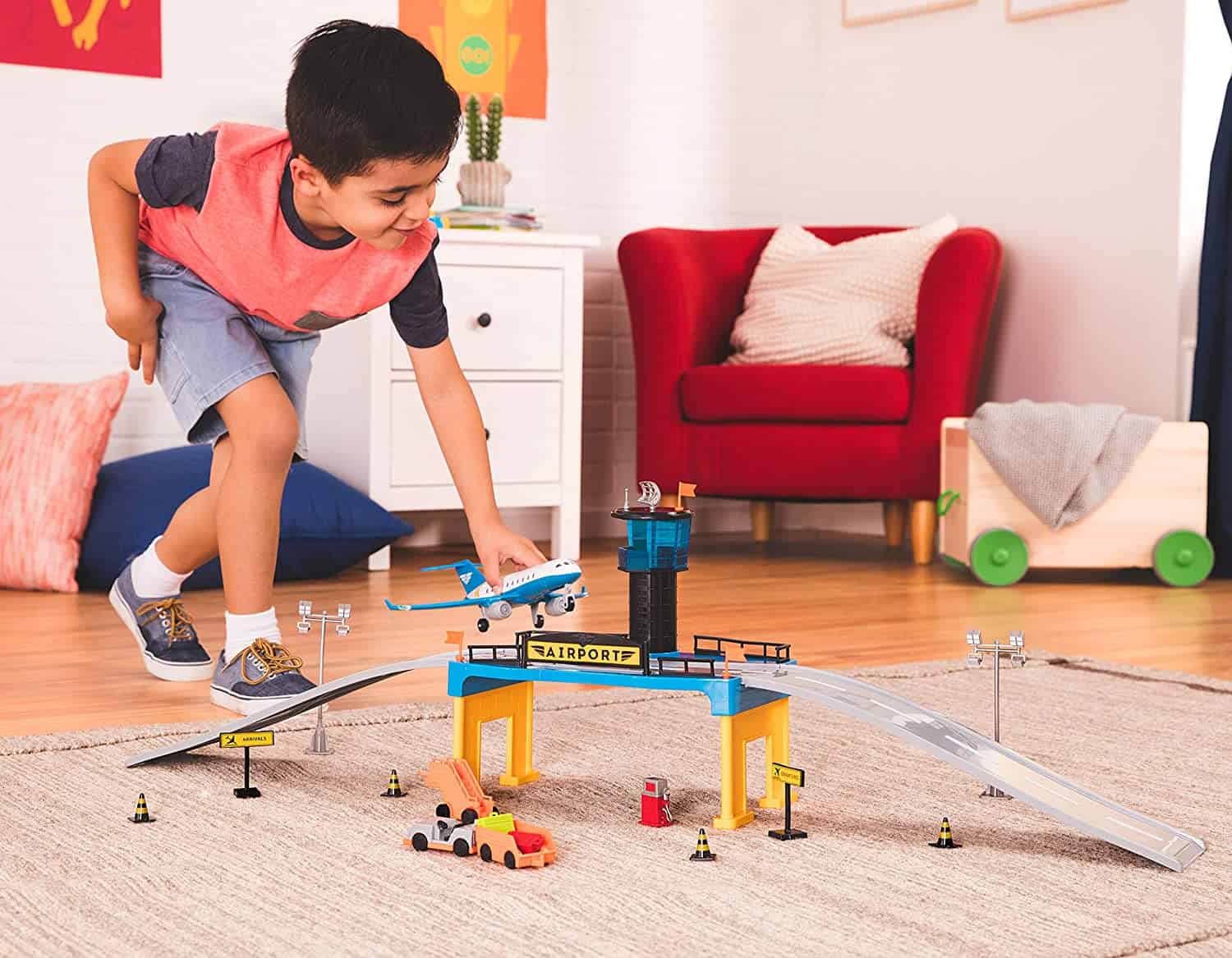 Features
Ages: 3+
Size: 14.5″ x 21″ (entire set)
Type: Airport toy set
Activities: Imaginative play
Pros
Children can enjoy pretending to land the plane while talking to the tower, and it's an excellent social play toy set
The set includes a beautiful passenger plane toy, a tower, a baggage carrier, and a stairway
Cons
The airplane model is smaller because it comes in a set
My daughter doesn't dream of becoming a pilot. Still, she loves playing with interactive toys, especially when they look like cartoon planes. The bump & go model airplane has interactive abilities and comes with miniature figurines that fit inside the plane. The face adorably looks like one of the planes from the Disney Cars movie.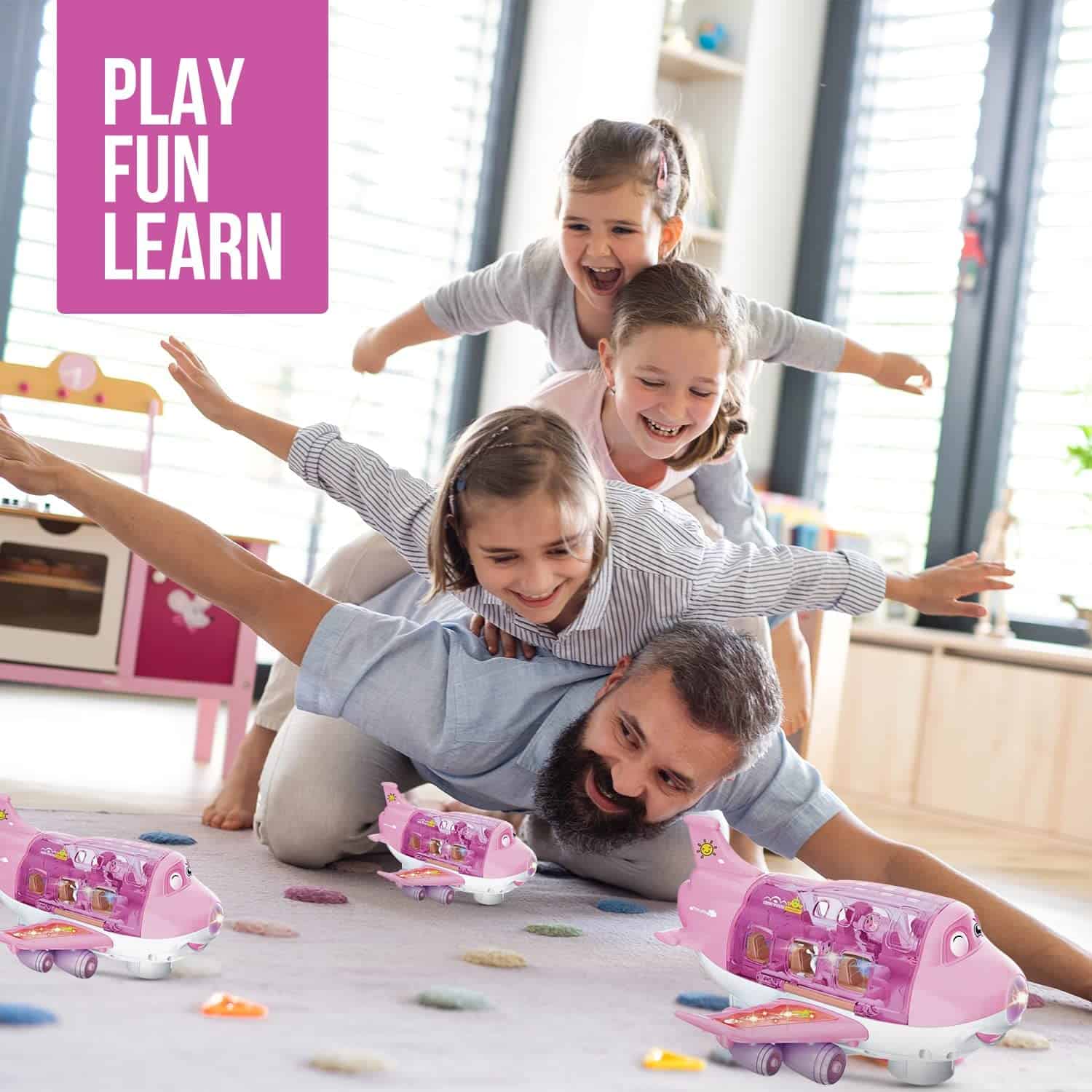 Features
Ages: 3 to 12
Size: 10″
Type: Passenger airplane toy
Activities: Creative play
Pros
The cartoon-themed airplane toy has educational benefits with lights and sounds, and it rotates 360 degrees for a beautiful display
The airplane model is incredible for little girls who love cartoon faces on their vehicles, and the winking eye is next-level cute
Cons
This toy airplane suits girls more than boys
Catapult launcher toy airplanes are fun for many reasons. Firstly, they encourage children to play outdoors, where they can launch the planes as high as they wish. I love seeing my kids soak up the sun while enjoying their favorite toys. Children also love any toy that allows them to launch planes to soar with the garden birds.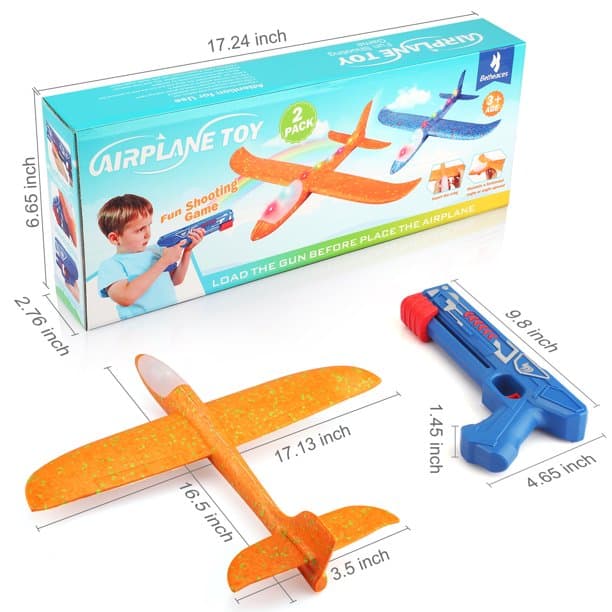 Features
Ages: 3 to 9
Size: 17.13″
Type: Catapult toy airplanes
Activities: Outdoor play
Pros
The toy emulates precisely what an airplane does by launching the foam models into the air
The aircraft comes with a simple launching toy gun, and the planes are foam, meaning children can have fun in social playtimes without hurting each other
Cons
The lights in the plane's windows stop working faster than you want
Construction is another passion for my son, making this another ideal gift from the airplane-themed toys range. I didn't think I'd find one that encumbers both concepts, but this kit matches. The cargo-style toy plane carries construction machinery and road signs. It's an exciting playset for kids of the right age.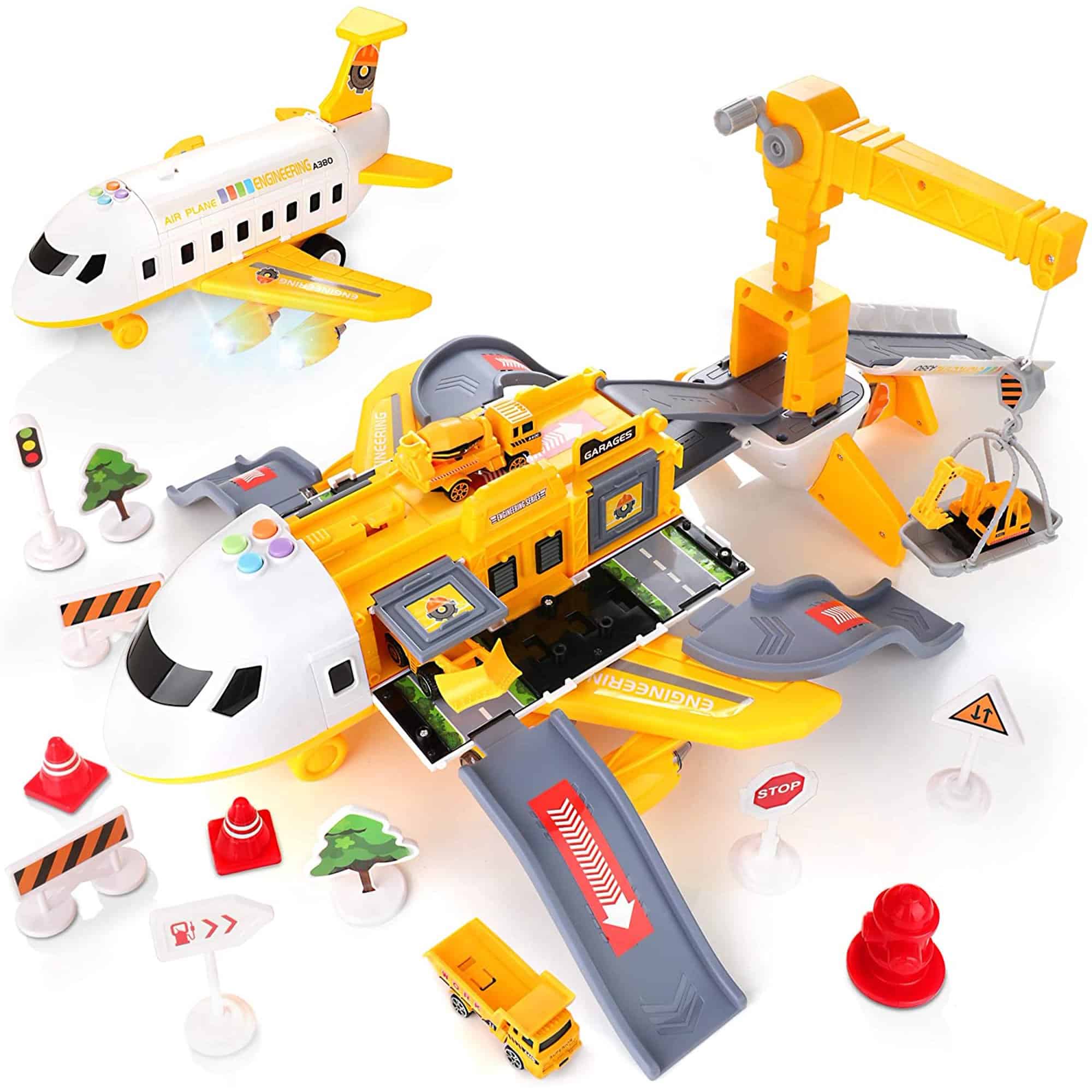 Features
Ages: 3 to 12
Size: 15″
Type: Airplane construction toy
Activities: Educational play
Pros
The construction-styled airplane model kit comes with numerous accessories, and kids can pull it back to launch the plane
It's a highly-interactive model that allows kids to press buttons for a response, and it makes noises and lights up
Cons
This airplane playset uses plenty of batteries
The passenger airplane model is a die-cast beauty with many interactive qualities. It lights up and makes realistic sounds that allow kids to hear a jet's engine as the plane launches forward with bump & go technology. It's also an impressive airplane toy for kids who dream of becoming commercial pilots.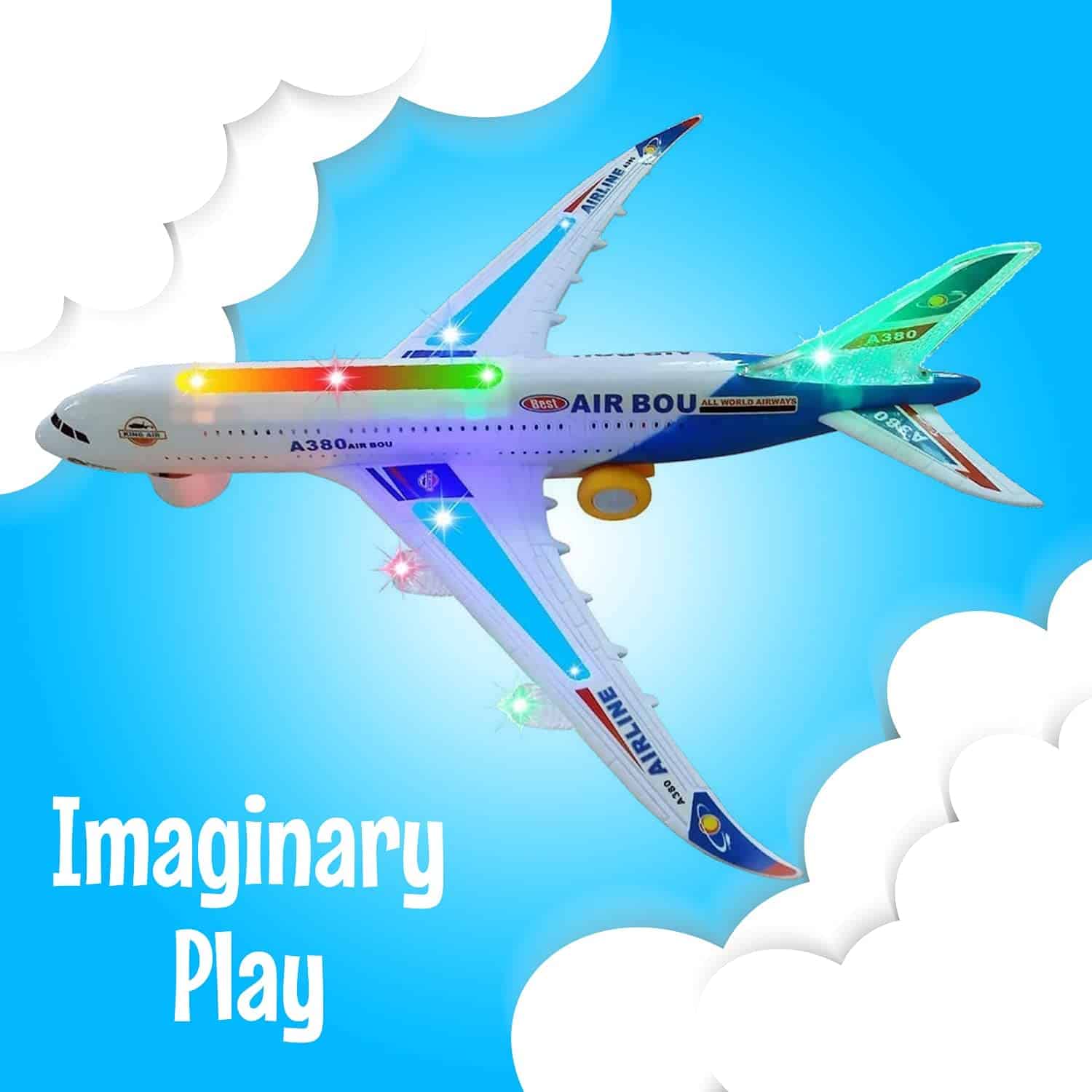 Features
Ages: 3 to 8
Size: 10″
Type: Interactive toy airplane
Activities: Imaginative play
Pros
The highly-interactive model airplane has sound effects, lights, and rotation abilities to simulate real-time flights
Children can dream of flying their friends to the nicest tropical paradises with the educational airplane model
Cons
Don't allow kids to throw this airplane model because it will break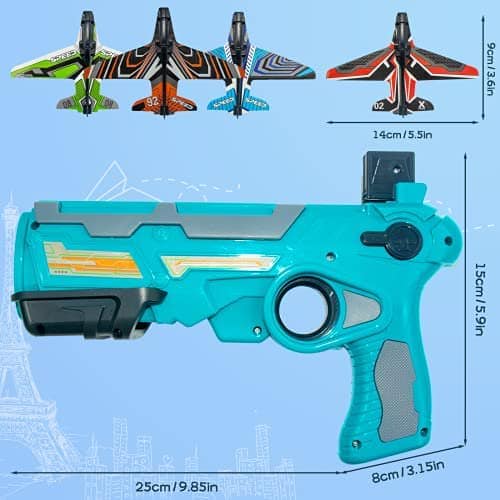 Ejection airplane toys work the same as catapult planes. They get children outdoors, and there's no better place for them to enjoy launching planes into the sun. I like this set more because the planes launch much higher than the foam models. The tiny planes are also brightly colored compared to foam models.
Features
Ages: 3 to 10
Size: 3.6″
Type: Catapult plane toy
Activities: Outdoor play
Pros
The air-bubble launching toy gun comes with four beautiful plane models for kids to launch as high as they can
The toy launcher has space to load all four models, allowing kids to shoot multiple toy airplanes in one go easily
Cons
The planes are super small, but they work well to fly higher
Fire and rescue-themed toys are other favorites for many kids. Children dream of becoming firefighters and paramedics, both being incredible careers. My son also went through the firefighter phase, but he was only a preschooler. His passions have changed a lot since then. However, he still loves playing with the toys.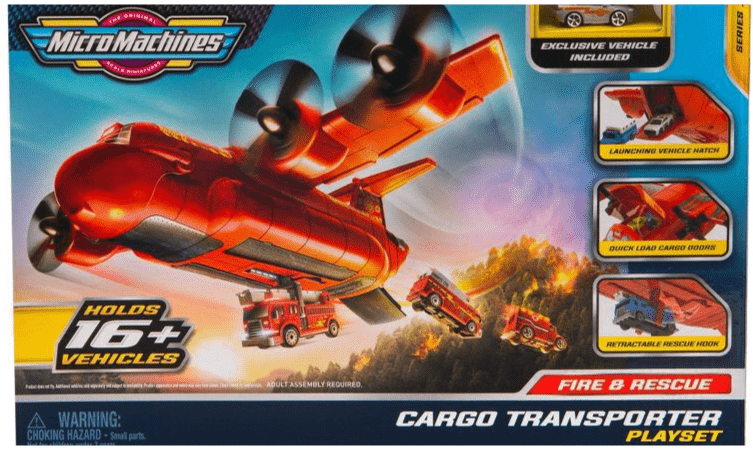 Features
Ages: 3 to 12
Size: 12″
Type: Fire & Rescue toy plane
Activities: Imaginative play
Pros
Watch your children become heroes with the cargo toy plane that includes 20 micro machine die-cast toy vehicles
The toy airplane is interactive and comes with retractable features, vehicle-launching devices, and spinning propellers
Cons
I wish the toy cargo airplane were bigger, but it's a neat size anyway
Foam airplane toys aren't the most fantastic models, but they create tons of fun outdoors. These foam airplane toys are more significant than most, and they come with a manual launcher. Kids learn to launch planes the way we did back in the day. There's no toy gun, and a child's finger determines the plane's height.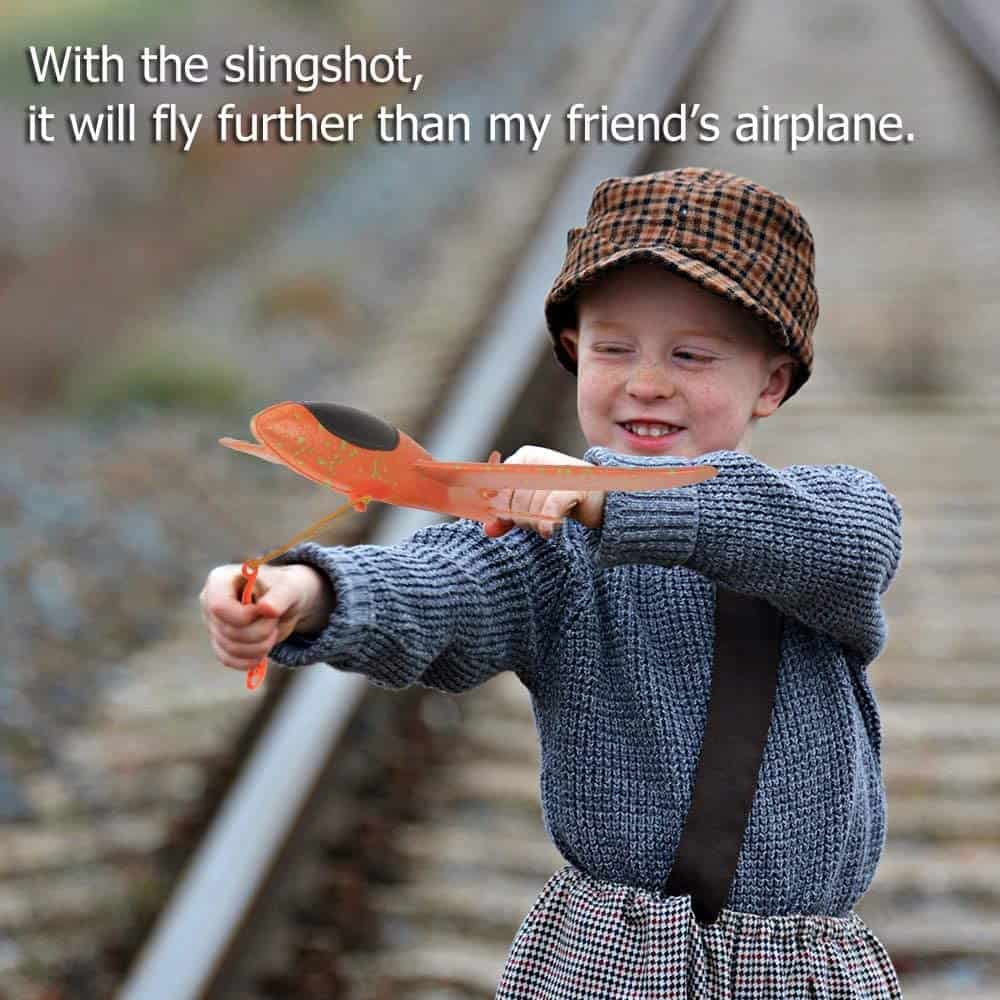 Features
Ages: 3 to 15
Size: 17.5″
Type: Retractable foam airplane toys
Activities: Outdoor play
Pros
Kids get four massive foam airplanes and rubber bands to shoot them as high into the sky as possible
The foam planes are colorful, and they're light enough to soar to new heights
Cons
Foam airplanes don't last as long as die-cast models
A Honeysuckle is a beautiful bird that looks pretty and girly. I love this airplane toy because it appeals mainly to girls, which most airplane-themed toys miss. Girls also dream of becoming pilots. I knew a few female students, one even switching to twin-engine flights. But, of course, young ladies can do anything they imagine, too.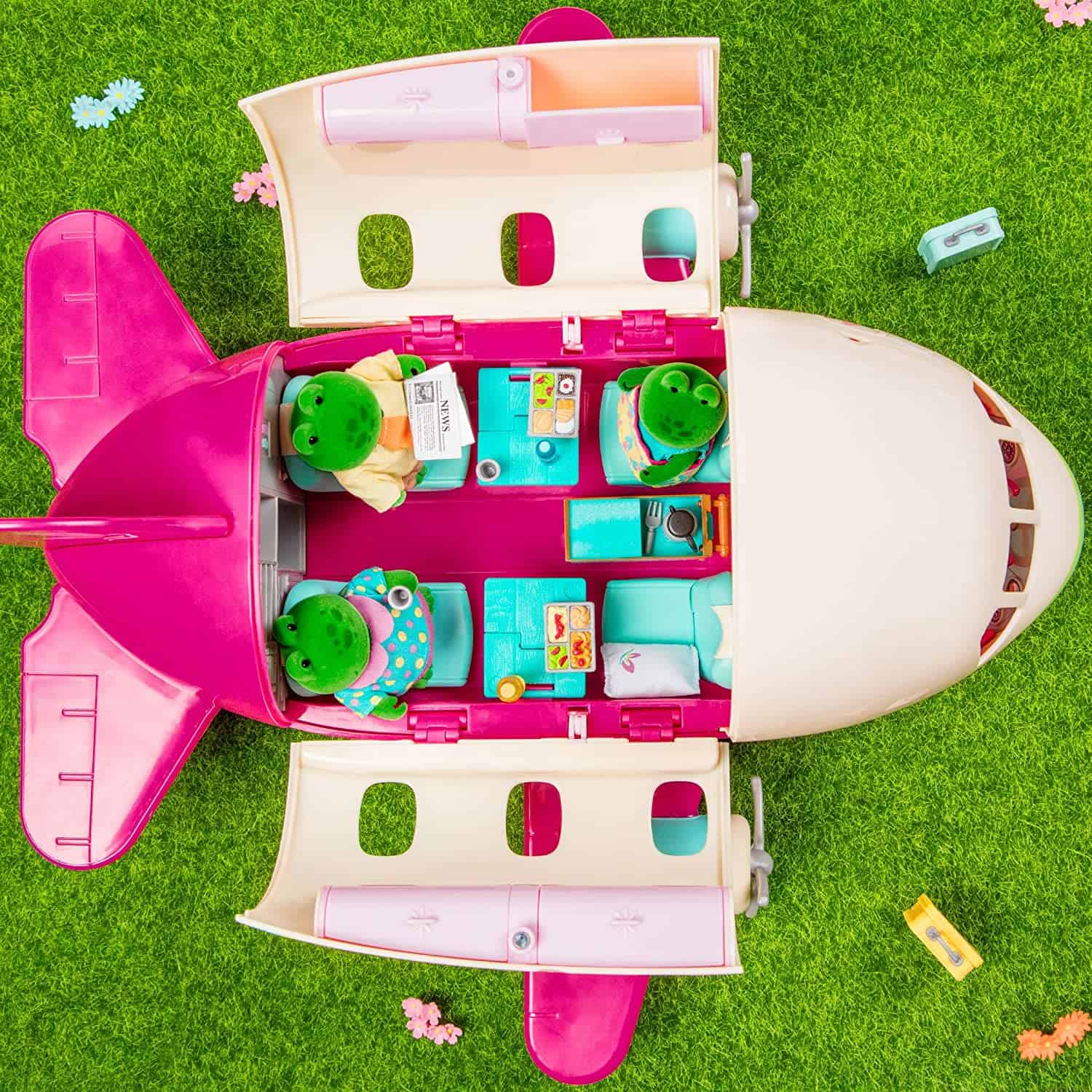 Features
Ages: 3 to 12
Size: 16″
Type: Toy airplane with accessories
Activities: Interactive play
Pros
The beautiful Honeysuckle airplane toy comes with a pilot's outfit, drinks, food, and other in-flight accessories, and children can use small figurines inside the plane
The toy airplane is entirely interactive with opening doors and windows, and the propellers turn for added sensory play with little ones
Cons
This toy airplane undoubtedly suits girls more than boys
Yes, Lego makes a few airplane building kits. The 141-piece Lego airplane building kit is a winner because it showcases a model you don't often find in airplane toys. Coast guard planes are uncommon, and children familiar with beaches and coast guards would welcome these sets with open arms.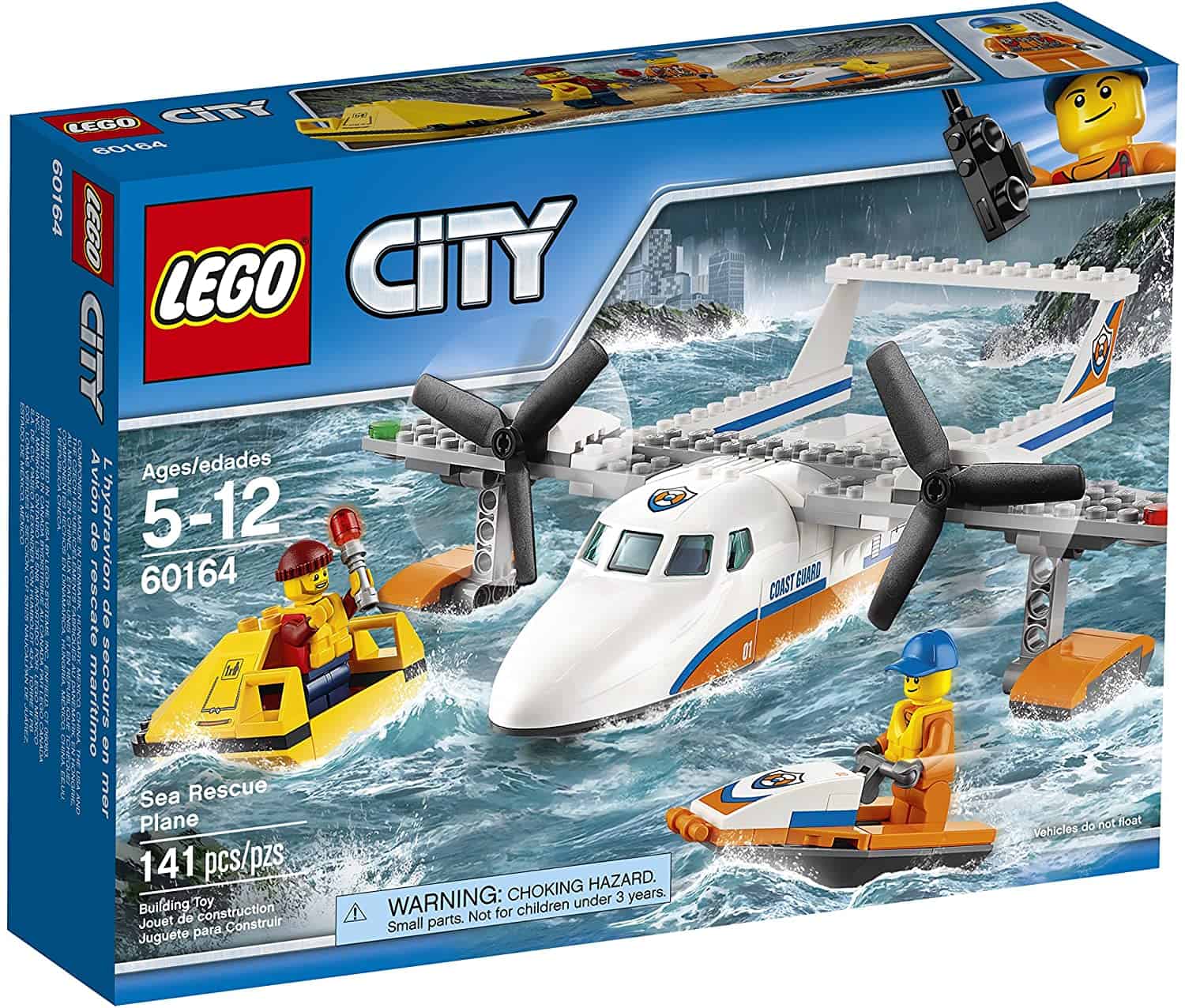 Features
Ages: 5 to 12
Size: 8″
Type: Airplane building kit
Activities: Educational play
Pros
The Lego airplane model kit welcomes educational play with a model unfamiliar in the airplane-themed toy range
The set also comes with two jet skis and figurines for kids to enjoy imaginative play after building the model
Cons
This airplane toy kit suits older kids from the preschool years
Military airplane toys are my son's, ultimate love. Who knows? Maybe he'll end up being a pilot in a fighter jet. He's a fast thinker, a quintessential requirement for fighter jet pilots. The speeds require thinking beyond normal bounds. Anyway, cargo carriers play an important role in military airplane toys.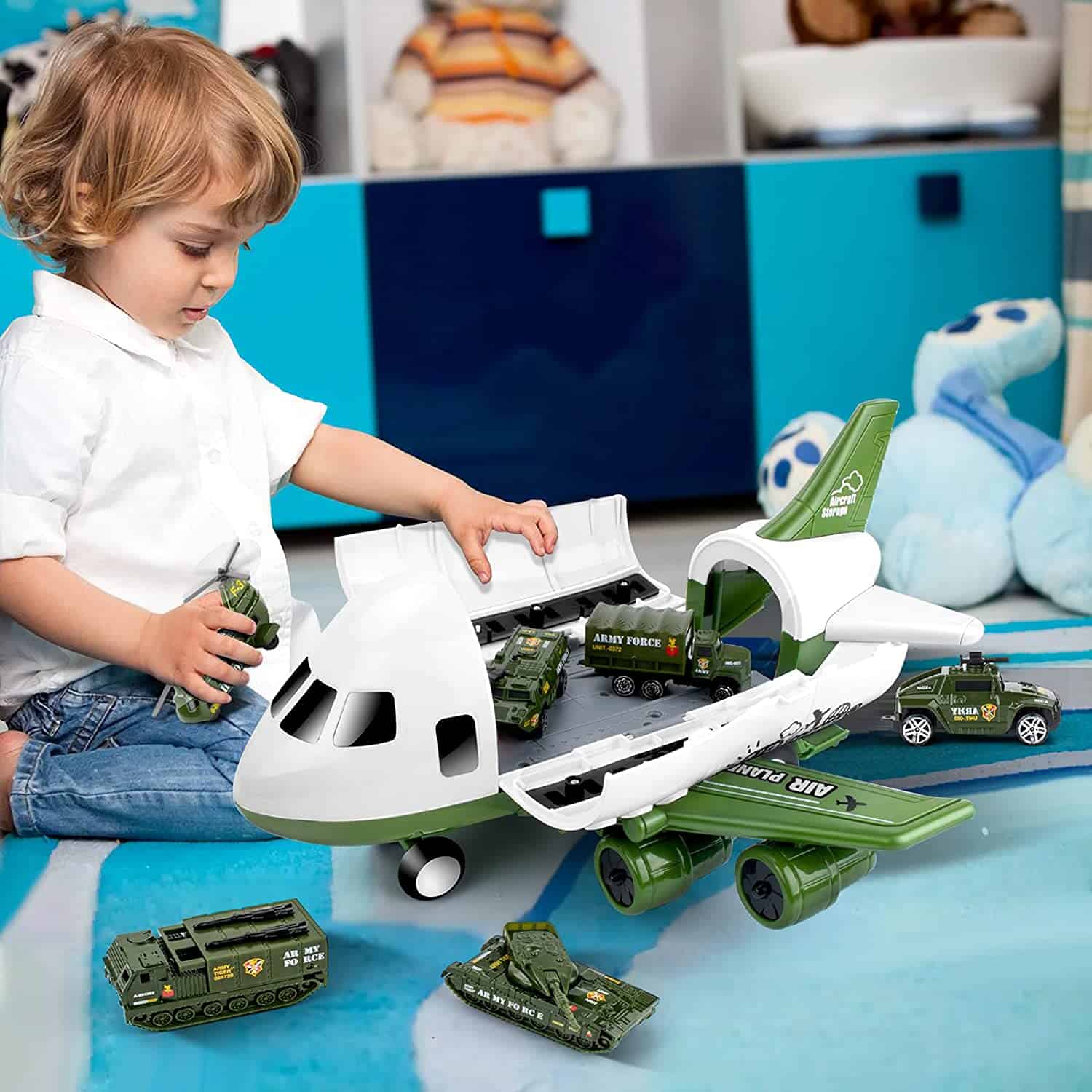 Features
Ages: 3 to 10
Size: 14″
Type: Military cargo plane toy
Activities: Imaginative play
Pros
The military cargo plane carrier comes with six famous army vehicles, including a tank and helicopter
Planes and the army go together like salt and pepper, and kids will love the interactive qualities of this set
Cons
The cargo carrier plane doesn't come with a fighter jet, but I'll share one now
Now, I can see my son doing backflips to own this beauty. Okay, maybe he's a little too old for it, but he would've loved this airplane toy model when he was younger. The features are fantastic, and the sound effects match the grumbling explosion of noises that follow a fighter jet.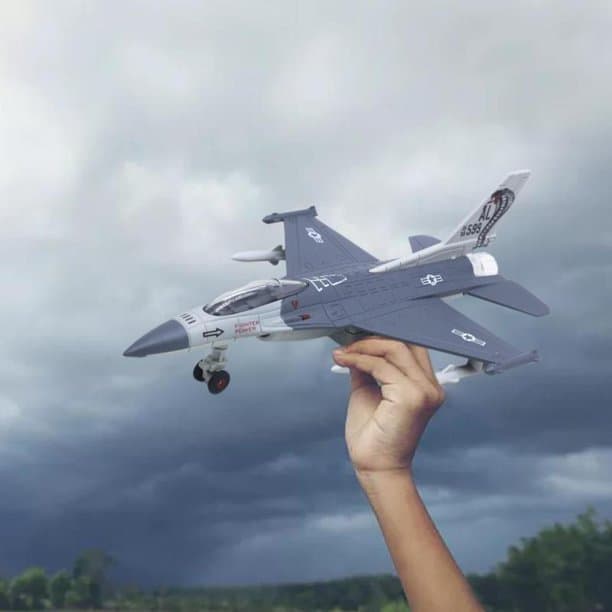 Features
Ages: 3 to 10
Size: 8.6″
Type: Fighter jet toy model
Activities: Creative play
Pros
The detailed fighter jet toy model includes interactive features with sound effects and lights, and it has a pull-back function
The details of the missiles and the artwork on the plane's tail are incredible, and boys would love this model
Cons
Some girls might like it, but this model appeals more to boys
The mini die-cast military airplane set includes modern models like helicopters, fighter jets, and rescue planes. However, the one model makes me think of a Tiger Moth airplane. Sure, the colors bring it to my attention because my son has a mentor with the same color stripes on his Tiger Moth.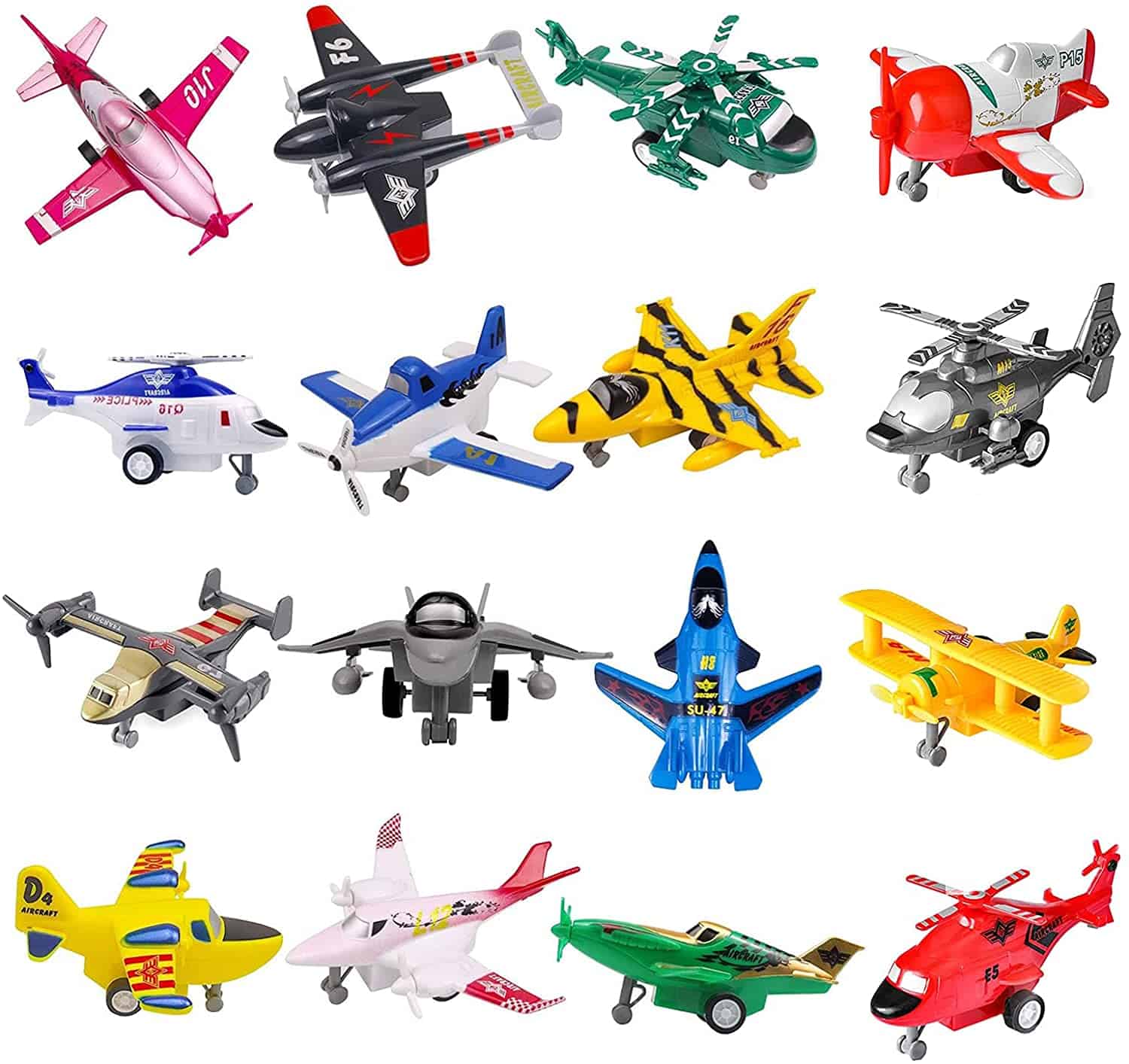 Features
Ages: 3 to 10
Size: 3.5″ to 4.5″
Type: Die-cast airplane toy models
Activities: Sensory play
Pros
The set comes with 16 airplane models that have pull-back features, and the die-cast models last long
The colors and styles are magic for little ones, and the pull-back feature also offers sensory play for little hands
Cons
Not all the planes are military-styled, but the set includes a few beautiful options
Ninjago is an anime-themed Lego building kit, in case you were wondering. Anime-themed toys are also widely popular among tweens and teenagers. My son's second life revolves around anime series. I won't complain because I love my kids playing with building kits that offer educational and sensory activities.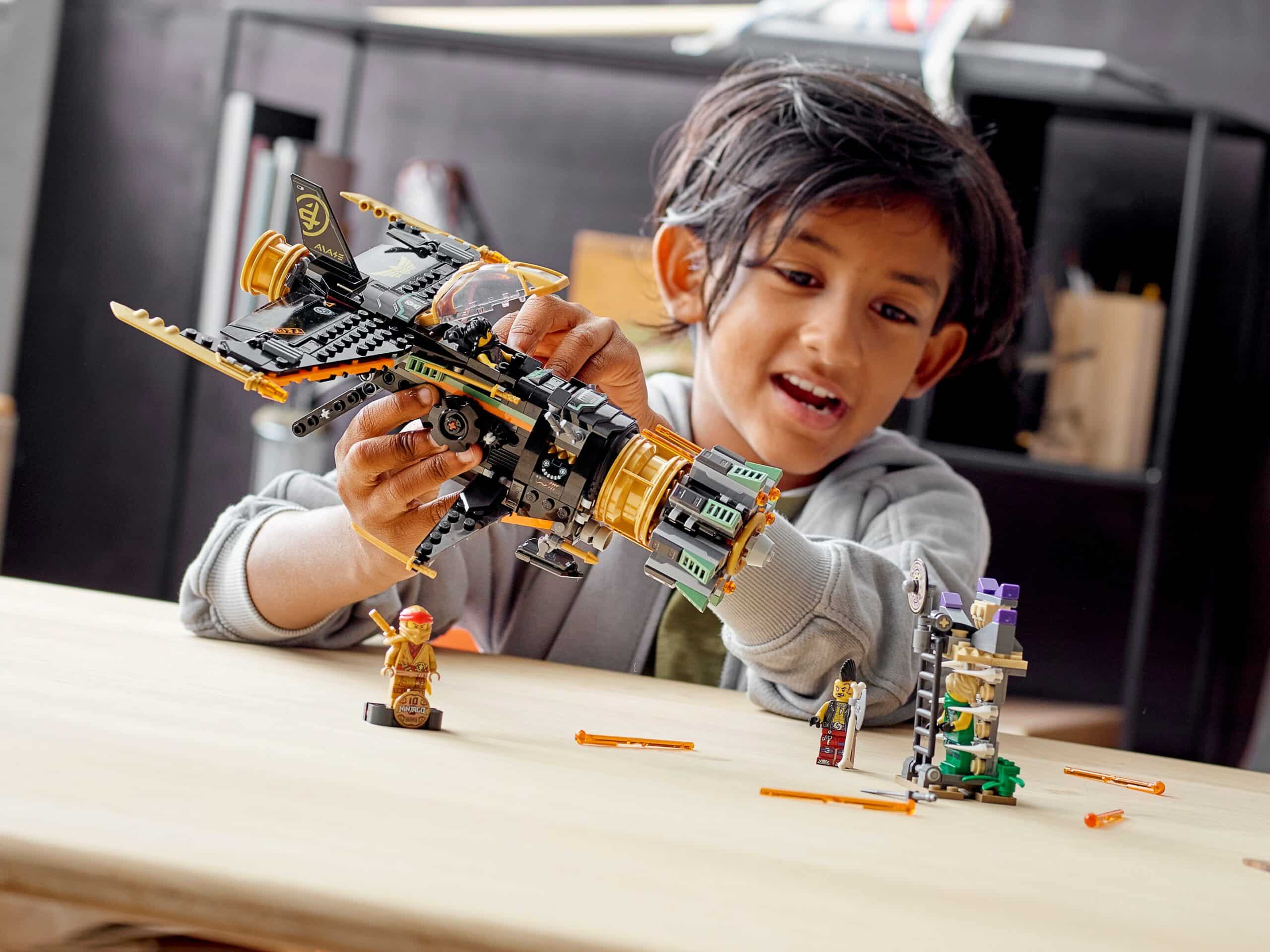 Features
Ages: 8 to 16
Size: 11″
Type: Lego airplane model kit
Activities: Educational play
Pros
The 449-piece Lego airplane building kit includes a rare figure from the show's fourth season, and it offers an excellent challenge for older kids
The airplane model undoubtedly looks like a fantasy feature from an anime series, and the accessories allow the show's fans to enjoy imaginative play
Cons
This Lego airplane set doesn't suit kids under eight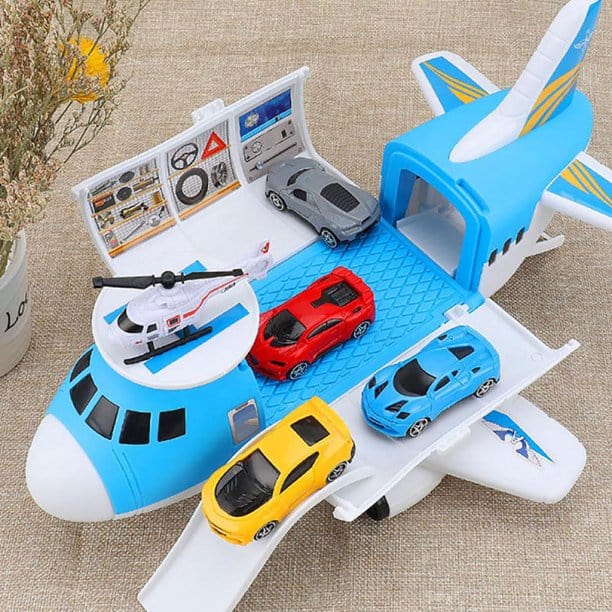 Passenger planes are my son's second favorite airplane-themed toy after military-style models. My son helped me pick this model because it appeals to a larger audience than simple passenger planes. Instead, it looks like a cargo plane that carries cars over the ocean. After all, some people love having their cars on vacation.
Features
Ages: 3 to 8
Size: 13″
Type: Cargo plane toy
Activities: Interactive play
Pros
The exciting cargo airplane model comes with a few gorgeous die-cast cars for a variety of playtime activities
The transport aircraft model has interactive features, where the entire roof opens for kids to store the fancy car models
Cons
Don't allow kids to throw this model for flying outdoors because it will break
I must follow the transport model with an impressive passenger aircraft toy with interactive features. I can't get enough of the passenger planes with lights and sounds because they offer sensory play for little ones. Imagine a toddler playing with an interactive aircraft, leading to dreams of flying at a young age.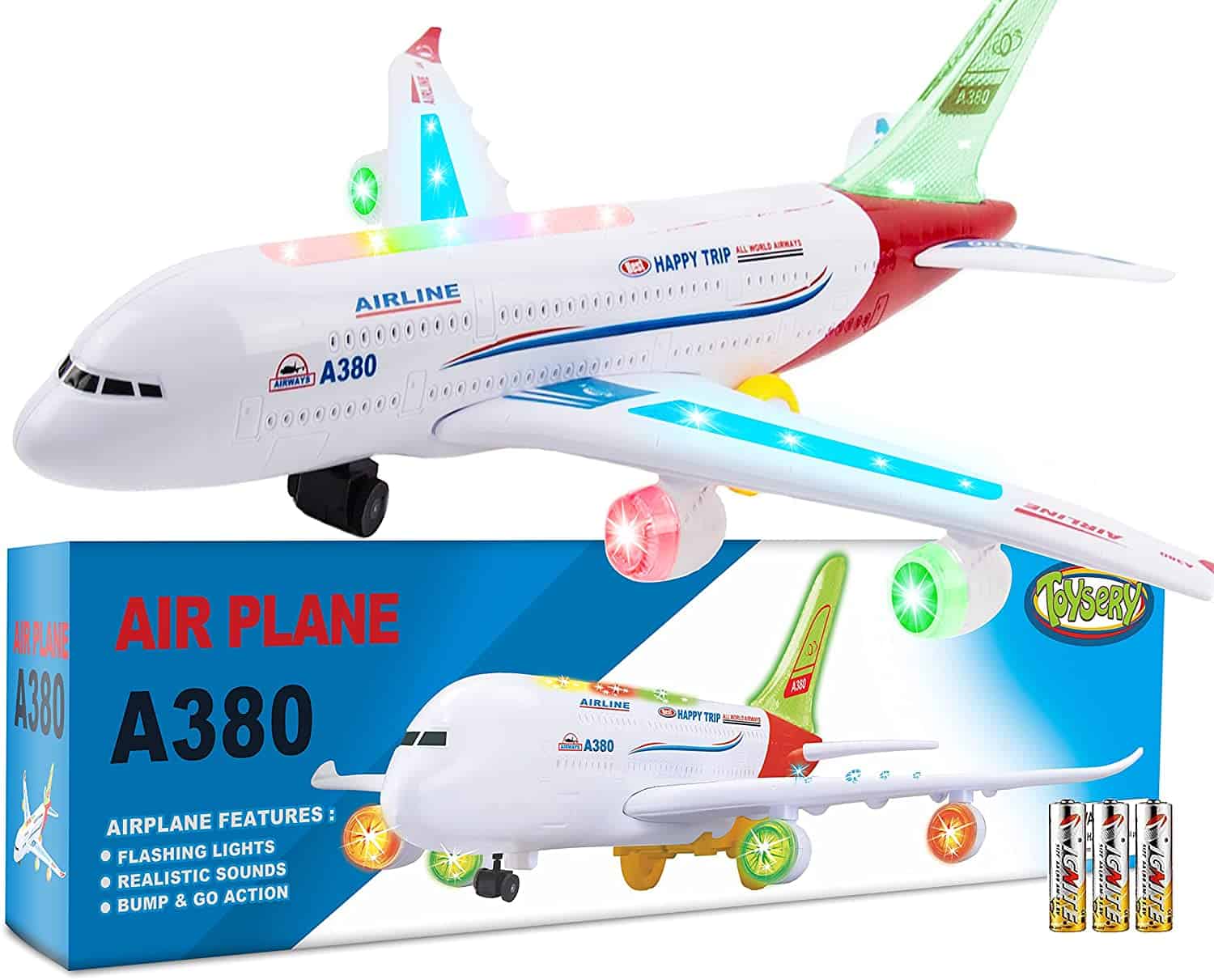 Features
Ages: 3 to 12
Size: 17″
Type: Airbus model plane
Activities: Sensory play
Pros
I loved seeing my toddlers play with noisy and colorful toys because their senses went wild, enhancing their development through sensual experiences
The toy airplane model sounds like a real passenger airbus taking off, and the details look impressive for a toy
Cons
It's a pretty large toy model, especially for little fingers
Law enforcement is another highly admirable career choice for young people. Using a police-themed airplane toy to ignite their passions young is the way to go. The police-themed airplane transporter is an exciting interactive model that allows kids to stay entertained with cause-and-effect activities.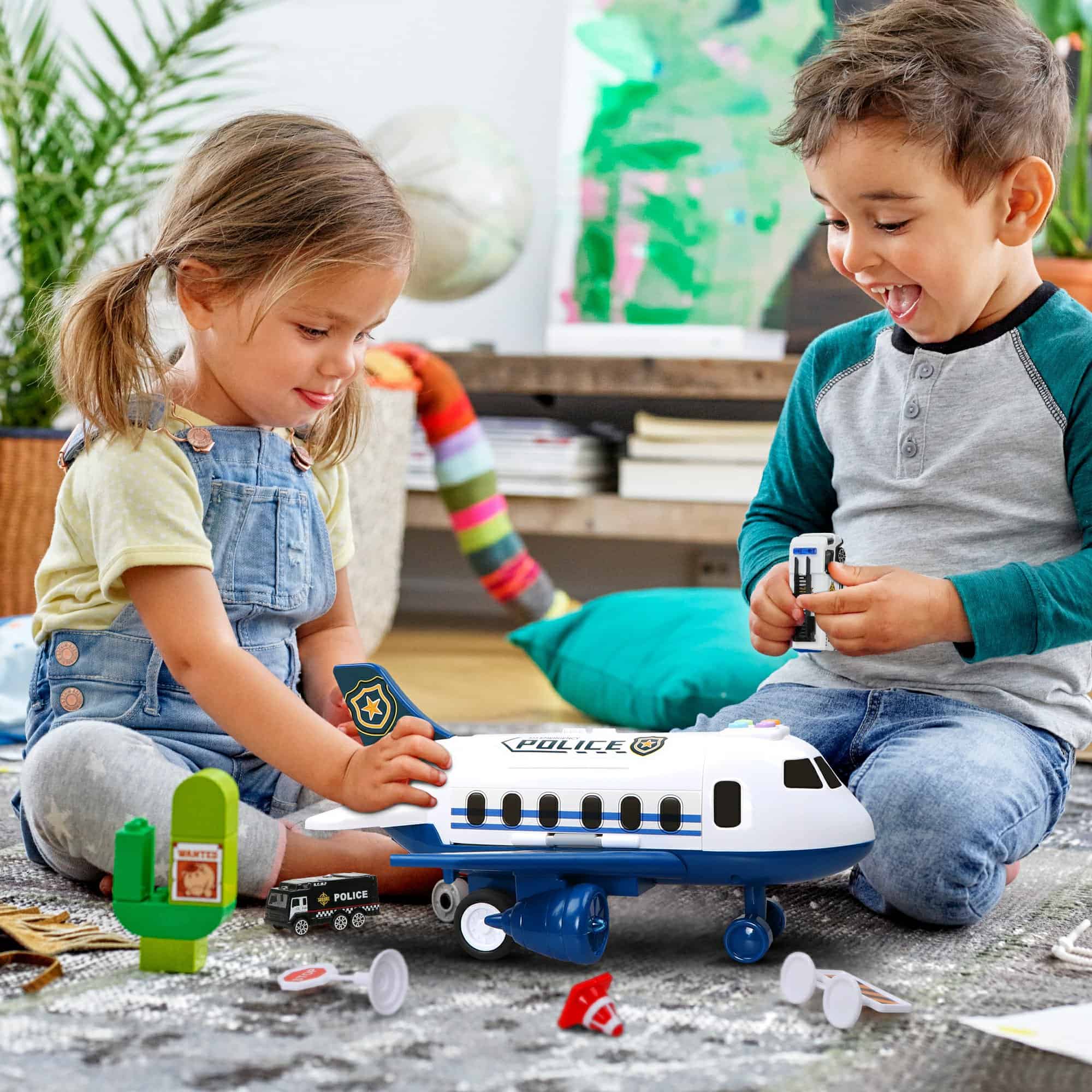 Features
Ages: 3 to 8
Size: 11.8″
Type: Police aircraft model
Activities: Educational play
Pros
The airplane toy set comes with police cars and road signs to help little heroes practice their desired careers for the future
The toy airplane is fully interactive with a roof that opens and buttons to press for sounds and lights, also offering sensory play
Cons
The toy airplane will use many batteries, and kids shouldn't throw it into the air
Remote-controlled toys are a theme on their own. They provide endless hours of exciting, imaginative play in an interactive environment. For example, older children can enjoy controlling a plane as it soars through the skies. I chose this model because it looks like a private farmer's plane. It's also easy to handle and tons of fun.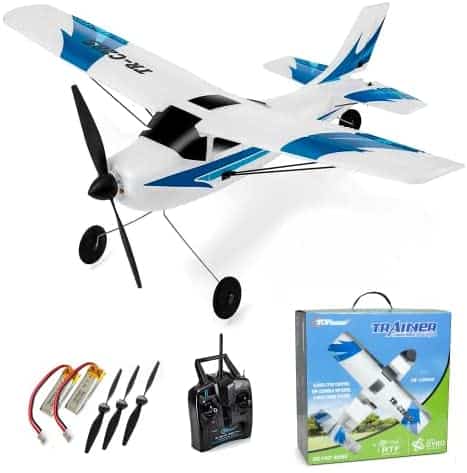 Features
Ages: 8+
Size: 14″
Type: Remote-controlled airplane model
Activities: Interactive play
Pros
The remote-controlled airplane model has an excellent range for kids to fly as high as they wish, and the design is gorgeous for a small private plane
Remote-controlled toys are some of the best flying options for airplane-themed toys, and they encourage kids to spend more time outdoors
Cons
Kids under eight don't play nicely with remote-controlled airplane models
Airplanes and spacecraft aren't the same things, but they offer a similar style of play. The United States Air Shuttle looks like an airplane anyway, and it's a manual launching option for kids to use outdoors again. I love the toy airplane because it reminds me of paper planes I used to throw as a child.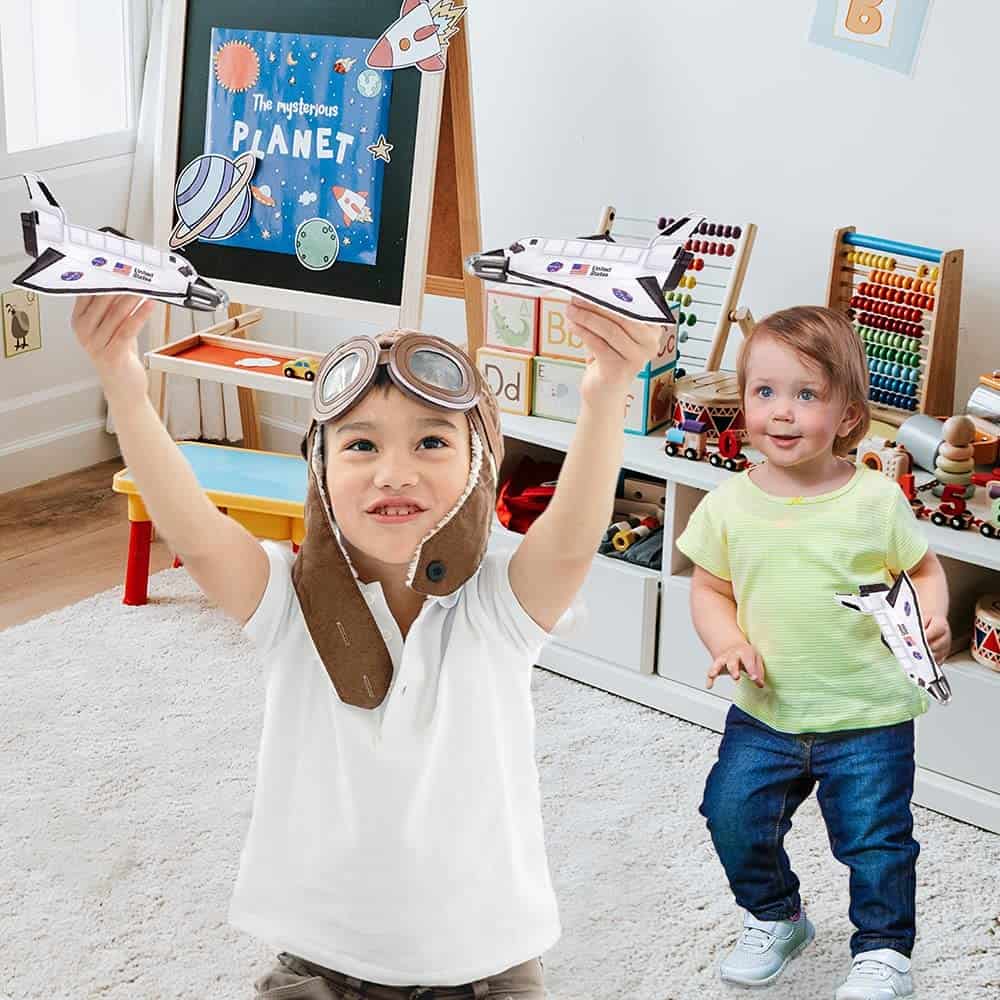 Features
Ages: 3 to 10
Size: 5″
Type: Toy airplane launchers
Activities: Outdoor play
Pros
I can imagine kids throwing the planes around like I did when I made paper airplanes in school
The space shuttle toy set is simple, but it welcomes kids to play outdoors and enjoy a sensory experience
Cons
The paper plane idea might be too simple for some fans of airplane-themed toys
Traffic-themed toys include a wide range, and they might overlap with police and rescue-themed toys. I love this set because it's another educational and sensory opportunity for little fingers. It can inspire kids who love law enforcement or airplanes. It even has some early engineering qualities, thanks to the interactive features.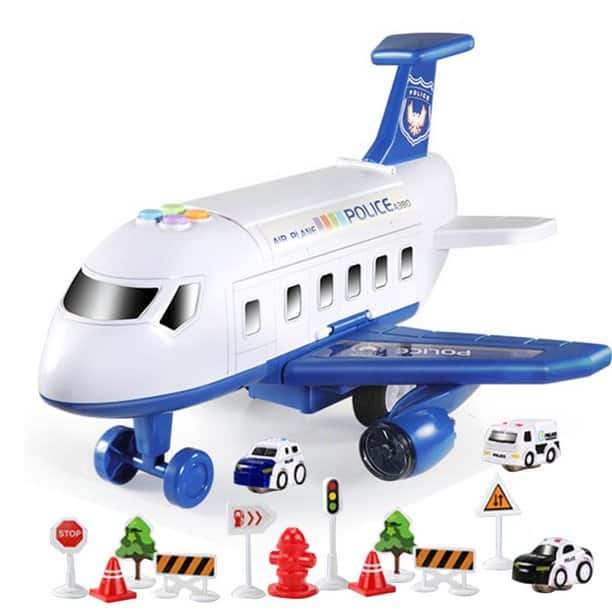 Features
Ages: 3 to 14
Size: 19.69″
Type: Airplane playset
Activities: Interactive play
Pros
Children can enjoy a massive transporter airplane playset that includes police cars, road signs, ramps, ambulances, and a crane attached to the plane
The entire airplane transporter model is interactive with sounds, lights, buttons, cranes that drop the cars, ramps for driving the cars out, and a roof that opens
Cons
The models are PVC instead of die-cast, which doesn't last as long
The vintage-style military airplane model is my favorite because I love collecting toys representing the tragic wars in our world. This little plane model looks like it flew out of WWII and into my heart. It's a tin model and doesn't have much detail, but some of the best collectible airplane toys look simple.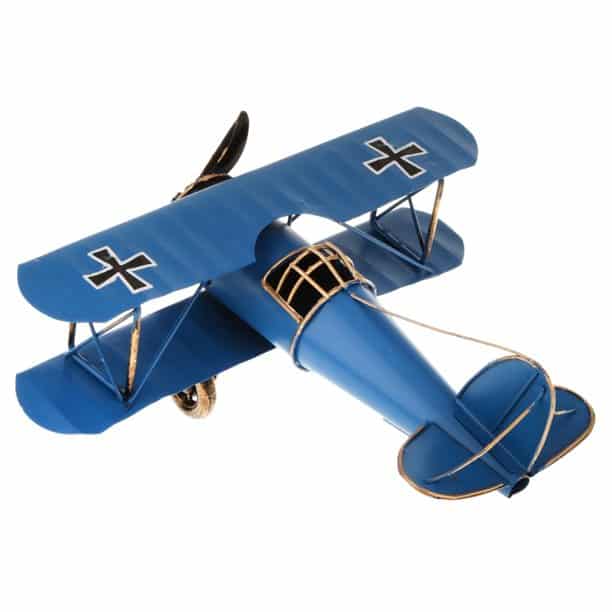 Features
Ages: 8+
Size: 8.27″
Type: Biplane tin airplane model
Activities: Imaginative play (or collecting)
Pros
The Biplane tin model airplane looks like a toy designed by children, but it has the vintage flair I love
The toy airplane model has a pull-back function for kids to play with it, and it comes in some boy's favorite color—blue
Cons
Kids aren't always collectors, and they might want flashy toy airplanes instead of a vintage-style beauty
Top Q&As
Question: Which Airplane-Themed Toys Fly the Best?
Question: Which is the Best Remote-Controlled Airplane Model?
Question: What Skills Do Kids Learn From Airplane-Themed Toys?
Answer: Airplane-themed toys offer a wide range of skills and lessons. Firstly, smaller kids practice their motor skills and get educational benefits from the sensory airplane models with interactive abilities. Older kids benefit from the potential engineering qualities of airplane-themed toys, especially RC model planes.
Best Airplane Themed Toys Guide: Final Flight
My children have massive dreams, soaring above my expectations, and I'm ready to encourage their fantasies. The only priority you have is picking the sub-theme for a child who loves airplane-themed toys. The Best Cartoon-Themed Airplane Toy is fabulous for little girls who love cartoons.
The Best Fire & Rescue-Themed Cargo Airplane Toy is fantastic for kids who dream of being firefighters and pilots. The Best Lego-themed Airplane Building Kit works if your kid loves model-building. My ultimate favorite airplane-themed toy is the Best Vintage Military-Themed Airplane Toy because I'm a collector.
However, the Best RC-Themed Airplane Model offers an outdoor experience with countless benefits for my kids. My son loves all things military and airplanes, so he would go wild for the Best Military-Themed Cargo Carrier Airplane Set. Aim to find your child's innate passions, even those underlying the airplane passion.
You can pick the best airplane-themed toys to suit your child's every passion once you can see where your child's dreams are heading. So, click to buy your child's encouragement today.
For more incredible toys:
Best Garbage Truck Toys Guide – Avid Toy Insider
11 Best Mickey Mouse Clubhouse Toys – Avid Toy Insider