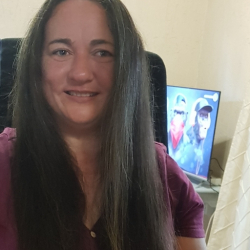 Latest posts by Caroline Lambert
(see all)
My kids taught me something: I have to consider their excitement more than educational playtimes once in a while. So, for once, I put the educational benefits of toys aside to focus on the best horse-inspired toys guide for little ones to have hours of fun with their dream animals. Which little girl doesn't dream of owning a pony?
Sometimes, my greatest feet is to let the toys do what they need to without interfering and controlling how my children grow and develop. Every horse-inspired toy is ideal for a specific age group to match various enjoyable playtime activities. It also welcomes children to enjoy their favorite themed toy.
Horse-inspired toys also come in various types, so you can leave kids to unravel the joys and wonders of each pony toy. Welcome to my stable, where fun, excitement, and laughs are encouraged.
Straight to the Point: Every Girl's Dream on a Plate
Children who love ponies don't horse around. But, a child's passion matters more than you think, and I'm here to share the secrets to using their passion for creating opportunities. However, I'll dive into the details soon enough. But first, I must share the top horse-inspired toy for little girls.
The Festival Spirit Untamed Horse Styling Set is my top pick. It allows little girls to enjoy multiple passions, including mane styling, pony grooming, and imaginative play. The horse has a beautifully long mane for girls to enjoy, and they get numerous brushes and grooming tools.
I'll share more reasons I love the top pick soon, but I also found other incredible horse-inspired toys. Look at my top picks before finding out the secrets behind horse-inspired toys.
My Top Horse-Inspired Toys at a Glance
Guidelines for the Best Horse-Inspired Toys
Horse-inspired toys can bring more than joy to children who love ponies and unicorns. First, let me share how I saw one of my daughter's deepest passions, making her determined to overcome obstacles as a tiny toddler. Then, I'll show you how to turn it into great parenting that doesn't require the helicopter methodology.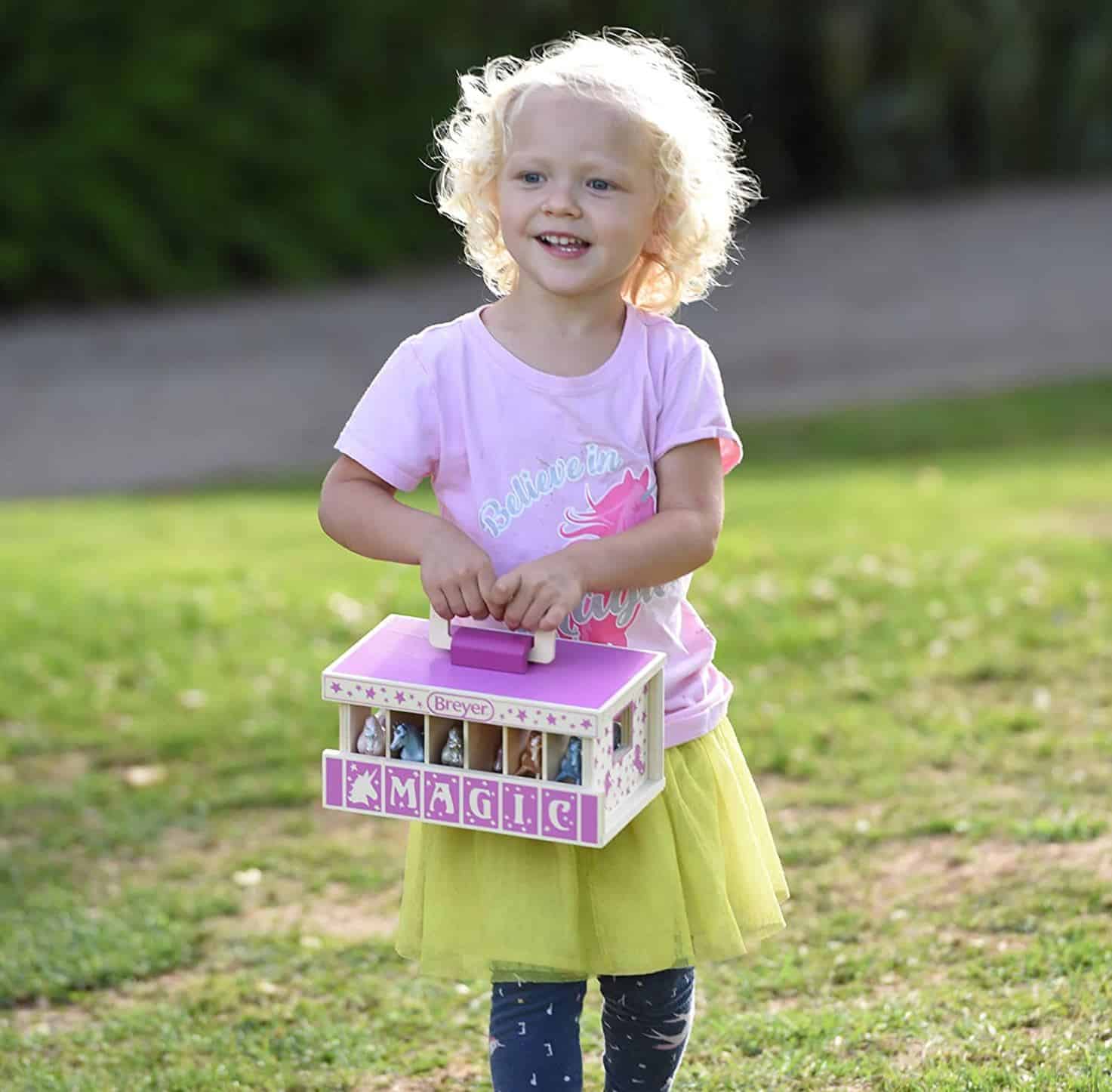 Finally, I'll share how I selected the best horse-inspired toys because that's why you're here.
Bucking, Nickering, and Neighing
My daughter loved ponies, unicorns, horses, and everything that galloped or trotted. It was her passion, and she asked for a pony like many girls who don't understand the issues behind horses and their maintenance. I apologize for the old photo and poor quality, but this was the reality of my little girl's dream.
Meet Apache, the pinto pony who lived on a coastal farm, where my family lived to revive the farm for three months. My daughter wasn't even three, but she loved this pony. It didn't matter how much Apache resisted being her pony; she was always determined to befriend the feral horses on the farm.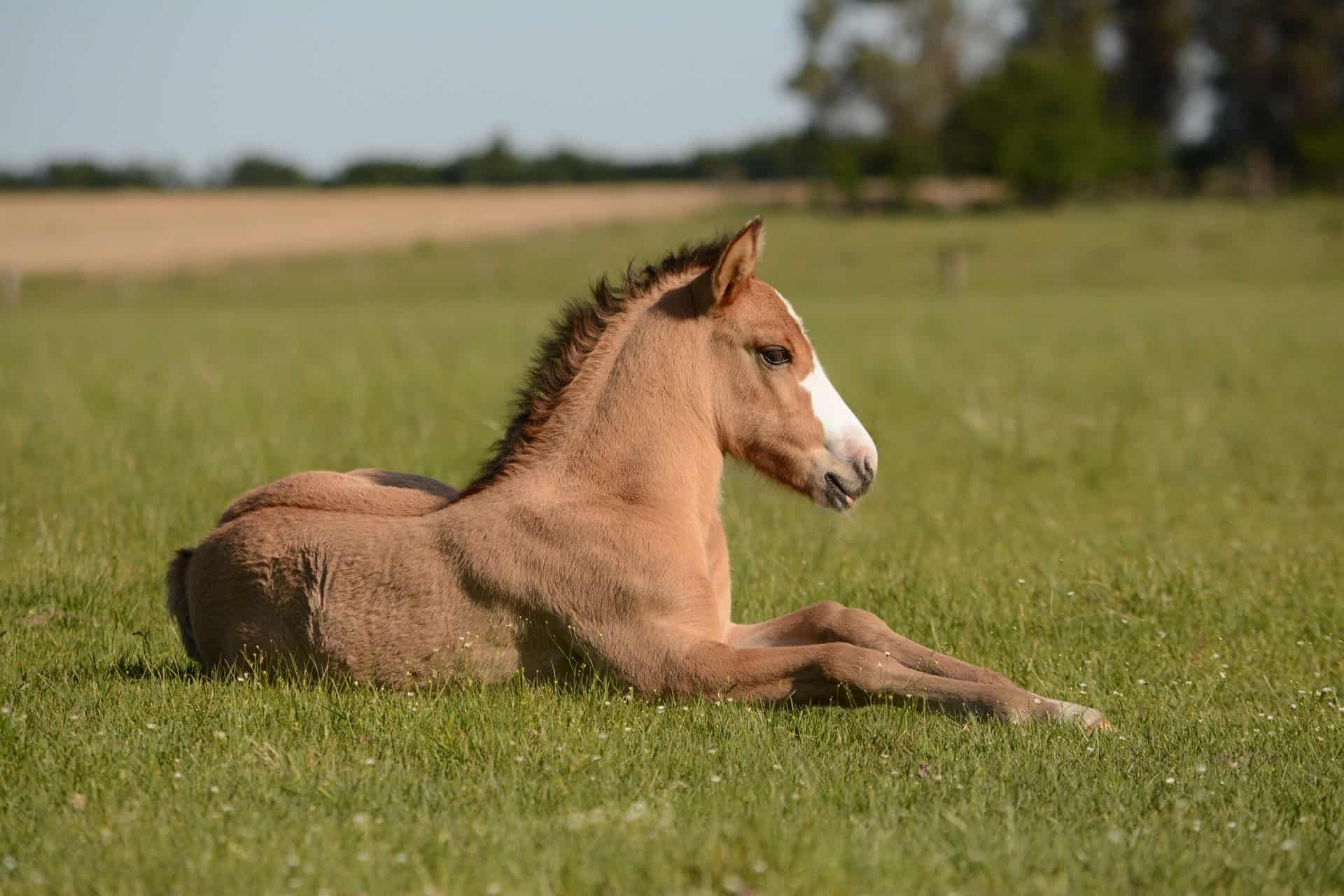 My daughter's determination to overcome Apache's resistance to human care as a tiny toddler opened my world to the possibilities behind a child's dream. I bought my daughter every pony toy I could find, including unicorns. Determination is a child's gateway to opportunity in life.
My daughter's favorite toy themes became anything with ponies, horses, and unicorns. She still loves her ponies today, even if I can't keep one in a stable. It's one of her foundational toy and plush themes. I leave her to enjoy it because passion paves opportunities, which leads to my advice.
Advice for Horsing Around
Admittedly, I don't lose control when I give my children the space to enjoy their favorite toy themes. On the contrary, it helps them delve into the most precious playtime activity. I've always been a control freak (maybe even a helicopter mom). Still, I give my children enough space to explore their best playtimes.
In this case, imaginative play is the gateway to everything their creative individualism wishes to explore. Don't you know you can take a pony to water but not force it to drink? The same applies to controlled playtime. Sometimes, it's best to let go. Instead, let children use their loved themes to explore their imaginations.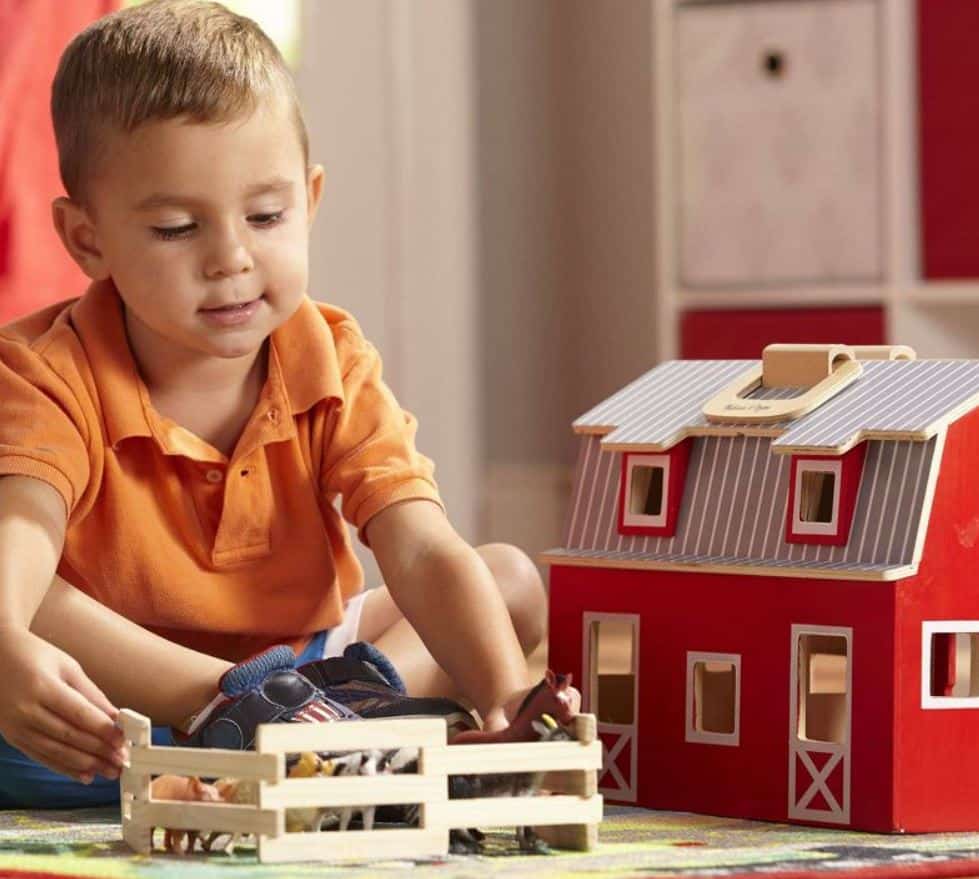 Some benefits of imaginative play include the support to develop:
I know it's challenging, but my essential advice is that you give children some space to explore their best-themed toys for an imaginative experience.
How to Select the Best Horse-Inspired Toys
Boys also dream of horses and riding them into towers to save princesses. However, it's more of a girl's dream to play with horse-inspired toys. Therefore, my first selection rule is that the toy should appeal to girls. Secondly, I want various toy types because not every little girl loves every toy.
I'll pick as much variety as I can find for toy types. Finally, I want horse-inspired toys that encourage children to seek imaginative play activities. It would be best if they motivated children to enjoy multiple activities.
Best Horse-Inspired Toys Guide: The Neighs of Every Girl's Dream
Many beautiful horse-inspired toys exist for various kids. So, let's see which toys made my list and why. I'll also share the appropriate ages because different horse-inspired toys would work beautifully for various girls. In addition, I'll show you which activities and types apply to each toy.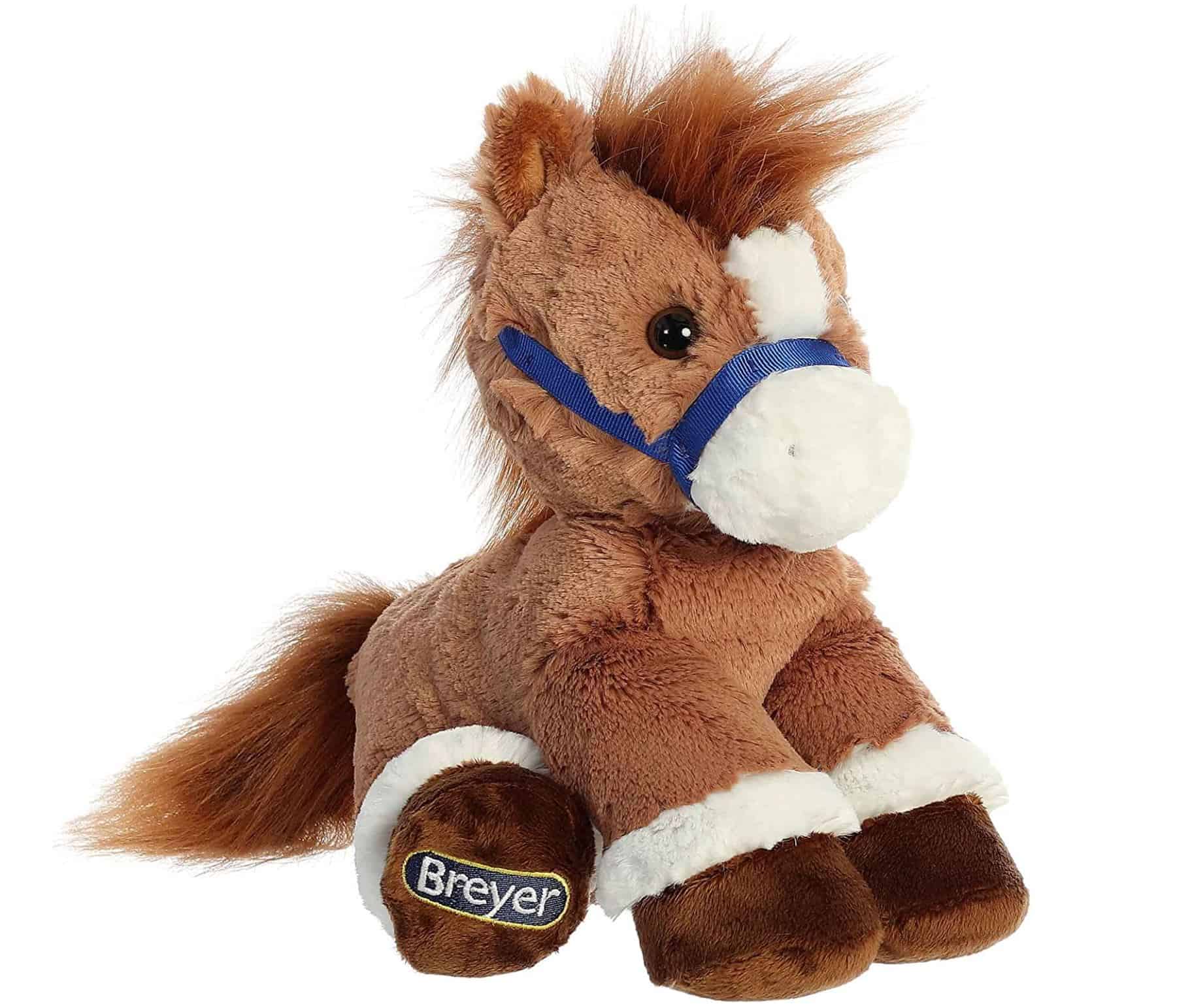 The world would be sad without ponies and plush, or am I being silly now? Admittedly, there's an ocean of gorgeous plush horses for little girls. Each one is more adorable, and it took me longer than I'd like to admit to pick this lovely pony plush. It looks like a puppy crossed with a pony, and what beats that?
Horse Toy-Facts
Type: Horse plush or stuffed animal
Activities: Imaginative and sensory play
Ages: 3+
Horse Toy-Pros
The adorable plush pony looks like the ideal friend for a little child who loves seeing horses on farms and cartoons
I love the mane and tail because they offer sensory experiences for younger kids who need to explore with their fingers
The pony toy's position increases the cuteness tenfold, while the face welcomes children to play
Horse Toy-Cons
Plush toys only work for kids over three, but you can supervise younger toddlers and babies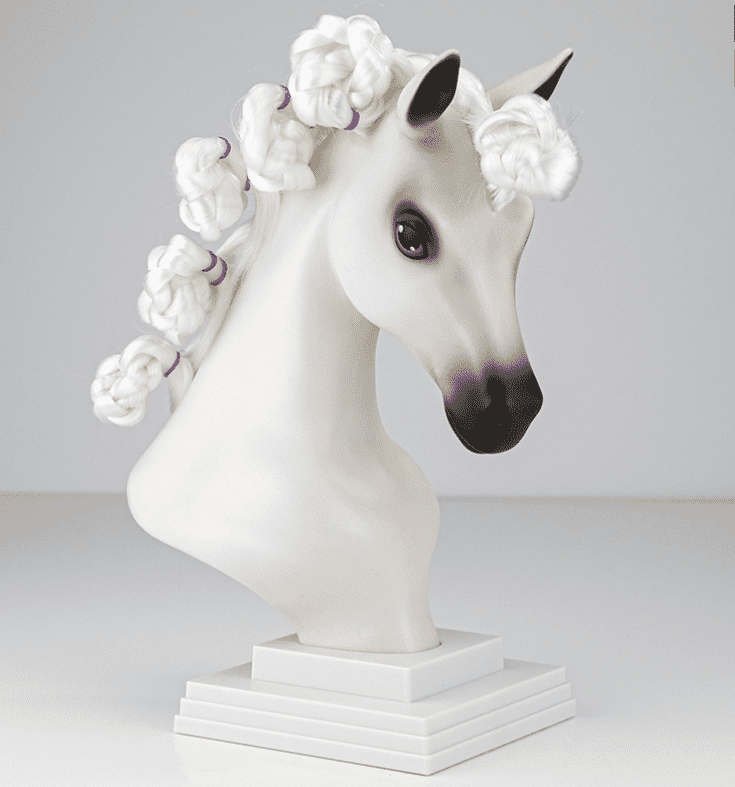 Mane styling heads are massively popular with little girls today. They love playing with hair, and horse's manes are the next best thing. It allows children to explore styling and creativity while they enjoy their favorite animals. I picked this Sunset styling head because it has more accessories and a prettier pony face than most.
Horse Toy-Facts
Type: Creative toy, doll, and figure
Activities: Creative and imaginative play
Ages: 5+
Horse Toy-Pros
The styling pony head encourages little girls to express their creative and fashionable sides to make a beautiful horse
The horse's styling head playset comes with 50 accessories to help girls enjoy different styles
Kids also get a booklet to inspire their creative styling, and the pony's face is pretty with girly eyes
Horse Toy-Cons
Creative toys with this many small accessories are best suited to kids over five
My daughter would never forgive me for not adding unicorns to a horse-inspired toys guide. Indeed, she browses my articles and gives me recommendations for toys she'd love. Who better to ask about toys than a child? So, I ensured my daughter would be happy with a set of six unicorns and a gorgeous glittery stable.
Horse Toy-Facts
Type: Horse figures and classic wooden playsets
Activities: Imaginative and creative play
Ages: 4+
Horse Toy-Pros
The stables contain six beautiful unicorns, each with a unique personality, style, and sparkle to make girls happy
The unicorn toys can move in and out of the play stables because the doors open for cause-and-effect activities
The stable wooden carrier allows little girls to take their favorite unicorn toys anywhere, even on travels
Horse Toy-Cons
The unicorns are beautiful, but they don't have soft manes or articulation points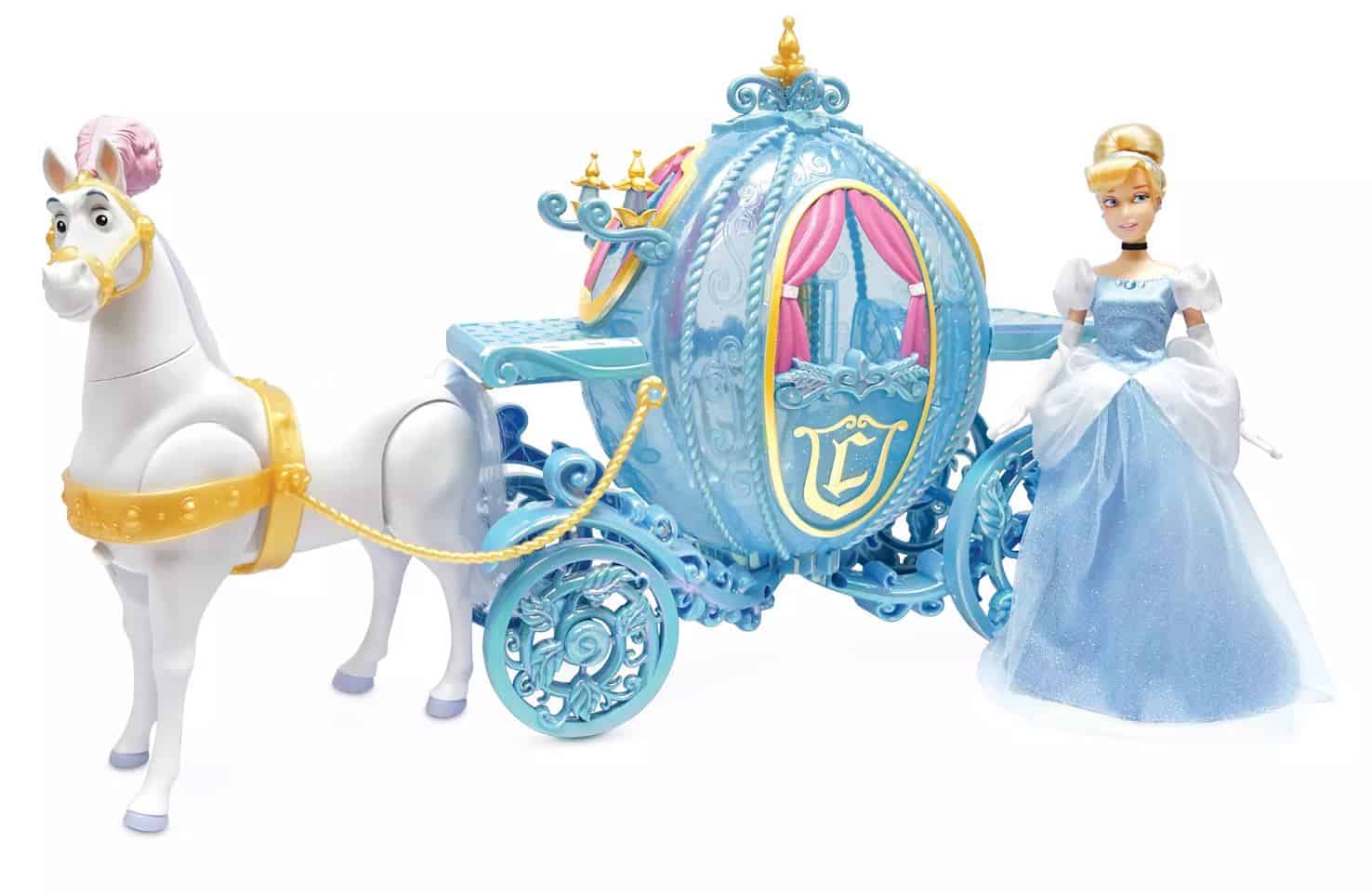 Disney brought many fairytales to life with horses and ponies. The knight in shining armor always arrives to save the day on a beautiful steed. However, Cinderella's playset includes the famous horse and carriage she got from her fairy godmother. Most little girls know the story and would love to replay the scenes.
Horse Toy-Facts
Type: Horse and carriage figures
Activities: Imaginative and interactive play
Ages: 3+
Horse Toy-Pros
Little girls can enjoy a fully-articulated horse and Cinderella figure to recreate the memories from a classic Disney movie
The toy horse is battery-operated for interactive play, and it moves slowly as the carriage lights up
The entire horse playset is girly and pretty to appeal to most girls, and they get a Cinderella doll included
Horse Toy-Cons
Parents aren't always keen on battery-operated toys because they buy endless batteries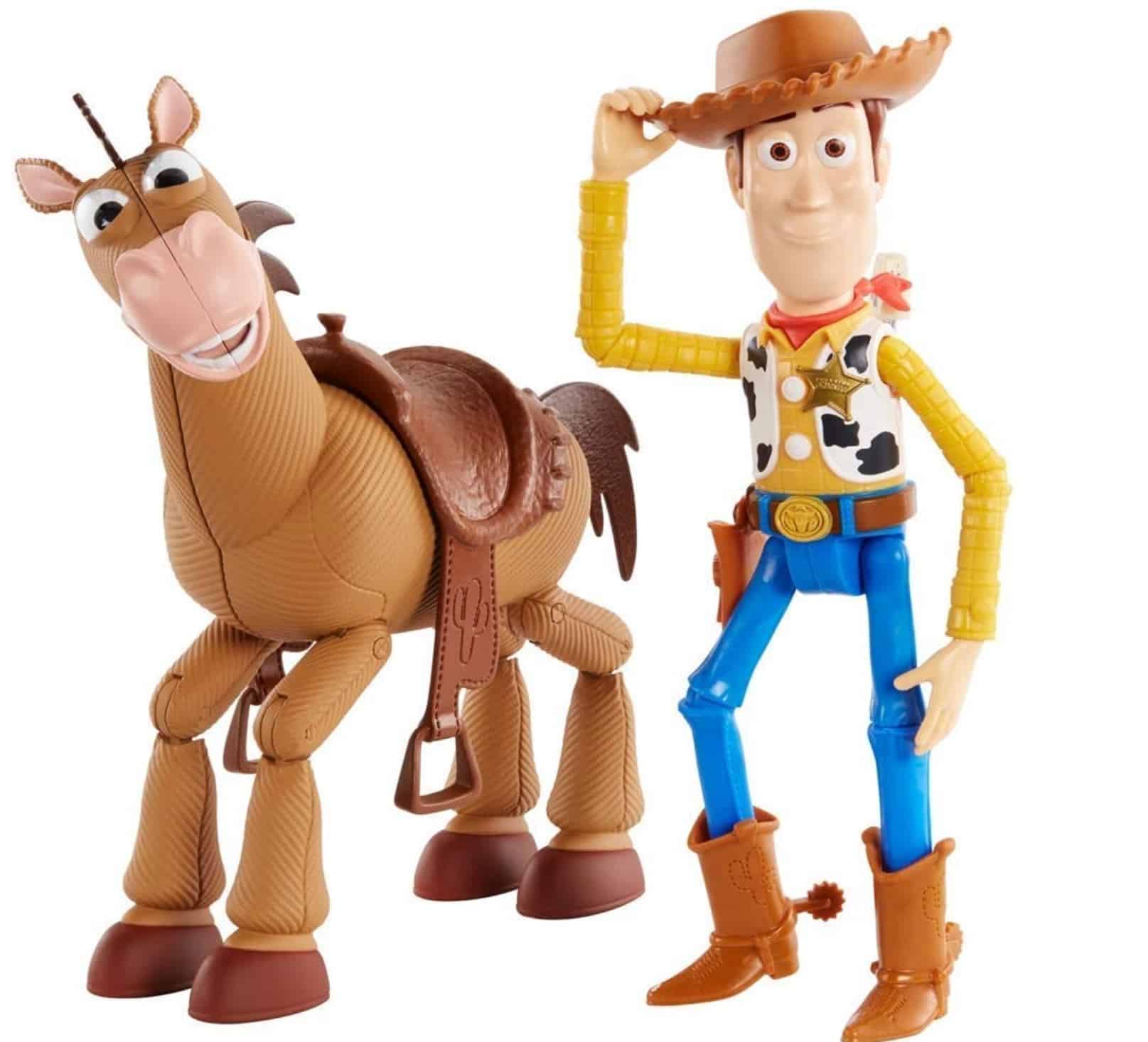 Toy Story is one of Disney's most touching movies, and little girls love Woody and Bullseye. My son loves Toy Story as much as my daughter cries during the sad moments. It's a classic from which I can't avoid adding a horse-inspired toy. Woody and Bullseye come as a duo of articulated figures for storytelling and joyful play.
Horse Toy-Facts
Type: Toy Story Bullseye figure
Activities: Interactive and imaginative play
Ages: 3+
Horse Toy-Pros
The Disney Pixar franchise, including Toy Story, is undoubtedly a must-own for horse toy lovers
The Woody and Bullseye figures have enough articulation to position them in any way kids can imagine
Bullseye has a gorgeous saddle that allows Woody to ride him comfortably during playtime activities
Horse Toy-Cons
Some parents might see this playset as a boy's option more than a girl's toy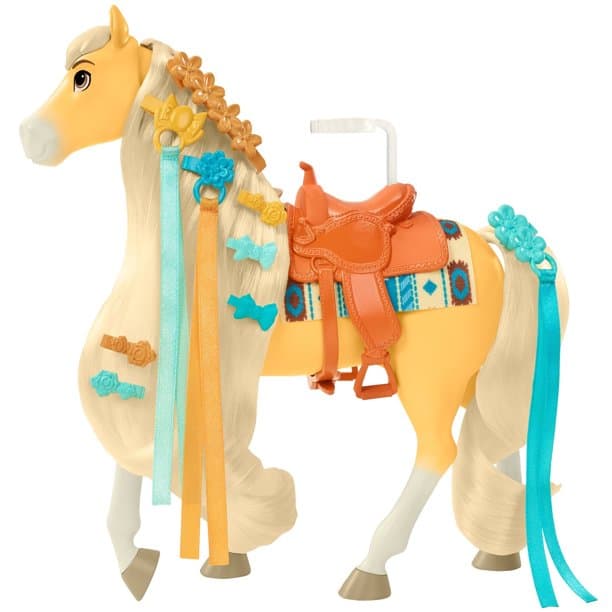 Horse-styling heads and playsets are the ideal pony-inspired toys for little girls. I love watching my daughter be creative with her pony playsets. Sometimes, the poor pony's mane looks questionable, but she creates gorgeous patterns and pleats other times. I love this set more than styling mane heads because it's a horse.
Horse Toy-Facts
Type: Horse styling figure playset
Activities: Creative and imaginative play
Ages: 3+
Horse Toy-Pros
The pony-styling playset is an entire horse that allows little girls to be creative on the mane and tail
The Spirit Miradero Playsets will enable you to add dolls and figures that ride the ponies and are affordable
The accessories include ribbons, pins, and a brush for little girls to go wild with the horse's hair
Horse Toy-Cons
The pieces are undoubtedly too small for kids under three to enjoy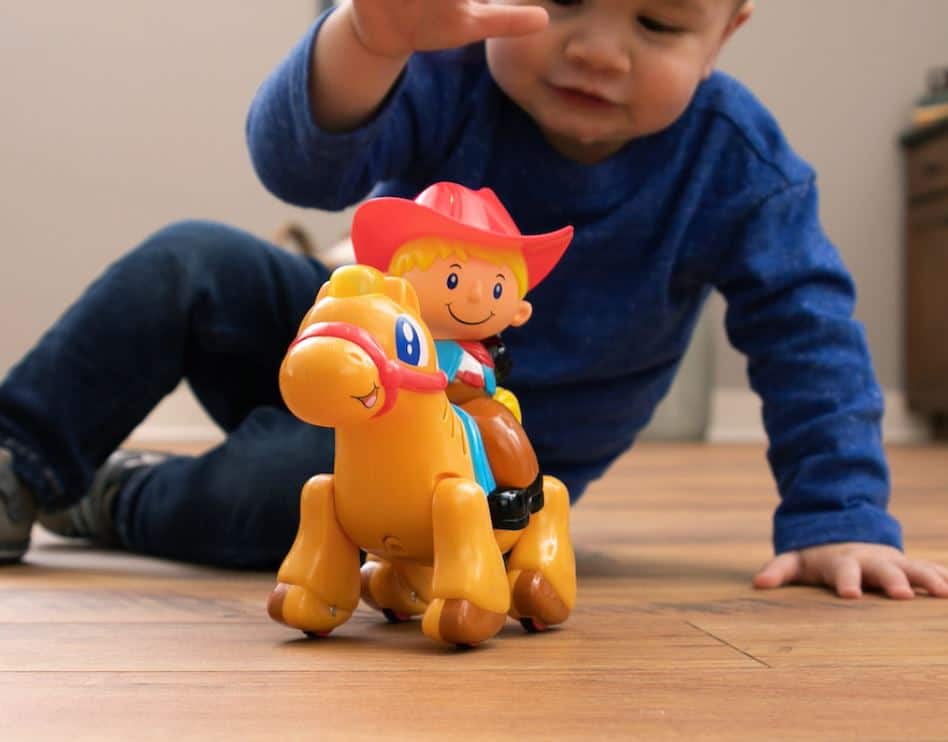 Many beautiful horse-inspired toys exist, but not many of them appeal to babies and young toddlers. I love the Giddy Yup Cowboy and Horse Playset because it's an interactive experience with sensory playtime for young toddlers. All the fun begins with a child pressing the cowboy's hat down for an interactive experience.
Horse Toy-Facts
Type: Interactive horse and cowboy figures
Activities: Imaginative and sensory play
Ages: 1+
Horse Toy-Pros
Little girls can enjoy the cowboy and horse figures by pushing them around for a cause-and-effect lesson
The toys are simple and have no choking hazards, making them suitable for 1-year-olds
The pony and rider playset comes battery-operated with sounds, lights, and effects to stimulate a child's brain
Horse Toy-Cons
Again, you might not be a huge fan of toys that require mountains of batteries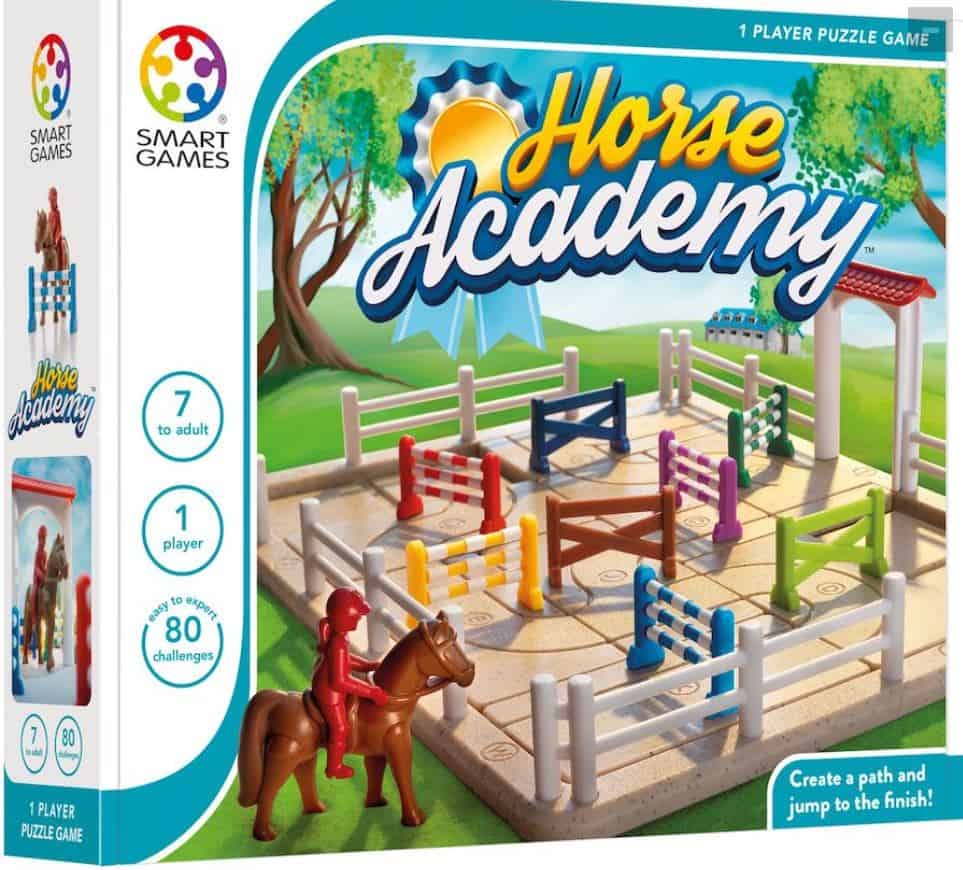 I love this equestrian playset because it looks like nothing until you realize the potential. Little girls would welcome the opportunity to figure out different ways to get from point A to B. They pick the path by placing the hurdles along the board, and they must find ways to jump the pony to the end.
Horse Toy-Facts
Type: Horse figure and pony puzzle
Activities: Imaginative and educational play
Ages: 7+
Horse Toy-Pros
The horse puzzle playset encourages a new skill in children, problem-solving because they have to find a way to the end
The horse playset has 80 different challenges for little girls to explore their problem-solving skills
Rearranging the hurdles on the board is as simple as sliding them into place, and kids learn patience because some layouts won't work
Horse Toy-Cons
The set undoubtedly appeals to older girls who have some foundation of critical skills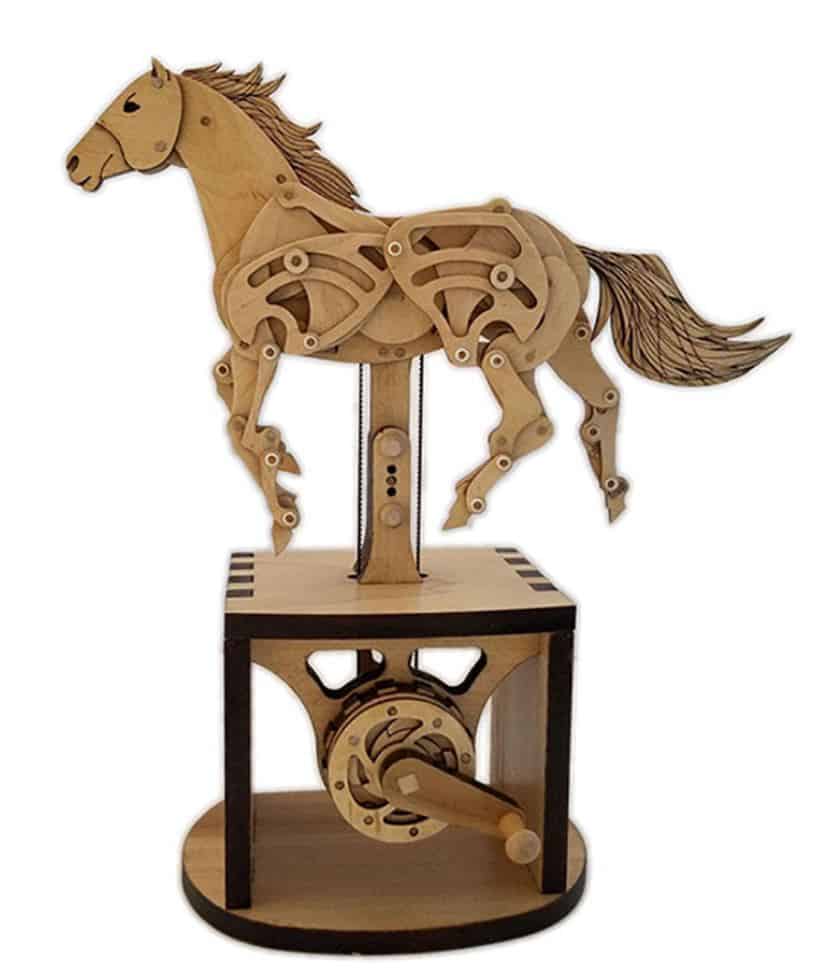 My daughter is eight now, turning nine soon. I love challenging her critical thinking with famous horse-inspired toys. However, I don't want her to feel like everything's a lesson. Instead, she must enjoy every moment of her experience with these toys. Additionally, the mechanical part brings her more joy as a bedroom decoration.
Horse Toy-Facts
Type: Interactive horse puzzle
Activities: Constructive, educational, and imaginative play
Ages: 5+
Horse Toy-Pros
The 3D wooden horse puzzle is a challenge for young minds looking to find more than imaginative play
The playset encourages constructive play before welcoming little girls to enjoy the mechanical movements of their beautiful horse
The mechanisms are simple enough for young kids, and it's a classic wooden toy made to last
Horse Toy-Cons
Kids under seven might need help building the horse puzzle before they enjoy the interactive qualities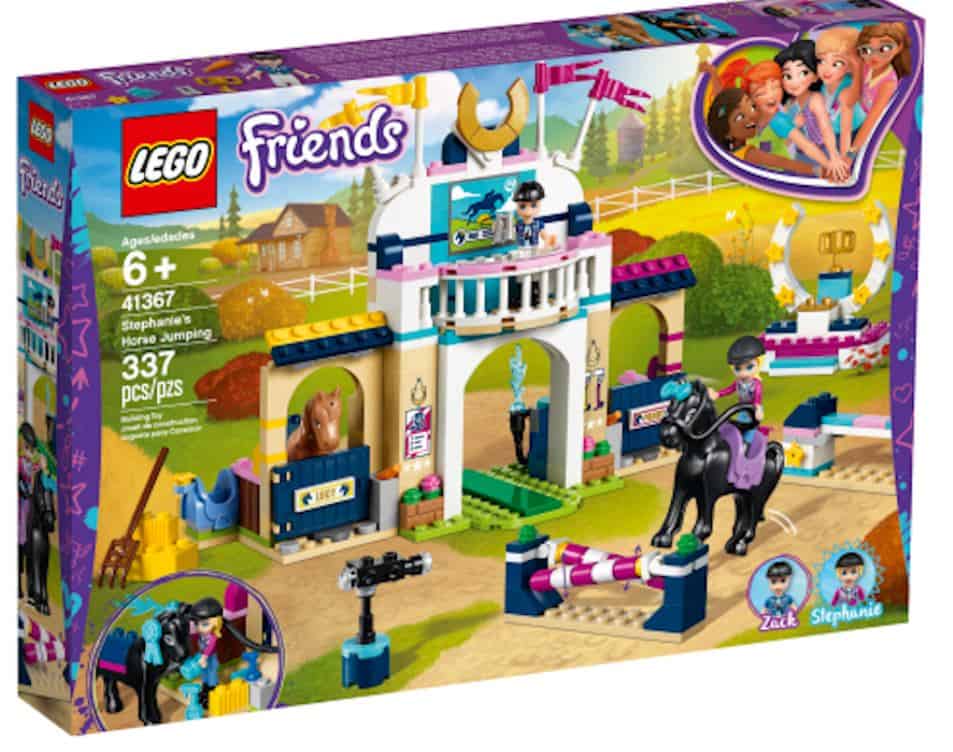 LEGO opens a child's mind and joy to endless opportunities, and a few horse-inspired building kits exist. I love this LEGO set because it's a classic that includes a rider and his pony. It also allows little girls to play imaginative games like horse-jumping and grooming. In addition, it comes with an interactive stable and balcony.
Horse Toy-Facts
Type: Horse building kit
Activities: Imaginative and constructive play
Ages: 6+
Horse Toy-Pros
The horse-inspired LEGO building kit has everything a little girl wants in a pony playset without going overboard
The building kit welcomes little children to enjoy constructive play without breaking their excitement
It's a simple set with 337 pieces for younger children to enjoy building, and the accessories include two horses, two riders, jumping hurdles, horse-grooming tools, and a stable
Horse Toy-Cons
Unfortunately, the horse-inspired LEGO building kits only appeal to kids over six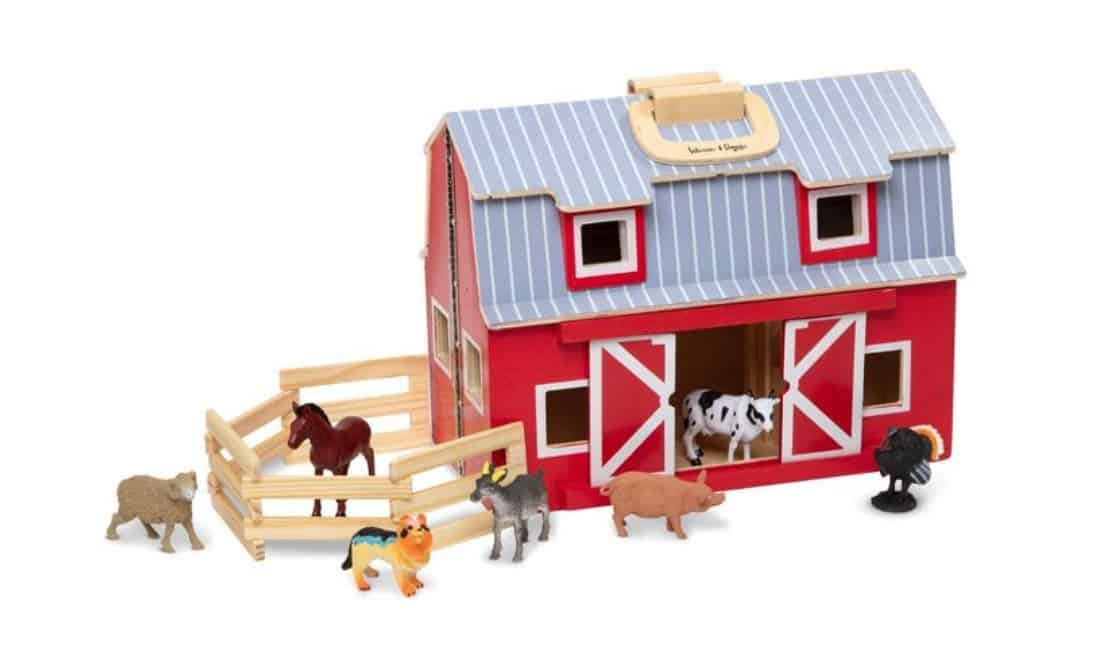 Let's dive back into a horse-inspired playset that welcomes younger toddlers. Sensory play is an essential part of toddlerhood. An animal playset with various textures can help little ones experience joy and necessary explorations. Animal figures are one of the classic toy types, and this one includes more than a horse.
Horse Toy-Facts
Type: Classic wooden toys and animal figures
Activities: Imaginative and sensory play
Ages: 3+
Horse Toy-Pros
The classic farm, barn, and animal figure playset comes with a gorgeous toy horse to run in the paddocks
The wooden barn comes complete with moving parts, sliding doors, and a middle separation for kids to explore
Every animal has a different feel, including the horse, which helps little fingers enjoy sensory playtime
Horse Toy-Cons
The playset only comes with a single horse figure, and some kids would prefer more ponies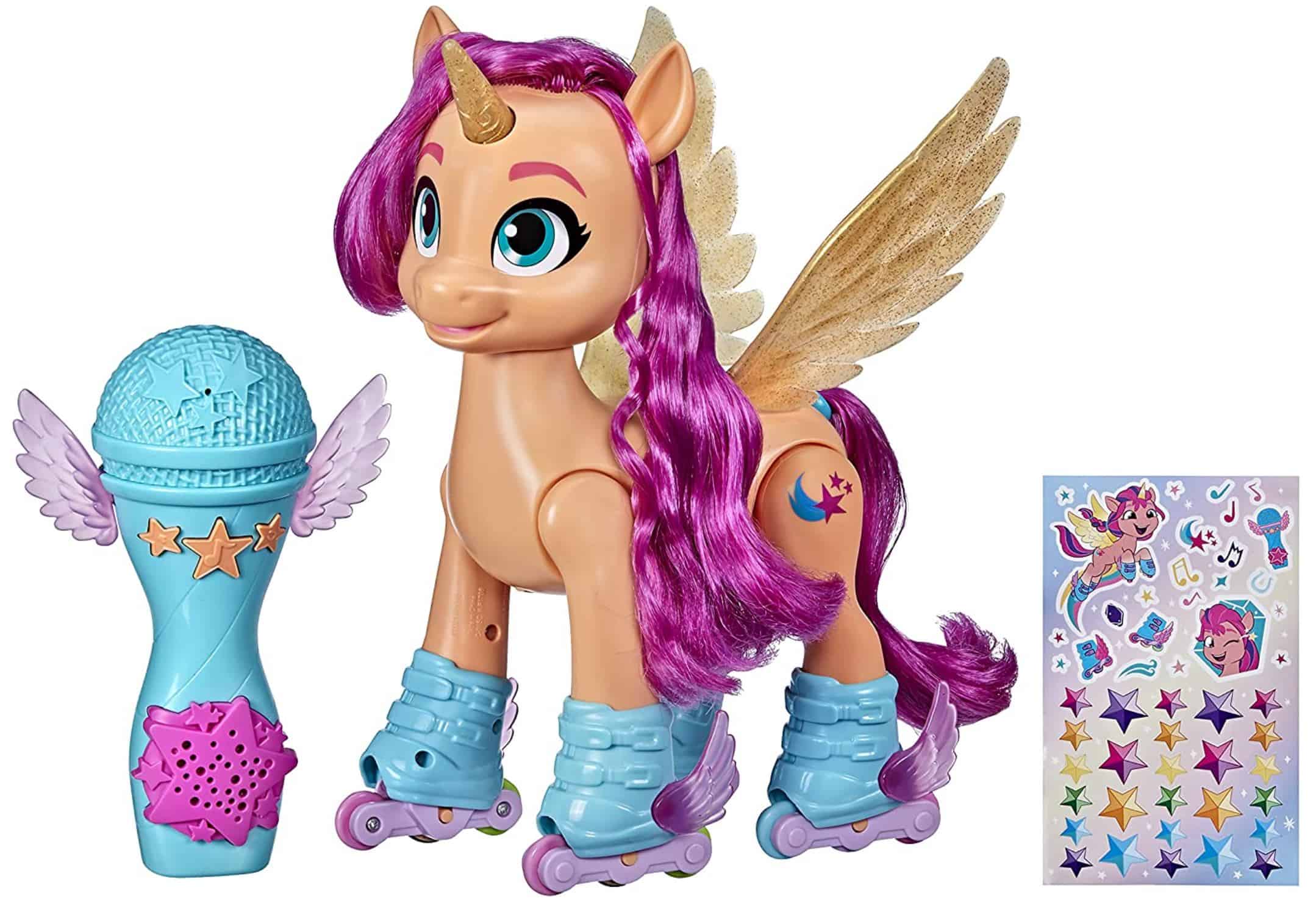 My Little Pony is a brand I couldn't avoid with horse-inspired toys. Ponies, horses, pegasi, and unicorns are part of the My Little Pony franchise, and every little girl knows and loves them. Sunny Starscout is the center of attention in this playset. She has interactive, remote-controlled, and musical abilities.
Horse Toy-Facts
Type: Remote-controlled and musical horse
Activities: Imaginary, interactive, and musical play
Ages: 5+
Horse Toy-Pros
My Little Pony brings to life my daughter's ultimate horse-inspired toy because she's also highly musical with proud talents
The remote-controlled pony unicorn skates around on cue, sings her heart out, and spings in circles when children sing into the microphone
My Little Pony's musical Starscout toy is an exceptional experience for little girls who love songs, ponies, and pretty, glamorous toy designs
Horse Toy-Cons
Unfortunately, it needs batteries and would make plenty of noise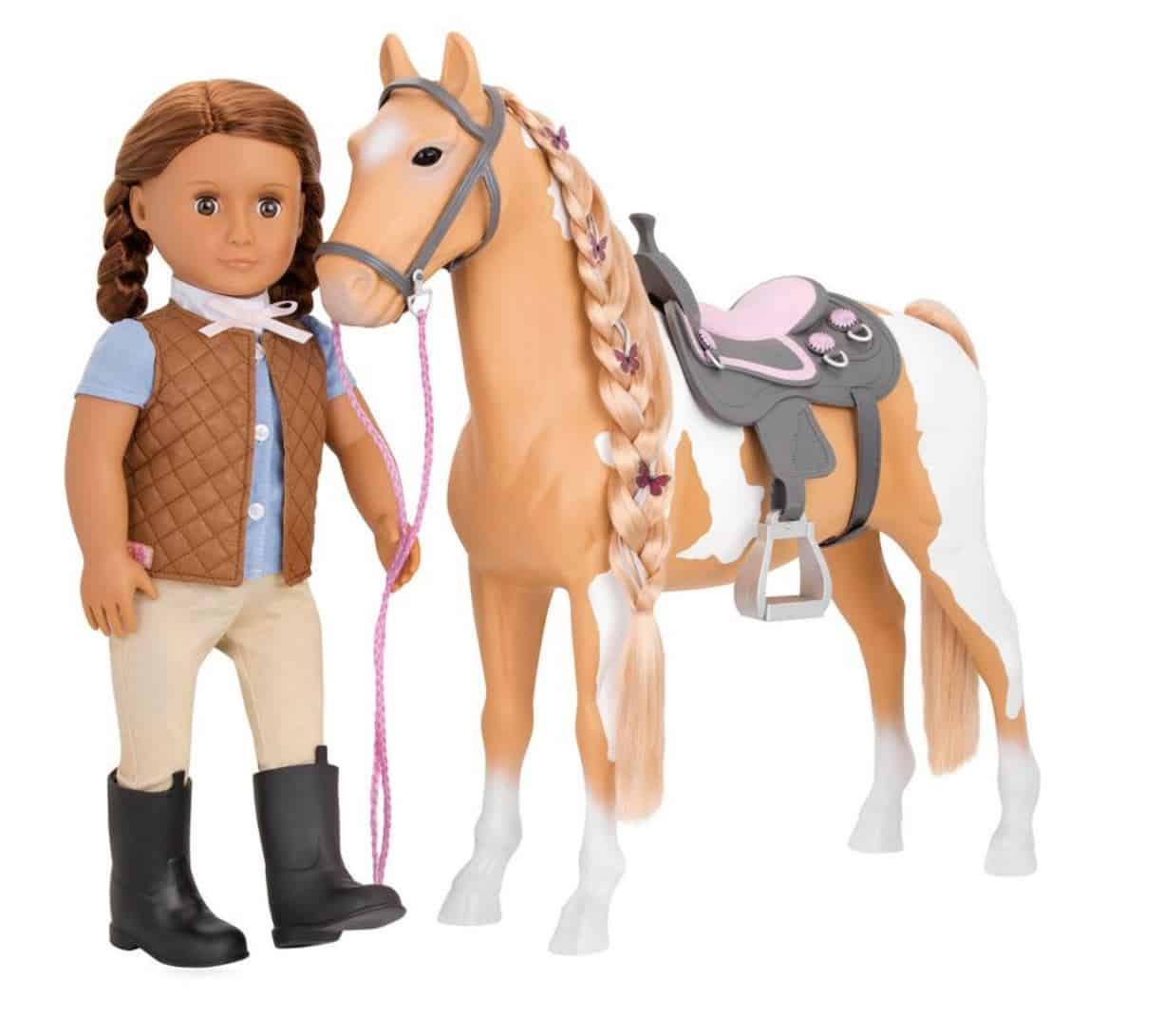 Creative horse-inspired toys also include painted beauties that fit with most 18-inch dolls, including American Girl. In addition, kids can enjoy a more prominent horse figure with long hair to pleat and enjoy, and they can help their favorite dolls ride the toy ponies. I love this pony because it's a beautiful Palamino.
Horse Toy-Facts
Type: Paint-a-horse figure and creative hair-play toy
Activities: Creative, imaginative, and sensory play
Ages: 3+
Horse Toy-Pros
The painted Palamino horse is more significant than most pony-styling kits for little girls, and the hair is super long
The gorgeously Palamino is one of the prettiest horses in the world, and it comes with brushes and other accessories to encourage creative play
The Palamino styling horse toy also has a solid saddle to help secure dolls for a ride
Horse Toy-Cons
It's a pity this horse-inspired toy doesn't suit kids under three because of the smaller parts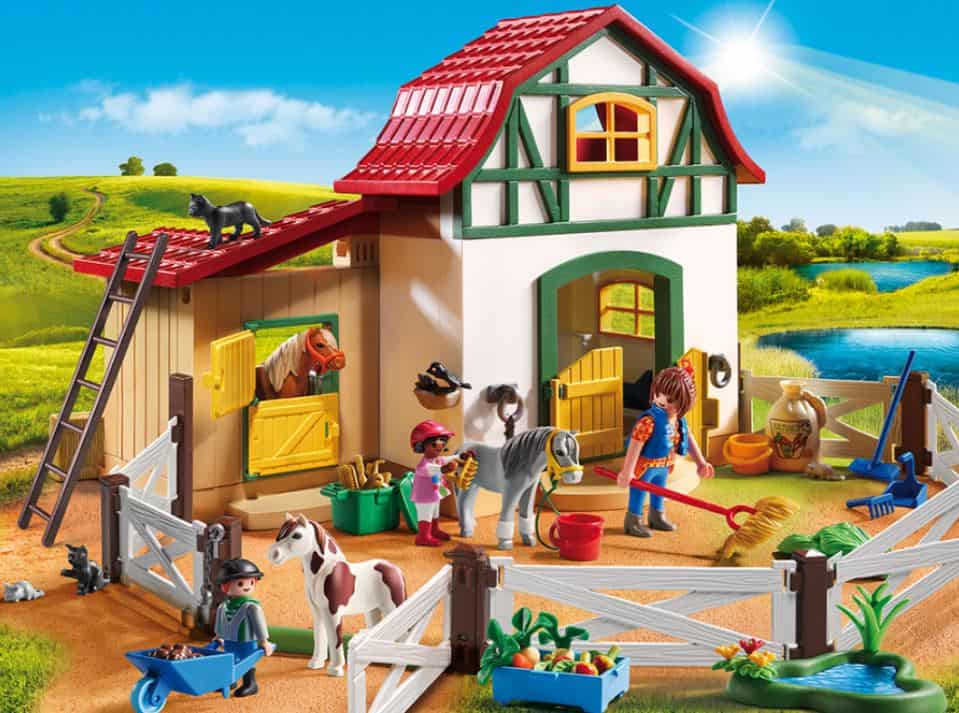 Pony farms and playsets are popular choices; you can find a few different types. For example, the Playmobil Pony Playset looks like a working farm, allowing children to play the "farm life" better. It includes farmers, cats, brushes, brooms, and rakes. I imagine playing ponies and farms on The Sims with this type of playset.
Horse Toy-Facts
Type: Farmhouse playset with pony figures
Activities: Imaginative and creative play
Ages: 3+
Horse Toy-Pros
The pony playset inspires children to play imaginary games like farming, grooming, gardening, and house
I'm impressed by how many accessories and details go into this playset, even including a ladder, interactive stable doors, and a little veggie garden
This farmhouse playset comes with three gorgeously unique ponies with brilliant colors and a double-story barn with hayloft
Horse Toy-Cons
I'm asking too much because the set is beautiful, but I wish the horses had movable joints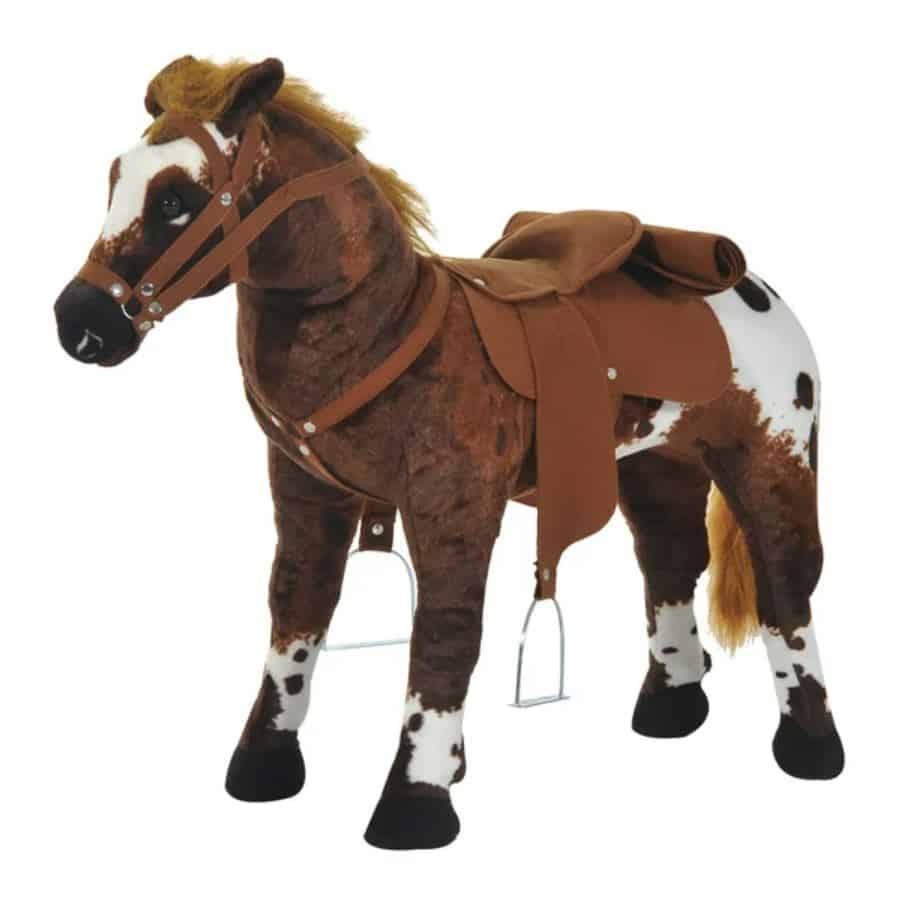 My little girl couldn't ride Apache on the farm because she was too young, and the pony was feral. He had an attitude to match his patches, and I couldn't allow my two-year-old to ride him. So instead, I looked for a ride-on pony when we returned to the city. This ride-on pony doesn't look the same, but it works perfectly.
Horse Toy-Facts
Type: Ride-on pony
Activities: Imaginative, interactive, and physical play
Ages: 3+
Horse Toy-Pros
The ride-on plush pony is as close as most children get to ride horses, especially if they live in the city
It's one of the few horse-inspired toys that welcome children to exercise outside while riding their dream ponies
The ride-on pony has excellent details and is an interactive model with accurate horse sounds
Horse Toy-Cons
I'd introduce a younger child to this ride-on pony under strict supervision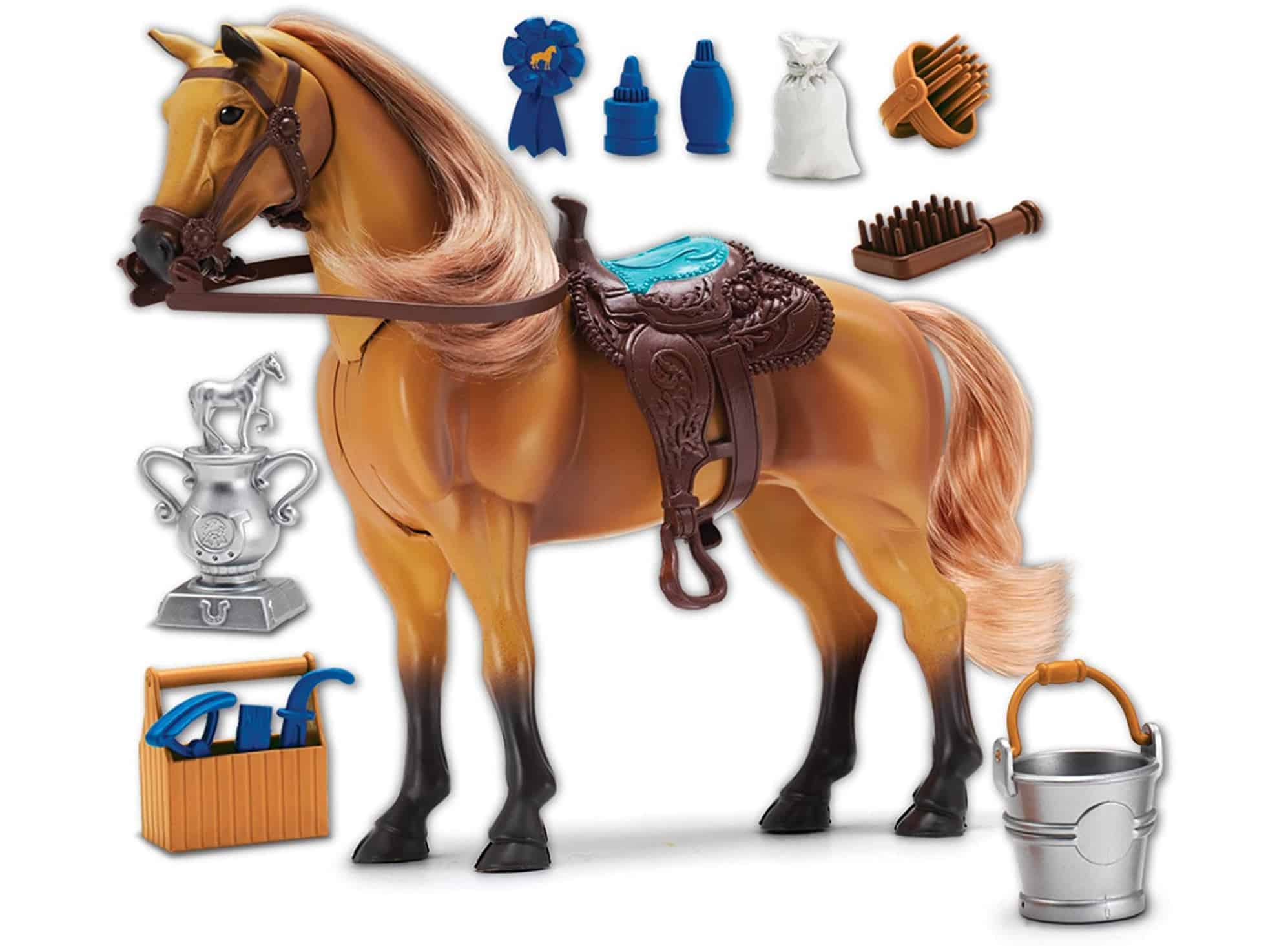 Horse-grooming playsets differ from styling ponies because they introduce children to the care requirements of the animals. You never know how much difference it could make to a little girl wanting a pony. Grooming them is merely a part of their care routine. So much more goes into caring for horses. I'd know because I did it.
Horse Toy-Facts
Type: Articulated horse figure
Activities: Interactive, creative, and imaginative play
Ages: 4+
Horse Toy-Pros
The horse-grooming playset comes with a highly articulated pony and gorgeous details that make it look like a fairytale steed
The pony playset comes with 14 grooming accessories for little girls to enjoy caring for their favorite animals
The pony also has a beautiful mane and tail for styling, and the textured feel of the hair is excellent for young kids
Horse Toy-Cons
I don't love that kids can't remove the horse's bridle and tack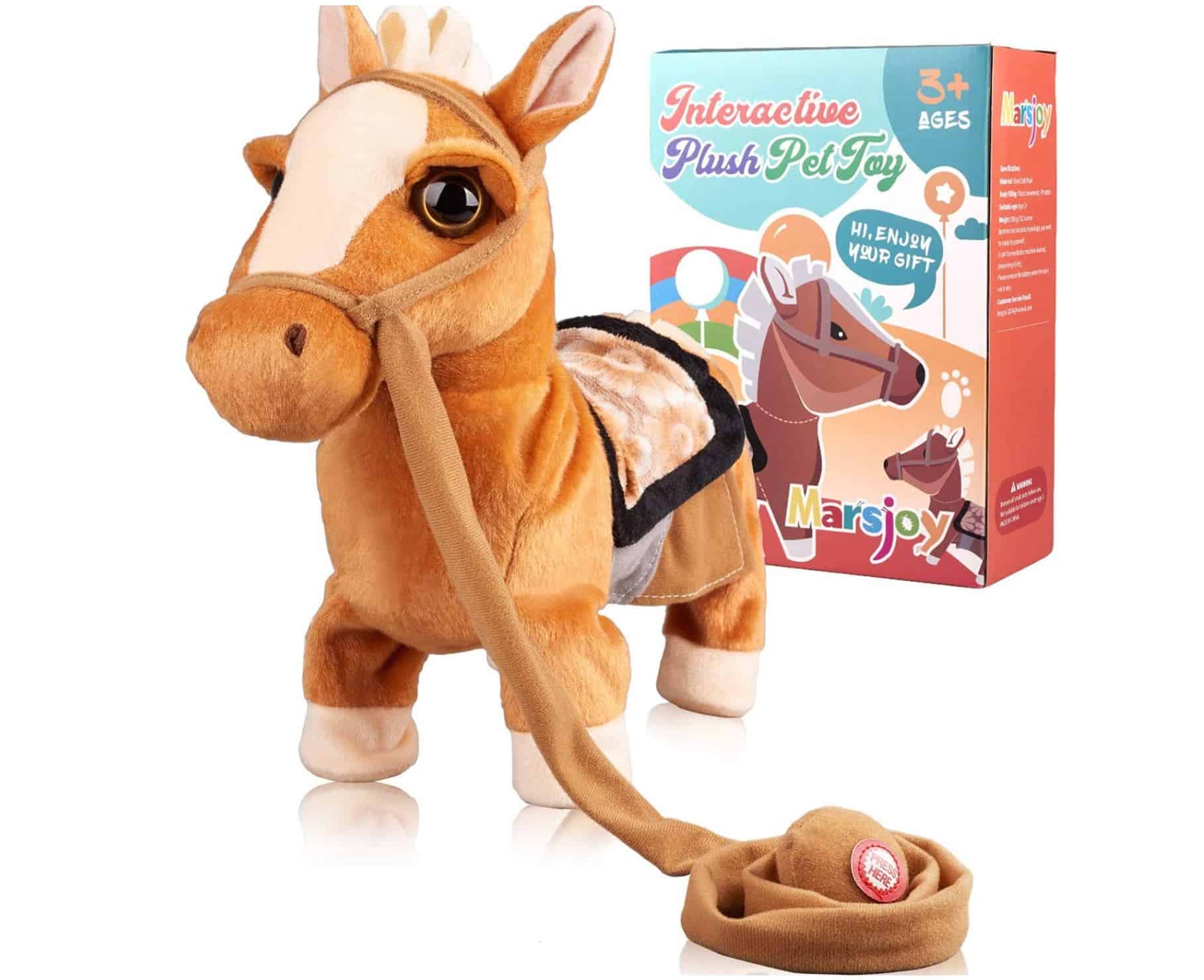 I have to throw one more horse-inspired toy in for younger girls. I won't recommend unsupervised kids under three playing with this pony, but I recommend supervising their play. It doesn't look like the prettiest pony they'll own, but the musical, walking plush pony is a wonder beyond aesthetics.
Horse Toy-Facts
Type: Musical pony plush
Activities: Imaginative and musical play
Ages: 3+
Horse Toy-Pros
The musical plush pony works like a puppy on a leash, walking with your toddler as they explore the world
The plush pony is safe enough for the youngest fans to play with if you supervise them, and it's soft, cuddly, and super adorable
The pony makes real-life noises while it walks, and it dances and sings to stimulate a child's mind
Horse Toy-Cons
The poor little pony undoubtedly doesn't look as cute as the others
Top Q&As
Question: Where do Spirit Untamed Toys Originate?
Question: Which Horse-Inspired Toy Is Good for Babies and Toddlers?
Answer: Many horse-inspired toys fall short for kids under three, some even recommending ages above five. However, Plush Creations brought a Talking Horse With Barn Playset that works for babies and toddlers. The plush toys are safe enough for any age, and the toy's musical benefits are sensory bonuses for little ones.
Question: Which Schleich Horse Is the Most Popular?
Answer: Schleich horses include the Andalusian Mare, the Trakehner Mare, the Frisian Mare, and combos like the Club Tournament and Rider Playset. The horses are beautiful, and the brand pays attention to detail. However, the Schleich Horse Club Lakeside House Playset welcomes the most playtime possibilities.
Best Horse-Inspired Toys Guide: Final Neigh
It's time to encourage your little girl to explore her passion and every corner of her imagination. The benefits alone are worth every giggle and minute of playtime, irrespective of how she plays with the horses. You could select your favorite horse-inspired toy by brand, including Schleich, Playmobil, or Breyer's.
However, it's better to pick a type that suits your little girl and her favorite activities. I recommend the Festival Spirit Untamed Horse Styling Set because it welcomes little girls to be creative while enjoying their most-loved animals. Any two-for-one toy wins in my books, and she'll have hours of endless fun.
Maybe you have a younger child. In that case, the Giddy Up Horse and Rider Playset and the Walking Pony Musical Plush make better recommendations. You also have to consider your child's age. You can't expect a three-year-old to experience the full benefits and joy of the Horse Automata Kit 3D Puzzle.
You'll have to help them finish the 3D wooden horse puzzle before they can enjoy the winding playtime and interactive qualities. The same rule applies to the LEGO Friends Stephanie's Horse Jumping Set because kids under six can't build the set, even if three-year-olds can play with it.
Horse-inspired toys have so much potential to help children navigate their passions and open new opportunities. So, pick the most suitable pony, horse, or unicorn for your little girl. Then, watch her blossom in the light of her favorite themed toy.
For more fantastic toys
Best Learning Express Fidget Toys – Avid Toy Insider
Complete Guide to Tonka Toys for Young Engineers – Avid Toy Insider
Best Imaginext Toys Guide for Imaginative Play – Avid Toy Insider